Are you in pursuit of some fall aesthetic ideas for adorning your house? Don't worry; You will find innovative ideas for giving your home a super cozy environment with fall decoration opinions.
Autumn will arrive at our doorsteps before we realize and it is a better idea to equip your living space with cozy fall decor inspirations. These ideas will add a curb appeal to your indoors and outdoors, along with coziness. Enchant bypassers and your guests with fall decor ideas such as wreaths, centerpieces, wall designs, calmer hues, pumpkin-themed fall decors, and more which will not only dress up your home's interior but the exterior as well.
We spend most of our time indoors, which is why we prefer only decorating the interior and forgetting the exterior. But the exterior decorations are equally important and must match with the interior. There are some individuals who love to stay up to date with the trend and prefer contemporary options, which you will find throughout the page. So, here we present the curated list of 29 fall decor ideas to jazz up your home.
1. A Rustic Quilt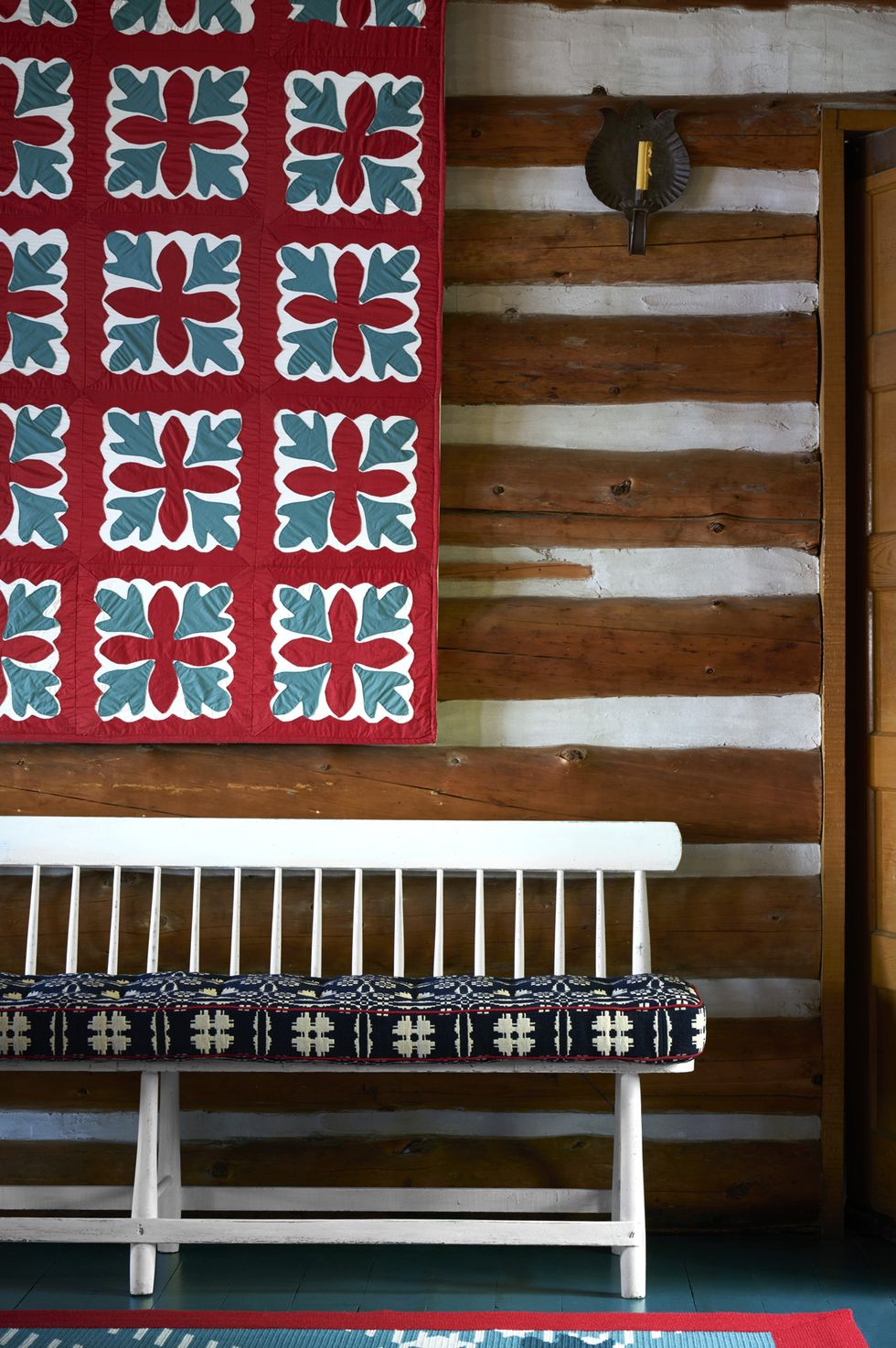 A quilt in russet red (a staple decor color for autumn decor) is a great way to welcome fall. The soft texture of the textile adds a sense of coziness to the room. No matter if the wall is lighter or darker, you can always put a quilt that is in fall-inspired colors.
2. Orange Interior Accessories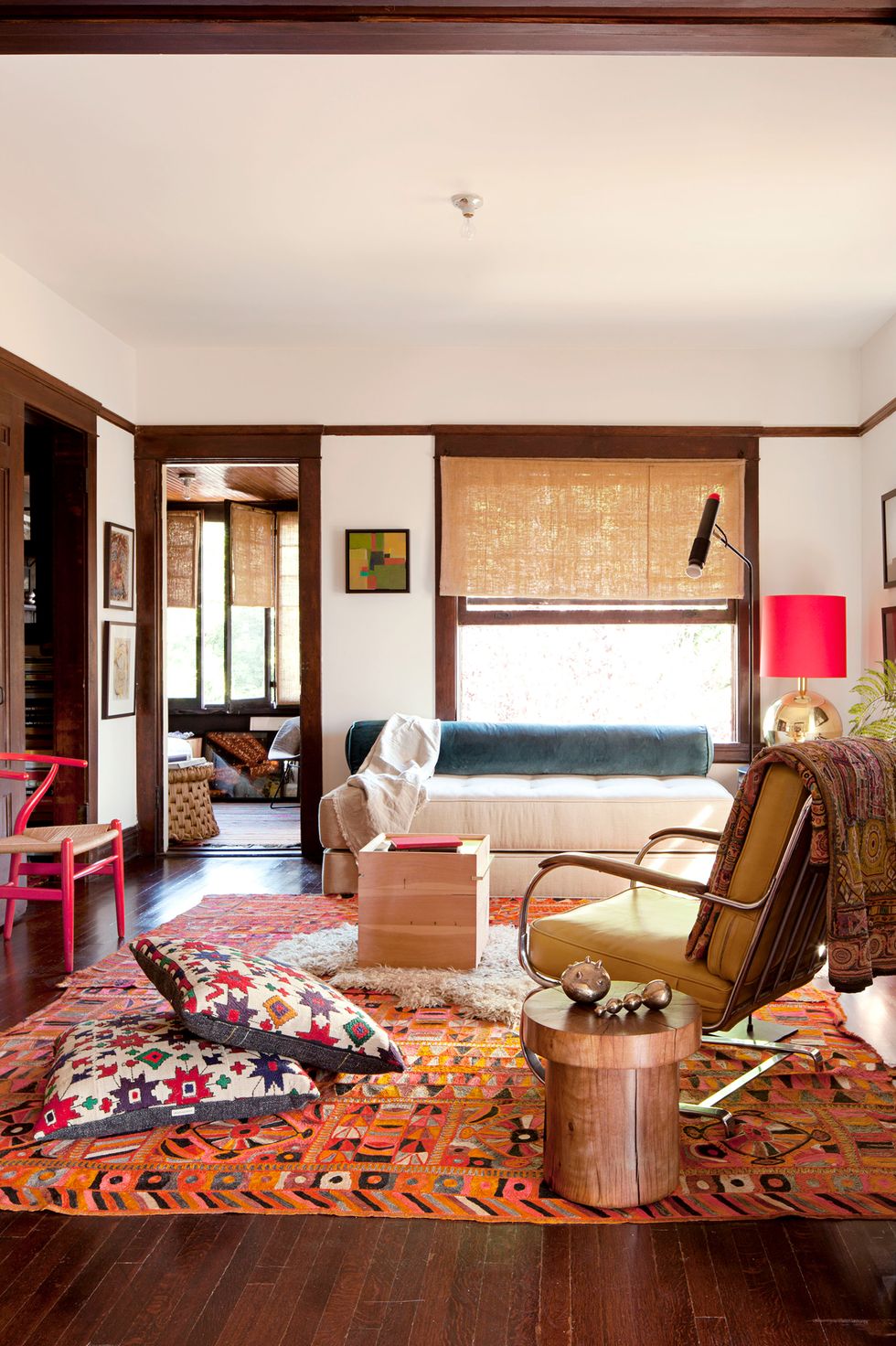 What could be a better decoration than autumn-inspired foliage color accessories sprinkled in the room? Even a rug hanging on the wall will do the thing, but there are more options to add, like an orange portrait on pale blue or a wall with any softer hue. If you have a cool white wall, then adding any portrait in rich brows of autumn will emit warmth.
3. Soft Colored Accent Wall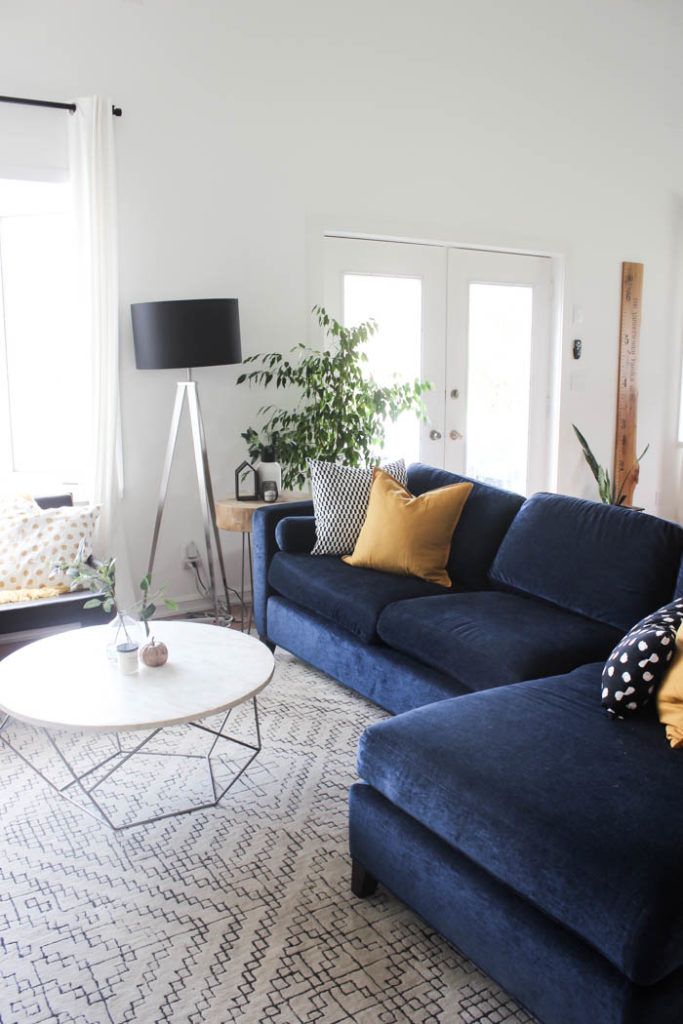 Providing your room with an accent wall having green with a sprinkle of blue adornments gives you a feel of being close to nature. Moreover, if there is wooden storage in your living room, place a blue couch to create an inviting place for your family and friends.
4. Minimal Decoration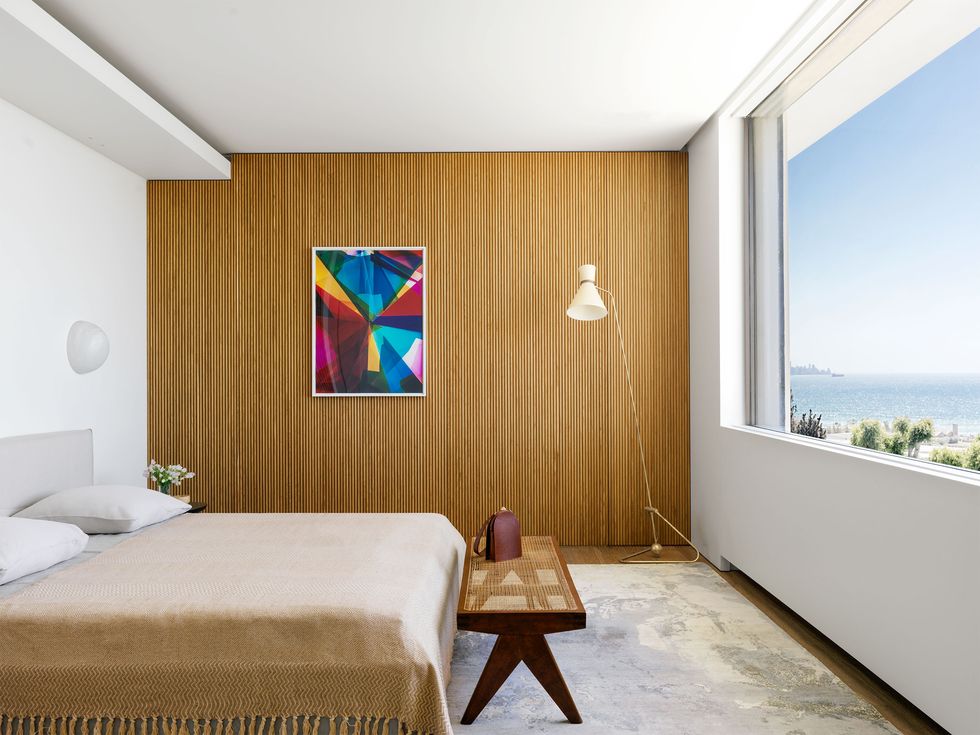 Keep your living space clutter free for a cozy atmosphere. A wall sconce will be good enough rather than cluttering the space with additional furnishing items. A mirror and curvy chairs can fit well in the category of fall decor. A white, grey, or cream hue fits perfectly for the accent wall because it radiates calmness.
5. Fall Gallery Wall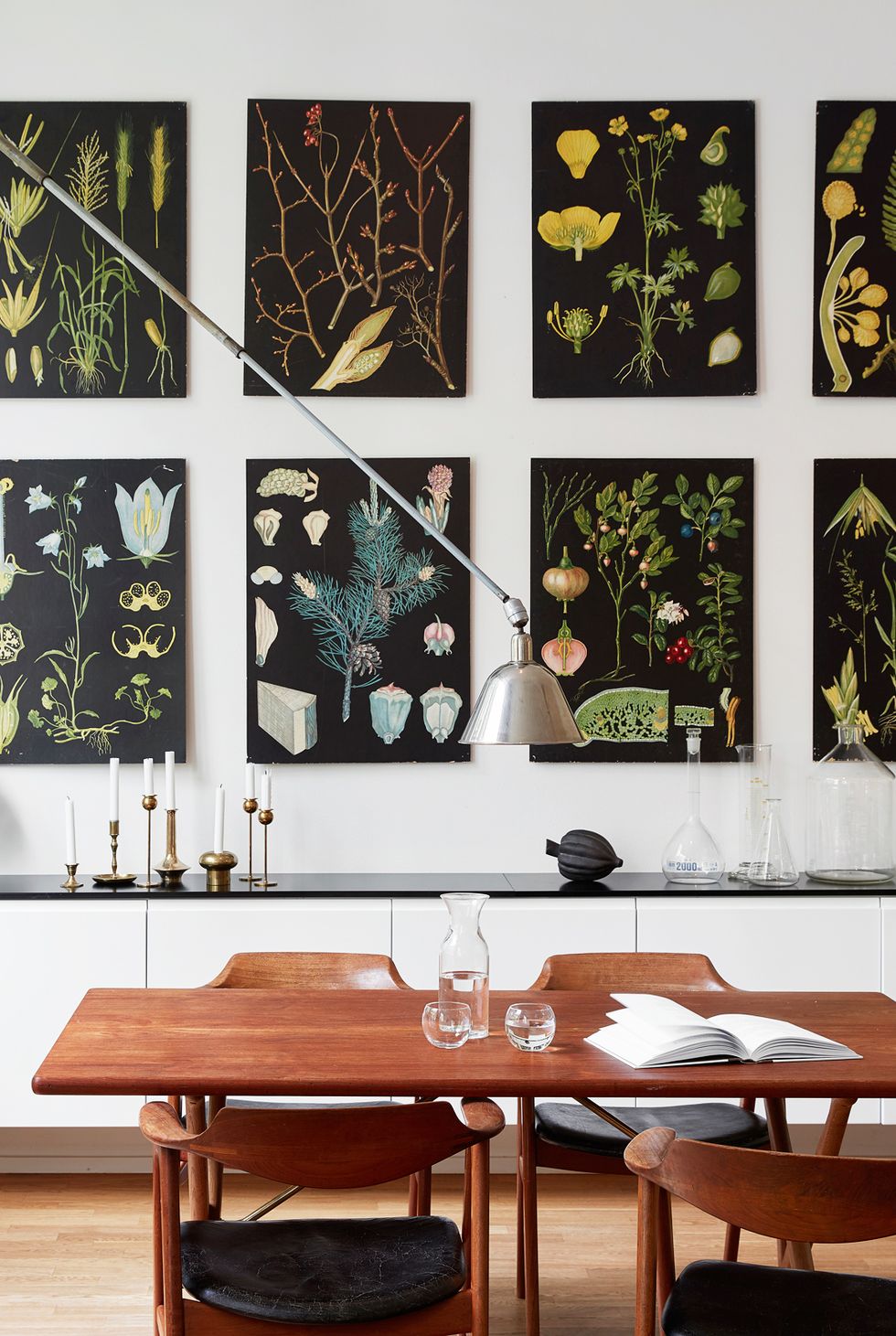 You can create an autumn gallery wall with artwork done in colors found in abundance in autumn. A dining room, when decorated with orange-colored dining decor and wall accessories, looks tidy and adds so much depth to the decor. Putting artwork on a light wall in the living room is also a surefire way to make it more ready for fall.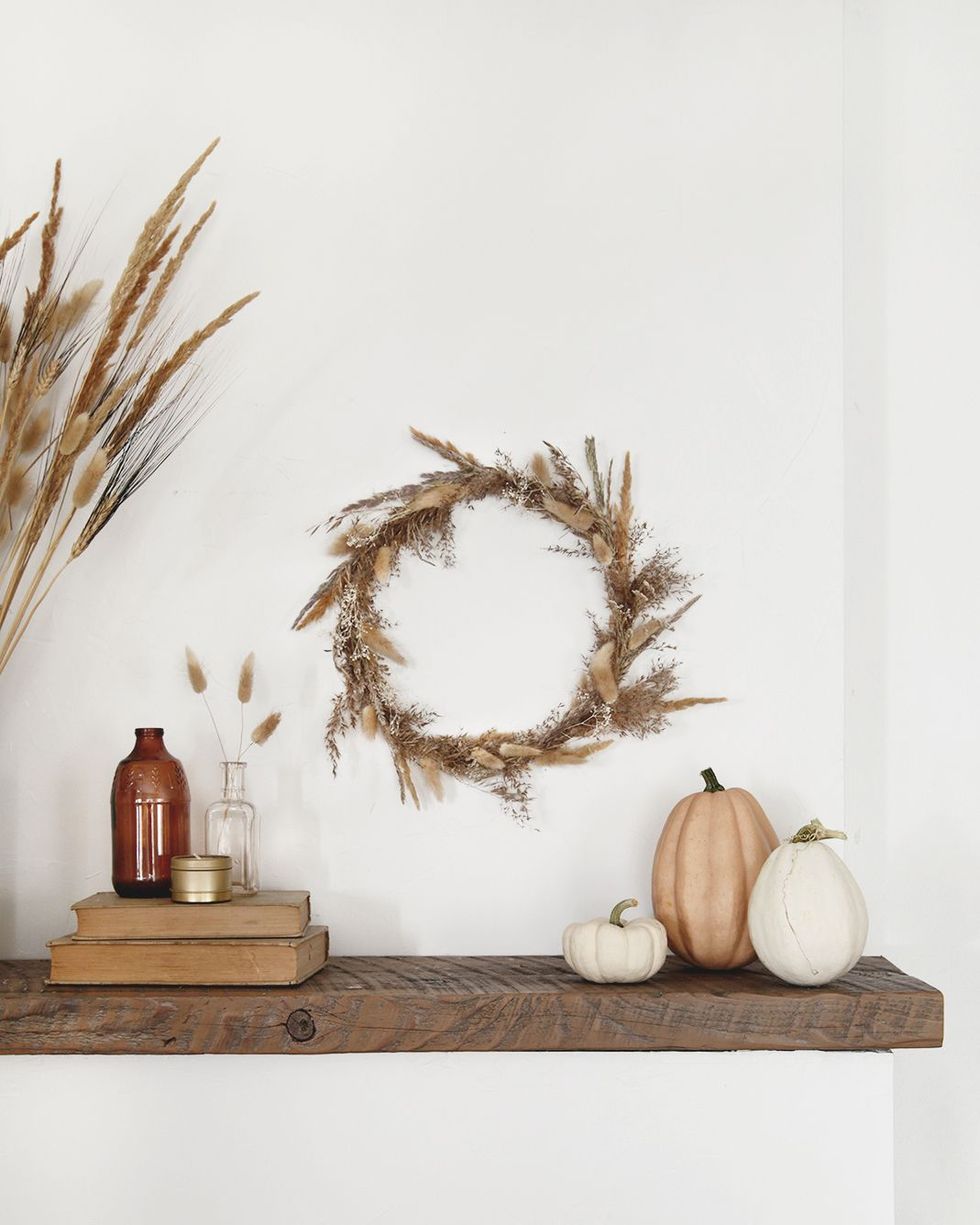 Wreaths are essential items for decor, but when following the fall theme, using a wreath made of dried grass or leaves makes sense because it follows the season's time (falling leaves and harvesting). Moreover, on a deeper level, it also represents the circle of life. You can buy them online or create them yourself if you have a garden.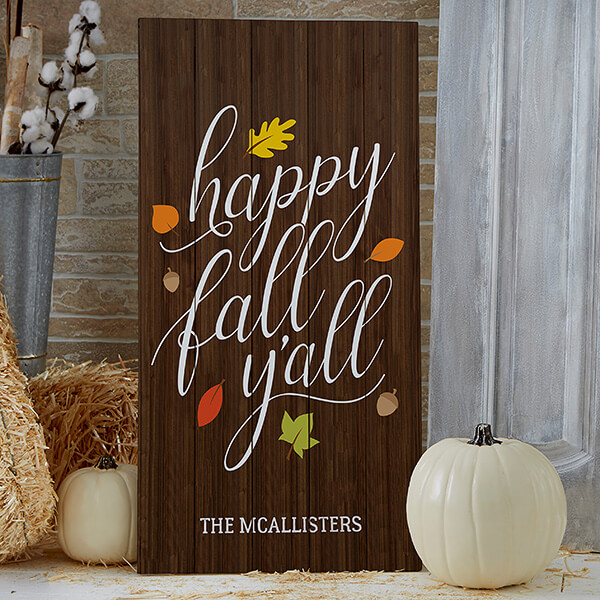 Fall signs are exceptional decor for a fireplace mantel. And when added personal favorite quotes, they become the perfect piece to welcome the season as well as guests with grace. Add related items such as shelf clocks with fall scenery or portraits having rich red, yellow, and burst orange colors.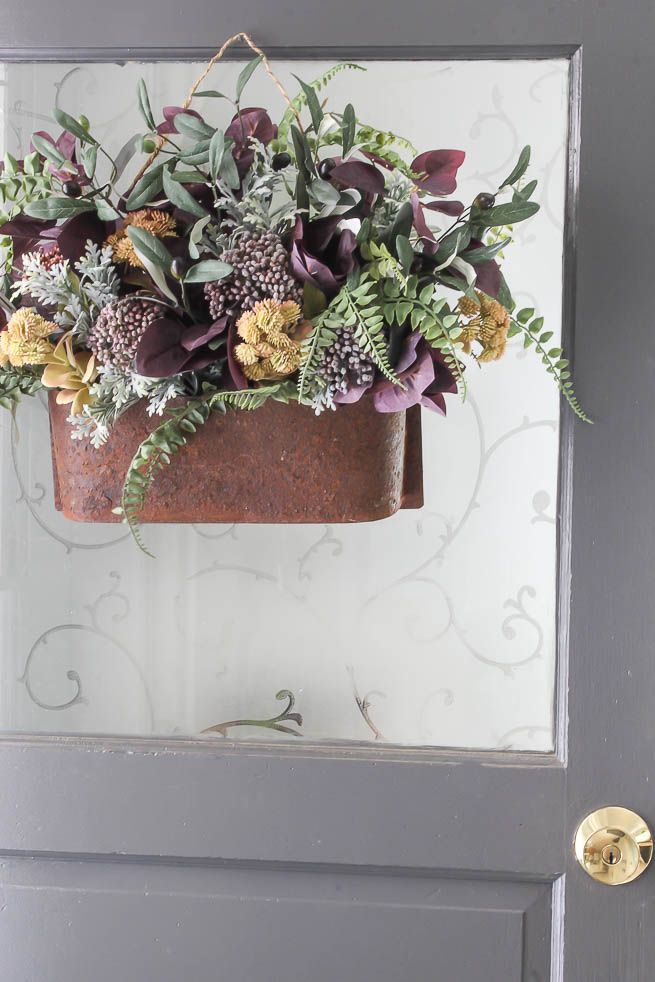 Plant flowers associated with fall, such as golden yellow and deep purple, add a cozy vibe to the place, especially when planted on the porch entry. Floral arrangements of seasonal flowers, such as sunflowers and mums, are best for the interior because they add a pop of color. They can also be used as a dining table centerpiece.
9. Origami Leaf Garlands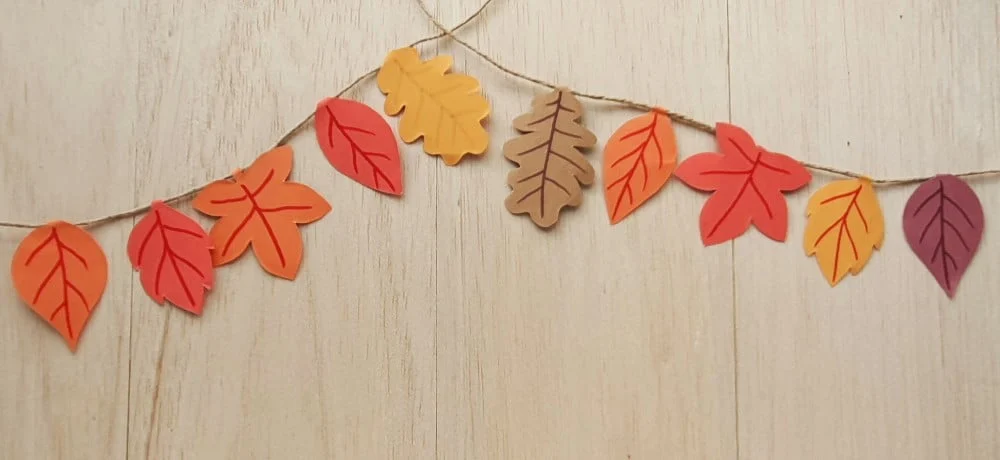 For a sophisticated modern touch, origami leaves strung together can trigger a feeling of awe. They make a striking fall garland as their texture is unique. These should have a pastel color when decorating for fall. They create a cheery fall vibe while hanging and dangling near the wall. You can create them on your own.
10. Literally Warm Decorations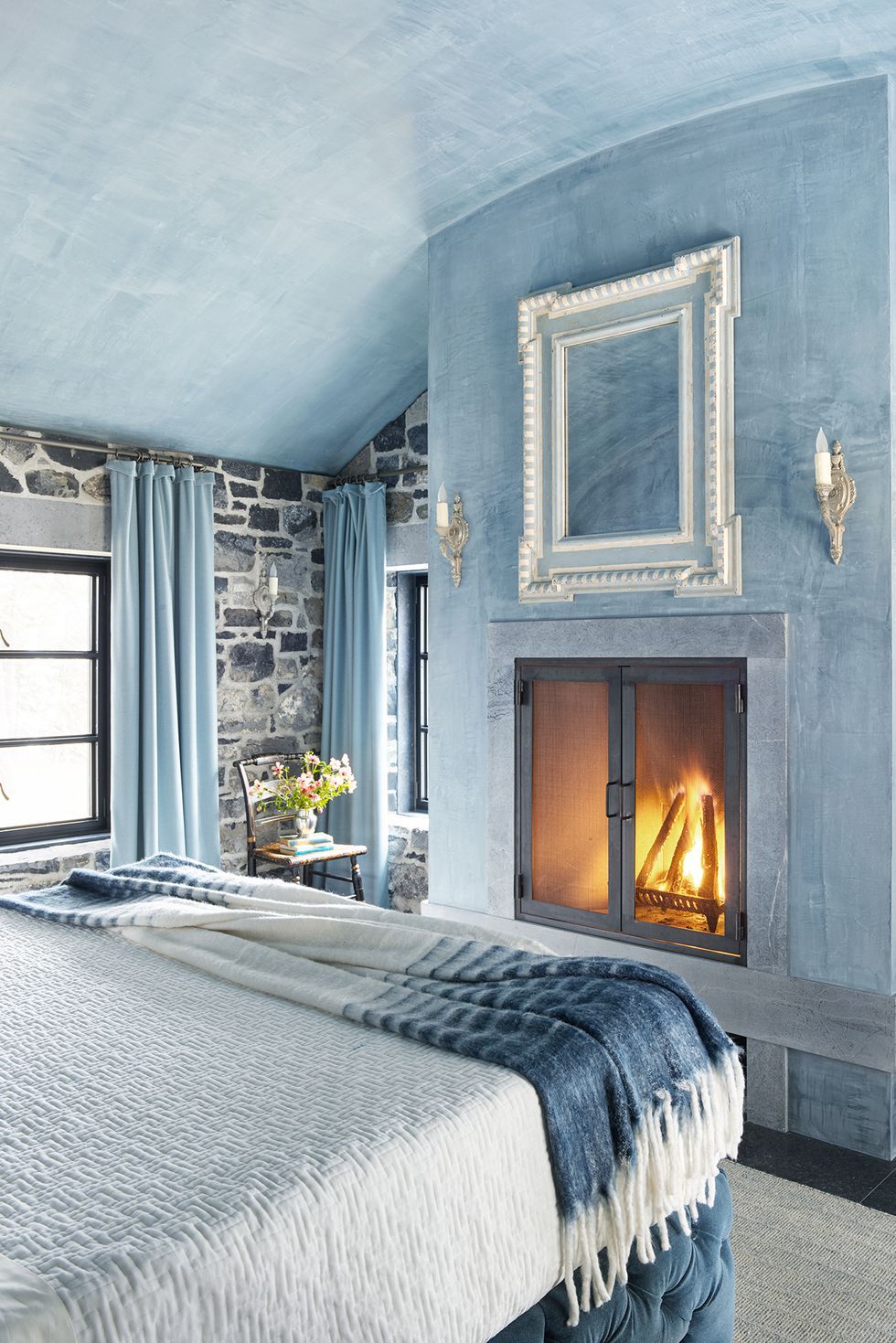 Throw pillows, blankets, and upholstery in pastel blue and brown color is perfect to warm up the place. And if there is a fire in the fireplace- a cherry on top! All these make a beautiful calming, and welcoming atmosphere for the guests. Add soft lighting for an extra layer of warmth to the room.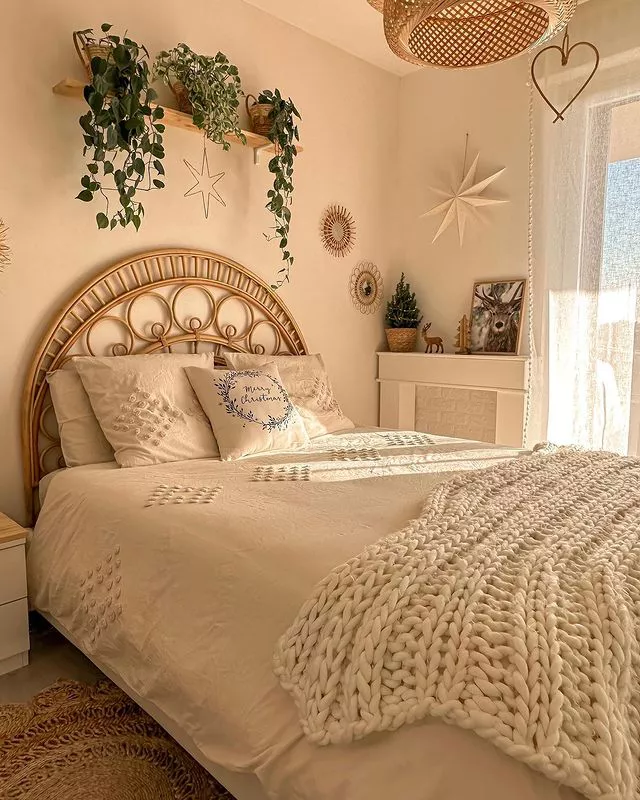 If you are lucky enough to have a shelf on your headboard wall and have a green thumb, you must put a live plant, especially one with a cascading habit, on the shelf for earthiness and warmth. However, if you do not have enough time for gardening or planting, you can just buy fake hanging vines.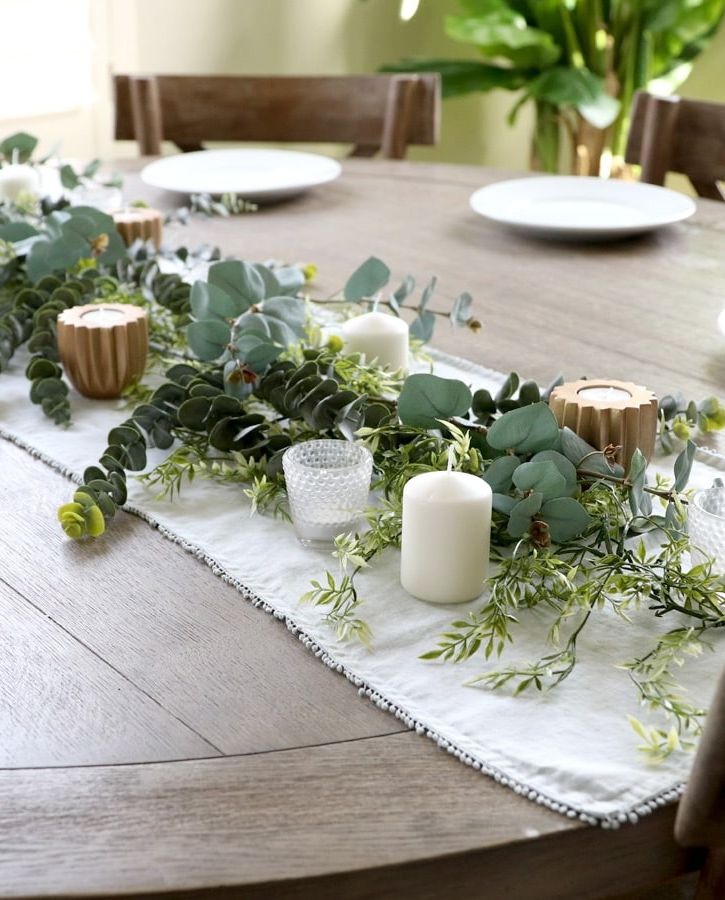 Swap your current centerpiece with a seasonal one. The best thing is that you can create a natural centerpiece out of a live eucalyptus plant. You can also go with Pumpkin or foliage if you want more of a classic decoration. For a special touch of warmth, place scent candles along with the wonderful centerpiece.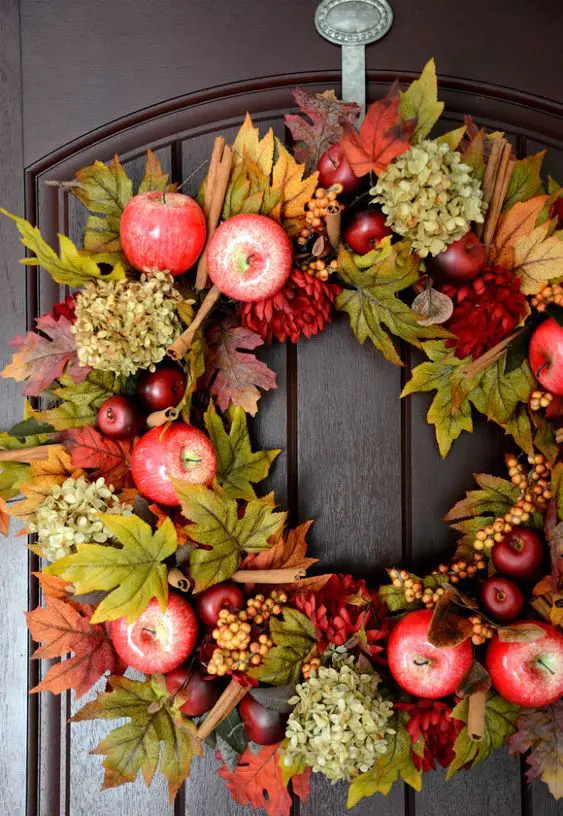 A wreath made of apples is the ideal choice for a fall entry decor because apples are connected to fall. And when you have a neutral-colored door, they both go hand in hand. Adding other items, such as plants in pumpkin-shaped containers, match perfectly with the fall exterior decor.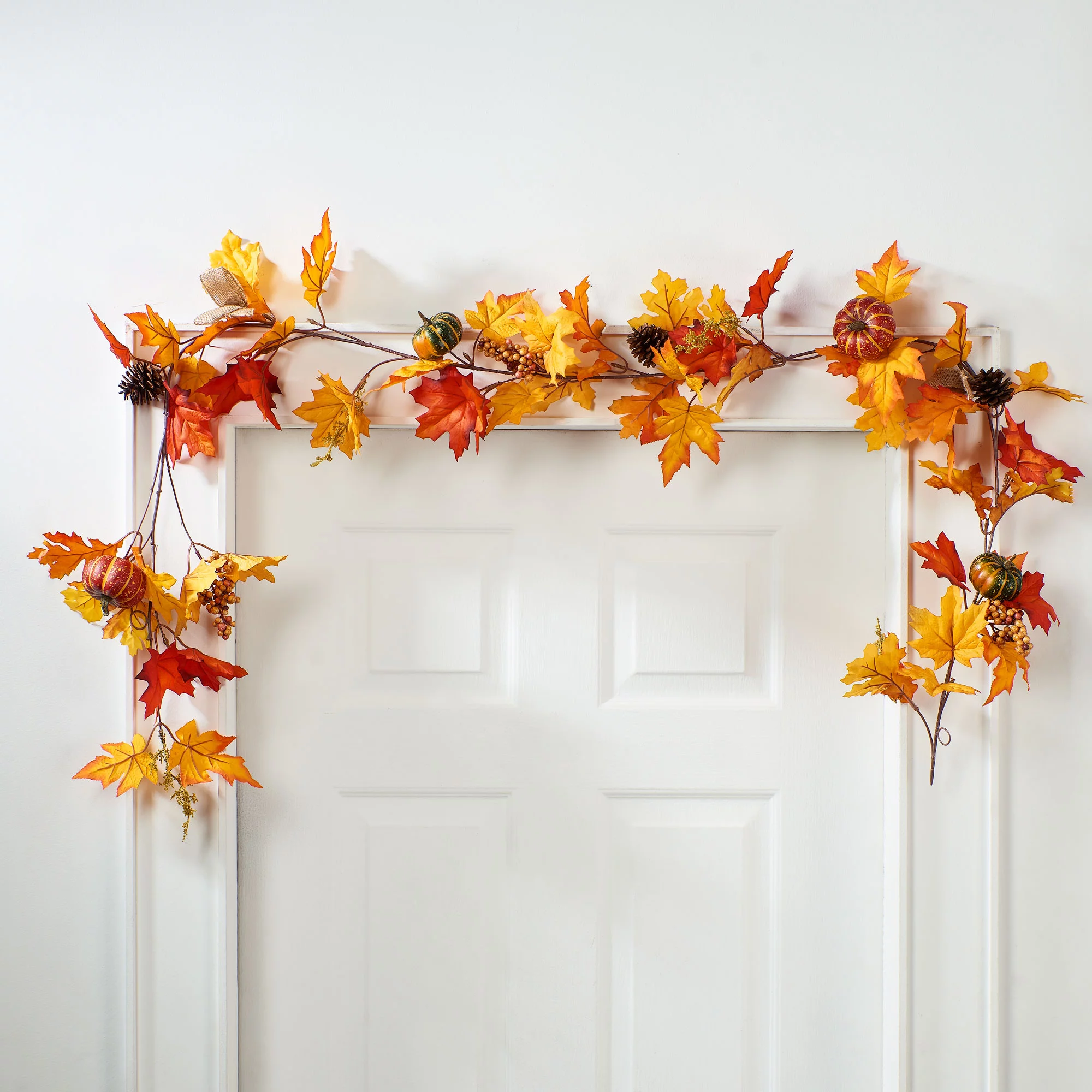 Fall is about to come, and the door is not having any garland. How is it possible to complete the fall decor without season-inspired garland? Orange-colored garlands add a curb appeal as well as complete the fall decor theme. Another thing you can do is put a russet red rug in the entryway.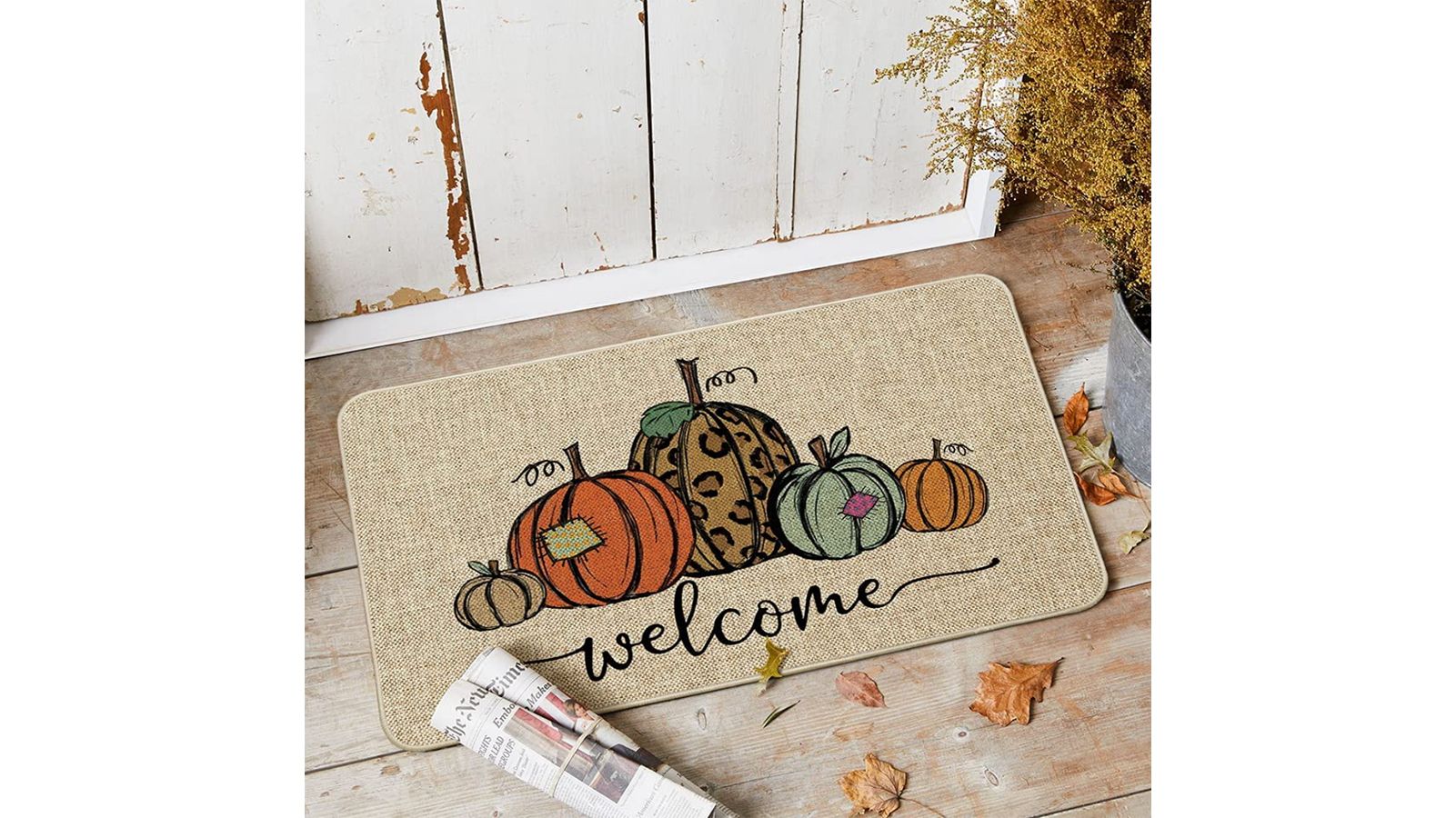 A doormat with warm fall tones, added with wreaths of similar colors, creates a mesmerizing welcome scene. These two things make an almost perfect entry for visitors in the fall. An addition of a pumpkin-like sconce takes it closer to the seasonal look. These decorations pop when there is a light-colored door behind them.
16. Letters Over Mantel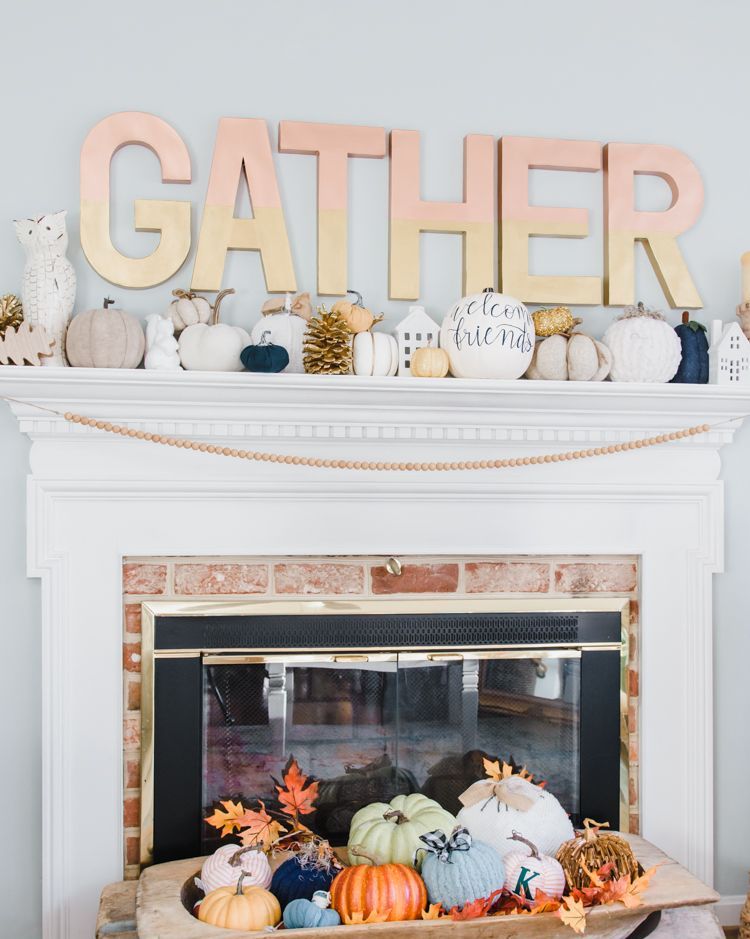 Inviting words such as 'Welcome' or 'Gather' are just simple and straightforward ways to make someone feel they are welcome in a place. Paint separate alphabets in colors that are attached to the fall season and place them on the fireplace shelf or wall. You can also add pumpkin-themed sconces on the walls.
17. Fall-Friendly Colors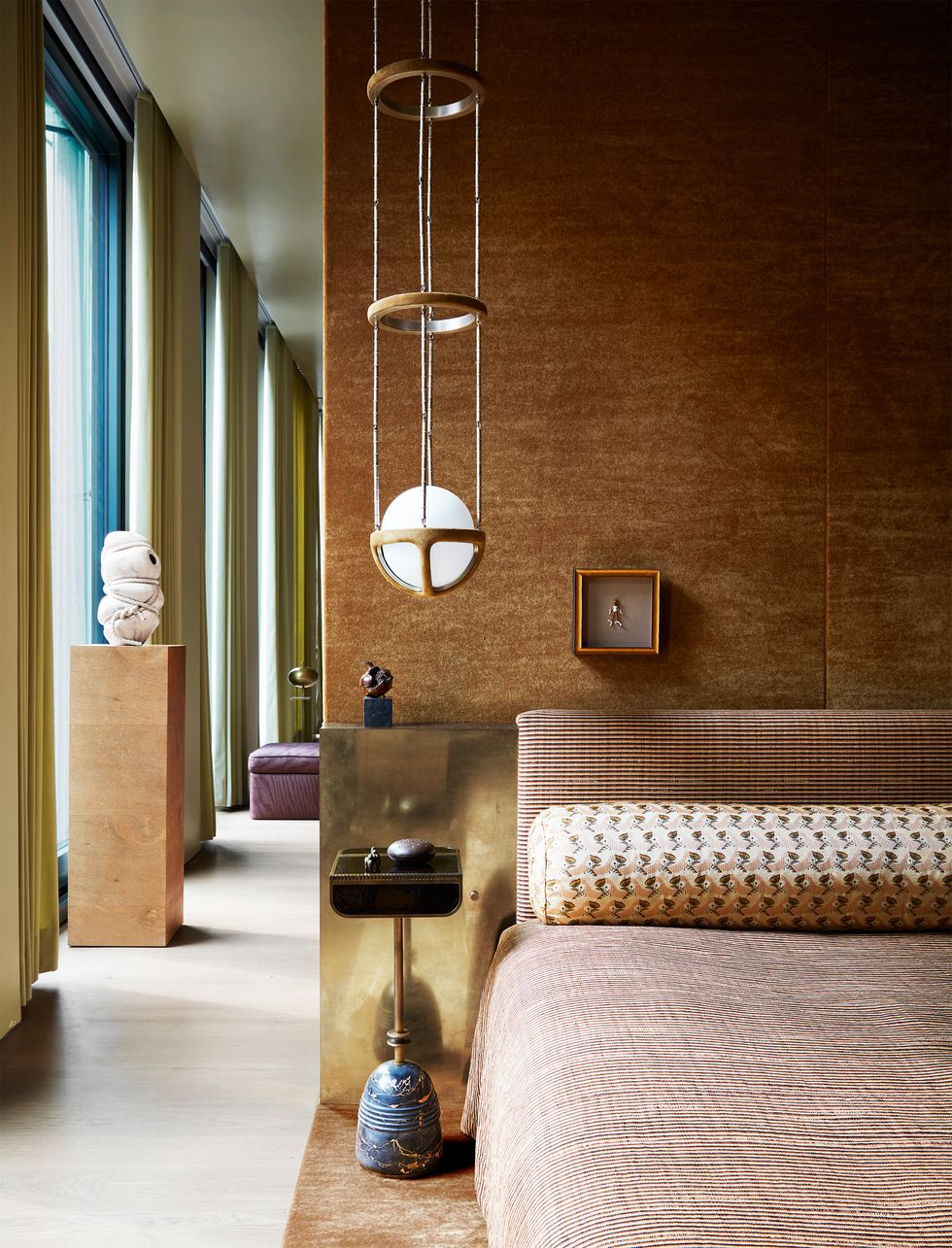 Give your living room an update with colors associated with fall. Dress up the space with distinctive artwork placed over a warm color palette. A rustic background color with brown, green, or blue curtains and brass pendant lights will be the best addition to show off your affection for fall decor.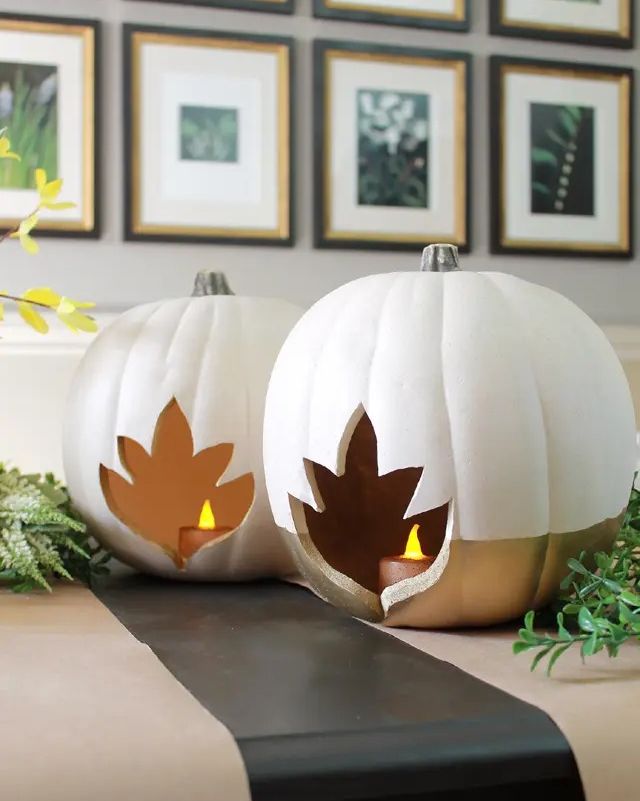 The pumpkins have a significant history and are considered an agent to scare evil spirits. They have become essential for fall decor. An element connected to a pumpkin, especially a modern centerpiece, will complete your decor. Moreover, fashion additions like pumpkin-inspired lanterns are going to fill the space with coziness.
19. Felt Leaf Wreath
For fall decor, drape a felt foliage wreath with an autumn inspiration on your door entry. Especially if you have a door with a yellow shade, you just need an orange wreath for a perfect fall welcome. Not only on the front entry, but they lift the mood even when placed indoors, like on a mantel or wall.
20. Pumpkins in Coastal Colors
Not only the coastal blue is limited to a sea-inspired look, but they make a wonderful addition to a feature wall, mantel, or even a door entry (painted in colors close to autumn). They set the tone of your autumn decor through a mixture of dark and light blue with a bonus of calming seaside impression.
21. Faux Maple Tree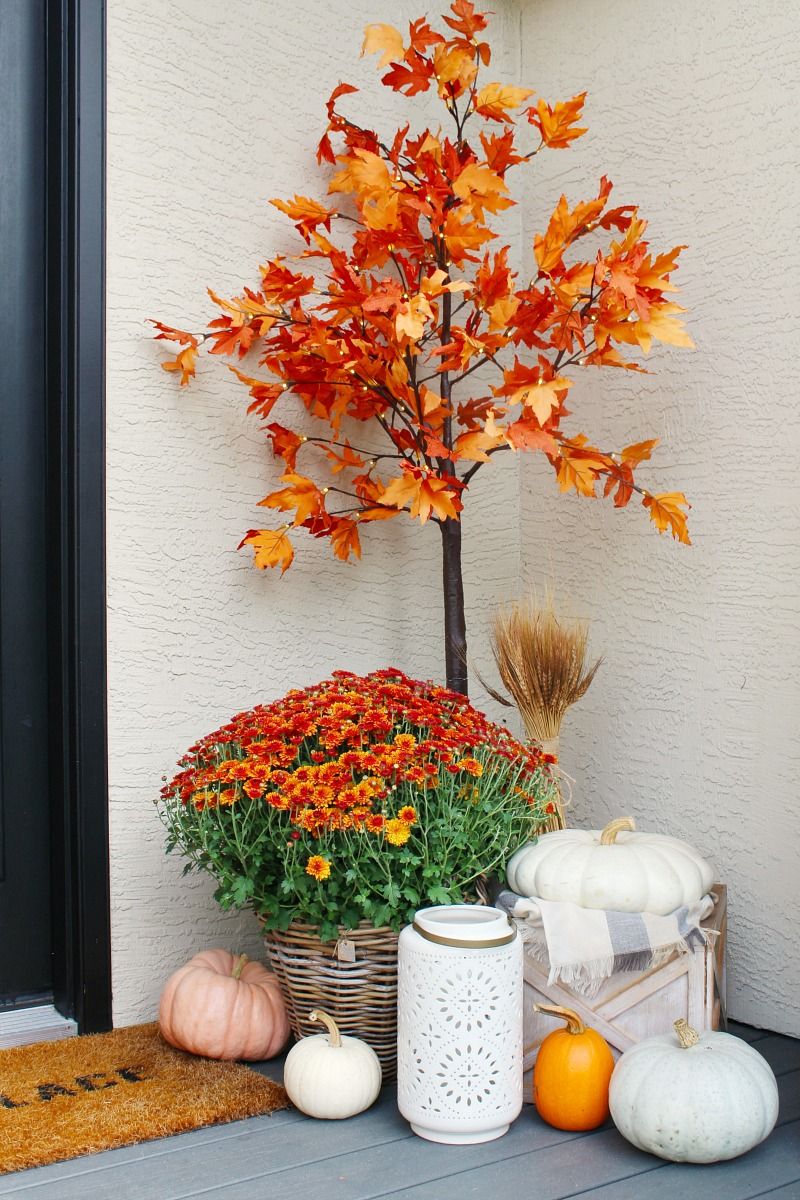 Maple is associated with fall because it turns its leaves yellow, red, or orange in the fall season, which makes beautiful surroundings. You can purchase a faux tree according to your space dimensions to imitate the look on a smaller scale. Embellish the background with soft hues such as a pumpkin decor in light pink or white lanterns to color balance your decor.
22. Door Hanging Basket
You can DIY a door basket and place beautiful flowers to amp up your exterior. The wicker baskets add a welcoming appeal to the entry. Another aspect to consider is putting the same colored flowers in the basket since they attract everyone who takes a peep from the street.
23. Sober Hues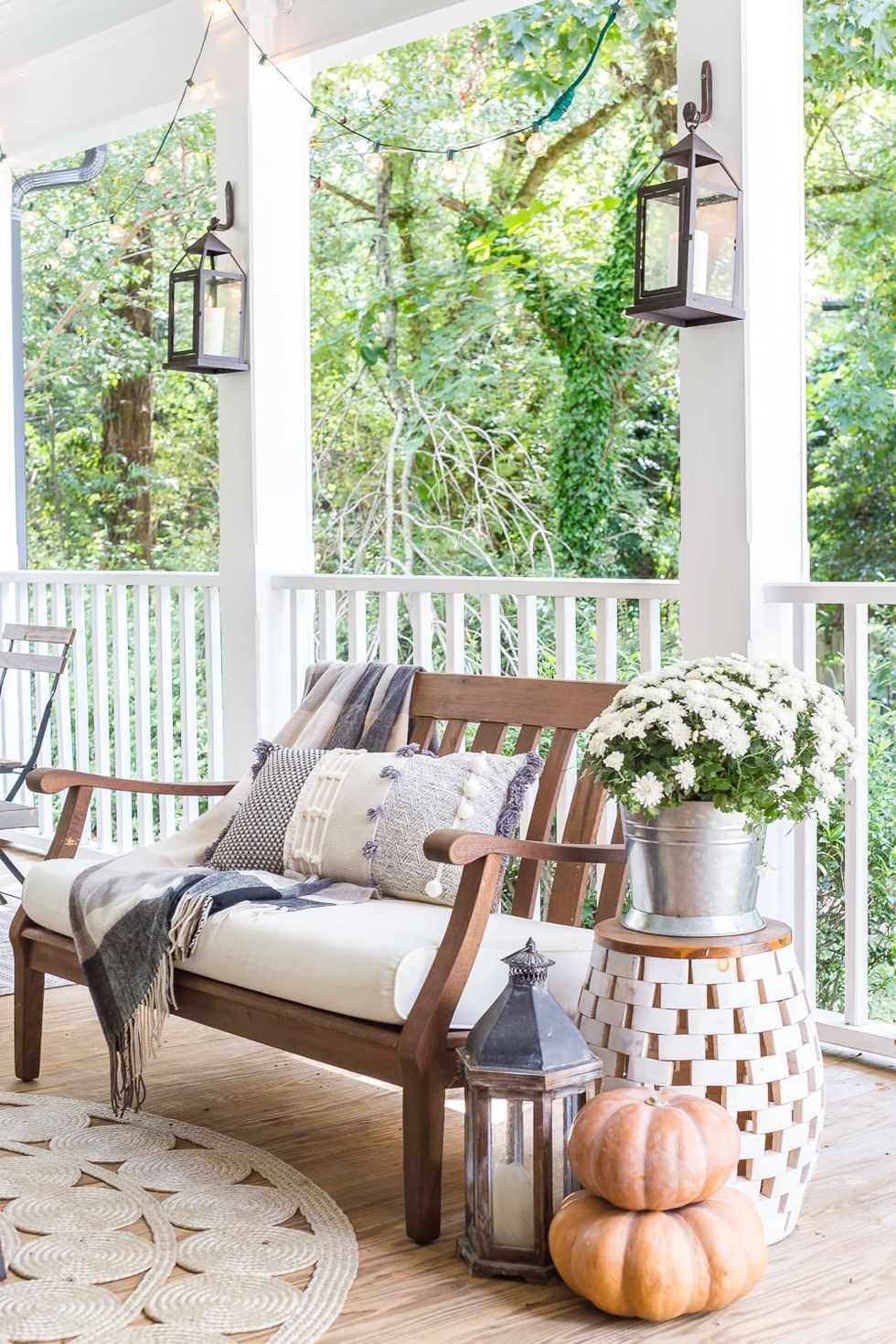 Choosing muted colors like blue, white, and gray for outdoor decor will make the entire place look calmer since the fall aesthetic is all about warm colors and a cozy environment. A sweet-looking lantern will emit more light when the surrounding reflects its light back and fill the setting with cheerful energy. They are a nice way to show off your love for fall.
24. DIY Brick Feature Wall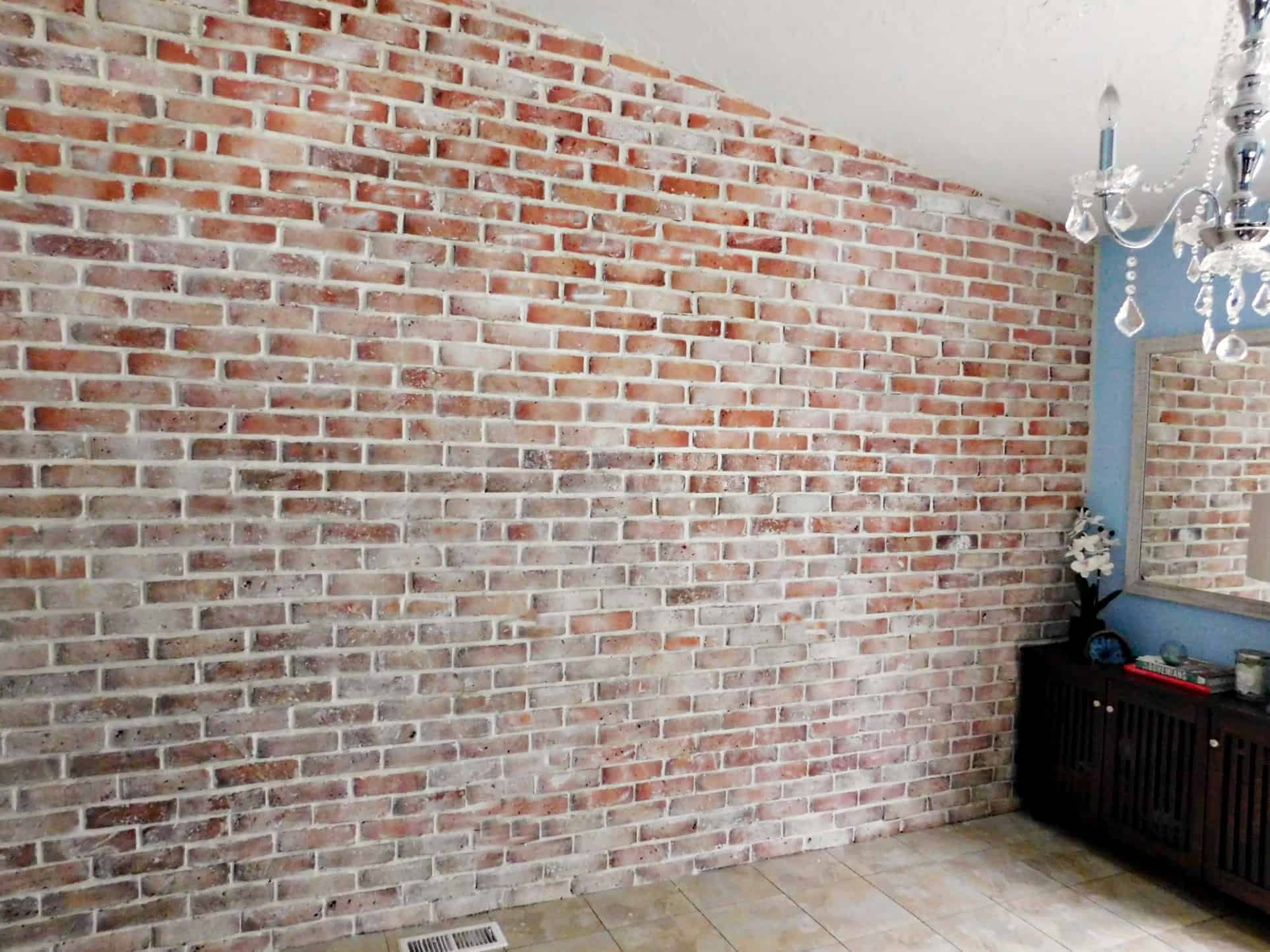 A DIY brick feature wall or even the outdoors complements its colors. Especially if you have a white, beige, or any neutral color wall, you can give it a faux brick pattern that has a rich texture in it. Moreover, if you are going to adorn the interior wall with brick pints, you can also add plants for a touch of earthiness and warmth.
25. Warm Lightning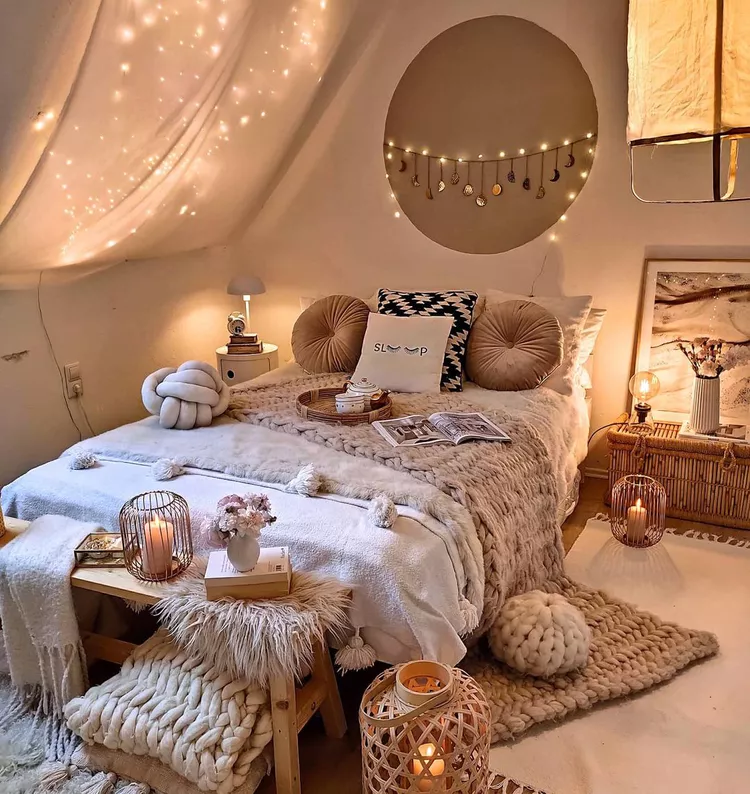 String lights, sconces, and pendant lights in warm hues breathe life into the interior of your room. The string lights can also be wrapped around a circle to make a wreath out of them. Sconces in warm golden colors set the tone of your house by providing it with a calming soft shine.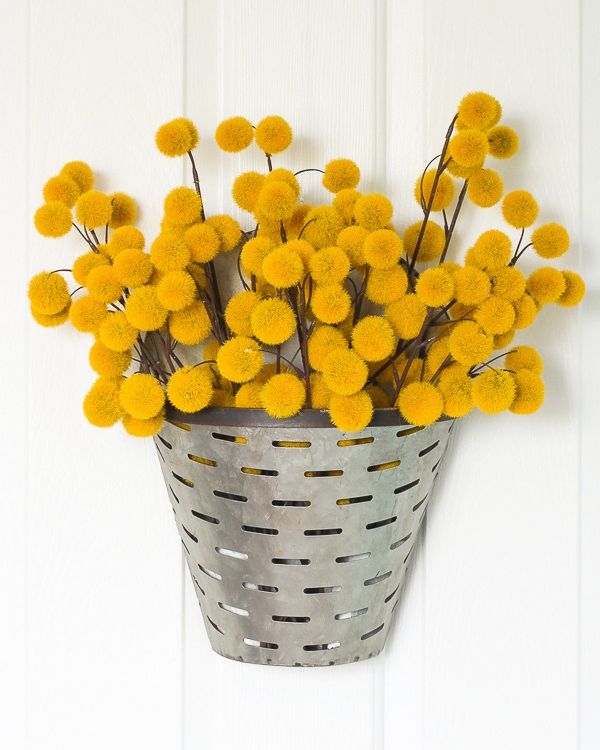 As a general rule, the fall decorations should have a touch of coziness and create a welcoming atmosphere; these planters complete the fall decor with a touch of earthiness. Even if you put orange maple foliage instead of orange-colored flowers, they will do the thing. However, you always have the faux plants option.
27. Photo Wall with Pumpkins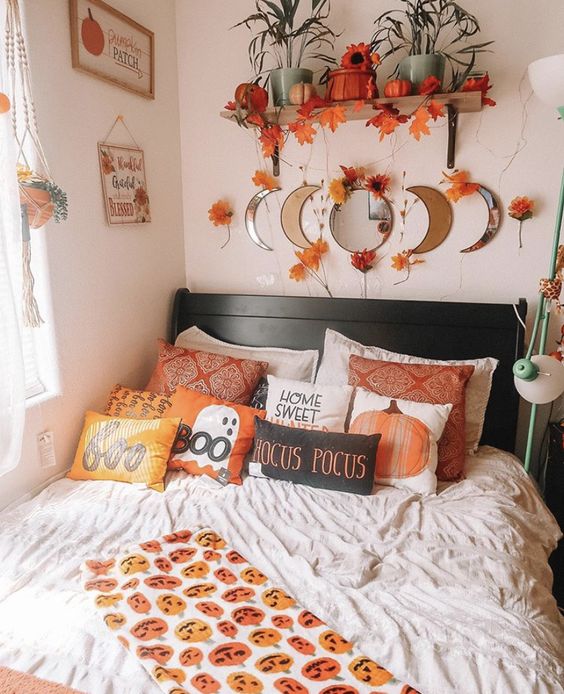 Give the room decor a personal touch by placing the photos around the headboard. Rumpl warm golden string lights on the wall. And if you have a shelf, give it a touch of fall decor, a faux pumpkin planter or sconce in a pumpkin shape. Now you have completed your fall decor mission.
28. Radiant Fall Colors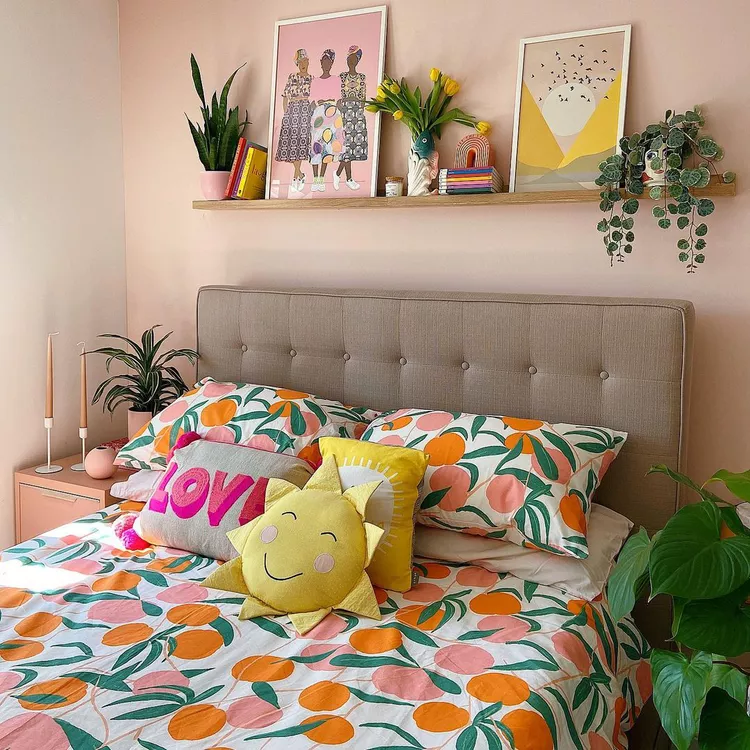 Give your room decorations in the Brilliant reds, burnt oranges, golden yellows, and browns of fall. For indoors, add a bright bedspread with bright yellow throw pillows and give the accent wall a pink shade to make a contrast. Additionally, put stunning artwork or books with shiny yellow accessories on the shelf for a pleasant focal point.
29. Hanging Fall Centerpiece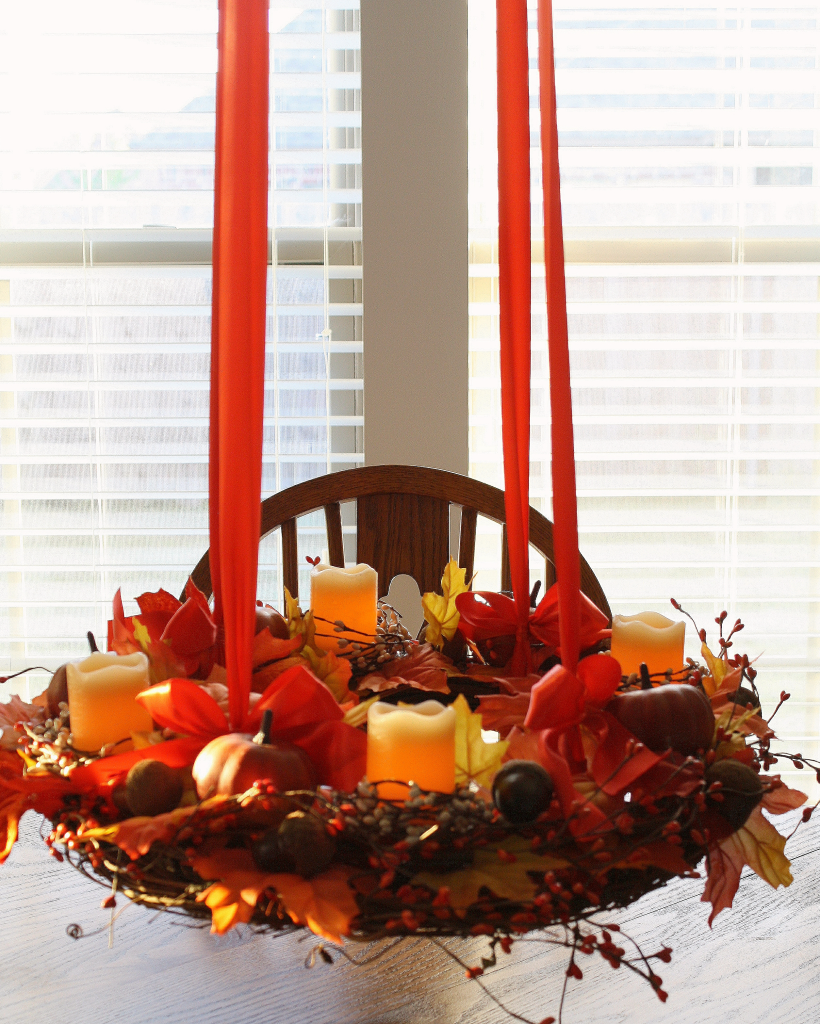 Hanging centerpieces added with a neutral tone are a winning recipe for fall decor. You can make your own or buy a traditional centerpiece online and spice it up with fall foliage or faux maple leaves, or pumpkins. You can also go with bright orange flowers for a rustic vibe that completes the fall decor.
Conclusion
Throughout the article, we learned 29 fall aesthetic ideas that you can incorporate into your home. From colors to textures, we explored many ideas.
Most of the ideas were mentioned for interior decor, while some of them also covered exterior decor for fall. Moreover, we also mentioned modern decor options with traditional ones. We also emphasized the use of autumn colors (Orange, Russet, and Yellow) for decorations like wreaths and flowers, while we also suggested matching them with soft-toned accent walls.
Then there were also some ideas that provided a rustic appeal, such as brick and hanging fall centerpiece, while a couple of contemporary ideas (origami leaf garlands, felt leaf wreath, and modern pumpkin centerpiece) were also suggested.
As emphasized earlier, a decoration won't be complete unless the outdoors has the same amount of embellishment as you put indoors. Consequently, blending indoor and outdoor ideas will make the fall decor complete.
We are curious to hear what caught your attention and how we could help you finalize your decor items.