Top 21 Table Runner Ideas to Elevate Your Dining Experience
When it comes to home decor, we usually select the stuff that is unique, visually beautiful, and something we have always yearned for. Home decor items can either be in sync with the interiors, like furniture, wall color, etc. or can totally be different and stand alone to grab everyone's attention.
One of the common get-together places in the entire house apart from the living area is the dining area and coffee table. Almost everyone from the house stops by for two to three meals a day, and if there is a bigger footfall, like a party, the dining area is flooded with food and people.
You definitely do not want to stain your dining table with curries and sauces spilling when there are guests. Apart from this, you can easily convert your simple dining table or coffee table into an elegant piece by just adding table runners.
Here are 21 table runner ideas that you can include as a versatile piece of decor and even DIY with the available material at home.
1. Neutral Colors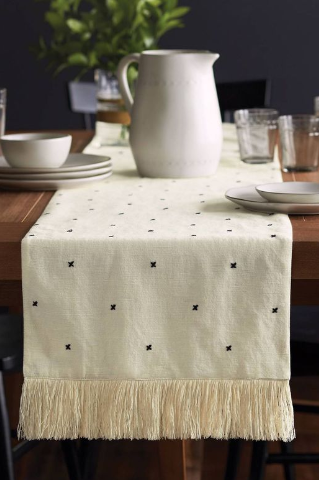 The best part about using a table runner is that it can be changed according to the festival and get-together, giving your space an entirely new look. These table runners are budget-friendly, and many of these can be designed from the cloth and accessories available.
Table runners come in different shapes, sizes, colors, and textures, turning a mundane dining table into a casual or luxurious piece of furniture. If your dining table is entirely wood-based, equip it with a neutral-colored table runner like white, peach, etc. Furthermore, you can choose the material to be in cotton or linen, so it is easy to wash. You can accompany the table runner with similar colored crockery. This creates a visually appealing look.
2. Wood Runners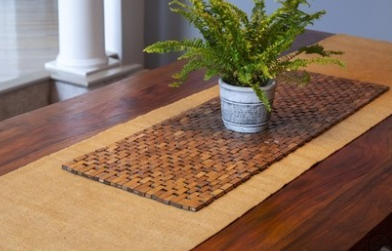 While renovating or building a house, there are many types of wood used in the process. You can grab a ply the size of your dining table and stain it with the oil paint color you like to give it a rustic look.
This DIY project will look aesthetical in the dining area and reduce the worry of changing as soon as something is split on it. Furthermore, you can purchase wood runners that are cut, colored, and crafted according to your needs.
An advantage of having wood table runners is that they come in wrinkle and water-resistant forms too, which makes it easier to wash or wipe. These runners add a natural element to the table and also can be used to hold candelabras, candles, and even serving trays.
3. Textured Table Runner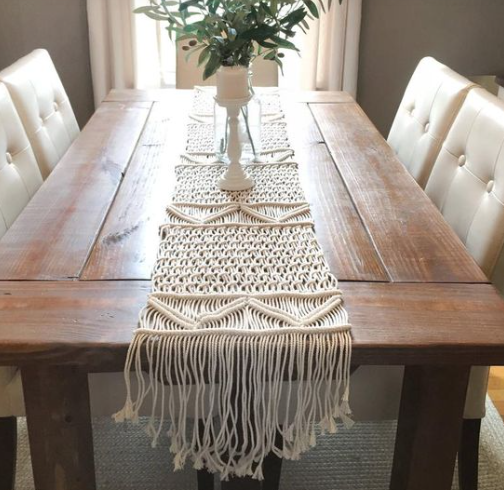 When it comes to adding a decorative material to the table, there is no end to creativity. And table runners are meant to be unique as they are the stylish elements of the dining area.
Textured table runner consists of leather or cotton material to give a craftsman look to the space. Moreover, these table runners can be used both ways before they go for dry cleaning. You can also include some tasseled edges for a decorative look. The fine threadwork on the runner gives the table a vintage look.
Furthermore, think of adding a bohemian piece to the dining area by sewing a macrame. You can glam up your standard dining room decor without going overboard. The table runner made of knotted macramé becomes really appealing in a minimalistic setting.
4. Homemade Table Runner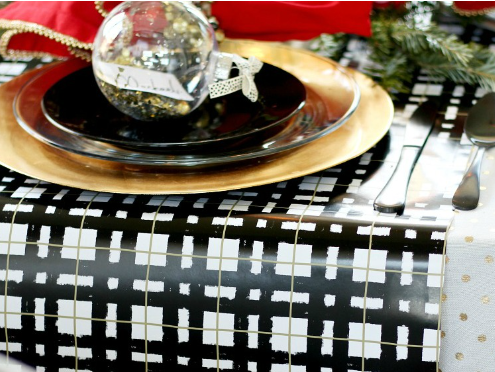 There are many accessories and stuff in the house that occupy the corner in the attic without being noticed. These materials have a tendency to create an artistic piece of decor and turn the place into an elegant one.
You can DIY a customized table runner at home for all-purpose use or a special holiday theme. Grab some colorful cotton fabric, or you can stick to one color. Moe ahead by measuring the size of the table runner you need and create lace from the remaining cloth for decorative purposes.
You can draw and paint any design, like flowers, leaves, etc., on the cotton fabric to make it look beautiful or just use it plain. Furthermore, to make it brighter, add some decorative stones like sequins. Besides this, wrapping paper and an old scarf can also be used as a table runner.
5. Different Doilies for Different Occasions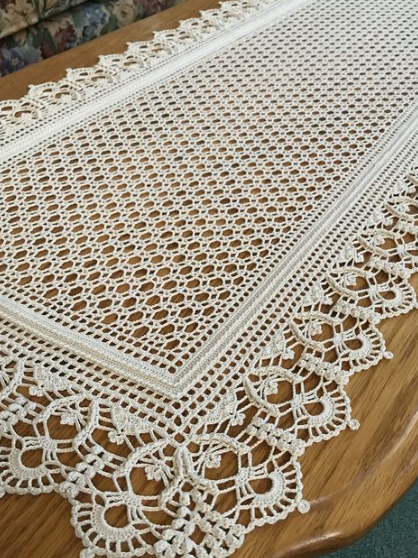 Lacework never gets old in home decor; it always blends well with other accessories. Especially when it comes to the dining area, doilies are an integral part of the decor. They are omnipresent in almost every home. The best part about using doilies as table runners is they are easily washable and easily dry compared to other materials. Moreover, they come in different shapes that enhance the beauty of the space.
Lace doilies can be used as a single piece of decor on the table and can be hand-stitched to form a long table runner. You DIY a lace doily at home by gathering all different shapes, round, square, and tray cloth. A black-and-white doily combination can also create a visually beautiful look.
6. Leaf-Patterned Table Runner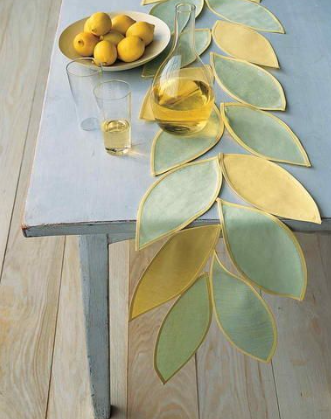 Decorating the interiors is all about thinking out of the box and implementing what suits the house more. Conventional table runners are either a long piece of cloth, lace, or wood. They can either be scattered on every seat and come in any shape, color, etc.
While making or buying table runners, you'll surely have extras for replacement according to the season, celebration, event, etc. Add vibrant summer colors to your dining area to give it a more upbeat air by using a table runner with a leafy design. Pick this fabric item in a combination of spring-themed colors like yellow, orange, green, and blue that goes well with the autumn season, especially during Thanksgiving. The elaborate foliage pattern makes it special and adds a touch of luxury to your rustic oak table.
7. Festive Table Runners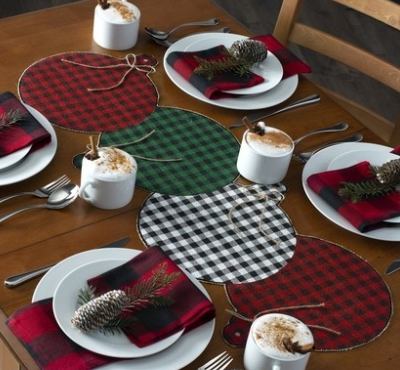 Festivals and celebrations are a few instances where there will be an influx of guests, and they'll stay for a meal. You'll want to impress them with your hospitality, like food, interiors, etc. Customizing dining area decor for the festive season can create charm and style in the space.
One of the favorite festivals for all age groups is Christmas. The red and green combination can not only be seen on the Christmas trees but also in the delicacies and decor. For the ideal Christmas table runner, you can simply create a theme by combining it with matching tablecloths, napkins, and placemats; for a longer runner, use burlaps that are customized or can be painted according to the festival.
You can DIY a festive table runner by combining different fabrics with different patterns in them to create a quilt or a patchwork on a white cloth.
8. Floral Table Runner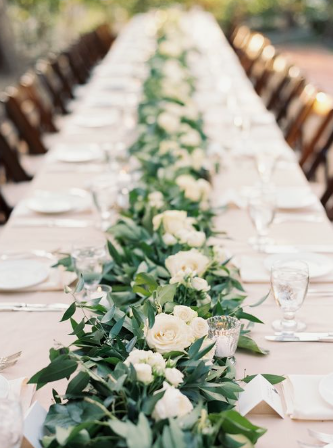 Flowers are everyone's favorite and timeless in nature. Seasonal flowers can be used in home decor to give it an ornamental look. Furthermore, you can also use artificial flowers, so they do not require maintenance and can stay for a longer time.
Assembling flowers, either rose or other vibrant blooms, on your dining table as a table runner, brings a fresh look to the space and creates a unique image. The table runner can be designed at home with the available material and be placed as a centerpiece or a long table runner.
You can use a plastic tray or even cardboard to create the base and cover it with silver foil for decorative purposes. Cover the tray with foam bricks so that you can just pierce the flowers inside it. Add some leaves like ferns, mint leaves, and robusta for a natural look.
9. Craft Paper Table Runner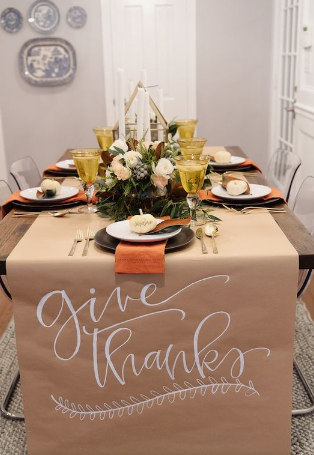 Home decor has no thumb rule. You can use any material or texture to make the place look cozier. Choosing decor for a table runner is not a tough task, as any material, size, color, or shape goes well with this wooden piece of furniture. The motive behind creating a table runner is to grab the attention of the visitors and make a statement.
Paper is a great, effective, and inexpensive material for a table runner. Scrapbook paper, craft paper, cuttings on paper, and even book sheets are unique choices for elevating the decor. Because they provide a rustic, earthy vibe that is ideal for a feast, kraft paper table runners are a terrific option for all types of celebrations. It is simple to mark everyone's place with their name on kraft paper because you can write directly on it, and it can help prevent spills off the table.
10. Quilted Table Runner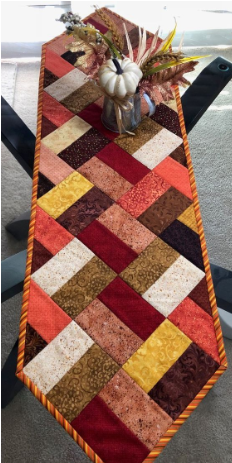 Sewing a quilted blanket runner can be a terrific option if you're crafty and want a table runner substitute that is a little thicker and more durable than most commercial table runners you can get from online or offline stores. If you wish to pick up a sewing machine and make your own table centerpieces, there are so many free DIY quilting patterns available online. Moreover, the best part of a quilt is that you can use all mix and match colors, and textures and do patchwork yet make it a decorative piece.
This type of runner, which has all-fall hues, will help give your minimalist dining space some vibrancy. The runner would look stunning on any table, whether it be a dining table, coffee table, kitchen island, side table, or dresser, thanks to its vibrant colors and sturdy construction.
11. Green Table Runner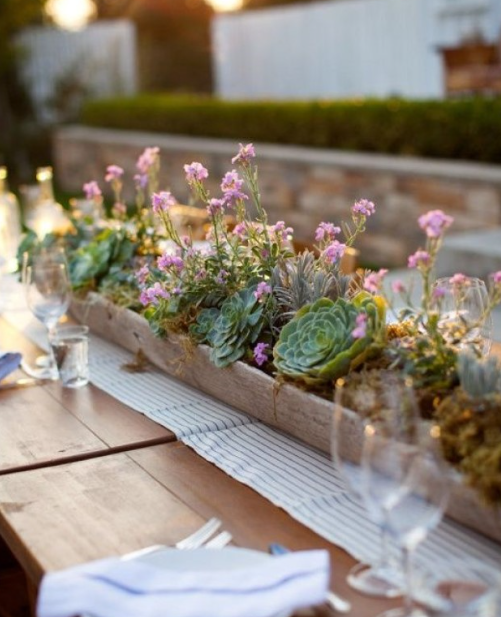 Having an outdoor dining area or coffee table on the patio gives a refreshing atmosphere and looks vibrant. The outer space provides ample space for get-togethers and leisure. The border shrubs and other plants in the yard as well as on the table as runners, add scenic beauty to the dining space.
An arrangement of succulents in a long planter can make a stunning centerpiece for your table if you want a centerpiece to run down the center of your long table rather than placing standard table runners.
Succulents are a pretty simple species of houseplant to care for if you want to spend the money on the genuine thing. However, fake succulents can be utilized if you're unable to maintain real plants or you don't have enough indirect sunlight to feed them.
12. Tie-Dye Table Runner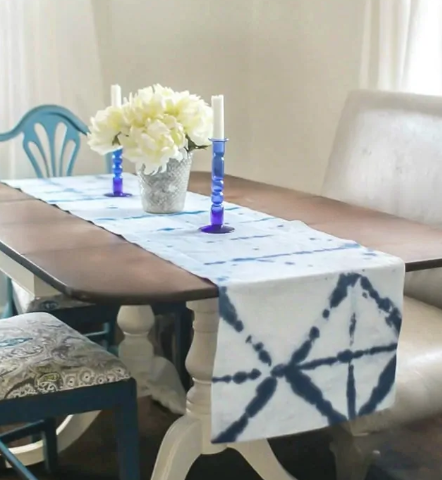 Put all that you have on the table and showcase your skills. Creating a table runner is like creating artwork. A blank piece of cloth also looks classic as a runner, and even a dyed cloth looks unique.
Making a homemade tie-dye table runner is a great way to give the traditional table runner a different, quirky spin. Table runners can be tie-dyed using vibrant primary colors, classic indigo dyes, or even a more somber monochrome version for a more sophisticated take on the style. Even total beginners can successfully complete the tie-dye crafting technique and produce a gorgeous tabletop item.
You can fold, twist, or even stitch your cloth in various ways before dying it to create distinct designs. There truly isn't a right or wrong way to complete a project like this, which is wonderful. Whatever the outcome, it still has beauty.
13. Crochet Table Runner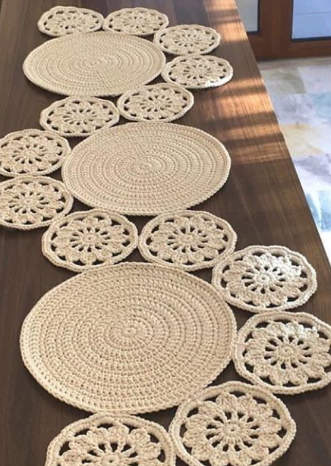 When you are deciding on decor items for the interiors and exterior of the house, include certain stuff that you can DIY. This will help you create something unique and cozy for your space.
One of the projects that can be designed at home easily and yield beautiful artwork is that of a crotched table runner. This beginner-friendly project can be made from yarn with the help of a crochet hook. By making numerous chain stitches, you can form the table runner to the width you desire.
By including a table runner in a crochet design, you can change your plain dining room decor. These table runners have an intriguing design element in that each motif is crocheted separately before being sewn together. Put them over your rustic dining table for a striking touch. These runners guarantee lifespan while being simple and stylish.
14. Painted Fabric Table Runner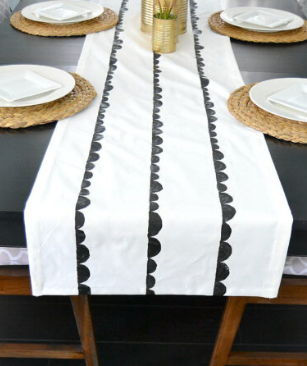 All the kids gather at your palace for vacation, and you need to keep them busy in the afternoon. Give them plain fabric cloth and some oil paints and acrylic colors so that the artist in them creates marvelous art. You can also join in painting a shape or two.
Instead of spending too much on decor that can be easily made at home, try using creativity as much as possible. Table runners are one such decorative items that do not need a lot of budgets and yet can steal the spotlight.
On a piece of white fabric, use all your colorful acrylic paints and fabric paints to make a pattern, be it zigzag or dots. Furthermore, you can use cut lady's fingers and cucumbers and dab them with the paint of your choice and create a design of your own.
15. Linen Table Runner
Many materials in the home decor never fade in their usage. By using them, you can create a rustic look as well as a modern look. Consider adding a linen runner to your dining room décor in a straightforward, useful, yet creative way. To give the room a subdued, green vibe, choose a linen runner with a lace pattern in the center that is neutral in color. Their rich finish and simplistic charm make them suitable for both modest and opulent homes.
On special occasions, the linen can be partnered with green foliage from the garden to make it look ornamental. The ideal setting for gold and black accents, such as cutlery and plates, is natural, tan-colored linen.
Bring some greenery on the table as well if you're all into it. Choose a long eucalyptus runner with delicate white buds for a lush, natural appearance.
16. Grass Table Runner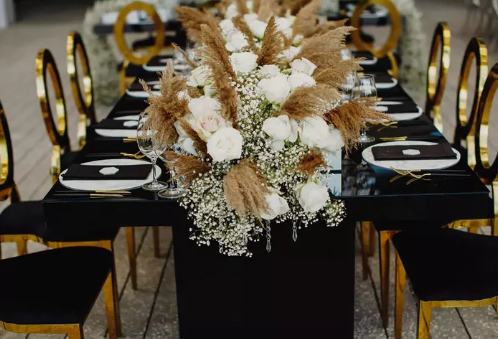 When it comes to decorating a dining area or coffee area with materials, every element used has an aesthetic view. The creativity of table runners has no end. From flowers to paper cuttings, everything goes well on the wooden furniture. In outdoor dining areas and weddings, the decor items on the table are not limited to flora. Even grasses have an elegant appearance.
One of the most underutilized flower alternatives, Baby's Breath can really stand out. You can choose to pair a black table runner that contrasts stunningly with a floral one made of baby's breath, pampas grass, and a few blossoms.
Bring the most original style of life to your table. For a unique table runner, line it with luscious, vibrant green moss. If you decorate it with lovely flower arrangements and a few other natural items, like fresh fruit, it will look even nicer.
17. Silk Table Runner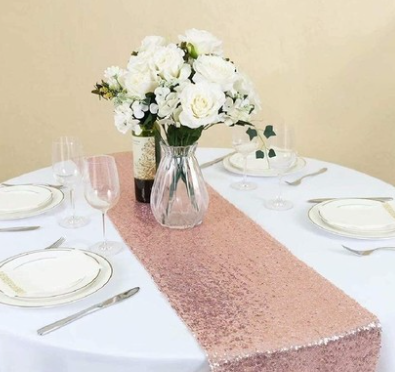 If you enjoy throwing elegant dinner parties for important occasions, you may make the gatherings more opulent with some exquisite table runners. Your plain rustic wooden dining table can be given an opulent feel by a crimson silk runner. This tablecloth's shine and beauty can be doubled by the silver decoration over the runner.
With this glitter table runner made of polyester mesh and embellished with glistening sequins, you can bring out the sparkle. The glitzy attractiveness of this product will undoubtedly fulfill your ideal table runner design fantasies for romantic celebrations.
To enhance the opulent appearance of your tablescape, pair it with a light-colored tablecloth and metallic accents. After using it, you can easily machine wash it because it is water- and stain-resistant.
18. Pebble Table Runner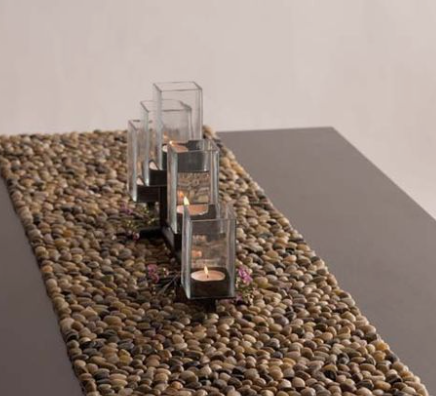 Create a home decor that has all your favorite things on display, from souvenirs to your canvas and antiques. We often collect shells, colored stones, and pebbles from seashores and store them in bottles and trays. But it is feasible to make a table runner out of these stones and preserve your collection for a long time.
You can DIY the pebble table runner project by just purchasing flat river pebbles. Wash the dust off and allow them to dry for a few days on a cloth or towel.
The cooling period will allow the adhesive to adhere to the pebbles better. Furthermore, attached them to the fabric with a hot glue gun. Start with the long, flat stones on the edges and fill in the center with stones that would best fill in the gaps. Somewhat reminiscent of a mosaic. Although it will take a few hours to complete, the result will be visually appealing.
19. Tropical Runner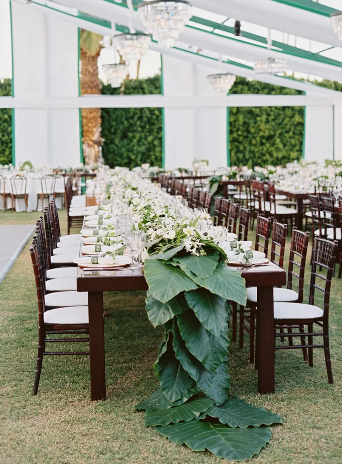 Bring it to the tropics in a striking runner. Impressive arrangement with thick, overflowing foliage and a few blossoms all the way down the table.
Unusual table runners, like a banana leaf motif, will make a big difference in the way your table is set. It is made of plastic foam and has a realistic screen-printed image and a texture that gives it a lifelike appearance.
For dinner with a tropical theme, use several pieces of this furniture and match them with wicker placemats, wooden chargers, and organic decorations. Or combine it with vibrant dishes and unusual flowers to make an exciting brunch fit for the jungle. Use a riser on top when using it as a runner for hot meals because it is made of plastic.
20. Textile Table Runner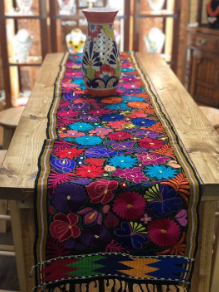 The decor is not confined to the indoors or outdoors of a home. It can be extended to the vacation home or farmhouse. As you'll be ending up there for holidays, there will be an influx of many people. Adding a few decorative items to the place will make it look subtle and serene.
Matching your table runner and napkins will make your table look better. While you're about it, pick a striking fabric. On a rustic fall table, indigo-dyed linen will make the ideal statement.
Bold colors have a special quality that can transform a plain environment into one that is opulent. You are not required to experiment with decorative elements, paint colors, or fashionable wall art. In a minimalist dining space, a straightforward addition of a traditional hand-woven Mexican runner can do wonders. This runner will add interest to your space with its vibrant hues and embroidered floral pattern.
21. Reused Table Runner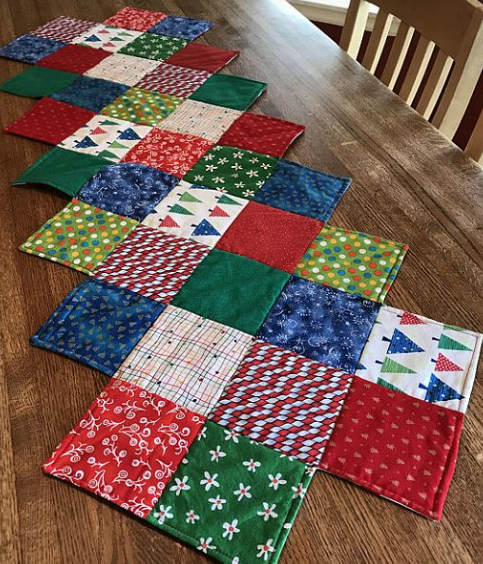 Decorating the house does not mean getting everything new. You can reuse and reutilize whatever is present indoors. When it comes to table runners, reused materials can be made a classic piece of decor rather than buying a new one. As these table runners change according to the event and festival, making a table runner from scratch can only be a budget-friendly option.
A zigzag table runner will add color, drama, and excitement to your dining area. The dining room's focal point can be made from a small square of various colors, patterns, and fabrics that are turned into a lengthy zig-zag runner. Invest in one that has been sewn, or make one yourself using your favorite patterns and hues. These runners can instantly enhance the look of both traditional and modern décor.
Conclusion
The tiny things that go into planning a memorable dinner party or another social event may make it genuinely special for everyone who is invited. If you want to wow your guests while serving them, table runners are an excellent way to liven up your plain tables. However, there are many additional options for decorating the length of the table with centerpieces and other items that can offer even more interest and beauty.
Table runners are available in a wide range to match your interior style and furniture, including embroidered and decorated designs, cotton, silk, and lace fabrics. This excellent selection can serve as inspiration for you as you decide which runners will best enhance the elegance of your dining table. These ideas mentioned here are sleek and affordable methods to update the look of your home without going overboard.