22 Floating Desks to Maximize Your Home Office Space
Floating desks are fantastic since you can easily install them to your desired height and specifications while saving money and space. It is beneficial to have a floating desk for your home office because it will enhance productivity and give you a dedicated area to work in peace. Since the majority of people throughout the world now work remotely, which supports these floating workstations, they have become more popular since the lockdown.
For your home office, we've selected 22 different styles of floating desks.
1. Window-Supported Desk with Ergonomic Chair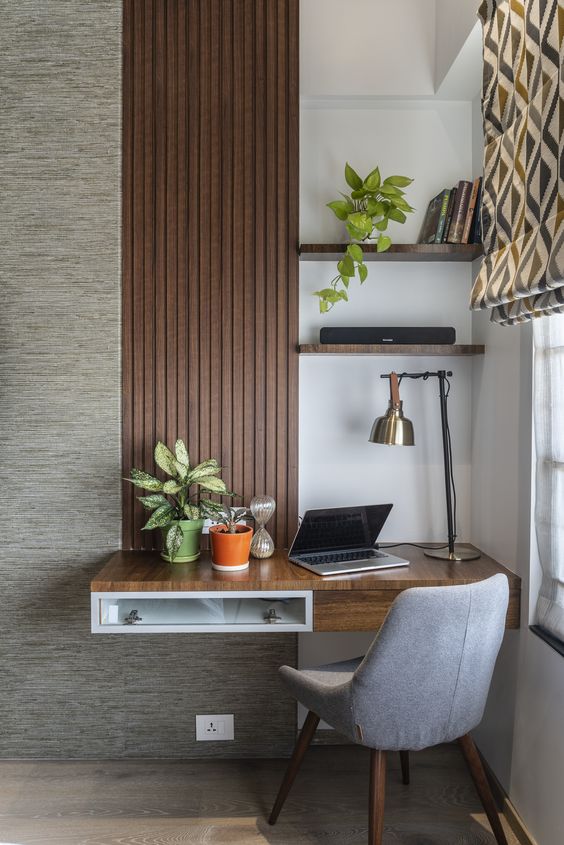 This floating desk is one of the smaller varieties, making it ideal for tiny bedrooms. This is placed in the window corner and supported by books, plants, a light lamp, and other office supplies. Long work sessions can be done in the ergonomic chair while breathing in the outside air. This floating desk satisfies every essential demand for a small office space.
2. Wall Mounted Fold Down Desk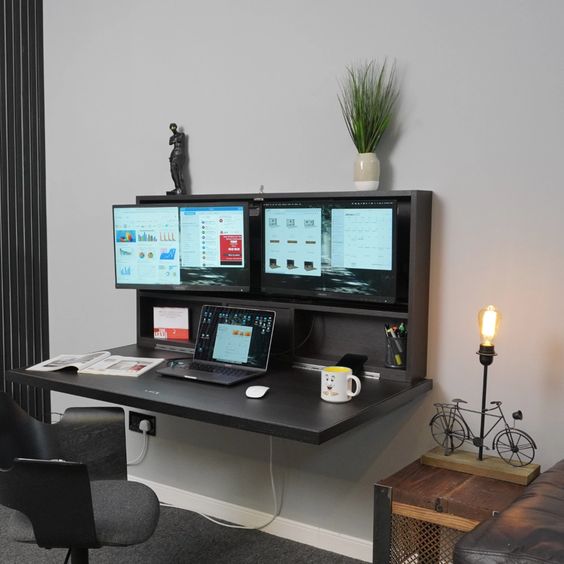 The finest folding desk for tiny areas is wall mounted. Wall Mounted Fold Desk is a great option if you don't have much room to set up an office area in your house because it is so simple to install. It folds up and down and has hangers. When you wish to use it, you can down the fold. It features numerous compartments when folded down. Your essential office supplies will fit in the available space. Additionally, you will also have storage space. You can fold it up once you're finished with it. If you want to conserve space, a floating desk like this is the ideal option.
3. Float Desk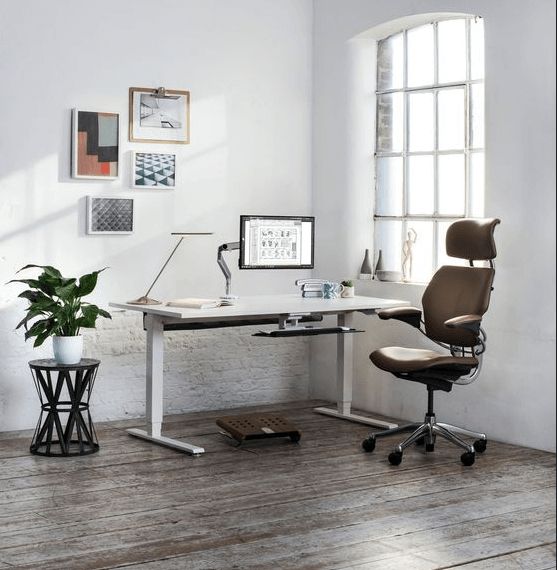 One option to replace conventional workstations is the floating desk. It promotes comfortable work even when standing. It is made to move smoothly as you rise up and sit down during your lengthy workdays. We are all aware of how detrimental it is to spend a lot of time at one desk without moving around; doing so will lead to health problems, including neck and back pain. Float desks are the finest for creating a healthy work environment in an office or at home. These floating desks come with electric variants as well. You can choose this simple and attractive float desk if you want to make working at your desk comfortable.
4. Wall Desk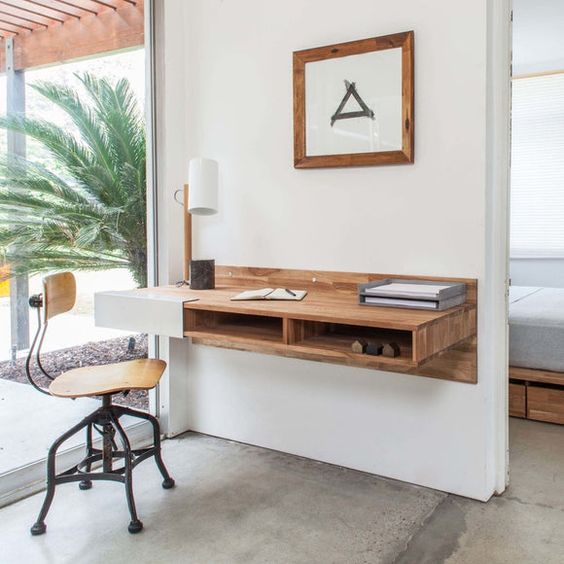 If you don't want to dedicate many square feet of room to your workspace, the Wall desk is a practical yet fashionable solution. It is simple to place this on any wall of your house or flat. The wall desk in the image above is constructed of walnut wood and has a sliding door to make working easier. It also has ample room for workplace necessities and storage compartments. Add a painting or your favorite photo frame to the wall to give your workspace a classy feel.
5. Minimal Floating Desk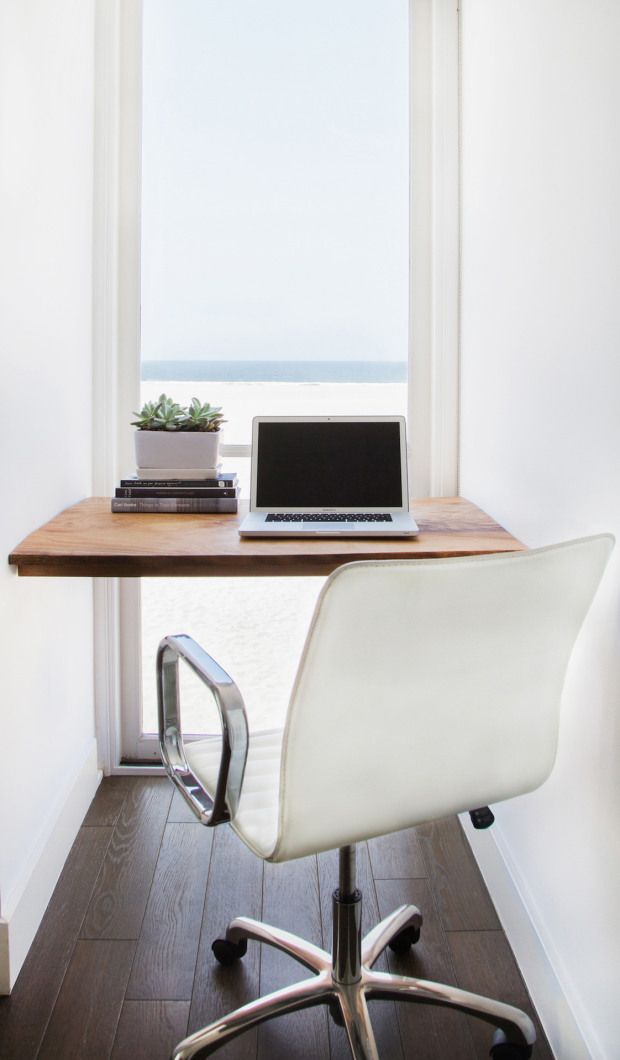 The above-described Minimal floating desk is ideal for you if you prefer minimalism. Simply turn a small, unassuming part of your home into a little, minimalist office space. It can be the awkward place where nothing fits. To get your work started, all you need is a basic desk with a little plant and a regular chair. And as the image demonstrates, it is quite beneficial to work by a window so that you can obtain some natural daylight.
6. Floating Corner Desk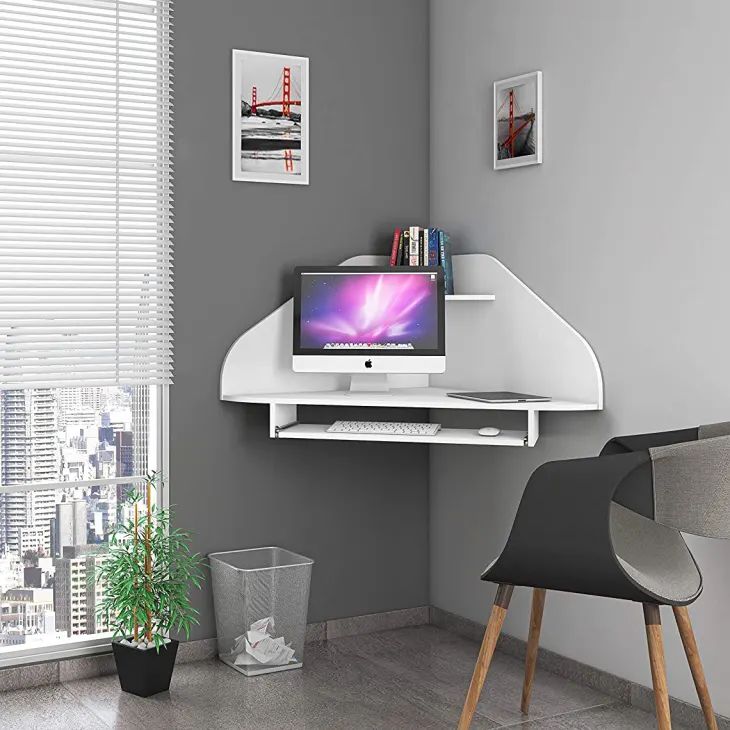 Although uncommon, this type of floating desk is very sociable and space-saving. The desk and drawers of this floating desk are made of wood. It is simple to install by simply drilling. This is appropriate for walls made of concrete or wood. This could also be your bedroom's study area. This style of floating desk should be designed specifically for you based on your needs and the corner sizes.
7. Desk with Bookshelves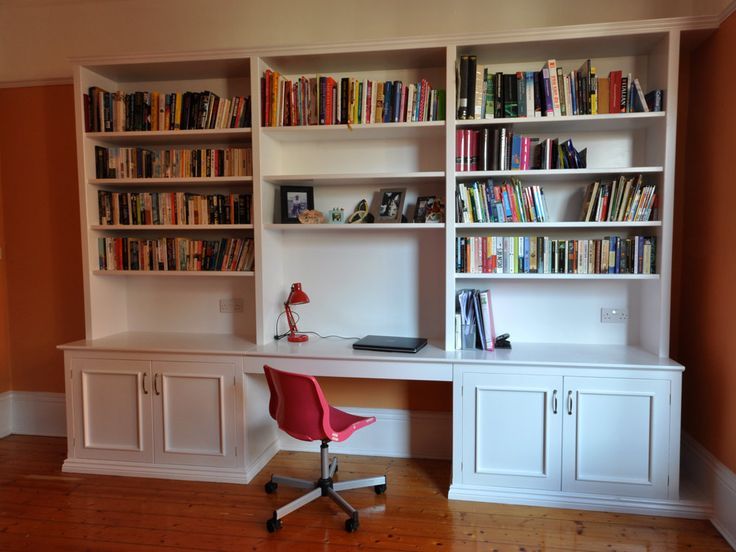 This bookcase has a desk sandwiched in between the shelves on the wall. This desk with bookshelves is perfect for you if you enjoy reading a lot of books. Your children at home may really like using this. It features several sections for books, storage objects, and any desired photo frames. Additionally, you can accessorize your business necessities in the center portion. Because of the large desk, this type of place may accommodate one or more persons.
8. Brown Contemporary Floating Desk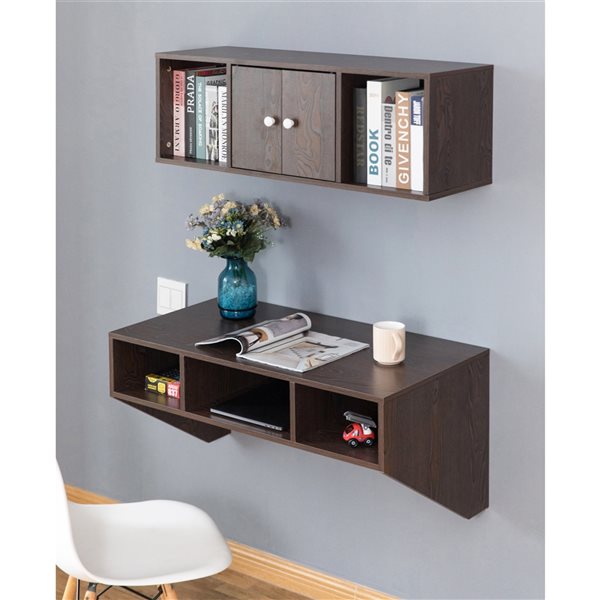 This modern brown wall-mounted desk is ideal for your home office, but you can also install it in your bedroom to use as a study desk or in the living room. It has three storage spaces below the desk for storing books or other office supplies. A cabinet with two open bookshelves and two closed compartments for storing any critical items is located over the desk. For an attractive look, you can add any flower pot or living plant pot to the desk.
9. Simple Floating Desk with Drawers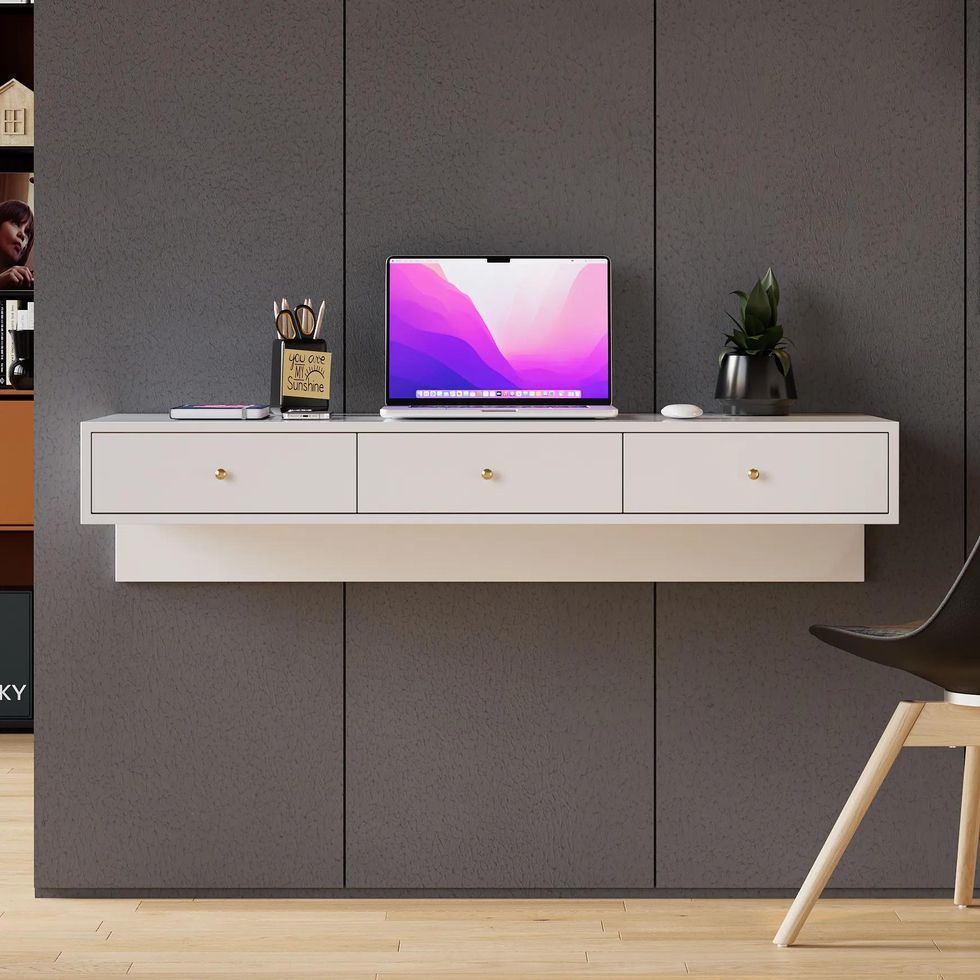 This straightforward floating desk in white with drawers helps you stay organized and store your necessities. These floating desks with security drawers will simplify your life if you are someone who is particular about your necessities. Any space will benefit from the elegance that this floating desk brings. To finish the effect, add a plant or a stationary stand.
10. Floating Desk with Round Edges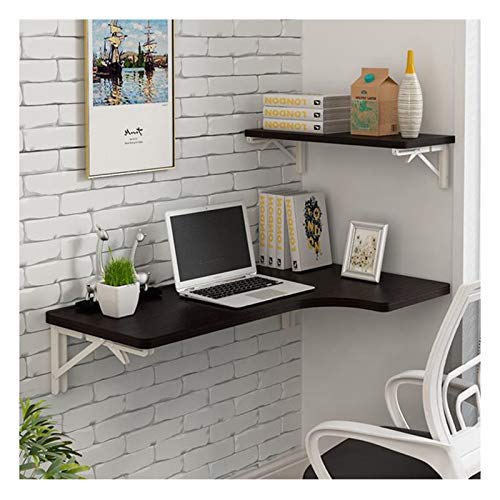 If you want to set up an office at home but lack the space, you might try this floating desk with a round border. The very small footprint and rounded corners will give the impression of a greater room. The floating desk in this image is put precisely in the room's corner, which will help you save a tonne of space. Another little desk is added to the one mentioned above to organize any books or necessities. A placed picture frame is directly above. This completes the overall appearance of the home office.
11. Floating Desk with Plants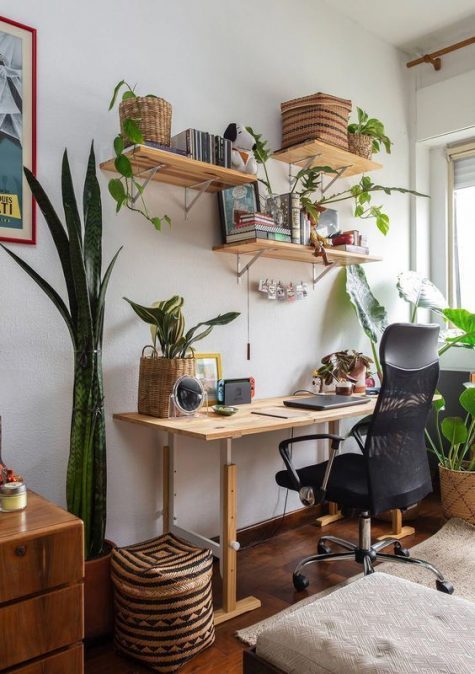 One of the smart things you can do is incorporate plants into your workspace. Plants provide us with some sort of refreshment and keep the air clean. Being surrounded by greenery at work, where you experience the most stress, is tremendously calming. Indoor plants like the Silver Vine (also known as the Money Plant), the Snack Plant, or any other decorative crawlers can be added. Make sure that the plants on your desk receive enough sunshine when you include plants in your workspace.
12. Multi-Functional Floating Desks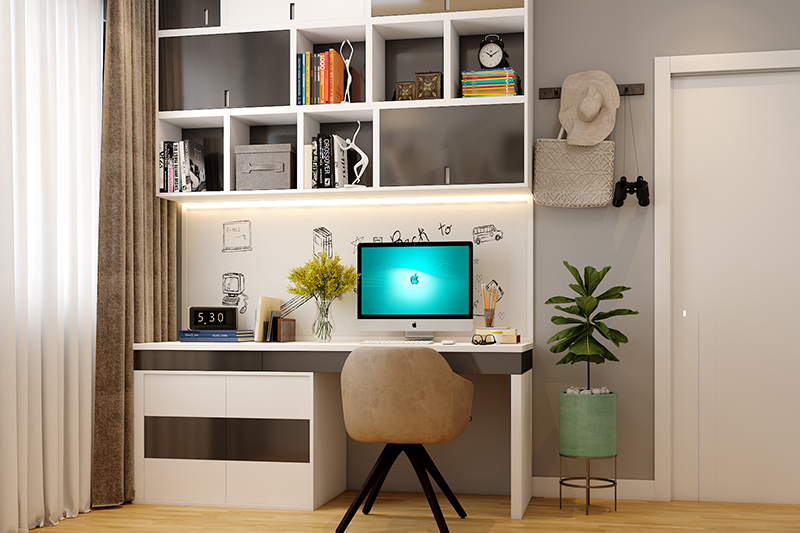 This multipurpose floating desk is for those who prefer to keep their necessities close to reach. This set-up includes a desk for your office necessities, bookshelves, and storage compartments. The desk space is quiet enough for a display plant and electronics, and there are many shelves for storage and books above the desk. A set of independent storage cupboards is made beneath the desk. A little plant and a hanger for necessities like a handbag are positioned at the side of the entire setup.
13. Movable Floating Desk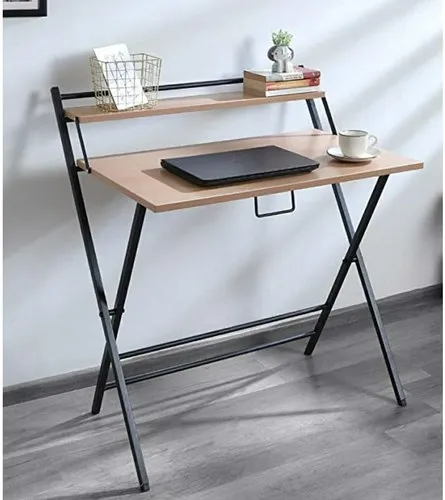 For someone who doesn't have enough room to set up a home office, there is this mobile floating desk. It is a straightforward desk with two crossed legs that is very simple to move from one location to another. The other benefit is that you may use it for anything, including office work, learning, keeping a journal, or even just eating. Since it is portable, you can utilize it however you'd want, whether you want to work in your bedroom or relax on your balcony.
14. Funful Desk for Kids' Room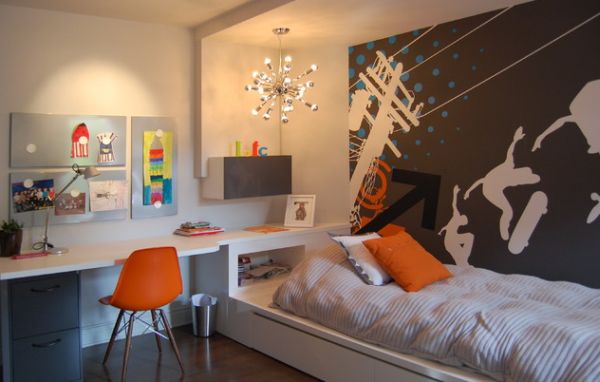 The study area for children should never be oppressive. Always make an effort to make it appealing for your children so they will like spending time at the study table. The children's desk that is above is ideal for children who are less in height. Adding stickers and art to make it colorful and humorous. The furniture matches the room's colorful theme.
16. Floating Desk in Between Closet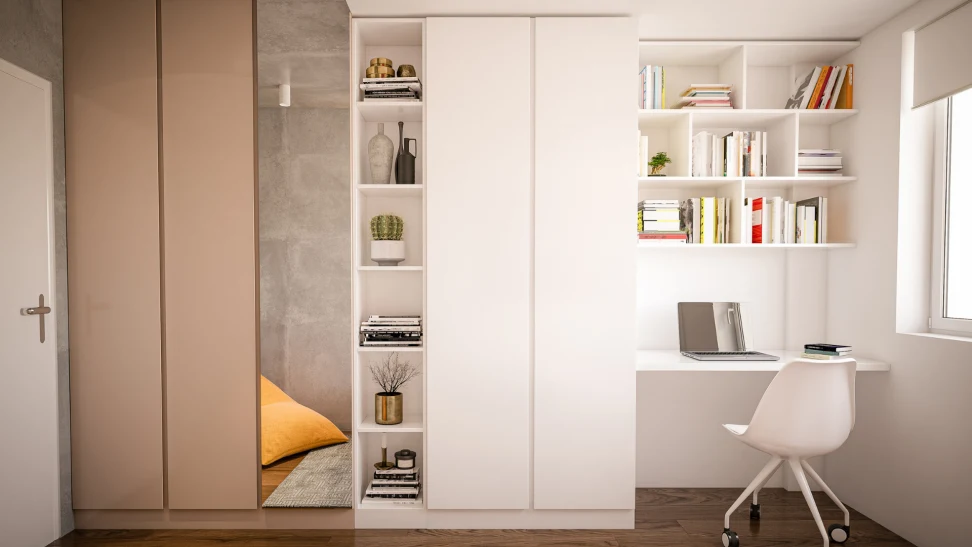 This type of office desk built into the closet is for you if you want to make a modest office space that should blend into your space. A workstation with storage is put up in the closet's corner. To make the room feel more uniform, the desk is also decorated in a color scheme that matches that of the wardrobe. This is a really straightforward, minimalist floating desk that you can make in your closet with ease.
17. Glass Top Floating Desk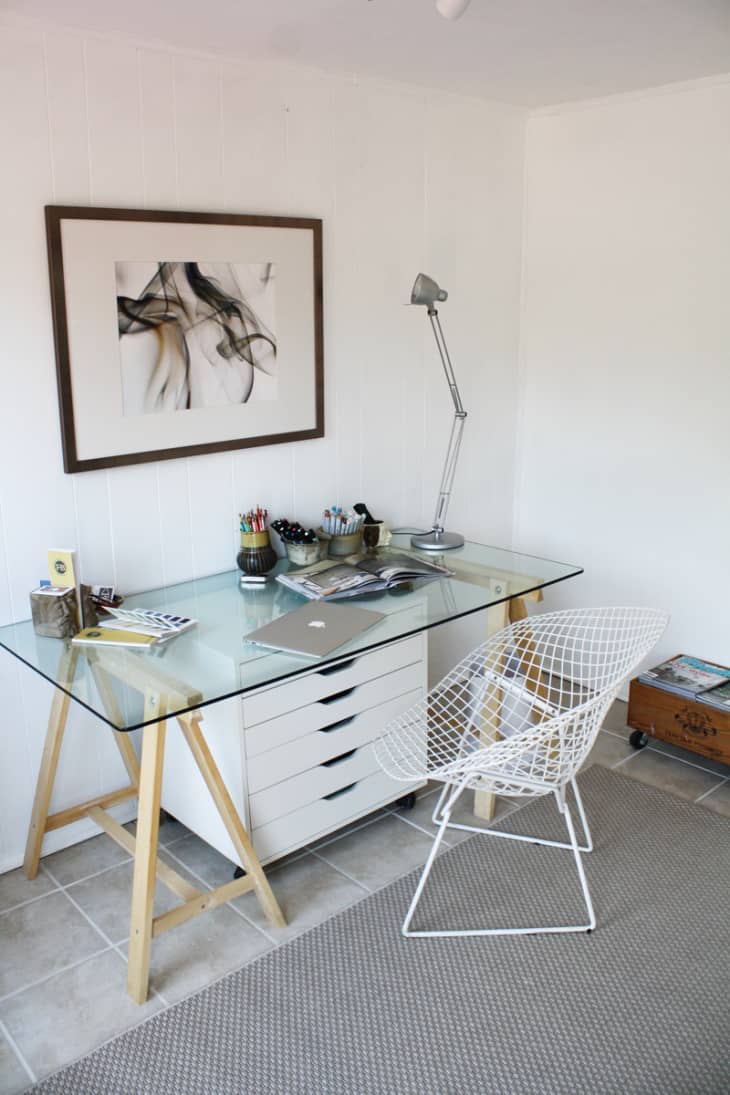 Are you attempting to make a smaller area for your office work? This glass top is stylish from top to bottom. If you occasionally have clients visit you for business, this kind of floating glass desk will give off a professional appearance. Under the desk, there is a small cabinet with many drawers for keeping the necessities. In addition to it, a painting is mounted on the wall to complete the office's appearance.
18. Compact Floating Desks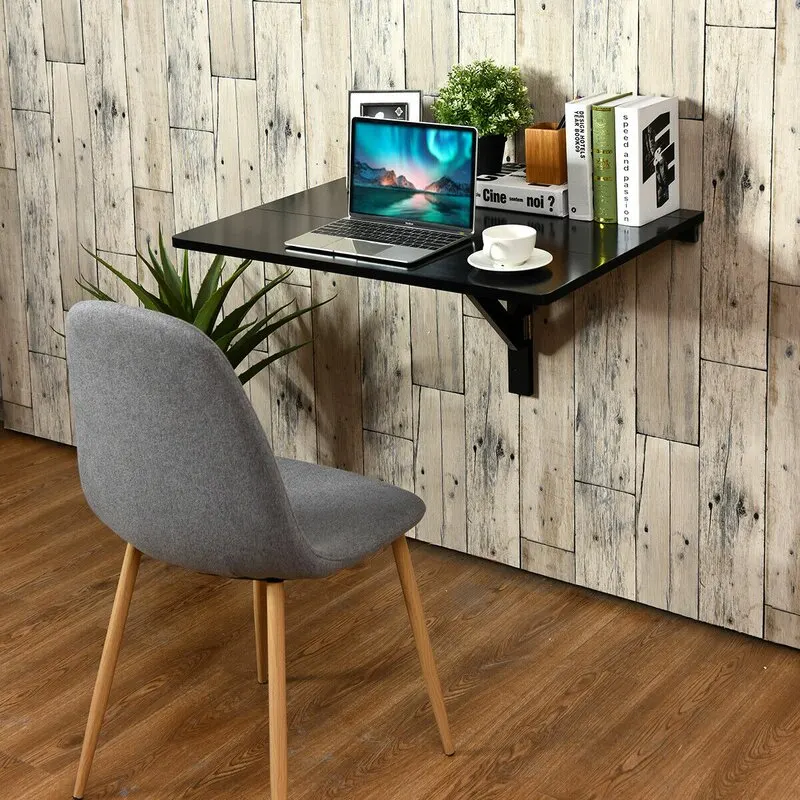 This small floating desk won't take up a lot of room. It provides you with a tiny, condensed space for your books, stationary stand, and electrical devices. This style of floating desk attaches to the wall and takes up very little room in your home. You can fold it away when not in use, so you won't even notice that a desk is taking up room. Only during the weekdays when you are at work can you fold it, and on weekends you should take a break as well.
19. Tech-Friendly Floating Desk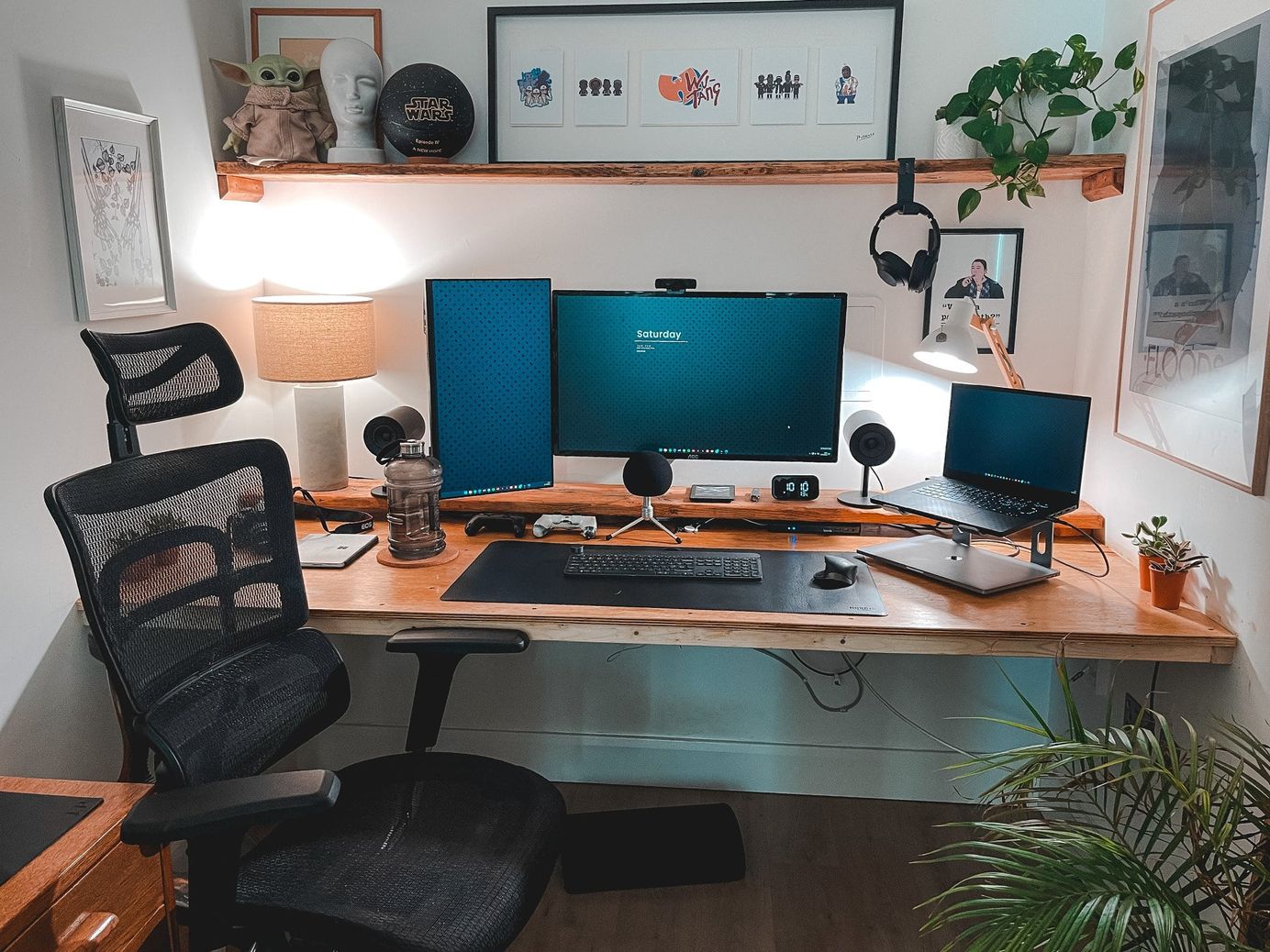 There are several ways to create a roomy and cozy area for your station if you're a techie or a gamer. The desk in the image above has plenty of room for you to use a computer and other electronic devices at your station. Make sure you have enough sockets fitted to connect several devices at once. With this, your life will be simple, and you can work efficiently in a relaxed way.
20.Tangkula Wall-Mounted Floating Desk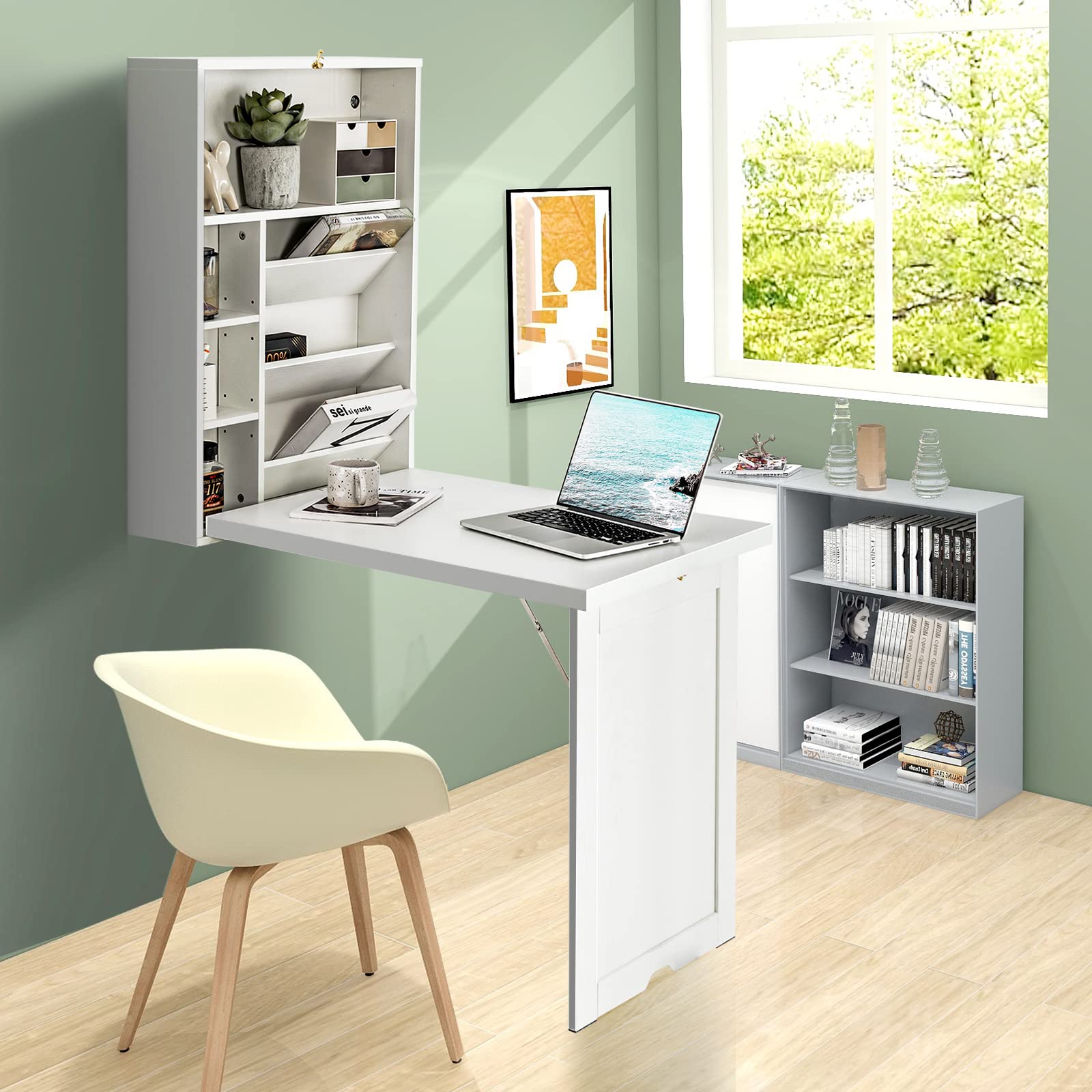 For someone who wishes to save room, there is this convertible floating desk. When you are ready to begin working, you may simply convert the fold into an office desk. You can fit your computers, daily necessities, and coffee mugs on the desk. In addition to the upper compartment, you may use it as a bookcase, a showcase for ornaments, or even a container for plants. In this case, a small, compact bookcase is included with the floating desk. One may obtain adequate natural light and air from the workstation because it faces the window.
21. Floating Desk for Two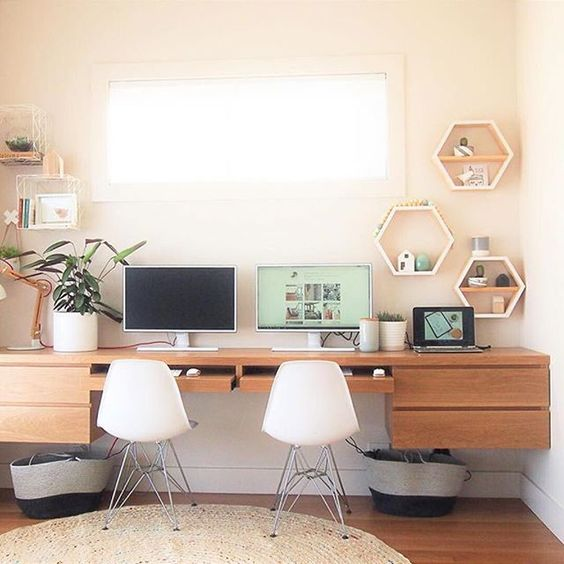 This long wooden floating desk is elegantly decorated in pastel colors and has space for two persons to sit and work at it. The best feature is the keyboard drawers, which will make your desk less cluttered and more organized. The desk has closed storage compartments on both of its ends. Plants are another way to spruce up the desk. That top window, which allows ample light into the space, is another significant feature. Additionally, the place is made more appealing by the decorative handlers that are present.
22. Large Wall Mounted Floating Desk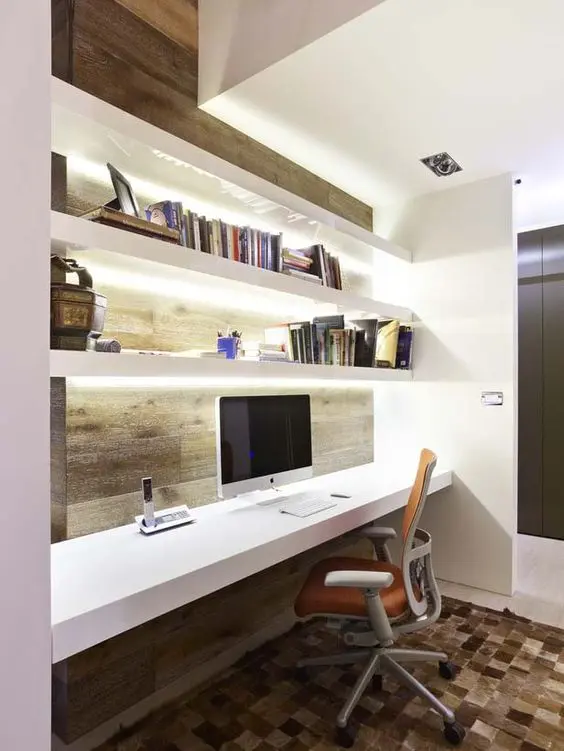 If your home has adequate room, you might choose a long floating desk like the one in the image above. It has a stark white color scheme and tall bookcases over the desk. This floating desk has built-in lights connected for sufficient lighting whether you're working, reading a book, journaling, or just watching your kids have fun sketching. It's crucial to use matching shelves; otherwise, it would look out of place. This desk can accommodate numerous children or a couple of adults.
Conclusion
Modern people who lack the space to install a traditional desk can easily choose a floating desk, which they can use when they need to work and fold back when they are finished, saving even more space in their homes.
Another advantage is that you will save money because they are economical. They may be adjusted to your height so you can work comfortably, and they are simple to install. As we covered in this post, there are a variety of floating desk kinds.
You can always pick the style that best suits your needs and home.