21 Modern Basement Bar Ideas for Your Home
In many homes, the basement is often disregarded or underutilized. Worse, it is used for storage and ends up collecting waste and dust.
Did you know that it can be transformed into a really cool bar that makes your home chic? Or made into a cool man cave that turns up great for a perfect games night?
Keeping up with recent trends, setting up a chic basement bar is a great way of utilizing your basement space. These can be built with high utility and styling. It gives off a sophisticated appearance and is a great add-on to your house. The perfect way to entertain your friends and relax with your guests. 
With so many design options available, you can make that bar tailored to your preference. There are various options that you may consider, such as classic, conventional design or more contemporary design that suits your design tastes. Lighting fixtures, seating, and storage options can be customized to your personal needs. 
Modern Basement Bar Ideas to Upgrade Your Home 
Want to make your basement the best entertaining space? An attractive bar may make a huge difference. A basement bar offers the ideal setting to unwind and have fun. Whether you are throwing a party or just having a drink after a really long day at work, let us help you get creative by offering you 21 modern basement bar ideas for you. 
1. Luxurious Marble Bar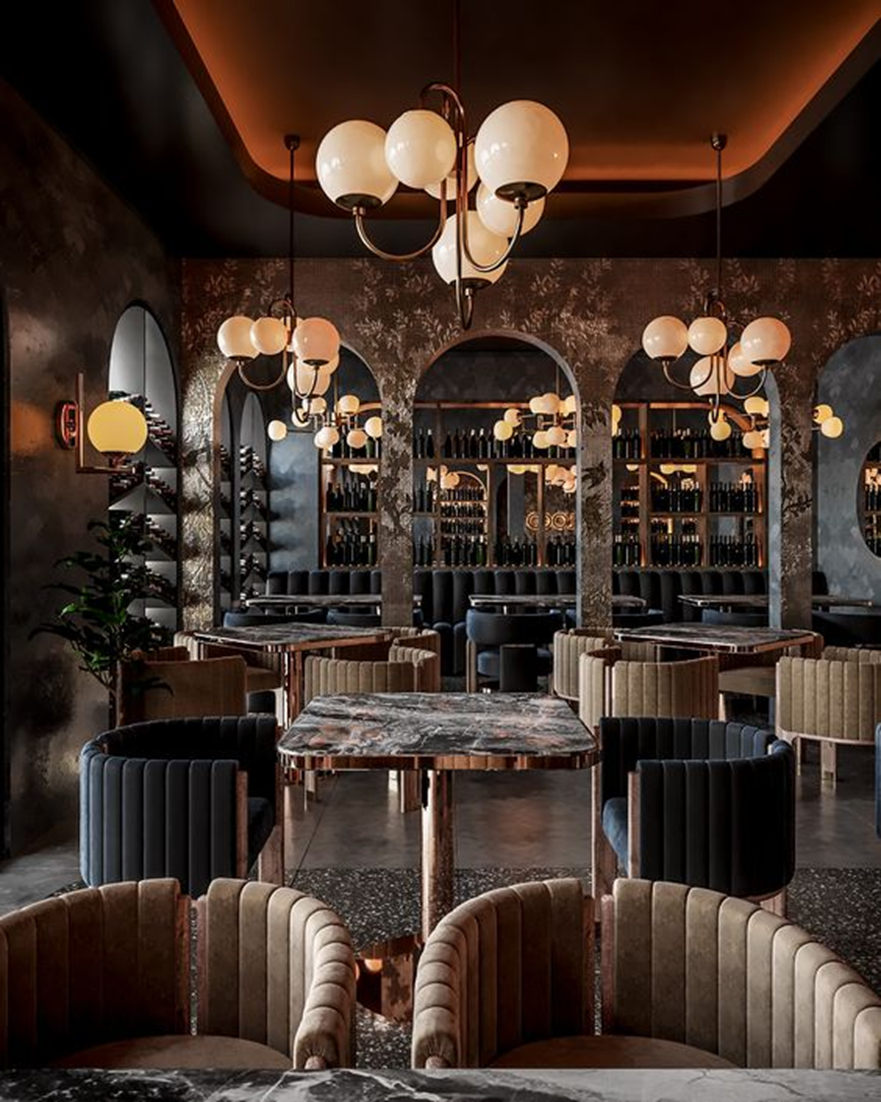 This one features an excellent marble finish in a sleek metallic accent, plush velvet seating, stunning lighting fixtures, and high-end appliances. This bar is ideal for an upscale home or venue. It creates a sophisticated ambiance and atmosphere for cocktail parties and special events. Its marble finish adds the much-needed touch of elegance that a bar demands. 
Features – Sleek and sophisticated look and feel, marble finish tiles, tables, and velvet seating. Perfect for those who love luxury and class when it comes to decor.
Usability – Ability to create a high-end and stylish atmosphere
2. Industrial Style Bar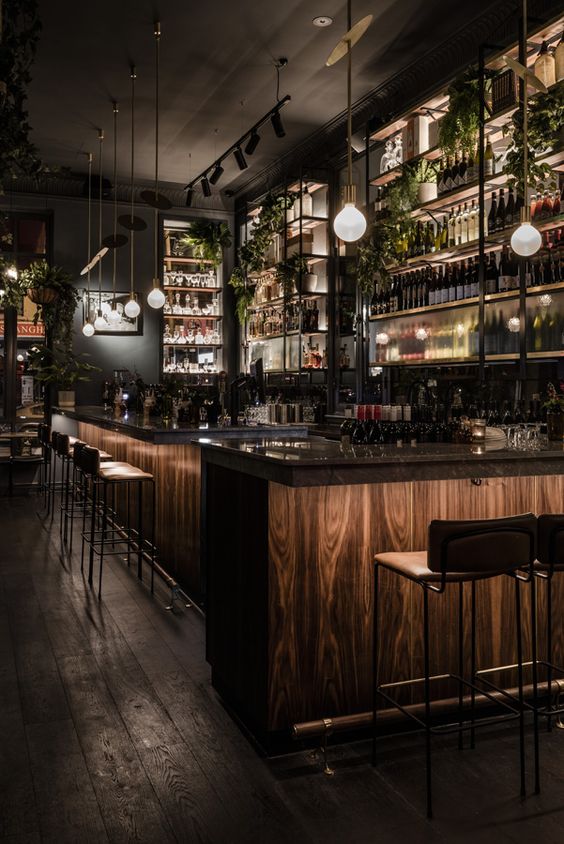 Exposed brick walls, metal accents, and wooden or concrete countertops can be seen in this kind of modern basement bar idea. The overall aesthetic is sleek, minimalistic, and ideal for individuals who prefer a more contemporary look and edgy vibe. An industrial; type bar is more durable and super easy to maintain.
Features – Stunning exposed brick wall for an industrial aesthetic with a minimalistic design that is easy to maintain. 
3. Rustic Wine Cellar Bar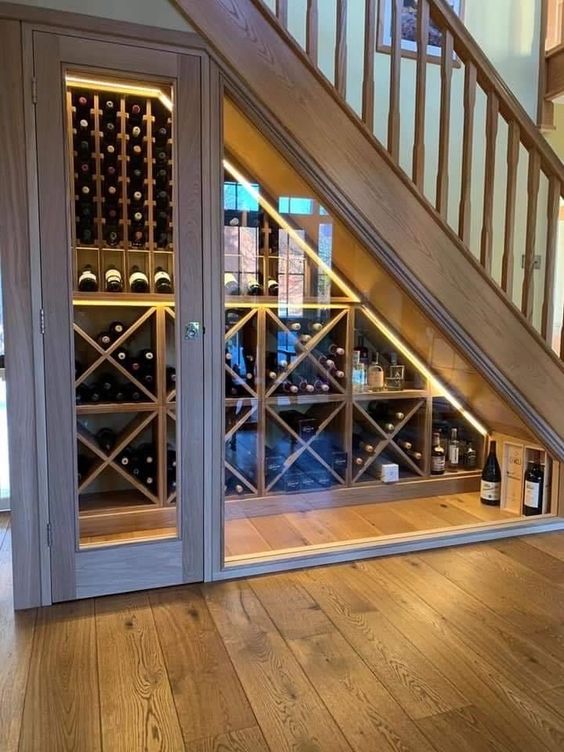 This is one of the many functional modern basement bar ideas that are perfect for wine enthusiasts. It features a cozy and rustic ambiance with wooden shelves and wine racks. The overall design is very warm and inviting, making it the perfect place to unwind after a long day. The usability of this wine cellar is its ability to store and display a large collection of wine.
Features – Enjoy classic wooden shelves with functional wine racks that give a beautiful rustic ambiance. It has the cosiest and inviting vibe that beautifies the space.
4. Contemporary Bar with Colourful Lighting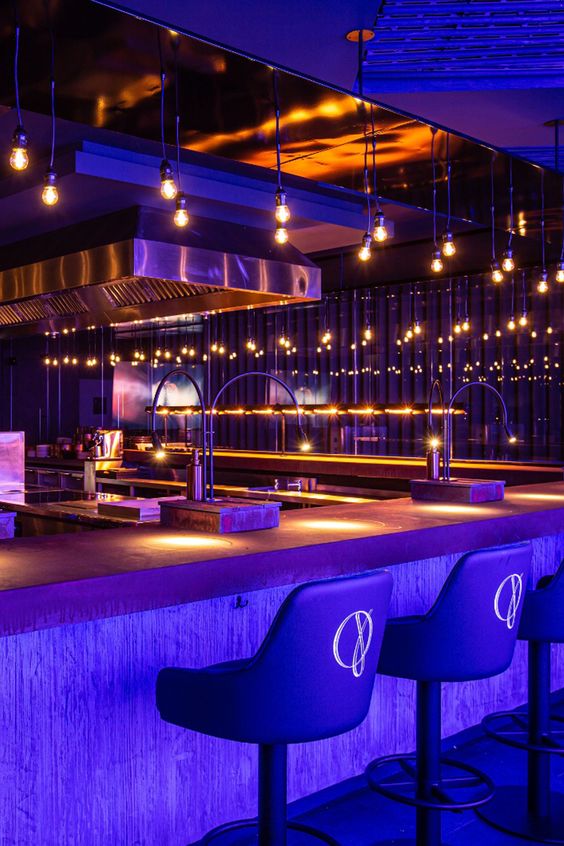 This style of bar has a streamlined design, sleek finish, and contemporary look with its LED lights. It is an amazing venue to host parties and entertain your guests over the weekend. It has a very upbeat and vibrant vibe to it. A modern bar's usefulness lies in its capacity to foster a joyful and enthusiastic ambiance.
Features– Explore colorful LED lighting and sleek and modern design that gives off a vibrant and lively ambiance.
5. Mid-Century Modern Bar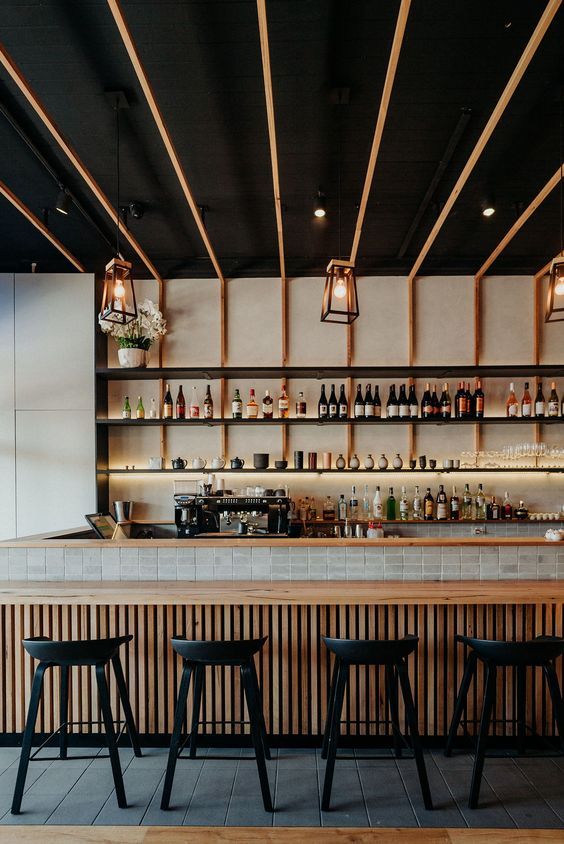 Retro styling, wood finishes, and striking patterns give this kind of bar a contemporary appearance. It is a terrific option for individuals who value a classic yet contemporary feel because of the overall elegant and timeless style. Due to its adaptability, a mid-century modern bar can be used in various settings and environments. 
Features: Get the ultimate retro look with clean lines and a wood finish. Add to that bold pattern, and you have the perfect timeless and sophisticated design.
6. Beach House Bar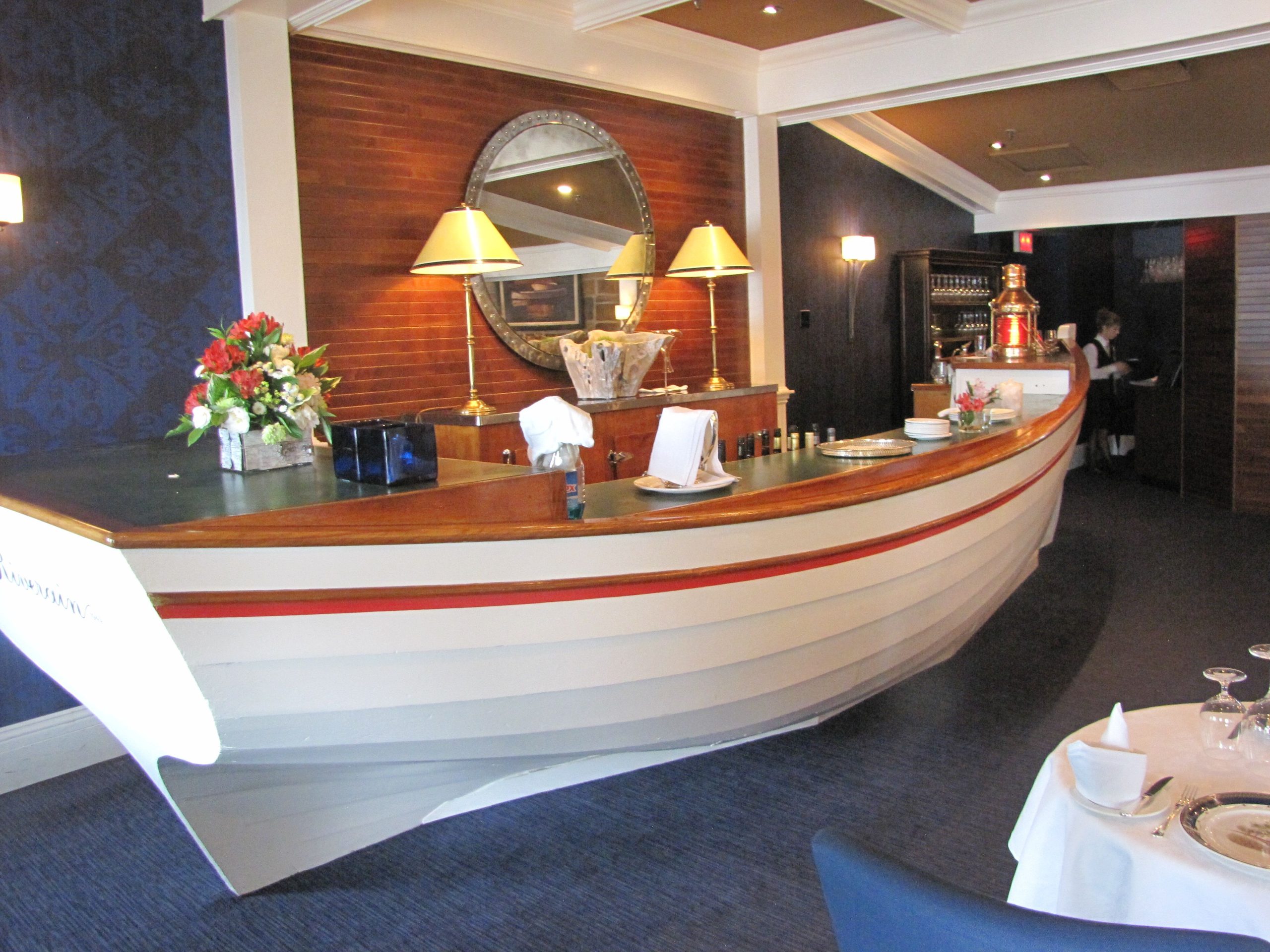 This design is inspired by the seashore, bright and breezy finish. This bar has a laid-back finish and an informal atmosphere. This can be a great addition for individuals who adore the seaside vibe and wish to include it as a part of their home aesthetic. A beach house bar can foster a sense of relaxation and a beachy vibe that helps you unwind. 
Features – Enjoy a coastal-inspired decor that is light and airy finish with its design elements. It allows the user to have a relaxed and casual ambiance.
7. Retro Diner Bar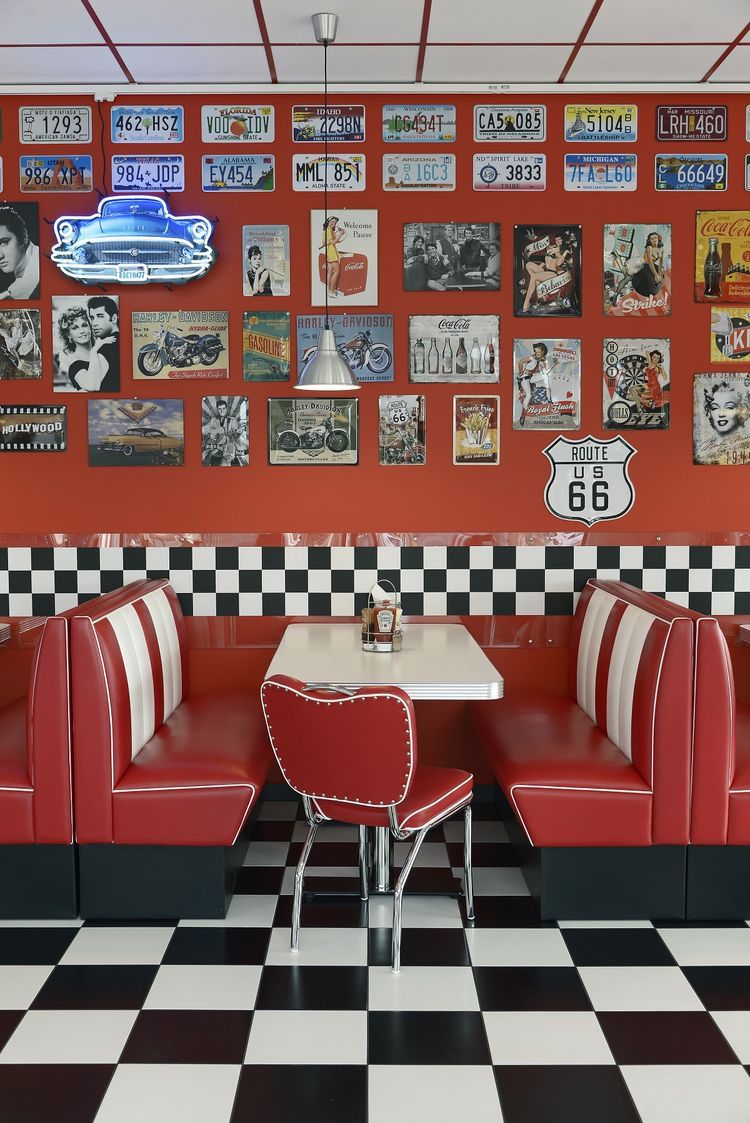 Bright colors, chequered floors, and diner-style seating give the basement bar 1950s nostalgia. For those who enjoy a little whimsy in their decor, the whole design is quite enjoyable and lively and makes for a terrific option. A vintage diner bar brings in a distinctive old-school flavor that makes a trip down memory lane every time you walk in. 
Features – This theme gives the perfect 1950s nostalgic look and feels with its bright colors and chequered floors. The diner-style seating adds character to the room, making it a memorable experience
8. Art Decor Bar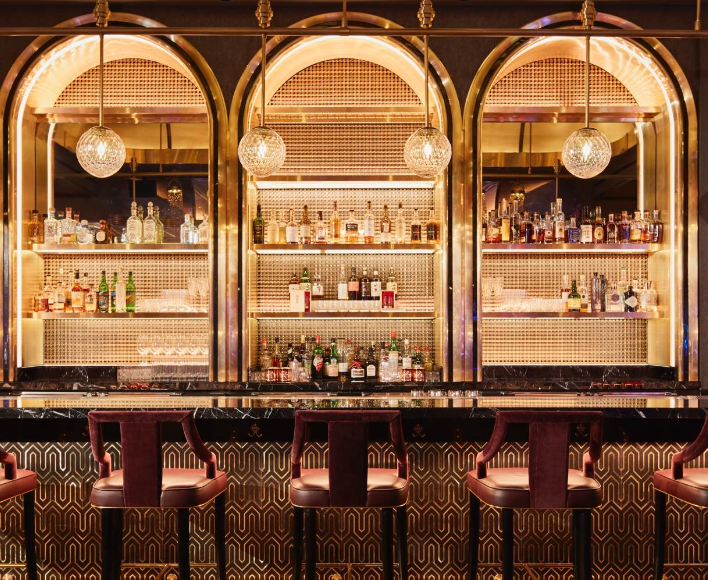 This is a unique modern basement bar idea with a glitzy, opulent appearance and a strong geometric accent. It has sharp shapes and shiny accents that add character to any space. An art decor bar produces a chic and fashionable ambiance that gives it a unique pulse.
Features – Glamorous and luxurious look that gives your room a chic vibe. With its bold and geometric shapes, along with the steel finish, you get to have a taste of luxury. 
9. Sports Bar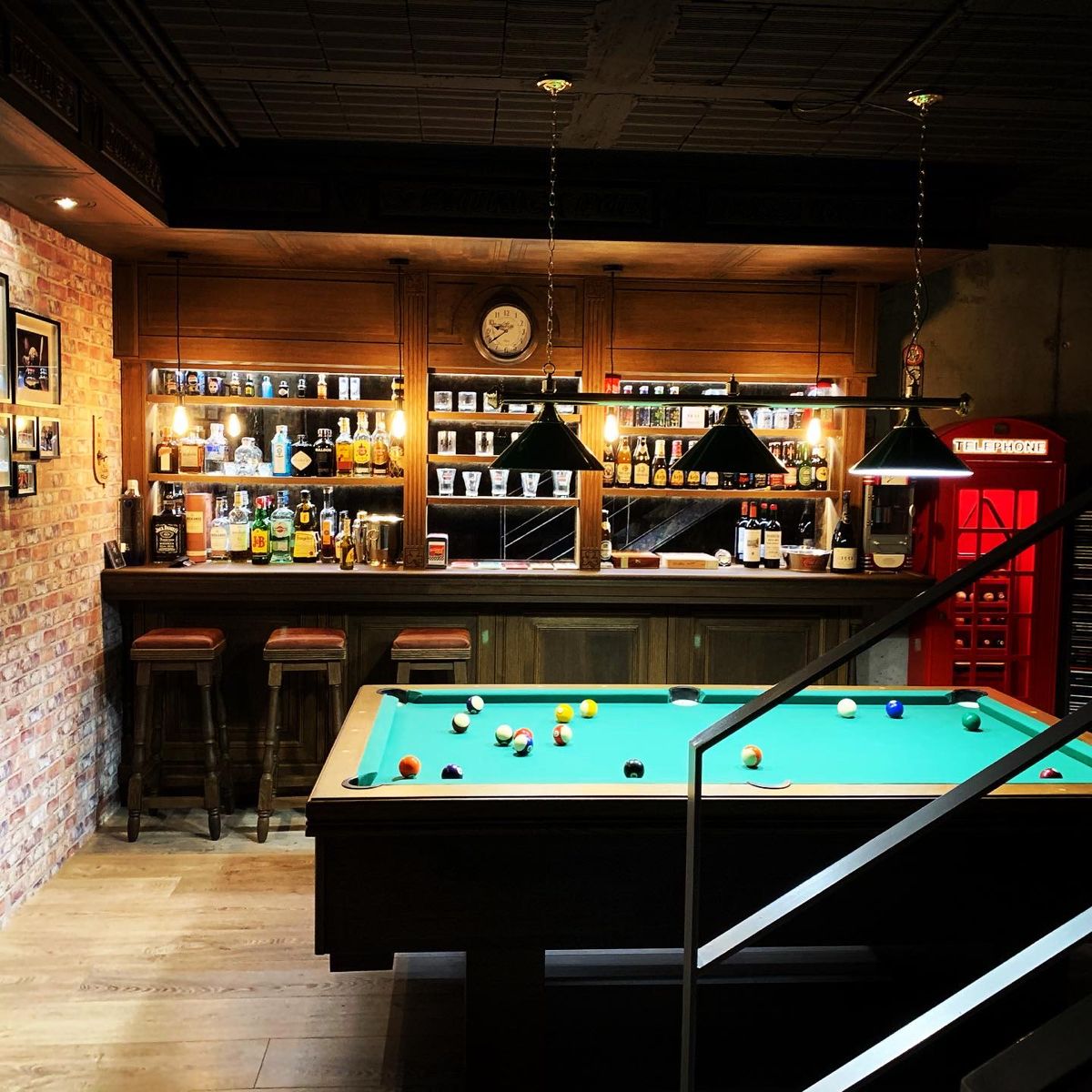 This kind of modern basement bar idea has a lively sports atmosphere with sports-themed decor and memorabilia. Ideal for individuals who enjoy watching games and entertaining guests for sporting events. The general layout is designed for a wholesome competitive experience. Sports bars are usually buzzing with excitement and liveliness, making it a great spot to hang out with your friends and watch your favorite game. 
Features– Enjoy the ideal sports-themed decor accessorized with memorabilia. It produces this fun and energetic ambiance that is perfect for watching games and entertaining guests during sporting events.
10. Farmhouse Bar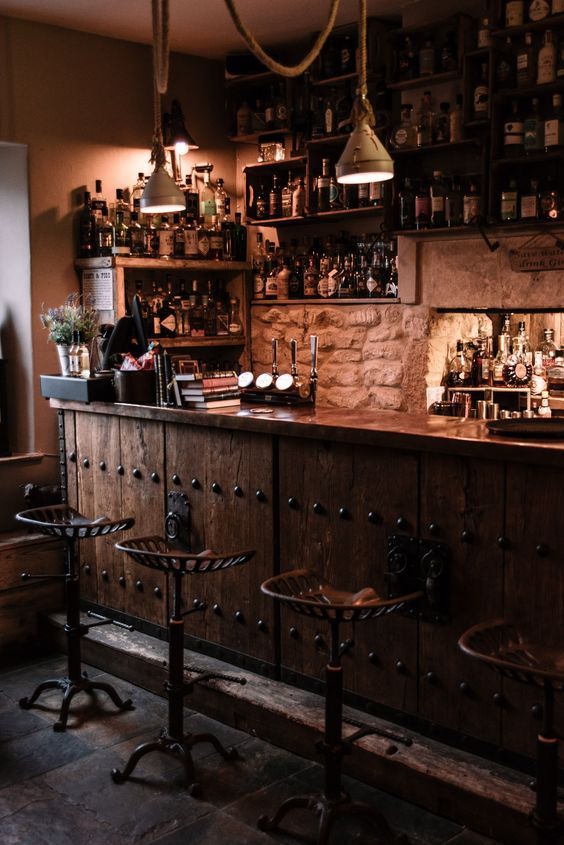 This modern basement bar idea has a pleasant and rustic appearance thanks to its use of wood and shiplap walls. Add to that farmhouse-style furnishings, and you have the perfect homely, cozy, inviting vibe. It has a very friendly ambiance and gives the classic old-school appearance that is sure to take you down memory lane. 
Features – Party, chill, and vibe in this rustic and charming basement bar that has a wood finish with shiplap walls. It emanates the perfect farmhouse vibes, i.e., warm and friendly
11. Modern Minimalist Bar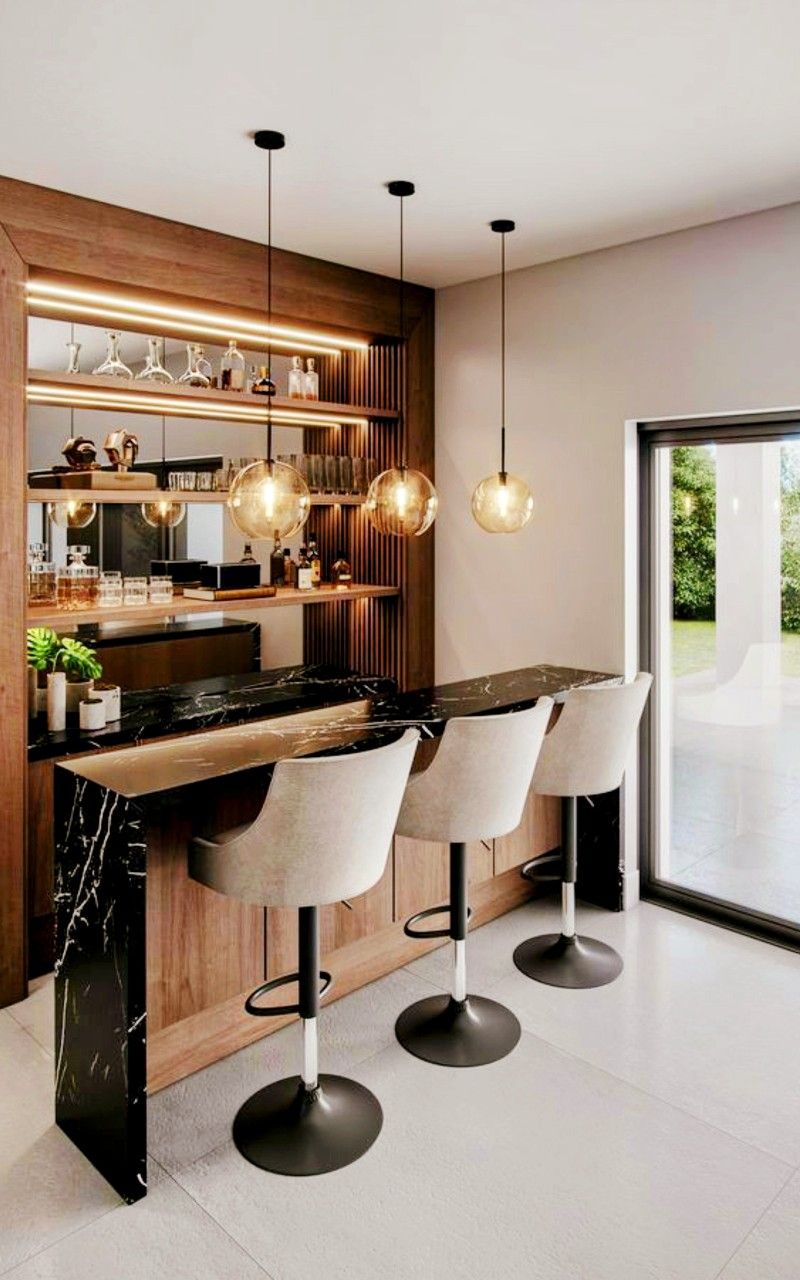 This bar style has a modern, clean-lined appearance with mute or basic colors. For individuals who value a more minimalistic yet modern design, this makes for an ideal aesthetic choice for a basement bar. Its overall capacity, clean and tidy look, and fresh feel make it an attractive choice for a basement design. 
 Features– Get a sleek and simple design that comes in clean and Neutral colors for the ultimate basement bar experience of your dreams.
12. Hollywood Glam Bar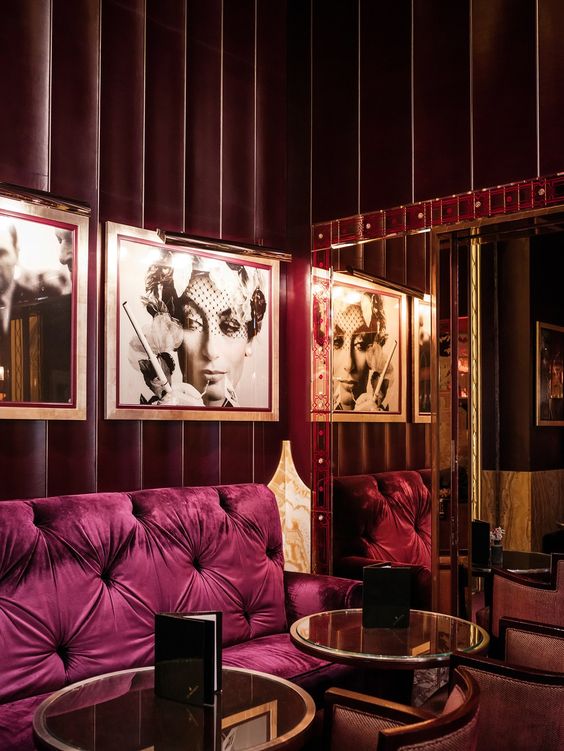 A luxurious and dramatic look with plush seating, mirrored finish, and bold lighting. The overall design is perfect for those who love a little bit of glamour and glitz in their style and decor. For those who love movie references, cinema, and glamour,  Hollywood glam bar is the perfect choice. 
Features – When luxury and drama combine, you have the basement bar you've always only dreamed of. The plush seating, along with mirrored finish decor, is a delight to experience. 
13. Tiki Bar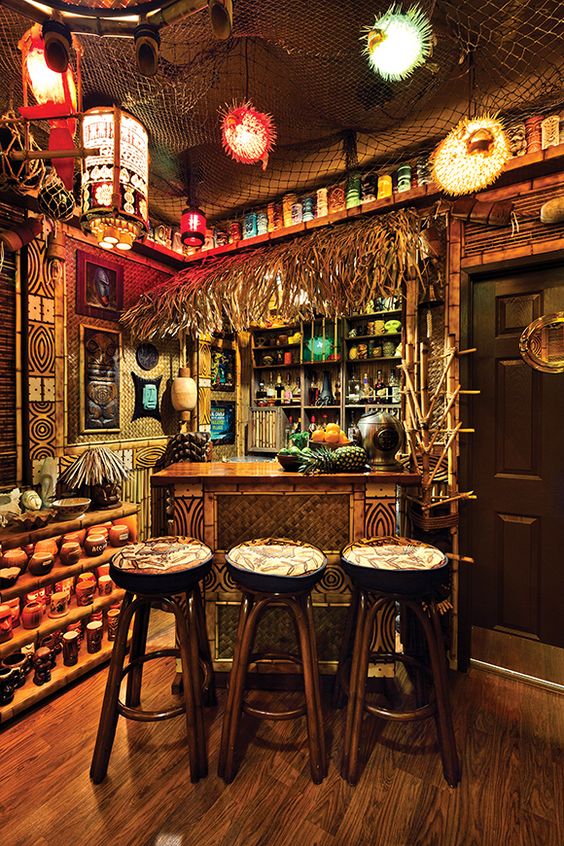 Fun and tropical look with bamboo accents, a thatched roof, and colorful lighting. The overall design is perfect for those who love a bit of escapism in their decor. It has a playful vibe to it and promotes a very chilled and relaxed atmosphere. 
Features – Enjoy this fun and tropical look that comes in bamboo accents, a thatched roof, and colorful lighting. 
14. Gothic Bar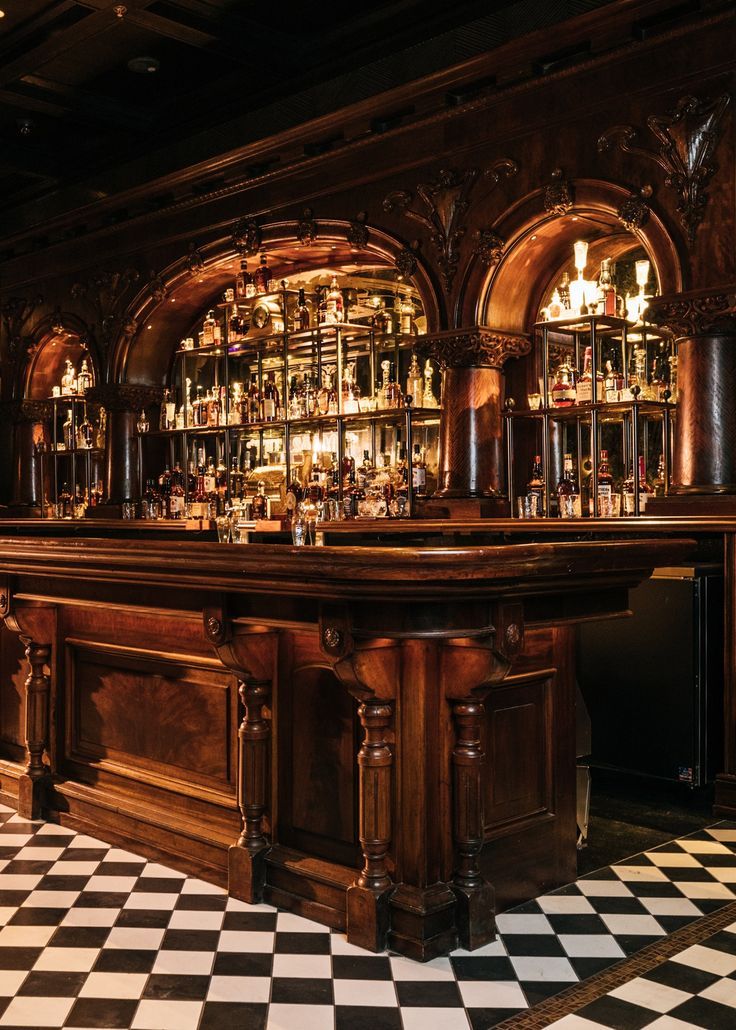 This modern basement bar idea has an opulent aesthetic with velvet seating and an elegant finish to it. In addition to the dramatic lighting, gothic culture and architecture are imbibed into the decor. A Gothic bar gives off a very sinister and seductive vibe reminding the visitors of a very Halloween to look and feel. 
Features – Dark and moody look with ornate finishes, velvet seating, and dramatic lighting
15. Coastal Chic Bar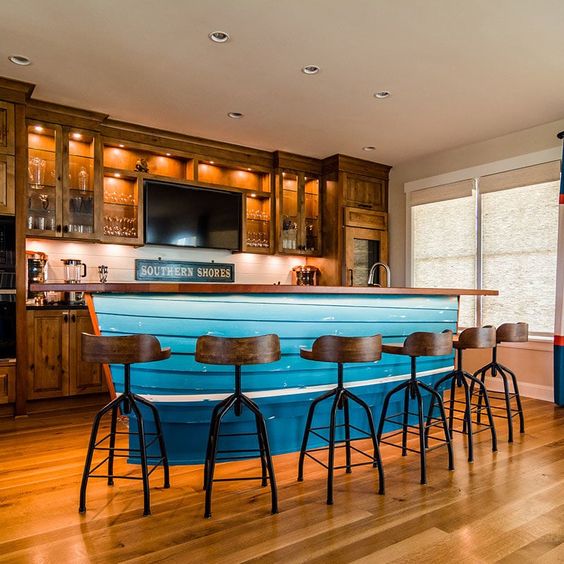 Light wood finishes, nautical accessories, and decor with a coastal theme give this sort of bar a chic and breezy appearance. For those who want a little coaCSR Annual Report 2022. stal flair in their house, this style is ideal and fits the bill just perfectly. A Coastal chic bar vibe is laid back and simplistic. 
Features – With this light wood finish and coastal-inspired decor, a super sophisticated, beachy look is now possible. With its nautical accents, you can get an unmatched coastal charm and vibe.
16. Rustic Industrial Bar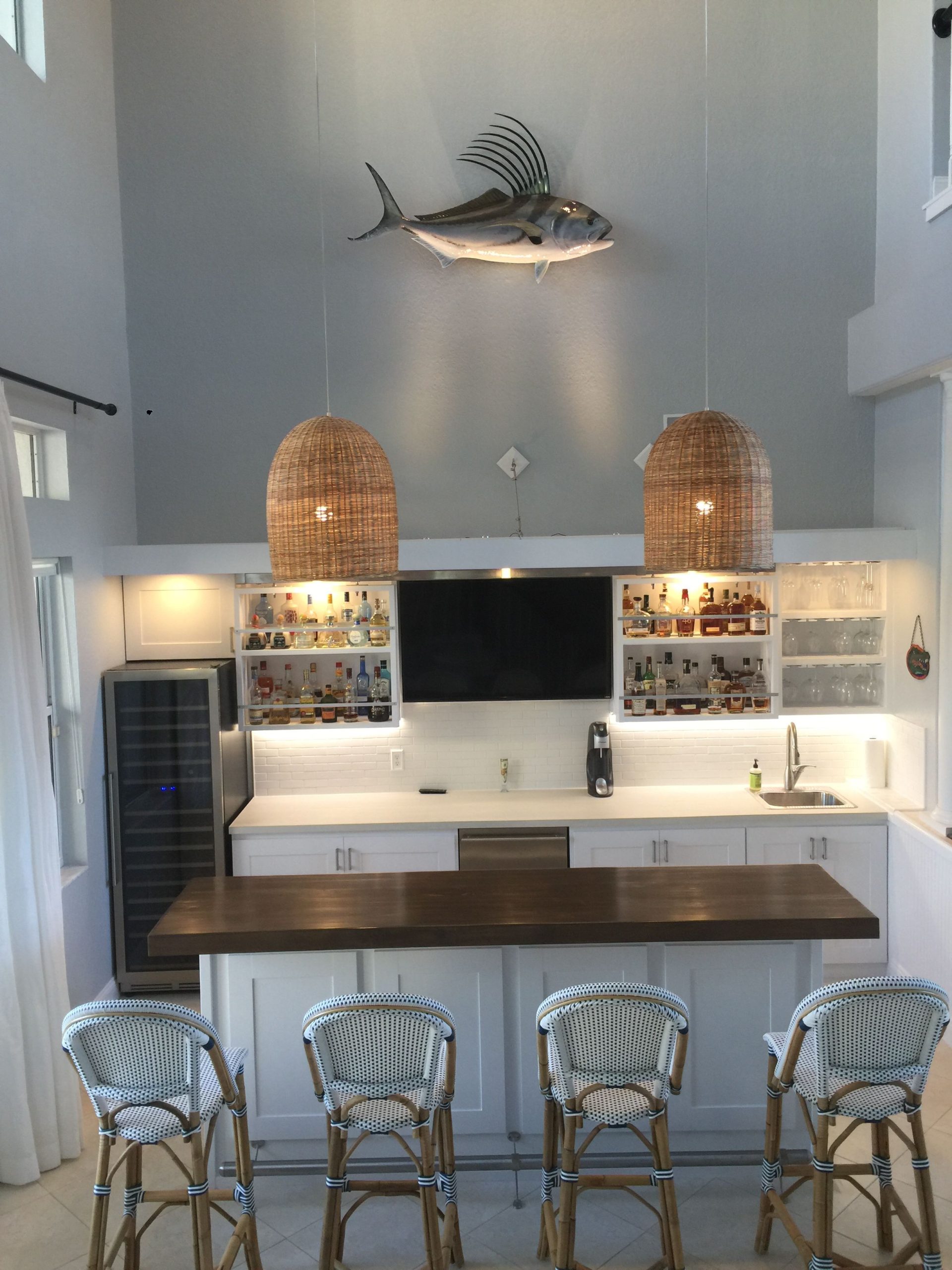 This bar type includes rustic, industrial styling, metal elements, and exposed brick walls. The overall design gives off a very bookish charm with a warm and inviting ambiance, all thanks to its cozy vibe. 
Features – Go for a rugged and industrial look with exposed brick walls, metal finish, and wood accents. This is perfect for those who love a bit of rustic charm in their decor.
17. Classic Pub Bar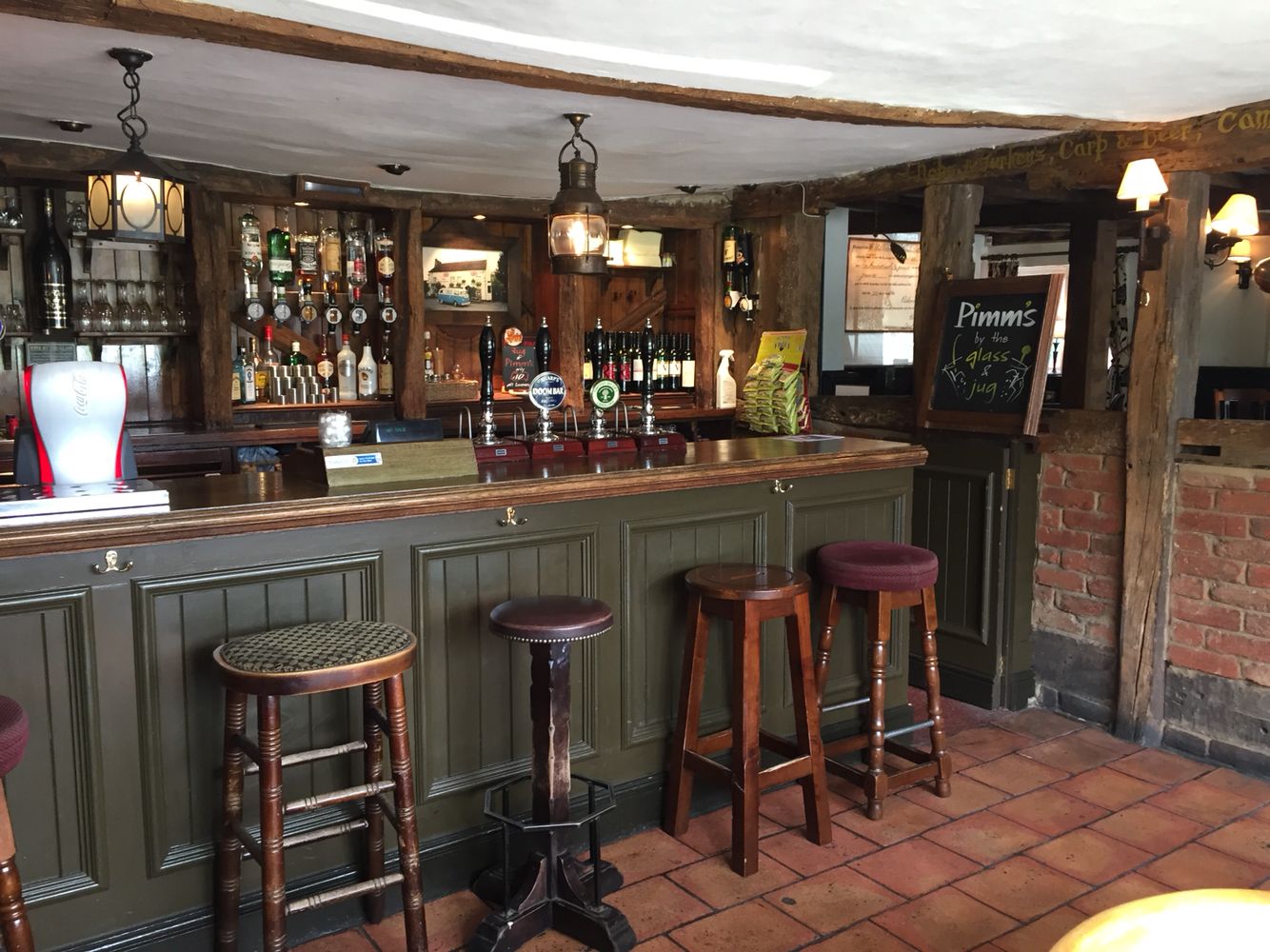 A dark wood finish that comes in stunning leather finish seating makes this the perfect classic bar. With the classic pub bar decor, go down memory lane into the good old days when the traditional inviting pub aesthetic was all the rage. It adds a bit of vintage to your home.
Features – Enjoy a traditional and cozy look that is enhanced by dark wood finishes, leather seating, and classic decor. Its perfect for those who love a bit of old-school charm in their decor
18. Bohemian Basement Bar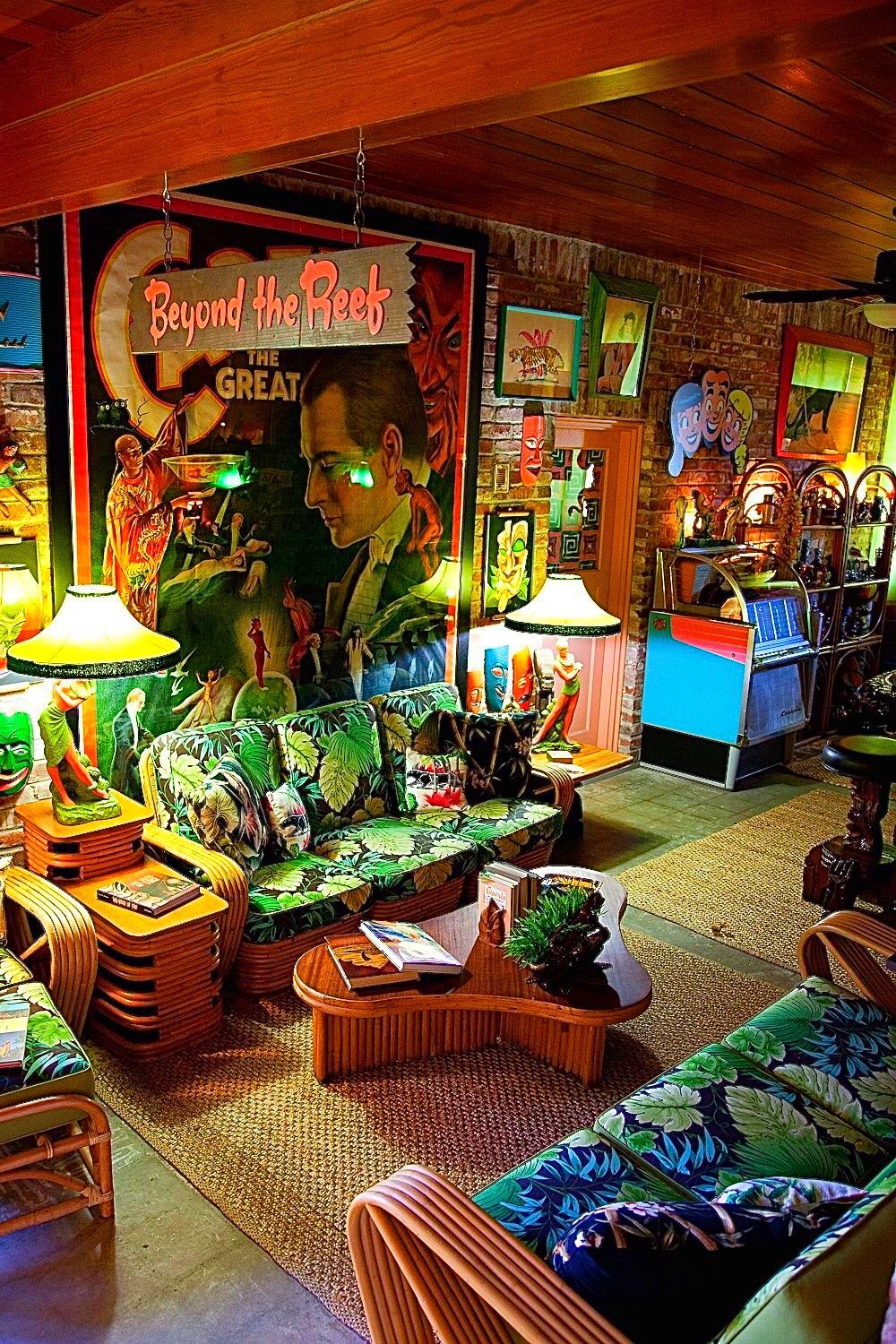 Mix and match colors and patterns with textures for a classic bohemian vibe with a relaxed and soothing ambiance. Elements such as patterned tiles and colorful fabrics give it a much-needed global vibe with a bohemian feel. You can install a bar that reflects the classic vibe with mosaic tiles or a tiled countertop. Add to this a punch of mix-and-match bar stools and unique seating options, and you are good to go. Plants and tapestries are a great add-on to the boho vibe that you are going for. 
Features – Get your bohemian basement bar with these stunning patterned tiles and colorful fabrics. It emanates a global-inspired decor with unique artwork. With accessories like plants and tapestries, your look is complete.
19. Steampunk Basement Bar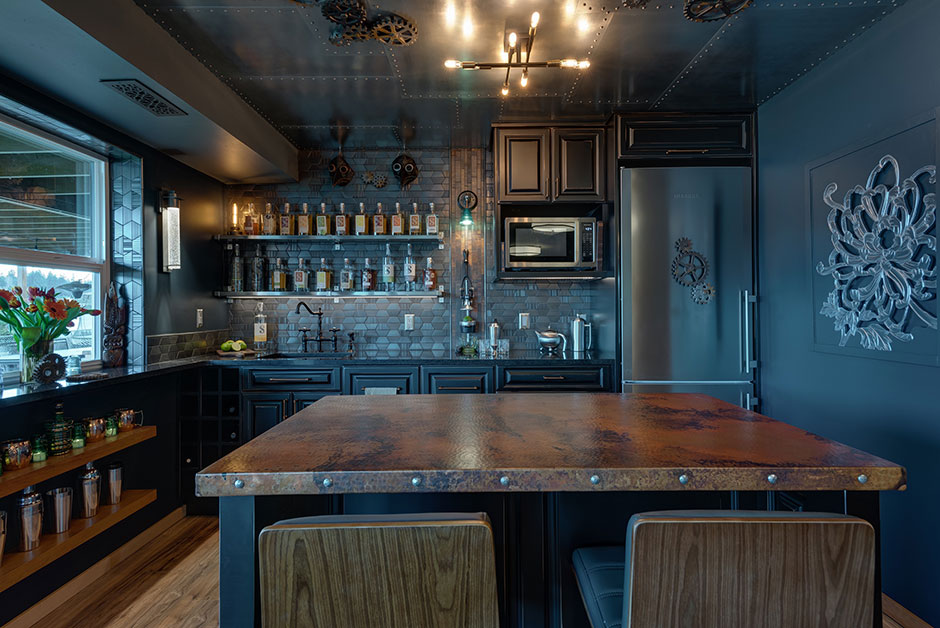 Decorate the walls with this old-school steampunk artwork and antique wall clocks. Add an industrial-styled bar stool set with classic leather upholstery for a perfect touch of comfort with character. This bar idea will take you back to those Victorian days when bars had their own personality and a likable charm. 
Features – Get simple vintage-inspired filament bulbs along with unique fixtures and steampunk artwork. This industrial-style barstools and leather upholstery are best for this theme.
20. Contemporary Lounge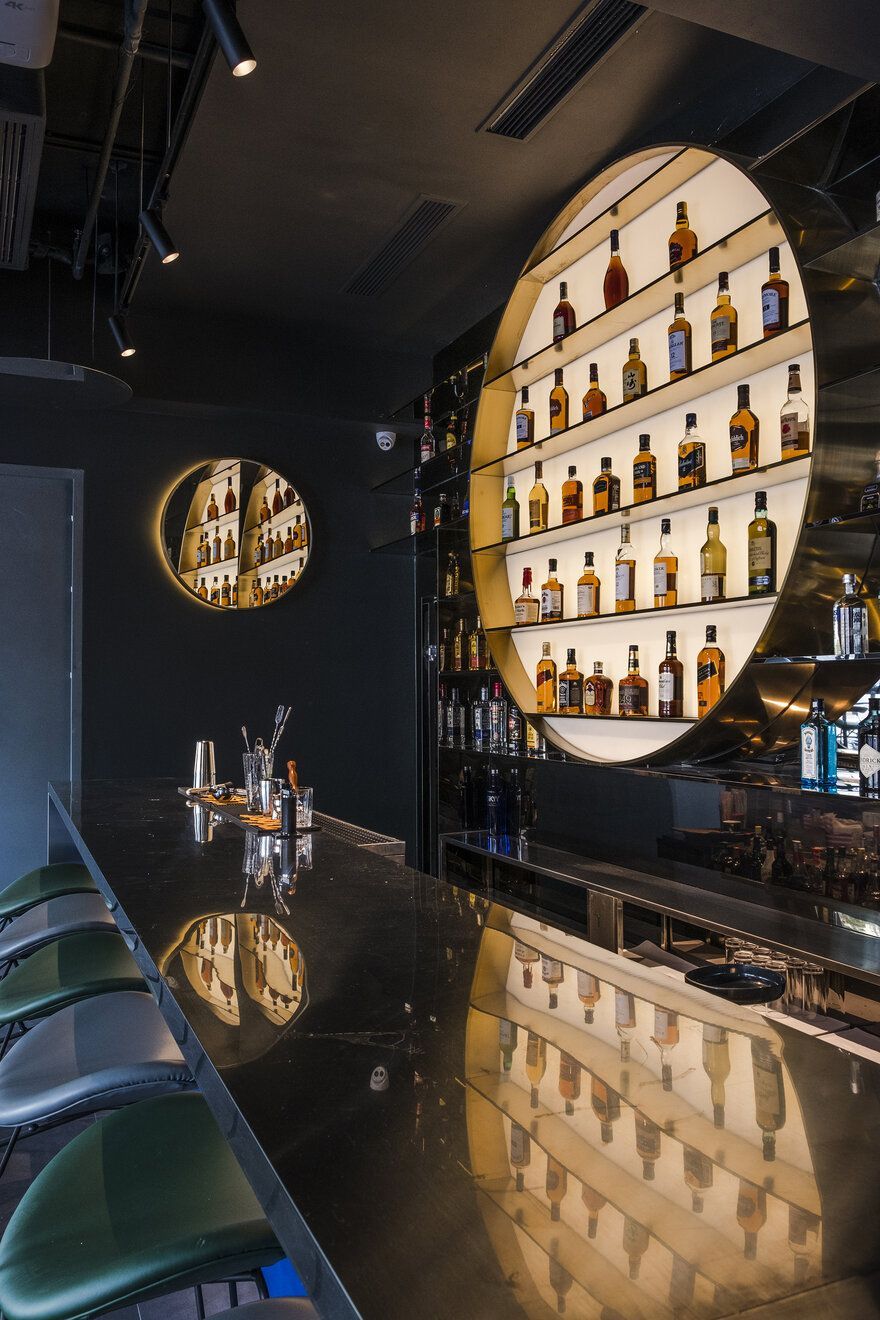 This trendy and chic lounge-style basement bar exudes modern sophistication. If you are looking to opt for sleek and clean designs with a classic monochromatic palette, this is the one for you. Add to this curved bar along with a smooth, well-polished countertop, and you are good to go. Install a LED lighting fixture for a dramatic effect. Mood lighting also goes very well with this setup. 
Features – Invest in this low profile, plush seating such as sectional sofas or lounge chairs. Add on a built-in cocktail station with a sink and mini fridge, and amp it up with mirrored backsplash or statement chandelier for the glam quotient.
21. Home Pub bar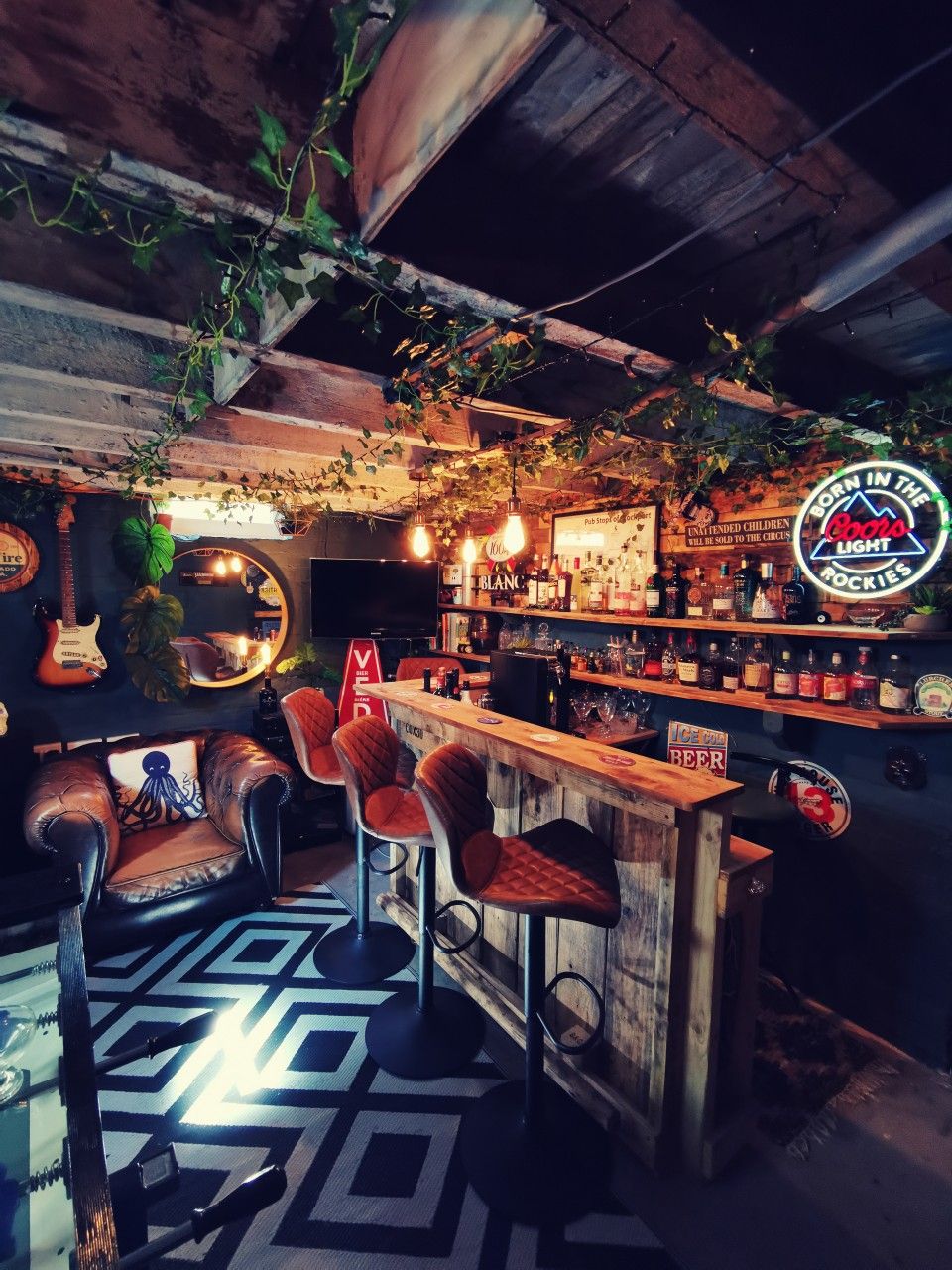 A home-pub bar involves a dark wood finish and antique characteristics with old-styled accents. It has a super cozy ambiance that makes it a perfect fit for those looking for timeless bar designs. A traditional bar counter with brass or copper foot rail becomes the focal point of this set-up. The dark wood paneling creates a rich and inviting atmosphere. 
Features – Fix up vintage bar stools or high-backed chairs and get some classic pub signage and mirrors for the complete look. Accessories like a dartboard or billboard table for added entertainment are great too. 
Quick Tips to Maintain Your Modern Basement Bar
1. Clean as You Go
Cleaning is one of the simplest tips to maintain your basement bar for years to come. After preparing a drink, promptly wipe off the counter as in bars. It helps improve the longevity of the set-up. Additionally, not keeping up with the cleaning can quickly damage counter set-ups made of wood or other similar material. 
2. Choose the Right Cleaning Supplies
Using the proper cleaning supplies is paramount. Avoid using any harsh chemicals, especially if you have a unique material as the base, e.g., wood or a certain tile. Always clean your countertops with a good quality microfiber cloth, light soap, and water.
3. Keep the Fridge Stocked
What's the point of a good basement bar if your fridge isn't stocked with all the necessary bar essentials? Ensure to frequently check the refrigerator and eliminate any bad or expired food. This will aid in preventing the growth of any unpleasant odors or microorganisms.
4. Organise Your Supplies
You can keep your bar area neat and practical by organizing your supplies. Consider investing in good storage bins and functional stacking racks for bottles, glasses, and bar supplies. Make everything accessible and place them in the right order.
5. Prevent and Repair Damage
It is important to take some preventive measures to prevent damage to your modern basement bar. Use coasters to avoid water ring stains, and do not place hot items directly on the counter. Keep heavy and sharp objects away or in a safe place. If you notice any loose screws or small damage, get it repaired instantly before there is further damage. 
Conclusion
A good stylish, well-planned basement bar can turn a boring underutilized basement into a fun and functional space. It adds to the long-term value of your property.
Because of its frequent usage, you avoid the unnecessary costs of maintaining an underground space that goes bad due to leakage or molds often. These options allow you to customize your basement bar on the basis of your preferences.
Choose seating, light fixtures, and storage depending on the theme you are going for. You can also interchangeably use aspects that suit you best.
A modern basement bar may offer you and your visitors a distinctive and entertaining experience they will remember for years. Create a high-end, fun, and vibrant experience for your guests with these basement bar ideas. 
Frequently Asked Questions
What Can You Do with Your Basement Space? 
Your basement space can be transformed into a bar that can amp up the value of your house. You can create a bar with maximum utility and style and choose decor that matches your aesthetic sensibilities. Choose from modern, classic, and contemporary designs and uplift your basement space. 
What Are the Benefits of Having a Basement Bar?
A Basement bar offers a wide range of benefits, improving the overall value of your home; great for entertaining guests, ideal for hosting parties without disturbance to others, and easy to maintain a space that would otherwise be unused. Basement bars are perfect for a weekend of relaxation and unwinding. 
What Are Some of The Popular Modern Basement Bar Ideas?
Many popular modern basement bar ideas include luxurious marble bars, industrial-style bars, rustic wine cellar bars, and contemporary bars with colorful lighting.
How Can I Create a Unique Basement Bar?
First, list your general preferences in style, theme, and look. Go through some references as options for the final look you would prefer to have. Consider materials, lighting, seating, space, and storage during this consideration phase. Add unique features complimenting your home personalities, such as a built-in kegerator, pool table, home theatre system, and more. 
How Can I Make My Basement Bar Functional?
To make your basement bar functional, consider adding appliances like a refrigerator, sink, dishwasher, and plenty of storage for glasses, bottles, and other barware. You should also make sure you have comfortable seating and adequate lighting to create a welcoming and functional space.