21 Creative Shiplap Fireplace Designs for Your Farmhouse
A fireplace is a feature added in houses to provide warmth during the cold. Fireplaces are mostly found in regions with low temperatures and regions that experience snowfall.
Apart from this, a fireplace, if designed properly, can increase the beauty of the house. It can give a modern, classic, antique, minimalistic, or vintage look according to its design.
The Shiplap fireplace is one such idea using which the elegance and creativity of the farmhouse can be increased. It will give the room a unique touch that would be worth appreciating.
So here are 21 farmhouse shiplap fireplace ideas with the help of which you can create and design your own unique and elite shiplap fireplace.
1. White Shiplap Fireplace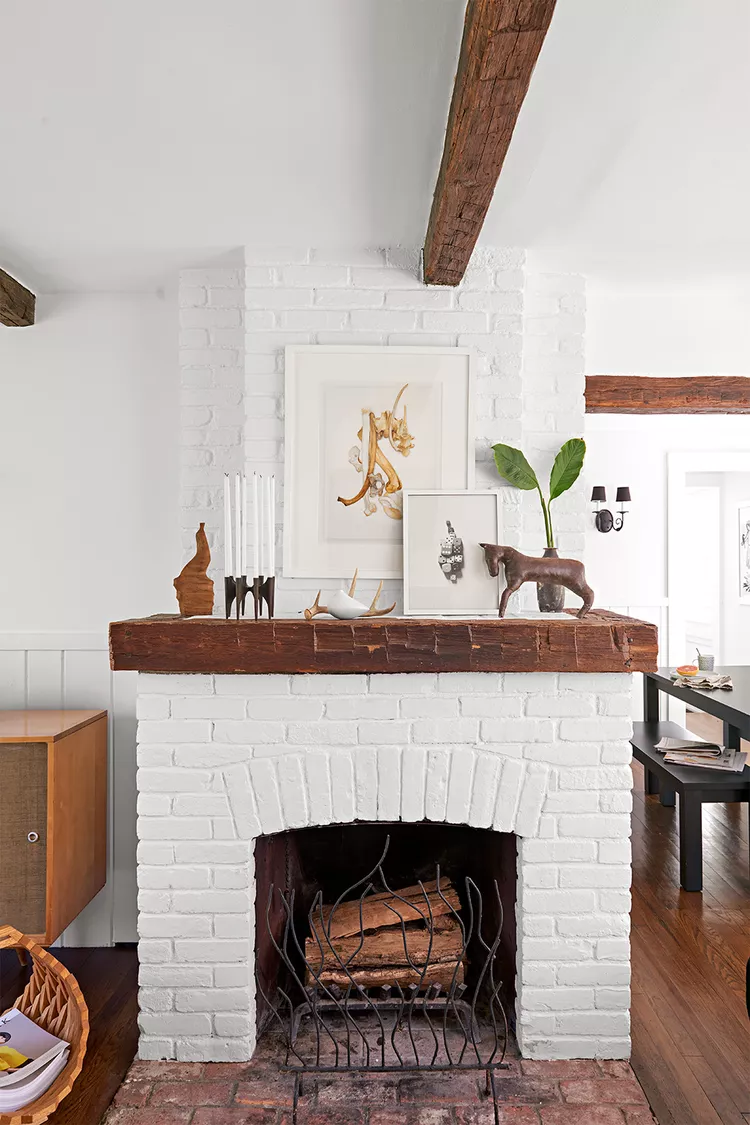 White color has always been used in architecture to provide a cozy and classic look. It highlights all the features of the place. White color makes the space neutral and modern. The same neutral yet modern look is created using the white color shiplap and fireplace in this fireplace. The whole white shiplap fireplace makes the room look more spacious and bright. Placing a dark combination of furniture around it would enhance the look of the room even more. The fireplace can be made of brick, concrete, etc.
2. White Shiplap with Black Fireplace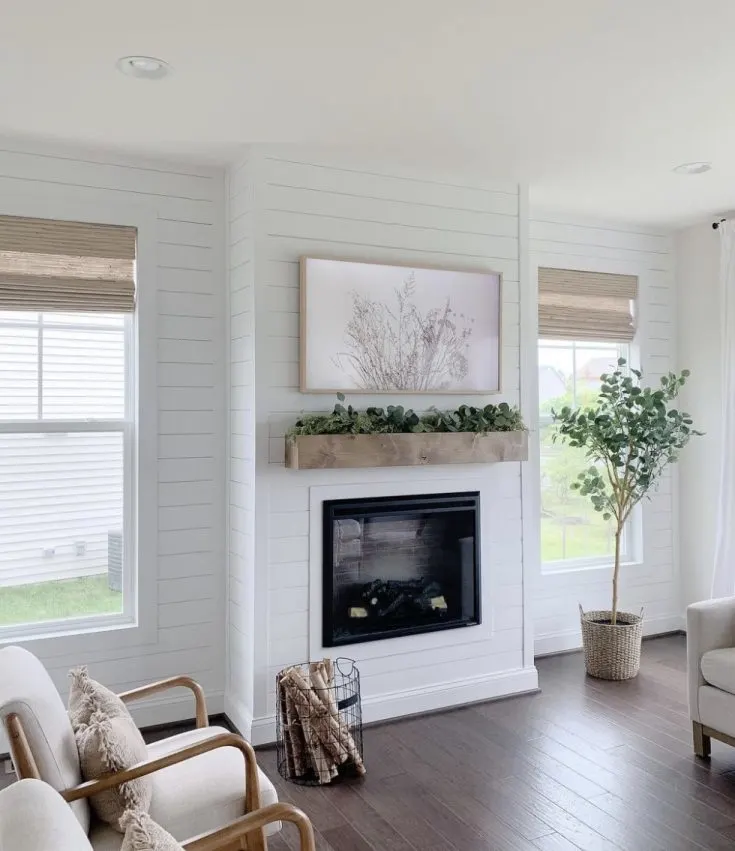 If you do not want to go for a completely white look, then you can experiment with the color of the fireplace. This white shiplap with a black fireplace gives it a modern and sleek look. It has successfully enhanced the beauty of the room. Since the fireplace is made of a dark color, it will be the very first thing a person will look at when he enters the room. The black fireplace complements the white shiplap perfectly. The painting placed on the shiplap has added more grace to the ship wall.
3. A Fireplace Made of Bricks and Stones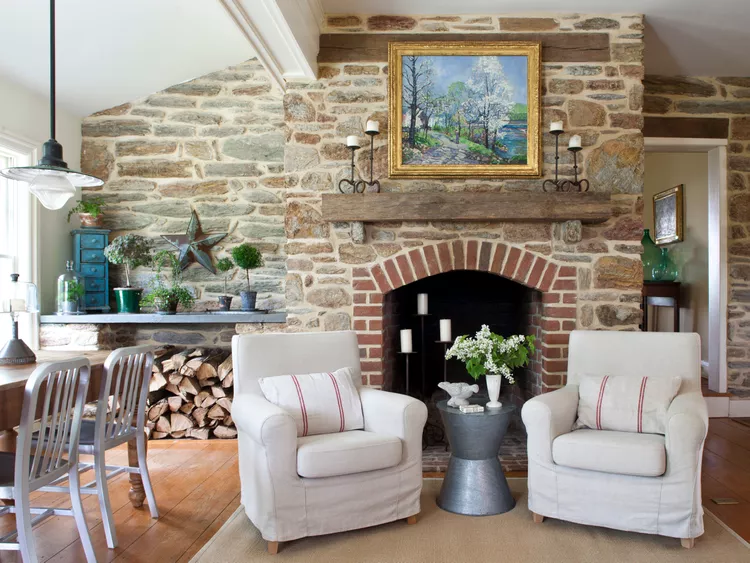 To add a little vintage look to your room, you can go for a fireplace made of bricks and stones. Bricks give a cozy feel to the room. By choosing a complimenting stone and brick-patterned fireplace, an entirely different look to the room has been achieved. The shape of the fireplace is also unique and distinctive from the normal rectangular shape. This fireplace gives a countryside look and is ideal for people who like to experiment with things.
4. Fireplace with Wooden Shiplap Wall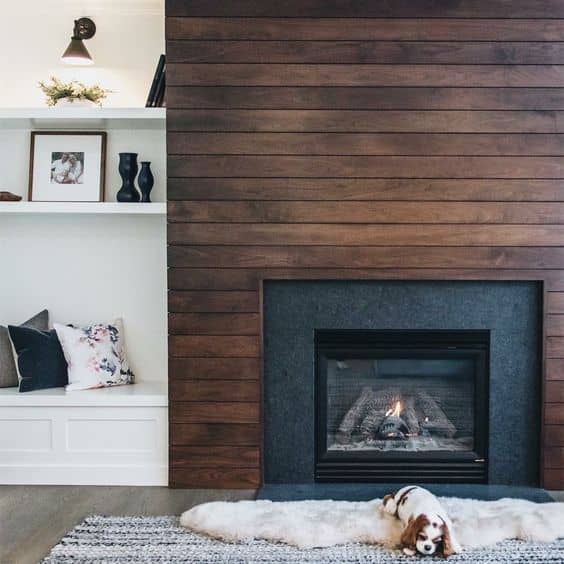 People who want to experiment with the material of the shiplap wall can go for the wooden shiplap. Nowadays, wooden shiplap is also in trend. Wooden shiplap will help in adding a new dimension to the room. This wooden shiplap with a black fireplace fits perfectly with the white walls of the room. Not only does it complement the white wall, but it also adds grace to the room. Wooden shiplap also imparts strength to the structure. You can add matching accessories to enhance the look.
5. Gray-Coloured Shiplap Fireplace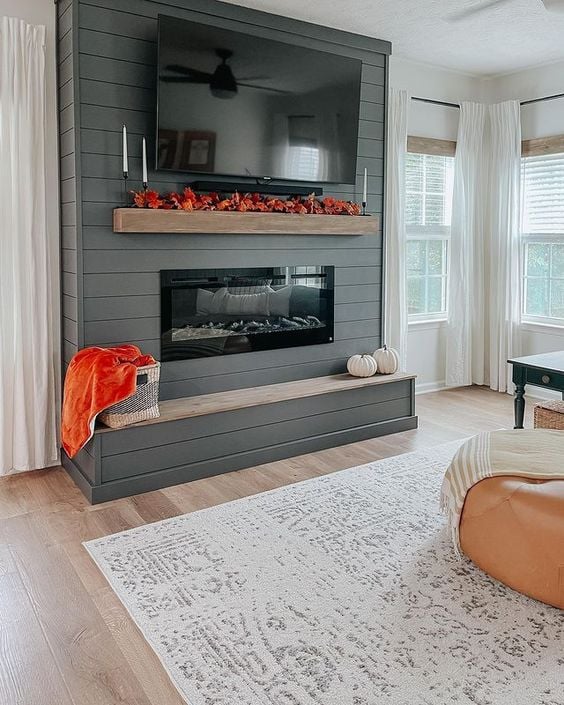 The gray color is nowadays quite popular and creates a signature look. Many people have ditched common colors like black, white, yellow, and pink and are now switching to grey. The various shades of grey help in giving different looks to the room where they are used. So you can even create a shiplap using the color grey. It will give a modern and classic look to your room. You can add accessories to it, such as this wooden stand, and can place things on it as per your wish.
6. Black Farmhouse Shiplap Fireplace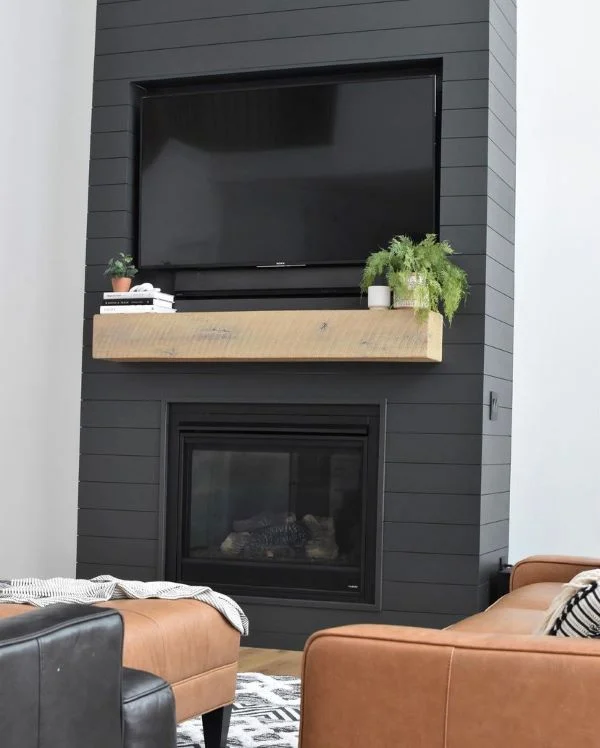 Black color always adds a bold look. People who are in love with the color black can even add it to their farmhouse shiplap fireplace to give it a bold and classy look. The black color gives a modern look also. You can either go for the complete black shiplap and fireplace, or you can opt for a black shiplap and any other color fireplace. Although black is complete in itself, still, if you wish to do something creative, then you can add minimum accessories to it, such as placing a painting on it or gadgets like a television.
7. Shiplap with An Artistic Fireplace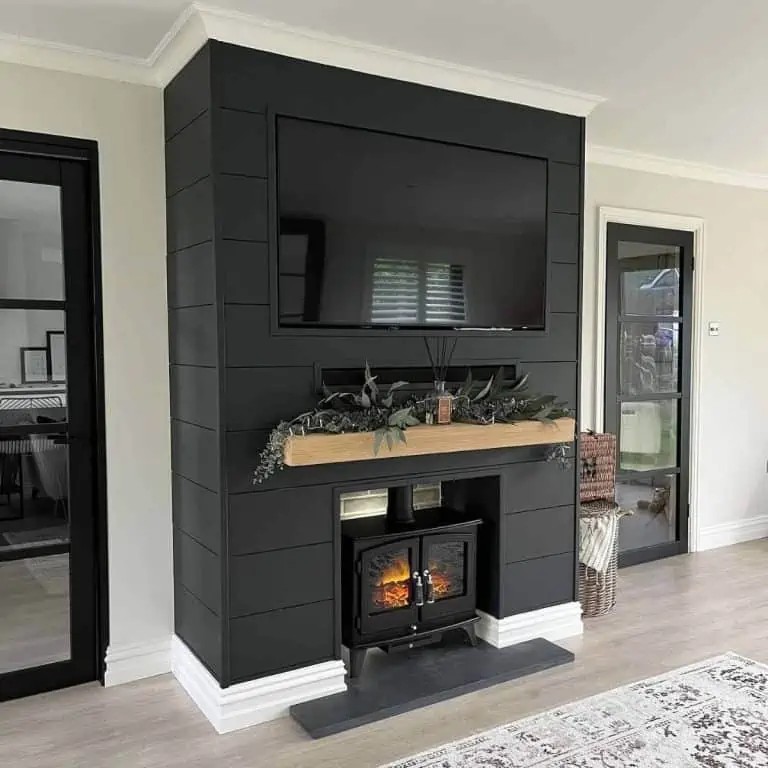 If you want to add an artistic look to your farmhouse, then you can go for this kind of shiplap with an artistic fireplace. This shiplap is made with black color, which possesses a bold look already, and to give it a unique look, this artistic fireplace serves the best idea. It will be that corner of your farmhouse that is worth flaunting and will get everyone's positive compliments. You can accessorize it with television and spend time with family watching TV and enjoying the warmth of the fire.
8. Farmhouse Shiplap Fireplace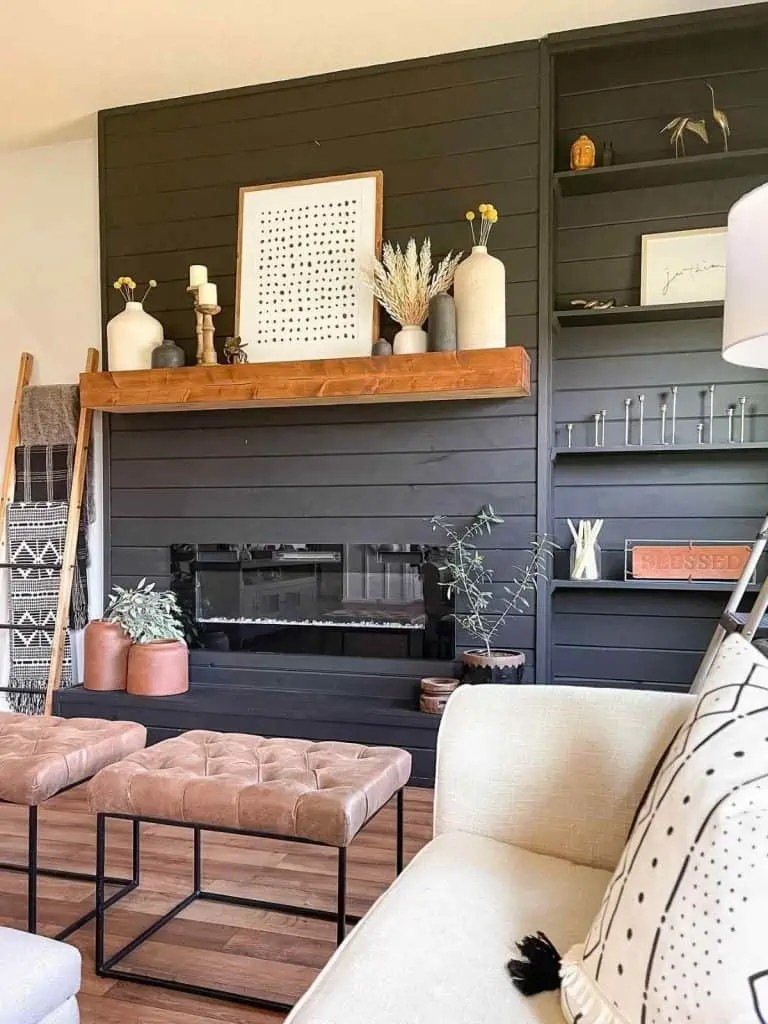 Many people like to create a corner in the farmhouse where they can spend quality time with their family. For this purpose, there is no better place than this elegant and well-furnished fireplace area. All you require is an elegant fireplace and some furniture, and you have accomplished your mission. What is left is placing furniture around the fireplace, and you are all set to host gatherings. You can add a few accessories to it, such as indoor plants and television paintings, to make the place look more attractive.
9. Experimenting with The Shape of The Ship Wall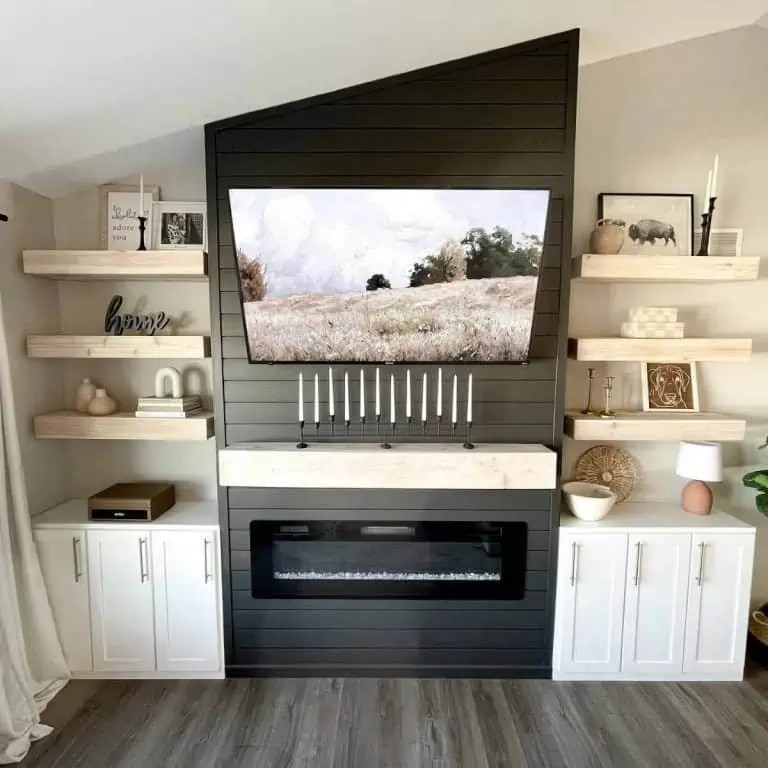 To get a unique look for your farmhouse ship wall fireplace, you can consider experimenting with the shape of the shiplap. One such example is this slanted shiplap that can be constructed in small rooms to create the illusion of large spaces. It also enhances the look of the normal room and gives it a new dimension. It is a unique and creative idea to elevate the look of the room. To create such a slanting farmhouse ship wall fireplace, it would be best if you use some dark color for the shiplap as it will give a bold look to the room.
10. Dual-Purpose Shiplap Fireplace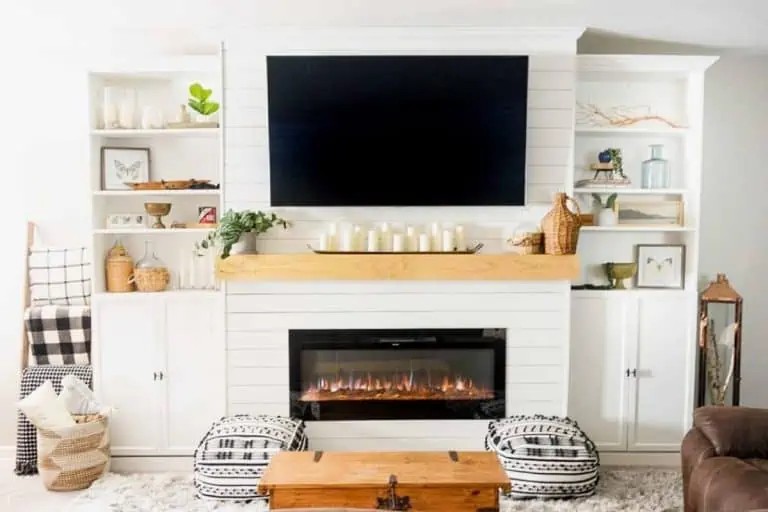 People who are running short on space can construct a dual-purpose shiplap. This shiplap consists of a fireplace and a built-in almirah to keep things. You can make cover cabinets to keep things safe and open cabinets to display showpiece items like photo frames, vases, paintings, etc. It would be best to opt for a simple ship wall and fireplace as it will not make this area look cluttered. Moreover, staying simple would add a classic look to the place. If you use any heavy material in the construction of this kind of shiplap fireplace, then it won't be possible to create a seamless look.
11. Blue Farmhouse Shiplap Fireplace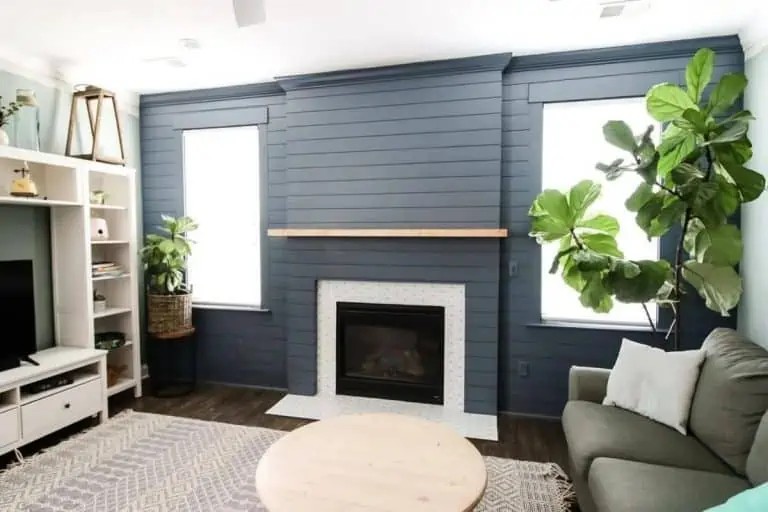 If you want to try something out of the box, then you can consider this blue farmhouse shiplap fireplace. White is the most common color that has been used in ship walls in many houses. Opting for the darker shades of blue will not only make you different from others but also will give a stylish look to your farmhouse. Dark shades have the power to give a bold look, and the same has been achieved here. The side walls are painted blue to give a more authentic look.
12. Shiplap with Marble Fireplace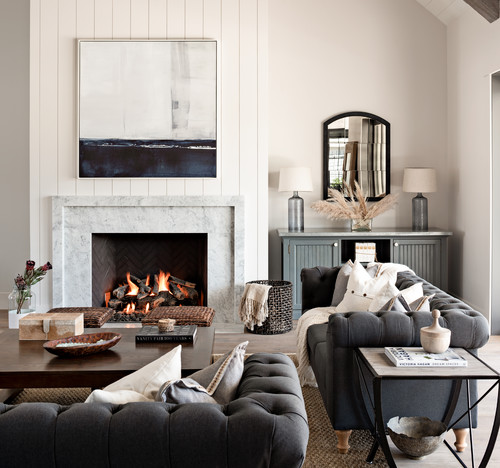 It is easy to create a modern as well as minimal farmhouse shiplap fireplace with the help of a marble fireplace. The white colored marble gives the shiplap a seamless as well as a classic look making it an ideal place to spend time with family along with the warmth of the fire. Adding the grey color sofa set has elevated the look of the room. You can either place a TV or a painting on the shiplap to complete its look.
13. Rustic Look Using a Wooden Fireplace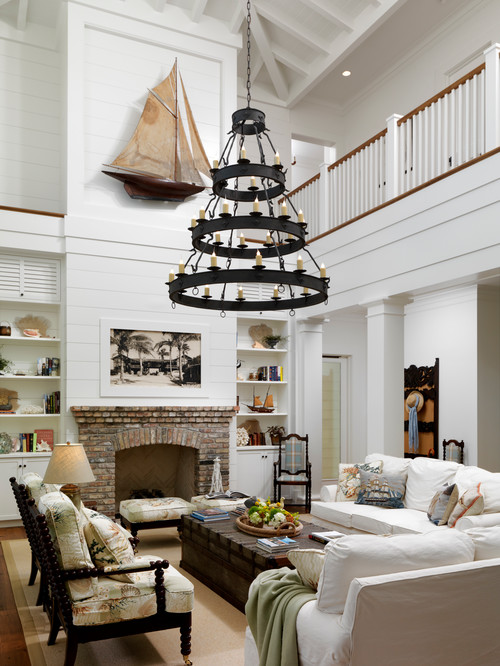 You can use a simple brick fireplace to achieve a rustic and classic farmhouse shiplap fireplace. Do not paint the fireplace because it will kill the rustic appearance of the fireplace. The height of this wooden fireplace should not be more than one-third of the wall; else, it will look make the wall look short. If you have a long wall, then you can add paint to it to achieve the final look. You can enhance the look of the room by adding complementing furniture to it.
14. Faux Shiplap Fireplace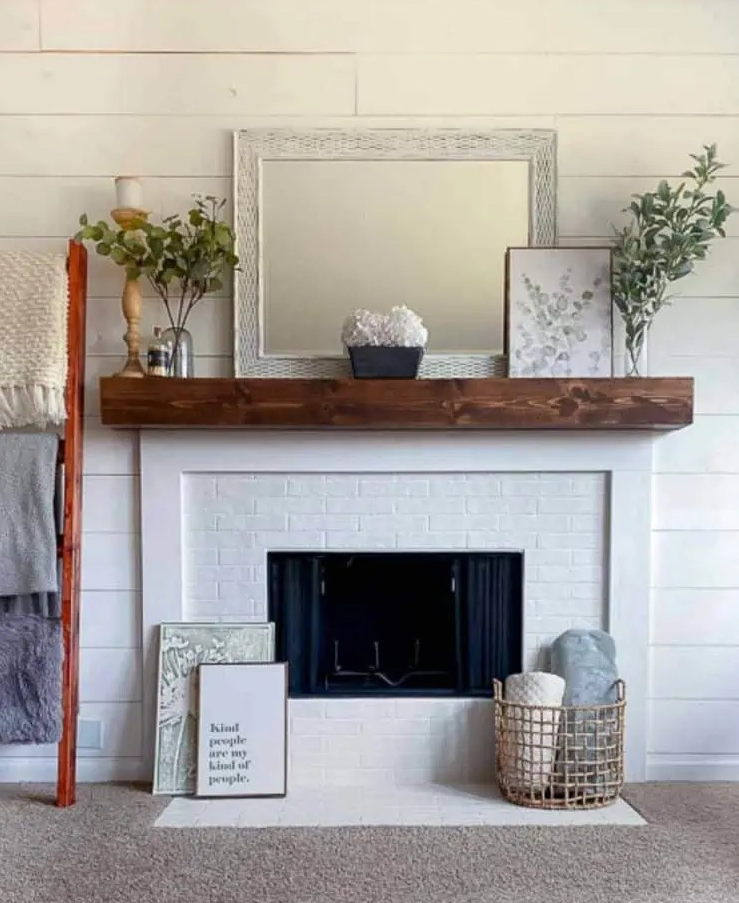 If you want to recreate an existing fireplace by adding a shiplap, then you can go for a faux shiplap. This shiplap can be easily constructed in an existing structure without affecting its appearance. This faux Shiplap can be added using a plywood sheet. The color of the plywood can be chosen as per your wish and the look you want to give to your existing fireplace. For example, if you want to add complimenting shades to the black fireplace, you can try adding black, and if you want to go for contrasting shades, you can go for white or light grey sheets.
15. Minimalistic Shiplap Fireplace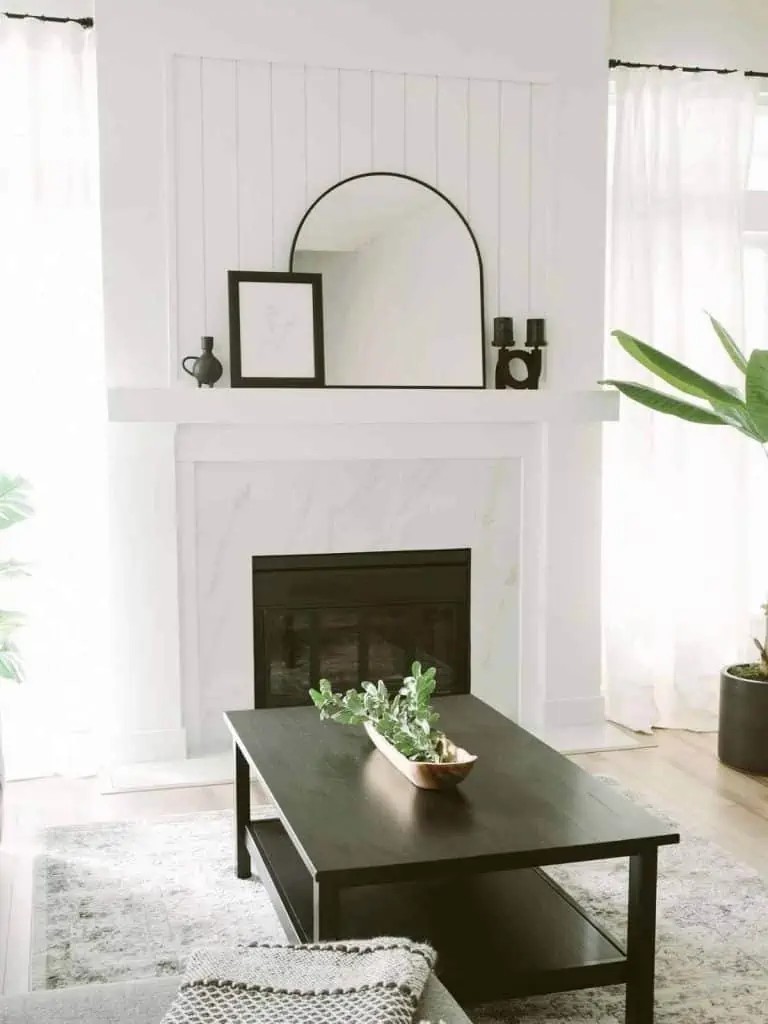 There is nothing particularly extra required to achieve a minimalistic look. The name itself suggests decorating something with the minimum stuff yet achieving a stylish look. For example, to create this minimalistic fireplace, only a simple white color shiplap, along with the black fireplace, is used. After that, only with the help of a mirror and a few vases a modern and stylish look has been achieved. It can also be considered by people who are looking for a budget-friendly option to construct a farmhouse shiplap fireplace.
16. Electric Fireplace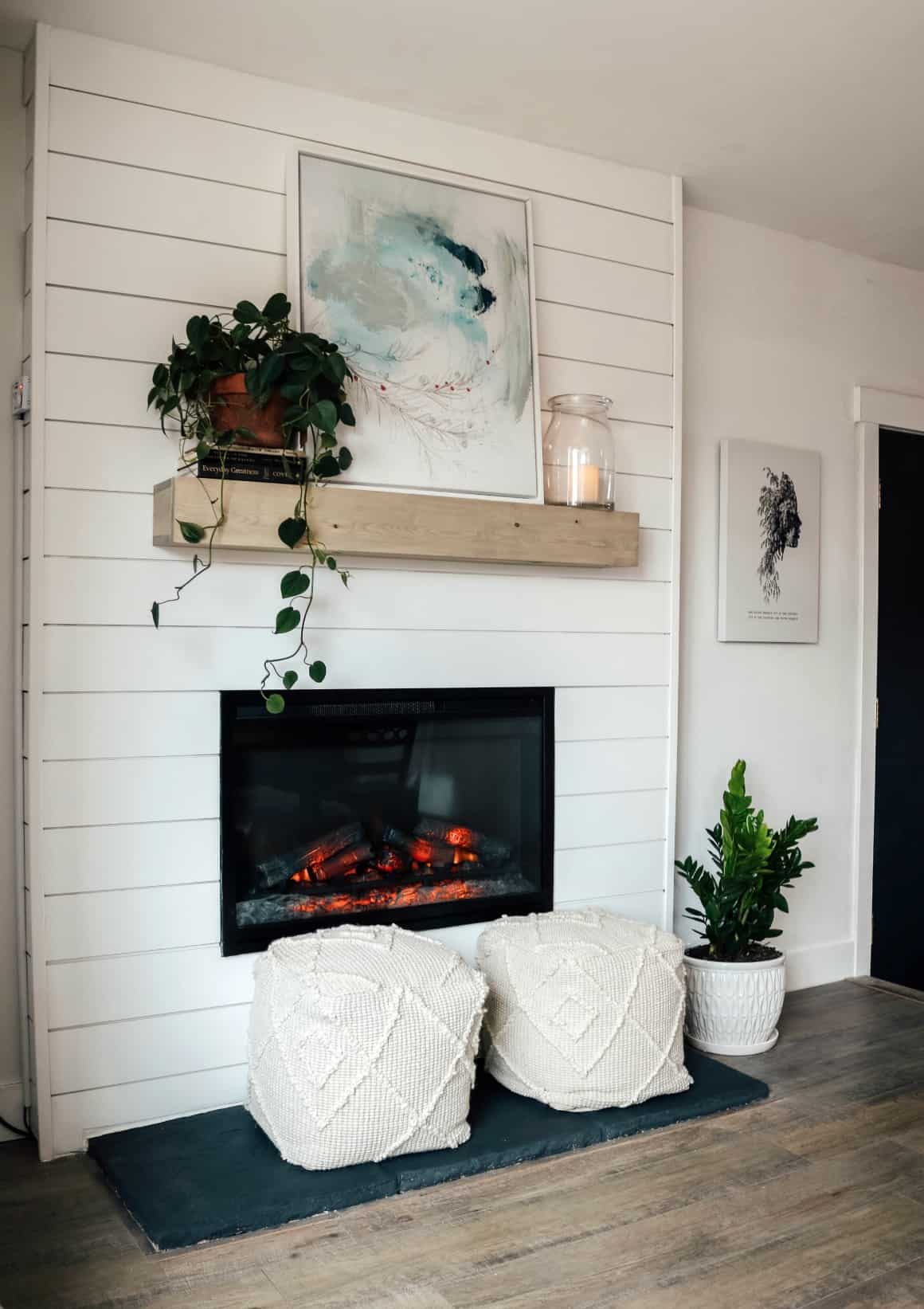 If you want to construct a fireplace in your farmhouse but are hesitating because you are not comfortable with the idea of bringing wood for the fireplace, then you can opt for the electric fireplaces. The electrical power places are easy to install and have more customization options in comparison to the traditional fireplaces. Another advantage that they have is that they are less expensive hence, budget-friendly. They will give your farmhouse a morning and elite look and will save you from doing extra work to lit fire.
17. Traditi onal Shiplap Fireplace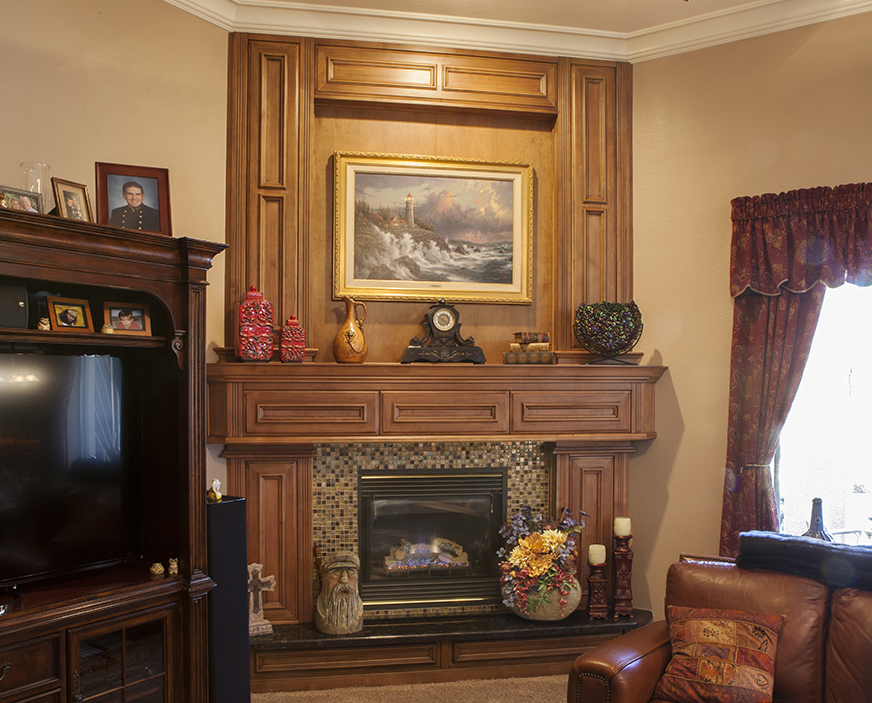 This traditional farmhouse shiplap fireplace has been built using wood and marble. By using the complementing paint on the walls, the designer has achieved a traditional as well as classic look, making the room totally eye captivating. The addition of the perfect accessories, like vases, paintings, antique watches, candle stands, etc., has enhanced the look. The best thing about this shiplap fireplace is that even though there are so many things on it still, it isn't looking over cluttered or unorganized. So it's a worth try for people who want to achieve a traditional look.
18. Hearth Fireplace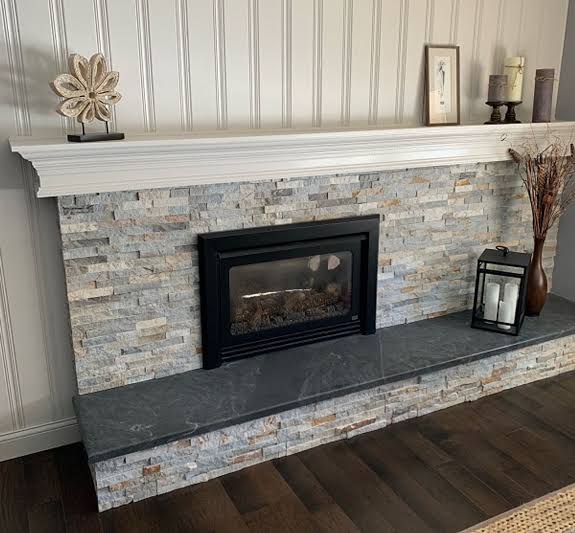 Once you are done experimenting with the color, material, and type of the fireplace, you can go for a hearth fireplace place to experiment more. A hearth is useful as it prevents fire accidents and keeps the place naturally warm. In addition to this, it serves as a showcase where you can keep the accessories to flaunt them. The hearth can be made with wood, tiles, marble, or any other material that goes well with your fireplace. You can keep decorative items on the hearth to draw everyone's attention to your hearth.
19. Scandi-Style Shiplap Fireplace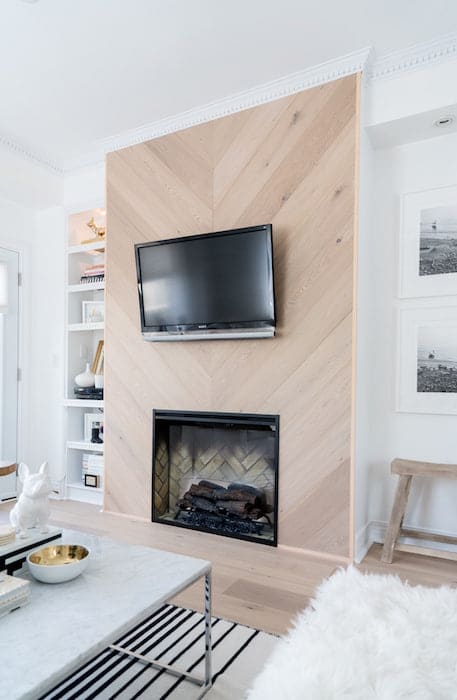 People looking for an innovative idea for a minimalistic farmhouse shiplap fireplace can opt for a Scandi-style shiplap fireplace. It is minimalistic and helps to achieve a seamless look. In addition to this, it helps to give a formal and cleaner look to the room as it utilizes the minimum accessories. Another interesting thing about this scandi style is that though it is used to achieve a modern look, it originated in the early 1930s. If you want to make your room brighter, then you can prefer the lighter shades.
20. Antique Fireplace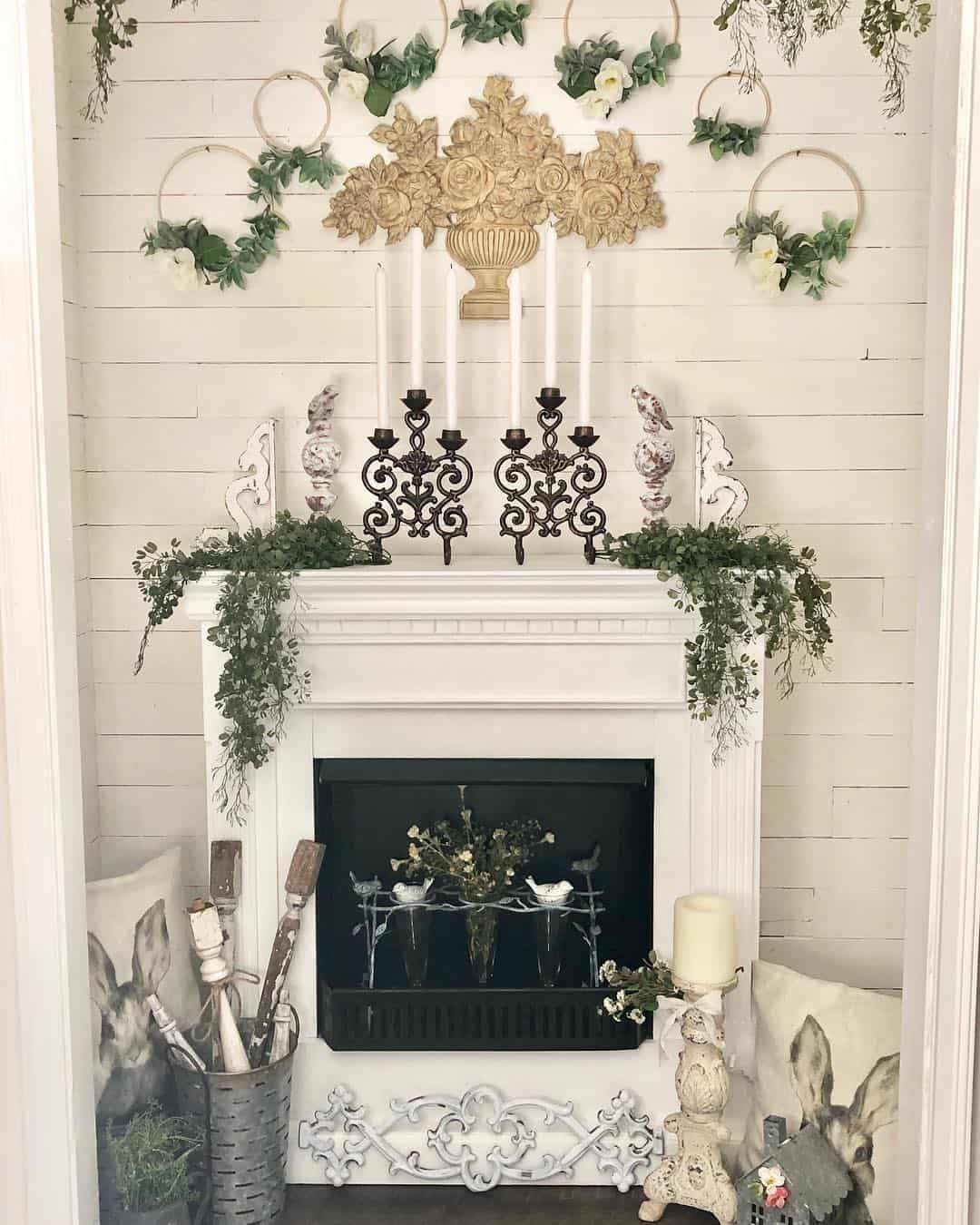 This kind of fireplace would be ideal for people who want to add an antique look to their farmhouse. White has a specialty, and with its help of it, we can achieve both modern as well as antique looks. This look is achieved by adding a few extra details to the fireplace. To give the final vintage or antique look to your room, you can add antiques like the candle stands shown in the room. Adding indoor plants has enhanced the look.
21. Shiplap Above Fireplace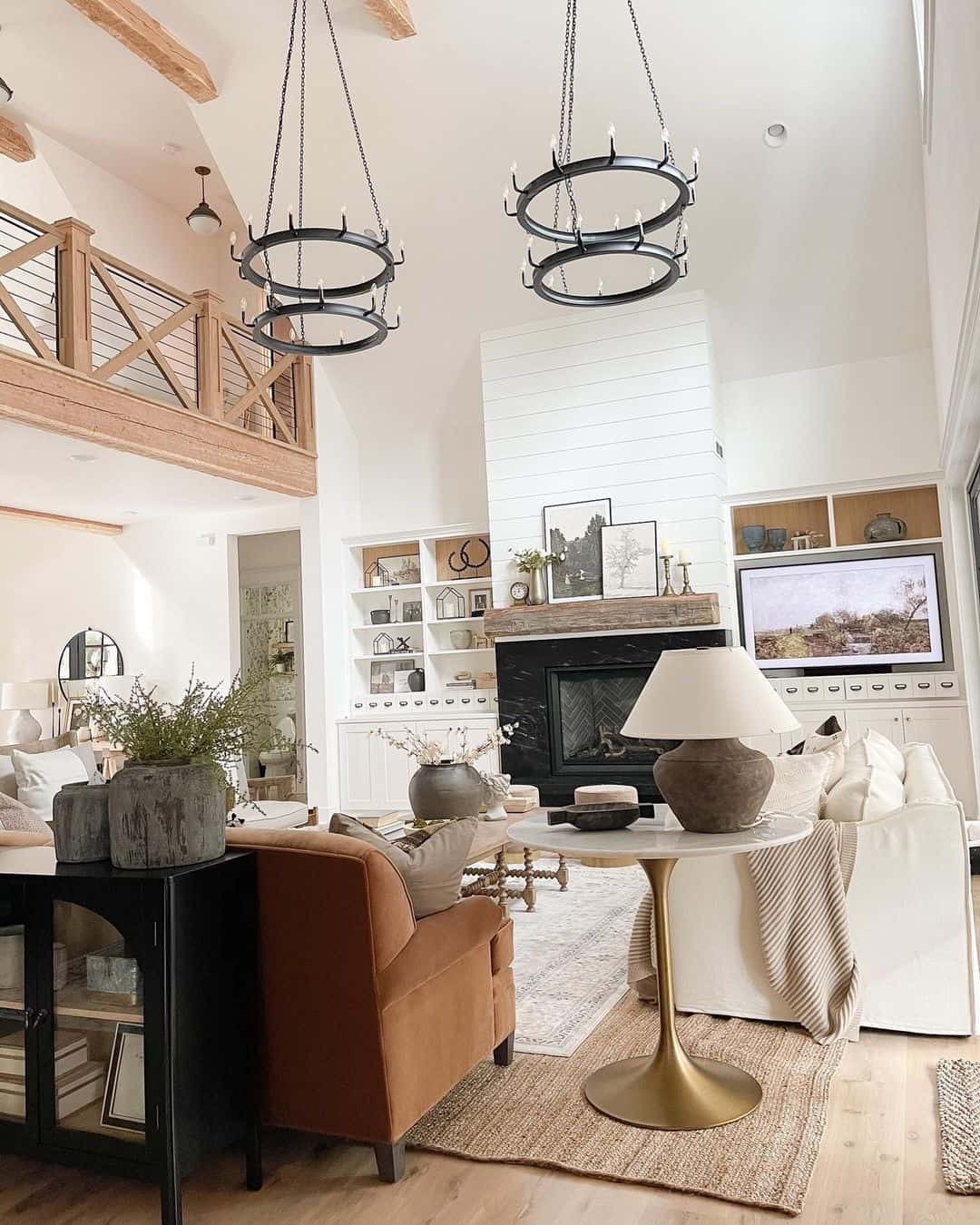 It isn't necessary that the shiplap should extend from the ceiling to the ground. To cut the cost of the budget, you can construct a shiplap above the fireplace. You can even go for the complementing fireplace or a contrasting one as per your wish. In this example, a modern and cozy look has been achieved with a white shiplap, which complements the walls and the floor of the room. The look has been enhanced by the grey color sofa set and the accessories used.
Conclusion
Shiplap with a fireplace is a feature that can be added to enhance the look of the farmhouse.
It also imparts strength to the structure. In addition to this, it adds elegance and style to the normal-looking farmhouse.
By experimenting with the color, material, length, design, and style of the shiplap and fireplace, you can either create entirely new shiplap fireplaces or give a new outlook to the existing fireplace.
Above are a few ideas that you can incorporate to create your own stylish and eye-capturing farmhouse shiplap fireplace.