21 Deck Skirting Designs to Elevate Your Backyard Aesthetics
Having a well-furnished home is everyone's dream. But if you are living in a mansion that has ample outdoor space, both interior and exterior require to be well-furnished. Moreover, the exterior decor should be durable, reliable, and quality.
A striking feature witnessed in many mansion owners is the Deck facility. A raised platform in the entrance or backyard adds utility to the house in many ways. If you plan to buy a home or renovate it from scratch, consider building a deck and skirtingit properly. As decks are raised platforms, it requires proper coverage, i.e., skirting from deck to ground, so that the entire property gets an aesthetic look and does not get invaded by parasites easily.
Decks are part of the outdoor area of the home, which affects not only the general look but also the reliability of the patio.
Here are 21 deck skirting ideas and options that you can consider for making your outdoors look more attractive.
1. Decide the Type of Deck and Its Location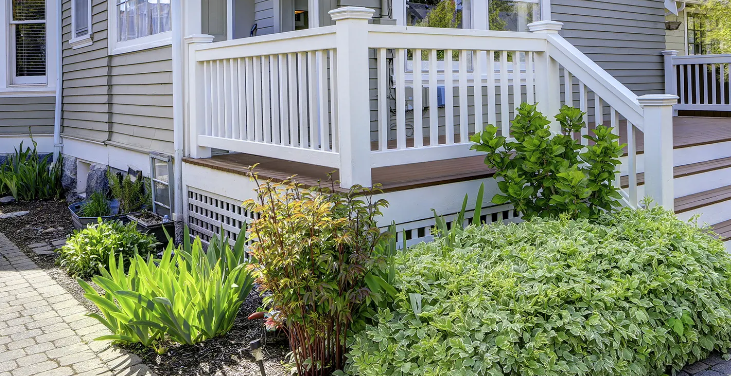 If you are building your house from scratch, it is inevitable to keep every decor within budget while using good-quality materials. If you are planning to create a porch as a house extension, make sure it consists of quality wood, as you'll use it for multiple purposes.
Skirting is as crucial as the platform itself. It should be designed as per the functionality and location, either backyard or in the front.
2. Make Storage Under the Deck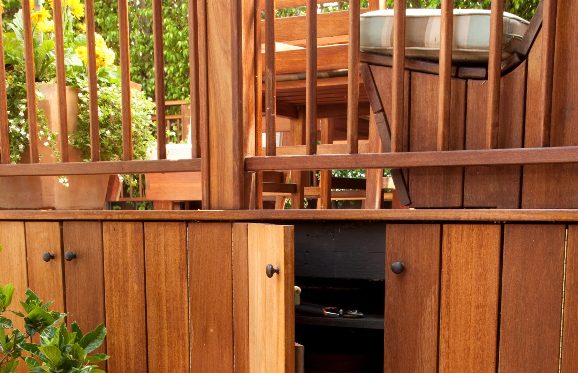 Skirting a deck and providing a good space to hide your house's electric meters or gardening tools that are not used on a daily basis.
Before storing any stuff under the deck, make sure you have the knowledge of moisture, rain, etc., in the area that you reside in so the material stored beneath does not rot.
Moreover, try to build the deck with fabric and stones, which helps in making a proper floor and avoiding water logging and pest invasions.
3. Lattice Skirting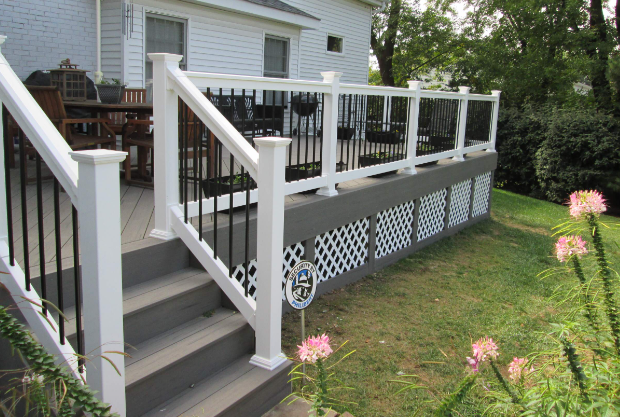 The deck can be given the shape of a lattice, either as drawers or compartments. This comes with the advantage of an aesthetic look to the house and proper ventilation inside the deck, so the material stored does not get rot.
Lattice skirting can be done with wood or vinyl by creating an intersection of these pieces. Furthermore, you have an option of using single pieces of wood or vinyl and placing them at 45 degrees with hinges at the back. This will help you get inside the deck without breaking it.
4. Skirting with Stone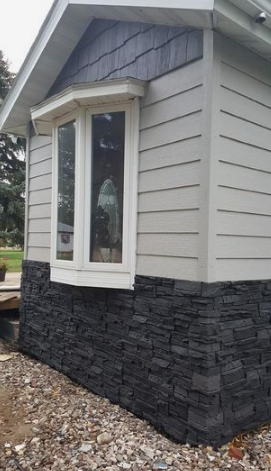 When homes are built on some site from where they are transferred to the original place, they are built at least 3 to 4 feet above the ground. In this situation, the need for deck skirting arises. These houses have their underside exposed to extreme weather conditions, and adding skirting helps protect the foundations, plumbing, AC ducts, etc.
If you are intended to make a stone-like skirting on a budget, you can consider using panels made of thick vinyl or polyurethane that duplicate the natural-looking rocks and are more durable than vinyl skirting. Furthermore, using natural stones gives the benefit of the highest durability, along with being the most expensive of all.
5. Vinyl Skirting

Made from polyvinyl chloride, this deck skirting is the most popular among all types. They are used extensively due to their low-maintenance, budget-friendly, and durability. But they tend to get easily damaged as it is more likely to warp or curl over time due to the presence of moisture.
This deck skirting option will remain a good choice if you regularly maintain it and look after it. Moreover, the thicker the PVC layer, the more time it takes to warp. Furthermore, apply a protective coating to your deck, and pick a shade-resistant color that will let UV light through while still offering protection.
6. Hardie Board Skirting
This kind of skirting is one of the most durable ones that also gives a good touch to the exteriors. Hardie boards are made of cement, sand, and cellulose fibers that combine to create an outstanding material to both protect and beautify homes.
This lightweight concrete material is sturdier against outside elements like water, termites, etc. Moreover, it has a better insulating tendency against extreme temperatures and does not warp over time like vinyl boards. Hardie board skirting has a longer life span and needs less maintenance than vinyl. Moreover, you can consider painting these boards to coordinate with your exterior.
7. Metal Skirting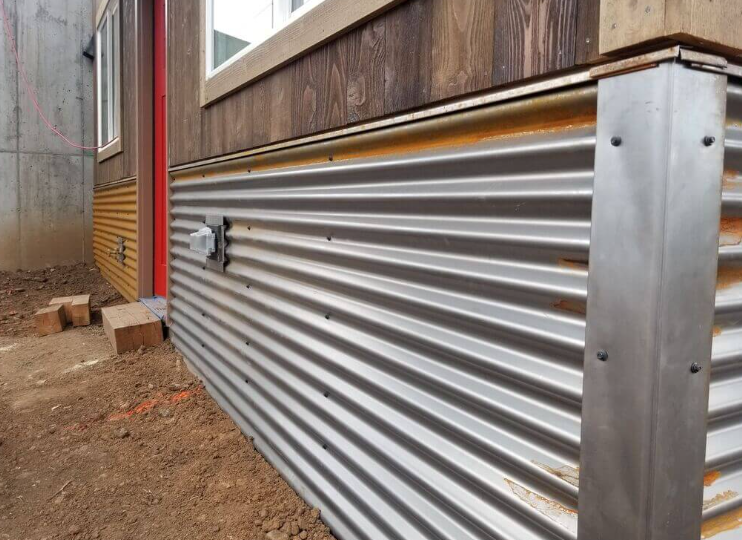 Usually, when mobile homes are built, there comes a provision for skirting the deck so that the entire home is beautified and there is less damage when frost and rain season arrives.
One of the materials that is durable and light is stainless steel, which is used extensively in this type of skirting. Recycled steel and tin are cost-effective solutions for mobile home skirting and are strong and waterproof. Metal skirting is simple to install; it simply fastens with weatherproof nails or screws to a hardwood frame.
8. Concrete Skirting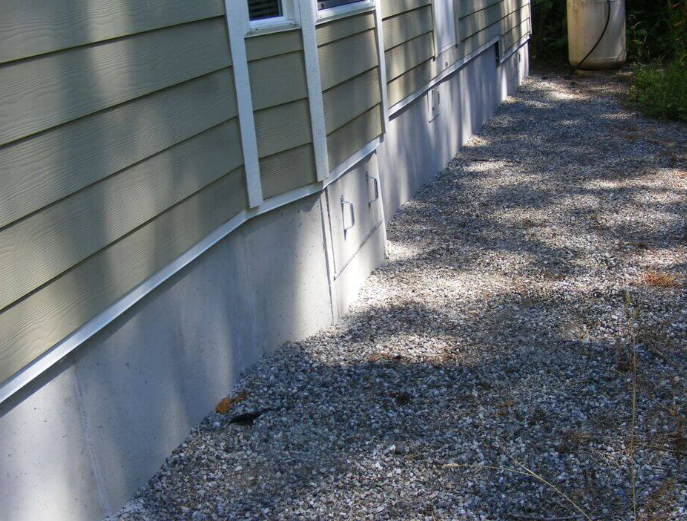 The finest option for you will be concrete skirting if you're seeking a reliable and long-lasting skirting concept. Concrete skirting also referred to as stucco skirting, is ideal for mobile homes located in areas with decay, mold, and pest problems. Stucco is basically just a finishing material and not an entire layer like stones or concrete. This gray color material can be applied to concrete, wood, or foam skirtings.
It features a unique design that offers great ventilation, ensuring that there won't be any moisture buildup beneath your mobile home. It is more expensive compared to alternative skirtings, such as vinyl. But then, after concreting your deck, you don't have to worry about maintenance.
9. Foam Board Skirting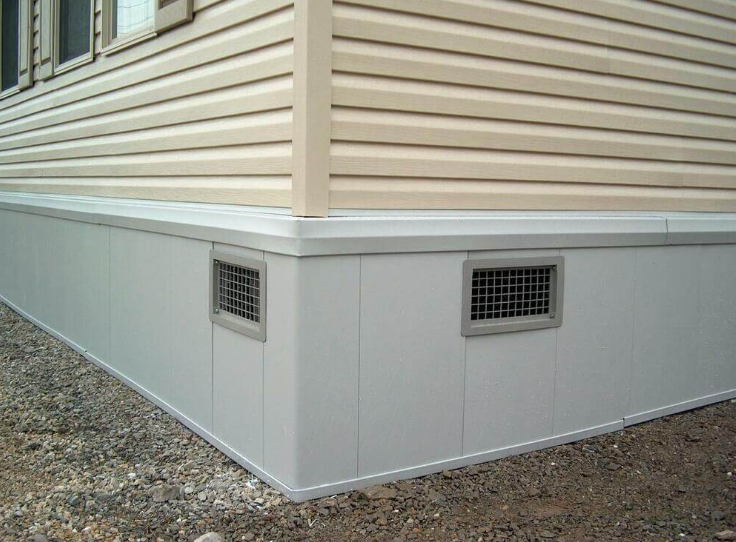 Those living in colder areas require insulation so that their pipes are not frozen, and heat is not lost underneath. The foam board comes to the rescue in such a situation; it does not completely stop the heat loss but helps seal the floor to a great extent. Apart from their energy efficiency, these sheets are highly durable, flame-retardant, and scratch-free.
To increase stability even further, use two layers. There are many different colors and textures of foam skirting available. So you can choose one and give the outside of your property a distinctive appearance. Another intriguing feature of foam skirting is that it may be used as an additional layer of insulation in front of and beneath other kinds of skirting materials.
10. Plywood Skirting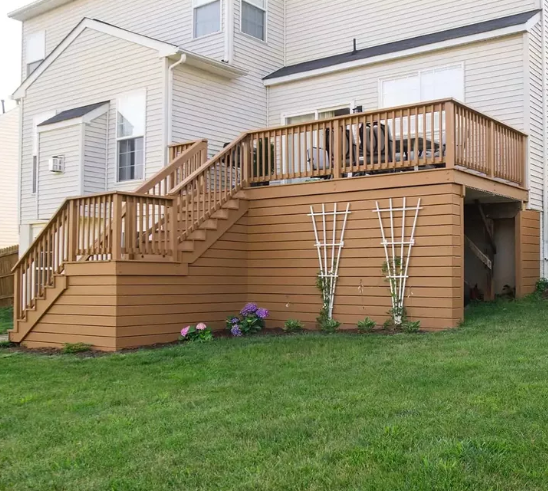 Using wood in your deck skirting is always the trend and complements your home exterior in an elegant manner. You can use wood to build the deck, and staircase, skirt the deck, and use it as support or railings.
By building a vertical deck, you can use the elevated area for storage purposes by building a deck drawer, stair storage, or compartment. Furthermore, if the deck is horizontally built, you can cover it with beautiful border bushes and lights to beautify your surroundings.
Although wood gives an aesthetic look to the exterior, it invites pests. To overcome such a problem, use a water-resistant substance underneath the plywood to solve this problem. This will prolong the panels' life by preventing them from coming into contact with moisture or water.
11. Composite Deck Skirting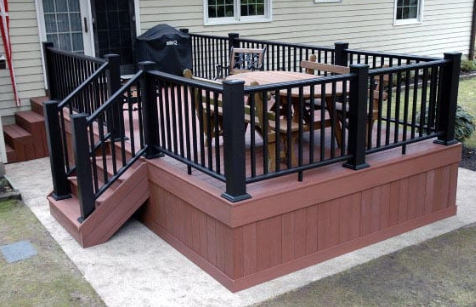 In general, composite decking materials are strong and simple to work with. They are available in a variety of colors and textures. They closely resemble actual wood but are far superior.
Modern deck designs benefit greatly from composite decking since bigger boards that won't warp or sag can be used. Due to their attractiveness and toughness, these sheets are well-renowned. It comes in a variety of plank widths and installs effectively both vertically and horizontally. However, the resistance to decay of composite deck skirting is a significant advantage.
12. Pallet Skirting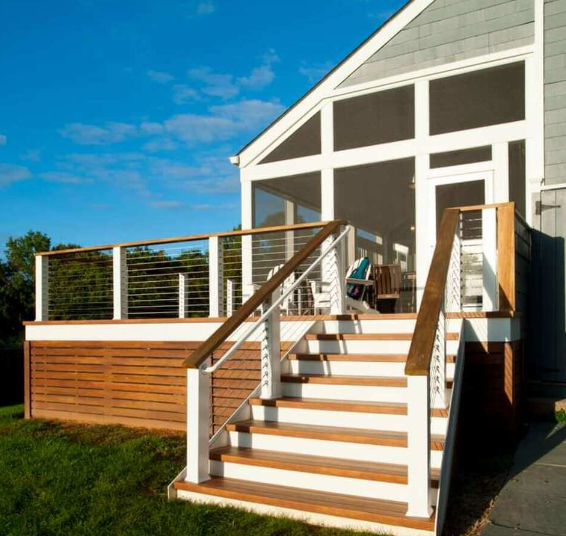 Pallet slats are great for application on deck skirting because they are durable, budget-friendly, and good-looking. The authentic rustic look of the pallet slats can be given an improved contemporary look if paired with modern outdoor beautification-like lights.
Pallet skirting is a low-cost, environmentally responsible alternative that is ideal for a deck. Old wooden pallets and lumber can be used to make a special and inexpensive skirting. Pallets can be painted or stained to match the color of your deck and can be cut and put together to form a skirting that is a specific size.
13. Tall Deck Skirting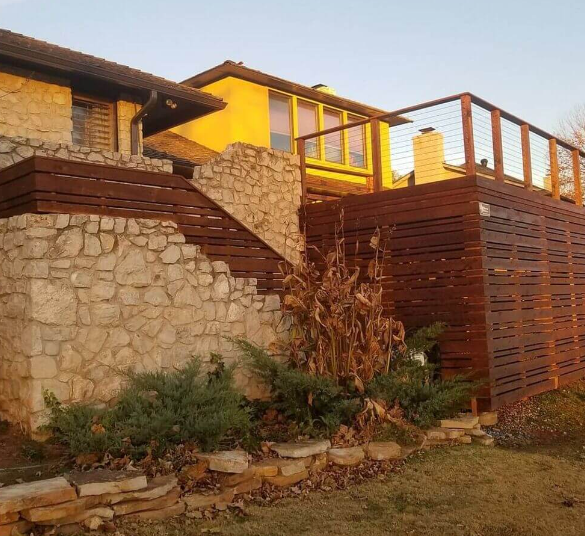 If you have a vacation home in the wilds, it is preferable that you build a vertical deck that helps store your redundant stuff and keep the wild animals at bay. These are typically included in areas with uneven terrain. Tall deck skirts can also serve as an additional security wall for the house in flood-prone areas.
Tall skirtings composed of metal railing, concrete, and wood give a townhouse-like appearance and conformity appeal. Moreover, the elevated platform gives the opportunity to create a beautiful frame from the leftover wood that gives it an ornamental look. Furthermore, an under-deck shed can easily be created.
14. Using the Area Under the Deck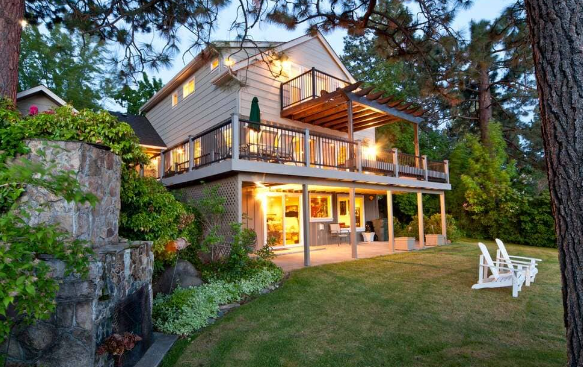 It is not necessary to create a few-foot space for storage purposes. You can elevate the area to create a spacious place that includes a sitting area, room, etc. By doing this, you'll be using the deck area and making it functional. This will reduce the maintenance charge and keep the deck in good condition.
Deck skirting is all about creativity and using the material in hand to make the exterior of the house more viable and decorative. Your yard will have more area for various activities thanks to this, which will give you much-needed storage space. You can use plywood to frame the area underneath the deck.
15. Plants for The Landscape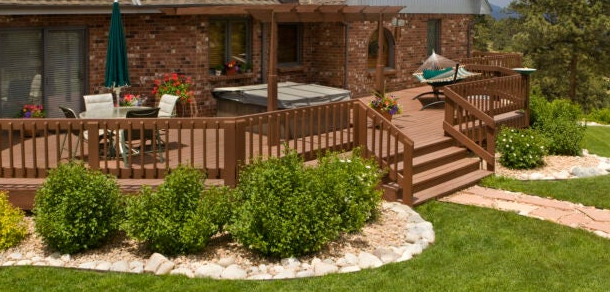 If you are thinking of not spending much on the deck's skirting, you can use the left-over lumber to create a basic structure so your material inside does not corrode.
With as little gap between the deck and the plants as possible, plant bushes and shrubs around the deck's perimeter. It is best to select local plants that can survive in your environment. This will give an ornamental look all through the year.
Although greenery looks spectacular on any rear deck, using it on your front porch can also significantly improve the curb appeal of your home.
16. Floating Deck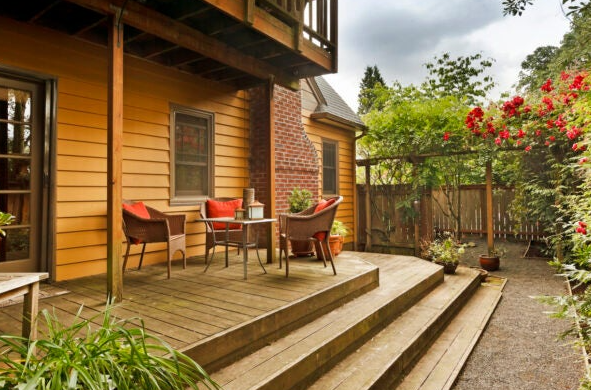 Consider making the entire perimeter of your low deck or floating deck one big set of stairs rather than adding skirting. You may achieve an attractive completed product that is also quite utilitarian for permitting deck access by gradually lowering the height around your deck.
These decks, which are also known as freestanding decks, complement both traditional and modern homes. They can be constructed directly on the ground, but it is preferable to build them on top of gravel or a short frame. Instead of a full deck skirt, they typically only require a small deck fascia.
17. Modern Slats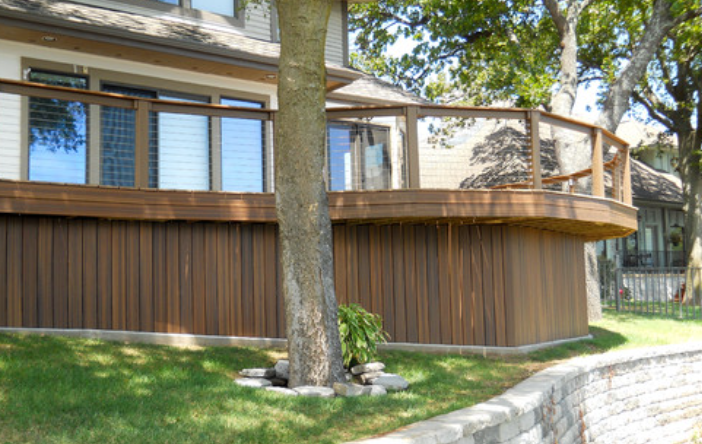 As the slats are vertical and just slightly colored, they have a clean appearance. Additionally, the slats are stained to match the deck above, maintaining a modern appearance. When you add the wire railing, it creates a clean aesthetic. Even though it doesn't have a colorful design, it sticks out and gives this deck a little more appeal without being garish.
Shorter decks may appear slightly taller due to the optical illusion of increased height created by vertical boards.
18. Craftsmen Deck Skirting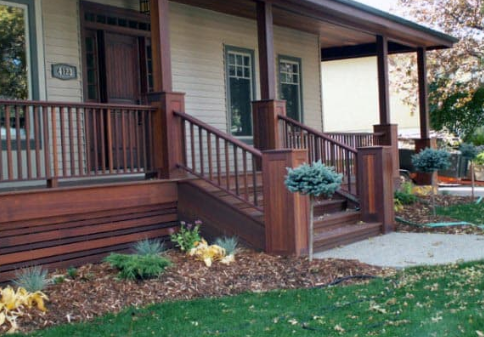 A big, covered porch is a common feature of Craftsman homes, and it needs some sort of skirting. It's a good idea to use the same kind of skirting as the front porch if you construct a backyard deck.
Traditional or contemporary deck skirting concepts might be implemented in craftsman architecture. However, you should select the best materials your budget will allow because the project's main goal is to highlight the builder's craftsmanship. Choose to skirt made of stone or tropical hardwoods with deep stains. Stone and wood can both be used.
19. Beautify It with Lights and Flowers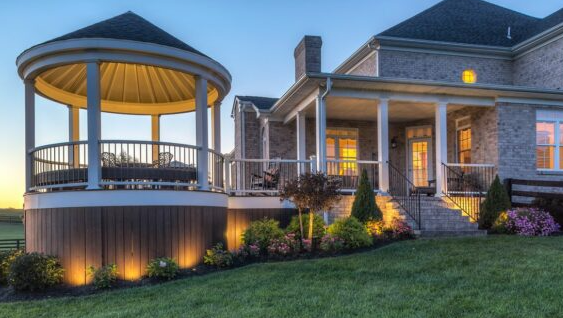 Deck skirting is all about the beautification of the exteriors. The more you work on it, the less you need to worry about invasions of pests, water issues, and corrosion of the material.
Use vertical deck boards as skirting to transform your covered deck into a work of art. Plant a few flowers or shrubs around the skirting to complete the pattern. You can also add some uplighting to the area surrounding the skirting to highlight the design and enhance the beauty of your backyard as a whole. A quick and easy solution to fill in bare spots around your deck is to plant shrubs, flowers, and other plants.
20. Cedar Deck Skirt
It has wonderful red cedar portions with a few air vents here and there. Simple wire covers on the vents prevent animals from entering under your deck. Additionally, they visibly divide the skirt, adding a little more interest.
While the wood contrasts the façade of the cottage particularly well, it will eventually blend in more as it ages. Consequently, it can eventually appear as though this deck skirt has always been there. A cedar deck skirt is incredibly strong and durable. Plus, it's timeless and won't go out of style.
21. Decorative Panels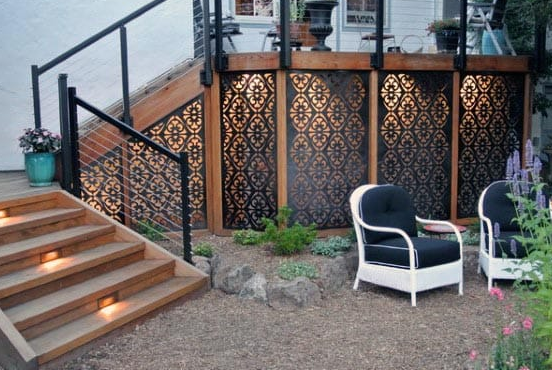 Decorative panels are among the easiest and least expensive deck skirting solutions. They are simple to cut to size and modify to meet any deck design. For a seamless appearance, people who have a covered deck or pergola can match their covers to the panels. This is due to the fact that decorative skirting boards, like wooden deck skirting, can be used to harmonize the color scheme of your deck.
To ensure their endurance in diverse conditions, decorative panels are available in polypropylene and other composite materials. For a product that is exposed to weather conditions year-round, durability is crucial. The skirting panels for polymer and composite decks won't rot, split, twist, or warp.
Conclusion
The list of deck skirting will help you decide on your favorite piece when you are planning to build a vacay home or mobile home. This fencing can help save a lot of damage from pests, water, and snow to your important stuff and help store things that take up a lot of space.
An advantage of deck skirting is it can be made from the remaining lumber and still be visually appealing. Consideration should be given to each option for sealing off the bottom of a shed or deck above.
Different deck skirting suggestions could make the design stand out. Deck skirts are decorative components that can be used for a number of things. The one that best satisfies the criteria and ensures clean aesthetics can be given a chance for a beautiful appearance.