21 Hand-Picked Ideas for Christmas Dining Table Decor
Are you looking for ideas to decorate your dining table for an intimate Christmas Dinner?
Dining table decor can be tricky when the food and decor are in the same place. However, Christmas vibes are incomplete without amazing lights, colors, and gifts on your dining table. Yes, it can all come together on your table without any hassle.
If you are curious about the possible dining table decor options, you have come to the right place. This blog helps you with 21 unique possibilities for decorating your dining table. Select the options that suit you best based on your choice, interior, and budget.
Here are 21 Inspiring Dining Table Decor Ideas for the next Christmas Gathering in your space.
1. Experiment with the Candles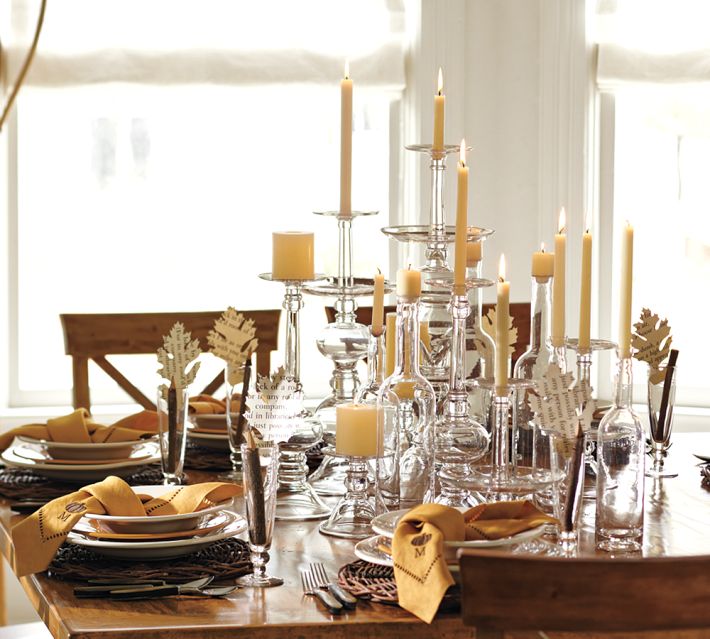 Candles are one of the best accessories for dining table decor. Moreover, when it's Christmas time, how can we miss the candle decoration? Uniquely, candles represent the presence of light over darkness. It passes on the message of hope, victory, warmth, and spirituality. Christmas calls for this positive vibes with a beautiful candle decoration on the dining table.
The above decor has white candles on glass candle holders. The combination of white candles and transparent holders perfectly matches with wooden dining table. You can choose different shapes of candles depending upon your choice. Colorful scented candles will also be a good choice for Christmas table decor. Adorn your table with candles that complement the overall decor theme of your table.
2. Adorn the Space with Pinecones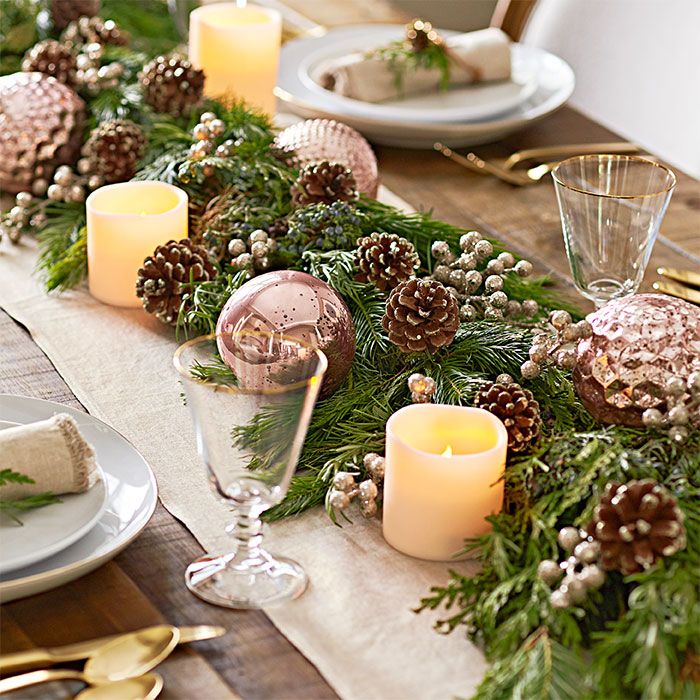 The presence of pinecones signifies a time of joyous celebrations and festivities. These beautiful cylindrical structures are perfect for Christmas decoration. Use them individually or as a garland for dining table decor. They go best with rustic theme decor but also can mix in any set-up. You can choose to go with original pinecones or buy artificial ones.
The natural green decor and pinecones perfectly align with the simple table runner. The golden decor balls shine the whole setup with their charming hue. A beautiful centerpiece made of pinecones would also bring the dining table alive. There are many options when it comes to buying pinecones. They are available in different shapes, sizes, and textures.
3. Add a Lot of Red & Green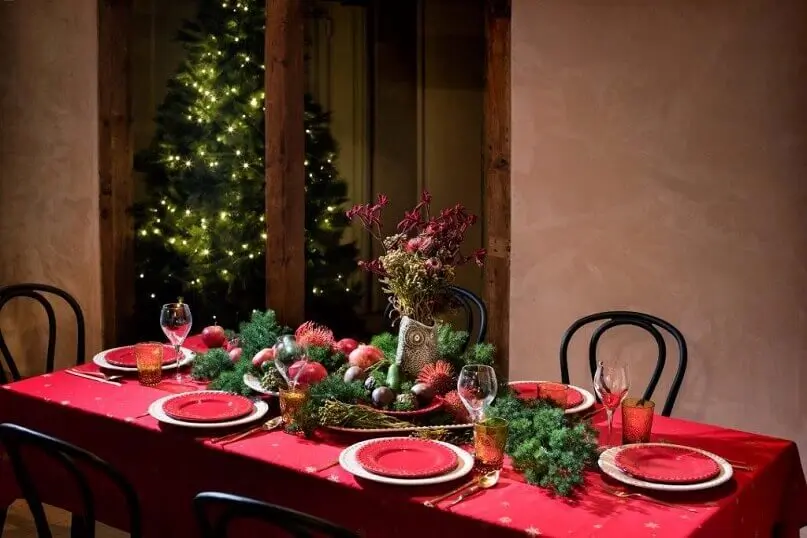 Since ancient times, red and green have been associated with the Christmas celebration. The whole decoration is themed around these two colors in most places. Being the most used color for Christmas, it would be a great choice to get the dining table decor in these shades. Red brings warmth, and green brings creative energy to the space.
Decorate your table with a vibrant red cover and use natural green leaves to beautify the center. You can also place red fruits in between to combine your food and decor. Bring home red decor glass mosaic balls to add a spark and shine to the table. You can add the spirit by bringing in red-green cutleries and napkins for the gathering.
4. Rustic and Minimal Decor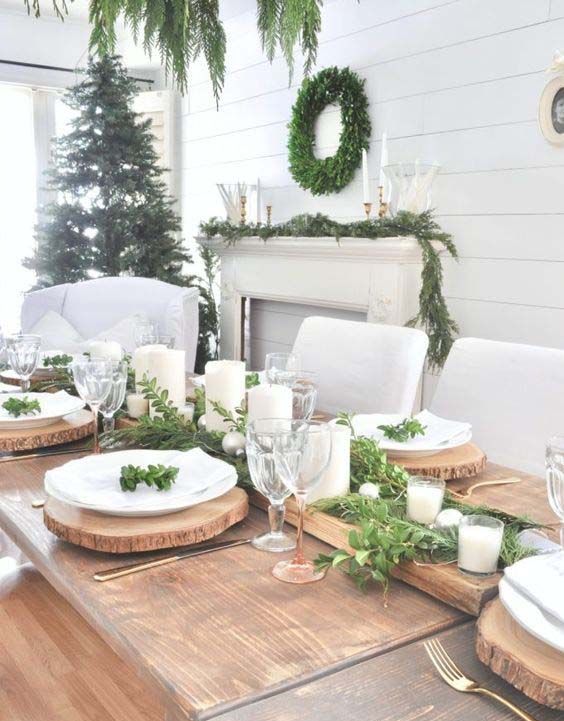 This minimalist look is perfect for you if you love celebrations but dislike heavy decor. White, green, and brown will bring a calm and soothing feeling throughout the festive season. A wooden table is the perfect addition to rustic dining table decor for your celebrations.
Add wooden coasters for plates and drinks to the beautiful and unique tables. Contrast the brown theme with white plates, napkins, and chairs. This highlights the bright white and also makes you feel the presence of calming brown shade. The natural greens on the center of the table will add a little more color to the theme. After all, you don't want it to look all boring with just brown and white.
5. Get a Royal Feel with a Grand Chandelier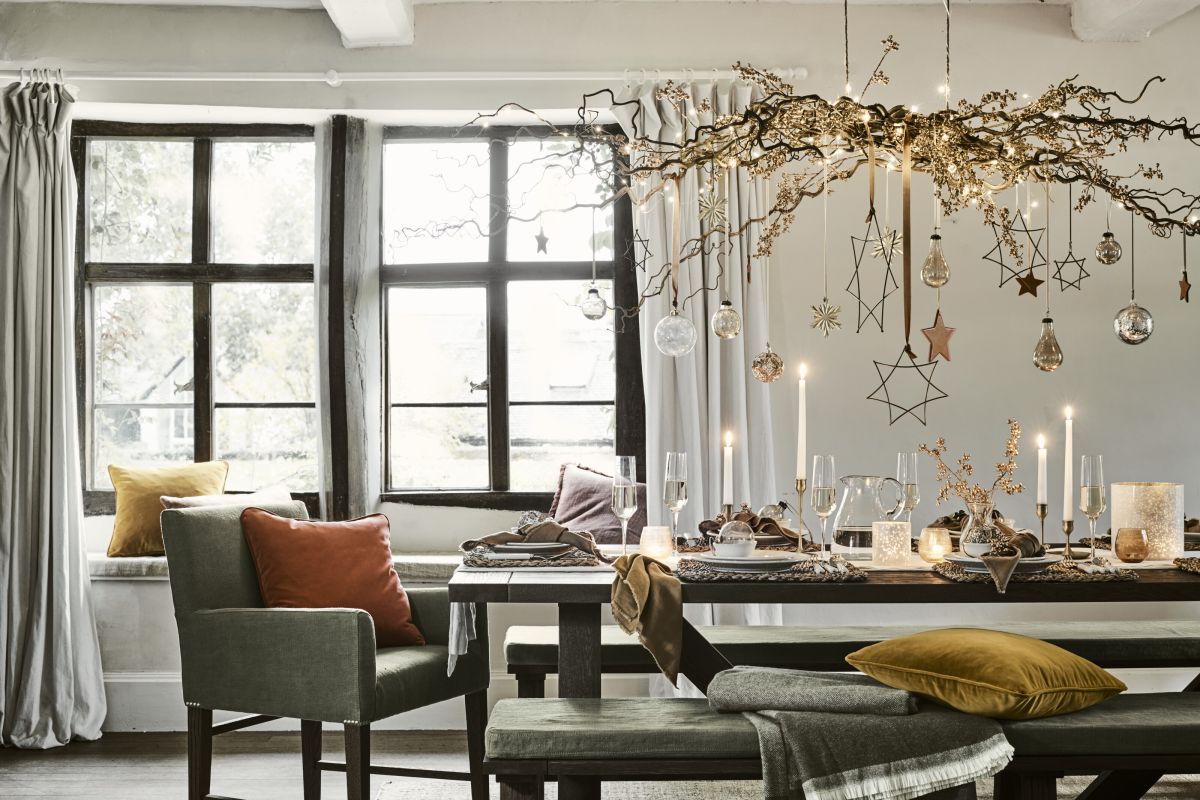 Festivities are the time to spread love and light. What could be a better way to fill your whole room with light other than placing a chandelier? These beautiful structures hang above the dining table and add an abundance of light to the room. Beyond adding light, they bring a lot of grace and charm to the whole dining table decor.
They are on the dining table, but having their hands above the table will make a lot of difference. Moreover, you can be creative with the designs of the chandelier. Choose the one which has stars, small Christmas trees, or decorative balls. However, if you want a decor that can be placed throughout the year, choose something that suits all occasions.
6. A Garland as a Table Runner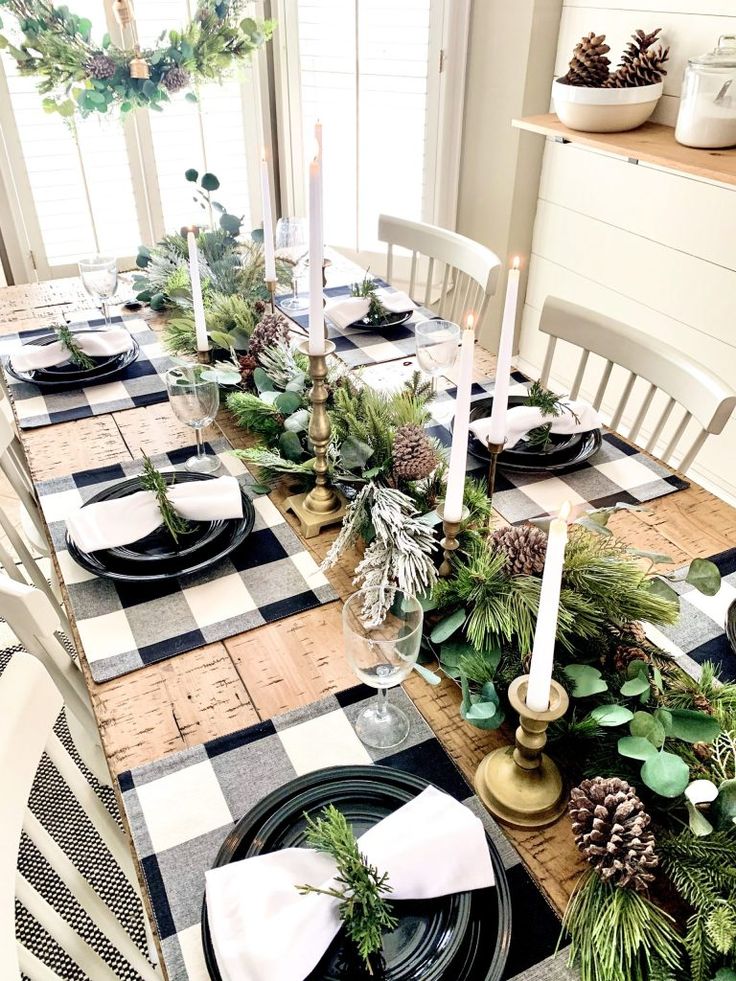 Garlands are a delight to have around. Many cultures use garland as a form of decoration on various occasions. The garland is usually made from flowers, fresh leaves, or sometimes branches. Christmas decor usually consists of a garland of western red cedar or incense cedar. You can make or buy a garland with real leaves and flowers. If you want the garland to last for a few years, choose the one that is artificially designed.
Some garlands also come with lights imbibed in them. This pre-lit garland is perfect for your outdoor dinners. Place the choice of your garland as a table runner in the middle for dining table decor. Placing a wreath from similar leaves and flowers next to the dining table will give a beautiful view of the whole room.
7. Metallic Look for The Night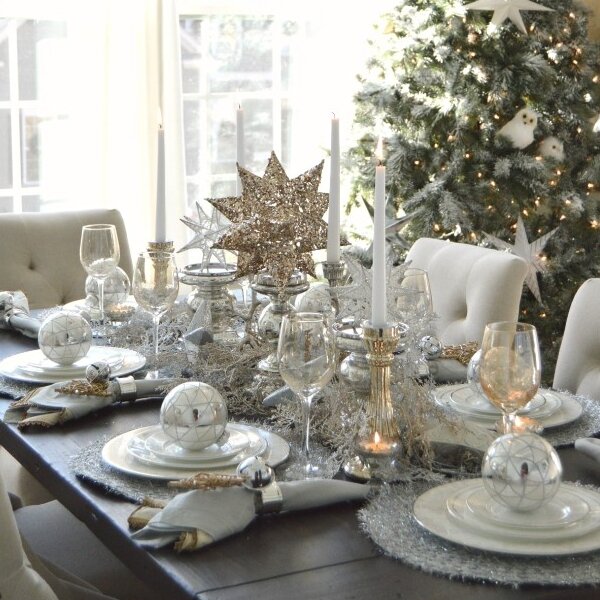 If metallic dining table decor is your choice, this look will satisfy you. The silver shades brought by the metallic view are pleasant to the eye. They also emit a highly luxurious and classic vibe in the room. The metal decor consists of glittery shades like white, silver, and light golden. The silver placemats and decorative balls perfectly highlight the white plates.
The silver centerpiece and golden star are the showstoppers in this decor. Adorn the candle holders with white or silver candles to bring in the needed brightness to the space. Don't forget to decorate your green Christmas tree with silver and white decors. Look at the small white birds peeping in the picture from the Christmas tree.
8. Let the Centerpiece Grab the Attention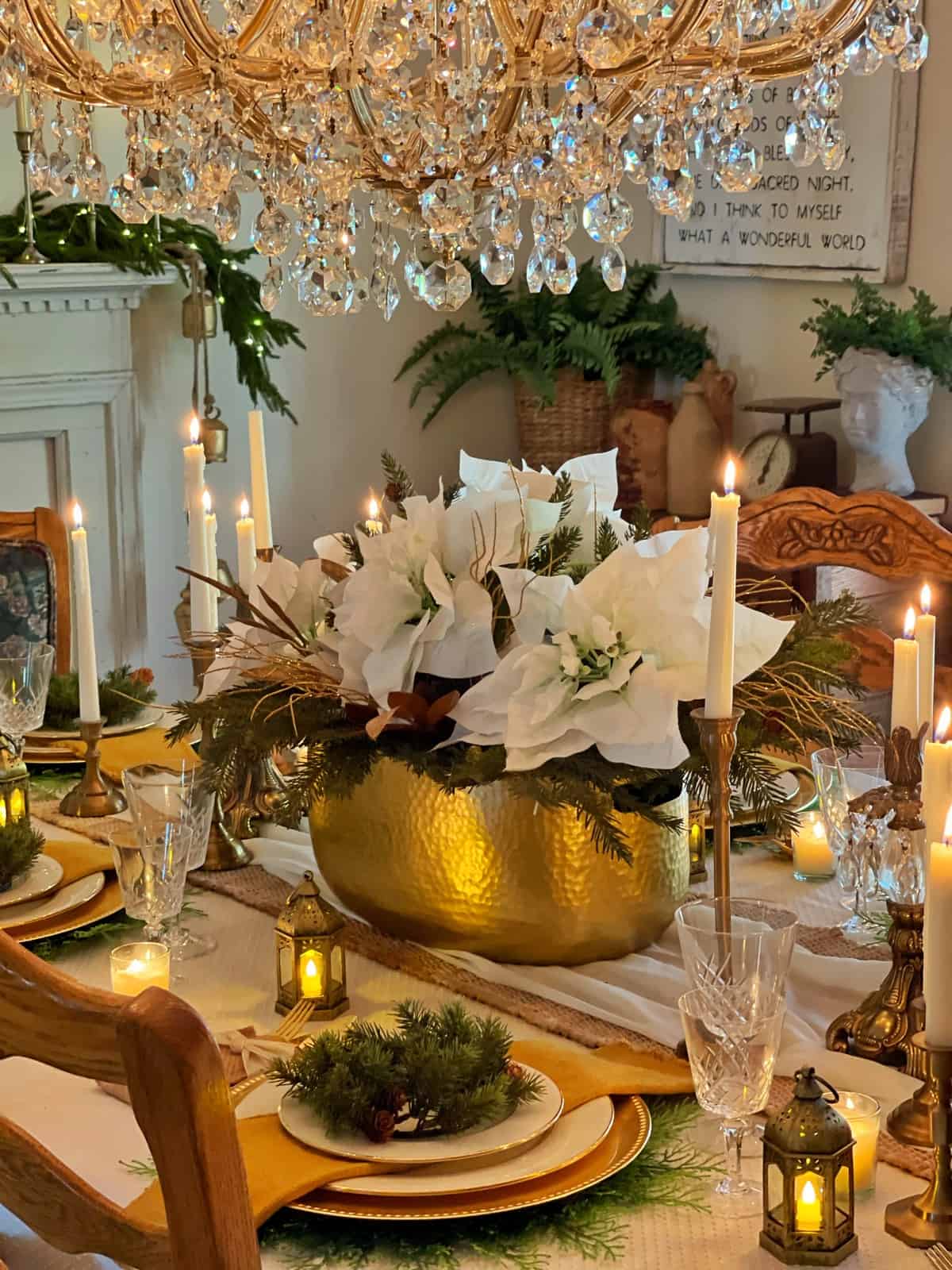 The table gets its identity from the adorable centerpiece that it holds. Christmas calls for a beautiful and artistic creation to be the heart of your dining table decor. The heavy golden vase with artificial flowers gives this theme a royal and majestic look. The white candles in glass holders add grace and divinity to the gathering.
Select an artistic piece mixed with colors for a vibrant look. They are made with pinecones, red balls, candles, ribbons, and artificial flowers. Christmas decorative lantern is another option to adorn your dining table for a gathering dinner. Let the center of your table illuminate the whole space and emit festive vibes.
9. Snowflakes on Your Dining Table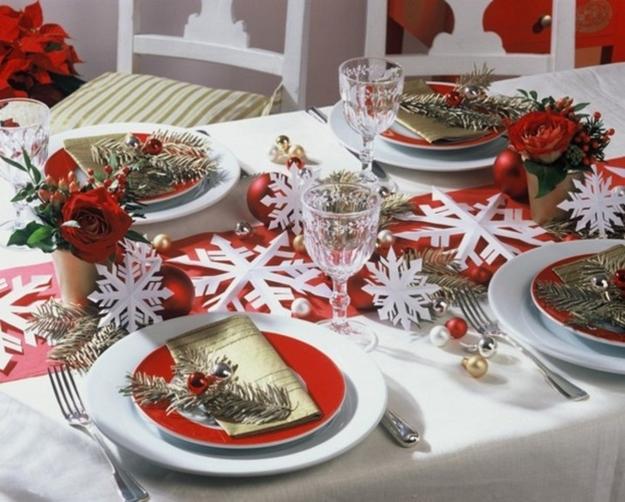 Snowflakes are a perfect geometric creation of nature. They are delicate, beautiful, and geometrically aligned. These intricate structures are commonly used for decoration on Christmas trees. White and golden snowflakes are highly used for decoration during Christmas time. However, did you know that having them on the dining table is a good idea?
Snowflakes on the dining table are a perfect idea! They not only relate to the Christmas theme but also add charm to space. You can make them a part of dining table decor in different ways. Use them as a decor item in the center, add toppers to any food item, or add snowflake napkins to your table.
10. A Series of Lights Running Through the Table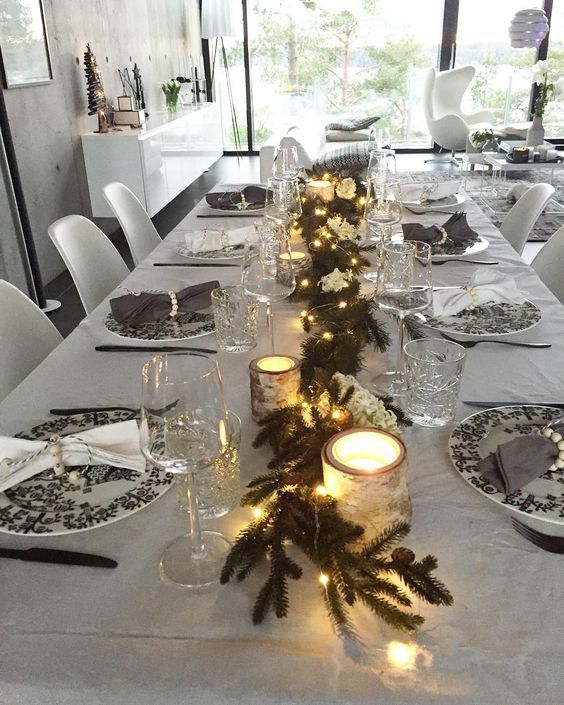 A dinner with candles is memorable, but have you seen a string light running through the center of the table? The majestic look and shine it adds to the dinner are invaluable. The Christmas evening dinner with your loved ones on a beautifully adorned table is worth experiencing. Illuminate the dinner table with string lights or electric candles.
A family with kids normally avoids using candles due to the fear of them getting burnt. In those situations, it's better to have electric lights to bring the space alive. Mingle the electric string lights with a green garland for a perfect Christmas vibe. You can also choose snowflake lights to match the Christmas theme on your dining table.
11. A Buffet Setup for Christmas Night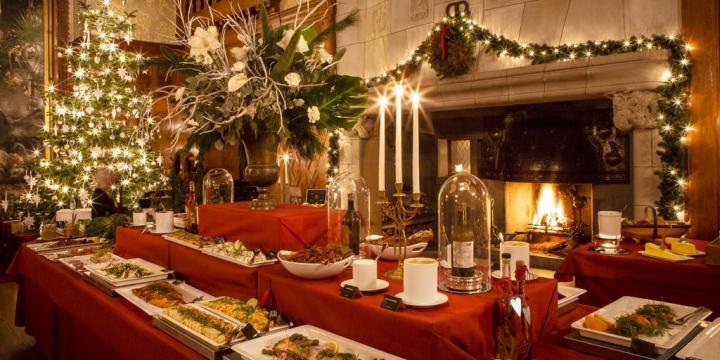 Who said the dinner has to always be in a traditional way? It's not necessary to sit at the table and have the food in the same old method. It's Christmas! And it's time for celebration. Bring some modification to your dining table decor by making it a buffet setup. Having a buffet makes it easier for all the guests to access all food items by themselves. Moreover, it will also allow the guest to move freely and interact with each other.
With a buffet setting, you don't have to worry about inviting a limited number of guests due to fewer chairs. As the seating arrangement is scattered in the buffet, you can invite as many people as you like. Adorn your buffet with a warm red tablecloth and green garland in the background.
12. Surprise Your Guests with a Table Gift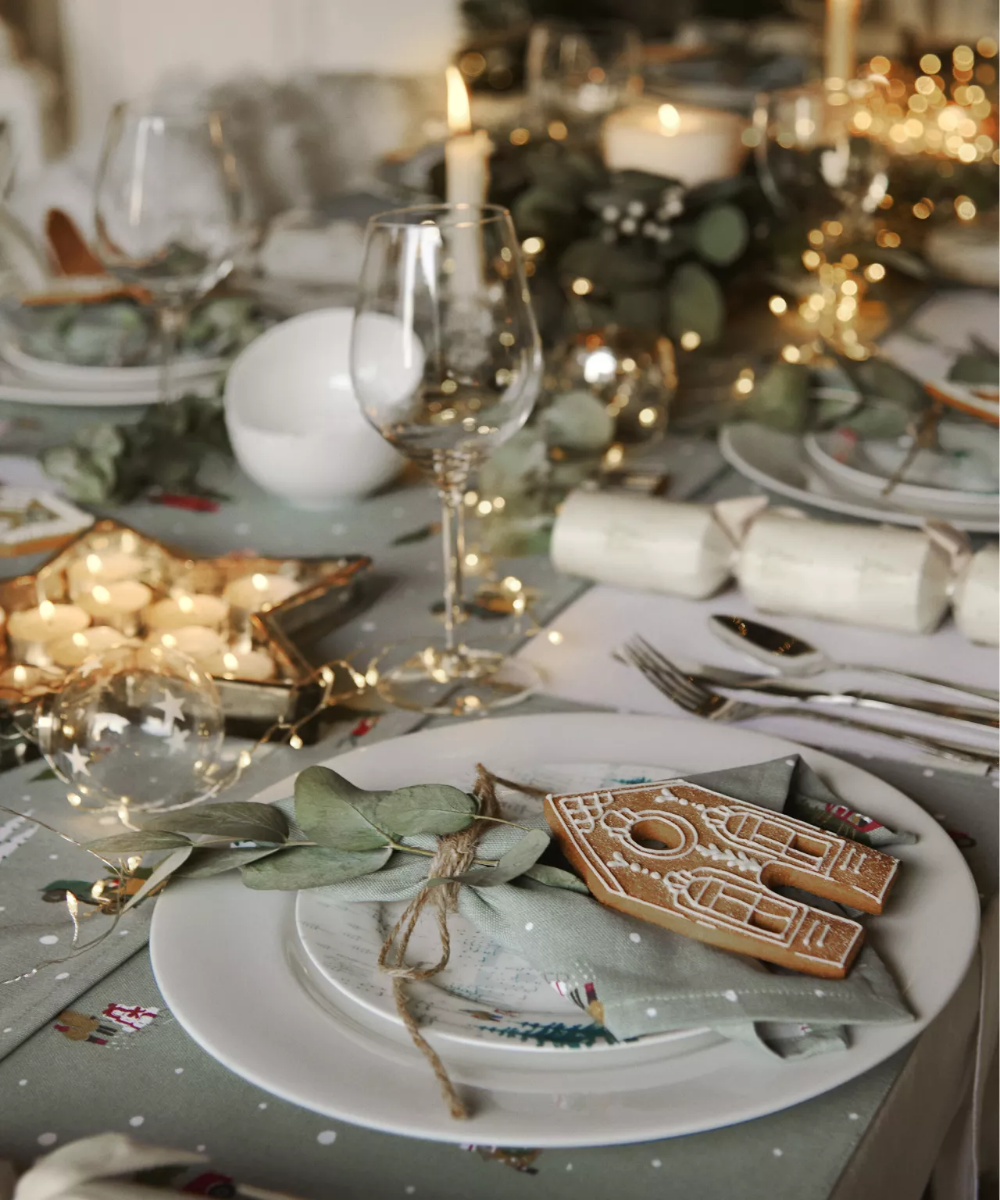 Everybody loves gifts. Whether it's a small child or an old human being, Christmas reminds everyone to give and receive gifts. These offerings do not have to be huge or fancy. It can be anything that resonates with your family or the occasion. Handmade crackers, personalized napkins, books, miniature perfumes, chocolates, or baubles are some of the gifting options you can explore.
Choose a gift that complements the theme of your dining table. In this theme, the cookie on the plate perfectly fits the dining table decor. If you plan to arrange a buffet, distribute your gifts at the end of the dinner as your guests leave. Gifting will add a new essence to your Christmas celebration. The guests will always remember the way you gave them the gifts.
13. Bring a Scandinavian Theme to Your Table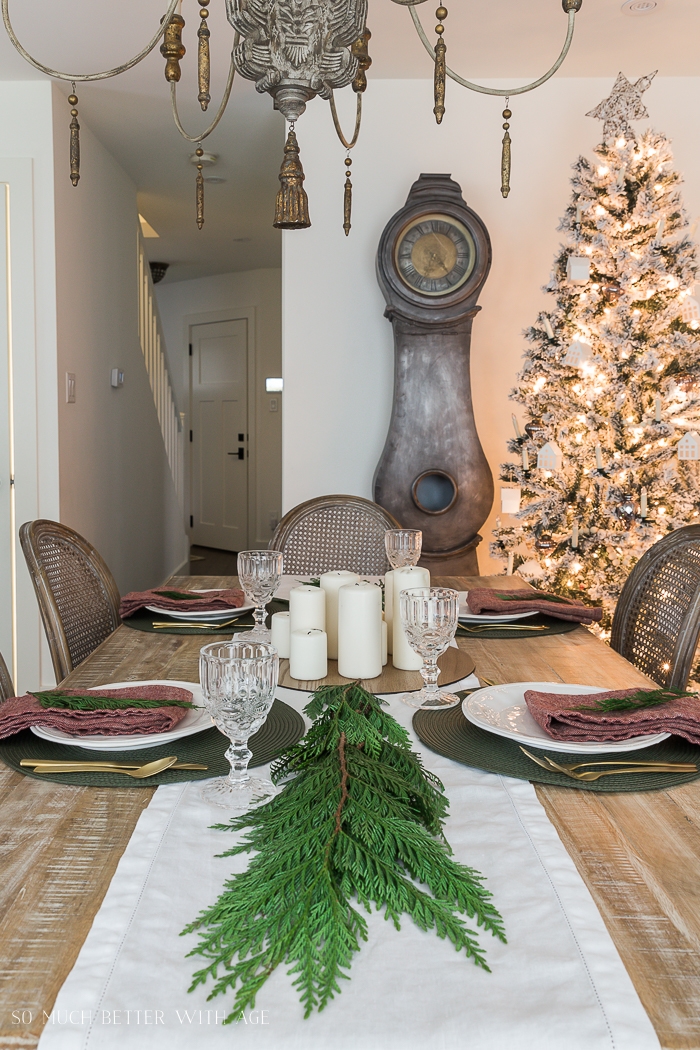 The Scandinavian theme comes with a little bit of variation in every country. However, the overall focus of this theme is on natural elements like wood, flowers, and plants. The colors included in this decor are red, green, gold, and silver. This picture depicts a minimal theme decor. It has a simple white table runner placed in the middle. Multiple white candles of various sizes are the heart of the table.
The table runner is adorned with green leaves. Every plate has a red napkin with a green leaf on it. The combination of white, green and red on the placemat looks appealing. The ancient-looking chandelier adds a rustic look to this Scandinavian theme. The wooden chairs and table in a darker shade announce the presence of this theme clearly.
14. A Mixture of Bright Colors Adds Warmth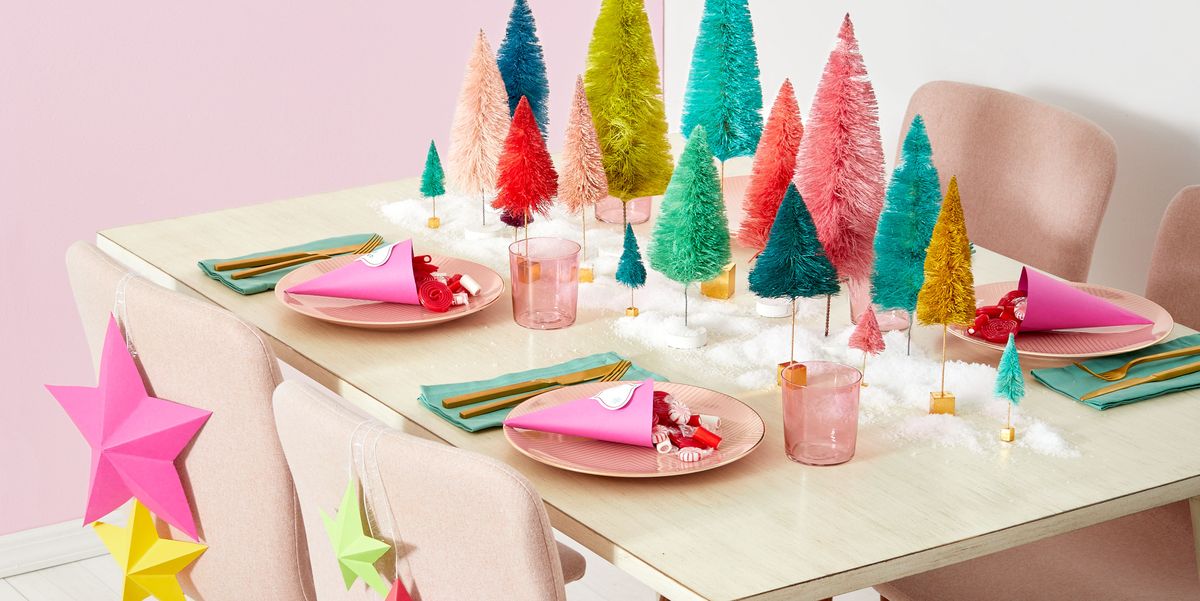 Do you have a Christmas celebration where there are going to be a lot of kids? If yes, this dining table decor with bright colors is the perfect idea for such a gathering. Kids love to be around fluorescent and bright colors. This decor includes small Christmas trees, candies as a gift, and pink covers on their plates.
Bring a smile to your kid's face with this attractive decor and candy gifts. The wooden cutlery and green napkin perfectly complement the bright colors of the trees and pink glasses. Each chair has a star decor at the back to bring in the Christmas Vibe for the evening. These stars are made from paper as a DIY project and hung with a cotton thread. Make your kids a part of this whole decoration and give them the joy of creating this dining table decor.
15. Delight Your Guests with a Drink at the Station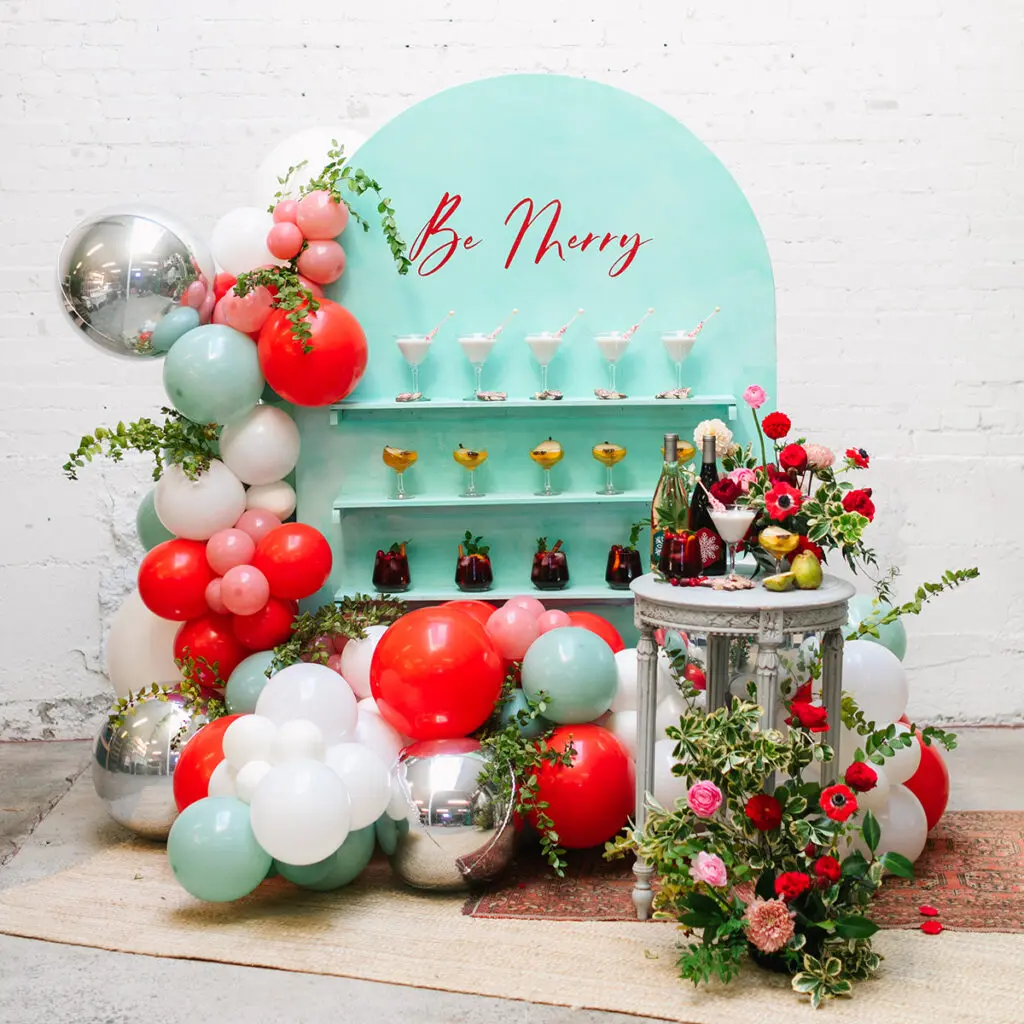 Drinks are a part of every celebration. Some serve it individually or along with dinner. If you want to serve drinks before, during, and after dinner, have a serving station. It is the best option to make sure that drinks are available without any hassle. It's okay if you do not have a bar or specific area for serving drinks. You can simply convert a table of a large cupboard into a serving station.
Take any spare table and adorn it with pleasant flowers, garlands, and stars. Add some balloons and place the drinks on them. Place a huge jar with a tap and some glasses next to it. If you have some space around the table to write something, jot down a joyful message to bring the serving station alive.
16. Let the Crockery Do the Talking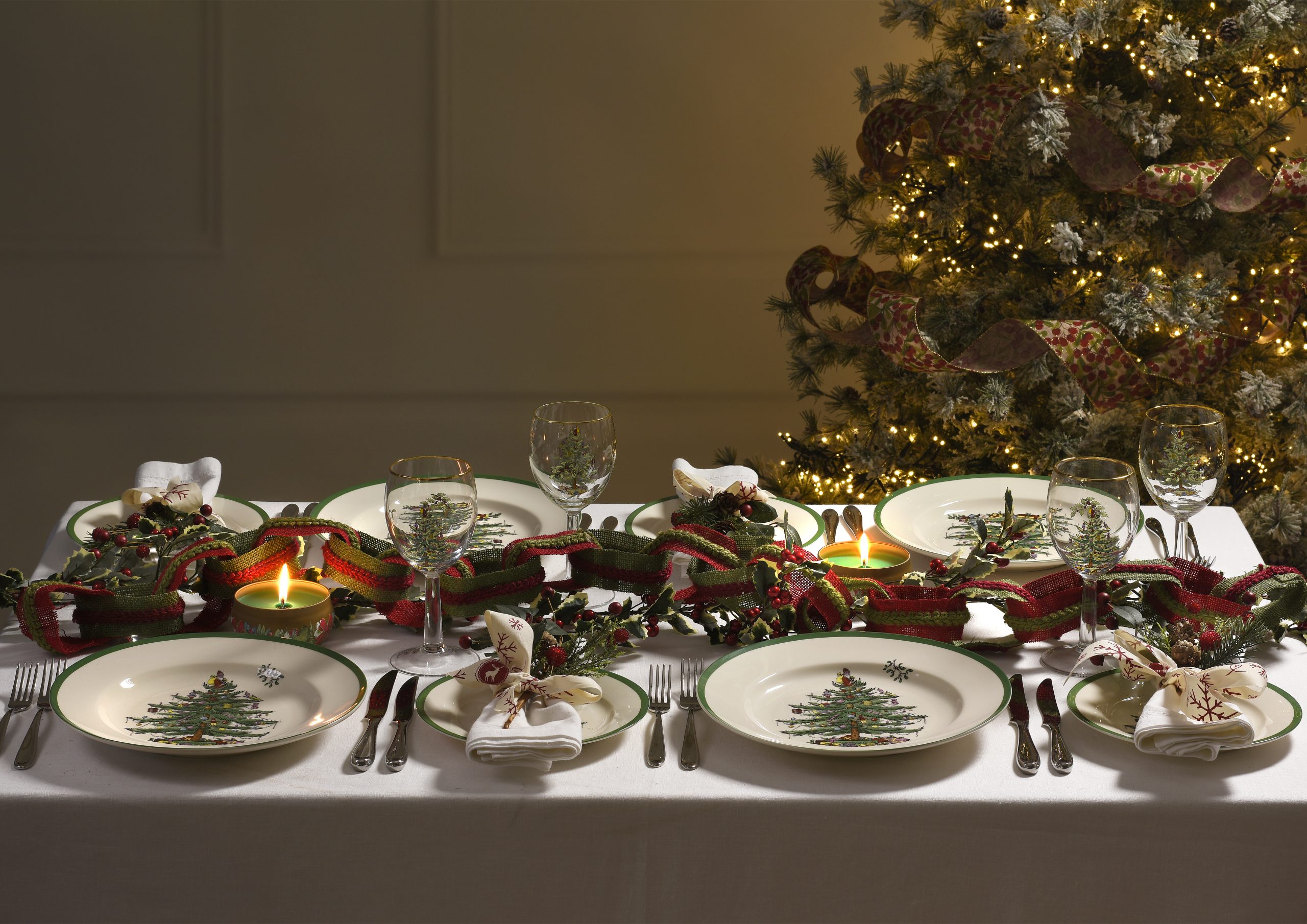 Who said that your kitchen set has to be simple and boring? White is a good color, but what if you have some wonderful Christmas designs on those plates? Bring home creative dinnerware sets that match festive occasions. Along with decorating the table, these plates and spoons bring joy as you enjoy the meal.
Get special holiday dinnerware set for your dining table decor this Christmas. With minimal decor on the table and this delightful set, your table will be ready for the celebration. Save your time for the decoration by getting creative and buying decor that will last till the next festive season.
17. Choose a Neutral Palette for Dinner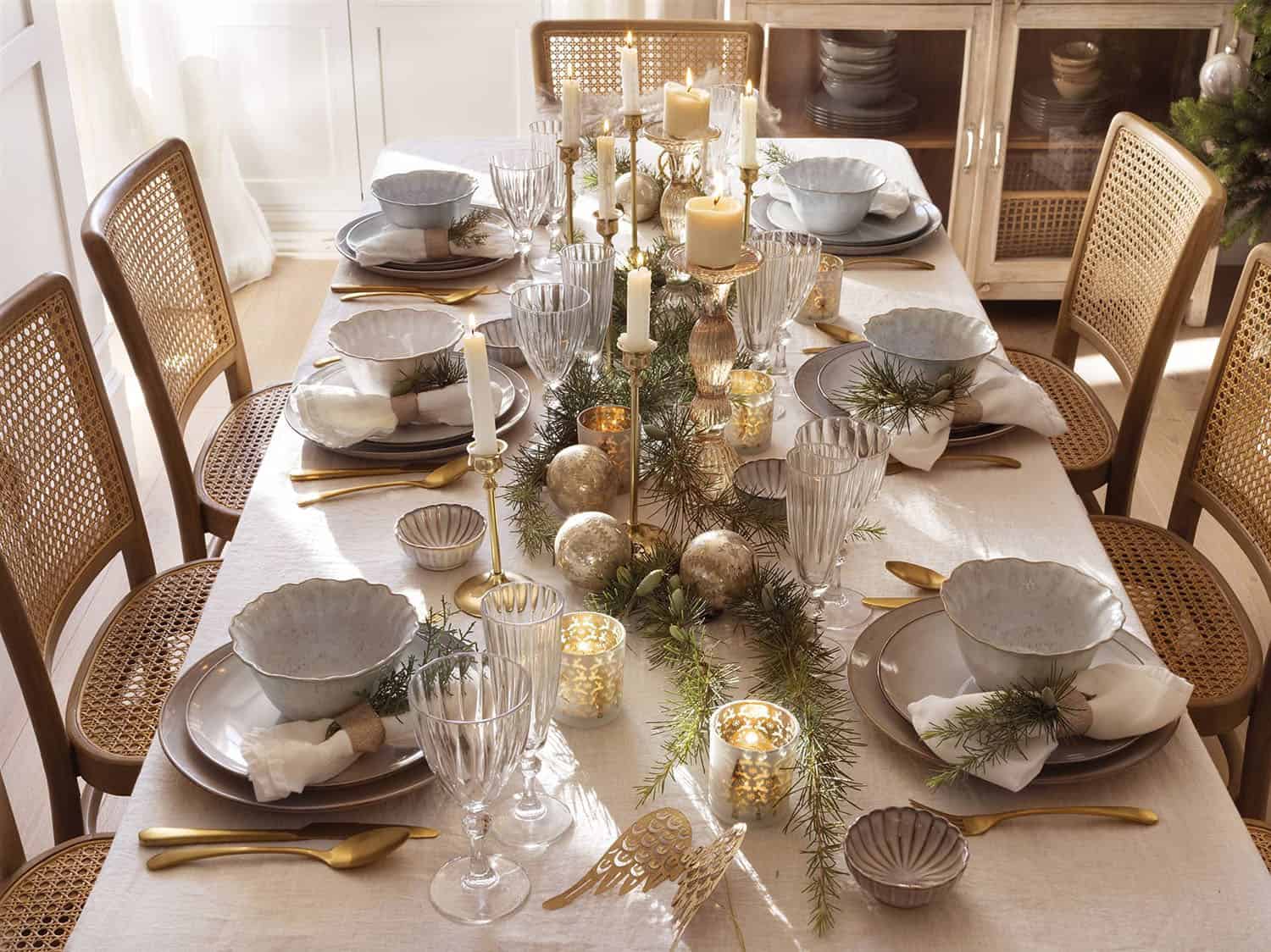 If bright colors are not your choice, this natural palette for your dining table decor will be the best. Celebrations are about getting close and sharing quality time with loved ones. It does not always have to be bright colors and extra decor. The neutral shades of every accessory create a tranquil and cozy dinner setting.
A few candles in the middle and a single-line garland to run across the table will be perfect. The greyish plate, bowl, and spoons are neatly placed on the white tablecloth. They are not so upfront but leave a subtle mark on the table.
18. Enhance the Beauty of Your Chairs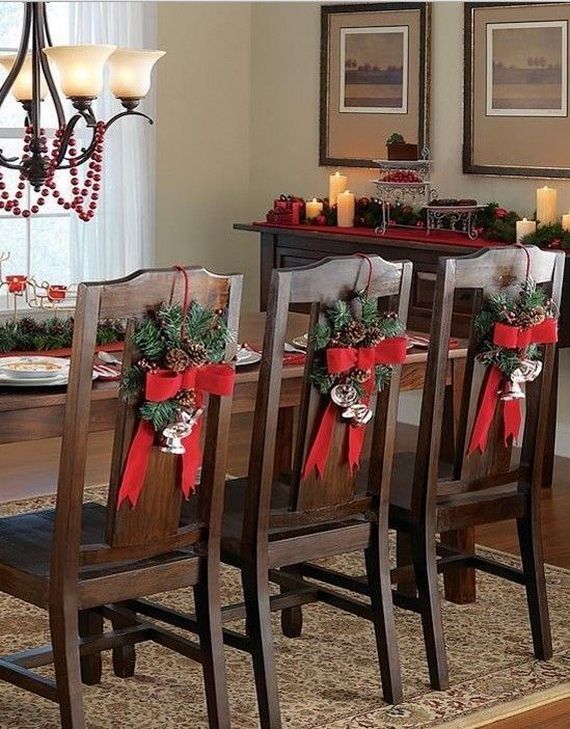 How can we miss the chairs while talking about the dining table decor? The chairs can have the perfect Christmas theme with multiple garnishing. First and foremost is the hanging decor behind the chair. This hanging decor wreath is made with artificial leaves, bells, pinecones, and ribbons to give the perfect Christmas look. Another option is to get beautiful chair covers with Christmas-themed designs.
The decorative hanging wreaths on the wooden chair complement the overall dining table decor. If you want to go with a minimal theme for the chair, you can also choose a simple red ribbon that can be placed behind the chair. There are multiple ways to enhance the look of your chair along with the dining table decoration for your Christmas dinner gathering.
19. Give the Dining Table a Traditional Look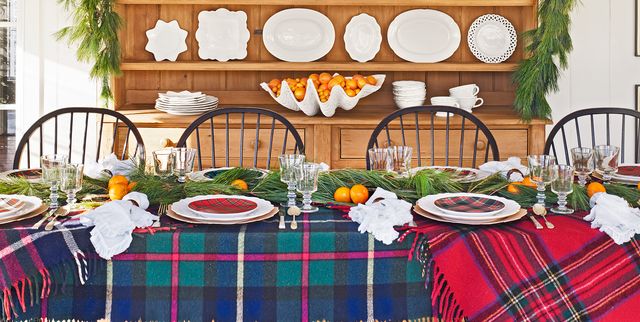 Are you a fan of the traditional checks design table covers? How about keeping them as the theme of dining table decor? The amazing table cover brings a colorful and high-spirited look. Add that magic with designed plates that have checks printed on them.
This traditional decor theme does not consider any antiques or artistic structures to enhance the beauty of the space. However, you can add some natural fruits and vegetables to add different colors and shapes to the decor. The white plates in the background display give the finest creations they have in their collection.
20. Extend Your Serving Spaces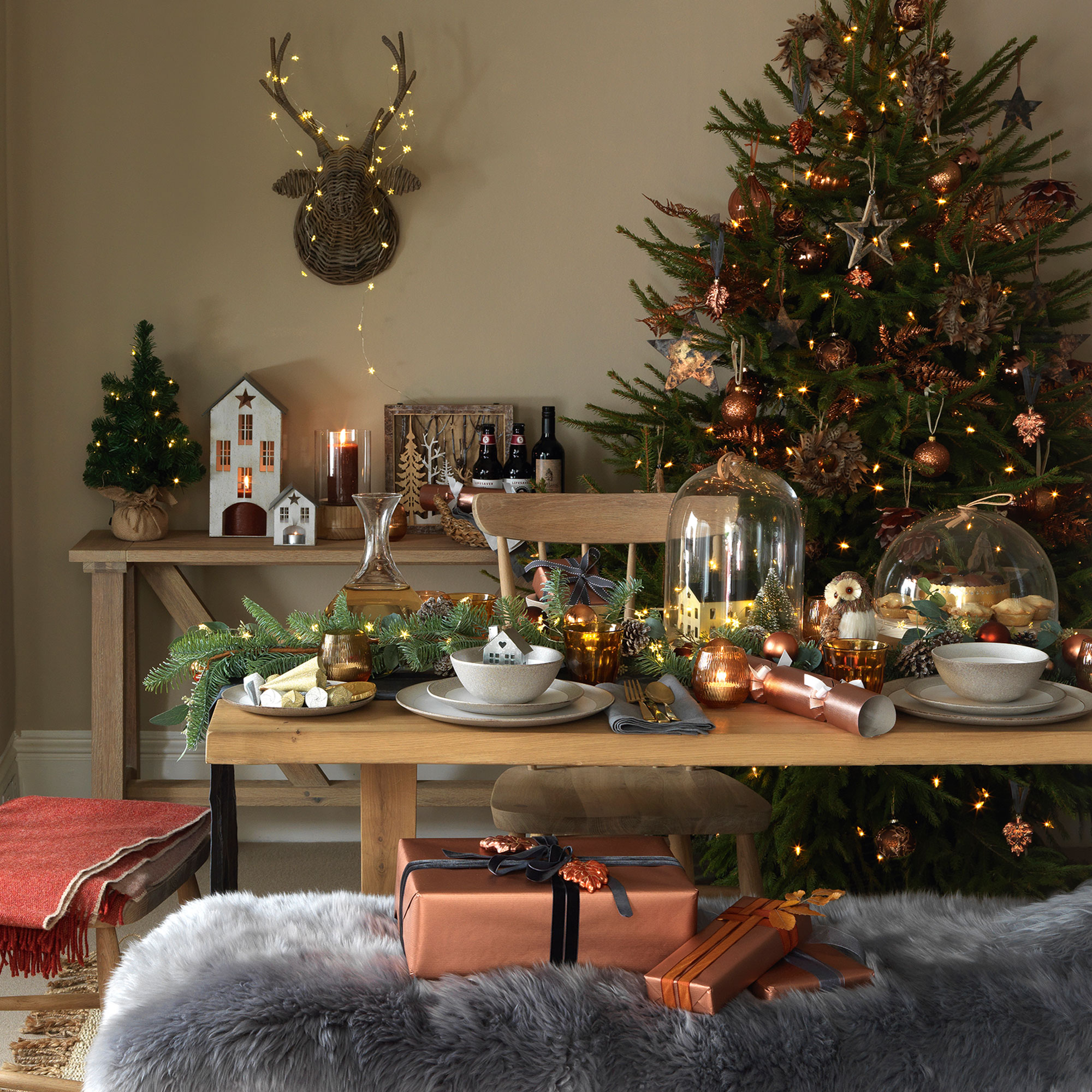 All the dishes from the menu cannot be placed at the Dinner table. This calls for a serving space that the guests can access. It will save the main dinner table from being congested with all the serving bowls. It becomes tough to have decor when you do not have any space. The best option is to have appealing dining table decor and keep an extra serving space for food.
Don't forget to beautify this extra serving space as well. The festive season calls for decoration in every corner of the room. So, why should the extra serving space remain left out? Use table cloth, decor items, and candles to brighten up this extra space with food.
21. Make Your Table Runner the Highlight
Table runners are the highlight when the right one is picked for the occasion. The Christmas season calls for a bright red table runner that shines through the evening. Let the message be clear that it's time to celebrate together and spread joy. This wooden table holds the shining table runner and glowing candles next to it.
There are multiple table runners available from which you can select. Some come with embroidered work, a written message, and some with Christmas-themed designs. Whatever dining table decor you choose, buy a table runner that complements your kitchenware and the surroundings of the dining table.
Let the Celebrations Begin!
Dining table decor is a part of the whole Christmas celebration. You can add these ideas to any part of your home and enhance the festive vibes. Festivals are all about being with your loved ones and enjoying the time. Let this decor express the love and connection you hold with your loved ones.
The dining table is the place to have intimate conversations over a plate of food. The decor will help create a high-spirited and joyful vibe in the area. Enjoy the food and conversations with mesmerizing decor during festivals.