The living room is generally the heart of the house – it's where the family gathers around the television, where you welcome guests, and where you have game night. The interior decor of this room is essential as it subtly influences your mood and how you are perceived, and it speaks volumes about you as a family. One of the most significant furniture units, the TV stand, has a lot of influence over the room's decor. You can't have it so elaborate that it detracts attention from the TV yet not so bare that the house doesn't look lived in yet. Balancing the design elements on and around the TV unit can be an arduous task, yet one that's very rewarding when you get it right.
If you aren't sure about what you can use and how to transform your home, we've got you covered, so read on.
Elements that Can Be Used for Tv Stand Decor
Nature & Natural Elements: Including flowers, vases, and pots in earthy tones, clay vessels, indoor potted plants
Lamps and Lighting: From recessed shelf lighting to pretty lights and antique brass lamps, it's incredible how a little light can alter the mood and appearance of a room
Art: Whether you'd like a clay sculpture or a handblown glass vase, whether you prefer framed art or pop culture posters, don't be afraid to let your arty side out
Personal Memorabilia: Family photos, kids' awards, wedding gift articles, and handmade Mother's Day gifts – all of them can have a place in your TV stand decor if you'd like
TV Stand Decor Ideas to Transform Your Home
1. Uncluttered Modern TV Unit with Potted Plant and Framed Artwork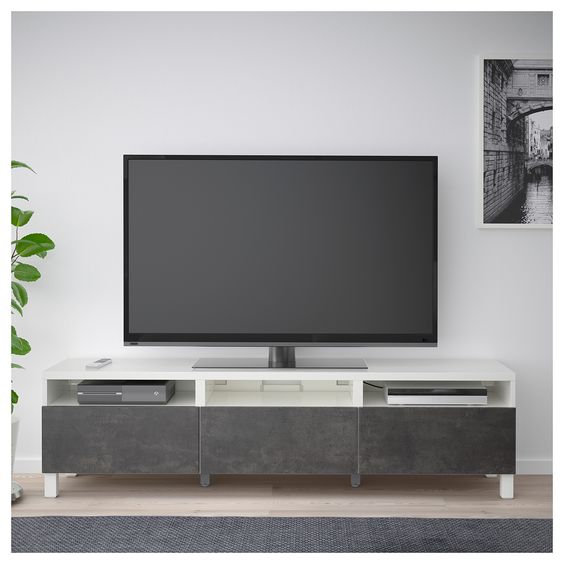 You've bought a house recently and want to turn it into a calm, welcoming, modern space. Whites, greys, and taupes play a big role in your decor. If this sounds like you, here's a perfect TV unit decor idea for you. Keep the stand uncluttered, with open and closed storage space for your electronics. You send out a strong message that, for you, TV viewing is an experience to be taken seriously. Still, you don't quite want the entire wall to be a blank canvas, right? Add an oversized white ceramic pot with a cheerful indoor plant on one side. Complete the other with a moody black and white framed photo for the perfect chic look.
2. Book Lovers Tv Stand Decor with Storage Space and Accent Pieces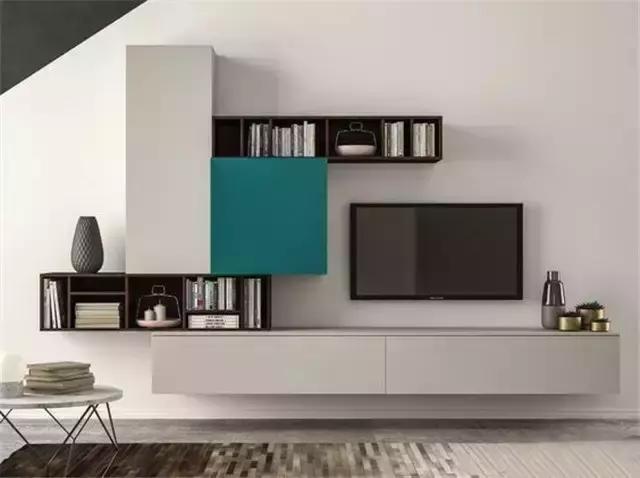 If you have frequent arguments with yourself about whether the book version was better than the movie version and constantly curl up with a book while the TV is on, we have the perfect TV unit decor idea for you. Wall mount the TV, and surround it with books – both with open as well as closed storage options. Add DVDs of your all-time favorite movies as well for Movie Night! For a classic feel with a spot of drama, go for a black and white shelf if you have a white wall, and punch it up with a splash of color on one door. Concealed handles give your home an air of sophistication, while the little knick-knacks like the metal planters and a ceramic vase add a touch of personalization.
3. Simple Traditional Wooden TV Unit with Rattan Basket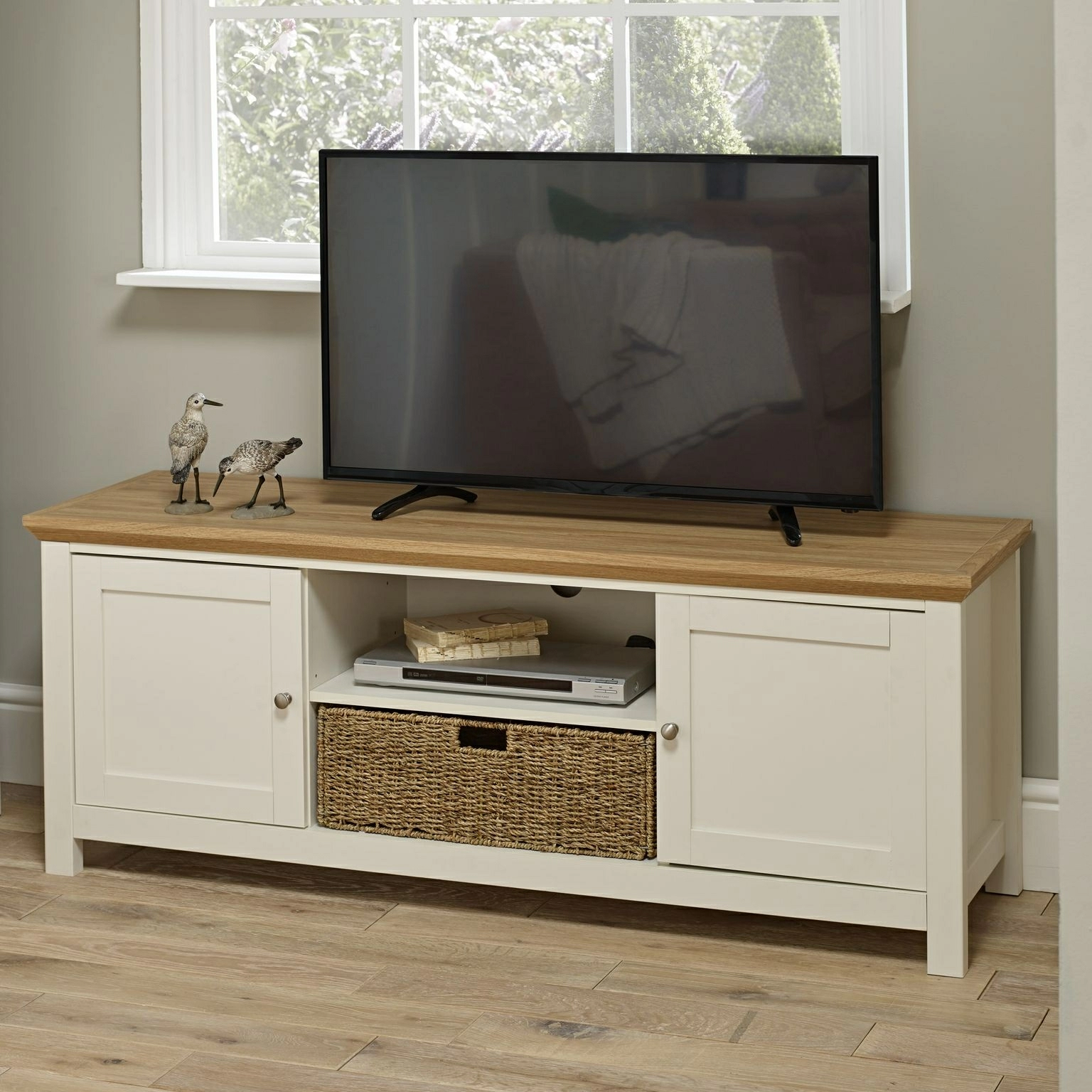 When you have a TV unit that's old, there's no need to toss it out and go shopping for an ultra-modern one right away. With a bit of graining, painting, and the right accessories, your TV stand can be a hero again. Simple wooden TV stands can be polished, and the cupboard doors are painted to match your living room decor or provide a fun contrast. Add a wickerwork or rattan basket for storage to bring in a cozy feeling, almost like you are back at your grandma's place. Throw in a couple of quirky decor pieces like metal birds, a resin-painted family portrait, or even trays with ceramic tile pieces with glaze to really finish that warm, homelike atmosphere.
4. Farmhouse TV Stand to Bring Nature Indoors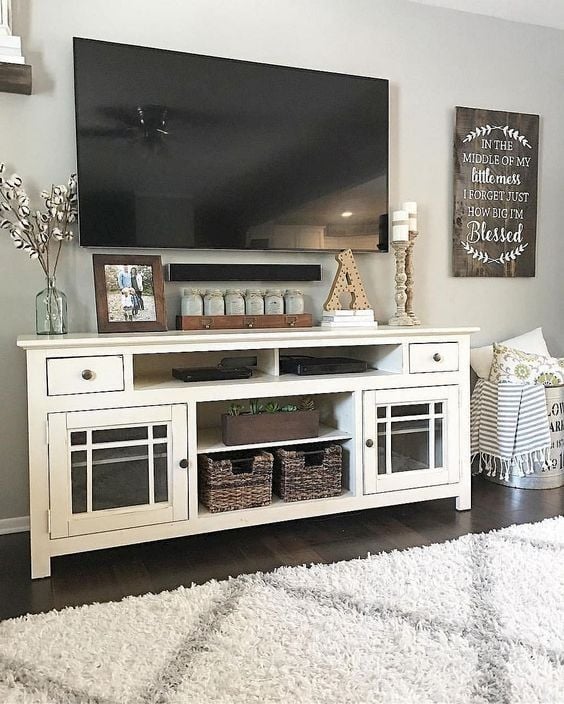 While we're on the subject of rattan baskets, another place they'll show up well is in a farmhouse TV unit. This style uses natural colors, materials, and little elements of nature, like plants and flowers, to create an illusion of bringing the outdoors inside. Get yourself plenty of storage below the wall-mounted TV and soundbar. With closed cupboards, drawers, rattan baskets and trays, and open storage for your gadgets, there's enough room for everyone's clutter. Mix long-stemmed flowers with family photos and antique candlesticks with potpourri and add a fun or motivational quote that is a family favorite to complete this very charming picture.
5. Minimalist, Clutter-Free Open Stand with Lamps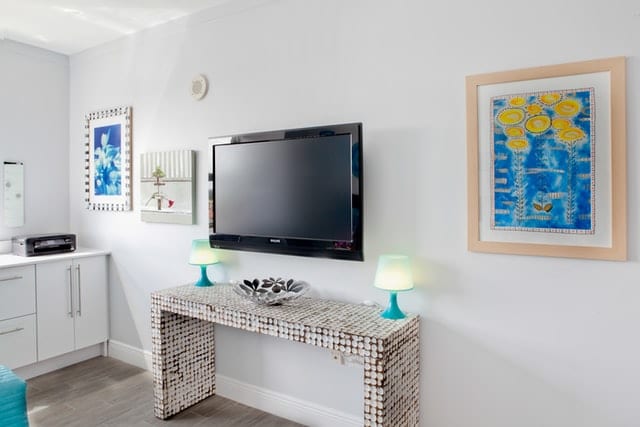 For those who prefer clean and tidy spaces, the thought of a jumble of remote controls, speakers, magazines, books, and more is terrifying. That's just why this design is so perfect. This tiled TV stand is literally just a stand and nothing more. With no incorporated storage and no remote caddies, all the focus is on the television and its content. To prevent it from being too stark and unfriendly, place a couple of lamps on the top of the unit and add a bowl of flowers or a glass dish right below the wall-mounted TV. Abstract frames on the walls add to the general modern look of this minimalist TV unit.
6. Fireplace Mantle-Turned TV Stand with Bronze Urns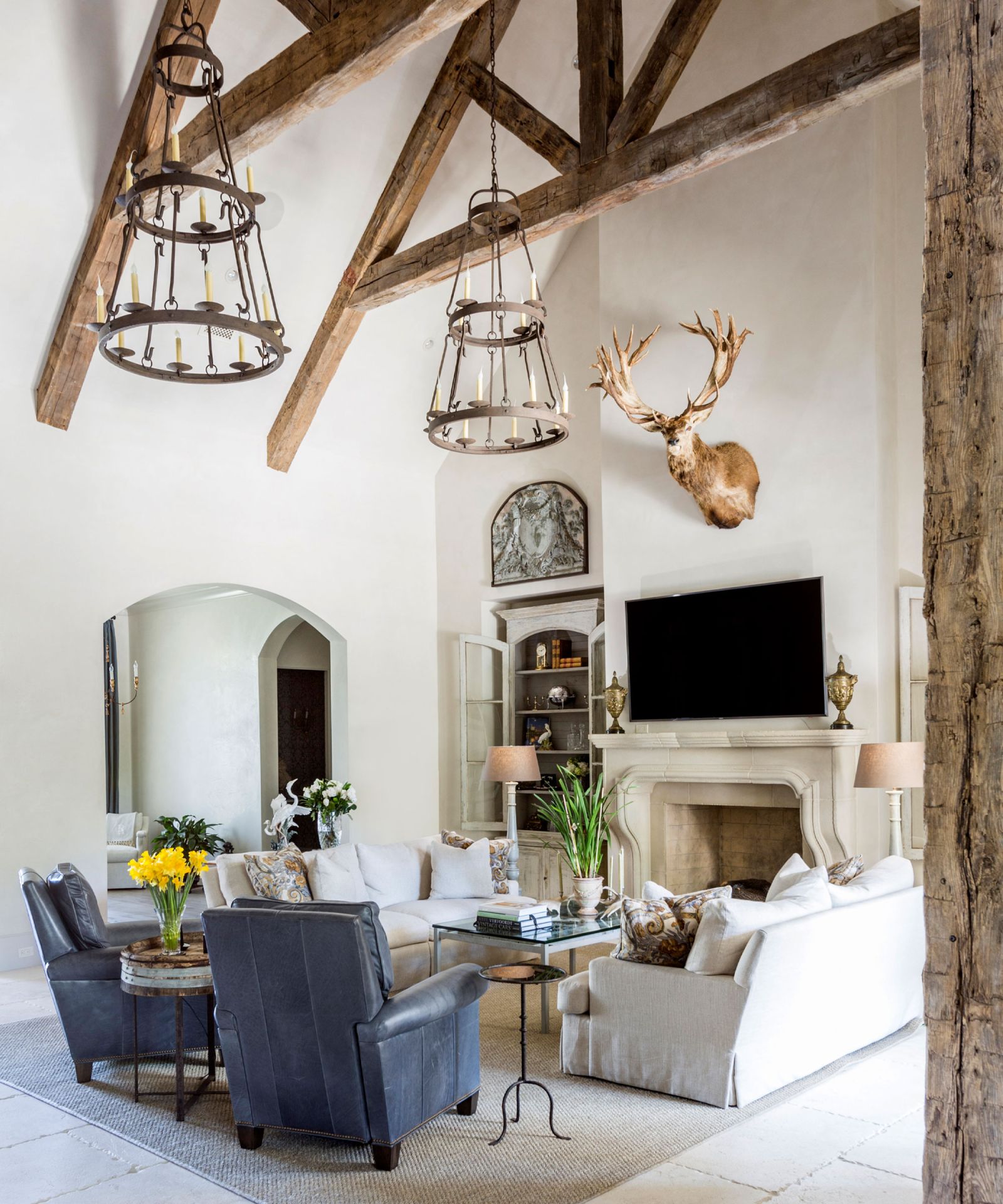 A traditional family room or living room has plenty of seating room, lots of personalized decor pieces and antiques, a cozy fireplace, and a large flat-screen TV that's been wall-mounted. But where's the room for the TV stand? You don't have to think of a traditional clunky unit or a sleek modern shelf when it comes to this style. Simply convert your fireplace mantle into a TV stand. With enough room to hold a couple of remote controls or a DVD player, there's enough space for a couple of signature pieces that complement the room decor as well. Bronze urns or metal vases should do the trick and add a touch of class as well.
7. Ultra-Contemporary Patterned TV Unit in Anthracite Grey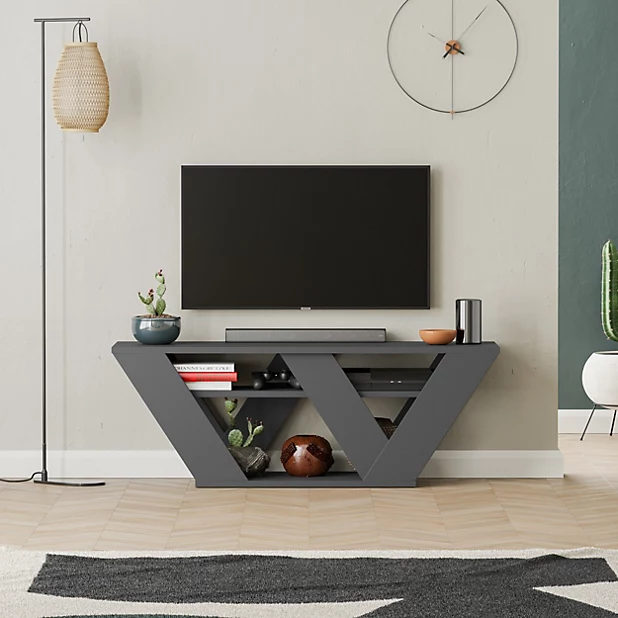 From traditional to modern in the blink of an eye, TV unit decor should reflect what you like. If ultra-contemporary is how you've styled the rest of the house, why leave out the TV unit? With this patterned statement piece, you not only have a bold, solid-colored statement but also can enjoy cleverly concealed storage space as well. Kick up the decor a notch with metal sculptures or modern art pieces, or even a single tall, slim bronzed vase that houses flowers that add a splash of color, and you have a dramatic TV unit to match the decor in your home.
8. Retro Solid Wood TV Console with Memorabilia and Wall Art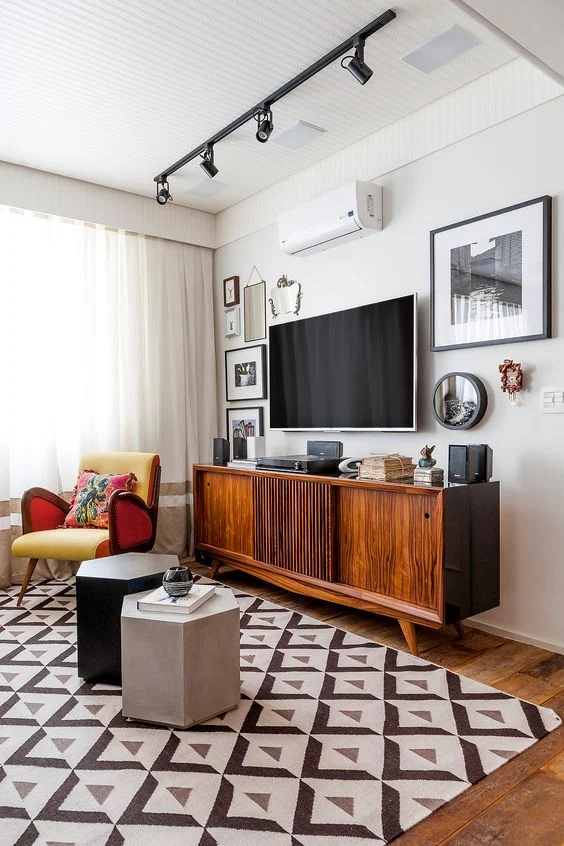 Who says retro and modern can't co-exist? Not just peaceful co-existence, but the two styles celebrate each other in this elegant yet warm living room. With modern geometric patterned carpets and solid-colored furniture, you'd think the TV unit would reflect the same theme, right? But a retro-style solid wood unit with sliding doors just needs to convert a more aloof space into a warm home. Stack old books on the top and balance the ends with good speakers, increasing the aesthetic and enhancing your TV viewing experience. Black and white framed wall art, whimsical mirrors, and a vintage-style clock on the wall with the TV make sure that this style of decor is here to stay!
9. Art Gallery Style TV Unit with Framed Art on The Walls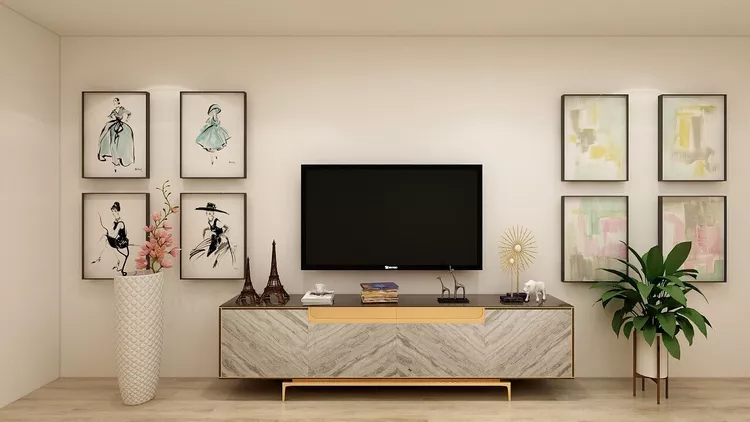 If you are an art collector, you'd want your favorite pieces on display so that everyone can see and enjoy them. If you have a wall dedicated to your television space, why not turn it into a mini-gallery and echo the same with the TV unit? A stylish, patterned TV unit that blends with the room color is good for storage. It takes on a whole new aspect when you use the top to display various pieces of art and sculptures you've collected. From stunning to quirky, there's room for it all. Bring it together by displaying framed paintings you've acquired on either side of the TV, and add some indoor plants in ceramic and metal planters. You'll turn your living room into your very own home art gallery experience!
10. Opulent Long TV Unit with Added Wall-Mount Shelves with Recessed Lights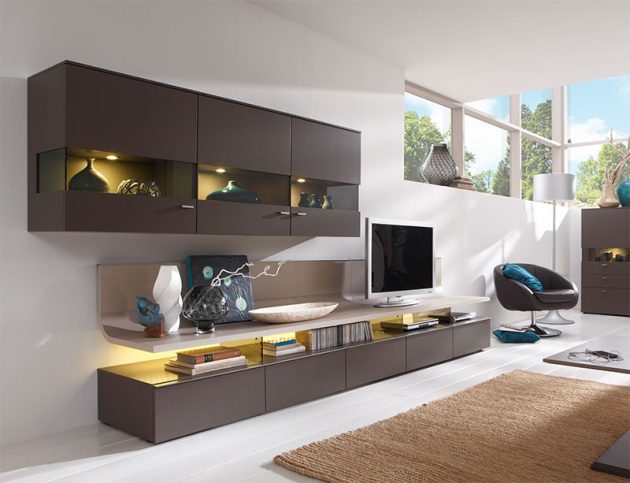 If you spend a lot of time in your living room and want to make it an experience for anybody who's visiting, why not go opulent with the design? You can't go wrong with a dark brown and white combination, with highlights of taupe and dull gold. With lots of storage space for all your things, you can display little pieces of art that you've collected beautifully. The recessed display prevents dust from gathering, while the lighting subtly highlights the dull gold and acts as a lovely foil for the art. This kind of TV stand can hold everything from modern art pieces to coffee table books.
11. Ultimate Gamer's Dream TV Stand Decor with Storage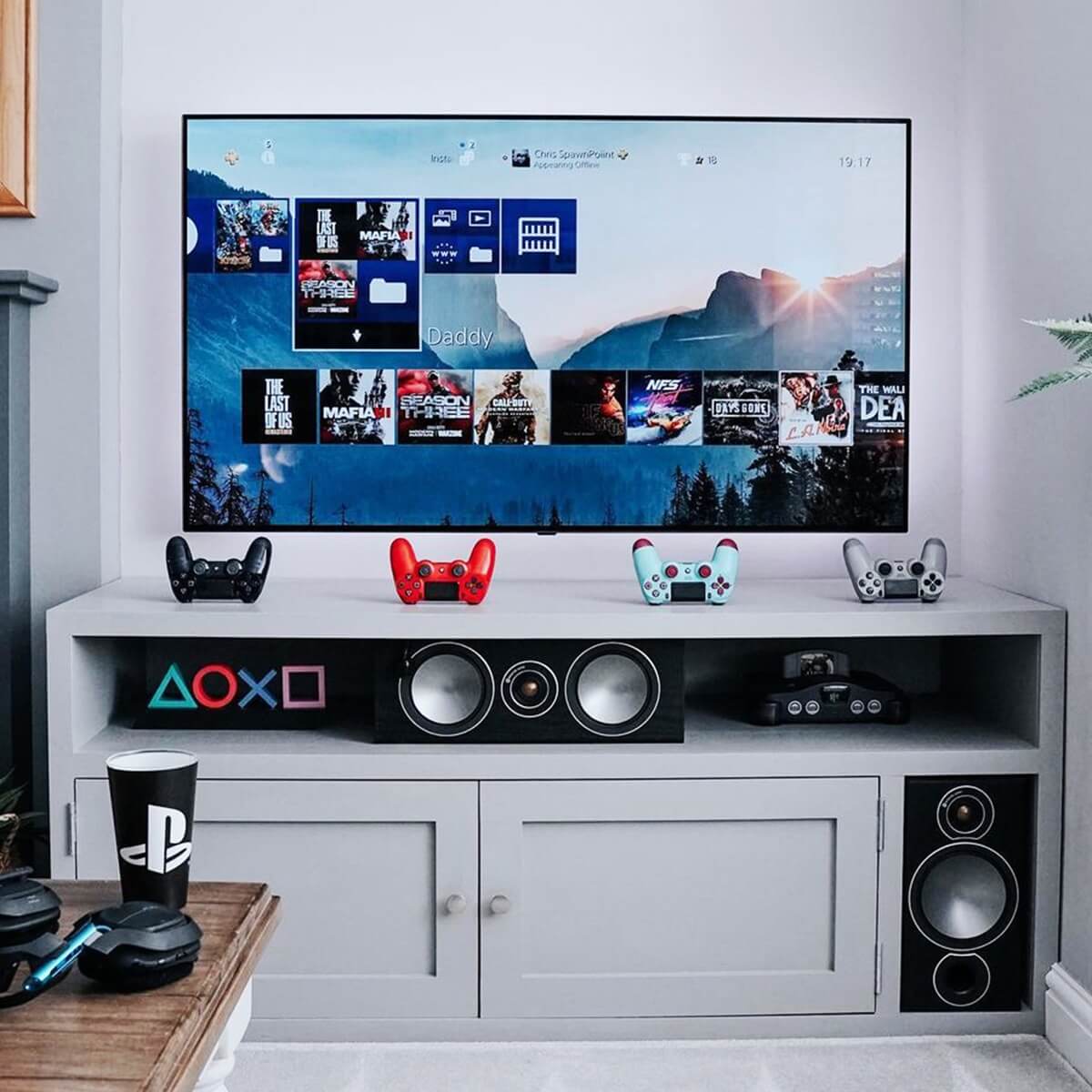 Do you spend all your spare time gaming? And do you regularly host game nights for friends and family? Then, in your world, the TV is the room's main focus, and you might think the TV stand isn't important enough to warrant a thought until you see this dream unit. In plain, serviceable white, this stand takes no attention away from your focus on the screen. Discreet doors hide any clutter you have, while open shelves serve as spaces for your speakers and other gaming paraphernalia. Get little stands for your game controllers and line them up below the wall-mounted TV. Anyone who walks in will know you mean serious business!
12. Contemporary, Custom-Built TV Panel and Unit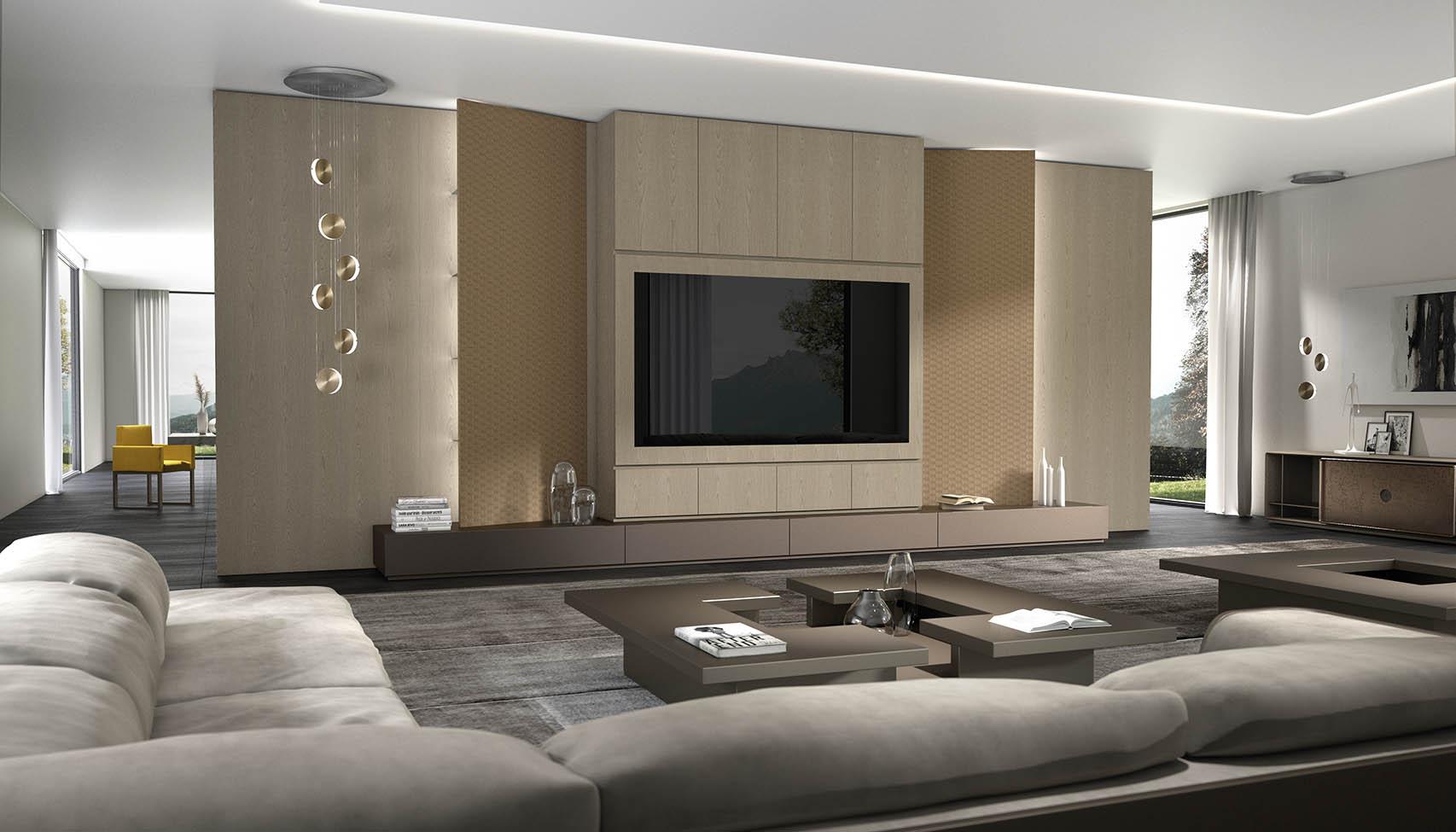 You've gone ahead and designed your house in the contemporary style. The furnishings exudes elegance, the furniture breathes modernity, and the style and grace of your living room blow away all your guests. Why settle for any regular TV stand? Go all out with a made-to-order TV cabinet. Get the backing panels for a wall-mount TV, with carvings for a trendy feel. Bring in warmth with in-built track lighting, put in day cabinets for storage, and several practical shelves. Tie the look together with some glass vases, a couple of porcelain ornaments, and maybe a few beloved books to bring in that warm feeling of home.
13. Curved Open Shelves for Art and Utility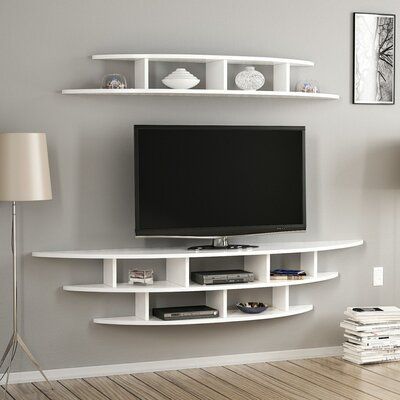 Sometimes, you'll find yourself stuck in a situation where you and other folks in your family are at odds because your tastes differ. If you are arty and your wife is more practical, let us solve a problem for you if you haven't been able to agree on the perfect TV unit and how to decorate it. Get yourselves these curved white wood shelves and place them above and below your wall-mount TV. Polished to a dazzling shine, the melamine surface is the perfect stage for any art you might have collected or the gadgets your wife wants to be tidied away. It's a great compromise, not fussy, not ostentatious, but fun and practical!
14. Industrial Style Iron and Wood TV Stand with Minimal Decor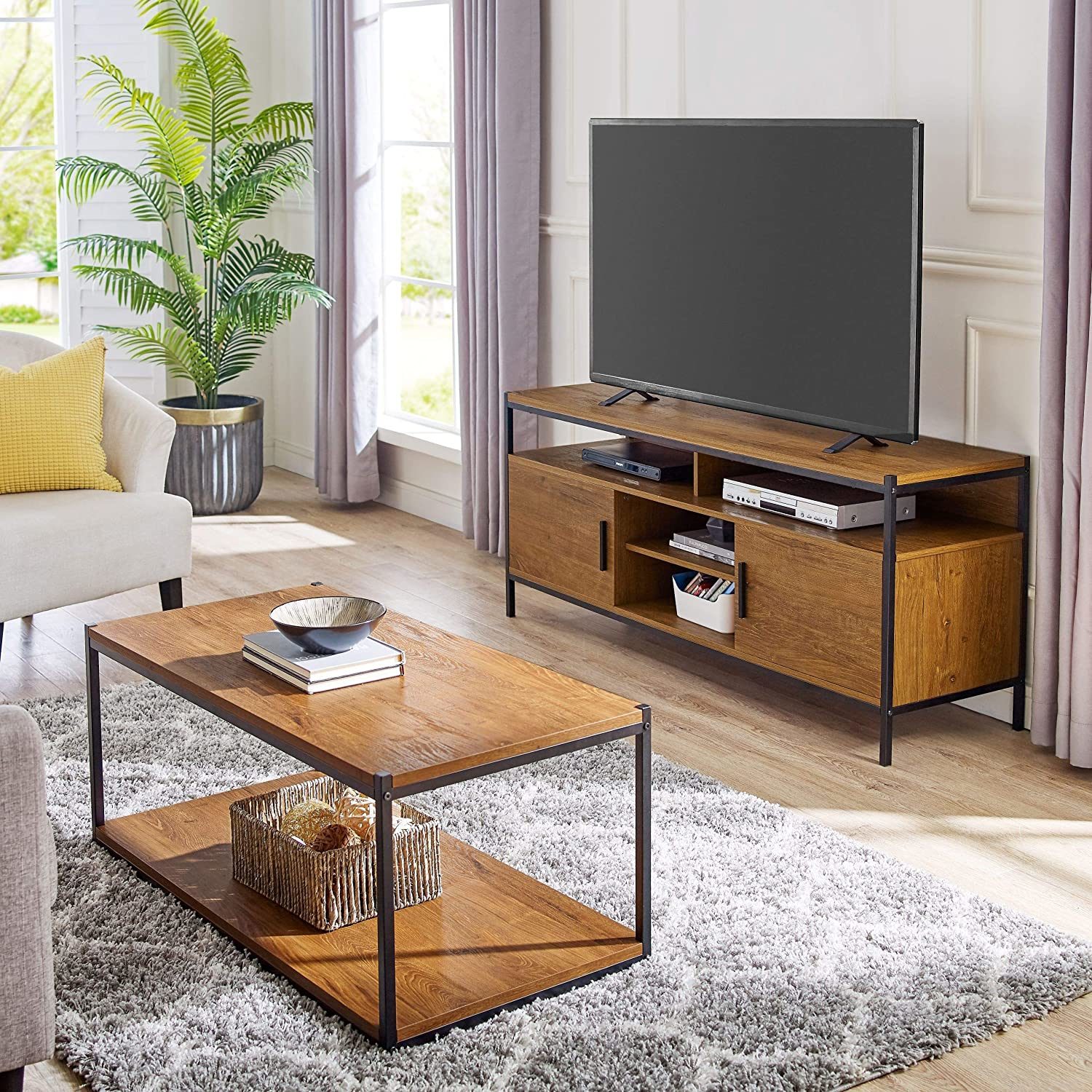 Whether you are baching it, have a fondness for clean lines and minimal fuss, or just don't want to go overboard with your interiors, if you are looking for a TV cabinet with no fuss, just enough place to dump your things, here's what you need. Sturdy and functional, this iron and wood TV stand is an excellent base for your TV and has all the storage you need for your things. Because it's an industrial look, you don't have to worry about dressing it up too much. You could add a deep dish in a strong color like purple or blue to throw your keys, coins, and other stuff in your pocket.
15. Entertainment Buff's TV Stand with Quirky Decor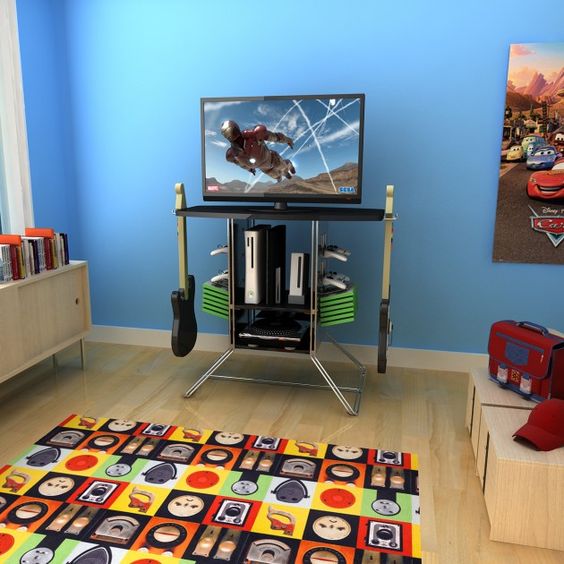 What if you are a gamer, a movie buff, can't do without music, AND want to bring all this out with your TV stand so that this room can show the world what's most important to you? It's doable! Go for a simple stand in black and silver, with custom shelves and stands built in. Place all your game controllers and consoles in the brackets. Suspend your guitars from specially-made custom holders in the TV unit. Hang a favorite movie poster on the wall to one side of the TV. Finally, find a quirky floor rug or carpet with a movie, music, or game motif, or better yet, one that combines the three, and you'll create your own haven!
16. Ladder Shelf TV Stand with Wooden Cupboards for Storage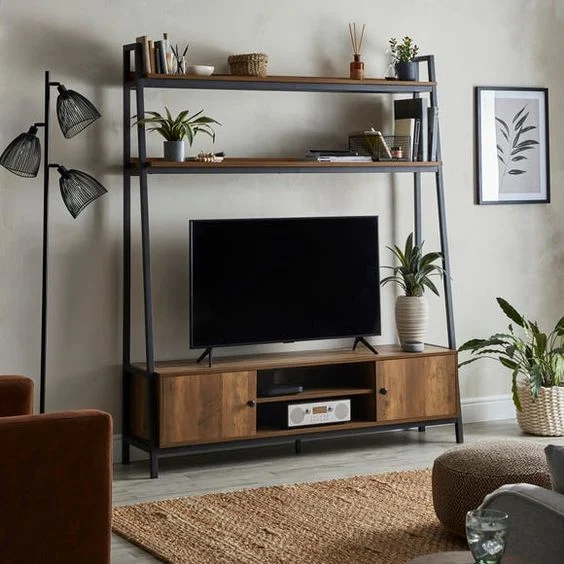 Strike the perfect balance between quirky and classy with this unique idea. Put in ladder shelf style TV unit that both stands out yet blends in. The shelves are a lovely way to display collectibles and gifts and bring nature indoors with a few potted plants. The cupboards allow you ample opportunity to tuck away odds and ends so your living room can look tidy and welcoming. Basic colors – brown and steel-grey – go with almost all types of interior decoration schemes. You could choose a different finish or shade of wood if you want it to suit other wooden pieces in the room as well.
17. Wall Spanning Shelved TV Cabinet and Entertainment Centre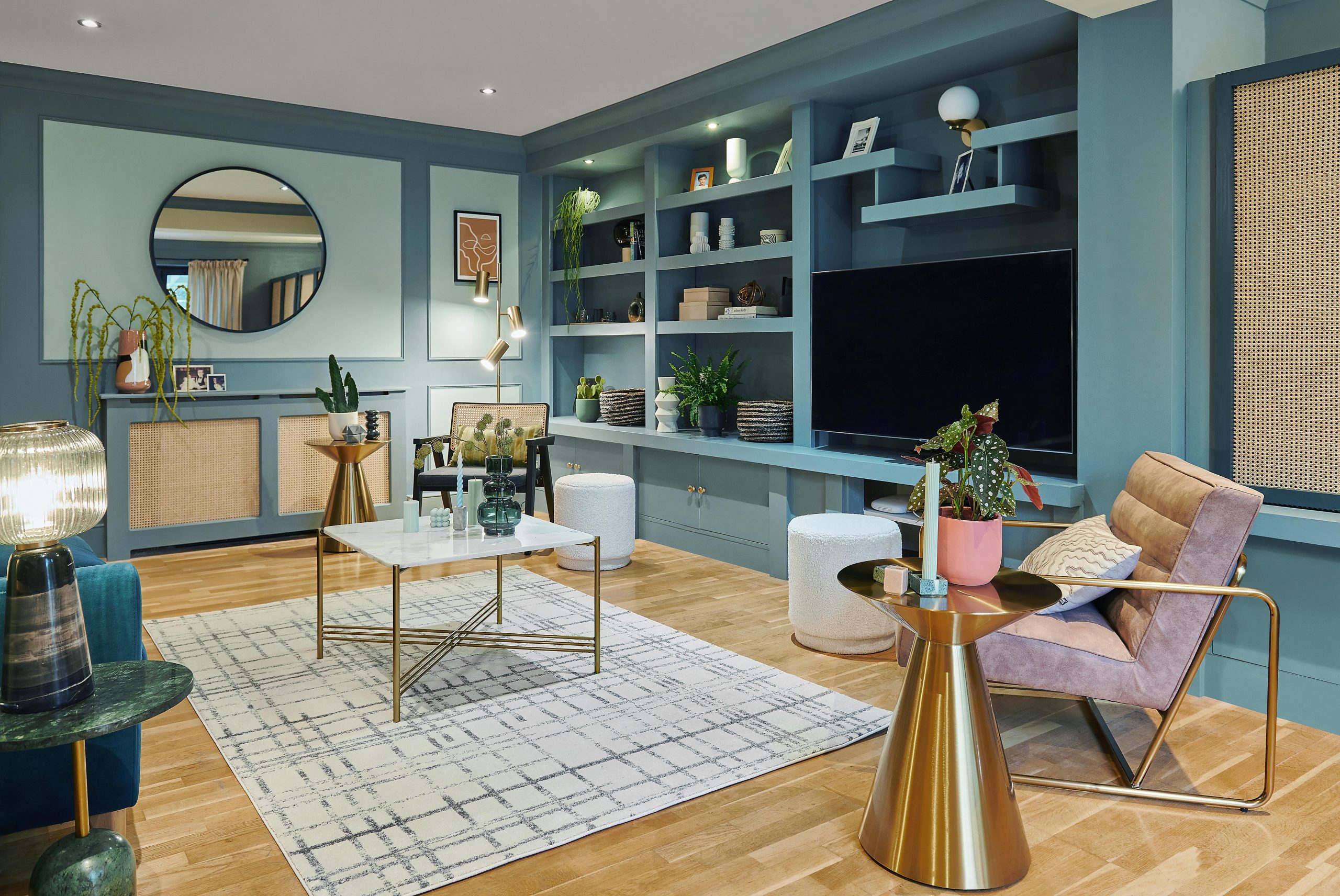 If you have a large family of achievers who regularly collect awards, or you have a lot of antiques and collectibles that have come to you over time, you need a lot of space to display everything to the best advantage. While some people opt for a display unit near the TV stand, how about you convert a wall for your purpose? Wall mount the television and build shelves around it. You can set up art the way you want or dedicate different mantels for each family member to display their achievements. Keep things evenly spaced and regularly cleaned to avoid a cluttered, messy feel.
18. Space Saving Triangular Corner TV Unit With Storage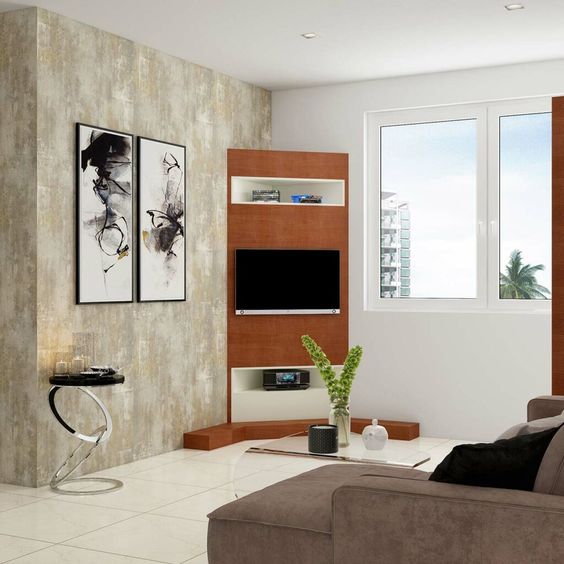 With newer homes, especially in cities, you might find yourself strapped for space. With windows being the top priority and art for adjacent walls, where do you put the TV? Get a smart space-saving TV unit that sits neatly in the corner and blends with the surroundings. Apart from the TV, you can add a couple of closed cupboards for storage and utilize shelf space for either little knick-knacks or electronics. Bring in a couple of potted plants to add some cheer at the base, and you have a fantastic entertainment corner.
19. Etagere-Style Industrial Look Open Shelves for Display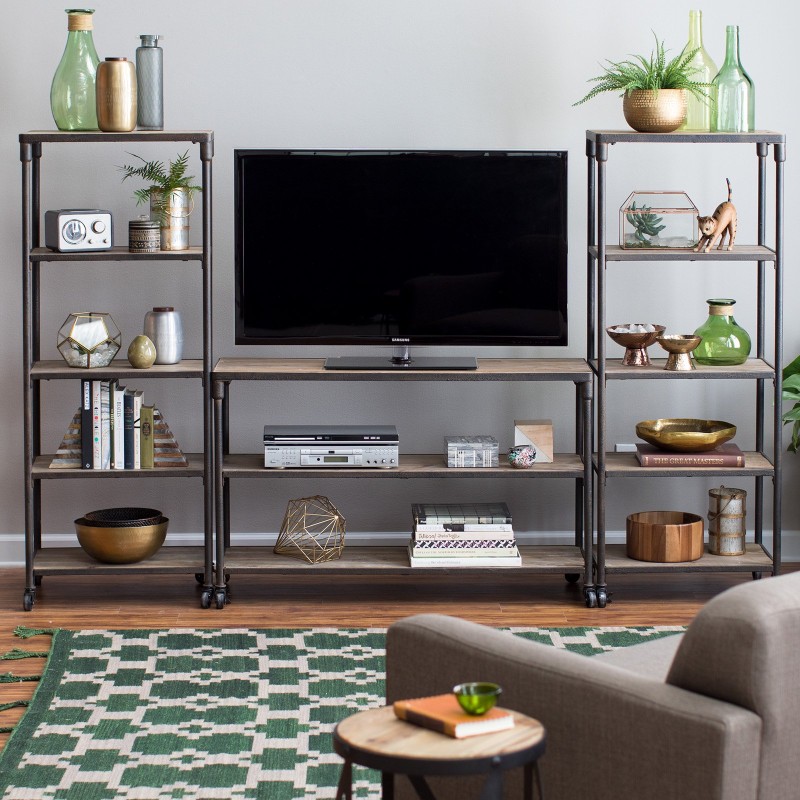 Prefer your TV Stand decor to stand out rather than only serve as a foil for the television? Combine a low etagere bookshelf with two matching vertical shelves in the best industrial combination of durable wood and strong steel. Display bowls, vases, and metal pieces you've collected; the more dramatic, the better. Put in some books or DVDs to reflect who you are. You can also add some picture frames of family, friends, or travel destinations. Round it up with a few tabletop bonsaiis or a splash of color with a floral arrangement. Industrial doesn't have to mean either boring or plain anymore. This lovely TV stand decor adds character and a personal touch to your room.
20. Back to The Future Ultramodern TV Stand with Mood Lighting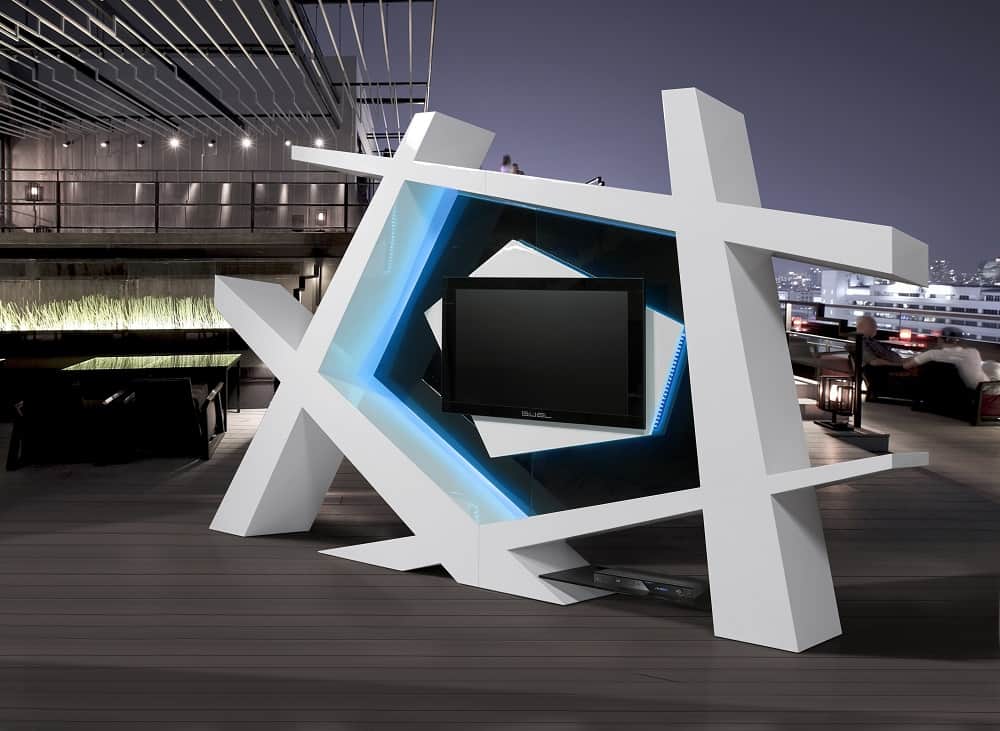 Want ultra-contemporary to be your decorating watchword? You cannot go wrong with this dramatic, back-to-the-future style TV Unit that appears to be more a sculpture than just a TV Stand. Clean white shelves for a pentagon around the TV, with mood lighting on a couple of sides to add to the overall effect. While you could place a metal planter or animal sculpture near the base of this unit, it could be better to let it speak for itself. Because with just a couple of lines of track lighting, this TV stand can be a total knockout!
21. Bedroom TV Unit Decor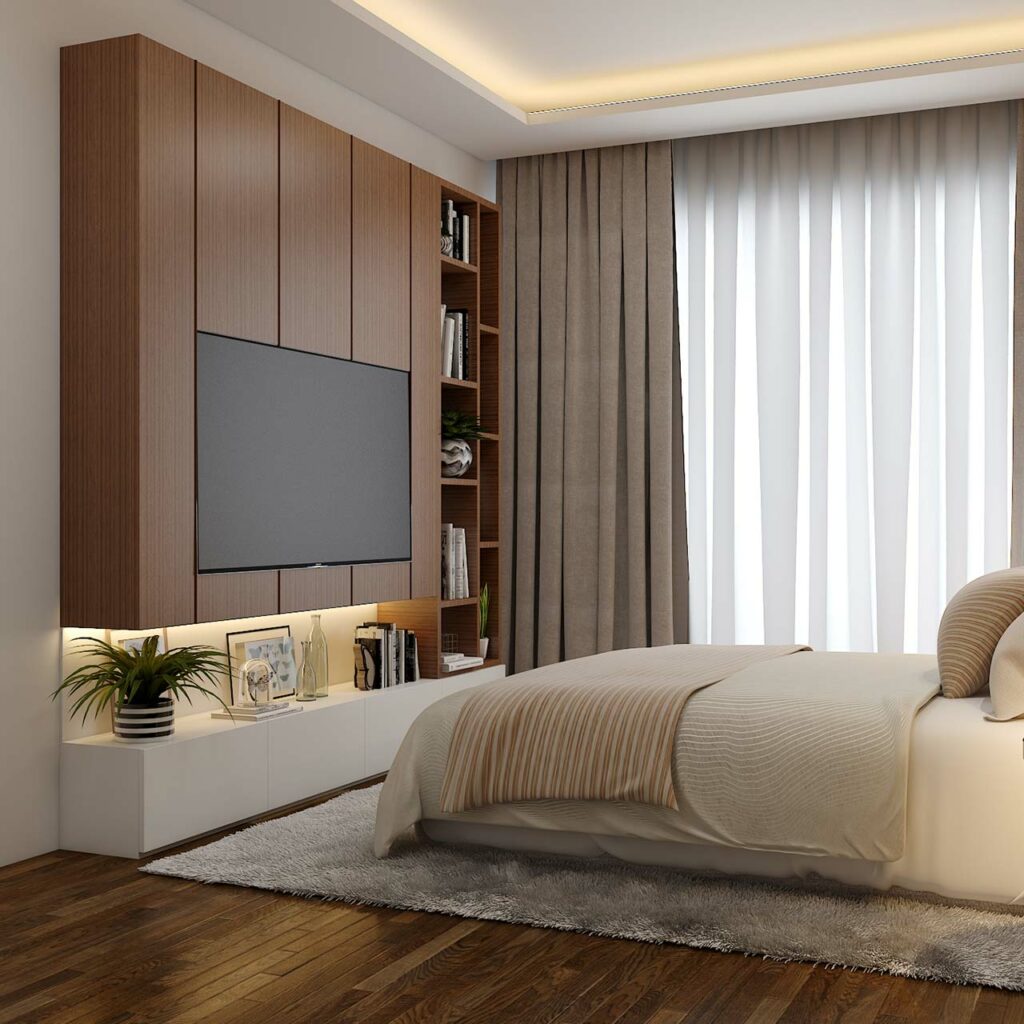 If you need a TV in your room to catch up on your shows in peace, you might as well use the TV stand space for storage and decor as well! Add a wife shelf under the TV as a catch-all for little everyday items like cufflinks, bracelets, watches, etc. Putting in a potted plant and installing in-built lighting is all you need to bring warmth into your bedroom.
What TV Stand Decor Idea Suits You?
Before you commit to any of these ideas, no matter how much you love them, there are some questions you need to ask yourself. How much storage space do you need? What kind of items do you want on display, and does that style match the rest of the room? If the TV is wall-mounted, what look would you plan around it? Would you like to highlight the TV or strike a balance between the TV and the decor for attention?
Once you have answers to these, you'll probably find it easier to pick what would work best for you. If you have any questions about any of the TV stand decor ideas we showcased above, or would like some help, let us know in the comments. We'd love to match you with your dream TV stand and the decor it deserves!