21 Best White Subway Tile Backsplash Ideas
Are you looking for interesting ideas about having a white subway tile backsplash for your house? Your search ends here. Having a white subway tile backsplash is one of the most popular home decor ideas for your house. Your search ends here.
Having a white subway tile backsplash is one of the most popular home decor ideas. Subway tiles got their name from the famous New York subway, and their introduction to kitchen decor caused an outbreak of interesting designs to adapt. Everyone will look forward to having a stylish yet timeless-looking kitchen.
In this article, we explore various ideas for subway tile backsplashes for your home. You can find a variety of options here, ranging from farmhouse to creative ideas for having a white subway tile backsplash in the kitchen!
White Subway Backsplash Tile for Kitchen Designs
If you are looking for multiple options for a kitchen backsplash, let us provide you with the best: white subway tiles. These tiles are rectangular in shape and can be used to create a classic-looking design for your kitchen wall.
While talking about white subway tiles, you still have a couple of shades of white to choose from. According to your taste and choice, you can tweak the way your kitchen should look using these tiles.
The number of innovative ways for you to install these subway tiles in your kitchen is numerous! Experiment with what you like and find out the best-fitting design for the room.
Scroll down to explore some of the best white subway tile backsplash ideas!
1. Extended White Subway Tile Backsplash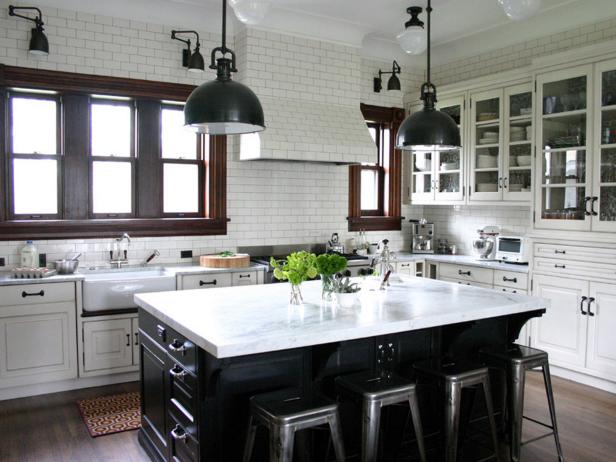 At first glance, one might not find anything special about such a design. But on a closer look, it can be understood that the room looks bigger because of the tiles and the way they are used. The white subway tiles are not limited to the immediate walls of the kitchen. Instead, the tiles are extended up to the ceiling, giving the kitchen a vibe of maximum texture utilization.
2. White on White Subway Tile Backsplash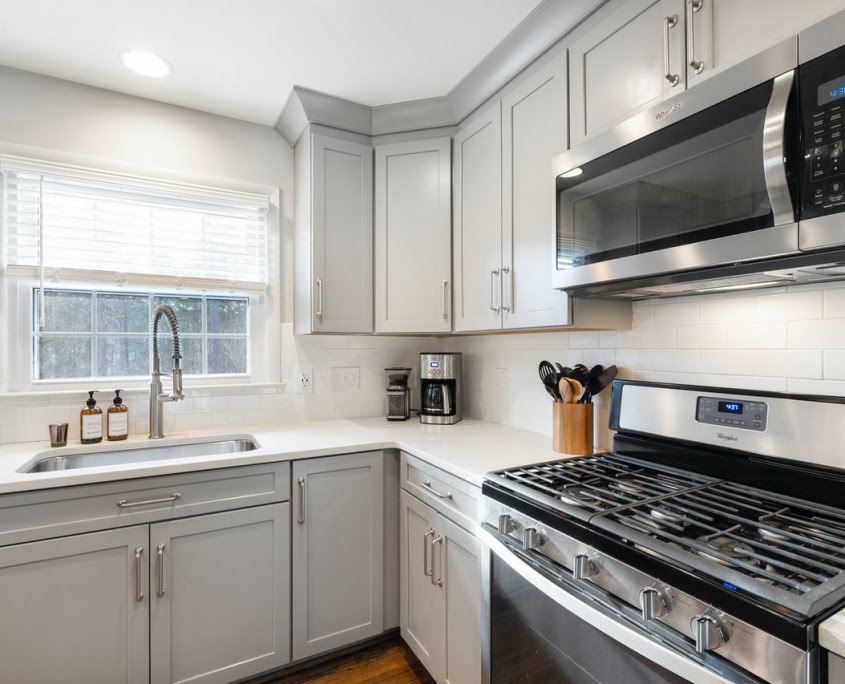 Although there are plenty of colors and patterns for you to explore when it comes to backsplash designs, nothing speaks louder than subtle colors. And speaking of subtlety, white triumphs in that category. Going with a matching white grout along with a white subway tile backsplash and nothing else will give your room a very bright look. With this lovely combination of materials and utilizing them to the maximum, it is for sure that the space will become a hang-out point for your friends and family.
3. Grey on White Subway Tile Backsplash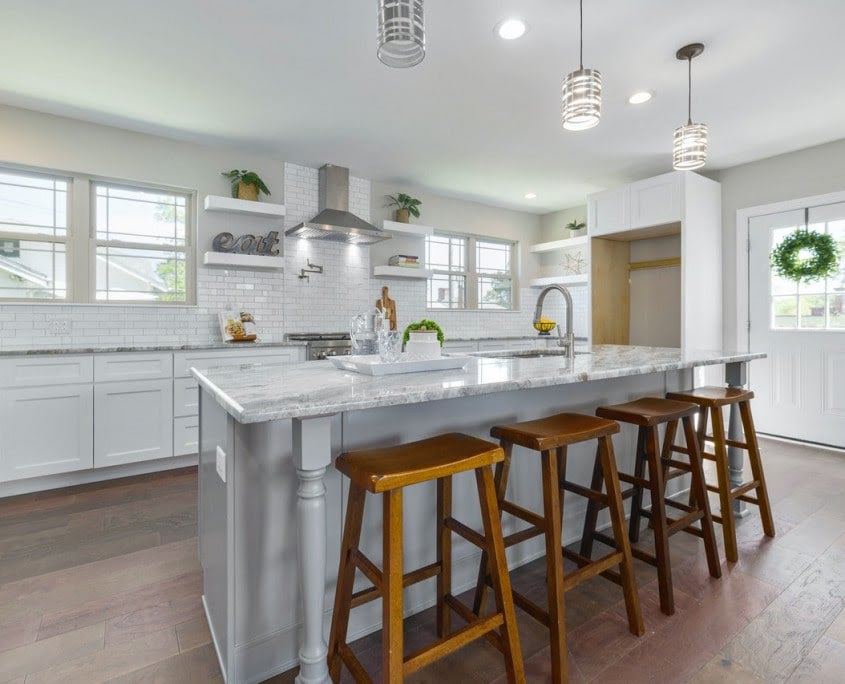 Let us check out one of the most popular and happening designs in the case of backsplash tiles now. It is the ever-green combination of white subway tiles with grey grout. It might sound like a simple task, but it is not. Choosing the right shade for the grey grout will make all the difference in the world. If you are looking for a subtle or less dramatic look, trying light to medium-dark grey grouts will do the trick. Choosing a dark grey grout will add an extra pop to the room, along with the white subway tile backsplash, creating a stunning view altogether.
4. Go-Creative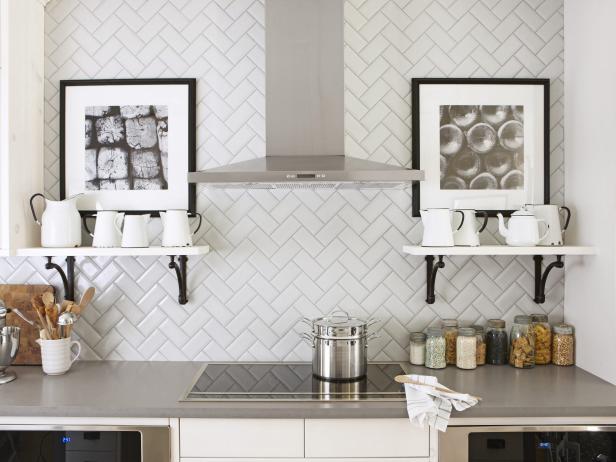 Are you someone looking to try a different way of decorating your walls with a sh*t subway tile backsplash? Let us give you a simple yet effective idea. Sometimes, it is not what tiles you choose that matter but how you use them. Don't go by the generic way of laying tiles; make a difference. Let us make it fun this time. Lay the tiles in a fun and different pattern. You can see automatically when your room starts wearing a unique yet interesting design!
5. White Subway Tile Backsplash with Wood Flooring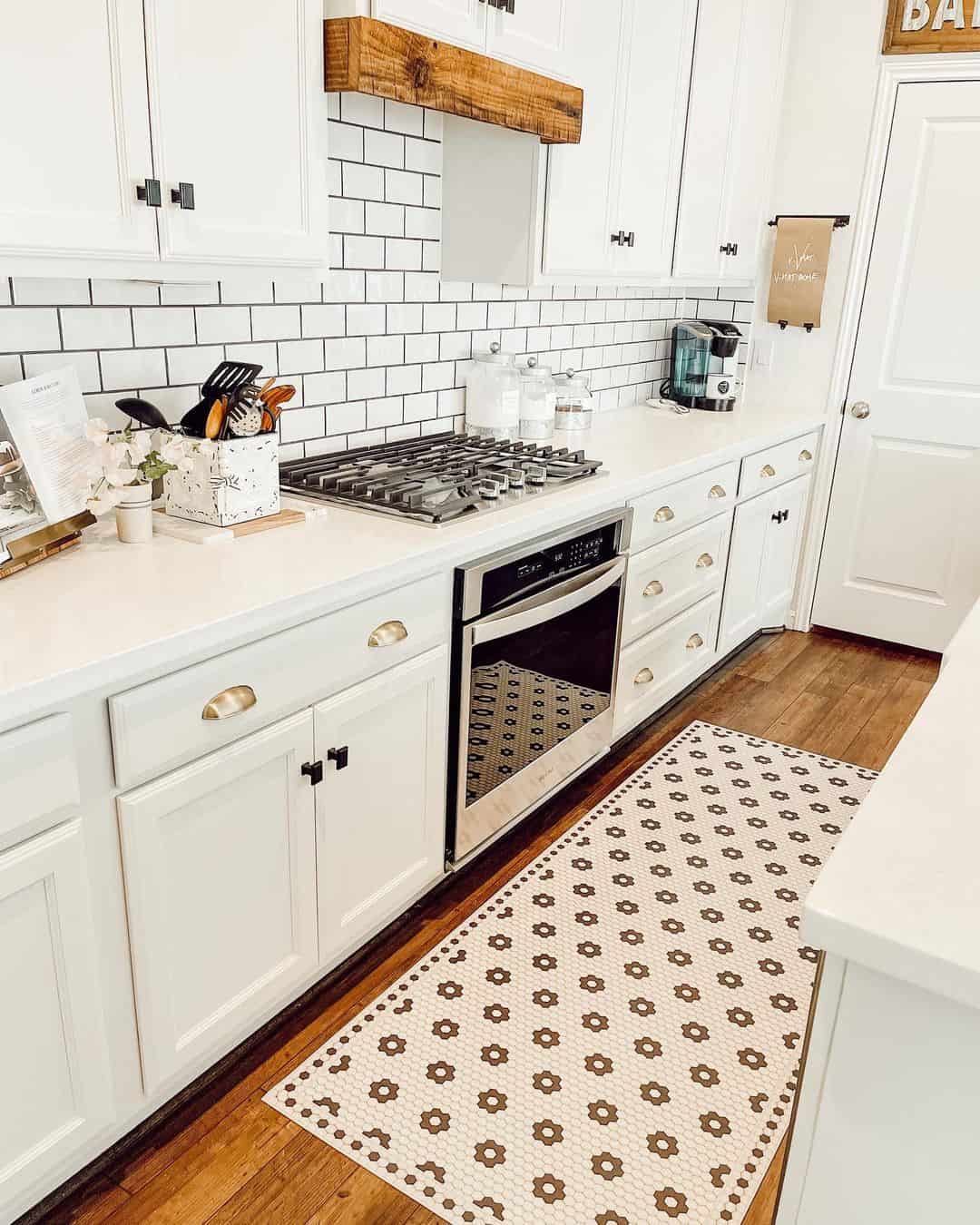 Don't let the white subway tile backsplash stay alone in the room. Always try to pair or match it with more decor to deliver a stunning look. In this design, you can see how white cabinets are used to match the white tiles. To make the place more beautiful, wooden flooring is preferred, and a patterned floor mat accentuates it. A cooktop stove is placed on the countertop, as appliances always give a lively feel.
6. Sliding Barn Doors for a White Kitchen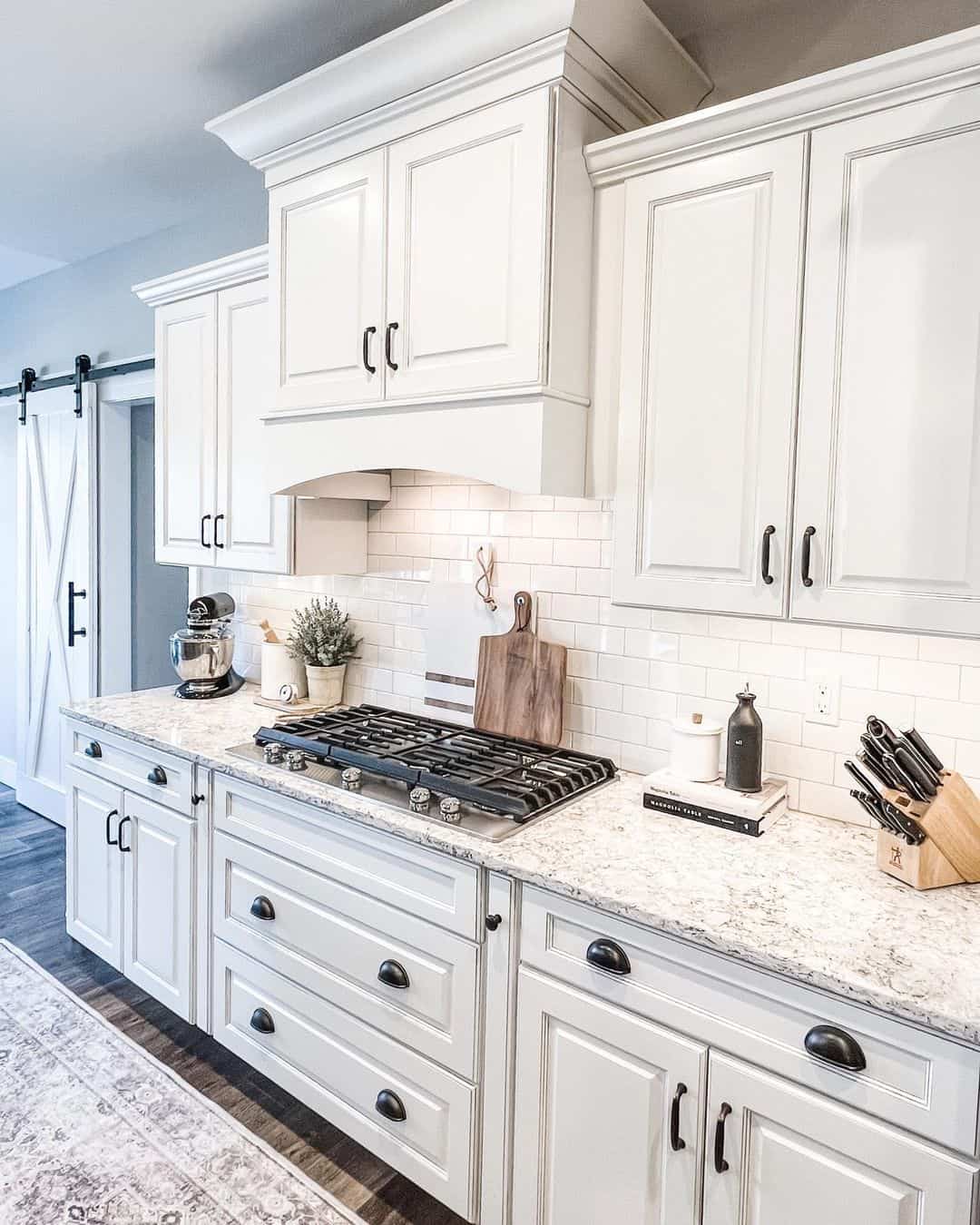 It is always recommended to go with timeless designs when it comes to home decor. White subway tiles offer not just a traditional but also a timeless touch. Take a look at this design. White cabinets are used along with white subway tiles, and to make them look stylish, black hardware is used on them. A specialty of this design is the introduction of sliding barn doors. While a grey and white countertop beautifies the room along with a cooktop stove, the sliding barn door makes a seamless entry point to the space.
7. Stainless Steel Appliances with White Subway Tiles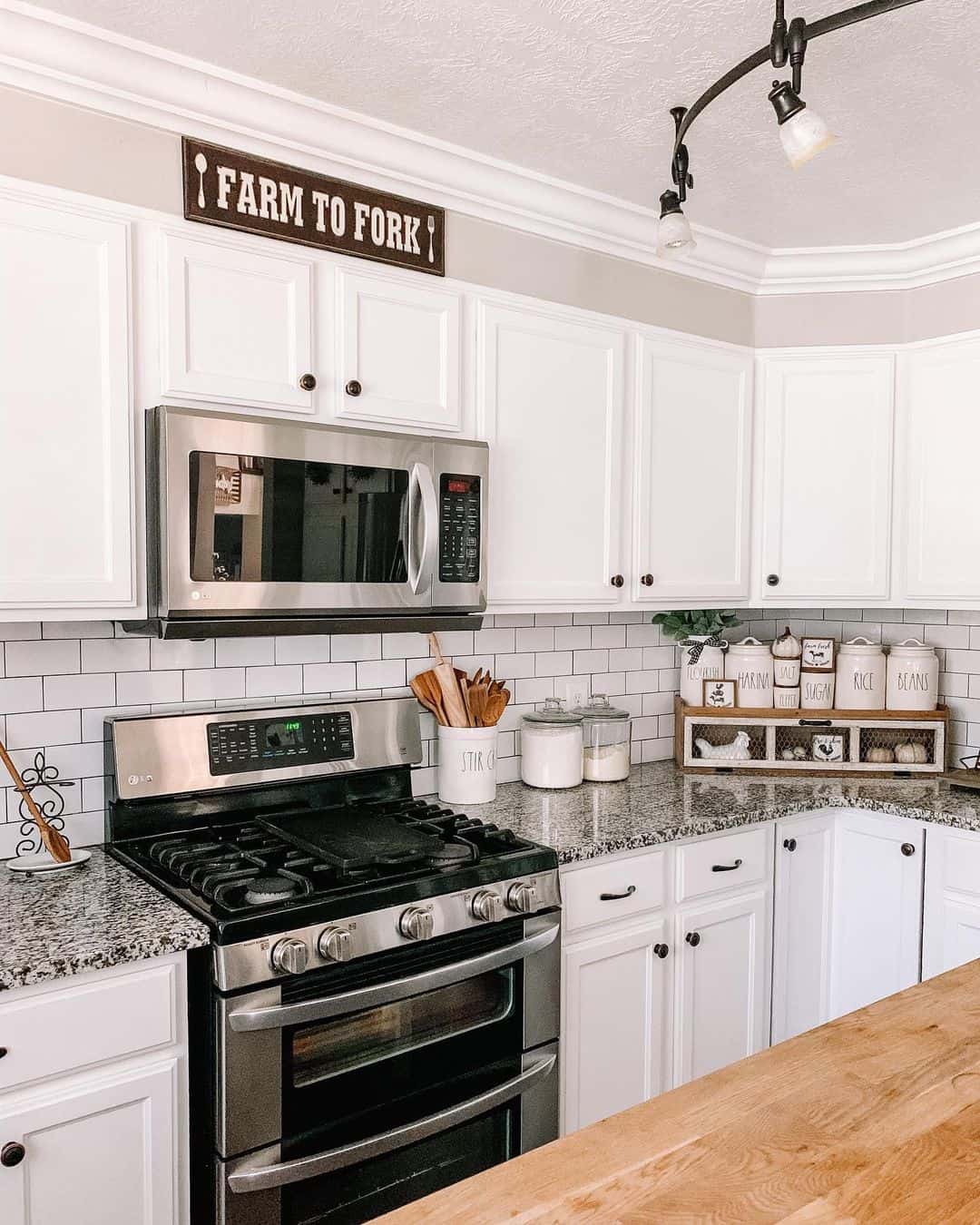 You don't have to spend big bucks on special display items to beautify your home. While having a white background for a room is nice, the inclusion of stainless steel items will make a huge difference to the space. In this design, you can see how stainless steel appliances are installed amidst white shaker cabinets and a white subway tile backsplash. The black and white countertops add to the stylish look of the space, and a wooden island makes a perfect way to give a finishing touch to such decor!
8. Brass Scones and White Subway Tile Kitchen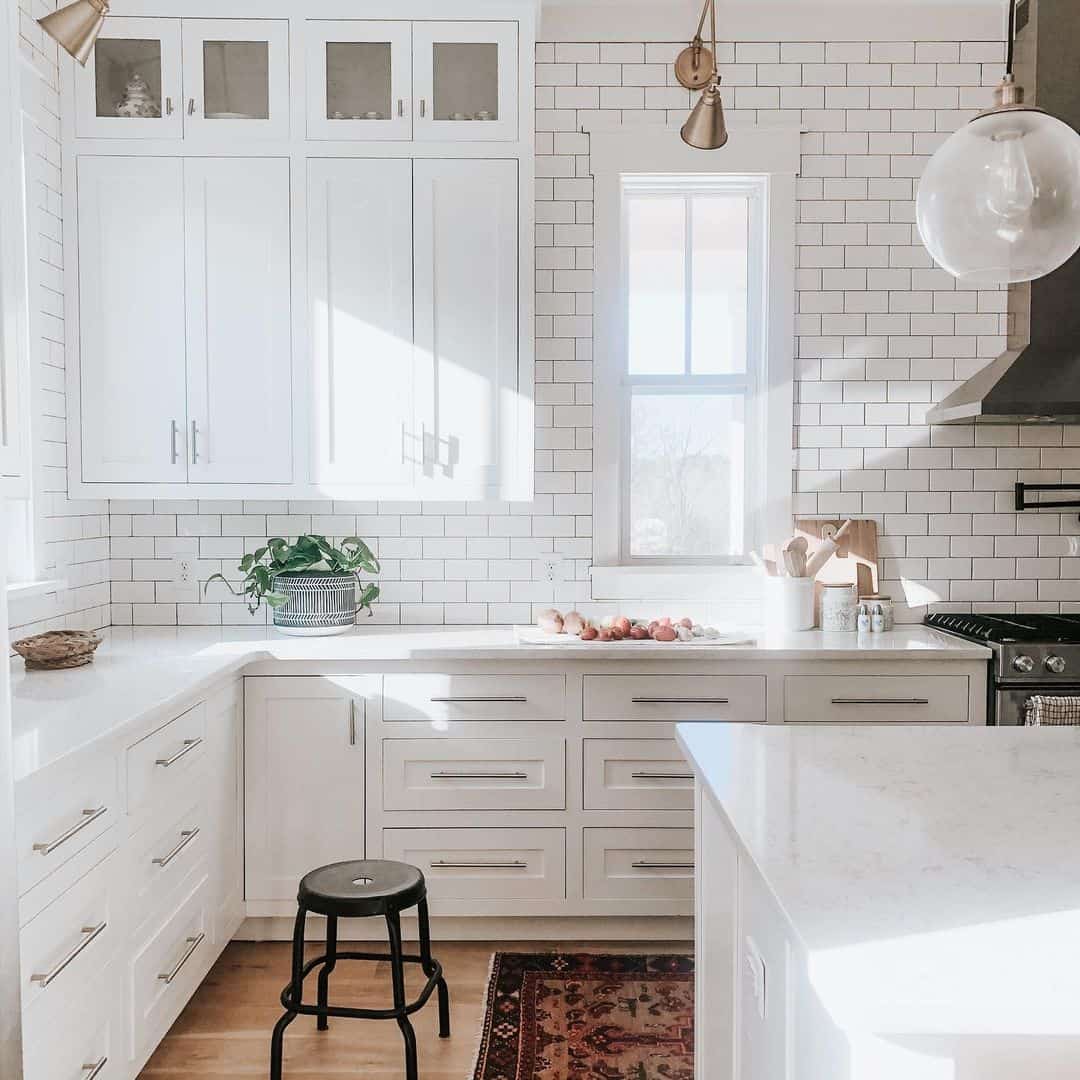 Just like how stainless steel adds to a room with a white backsplash, brass scones can add a unique touch to the room. In this decor, you can see how the presence of brass scones gives an aesthetic touch to the room. With the white subway backsplash in the background, things look more accentuated. Look around, and you can spot thin windows that allow natural light to seep in. The presence of a patterned rug and black stools act as points of focus here. The addition of glass pendants for lighting is the icing on the cake.
9. White Kitchen Cabinets and Gold Hardware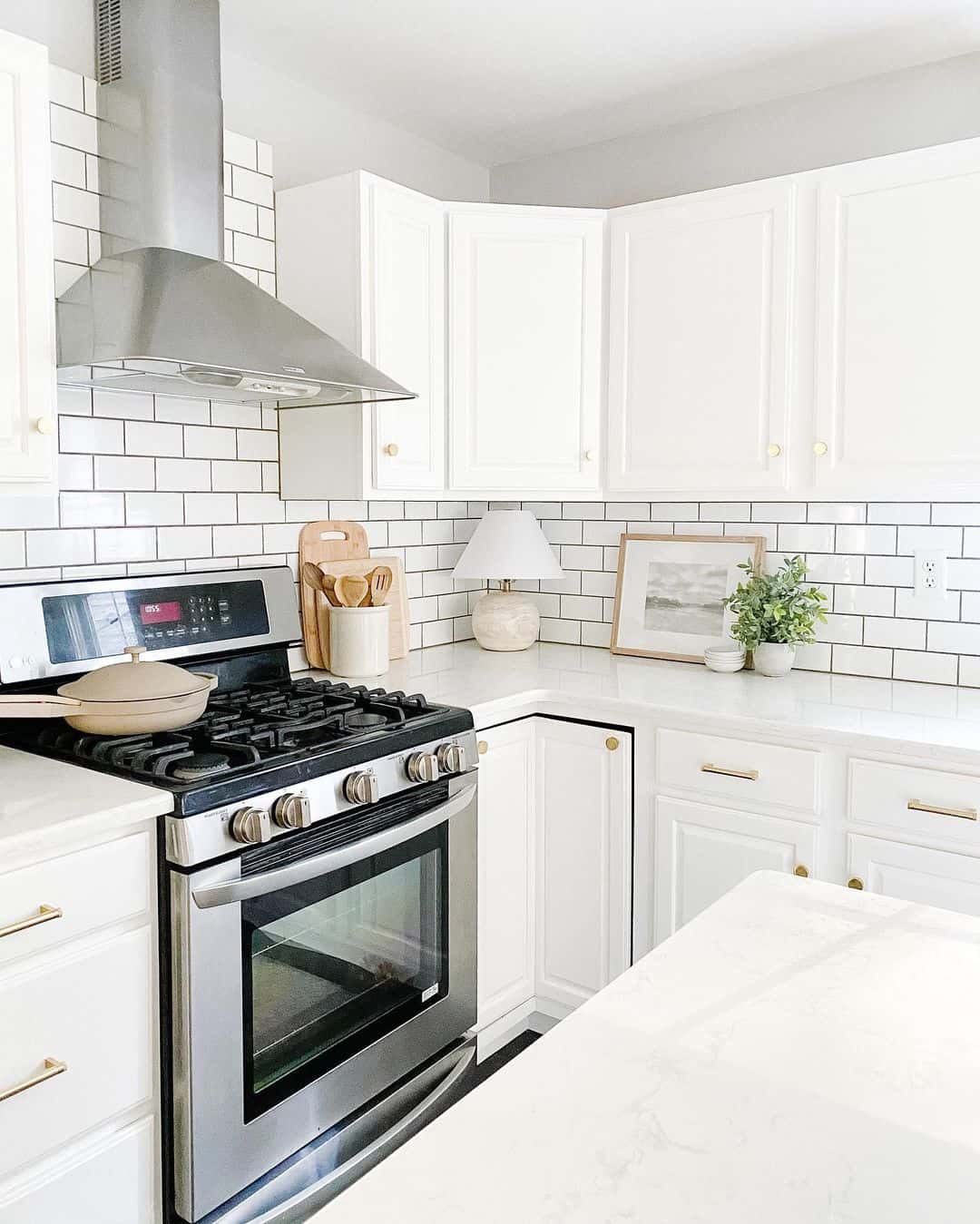 We have seen how other colors can be used along with a white subway tile backsplash to make the room look more stunning. Apart from using darker shades, think of going with golden! As you can see, in this decor, white subway tiles are used, but what catches your eye first is the golden shade used intermittently. White cabinets are used to match the backsplash, and golden hardware is used on them. The inclusion of mature decor on the countertops gives an aesthetic touch to the room.
10. White Subway Tile Backsplash and Black Countertop with Natural Light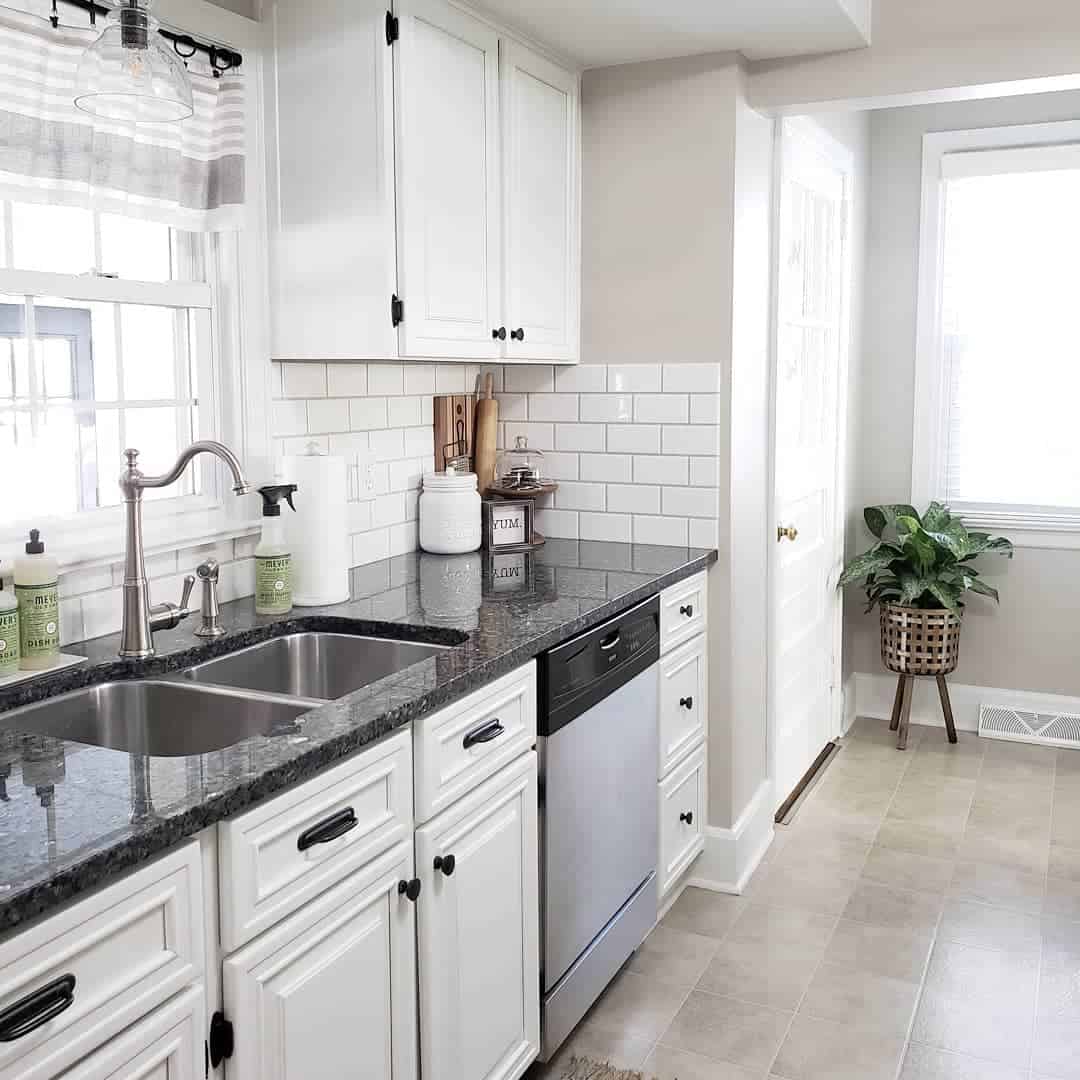 The combination of black and white colors always offers a timeless look. A kitchen looks its best when you utilize natural light to the maximum. In this design, the white cabinets used have black hardware. A black kitchen countertop is used to give it a classic touch. The source of light is restricted to nature during the daytime with the help of windows. A sand-colored tile is used for the flooring to make the kitchen decor look more accentuated, and features such as potted plants will add a unique touch of style to the room.
11. White Subway Backsplash Tiles with a Rustic Wooden Island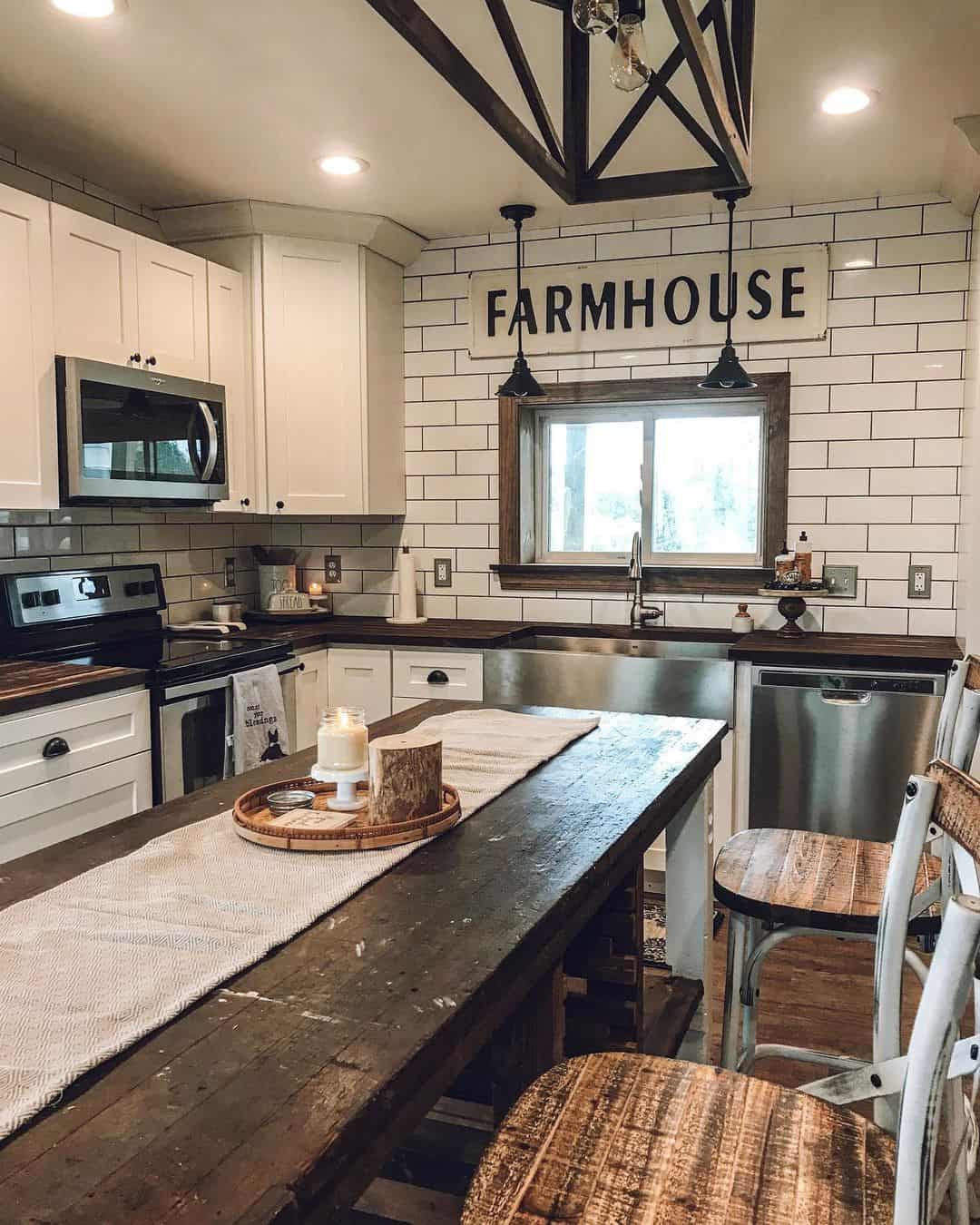 Looking for farmhouse kitchen decor with white subway tile backsplash decor? Here is an amazing choice of design you should consider. The white tile backsplash with grey grout stands out in this room, but that's not it. A rustic wooden island snatches the major part of the room, and chairs of the same style are used for seating. To give a farmhouse feel, the stools are made of metal, but the seating is wooden. The window with white subway tiles surrounding it also has a wooden frame to complete the decor.
12. White Subway Tiles and Black Accents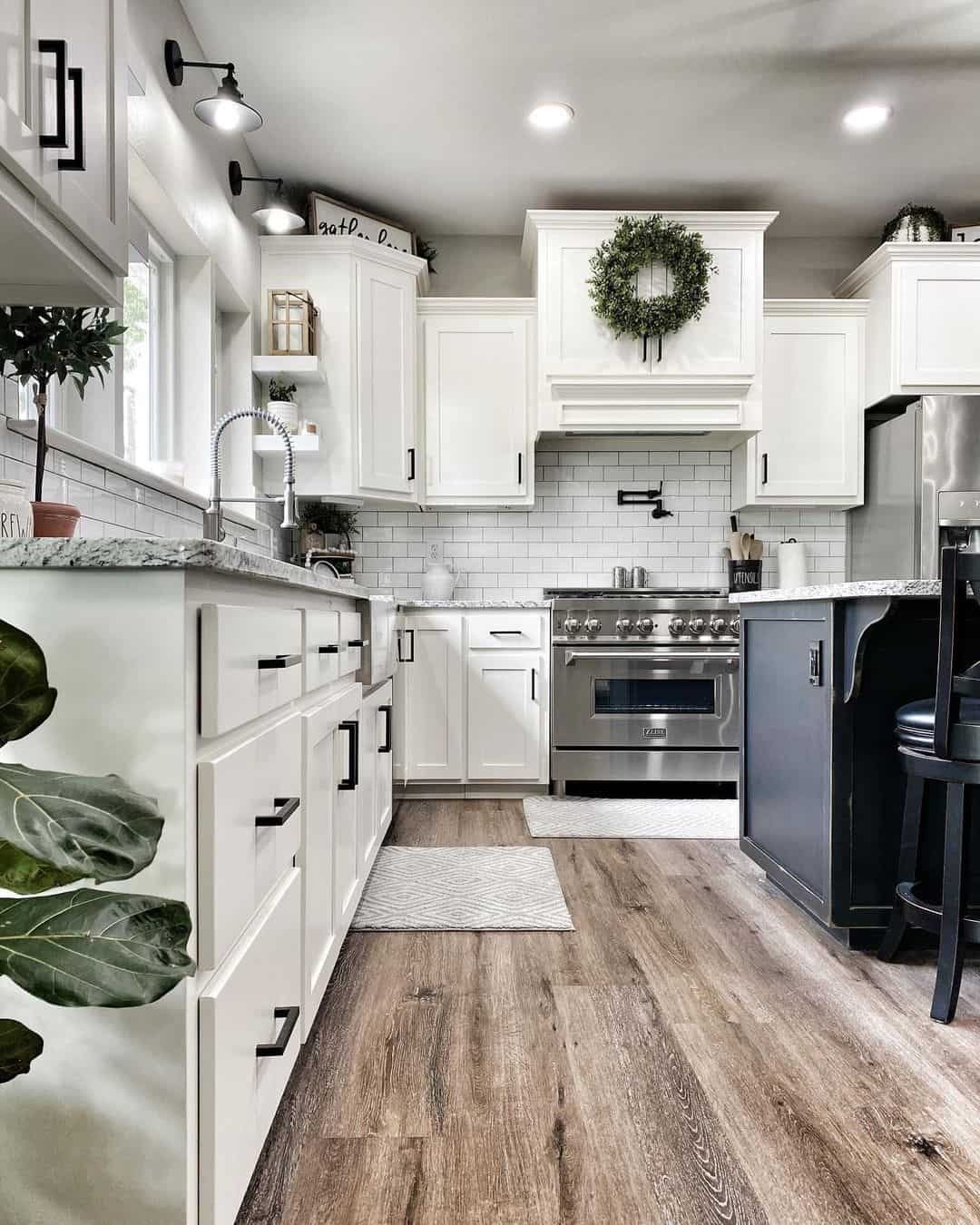 Black accents act like a contrasting element in a room that has a white subway tile backsplash. The use of furniture and other apt properties of such colors will elevate the visual substance. In this design, pot lights and black sconces stay highlighted as the whole room invites a lot of natural light to brighten it up. The presence of white shaker cabinets matches the backsplash decor. Stainless steel appliances are always a good way to make everything look accentuated in such a design.
13. White Subway Tile Backsplash and Wooden Decor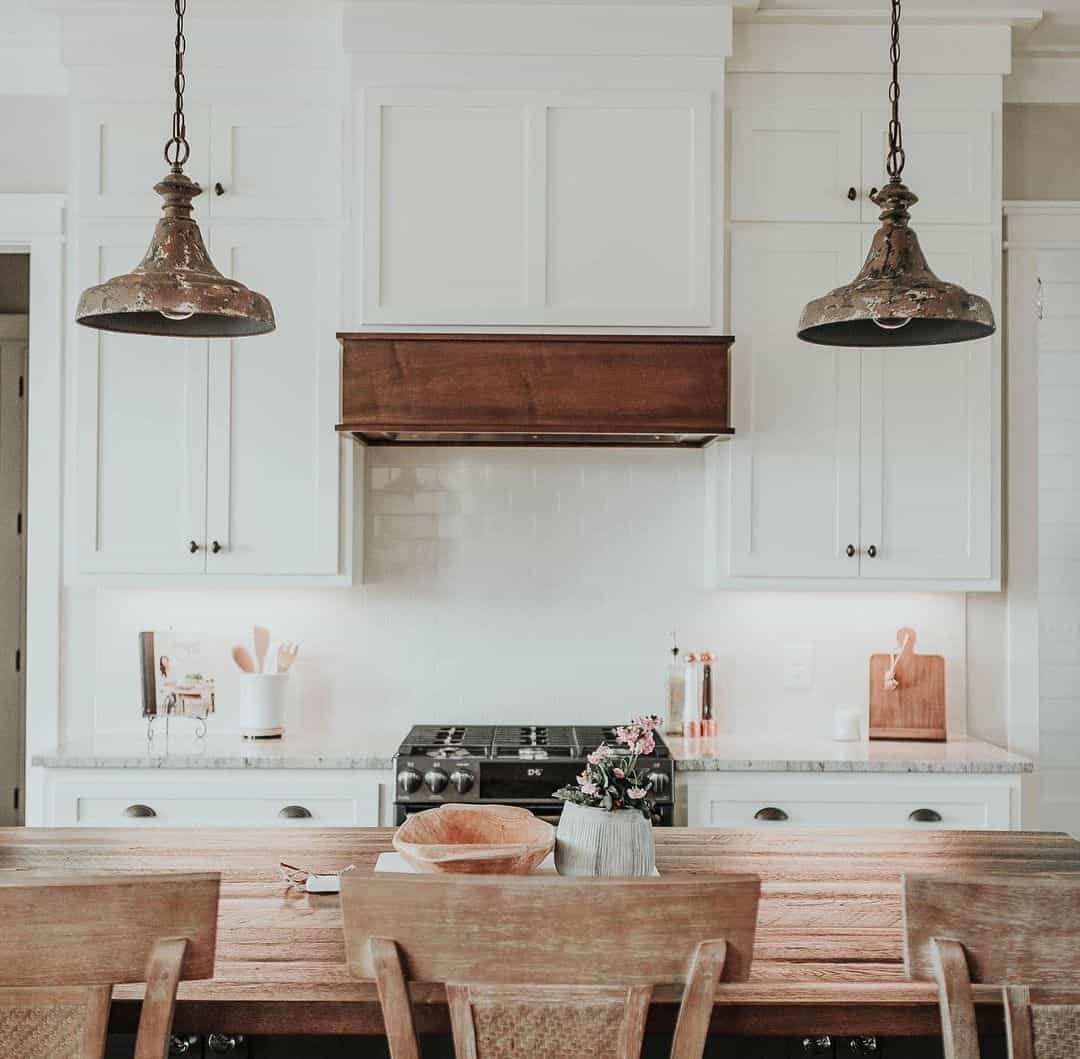 As mentioned earlier in an example, it is evident how the presence of wooden decor adds beauty to a room with white tiles. Now let us see how it will go if we add some extra vintage touches along with a white subway tile backsplash. In this design, you can see how the vintage pendant lights steal the show. The next good thing about this decor is the presence of a wooden countertop with metal seats. All of these just make the vibe of the room more stunning.
14. Neutral Decor with White Subway Tile Backsplash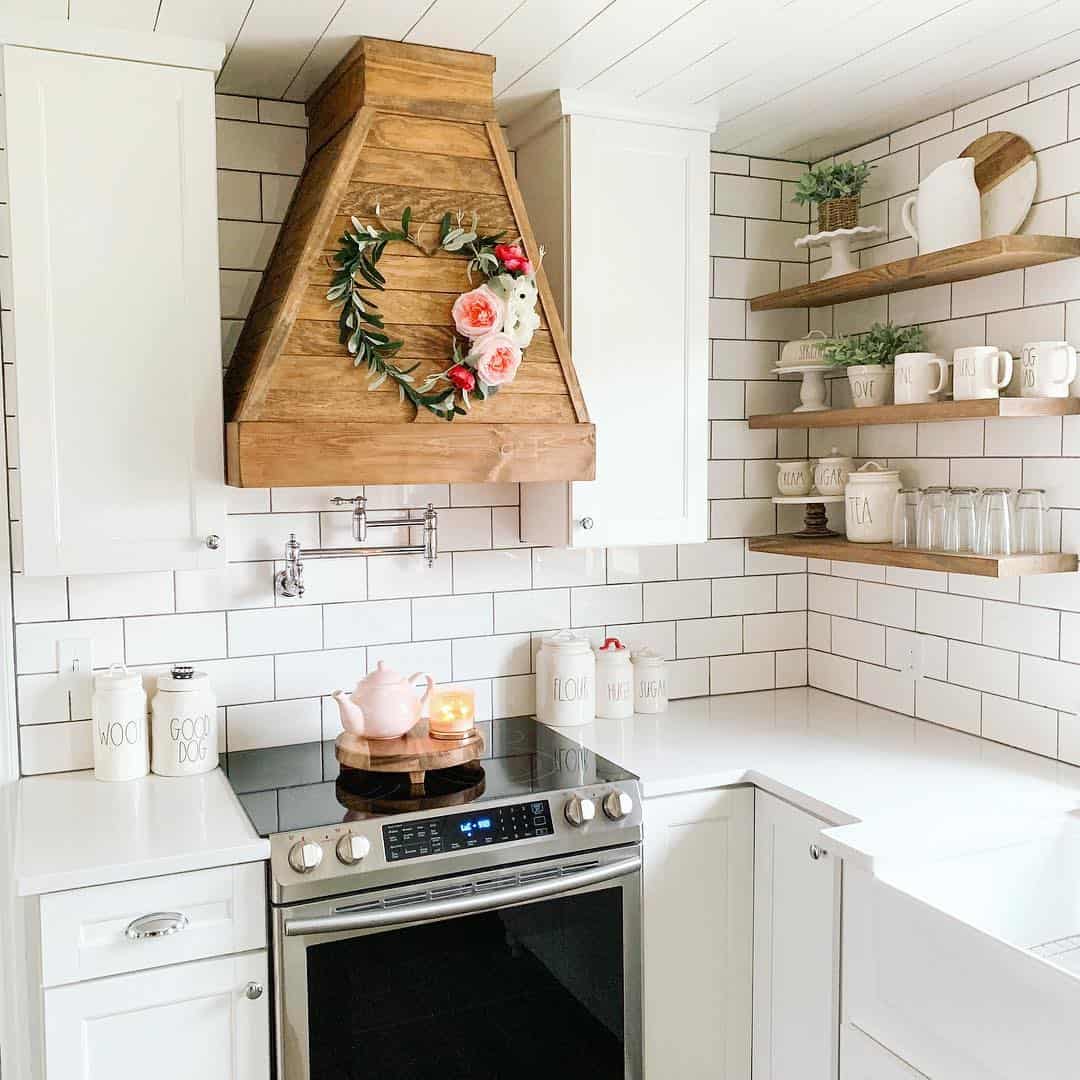 The amount of wooden decor you add to a room, along with a white subway tile backsplash, determines the look of the room. For example, the more rustic and wooden your decor is, the more it gives off a traditional farmhouse look. In this look, the presence of wooden items is minimal, which gives a very classic look to the decor. Floating wooden shelves are used to arrange items, and a range hood of the same color is installed. The shelves are filled with mugs of neutral colors to match the ambiance.
15. Arched Kitchen Alcove with White Subway Tile Backsplash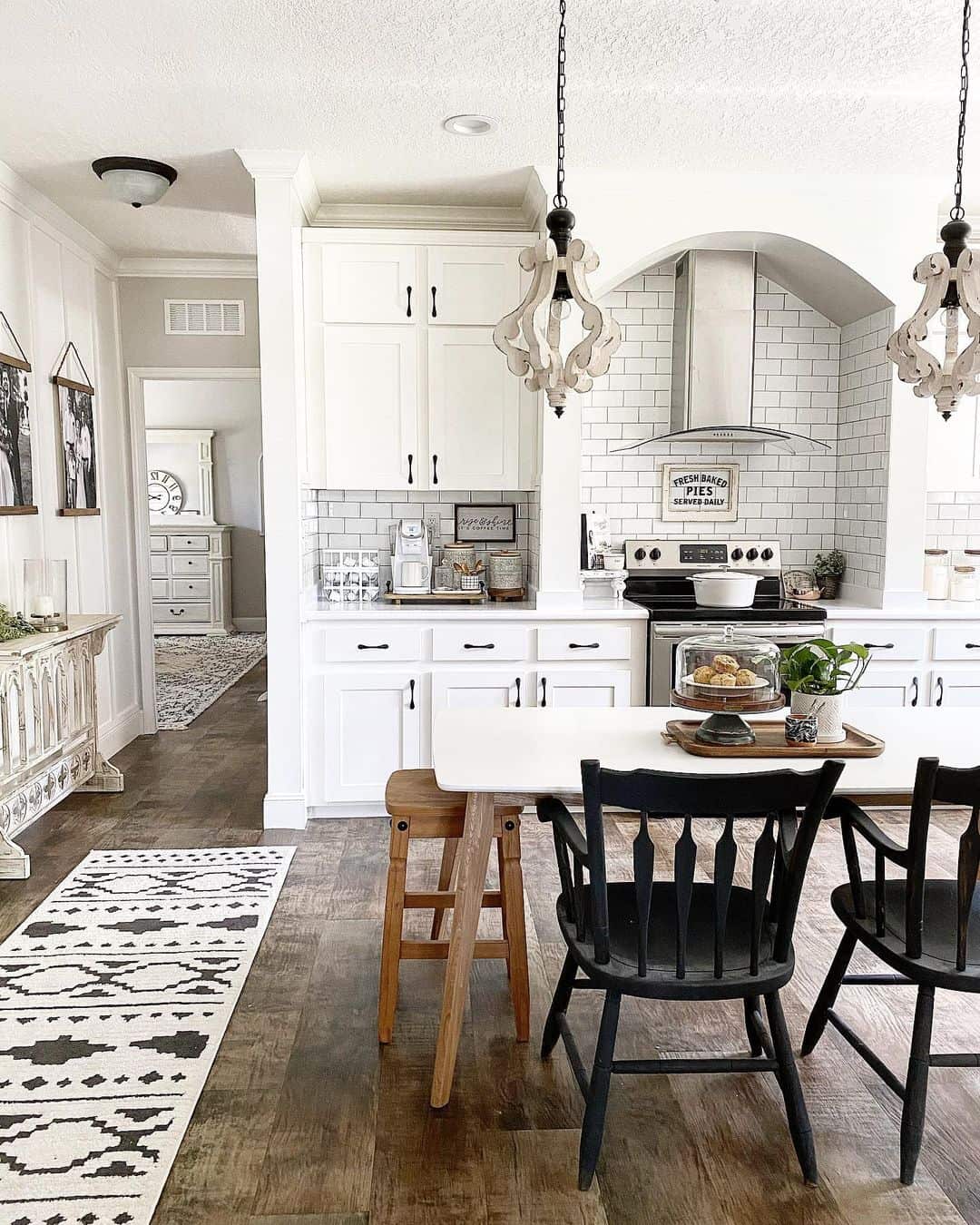 Give your kitchen a touch of class and vintage style by using white subway tiles. As you can see, a stainless steel hood cuts the backsplash in half. The cabinets and countertop are painted white, and a standalone coffee station can be seen with the same tile background. A stylish-looking pendant light looks apt for such a decor, along with black chairs and wooden stools to give a contrasting touch.
16. Subway Tile Wall and Vintage Lighting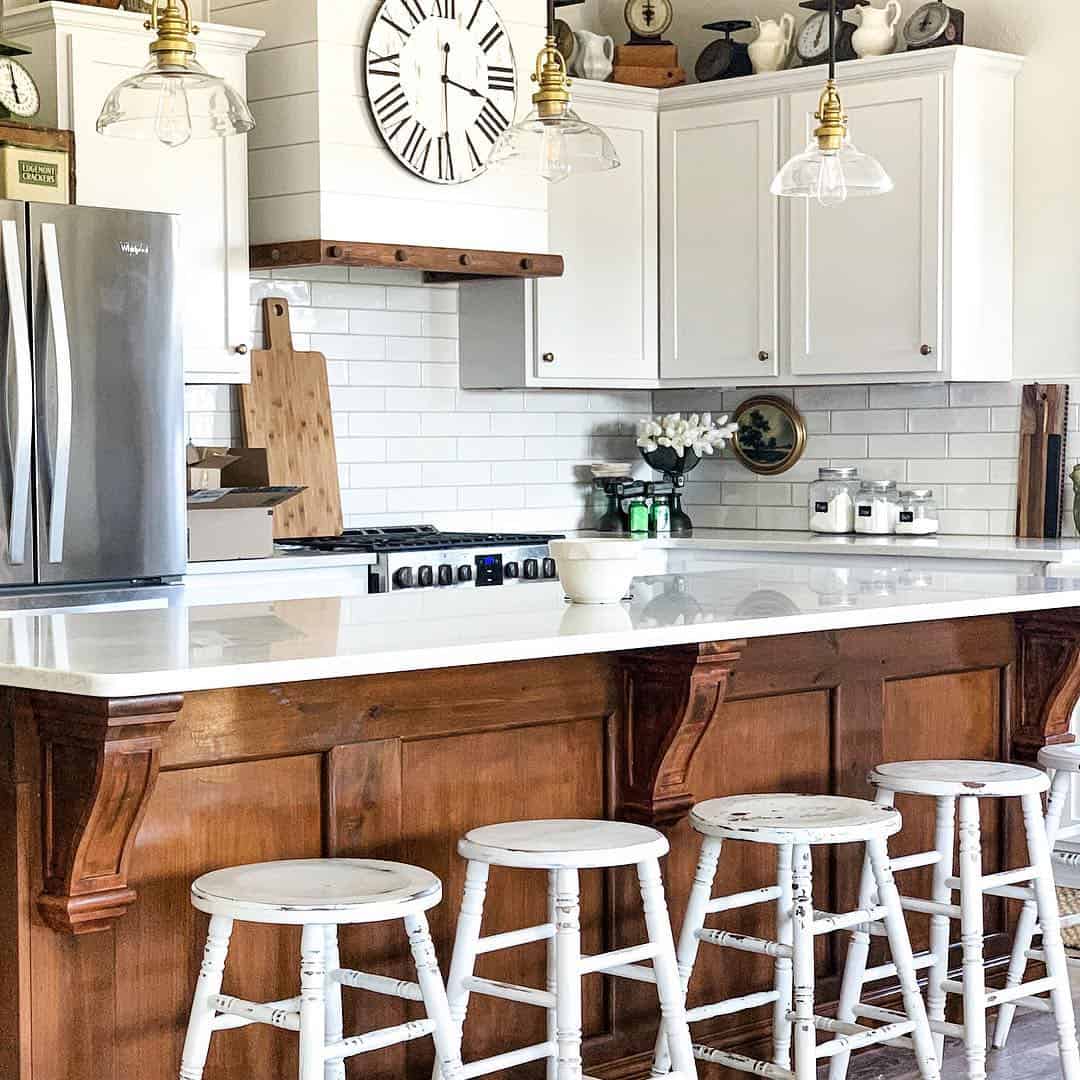 Who wouldn't like to give their kitchen a vintage look? Try this design if you are looking for the same for your kitchen. A couple of rustic white chairs add a vintage touch to the room. They look like a perfect seating arrangement alongside the wood kitchen island with a white countertop. A pair of vintage-looking glass pendants with golden holders illuminate the room. The subway tile wall is surrounded by white shaker cabinets that fit well with the look of the room. A shiplap range hood with wooden accents is also installed to make things look perfect.
17. U-Shaped Kitchen with White Subway Tile Backsplash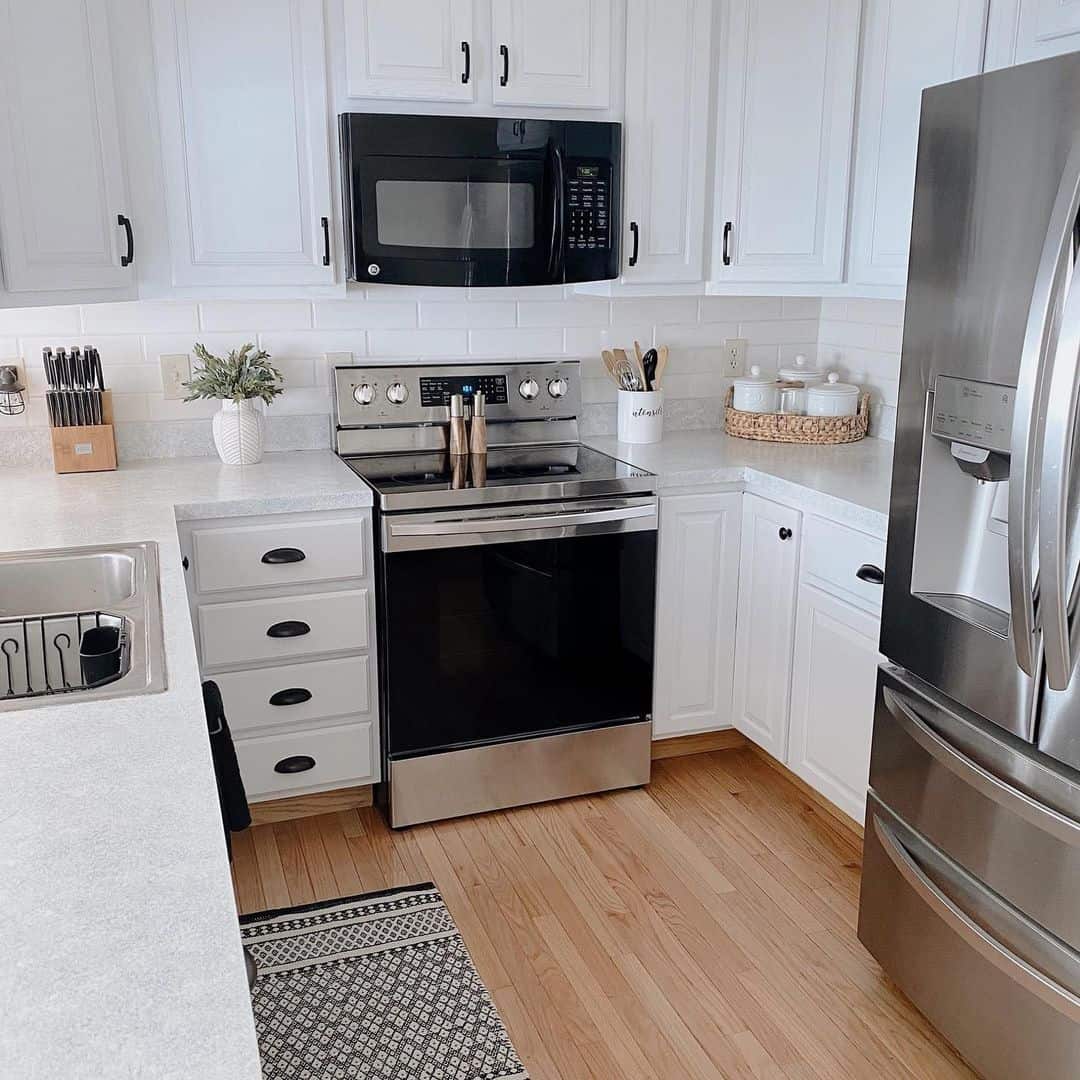 Do you have a U-shaped kitchen? Wondering whether it will be appropriate to have a white tile backsplash for the kitchen. Worry not; it will still make a statement of its own. Check out this example design. White subway tiles are used for the walls, and white cabinets surround them. The cabinets are paired with black hardware to give a contrasting look. The presence of stainless steel kitchen appliances gives it a stunning look. An appropriate wooden floor with a matching floor mat fits perfectly in the room.
18. White Subway Tile Backsplash and Upholstered Stools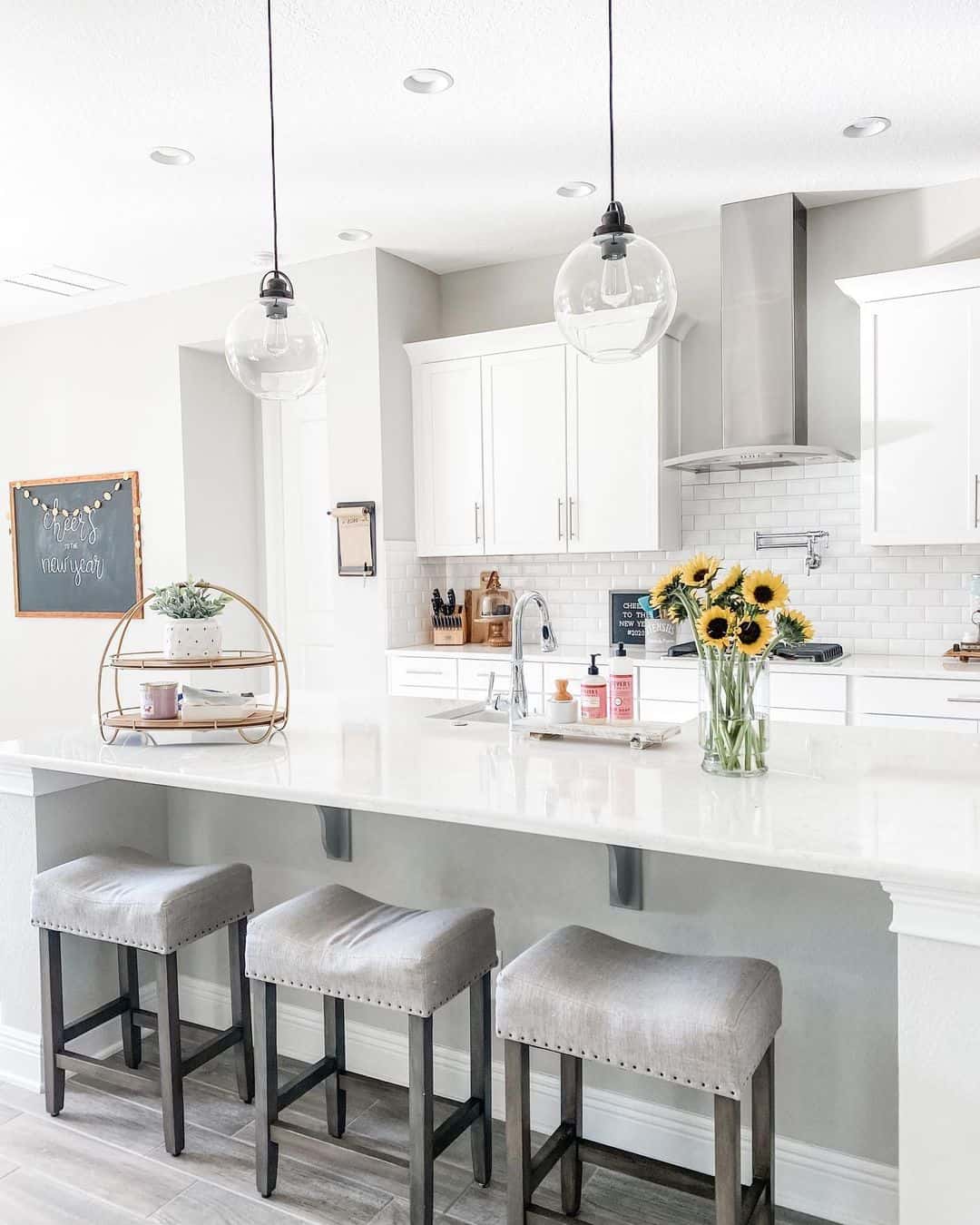 While trying to style your room with a white subway tile backsplash, you can choose what should stand apart from everything else in the room. In this design, the upholstered stools steal the show first. These grey stools are placed beneath a modern-style kitchen island. Glass pendant lights are used to illuminate the room. White cabinets are used for storage, and all of these decor items align perfectly with the white backsplash wall.
19. Classic Wood Shelves with a White Tile Backsplash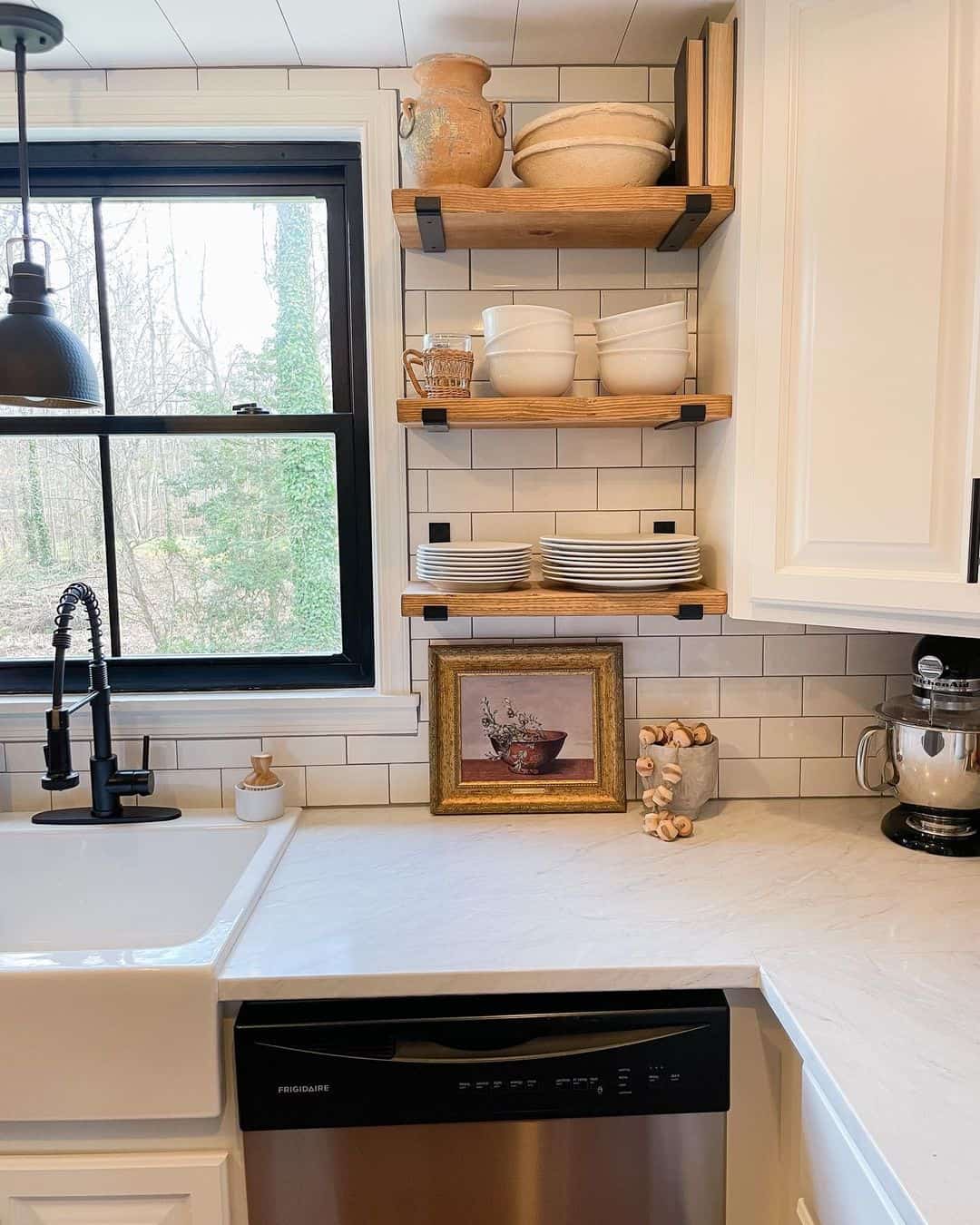 The right amount of everything in a room makes it look perfect. The right amount of wood touch in this room with a white subway tile backsplash makes it look classic! A couple of wood shelves are installed, along with the white subway tiles on the wall. The gap between the window and white kitchen cabinets is utilized by installing these shelves. A black pendant light is used to match the colors, along with a farmhouse sink.
20. I-Shaped Kitchen with White Subway Tile Backsplash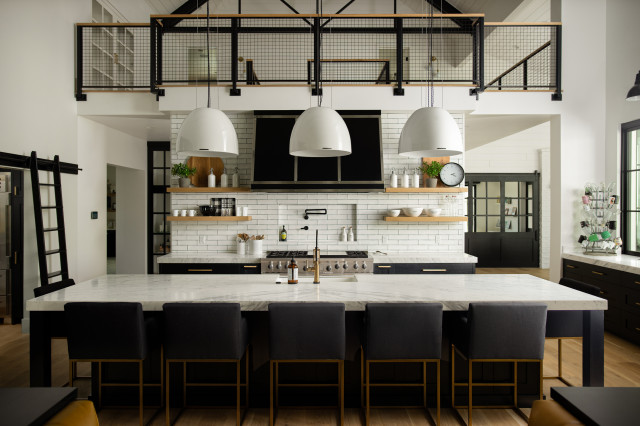 Here is a perfect example of how a white subway tile backsplash gives a stylish yet classic touch to an I-shaped cottage kitchen. Black cabinets and walls are used to have a contrasting touch with the white tile backsplash. Large hanging lights with white mask act as an ornamental standout in the room. The farmhouse sink and stainless steel appliances are chosen to fit seamlessly into the decor.
21. Cook-Top Stove and White Subway Tile Backsplash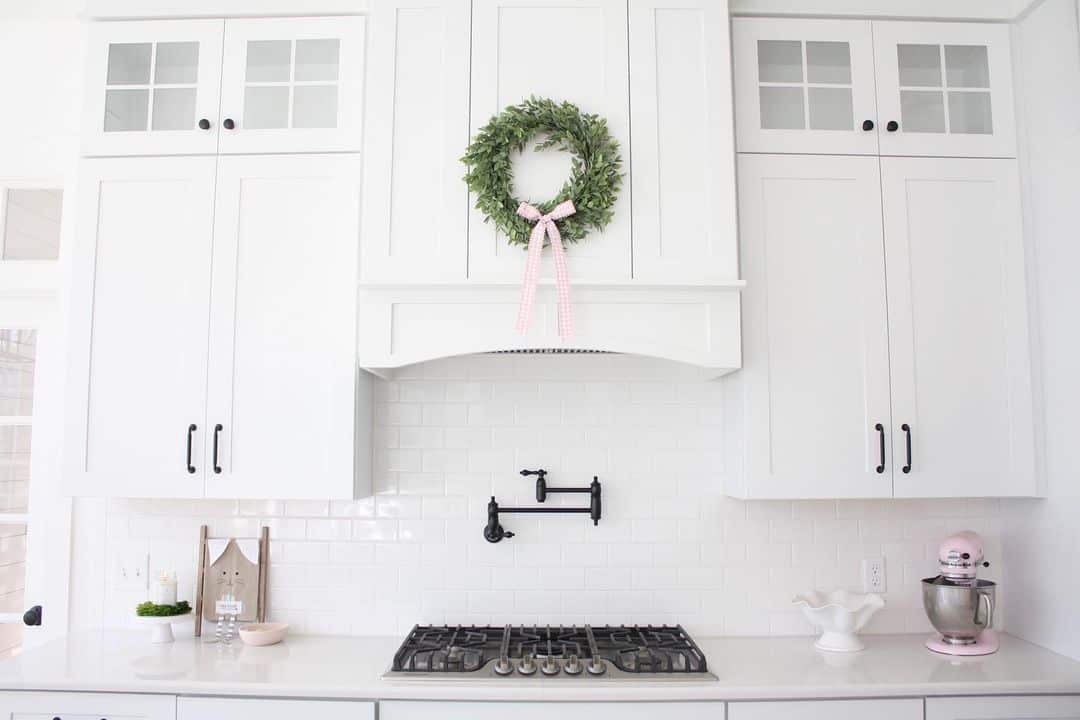 Cooktop stoves are one of the most common things in a modern kitchen. They can look as if they are on display if placed on a white countertop with a white tile wall in the background. A black pot filler can be seen attached to the subway tile backsplash. The white shaker cabinets installed have black hardware to give them a classic touch. The major setup of the kitchen is placed below a white hood with a wreath.
End Note!
Among a few of the ever-popular ways of designing kitchens, subway tile backsplashes are recommended the most. It is because of their low-maintenance nature and also because of their stunning looks.
White subway tiles give you a lot of options to customize. We hope this article helps you learn about various different ways to utilize white subway tiles to make your kitchen space look attractive. With the right choice of decor and backsplash tiles, you can make the kitchen a favorite dwelling space in your home!
Remember that using contrasting colors along with white subway tiles will never go out of fashion, and neither will it fail to attract gazes!
Frequently Asked Questions
Are White Subway Backsplash Tiles Difficult to Clean?
Like any other subway tile, white tiles are easy to clean. The white color might make you frown, but we assure you that they are very low-maintenance and less likely to get stained.
How Can I Take Care of White Subway Backsplash Tiles?
It is very easy to care for white subway tiles. All you have to have in your possession is vinegar. Mix vinegar with hot water, and your cleaning solution is ready! You can easily get rid of any stains using this easy-to-afford cleaning solution.