21 Entryway Bench with Storage Ideas to Upgrade Your Home
Are you tired of seeing your shoes and coats left around the house and looking for a solution to store them? Entryway Benches with storage are your life savers. An entryway bench with storage gives your family space to store your shoes along with some other clutter. The best part of this is that there are various entryway benches available in the market right now.
Here is a list of 21 Entryway Benches with storage that will elevate the look of your house and give you proper storage space for your shoes and a lot of other knick knacks.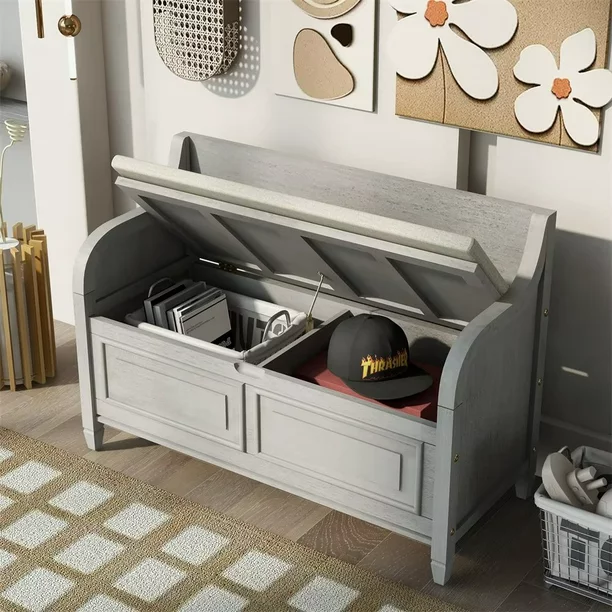 The Triple Tree storage bench is a great seating and storage solution that comes with a backrest. Made on a pine frame, this structure is stable and comes with hidden storage that gives a great and tidy look to any home space. Given the multi-purpose storage available on this bench, it is convenient to store and access things. To make the seating comfortable, this storage bench comes with a detachable cushion with linen lining that makes it easier to sit. The bench is a firm and stable piece of furniture that can fit into almost any decor.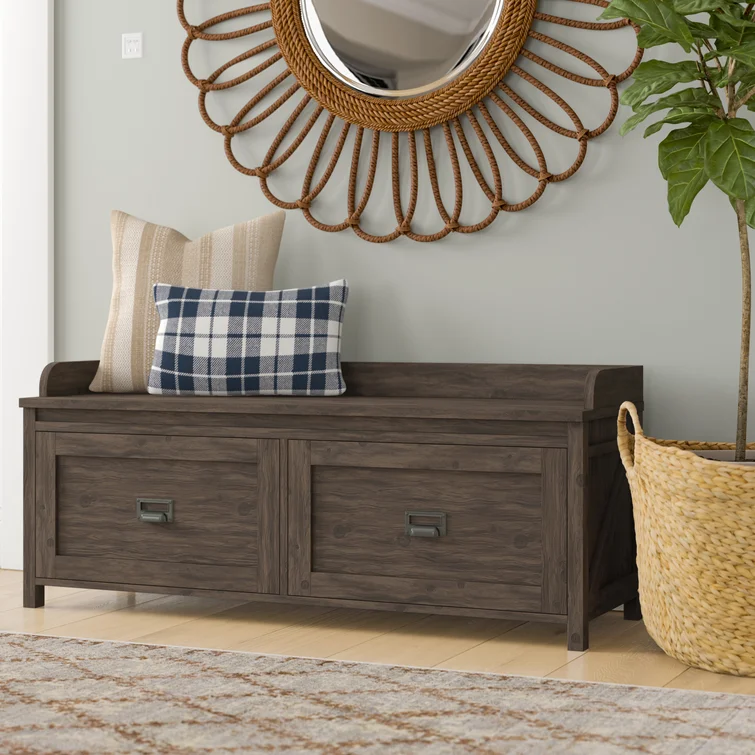 If you are looking to make your home look clutter-free, this Quast Drawers Storage bench is an option you can look at. Instead of just being a spare seat, this bench brings some convenient storage options. The good news is this is not just functional but also fashionable. With little old-fashioned barn door details, the bench features a modern farmhouse charm bringing elegance to your entryway storage.
It is set in solid wood and has clean lines, framed panels, and raised seatback that gives comfort when you are sitting on it. To make it even more comfortable, you can add a few cushions and pillows on the bench. The Quast Drawers Storage Bench has two big drawers that give you extra space to store the clutter.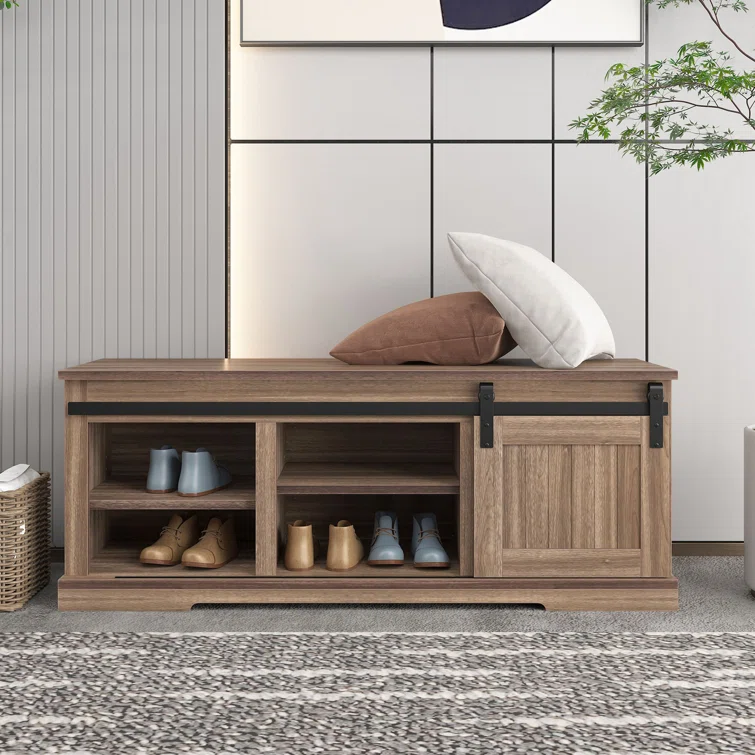 The Bench By Sayan is a great piece of furniture to add to your living room or entryway. It brings the whole room together and gives it a chic look. This upholstered storage bench is perfect for any entryway. The Bench has an elegant exterior and diamond-tufted detail. A good thing about this entryway storage bench is that it has sturdy metal legs and has and gives you ample space to store all your clutter.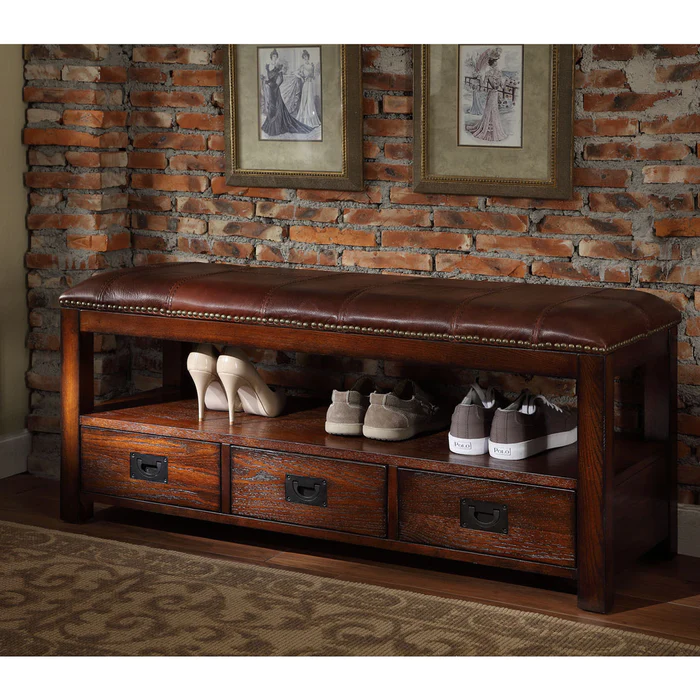 This entryway storage bench is an inviting bench with a classic accent. Made out of solid premium wood, this All Things Cedar Entryway Storage Bench features a great design with a leather top. There are storage shelves and three storage drawers that make it perfect for putting away all things you would want to hide. It is durable, resists bacterial and fungal issues, and has 80% oak wood which makes it great for outdoor usage. Given the material used, it does not heat up on hot days and makes it very easy to use all year round.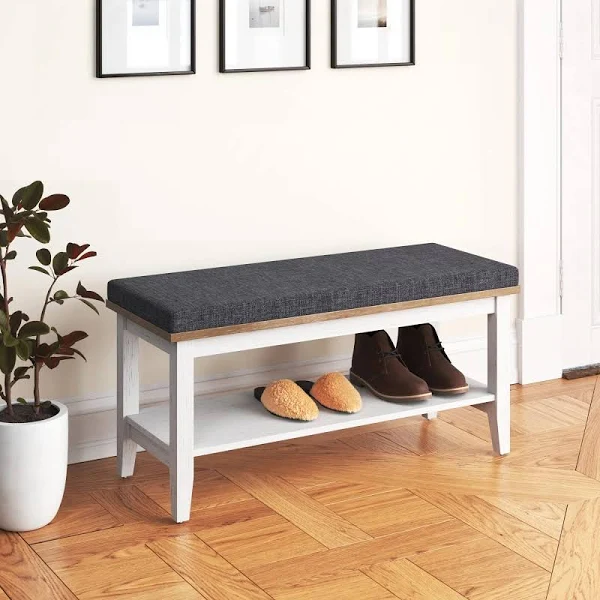 Made out of 100% polyester, the top part of the House of Living Art Entryway Storage Bench is covered in 2-inch thick high-density foam that gives comfortable sitting. Goodbye standing and wearing shoes! The base of the bench is constructed out of solid wood and MDF material that supports weights up to 300 lbs. This particular bench features a mid-century modern style that fits in great with most decors while giving you ample seating space.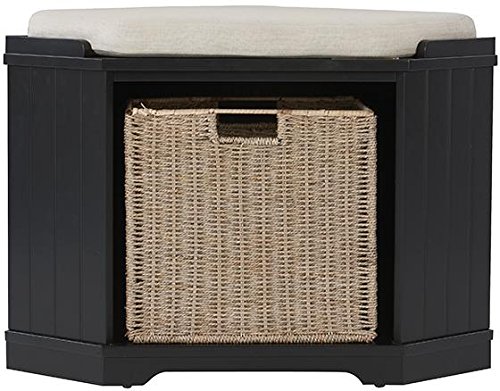 A very clean, classic design, this Whitaker Black Storage Bench is a great bench to fit in any corner of your entryway. With details like beaded board panels, a scoop toe-kick, and a beautifully painted finish, this bench has a cozy seat cushion and has upholstered texture. It comes with a woven seagrass basket that gives a cottage farmhouse appeal to the space. Bringing a modest profile to your entryways, this bench makes a great addition to any small entryway by also giving a seating option there.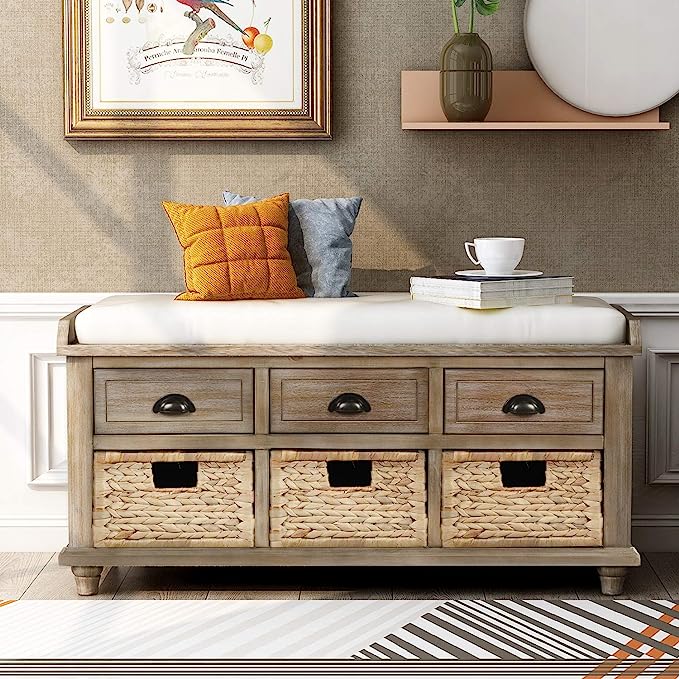 Bringing a rustic look to your space, this bench is made out of an Acacia wood frame along with an MDF panel. The P Purlove Wood Storage Bench is durable, stable, and can hold up to 155 LBS weight. The storage bench has 3 drawers and 3 removable basket that provides large space for organization and storage. The bench has versatile appeal and can be put anywhere to enhance the look of the place.
Looking to store your shoes but don't want them to show? This is the perfect entryway bench with storage just for that. The Haotian Storage bench with drawer features a modern design. It comes with two shoe flip drawers. Each drawer has 2 tiers that give you enough space to store most of your footwear. Made out of high-quality MDF board, the drawers are made out of particle board. The top of the bench is made out of cushion and fabric that makes it easy to sit. The entryway bench can hold up to 330 lbs and needs assembly post delivery.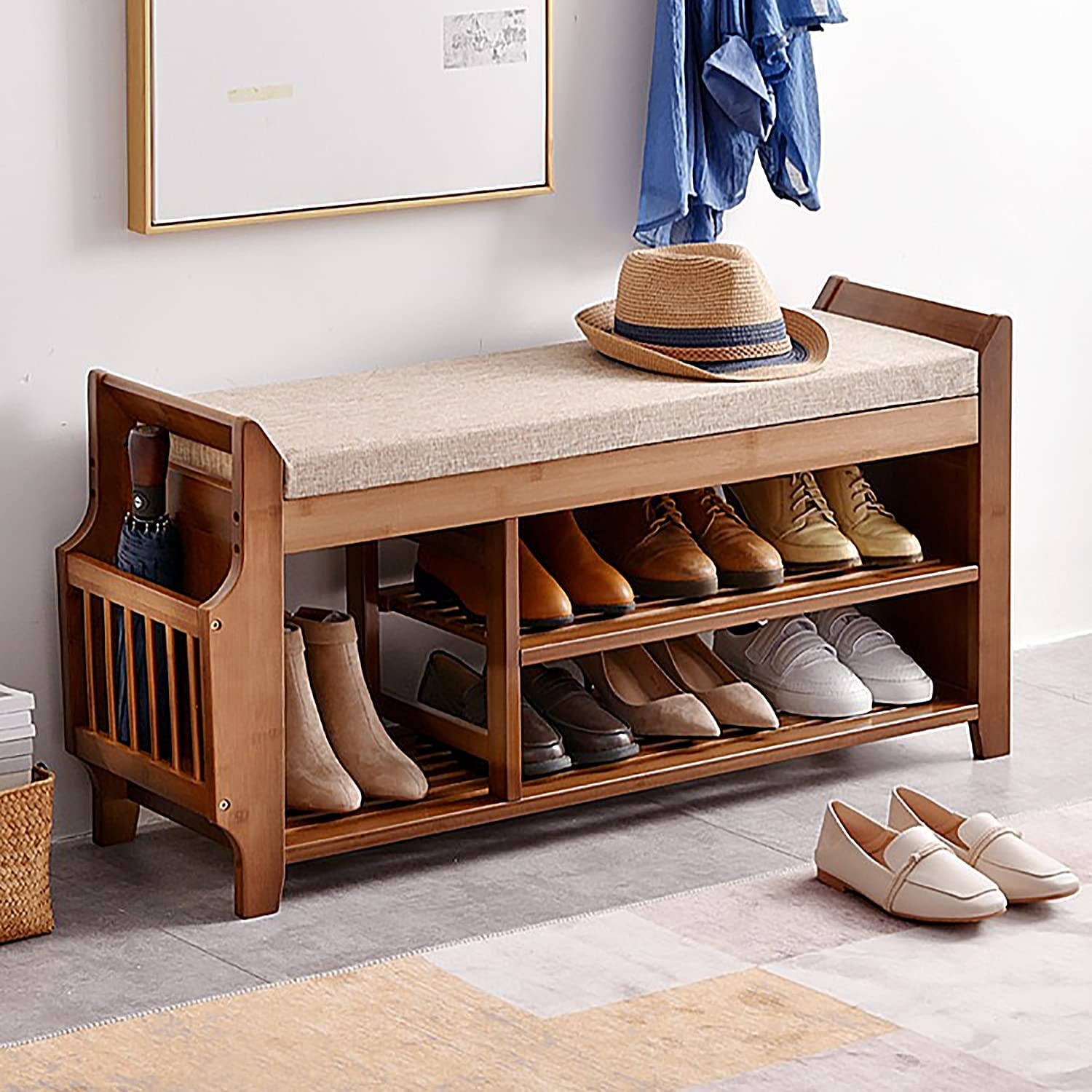 Perfect for a home with Bohemian decor, this Petkaoo Shoe Bench is specially designed for anyone who wants to store all their shoes in the entryway. With a unique design, this entryway bench gives you ample space to store your shoes, but that isn't all. There is a small hidden drawer on the bench that gives you space to store your keys, wallets, coins, etc. Additionally, there is also a small side holder where you can put your umbrellas, magazines, etc.
The bench is made out of 100% natural bamboo and is environmentally friendly. It is waterproof and moisture-proof, which makes it durable. It is easy to clean this bench, and you just have to use a wipe to remove the dust from it. The top of the bench is upholstered in cushions covered in linen and are removable. It is a great piece of furniture if you do not want to add wood to your entryway.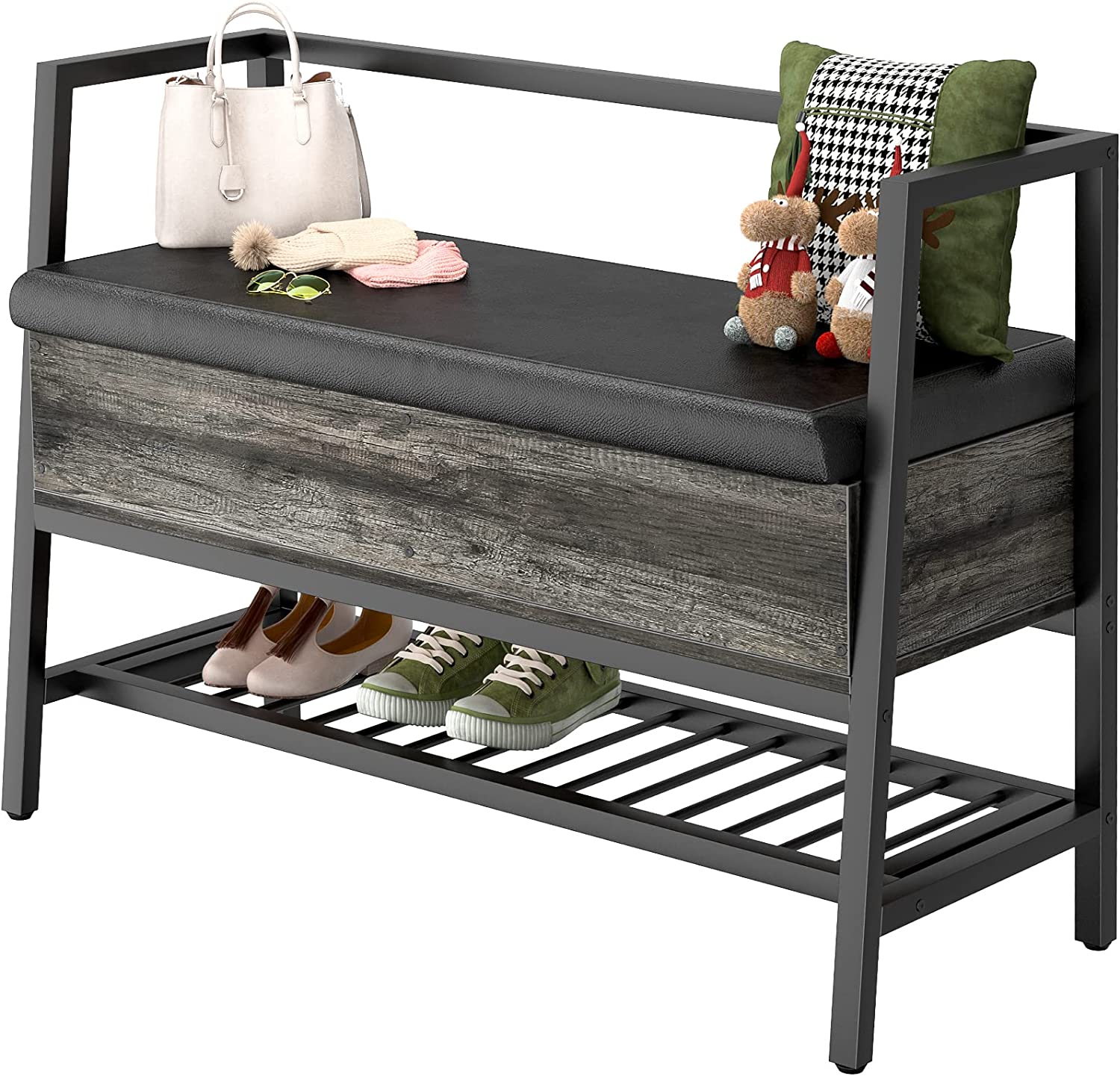 This is the dream entryway bench with storage. The Homieasy storage shoe benchhas a hidden storage box where you can put all your everyday use things. All you have to do is, lift the top of the box, and you have all the space you need. But that's not all because this bench has more space. The Homieasy storage Shoe bench comes with a lower drawer where you can store your shoes and other stuff like that.
Good thing this bench is not just good for storing stuff but also provides good seating. Covered with a high-density sponge, the top of the bench is covered with PU leather, which gives it a farmhouse look and gives comfortable seating. This is a sturdy piece of furniture that can hold up to 250 lbs and fits in most decor themes.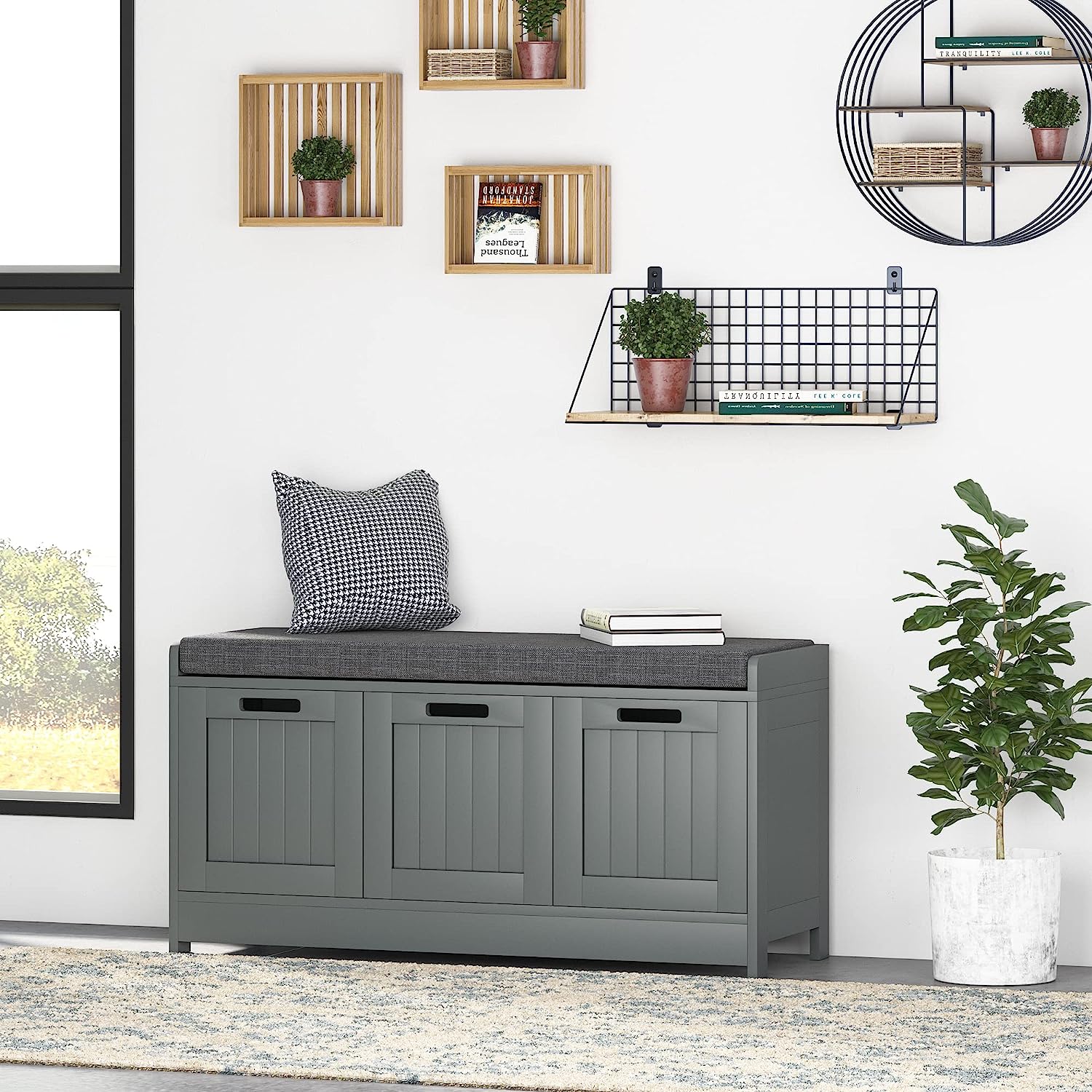 A versatile and functional bench, this Homefort Storage Bench comes with double cabinets and a drawer that ensures you get a lot of space to store everything you need. From shoes to toys, you can store everything on this bench. Moreover, the top of the bench is covered in good quality foam that even elevates your seating experience. Since the bench is made out of thickened particle board with melamine veneer, it can hold up to 330 lbs and is a great addition to any household.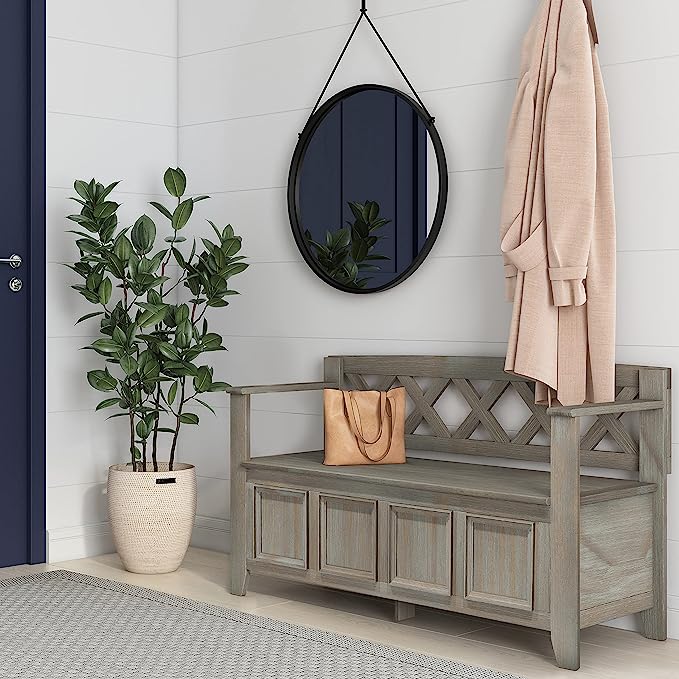 Another entryway bench with storage and a backrest that you can look at is this Simplihome Amherst Entryway Storage Bench. The handcrafted bench is made out of the finest quality solid wood and has a beautiful distressed look. The NC lacquer accentuates the piece by adding highlight and grain. This chair is big enough for 2 people to sit on it comfortably, but that isn't all because it features a big storage unit. The bench lid opens up when lifted up, giving you access to 2 large internal storage compartments where you can store all of your clutter.
This Songmics Shoe Rack Bench looks small, but you must not doubt its delivery. This is a small bench in terms of measurement but is sturdy enough to hold a weight of about 350 lbs. Featuring a rack to keep your shoes, this bench also has a cushioned top. The top is filled with high-density foam padding and a breathable linen cover that makes it perfect for your entryway. Keeping in mind the build of this bench, it is fairly easy to clean. Just wipe it with a damp cloth, and you are good to go.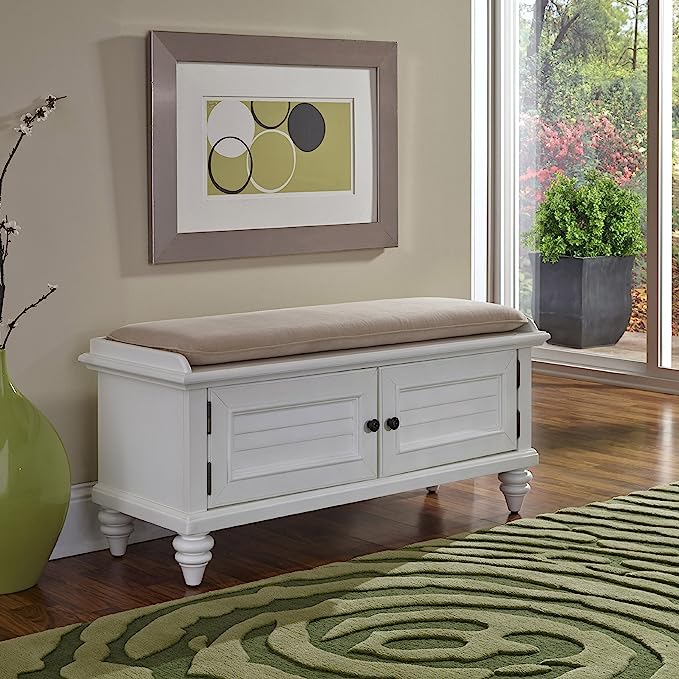 An elegant piece of furniture, this Bermuda Brushed Bench is made of solid wood and gives a British traditional mixed with a tropical look. Given how beautiful this bench is, it fits almost in all interiors. The top of the bench is covered in cushion and is upholstered in Vinyl fabric for a rich finish. The bench comes with two drawers that give you ample storage space. Adding to the beauty of this piece are the brass handles and hinges that give it a refined look altogether.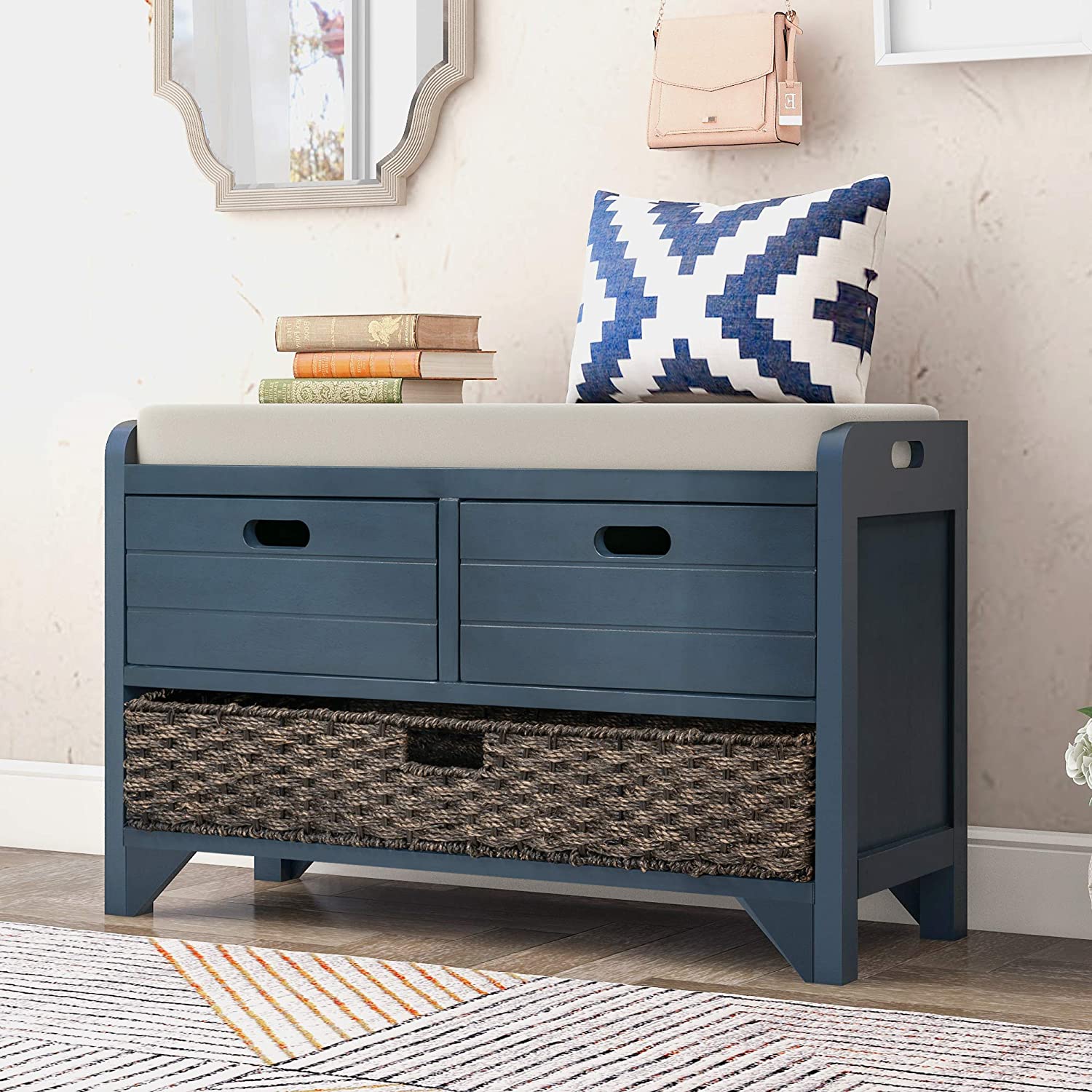 A rustic-looking bench is a very versatile design that compliments a number of interiors, and this P Purelove Entryway Bench does just that. This bench adds a rustic charm to your entry and is functional while being fashionable. The bench features 2 drawers and a removable basket that is perfect for storing a lot of your clutter. The top of the bench comes with a thick cushion that makes it comfortable to sit on.
This particular bench is made out of premium acacia wood and MDF boards that make it strong and durable. The foot pads protect your floor from being scratched and give this piece of furniture a grip on the floor too. It is so sturdy that it can hold the weight of up to 155 lbs. Adding to the fashion element of this piece of furniture are the hollow handles that only accentuate the design.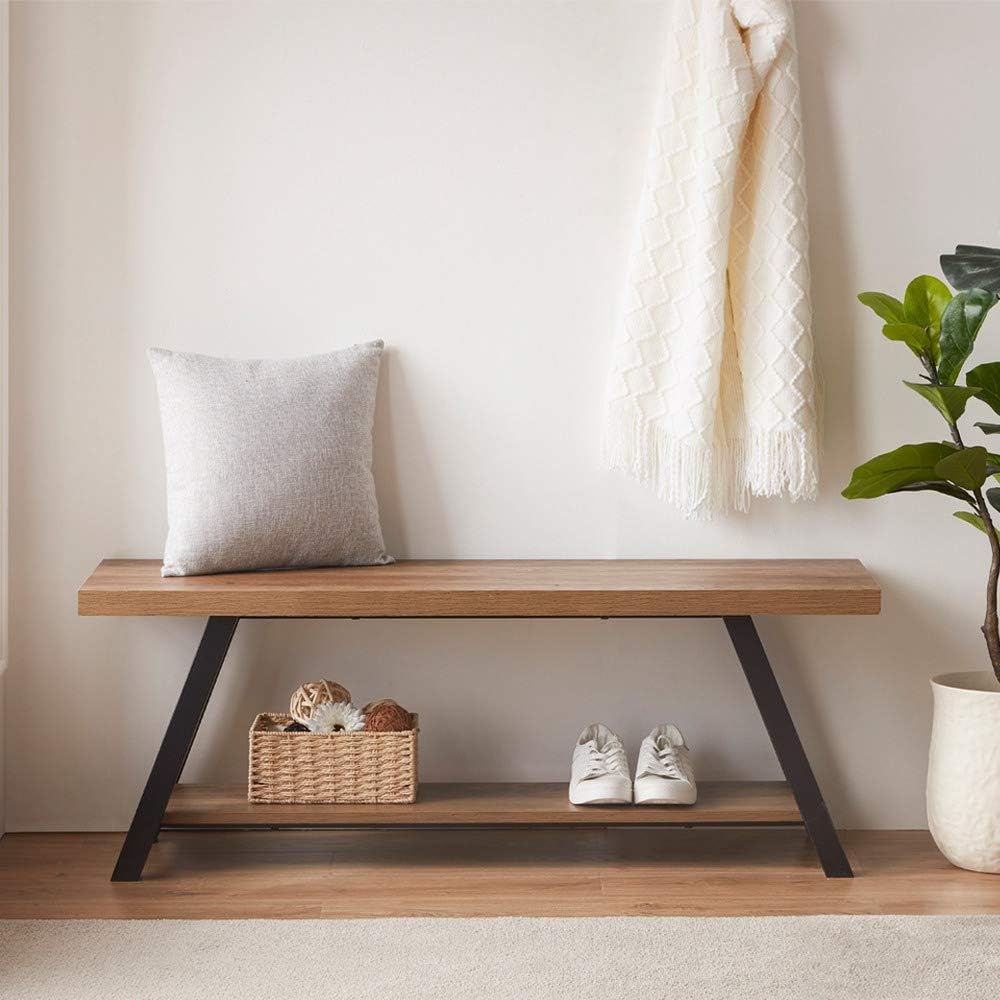 A combination of multifunction and fashion, this LVB Industrial Entryway Bench is a simple and unique piece of furniture that can be put at various locations in your home, including the entryway. With a wooden sitting bench, the piece of furniture has a rack on the lower side that gives you space to keep your essentials. Constructed on a metal frame, this is made out of high-quality MDF. It is a durable piece and has excellent stability. It takes only a few minutes to assemble this piece of furniture, and then you are good to go.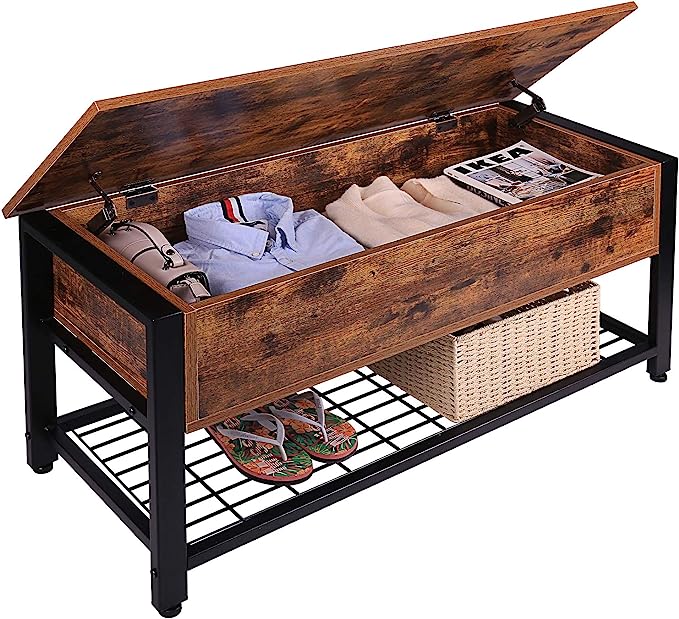 A 3 in 1 design, this Homeoko Industrial Storage Bench has three functionalities instead of one. It provides space for 2 people to sit comfortably. Then there is a big storage box that can be used for multiple storage purposes, and finally, this bench comes with a mesh layer where you can put your shoes, sneakers, and all other footwear. The storage box on this bench is hidden under the sitting board and can store big items like clothes and backpacks too. This Homeoko bench is made out of high-quality material and delivers an industrial look.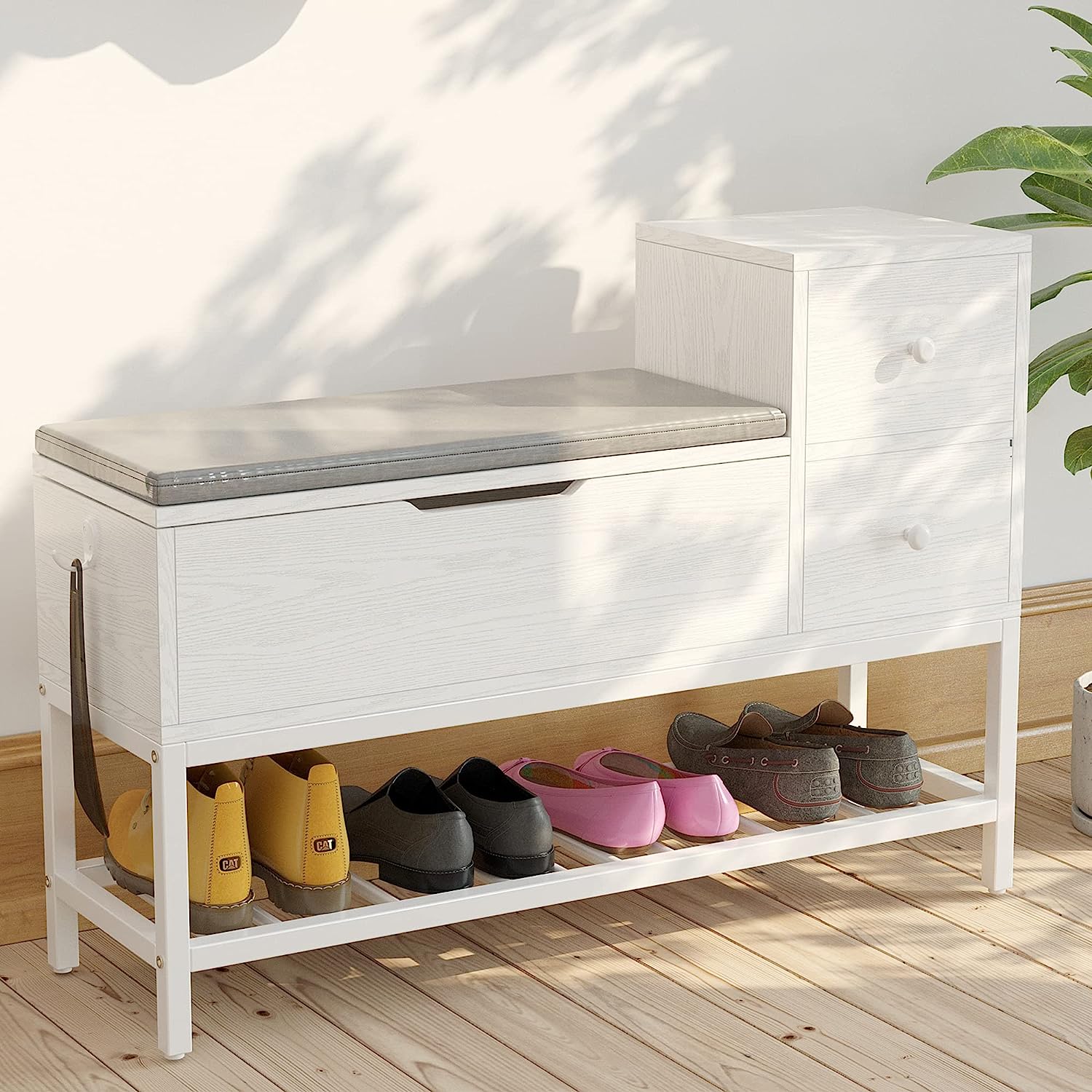 Giving you organized storage space in your entryway, this Ironck Storage Benchhas flip storage along with two drawers that give you space to store both shoes and other clutter like blankets, toys, etc. This bench will help you make your space look tidier and give it a clean look. As for sustainability, the bench is constructed on an iron frame with a high-quality MDF board. This makes it durable and long-lasting. Moreover, it is sturdy enough to hold 330 lbs of weight.
Along with seating space, this bench also has a platform above the drawers that provides you a place to display your plants and other accessories. The seating space has comfortable leather cushioning that makes it easy to sit on too.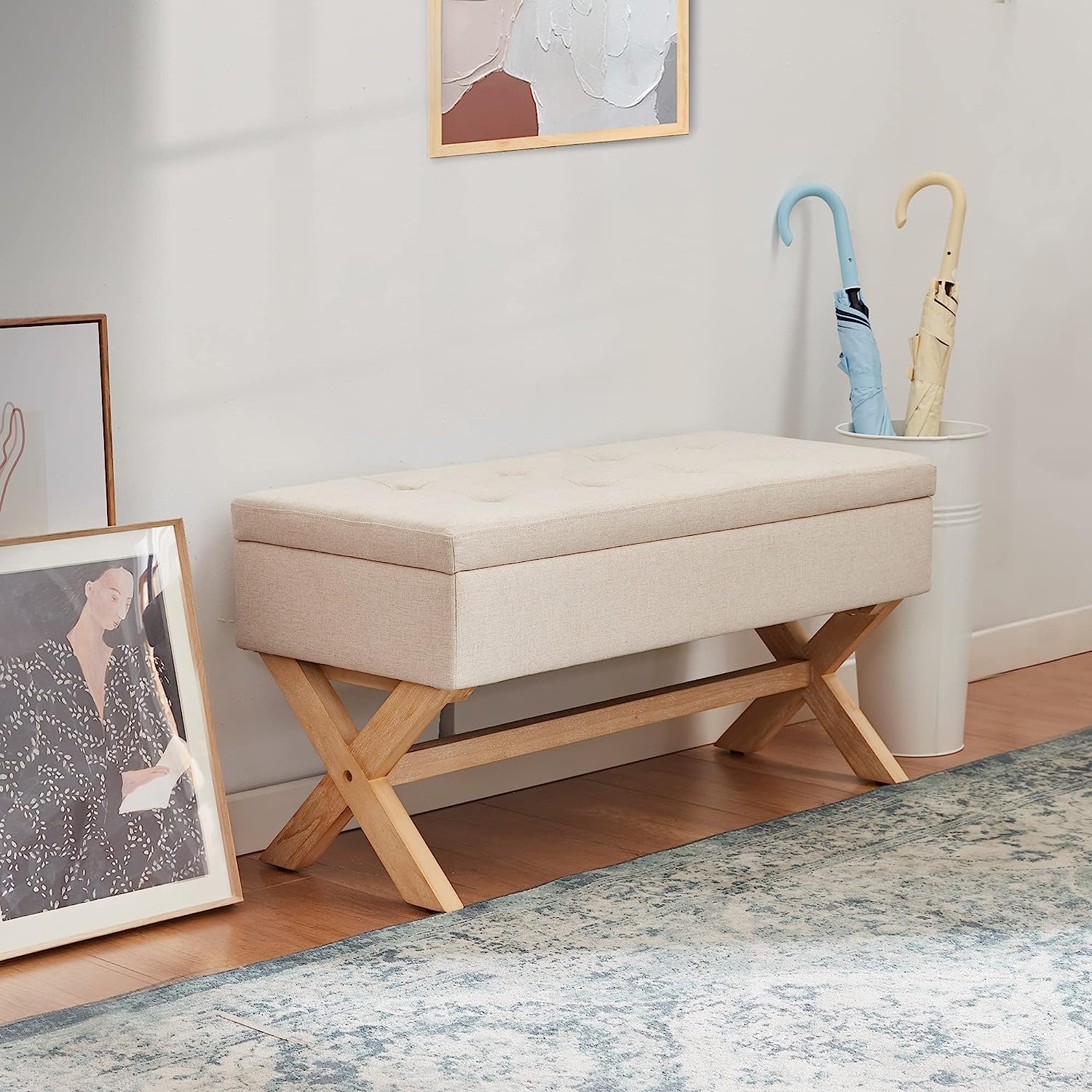 A chic and modern Entryway Bench with storage, this Huimo 36 Inch bench is an upholstered indoor bench that is made out of polyester and is touch friendly. It is also filled with high resilience natural sponge that makes it even more comfortable to sit on. Stylish and generous, this piece of furniture features a unique X legs design that is very attractive in any decor. The overall color of this bench makes it an easy fit in any decor and elevates it.
The large space of the ottoman offers you enough space to meet your various needs. It helps you hide all your messy stuff, and you can store almost anything. Keeping in mind the versatility of the bench, it can fit as a shoe bench, footstool, bed bench, puppy step, and more. The frame of this bench is made out of solid wood, and the legs are solid wood, too, made to last long and durable.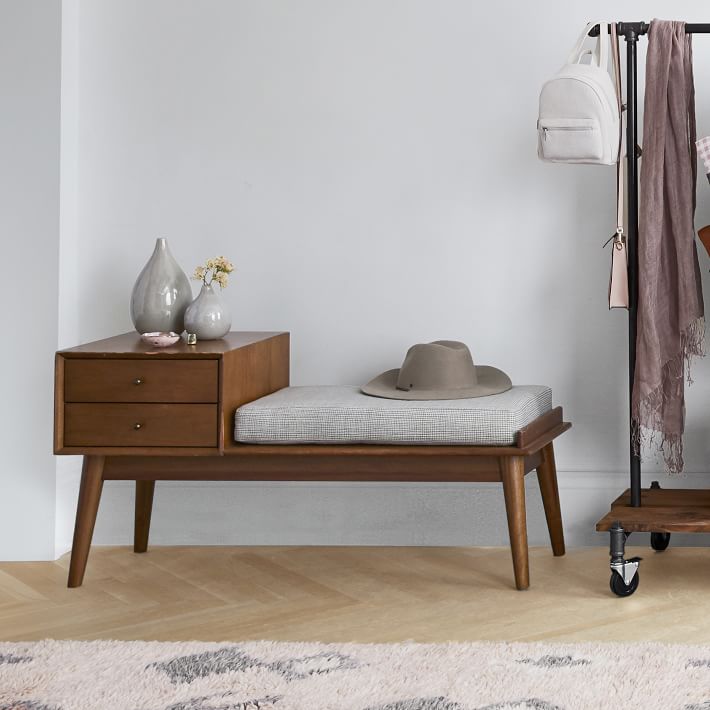 Making it a stylish drop-zone for keys, coats, and other knicks and knacks, this Midcentury cushioned modern storage benchAcorn combines storage and comfort. Made out of sustainably sourced wood, it is durable and fits well in any room. The bench comes with two handy drawers and fabric cushions that give you storage space and can be kept anywhere in the room. Thanks to the raised frame and the legs, you can store your shoes underneath this bench.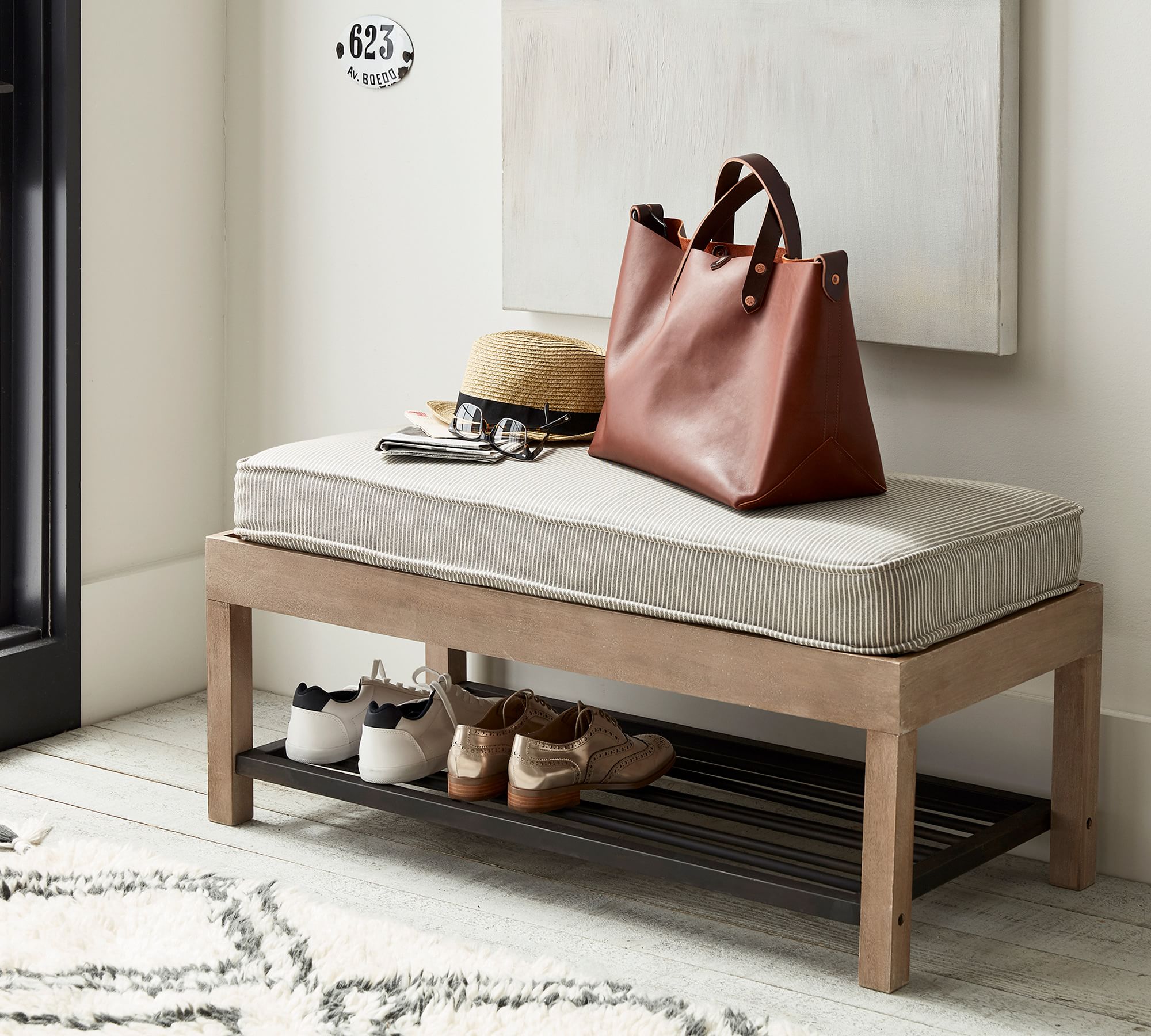 A perfect fit for small spaces, the Lucy Entryway collection is the epitome of style. It combines whitewashed wood and metal to give a slender profile that looks good in any style of interior. The top of the bench is topped with a comfortable cushion, and there is a rack on the lower side of the bench. It is perfect for storing your shoes and feeling comfortable while sitting on them.
The Lucy Storage bench is made of mild steel and mango wood, which are sustainably sourced wood. The bottom shelf has a black powder coat finish, and the cushion is removable for easy cleaning. You just have to wipe it clean.
Styling Tips for Entryway Benches with Storage
While an entryway bench with storage is a great addition to your space, you can elevate the look of this by adding a few more things around it. Here are a few tips and tricks that will make your entryway look even more beautiful than ever.
Add an entryway sign. It is one of the easiest and cheapest decorative things to do. This sign can be anything like a welcoming and loving message for your friends and family or a simple quote.
Create a gallery wall. Another way to add great character to your entryway is by adding a gallery wall. Put up your family pictures or pictures from vacation and bring character to the space.
Add a rug. This is a very simple way to elevate the look of your entryway bench with storage. Just add a rug under the bench, and it will instantly lift up the mood of the space.
Add pillows and throws. Pillows and throws make all seating spaces better. Just add a few pillows and throws to bring a great flow to your space. It will add to the beauty and make seating even more comfortable.
You can also add a mirror. Add a big mirror above the bench, and it will make your entryway look bigger.
Add some plants. You can also make the look of your entryway lively by adding some plants to the space.
Change the decor as per the season. Make sure you continue to change the elements of the decoration as the season changes.
Final Words
An entryway storage bench is a great addition to your home. It will help you keep all your stuff organized and give a tidy look to your hallway. These benches come in different styles and colors and go great with most decors and interiors. Depending on your need and desire, you can pick any of these and easily store all your clutter. To add to the beauty of your hallways, you can also decorate the space with some tips in the article and elevate the look of your whole house.
What are you waiting for? Implement them all and make your entryway beautiful and clean.