Get Creative with Your Toddler's Room: 21 Inspiring Ideas
While building a house, whether in an apartment or a mansion, every space and corner is laid out on the map or in 3D, so it can be visualized once it is built. The room selections are made before shifting, the paints and textures are already decided prior, and the decor is finalized even before relocating.
Every room has a story, favorite spot, classic art piece, and aesthetics that are hand-picked to make it look apart from the others. One of the most interesting projects in the house for new parents or those who are expecting is decorating their toddler's room.
When it comes to other rooms, living areas, kitchens, and balconies in the house, any color and furniture can be combined, but when it comes to designing a toddler's room, it should be colorful, safe, and exciting as this is the place where he or she will spend the maximum time of the day.
Here are 21 different ideas that you can consider for designing a toddler's room and making it look bright and playful.
1. Create a Gender-Neutral Room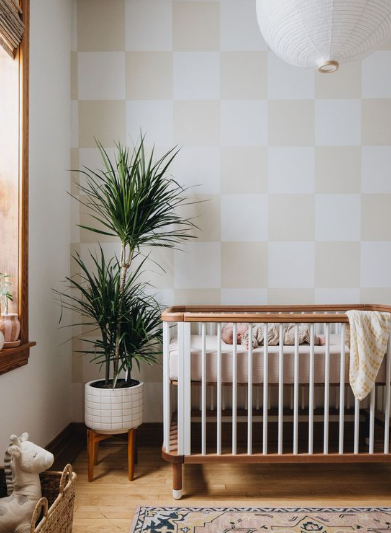 There is this notion that a boy's room should be blue in color and a girl lives in pink colored-room. This is not necessary to stick to this color. You are about to design a room for your toddler where he or she will live independently and would indulge in activities that they love. So it should be colorful, a place where they can have fun learning, harmless adventures, and nap.
In order to keep it light and bright, incorporate tinges of all colors in curtains, bedsheets, cushions, and the wall. You can leave the wall white and hang colorful dream catchers, glowing stars, posters, wallpapers, etc., to make it look visually beautiful.
2. Include Different Shapes of Furniture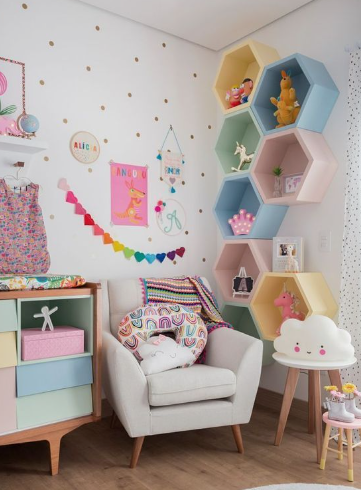 You will require dedicated storage for harboring all your toddler's belongings. As they are of different shapes and sizes, you'll require furniture accordingly. Instead of installing all the furniture on the floor, utilize the vertical space to keep their belongings. This will be easier for you, as it won't come in the way of toddlers while they are crawling or trying to walk, and it will be easy to maintain and clean.
Include different types of shelves hanging on the wall that help you keep the toddler's essentials, like shower gel, lotion, medicines, etc., in a basket. Moreover, use different sizes of baskets to store their socks, caps, woolens, and all other tiny stuff; this will be helpful in de-cluttering and will also look aesthetic.
3. Use Each Corner Efficiently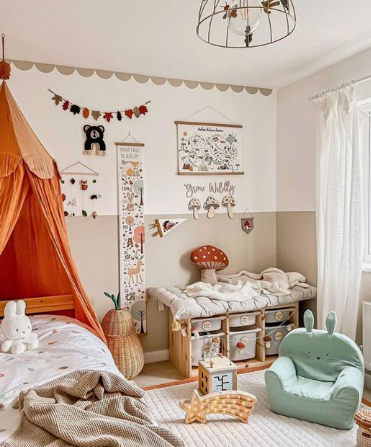 When it comes to creativity and the stuff that toddlers own, there is no cap to it. Moreover, their belongings come in different shapes and sizes that cannot be stored in one piece of furniture. Bedie this, you also don't want the stuff to lie around their room and create a mess. This will hinder the toddler's movement, and will be difficult to find stuff and clean.
Try to select the toddler's room where there are windows so that there is never a dull day and enough ventilation. Furthermore, create a horizontal platform at a height to keep their larger stuff like a bassinet, rocker, car seat, and bouncer. You can keep their larger soft toys lying around the room, which helps the toddlers relax and sit, saving them from hurting their heads if they fall and giving a decorative look to the room.
4. Use Multifunctional Furniture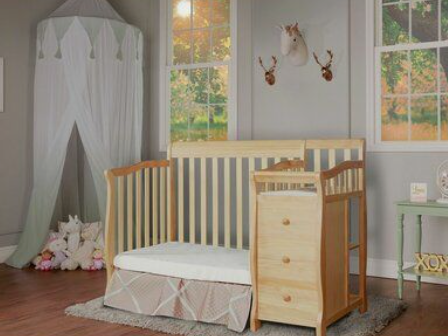 When it comes to buying furniture for the home, we prefer one size fits all for many stuff like tables, sofas cum beds, etc. But when it comes to designing a toddler's room, this principle does not work. They require all the essentials while they are growing, like cribs, small-sized mattresses, chairs, and tables.
All this stuff can turn redundant once they grow. You either have to get rid of it or lend it to someone. Instead of hoarding all toddler stuff at one go, try to purchase things that are multifunctional and can be used even after toddlers grow. A convertible crib can be useful as a toddler bed whenever required. A cot can be used for multiple purposes like sleeping, converting it into a table, its portable nature, etc.
5. Create an Indoor Nursery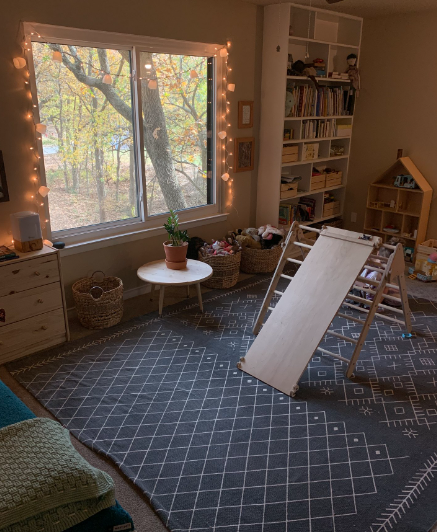 While designing the toddler's room, keep a dedicated area for deploying indoor games like staking the rings, building blocks, indoor basketball, twister, and treasure hunt. This will help boost the toddler's motor skills while keeping it away from mobile phone and tv addiction.
Moreover, in winter and rain, they'll miss the outdoor garden and swings, so indoor activities will keep them busy and creative. You can also use wallpapers of the world map to decorate the wall and impart information as they grow up.
Plan to design a toddler room with all the essentials that will be required in their growing age, like low tables, shelves, a library, etc. Furthermore, you can add a few musical instruments, a chalkboard, and slates for learning and entertainment purposes. Don't forget to cover the room with a rug or playing mat so the toddlers don't hurt themselves by falling.
6. Decorate with Greens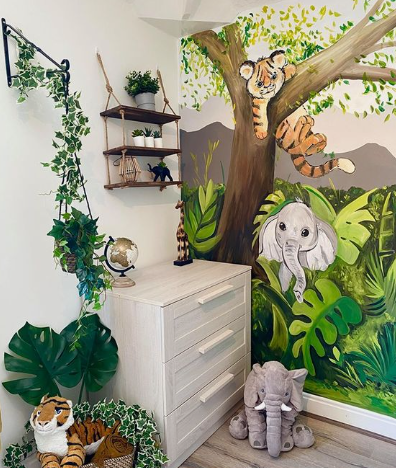 While decorating a toddler's room, it is necessary to introduce them to all the natural elements of the environment. Select a room that has ample light during the day and decorate the shelves with small, golden twinkle lights to make the space filled with warmth and look beautiful. You can also add a lamp to make the room cozier and well-lit.
Place natural or artificial flowers and plants on their shelves or by the windowsill so it creates a soothing effect for toddlers. Try to keep artificial flora to avoid insect and pest invasion and further reduces maintenance.
You can also try hand-painting some cartoons or plants on one wall to make it look aesthetic. Remember, the aim of decorating your toddler's room is for his or her comfort and a place of activity as well as leisure.
7. Create a Well-Prepared Learning Environment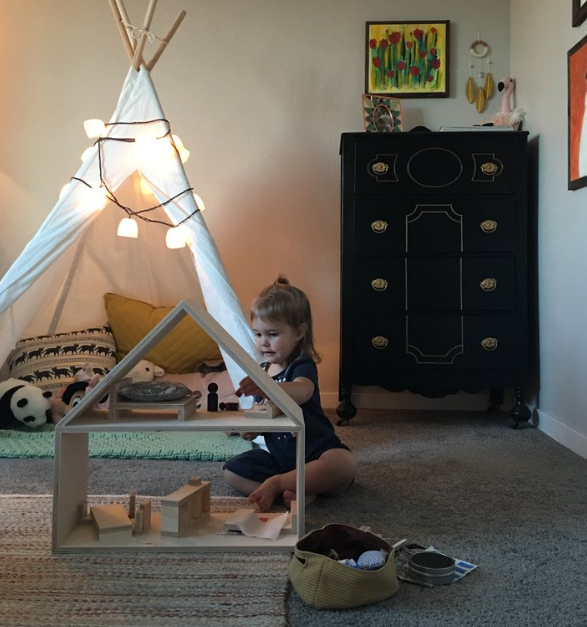 As charity begins from home, the first school for a toddler is also home. They learn all the basics like sitting, walking, playing, babbling, drawing on the walls, etc., at home. So why not prepare a child-led learning environment at home so the toddlers don't just sit ideally and remain inactive?
Once the toddlers grow, the utility of a crib, cot, feeding chair, etc., will become redundant. You don't want to hoard this stuff even after the toddlers grow, as it will limit the space for their playing and other activities. Instead, create a room that helps build order and routine for the child, access their belongings independently, and do purposeful activities. You can include art & craft materials like origami papers, quilling, cupboard organizers like baskets, and different activities and games.
8. Keep the Space Clutter-Free
Decluttering and organizing are equally important for toddlers as it is for adults. Toddlers' rooms can easily become messy because of their toys, clothes, accessories, etc. It should be regularly cleaned and maintained, as it is the place where all the learning and playing happens.
Toddlers tend to possess more belongings than adults, and even having several wardrobes won't help harbor all their stuff. Instead of staking all the things in one cupboard or corner will not prove to be fruitful. The toddlers would stop by the pile of toys instead of discovering other things.
Moreover, you can utilize your dresser and its platform to store your day-to-day essentials like clothes, games, etc., keeping the wardrobe free from cluttering.
9. Create a Customized Piece of Furniture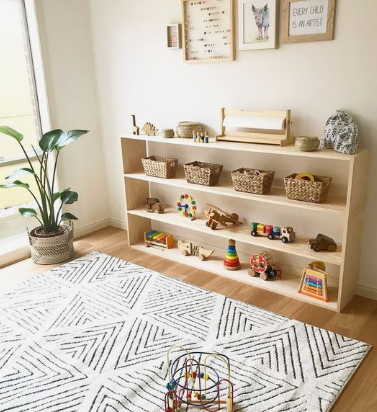 You will be using the toddler's room even after they grow up. So the furniture like beds, shelves, library, etc., needs to be functional for several years. The cupboard and library can be refilled with new clothes and books as they grow. But to make a toddler active, create a piece of furniture in the room that motivates them to work on their own.
An open Montessori shelf can be considered in one of the corners. This will help store books, other purposeful materials, and toys, and hang their clothes, at the kid's eye level. Adding an amazing reading nook on the shelf can make it look creative and build a personalized library.
10. Toddler Decor in Every Corner of the House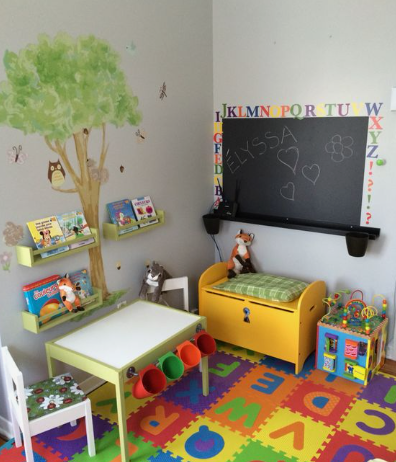 It is a positive sign to spread the toddler's decor across your entire house so they do not get bored and confined to the same space every day. You can use a place in the living room to equip with a child-size table and chair for their activity or a reading chair with a comic stand beside it.
Furthermore, you can use a trolley to harbor all their art and crafts supplies and manipulatives like beads, stacks, puzzles, etc. This will help de-clutter the stuff, and its portable nature will help the toddler enjoy drawing or playing even in the garden. You can add a small colorful mister on the balcony that will motivate them to water plants and inculcate values like caring.
11. Different Types of Bed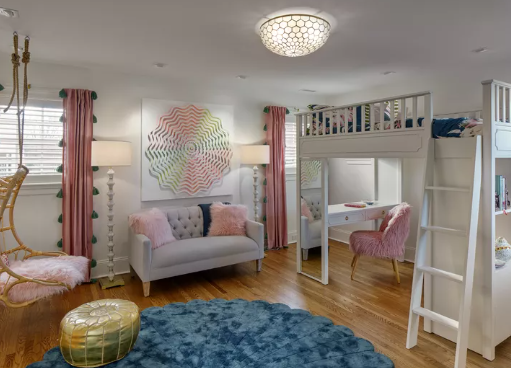 When you are decorating every nook and corner of the toddler's room creatively, why leave the bed? Instead of using a conventional bed in the corner, try to incorporate a lofted bed or bunk bed, or even a swinging bed to make it exciting.
By using the lofted bed, you can use the space underneath to create a study table or library for the kid. The advantage of having a lofted bed is that it can continue to be functional even after the toddler turns into an adult. You customize cabinets on the lofted bed to store extra stuff and keep the room clean. Create the room with a dreamy look, as your toddler will be spending the initial years in that particular space. Fill it with canvas paintings, photo frames, alphabet walls, etc.
12. Keep the Toddler's Essentials Handy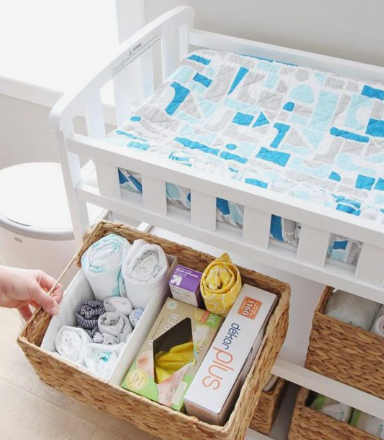 While decorating a dedicated room for a toddler, keep in mind to keep a piece of furniture like a changing station or dresser filled with their toiletries and medicines in order to save time and de-clutter.
Your old dresser can be reused as a changing station that has a small mattress on the top, followed by storing diapers in the diaper caddy, bibs, shower foam, baby hairbrush, etc., in the cabinets below. Storing everything in one place helps you fetch easily and keep track of the number of things that need to be purchased immediately. You can use drawer dividers to put all the toddler's stuff organized, like mittens, socks, burp clothes, towels, swaddles, sleepsuits, etc.
13. Use Labels and Cloth Bags to De-Clutter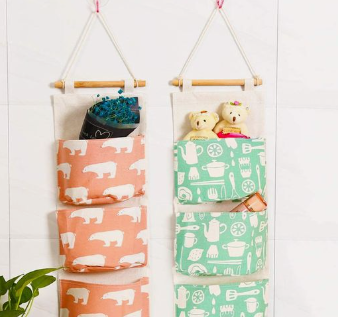 While planning a baby till it turns into a kid, there are many accessories that need to be stored and stacked in their room in abundance. Even if you keep one bottle of shampoo and moisturizer, the toddler's closet will have extra sets of shampoo, moisturizer, massage oils, etc.
Using baskets and drawer dividers can help declutter the stuff and look aesthetic, but they take up a lot of space in a limited cabinet. Instead, cloth bags can be used to store the toddler's accessories, toys, sleeping bags, and extra stuff. These cloth bags can be labeled for easy access and placed in the closet to reduce cluttering. As we are applying creativity to the room, you can also use hanging storage for toddlers, as their stuff isn't that heavy and can fit anywhere.
14. Make Something from Your Collection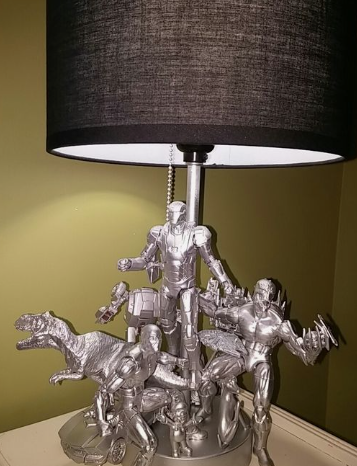 A toddler's bedroom is one of the most important spaces in the house. For a child, it's more than just a room – it's a tent in the wild, a hide-and-seek place, a fairy tale castle, or a rocket ship! It is necessary to create not only a comfortable environment but also a beautiful playground for the toddler.
Most of us have still saved our priced possessions even if we grew up. Now as you are about to welcome a mini-you, make something special from your collections so both of you can cherish it forever.
You can use any old toys of yours to make a DIY night lamp. The superhero toys from the happy meal, small cars, dolls, or ponies can be glued to the lampstand and kept in a corner in their original form. Otherwise, you can spray some golden or silver color to give it a vintage look.
15. Capture Each Stage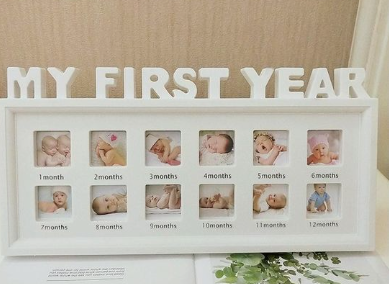 While decorating the toddler's room, you'll definitely want to dedicate a wall to capture their growing years. Maintaining a diary or jotting it down in a baby milestone card set for a year or two will help create memories and share the incidents once your toddler grows up.
Moreover, making a wall frame in the toddler's room or the living area is another option to recreate memories of their first tummy time, crawling, rolling over, smiling, etc.
Other than framing their photos, you can use twinkle lights or golden series to clip their pictures and create an aesthetic look.
16. A Balanced Room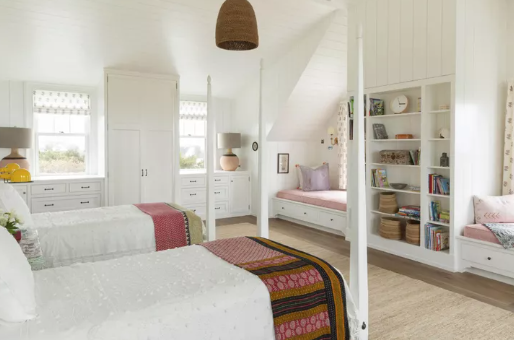 When there is more than one kid in the house, you'll want to create a room that has everything in two and neatly arranged. Bunk beds or four post beds decorated with curtains and a larger wardrobe can be used even when they grow up. As they'll be living independently, make them feel responsible and grown up by adding adult furniture.
Although it is undeniably adorable, children's furniture only lasts for a limited time in your house. Cut to the chase and buy adult furniture if you want to furnish a lovely toddler's room while also saving a little cash. You won't have to spend money on furniture that will only last a few years because your kids will be able to grow into these classic pieces as they get older.
17. Make the Room Viable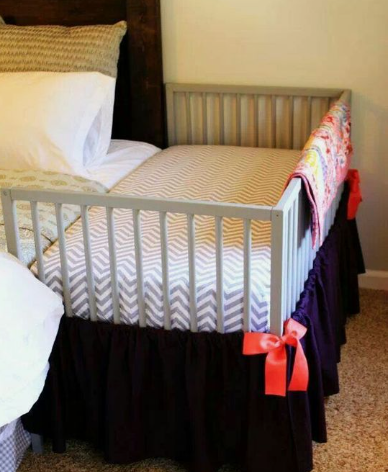 As toddlers will spend most of their time in the room, it should be made more sustainable and a happy place. Not all decorating items, like paint, wood, etc., prove to be beneficial for the kid.
When it comes to selecting a baby cot for a toddler, make sure it is made of European pine wood, which is proven to be the best wood for toddlers. Many cots have provision teething rails installed with them, which will not let the toddler get hurt or injured.
You want to keep an eye on the toddler even when he or she is sleeping, cots on wheels, along with wheel lock guards, come as a boon for mothers. Moreover, select a cot that can be attached to the existing parent's bed, so you won't worry at night. Furthermore, try and use paints that are subtle and non-toxic in nature.
18. Less Is More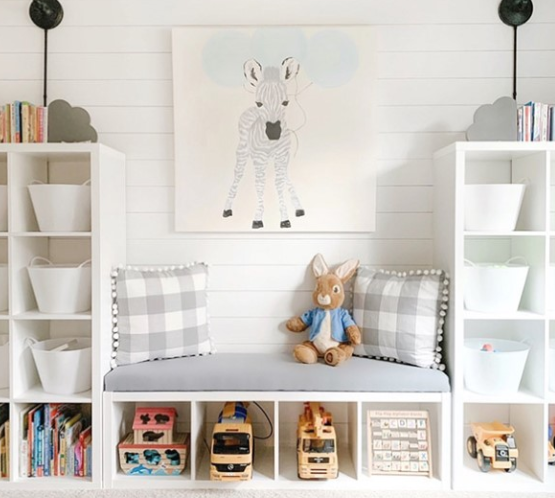 Your toddler will be growing at a rapid pace, and all the wall paintings and furniture will seem too small and outdated once they grow. The secret to designing a fantastic toddler room is to keep in mind that it should be enjoyable, not stressful.
Maintaining a straightforward, neutral foundation and then making a few small adjustments to give the space a more grown-up look will help save time and money in the future. You can use bed sheets, canvas painting, and cushions that have their favorite cartoon character, as these things can be changed regularly or even kept till they grow up.
19. Make a Personal Library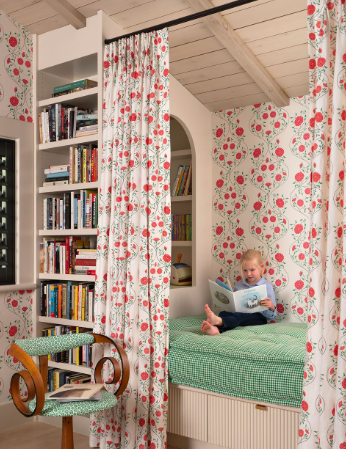 You are decorating a toddler's room with all your creativity and vigor. When you are providing all resources indoors, why not impart the habit of reading too? By creating a comfortable reading nook in the room, you are imparting a good quality in the initial years. Moving from board books to the delightful world of picture books is a part of toddlerhood.
Fill the personal library with superhero comics, panch tantras, moral stories, etc. Moreover, add jigsaw puzzles, identifying pictures, etc., to increase their motor skills. Due to the fact that children can independently grab books, it also strengthens that sense of independence. Simply make sure to include a bookcase in the library that is accessible to small hands
20. Instill Practical Skills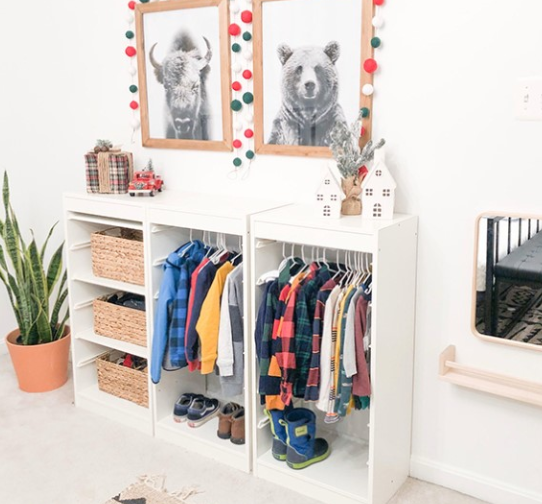 While designing the toddler room, you are particular about every nook and corner, be it wall color, furniture shape, size, kids' safety, etc. You are inspiring them to live independently and do things on their own.
It's much simpler to teach kids how to dress themselves by placing a tiny wardrobebecause it keeps everything at their eye level. It not only promotes his independence but also instills in him a sense of control over his decisions.
Now when you are pampering them with all the facilities, add some stuff to the decor that instills practical skills like cleaning up. Placing a laundry basket, cleaning tool stand, etc., will help them segregate their clothes and teach them the art of setting straight.
21. Inspirational Shelf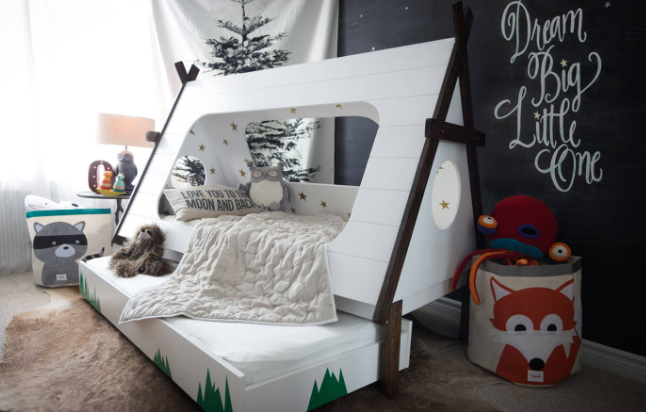 You want your toddler to grow into this fearless, goal-oriented person, and imbibing such values from the initial age is important. Equip the room with a chalkboard or easel that has beautiful thoughts or pictures drawn. You can grab some oil paint and write some inspirational thoughts on the wall as well. The benefit of doing this is that it will never go out of trend even when they grow up.
Make a dedicated shelf where you'll be harboring all thor trophies and medals from school. Furthermore, you can add their framed certificates on the wall of frames. Souvenirs, their first toys, favorite stuffed toy, etc., can be neatly arranged vertically over their bed for a decorative look.
Conclusion
All the things that you are looking for in your toddler room, in particular, are jotted down here. Most of these are budget-friendly, futuristic, and toddler-proof. You don't need to spend a fortune on the new accommodations and fully remodel the room.
A new area rug, a multipurpose toddler bed, bright bedsheets, different cushions, a fresh coat of paint, or fun wallpaper can really make a huge impact.
Try to make a room that you always dreamed of, and make it bright and lively. Your toddler will be growing up there, so it needs to be special and sustainable for their future too. Decorate your toddler's room with these once-in-a-lifetime ideas and make it a one-time project.