Innovative hat storage ideas are relevant in today's time as the awareness about preserving hats for long-term use and the associated nostalgic value is very intense. Hats used to be treated as underappreciated accessories. The properties of hats in salvaging your health, swag, and style do not need any reiteration. The prime function recalled about a hat is the way it adds warmth to your head during the winter months, besides the extra charm it lends to your looks.
Most people have accumulated a sizable collection of hats and will be scouting for safe hat storage ideas. With proper initiatives on hat storage, you can avoid future regrets of your beloved vintage cowboy hat looking flattened beyond recognition and the fuzzy beanie stinking with mold. The important setting to ensure in hat storage is keeping them out of direct sunlight to avoid fading.
Now let us look at some of the workable hat storage options here.
1. Horizontal Closet Rod Hanger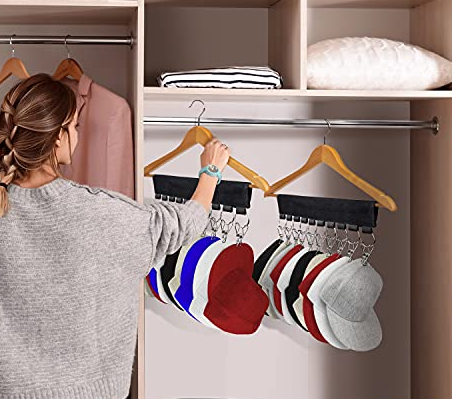 Among the popular hat storage ideas, you have this closet rod hat hanger as a unique one to store up at least 10 hats. It puts the hat organizer on a clothes hanger where you can clip your hats to the organizer. The twin pack will get you two hat hangers and store at least 20 hats. This is good for those with room in the closet. In case the closet is jam-packed with clothes on the closet rod, there will not be much room to store your hats with this option safely.
2. Dome Dock Hat Rack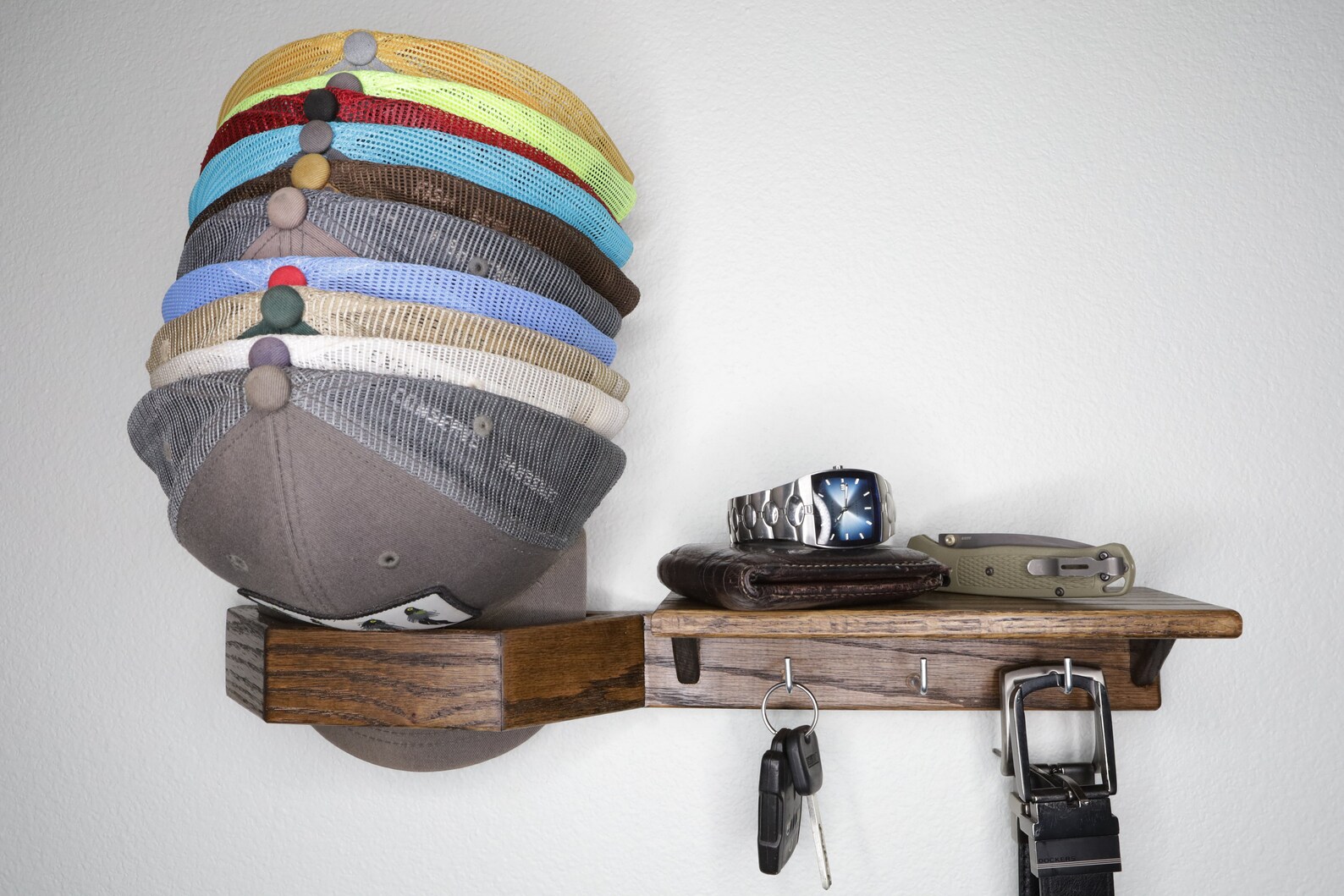 If you have too many ball caps, this hat storage idea might work for you. Just attach the "Dome Dock" to the wall and stick the brim of your hat down inside the Dome Dock. Then tuck the next hat behind the first hat, and so on. This works well only if you have flat-billed hats, and round hat brims may not fit. And if you want to pick a hat stacked in the middle, then you have to remove all the hats above it, and that will be time-consuming. 
3. Accordion Style Hat Rack for Wall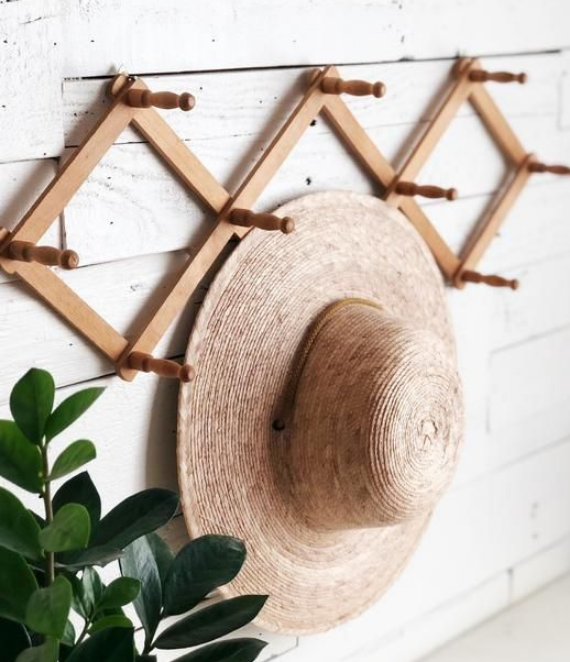 This wooden accordion-style wall rack has 17 wooden pegs to hang your hats, coats, etc. You can mount it to your wall horizontally or vertically too. The length may extend up to 5 feet plus. This vintage accordion rack is a Bohemian style Hat and coat Rack. It is available in wood and metal. If it is wood, the vintage appeal expands with a beautiful wood tone. It is also best for displaying purses, bags, etc.
4. Hat-Tac Hat Racks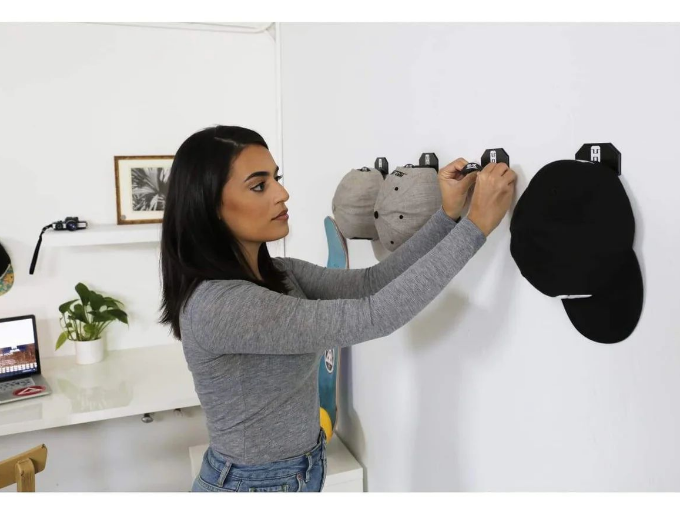 These wall-mounted plastic hat racks stick to walls using an adhesive. No screwing is required, and the adhesive is damage-free. These are great options for hanging frequently worn hats and have easy reach. When you store one hat on each hook, you will get 4 of these wall hooks in one order. You can also place these low-profile hooks at the back of a door and make use of wasted space.
Engineered with damage-free adhesive, it sticks to walls, doors, cabinets, glass surfaces, monitors, desktop towers, and game consoles. Each pack can contain 4 curved wall-mounted organizers that would hold one hat, fedora, visor, cap, or headphone. It is also a simple art decor display.
5. Hat Rack from Golf Iron Heads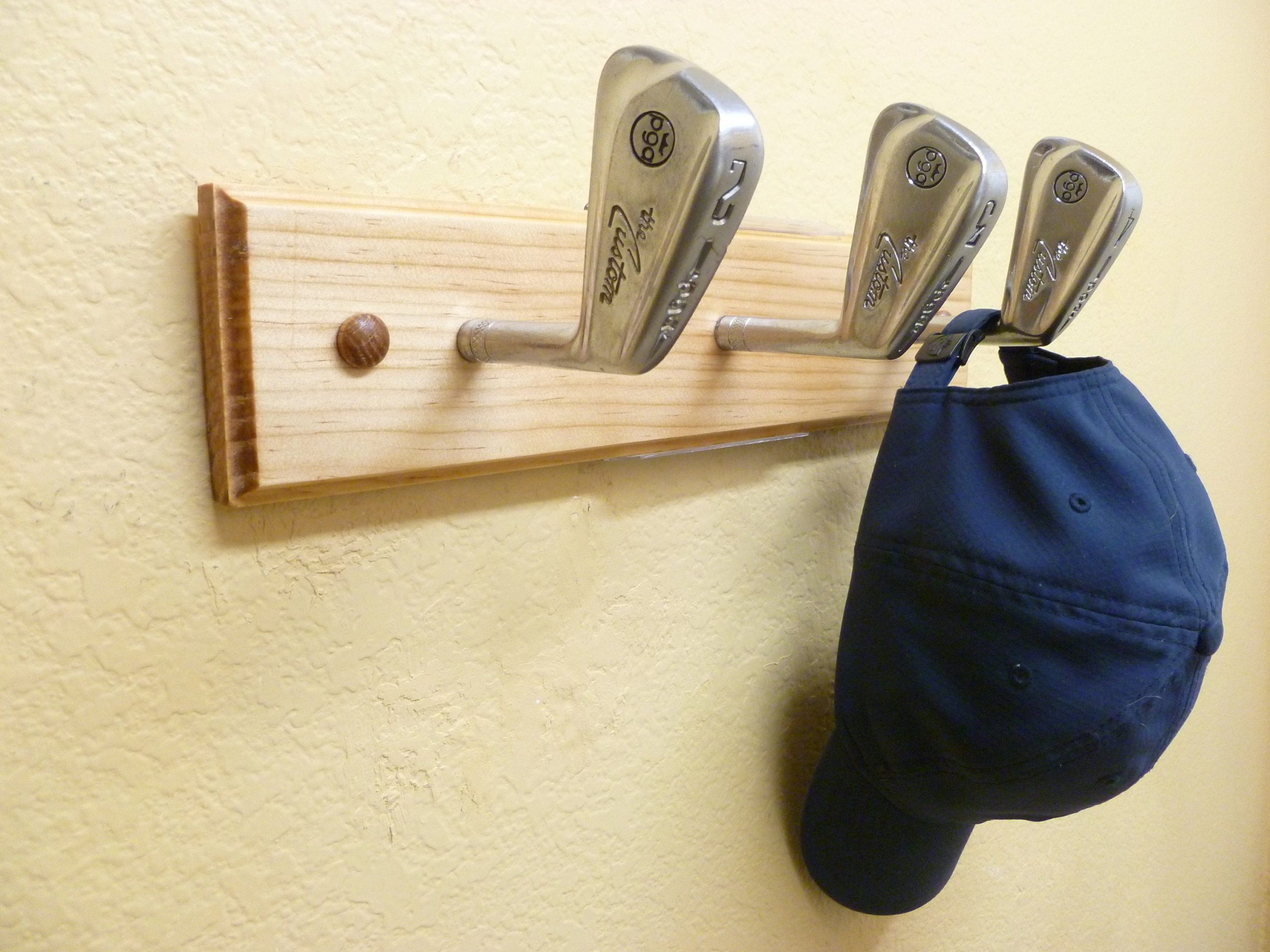 When you can have a hat rack made of old golf clubs, any golf lover has a cause to rejoice. These super creative hat rack ideas are perfect for hanging up golf hats and visors. This hat is a rack made from repurposed golf iron heads. The wood options are gray/white or stained. There are also custom team hat racks. The gray distressed wood color will also match the room and is very unique.
6. Hat Rack for Cowboy Hats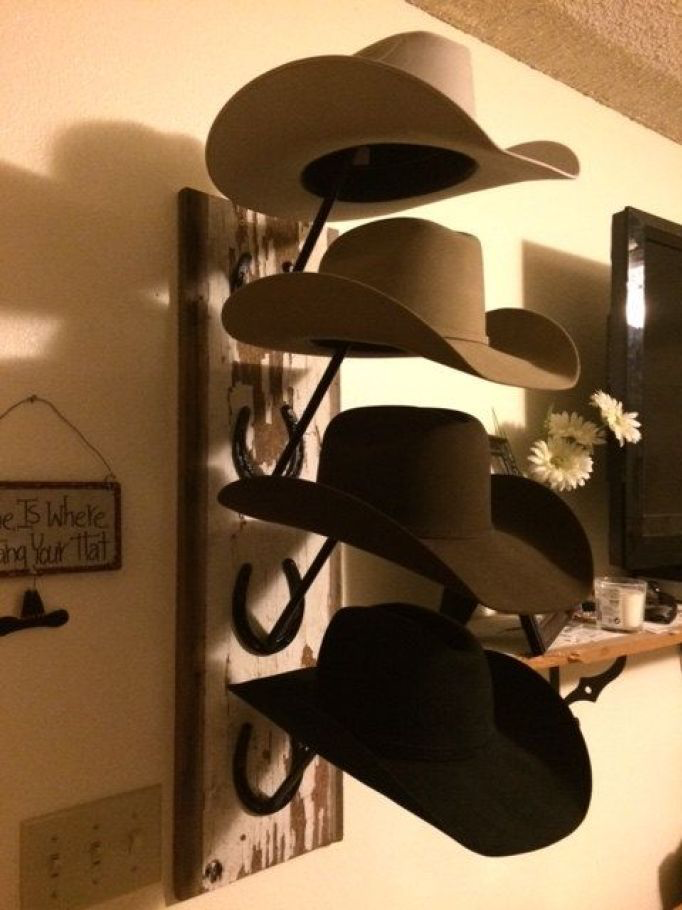 This handmade cowboy hat holder can hang 4 cowboy hats and more trucker hats and ball caps. The handmade Cowboy Hat Holder will keep your hats great on the wall. The decorative stars make the hat rack extra attractive. The durability of the material is impressive as it is made of 20 gauge powder-coated steel. 
7. Farmhouse Hat Rack 
The farmhouse hat rack will excite DIY enthusiasts and those excited by farmhouse styles, but it is not everyone's cup of tea. It also offers the flexibility to match your living room and functional wall decor. The handmade chic coat rack will have a handy shelf and a few metal-cast iron hooks in gray or black. In terms of making, it will be thick wood-washed chalk paint with the top side waxed for a great blend of colors. All the fixing holes will be pre-drilled to aid in mounting to the wall.
8. Hat Shelf Organizer Closet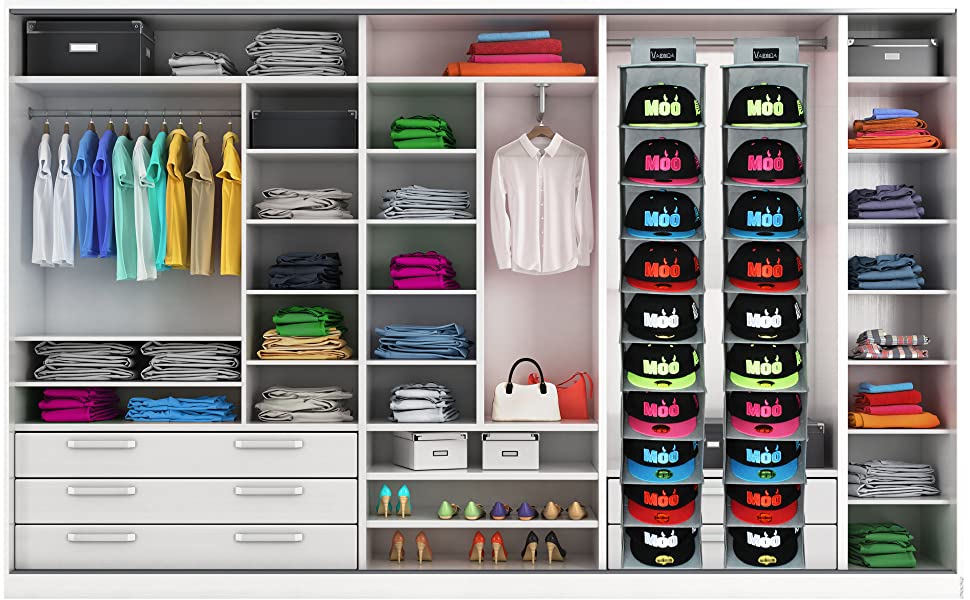 This 10-shelf hanging hat organizer can store your baseball cap collection perfectly in the closet. There is a plastic dust cover on the front. The shelves can be 9 inches wide to fit your hats well, and secure your closet rod with Velcro. The height will be almost 5 feet and not fully extend down if you have a shorter curtain rod than that. So protect your caps and hats from creases, folds, and dents with this hat box closet hanger. You can protect your headwear better than a door and hat rack, cap hook rack, or wall hat rack.
9. Hat Box Sets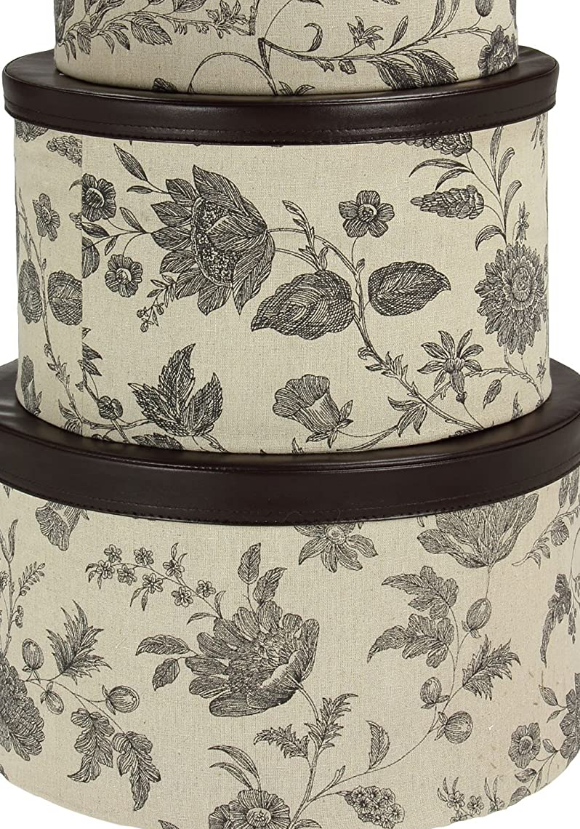 In the matter of storage, the option of a traditional hard-sided hat box still works, and the market has many brands selling it. They are cute, simple, and practical storage solutions to accommodate larger hats, such as bowlers, felt hats, and fedoras. In this boxed storage, the integrity of large hats is intact, as there is no threat of hats getting dented or warped when hung from a hook.
The boxes are good enough to hold hats of diameter ranging from 11 to 14 inches. Covered in cotton, the boxes are easily stackable on a closet shelf. If you can place it in the bedroom, the design will shine as patterns of neutral floral and classic swirl with faux leather accents on lids will be interesting.
10. Hat Storage Box Cubbies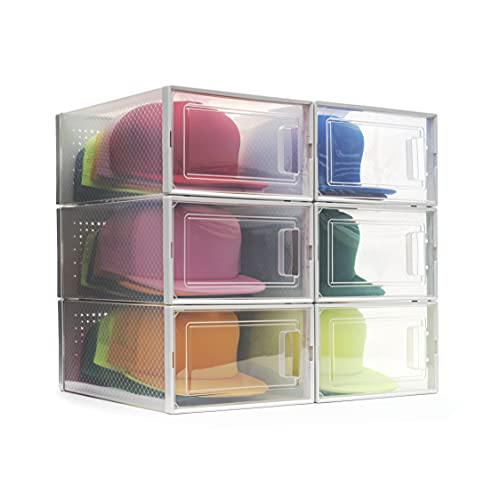 Hat boxes from Boxy Concepts are stackable, so you can put them in your closet or on a shelf. But hat crates are considered better suited for hats that are not in regular use. To protect your hats go for shelf dividers that set you individual cubbies to organize your accessories like hats and purses. The individual wall cubbies will organize lots of hats and other accessories.
11. Hat Rail Rack– Hat Organizer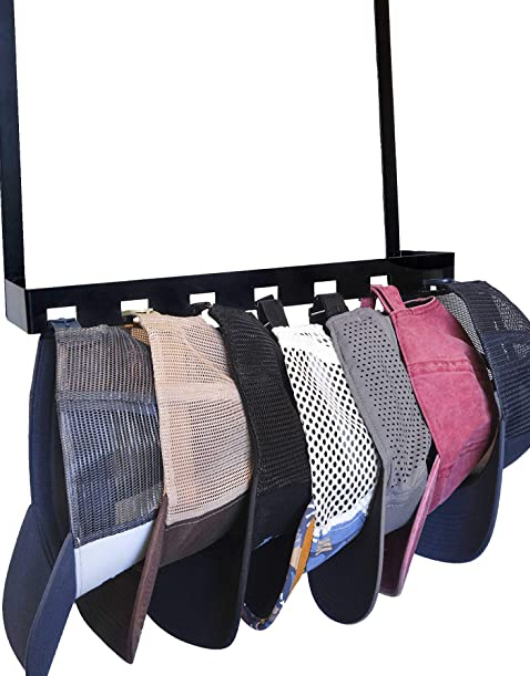 Hat Rail is a wall-mounted hat rack with space to hang 7 adjustable baseball caps, visors, or trucker hats. The screw holes are 16 inches apart to hit the wall studs on a standard 16-inch-on-center studded wall. Good for hat storage. The installation method is screw-in. 
It can store 7 hats neatly with its unique notch. Best for hats with buckles or straps, and the material is powder-coated steel that is strong and durable. It is easy to use with one hand and will not bend or fold the hats. Keyholes will be provided for easy mounting into wall studs.
12. Hammered Metal Wall Hook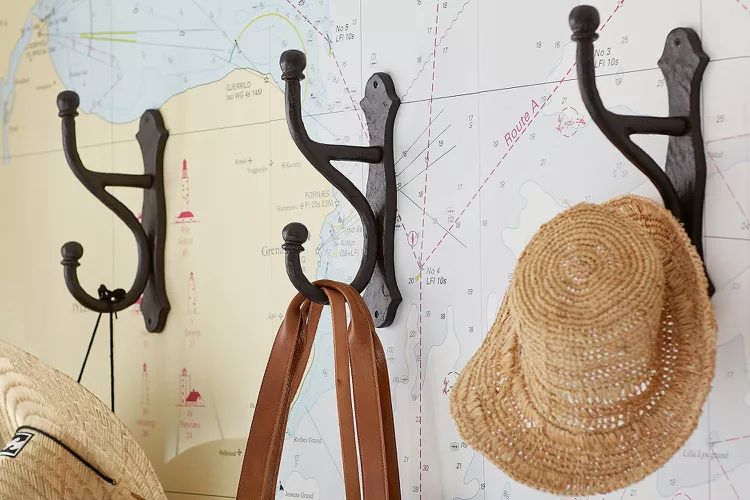 To have broader space for hat storage big sized decorative hooks are a good idea to organize hats. This works better with fancy pieces. The-pronged hooks available with labels like Pottery Barn will be fine. There will be endless versatility and a chic look, and it would fit nicely in any home. Display the hats by the door. The durable hooks with a nice finish are made of powder-coated aluminum. They are chic and have the value for money quality.
13. Horizontal Cowboy Hat Rack 

In this hat storage idea, you have a horizontally oriented cowboy hat rack that can store up to 3 cowboy hats and 6 ball caps. If you want Western decor and a quality hat organizer, this cowboy hat rack is for you. If you have limited space or looking for the perfect American Made cowboy hat holder that you can hang just about anywhere. This Cowboy Hat Holder Holds three Cowboy Hats, keeping them in good shape and at arm's reach. This hat rack is outstanding in limited space areas and perfects across any wall. 
14. Cowboy Hat Holder Hooks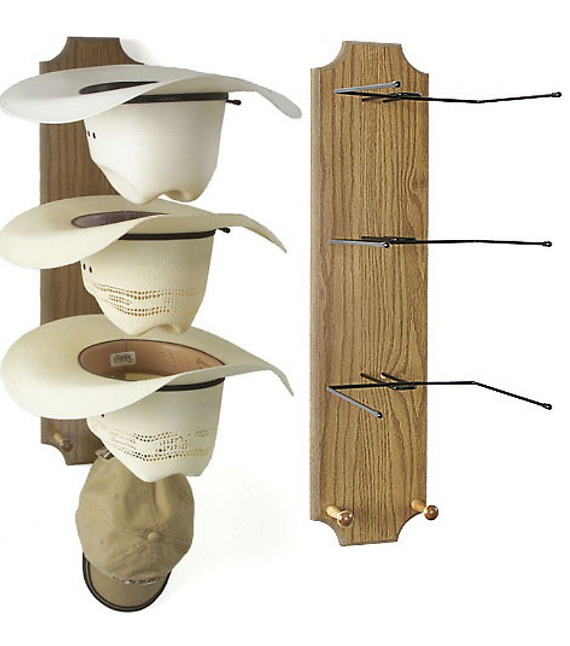 To make a cowboy hat holder, there are options to buy a pre-packed 5-pack hat holder and screw it into rustic wood, barn boards, or the wall to store your wide-brimmed hats. To make a personalized Cowboy Hat Holder, you can go for handcrafted, decorative features with a personal name inscribed. Name plaque in metal and be nailed in cowhide and embossed leather. It can house at least four hats and keep your hats in good shape. It may also make a great Christmas or Wedding gift.
15. Hanging Shelves for Wide Brim Hats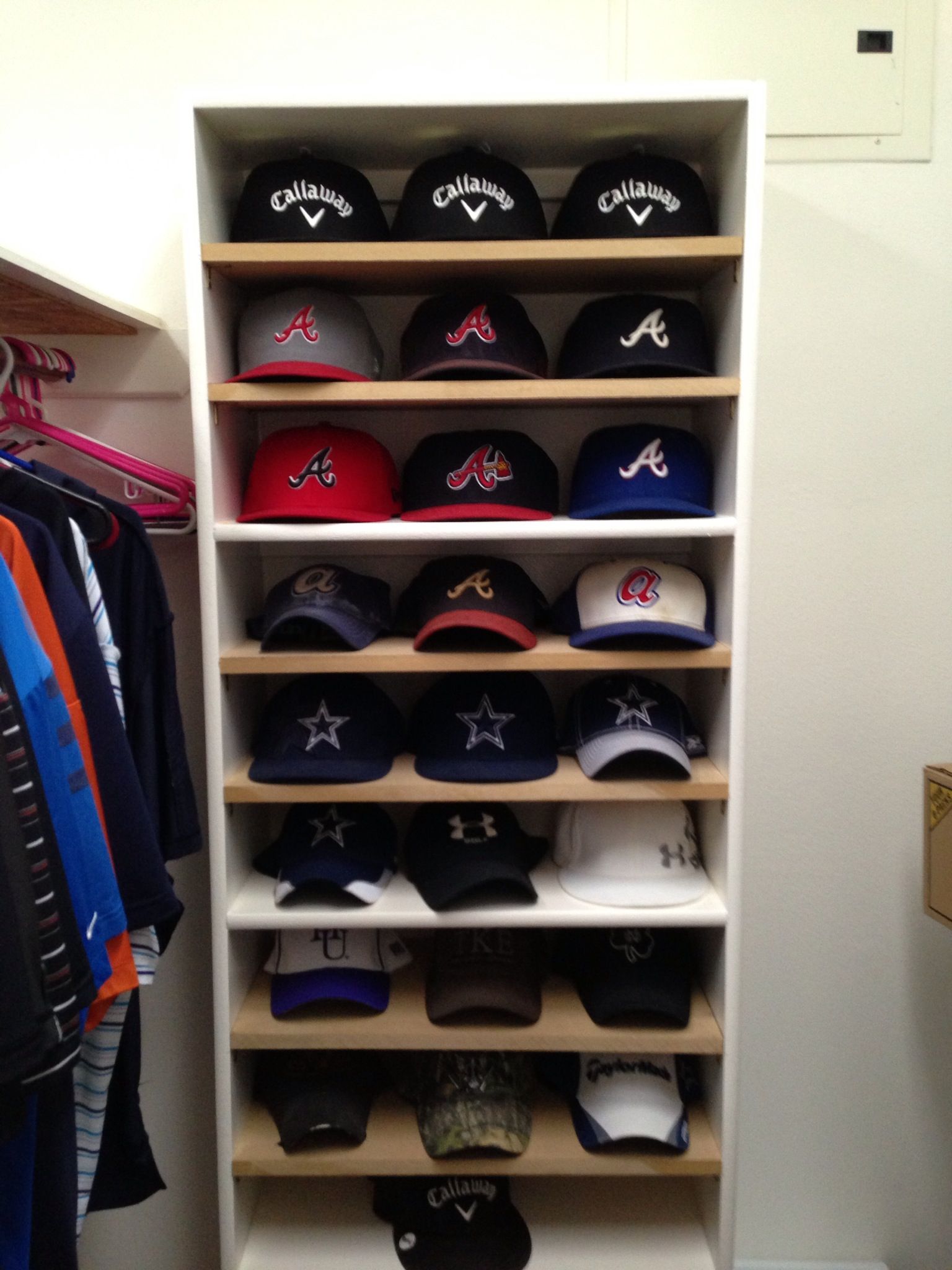 If your hat collection has more sun hats, fedoras, cowboy hats, and many wide-brimmed hats, then a hanging closet shelf system will be the best. This versatile storage can accommodate wide-brim hats, fedora hats, boater hats, sun visor hats, summer Panama hats, boonie hats, church hats, bucket hats, captain hats, bowler hats, derby wedding hats, cowboy hats, trilby hats, tea party hats, cocktail hats, pillbox hats, and baseball caps. 
You can also combine two pieces into a taller organizer or keep them separate. This option gives more flexibility if you have only less than 10 hats to fill the shelves and use the vacant space for storing things like sweaters.
16. Over-The-Door Vertical Hat Hanger Storage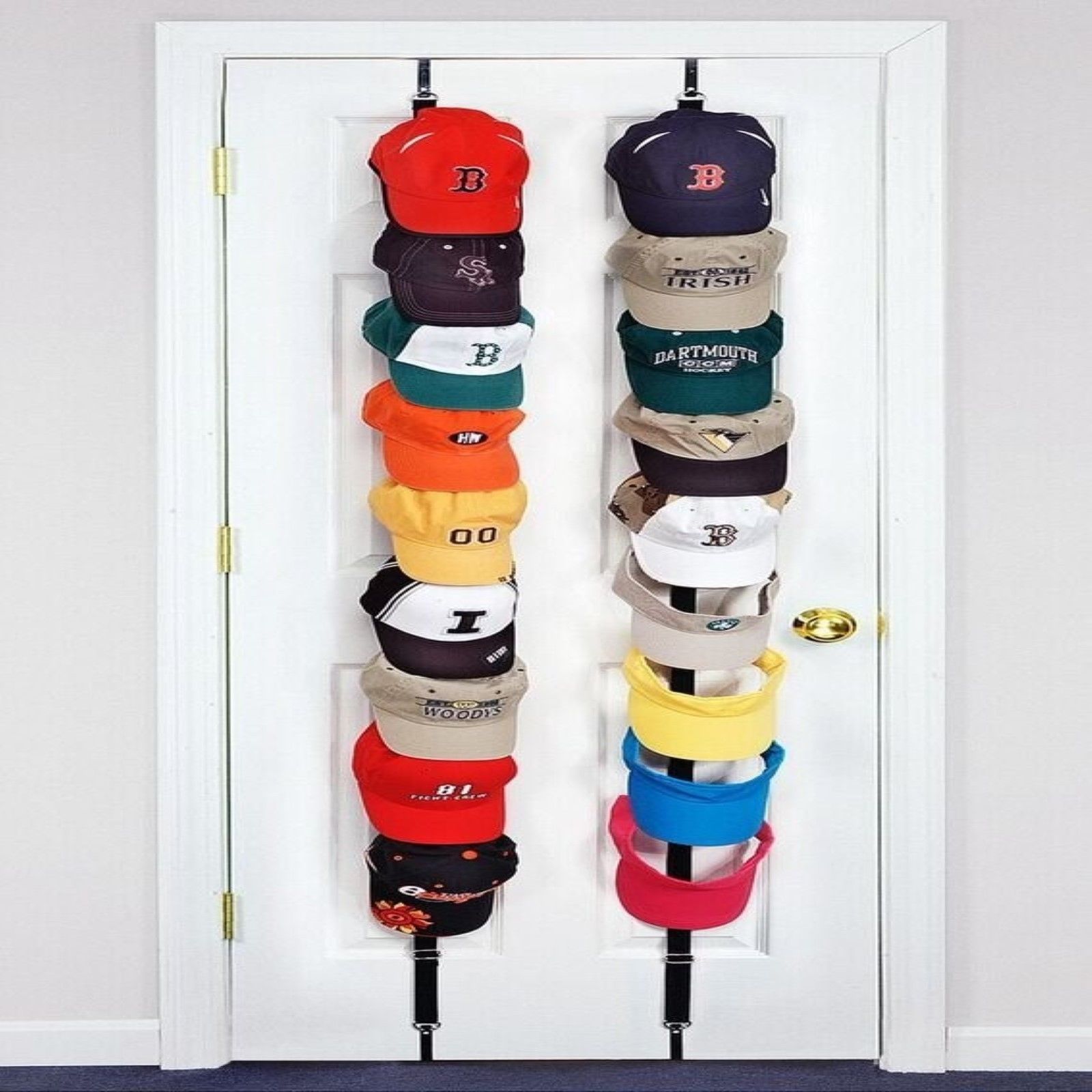 This product, called CapRack18, is intended for hats and visors that are adjustable and have a little hole at the back with the adjustable strap. You can hold 9 hats on the back of your door with one of these hanger strips, and since it is a 2-pack, you'll be able to store up to 18 hats behind your door.
The space-savvy design makes the handy rack snapping up last-minute essentials quite easy. In terms of materials, you can seek expertly crafted iron. There will be a minimum of five storage hooks. 
17. Tree-Shaped Hat Rack at Entryway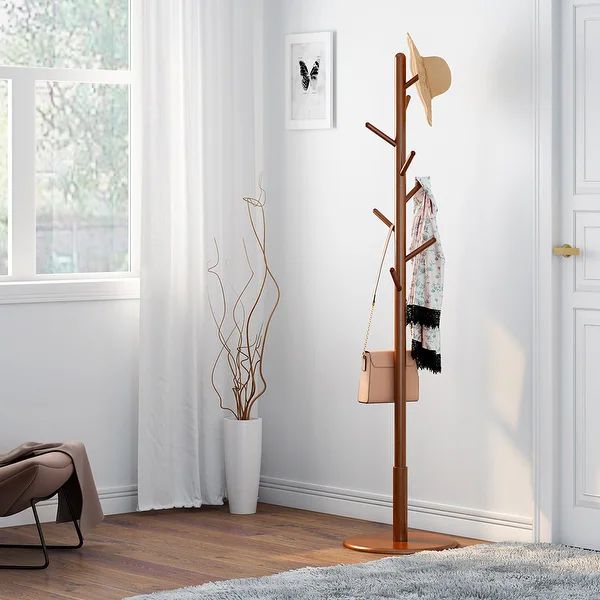 This hat rack hat storage idea will be akin to a tree branch with 8 branches housing hooks for your hats, coats, scarves, etc.  This option is great for easy access to your frequently worn hats, as conveniently close to your front door. This is not only functional but nice decor too. An innovative option is a Pipe rack made of black pipe and fittings. This lasting design can have dual use for business purposes as well; They can be put in retail stores and trade shows, in addition to creating extra closet hanging space at homes. There will be at least 10 arms for hanging.
18. Handmade Wooden Hat Rack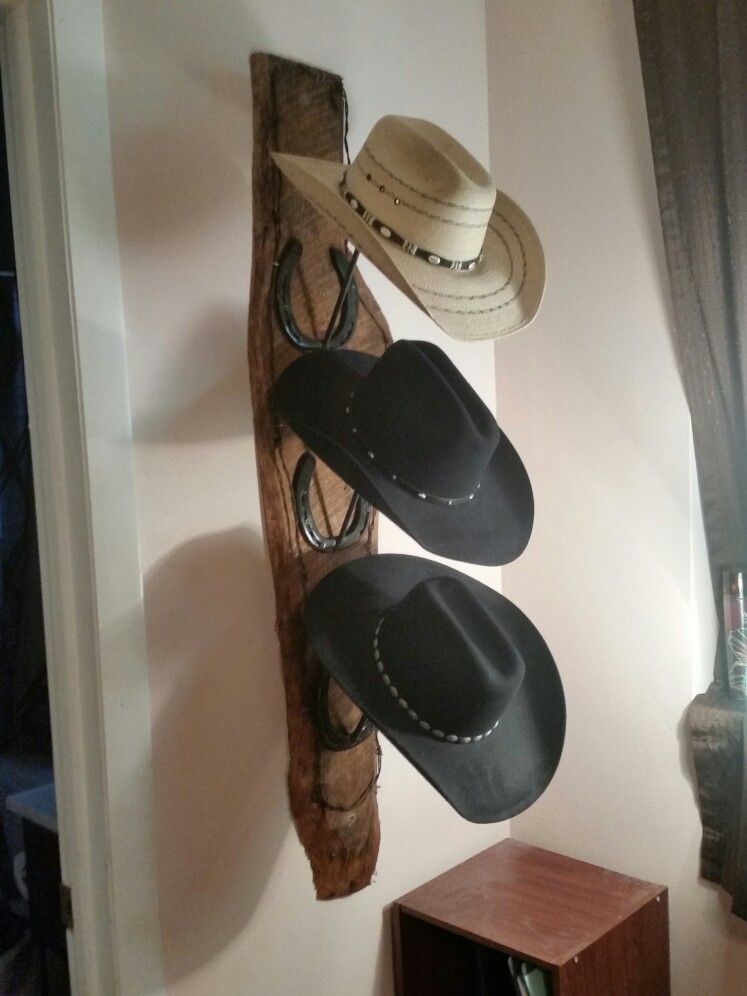 For those who love the charm of wood projects, then this hat storage idea in a wooden hat rack will appear interesting. There are options to get it with 3 hooks or with 6 hat hooks. There are also choices to make different kinds of wood for hat racks. The capacity can vary; it may be 4 or 6; It protects and keeps hats in shape and is an arm's length away. It can also add some woody decor to the home. 
19. Baseball Bat Hat Rack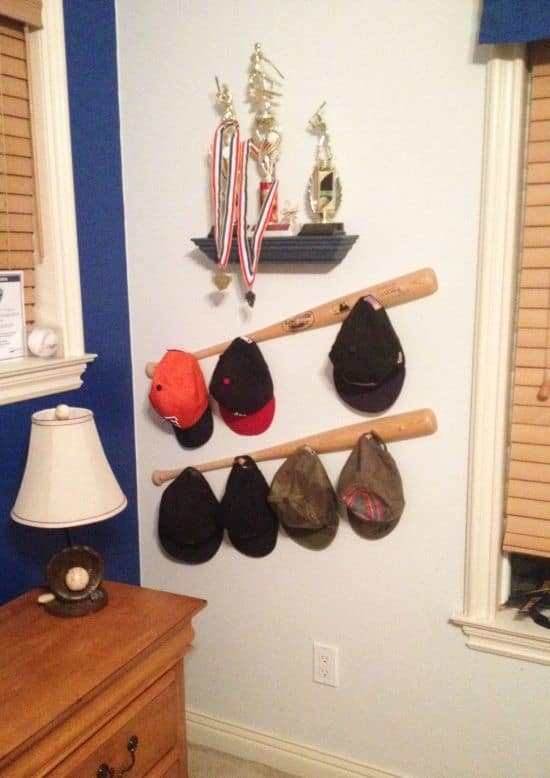 Hanging baseball caps over a baseball bat will be amazing. In this hat storage idea, a handmade hat rack crafted from a Louisville Slugger ash-wood baseball bat will be sawed in half, with each half having 4 pegs to hang your hats, metals, and uniforms. It has a rare charm. This is great for keeping favorite hats ready for the next game. Made of a Louisville Slugger 3X ash baseball bat, the hat rack has four knob-end wood pegs attached to the bat for the perfect hanging of your hats. They are available in natural and black colors with pegs, finished in a natural wood color with a coating of polyurethane.
20. Hat Rack with Horseshoe Touch for Cowboy Hats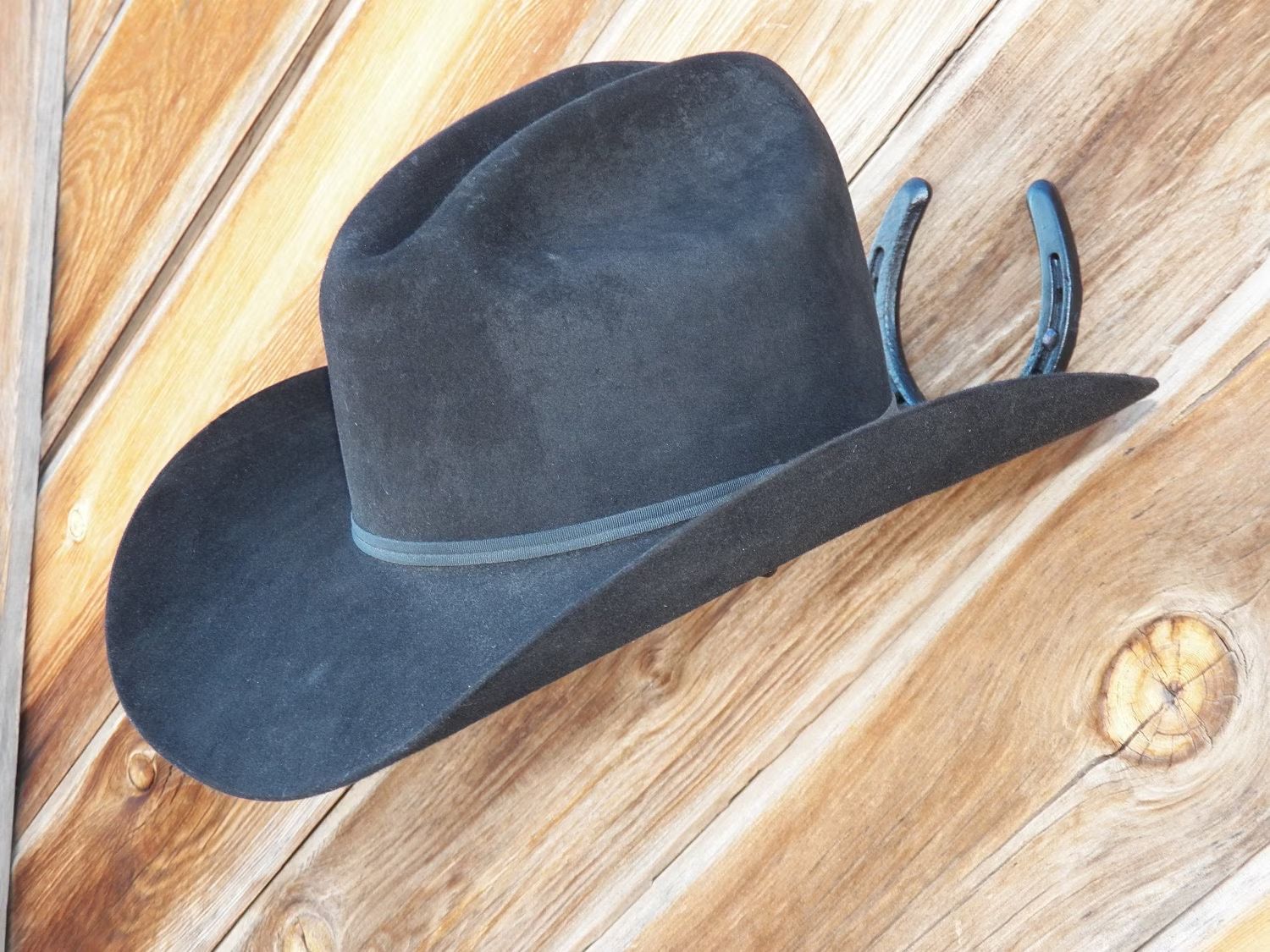 A Cowboy hat holder etched on horseshoes is a cute accessory for cowboy and other western-themed hats. This cowboy hat holder is special because this horseshoe hat holder will not touch your hat's brim and holds up that area where the head is covered. The handmade hat rack is made of metal and is fully welded and powder coated to a professional finish. This rack offers the perfect storage for hats of any style. These are pre-drilled, and screws are provided. 
21. Cowboy Hat Wall Mounted Hooks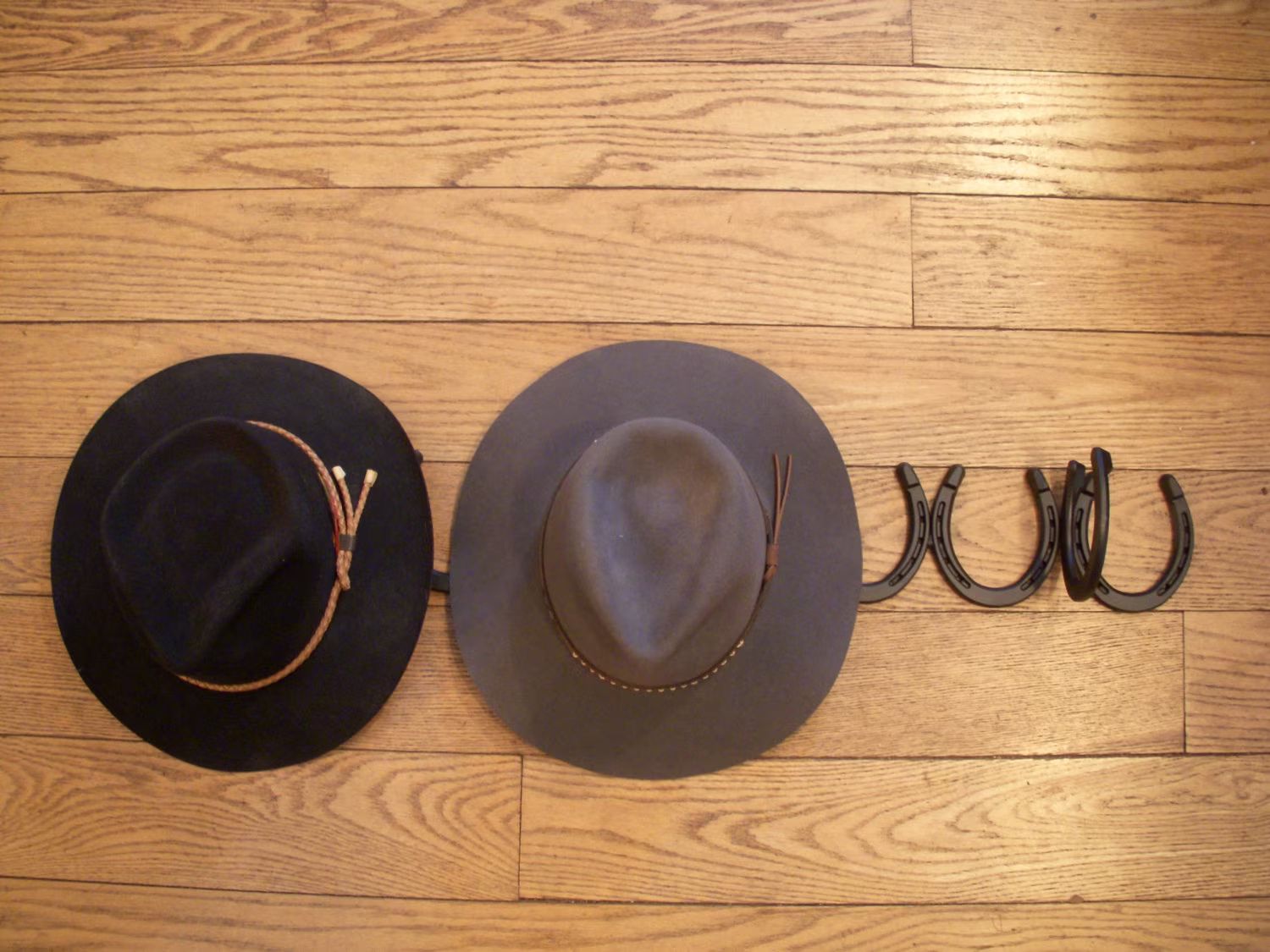 In this hat storage idea, 4-pack u-shaped hat hooks and screws can be etched into your wall or mounted to a decorative piece of wood. They are called cowboy hat holders yet fine for other wide-brimmed hats like fedoras and ball caps too. Hat wall mounted cowboy hat rack is professionally welded. It is an attractive way to hang up Hats. The color can include flat black.
Perils of Ignoring the Care of Hats 
The vast options indicate how the idea of preserving hats without damage has been important for all generations. Hats are too fragile, and any bad care will destroy their shape and render them useless. Disfigured hats are a waste and would never fit on your head the way they once did. Your collection of hats will have a variety of materials, including leather, cotton, and wool. It is necessary. They need to be stored under the right conditions without succumbing to wind, mold, and mildew. Direct sunlight and heat will discolor the hats' fabric. One of the first steps before implementing a hat storage idea will be to sort through the hats and choose what you want to store or what to discard. 
Things to Consider While Buying a Hat Organizer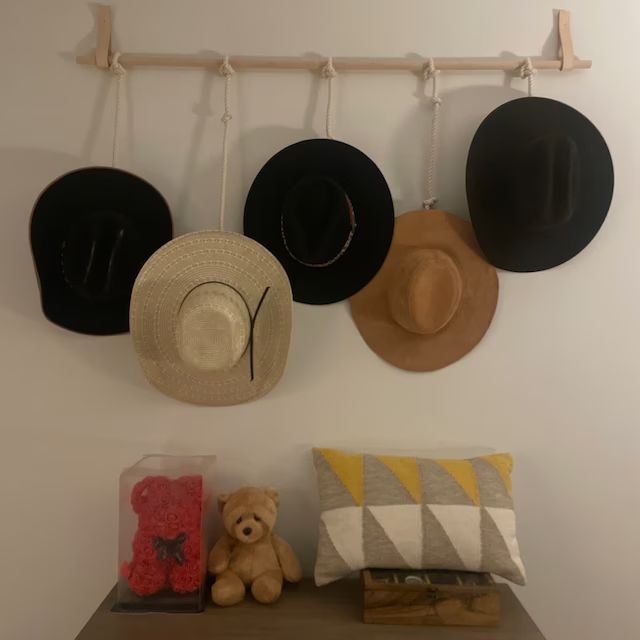 In choosing any type of hat organizer, the types of hats in your possession must get priority. This is important in the case of organizers that are enclosed. Always look at the dimensions and design to ensure that they can accommodate your hats. 
 
The number of hats matters. If you have only a couple of them, hat boxes can carry large-brimmed hats to handle the vagaries of the off-season.  If there are too many hats, a hanging organizer will be a better choice. Individual hooks are good options as numbers are not a limiting factor, as there are more hooks to hold your hats.
Sync with the decor: The choice of hat organizer also has a bearing on the living space and the overall interior decor. If you have enough space, there is no problem with having bulky storage facilities like hat bins or hat boxes. 
If there is a space crunch, opt for vertical storage using individual hooks. Vertical organizers that fit into your closet or behind a door can hold a lot of hats in case they are not in frequent use. The material of a hat organizer has significance as a determiner of cost and durability. Material options such as cloth, straps, and clips are ideal for hats that are not prone to damage, such as caps. There may be some exceptions, as Hat Racks made of fabric with super compartments are also good for large structured hats.
There are also hat storage options for travel. They will be collapsible and backed by rods to prop up the sides and salvage delicate hats. Hard-sided cases like hat boxes and plastic drawers store all kinds of hats, saving from squishing and snagging. 
Conclusion 
The discussion above on best hat storage ideas has thrown appropriate solutions to hat collections in terms of size, numbers, space, and aesthetic value. We also know how hats are precious commonplace accessories like shoes and bags.
Hats come in a variety of sizes, shapes, and materials making storage a challenge. That is why a small closet will not make any solution. The hat storage solutions discussed above are very much aligned with many factors, including the types of hats. 
In short, whatever the types of hats you possess, having hat storage ideas would give peace from the knowledge that they are safe from damage. So, go for a hat storage solution with cues from here so that it suits your requirements and resources.
Be it a hanging rack, box, or something attached to the closet, look for ways to customize the hat storage plan and let it gel with your style and decor.