21 Different Ways to Use Decorative Boxes With Lids
Boxes are used to keep a variety of things safe and intact. They are used to store things and use them later on when required. They also help us to organize our things and prevent them from getting lost. The boxes placed at different places can be designed and decorated accordingly. For example, the boxes kept in kitchens can be simple; on the other hand, the boxes that are designed for keeping in the bedroom are to be gifted and can be made decorative and stylish.
Here are examples of a few decorative boxes with lids that can be used to either enhance the look of a room or as gifts for people on various occasions.
1. Woven Rattan Box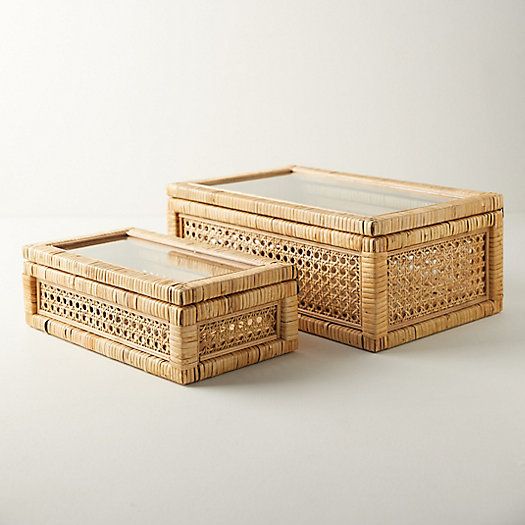 Woven rattan boxes have a natural look. They are durable and good for storing things, especially jewelry items. The glass lid of the box adds more to the beauty of the box and makes it the perfect option for people who are in love with minimalist items. The design of the box is unique; hence, one of the items that should be included in your collection. It will also serve as good gifting material for your friends and acquaintances.
2. Cute Decorative Boxes with Lids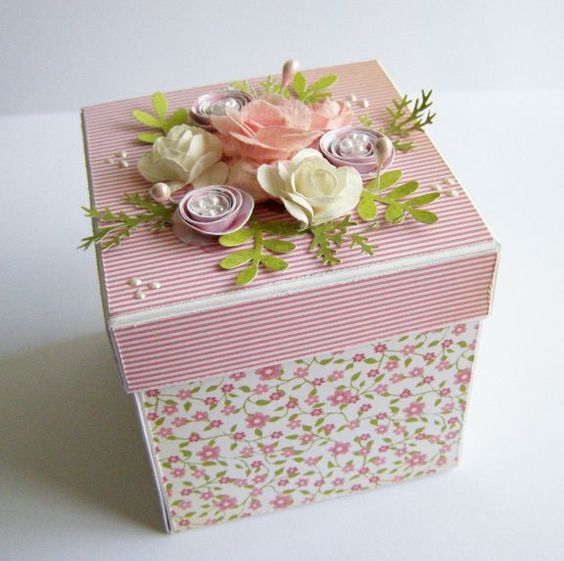 This cute box is ideal for kids, specifically girls, who like to collect cute stuff. It can be used to keep craft material, school accessories, hairpins, rubberbands, stationery, etc. It has a bright color combination that makes it ideal to be use by kids. It is made of cardboard and can be given to kids as it will not cause any harm to them. The flowers are made using crafting material to give the box a complete look. It will look good when displayed on the studying table.
3. White and Silver Decorative Box with Lid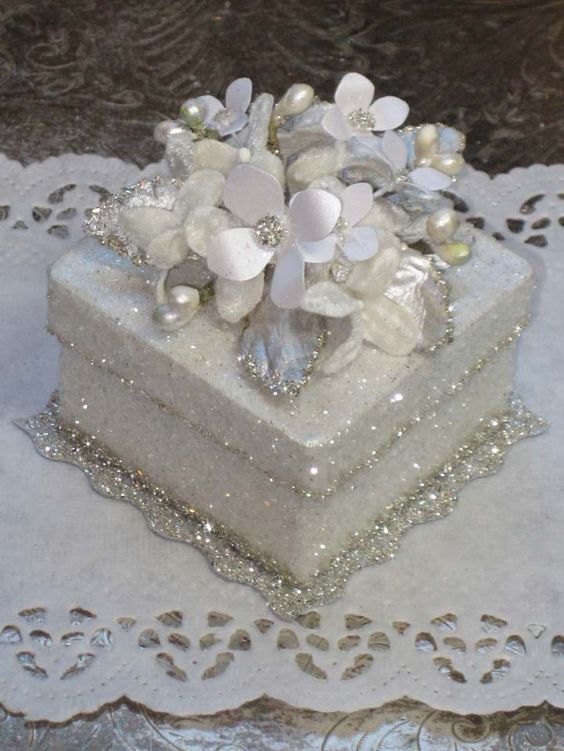 Looking for something unique and creative to give someone and are confused about it? Then you can go for this one. This white and silver decorative box with a lid can be gifted to someone special on any occasion, such as a birthday. You can also use it to store your stuff, such as jewelry. The entire show of this box is enhanced by the white flowers attached to the lid of the box. This box looks like a very delicate item that highlights the creativity of the maker.
4. Wooden box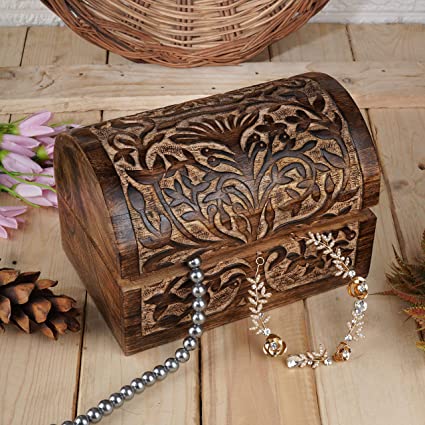 Wood is a common material used to make simple and decorative boxes both. Thishandmade box is made of high-quality mango wood. It possesses a rustic look and has a turquoise wash finish that makes it distinguishable. It is quite spacious. Not only will it keep your precious items safe, but it will also serve as a decor item that will enhance the look of your cabinet or dressing table. It has a rustic appearance, so it gives a vintage feel too.
5. Tin decorative box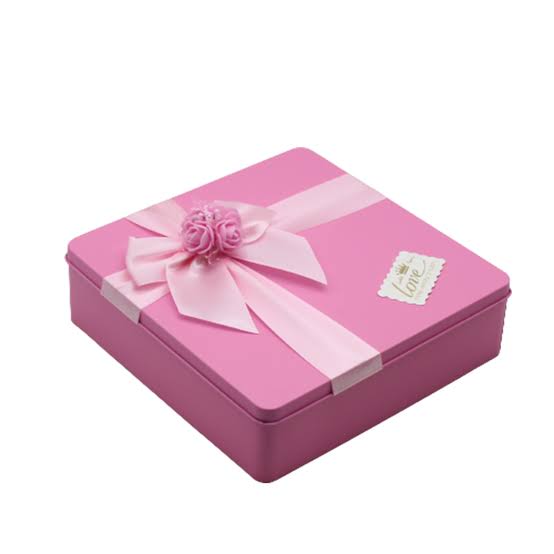 Tin decorative boxes with lids can be used to store day-to-day items, chocolates, stationery, and small accessories. Tin boxes can be used for a long time without getting degraded. This pink-colored squared box is an example of a classic as well as a decorative box that can be used to organize things properly. It is lightweight, so even kids can use it. The other advantage of this box is that it will not break upon falling from a height.
6. Customized Decorative Box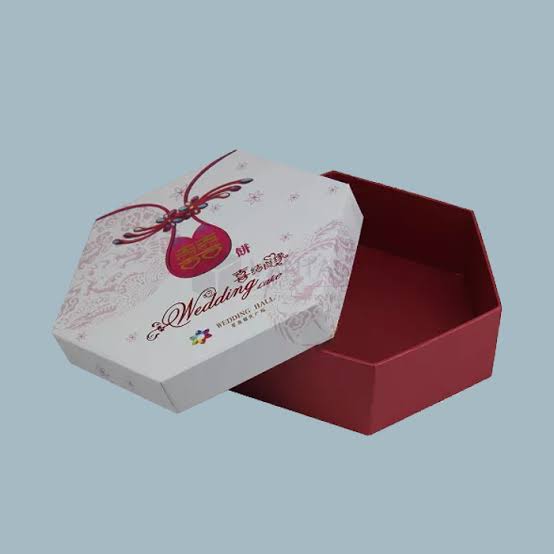 People who want to design decorative boxes using their ideas and creativity can opt for customized decorative boxes with lids. The benefit of customizing decorative boxes is that you can design every aspect of the decorative box as per your choice. For example, you can experiment with the shape and size of the box, and the final look of the box. You can design the box all by yourself for your loved ones as per your choice and surprise them.
7. Antique Decorative Boxes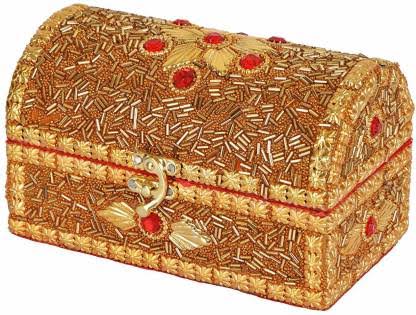 If you want to add some antique stuff to your collection, then you can go for antique decorative boxes with lids. These boxes give a vintage look and can be used to store jewelry or any other item you wish. These types of decorative boxes are a weakness of women, so they can be gifted to them. A lot of work has been done to bring out the final shape and look, and that's why it can steal everyone's attention. Almost everyone will think twice before not purchasing this kind of decorative box.
8. Vintage Rhinestone box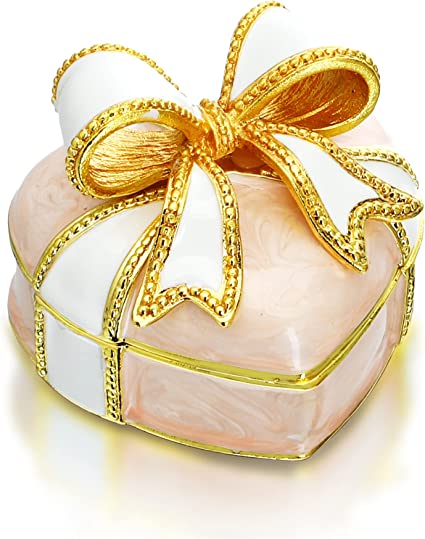 This small, lightweight heart-shaped trinket box decorated with rhinestones is made with eco-friendly zinc alloy. It is hand-painted with enamel. It can be used to store jewelry like earrings, necklaces, rings, etc., and will look appealing when displayed on the dressing table in your room. It is specially designed to be gifted on various occasions to family members or friends. Since it is made with eco-friendly material, it can be gifted to small children also. It can be easily opened and closed using the magnetic strip.
9. Handmade Wooden Boxes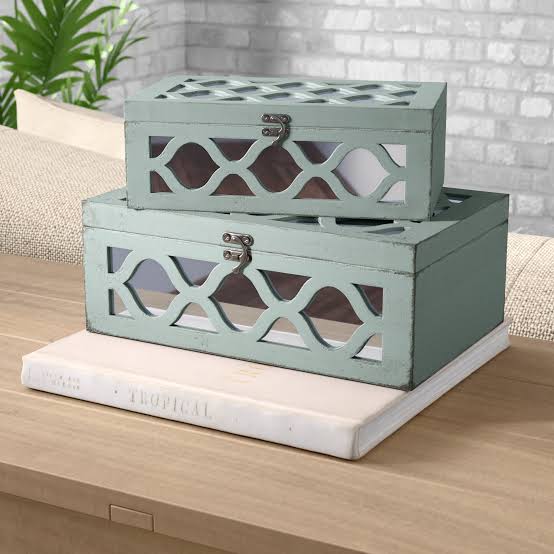 These are well-finished handmade wooden boxes with mirrors used perfectly to enhance their look. The overall appearance of these wooden boxes is classy and aesthetic. These boxes are spacious, so they can be used to store many items at once. These decorative wooden boxes with lids are well polished and have such a smooth finish that one cannot even have an idea that they are made using wood until they look at it closely. They
are lightweight and travel-friendly.
10. Plastic Vintage Box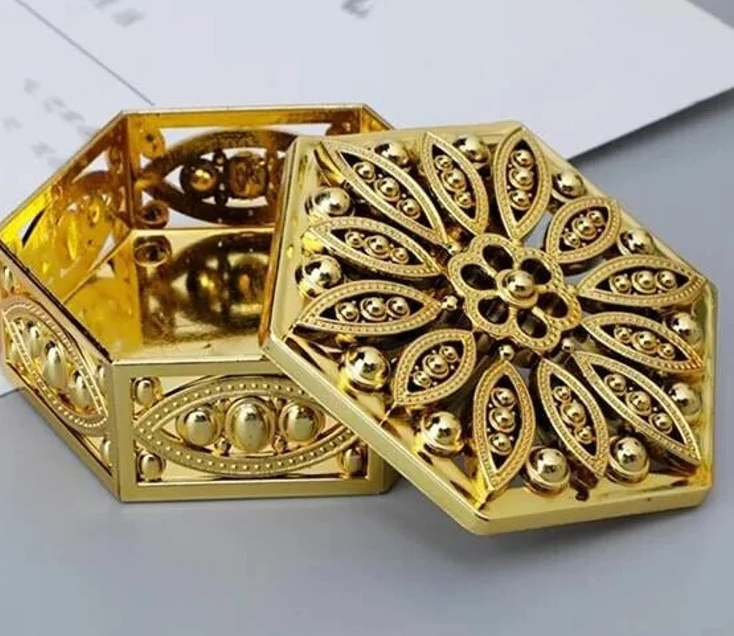 It's not necessary that whenever any vintage item is made, then it should be made with expensive material. This decorative box with a lid is an example of vintage boxes or items that can be made even using light material such as plastic. It gives the appearance of a gold box. Beautifully crafted, this box can be used to keep small jewelry items. It will increase the beauty when placed on your dressing table, keeping your important and expensive jewelry safe.
11. Woven Bamboo Boxes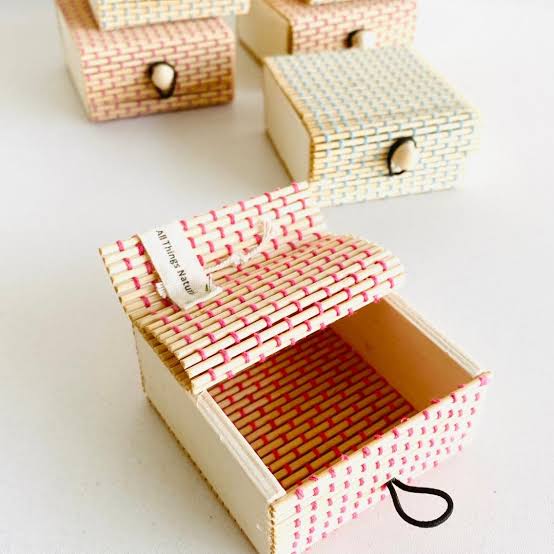 Bamboo can also be used to create sustainable and amazing decorative boxes. One such example is these cute and colorful boxes. These boxes can be used for many purposes as per the user's needs. For example, they can be used to store jewelry items, cosmetics, and other day-to-day requirements. These woven bamboo boxes are budget friendly as they are made using very minimal material. The look achieved in the end is amazing. They will look good when placed on your dressing table.
12. Metallic Heart-Shaped Decorative Boxes with Lids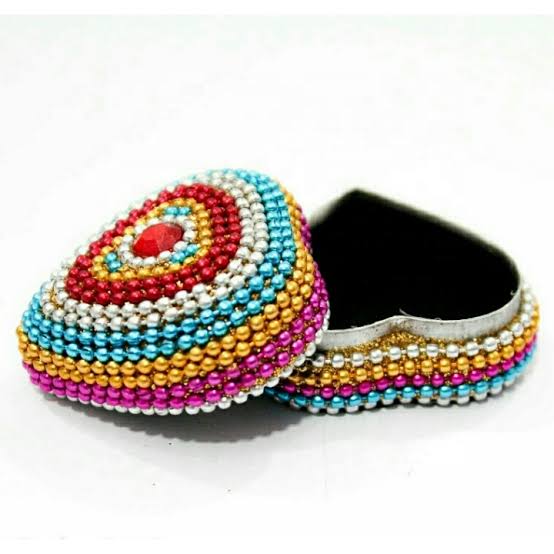 Heart-shaped decorative boxes with lids are ideal to be gifted on festive occasions. Not only are they unique gift items but also admirable decor items. These multi-colored handicraft boxes have a unique appearance that is created with the help of lace and beads. The work has been done very delicately while designing the boxes, and that is how they have achieved such a traditional and distinctive look. These boxes have detachable lid and are available in various sizes, colors, and patterns.
13. Handcrafted Ceramic Decorative Boxes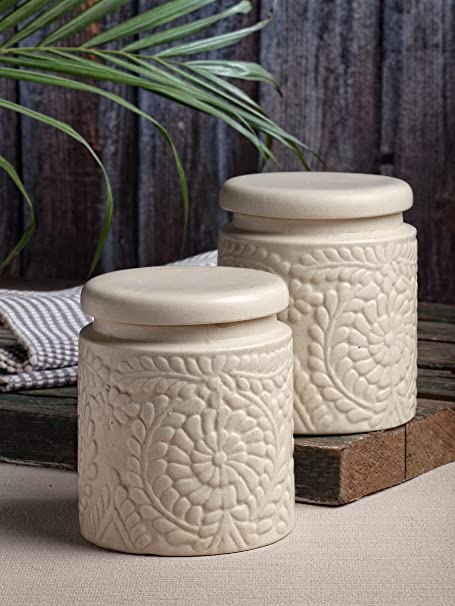 These white-colored handcrafted ceramic decorative boxes with a lid can be used to store a lot of things, especially kitchen stuff like cookies. These spacious boxes have an antique look, that's why they would be able to steal everyone's attention. These boxes are a perfect example of how by showing minimal creativity, it is possible to create such a decorative box. The carving on the boxes is done in a very elegant style. They are also scratch resistant and hence will serve you for a longer duration without losing their appearance.
14. Glass Box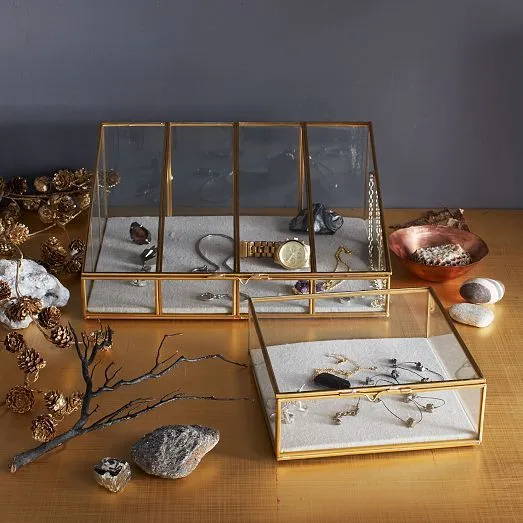 It isn't necessary that the boxes should only be made using wood, plastic, tin, cardboard, or paper. Glass can also be used to make decorative and stylish boxes. One such example is this stylish and creative box with linen-lined interiors in which you can keep decor items or souvenirs and flaunt them. This box is made using a combination of glass and metal materials to give it a classic and unique look. It also has a modern touch hence one of the decor items worth including in your collection.
15. Leather Decorative Boxes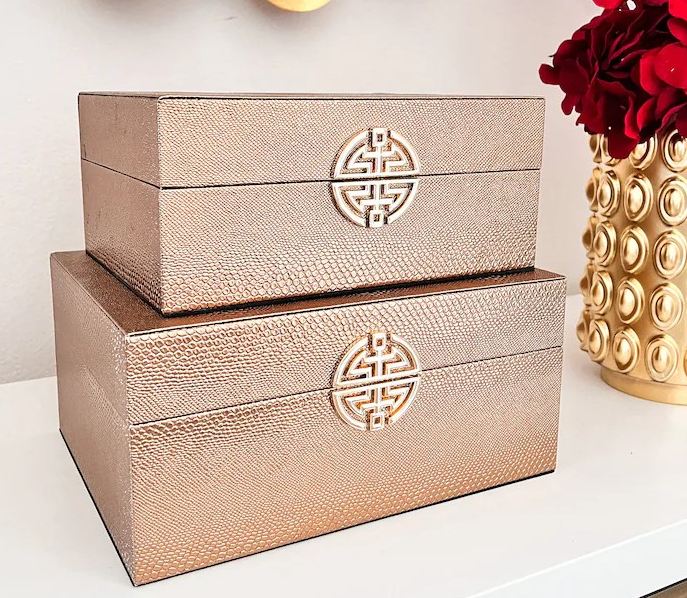 These leather decorative boxes with lids are perfect for people who want to add something luxurious as well as classy to their collection. These boxes are spacious and can be used to store a lot of things. The color of the box gives it an elite and sober look. The fineness of the box is achieved by using faux leather. They are easy to handle as there is no use of any mirror work or beadwork.
16. Wooden Painted Boxes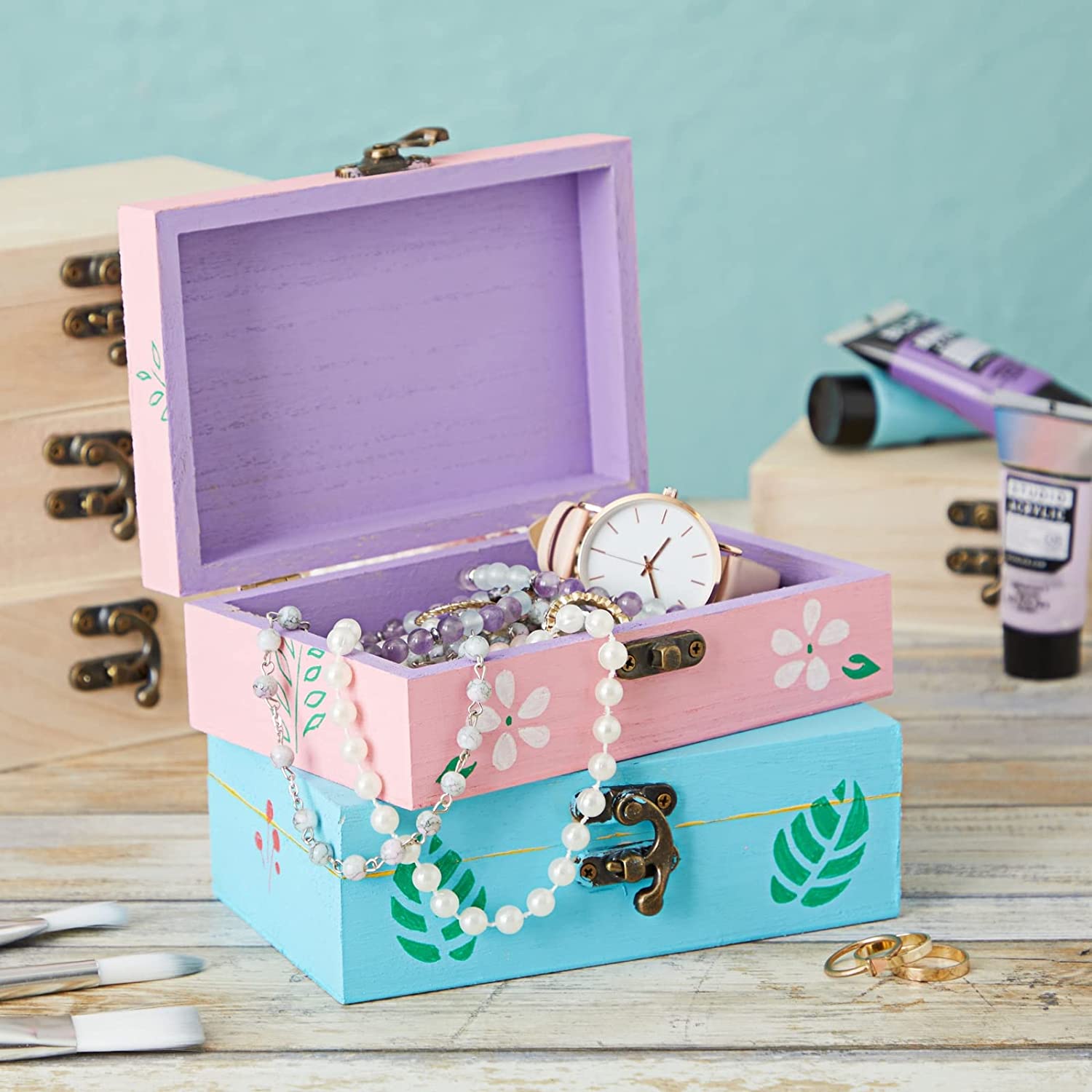 Since ancient times wooden boxes have always been on the priority list of many people, especially ladies. Wooden boxes have their own irreplaceable charm. Wooden boxes do not always need to be carved heavily to complete the look. Nowadays, painted wooden decorative boxes with lids are also available in the market that are made of lightweight wood and therefore are travel-friendly too. These boxes can be used to store accessories like watches, clips, rubber bands, hair bands, jewelry, and many more.
17. DIY Decorative Boxes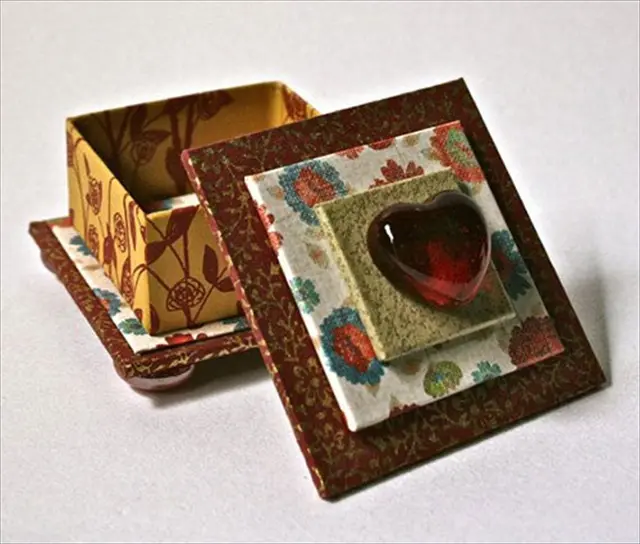 Many people have a creative mindset, and they love to create their own masterpieces which are appreciated by everyone. One such example is this fascinating decorative box that is so neatly made that it can't be easily distinguished from the readymade ones. The choice of the material and the color of the material all have been selected perfectly to create this art piece in which daily need items can be kept. In addition to this, they will even look cute when presented as a gift.
18. Rectangular Flip-Top Boxes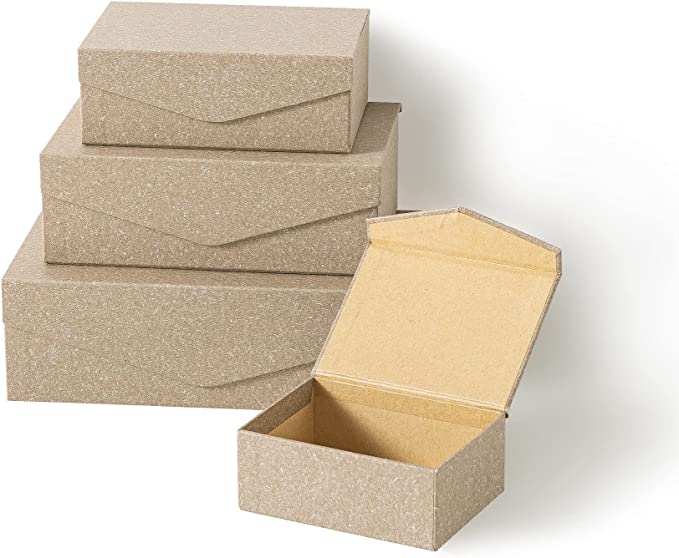 Stylish boxes made with high-quality cardboard, these rectangular boxes have an elegant and stylish appearance. These boxes have a magnetic lid to ensure that they can be opened and closed without any trouble. The finishing touches are achieved using textured gray paper that imparts a classic look to these decorative boxes with lids. They are made using minimal material and can be used for multiple purposes and can also be used as packing material to gift presents for family functions as well as for formal gatherings.
19. Decorative Boxes Made of Paper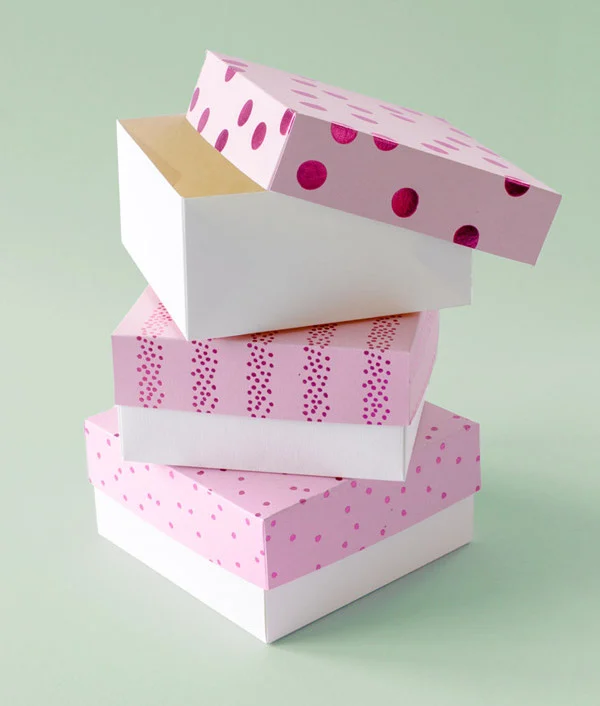 The pink and white combination never fails to create a delicate look. So here is another example of cute and artistic DIY decorative boxes that can be made instantaneously using just one thing, i.e., paper. It can easily be made and used to keep presents such as watches, jewelry, keychains, hair accessories, etc., making the person who receives it feel special. They are made very carefully, that's why they look so distinctive. Anyone looking for attractive packaging for their gifts can make this easy and cute paper box.
20. Sculpted Decorative Boxes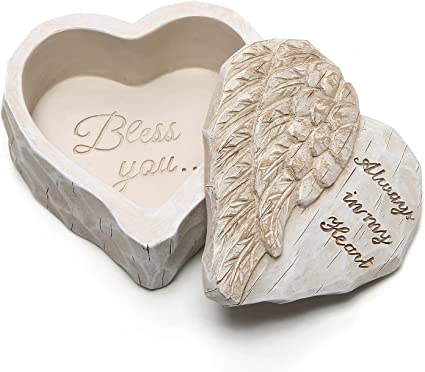 Specially made to be gifted on special occasions, this cream-colored box made of environmentally friendly resin is something unique. This heart-shaped box is customized to be gifted to parents, friends, family members, or your partner to remind them how much you love and care for them. It will also look admirable when kept in the showcases or the shelves because of the uniqueness it possesses. It is hand-painted and ideal for storing things that are close to one's heart.
21. Delicate Decorative Box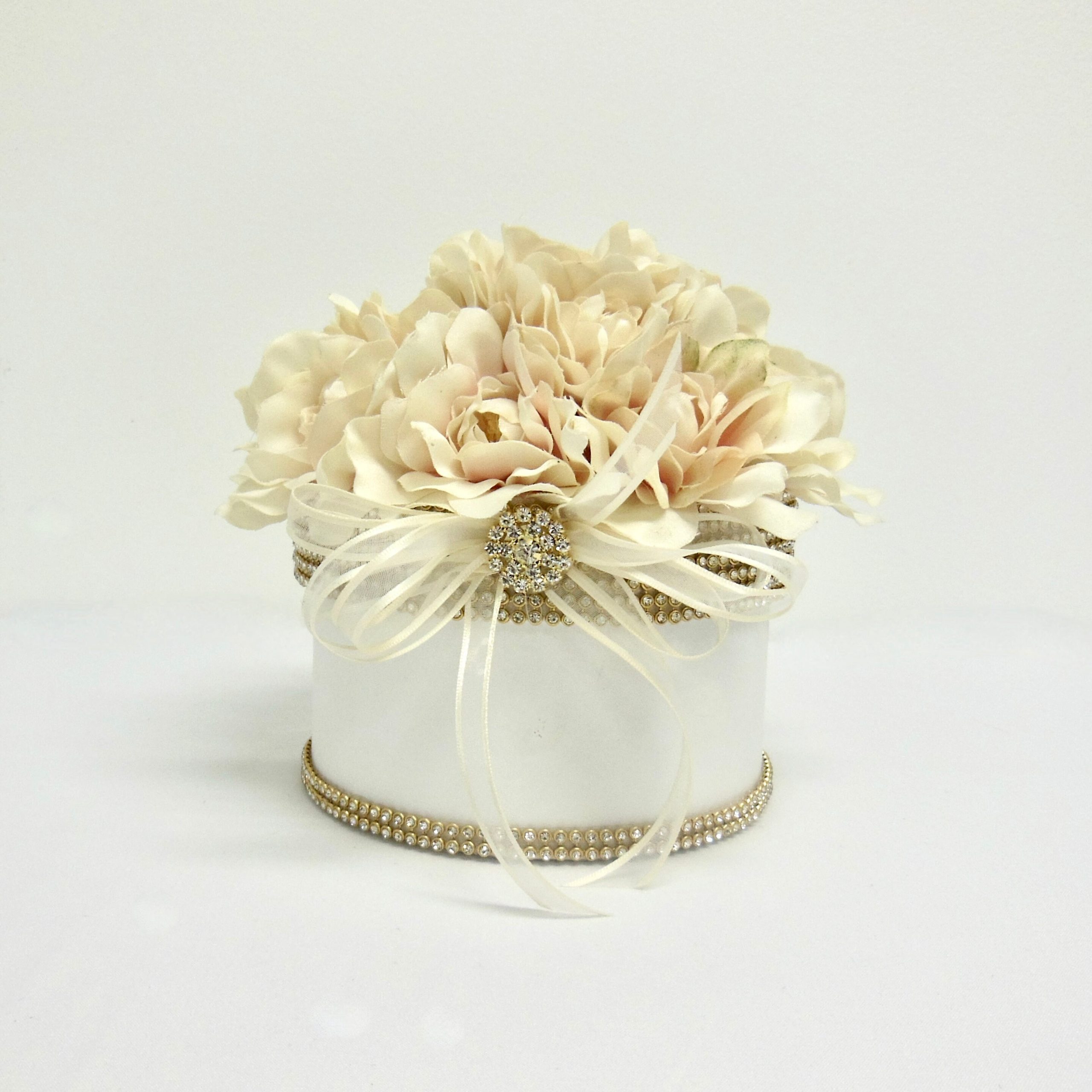 This delicate white decorative box with a lid can be used to keep small things. It is provided with an exquisite look with the help of the flower made with ribbon. The whole look of the box is achieved by the flower is not designed by any machine but is designed manually. It will be a perfect gift for special occasions such as weddings, birthdays, etc. This elegant box will enhance the beauty of the shelve or the almirah wherever kept.
Conclusion
Boxes serve a variety of purposes. Many people prefer to use decorative boxes as they look nice when displayed and even are a nice gifting material. When a person receives any decorative and fancy item, it makes them happy and elated.
While some of these boxes are made from plastic, some from wood, and some from paper, yet they all convey the same message when gifted," you are important."
So above are a few decorative boxes with lids that can be used to serve multiple purposes. All of them have unique characteristics which differentiate them from each other.
Hence, whenever you plan to purchase any decorative box, then you can consider these boxes too.