Want to know about suitable farmhouse curtains that will beautify your living room? We have got you covered. This article has 18 ideas around curtains with farmhouse appeal that will infuse your living room with a rustic countryside feel.
Curtains are an essential element of a Living room because they breathe life into the room with soft and unique textures and provide privacy at the same time. The farmhouse decor involves implementing rustic elements with neutral colors, and the same is the case with curtains. Farmhouse-inspired curtains bring warmth with them into the room. Moreover, countryside curtains are a stroke of genius if the windows, doors, and other elements already have a rustic treatment.
Beige, gray, and white are neutral hues commonly chosen for curtains to achieve a rustic countryside appeal. However, classic fabrics, gingham, plaid, and burlap, are also getting trendy again. Keep reading to discover all the 18 ideas you can use with country-inspired curtains to spruce up your living room.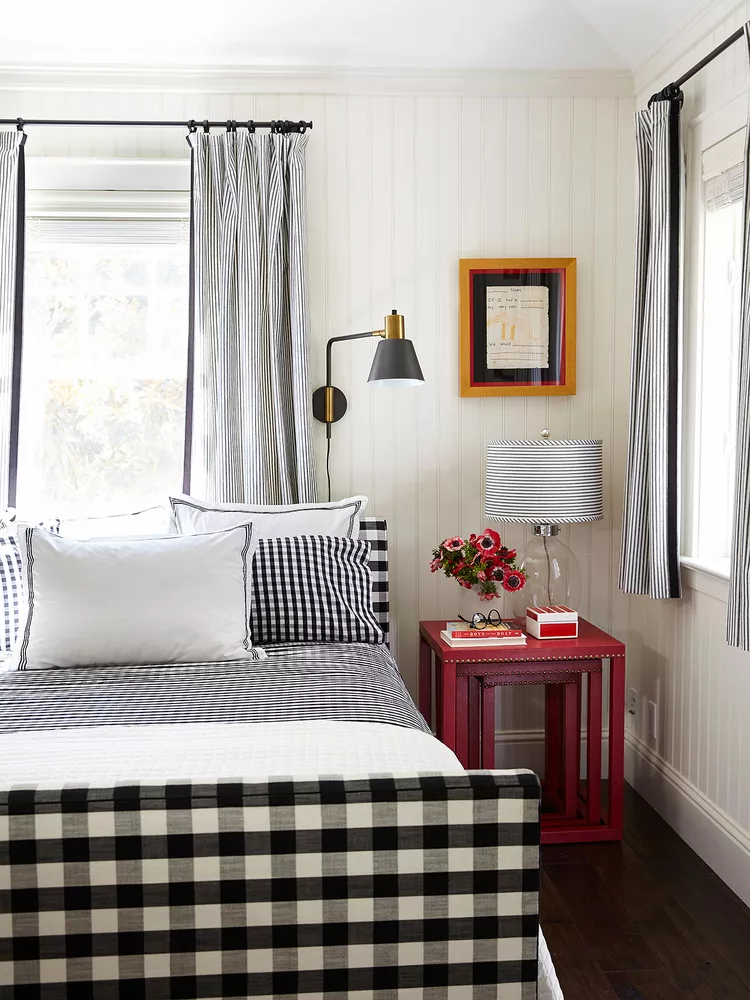 Black and white go hand in hand when the goal is to create a farmhouse atmosphere in the living room. And when we have curtains with thin black and white stripes, contrast them with bed covers, and throw pillows with buffalo plaid for a perfect rustic living room. Sprinkle accessories in crimson or red to energize the space to step up your decor game.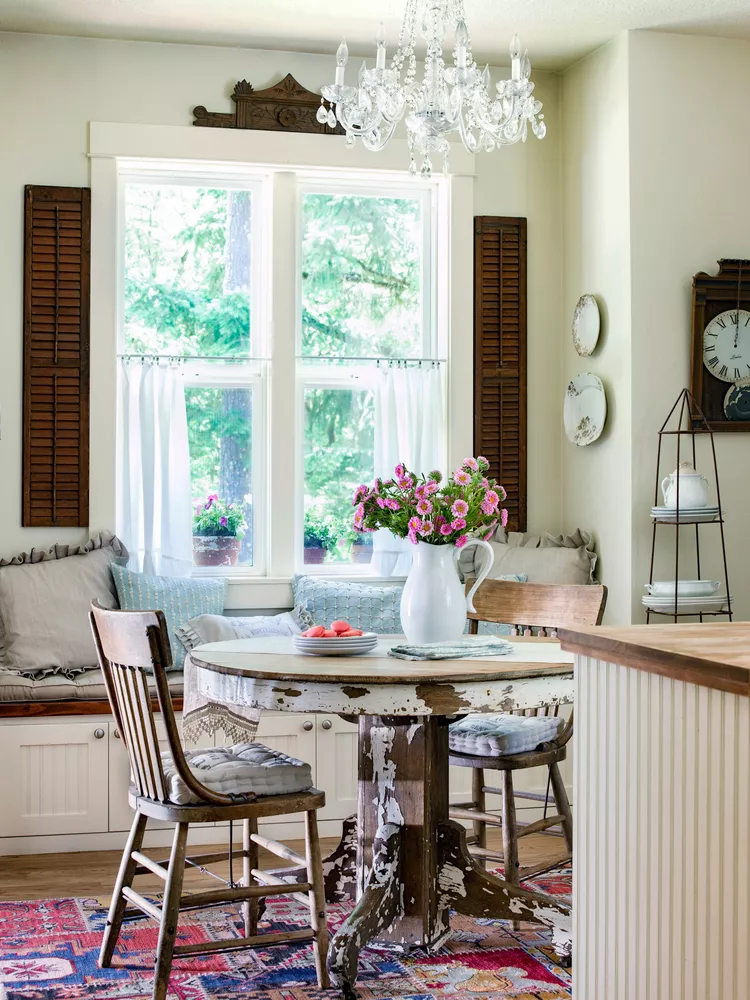 Sheer curtains, made of fine fabric, improve light filtration and provide a view of the outside. They have been in trend for many years, especially for country-style decor. When installed on living room windows, these curtains complement the interior decor and set a warm tone. Add rustic shutters and a matching pediment to give a country look to your living room.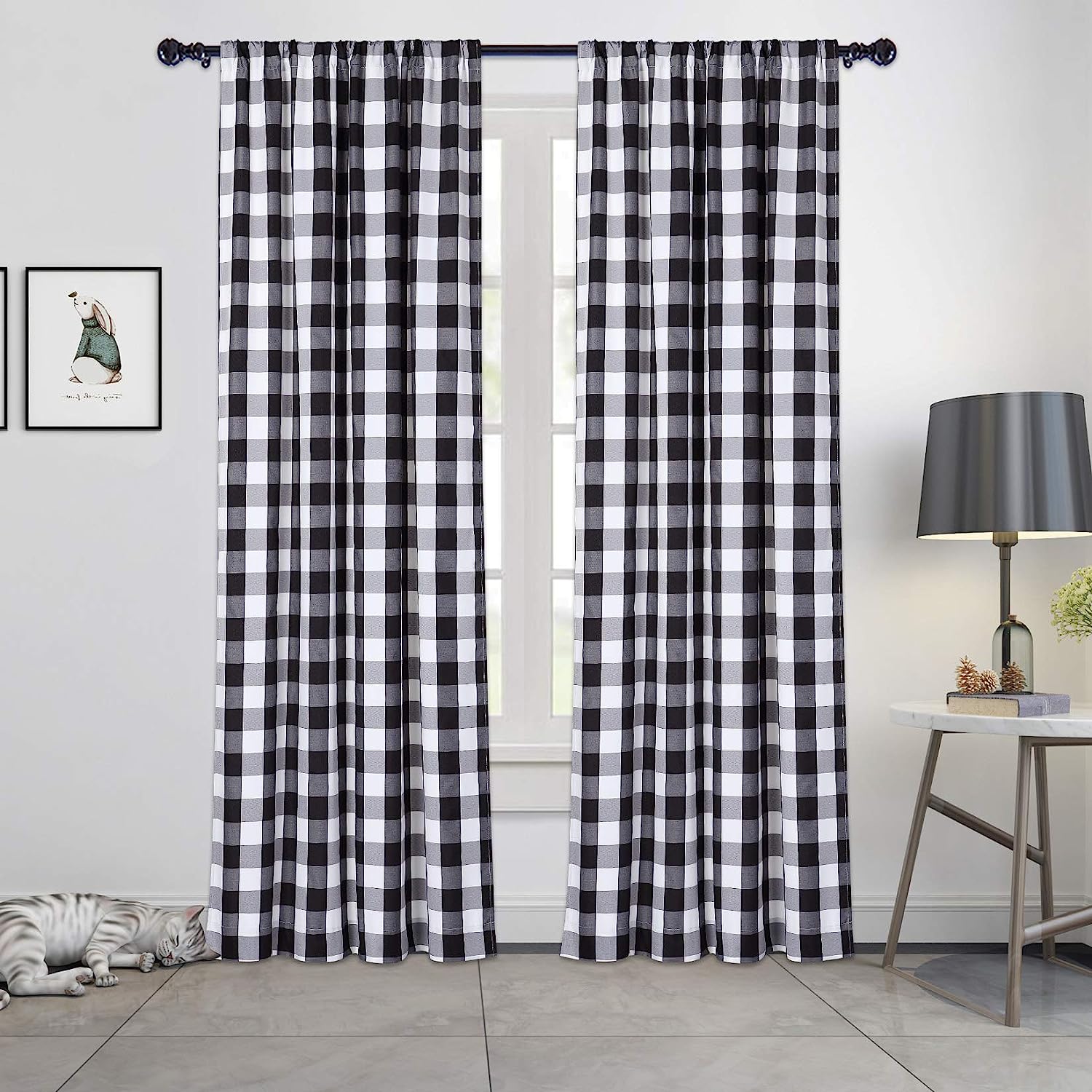 Another classic decoration style, gingham, a staple rustic decor pattern often used in kitchens and upholstery, is an apt choice for the living room in the form of gray and white curtains. There is no rule that traditional style should always be the choice since you can match modern colors with rustic decorations for a fusion of contemporary and country decor, often described as modern farmhouse decor.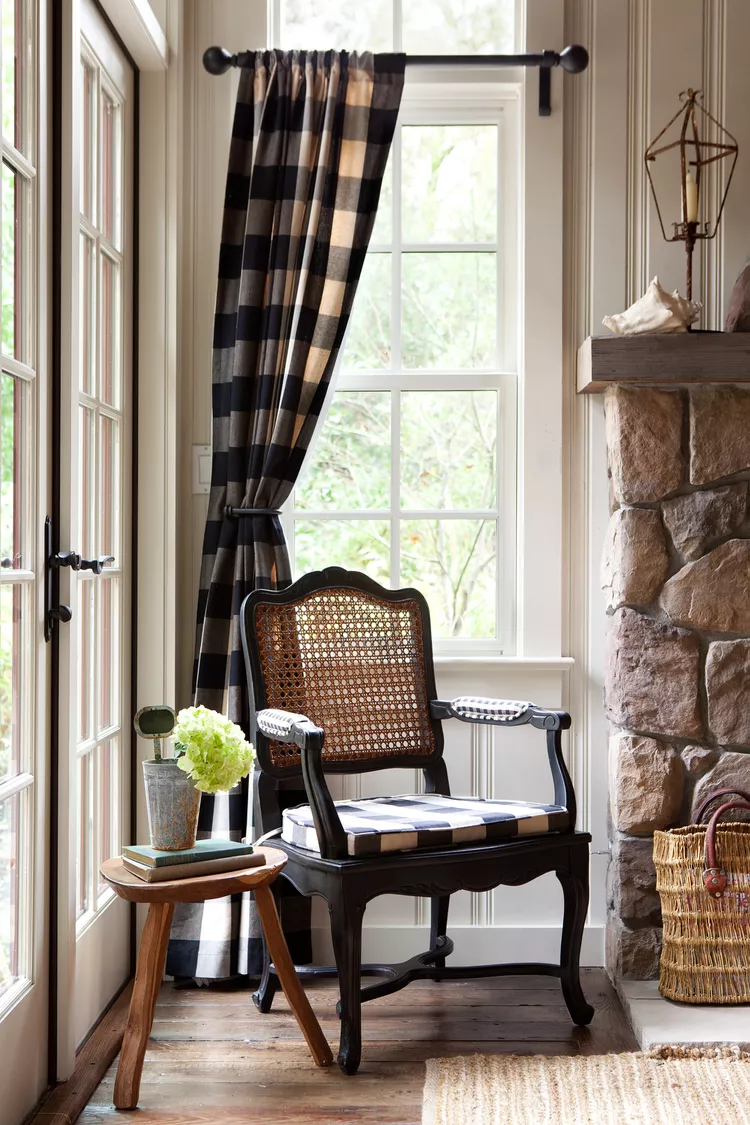 This is another modern farmhouse decor idea to implement in the living room that goes well with any other color or adornment. Prefer navy blue, brown, or black patterns on curtains and other possible decor items, such as throw pillows and chair covers, if you want to complete your country-style decor since such colors do not influence the rustic-themed aesthetics around them.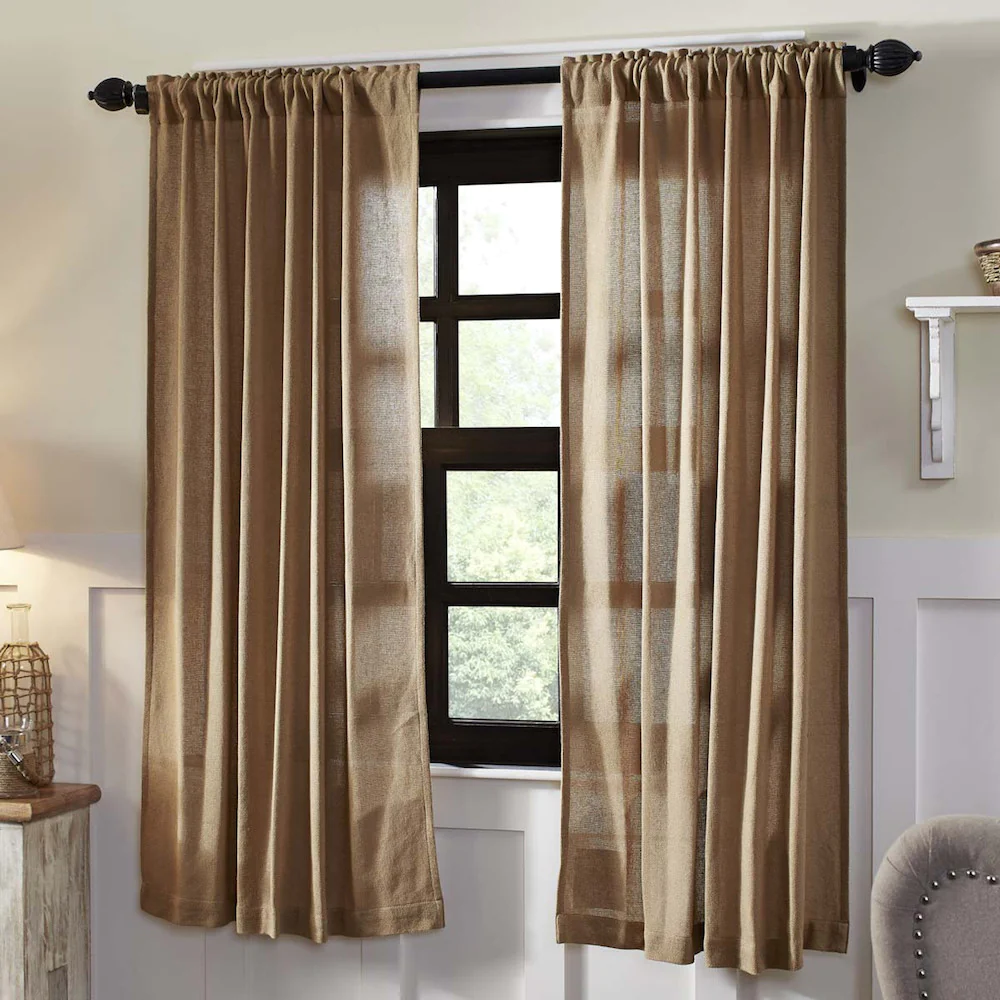 The burlap curtains are used in modern farmhouse-style decors and are equally famous for decorating rustic living rooms. Usually, they can be DIYed from burlap fabric, but they are also available in soft hues such as coffee or grain color. Vintage and antique accessories placed around the room will make the scene more rustic and will help you accomplish your farmhouse decor.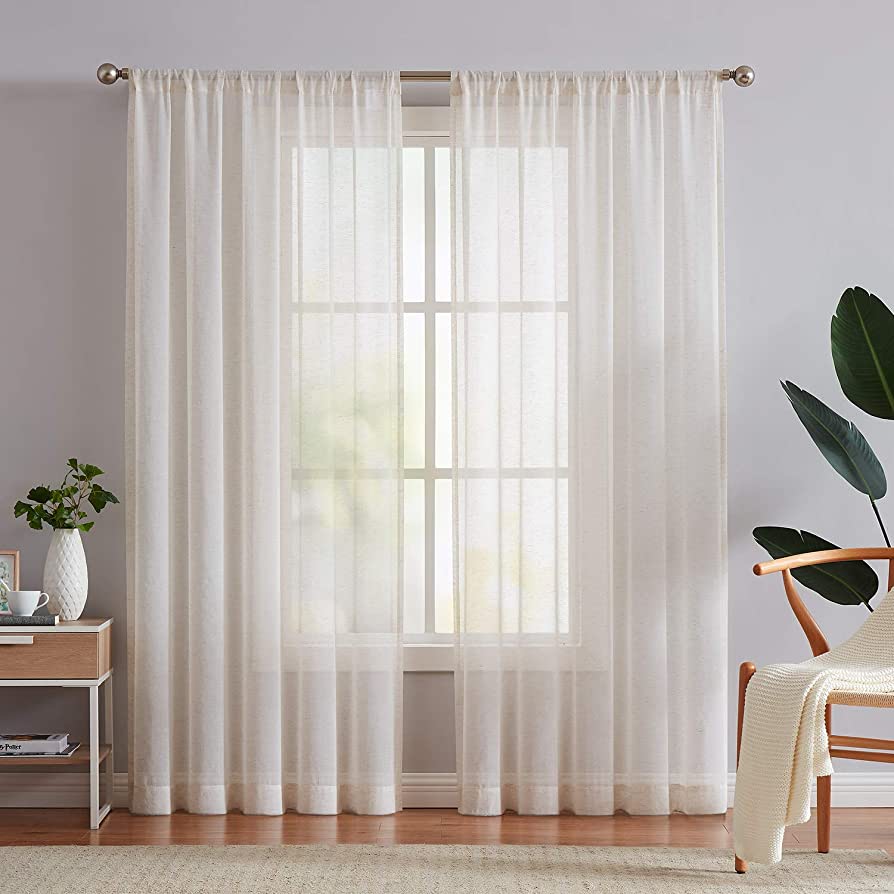 White linen curtains will let the air and light pass through them but will keep the privacy intact. Moreover, the soothing white emits positivity and calmness to the room. Turn your living room into a serene place with a touch of white. Match the curtains with other neutral-toned elements like a beige or gray wall, a ruffled bed skirt, burlap throw pillows, and wood flooring.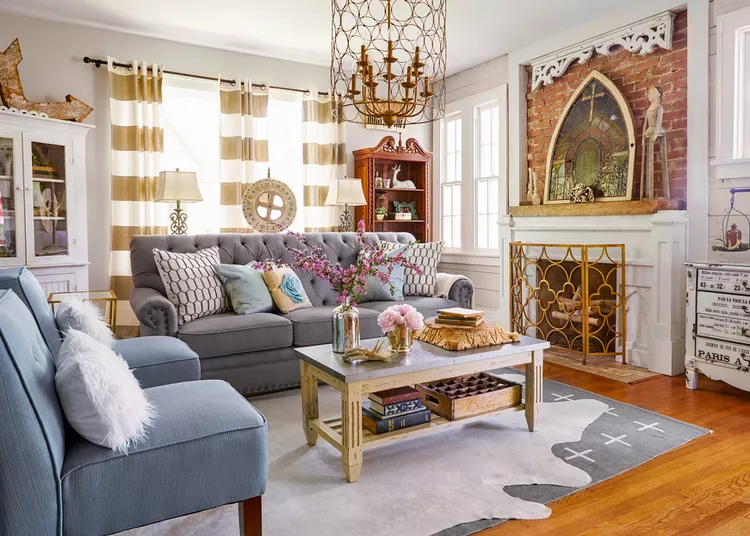 One of the most recommended, striped rustic curtains is perfect in a farmhouse-style living room. Pick a little larger size than the window size. They will complement your interior decor items, like sofas in gray or blue. And if you are blessed with a fireplace, you can prefer garnishing it with a white decorative pediment turned upside down.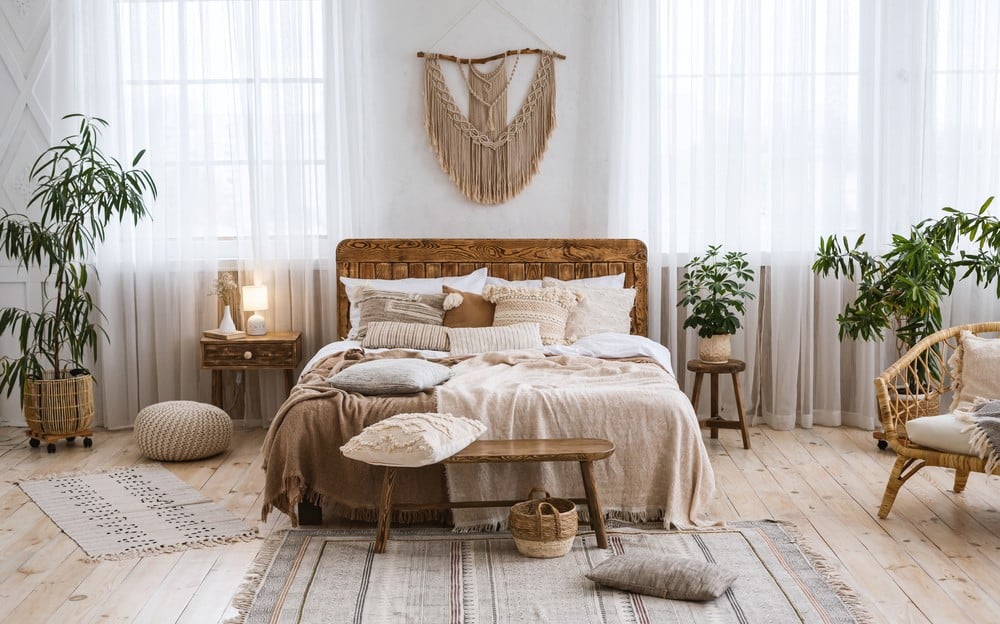 These formal white curtains are a timeless and flexible element that suits farmhouse decor exceptionally well. These white curtains go all the way down to the floor, which finetunes the rustic look. These curtains fit well in a traditional house that has a farmhouse theme; however, modern homes can also have them for a country vibe. Other conventional items, such as boho baskets, also go well with these.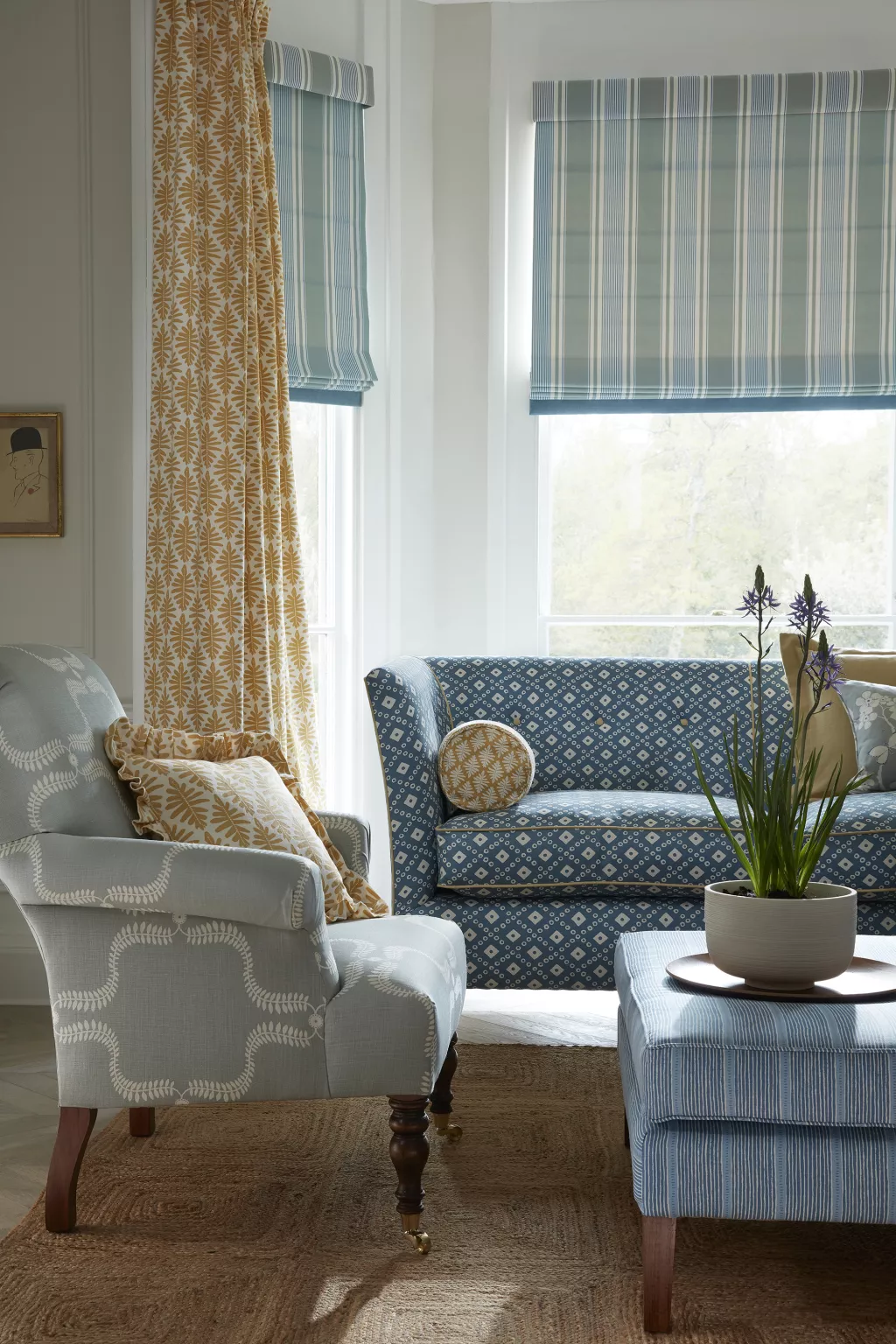 The farmhouse curtainsenrich the room with their aesthetic appearance, and when you go with russet color and blueish blinds, they make the best combination of modern and traditional (perfect modern farmhouse appearance). Moreover, you will achieve both an aesthetic style with curtains and a thick layer of blinds for light control and privacy. You can continue the contrast throughout your living room by combining a patterned blue sofa with russet throw pillows.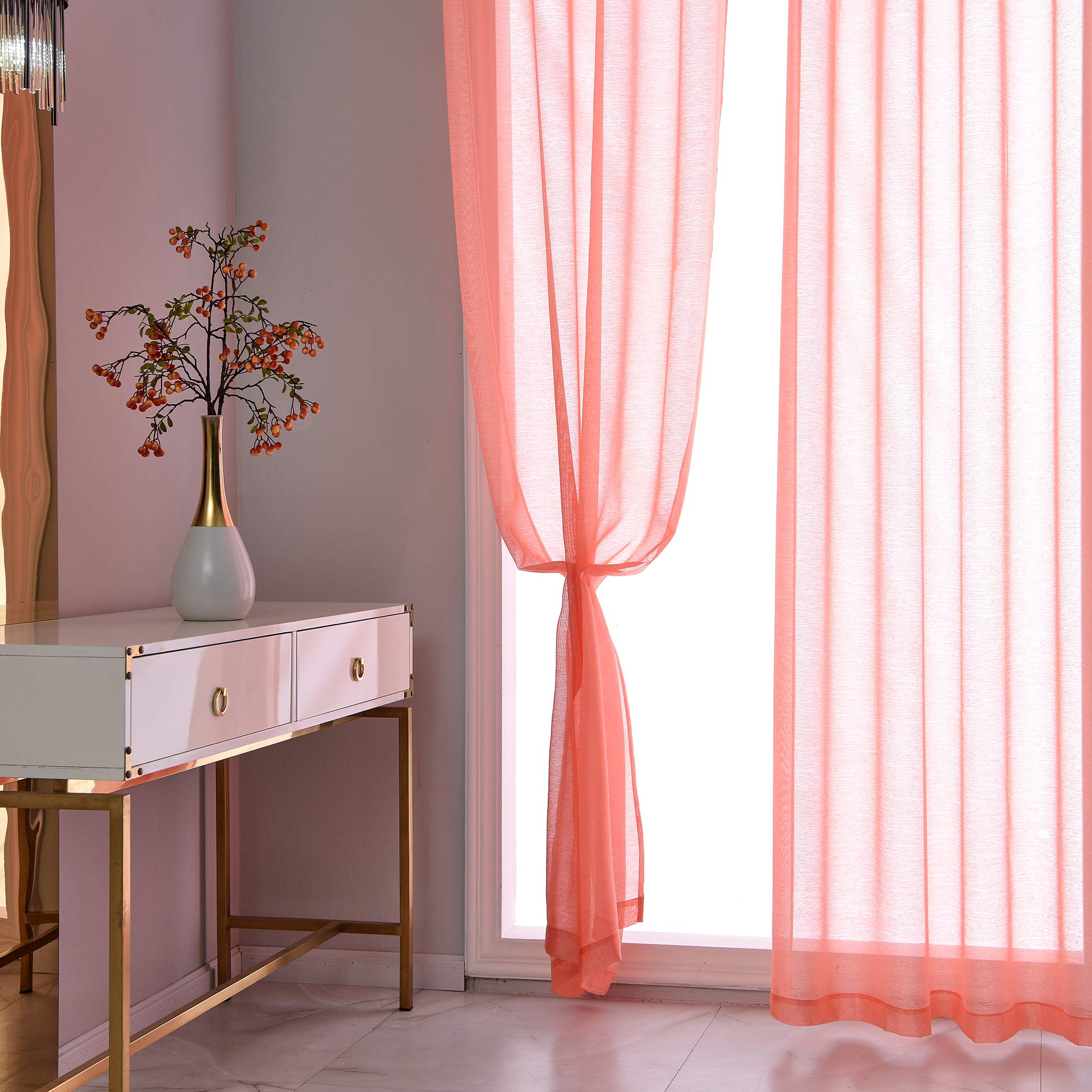 Sheer curtains are apt for creating a warm ambiance in the living room. They also provide privacy and protect against intrusive insects and dust, especially in farmhouses. Red or yellow with white provides a neutral-toned room with a rich and energizing ambiance. These are among the most beautiful combinations used in modern farmhouse decor.
11. Country-Style Curtain with Pelmet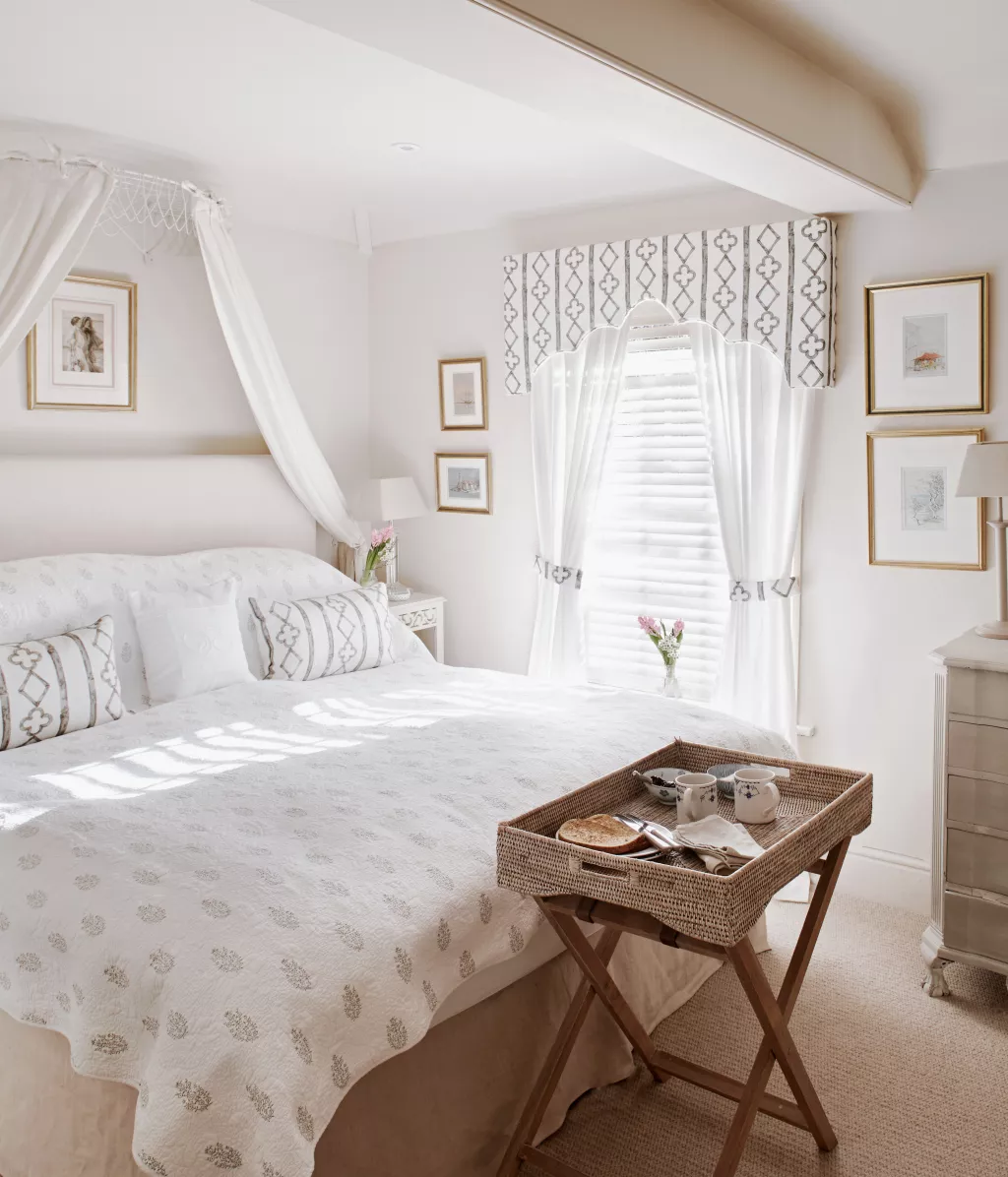 Modern farmhouse styles are embracing the pelmet again. Pelmet offers a hiding space for extra fixtures' clutter while maintaining the curtains' aesthetics. Moreover, they are available in plenty of colors and designs that give the window a clean look while adding a decorative touch. If you have a minimalistic soft-toned decor style room, consider implementing vibrant colors to breathe life into the room decor.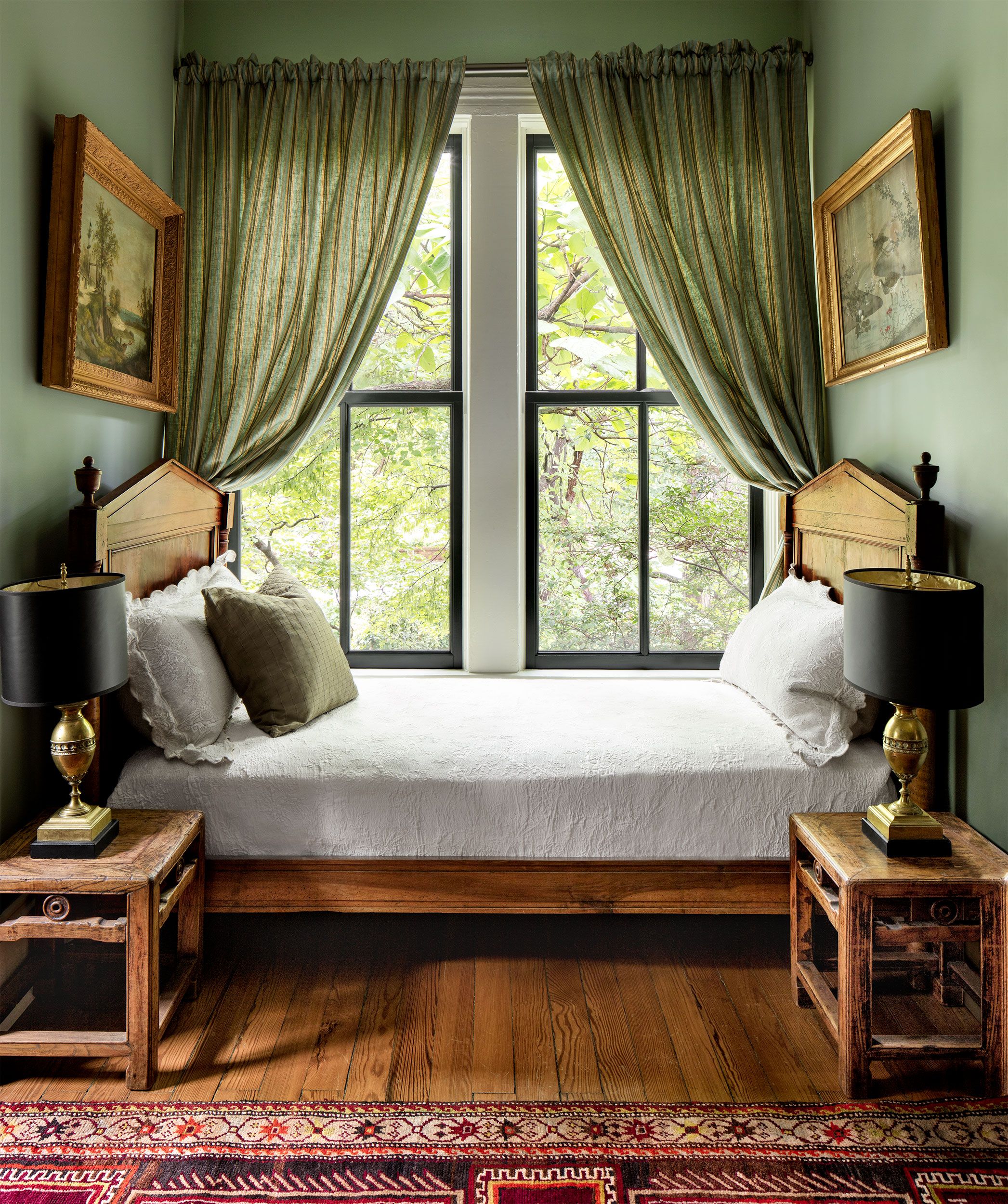 Dark color creates a contrast with light hues. They are a befitting choice for farmhouse decor as they make an eye-catching contrast with faded colors such as beige, gray, and dim green. The darker curtains become more virtually impactful when the background has softer colors. They also provide appropriate control over light and keep the place with a missing contrast. The dark curtains give the room a more dramatic look.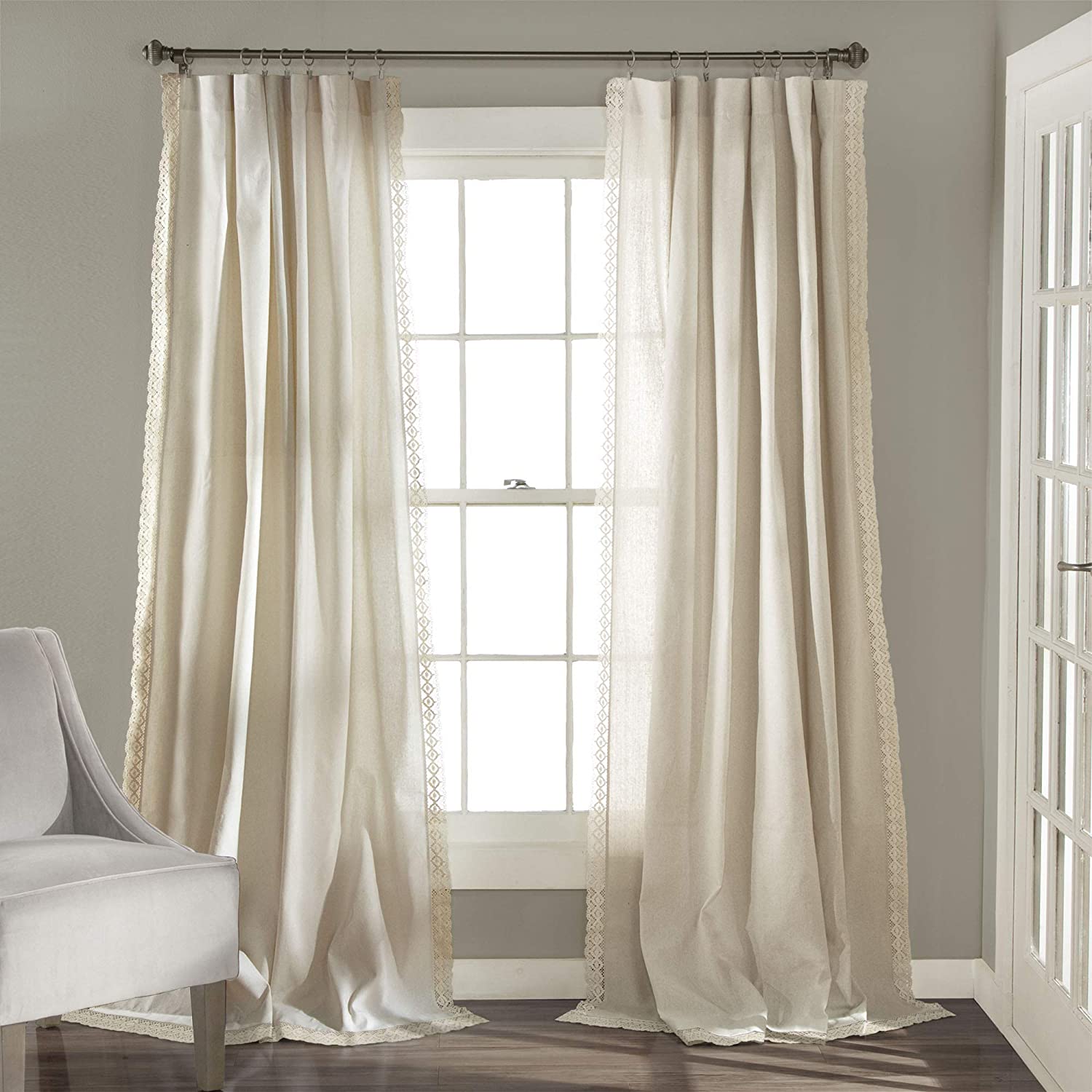 The long beige-colored curtains, touching the ground, are one of the most famous among farmhouse decor lovers. They are adored for their light neutral tones because they mix well with all the accessories in the area. A background with a crisp white wall will be adorned well when beige linen drapes hang on a black curtain rail.
14. White Curtains with Brown Shades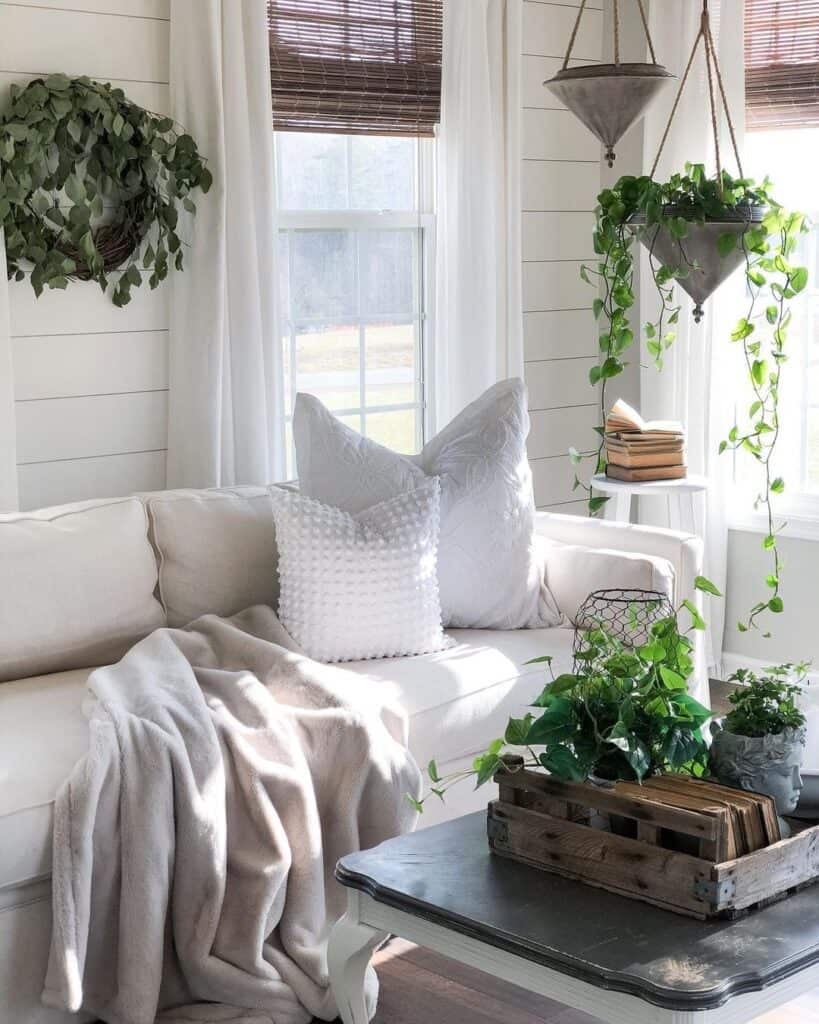 White curtains provide the room with a serene environment and add a sense of balance and softness. While if we combine them with brown shades, they create a contrasting scheme and provide the room with an exciting clash of colors. The combination completes the definition of farmhouse style. Adorn the living room with rustic hanging pots and modern decoration, such as faux foulage, according to your taste.
15. Beige Curtains with Brown Shades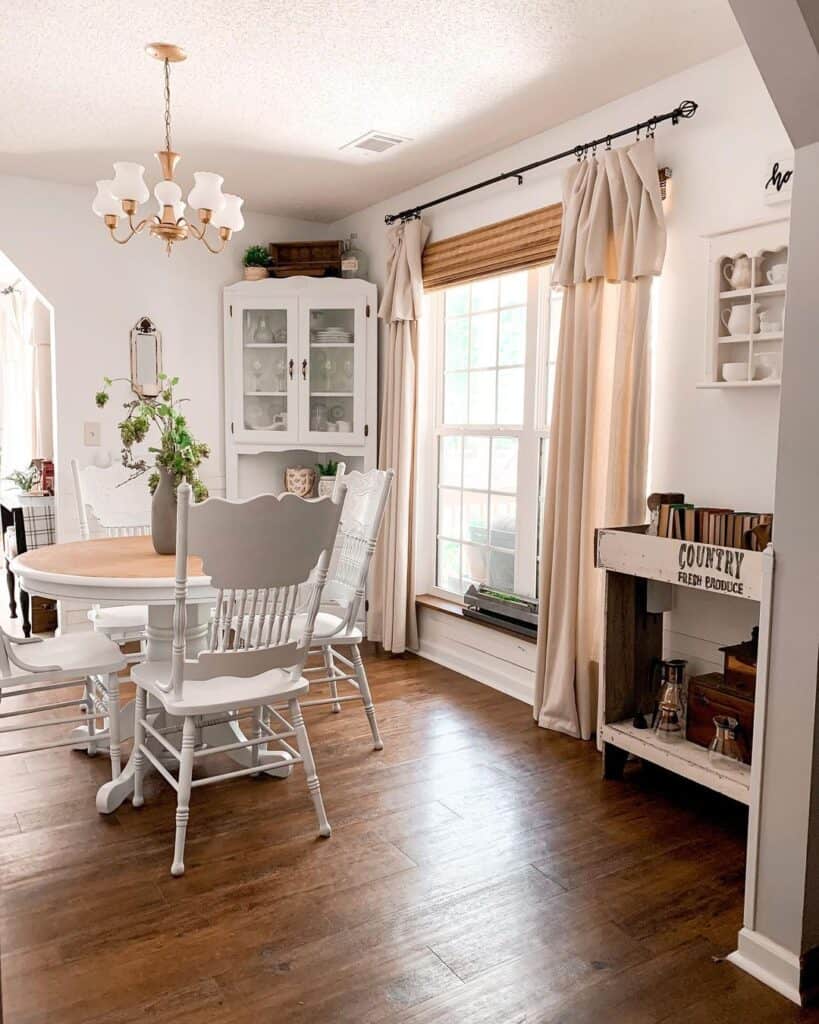 Beige is a staple farmhouse color that adds charm to a white window and soft-colored room. When you add a brownish shade, they become a stunning masterpiece of clashing colors. You can carry the theme (brown with white) throughout the room. Keep things organized in these colors. For example, a soft-toned rack with brown collectibles placed on it or a chandelier with a brass (close to beige) tone will do the thing.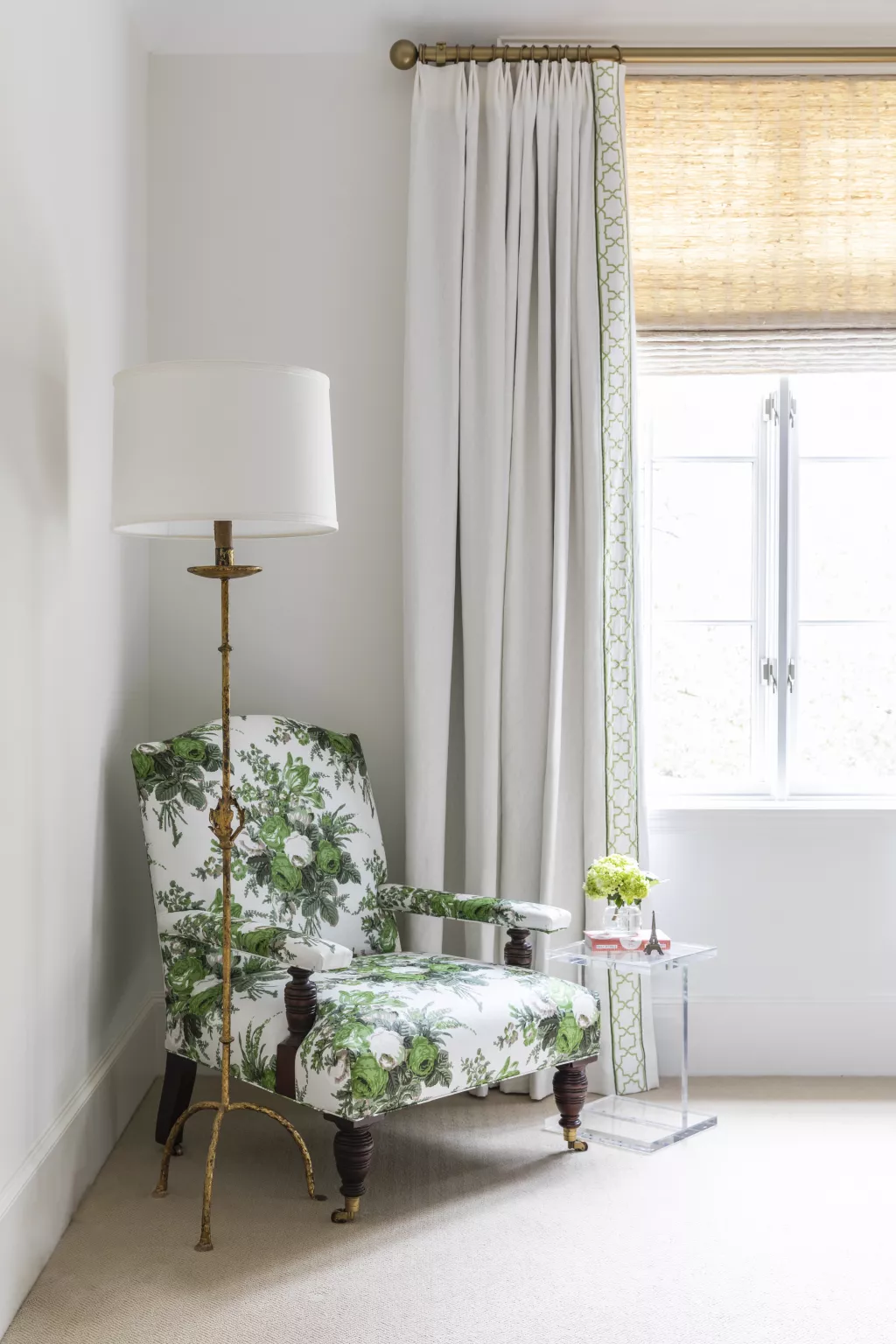 Another soft-toned curtain, gray, complements the living room with its timeless soft looks. Not only does it set the mood light, but it also complements the accessories around it. A sprinkle of green on the (patterned upholstery) creates a connection with the outdoors and completes the farmhouse decor. Add a white lamp and brownish shades to create consistency in the background and give a touch of green- voila! You have accomplished the perfect farmhouse look.
17. Neutral White Curtains with Wooden Accessories
Another match-made-in-heaven combination, white with wood, is one of the most adored and all-time favorites among those who prefer modern farmhouse style. The possibilities are endless when we choose wooden decor items. Moreover, if there are wood ceiling beams in the room, the curtains go exceptionally well with them. More wooden articles like couches, armchairs, and furniture set with beige upholstery and throw pillows will enthrall your guests.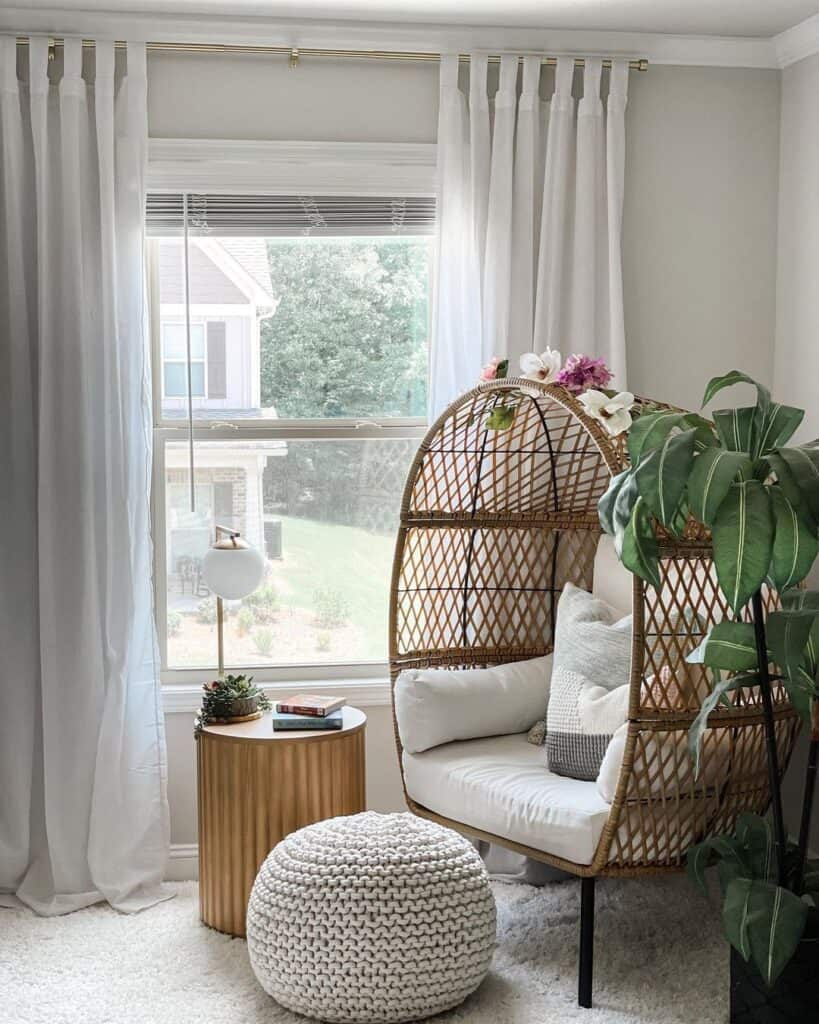 A living room with just the right amount of gold accessories will do the job. The white curtains hanging from a golden curtain rod create a clean and minimalistic impression. White upholstery and throw pillows on furniture items such as wicker chairs, sofa sets, or brown accent chairs will add a touch of sophistication to your room. However, you must remember a sprinkle of gold. For example, blend them with a round gold fluted end table and a lamp with a gold stand.
Conclusion
To conclude, we mentioned 18 ideas around farmhouse curtains and how they can help you achieve a rustic vibe in your living room. Some of the curtain ideas will make your room look more rustic, while some are ideal for adding a chic modern sophistication. We started by suggesting classic curtains with checkered patterns, which are all the rage nowadays.
After that, most of the colors we emphasized were neutral such as beige, white, and gray, because they are apt for farmhouse decor. However, we only mentioned other colors, such as blue, green, yellow, and red (for curtains), that professionals recommend. But, these colorful curtains are suggested with light-toned white curtains and surrounding for a consistency of farmhouse decor.
We also recommended different ideas about adornments and accessories to match the rustic curtains. Additionally, the shades and blinds combined with light-colored sheer curtains are crucial aspects to be considered.
We are eager to know what caught your attention and which helped you complete the cozy farmhouse aesthetic.