Memorable Baby Shower: 21 Fall Baby Shower Ideas
A theme helps you put the party together. It makes everything cohesive and gives a feeling that the party was planned well. It also creates an atmosphere that gets all the guests talking and makes them feel more comfortable. Fortunately, there are many beautiful fall baby shower ideas that will bring your baby shower celebration together in a blink. 
Autumn starts in September and goes on till November. The prominent colors around this time are oranges, browns, creams, and yellows. Keeping in mind that the weather is generally pleasant around this time of the year, you can even throw an outdoor baby shower.
Here are a few great themes that can bring your baby shower together. 
1. The Pumpkin Baby Shower 
The Pumpkin Baby Shower theme is undoubtedly one of the sweetest Fall Babyshower ideas. A little pumpkin will be the celebration of your baby pumpkin and can be incorporated into the decor very easily. You can make centerpieces out of it and source pumpkin-themed decorations to bring the whole decor together. Not only that, but you can also display your food in baskets or hollowed-out pumpkins to give it an intricate detail. To elevate the look, paint the real or fake pumpkins in different fall colors and make them all beautiful.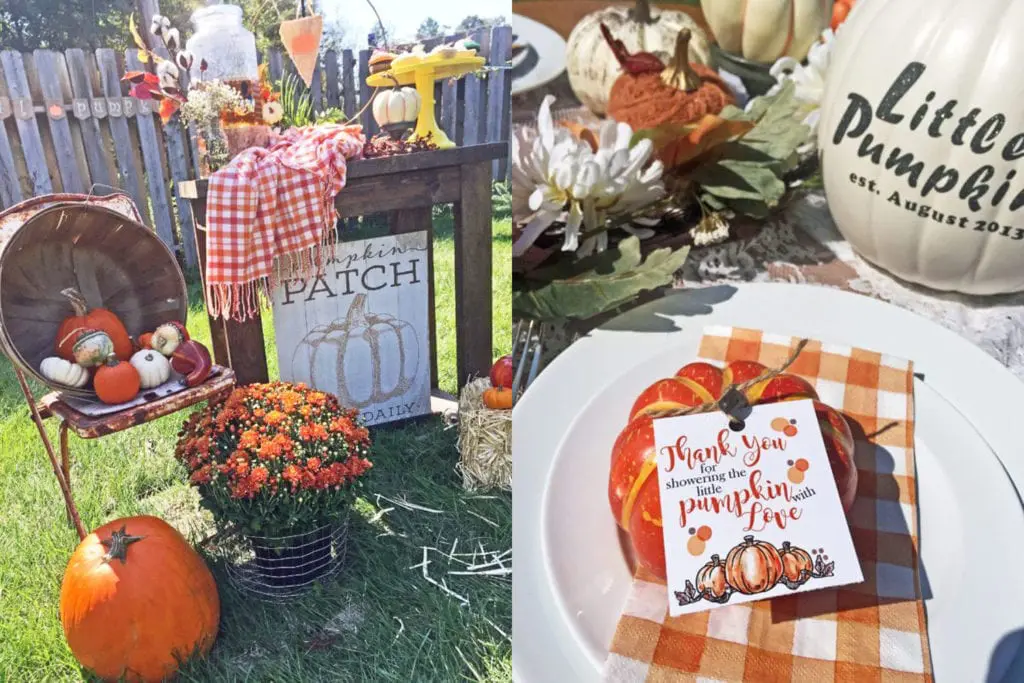 2. Add a Pastel Twist to the Pumpkin Theme 
Traditionally, a pumpkin-themed baby shower will use warm colors like orange, brown, and cream, but you can twist the classic and make something unexpected. One of the ways to do it is by coloring your pumpkin pastels. You can also use softer pastel decorations to decorate your venue to compliment the theme. 
They will be perfect for the occasion and will be a little unexpected. As an added detail, you can color the pumpkin pastel pink if you are having a girl and blue if you are having a boy. These colors are soothing and given how in-trend they are, you will find ample decoration pieces with the same theme in the market.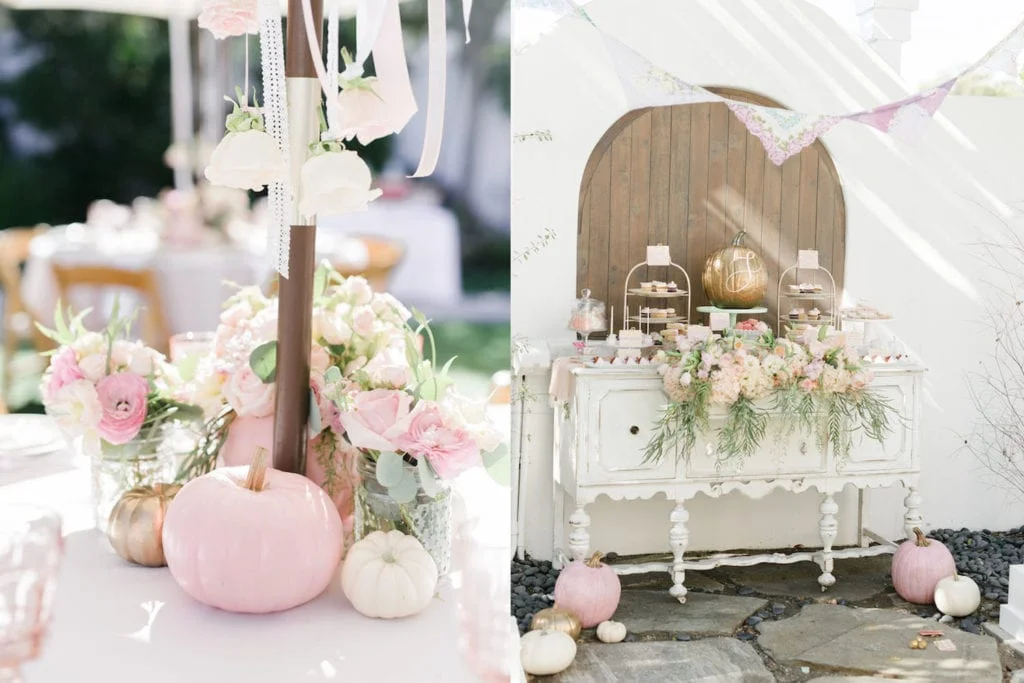 3. Bring in the Cinderella Theme 
As we mentioned above, Pumpkin decorations are everywhere in the market around this time of the year. However, the good thing is you don't have to tread according to the rulebook. You don't have to carve pumpkins and make a theme out of it, but you can sprinkle some magic. 
Cinderella theme is one of the themes that you can bring into your baby shower. Paint your pumpkins with pretty colors, sprinkle glitter on the table, and put up a sign that says- "Way to the ball" to decorate your entry. You can add tiny details to your decor by adding little things like a chocolate mouse or a glass slipper as the centerpiece of your table setting; This theme is really nothing less than gorgeous.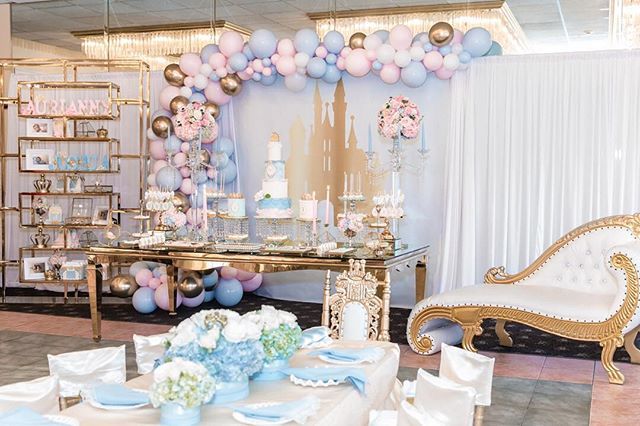 4. Halloween-Themed Baby Shower 
Halloween is arguably one of the best things in this season. If you are passionate about dressing up in Halloween costumes and all things spooky, you can bring this theme into your baby shower. Given the popularity of this theme, you will get multiple invite options. However, be a little creative with the theme, and instead of bringing the scary factor, you can keep things sweet with a friendly ghost-themed invite. Remember, this is still a baby shower, and it should feel like that.
As far as the decor is concerned, you can carve pumpkins and make lanterns out of them. You can also add white balloons covered in black tulle. You can add little details like "Hey, little boo" and cute ghosts as cupcake toppers. Not only that, but you can also add candy to the dessert table. A cauldron-shaped serving bowl is also a great addition to this theme.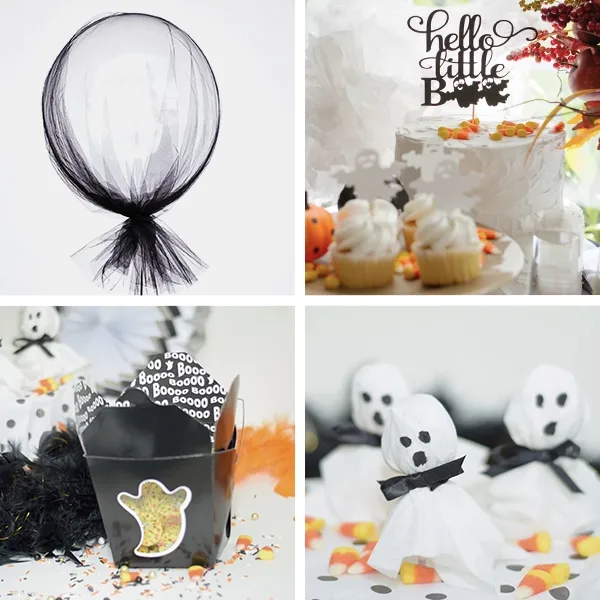 5. Farm Girl Baby Shower 
The farm girl theme is another great fall baby shower idea. This is a versatile theme and pretty playful too. You can create animal cake pops, and rope-based banners, use milk cartons for drinks, and have fresh food offerings. Since this is a farm girl baby shower theme, all decor elements should be distressed. You can also hang animal cutouts across the space for decoration purposes. Also, get flowers, distressed centerpieces, and wooden pieces to elevate the look of the theme. Try to incorporate earthy tones and wild nature here.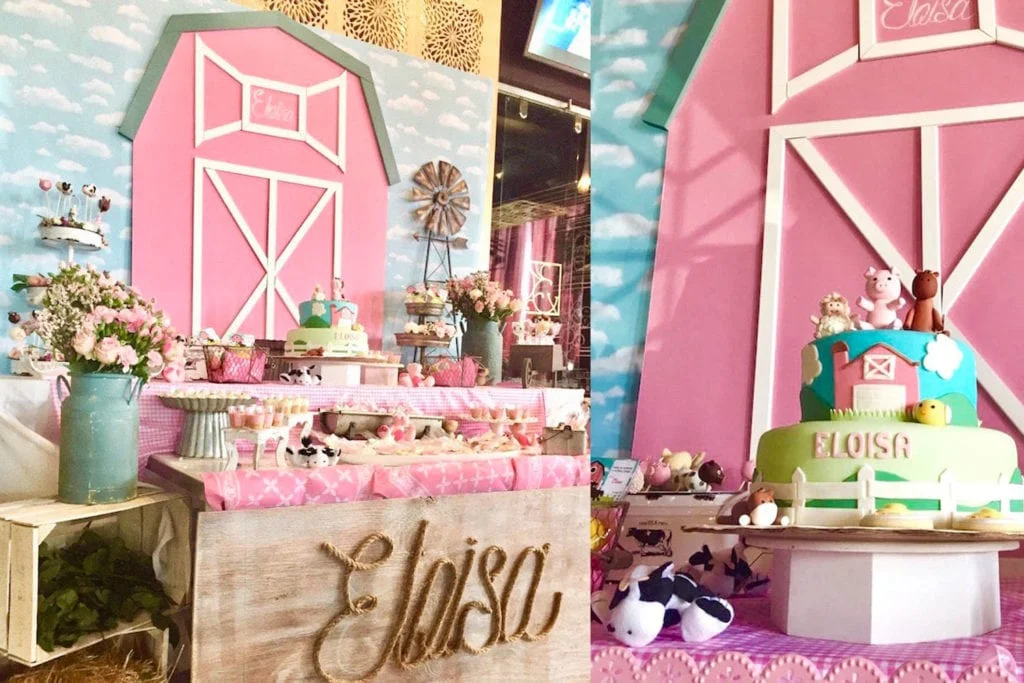 6. Lumberjack Baby Shower 
The buffalo plaid lumberjack baby shower theme is a great decor idea if you are having a boy. For anyone who likes outdoorsy stuff or is just into buffalo plaid, you can take this decor and run with it. This is full of rustic charm, and you can just serve hot chocolate to your guests to bring this whole theme together. You can also make cookies that look like trees and are covered in edible plaid to elevate the look. As for the decor, you can easily make a plaid banner while using distressed wood to decorate this, and it will be great.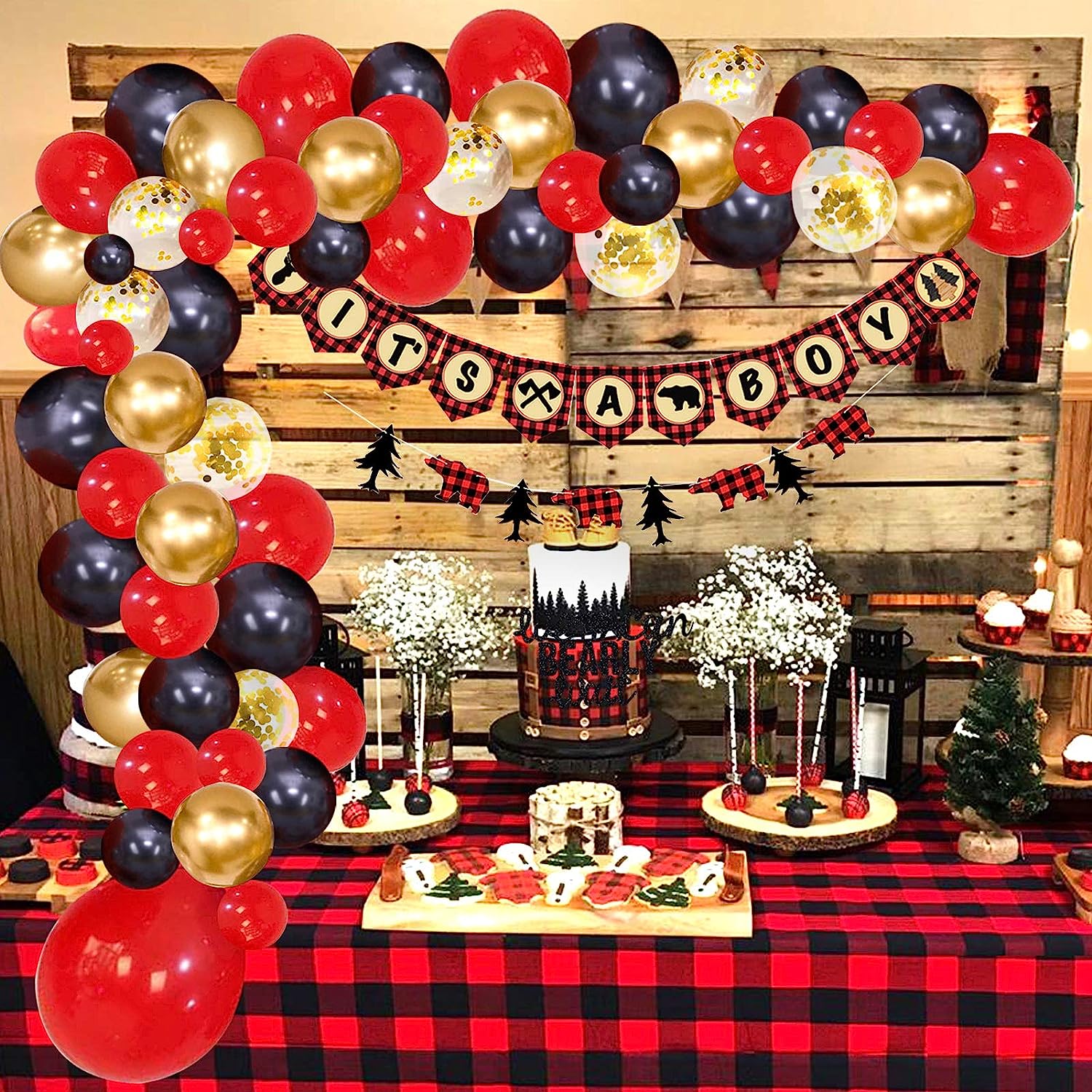 7. Blooming Sunflower Baby Shower Theme 
A great fall baby shower idea is using the blooming sunflower theme. If you are planning to host the baby shower around late September or early October, you can opt for this theme. This is perfect for an early fall baby shower, indeed. To match the theme, you can send sunny invitations to your guests and get them excited. As far as the decor is concerned, you can add fresh sunflowers to it. Yellow, beiges, browns, and greens are the colors for this theme. To add some trendy elements to the decor, you can include a custom welcome sign, personalized banner, and yellow balloon garland. 
You can also bring this theme into your food with food like strawberries dipped in yellow chocolate, chocolate sunflower cookies, or chocolate sunflower lollipops. Adding food that naturally has yellow color would look very nice too. 
8. A Great Adventure Awaits Baby Shower 
If you like adventure and are looking at this baby as your next new adventure, this theme is for you. You can make invitations with "greatest adventure" inscribed on them. You can have illustrations of mountains, national parks, or places like these to make it more realistic. As for the decor, you must incorporate rustic elements like wooden serving platters, garlands made out of pinecones, and faux leaves in several places. Go for colors like white, green, and brown to bring a cozy feel to the event.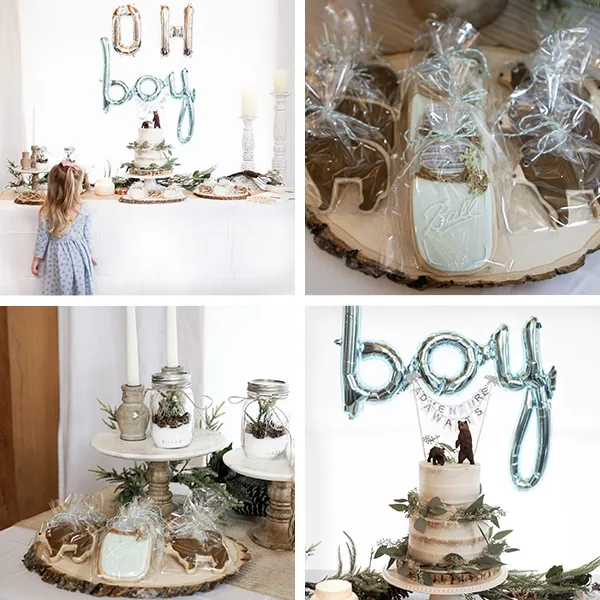 9. Baby Is Brewing 
Another great Fall Babyshower idea is this "Baby is Brewing" theme. You can hold your baby shower in a local brewery or a vineyard to bring it together. Of course, you will not be able to drink just yet, but it will still be a great backdrop. Put up a watercolor picture of a beer mug next to a baby bottle in the invites and raise a toast to the baby. Make the natural wooden interior of a beer brewery a part of your decor, or use greens and flowers from the vineyards. Since this will be a non-alcoholic event, make sure you include festive mocktails so everyone can raise their glasses while having fun.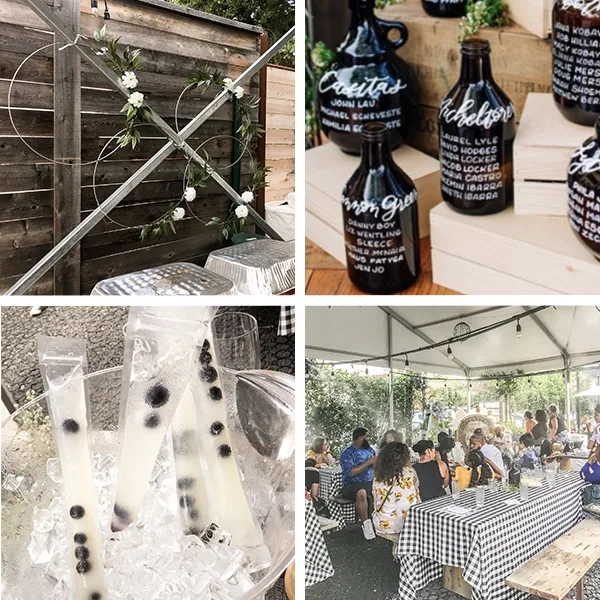 10. The Apple of My Eye Baby Shower 
Fall is the season of taking trips to Apple orchards and baking some warm tasty apple pies. If you want to incorporate that into your fall baby shower, you can. Apple is a very versatile and forgiving fruit, so you can not only make your menu with it but also incorporate it into your decor. You will find plenty of apple-themed invitations out there for this occasion.
For instance, you can paint the welcome sign on a big apple cutout. You can also use a big apple cutout as the backdrop of your dessert counter. On each table, place white and green centerpieces with a few green apples in a basket placed here and there. You can easily work with this fruit in your menu, serve it with peanut butter, make a pie, make donuts, the possibilities are endless.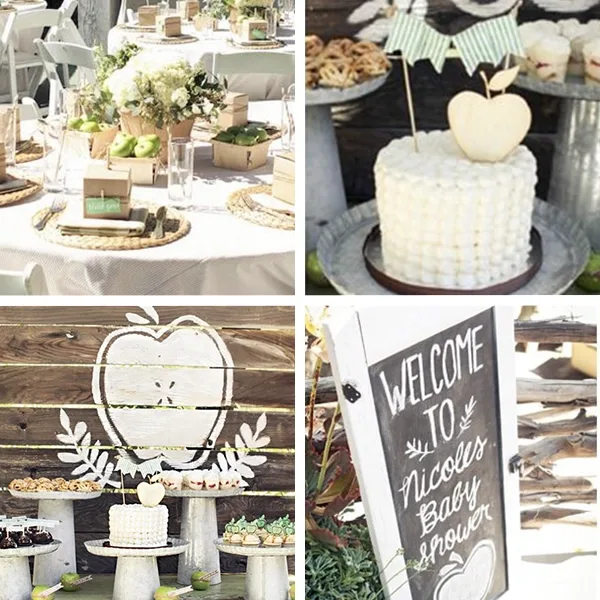 11. Pumpkin Spice and Everything Nice
If the idea of just having a nice pumpkin-spiced latte excites you, look no further; this theme is for you. In the pumpkin spice-themed baby shower, you can use picnic blankets, pumpkins, and fall leaves. The sign can be made out of wooden pumpkins that can be inscribed with signs like "I Love You A Latte," or you can hang adorable DIY latte cups on the dessert table. Making desserts out of pumpkin spice is also a great idea. You can also get some adorable mini candles as favors to stay true to your theme.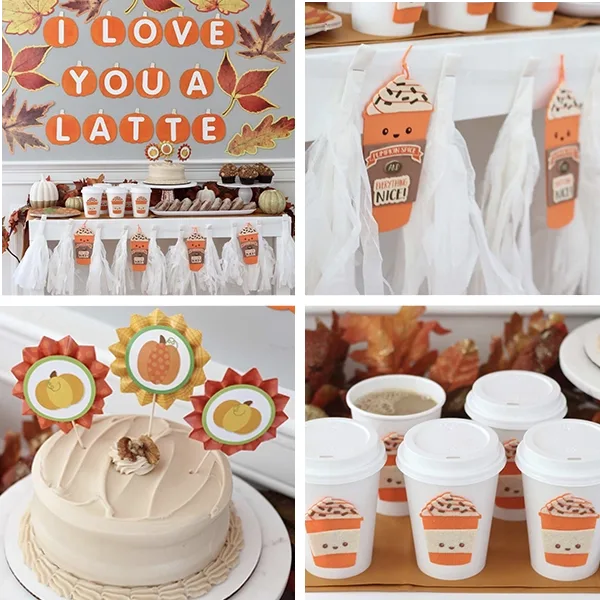 12. It's Almost 'The Day' Theme Baby Shower 
Are you all ready to welcome the little bundle of joy into the world? Make sure you tell it to the world. It's almost the day baby shower is a great theme. You can make invitations that are designed like a gate and open to show your baby shower details. Then, for the decor, you can include all things celebratory, from pinata balloons to celebratory desserts, whatever means celebration to you, include that in the decor. You can also include whatever the momma-to-be likes to eat on the menu and celebrate her.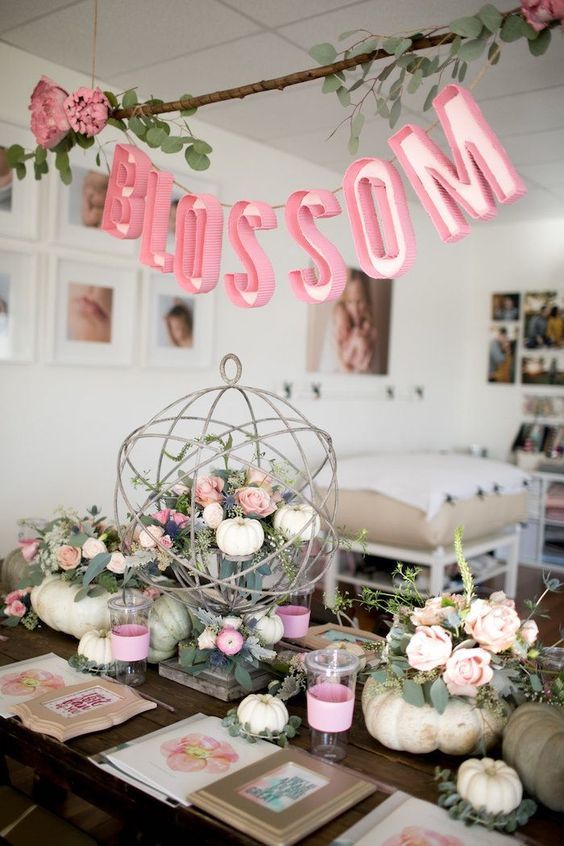 13. Football Fun Baby Shower Theme 
For many families, autumn brings back the favorite memories of watching football together. Many like sitting in front of the TV and bonding. You can infuse this into your fall baby shower idea. You can choose a colorful invitation for this theme that reminds you of football. Colours like pops of oranges, browns, and blues will do the job. You can also make a simple yet chic invite with an elegant drawing of a football and helmet.
Incorporate a football-themed welcome sign in this decor and make custom baby name banners. You can also include adorable baby clothes in the decor and even give them away as a keepsake for your guests. Nachos and burgers seem like a good choice of menu for a theme like this. 
14. A Woodland Wonderland
A woodland theme is a classic fall baby shower idea, and all for good reasons. As fall approaches, the weather becomes pleasant, and you want to spend more time outdoors. So, this is an outdoor baby shower theme. Not only this, but since autumn brings all our small furry woodland friends outside, you can make them a part of your decor. Owing to the popularity of this theme, you will get plenty of invite options.
You can also include cute caricatures of bears, foxes, owls, and other forest creatures in your invites. But that's not it. You can also make these creatures the focal point of each table. Every table can have a framed drawing of a creature as its focal point. With small beavers, moose, and dear figurines as the centerpiece, this theme makes up to be very adorable.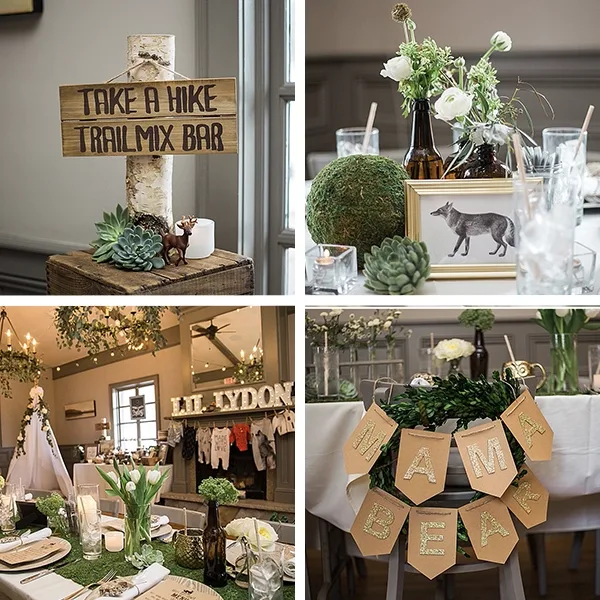 15. S'mores Baby Shower
Honestly, is there anyone who does not like a good s'more? They are delicious, fun, and make everything better. You can make your whole baby shower around them and leave the guests impressed and fulfilled. First, in this theme, you can send out beautiful invites with smores on them. In the decor, you can make centerpieces out of it. Make a s'mores bar, and decorate in colors of fire like brown, red, yellow, and orange. Additionally, you can add wooden easels to bring a touch of class to this decor.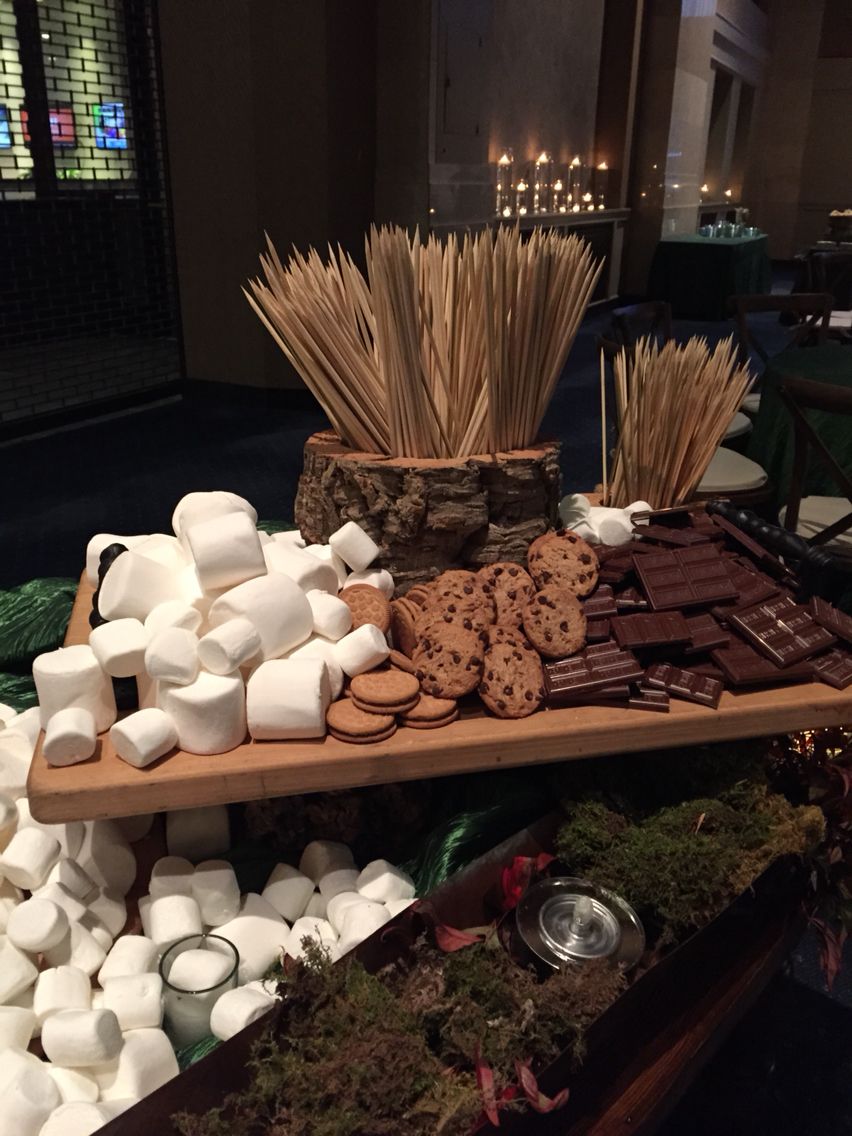 16. Baby Animals Decor Theme 
Nothing screams cuteness like baby animals. You can celebrate your little one's arrival with baby animals. Use stuffed animals to decorate the event. Use real or fake plants as centerpieces and hang some stuffed toy baby animals to bring the theme together. You can also make your invites creative. Send a little monkey stuffed toy with a card in hand inviting your guests to the party. You can also use cake pops in animal shapes to make your theme evident and continue the story you are trying to tell.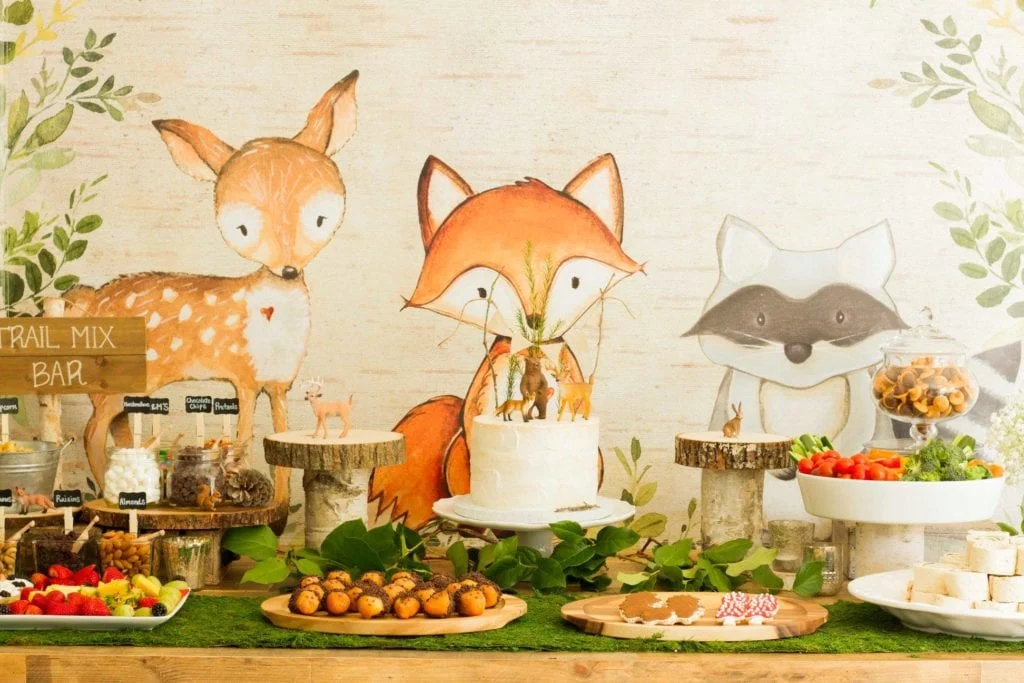 17. Thanksgiving Baby Shower
If your baby shower falls around Thanksgiving, then making it a theme for your celebration is a good idea. After all, you would be thankful for the arrival of your baby, and what better occasion to show it? You can go for a traditional color theme palate and go for "we are blessed" decor. You can add a big sign that shows how thankful you are. Use fall leaves as the centerpiece or even the backdrop. If you already have Thanksgiving decor at your home, repurpose it and make your baby shower a beautiful celebration.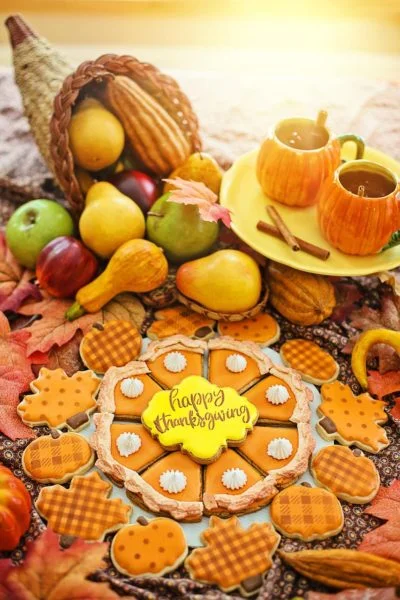 18. Harry Potter Theme Babyshower 
"Wingardium Leviosa"- Do these words ring a bell in your mind? Are you a Potterhead? Then fall is a great time to throw a baby shower with a Harry Potter theme. Embrace your inner witches and wizards while bringing magic to the party. Harry Potter is very famous, and you will get an abundance of invites with this theme. 
Moreover, it is easier it incorporate this theme into your party too. Just put up some candles and foliage to make your table look like the dinner tables in Hogwarts. To bring more details, you can even color code the tables based on different houses and serve food in cauldrons. This is a fun theme that will really satisfy your inner Potterhead.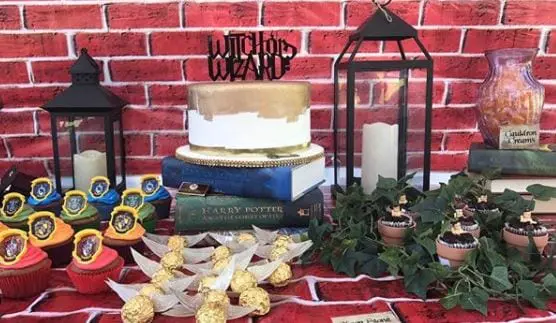 19. A Boho Dream Theme
Brown and neutral colors are good all year long, but they are especially great around the fall. The Boho Baby theme is perfect, especially for autumn; neutral-colored tablecloths, backdrops, and balloons add a nice touch to your baby shower. You can add baby bears wearing onesies to add as the decor around the venue and make a connection with the theme. Imagine adding sleeping bears, moons, and soft clouds to create a subtle dream theme. This celebration will be calm and relaxing for not just the mom-to-be but also everyone attending. For the invitations, you can have cute beige or cream color cards with a sleeping baby bear illustrated on them.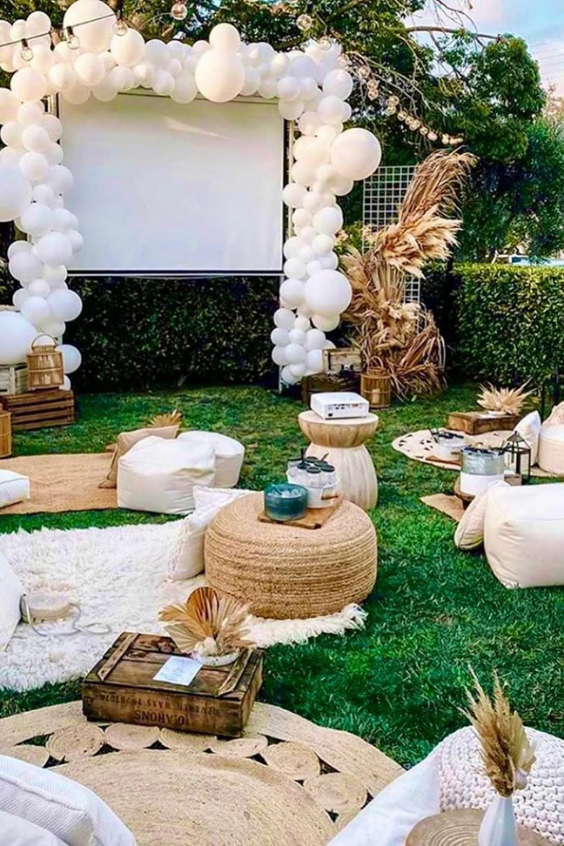 20. Mama Bear Theme 
Mama Bears always protect their kids, and this baby shower is for a soon-to-be mom. This mom is all set to become a mama bear herself, and what better theme to celebrate her? You can celebrate this bond between the baby and mama with a mama bear theme this fall. Bears are famous for their soft, warm fur, and it will make a great theme for your party. As the seasons start to get chilly, nothing is more welcoming than some warmth. You can design an invite with a mama bear and a baby bear on the cover and send it out to all your guests. 
To make the decor as per the theme, you can open up a crackling fireplace and use solid wood decor items. Think pinecones and centerpieces made out of wood. Make everything more beautiful and cuter by seating some stuffed bears around and bringing the event to life. This is a cute and great fall baby shower idea to explore.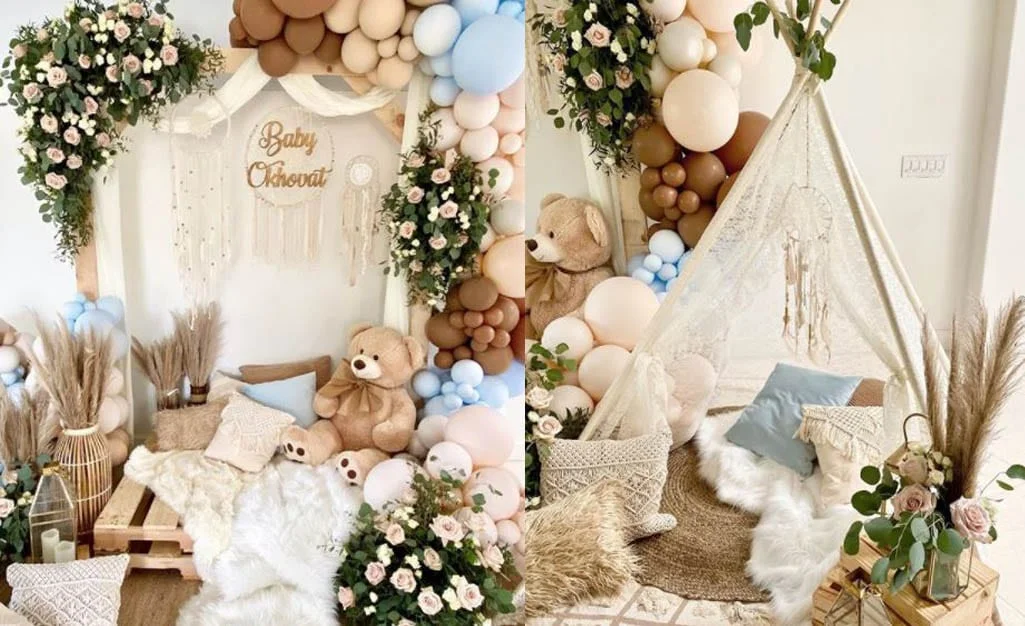 21. Make a Rainbow Theme Decor 
Depending on your location, fall can get rainy sometimes, and you can use this situation to be a part of your decor. Take the phrase- there is always a rainbow after the rainstorm very seriously. Your pregnancy journey might have been moody and full of ups and down, but you can treat yourself to a super fun baby shower with a rainbow theme. It will make up to be an adorable theme. You will get too many colors to play with, and it will bring warmth and happiness to your celebration. 
The decoration options are endless with this theme. You can add rainbow balloon arches, get rainbow-colored deserts, and also use rainbow-colored and shaped centerpieces for your tables. It is easier to incorporate it into your cards too. This is a great fun theme for your celebrations indeed.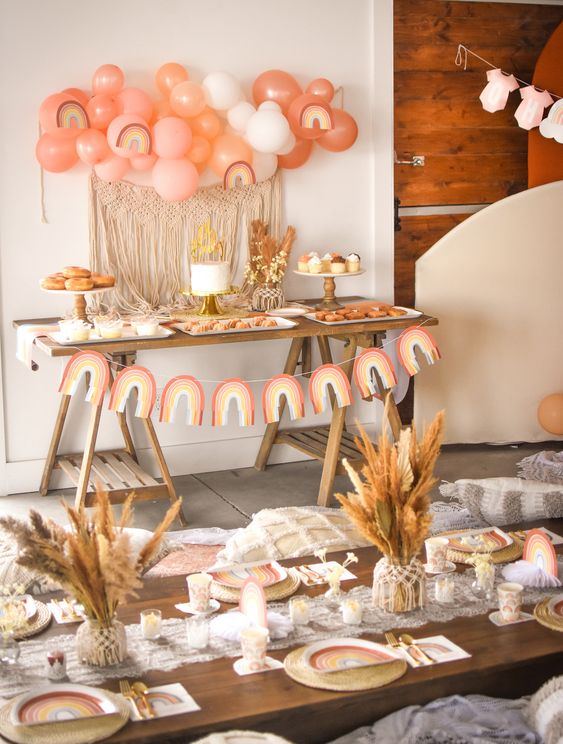 Things to Keep in Mind When Planning Fall Baby Shower 
Think of the space: Before you choose a theme for your party, take into consideration your space. Decide whether you are having the celebration outdoors or indoors and plan the whole theme accordingly. While the themes on this list are very adaptable, it is better to be prepared. 
Take into consideration your food options: While you will want to decide the food you are serving as per the theme, make sure it is enough. There are some fall-inspired food items that you can include in your menu without thinking twice. These include- Turkey, roast, S'mores, popcorn, candied apples, pumpkin pies, and apple pies. 
Deserts are a very important part of any celebrations; make sure they are delicious. 
Make the seating comfortable: Make sure that the mama-to-be is especially comfortable. 
Select baby shower favors: Of course, it is not essential to give out baby shower favors; it is a nice gesture. So, plan your favors that sit well with the theme you are choosing. 
Stay within budget: When planning a celebration like this, you can easily get swept away in the excitement and spend more than you had intended. Make sure you pre-plan your budget and stick to it. 
Be happy: This is a celebration. Don't get so stuck up in planning everything so much that you forget to have fun. 
Conclusion
Baby showers are a great way to celebrate the to-be mom and the little munchkin who will be on his or her way. All of these fall baby shower ideas are great for whatever vibe you want to choose for your celebration. You will be able to create beautiful memories with this party, and when looking back, you will feel nothing but joy. Fall comes with a beautiful color palette, and make sure you use them to make your decor look top-notch. This is your day, and your likeliness comes first.
So, make sure you do everything you want and never compromise. Have Fun!