21 Mudroom Bench Ideas for a Neat and Tidy Entryway
No matter how big your house is, you'll always face the issue of storage and organizing stuff. One of the biggest problems that many houses face is in the design layout and not focusing on making a dedicated mudroom.
One of the least places in a home, but one that can drastically improve the flow and function of the house. A mudroom is a small space or area generally found at the entrance of the house; some may build it between the backyard and back door or attached garage and the house. The name says it all, it is a place where you remove your boots so that your home is saved from dirt.
Mudroom is an entrance used for placing shoes, hanging coats, scarves, keys, umbrellas, etc. It is a place designed to hold storage and standby for mail, groceries, football, etc. It is designed in a manner that holds a seating area, too, so that one can take off shoes without losing balance or holding for support.
Here are 21 mudroom bench ideas with storage facilities that you can consider while renovating your home or buying a new one.
1. Planning the Layout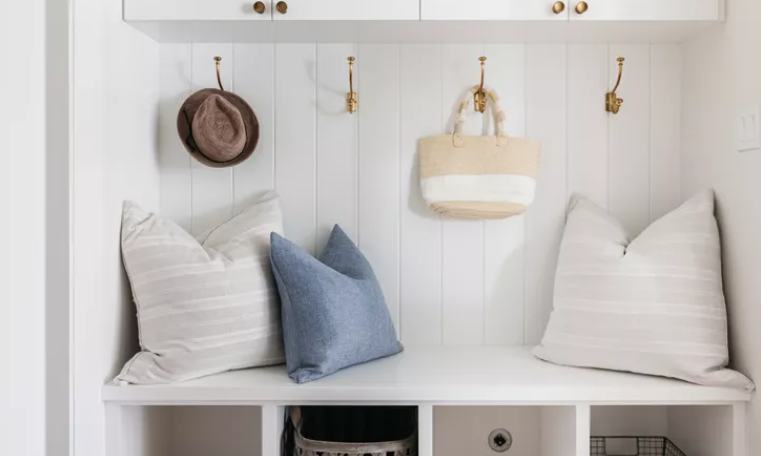 Mudrooms are the main entry point in the house that everyone uses on a daily basis. Putting some thought, design, and money while making a mudroom can be beneficial in many ways and have a positive impact on the life and quality of the family residing.
While planning the layout of the mudroom, the first and foremost point to highlight is the functionality of the area. This means the number of footfall the mudroom will bear at one time. There are instances where the mudroom will be used by a person or two at one time or an entire family returning back together.
It is important to decide the type of furniture required along with a seating bench, like storage for laundry, key stand, sports equipment, etc.
2. Deciding the Flow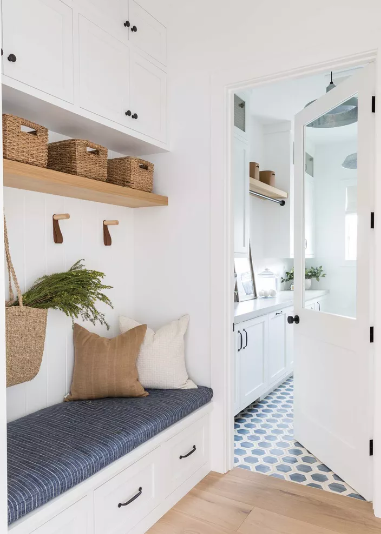 Usually, when we return back from home after shopping for groceries, vegetables, fruits, etc., we wait to reach the kitchen or pantry area due to the heavy bags on the shoulder and a few carry bags tied on each finger.
Having a mudroom can save time and give some buffer to reach the pantry. Hence, it is inevitable to decide on the flow or the opening of the mudroom. This means the accessibility of the mudroom directly to the kitchen or pantry.
Mudroom is the first sight as soon as you enter a house; it should be serene, light, and have few lines of colors. Aesthetics play a huge part when you walk in, and it is not necessary to have a huge mudroom; a cozier one also works.
3. Shortlisting the Material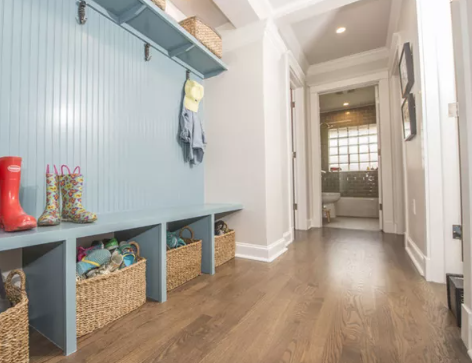 The mudroom can be given a different touch from the remaining household to make it look beautiful, welcoming, and different from those entertaining your house. You'll also want a warm welcome from a tired day; the brightened wallpapers or a cozy seat can help you feel relaxed.
One of the most important factors to decide while designing a mudroom is the material to be used in the flooring as this area is where all the school shoes, work boots, sports shoes, etc., will be harbored to avoid the mess inside. No matter if you are residing in an area where it rains a lot, decide on a floor that does not get beat up by getting wet all the time. Moreover, to keep the feet warm in the cold, consider placing a heated tile.
4. Increase the Functionality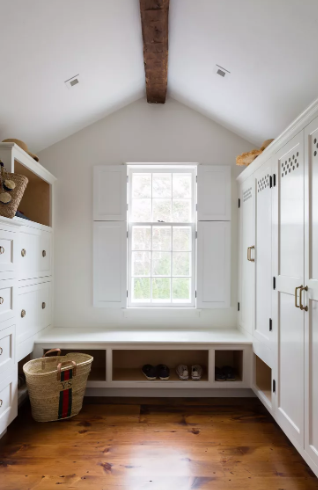 Mudrooms can prove to be a great place to store stuff that comes in day-to-day use, and you do not want to take it all the way inside the house. You can utilize the area above the mudroom bench vertically to install shelves and hooks. This will save you time on a daily basis by just grabbing your coat and keys that are kept handy.
Furthermore, to increase the aesthetics, you can place an antique table that has a nice welcome aboard. Add funny, welcoming door mats to catch the attention of your visitors.
Apart from this, you can consider adding a piece of furniture, tall lockers, or an entire closet in the mudroom. This will not only help de-clutter but also look visually appealing.
5. Utilize the Area Efficiently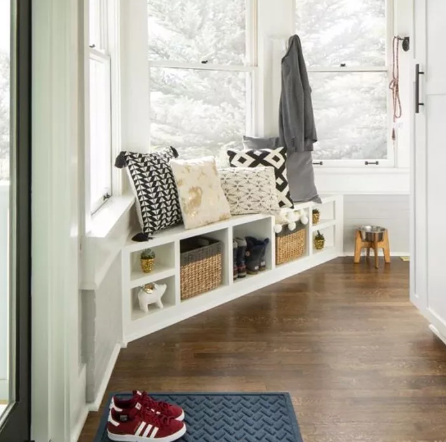 As the mudroom is confined to either the entrance or the back doors, there is limited space. But limited space comes with the benefit of maximum creativity. Instead of cutting out the storage, use the limited space to design a piece of customized furniture, shelves, and a sitting area.
The correct mudroom bench can be used even in awkward corners. Make a unique mudroom by using most of the limited square footage. Shoes may be put on and taken off on an elegant window seat, and the small cubby underneath provides useful storage. Add some wall frames and lamps to make it feel more cozy, and the small entryway will feel incredibly welcoming.
6. Multipurpose Bench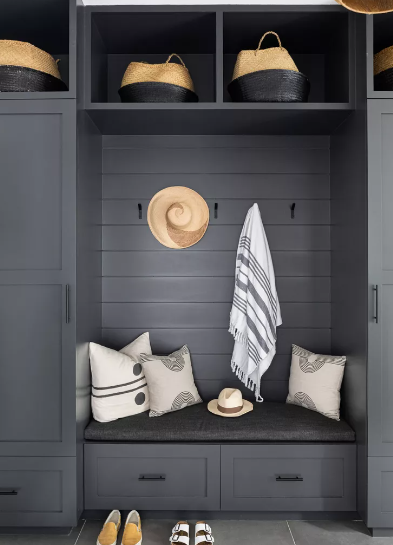 The idea of mudroom creation is for stopping by removing or wearing shoes, coats, and hats and putting or taking the keys, bags, etc. The seating bench in the mudroom is a great area to create cozy storage beneath.
You can make or assemble a wooden box or cabinet made of plywood that consists of multiple drawers. DIY is easier when it comes to mudroom storage, as you can customize your furniture according to the given space and make it look elegant.
Instead of making solid, immovable drawers, you can also choose to make just a bench with ample space beneath it to keep boxes, baskets, and shoes as and when required.
7. Build Easy-Maintenance Furniture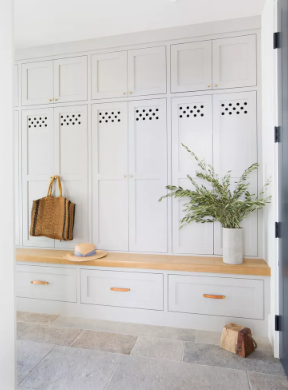 The mudroom will be the place in your home that will witness the maximum footfall. It needs to be tidy, commodious, and well-lit. The more furniture you have, the more cleaning and maintenance instances arise, as you'll have all types of used shoes, raincoats, overcoats, etc.
You can create a vertical space with hooks to keep the school bags, laptop bags, etc., to avoid cluttering in rooms. Moreover, you can consider building a storage or a furniture wall or tall lockers that have a vent for air circulation. These features will appear unique and provide the drawers with some breathable space.
8. Utilize Whatever Is In-House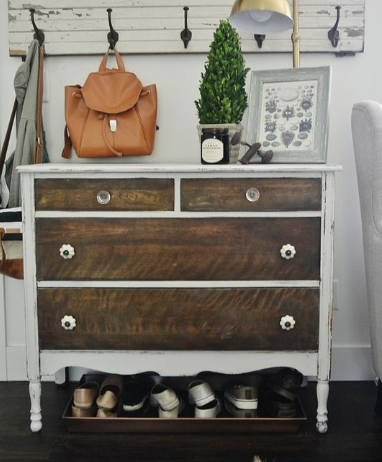 Creating a mudroom can go out of budget while giving it all the aesthetics. Instead of focusing on buying all new things for the mudroom, you can utilize the furniture that is already with you. For example, the rustic dresser in the attic can be used as antique decor at the entrance. Equip the dresser with a basket or stand that holds all your keys, watch, and wallet to save you time. The dresser comes with the advantage of its own storage that can help keep your important visiting cards, yellow pages, diary, and even emergency socks, handkerchiefs, etc.
Furthermore, a few photo frames and souvenirs can be hung vertically, creating a visually beautiful look at the entrance. A cut-out or wallpaper just above the mudroom bench can create a unique look.
9. Transform a Room Into a Mudroom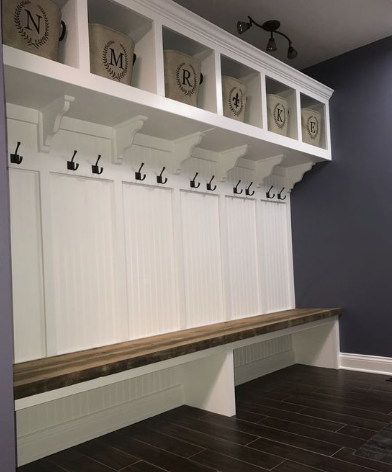 It is not necessary to utilize the front foyer in the house; you can be creative and different from the conventional forms when it comes to designing a mudroom. The room opening in your backyard or garden can be converted into a mudroom or back-door entrance. This will provide you with an ample amount of space for built-in storage and use the extra area for a library or workplace.
You get the advantage of painting the converted mudroom with the colors you like to make it look different from the other rooms. An option to consider when building storage for a mudroom is making cubbies and hanging them on the wall. This keeps the stuff organized if you have a toddler or a dog.
10. Different Types of Bench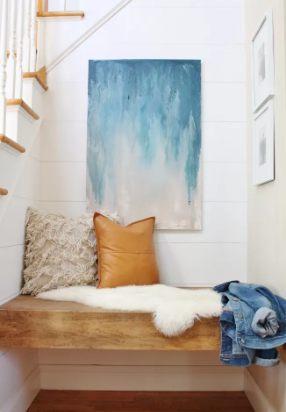 It is a task to create a mudroom that fill-ins all the requirements like bench, storage, vertical space, etc. It is not necessary to have a mudroom with storage; the cabinets are made only for storing your stuff that is in dire need on a daily basis. But if you don't have enough space, just a floating bench by the corner can also work.
The floating bench can be made of plywood, granite, or even water-resistant material. Furthermore, you can always add baskets to the open space if you need to de-clutter.
Another budget-friendly option is building an entire mudroom storage in one unit as per the requirement and then just install it in its place. A built-in mudroom bench will consist of drawer boxes, hooks, shelves, and a plank as a bench.
11. Micro Mudroom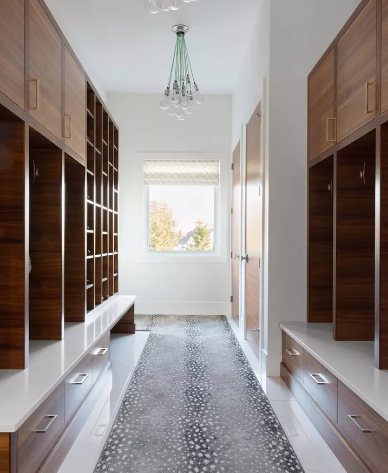 There is no ground rule to keep the mudroom always functional. This area is used only when you or the guests enter. Instead of keeping the area occupied by the bench and the cabinets for the whole day, install these inside long sliders in the wall.
This will give you a walking wardrobe-like look and storage when the bench is not required. There is no end to creativity and innovation while designing your own mudroom. Put some wheels with lock guards on the bench so that they can be easily removed and placed in the wardrobe.
Don't restrict yourself to having just a single mudroom bench that fits only two people at a time. Instead, make a few smaller benches that can be used whenever there is more footfall.
12. Create a Customized Wall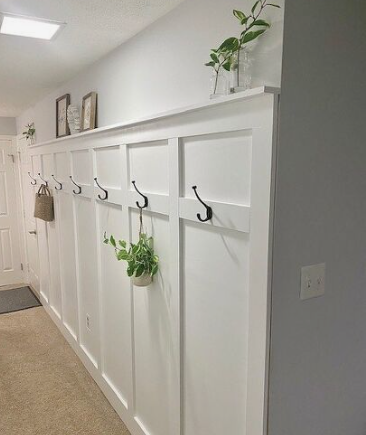 You already have a well-furnished home and don't want to spoil its layout by making or breaking any walls. But there is a requirement for a dedicated mudroom area in the house. You can DIY by designing and customizing a wall. You'll need to prepare a layout of the board and batten wall and its location in the house.
After measuring how big the wall you want to decorate, move ahead with the material of the board. It is advisable to use Pinewood, as it will fall in your budget. While arranging the boards, keep checking the levels and alignment so they are built in straight-up positions. You can add one or two centerboards for placing hooks.
Furthermore, stain the wood as per the color you want. You can give a rustic look, a vintage look, or a calmer look to the wall.
13. Storing Inside the Bench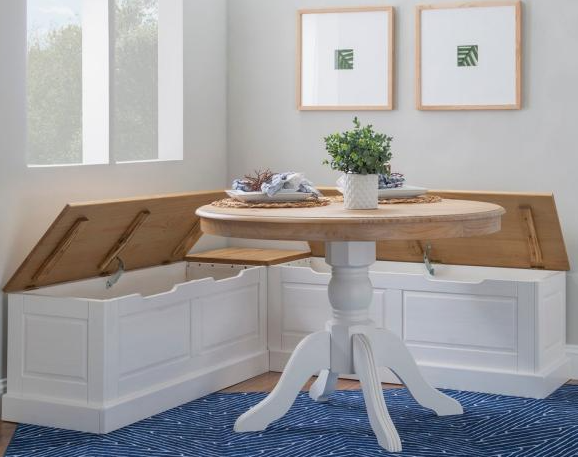 While dealing with the constraint of space, you might have to cut down building huge furniture in the mudroom. But there is always space for micro furniture and building storage inside them. The blanket chest or storage bench can be made by anyone at home.
Woodworking on your own is not about cutting the perfect wood pieces as per the exact measurement. Consistency is more important; that means cutting the sheets at the same time to ensure that all of them are going to be of consistent length and width.
For the joinery of the storage box, you can use a combination of biscuits and pocket screws. The biscuits work great for not only adding a little bit of strength to the box but also they really assist in the panel lineup. Add a solid wood top on the box and a nice drawer handle on the top for easy pulling.
14. Hall Tree Storage Bench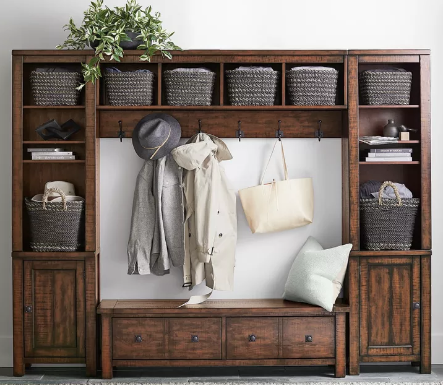 With a family full of adults and children, it does not take long for a mudroom space to become out of control. Jackets, hats, shoes, and gloves are strewn about everywhere. A large hall tree storage bench is the remedy to all these clutters. It can be made from plywood with solid frames and then painted and clear-coated for additional durability.
The reason for choosing a hall tree is because it includes bench storage, matching towers with both open shelves and cabinets, as well as a connecting bridge with additional cubbies and robust hooks. The spacious upper cubbies are ideal for decorative objects or storage that you won't need to use frequently, and the movable tower shelves provide you with more versatility. The open space of the item frames also means you have plenty of space for bags or coats, as well as a designated location for a mirror or piece of art.
15. Transforming an Area Into a Mudroom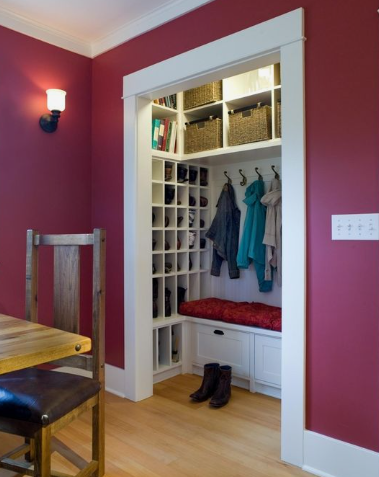 If your place does not have enough space to harbor a storage bench and a few pieces of furniture, you can always transform certain areas in your hallway into a mudroom. For example, your closet space below your stairs can turn into a cozy mudroom.
Before you start the transforming project, use the space first and see where all the things are naturally ending up. Once you finalize the things that need to be kept in the limited space and are meant to be kept at bay from the main rooms,
design a mudroom or a mud groove that maximizes the organic flow of the room.
Mount a few drawer slides into the bench so it holds all the shoes, sports equipment, car shampoo, etc. By using a drawer bench as storage, you'll be able to maintain the stuff at its mentioned location with minimum clutter and worry of cleaning daily.
16. Mudroom According to the Location
Mudrooms are not confined to conventional homes only. They can be designed for vacation homes like farmhouses, beach houses, etc.
A worn-looking wooden seat that has been bleached by the sun is the ideal addition to the coastal mudroom. In front of the seat, you can place some clean beach towels, hats, your children's sand-castle tools, etc. Tote bags and beach hats can be stored above on the wood and leather hooks.
You can also choose to add a built-in mudroom bench in your coastal home, which has a little retro appeal thanks to thin white planks. The bench cushion in blue and white adds to the seaside atmosphere. The storage drawers below can have cabinet knobs that are reminiscent of portholes, adding a quirky touch.
17. Add-Ons Near the Bench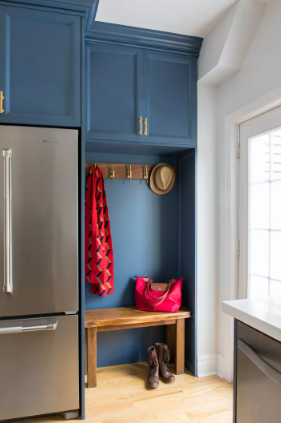 It is not necessary to go with a full storage facility mudroom. A classic at heart may be into less is more like a light, wooden bench. Keep the mudroom as cozy as possible, as there is an entire house to work on.
The sole purpose of a mudroom is to take a small halt and either come inside or rush to work. A cozy bench by the door and a few woven baskets, hooks, and a shelf for an aesthetic look. Furthermore, you can add a beautiful small-sized mattress and a few cushions to make it look beautiful.
This type of mudroom area comes with the advantage of less cluttering and easy cleaning.
18. Theme a Mudroom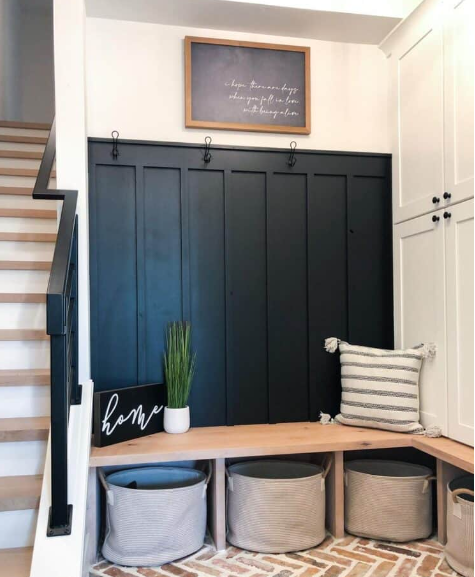 Let your guests know about your collections and madness when it comes to superheroes or designing a themed party.
Decorate your priced possessions like frames and souvenirs on the shelves, and use the hooks to hang some lights for a beautiful look. Furthermore, you can add labeled cloth bags or burlap baskets below your bench according to the belonging size.
A black matte board and batten feature wall with black hooks can be used to give a sleek, contemporary look to the mudroom. You use the space to surround it with a light wood bench and along the adjacent wall with white cabinets that provide additional storage.
19. White and Full of Light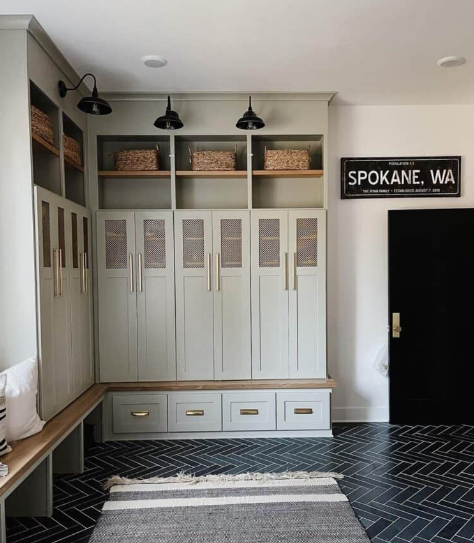 Lower white drawers with silver cup knobs and a shiplap wall create a light and open mudroom. A comfortable bench can frame by two long, slim cabinets, which are adorned with a hanging leather bag and throw pillows with neutral-colored patterns. Design large cupboards near the ceiling that have top cubbies with woven baskets hidden inside.
To highlight the whites in the mudroom, use darker shades of rug or tiles. A large grey rug and black herringbone tile flooring can be used to create a roomy mudroom. The white cabinets with gold hardware that surround two walls can be illuminated by mounted wall lights.
20. Create a Spacious Mudroom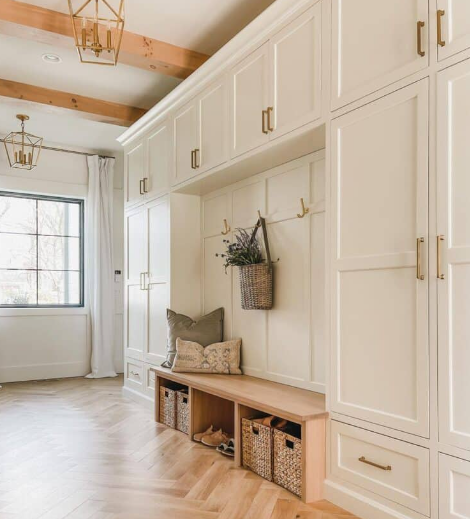 If you have a galley plan, think about adding built-ins and benches on each wall. Here, coats and shoes have their own spaces. Moreover, add a printed rug runner and statement lighting to prevent the room from feeling cold.
If there is ample space for a mudroom, go with a herringbone wood floor and wood beams on the ceiling with gold lantern-style lights hanging above. The length of the room can be a wall of white cabinets with gold handles. A wooden mudroom bench with shoe storage and wicker baskets underneath can be placed in the middle. On the board and batten wall above, attach hooks.
21. Pet-Friendly Mudroom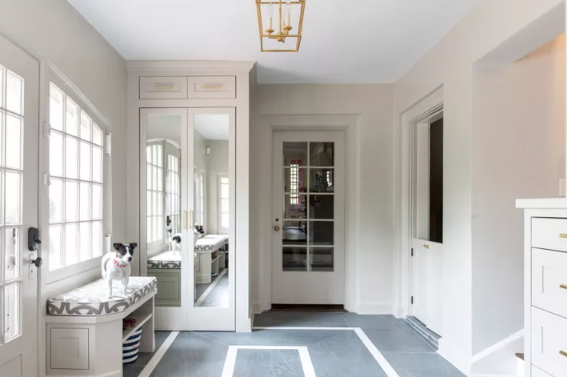 You can always plan a gorgeously designed mudroom packed with all the amenities any house requires. A cushion topped with durable outdoor fabric completes the built-in bench. The dog's leash, collar, and outerwear can all fit underneath the shelf storage.
With its tongue and groove ceiling and oak hardwood floors, the design of a side room extension makes it the ideal mudroom. A storage-equipped mudroom bench with a white cushion and multiple throw cushions can be positioned close to the wooden French doors. One side can have a dedicated tiny pet entrance cut into it, and in front with a tiny welcome mat.
Conclusion
When it comes to putting shoes, jackets, and backpacks away at the end of each day, maintaining a clean and organized home might feel like an endless effort. Many of us prioritize finding ways to tuck our possessions out of sight in order to keep our houses tidy and organized, so building a mudroom bench with storage ought to be a key priority.
Fortunately, you can create a room practically anywhere in your house to harbor your accessories out of the way. The above-mentioned tips can surely help when you are building your home or renovating it. These provisions will be a great help when executed.