21 Creative and Modern Wainscoting Ideas
If you're looking to add some character to your walls, nothing beats modern wainscoting. It's the perfect way to add visual interest to any room and create a timeless, classic look. Whether you choose traditional paneling or a more modern style, wainscoting is sure to make a statement and elevate your home's style.
Modern wainscoting has evolved to blend minimalist and stylish designs. You can now get wainscoting that boosts a sleek and contemporary look. These designs elevate the beauty of your space without compromising on style. Wainscoting has stood the test of time as a popular and stylish decorative feature that adds charm to any room.
Board and batten is a popular choice for contemporary homes due to its sleek appearance and minimalist style. Adding a splash of color to the paneling can give your wainscoting a stylish and modern look. Consider painting it in trendy shades like pink, beige, black, or gray to enhance its aesthetic appeal. This blog post will provide you with various inspirational ideas for adding modern wainscoting to your space. Whether you are looking to add a touch of elegance, rustic charm, or modern flair, there is surely a wainscoting style that will perfectly complement your interior design theme.
Modern Wainscoting Ideas to Elevate Your Space 
1. Build with Beadboard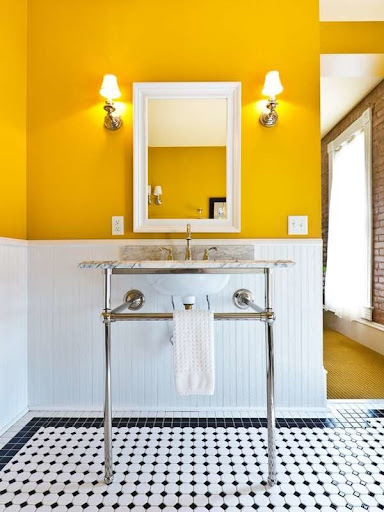 Immerse yourself in the authentic New England lifestyle by incorporating traditional wainscoting often found in Cape Cod-style homes. Beadboard is a type of wall paneling that is highly suitable for smaller living spaces such as breakfast nooks and bathrooms. Its vertical wooden strips are arranged in a tongue- and groove system, where each protruding edge interlocks with the corresponding slot of its adjacent strip. This not only gives beadboard a stylish look but also creates an illusion of height that can make even the smallest room feel more spacious.
2. Use Gloss Paint to Reflect Light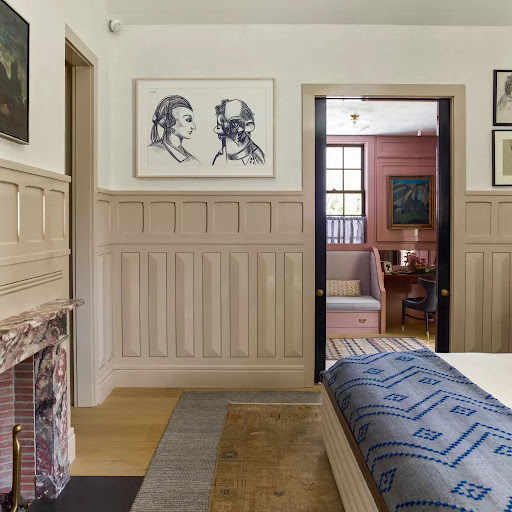 Wainscoting is commonly painted with a glossy finish, which is a nod to its original purpose. Gloss paint is a highly durable option compared to flat paints, making it an excellent choice for wainscoting. Its sheen adds an extra layer of protection against dings and nicks, increasing the functionality of the wainscoting as a shield. Not only does glossy wainscoting add visual appeal to a room, it also reflects light, providing an additional benefit to your decor.
The peaceful bedroom showed above features cus-designed wainscoting that highlights the modern style of the room using long beveled panels. The pale beige gloss used to paint the layered design is not just a pretty detail. It also serves a dual purpose that adds both function and aesthetic appeal.
3. Dining Room with Off-White Board and Batten Wainscoting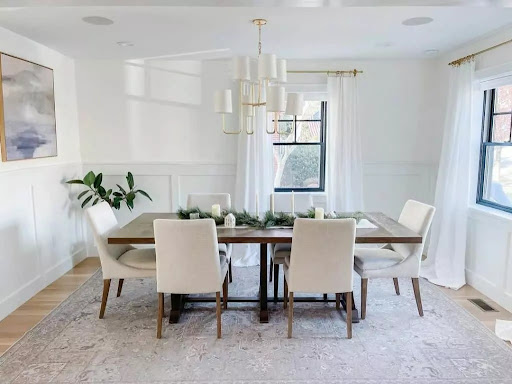 A striking gold and white chandelier hangs elegantly over a rectangular dining table made of rich, stained wood. This white dining room features modern off-white board and battens wainscoting that perfectly pairs with beige upholstered dining chairs around the table.
4. Use Bold Wainscoting to Balance out An Accent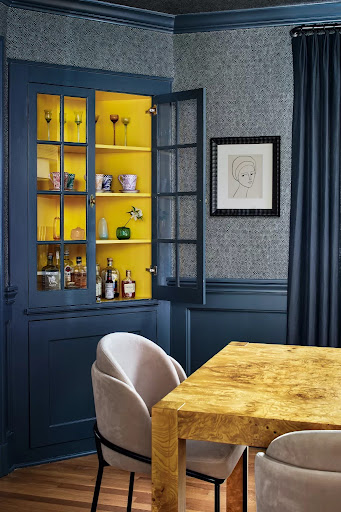 Just as a bold wallpaper or print can make a statement, wainscoting can also enhance a brightly colored accent wall. Intensifying the concentration of pigment in your paint can provide a striking contrast, which leads to vibrant pops of color that stand out in your design.
The dining room shown above features a captivating combination of moody blue shades that cover the wainscoting, molding, wallpaper, and curtains. This rates an eye-catching contrast with a vibrant pop of yellow that infuses energy into the space.
5. Create Clean Lines with Board and Batten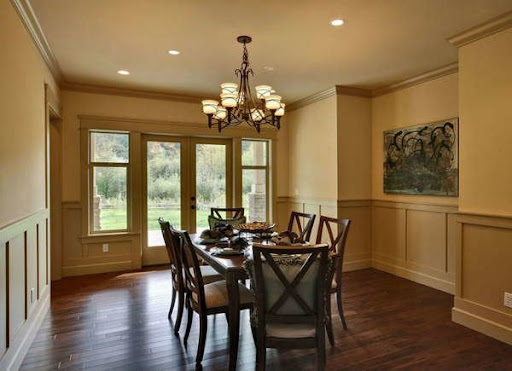 Board and batten is a popular siding style that originated on barns. It involves using wide wood or MDF panels and narrow wooden strips arranged alternatively between the top and bottom rails of horizontal molding. Traditional spaces, such as kitchens and mud rooms, achieve a flawless harmony of traditional and contemporary styles that are both elegant and functional. The flax board and batten wainscoting, wooden table, and chandelier give a warm and old-world feel to the formal dining room in the above reference. The modern art displayed in the room appears as a true novelty in comparison.
6. Appreciate the Original Beauty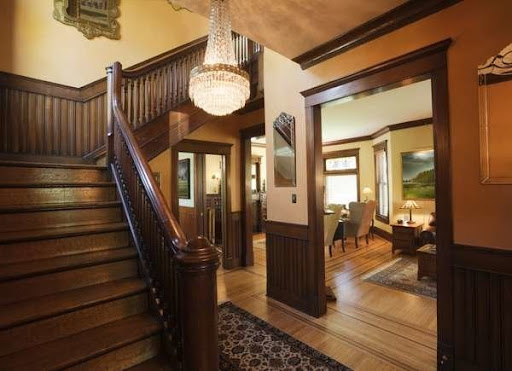 If you're looking to add some character to your walls, wainscoting made of wood or MDF can be painted in any color you desire. Alternatively, you can leave it unpainted to showcase its natural charm. Stained wainscoting is a highly sought-after feature in vintage-style entryways and hallways. The natural patina of the wainscoting only serves to enhance the nostalgic feel of the space. If it is painted with ornate mirrors and grand chandeliers, it creates an atmosphere that exudes an old-world charm.
7. Industrial Chic Tin-Roof Wainscoting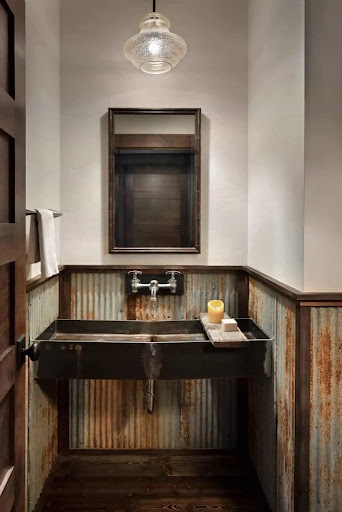 Remember that not all wainscoting has to be crafted from wood. Metal wall panels, often made from repurposed or distressed aluminum, are becoming a popular choice for wall covering materials. They provide a unique and timeless aesthetic that adds character and depth to any space.
8. Art Deco-Inspired Wainscoting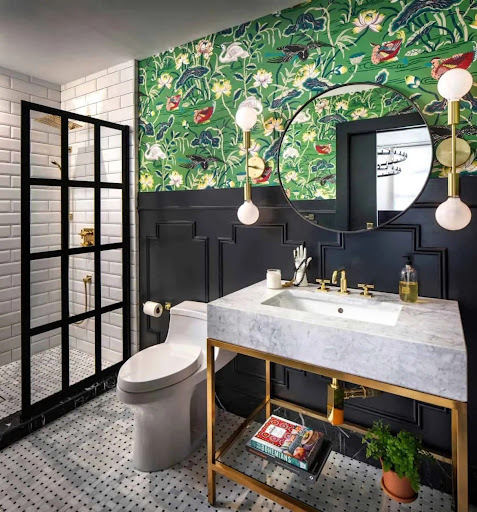 Even though white is a common color choice for homeowners, there are numerous other colors that can look equally or even more visually appealing in the right scenario. You can add a touch of timeless elegance to any room, whether it's a bathroom or an unfinished basement, by incorporating exquisite art dec-inspired wainscoting with raised geometric molding patterns on the walls.
9. Faded Rustic Chic Paneling on The Wall and Ceiling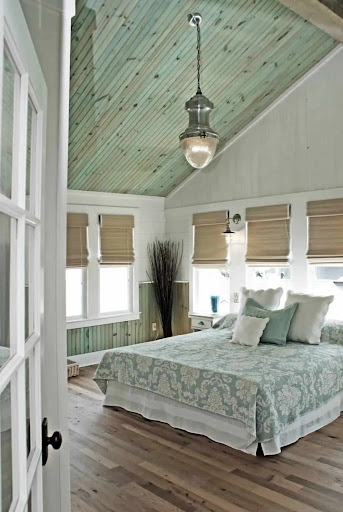 When designing a room, creating a cohesive appearance is important. Matching the ceiling with the wainscoting is one way to accomplish this. It ties the room together and creates a sense of harmony. Incorporating a blend of rustic and chic wooden elements is a fantastic way to achieve a particular design aesthetic.
10. Go All out With One Color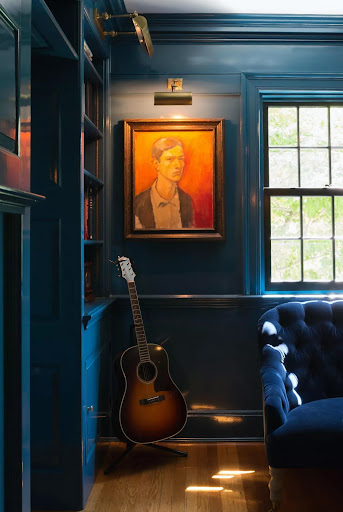 If you're looking for a fresh way to incorporate the trendy "color drenching" technique into your home decor, consider utilizing rooms with wainscoting! Wooden wainscoting is an excellent way to add texture to a monotonous wall. You can also paint it in a contrasting sheen (such as high-gloss paint) to inject some life into your walls. The result is a visually appealing wall that adds character to any room.
11. Create Contrast with Playful, Quirky Decor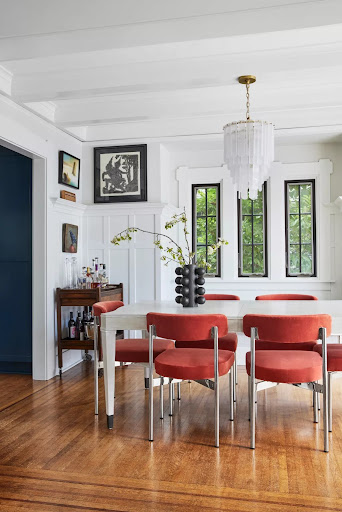 Although wainscoting may have a somewhat conservative and outdated appearance, you can effortlessly transform the ambiance by incorporating striking decor and furniture pieces. It's hard to miss the contrast in today's decor trends, where modern ceramics boast playful shapes while retro chairs flaunt bold pops of color. Even artwork with mismatched frames adds to the combination of elements that captivates homeowners.
The designers who furnished the above reference dining room have given it a lively touch by carefully selecting the decor items themselves.
12. A Simple Painted Line Is Affordable and Durable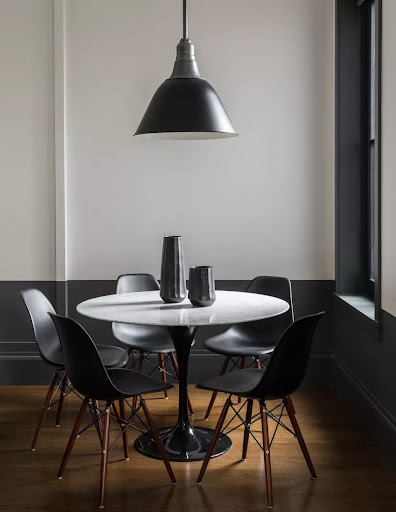 If you want a simple and minimalistic approach to wainscoting, a painted line will do the trick! It creates a visual effect that is pleasing to the eye while not being too overwhelming. Give your walls a touch of elegance with this effortless technique that will make a difference. You can achieve the look of wainscoting without spending too much money. You can opt for a bold paint color to apply in the area where wainscoting is usually installed.
13. Whiten and Brighten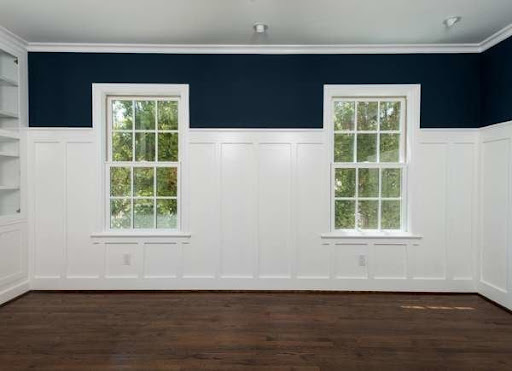 Are you in love with a dark wall color but concerned that your room may end up feeling too dark and gloomy? Here's a quick hack – paint the wainscoting below with a bright white. This contrast will not only add dimension and depth to your walls but also brighten up your room dramatically.
The strategic use of whiteboard and batten wainscoting in this above-mentioned versatile room showcases smart design thinking that instantly attracts guests' gaze towards the stunning navy accent painted above it with a velvety finish.
14. Match the Walls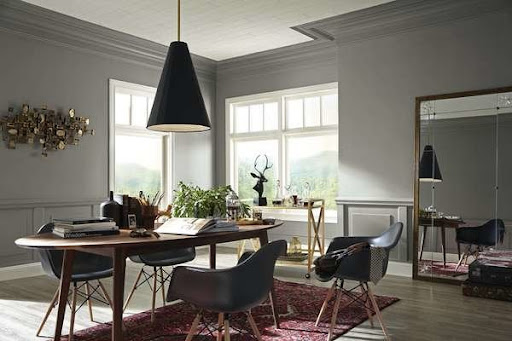 Coordinating the color of your wainscoting with your walls is a simple element of design that can make a huge difference in the overall appearance of your living, family, and dining rooms.
This dining room and bar features unique abstract wall art, modern lighting, and a contemporary table. Nonetheless, the room effectively pulls off a cohesive look, thanks to the slate-colored raised paneling and matching walls.
15. Regal Powder Room Paneling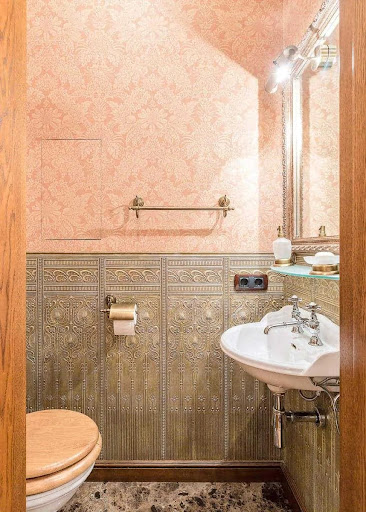 The versatile nature of wainscoting is undeniable, making it an ideal choice for practically any design style. Intriguing patterns and shapes can add a touch of mystique to any room, especially in smaller spaces like bathrooms or vanity closets. Spirals and other unique patterns can create an alluring and fascinating atmosphere that will capture the attention of anyone who enters the space.
16. Gorgeous White Marble Wainscoting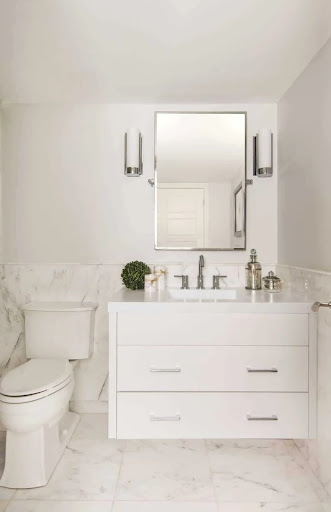 Marble has a way of exuding elegance like nothing else. Add some luxury to your bathroom or any other space by opting for marble or quartz wainscoting instead of the typical wood option. This elegant upgrade will provide an instant high-end flair and a touch of sophistication to any room.
17. French Colonial Wainscoting with Picture Frame Molding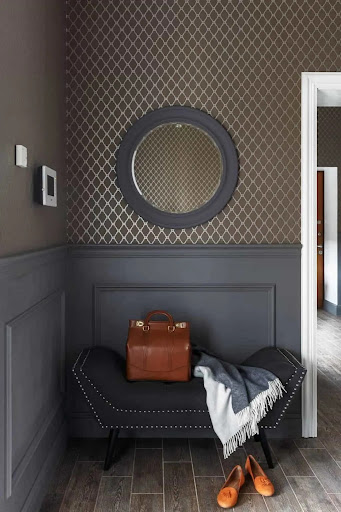 Add a touch of refined and timeless sophistication to your home's entryway, dining area, or living room by adopting the French colonial-inspired design of wainscoting. Create a stunning effect with soft, white, or charcoal-colored raised panels that form simple rectangular shapes on the walls. This elegant decor elevates any room and adds a touch of classic charm that never goes out of style.
18. Family Room with a Whiteboard and Batten Wainscoting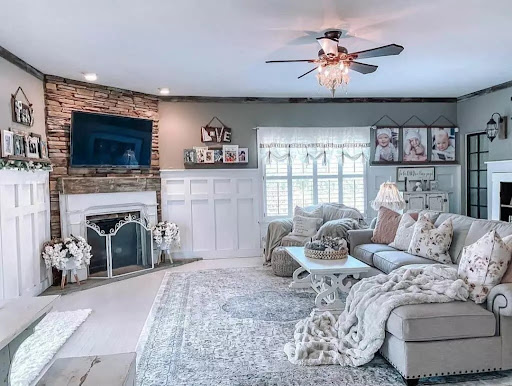 This charming farmhouse family room boasts elegant whiteboard and batten wainscoting. The room's centerpiece is a cozy beige sectional sofa that invites relaxation after a long day at work. And the white coffee table makes a perfect pairing for the sofa.
19. Light Blue Walls with Modern White Wainscoting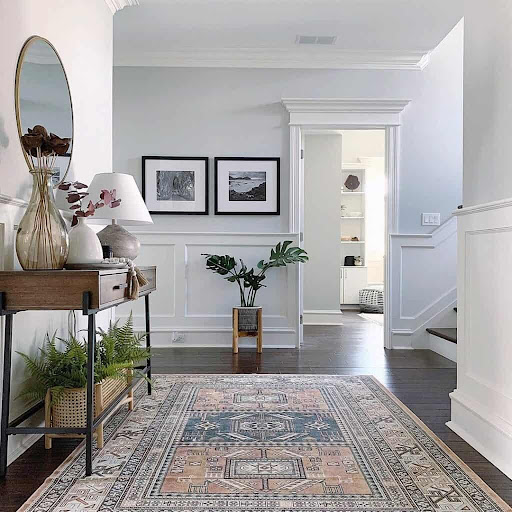 A beautiful console table made of stained wood and a black metal combo is positioned beneath a stunning round mirror framed in gold, creating a striking statement piece in the foyer. The foyer features a sleek black-framed gallery exhibit hung on light blue walls accented with elegant white wainscoting.
20. Camouflage Wall Cabinets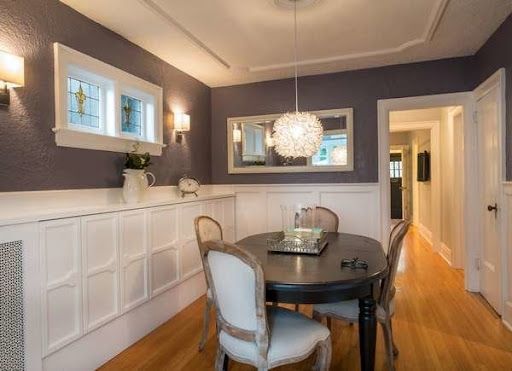 If you have cabinets installed on one wall, the surrounding bare walls can look empty and unappealing. So, you can consider adding wainscoting to the remaining walls. This will avoid an uneven appearance and tie the room together in a stylish and contemporary way.
These homeowners have showcased their design expertise by installing white recessed paneling on a blue-gray dining room wall at the same level as their custom-built white cabinets. The result is an exquisitely balanced and visually pleasing aesthetic that perfectly complements the overall decor scheme.
21. Safeguard Stairways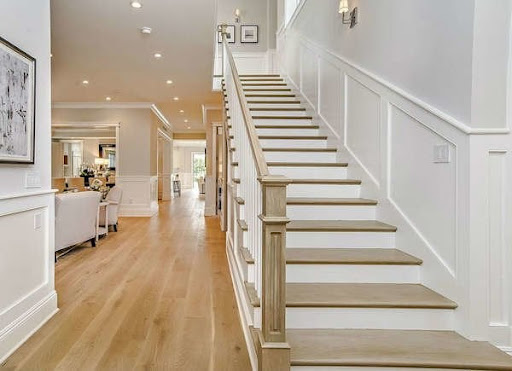 Wainscoting can be a great option for wall coverings, not only to add to the aesthetic of a space but also to protect it from daily wear and tear. With wainscoting, you can have both form and function in your decor! Whiteboard-and-batten wainscoting is used in the stairway to prevent scuff marks on the walls caused by heavy appliances or equipment being carried upstairs by the homeowners. This is not only functional but also adds an elegant touch to the space.
Conclusion
You may not be familiar with the term "wainscoting," but chances are you have come across this elegant form of wood paneling before. For centuries, wainscoting has been used by interior designers, builders, and homeowners as a practical way to shield their walls from scratches and bumps.
Regardless of the age of your property, researching the appropriate design of wainscoting that matches the house's age is crucial. This way, you can ensure that the wainscoting complements your property's existing style, creating a cohesive and timeless look. Although paneling and wainscoting can be used in modern homes, it is advisable to opt for a more minimalist style by starting with a classic design and then streaming it. It guarantees a modern appearance.
If you are looking to wainscot your space but don't know where to start, we've put together this list of creative ideas that will help you transform your space into something truly special. What is your favorite concept among all, and why?
Frequently Asked Questions
What Is the Purpose of Wainscoting?
Chances are you've come across wainscoting – even if you're not familiar with the term. This classic wood paneling style has been around for a long time and is common in many different types of buildings. Wainscoting has been a popular choice for interior design, home builders, and homeowners for many centuries. It protects walls from damage caused by furniture, shoes, and other elements and effectively shields walls from these potential hazards while adding a touch of elegance to any room.
Can I Have Wainscoting in a Modern Home?
To achieve a cohesive look, it's crucial to ensure that the design of the wainscoting matches the period of your home. Regardless of whether your property is traditional or contemporary, doing proper research beforehand will help you seamlessly integrate the wainscoting into your home's overall design aesthetic. Hence, wainscoting can be a valuable tool for creating a multidimensional look and feel in modern spaces.
Does Wainscoting Make a Room Look Bigger?
If you want to add subtle texture to your room and make it appear bigger, consider keeping the paneling the same color as the walls. This will create a cohesive look that doesn't overwhelm the space with too many contrasting colors. In fact, it can actually make the area feel much larger than it really is. So, if you're looking for a simple way to spruce up your walls without making a big statement, wainscoting is a great option to try out.
What Is the Golden Rule for Wainscoting?
A useful guideline for wainscoting height is to place it one-third up the wall. For instance, if you're in a room with a ceiling height of nine feet, the wainscoting would be located at a height of three feet above the floor. Want to shake things up with a much taller wainscot? Try one that covers the bottom two-thirds of the wall.
What Is the Best Material for Wainscoting?
Vinyl. It reigns supreme as the go-to material for wainscoting in busy and moisture-prone areas, such as kitchens, bathrooms, and mudrooms. Its durability and resistance to scratches and water make it a breeze to clean, whereas hardwood and plywood options pale in comparison. For homeowners seeking easy maintenance and longevity, vinyl is the clear winner.
What Are the Different Types of Wainscoting?
Wainscoting panels are available in five primary types: Raised Panel, Flat Panel, bedboard, Overlay, and Board and Batten. Raised panel wainscoting is a special style where the panels are positioned in front of the rails and styles. The end result is that the panels appear to be elevated, giving them a visually striking and attractive appearance.
Is Wainscoting a Trend?
Wainscoting may have traditionally been used as a time-tested wall protector, but it has now evolved into more than just a functional piece of decor. In the current trend of interior design, wainscoting offers a multitude of stylish wall paneling options. Wainscoting can do more than just add a layer of decor to your walls. A contemporary wainscoting design can visually elongate a room, creating the impression of a huge space. Even a simple wainscoting implementation can introduce texture and allure to rooms with clean lines.