Being parents not only involves handling kids. It also has a huge responsibility to keep all their toys, such as Legos, properly. Kids and their toys can be here and there in the complete house, creating an insecurity of hurting themselves.
So, it is very important to have some efficient Lego storage ideas that can help organize them and are not much time consuming as it is a continuous process. Legos are today's generation of kids as well as parents' favorites due to separate reasons.
For kids, they are just arranging the Lego blocks so that they just fit or even not. They laugh out loud each time the Lego blocks fall. But, for the parents, this simple game of Lego blocks helps their kids boost focus, sharpen their minds, enhance their problem-solving skills, and, most importantly, teach them never to give up. It is a fun and effortless process to level up their cognitive skills, but on the other hand, at the end of the day, it's important to keep them all in one place.
It's always believed that the house can't be kept tidy with kids, but there are simple and efficient Lego storage ideas that can help overcome this. Bigger toys and items are easy to store and clean up, but Legos are of different shapes and sizes. Losing any piece can lead to an incomplete structure, as one lost piece can ruin the complete puzzle.
Life-Saving Lego Storage Ideas
With this blog, we will help you understand 21 simple and efficient Lego storage ideas to save time and avoid any missing pieces or untidy houses.
1. Lego Storage PlayMat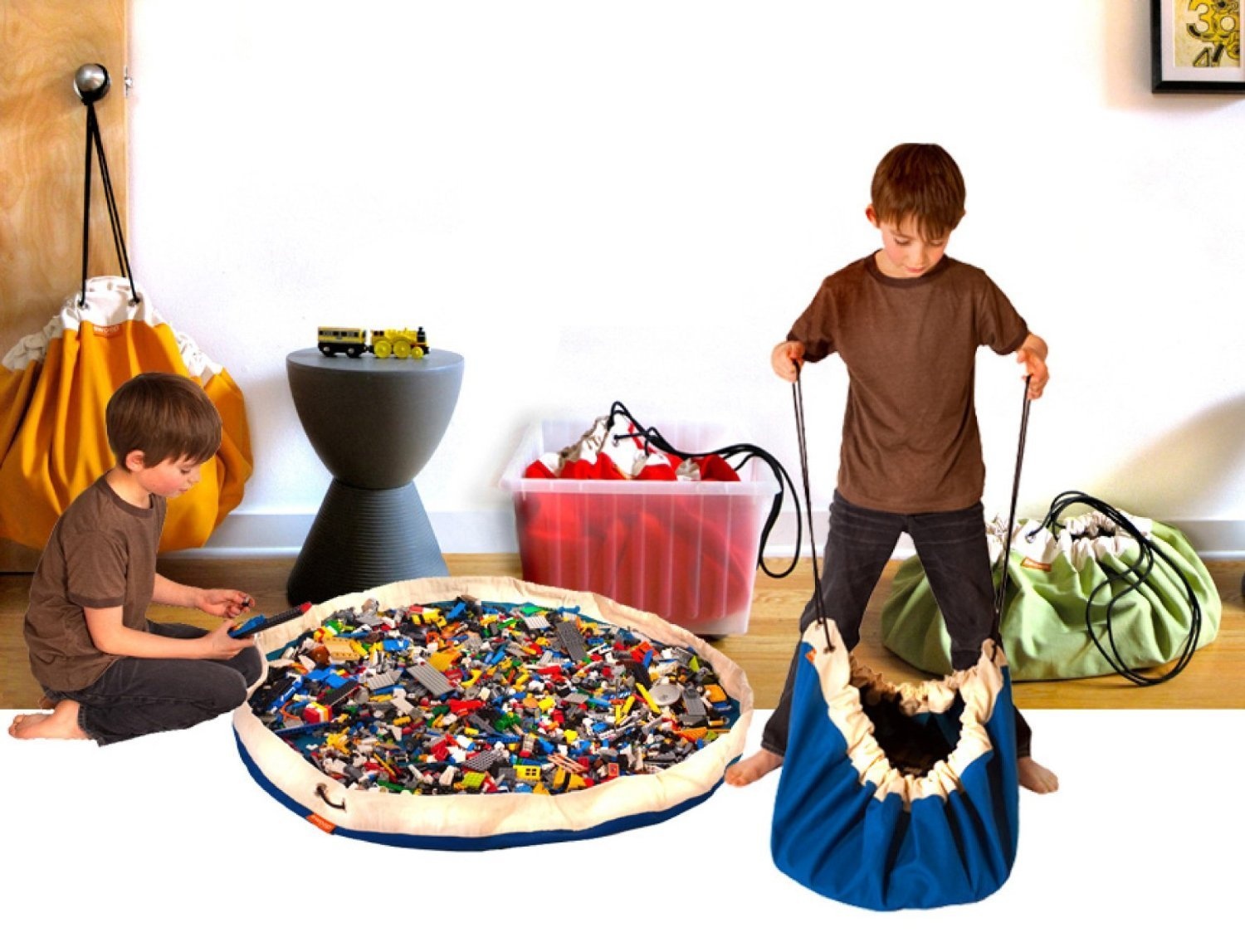 Play mats have a nice concept where they come with a string. So, it is like a mat where kids can sit and play with the Legos and toys, and once they are done, they can just pull the string. It will become a storage pouch bag that will contain all their Legos and toys. The storage drawstring play mats are available in different sizes to be used for different storage purposes. One of these storage play mats comes with a bin attached which makes the complete cleanup process very easy. The pouch bag, after pulling the string, can be winded up in the bin and can be kept on shelves or closets neatly.
2. Plastic Storage Tubs (Large and Small)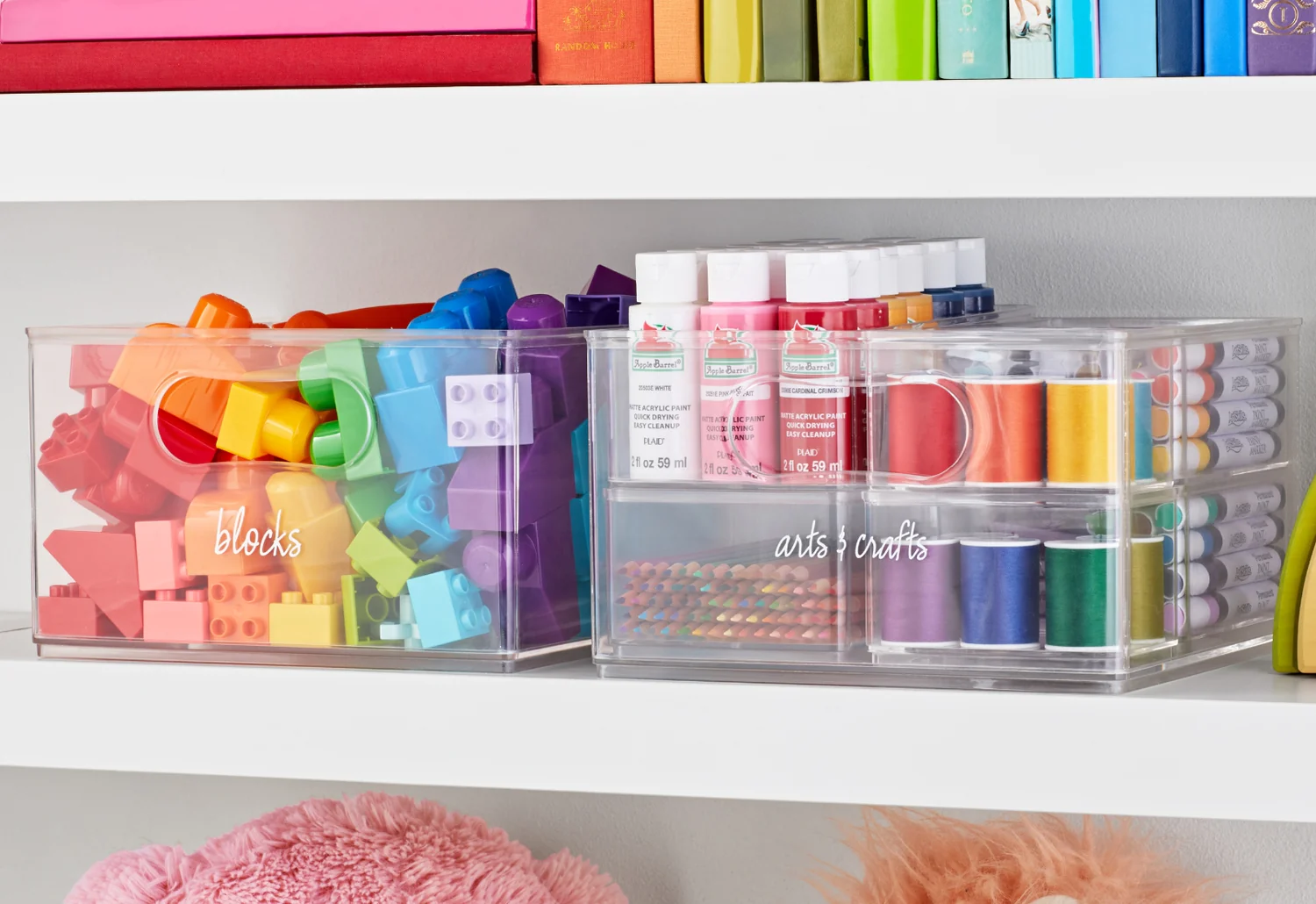 An easy, effortless, and cost-effective Lego storage idea to store all the Lego blocks is to store them in plastic tubs. Plastic tubs come in different sizes. Either one can use a single big plastic tub and throw all the Legos in it once the kids are done playing. Else, multiple small plastic tubs can be used to organize them properly and may be sorted out based on colors or sizes. With the plastic Lego storage tubs, you can teach your kids to pick each piece and throw it in the tub, helping them learn to clean up their toys.
3. Lego Storage Table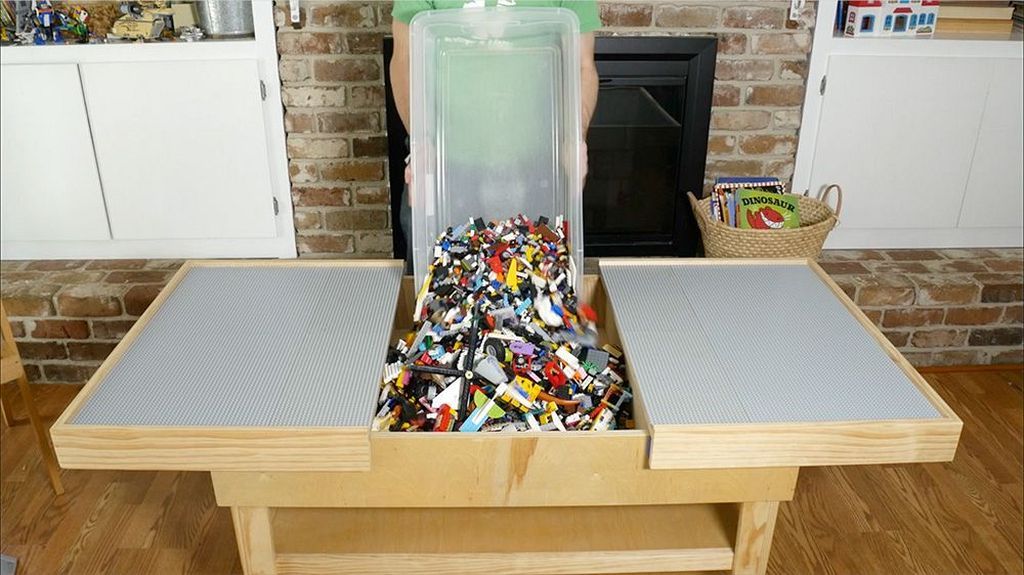 Do your kids also play on the dining table or your kitchen countertop? Usually, kids prefer to climb up to a table and play for the sake of little fun. This usually ends up in a mess on the table, but the problem can be solved now. The Lego storage table is where your kids can play and as well as store the Legos. The Lego table has a big Lego building space with a spacious space to store them underneath it. It can be placed in the kid's room or maybe in the living room so kids can keep sight of them while they are playing.
4. Lego Wall-Hanging Storage Display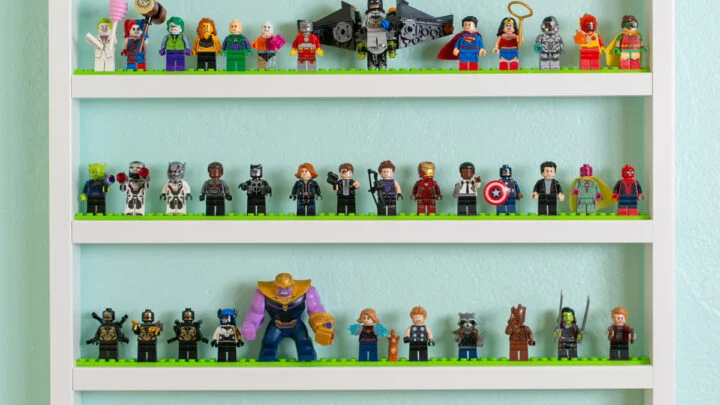 Kids love to play but also like their toys to be present in their sight most of the time, even when they are not playing. Legos are time-consuming to clean up and store, but the wall-hanging storage display unit serves the purpose. In addition, it also makes the kids happy to see their Lego artwork displayed. The wall-hanging Lego display can be a perfect addition to the kid's room and will motivate them to see it again and again.
5. Lego Storage Bags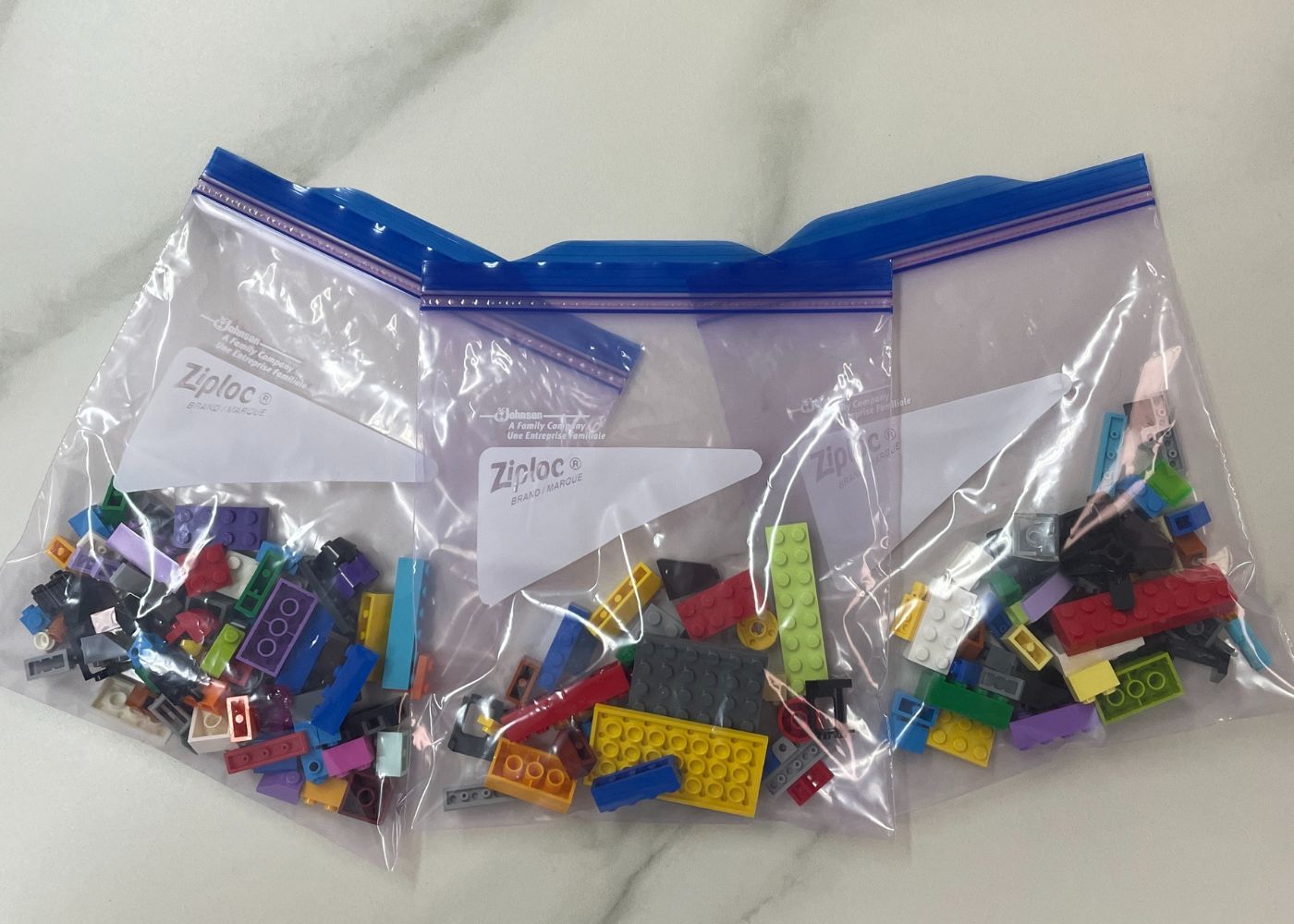 Another easy and cost-effective way to store Lego is the transparent Lego storage bags. They are washable mesh bags and can get them color-coordinated to store the Lego efficiently. If the storage bags get dirty or messy, they can be easily washed to use again. Multiple bags can be used to store Legos of different sizes and colors separately.
6. Transparent Display Shelves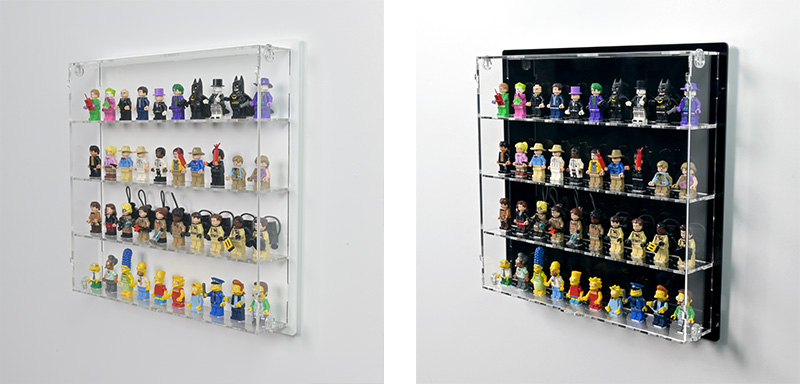 It is a proud moment for a kid when he completes a Lego project by himself, so he tends not to break it. But, they are difficult to store without breaking. The transparent display shelves can be easily attached to the wall, and all the Lego master artworks can be showcased on them. With different shelves providing different compartments, multiple Lego project pieces can be stored, adding a pinch of color to the room. The display of their Lego artwork makes kids happy, seeing that they are valued.
7. Under-Bed Lego Storage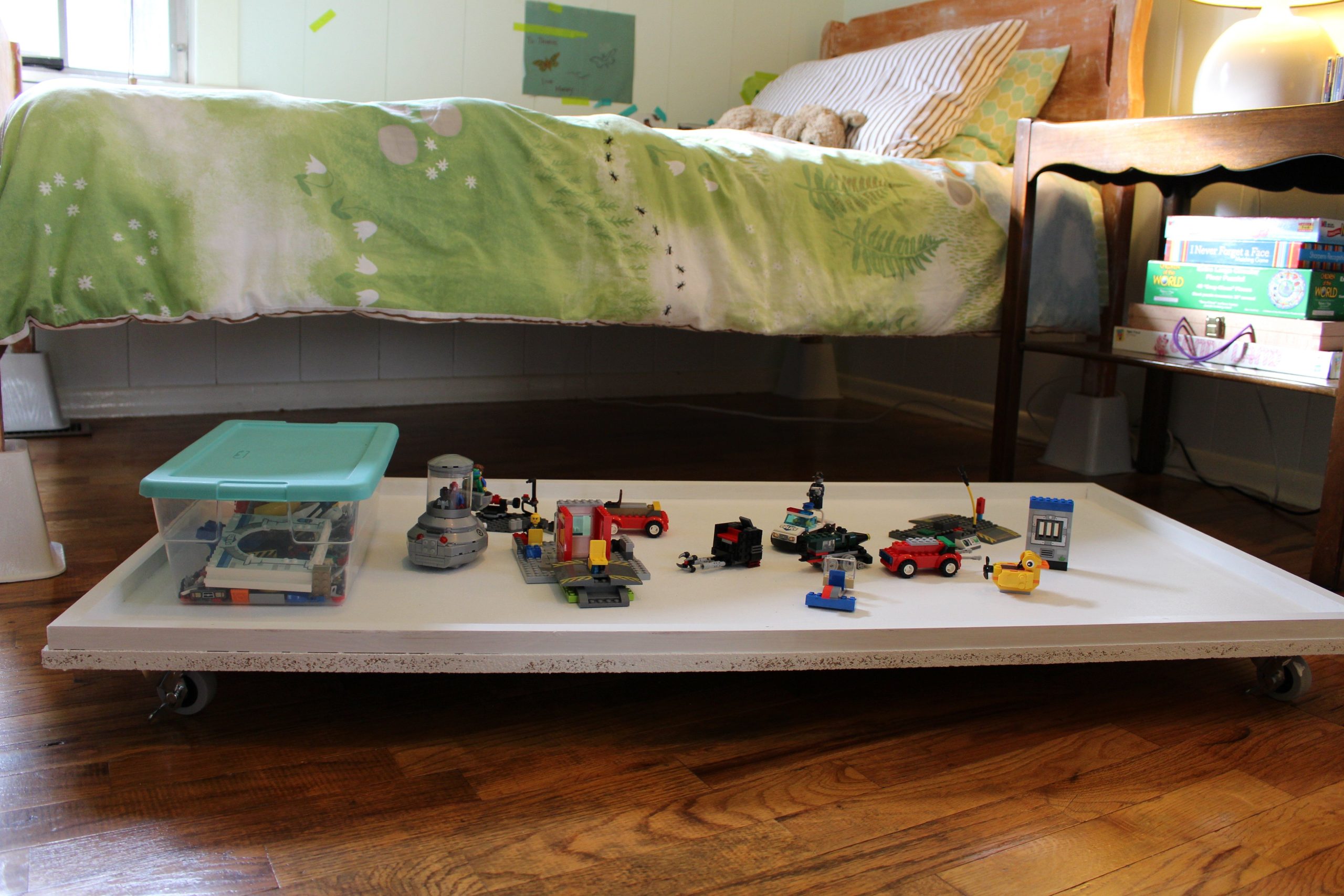 Usually, we see our kids doze up playing for hours. Kids tend to get tired and sleep but want their toys and Lego projects to be left untouched. This becomes a tough task to clean the space of dirt and bacteria and not disturb their toys as well. The under-bed rollable Lego storage mat is the perfect way to do so. It is a mat where the kids can play with their Legos, and if they doze off, then this storage mat can just slide under their bed. This way, they get their toys the way they left them, and the space can also be cleaned up.
8. Storage Drawers on a Rolling Cart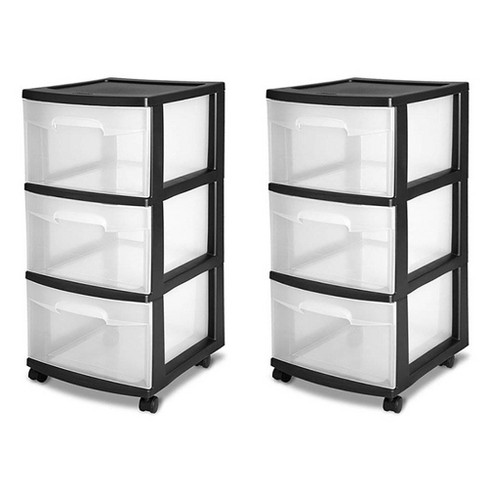 Moving the Lego blocks with kids changing moods is a tedious task. One day they want to play in their room. Another day, may be the living room, or it can even be the garden. Carrying the pouches or boxes is difficult. To solve the problem, there are rollable storage drawers available. They can be moved easily with wheels present and have different colored drawers to store the Legos separately as per the color. It is a beautiful yet easy way to store Lego blocks with the feasibility of moving them without much pressure.
9. Color-Sorting Lego Hanger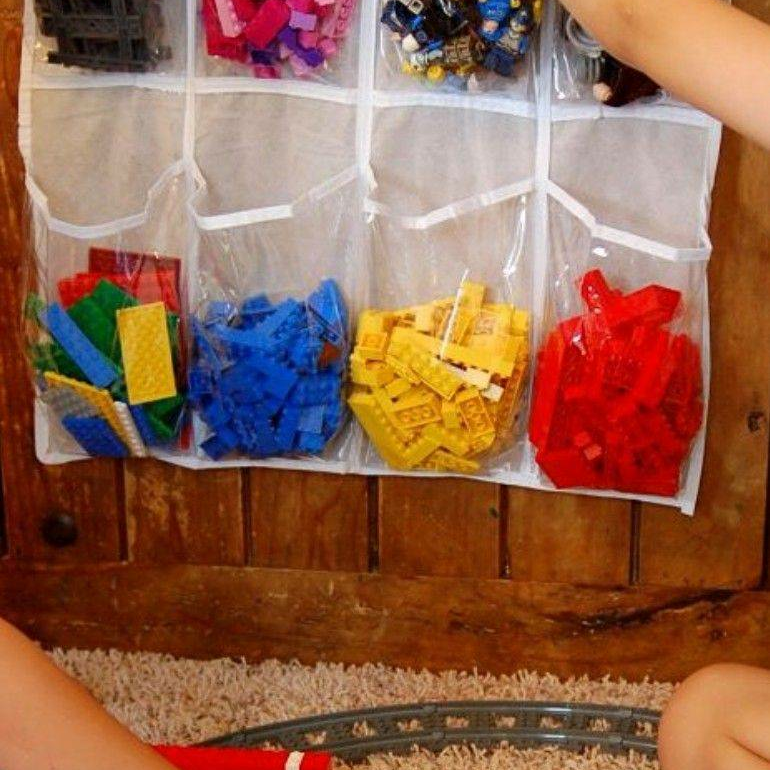 Usually, with all the furniture and other stuff, we are not left with much space to make space for a Lego organizer or storage unit. In such situations, the hanging storage can be used, which comes with multiple compartments and can be hung anywhere. The different compartments can be separated based on the colors or sizes of the Lego blocks. The compartments have transparent front so they are visible, making it easy for the kids to choose.
10. Wall Bucket Lego Storage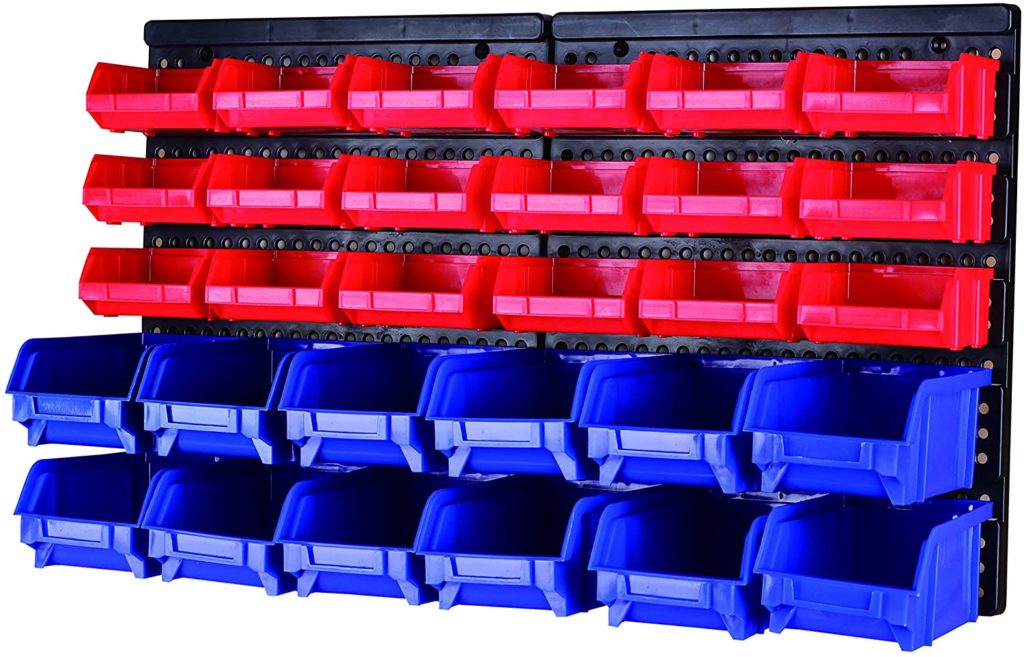 Kids tend to remind us of our childhood, and all their games are so fascinating that we can't stop ourselves from playing. So, for all the Lego-loving families, the wall bucket Lego storage unit is the perfect way to store huge amounts of Lego blocks. This contains a large board where there is a marking for the storage buckets to be attached. It can be stored up on a spare playroom wall or a garage wall with all storage buckets hanging with Lego. This saves up the need for separate Lego storage units for the complete family.
11. DIY Lego Table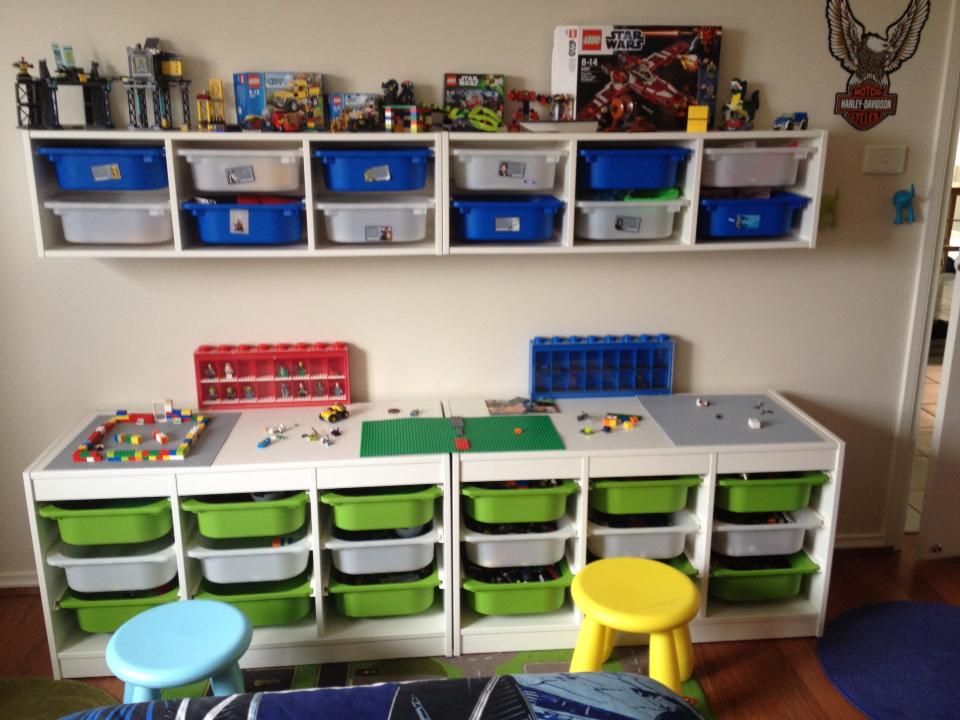 For all the Lego lovers, the DIY Lego table is perfect as it gives them enough space to store all the Lego blocks in different compartments. Along with the spacious storage unit, it also has a table attached to the top of the storage units where the kids can build their Lego masterpieces. The complete Lego table can be built according to the theme your kid loves, and it can be a great activity that the parents and kids can do together and spend some quality learning time together.
12. DIY Lego Head Storage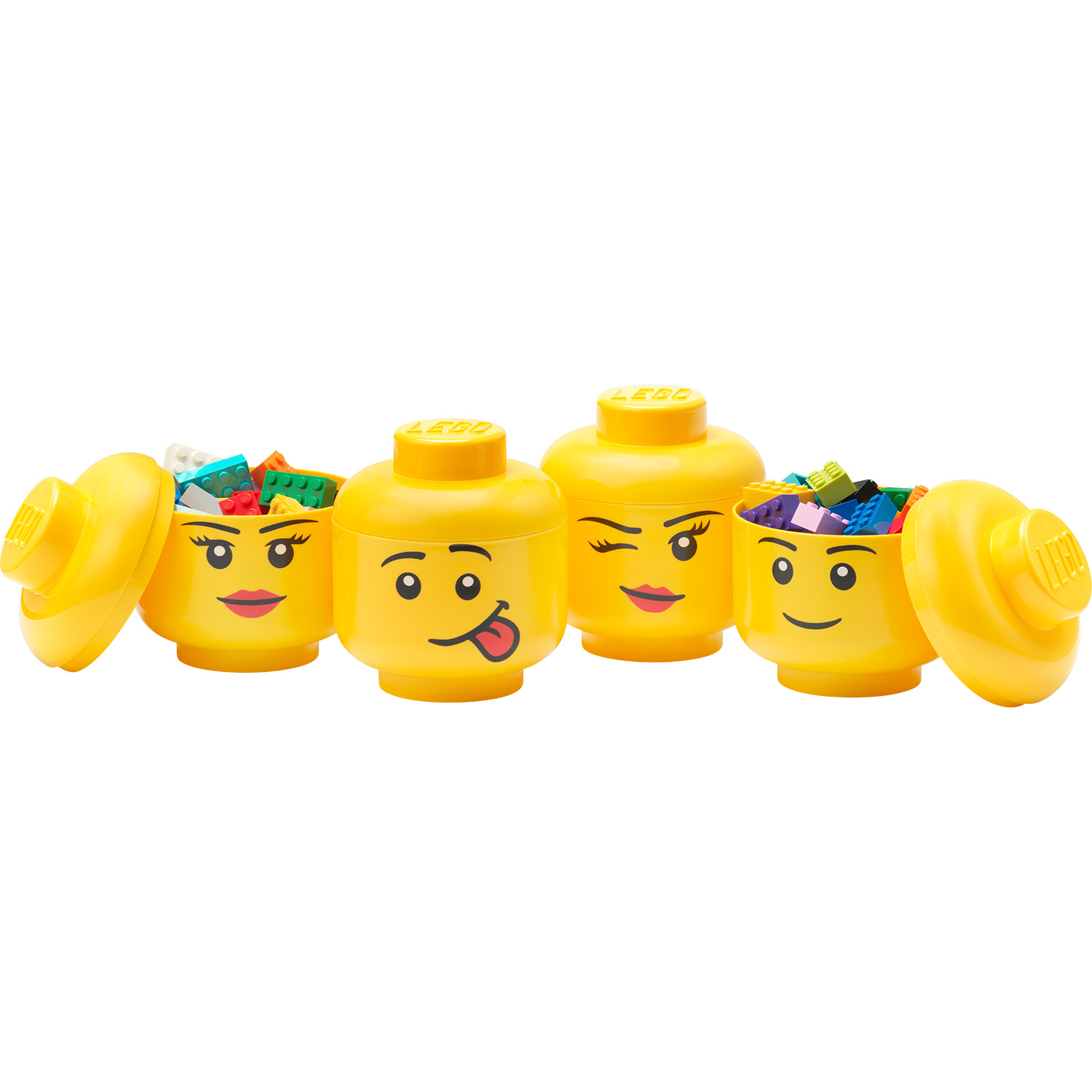 A smiley Lego face on the front of your Lego storage container is very easy to make but a great way to escape boring storage ideas. All you need is a big container with a lid. If yellow, it's great. Otherwise, you can paint the container yellow and, with the help of markers, draw or paint a Lego face. After drying it properly, your customized DIY Lego Head storage unit is ready. It can be a cool addition to your table or display shelf being an innovative way to store Lego.
13. Lego Tool Chest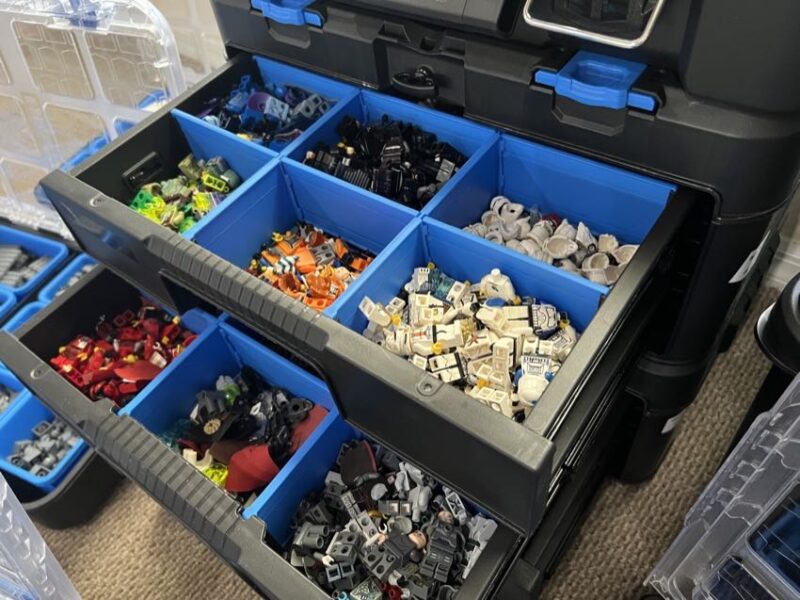 We always keep finding ways to make our kids learn and grow while they are playing. At least, they learn to clean their toys to develop a sense of responsibility without putting much pressure. The Lego tool chest is a perfect way to do so, along with storing the Lego properly. They have different storage compartments and look quite interesting, making the kid curious to try to do it himself, seeing you once or twice. The space above the multiple storage compartments is like a Lego play station, so the tool chest serves multiple purposes and is easy to store.
14. Lego Transparent Vases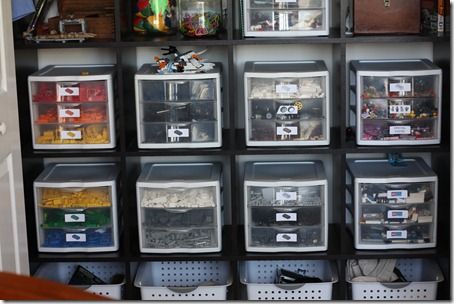 Do you keep trying to find easy yet aesthetic ways to store your kid's toys and Legos? If yes, the Lego transparent vases or containers are going to be your next addition. These are very simple yet elegant, with different colored Legos stored in each vase. As kids tend to break things to avoid getting hurt, these Lego transparent vases are available in plastic as well along with glass material. They can be arranged on your living room's center shelf or in your kid's room, adding some colors.
15. Lego Storage Cinch Bucket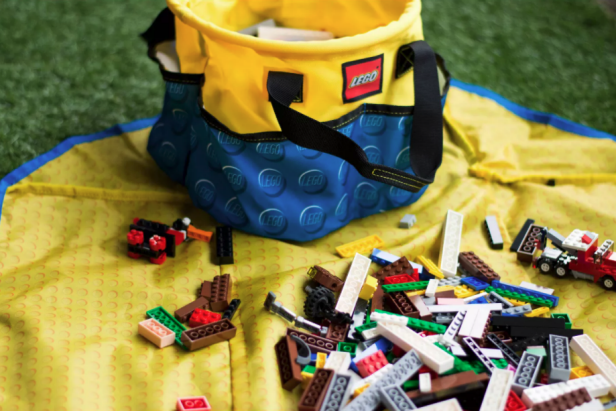 A Cinch bucket is one of the storage options brought up by Lego itself. It is a beautiful fabric bucket with a drawstring available on the top, so after keeping all the Legos together, one can just pull the string, and it can be closed to avoid spilling Lego. Aesthetic storage units like this Cinch bucket make parents also happy as it looks good with the house interior and serves the purpose of storing Legos together efficiently. So, next time whenever you are going to get Legos for your kids, get this storage bucket as well to add to their Lego collection.
16. Lego Storage Cube Bags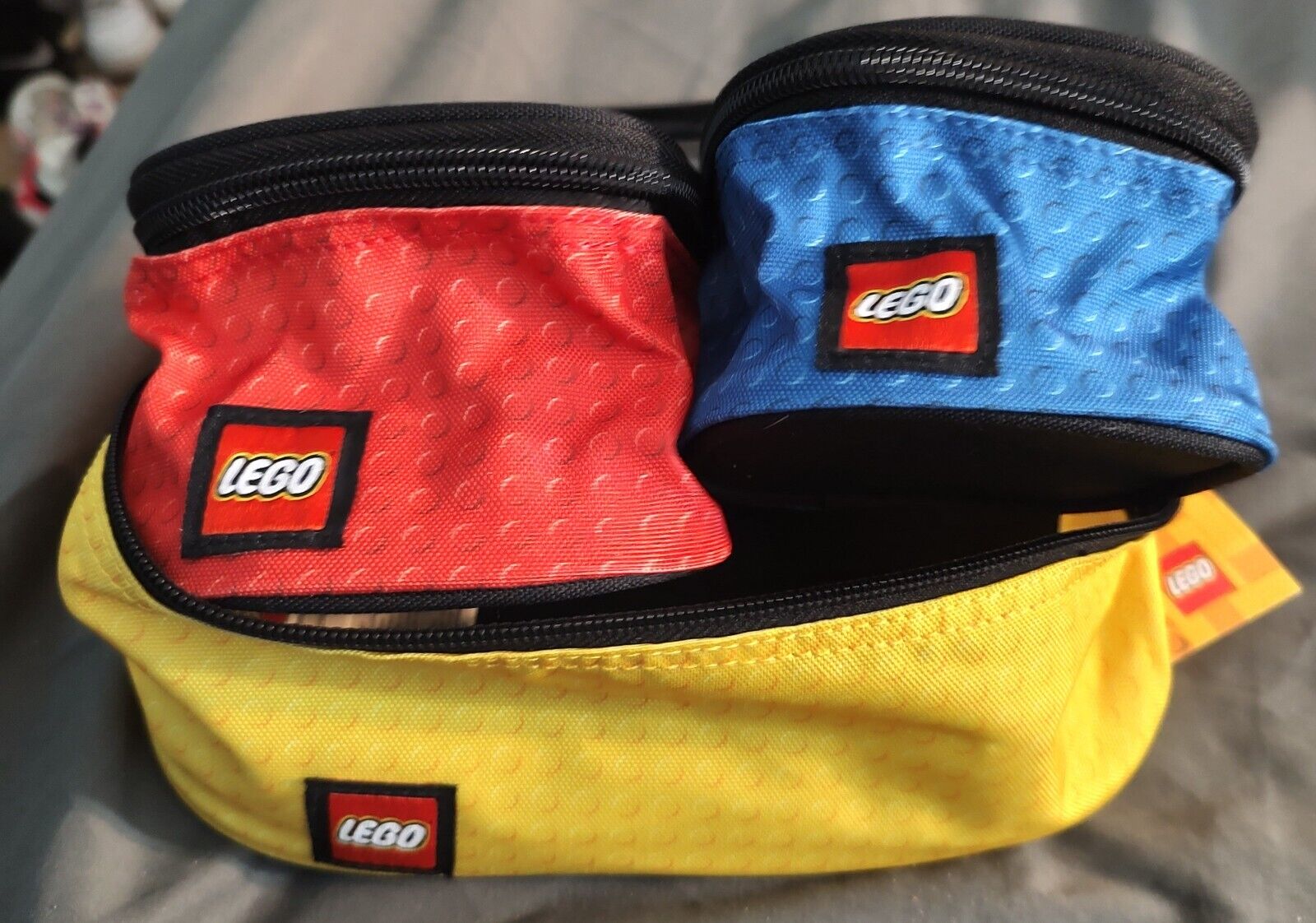 Need long-lasting and easy Lego storage ideas? The Lego storage cube bags are the answer. These cube lunch storage-looking bags come with zipper locks to store the Lego properly. They look good and also keep all the Lego pieces together. It truly defines the saying simplicity is best, and these storage cube bags prove it. These storage bags have cute minimal detailing and are available in different colors with Lego written as a logo.
17. Multiple Drawer Shelving Unit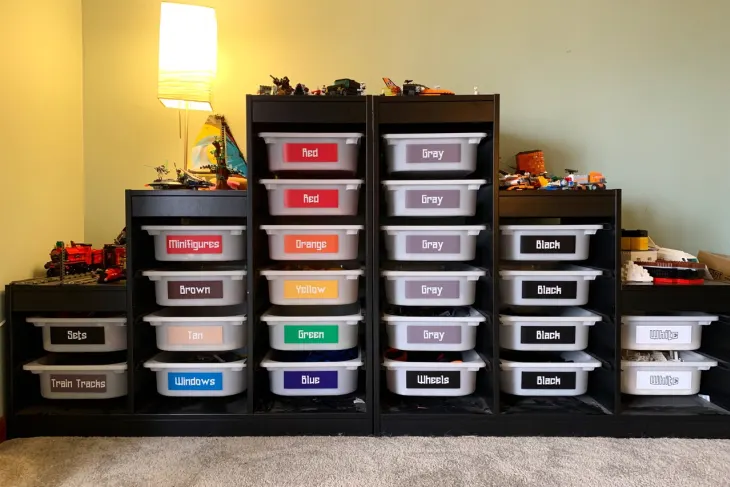 Different storing units to manage different colored Lego pieces are difficult to manage in themselves. The problem is easily solved by the multiple-drawer storage unit. The different compartments can be used to store each colored Lego separately. This avoids the confusion of Lego mixing up and stores them neatly. The shelf can be used as a centerpiece with a Lego masterpiece on top and other pieces stored below in the drawers.
18. Recycled Tupperware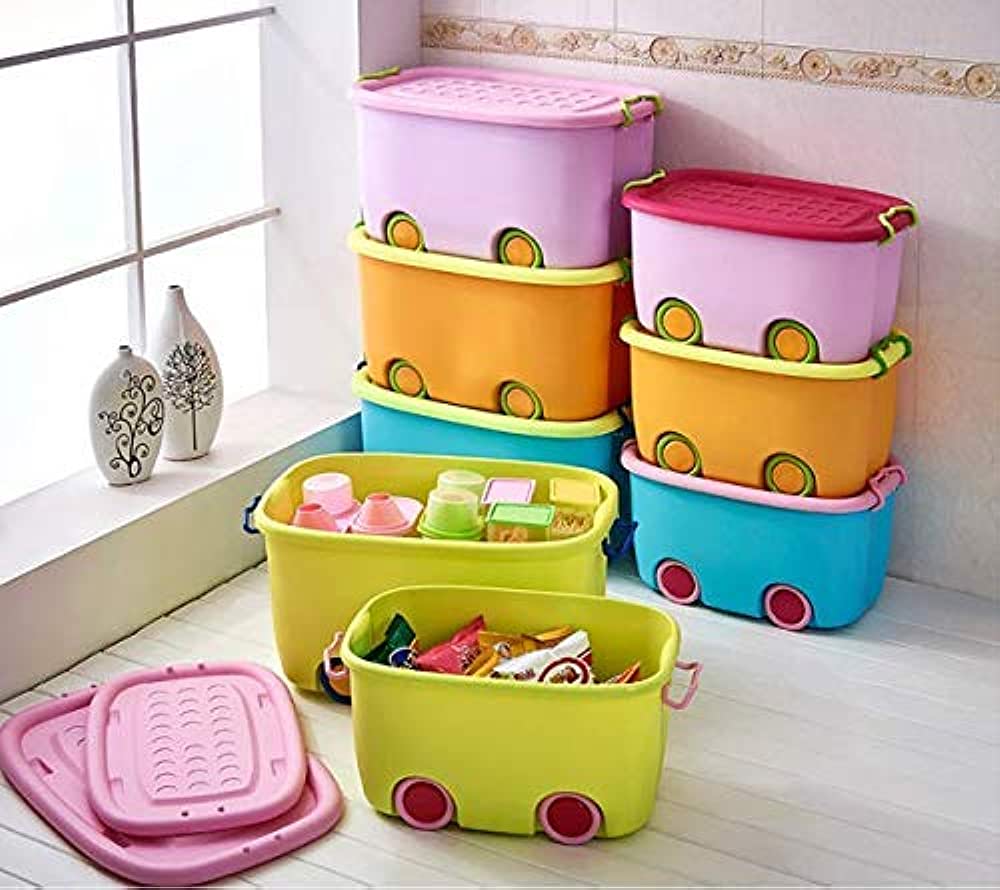 One all-time available, cheap, and convenient Lego storage idea is to use the old Tupperware, or even buying matching new Tupperware will be a cost-effective way to store Lego as compared to other storage units. The Lego can be kept and organized easily. They are portable and serve the purpose perfectly. Always having a space crunch with kids is a constant problem. Recycled Tupperware, in such cases, is the way to avoid spending extra money and the hustle of creating space for the Lego storage unit.
19. Pencil Boxes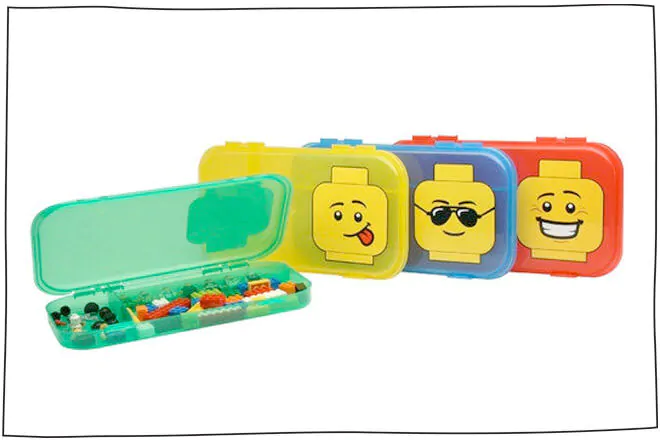 After every few months, they either see a new pencil box with their friend or out of boredom, want a new one. This leads to several pencil boxes piling up. Using the extra pencil boxes to store the Lego blocks is the best way to reuse them, spending any money on separate storage or organizers. Depending on the Lego block sizes or color or the size of the pencil box, one can decide which blocks to keep in which pencil box. Using old and spare shoe boxes, pencil boxes, or cartons is the best cost-efficient way to store Lego.
20. Zippered Storage Bags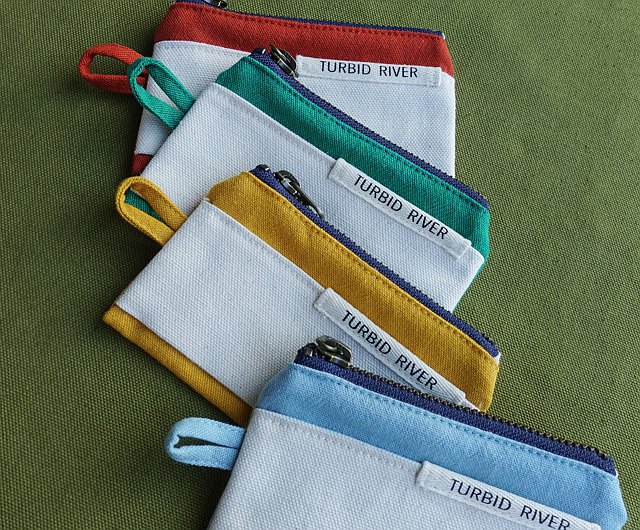 Storing the Lego in boxes or on a mat has the risk of misplacing or spilling. The zippered storage transparent bags solve the problem of storing and misplacing and are a neat option for organizing Lego. The zippered storage bags can be kept in drawers, closets or stacked on top of each other under the table, so they use up a lot of space. They are cheap and easy to use and can be used for multiple purposes as well. These zippered storage bags are easy to clean and can be cleaned by washing them or simply cleaning them with a wet cloth.
21. A Shelf In a Closet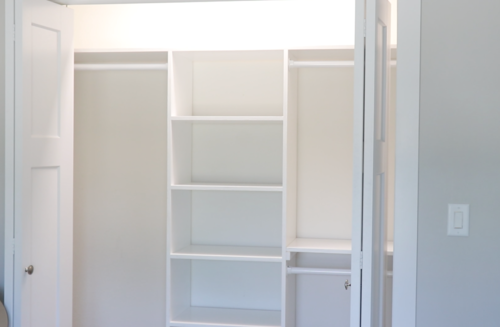 We all have closets in our house and usually have a spare shelf, especially in the kid's room, as most of their clothes are spilled all over the house. The space on the shelf in the closet can be used to store the Lego blocks and is pretty convenient to find when kids want to play. This storage idea saves any additional space to be used for storage units and saves money as well. This prevents the toys and Legos from always being present and can neatly be stored in the closets.
Final Thoughts on Lego Storage Ideas
Reading all the above options must have given you a lot of Lego storage ideas to store the Lego efficiently and can be customized and mixed according to the space available to you.
Kids love their toys, and Legos are one of them, so let's encourage them to play and learn more.
What is making you think more? Don't take the Legos away from your kids due to the fear of organizing and storing them properly.
Just read the above blog carefully to get your hands on super simple and lifesaving Lego storage ideas.