The pantry is a hot spot and a high-traffic area in any household. Keeping the pantry well organized under innovative pantry organization ideas is imperative to boost the efficiency, aesthetics, and morale of the family members handling the kitchen. 
This means having the best pantry storage containers and workable organization systems to keep everything in place for easy access. An organized pantry has the virtue of de-cluttering the kitchen space, making it look larger and spacious. It further motivates one to have amazing culinary ideas. There is greater peace while working in the pantry when there is no scrambling for pots, pans, ingredients, or appliances, and cooking becomes a breeze. 
Now let us look at some of the interesting options for pantry storage and smart methods to keep them organized for better productivity. 
1. Uniform Clear Containers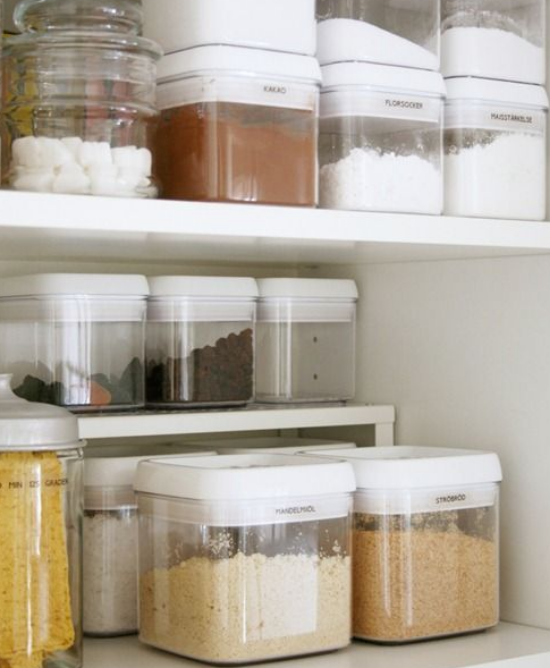 Among the myriad pantry organization ideas, uniform containers have an important place. They are simple and offer the advantages of better upkeep of supplies, unifying the space, and reducing the visual clutter. You can store dry goods like sugars, flour, and baking powder and keep them neatly labeled. 
These clear containers will show when you are going low on items and how much has been stored in each container. Most of these containers have airtight seals and some extra functionalities. An example is a flour keeper with a removable ledge. 
2.  Modular Containers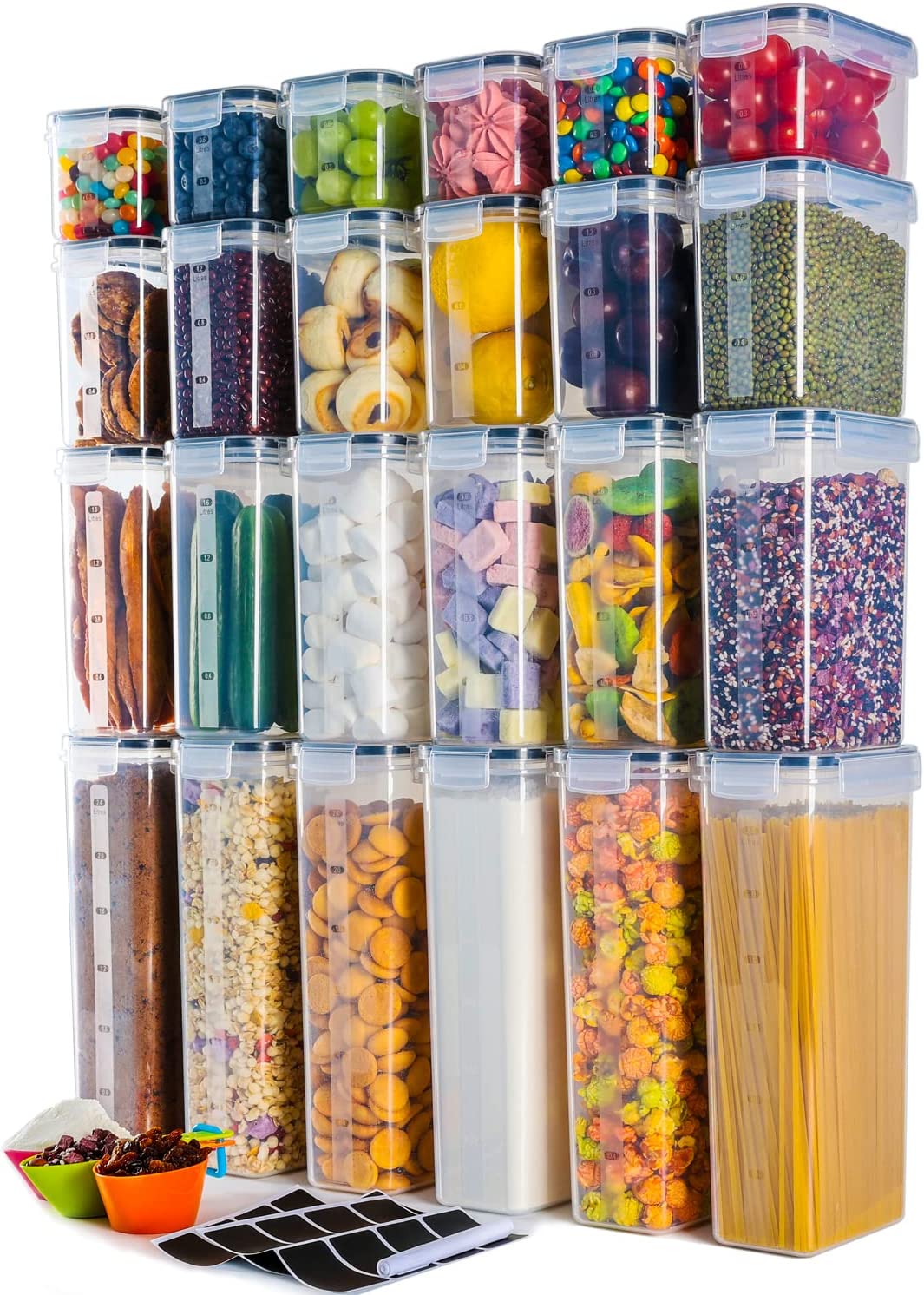 These rectangular containers labeled with white vinyl lettering are extensively used for storing baking supplies, brown sugar, sugar, flour, chocolate chips, and peanuts. 
Wherever space is limited, modular containers can be a good solution. This pullout organization utilizes maximum storage. You can depend on them for prolonged storage of baking supplies, dry food, pasta, nuts, sugar, oats, coffee, spaghetti, flour, rice, cereals, tea, and snacks, among others. 
There are many sizes of coverage tools–tall containers, medium containers, and small containers. These canisters are sealable with airtight lids to keep the food fresh. The containers are moisture-resistant, with the flip top enabling easy opening.
3. Pretty Baskets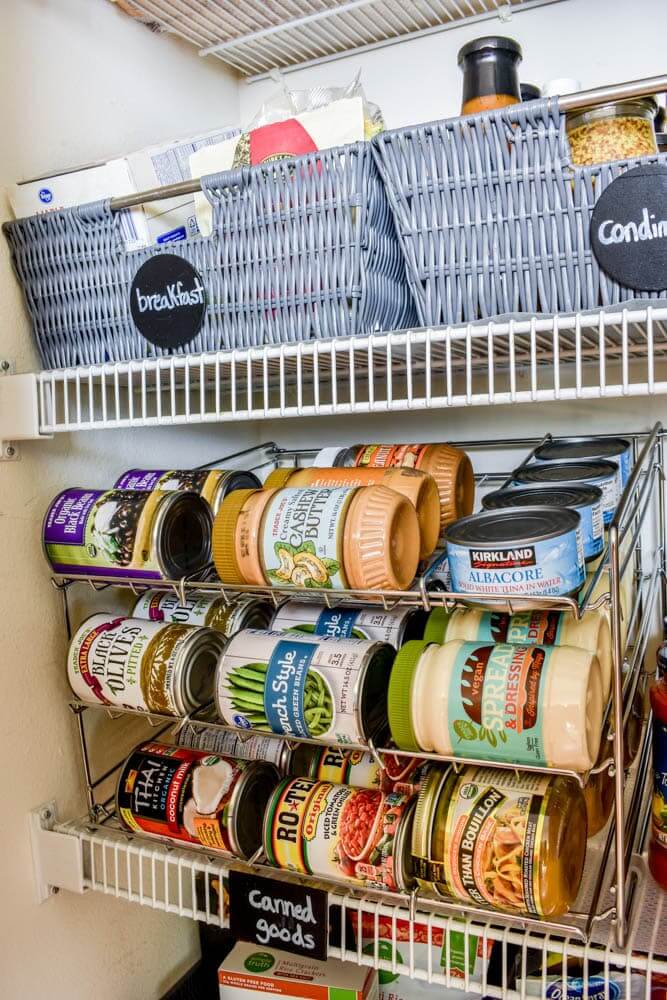 Packing pretty baskets in white wire pantry shelves makes a good storage for breakfast foods, condiments, etc., and can be part of augmented pantry organization ideas in contrast to clear containers that show too much visual clutter.
Pretty baskets enhance space under the kitchen platform, sink, and in cabinets. They offer easy access to items in all kitchen storage areas. Using them, you can manage the limitation of space in the kitchen and store spices, bottles, jars, and de-clutter kitchenware congestion. 
4. Produce Baskets for Storage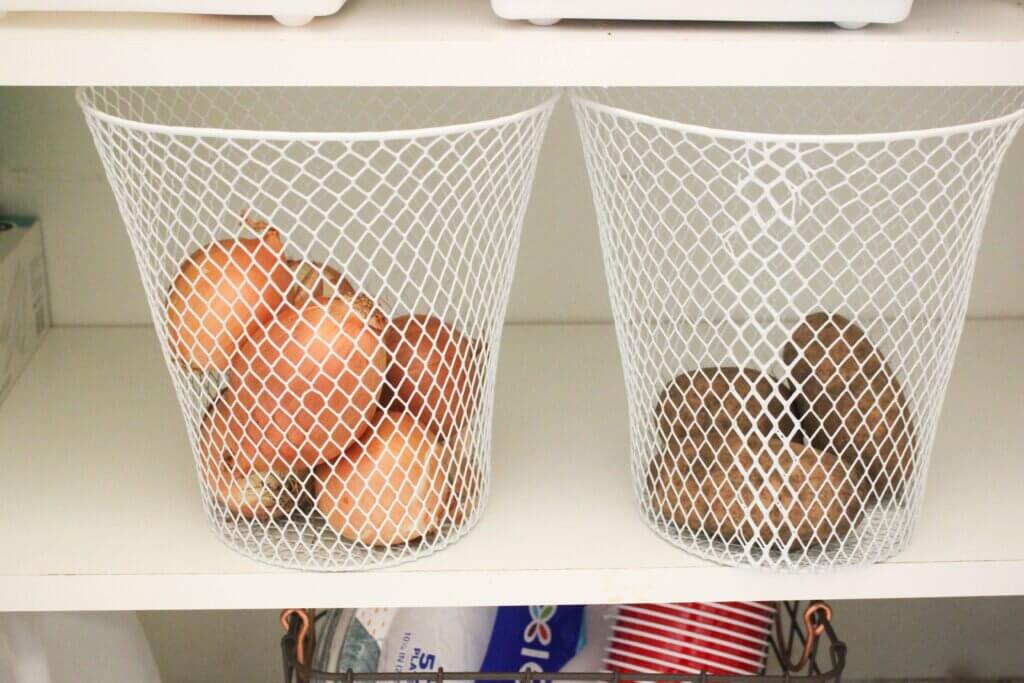 These baskets can organize store produce onions, garlic, potatoes, tomatoes, and citrus fruits needing good airflow and avoid the accumulation of moisture. The basket idea also allows a specific place for fresh vegetables without cluttering up your kitchen. It can be concealed behind a cupboard door or an open frame. There are also pull-out vegetable baskets in the market. 
5. Pegboard for Pans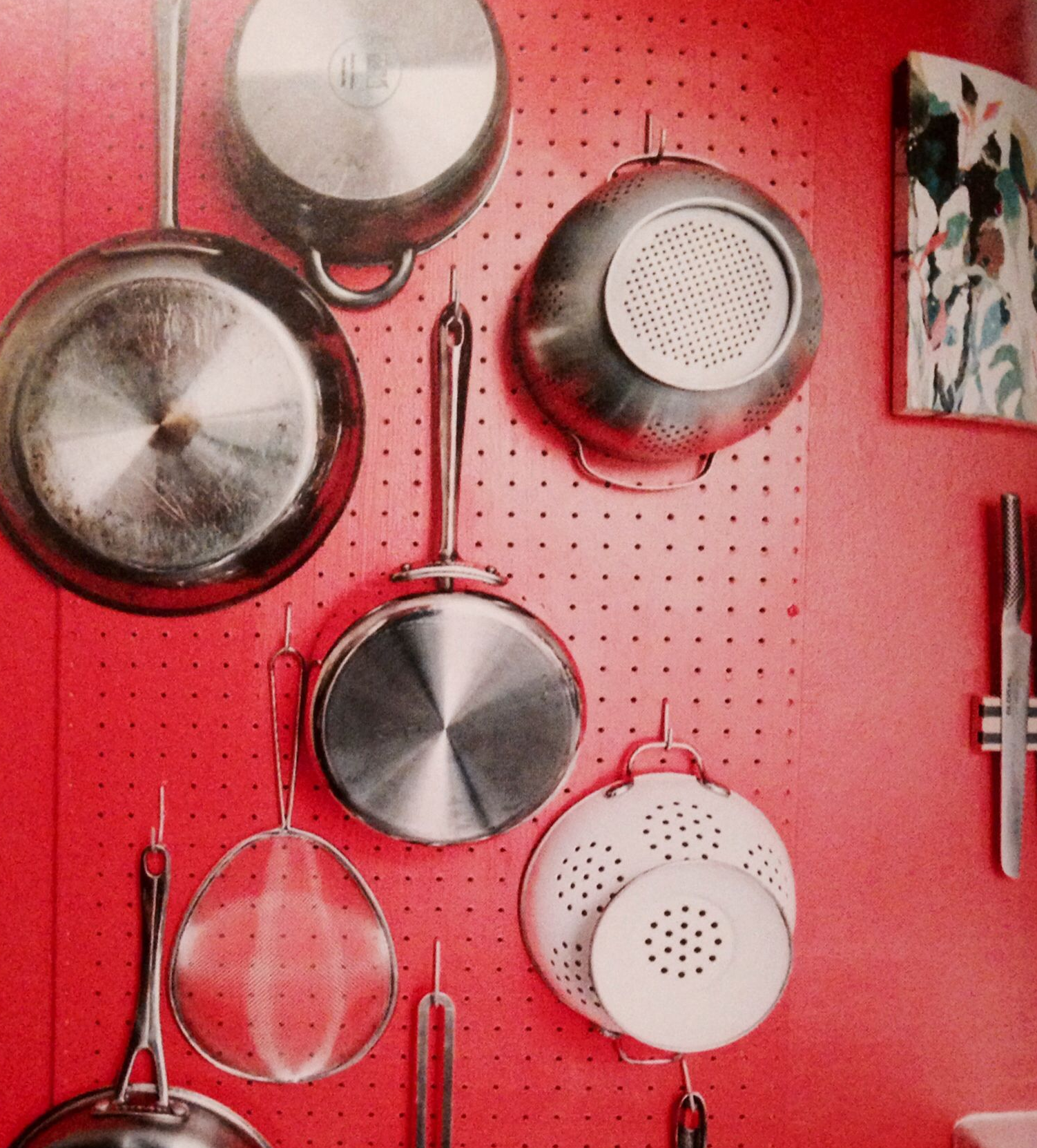 This pegboard is a great space-saving storage and shows your cutlery possessions on the home wall. The hanging shelf will have a glossy finish and slots with multiple hooks as an efficient kitchen rack. It is best for a grab-and-go working style. The pegboard also makes a design moment as a little black dress with the flexibility to scale up or down depending on your storage needs.
6. Plastic Bins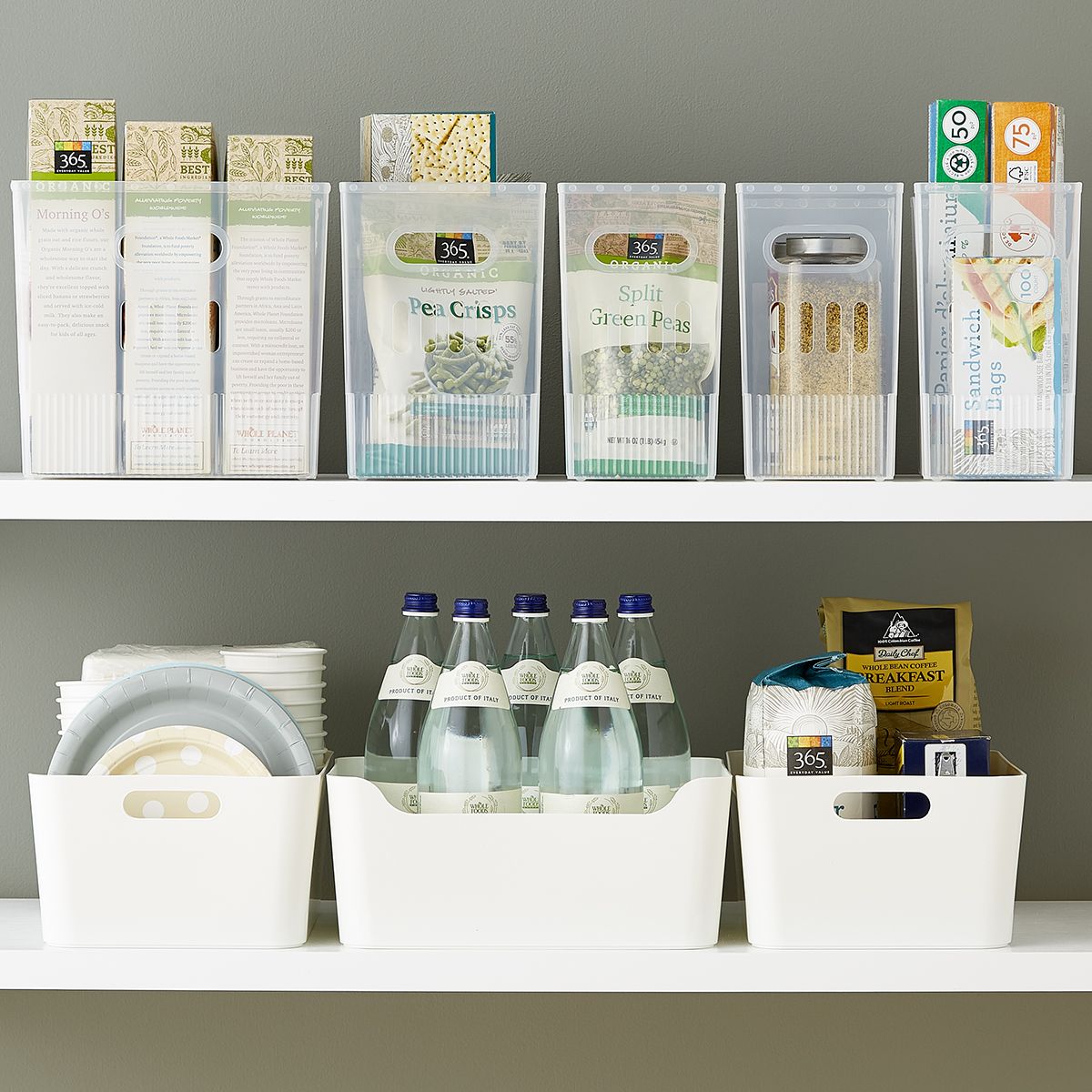 White and grey plastic bins inject uniformity into the pantry. The uniform plastic containers store items ranging from canned goods to snacks. The bin made of durable clear plastic is transparent and shows what is inside. It can be easily cleaned and is best for better utilization of pantry space with bagged or loose items. You can fill bags with flour, sugar, chocolate chips, raisins, and baking supplies. It is versatile, all-purpose, and easy to use anywhere beyond kitchens as well. 
7. Casual Scrap Packaging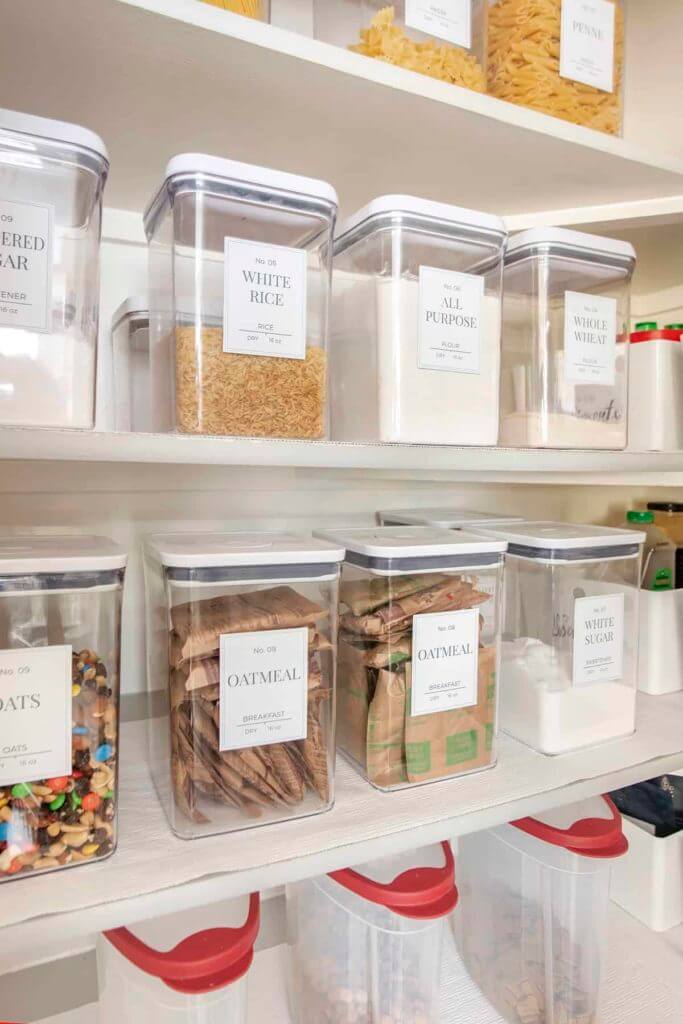 In this scrap style or casual packing, you can use labels for placing dry and packaged food. This is a big space saver. You can also mark containers with expiry dates very noticeably.  It helps in the smart storage of cereals without letting them go stale, as the cereal dispensers create a uniform look on the shelves. Immediately after removing the packaging is the best way to preserve cereals and see the type and storage levels, plus a pop of color to the well-organized pantry.
8. Repurpose Jars Storage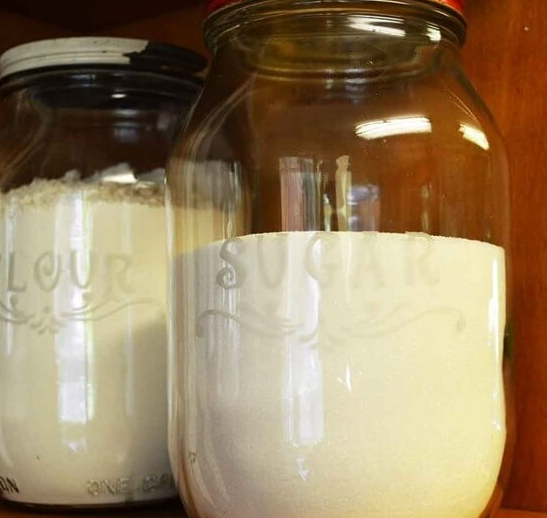 Pantry storage repurposed jars make sense. Make use of vintage oversized mayonnaise jars by repurposing them into pretty pantry storage with labels. You can arrange more such objects at home and recycle them suitably to keep your home organized. 
You can recycle canning jars into spice holders by affixing some magnets to the back and putting them on the side of a fridge or a framed metal sheet as a display. Larger canning jars in your pantry will get you better organized. 
9. Shelving for Jars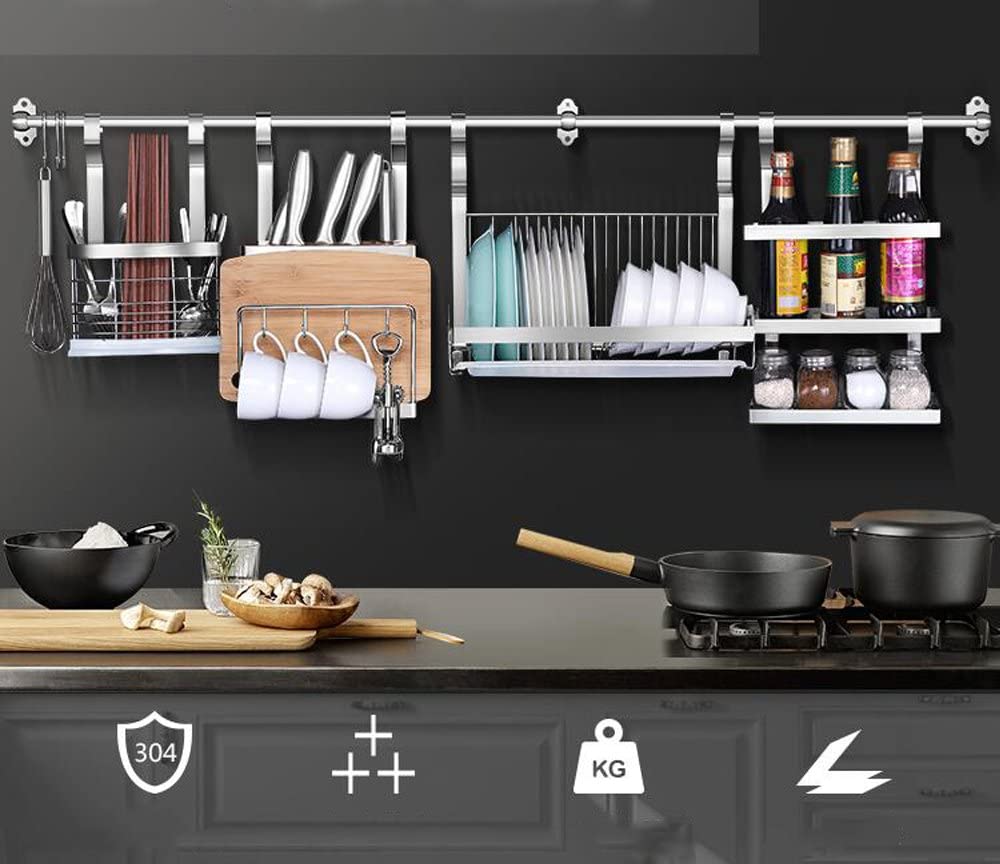 To optimize storage in a tiny pantry, you can install shelves to adjust big jars in neat rows. They will appear clean-lined and also look like a fun nod to shelves of old country stores' with their candy jars. It will also magnify the pantry while inducing a certain folk character. It can solve the problem of cluttered looks in the cupboards as you will make use of the small corner of a dead space in the kitchen. Having floating shelves to house canning jars is a nice idea where your dry ingredients with proper labels will remain safe. If executed well, it can be the best shelving for jars.
10. Crates for Pantry Storage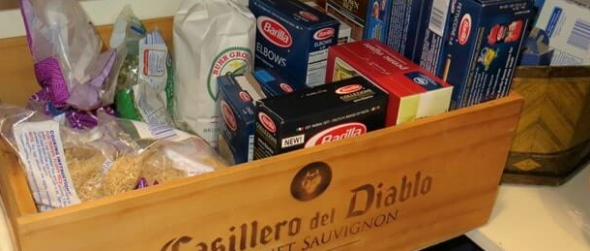 Crates are a prominent fixture in the pantry organization ideas. You can reuse and repurpose old crates like wine crates by adding a few wheels and handles to make them perfect for storage. You will get pull handles from any local hardware store. Wine crates are made of thin wood. So, avoid storing super heavy items, although soda bottles and juice boxes are fine. Wine crates are beautiful and good for reusing in different ways.
11. Appliance Storage in the Pantry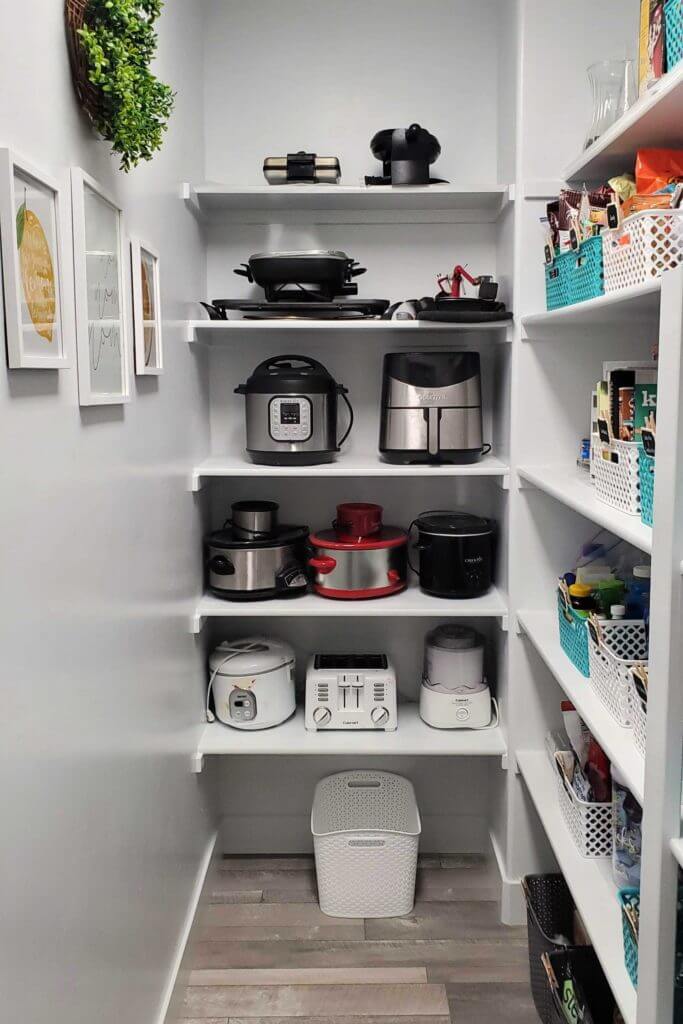 One part of your pantry can be easily used to store electrical appliances, especially your small appliances. A kitchen pantry must balance its space among food storage, supplies, tools, gadgets, and appliances. Better use the top shelf and floor for keeping appliances based on their size and weight. 
You can classify the appliances into daily appliances, weekly appliances, and rarely-used appliances. For optimum use of countertop space, create designated zones for appliances that need regular access. Some of the appliances you can keep on your counter at all times can be the ubiquitous coffee maker, toaster, toaster oven, and can openers.
12. Organizer for Cans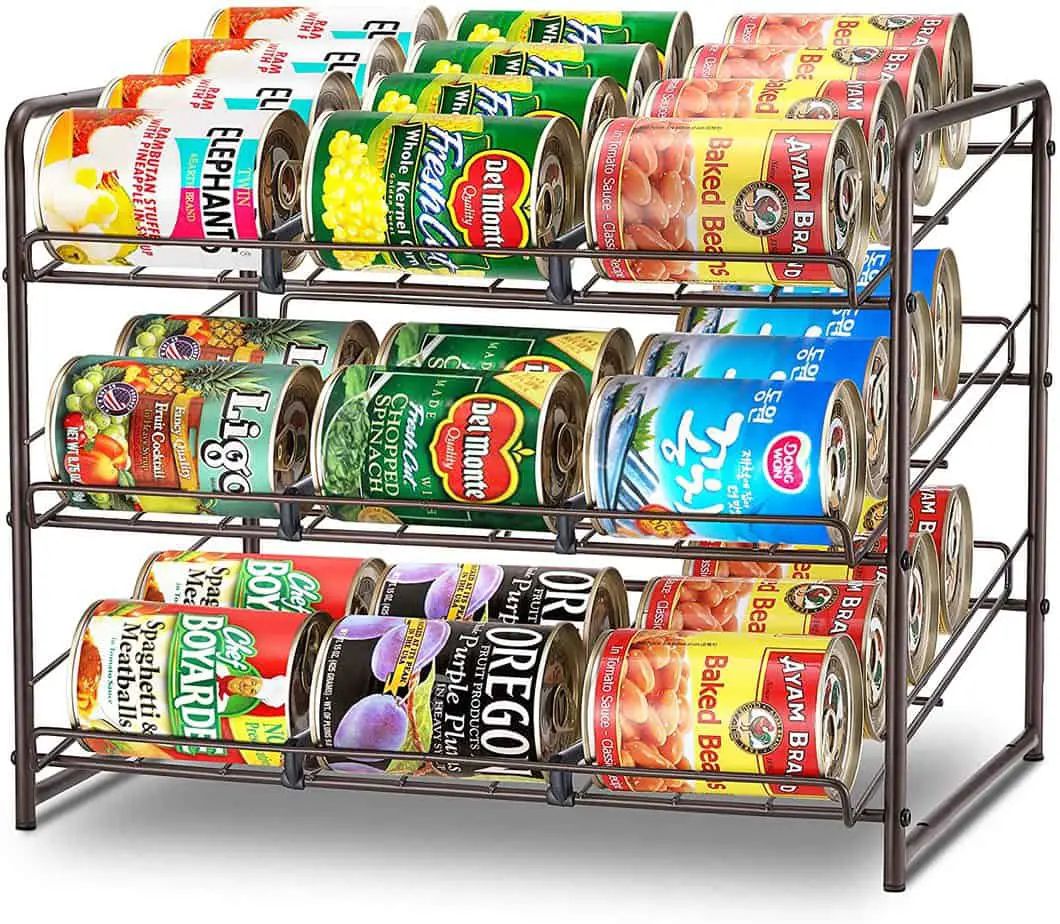 Food cans take up lots of storage space as larger cans will not stack up one on the other. That calls for custom-made organizers in a pantry. It helps in the best use of maximum vertical space. A rack can hold at least 35 cans. You can get a sleek, compact can organizer for limited spaces. If the can organizer is adjustable, it will easily accommodate cans of various sizes. You can settle your soup cans, tomato cans, and chili cans on that. 
13. Add a Kitchen Island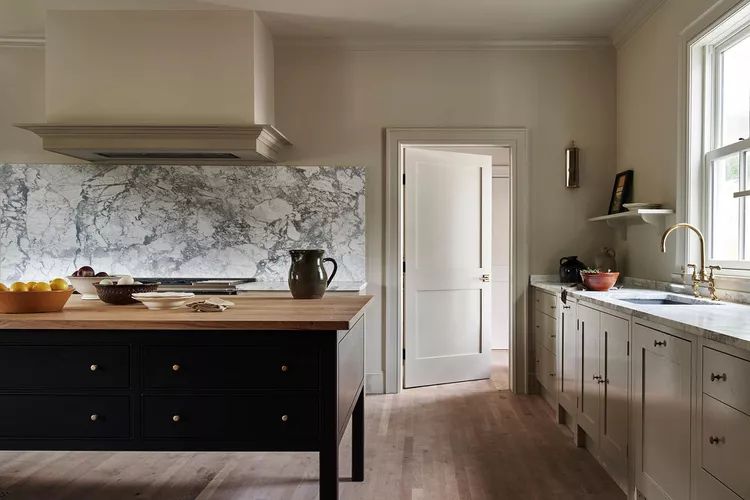 Adding an independent kitchen island will get you extra counter space in the pantry. You can create a butcher block as a convenient area as a separate kitchen island with a built-in cutting board. The wood butcher block counters can exude a natural look making the space extra cozy. 
The butcher block counter will need sanding and oiling to maintain the glossy look. The kitchen island can have some extra storage facilities for cookware collection and ingredients. If you can put a few drawers on either side of the island, dried goods can be kept comfortable.
14. Cover Door Cabinets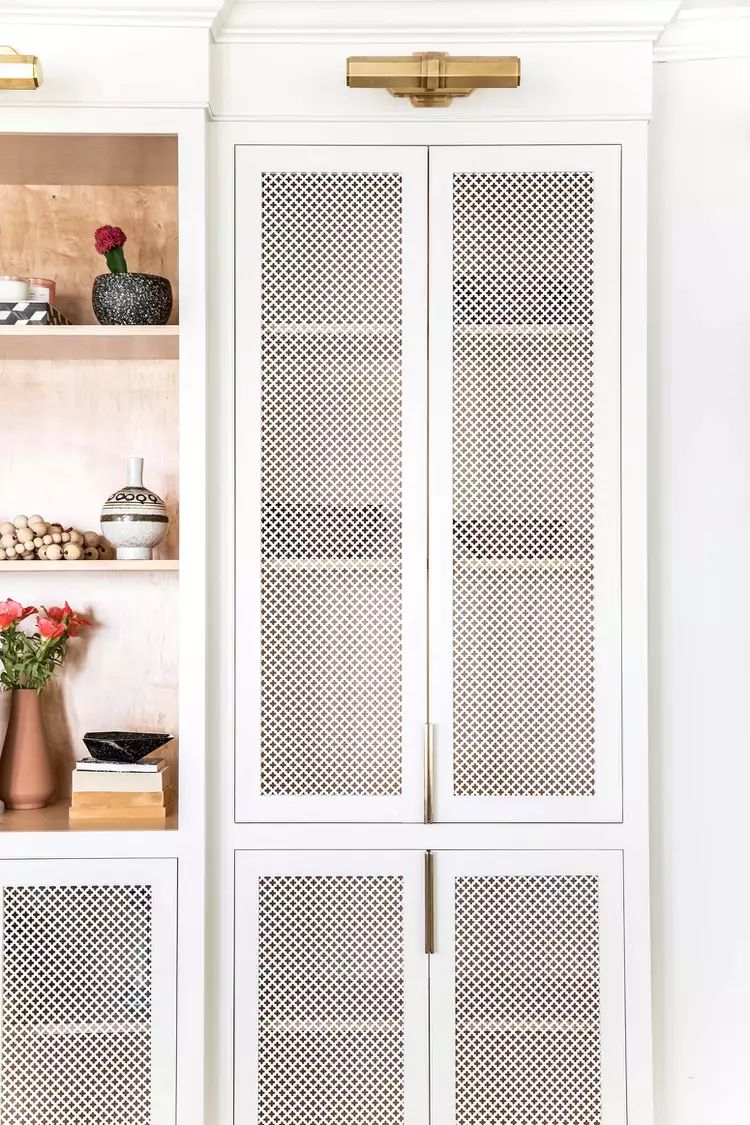 A covered pantry with cabinet doors will hide the clutter inside and skip the stares of onlookers. It is a new trend. The options include frosted glass cabinet doors or white doors to keep the space muted. On frosted windows, you will have an image of tiny crystals forming a beautiful pattern on cold winter days. You can opt for frosted and decorative window films to create a stylish look and feel. It works with any glass surface and its translucency allows natural light to flow through the frosted window while retaining privacy.
15. Create Zones for Purposeful Storage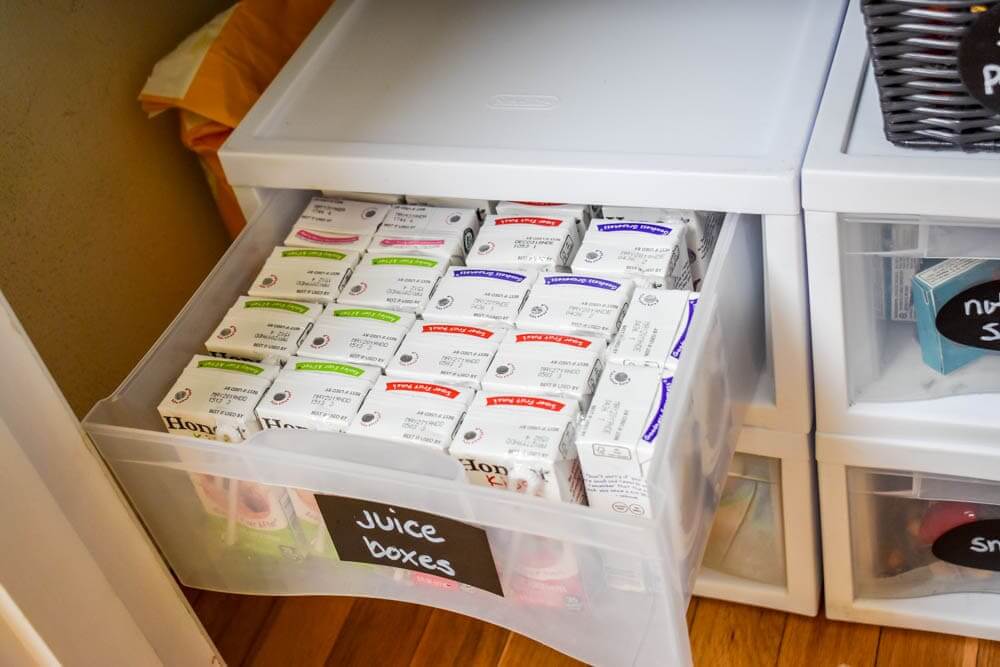 Nothing makes pantry organization effective than creating exclusive zones. You can create a lunch packing zone, breakfast zone, snack zone, etc. In the former, install a plastic storage drawer organizer with labels for juice boxes, snacks, etc., thus streamlining the lunch preparation area to save time and add more fun and efficiency. 
By dividing your pantry into zones, you will reduce meal preparation time and also reflect your lifestyle. So, mark out zones for portable lunches, weeknight dinners, and baking areas. Now label each zone appropriately. 
16. Add Risers to Shelves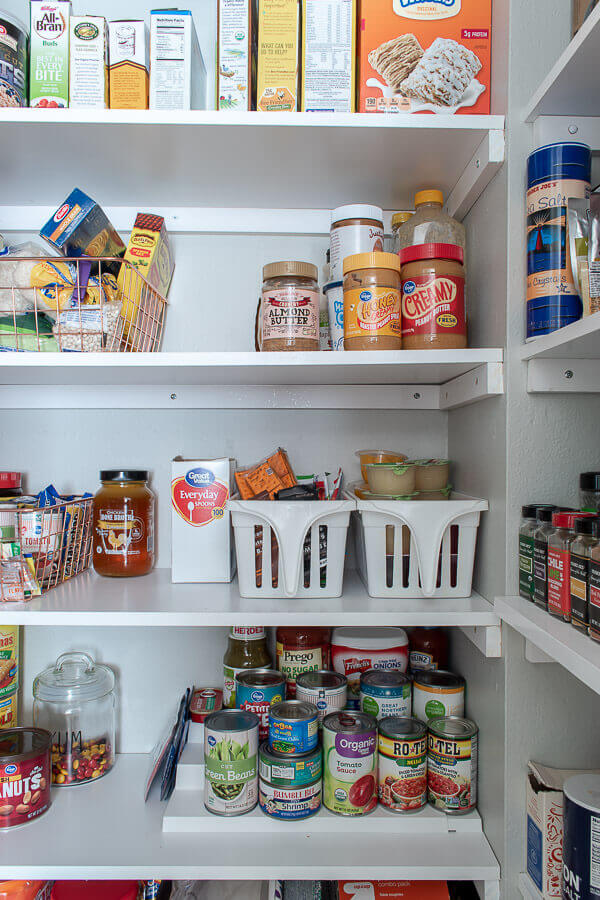 You may add risers to pantry shelves so that canned goods become easily accessible. It cuts waste and makes the pantry more effective. If you have the shelves painted white juxtaposed with light gray walls, the contrast will make the pantry bright and clean. The shelf riser is the best means to small-space solutions for kitchens, bathrooms, and dorms. Just choose the height of your shelf to fit short items such as cups, glasses, plates, bottles, and more. It will expand space and reduce clutter. 
17. Pullout Shelves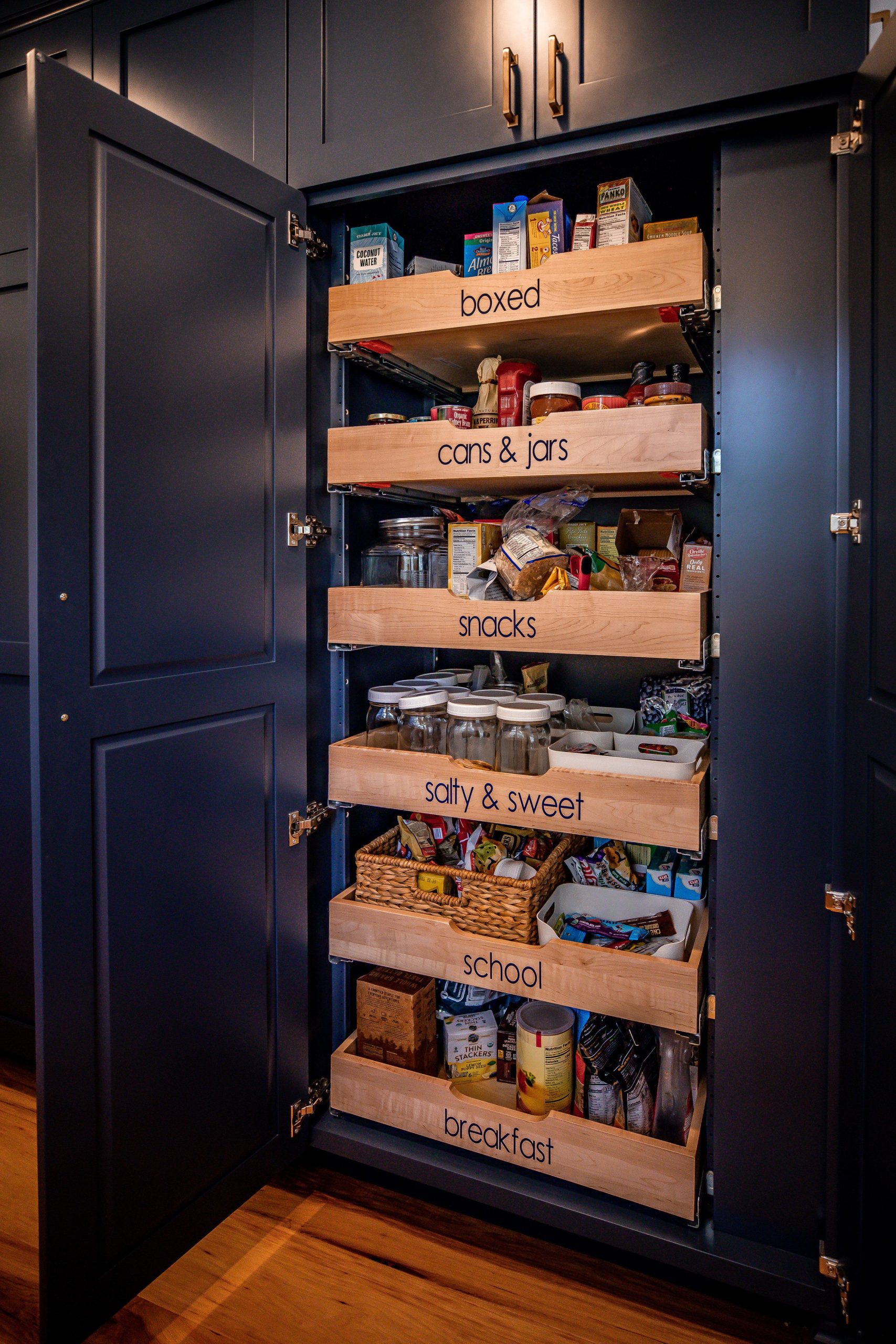 In case you are facing difficulty in handling pantry space, do consider pullout shelves. They are worth the penny, and you will not face issues of items lost in the back of a cupboard or shelf. This is one of the most adopted pantry organization ideas, and the success of Ikea containers and pullout drawer storage ideas holds testimony to this.
The benefits include ending the strain of stooping down to find things in base cabinets. Food preparation becomes easy as there is no need to hunt for pot lids and baking pans on jumbled, dark shelves.
18. Utilize Nooks for Shelving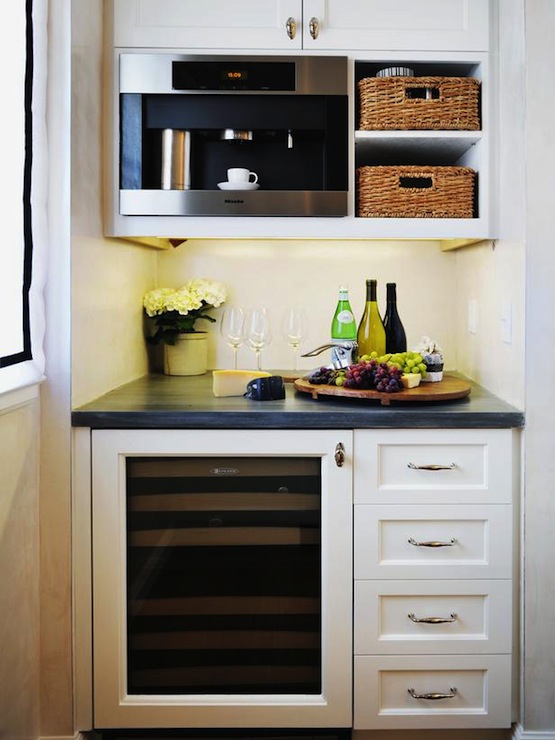 You can make use of nooks to set up crisp cabinets. See how Butler's pantry has accommodated a built-in coffee machine, wine fridge, and white Roman shade with black grosgrain ribbon on a dead unused corner. Having pantry shelving flush to the wall makes a customizable option for storage needs.
19. Usable Floor Space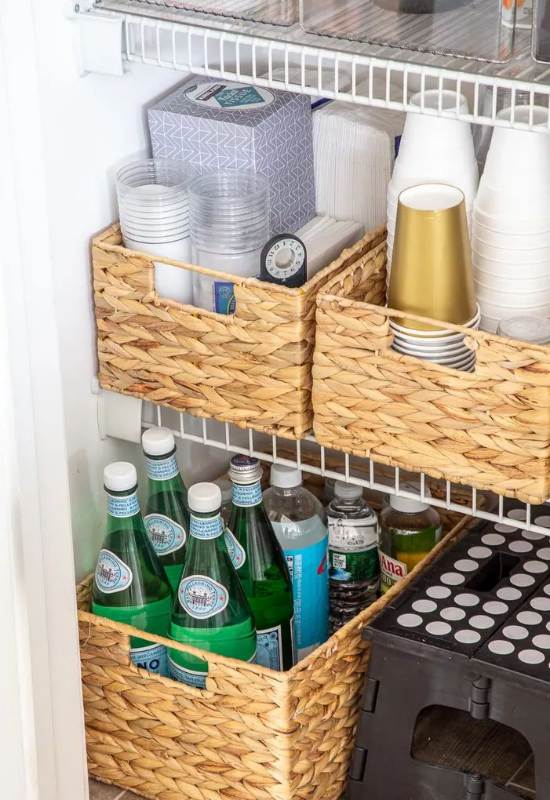 In organizing the pantry, there is too much focus on the shelves. This is despite the scope of using the pantry floor as an extra shelf. You can place baskets of heavy items on the floor, but spare loose stuff to avoid messing up or cluttering. The pantry floor can be used for items that are big, heavy, bulky, and awkward. Appliances not in frequent use will be safer on the pantry floor than on the kitchen counter. 
Paper supplies packed in a large basket can rest on the floor carrying paper towels, paper plates, and napkins. Other items that you can keep on the floor include storage buckets holding bulk flour, sugar, rice, or beans
20. Door Shelves for Pantry Storage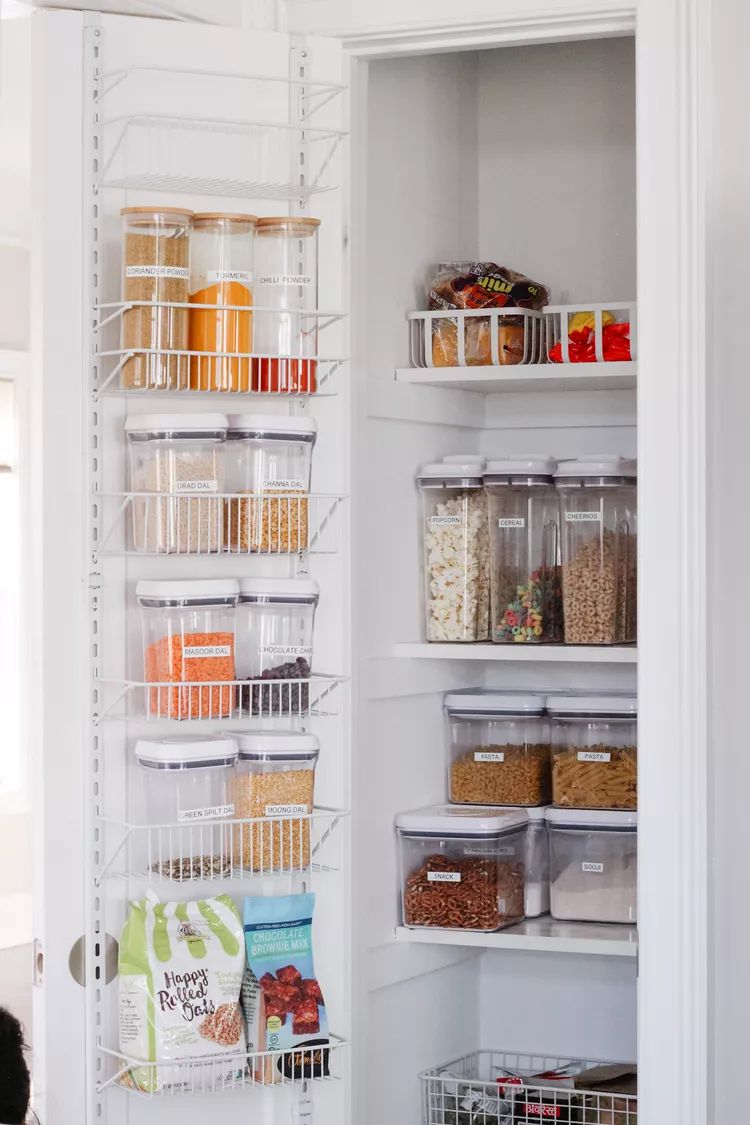 Over-the-door shelves are a nice space-saving solution for space-starved settings. This is good for apartment dwellers who will be the practicing economy of space. You can buy Over the Door Organizer with good designs and space-saving features. In these pantry organization ideas, you have to plan something sturdy that will hold heavy pantry items such as ketchup bottles, canned goods, and syrup bottles without any fear of falling.
Mostly, OTD pantry organizers are adjustable and carry at least 8 shelves. You can take out some shelves in case you are not using all the door space. 
21. Spice Organization Ideas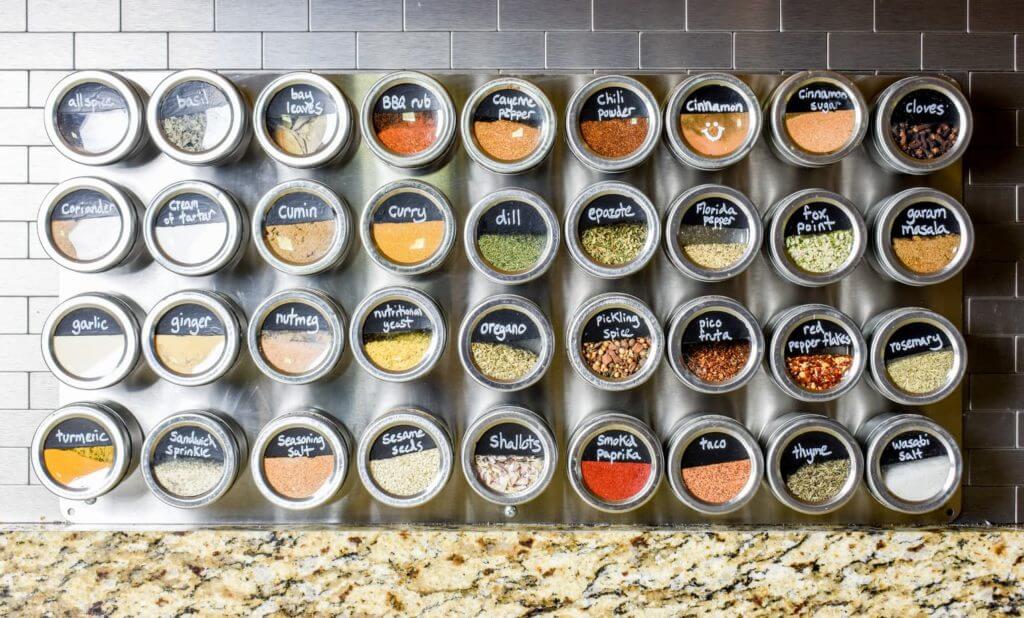 Keeping the spices in your kitchen neat and organized is a necessity. Use a magnetized container as a good solution. You can keep the spices in rows after labeling them properly on glass containers. In case you want to place spices on a narrow cabinet shelf, then use shelf risers so that they are easier to see. If you use stackable containers, make sure the stacks are not kept too high else. They teeter over when you grab some chili powder every time. Also, avoid direct sunlight on the spices. Make sure you never place magnetized spice containers above the heat-emanating part of the stove.
Pantry Organization Part of New Kitchen Concept 
In the pantry organization, the ideas discussed above connect with the emerging concept of kitchens as an entity bigger than a functional area for food preparation is visible. The kitchen is being transformed into a convivial hub or an area of enjoyable work and seamlessly integrates with the rest of the home. The penchant and passion for an organized pantry is very much an extension of smart kitchen planning that seeks maximum storage space very ergonomically.
Kitchen storage organization products are making life easy for people in terms of saved time and effort during the making of meals, organizing ingredients, and storing food. Aesthetically well-engineered space-saving pantry solutions are finding extensive end users in residential and commercial sectors. 
In commercial kitchens, the drive towards optimum storage is being propelled by shelving systems that withstand high temperatures. Commercial pantry solutions also include sturdy cupboards, shelves, utility carts, and storage racks. 
The Pantry Storage Market Is Growing Fast
The pantry storage market is expanding fast. According to market research agencies, the kitchen and pantry storage market has a size of around $150 billion worldwide and is showing a growth rate of about 5 percent a year.
The awareness about the benefits of kitchen pantry storage organization is driving the market. The prospect of less clutter, easier access to items, better utilization of kitchen space, and improved motivation, cleanliness, and hygiene are making people invest in these goods as part of good living. 
There is a wide variety of affordable storage organization products available in the market. They include racks, baskets, bins, boxes, and drawers in the market made of different materials, including plastic and metals. They are readily available offline and online.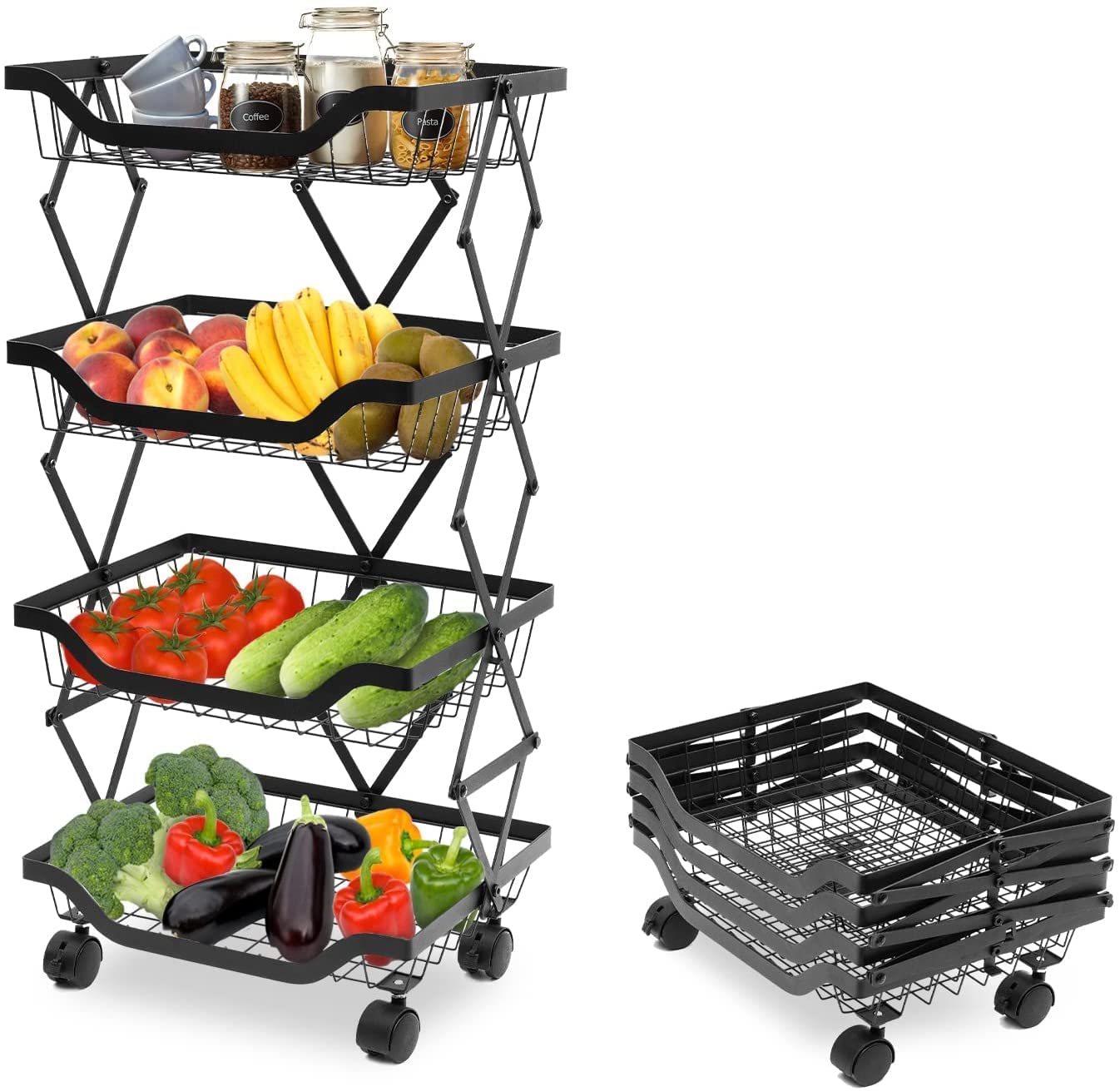 Among the trends, there is a tilt towards Do it yourself (DIY) kitchen storage products. Among the growing markets, Europe is in the frontline with a market share of about 35 percent, followed by North America and Asia Pacific.
Among the materials used for storage containers and canisters, plastic is ahead with a market share of 30 percent, followed by metal and glass. Among the global players in kitchen and pantry storage, there are big names, including Kitchen Magic, Enclume Design Products, ShelfGenie Franchise Systems, Anchor Hocking, Blum, IKEA Systems, and Masterclass Kitchens, among others. 
Conclusion
As revealed in the discussion above, a well-organized pantry transforms any kitchen. At the same time, a disorganized pantry is a pain with its problems, such as expired ingredients, loose packages that bring pests, and wastage by storing excess items making for an overstuffed pantry, etc. 
Always remember that when you want to create a streamlined pantry coverage, the first step must be assessing the specific dimensions of the pantry in terms of the number of shelves, the height of the shelves, and the character of the pantry– small pantry, or a walk-in pantry.
The space dimension gives an idea of where each storage item can fit based on the size and usage frequency. Also, consider the space between your shelves. In larger spaces, you can fit bigger items, including cereal boxes. If the pantry shelves are adjustable, then containers have to be arranged suitably. Also, give preference to user-friendly items with handles in the case of containers, as they are easy to pull out.  
Once you have decided to leverage the benefits of a well-organized pantry at your home, certainly the pantry organization ideas discussed above will be handy for you.