Do you want to decorate your farmhouse walls to attract the maximum amount of attention? If yes, you need some inspiring farmhouse wall décor ideas.
From vintage wall paintings to oversized decorative items, you can be both innovative and creative while decorating the farmhouse walls. Also, every element must contribute to uplifting the overall visual vibe of the farmhouse. Moreover, your style should be comforting as well as pleasing to the visitors.
However, it can be challenging as well to accommodate different elements together to create a unique impression. If you are also struggling, we are here with the top 21 charming farmhouse wall décor ideas to try. Are you excited to explore these amazing décor ideas for your farmhouse walls?
Incredible Farmhouse Wall Décor Ideas
1. Oversized Metal Basket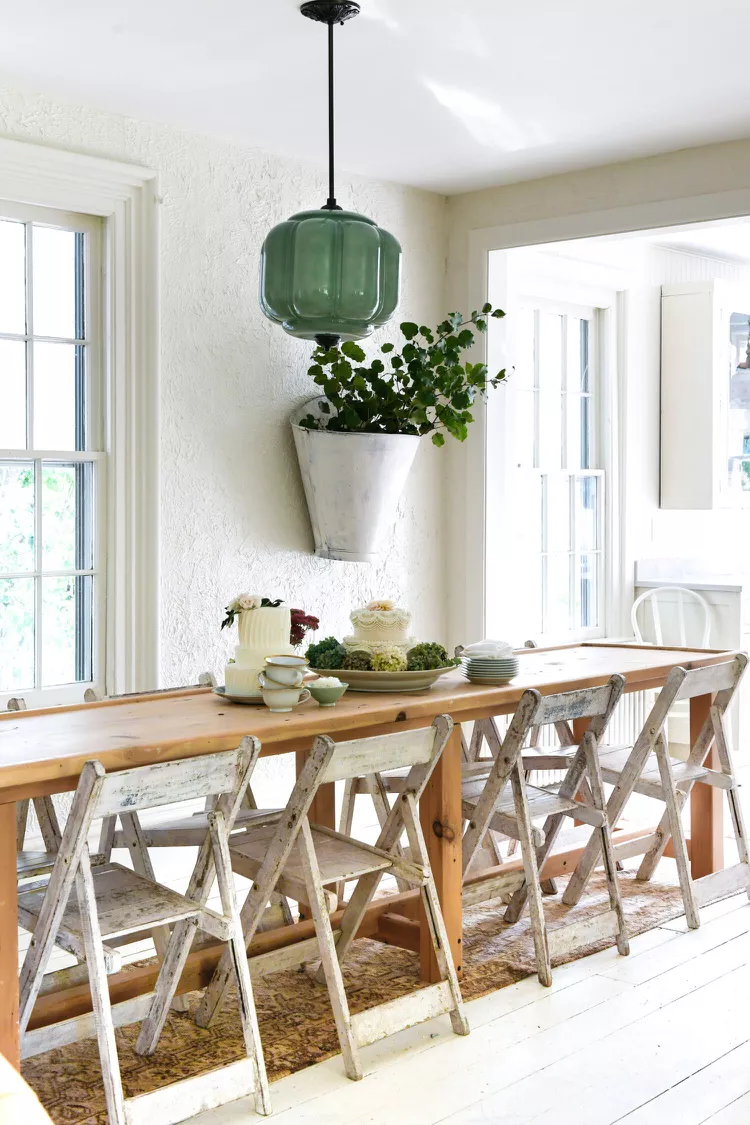 To begin with, using an oversized metal bucket as your farmhouse wall décor is one of the most popular ideas. The metal bucket not only attracts a vintage appeal but also can be used for multiple purposes. You can also add a bunch of green leaves in the bucket to pop the colors brilliantly while refreshing the entire surroundings.
You can experiment with the shape and size of the metal basket, along with contrasting its color against the wall. Moreover, the idea will look good for living room walls, dining room walls, or just a pretty attraction in the passage as well.
2. Appealing Decorative Clock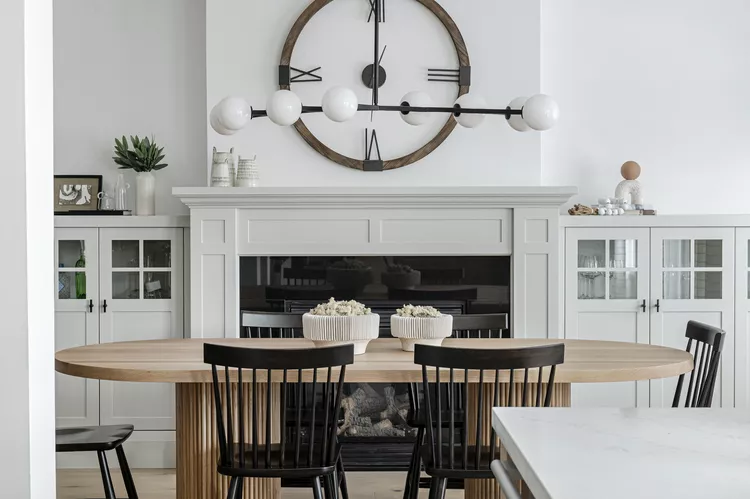 Gone are the days when clocks were limited to their functional use. Now is the time that clocks are used for decorative purposes as well. One of the best ways to include in your farmhouse wall décor idea is to have an appealing and big decorative clock.
Vintage and antique rust clocks are generally the preferred choices among users. Besides this, you can also use a vintage clock made with wood or metal to get the nostalgic feel of the black-and-white era. You can use your creative imagination to decorate the clock in your space to create a vibe that is hard to resist.
3. Vintage Mirror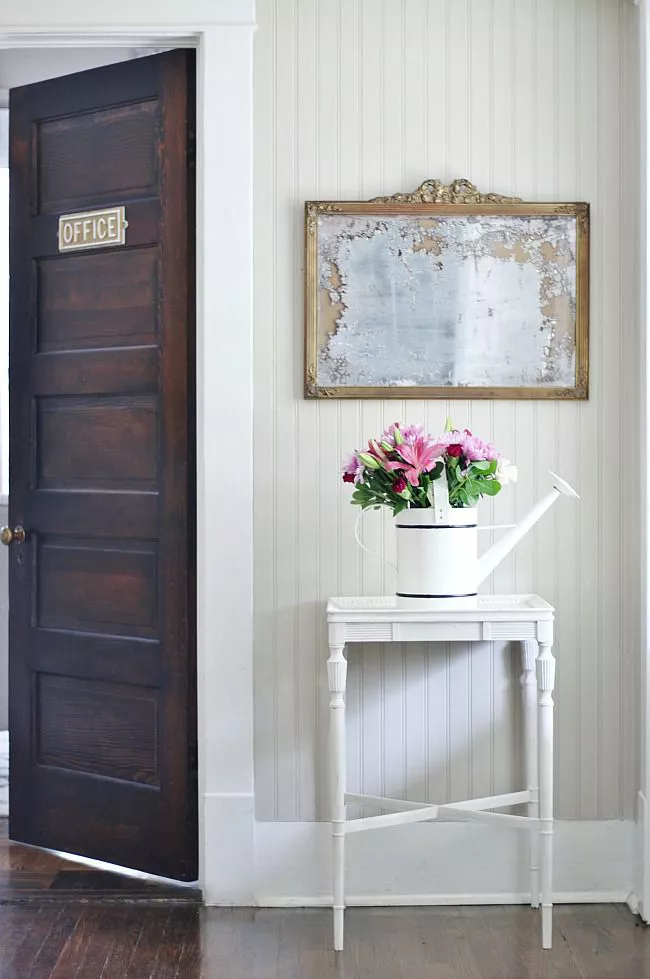 To give a nice royal and distinguished look to your farmhouse, nothing can get better than using vintage mirrors as its decorative accessories. Vintage mirrors have a charm that instantly appeals to and pleases everyone. Moreover, the trick bounces the light around to make the place brighter, fresh, and spacious.
A unique vintage mirror is undoubtedly one of the major attraction pieces in many modern farmhouse design ideas. The use of a vintage mirror makes a great attraction, especially in the walk-through passages. Generally, a vintage mirror with a gold frame makes one of the most popular and preferred choices for farmhouse décor.
4. Hat Rack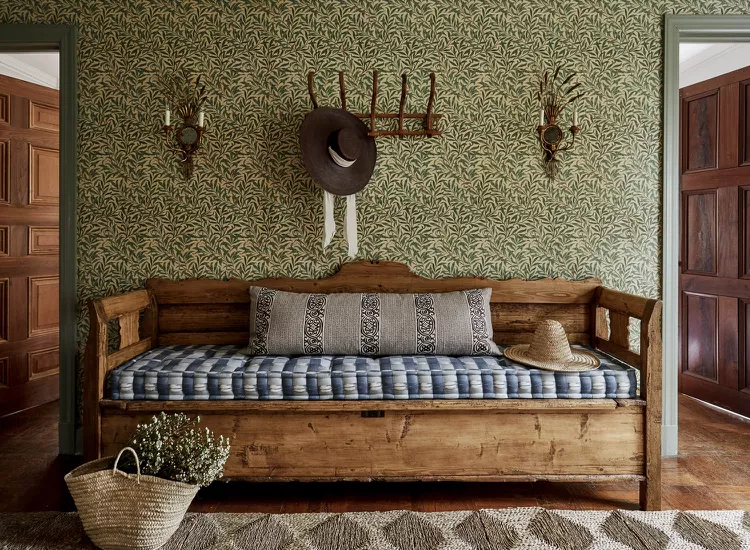 If your farmhouse has that traditional and royal vibe all around, you cannot miss having an attractive vintage hat rack. The vintage or rustic hat rack against a nice and bright colored wall creates a magical vibe to impress everyone around without any hassles. You can choose through the various designs to ensure that your hat rack stands distinguished.
Besides the design of the hat rack, you can also easily experiment with the material of the hat rack. You can find some amazing variety in wood, metal, rust, brass, etc. Moreover, you can also play around with colors to make the whole farmhouse wall décor the center of attraction.
5. Fresh Flowers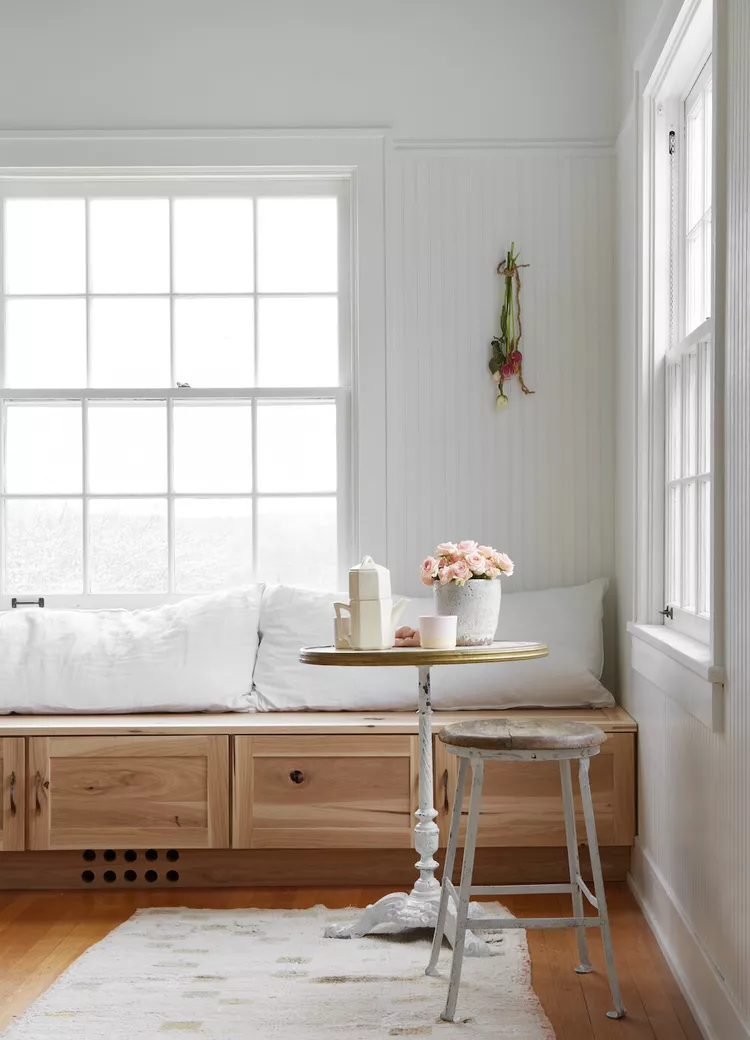 There is nothing that fresh flowers cannot make beautiful, be it your room, a living room, or a farmhouse wall. You can just never go wrong with the whole idea of using fresh flowers for decorating your space with fresh and charismatic vibes. Additionally, fresh flowers also attract positivity to the place along with their fresh scented fragrance.
You can either put the fresh flowers directly on the farmhouse wall in a vase or pot, or you can place them beside the wall to catch everyone's attention. You can also decorate your farmhouse with different flowers every day as per your mood, preference, liking, and overall theme.
6. Cohesive Modern Décor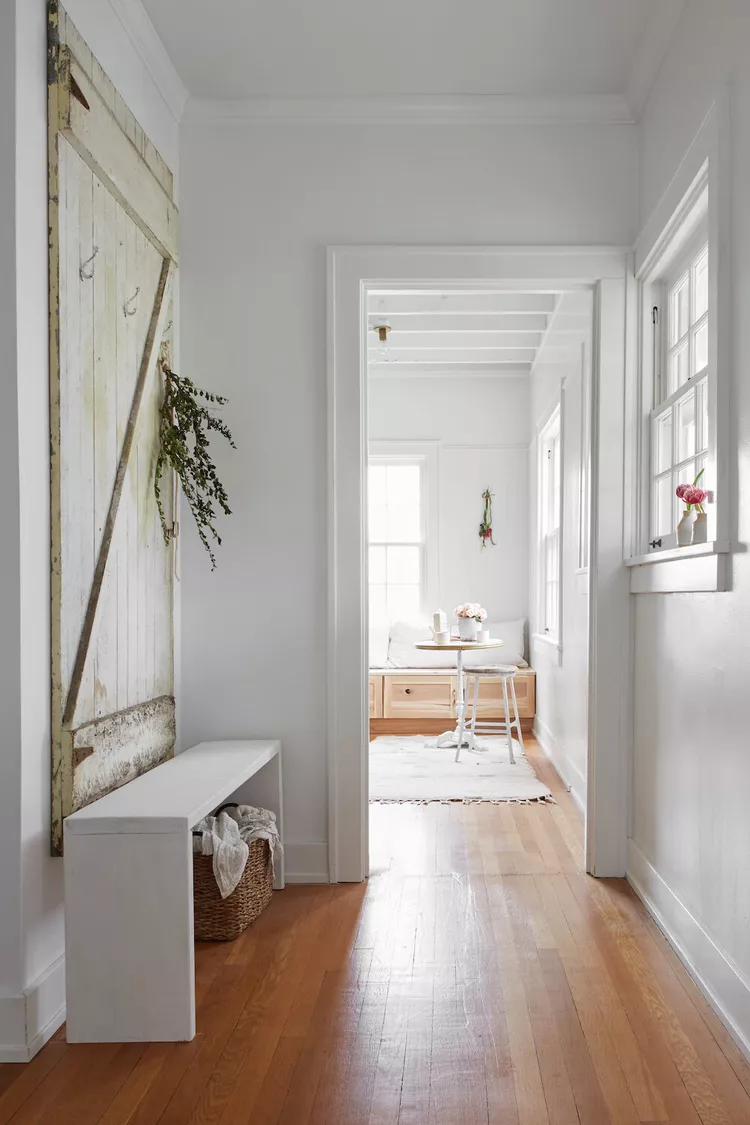 If you don't want to get into any hassles in decorating your farmhouse walls yet want to attract all eyes, you can always rely on the cohesive modern farmhouse wall décor idea. The whole idea of cohesive modern décor is to limit the color of your farmhouse to a single color. White is one of the popular color choices amongst people to create a cohesive décor style.
Now, to attract eyes and attention, you can mix and match different accessories, paintings, styles, colors, recycled furniture pieces, etc. Everything looks simply adorable with white wall background; you should just know how and where to place them.
7. Vintage Sconce
What if we say that you can create a whole magical and magnificent decorative vibe in your farmhouse with just one accessory? Would you believe it? Well, if you are having a hard time believing the fact, try using a vintage sconce for your farmhouse decor.
A vintage sconce simply attracts warmth in the décor style while living up to the royal style. Moreover, with the proper styling of the sconce, the whole décor vibe portrays a dressed-up and elegant charm that is irresistible. Simply put the vintage sconce beside your curtain to create a timeless and nostalgic feel that also adds the required texture to your farmhouse walls.
8. Vintage Frames
Are you still using the picture frames in the traditional ways? Haven't you still tried using frames as a part of farmhouse wall décor? If not, now is the time to move ahead of its traditional use and enhance its beauty with modern styling.
A mix of various vintage frames in different shapes, sizes, and colors is one of the most popular décor ideas for farmhouse walls. The empty gilded vintage frames not only create a royal look but also impresses everyone around. Thankfully, these frames are easily available at affordable prices to fall into your budget.
Quick Tip: you can also try the vintage frames with chips, flaws, and imperfections to create a luxurious and antique delusion for them.
9. Decorative Plates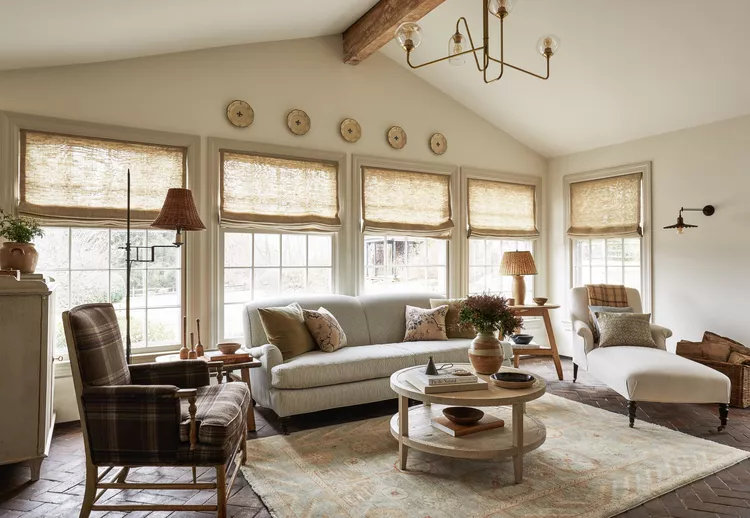 Similar to vintage frames, decorative plates are also a common and popular décor style for farmhouses. It can be rightly said that using decorative plates in either different or similar shapes and sizes is a farmhouse tradition. This simple yet interesting décor style has always been a part of farmhouse décor styling.
Generally, neutral-colored plates are the popular choice; however, you can choose a different color according to the vibe of your farmhouse. You can easily use this décor style in the living room to add a modern style to the farmhouse while maintaining comfort, warmth, and simplicity. Moreover, you can either match the color of the farmhouse walls or can contrast your color choices.
10. Wooden Shelf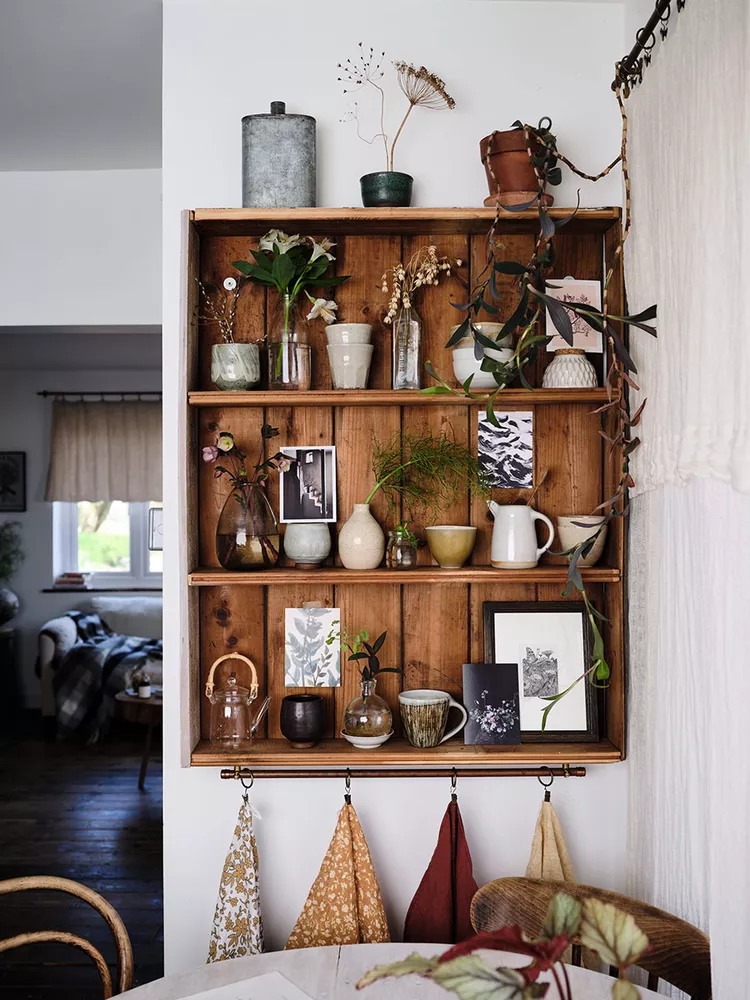 How about having a vintage wooden shelf in your farmhouse? Sounds good? And how about using the same reclaimed wooden shelf as the farmhouse wall décoridea?
Doesn't it sound interesting?
Well, using a wooden shelf is one of the most evergreen décor styles for farmhouses. The whole vibe of using a reclaimed wood shelf just always works to create a positive, royal, and aesthetic look. Depending on the available space, you can experiment with the size of the wooden shelf.
Moreover, you can further use the wooden shelf to decorate other accessories like showpieces, paintings, plants, cups, plates, etc. A vintage wooden shelf will certainly make a beautiful addition to your kitchen, living room, or even the walk-through passages.
11. Rustic Arrows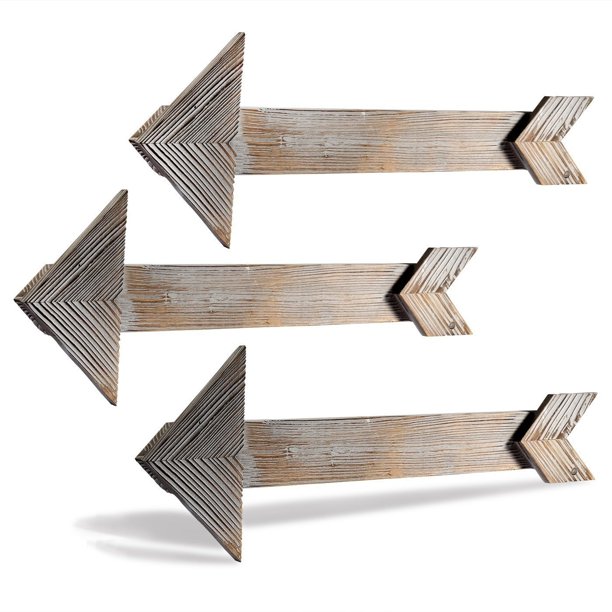 For a more country-style decoration for your farmhouse, you can use rustic arrows. Just imagine the simplicity and attraction that these rustic arrows can add to your farmhouse! Irrespective of your farmhouse size and style, you can use these rustic arrows anywhere without any second thoughts.
Other than using them in their original shape and color, you can also experiment with them. You can either engrave on the rustic arrows for customization, or you can paint them to match the overall vibe of your farmhouse. Well, with these rustic arrows, you can be as imaginative, creative, and innovative as you want.
12. Rustic Wall Decoration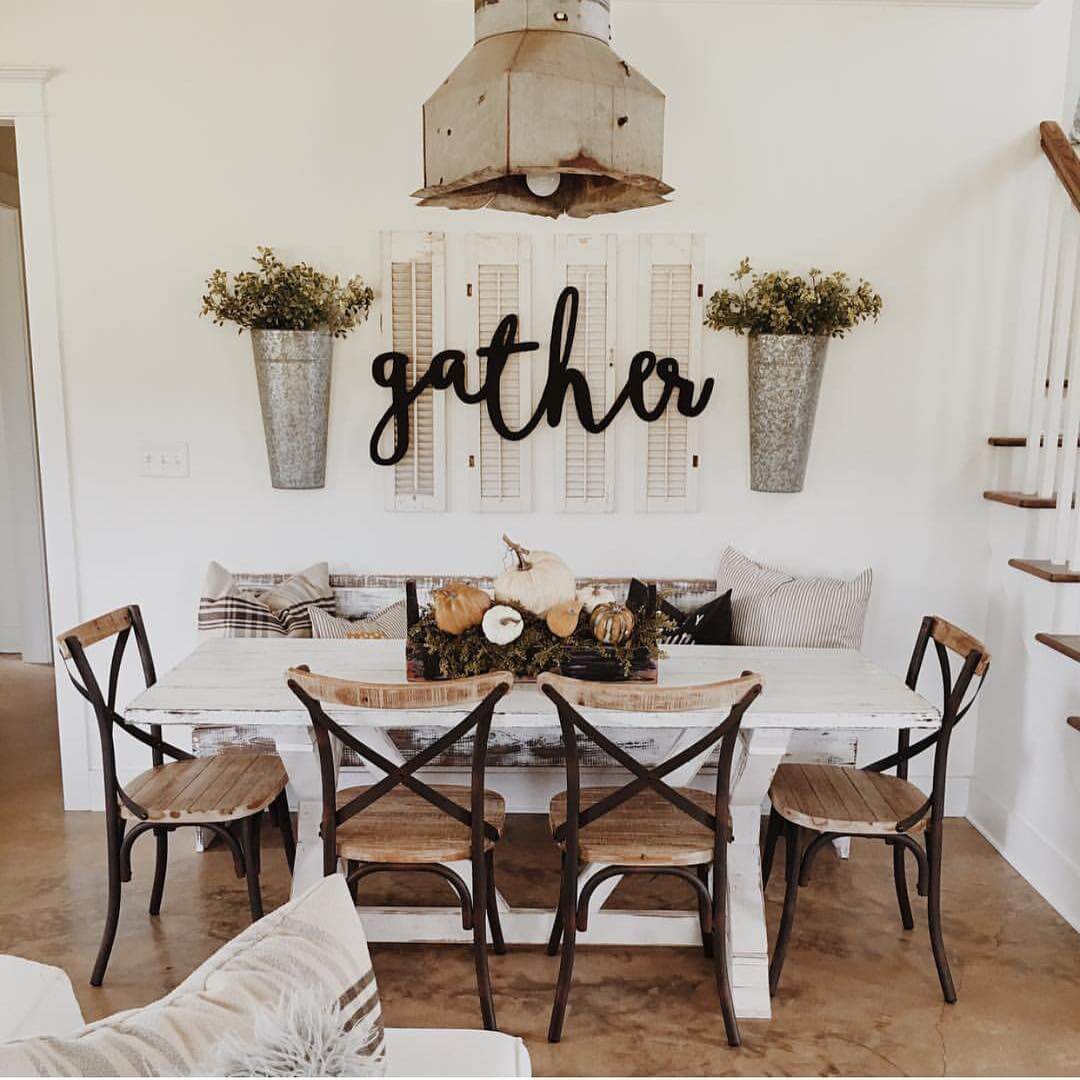 When you are decorating the walls of your farmhouse, nothing can make more sense than using wall decorations. Isn't it? Wall decorations have been a part of the farmhouse wall décor style for a long time and will continue to be so. However, you can always add modern styling details to them as per your preferences.
You can use the wall décor that reflects the vibe of your place to combine all family members and guests together. You can also play around with the colors, other decoration pieces, and furniture around the wall decoration. You can also mix and match different wall decorations to create a unique and attractive décor style for your farmhouse walls.
13. Floral Fairy Lamps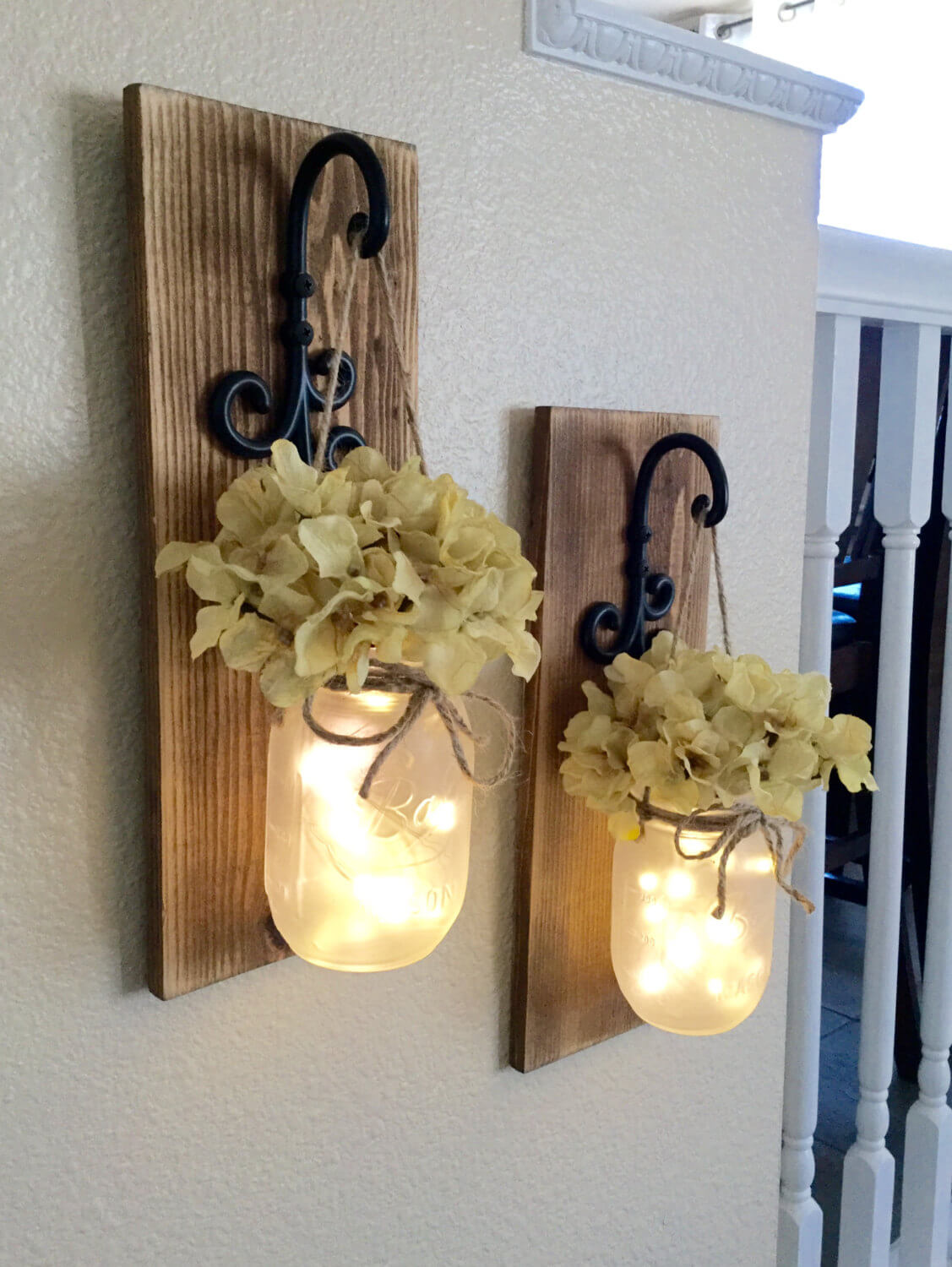 Adding lighting to your farmhouse walls never goes wrong, even if it is used as a single accessory. Using lightning as a décor style attracts warmth, positivity, elegance, relaxation, and freshness to the place. Additionally, it can also create a romantic vibe in the place where you can relax and enjoy your time with your loved ones.
The floral fairy lamps can be positioned on a wooden background to contrast their beautiful color with a solid color. This helps in enhancing the beauty of the place with a pop of colors with the maximum convenience. You can frequently change the intensity of the lights to keep it subtle and cozy for perfectly soothing comfort.
14. Copper Pots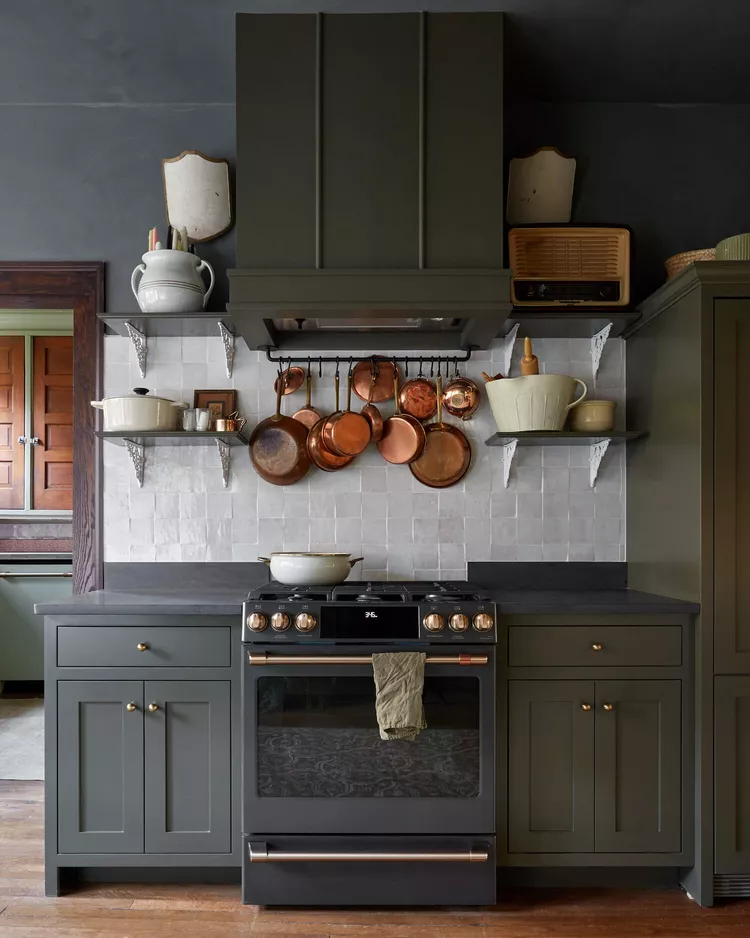 When you are using vintage frames and plates for decorating your farmhouse, why not use copper pots? Copper pots are an interesting and charming accessory that can be used to enhance the beauty of your farmhouse. You can use copper pots in different colors, shapes, and sizes to instantly attract everyone's attention.
The best way to use copper pots in your farmhouse wall décor is by hanging or placing them aesthetically in the kitchen area. You can also use them as accessories on the reclaimed wooden shelf for a more modern décor style. Be it for decorative purposes or for everyday use. Copper pots can be one fine addition to your farmhouse.
15. Dried Flowers and Branches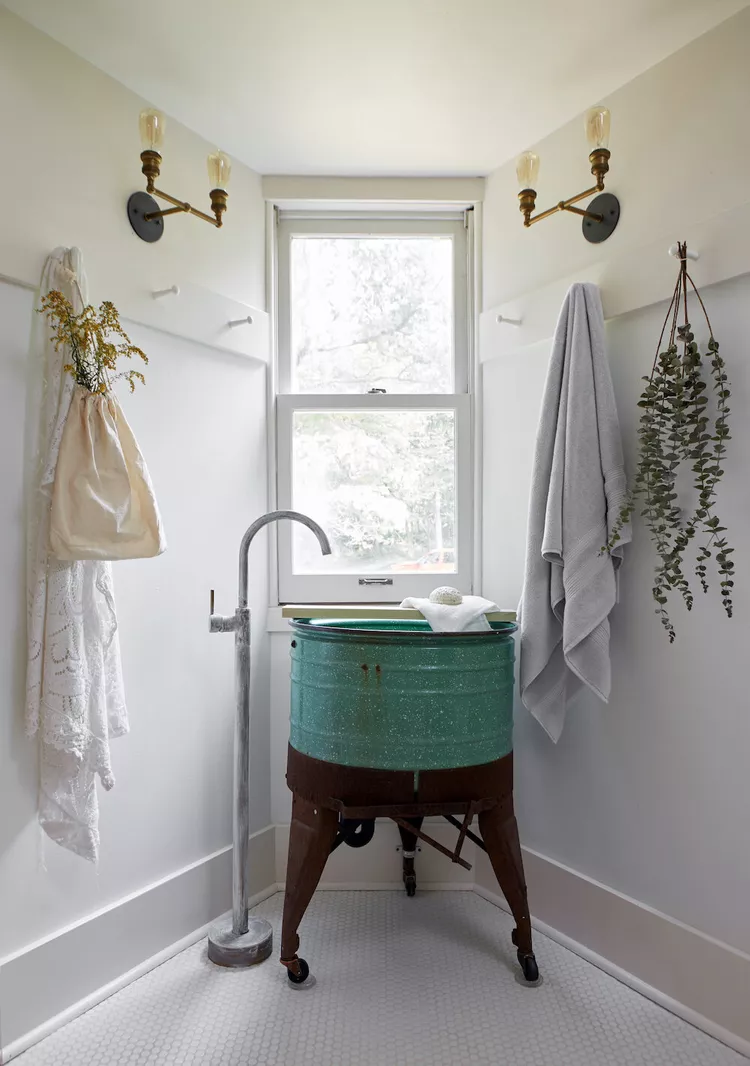 Apart from using fresh and colorful flowers for farmhouse decorations, you can also use dried flowers and branches. Yes, you read that right! The dried flowers and branches can be used for decorative purposes for your farmhouse walls.
Using dried flowers and branches for farmhouse decoration is not only beautiful but environment-friendly as well. It also makes your farmhouse an inviting place, for your friends and family, at an affordable budget. Trying the hanging eucalyptus branches for decorating your farmhouse walls adds a natural element to the place, along with their luxurious exotic smell for a pleasing and fresh welcoming vibe.
16. Shabby Chic Mirror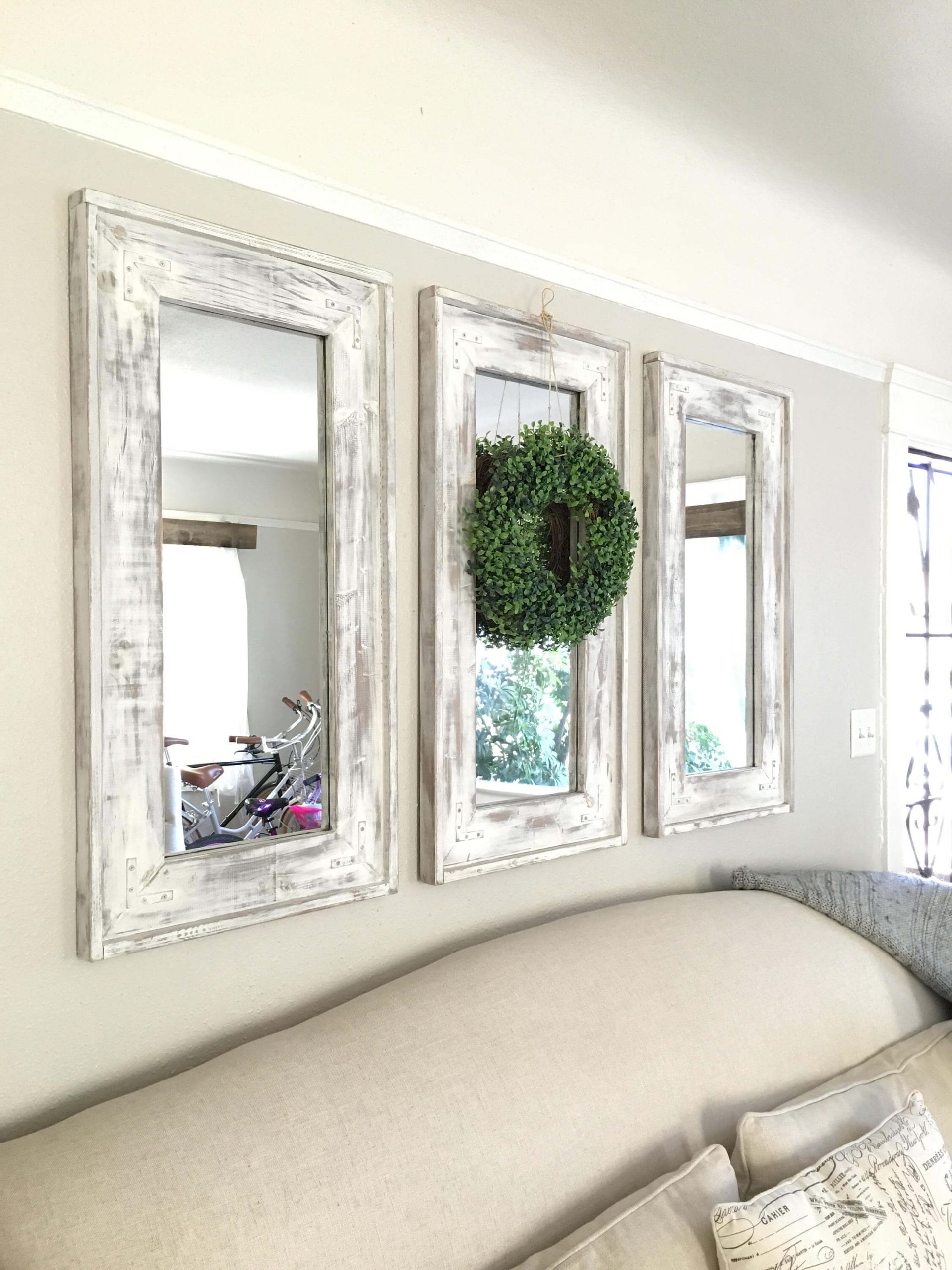 There will always be some extraordinary love for mirrors for farmhouse wall décor. Mirrors of any kind and style can instantly enhance the whole place without any complications or hassles. You just simply place them in any area, and they magically make the whole place look bigger and better within no time.
The idea of using shabby chic mirrors is one great décor way to enhance the beauty of the dining space in the farmhouse. You can also paint the mirror frames to give them a more royal and antique look. Besides this, you can also mix-match the colors as you can use a bright color for the center mirror and neutral shades for the side ones.
17. Mix and Match Signs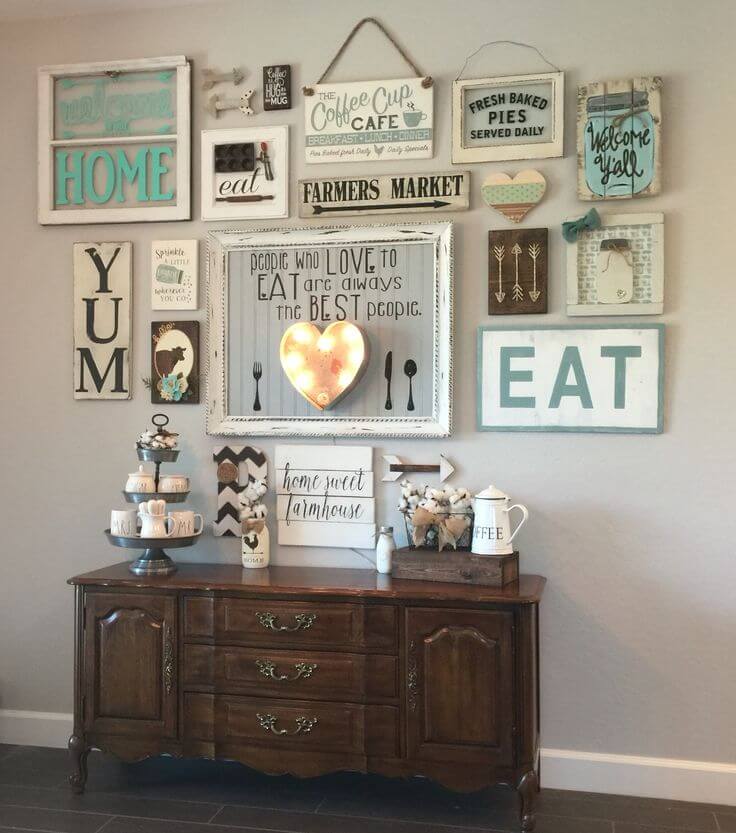 Who said farmhouse décor style has to be traditional, dull, monotonous, and boring? If you still believe in traditional décor design, it is time to go all modern and vibrant. Fortunately, it is pretty simple to do so using the mix-and-match signs defining your personality, mood, liking, and preference like nothing else.
Using different signs is one of the unique ways of decorating your farmhouse walls yet maintaining their charm and beauty. Moreover, you can use your creativity and imagination to play around with the signs to create a beautiful melody that simply pleases the people around you. You can also use quotes, sayings, or slogans that make you happy and motivated.
18. Vintage Books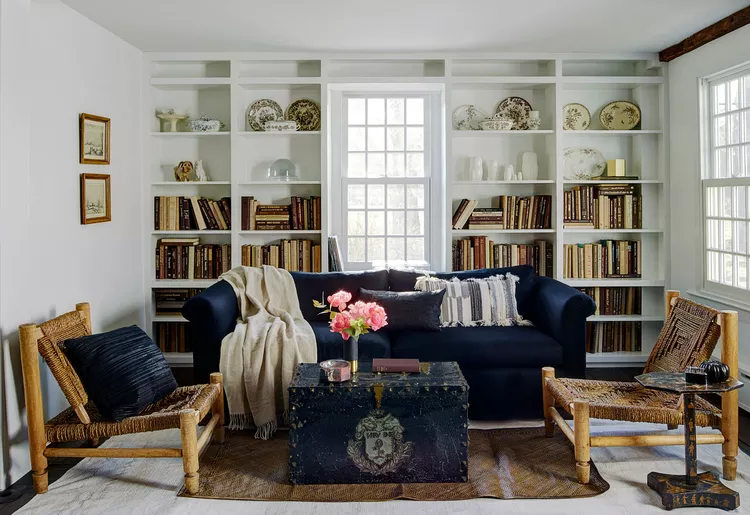 No farmhouse wall décor idea can be completed without using a vintage book collection. It is like a mandatory décor accessory to have in farmhouse décor styling. It can be said that adding some vintage books is one of the simplest yet most appealing ways to make your farmhouse beautiful and attractive to everyone.
Books can easily make any available space cozy and warm, especially when they are arranged on a traditional-modern shelf. You can use a floor-to-ceiling bookshelf to accommodate all your favorite books and to make a remarkable style statement. Along with the books, you can also use some other decorative items like plates, cups, scenic paintings, etc., on the shelf to enjoy a lazy afternoon.
19. Trophy Heads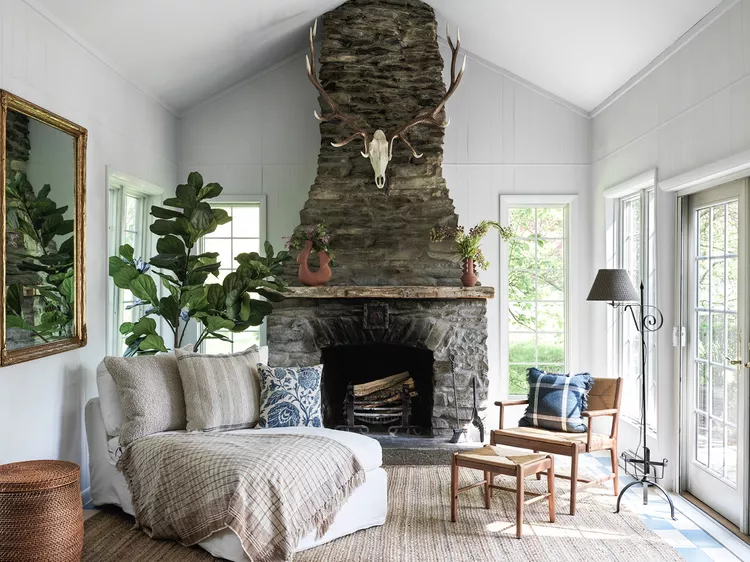 Using trophy heads and antlers has been a major part of farmhouse décor and style. When you think of farmhouse décor, these are some of the few things that instantly pop into your mind. Thus, it makes all sense to use them in decorating your farmhouse walls, certainly to keep up with the tradition.
You can easily use the trophy heads anywhere in your farmhouse to get the authentic feel without any hassles. If you are an animal lover, you can certainly opt for wooden, fabric, or other material trophy heads to beautify your place.
Quick Tip: you shouldn't overdo the use of trophy heads in your farmhouse, as many people may not feel comfortable. As a result, it will ruin the whole happy and warm vibe of your place.
20. French Flower Rack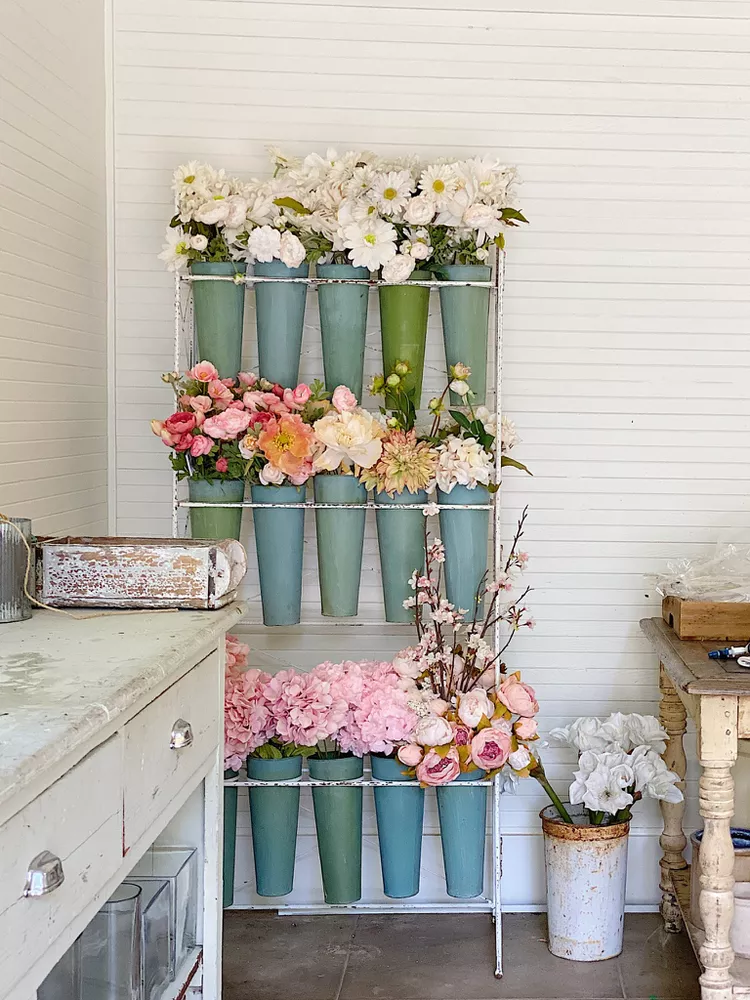 Oh yes, adding some more beautiful and fresh flowers to your farmhouse wall décor style. You can never have enough of the fresh flower decorations in your place, especially if you are a nature lover. The more, the merrier with the fresh and colorful flower decorations to beautify the entire place.
However, rather than just simply using the flowers in a plain vase, you can use them in a more pretty and attractive way. You can use any beautiful French flower rack to arrange the flowers attractively, which adds freshness, colors, and soothing relaxation to the place. You can either hang this modern flower arrangement on the wall or can use it against the wall.
21. Gallery Wall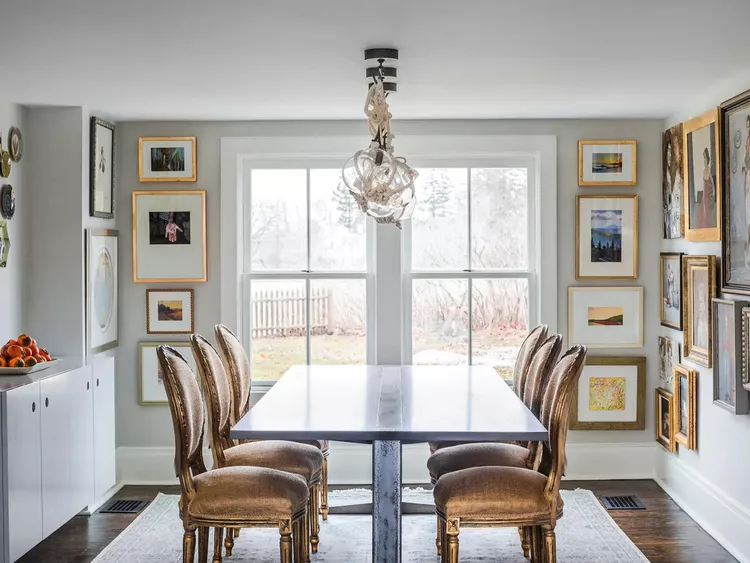 Last but not least, you can have a creative gallery wall to decorate and style the farmhouse. You can combine different photographs of your different life experiences to create a defining style statement. Additionally, you can display playful photographs of your friends, family, and loved ones.
The jumbled photographs collected over the years make a great way to celebrate and live all those moments again and again. You can work on the layout of the gallery wall to make that space happy and lively. Moreover, it will be more appealing and inviting for your visitors to cherish those moments with you.
Final Thoughts
The farmhouse wall décor has nothing to do with the amount of stuff you have; but how you present it. Thus, we have presented some of the most amazing and stylish inspiring ideas to decorate your farmhouse walls that attract the most compliments. Just by combining your imaginative thoughts and the above-mentioned trends, you can decorate the walls of your farmhouse in a style that receives the maximum appreciation.
Which of the following farmhouse wall décor ideas do you like the most? Write to us in the comment section. You can also connect with us for any other related doubts or information you need.
Frequently Asked Questions 
What Is the Most Popular Farmhouse Décor Style?
There are plenty of options for farmhouse wall décor styles, from vintage to rustic. Many modern styling decors are getting extremely popular. You can mix any different décor style depending on your preference and liking.
What Mistakes to Avoid in Farmhouse Wall Décor?
While you may love experimenting with the style of your farmhouse wall décor, there are certain things that you should avoid. Ensure that the wall colors are not extremely wild as it distracts the attention from the décor accessories. Additionally, you should choose the décor items according to the available space.
What Are the Popular Colors for Farmhouse Wall Décor?
You can choose any color theme depending upon your likes and preferences; however, the neural pastel color shades are the most preferred. Some of the popular color themes and shades that attract maximum people are – white, off-white, beige, gray, and pastel shades.
What Is the Most Popular Farmhouse Wall Décor Trend?
Amongst the many available options, the use of weathered wood is one of the most popular and trending farmhouse wall décor ideas. You can use the wood in a variety of decorative ways like wall art, furniture piece, dining chairs, coffee table, or simply as a solid backdrop for other decorative accessories.
Why Is Farmhouse Wall Décor so Popular?
Farmhouse wall décor is popular as it creates a space that is traditional and modern in the simplest way possible. You can combine the different styles for fresh and welcoming surroundings around.