A rug has an incredible ability to bring a bedroom together and give it a feeling of completeness and attractiveness in the world of interior design. It is an essential tool in the home decor armory. A well-chosen rug molds your space, wrapping it in a welcoming atmosphere that goes beyond the material it is made of, which is far more than just a decorative accent.
Where to start when you transform your master bedroom into a place that reflects your own style while still being comfortable? A rug, in our opinion, establishes a solid basis and enables you to visualize the hues, designs, and textures that will ultimately define your personality. There are many possibilities based on preference and price range.
The alternatives for a good rug are endless, whether you choose a soft white rug or a calming blue area rug. We tried to showcase 21 breathtaking portfolios of rug-under-the-bed ideas that can completely revamp your room.
1. Moroccan Inspired Rugs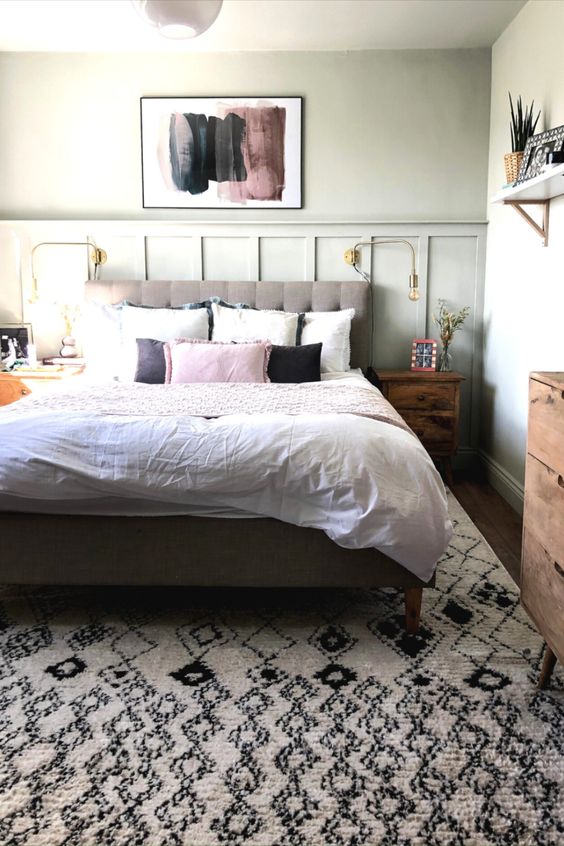 The magic of rugs with Moroccan origins on a thrilling trip where colorful inventiveness meets exotic charm. You can transform your bedroom into a work of art that is decorated with captivating geometric designs and a rainbow of vibrant colors. When the space is dressed in a soft blanket and linens from Matteo, adorned with pillow shams from Libeco and illuminated by ethereal floor lights from Lilah Spirit, it becomes stunning.
Moroccan-inspired rugs could transport you to a place where energy, culture, and art are woven together to create a tapestry of breathtaking beauty. The transformational power of these attractive rugs creates an enduring impression on your heart and house by enhancing your décor with the fascination of Morocco.
2. Classic Neutral Layered Rug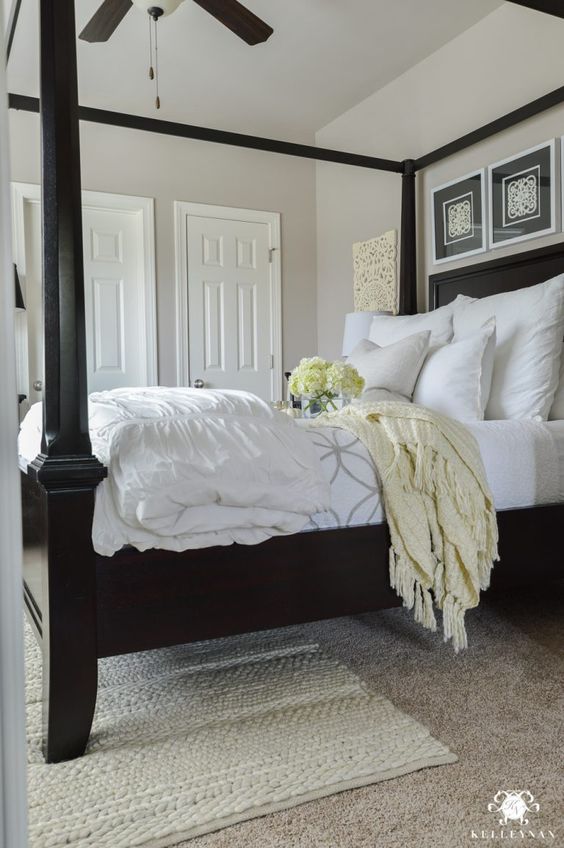 Layering various designs, textures, and hues may result in a wonderful fabric that mesmerizes the senses. A classic, neutral rug placed on top of carpeted floors has a wonderfully transformative effect. Adding a white or beige rug to your vibrant sanctuary is a classy idea that adds a subtle touch of balance. This results in a cohesive and classic appearance. 
With a large, neutral rug acting as the foundation, a gentle and welcoming environment is skillfully created, gently enveloping your space with a subtle touch of warmth and tranquility. Let your imagination soar as you explore the limitless possibilities that are provided by the delicate interaction of neutral tones in your bedroom oasis.
3. Jute Round Rugs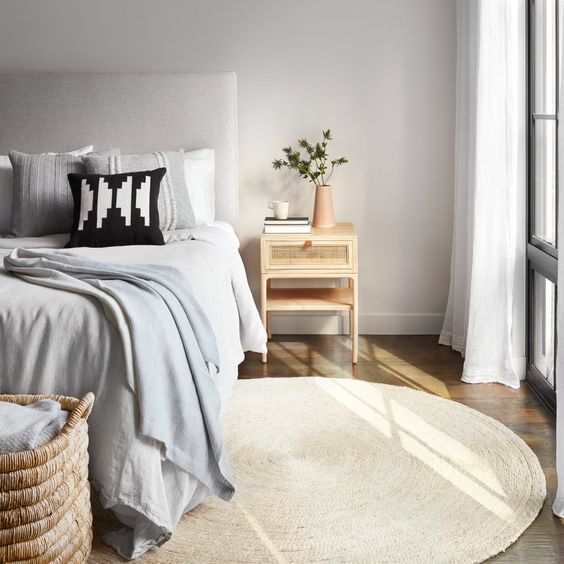 Jute and seagrass carpets are renowned for their heavy, airy properties and dense, knotted designs. You can explore sustainability while enhancing your décor with jute rug leaving a lasting impact on both design and sustainability. Modest texture gives a touch of organic refinement to any environment.
The jute rug reflects the laidback charm of California. This natural masterpiece is delicately hand-braided with long-lasting jute fibers, bringing a sense of carefree beauty to any space. This rug adds warmth to your room with its soft, natural texture and harmonizes beautifully with wooden floors for an aesthetically pleasing combination.
In order to extend its lifespan, adopt a rustic style in your bedroom. These rugs are unparalleled in terms of durability, considering the limited color options. Remember to handle them cautiously since too much water might dilute their natural beauty.
4. Geometric Patterned Rugs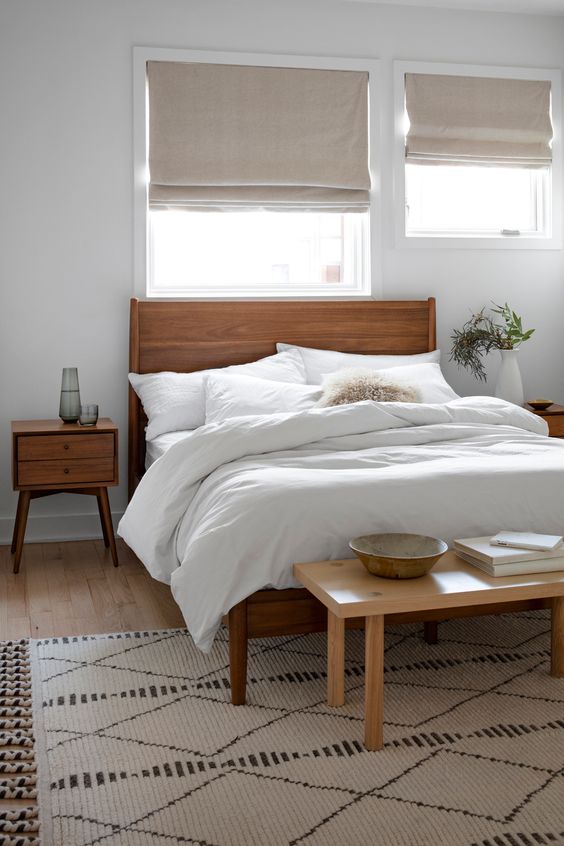 Geometric patterns, which take the main stage, offer a popular combination of modernity and charm. When your bedroom is decorated with a range of textures and tones, a rug with simple geometric designs makes a great addition. Geometric patterns are a chic and stylish choice that may give your bedroom a feeling of modern sophistication. 
Geometric rugs are the greatest choice for modern and contemporary bedrooms because they improve your floor with daring colors, seductive curves, and abstract designs that give the room a bold attitude. You must find a method to link the rug to other design elements if you want it to blend in with the bedroom's style.
5. Faux Fur Luxe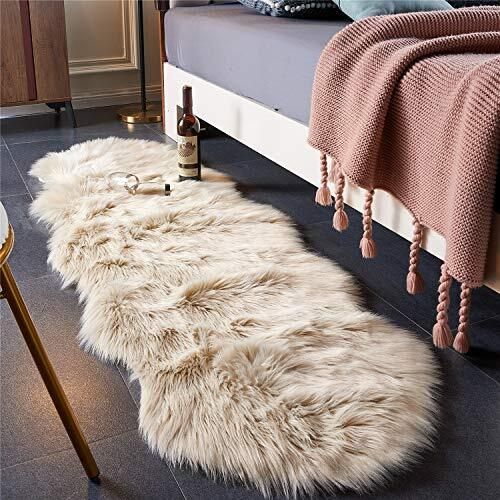 "faux fur" refers to a type of fabric that has the appearance and texture of real fur but is made from synthetic fibers. It is a popular alternative to genuine fur because of issues with the fur trade's ethics and impact on the environment. It offers a cruelty-free option for people who like the soft feel and appearance of fur.
By adding a hint of luxurious fake fur beneath your bed, you may unleash the attraction of soft luxury. You'll be pulled into a world of luxury as soon as your toes touch this magnificent rug's plush softness. This lovely addition warms you and envelops you in an unrivaled cocoon of comfort.
6. Minimalistic Chic Rugs for Bedroom Floor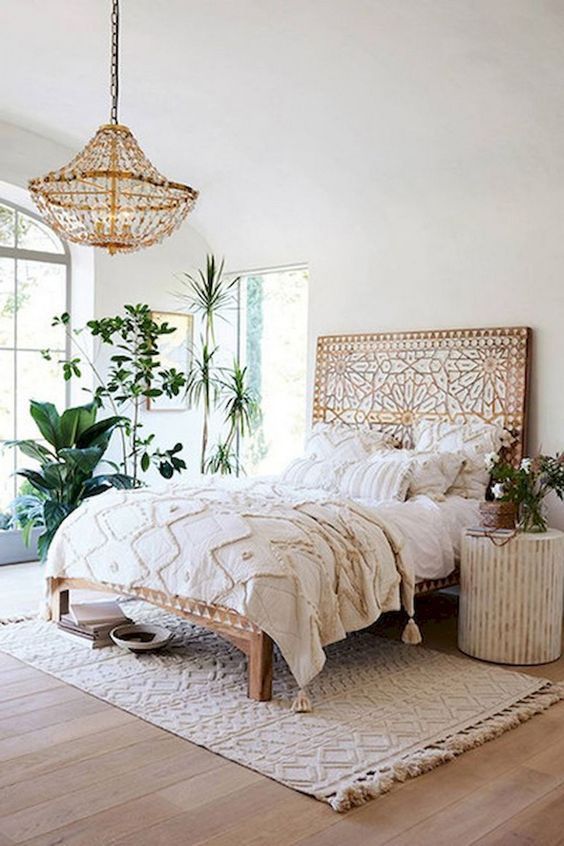 The attraction of minimalistic chic rugs is going to elevate your bedroom, where simplicity becomes the pinnacle of contemporary beauty. Take advantage of the charm that simple, subtle designs and clean lines may bring to your style. You can add your individuality and charm even if minimalism may be the overriding theme in the room. 
Although moderate hues and basic colors predominate in this intriguing room, the rug steals the show by presenting an eye-catching pattern. Whether you decide to use this particular rug or choose something else, make it stand out as a representation of your personality amid straightforward furniture and neutral hues. Make the minimalistic rug a statement piece that expresses your own sense of style in addition to blending in with the space.
7. Oversized or Statement Sized Rugs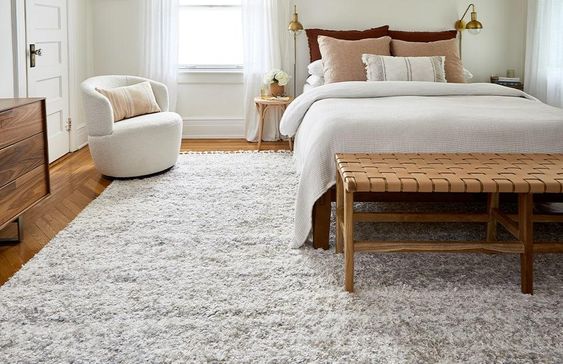 The luxurious atmosphere of your bedroom may be boosted by using the magic of large or statement-sized rugs. Pick a rug that extends past the foot and sides of your bed and covers the entire surface of the floor. This may easily serve as the new focal point of the space. More furniture should be placed on the extra-large rug to achieve the right balance and make the room appear proportionate. 
As large carpets expose a world of options, comfort, and creative brilliance within your bedroom, add a chest or a couch at the end of your bed, or position a recliner chair nearby. Cover the front two legs of the bed first, rather than the back two. These adjustments pull the open floor area closer to the wall and give the rug a more solid appearance. A large, low-pile rug provides the sense of carpeting without the installation effort.
8. Shaggy Comfort Rugs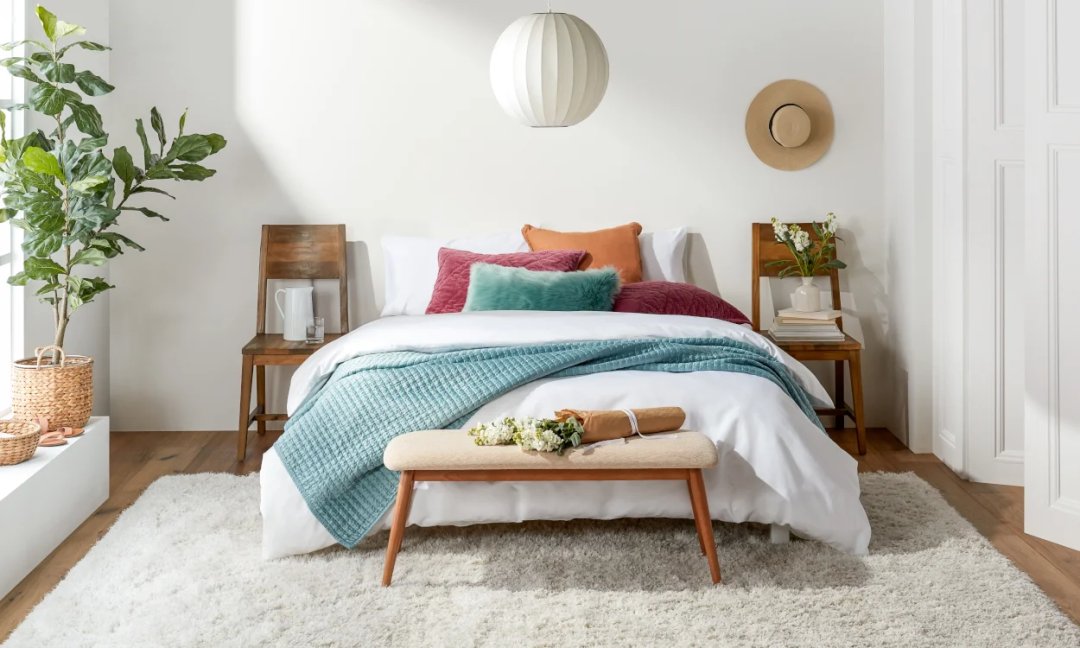 Every morning, enjoy the convenience of getting out of bed and sinking your feet into a plush, shaggy rug for a soft landing. Your rustic design will get timeless elegance from a sheepskin rug, which also offers a pleasant sensuous experience. The shaggy rug is perfectly small and portable and quickly warms and comforts any bare wooden floor. 
Shaggy rugs are a great choice for high-traffic areas like commercial settings because of their durable design and thick pile. A great range of shag carpets is available, including those composed of real and synthetic fur as well as wool, leather, acrylic, polyester, and polypropylene. Use a higher pile shag rug to boost the warmth and coziness while accepting a little more maintenance.
9. Freeform Abstract Rugs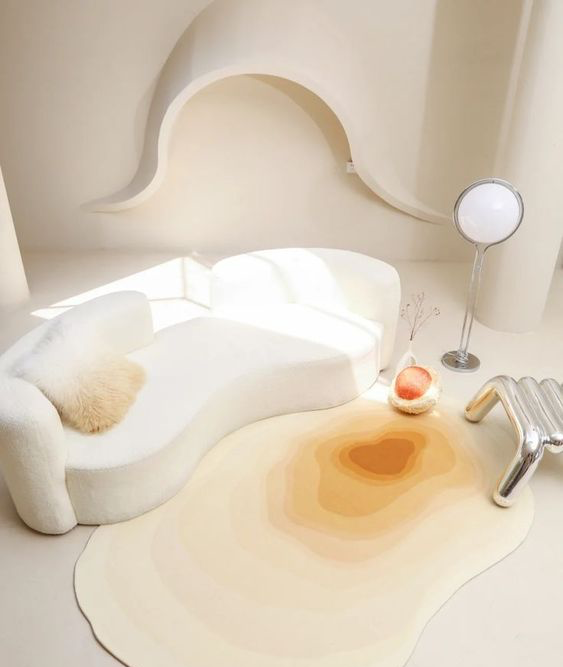 A stunning freeform abstract design pays homage to the Bauhaus and Russian Suprematism abstract art traditions. It's the unique charm of a carefully hand-knotted bedroom rug. This is an absolute essence of refinement as this sculpture takes center stage, either a stylish gloss gallery white floor or a trendy grey micro cement surface. 
Geometric rugs give modern and contemporary bedrooms a little touch of audacity, making them the perfect companions. Decorate your floor with brilliant colors, lovely curves, and appealing abstract designs to give any bedroom design a sense of boldness and turn it into a haven of creativity and style.
10. Running onto Bedroom Runners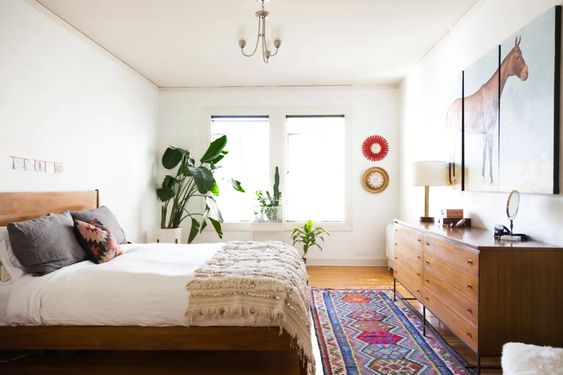 The stunning runner rug is a remarkable one made from 100% virgin wool that can transform your space into a bohemian oasis. Whether you prefer a patchwork of vibrant colors or a more subdued palette, there are options to suit every taste. Runner rugs are a practical and budget-friendly way to elevate your bedroom decor without overwhelming the space. These small yet impactful rugs can enhance your bedroom's style and functionality.
Gone are the days when a rug had to cover the entire room. By opting for a runner rug, you can economize without compromising on style, making it a win-win situation. The runner rug's clever placement next to the bed and against the rear wall creates a smooth trail that leads you to relaxation. If you want a smaller rug in your main bedroom, this is a sensible and attractive option.
11. Vintage Charms
Choose a vintage rug with a subdued, neutral color scheme and nature-inspired designs to embrace the rustic elegance of farmhouse style. Let the old-fashioned charm of the countryside fill your bedroom. By embracing the attraction of old or antique carpets below your bed, you may transport your bedroom to a bygone period. 
With ease, these wonderful pieces add character and a touch of history to any decor. With their worn-in appeal, faded carpets give your private space a warm, inviting atmosphere. Their subdued hues and simple designs give them the flexibility that goes well with different fashions. The exquisitely distressed surface gives them a really vintage appearance as if they had seen innumerable tales come to pass.
12. Natural Tones and Soft Pastels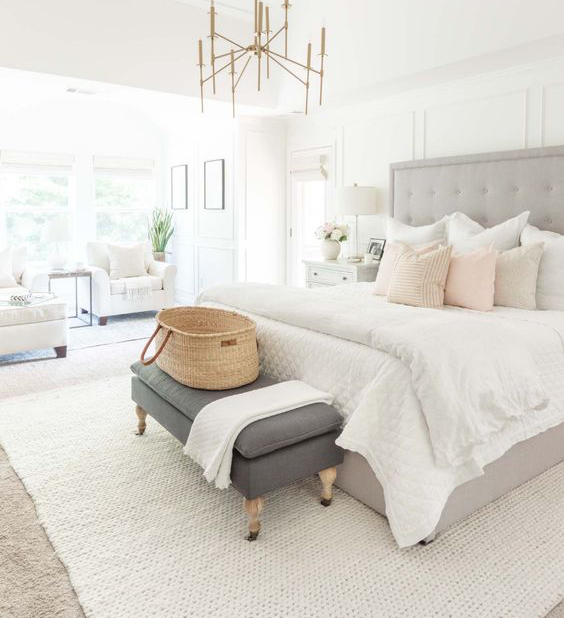 You may fully enjoy nature's captivating beauty with a rug decorated in earthy tones, such as the gentle colors of beige, brown, or green. These earth tones simply infuse your bedroom with a serene, grounded atmosphere that is symbolic of nature. Alternately, to create a calming and soothing ambiance, select a rug in a light tone that goes well with the soft color palette of your bedroom. Your space will have depth and individuality. 
Modern rug designs with faded patterns are becoming more and more popular as a result of their subtle allure and capacity to blend in with any setting while providing a touch of elegance. Let your rug's colors and textures serve as your inspiration as you create a space that highlights the beauty of natural tones and delicate pastels.
13. Hand-Tufted Rugs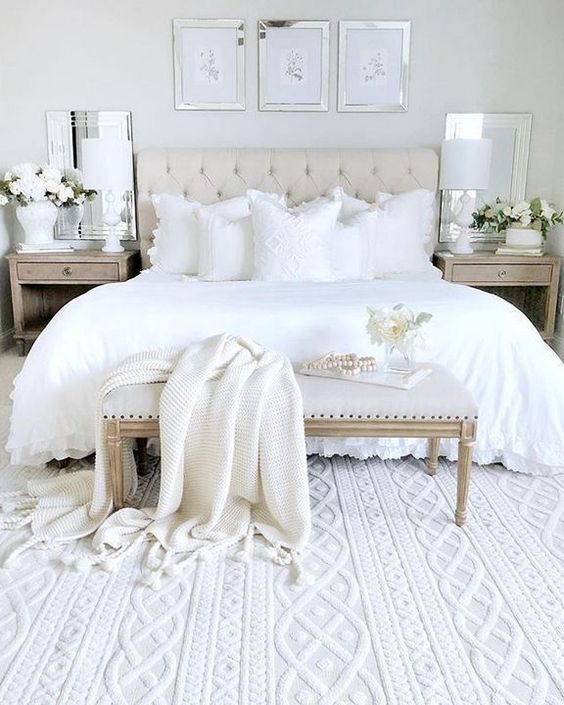 A flooring masterpiece that combines creativity and ingenuity to produce something special and adaptable. Tufted rugs are made by dragging loops of yarn through a backing cloth as opposed to traditional carpets with knots, creating a smooth and velvety cut-pile surface. This method offers countless design options for your area and has no bounds in terms of size or shape. Hand-tufted carpets are superior because they are created with considerable care. 
Finding the ideal rug to match the design of your area is made possible by the variety of colors offered by hand-tufted carpets. Each hand-tufted rug has a canvas backing that is expertly attached to the back to ensure longevity and provide a stable base for years of enjoyment. They are meant to be more durable and hence have a longer lifespan.
14. Bohemian Aesthetics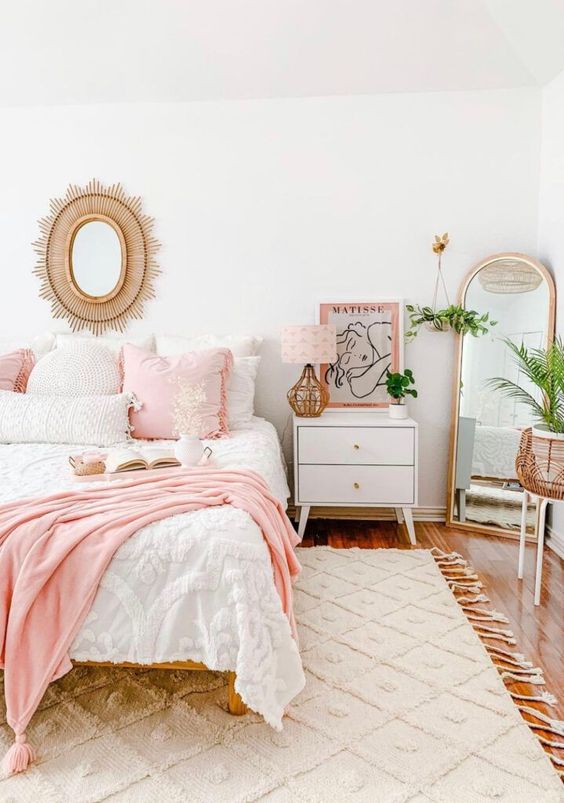 In boho aesthetic rugs, the patterns and colors blend to provide a casual and diverse atmosphere. The flexibility of the boho style is what makes it beautiful since it lets you express your distinct personality and aesthetic choices. These colorful carpets instantly provide a feeling of adventure and free-spirited character to your bedroom.
The elegance of natural materials like rattan not only provides your rug strength and ease of upkeep but also brings a rustic and boho-inspired setting. The options are endless in the realm of current bohemian fashion since it accepts a blending of times and origins. 
15. Add Chevron Rugs and Patterns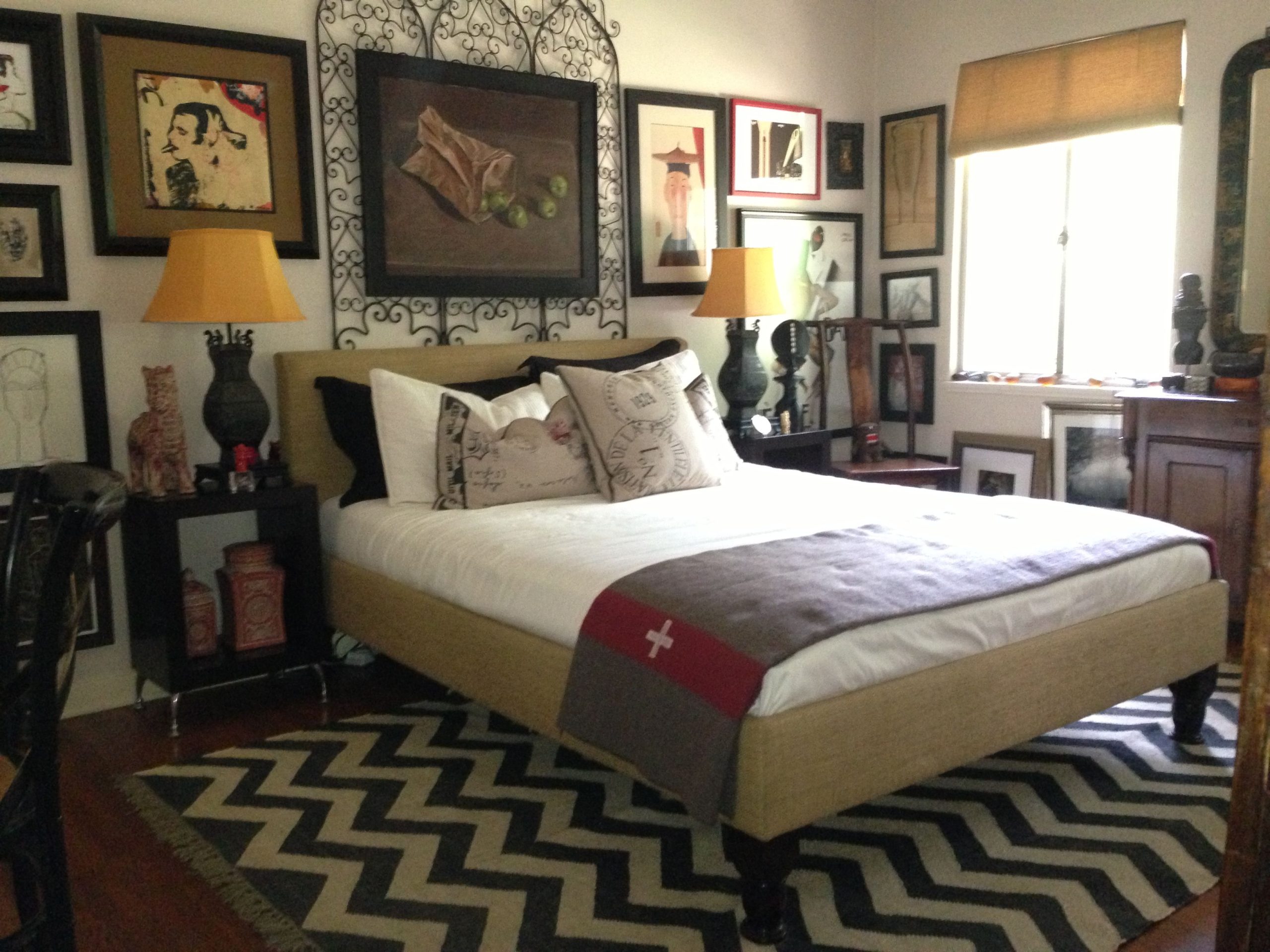 Chevron rugs give your bedroom a playful touch. These carpets have a stunning V-shaped, zigzag pattern that will attract your eye right away. They instantly add life and energy to any environment with their strong colors and distinctive patterns. The elegance of chevron rug patterns resides in their capacity to provide a calm environment. Its multicolored weaving guarantees adaptability and makes it easy to match it with other bedroom decorations. 
Make the rug the centerpiece of the room by utilizing patterns and vibrant colors that contrast wonderfully with a simple design. It will provide texture, depth, and fascination. These patterned beauties have a huge influence on how your room looks and feels overall. Let the chevron rugs speak volumes about your unique style.
16. Persian Style Rugs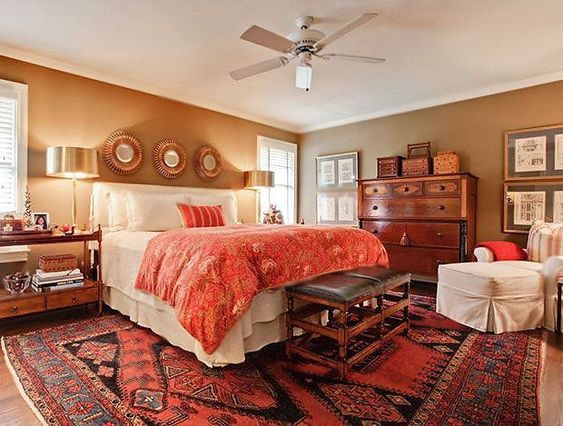 Persian rugs are independent of personal taste. These adaptable carpets easily fit into your master bedroom, regardless of your preference for classic elegance or modern design. Persian carpets are quite popular because they may fit whatever mood or style you want to create. 
When selecting a Persian rug, it's essential to consider the color scheme and its impact on the room's ambiance. A coherent and aesthetically pleasant space is produced by coordinating the rug's colors with other components like bedding, artwork, or furniture. The rug turns into a coordinating component that connects the space together. 
Make the rug the center of attention by keeping the rest of the space basic and letting it speak for itself via its intricate patterns and vivid colors. You can give your master bedroom an appeal that endures the test of time by carefully cultivating it with a Persian rug.
17. Floral Patterned Delight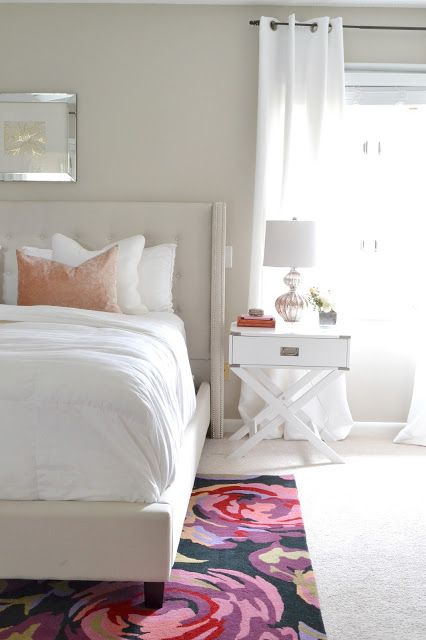 Why not use a lovely rug with a floral design to provide a hint of the natural world's beauty and a romantic mood to your bedroom? This decision will bring the magnificence of your master bedroom to a whole new level. Choosing a darker rug with lighter colors spread all over is a genius technique to create harmony with other light tones in the rest of the room. It guarantees an even mood without filling the room with darkness. By doing this, you establish a visual link that perfectly unites the space.
Flowers have a unique place in our hearts because they make us feel at home and secure. The thrill and freshness of picking a floral rug are comparable to seeing flowers bloom after a long, chilly winter. It seems as though you are taking the splendor of a flowering garden into your own bedroom.
18. Vibrant and Bold Colors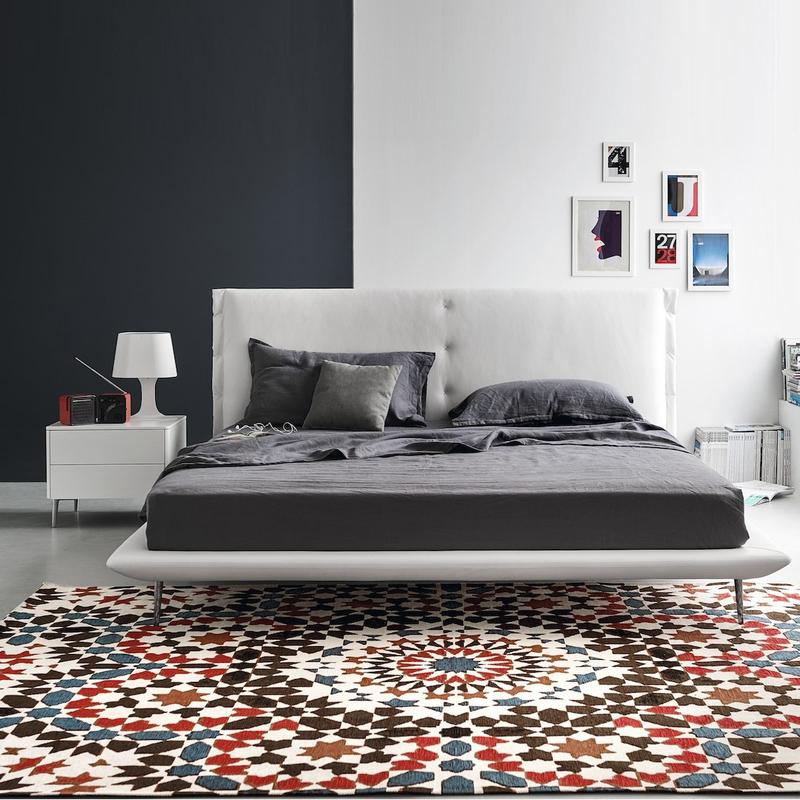 If you think bold colors won't do any good, then don't be frightened to express yourself! Pick a rug with eye-catching, bold colors that contrast with the other items in your bedroom's decor. Let your individuality come through in every detail of the space, including the rug, cushions, and blankets that are vibrant and have patterns. 
Make the place genuinely reflect your bright character by scattering colors everywhere. A bright rug offers the ideal chance to add a pop of color and liven up the space if your bedroom décor is boring in style. Accept many different designs and use the rug as a means of incorporating one of them to add a bit of your individual style.
19. Aztec Patterns of Dark Shades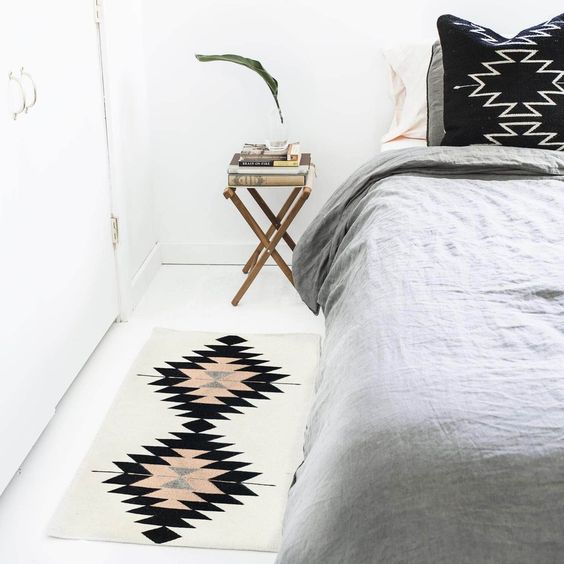 Choose an Aztec-patterned rug to express your own style and fill your bedroom with energy. These well-liked and adaptable patterns provide a compelling foundation on which you may express your individual style. This rug provides a wealth of options for combining browns and blacks throughout the space with its wide variety of those colors.
Allow the color palette of the rug to influence your color selections and the artwork you choose. You can create a seamless link with the Aztec rug by combining modern art with vivid colors and geometric designs. Match them with wall art so that both can complement each other instead of snatching the focal point.
20. Stripe and Line Game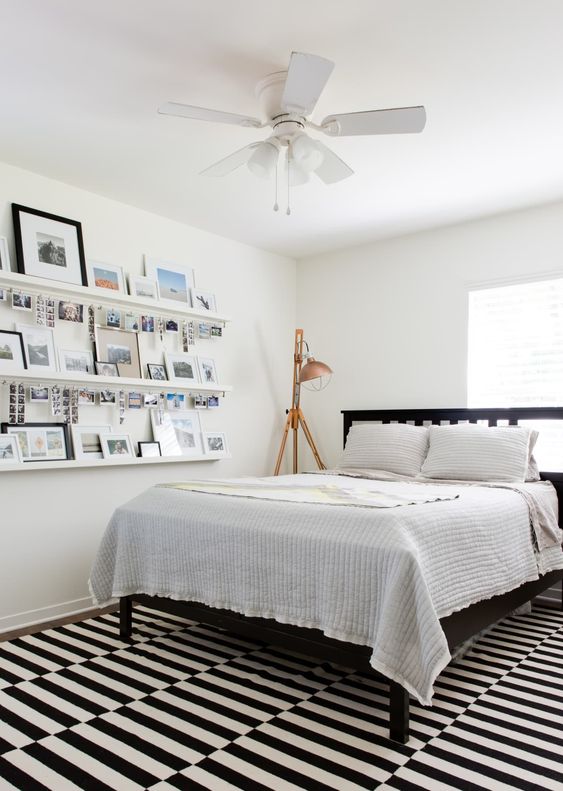 The striped patterns create a sense of movement. A rug design that is always in trend is stripes. They smoothly complete the entire appearance by blending into bedrooms with a classic or country design. Even in a bedroom that is more modern, a worn-out stripe rug finds a home. It conjures up a seaside or beach-inspired ambiance. 
The ageless charm of stripes makes them a traditional rug design choice that resists all trends. Let them become the center of your room, giving it life and personality. Striped carpets are a certain way to bring a sense of refinement to your bedroom for years to come with their appealing designs and classic charm.
21. Monochromatic Elegance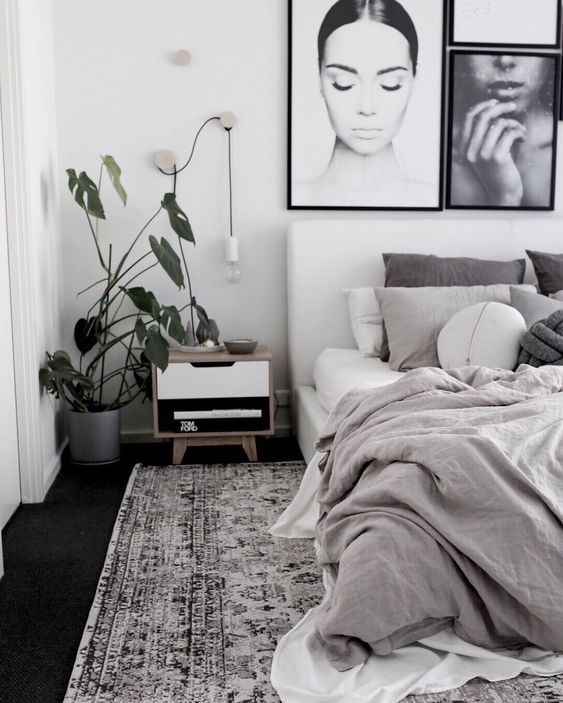 Choose a rug that complements the color of the walls or flooring in your bedroom. This deliberate decision results in an elegant appearance that displays ageless beauty. Bedroom carpets have the ability to enhance and magnify a monochromatic design, creating a peaceful atmosphere. 
If your bedroom already features these colors, use a white or cream rug to allow for a classy fusion of components. The end effect is a room that exudes calmness and elegance and begs you to relax and find peace in its embrace of one color. Let your rug serve as the finishing touch to your monochromatic bedroom's masterpiece.
Rugs Fill Life In a Bedroom
Rugs have an amazing capacity to improve the appearance of your bedroom. 
Numerous opportunities await as you start planning or looking for the final missing element.
You create a place that offers solace, renewal, and the achievement of your goals with each step.
Allow the ultimate rug placement guide to be your buddy as it directs you to the ideal finishing touch.
The power of a designer rug creates a cozy bedroom that showcases your individual taste and feeds your wildest fantasies.