Bathrooms hold equal importance just like any other part of the house. It might not be the place where you spend the majority of your day, but it is that part of your house from where you begin your day. In addition to this, it is that part of your house without which you can't survive even for a single day.
Hence it also deserves to be designed appropriately and in accordance with the other rooms of the house. Nowadays, small bathrooms are mostly present in apartments and houses because of the shortage of space.
If you are wondering about how to design your bathroom to make it unique, here are a few small bathroom ideas with showers that can help you in your journey of creating your dream bathroom.
1. Vintage Small Bathroom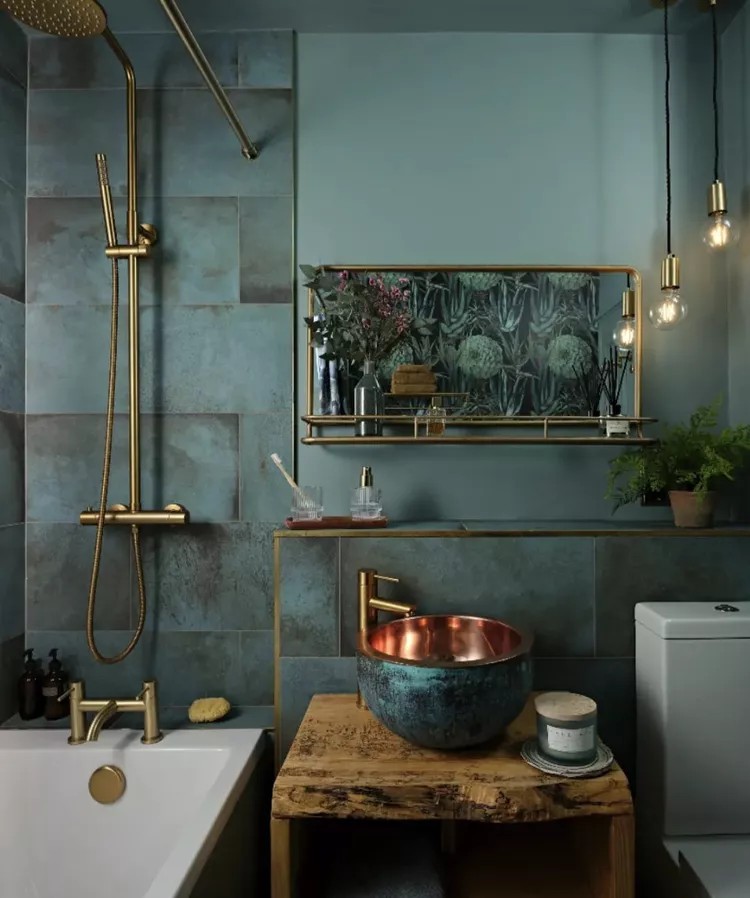 If you are wondering if it is possible to create a vintage look in a small bathroom, then you can consider this kind of small bathroom idea for your home. To create a vintage look, all they have done is use golden fixtures and blue-colored tiles. The designer has managed to create an artistic look without keeping space constraints. The painting, wooden table, and the container placed on it also increase the vintage look.
2. Contemporary-Looking Bathroom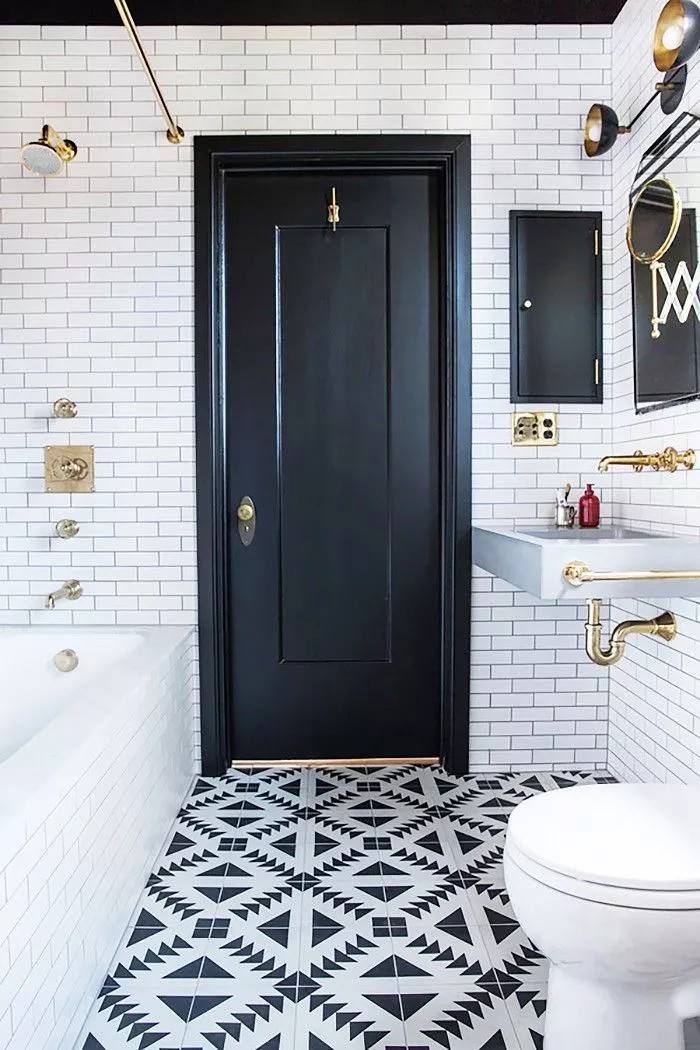 To create a unique effect and give a modern look, experimenting with black and white has always proved fruitful. The black door gives a contemporary look to the modern white-looking bathroom and enhances it more. Just by painting the door black, a graceful look has been achieved. The black and white pattern tiles are also enhancing the look of the bathroom, giving it a spacious look. The use of golden fixtures has done the rest of the part.
3. White Minimalist Bathroom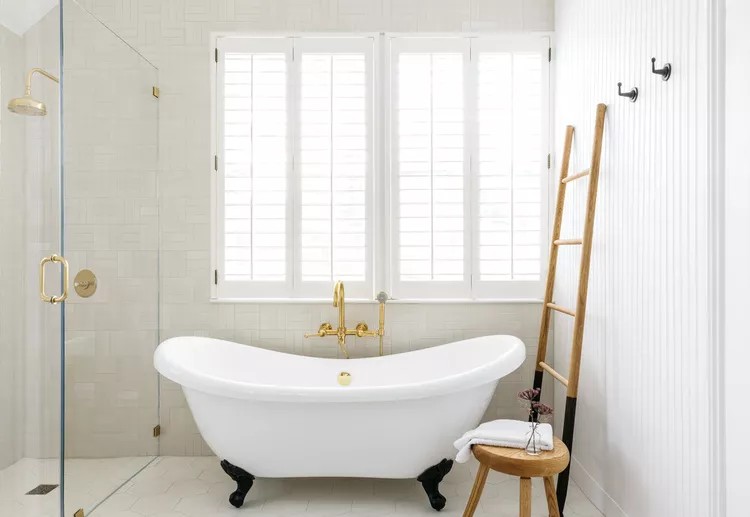 People who are running short of space can consider minimalist small bathroom ideas to manage the space. It will look stylish, and you will be able to manage the space cleverly. This bathroom looks complete with the minimum fixtures and no accessories. The grace of the bathroom has been increased by the white bathtub. It has a separate place for taking showers which is enclosed by a glass door. The use of white tiles and white paint has made the bathroom spacious.
4. White Color Bathroom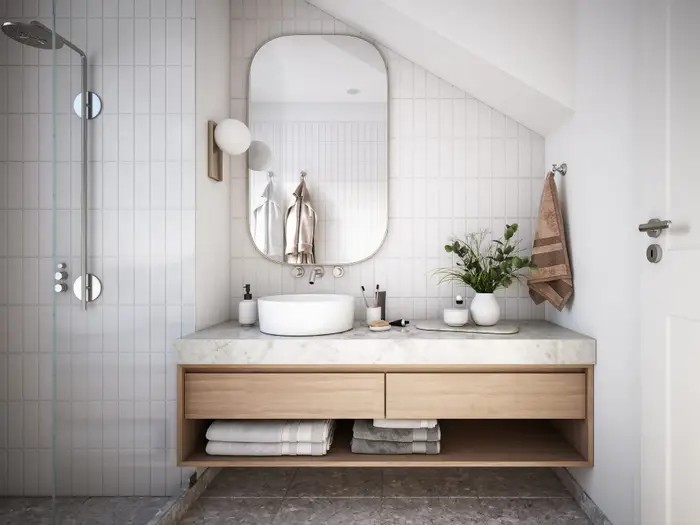 White color always creates an illusion of a large space. Hence, people who have small bathrooms can opt for a completely white bathroom, including the background and sanitary fixtures like basins, bathtubs, etc. To give this bathroom a different look from the basic ones, the tiles used are light brown. This bathroom also has a separate place for taking showers and possesses a modern and elite look. It also contains a built-in storage space where you can keep your essentials and has a separate rack where you can keep your towels, bathrobes, etc.
5. Opt for a Neutral Theme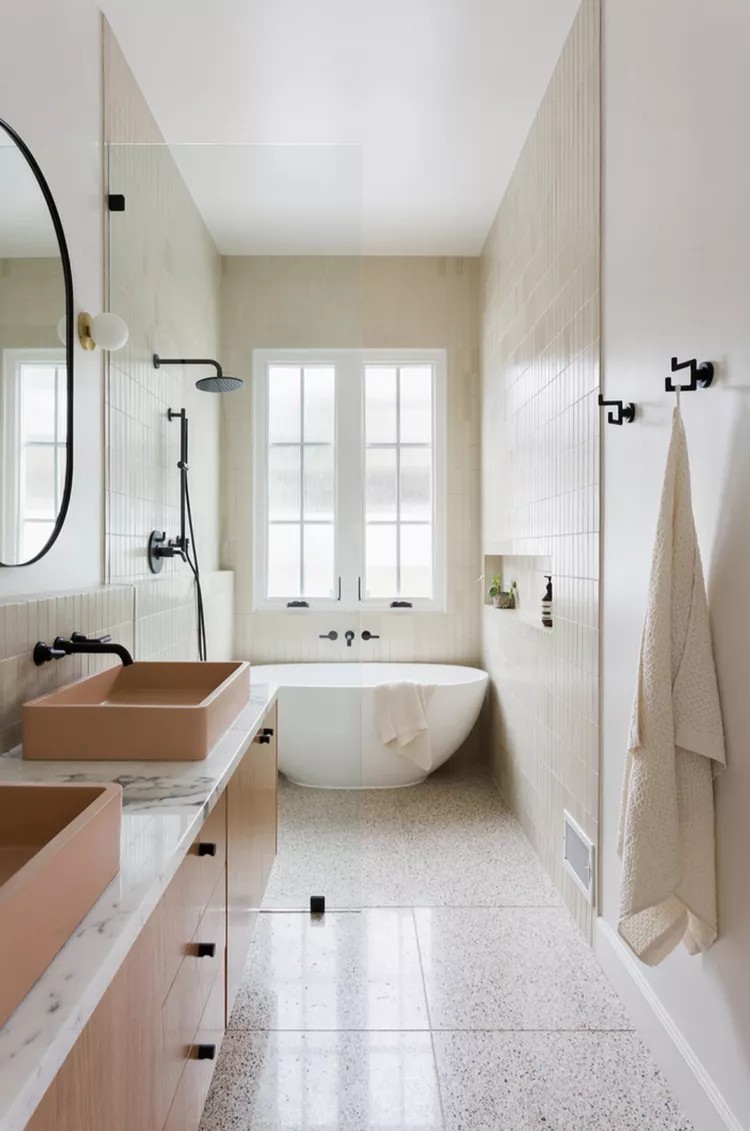 Just like the white color, neutral colors give an illusion of a large space. Hence, if you are looking for a small bathroom with a shower, small bathroom ideas like this one can be incorporated. This light brown-themed bathroom has been designed accurately for small spaces and has complementing fixtures that make it look even more spacious. Everything has been designed so accurately that even after having so much furnishing, it still has enough space for people to move in without discomfort.
6. Play with the Tiles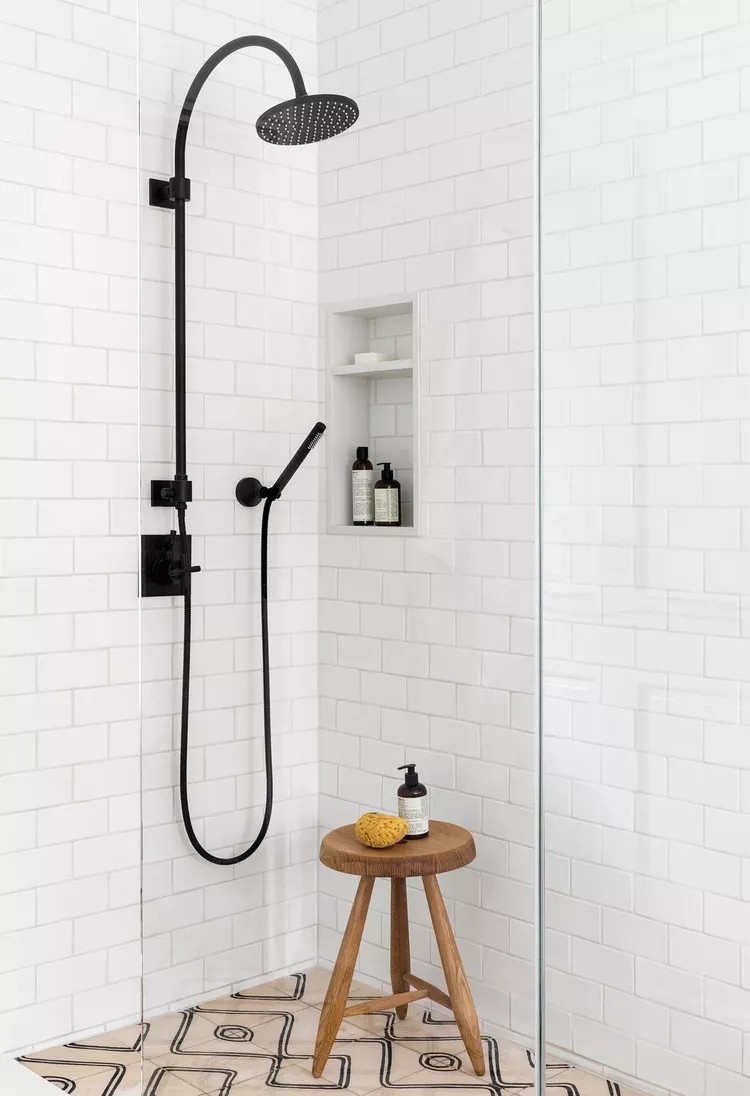 Nowadays, tiles are not just only used for flooring purposes but also used on walls as they are easy to clean and water resistant too. The tiles are more durable than simply whitewashing and have low maintenance. In addition to this, tiles work like magic for small bathrooms and give them a spacious look, as shown in one of these small bathroom ideas with a shower. To enhance the look of the bathroom, it has been provided with a small built-in shelf.
7. Placing the Shower in the Corner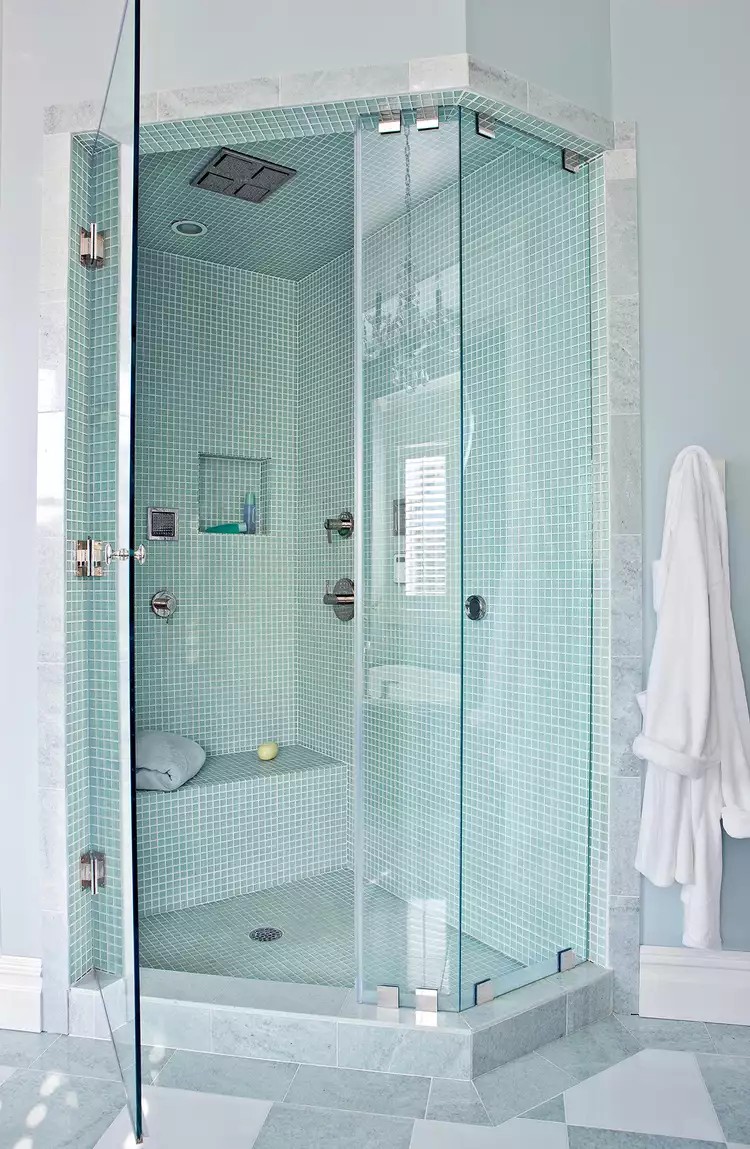 The location of the shower also plays a crucial role when designing small bathroom ideas with the shower. To maximize the space, you should always try to place the shower in a corner. This helps in giving a continuous look to the bathroom. Any place that is designed without any breaks in between usually looks more spacious than one with different divisions in between. Hence, if we place the shower at the side, we would be able to create an illusion of a bigger bathroom.
8. Creating a Classic Look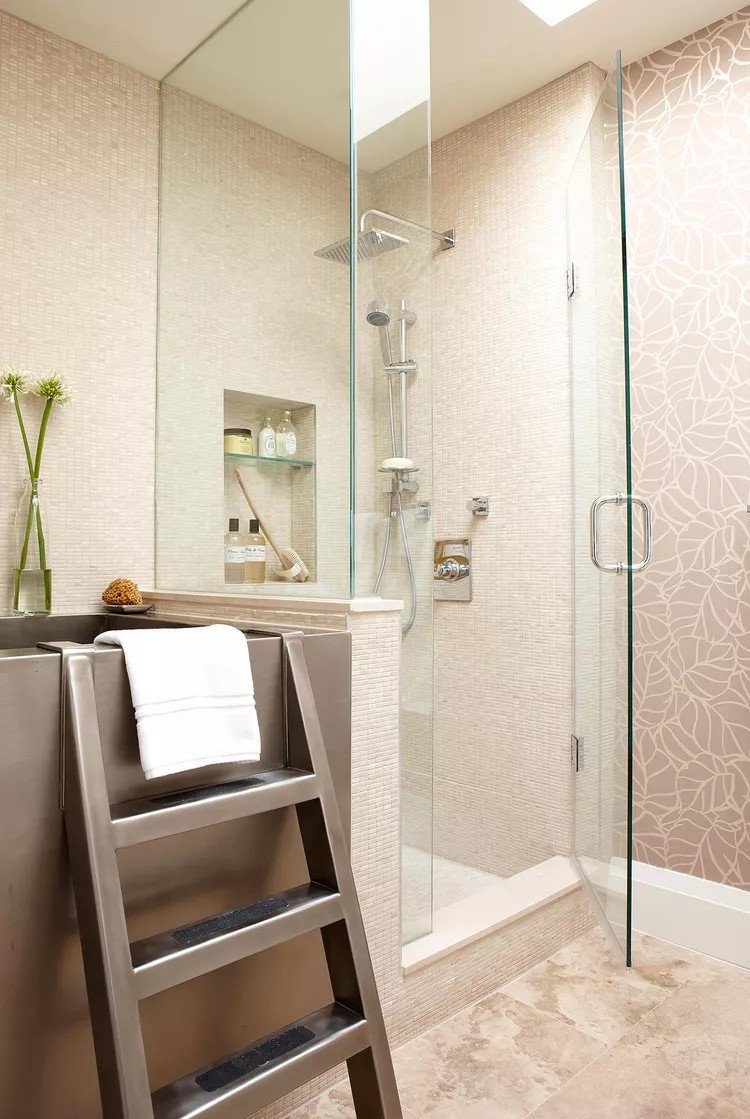 Who said that the small bathroom does not have the potential to become the center of attraction? With adequate small bathroom ideas, you can create a fascinating bathroom. One such example is this small bathroom with a shower that has been designed effectively only by experimenting with shades of brown. The light brown color floor tiles are going perfectly well with the darker shades of brown that have been utilized in the construction of the storage shelf.
9. Cute and Cozy Look with the Color Pink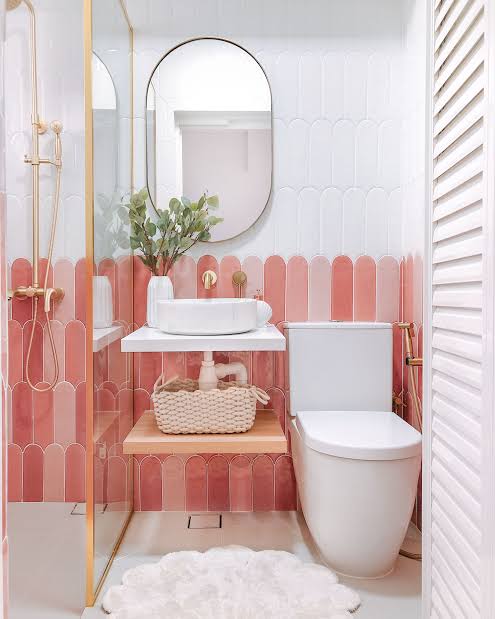 For a kid's bathroom with a shower, small bathroom ideas like this can be incorporated to give it a cute look. The use of pink tiles in contrast with the white tiles has given it a cozy look. The choice of the accessories, such as the woven basket underneath the wash basin, has also contributed to completing the look. It is decorated using the minimum accessories and still looks complete. The glass door with the rose-colored lining elevates the look of the bathroom.
10. Dual-Purpose Small Bathroom Ideas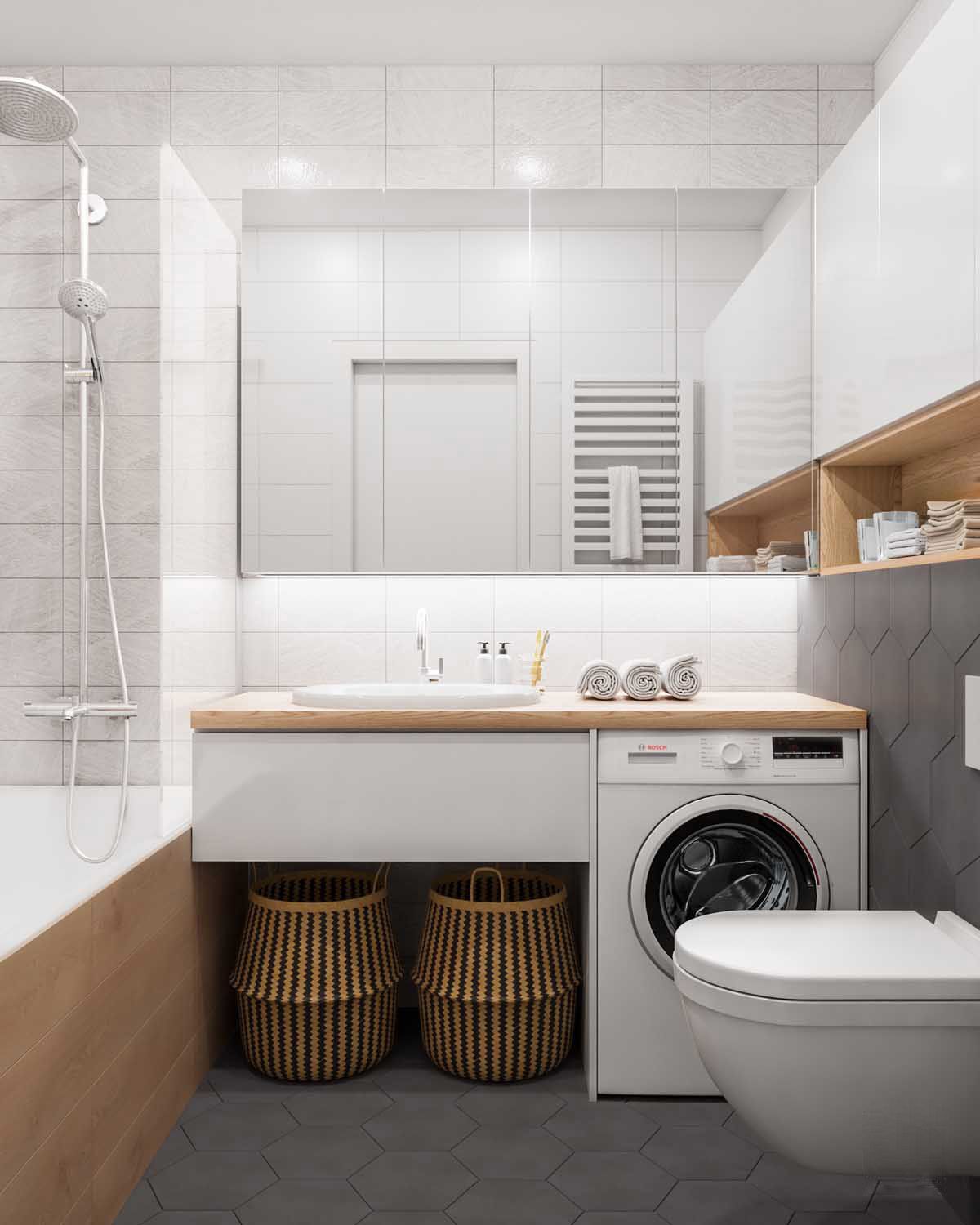 If the space of the bathroom is utilized efficiently, even the small bathroom can be used for bathing as well as washing clothes. In the following shower small bathroom idea, the space under the wash basin has been efficiently used to keep the washing machine. While creating this bathroom design, the designers have not compromised with the other aspects of the bathroom, like its unique design. With the help of the wooden shelves and the white tiles, it has been provided a spacious look in spite of the fact that it can be used for washing clothes also.
11. Bold Look with the Color Black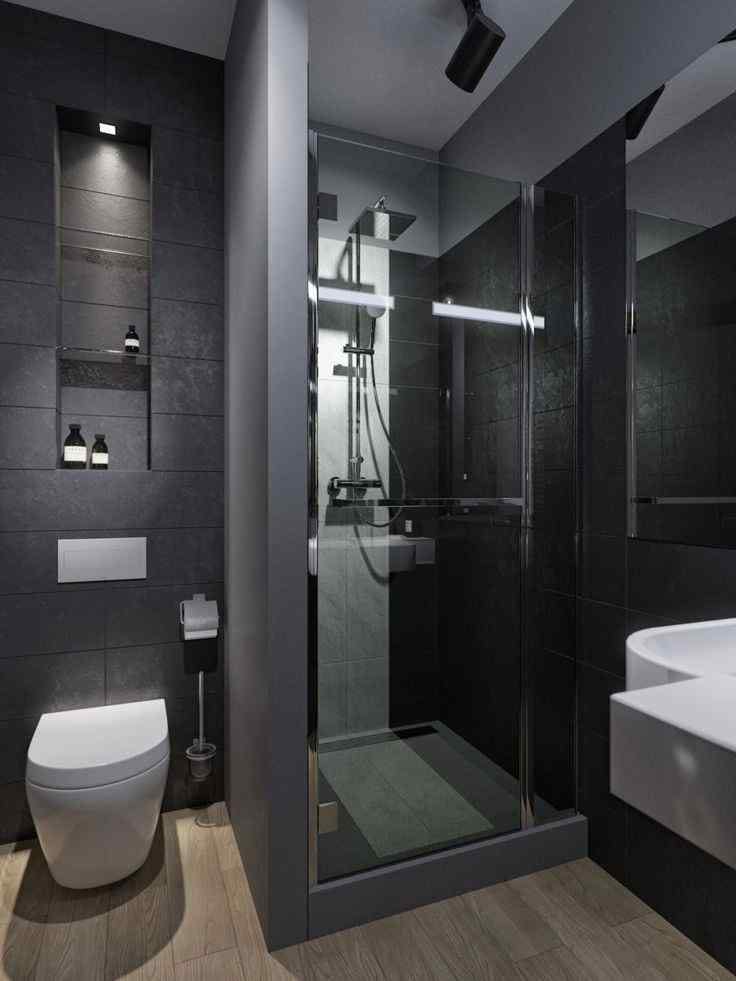 When choosing a bold look, there is nothing better than the color black. Black color always gives a bold look to the place wherever used. With the help of the matching accessories, the look can be enhanced as done in the following small bathroom idea. Here they have created a bold and stunning-looking bathroom just by using the color black on the walls, the white fixtures, and the silver fixtures. In addition to this, this bathroom even has a modern and luxurious look.
12. Use Large Mirrors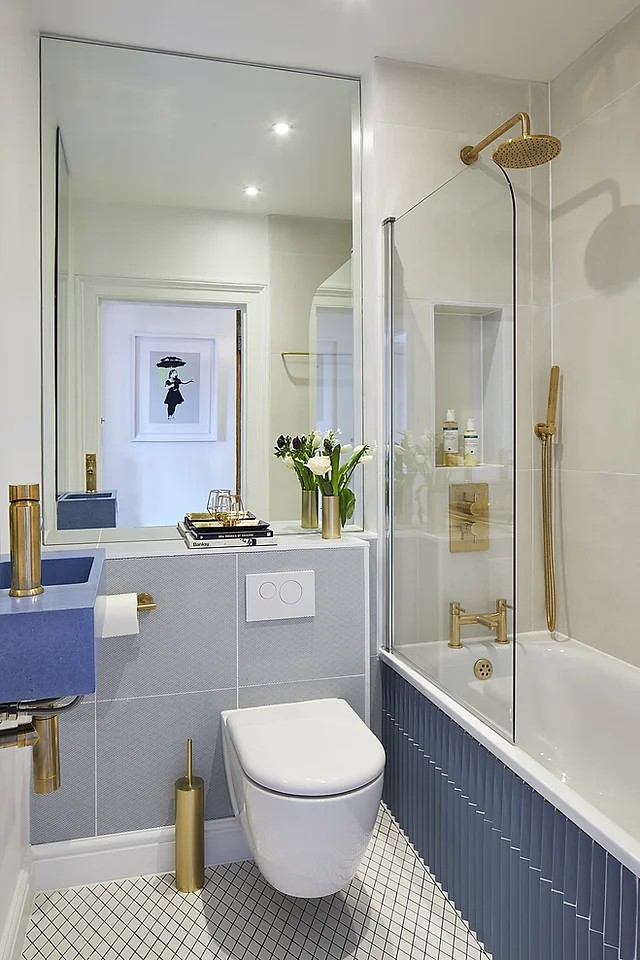 When running short on space, you can consider installing large mirrors in your bathroom. In the following small bathroom idea, the use of a large mirror gives the illusion of a larger space. The blue and white colored tiles chosen give a classic and modern look to the bathroom. It has a bathtub installed beneath the shower, which is another feature of this small bathroom idea that is perfect for people who want to install both a bathtub and shower in their bathroom.
13. Bright Bathroom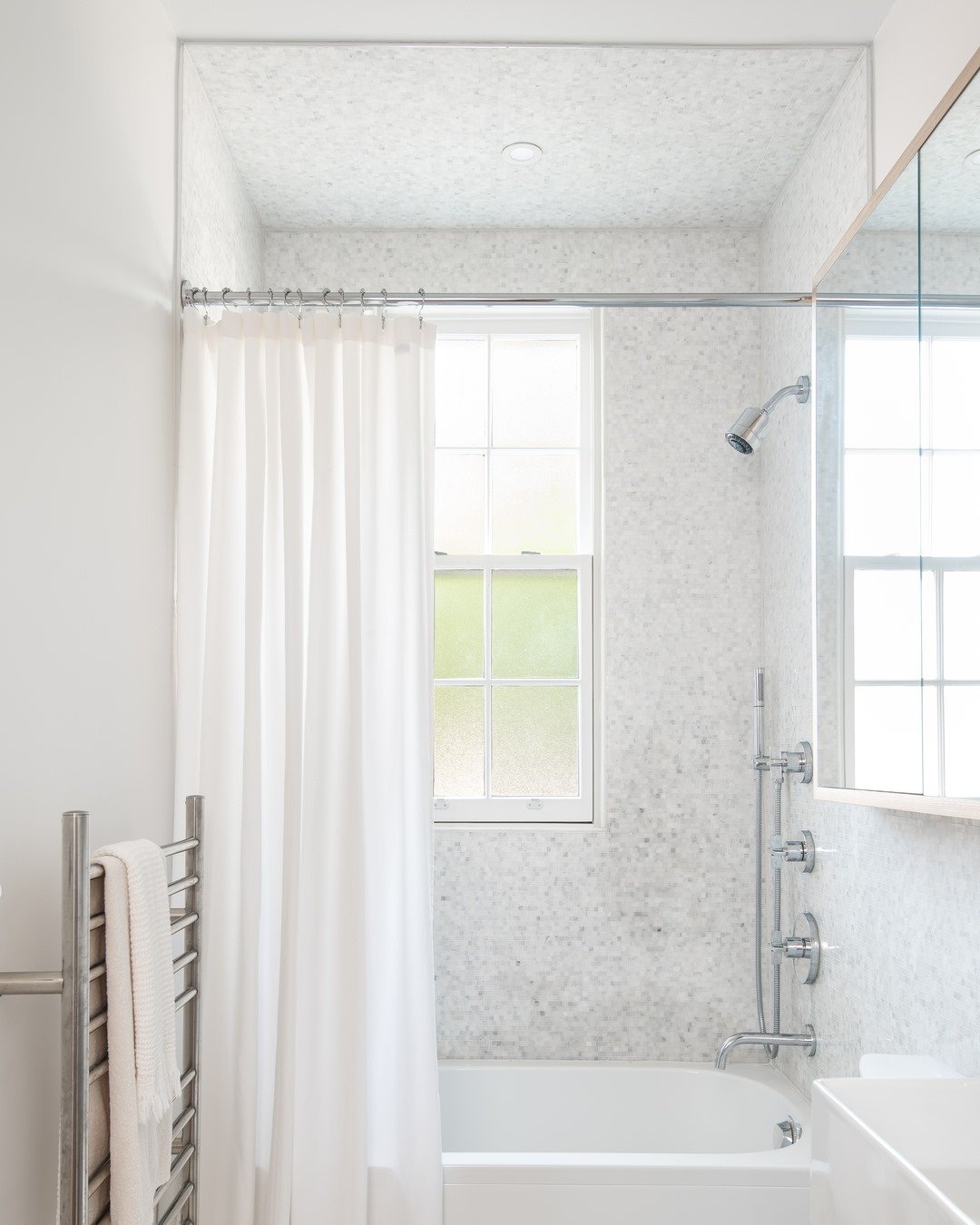 If you want to make your small bathroom look bigger, then always make sure that it is bright. The brighter rooms generally look more spacious in comparison to the rooms which have minimum light. To make the room brighter, you can either construct a large window, or you can play with the lighting of your small bathroom. For example, you can place more than one light in your bathroom. Also, try to use light-colored tiles or whitewash, as it will reflect the light more and make the room brighter.
14. Bohemian Look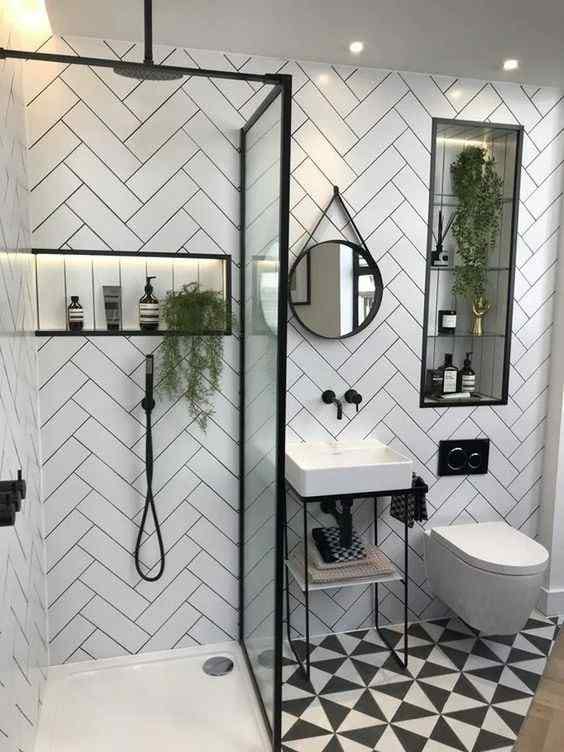 If you are a fan of the Bohemian look, then you can incorporate it in your bathroom. To assist you with it, this is a bohemian-inspired small bathroom idea with a shower. The use of the patterned tiles gives a Bohemian look and is also making the bathroom look bigger. The accessories added also help in establishing a Bohemian look and create the look of a modern as well as spacious bathroom. Hence you can consider this idea if you are looking for something out of the box for your bathroom.
15. Stylish Small Bathrooms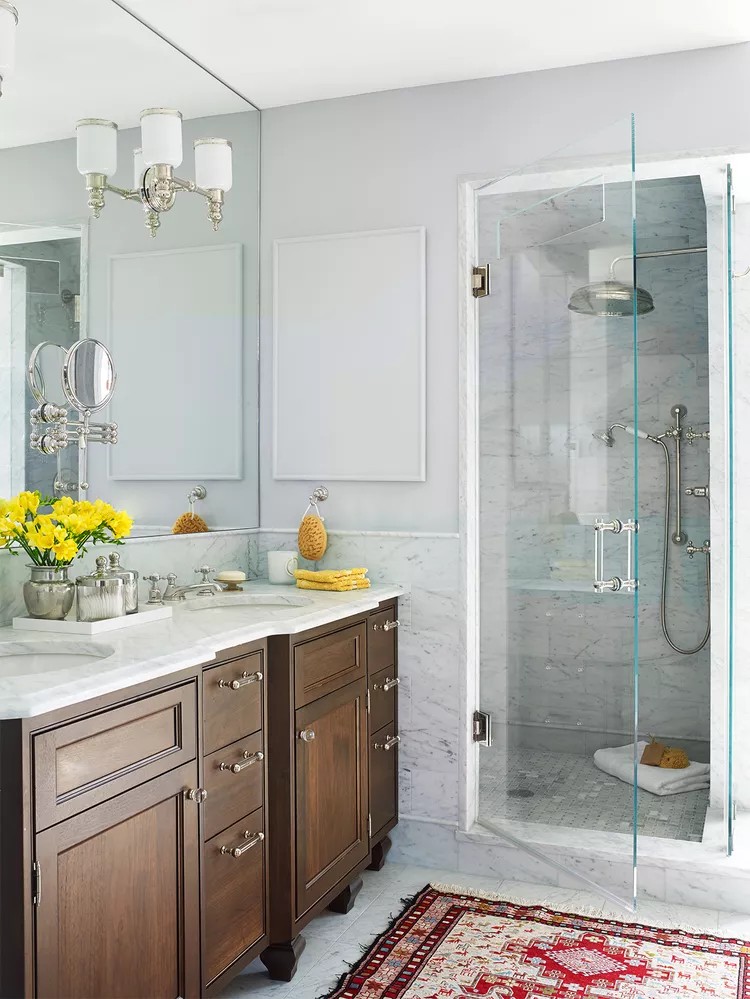 If you like to place a lot of mirrors in your house, then you can do the same in your bathroom too. To design a bathroom with a mirror and shower, small bathroom ideas like this can be incorporated. This bathroom consists of mirrors which gives it an elegant look. The wooden shelves are also complemented by the mirror, enhancing the modernity of the bathroom. To add to the grace of the bathroom, accessories like vases have been provided.
16. Open Shelves
If you want to maximize the space in your bathroom, which has a shower, small bathroom ideas that have open shelves can be considered. Not only do the open shelves give an artistic look to the bathroom, but they also help in creating the effect of a larger space. Open shelves are also a budget-friendly and stylish alternative to closed shelves. If you want to showcase a few of the decor items, then also you can opt for the open shelves.
17. Ladder Shelves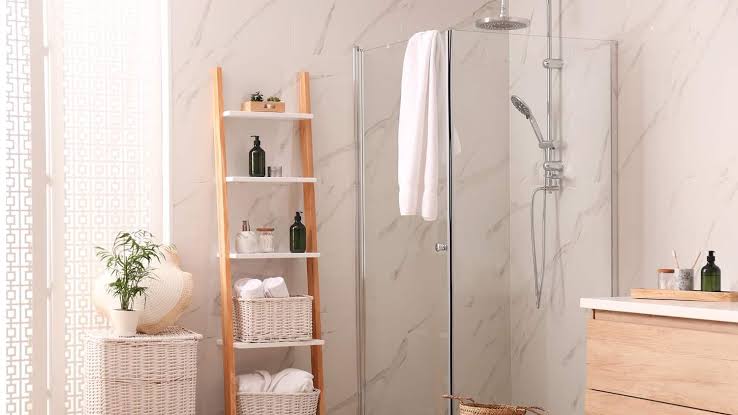 A new and innovative approach to styling the bathroom, ladder shelves have become quite common in many households having small bathrooms. These shelves offer versatility as you can place them anywhere in your bathroom as per your choice and convenience. If you didn't build built-in shelves in your bathroom, then also you can still store your in the bathroom by using ladder shelves. To get the complete look, you can't select either a complementing or a contrasting ladder shelf for your bathroom.
18. Go, Green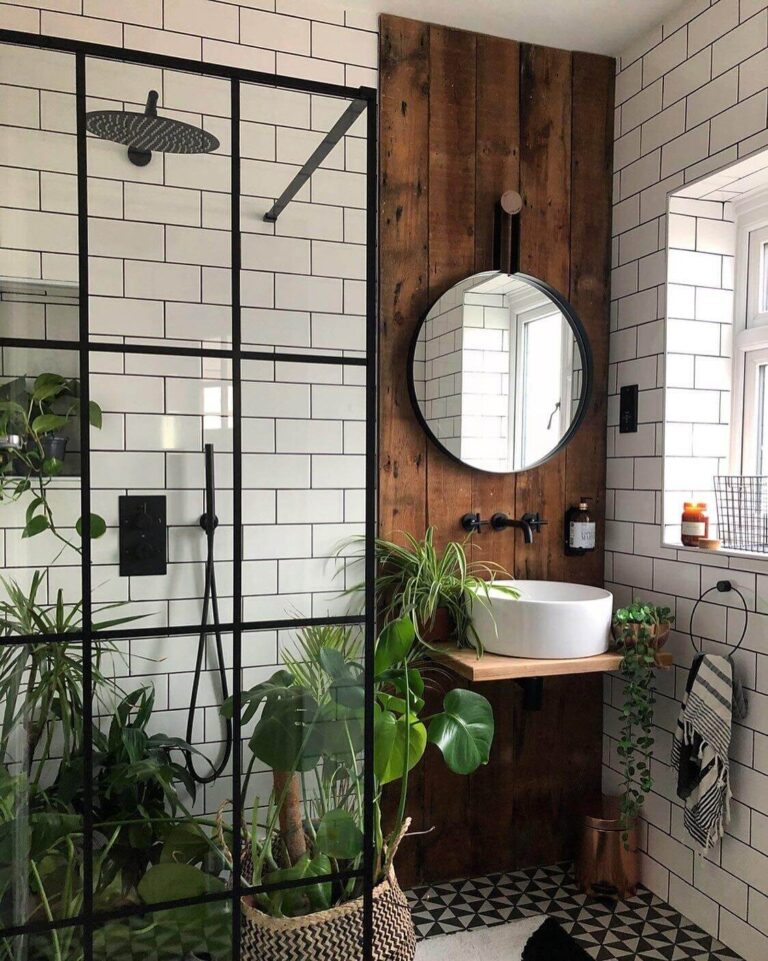 If you are a greenery lover, then why not consider adding some plants to your bathroom? It Might sound a little odd, but yes, it is possible to create a green bathroom with a shower. Small bathroom ideas which have a touch of liveliness have been designed by the designers, which include lush greenery. One such example is this bathroom which has been artistically decorated with a wooden wall and a mirror. The tiles are also perfectly going with the surroundings adding to the creativity of the bathroom.
19. Modern Bathroom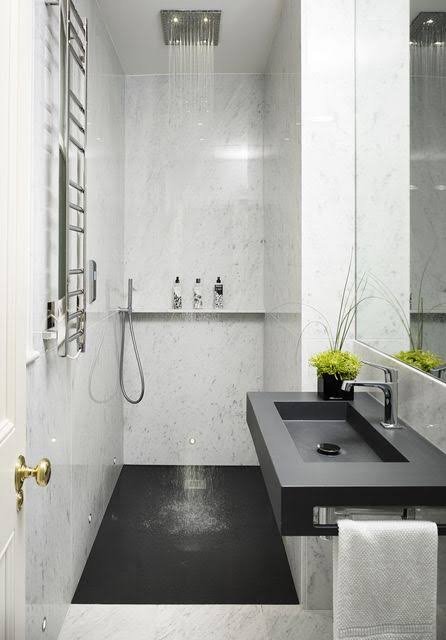 To achieve a modern look, it's not necessary to only experiment with the color of the walls and the tile patterns. You can even experiment with the color and the type of fixture you are using. In this bathroom, all the effect has been created using this dark-colored wash basin. You can see that there are no accessories added to it, and it is a minimally decorated bathroom, yet the look that it possesses is worth noticing. Similarly, you can also experiment with any fixture in your bathroom to create a unique style.
20. Luxurious Bathroom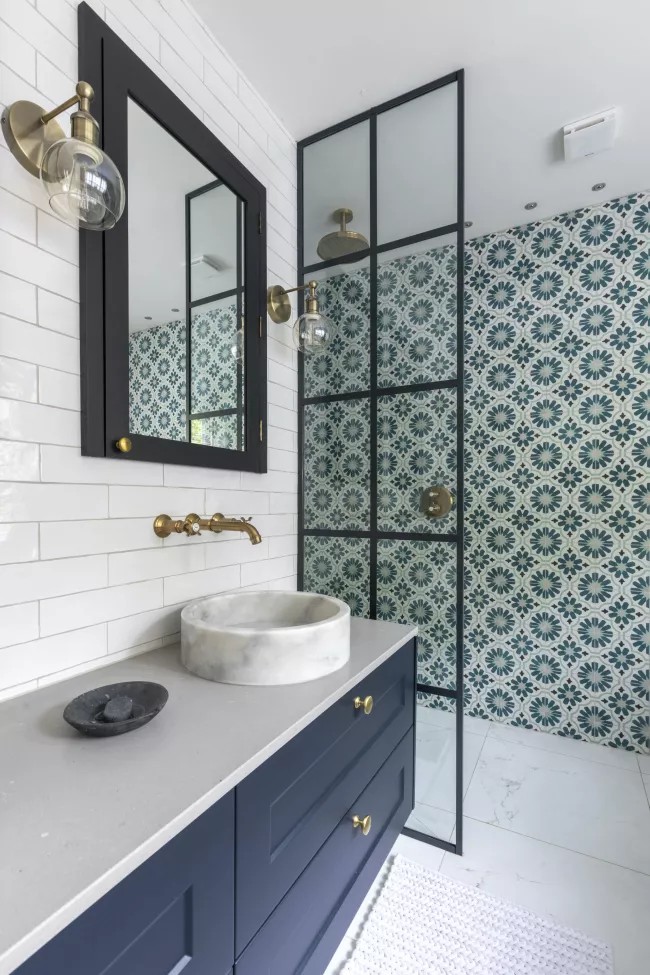 It's not necessary that there should be a huge space to create a luxurious-looking bathroom. An impact can also be created with the choice of adequate accessories, furnishing work, flooring, etc., like done in this small bathroom. The designer has achieved a luxurious look with the dark blue cabinets with the white countertop. The whole look has been just created with this piece of work. Hence, it isn't necessary to even work on all the parts of the bathroom specifically to achieve a luxurious look. A single corner can also help you achieve the desired look.
21. Gray Colored Small Bathroom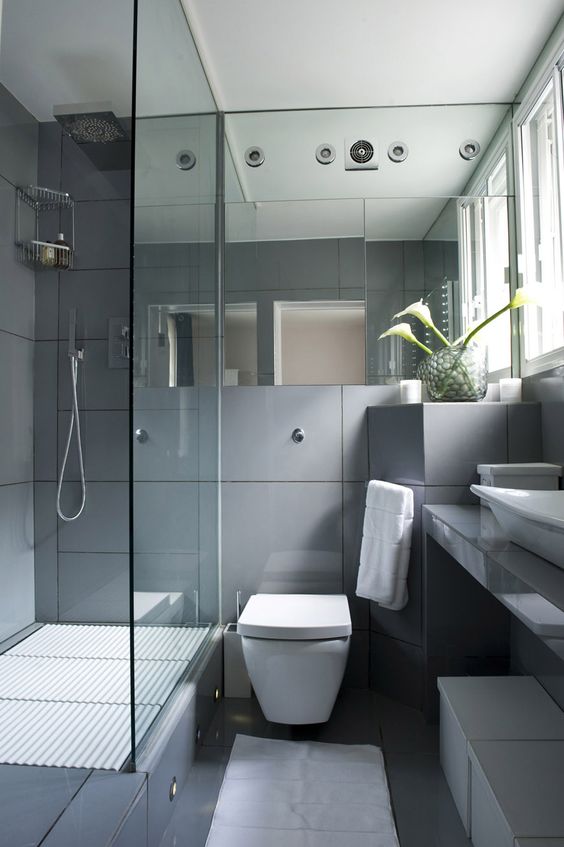 Another example of a modern bathroom has just been created using gray-colored tiles. Nowadays, gray color is a trend. Gray color helps to achieve any look, be it modern, bold, contemporary, or calm. Because of such versatility, gray has become everyone's first choice. In this small bathroom idea, the whole elegant look is created with the help of gray color tiles and white fixtures. No extra effort or accessories are added, yet it looks so stunning and seamless.
Conclusion
The bathroom is part of the house that is sometimes overlooked while designing the interior, as it is not that part of the house that everyone visits. But it also requires proper planning and designing to avoid any sanitary issues as well as to look appealing. Moreover, the bathroom also needs to be organized properly to avoid cluttering, especially the smaller bathrooms.
If planned and designed accurately, your small bathroom can also look modern, attractive, and unique. Furthermore, the space can also be managed efficiently using the various storage options. It will also not look dull when properly designed using proper strategies, patterns, and materials.
So what to wait for? Take the initiative and get started.