You will have numerous window trim options in terms of style, color, and material. Window trim increases the overall appearance of an interior or exterior window, making it more beautiful and functional.
It is difficult to determine which style best suits your home; it will depend on the type of home theme and the location where you want to trim your windows.
If you want to trim your interior window, then you can do it according to your preferences and tastes. However, keep in mind that the motto of your window trim should be complimenting the theme of your house, the room in which you are trimming the window, and the doors.
You can choose different types of materials like raw wood, steel, aluminum, and so forth. Choose a material that fits your budget and style. If you want to include some wooden furniture in your space, then go with wooden window trim.
1. Wooden Window Trim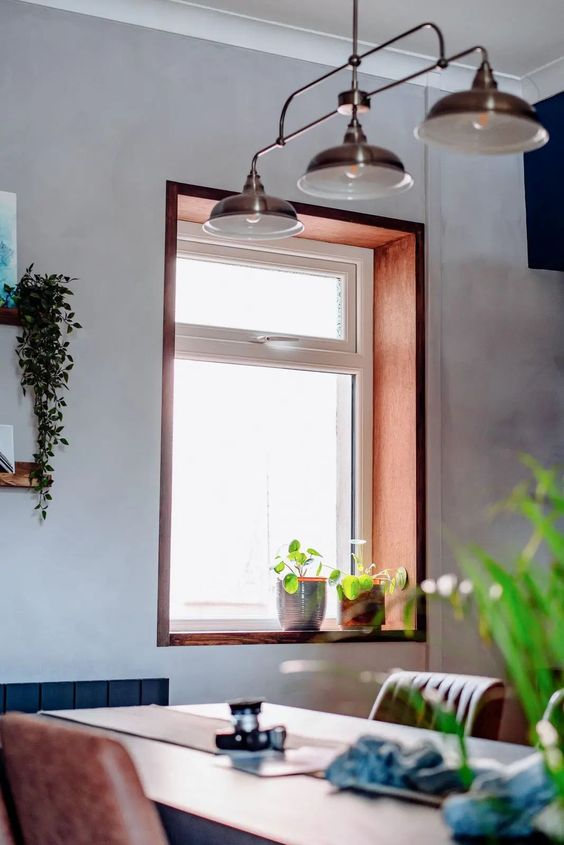 Natural wood will add beauty to your window trim. This sort of wooden window trim is a convenient option and will conceal any uneven walls in your room. You can always choose the wood material of your choice. You can also use raw wood and then oil paint it later. There are many reasons to select a wooden window trim, including its low cost, lightweight, and ease of installation. The wooden window trim shown here is also placed with sliding window doors, giving it a beautiful modern aspect. It is furnished with modest indoor plants, which makes the space more cozy and calm.
2. Colonial Window Trim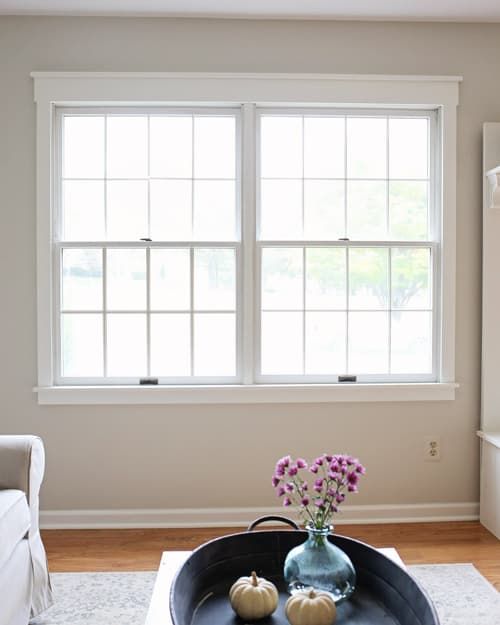 If you have an older home, then this sort of colonial window trim is ideal for your home. Choose a colonial window trim if you want to make your window simple and inexpensive. Once you have installed your colonial window, then look for any knots or holes and fill them with plaster before you start painting it. Once the plaster is dried, paint your window with the colors that complement your house theme. The colonial window pictured above is painted white, and you can also add pastel-colored curtains to enhance the overall look.
3. Window Trim with Reading Corner
If you enjoy reading books, this sort of window trim with a reading nook is perfect for you. The main key highlight is that you get enough sunlight through this style of window trim, and if you are someone who loves to write, it all adds up to a lot of ideas. This sort of window trim provides you with a good view to sit and relax, meditate, or read your favorite novel. This reading nook is an alcove with a little wooden table on the side and a cozy pillow to unwind you. A small storage unit is also provided beneath the sitting area.
4. Exterior Flared Window Trim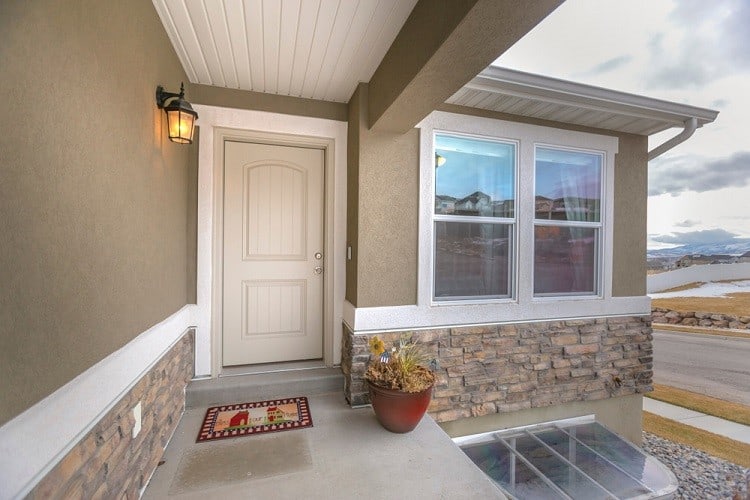 This type of flared window trim is slightly more expensive than any other type of window trim, but this type is ideal for farmhouse or villa-style homes. This type of window trim doesn't have a uniform cut. This sort of window trim highlights the architecture, and it will compliment the exterior more when colored white on buildings. To make the architecture more evident, hang white or light-colored drapes inside. Also, you can add up some wall lights that will surely bring the much-needed look to your window walls.
5. Aluminium Window Trim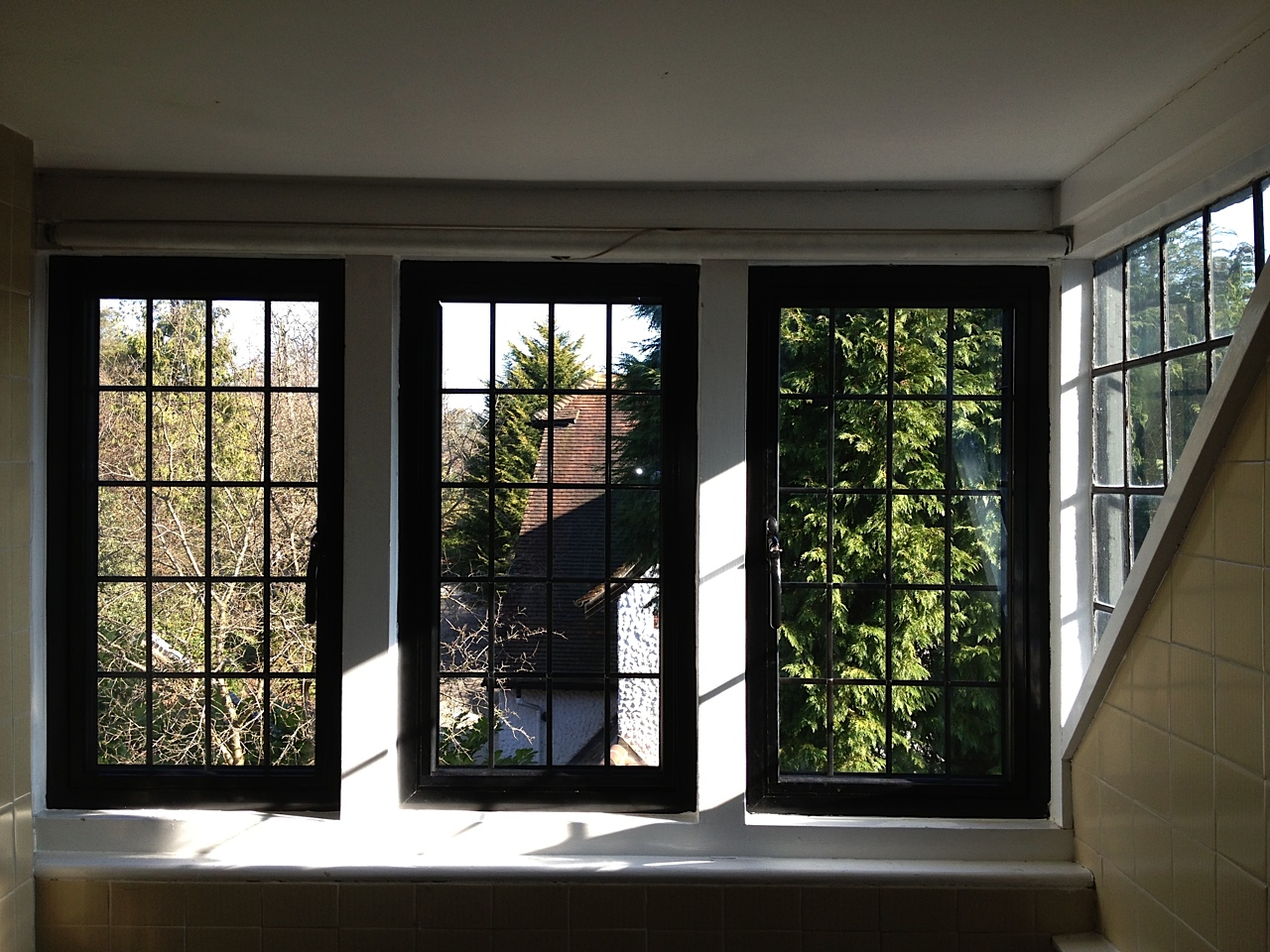 If you are someone who loves to have simple window trim, then you'll love Aluminium window trim for your home. This type of trim purely looks aesthetic and adds value to your space. This aluminum window trim goes great with warm hues and bright colors when the theme of your home is lighter hues. This type is long-lasting and definitely a good choice for house owners who don't want to trim windows frequently.
6. Accent Wall Window Trim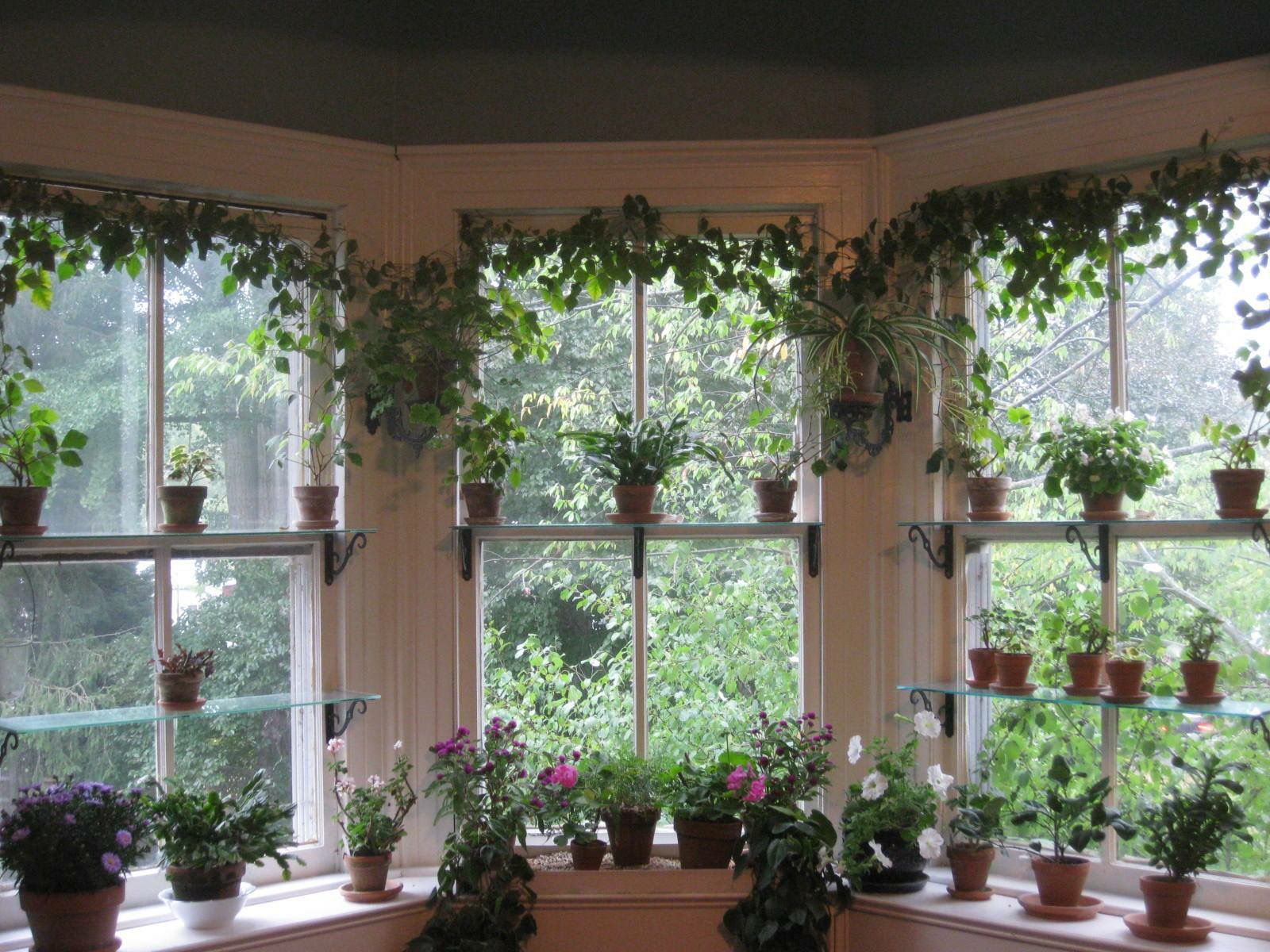 This type of window trim is absolutely for plant lovers. This is more suitable for the summer season. You can bring all of your hanging plants inside. This will help enhance the interior of your home. You can conceal the window area with crawling plants. Add some little indoor plants that will look cute on the window walls. You can also choose some wonderful flowering plants to provide your room with a fresh aroma and fresh air to breathe. You can also add up some seasonal plants according to the seasons. This type of window trim is a must-have for fresh air, and anyone would love it.
7. Open Kitchen Window Trim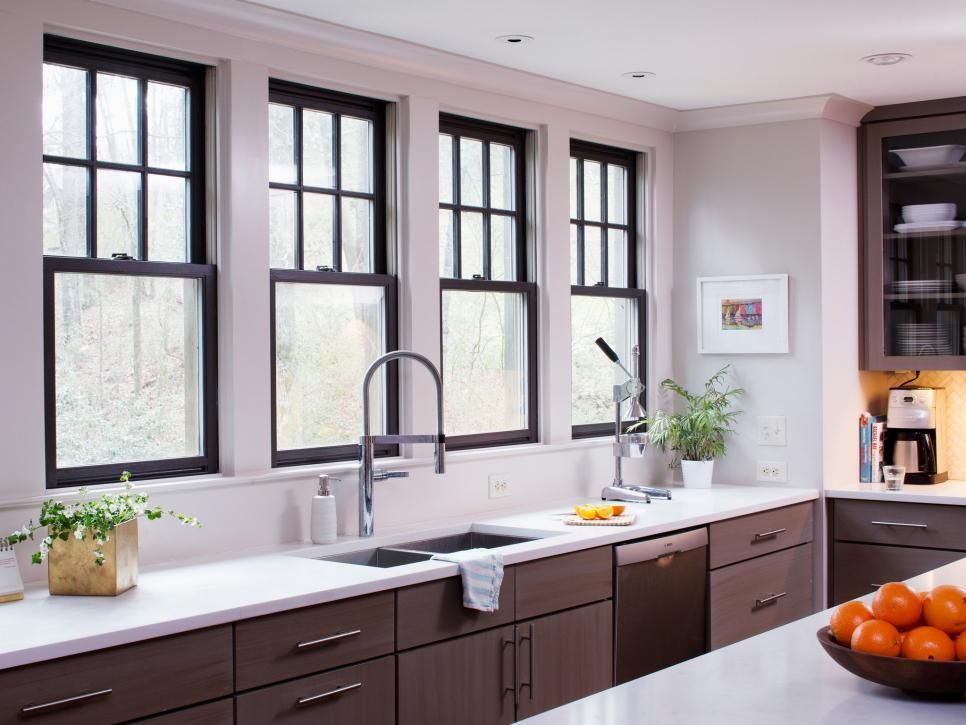 When it comes to open kitchen trim, you can blend white and black to give your modern kitchen a classic appearance. Furniture can be made of black metal. The kitchen has a dark brown finish at the window margins, which compliments the open kitchen idea. The front section of the window is the kitchen counter, with a sink in the center. This kitchen counter can be decorated with miniature plants and other kitchen items. Overall, this creates a simple window trim for a modern open kitchen. This type of window trim is a good idea to get some natural sunlight into your kitchen and enjoy cooking with beautiful views.
8. Farmhouse Window Trim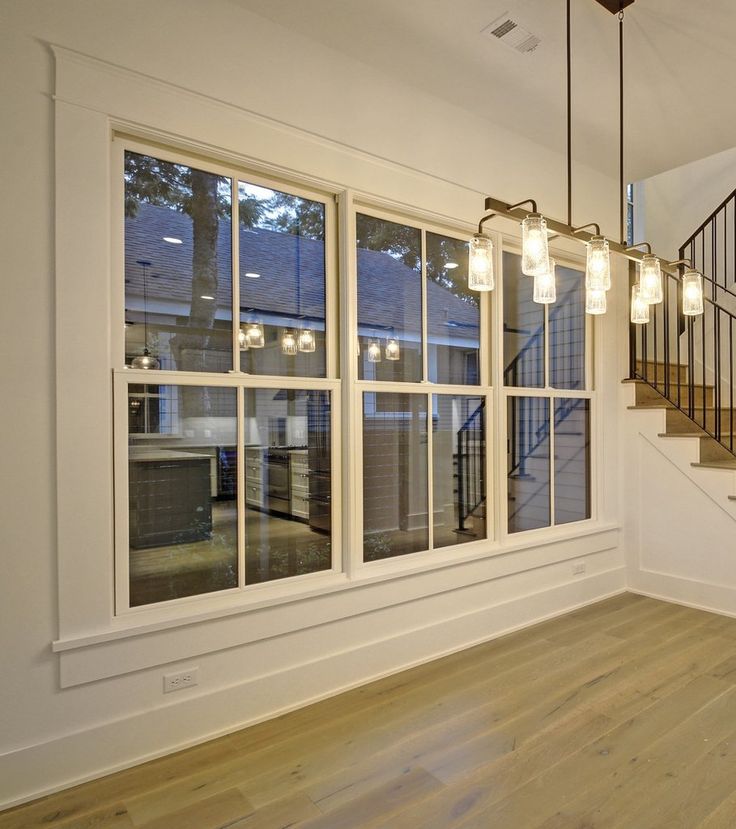 Your farmhouse needs a modern window trim that suits your space. A white window trim with glass paneling to keep it minimal. These glass panels will catch all the attention. The white and grey theme will make a relaxing environment which is a must be needed for a farmhouse. To give more attention to your window trim, add ceiling beam lights of warm hues which give a calming effect. As window trim is an important element of home decor, make the most of the window trim for your farmhouse to make it more appealing.
9. Farmhouse Bathroom Window Trim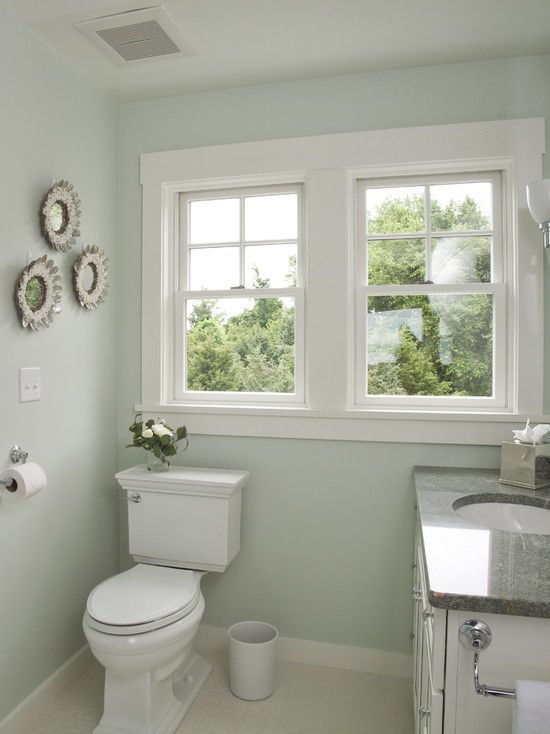 If you want to create neutral yet classy bathroom window trim ideas, then this plain white-themed bathroom window trim is a great choice. The separation between the two-layered panes appears to be tiny. The wall on the window side is covered with little mirrors, which give the farmhouse bathroom a luxurious look. The dressing area and the vanity area get enough natural light. This type of window trim is perfect for a small farmhouse bathroom. Utilize the little space with decor to make it more appealing
10. Living Room Window Trim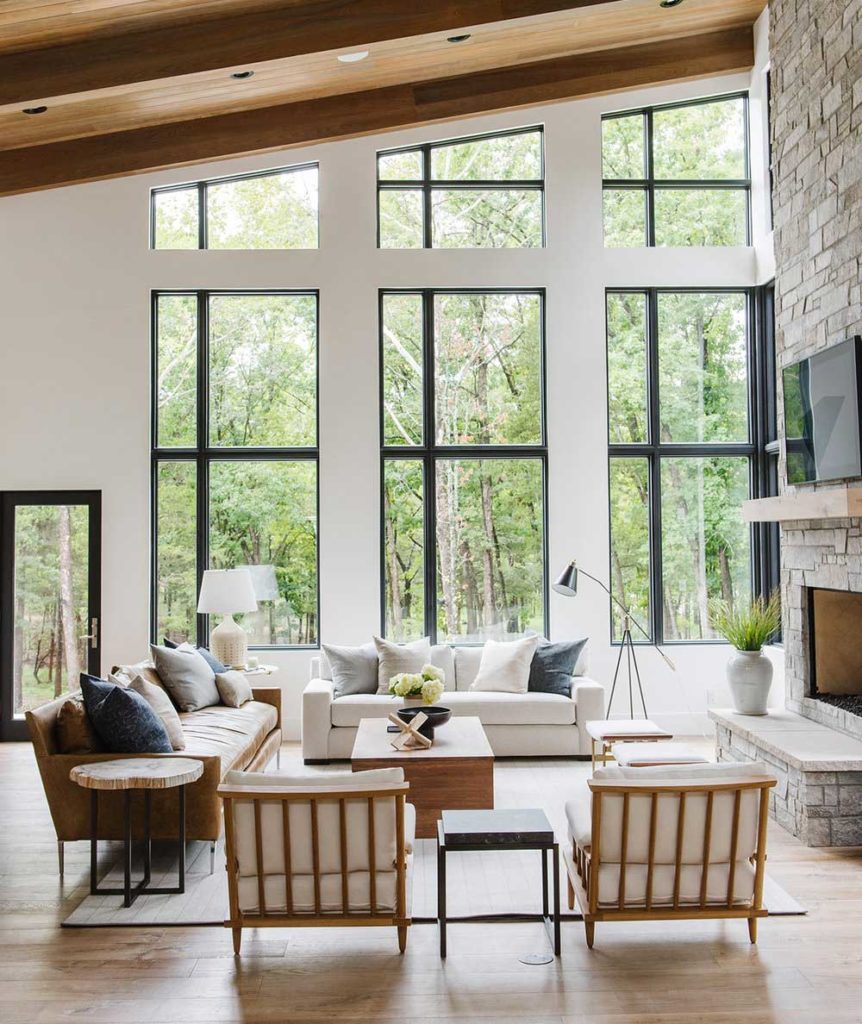 These eye-catching vaulted ceiling windows add beauty to the architecture. The wooden shiplap ceiling gives the ceiling windows a royal appearance. Furthermore, the black vertical and horizontal window trims complement the wooden ceiling better. Add some wooden furniture to match the concept, as well as the light-colored sofa and cozy white and gray pillows to balance out the overall theme. This style of open vaulted ceiling is ideal for providing spectacular views and allowing more natural light.
11. Curvy Window Trim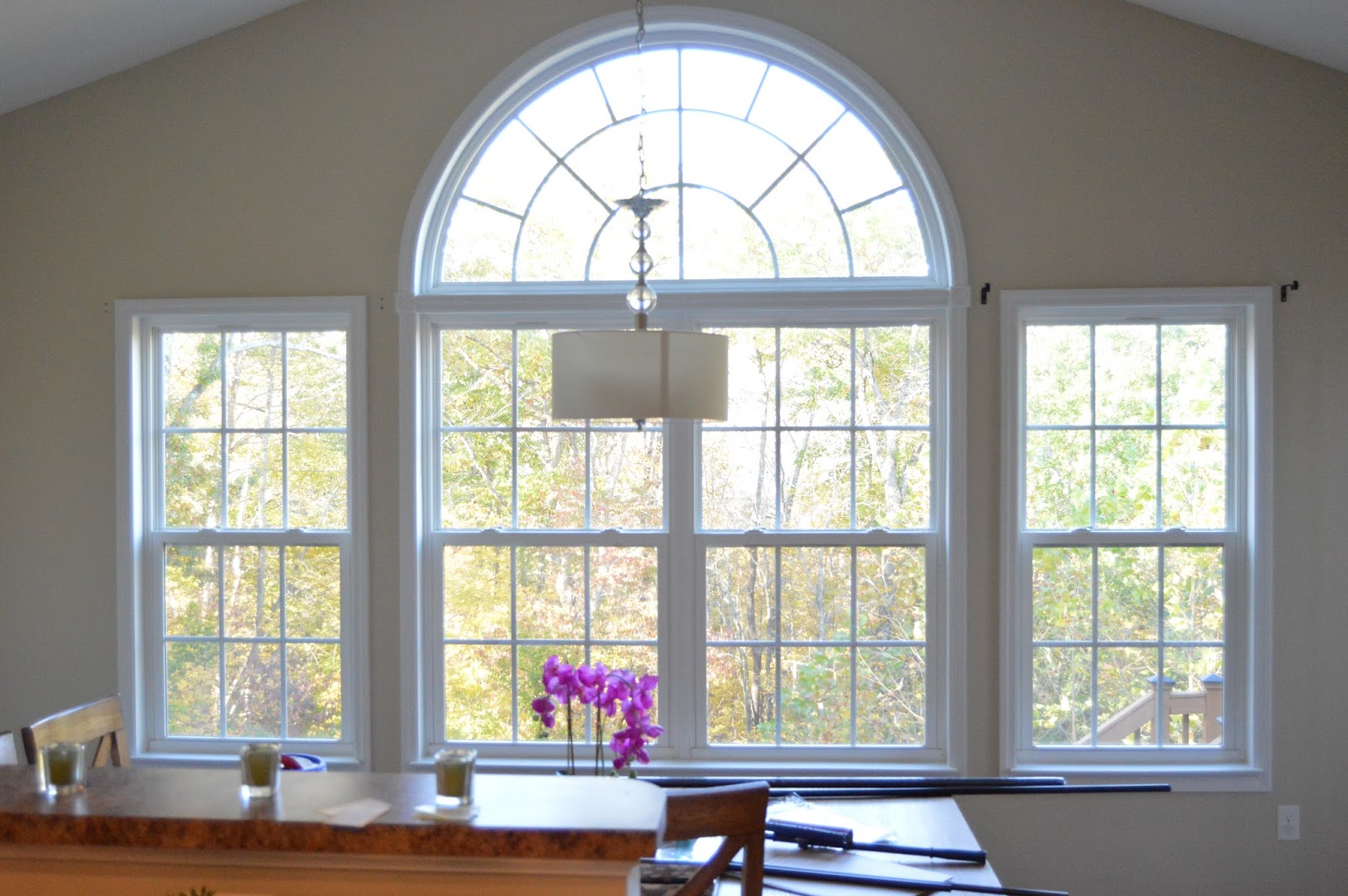 An arched window is a more traditional type of window trim, although it is becoming more popular nowadays for farmhouses. This style is appropriate when you want to make your farmhouse window trim stand out. To give it a tomb-like appearance, there are three parts of vertical windows and a half-circular window on the top. The entire window is made in pure white color to complement the arching style. The white color will make a significant difference. A wooden table with matching seats and some off-white lamps can simply integrate into the concept to complete the aesthetic look.
12. Bedroom Window Trim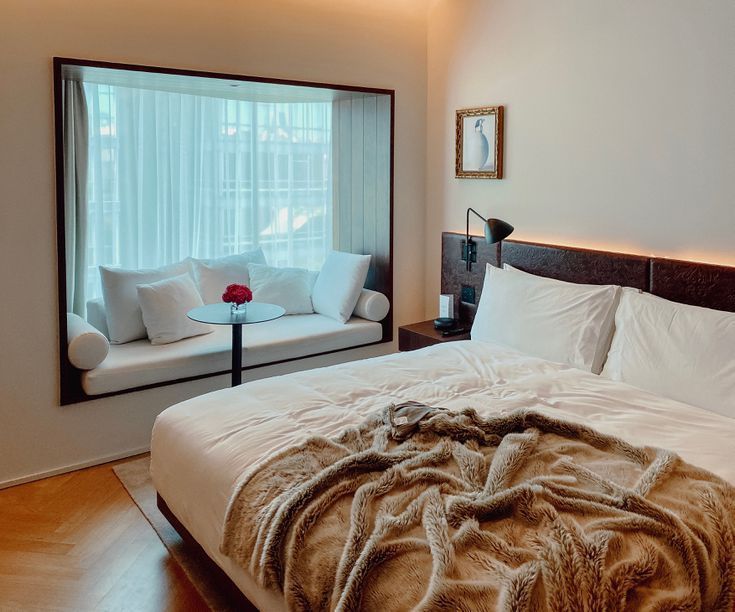 This window trim is highly trendy yet quite sophisticated. A sit-out arrangement by the window steals the spotlight here. The window trim is vertically stacked and has a dark wooden border that matches the color of the bed. The white sit-out couch with white pillows makes it more peaceful. This dark window trim and the light color couch is a game changer for the whole theme. A little glass table on the side with fresh roses makes the ambiance more attractive. The curtains are off-white, which matches the couch and the cushions. This simple dark and white window trim is quite appealing.
13. Window Trim for Outside Porches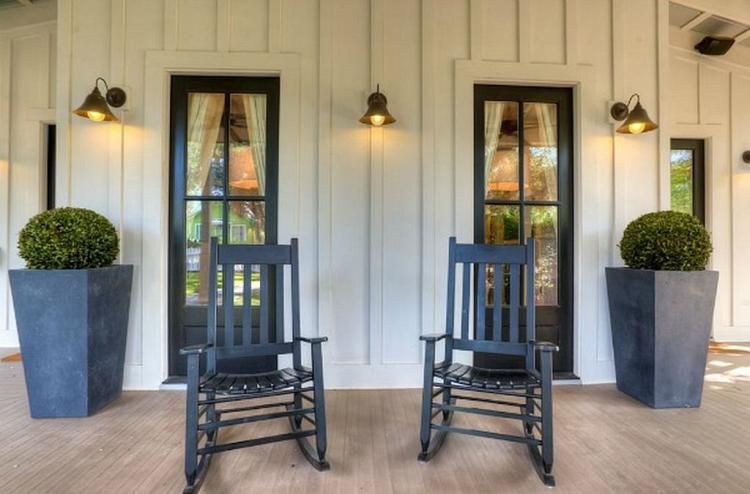 With mirror windows and doors, this modern front porch window trim is undeniably alluring. The Black- painted window trim adds a contemporary touch to the exterior door. Furthermore, the window trim and doors are coupled with black high-potted plants and black high chairs, creating a modern and stylish aesthetic. The black seats complement the window trim. Warm wall lights cover the window trim walls, creating a nostalgic atmosphere.
14. Window Trim for Kid's Room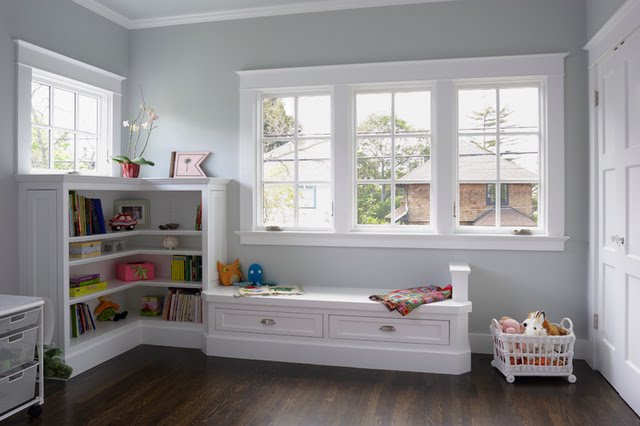 This is an ideal window choice for your kid's room. It is all designed in white, which looks so peaceful and calming. The ideal idea of having two window trims is fantastic because it allows for adequate lighting in your child's room. A tiny sit-out table couch for reading and writing is also assigned to the window. The room is filled with toys, and the white window trim appears incredibly simple and tranquil.
15. Black Horizontal Window Trim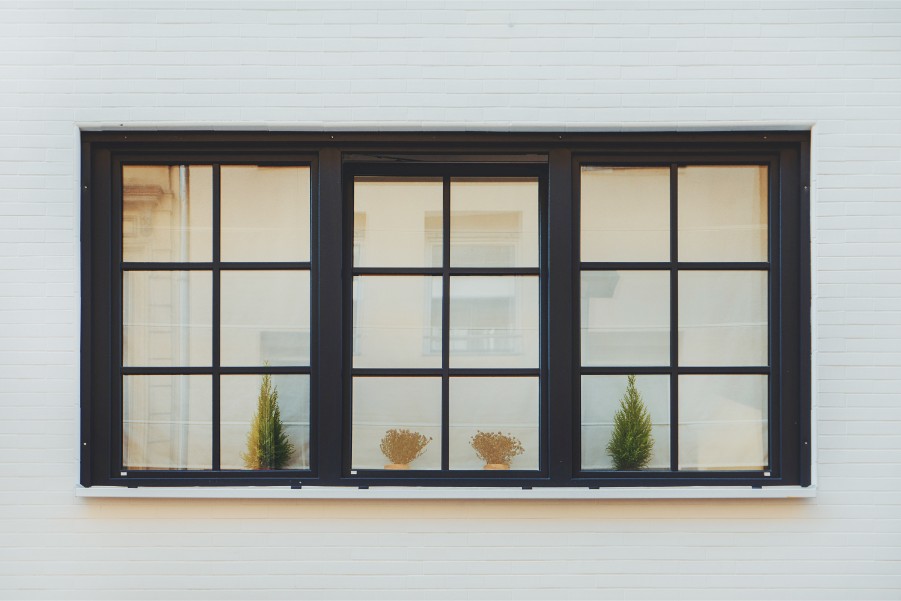 If you want a window trim that adds strength and longevity, this black window trim with a horizontal slider could be a good alternative. This black trim is a strong color that highlights the feature perfectly. As these windows are sliders, they are very easy to clean and save a lot of your time. The black color trim with mirrors gives the window trim a classy appearance. This sort of window trim is simple yet adds a sophisticated aesthetic to your room.
16. Window Trim for Home Office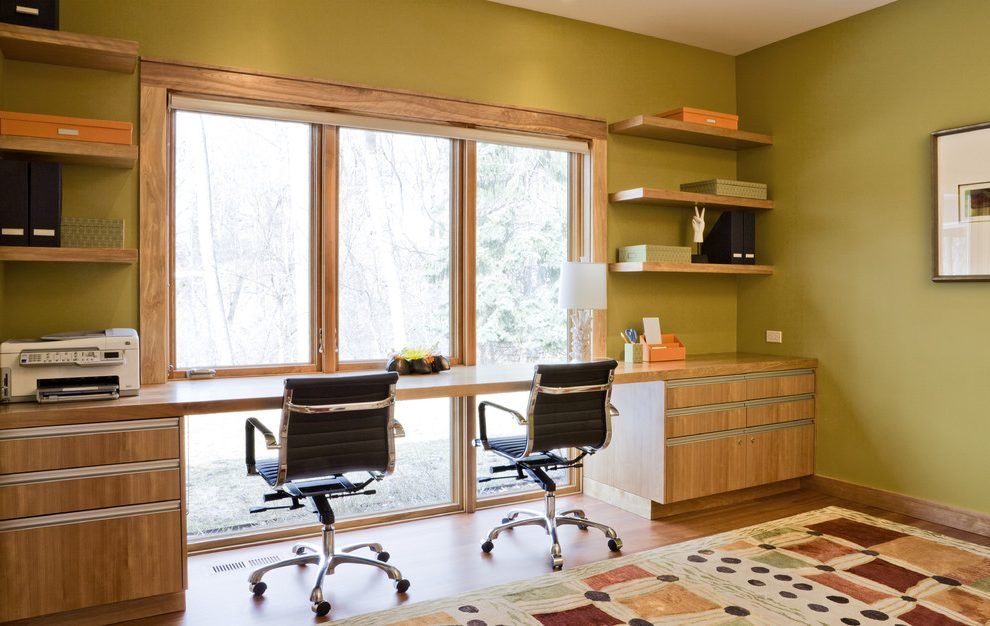 To work efficiently and effectively, you must have a window in your home office space. But how do you trim a window in your home office? We have covered you up with an example of the above-shown image. You may work with lovely views from your office window. This window trim is a simple four-sectioned wooden window partition. This window is attached to the wardrobe floating desk, which has a lot of workspaces. To work at night, this desk is decorated with little plants and a table light. This sort of window trim provides a lot of natural light, which can boost your productivity.
17. Small Minimal Window Trim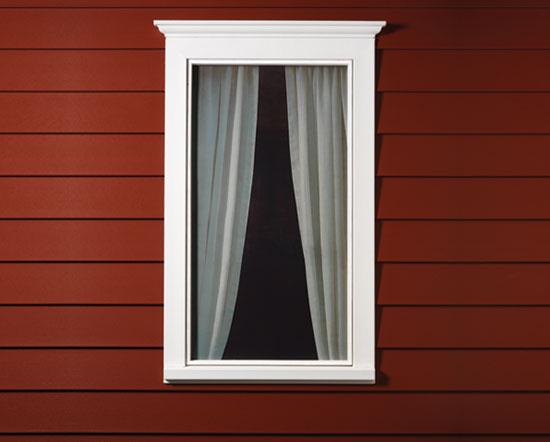 This outdoor window is straightforward and understated. It is a simple window concept in a white theme that looks great against dark walls. The wooden window has various trims around the edges and looks beautiful with a clear glass design. This style of window trim is appropriate for modern homes, and it is simple to install. This outdoor window trim is hung with blinds from the inside, which compliments the black glass mirrors.
18. Exterior Wooden Glass Trim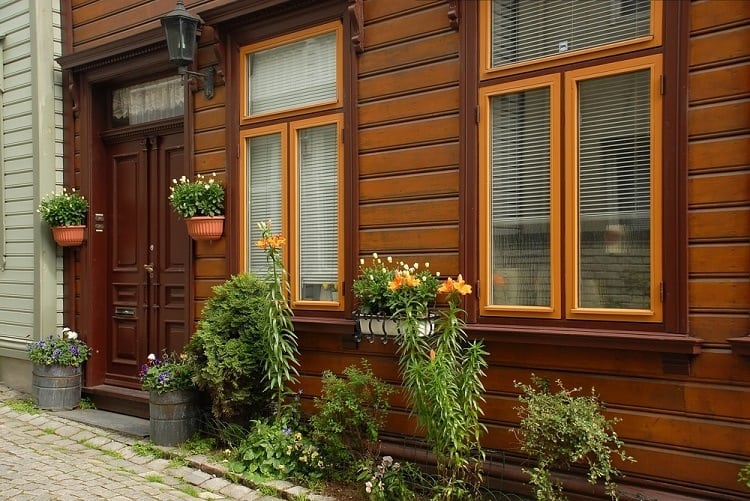 This horizontal glass hardwood trim is a classic style. This sort of external window trim is ideal for private residences. It is a double-door trim window, as you can see. There are portions, each with t2 vertical window doors and one horizontal window door. It is a double-trim wooden window made of raw wood polished nicely. The glass used for the window is textured glass, which looks different from standard glass. This window trim is hung from the inside with white textured blinds. This is a simple double-trimmed wooden window, and the walls are painted in warm hues to complement the entire design.
19. Bay Window Trim for Farmhouse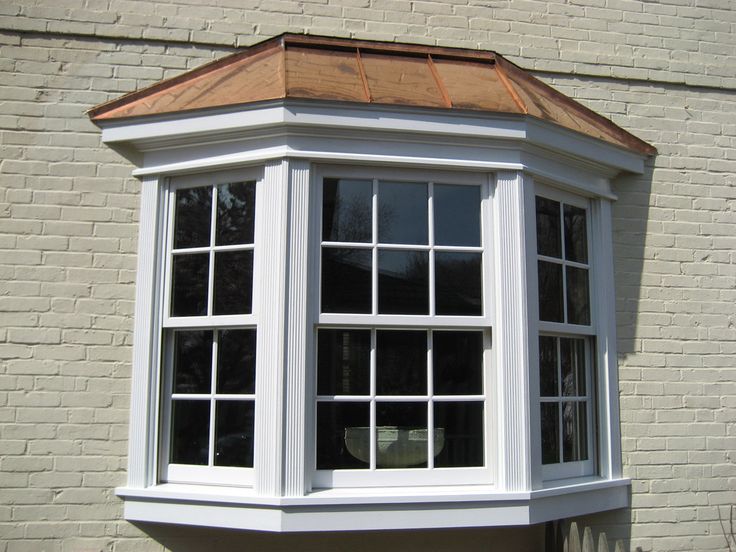 This is an older-styled bay window, yet it will look lovely in a villa house or a farmhouse because this bay window projects from the build. I will create a bay in the room. This bay window has white trim and a tomb roof in a wood color on the upper side. This color scheme is both elegant and modern for a bay window.
20. Window Trim for Farmhouse Dining Room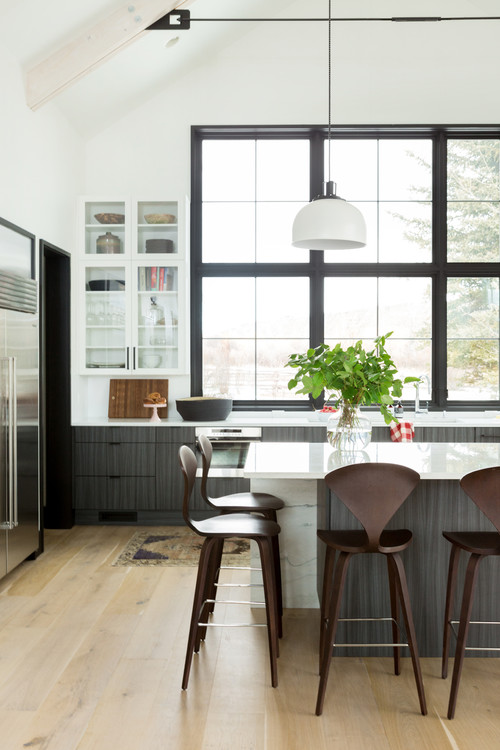 This massive six-section window trim is featured in this farmhouse dining room. All of the drama is provided by the black trim on the white walls. This window trim is bold and horizontal in nature. A medium-sized circular pendant is suspended from the ceiling, and high chairs are utilized for the dining tables to offer a modern touch. The window counter can also be utilized as a kitchen counter, with a wash basin located in the center. The brow wooden chair looks fantastic with the black trim glass windows.
21. Front Entrance Window Trim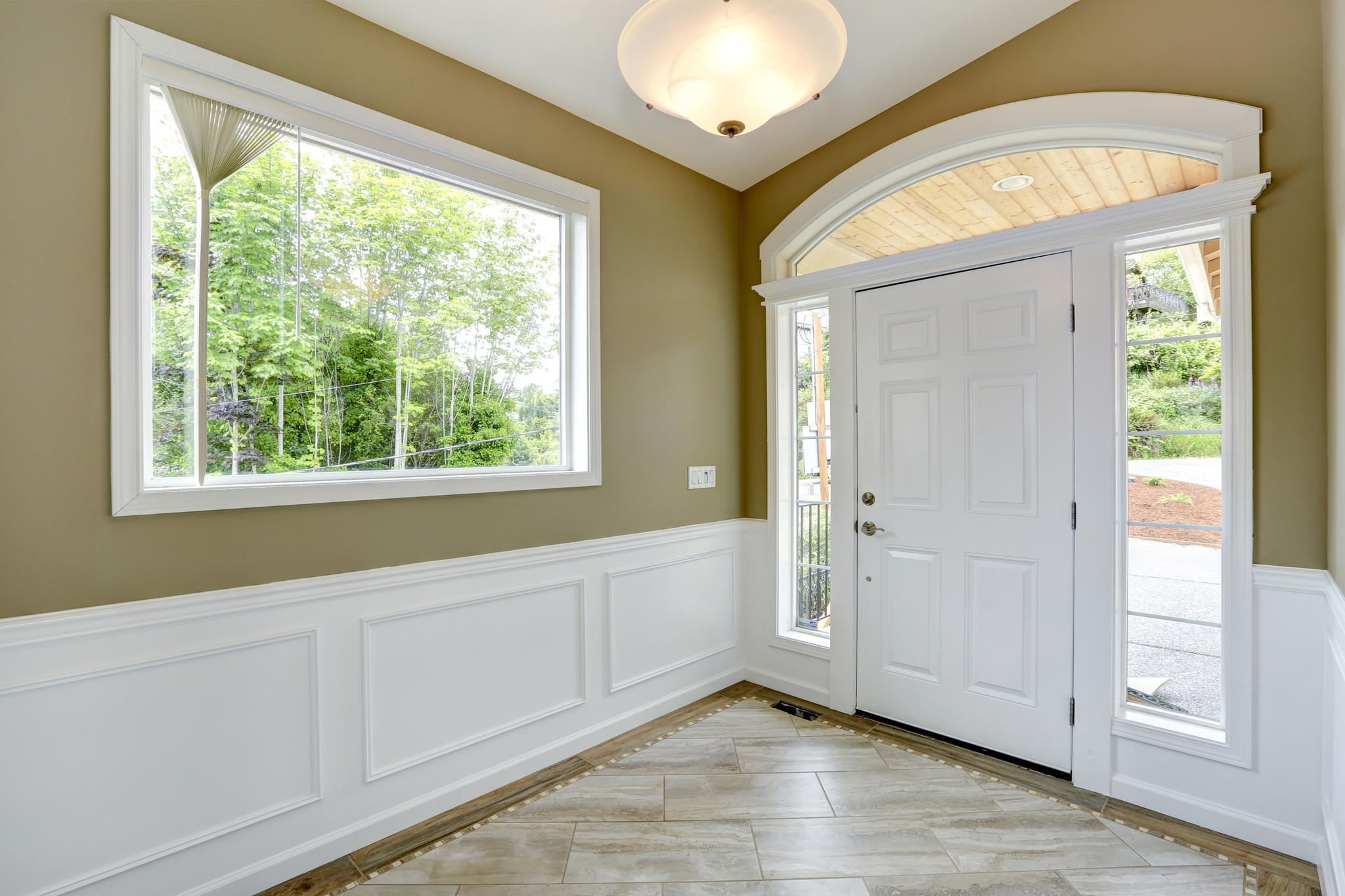 If you require a lot of light inside your home, you can install this style of multi-paneled window trim at the front door. All of the windows have white trim. The two windows on either side of the doors. Each with an arch-shaped window lining. This type of window trim elevates the entrance look, making it appear more timeless. The white ceiling and contrasting floors make the living area feel more welcoming. Last but not least, the central highlighting pendant alters the whole appearance at night.
22. Modem Timeless Window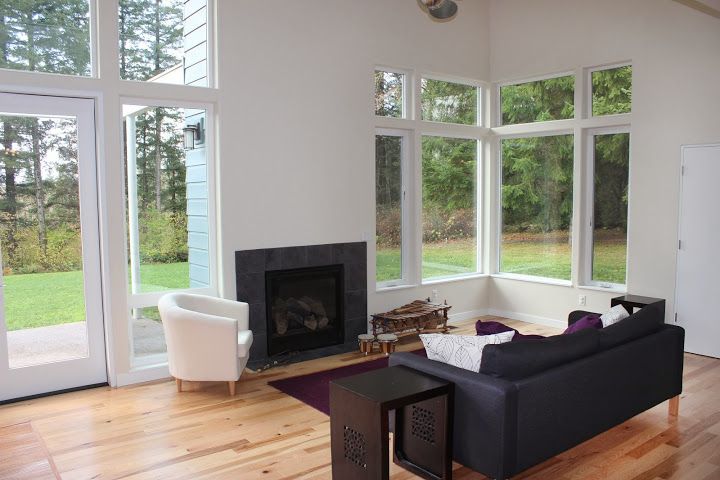 If you want to avoid using window trim, this timeless modern window is ideal for your living room. Large areas of white-trim windows allow you to appreciate the pleasant weather any season. This is set up with a long black couch and a little white couch, demonstrating how minor touches are designed to make the overall environment appealing. This living space with huge window trim can be used for long family chats.
Final Thoughts
Aside from interior window trim, exterior window trim options include conventional or modern, minimalistic, rustic, and country themes. Make certain that your exterior window trims complement your house theme and decorating window trim.
You have seen beautiful window trim ideas that could work in your home. However, the window trim is primarily determined by the architecture and the tone of your home. The impactful window trim will add personality to your space.
From raw wooden window trim with warm hues to light color steel trim, as shown in this article, whichever your choice can be, these window trims are sure to inspire any space.