A bathroom is our home's most private zone. With the correct decor ideas, it can be our own tiny spa for relaxation as well as a space for personal hygiene. We're guessing you're already aware of the farmhouse bathroom design, which is an incredible blend of sweet and organic elements that produces a cozy and unpretentious space.
Whether you have farmhouse bathroom decor or just want a farmhouse touch in your bathroom, farmhouse bathroom signs are an absolute must. A bathroom sign is one of the tiny tweaks that may make a big difference in your bathroom. Make it humorous, and you'll have a means of bringing a smile to your face every time you enter the restroom. A humorous farmhouse sign will not only create an appealing decorative element, but it will also make your guests chuckle.
Bathroom Signs That Will Make You Laugh
With witty wordplay and cheeky expressions, we put together a collection of the 21 best hilarious farmhouse bathroom signs that will inject an entertaining dose of humor into your bathroom and change it from a monotonous atmosphere into a vibrant one. So let us begin and choose the right one for you. Play it safe, and don't hold your laughing while you scroll!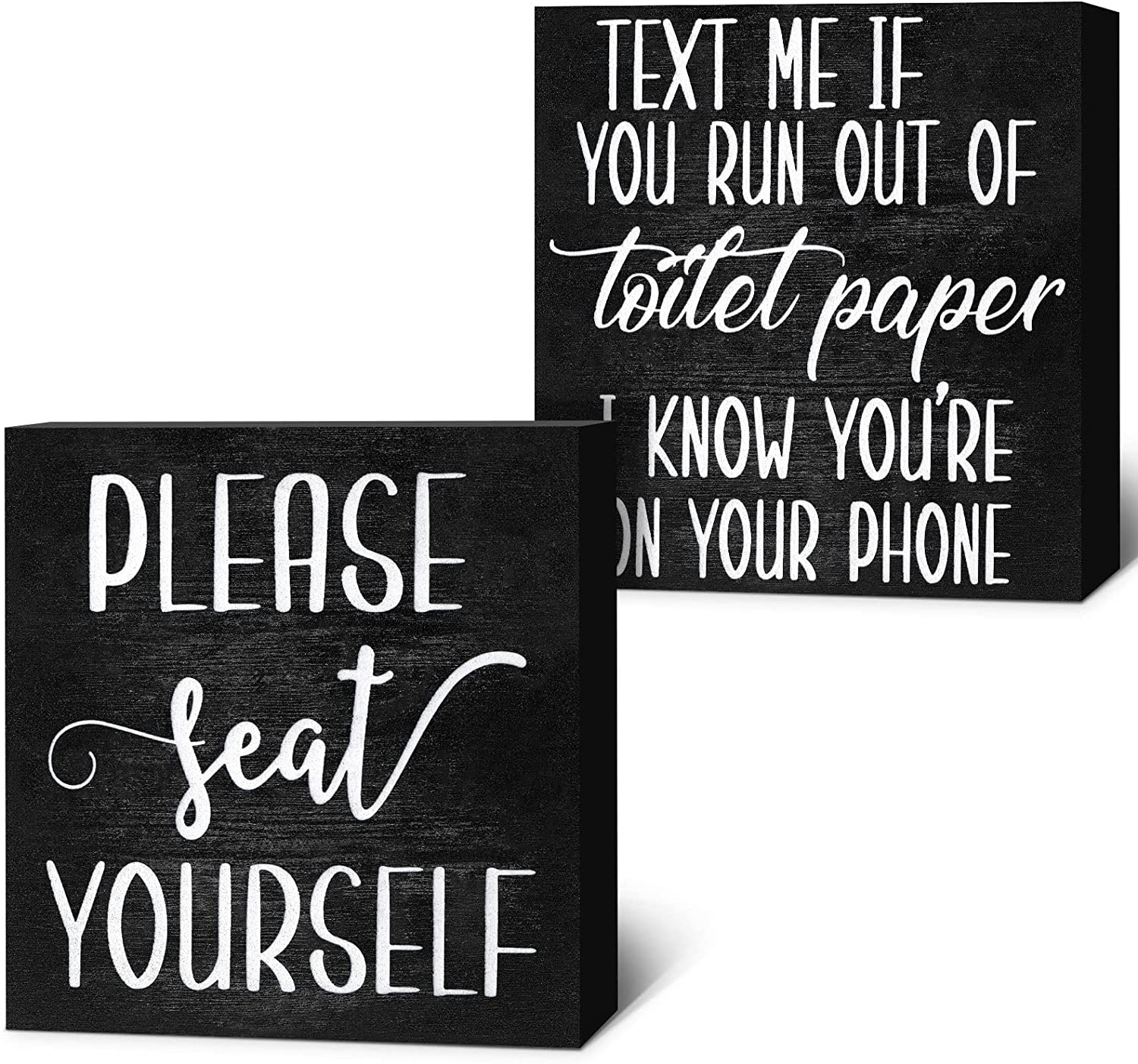 Are you guilty of texting your friends while using the loo? We're sure you are! Check out these amusing sets of signage that will make everybody who enters your restroom smile. These signs, which are matte black with white text, are difficult to overlook. This combination of two signs, which can be used to cover a large area on your bathroom wall, will look fantastic, especially on a white or neutral-colored wall.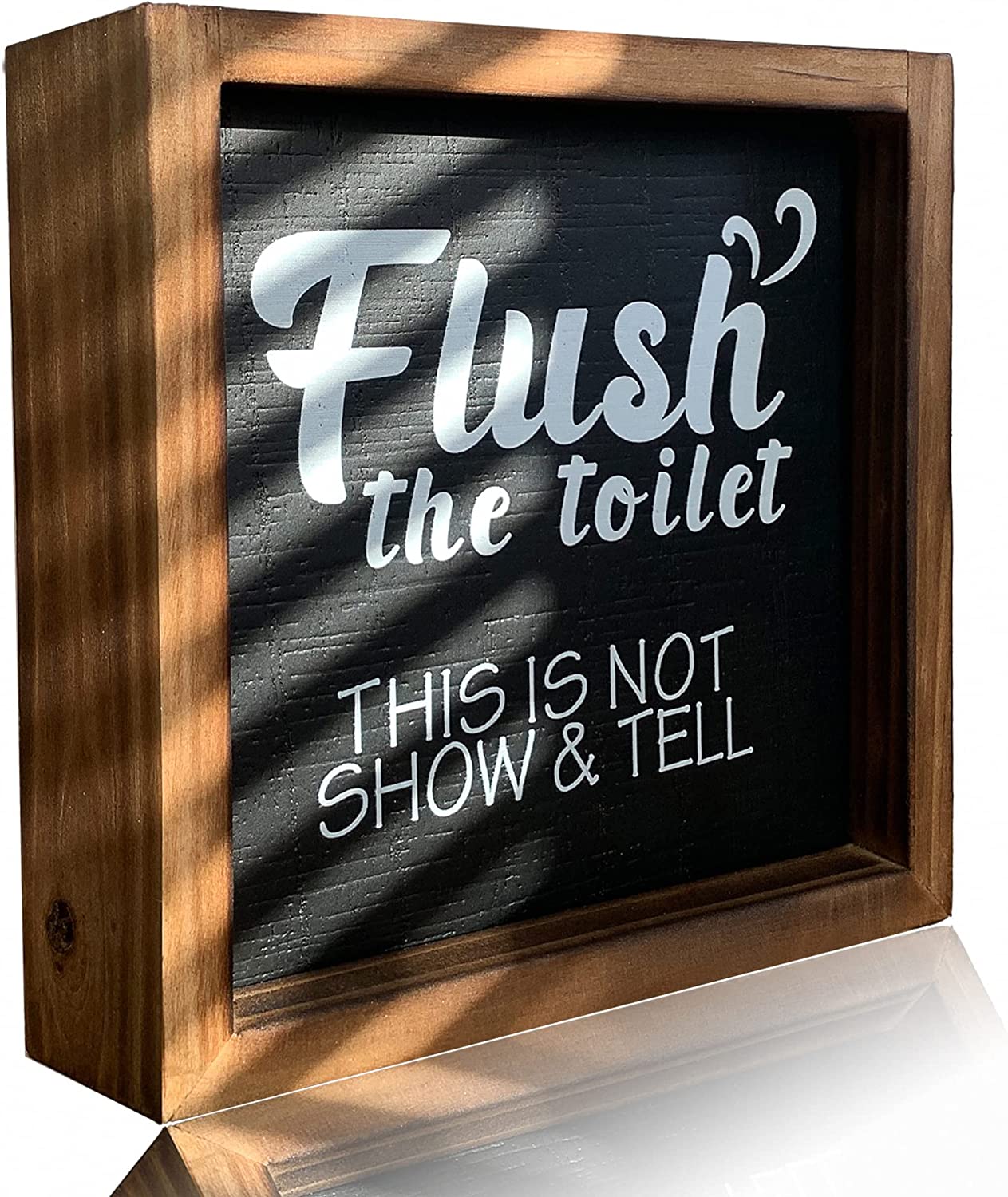 Do you have the misfortune of sharing your bathroom with someone who forgets to flush? If so, believe us when we say that this sign will come in handy! This witty sign will be difficult to ignore when reminding everyone to flush the toilet. With its wooden borders, this bathroom sign can add an organic component to your bathroom decor while also being extremely sturdy.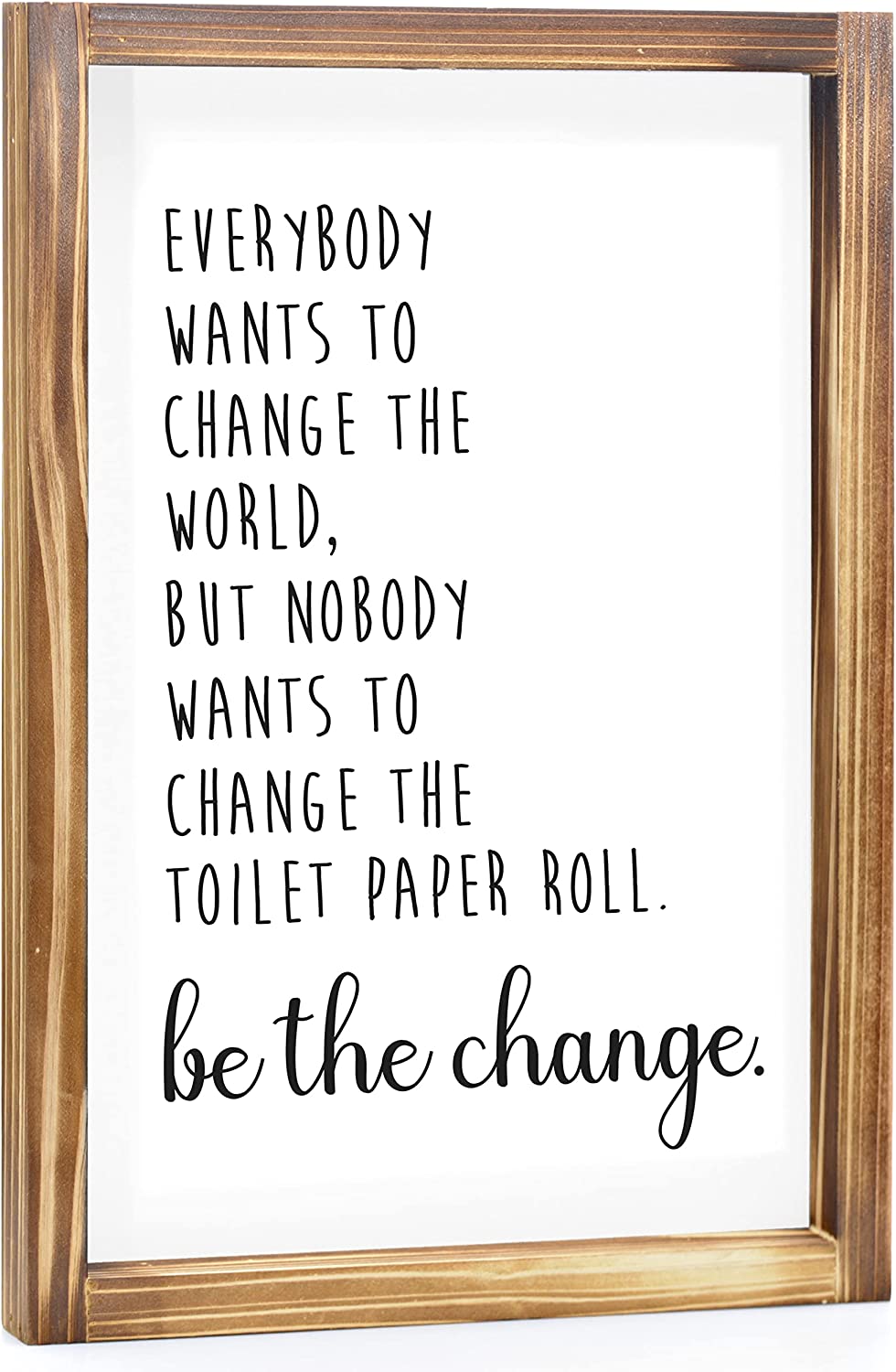 Let's discuss some of life's hard facts! Even though many of us have lofty plans to alter the world, hardly one ever considers replacing the toilet paper roll. It is one of the most monotonous duties and is frequently done by the sole frustrated person in the house. We are confident that this banner will serve as a wake-up call to all those oblivious people.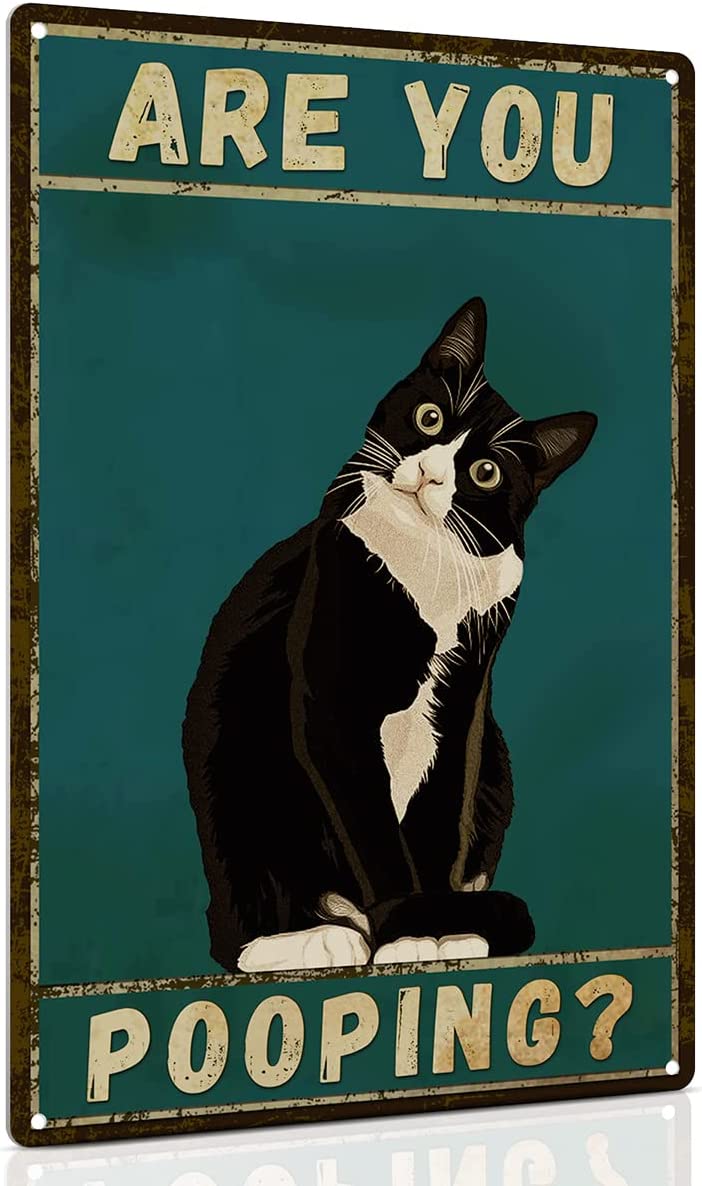 This cute tuxedo cat is wondering, "Are you pooping? Are you?" Does your cat follow you around to the loo? We know it's pretty common for the majestic felines, our sole owners, not to let us cause any mishap behind their backs! This farmhouse bathroom sign comes in such a unique mix of shades, is metallic, and will remind you of the raw vintage era.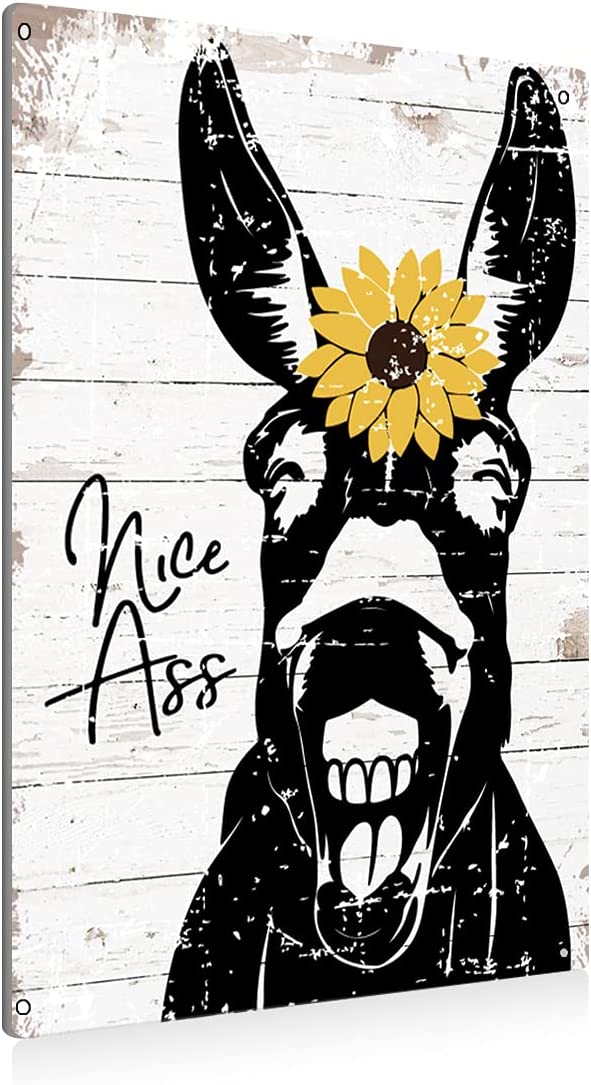 This quirky farmhouse bathroom sign made of tin will definitely make you blush. What could be better than an ass telling you to have a great ass? Nothing can compete with it! This signpost will remind you of the countryside and features a great contrast of matte black and yellow, making it all stand out. If your bathroom contains a lot of wood, you should absolutely use this signage.
Are you fed up with folks who don't understand that a toilet is not an internet cafe? Unfortunately, it is a location for all of the extended searches or personality quizzes every day! Check out this sign, which features an adorable puppy to encourage those who use your restroom to respect the place and stop wasting too much time in it. After all, who wants to stand in wait for an hour and a half just to use the loo?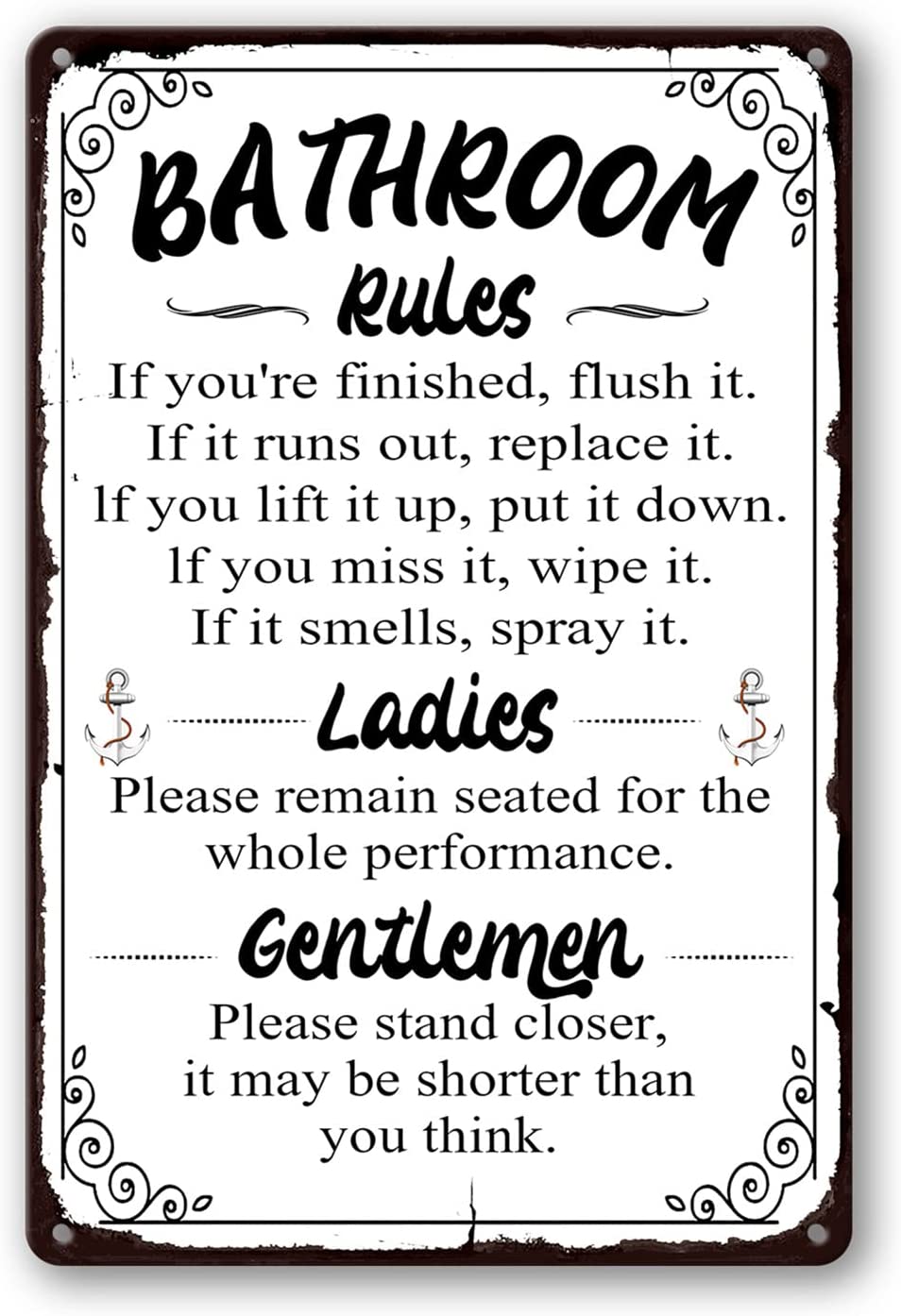 This farmhouse bathroom placard features a striking black-and-white vintage design. Most people don't know the specific toilet rules, which is a sad reality, and this sign has everything written down—separate guidelines for the ladies and males, of course. Everything is written clearly, and it is pretty much all you need to maintain your bathroom clean.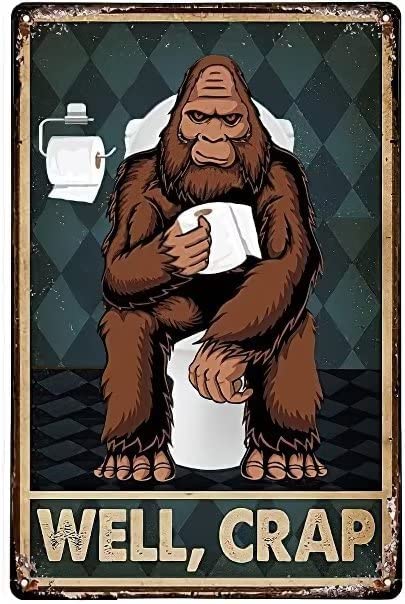 This tin bathroom sign is pretty much raw in the way it looks and the message it conveys! The major attraction when it comes to the serious business in the bathroom is a hilarious ape—our primitive doing something primal! We adore the entire color scheme and visual design of this signage. Is there a deeper meaning to this poster? Now you have something to worry about every time you go to the loo!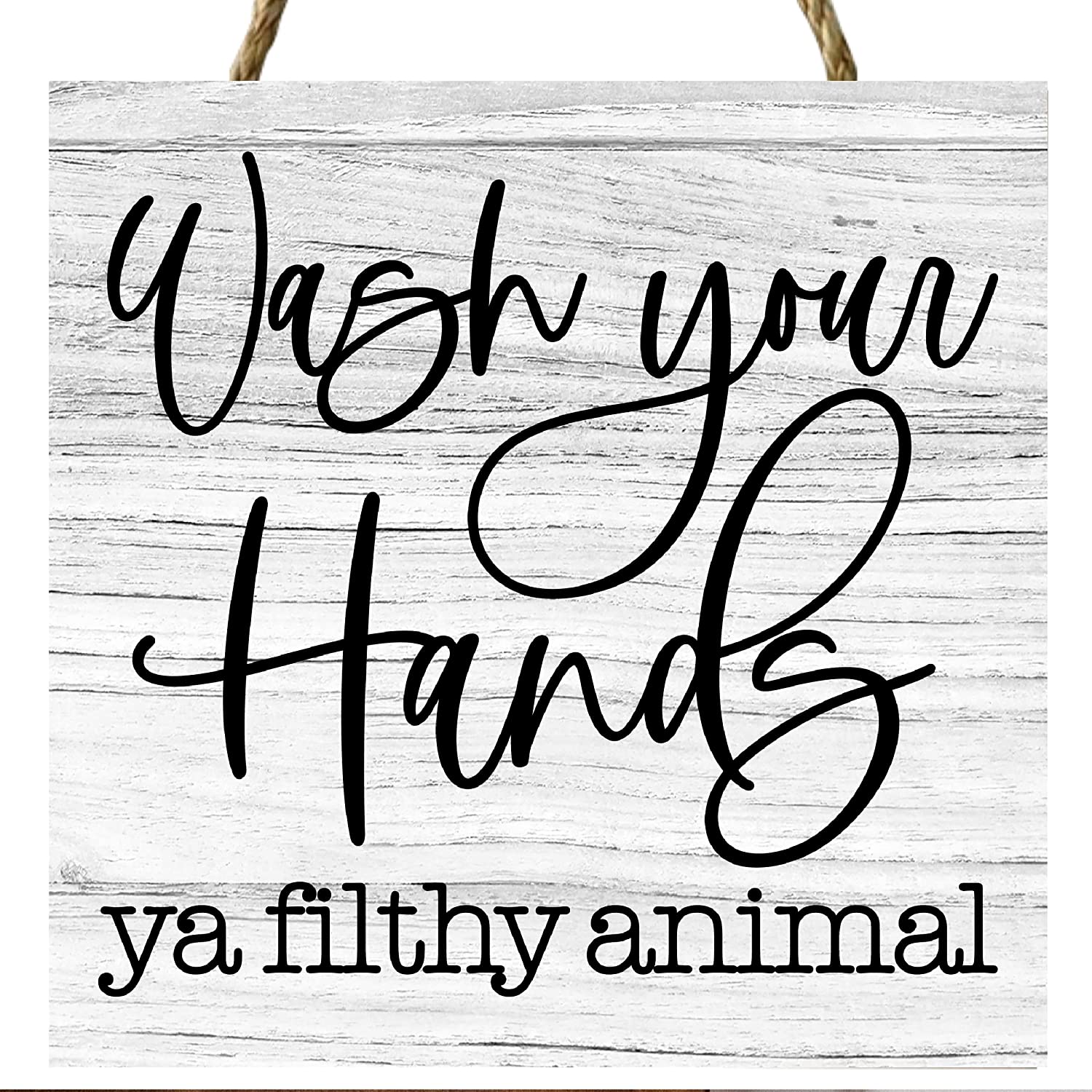 It's hard to believe that people don't wash their hands after using the loo. But that's just the way it is. Are you concerned about your upcoming handshake? Display this sign in your bathroom to remind people not to be unclean. This farmhouse sign is meant to be hung in the restroom, but it can also be kept in the kitchen for additional chuckles over dinner.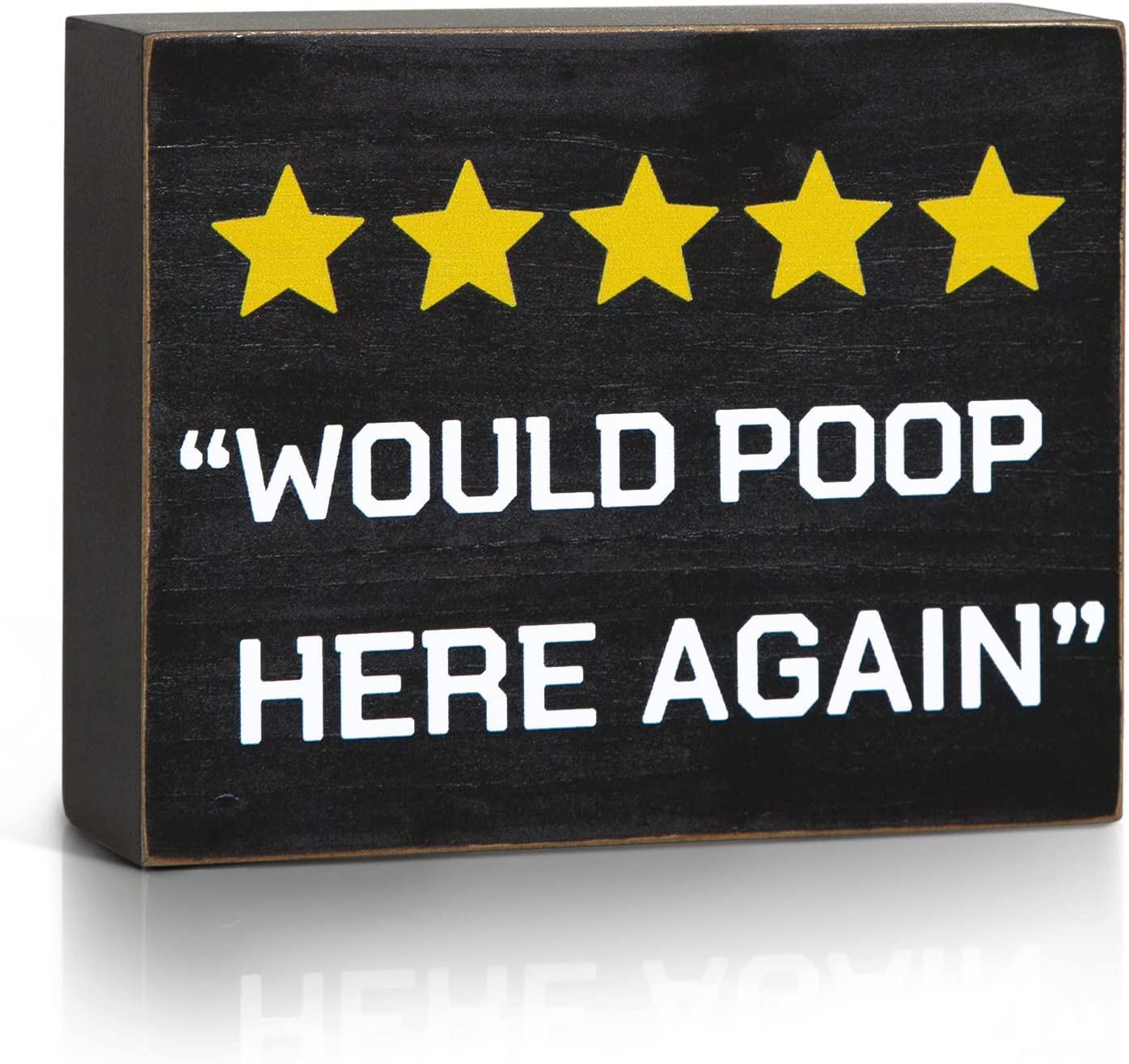 This adorable small wooden accent with full toilet ratings printed on it is a really simple touch that will look fun and make everyone smile. This wooden sign will provide a rustic farmhouse touch to your bathroom. This accent can be placed over the toilet or on any shelf or tabletop in your bathroom. The color contrast of yellow and black is always a favorite of designers.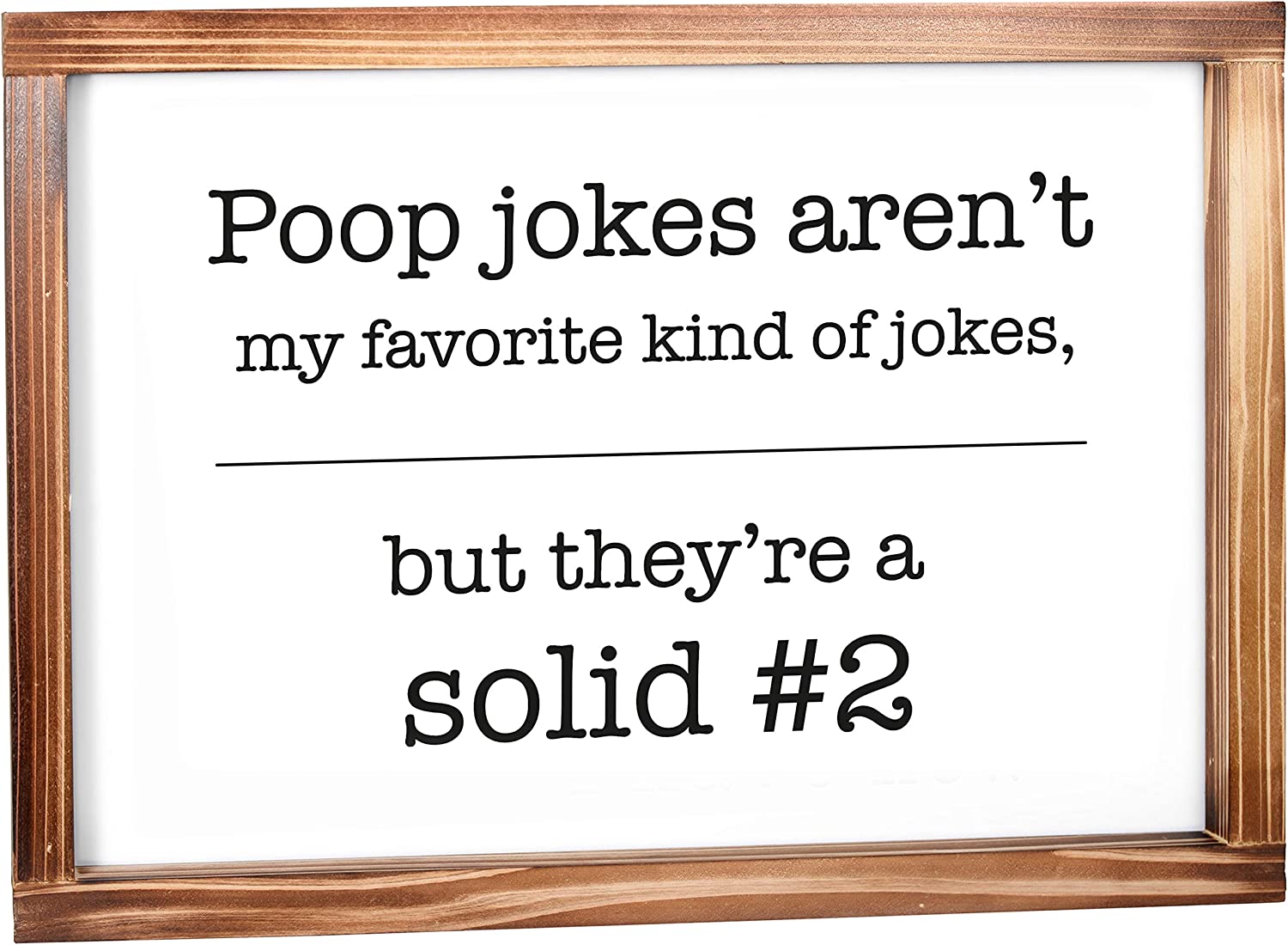 To add an old-school feel to your bathroom, a robust wall-mounting sign with a classic, solid joke is all you need. This poop joke is really funny and comes in a solid wood frame that will last a long time. We like the basic typeface used in this signpost, as well as the rectangular dimensions, which can cover a wide area in your bathroom.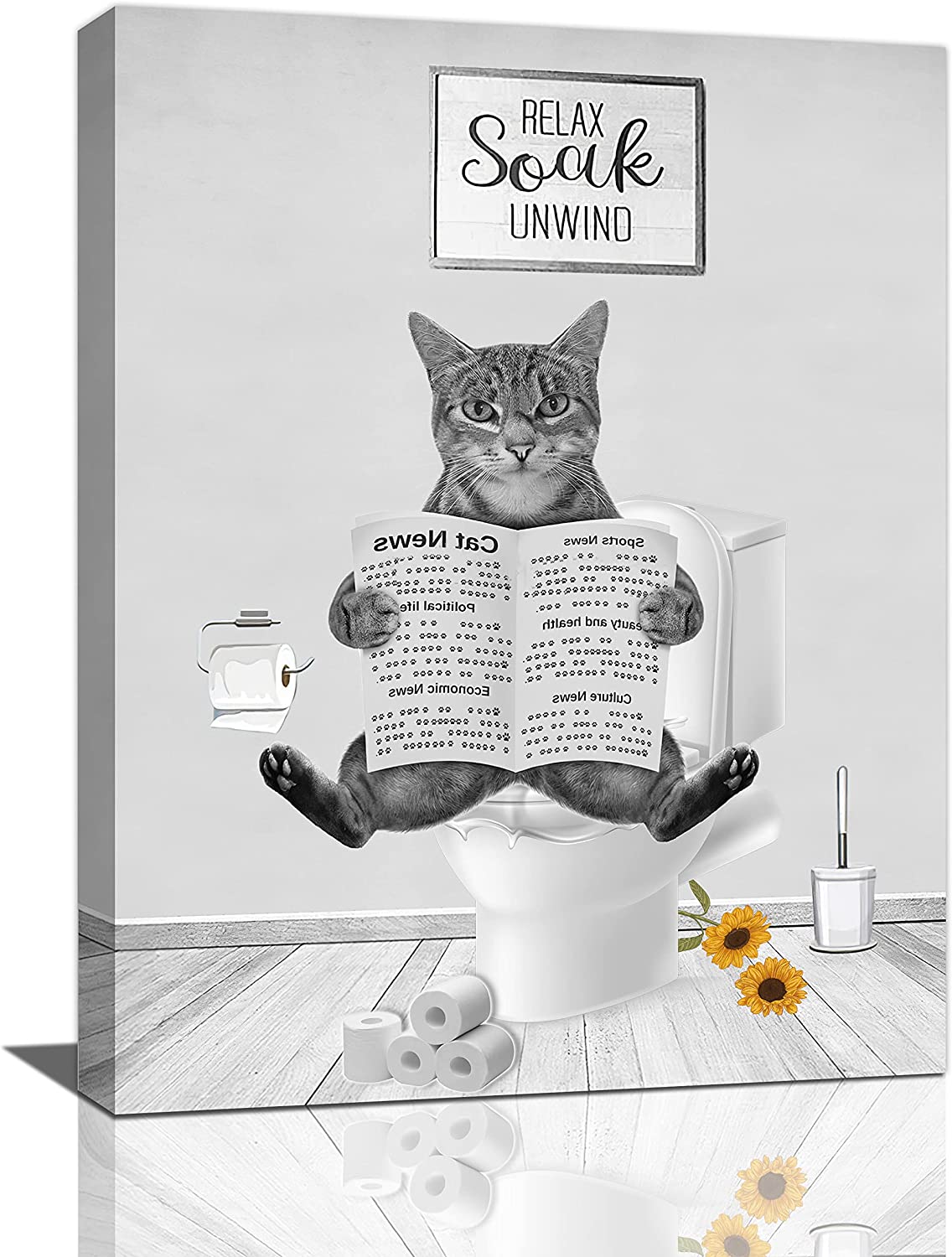 Did you know that many cats are toilet-trained? As amusing and stunning as that may sound, this placard proves it! A smart feline is reading the newspaper and telling us to relax, take a bath, and unwind. With its amazing canvas print, this printed farmhouse bathroom sign has a modern touch and will be a subtle yet unique addition to your bathroom.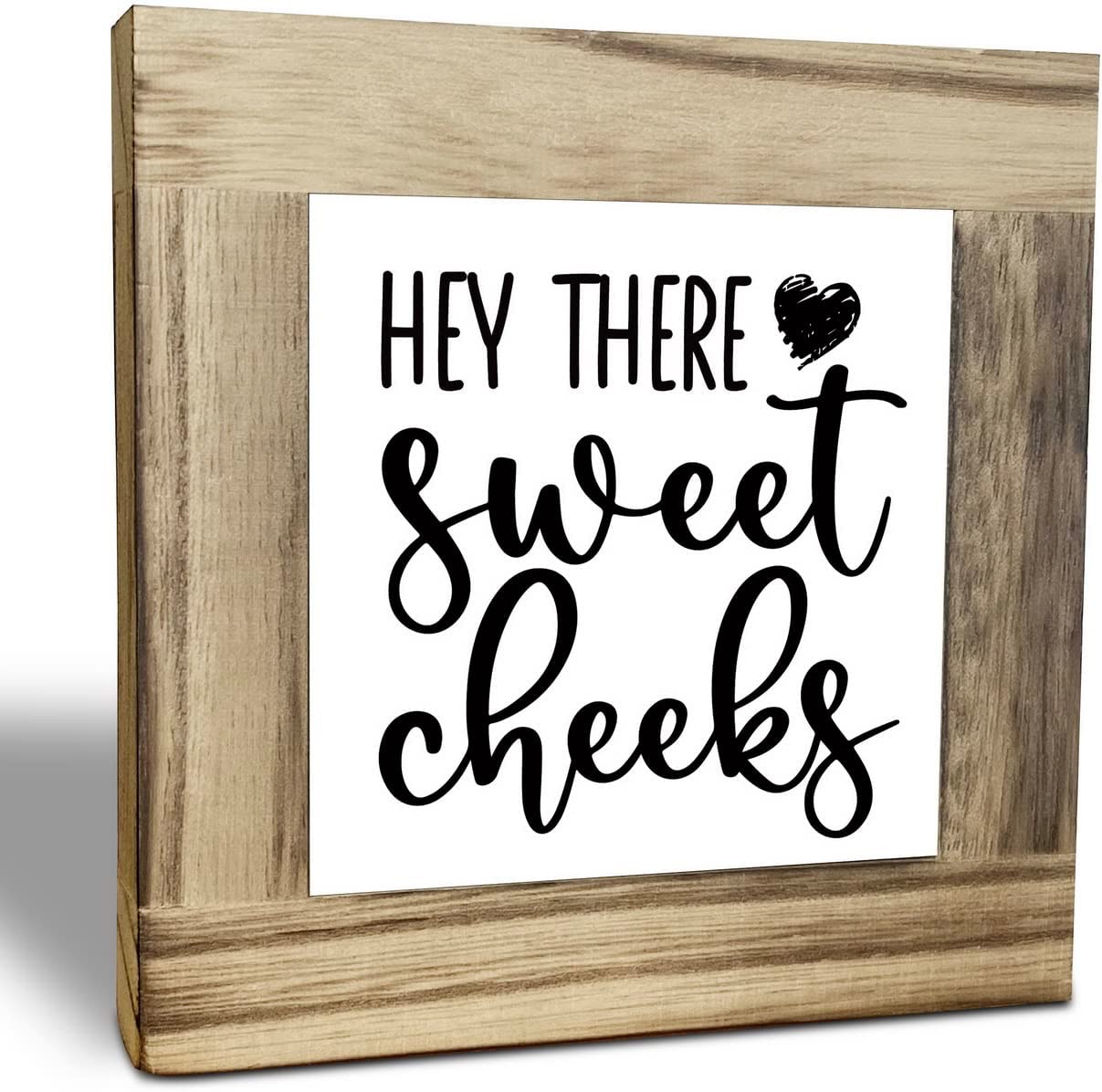 Does your SO have sweet cheeks? We know you believe they do. This farmhouse bathroom sign is the ideal gift to make them blush while also showing your appreciation. This modest sign made of wood is ideal if you want your bathroom design to have natural tones while remaining minimal. The design is unique and adorable. This bathroom sign, despite its small size, can be an excellent addition to your home.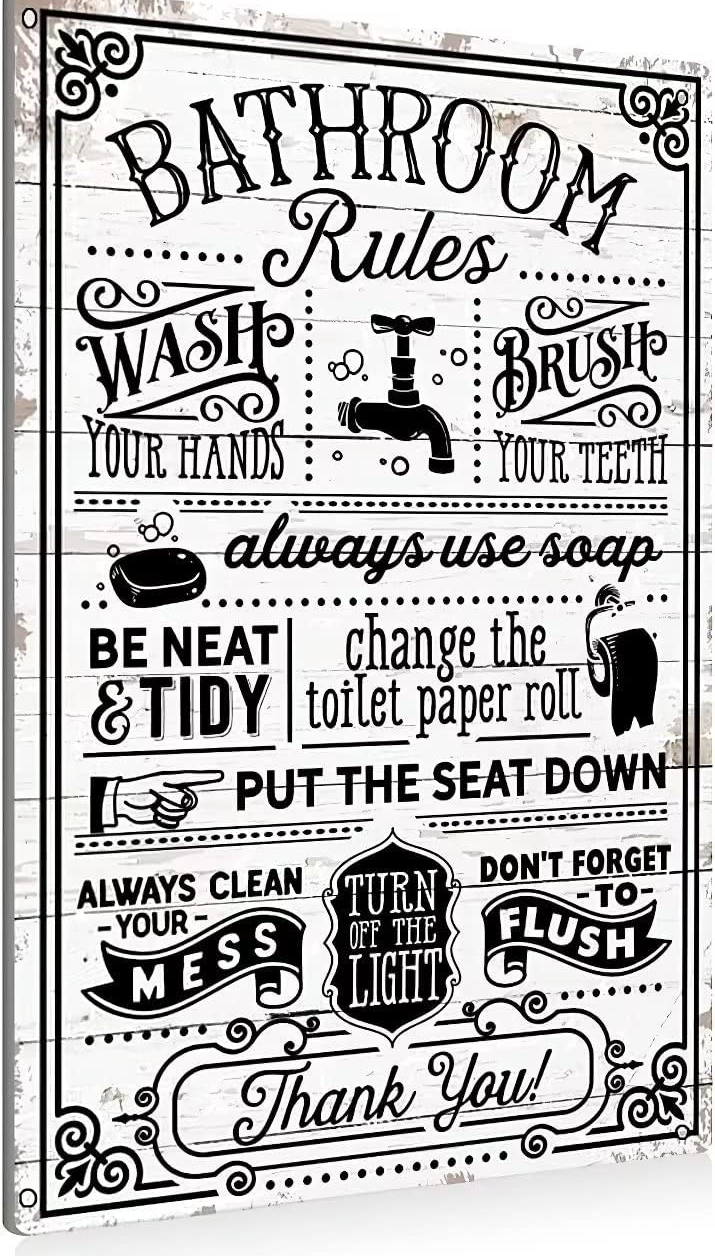 This vintage farmhouse bathroom sign is a must-have if you have a knack for retro decorative items and love the whole vintage color scheme. This sign has a lot to say! Some basic bathroom rules are written in it for all those ignorant people who fail to use a bathroom in the right way. This metallic sign is waterproof and super durable, and it will look great in industrial bathroom decor.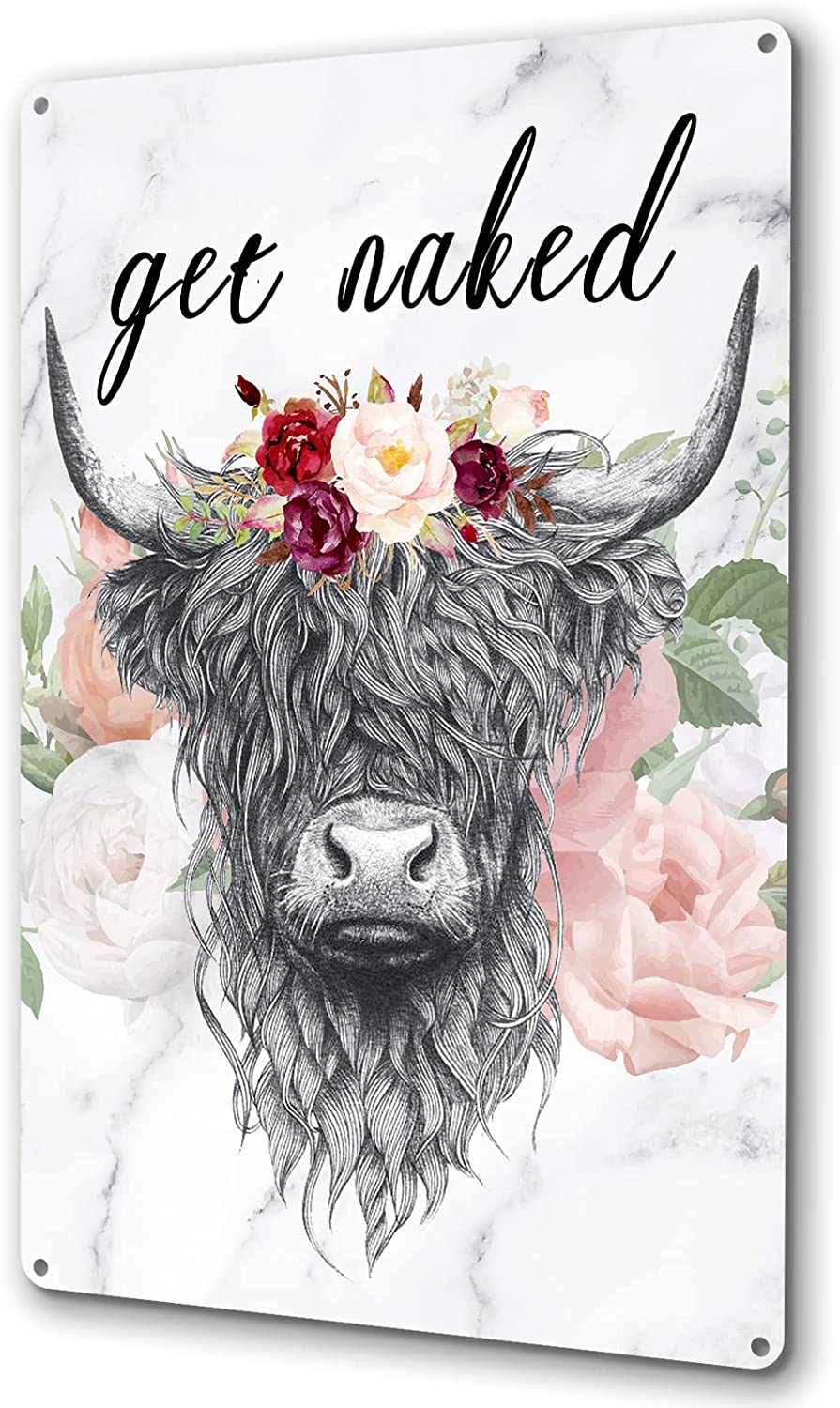 A magnificent highland cow with exquisite flowers on its head requests you to strip naked! What could possibly be better than this? The answer is… nothing! Aside from the jokes, this bathroom sign has such a unique color scheme that it will immediately impress your guests. If you have a neutral bathroom, this sign will undoubtedly add a flash of color, and this metal sign will be difficult to overlook.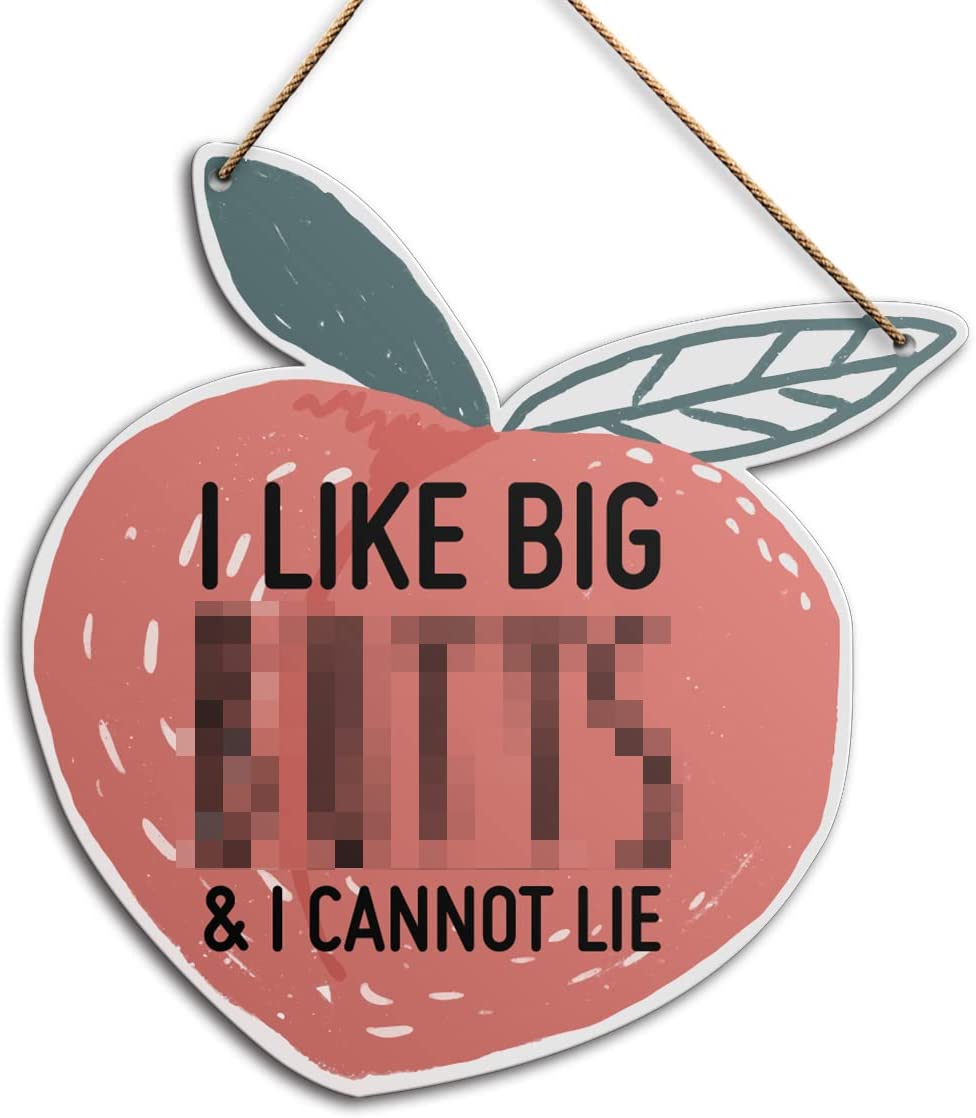 Do you recall Sir Mix Alot's renowned song on the beauty of curves? This song is very famous in pop culture, and it speaks facts! This cute and lightweight wooden apple bathroom sign can be an adorable addition to your bathroom and will make your friends blush when they use your loo. We just love the whole design and color of this sign, which takes inspiration from pop culture decorative accents.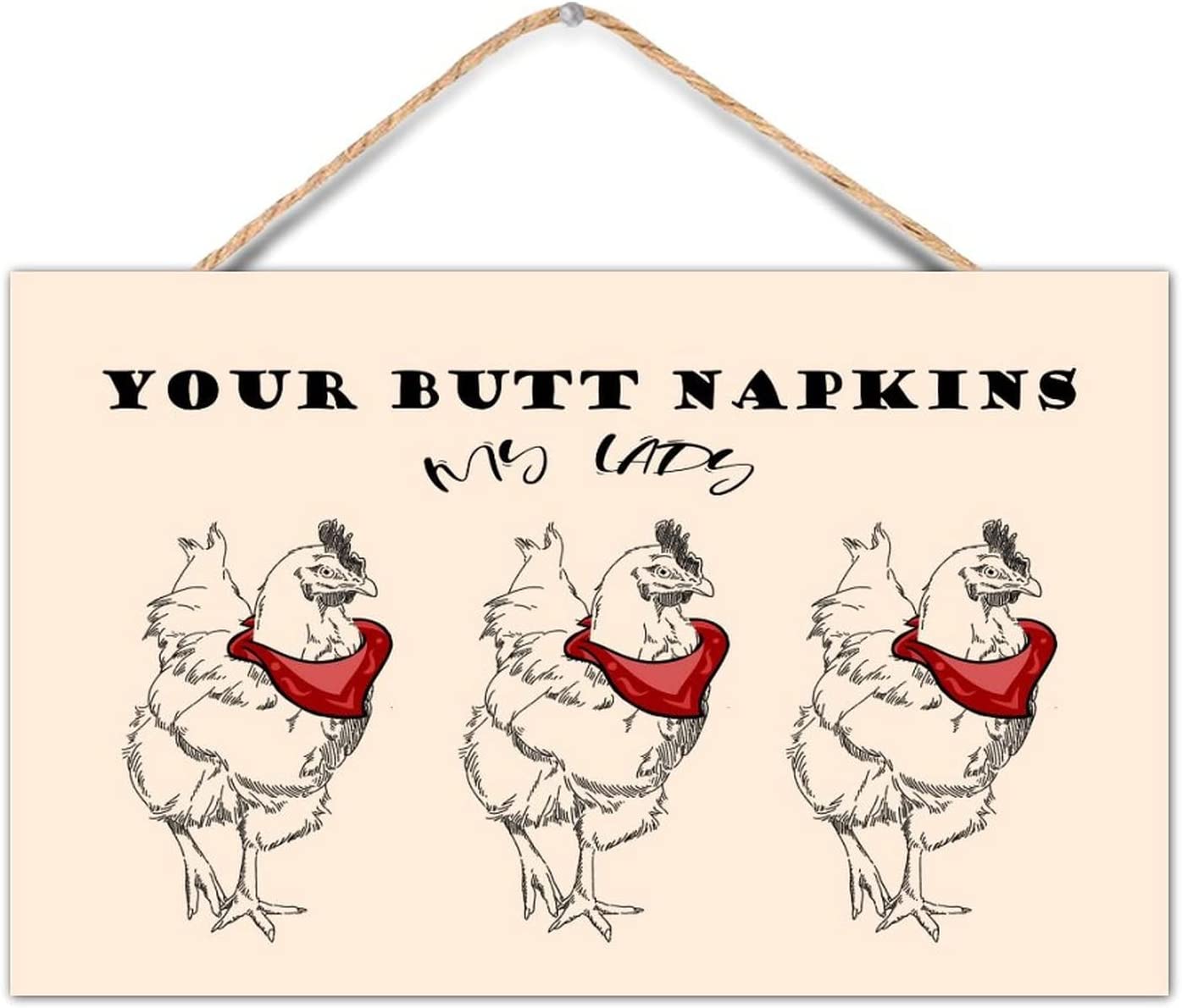 We have the perfect bathroom sign for all of the ladies out there! This lovely baby pink sign has a handsome rooster waiting to hand over your wipes—what a gentleman! If you have any doubts about his attractiveness, take another look at his red scarf, and you will see that he is one of those countrymen that can whisk you away! You can easily hang this wooden sign over the toilet; we're confident it'll look cute and be liked by your roommates.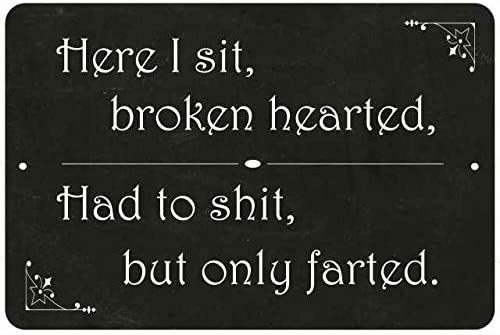 This sign talks about one of the things that can break anyone's heart! Can you deny it? If you are a big fan of going minimal in the decoration and design of your home, then this bathroom sign is perfect for you. Made in aluminum, this sign has a high gloss finish and a simple black-and-white color scheme that will look elegant.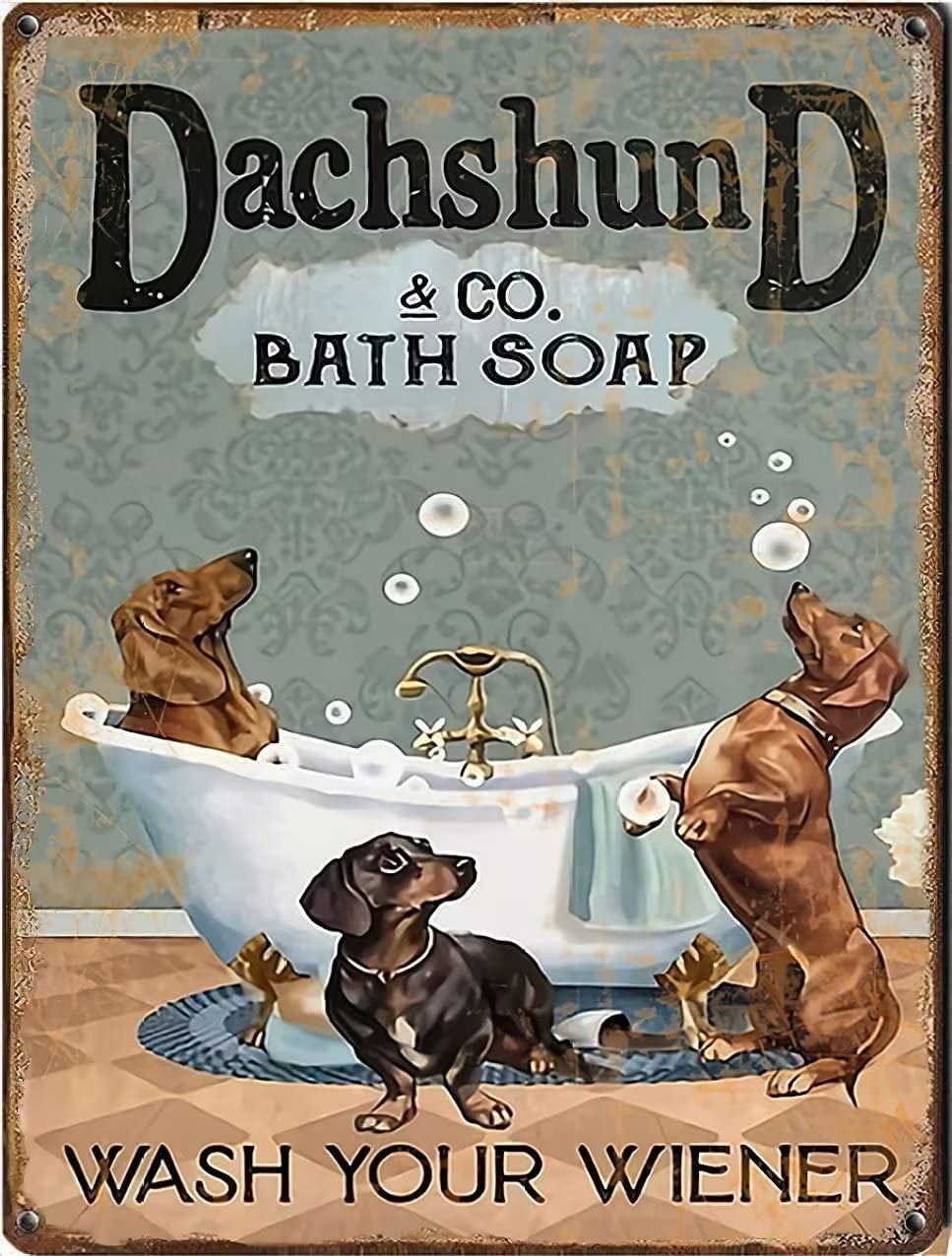 Do you have a soft spot for Dachshunds? They are a classic breed and are quite adorable. This amusing bathroom sign says a lot and will make you laugh every time you see it. This bathroom signpost is made of metal and looks vintage. We adore the mild and rustic color palette. This sign will be like a bathroom with a darker interior.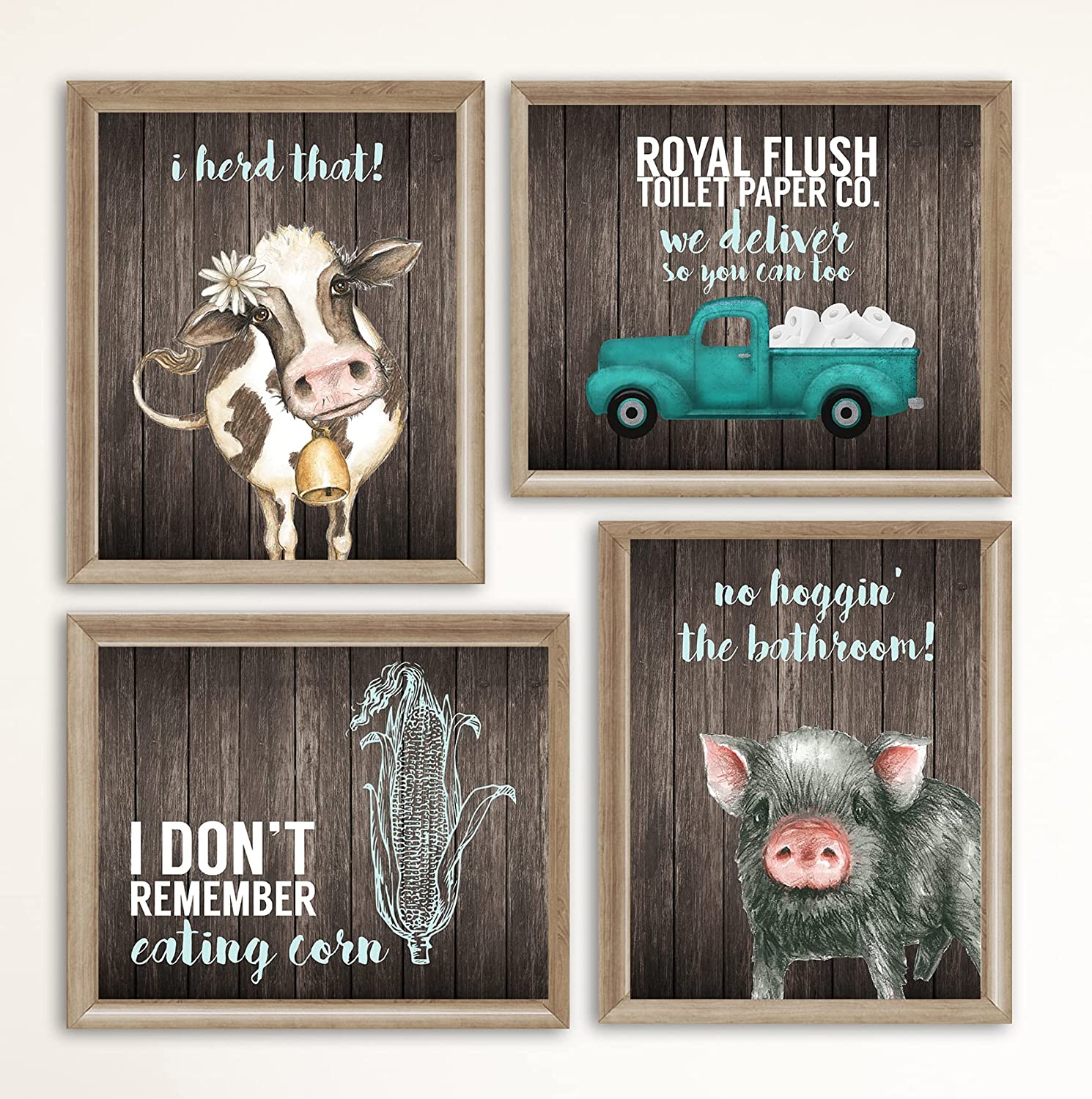 If you are looking to make an accent bathroom wall or to cover a large space in your bathroom with rustic and farmhouse accents, then check out this set of four funny bathroom signages that will remind you of farms. The color and the prints look so good, and the jokes are sure to crack you up. These country signs are also great to keep in the kitchen area.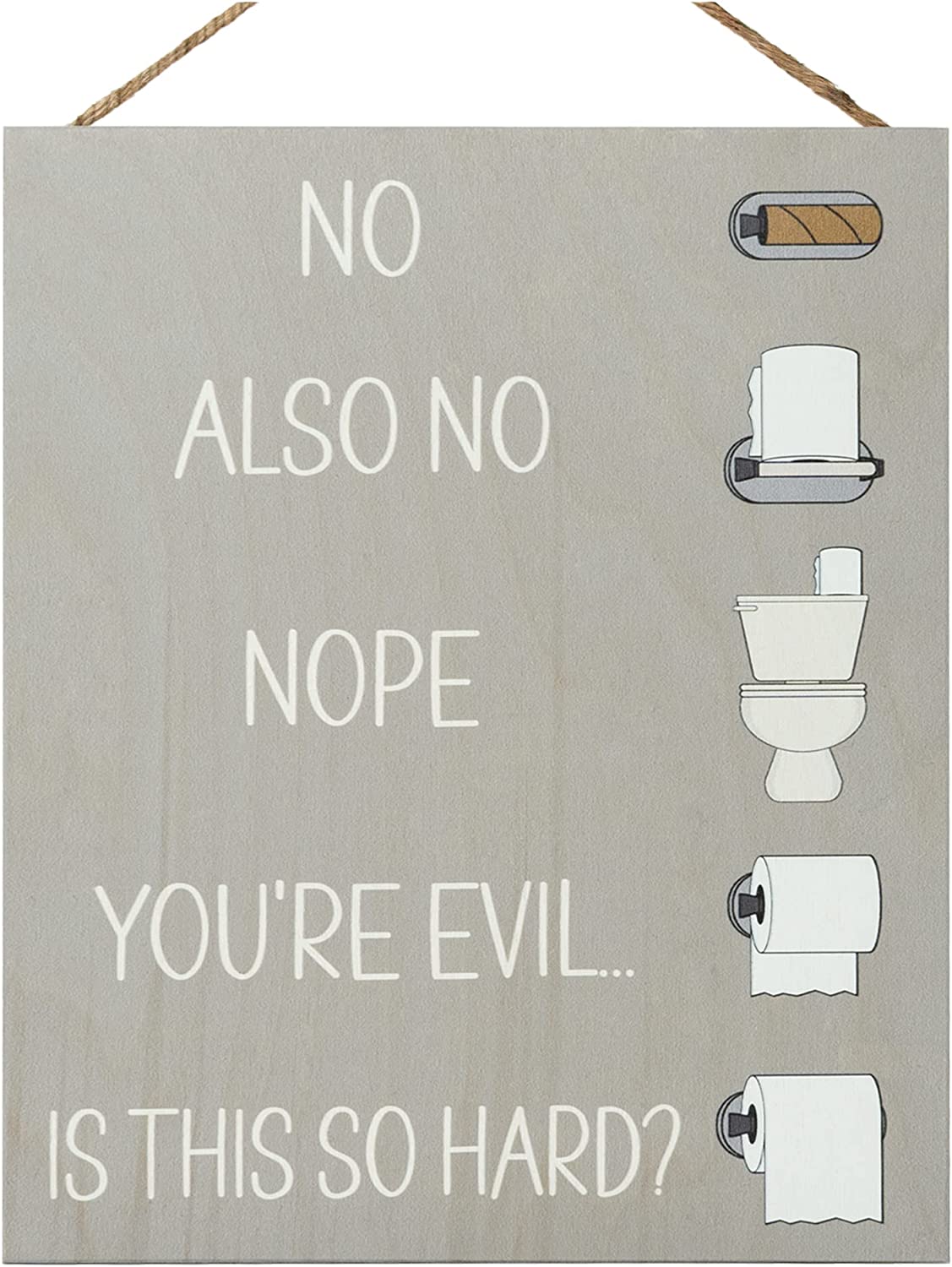 What is the best method for hanging toilet paper? If you're still unsure, take a look at this bathroom sign, which is guaranteed to help. Of course, there is no guilt in learning things later in life! This wooden sign has a quiet, neutral color scheme and can cover a decent amount of area. If you don't like corny jokes and prefer to keep things subtle, this is the sign for you. You can also hang this sign outside the bathroom door to let individuals know!
Final Words
That's all there is to it, everyone! Did you like our farmhouse bathroom signs collection? Did they put a grin on your face? We hope it did and that all of our efforts were successful.
The finest bathroom sign for your bathroom is one that will blend in with the rest of your bathroom's design and color scheme. However, selecting the best one should not be difficult; simply choose the one that makes you laugh the most.
So, which one will you choose? Tell us in the comments section.