21 White Brick Fireplace Ideas that Elevates Elegance
White, in all its pristine beauty, is one color that can never go wrong in home decor. While white brick fireplaces have been quite the rage in the past, they sadly lost out in recent times only to see a resurgence in popularity these days. White can instantly brighten up the space, and adding a white brick fireplace is sure to create a timeless focal point to your decor. Whether you like it sleek or your aesthetic bends towards boho maximalism, there is something for everyone when you decide to go for a white brick fireplace.
The versatility of white means that you can pair it with home decor of any type and color, and it would fit right in. The easiest way to do this would be just to paint the bricks around the fireplace all white or go for a rustic distressed look.
So if you are still on the fence about modernizing your fireplace and don't know what to do with it, keep reading for some stunning ideas to inspire your fireplace makeover.
1. Contrast White with Darker Elements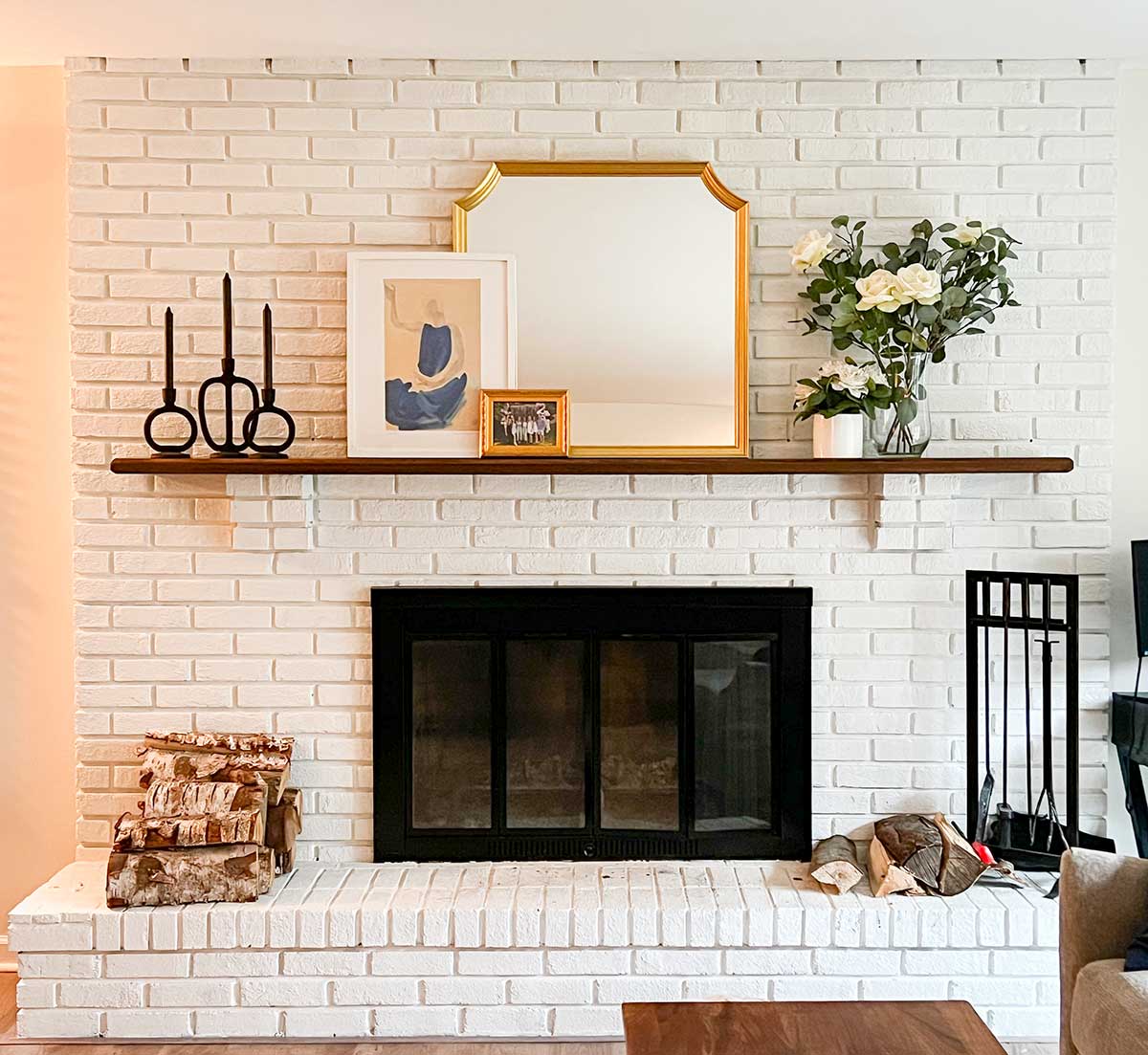 Contrasting elements work together in this classic white fireplace. The dark wood and metal elements help to break the monotony of white and bring warmth to the decor. The use of fresh flowers adds a lot of charm and helps bring freshness. The surrounding walls have also been kept clear to avoid any clash and bring cozy warmth to the space.
2. White on White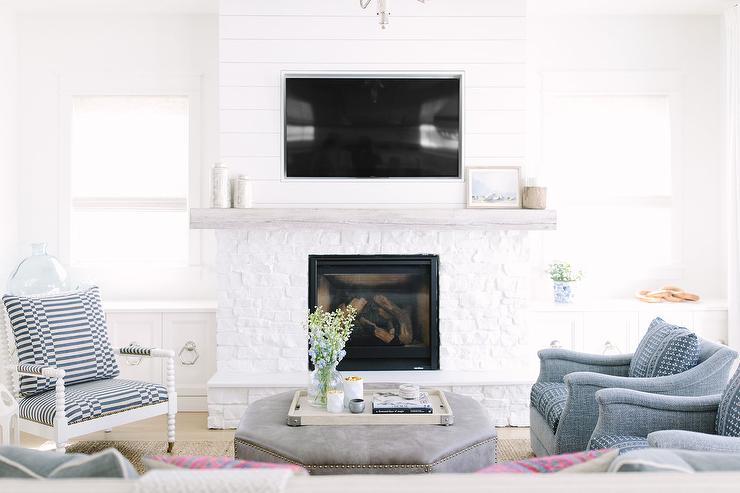 White on white is always a classic when it comes to home decor. An interesting color palette, the white fireplace with white mantel, is combined with muted shades of powder blue to create a stunning decor. The splash of color helps bring freshness and vitality to the space while also keeping the entire look clean and minimal.
3. Distressed Look
Nothing speaks elegance like a distressed look that is clean and minimal. The natural beauty of red bricks is elevated with a wash of white paint. This brings out the beauty of red interspersed with white making it a combination that is sure to awe. The soft color palette and use of wood elements with country-style decor add to the elegance of the entire look.
4. Contrasting Patterns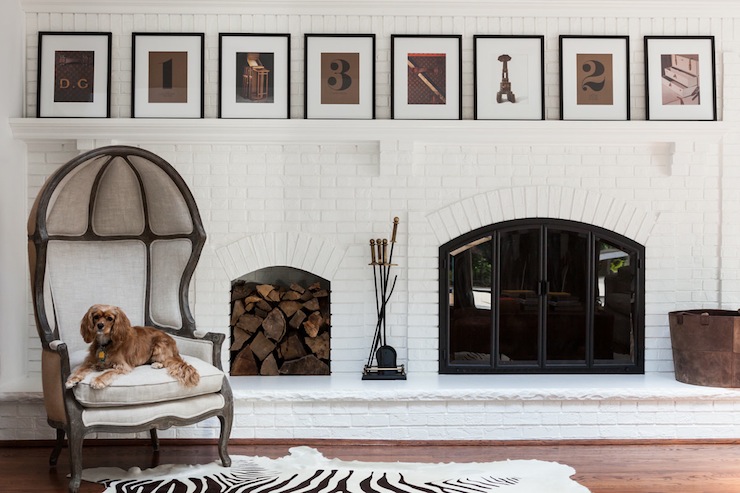 When doing up your fireplace, you don't have to go fancy and overboard. Simple contrasting patterns in the way bricks are laid can bring a unique focal element to your white brick fireplace. The monotony of the horizontally laid white bricks is broken down with vertical arched bricks just above the fireplace. This subtle contrast helps draw the eye without any extra elements. The use of a frame on the mantel and the use of classic wood elements adds to the charm of the entire decor.
5. Long Fireplace Wall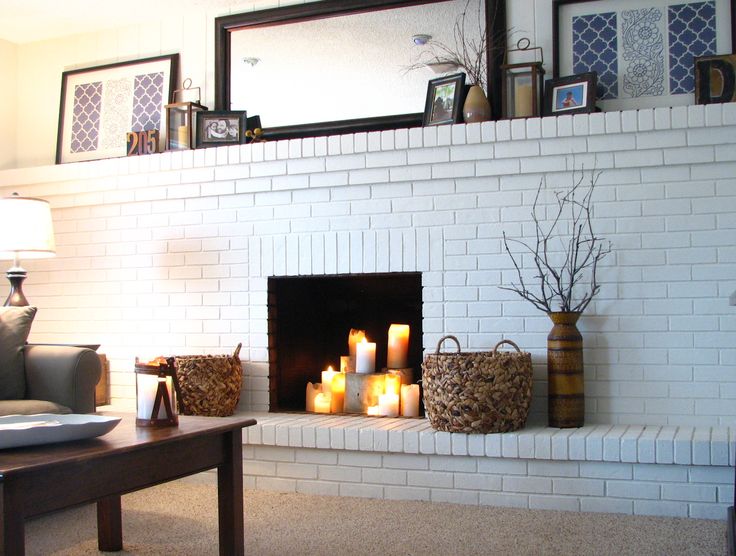 A long fireplace instantly elevates the look of your home. This fireplace is the focal point of your home, with a mix of contrasting tones in the way the bricks are laid. Subtly interspersing vertical and horizontal placement, along with varying the thickness of the bricks, make the whole decor a stunning focal point. Interspersing with wood and natural fiber elements, along with splashes of blue in the decor is an excellent use of color and contrast.
6. Arched Fireplace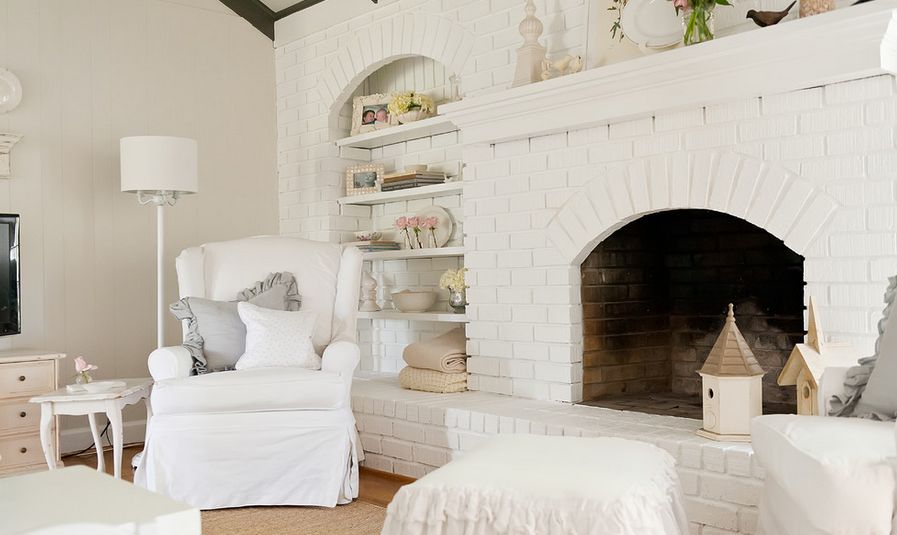 Bring the timeless beauty of this white arched fireplace in pristine white with an excellent monotone effect. White bricks surrounding the fireplace are accompanied by the white decor, which gives it a subtle clean look without being too sparse. The excellent use of pops of pink brings relief to the entire elegant composition.
7. Stone Fireplace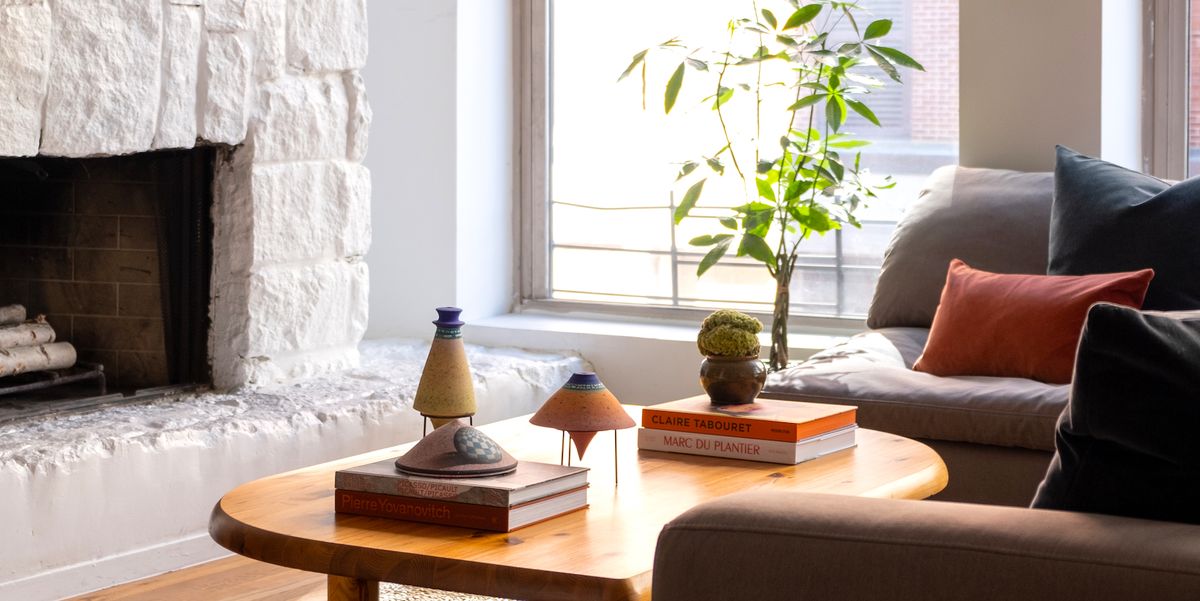 Using natural elements in your decor is always a win-win solution. Natural elements and finishes bring that rustic elegance to the entire look of this stone fireplace. The enhanced textures with the use of white stone bricks bring a chic industrial element to this otherwise classic living room. Some relief with bursts of orange and green brings freshness to this unique layout.
8. White-Washed Fireplace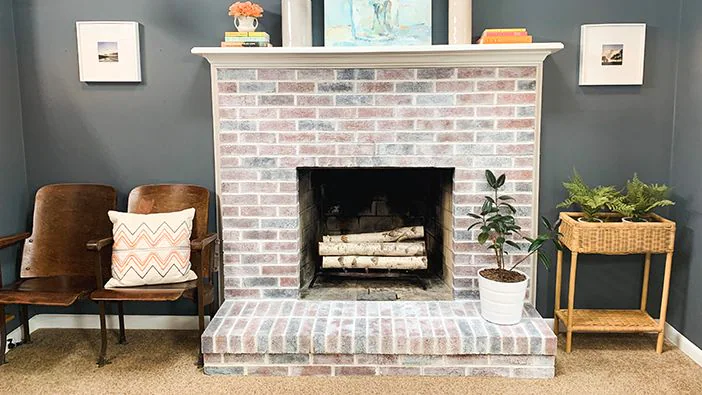 This stunner fireplace combines classic elements for a timeless appeal. The contrasting elements of whitewashed bricks and darker walls flanking the fireplace on both sides make for a cohesive look. The tactile textures of these white-washed bricks add to the eye-catching appeal, and the muted brown furniture and details bring warmth to the entire look.
9. German Schmear White Fireplace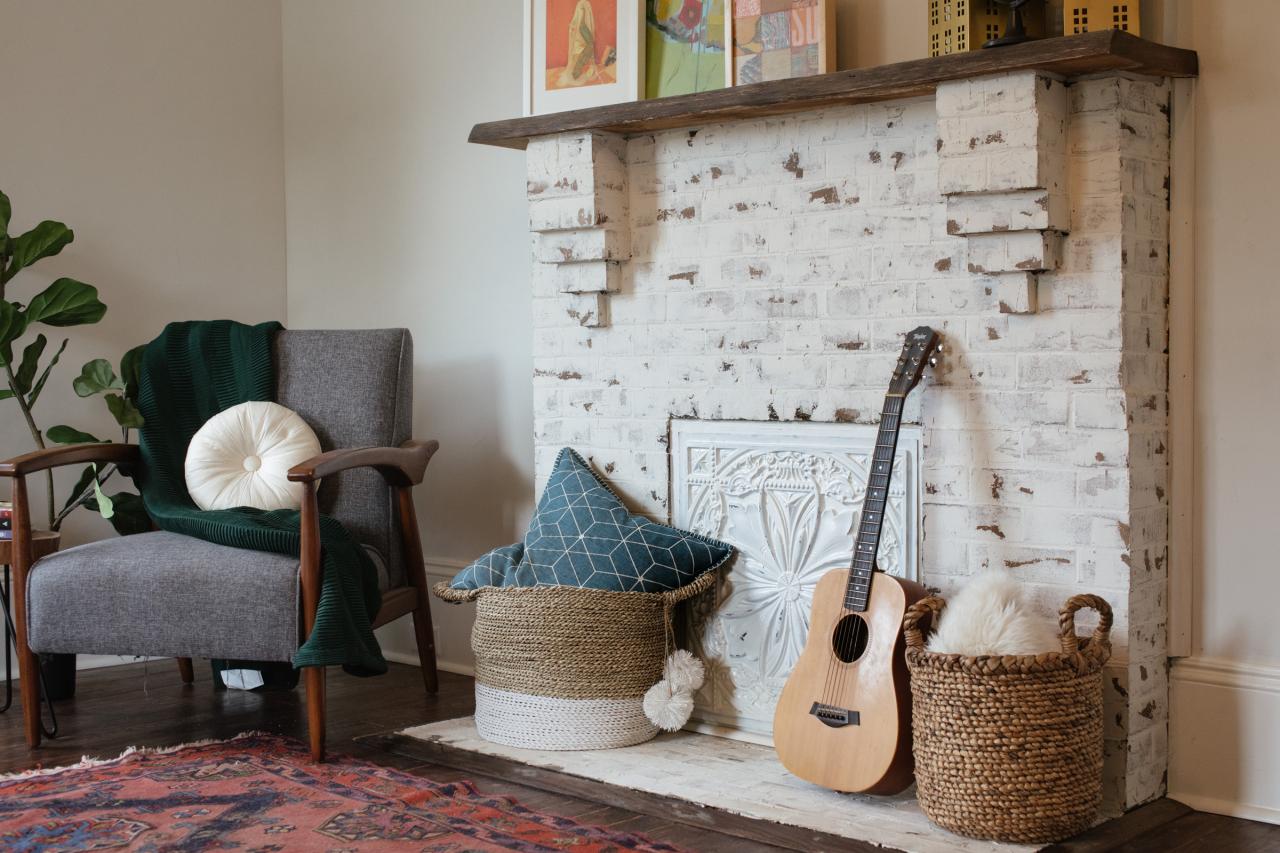 A classic finish, the German Schmear technique is achieved by applying mortar to create grout lines and smearing excess mortar to create an illusion of perfectly shaped bricks. It is used to achieve the look of the cozy European cottages. The rugged sophistication of this fireplace is balanced by the simplicity of the decor, making the entire look timeless in its appeal.
10. Modern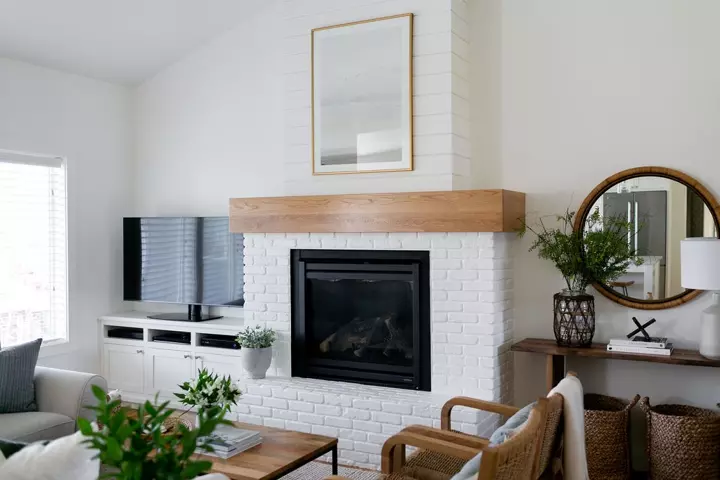 White and black speak modernity like no other colors do. Bring them both together, and you can achieve a look that is both simple and stunning. This simple fireplace brings together the classic white along with light wood elements and splashes of black to make this room and modern haven. Minimal accessories and the use of muted colors make the room feel airy and clean.
11. Vintage Style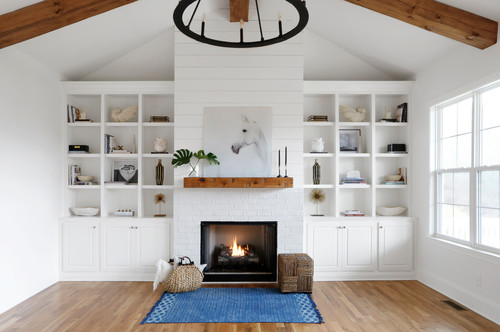 A uniquely contemporary approach with white on white and a splash of blue, this fireplace exudes the rustic charm of an old-school country house. The plethora of shelving units flanking both sides and the excellent use of color make this a focal point of the room. Exuding the charm of a faraway hideaway, this luxurious setting gives a classic lived-in feel.
12. Fireplace as An Accent Wall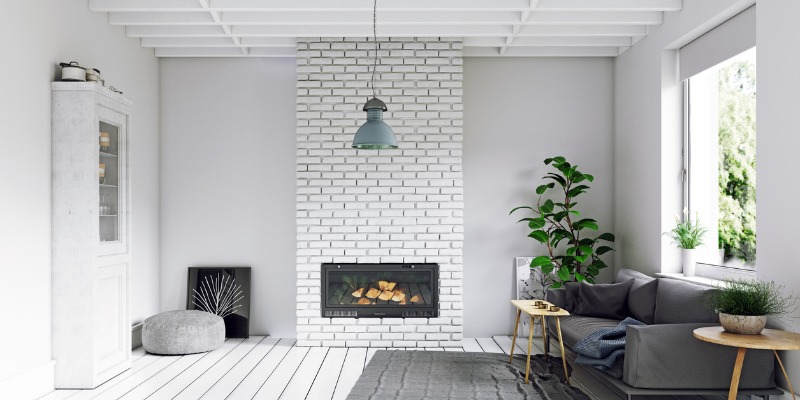 If too many colors and decor pieces are not something that matches your vibe, you can try to create an accent wall with the same white. This modern take on the fireplace has a white brick wall against neutral white walls to create a stunning focal point accent wall. Muted greys and some green makes the room look warm and inviting. Bring in lots of freshness and light with extra large windows.
13. White Fireplace with Contrasting Walls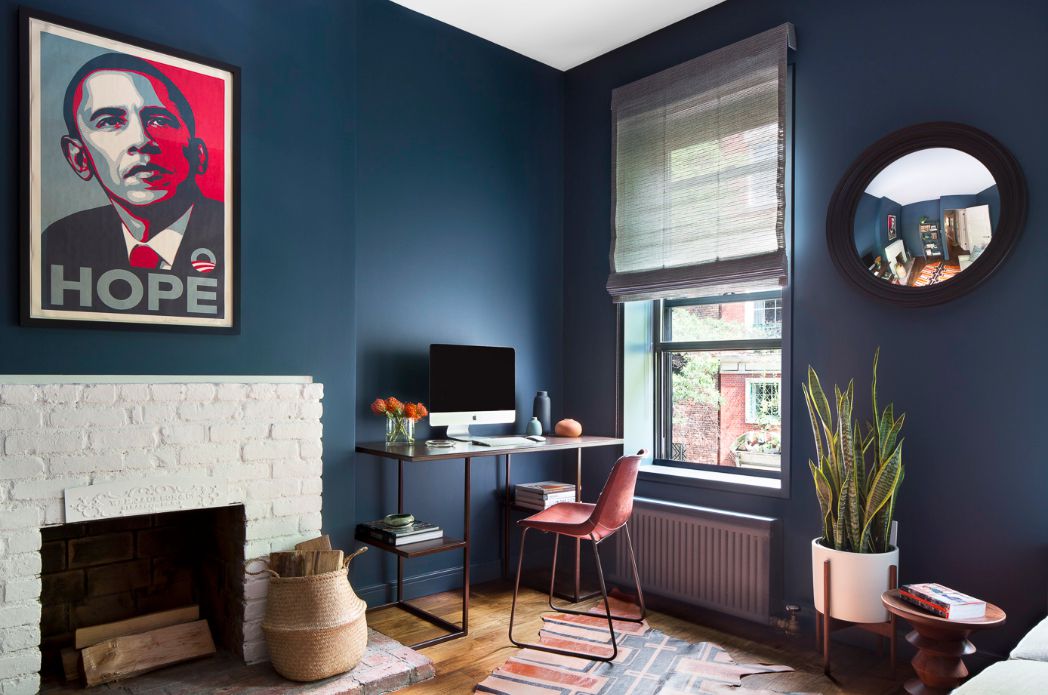 This natural brick wall is set against the deep blue walls for a stunning contrast. Pops of reds and browns and some fresh plants are the exact amount of minimalist chic that brings out the deep hues of the contrast walls to their hilt. The fireplace is surrounded by white stone, which brings a rustic charm to this otherwise modern room.
14. Rustic Charm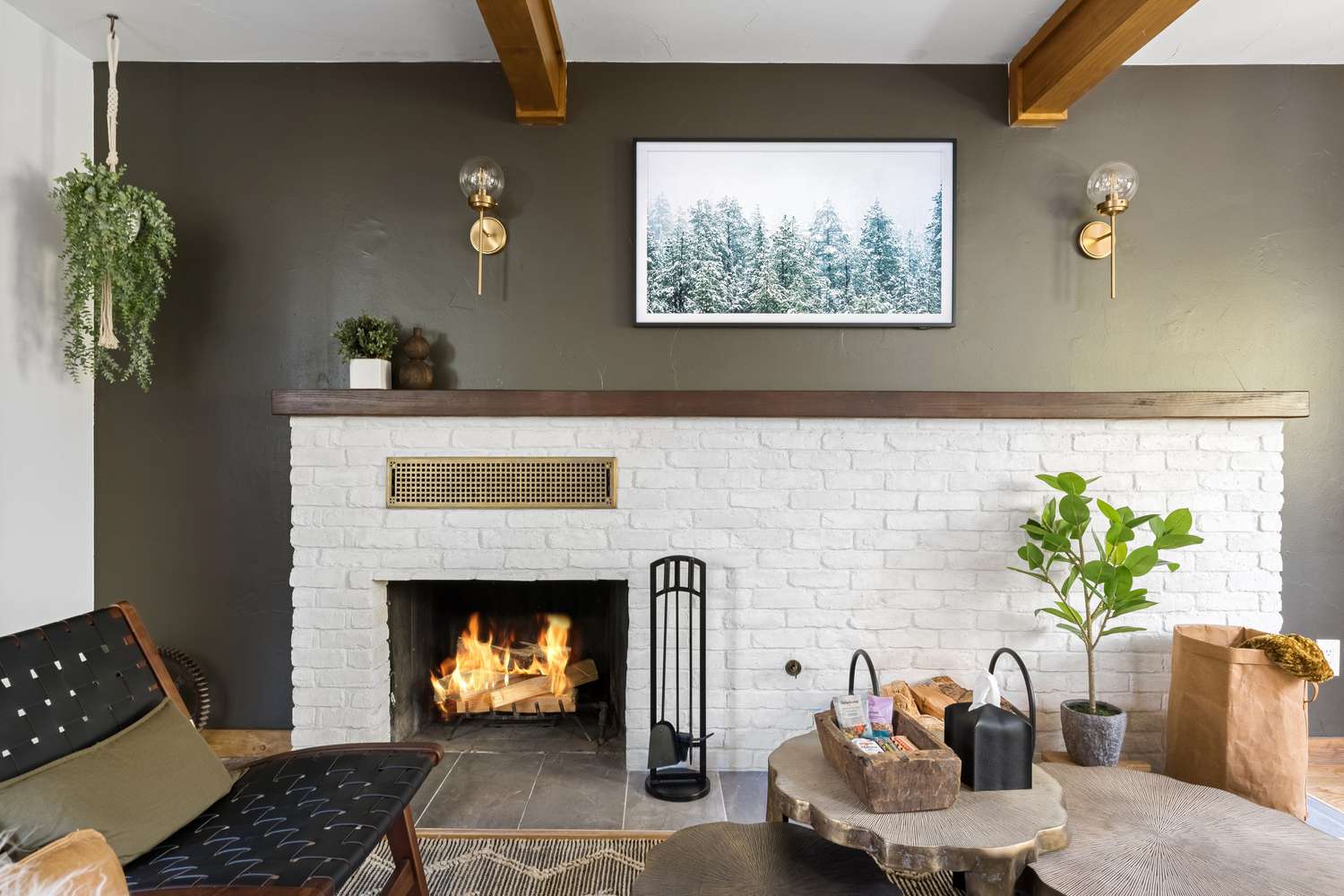 Old-world charm meets modern splendor in this fireplace which adorns the length of the entire wall. The use of wood elements in organic shapes brings out the rustic appeal for a timeless feel. The interesting use of brass elements against the quaint olive walls is both stunning and minimal. With a comfortable lounge chair and a book to read, this will soon be the favorite place in the house to lounge and entertain.
15. Transitional Living Room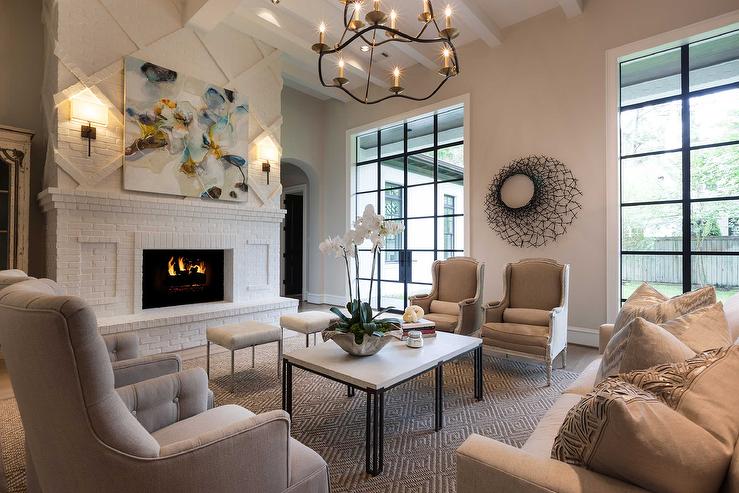 White brick walls are usually connoted with a traditional or rustic look, but the right kind of treatment can make it look contemporary in its appeal. Case in point, this sleek look with a white brick fireplace with modern abstract elements. The white fireplace adds a warm, quaint look, while the modern yet timeless furniture, abstract art, and sleek metal elements help maintain a clean aesthetic in this room.
16. Fireplace as a Focal Point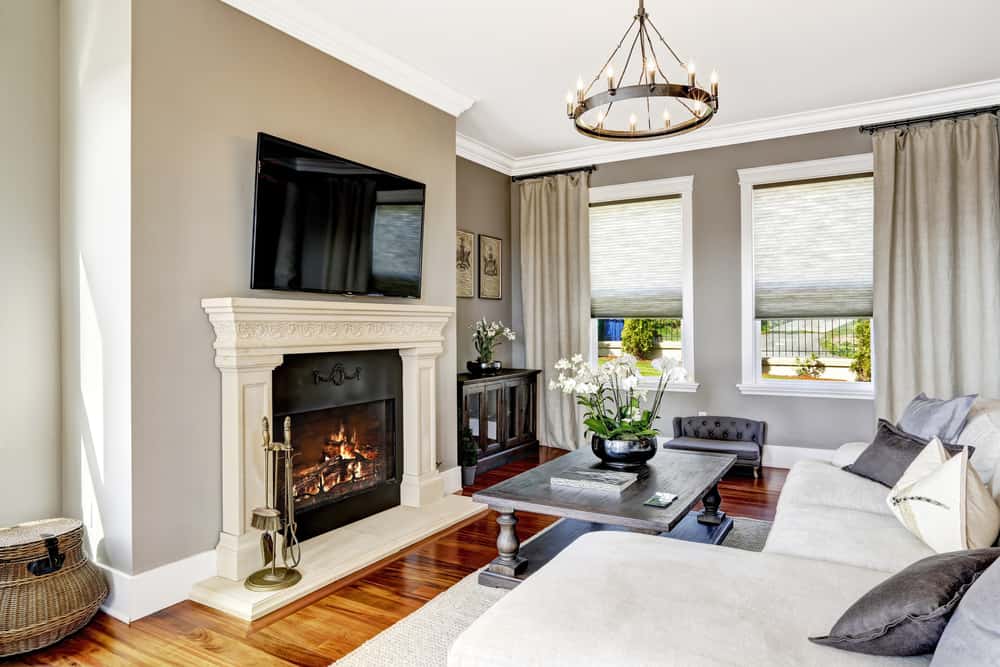 You can easily create your traditional fireplace as the focal point in a contemporary living room. The clean lines with minimum use of color and structural design are contrasted with a traditional fireplace with an ornately carved mantelpiece. Neutral furnishings with pops of grey are on par with this room's stirring style.
17. Classic Minimalist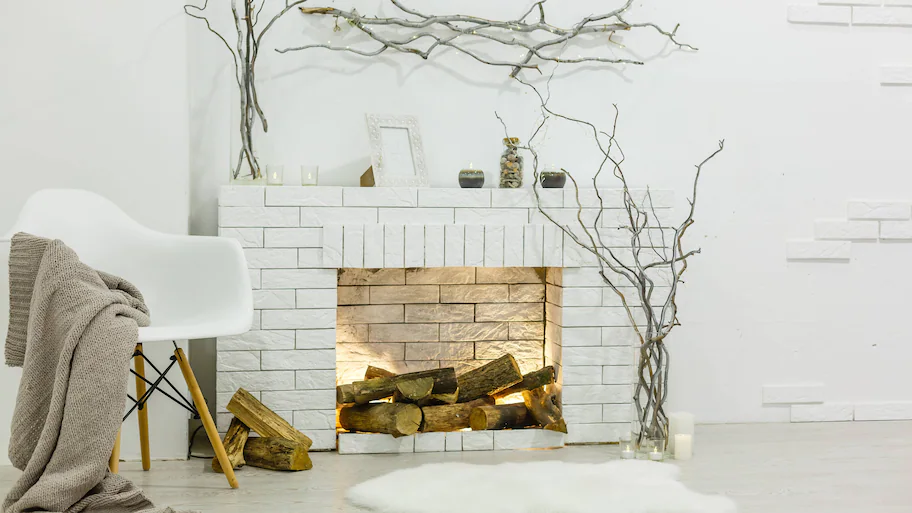 The classic minimalist style statement of this room brings complete focus to the warm fireplace. Minimal use of elements means that most of the focus brings back to your white brick fireplace. Contrast the placement of the bricks, and it brings out some relief against the starkness of the room. The bare wood showpieces are the only contrasting colors in this neutral room, giving the entire room a formal yet warm appeal with an old-world charm.
18. Contemporary Chic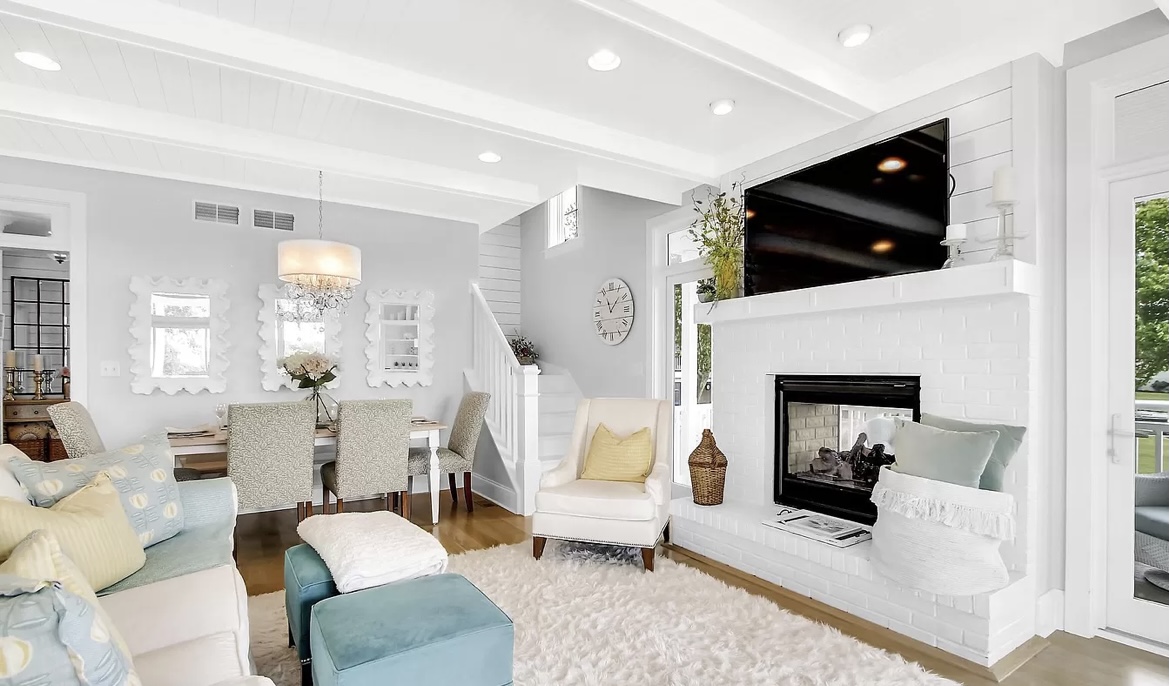 A sleek color palette of whites and blues with a few pops of colors lends a contemporary feel to this modern farmhouse-style living room. The brick wall fireplace with a white mantel is done tastefully with minimal clutter. The monochromatic color palette, with just a few additions of blue and turquoise, makes the room feel airy and bright. Some green on the outside and a few fresh flowers of the season make for a relaxed, welcoming feel to this contemporary chic living room.
19. Country Style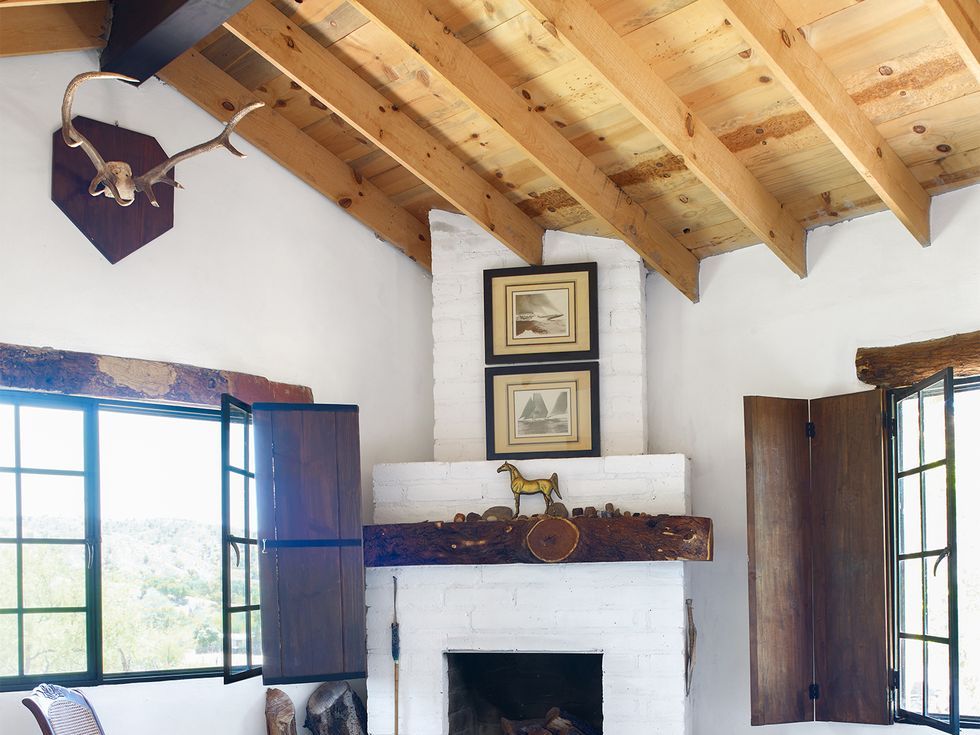 Comforting and timeless are the foremost things that come to mind when one thinks of a country-style cottage. This rustic cottage-style setting features a white brick fireplace with unfinished wooden elements, which has a rustic, rugged charm. Brass elements and wooden beam work add a charming appeal to this cottage-style living room.
20. Warm and Sophisticated
Different shades of white play an interesting design contrast in this living room. The stark white of the fireplace and the greyish white of the walls serve to create an interesting mix of shadow and light. The sudden color pop of browns, maroons, and pitch black color elements create a stunning juxtaposition. The contemporary furniture and art pieces, along with sheer furnishing, create a beautiful, sophisticated appeal.
21. Non-Traditional Shapes and Finishes

You can use non-traditional shapes and finishes to achieve this coastal look living room with a white brick fireplace. The use of abstract art forms in the entire vertical wall surrounding the fireplace, along with turquoise blue elements, gives a beach vibe to the entire look. Large open French doors with sleek furniture in contrasting coastal colors help achieve a look that is stunning and sophisticated.
Final Thoughts
You would never have thought that a stark white fireplace could lead to so many decor variations. All of the white brick fireplaces give a unique touch to the entire decor. There are multiple ways to achieve this look. Incorporating white into the design is an easy way to brighten up a room and create a timeless focal point. You can create symmetry and balance to the entire look to keep it sleek while adding a few pops of color to break the monotony.
The mantel is an ideal place to showcase your creativity. It can be the ideal place to showcase your little curios and collectibles from your travels. Upgrade the aesthetic of your space with a white brick fireplace in various finishes. We have shared some of our favorite ideas to help inspire your fireplace makeover. Which one of these was your favorite? Tell us in the comments.