The 21 Best Ideas for Farmhouse Dining Tables and Chairs
Farmhouse decor is an important part of increasing the beauty of the place. If the places are well maintained and well organized, then they please everyone and make the place attractive and worth spending precious time on. To spend time, you need a particular space where you can sit and relax and at the same time converse with your family or friends.
For this, you can keep a farmhouse table and chairs that are available in various styles and shapes in the market that can help in giving your room classic, modern, aesthetic, vintage, or whatever look you want to give it. You can purchase the tables and chairs according to the budget, space available, and the number of people you want to accommodate.
However, if you are not so sure about what to purchase, then you can take the help of the following few ideas and then make your decision accordingly.
1. Rustic Table and Chair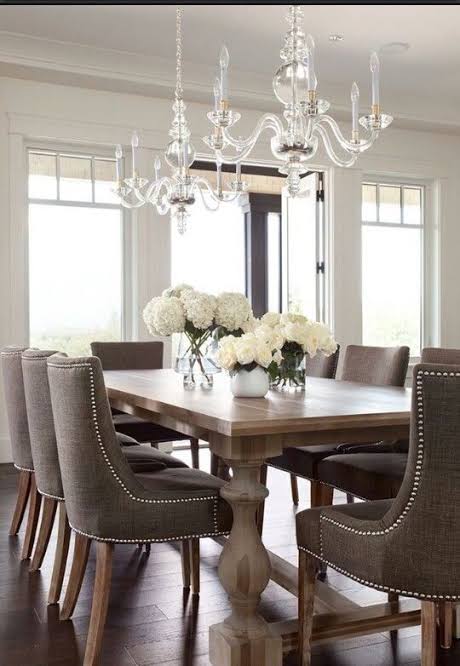 To give your farmhouse a cozy and elite look, you can place a rustic table and chairs in your dining room. Wooden furniture always adds a classic look to the house, and with the complimenting wooden chairs, the look has been enhanced. The accessories like the white chandelier and the white vases placed on the table add to the look of the table and give the room an elegant and restaurant-like look.
2. Wooden Table with Cushion Chairs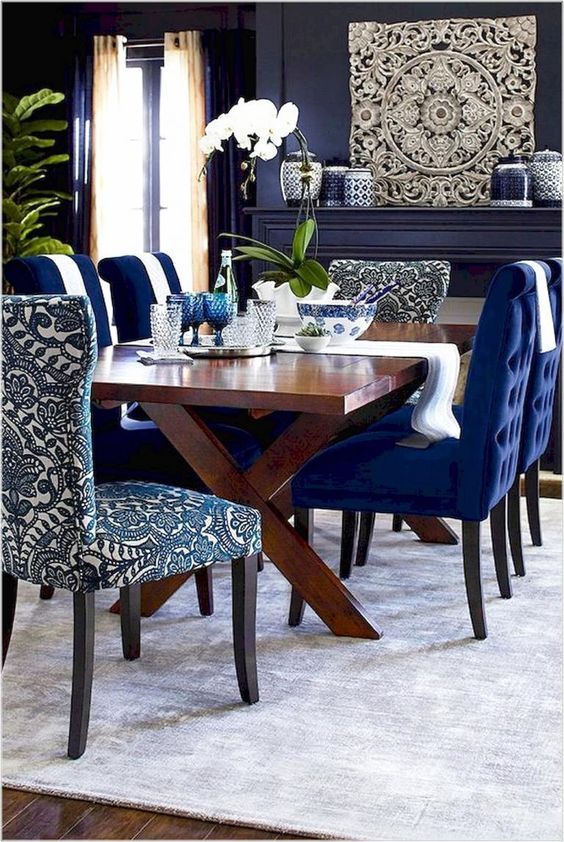 To add comfort to your seating, you can opt for upholstered chairs. While the wooden table will add a classic touch to your farmhouse, the upholstered seats will offer you comfortable seating. The color of the chairs is also different from the table, adding a vibrant touch to the room. The wooden table is also matching with the other accessories placed in the farmhouse.
3. Glass Table with a Wooden Pedestal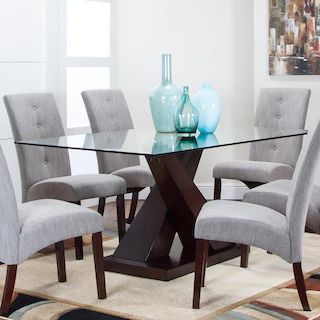 A glass table with a wooden pedestal will have both style and durability and will be a perfect choice for a farmhouse. This farmhouse glass table with upholstered chairs modest will serve as a modest addition to your farmhouse and will convert a dull space into a corner for chit-chat and gossip. The color of the chair can be chosen as per your room's background so that you achieve the complete look. You can add light accessories like glass vases to highlight the table.
4. Textured Rug Wood Dining Table, and Leather Chairs
If the walls of your farmhouse are dark colored, then you should use lighter shades of farmhouse tables and chairs for a nice look. One example is this textured wooden table with leather chairs. This idea can be considered while purchasing tables and chairs for your farmhouse. On the one side of the table, a sofa has been kept that is a different concept but still looks great.
5. Porcelain Table and Chairs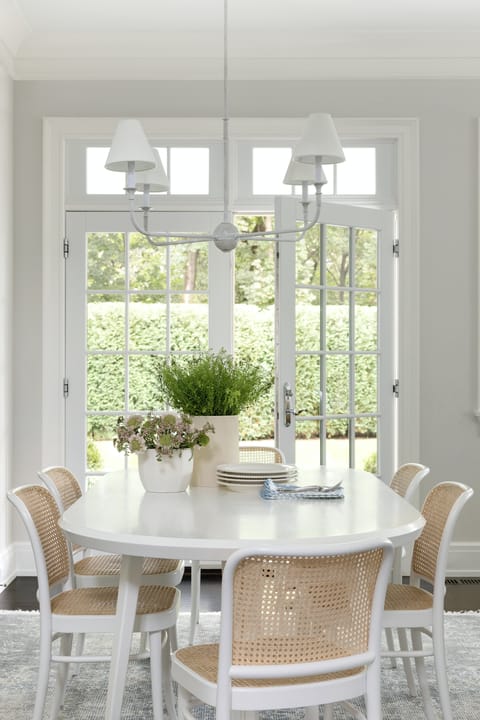 For people who are looking for a budget-friendly alternative to heavy wooden tables, this elegant and lightweight porcelain table with woven chairs can be the ideal choice for their farmhouse. These white porcelain tables and chairs will add an elegant touch to your farmhouse and will brighten up the space where they are kept. Since they are made of porcelain, they are easy to clean also.
6. Black Colored Farmhouse Table and Chairs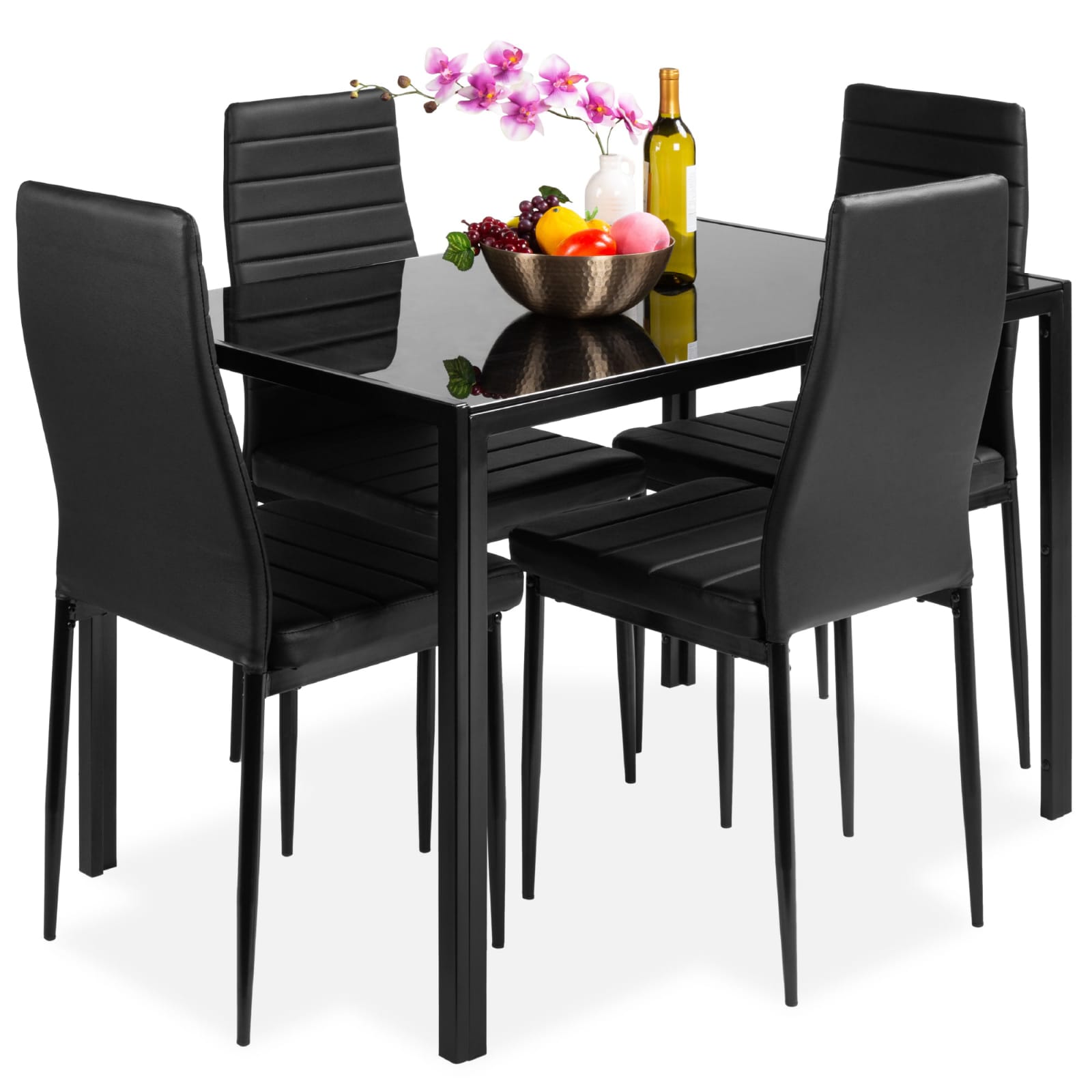 To add a bold touch to your farmhouse using any accessory or furniture, this black-colored farmhouse table and chairs would be a perfect idea. It will give you a farmhouse with a bold character. This black-colored table with a glass countertop is stain resistant and easy to clean. The faux leather chairs will allow comfortable seating for you and your family, where you can comfortably sit and spend some quality time.
7. Aesthetic Table with Wooden Chairs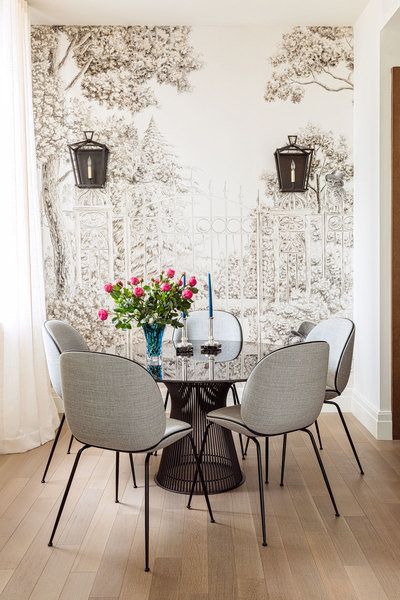 You can create an artistic corner where you can spend time with your family using such an artistic farmhouse table and chairs. It will give your farmhouse a lavish look. This aesthetic table with leather chairs is also complementing the wooden tiles floor, and the use of white curtains has made the place more dramatic. The table top is made of glass; hence, it would be easy to clean.
8. Porcelain Table with Velvet Chairs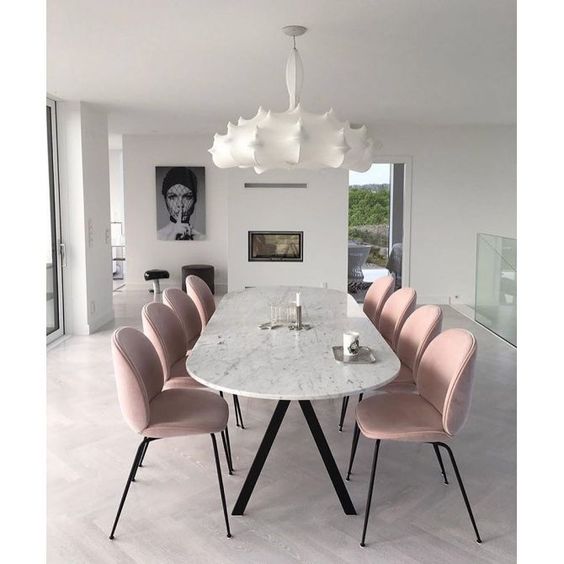 You can create your minimalist area for hosting large family gatherings using a large porcelain table and complementing velvet chairs. These tables and chairs will elevate the look of any space, and you won't need any extra decor items to complete the look. This porcelain table can be easily cleaned, so you don't have to worry about cleaning the place after hosting the gatherings. The velvet chairs will add a luxurious look to the farmhouse.
9. Wooden Table with Marble Countertop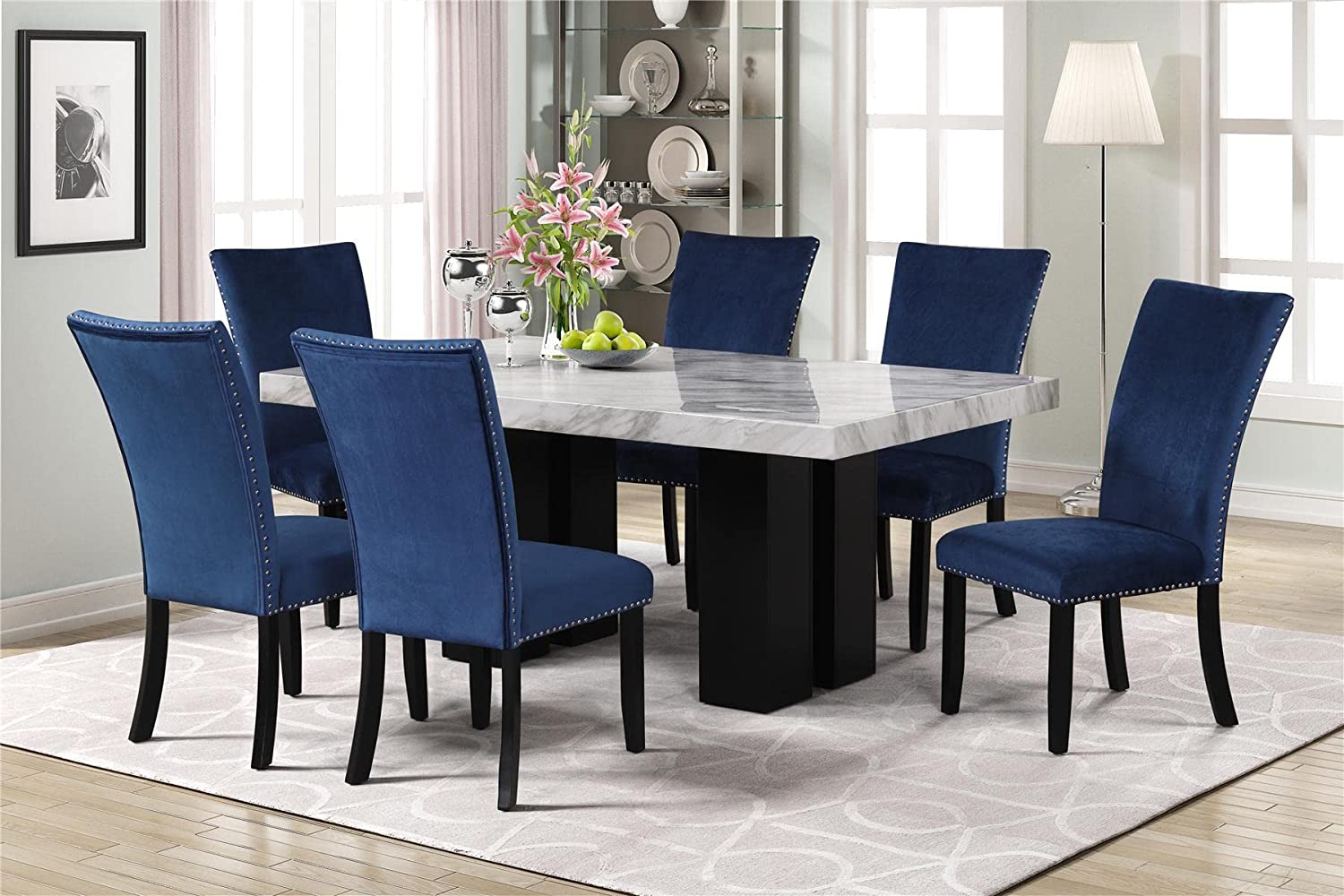 If you are looking for something out of the box to add to your farmhouse, then you can consider this wooden table with a marble top and contrasting dark blue color chairs for your farmhouse. They will serve as a style statement for your farmhouse and will set you apart from others. The rug that is placed beneath the setup is also complementing the farmhouse table and chairs.
10. Vintage Look with Black and White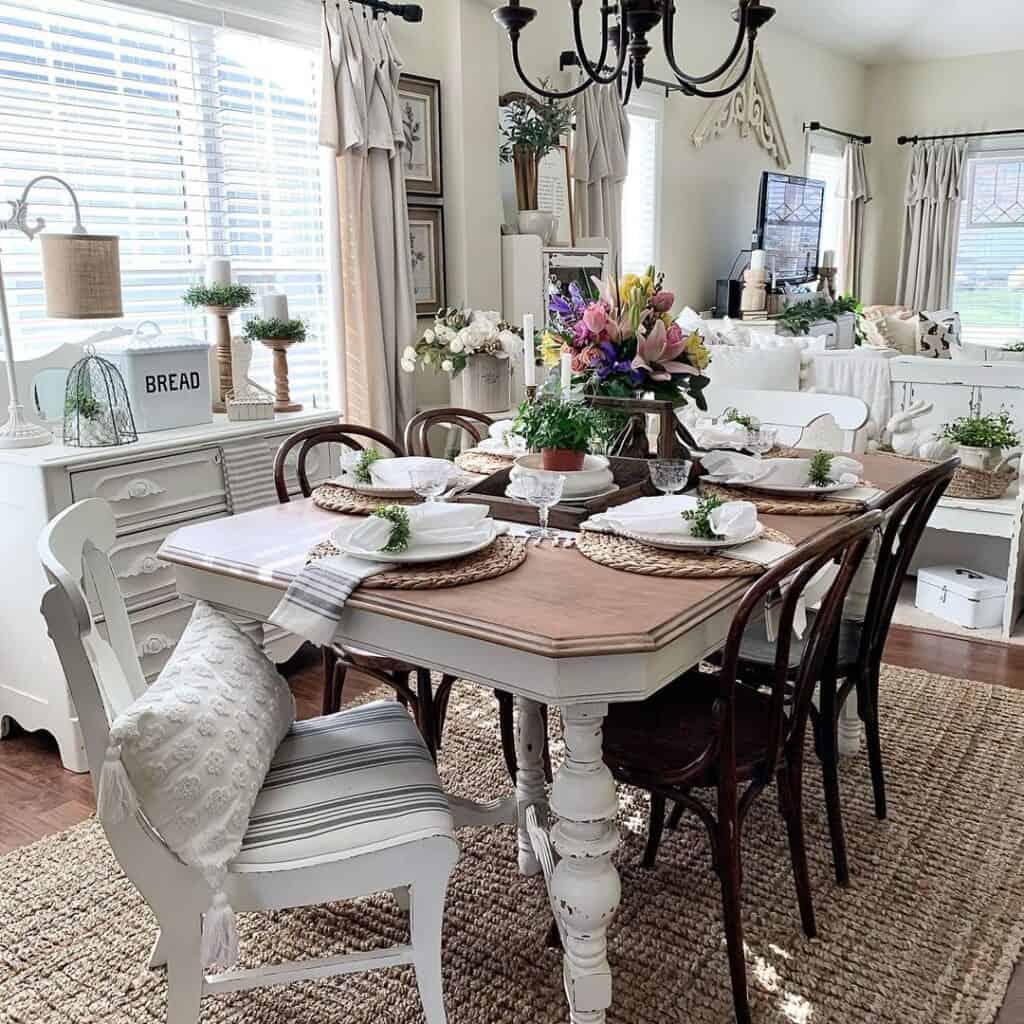 For vintage lovers, who love to create a vintage look everywhere, it is possible to create a vintage look by using a farmhouse table and chairs also. In the above example, the designer has created a vintage look with the help of alternative black and white chairs around a white rustic table. With the help of other accessories like the white almirah and the black chandelier, the perfect vintage vibe has been created.
11. Dreamy Look with Gray Farmhouse Table and Chairs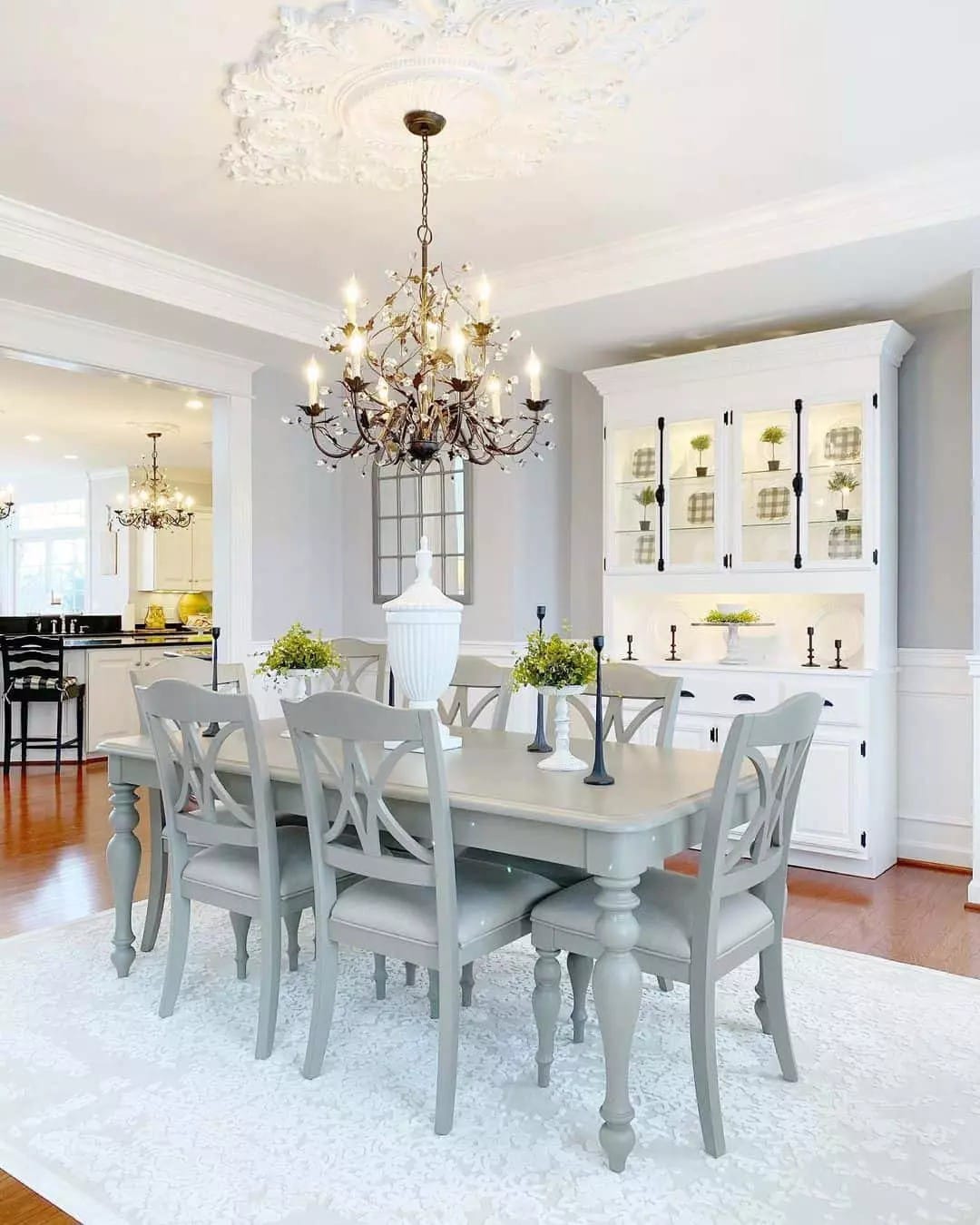 you are uncertain about adding a gray color farmhouse table and chairs, then for you here is this exceptionally beautiful pair of table and chairs that will give your farmhouse a dreamy look and take you to a fairyland. This table and chairs will brighten up the dull space. The white-colored walls and white rug on the wooden floor give a soft and cozy vibe to the room.
12. Going Colorful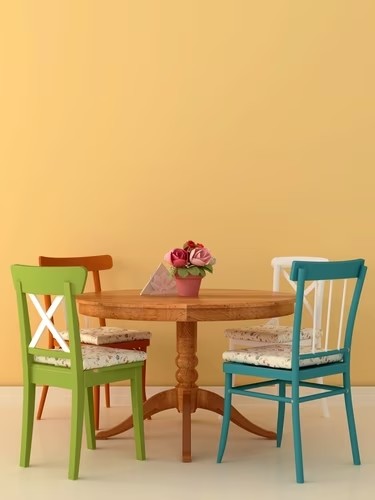 Colors add zeal to one's life and generate happy emotions. You can add colors to your sitting area by using colorful wooden farmhouse tables and chairs. This lightweight table and chairs will give your farmhouse a modern touch. They won't occupy much space and, therefore, can be kept at any place to convert to a dining area where you can spend time with your family and friends relishing food and chit-chatting.
13. Metallic Farmhouse Table and Chairs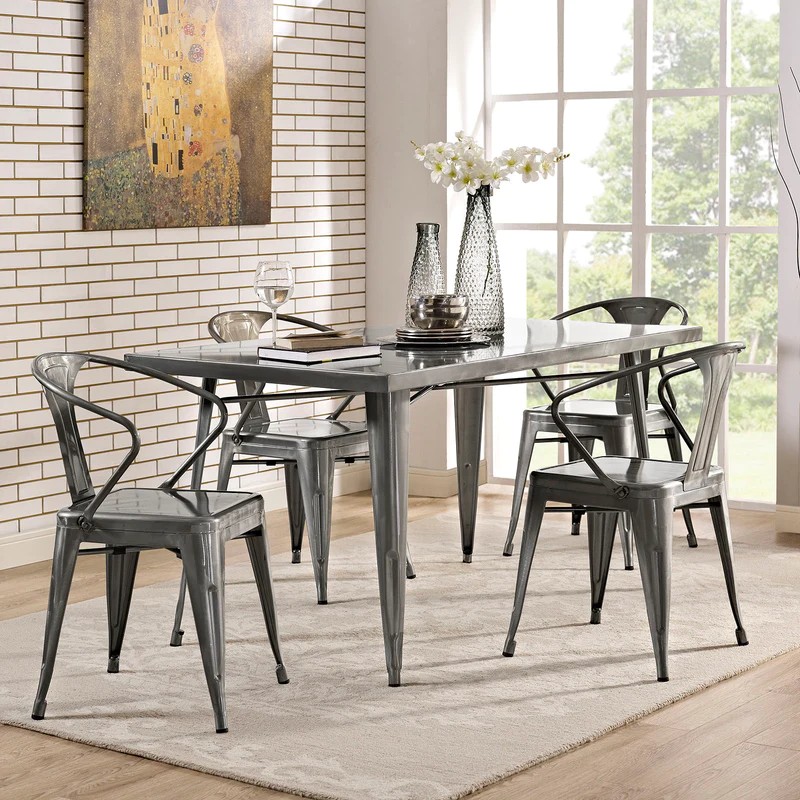 When anyone thinks of furniture, metallic furniture is not the first thing that comes to their mind. But metallic furniture has the potential to become the center of attraction and can decide the whole look of the room. They're elegant and have a longer life in comparison to other options. They give a seamless look to the place. They have other advantages also that include low maintenance and high durability and, therefore, can also be placed outdoors.
14. Solid Wood Dining Table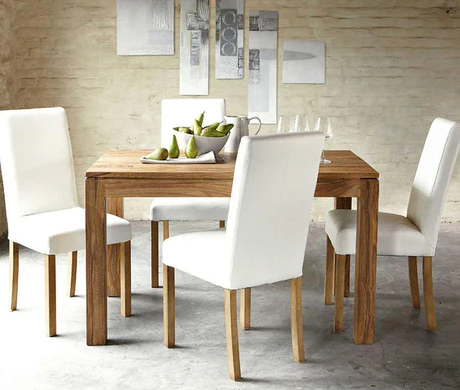 To instantly elevate any dull place, you can use this solid color white farmhouse table and chairs. The bright shade of the rustic table brightens up the space making it livelier. To complement the white table with a wooden top, these chairs are the perfect option. This small table can be placed in a small space also. It is a distinguishable feature of the table that sets it apart from the other wooden tables.
15. Glass Table with Wooden Legs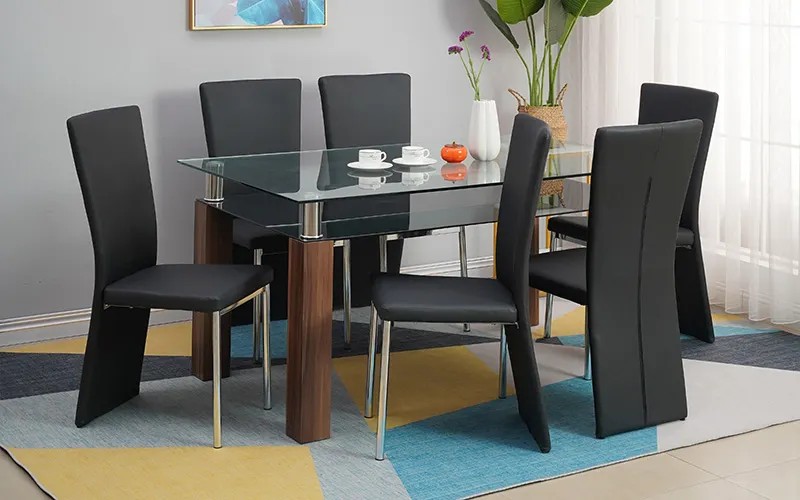 Glass table gives a sleek and modern look to the farmhouse. It also gives a minimal look to the room, and people who like to go minimalistic can opt for this glass table with chairs. This table has coated metal legs which give it a unique look. It has been specifically designed to achieve a minimalistic look. These chairs have also been provided a unique design and have backrests so that people can sit on them comfortably.
16. Sleek Look with Glass Table and Chairs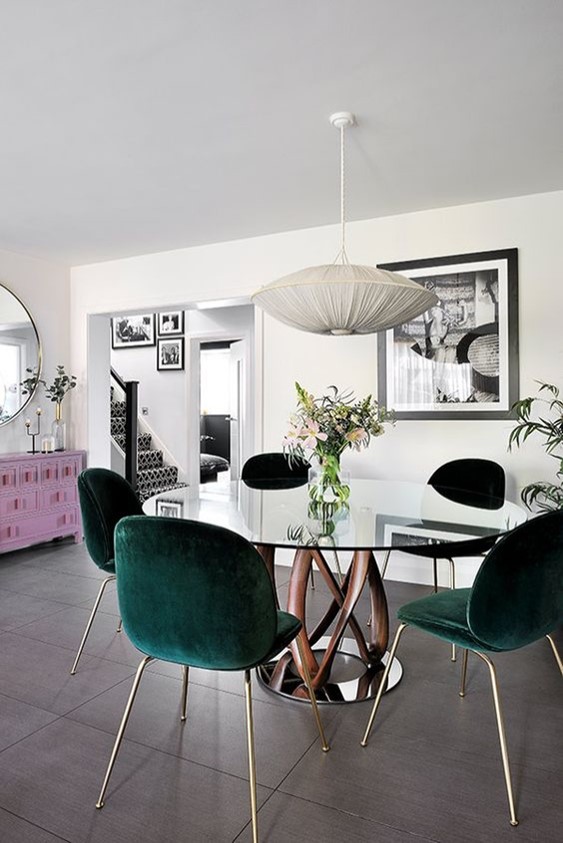 If you are looking for a dining table that should be the talk of the town, then you consider adding this table to your farmhouse collection. It has got a sleek design and, paired with the rose gold chairs, has increased its elegance. Though it does not require any accessories because of the unique design it possesses, still, if you want, you can add light accessories like vases on the table.
17. Small Farmhouse Table and Chairs Ideas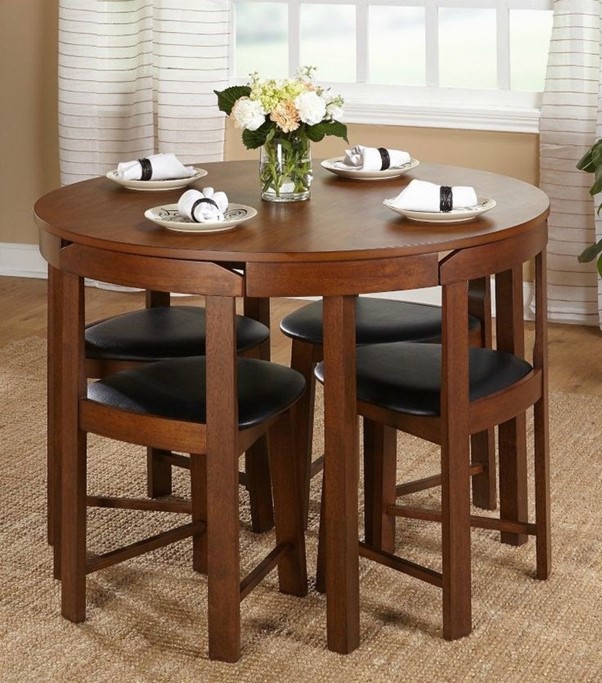 Space should never come in between your dream of owning a dining space. To overcome the space constraint, designers have come up with the idea of small dining tables that won't take up a huge space in your farmhouse. They have been designed in such a way that they would require minimum space, but while doing the same, the elegance and style have not been compromised. They still look stylish, and you can even display decor stuff on them to achieve the desired look.
18. Farmhouse Table with Granite Top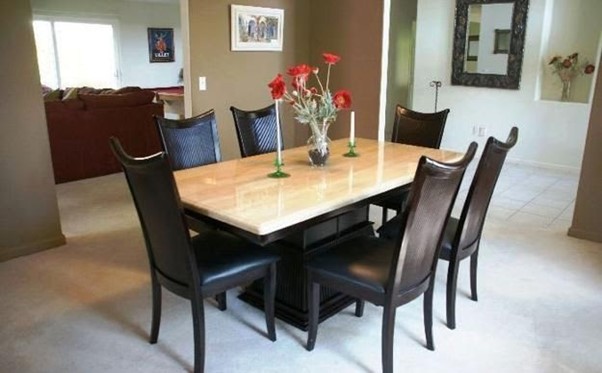 Another example of a not-so-common farmhouse table and chair is this farmhouse table with a granite top. It has got a modern and sleek appearance and to complete the look the complementing chairs have been used. The dark brown colored chairs go with the base of the table, and together they give this dining table a very classic look. They have successfully enhanced the look of the ordinary farmhouse.
19. Simple Look with The Help of a Marble Table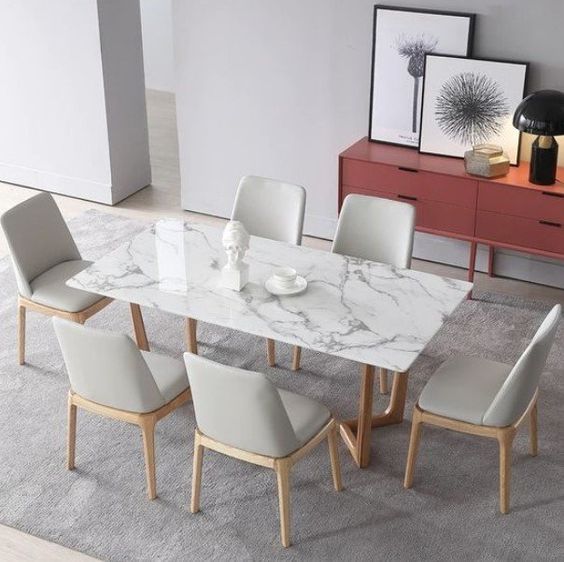 For people who are in love with simplicity, this marble table with a golden frame and complementing chairs would be apt. It gives a luxurious and stylish look to the farmhouse and will definitely steal everyone's attention when displayed. Though this table does not contain any heavy carving or styles, it still gives a very classic look. If you want to imitate a simple and classic look, you can go for this marble farmhouse table and chairs.
20. Multi-Purpose Farmhouse Table and Chairs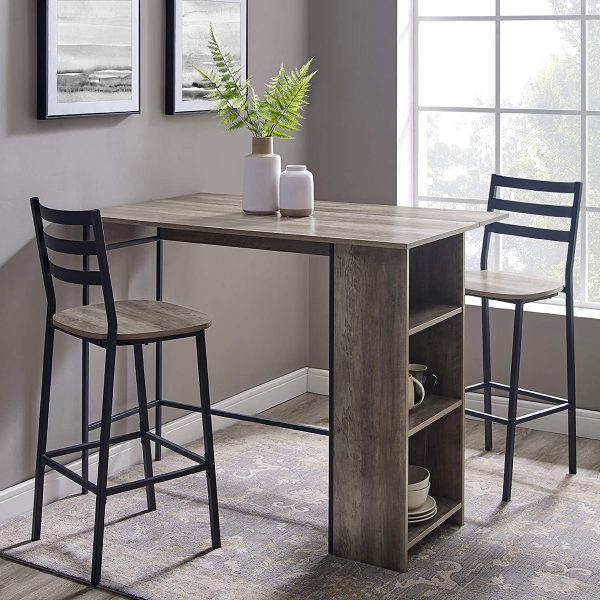 If you want to convert a small boring space into an interesting corner, then how about placing this multi-purpose farmhouse table with chairs? This table has the capability to convert any monotonous space into a place where people can converse and spend time. In addition to this, this table also has storage shelves, so you can store some of your important items on the table and use them when required.
21. Stainless Steel Dining Table
With an exclusive touch of modern appearance and delicacy, here are these Stainless steel farmhouse tables and chairs that will give your room a very decent and modern look. Stainless steel tables are easy to clean, require minimum maintenance, and have high durability; therefore, they are a good option that will serve for a longer time. They also have a very sleek appearance and are lightweight in comparison to marble or wood tables.
Conclusion
A farmhouse with furniture such as tables and chairs. Farmhouse tables and chairs are available in various styles and shapes in the market. From wood to marble to stainless steel, there is an abundance of materials that is available from which you can choose your table and chairs to give your house an entirely different look.
Also, there is a plethora of shapes and sizes to choose from. You can experiment with the design of the tables and the color to give your house a new look that is worthy and will surely capture everyone's attention. It will also offer a great place where you can spend time with family and eat and gossip with them and will undoubtedly increase the show of the house becoming the corner where everyone will love to be.