21 Stunning Fall Mantel Decor Ideas You Need to Try!
Fall is the season of cozy settings and sweet pumpkin spice. As the leaves change color and the air turns crisp, autumn is the perfect season to incorporate warm and soothing decor into your home. When it comes to home decor for any occasion, a mantel gives us a lot of room to express our creativity. A mantel is usually the focal point of a living room and offers plenty of opportunities to experiment with different decor ideas and inspirations.
Fall mantel decor can be a lot of fun! However, they can be a little tricky, especially when deciding which one is best for your home and will provide you with the fall energy you need.
To make this fall super easy for you, here in this post, we are going to look at 21 fall decor ideas that are sure to inspire you to try them right away. We are going to explore different styles and cover a broad range of shades that can be simple and optimal for a variety of homes.
Inspiring Fall Mantel Decor Ideas
The best part about our collection of ideas is how simple it is to put them together. Without further ado, let us take a look at them!
1. Gold Framed Mirrors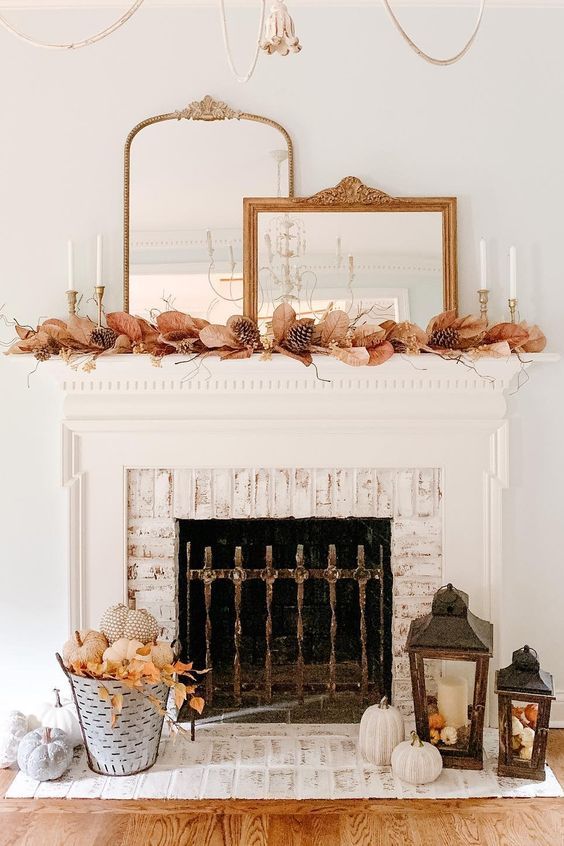 Mirrors have long been regarded as one of the most popular ornamental accessories. Mirrors have the capacity to create the illusion of space, making any room appear larger. They will also reflect light and provide an open atmosphere in the room. When coupled with dried autumn leaves and pinecones, golden-framedmirrors over the mantel make for such flexible decor. The vintage lanterns and metallic warm colors contrast with the whitewashed mantle to create a welcoming and chic aesthetic.
2. Abandoned Garden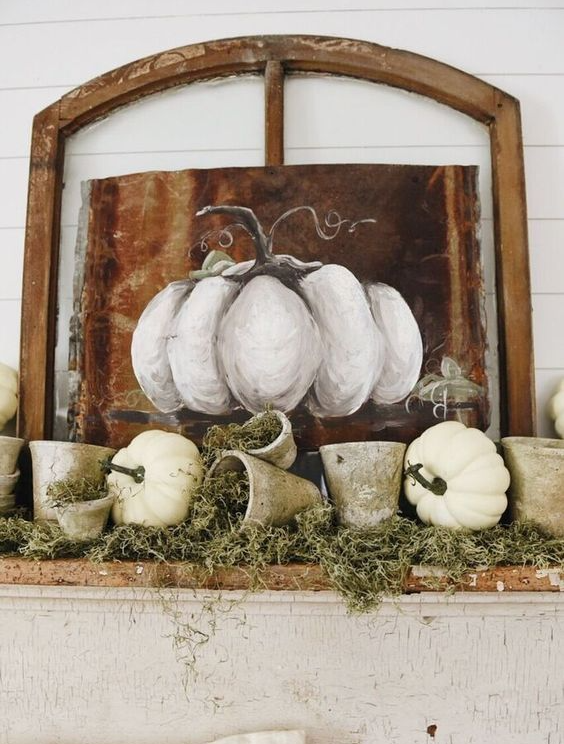 An abandoned garden has a mysterious sense to it. Anyone who visits an untended garden for years can sense ominous energy and buried memories. Make a mini-abandoned garden on your mantel with dusty pots and faux moss to channel the Halloween spooks. The star of this mantel decor is a magnificent pumpkin painted in Gothic white and framed in a vintage frame. If you don't have a lot of space on your mantel, this style is ideal for you.
3. Neutral Mantel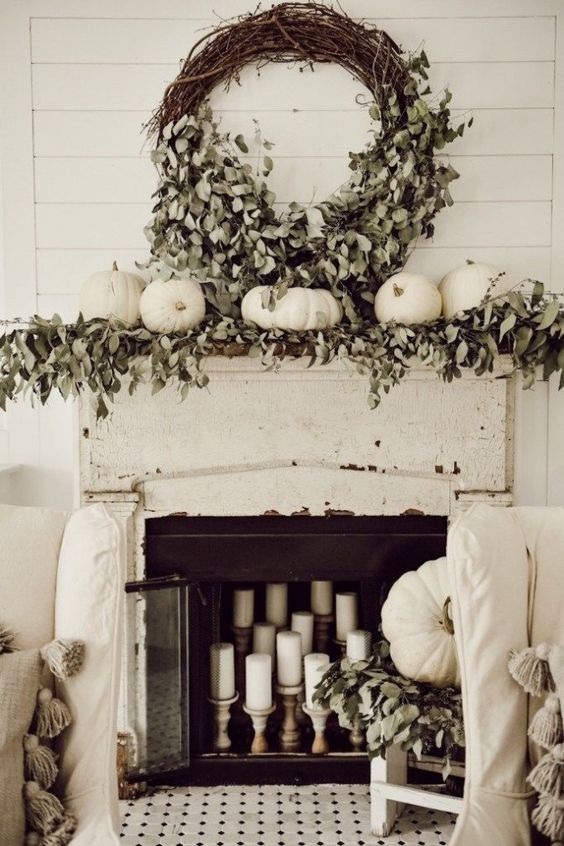 Going neutral is typically a good choice for any home design on different occasions. If you're having trouble deciding on the proper mix of fall mantel décor for your home, go with neutral fireplace decor. Neutral colors are versatile enough to go with almost any decor. You can recreate this decor concept in your home with a neutral wreath, garland, and artificial pumpkins. The exquisite ivory candles on wooden stands presented beautifully in the storage space are the star attraction of this mantel style.
4. Vintage Portrait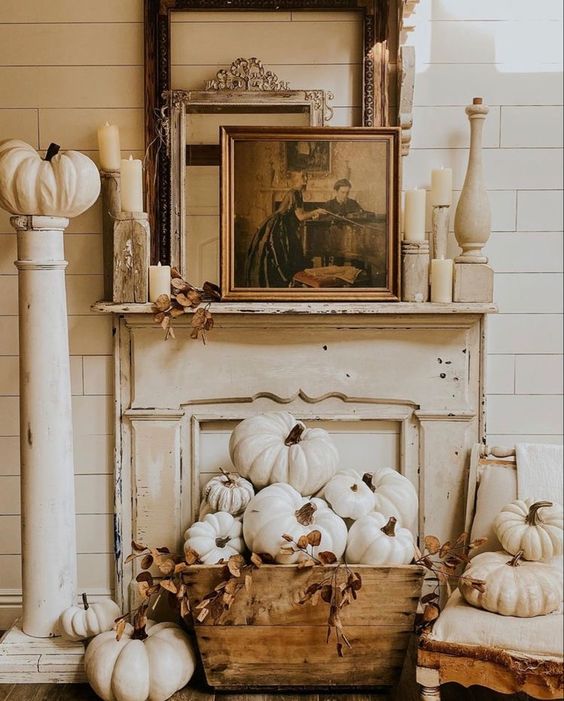 Do you have an old family portrait? If so, now is the time to flaunt it. Vintage portraits have a rustic appearance and make an excellent ornamental element for fall mantel decor. Vintage accessories like a photograph, a metallic-framed mirror, and an empty frame can help you create easy mantel decor. This results in a unique layer grid effort, which is matched with whitewashed wooden candle holders, which serve as a fantastic border to the frames.
5. Cozy Florals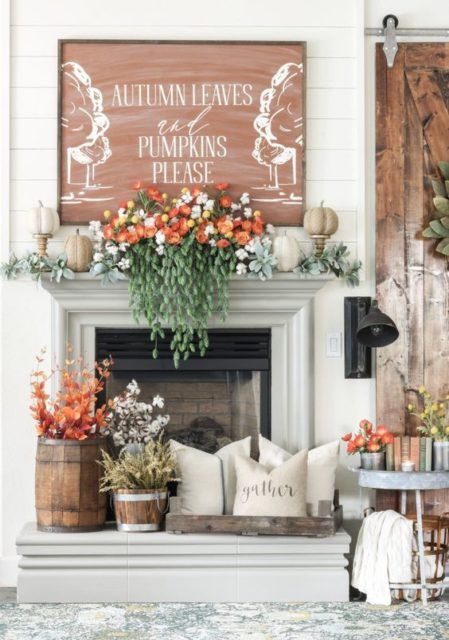 Do you like flowers and the allure they provide to any room? Beautiful flowers that remind you of fall can be incorporated into your mantel decor. A rustic autumn sign mixed with beautiful blossoms and a neutral garland beneath it creates a stunning image that is simple to put together. Make your mantel decor look stylish by arranging pretty cushions atop a wooden tray and a farmhouse wood vase loaded with gorgeous flowers.
6. Framed Wreath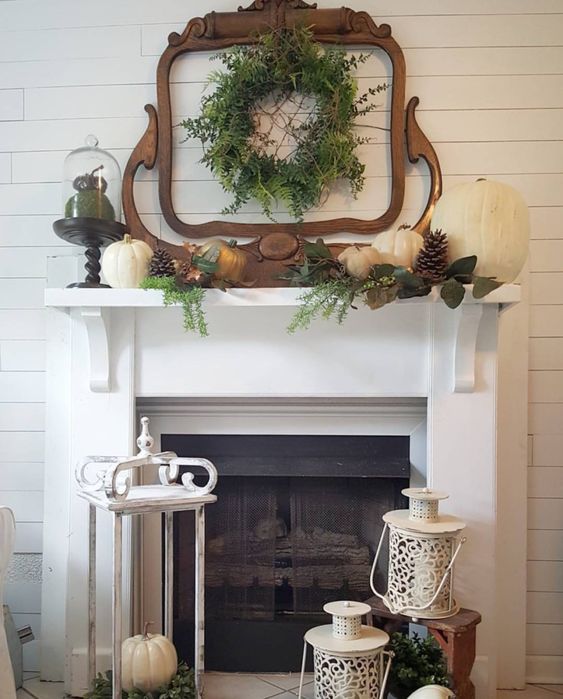 A very minimalistic and farmhouse approach to fall mantel decor, a framed wreathsounds like a simple concept, but it is an idea that can give a lot of stunning aesthetics. Make sure to select a rustic vintage frame that stands out. Spray-painted pumpkins, holiday greens, and rustic pinecones create a beautiful and festive blend of colors. Caged lanterns are added for a modern touch to this decor style and round out the look.
7. Pumpkins on Display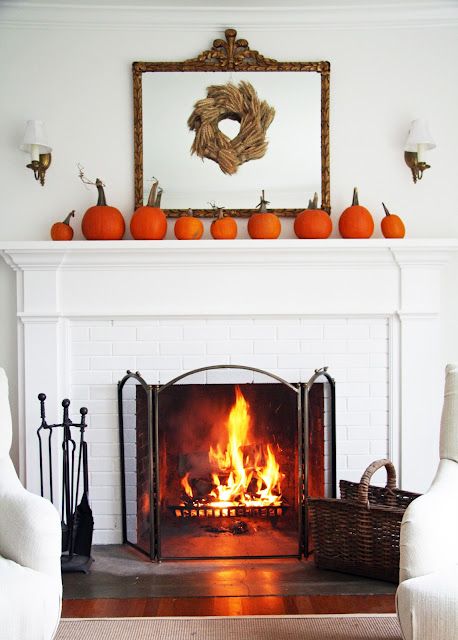 The first thing that comes to mind when we think of fall is pumpkins! Pumpkins are typically carved or painted for decoration, but they are also a visual delight and can be utilized as decor highlights. Displaying imitation pumpkins on the mantel is a cute and simple idea. Combine this with a framed old mirror and a rustic wreath to create a simple focal point. This decor style's overall appearance is so unique that you must try it.
8. Simple and Chic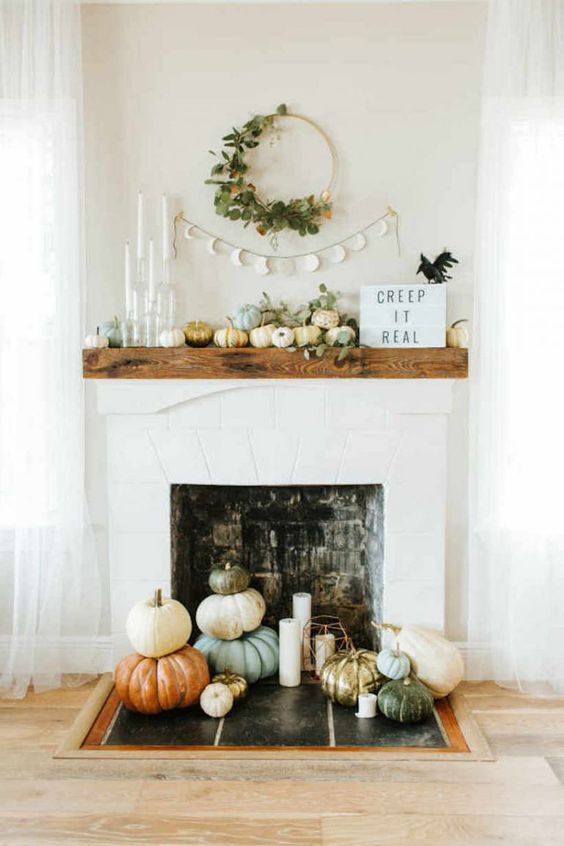 If you are not a big fan of adding gothic elements to your fall mantle decor, then get inspired by this simple and chic fall style to decorate your mantle. A simple wreath is made out of a hoop and hung as a center point. Below it is an effortless moon garland to add a sense of magic. Pumpkins are painted in neutral colors to go with the theme. The highlights of this decor are the glass candle stand and fall signage, which look elegant and fun.
9. Wood Tones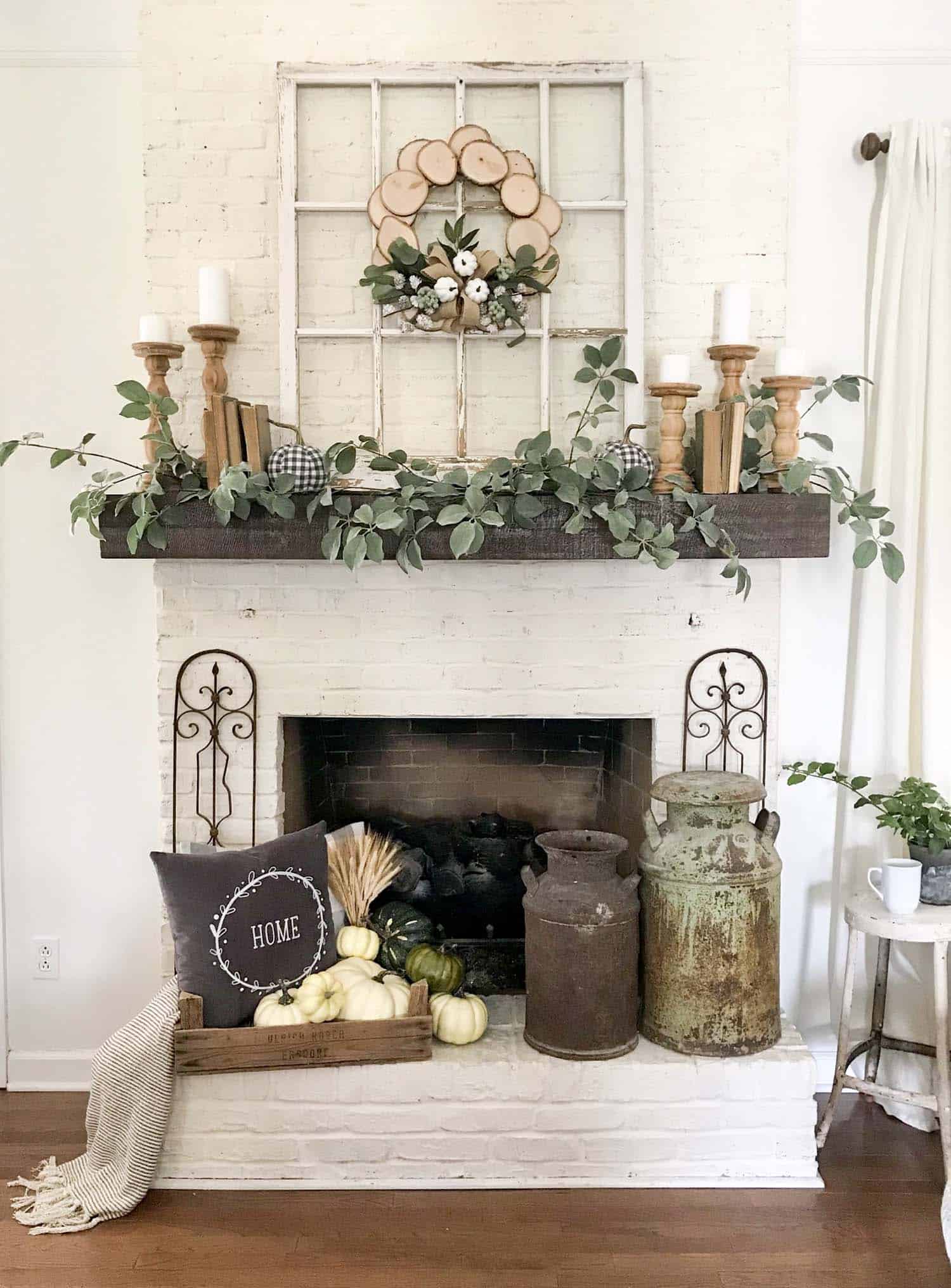 A room with a wood-tone aesthetic gives off an inviting ambiance that is hard to ignore. A cozy fall mantle decor is created using a mixture of wood and neutral tones, which blend perfectly. On either side of the mantel, wooden candle holdersand pillar candles create visual height. Textures are added with layered books and checkered pumpkins. The wood slice wreath looks lovely over the window, and a throw pillow adds a touch of warmth.
10. Faux Pears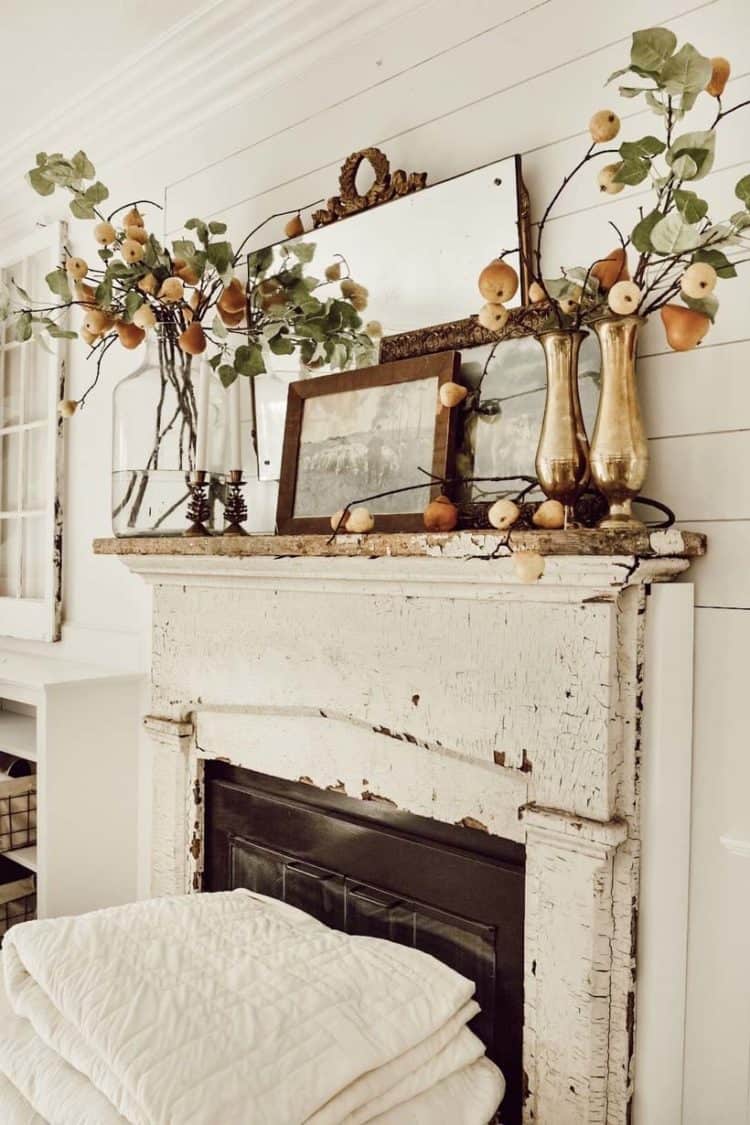 Create an elegant fall mantle with a faux pear tree on a classic golden vase and a layered visual with framed vintage pictures and a mirror. This look is so simple and has all the right colors for fall. A glass vase filled with water is utilized to give the imitation pear tree a genuine appearance. This mantle decor looks serene without much effort, and you should go for this style if you need earthy autumn colors.
11. Tv Over the Mantle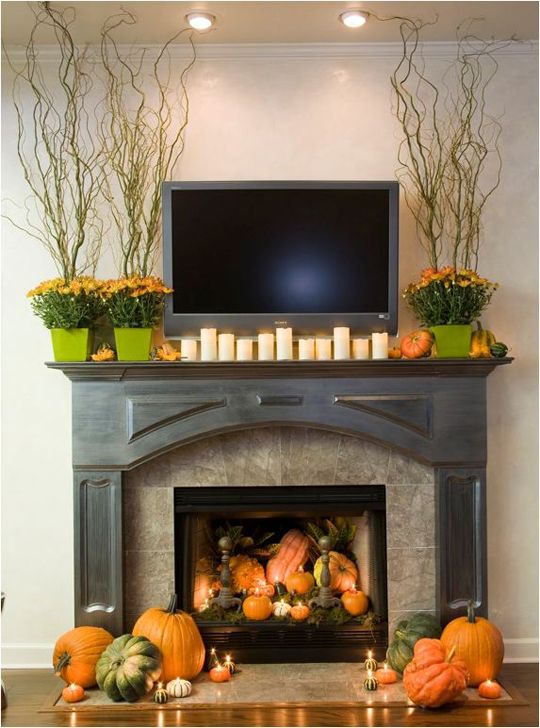 Do you have your TV mounted above the mantel? Take inspiration from this TV-friendly décor style. LED pillar candles are placed in front of the television to provide cozy lighting. The use of artificial plants adds height to the mantel design. The nicest part about this aesthetic is the pumpkins, which come in both raw and artificial forms, resulting in a variety of textures. This mantel design makes extensive use of LEDs, which is a plus because they endure a long time and can be used after the autumn.
12. A Quirky Approach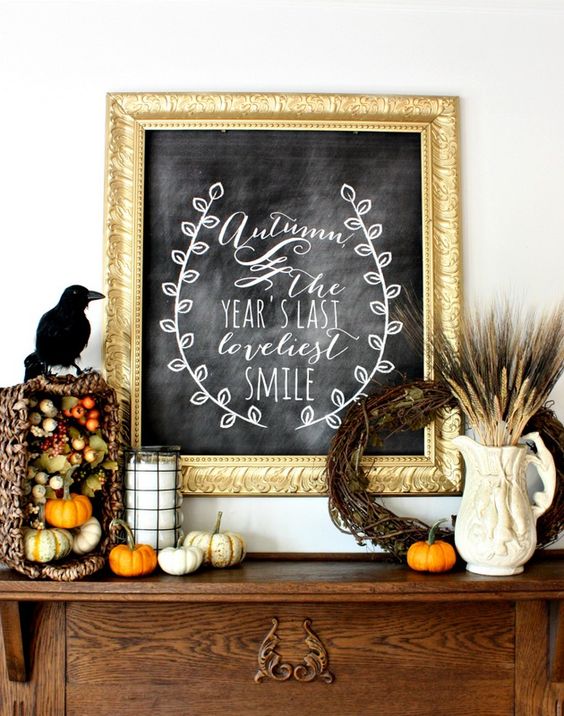 Frame a chalkboard with a stylish golden frame and let your imagination run wild by writing down your favorite fall quotation. This will be the centerpiece of your fall mantel decor, taking up the majority of the space. Natural texture is added to the look with a grape twine wreath and rattan fruit basket. The mystery raven sitting on the basket, watching everyone pass by, is the highlight. We recommend you try this technique, especially if you have a small mantel.
13. Simple and Modern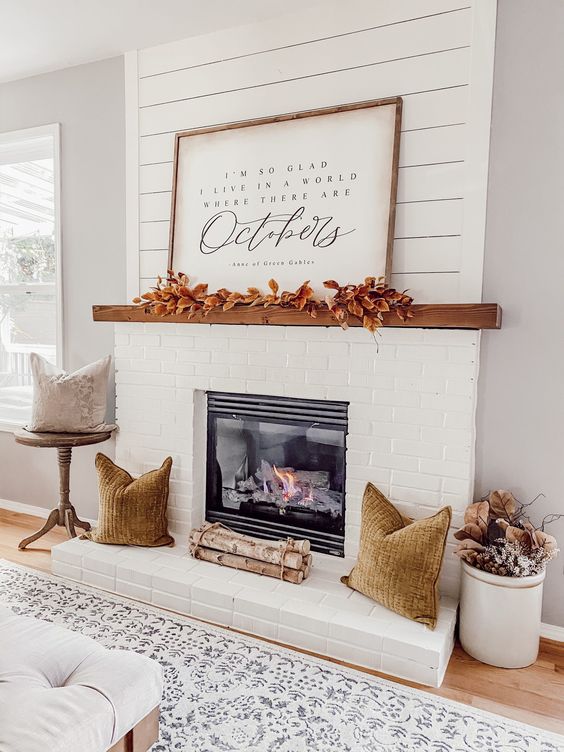 A modern fall mantel decor with a blend of white, cream, and burnt orange is exactly what you need this year to complement the beautiful interior of your home. A burnt orange garland is kept near a large frame of fall signage. Velvety throw pillows are added near the fireplace to make the decor look cozier. The vintage wooden stool creates a stark contrast from the rest of the decor accents. This simple style can definitely light up your home this fall.
14. Fall, Banner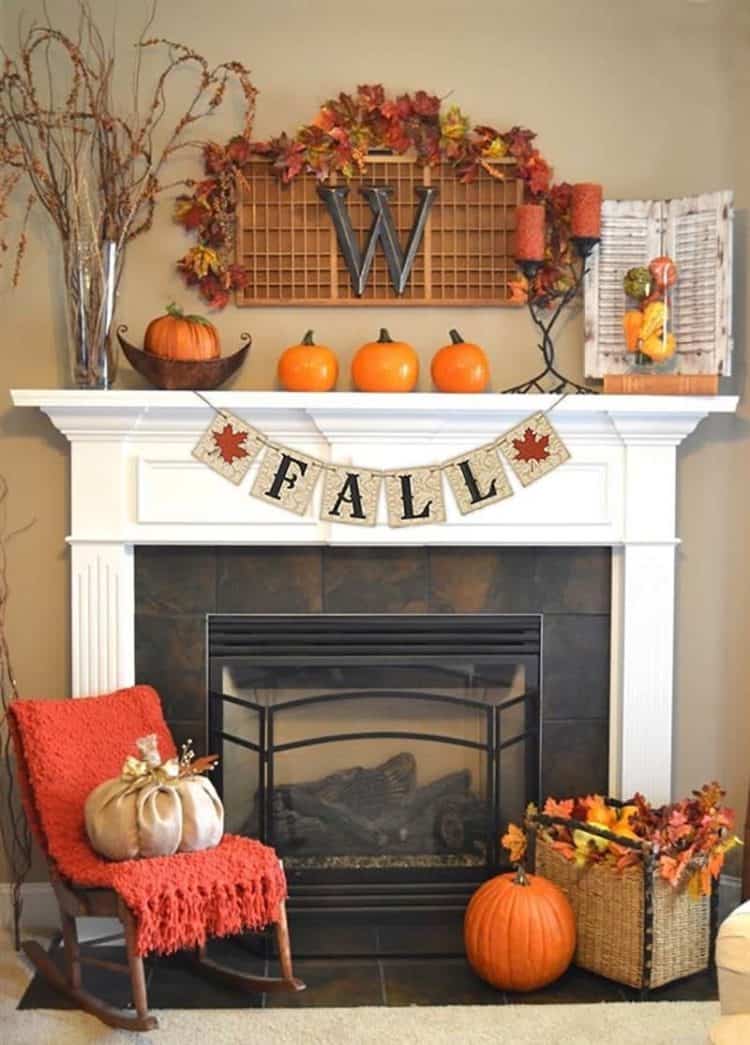 Using a fall banner, you can create a stunning centerpiece for your mantel decor. The letter "W" on the autumn banner is printed in strong matte black, producing a stunning color contrast. Faux pumpkins and autumn foliage add more orange tones, making this design impossible to overlook. Another element of elegance in this style is the use of burnt orange candles on a matte black candle holder.
15. Industrial Mantel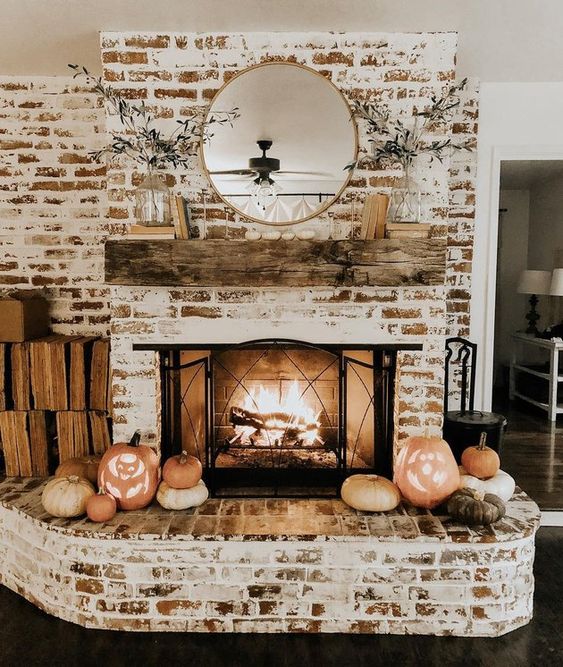 Do you like industrial designs and have an industrial mantel with exposed bricks? Since your mantel already has all the proper colors for fall, you only need to add a few touches for fall mantel décor. The focal point of this style is a gold-framed mirror. The piled books and glass vases with imitation plants lend texture and warmth to the design. Paint the pumpkins with a funky print that reminds you of Halloween to make the decor appear fun.
16. Farmhouse Wreath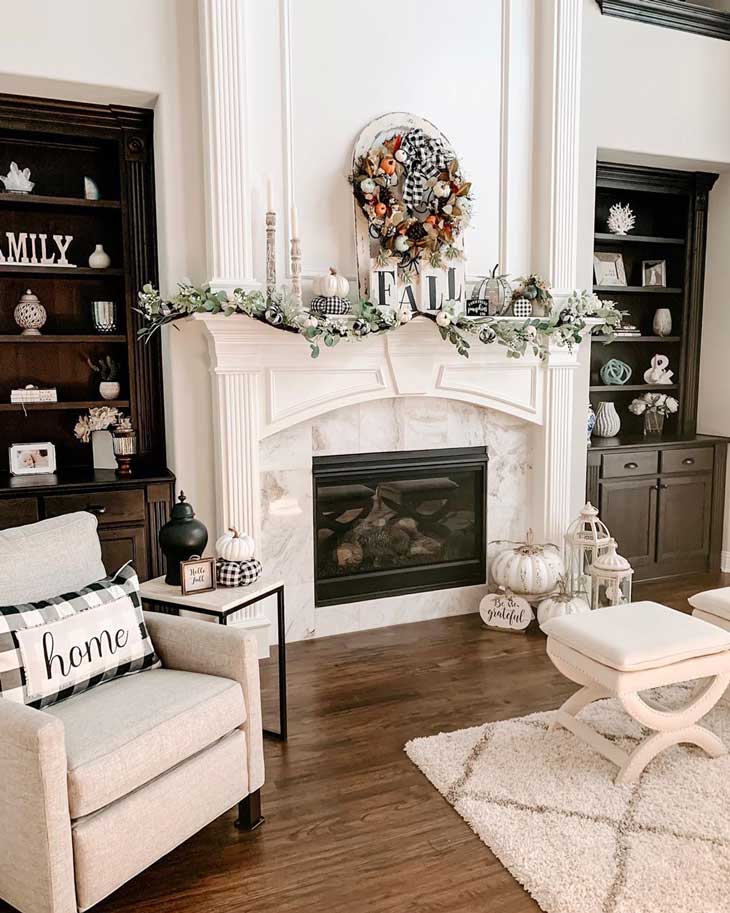 A lovely farmhouse wreath will liven up a plain white room with cottage-style decor. The wreath is made up of little pumpkins, flowers, and foliage, and it is wonderful and appealing. The wreath hangs above fall signs with irregularly spaced letters. The little white and checkered pumpkins give a touch of class to the look. To add height to the mantel design, antique candle holders and candles are included. You may modernize this look by using a rustic farmhouse wreath.
17. Maple Leaves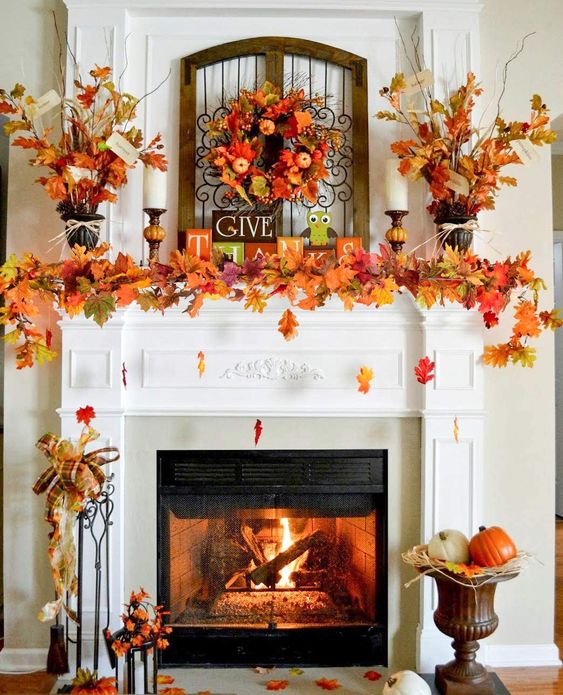 Autumn reminds us of lovely orange maple leaves that have fallen on the ground, signifying a fresh start. We don't mind that this fall mantel decor is mostly orange! Such a mantel style can brighten up the entire area by adding a splash of color. This style is ideal for a home with a neutral décor. Miniature pumpkins and maple leaves are used to make the wreath. Decorative embellishments give a smidgeon of green and warm wood to the décor.
18. Rainbow Pumpkins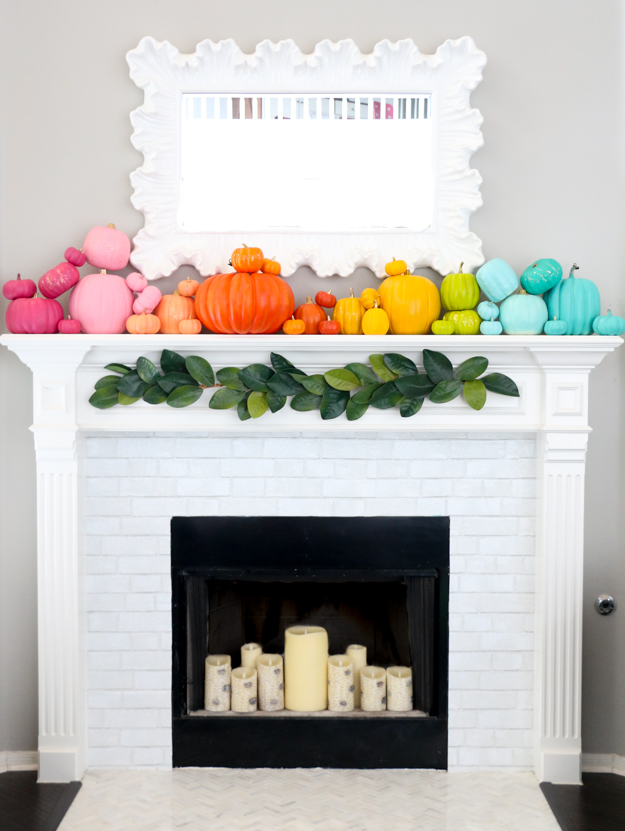 Go silly and add some adorable rainbow pumpkins to your fall mantel decor. Use faux pumpkins or paint your own as a fun activity, but make sure they are painted in a rainbow of hues. In order to achieve a whitewashed aesthetic for the fireplace and the centerpiece that would complement the vibrant pumpkin display, a decorative mirror was altered using white acrylic paint. Garland is put into the fireplace to provide texture and depth, and decorative candles stay lit inside.
19. Chic French Country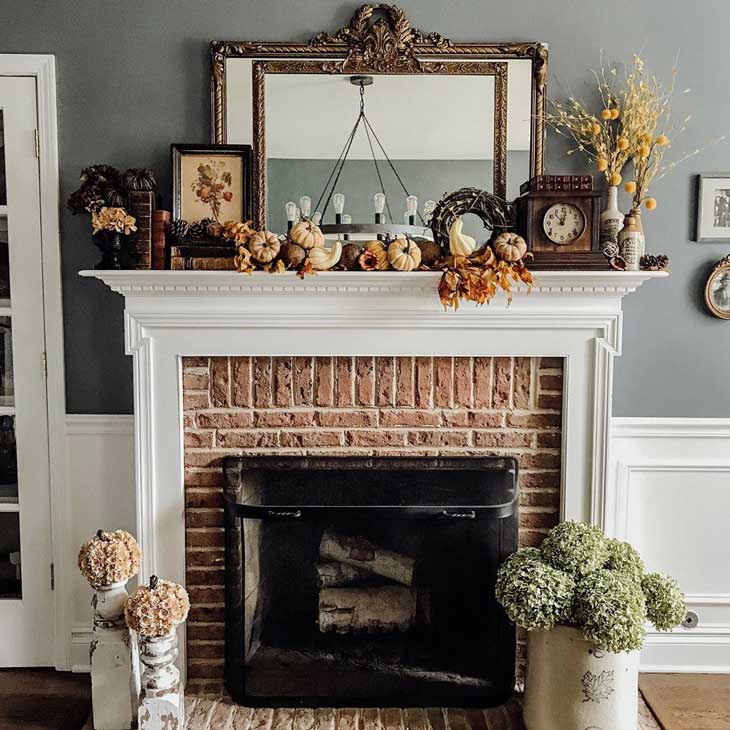 Get inspired by the fireplace and mantel in this French country house, which is beautifully adorned for fall. The mantel and borders of the fireplace are a sleek, refined white color and showcase the magnificent brickwork. A rich display of fall decorations, including gourds, dried autumn leaves, and a framed arrangement of pressed flowers, can be seen on the farmhouse fireplace mantel. A little woven vine wreath, dried floral arrangements, and an antique clock all provide a touch of the season. Wreath embellishments can be used whenever you want to decorate.
20. Faux Mantel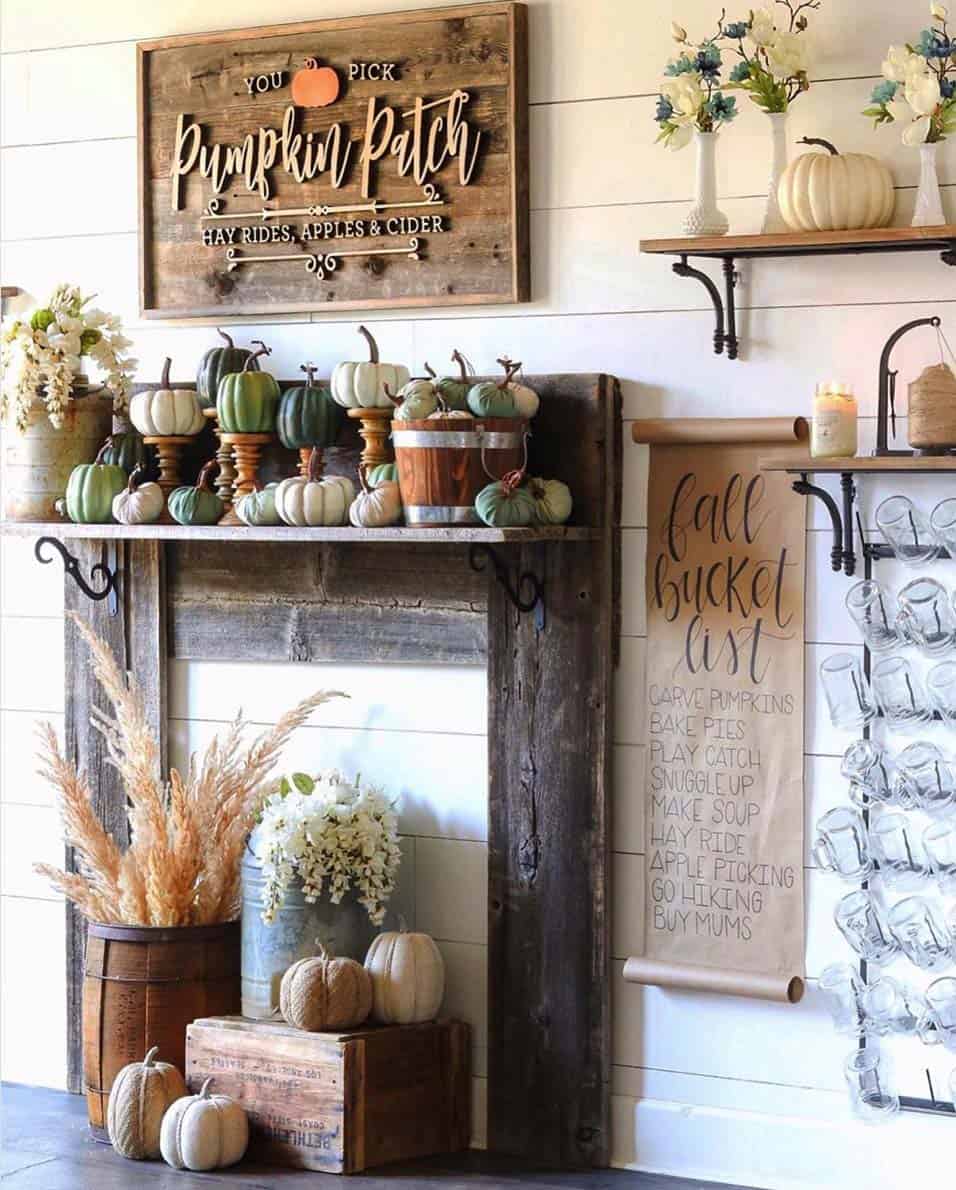 For all the households without fireplaces, here is some fall mantel decor! It is a fantastic idea to utilize excess space to create the fireplace mantel by utilizing an unused wall. The mantel is adorned with numerous rustic touches, including a farmhouse bucket and wooden candle holders. The centerpiece of this design is a wooden autumn sign, and with the perfect combination of wood and neutral color palettes, the entire aesthetic appears incredibly warm and inviting.
21. Small Scale Country Style
The colorful, cheery arrangement of pumpkins and gourds, baskets, and tiny white flowers with drying greenery provides seasonal color to the white brick fireplace hearth. The tiny pumpkins and thin candlesticks add to the small fireplace mantel decor wall-shelf's smooth, natural light wood surface. The clean, crispness of the white brick wall background is reflected in the tall white candles. The fireplace below, with its vintage wooden log storage and the complete aesthetic of this fall mantel decor, has a vivacious touch of country cottage design.
Falling Into Style!
We explored a great deal of fall mantel decorating concepts, from adding straightforward mirror elements to going French country! We hope that you liked reading this article, discovered what you were looking for, and are now prepared to begin making plans. You can use some of these ideas all year long to make your fireplace mantel stand out.
The fall mantel decor that best suits your home's interior and atmosphere is the one that complements it. You can experiment and combine the suggestions we've provided. Make this autumn gorgeous by letting your imagination run wild.
Which of the suggestions are you planning to try? Let us know in the comments.