A vast number of driveway gate ideas usually flood the minds of property owners when they set out to create driveway gates for their homes, estate, or property. There is a compulsion to make a driveway look stylish and strong enough to protect the privacy and enhance the security of the premises.  
Certainly, an impressive drive-in gateway will charm visitors as they step into your residential area. The Stargate-like obsession displayed by house owners to make the best driveway gate also got commercial undertones, as superb driveway gates can jack up the property's market value considerably.
Now let us walk through some of the important options for drive-in gateways. 
Awesome Driveway Gate Ideas to Impress Your Guests
1. Compact Iron Gate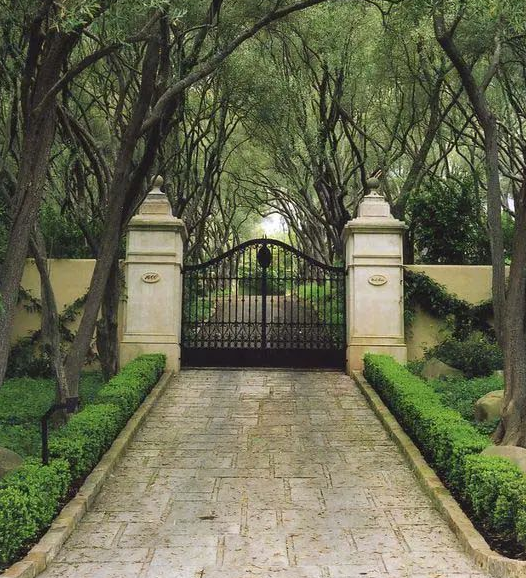 This iron driveway gate impresses with its thickness, and the bespoke design takes care of many details, including quality, design, and specifications. It will restrict unauthorized access and adds elegance to the exterior décor. The iron gate will look cute in front of a yard. If you have more greenery indoors, the spectacle will be wonderful.
2. Farmhouse-Style Wooden Gate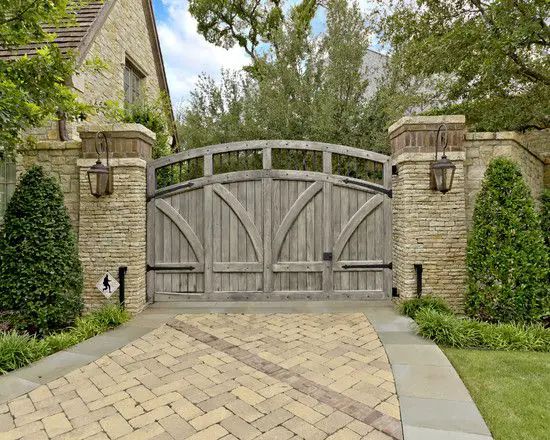 A farmhouse-style gate gives a unique entrance to homes. But by paying good care to the wood, you will manage the problems from constant exposure to sun and rain. Some interesting samples include a gorgeous Cedar Wood farmhouse design driveway gate. In some cases, composite materials are also used for the gate.  
3. Red Cedar Gate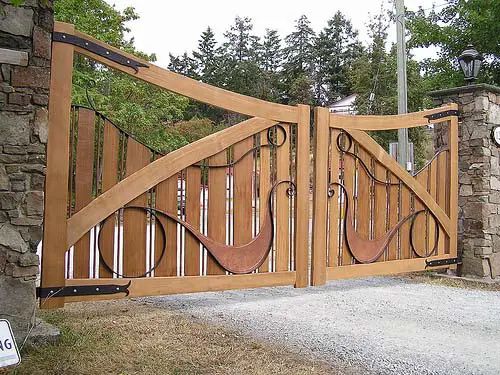 The reclaimed red cedar gate makes an amazing custom driveway gate with immense scope for decoration. The hardware customization gives it a countryside touch.  Quite often, slatted red Cedar gates are preferred as a stunning piece as the frameless design blends into the panels to form a hidden gate. There are many bespoke options too, which would offer natural resistance to weather, bacteria, and insect damage. 
4. Wrought Iron Wooden Gate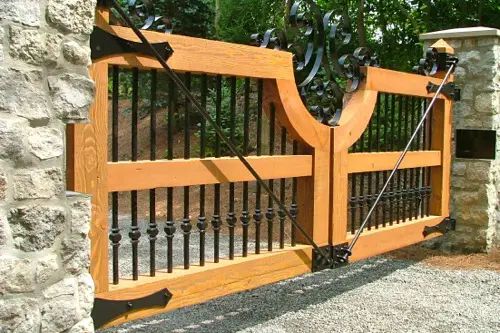 If you are toying with the idea plan to installing a wrought iron gate, then you can also play with a timber frame wood gate covered in wrought iron hardware. In premium options, the wooden gates will be fixed by using mortice and tenon joints with the components for cladding. The top rails would shield it from water damage, and frame sealant will mitigate moisture problems.
5. Glossy Wooden Gate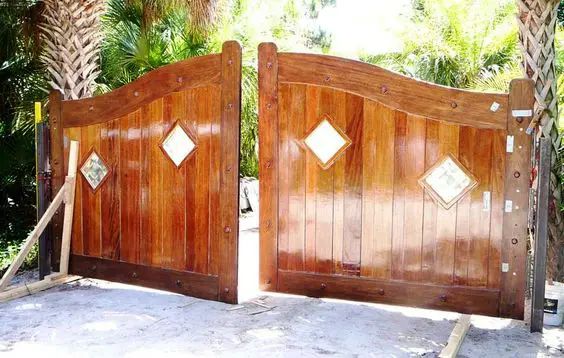 Glossy wood is best for seaside properties. Gloss finishes add a special elegance and inject an in-depth feel. The gloss finish enhances transparency to see the wood beneath, and its sheen will dazzle the eye. The more light on the surface, the glossier its looks will be. Depending on the volume of light diffused, the finished surface will appear semi-gloss, satin, or matte. However, it is difficult to build a thick finish right off the brush. Popular finishes are shellac and lacquer. 
6. Polished Automatic Wrought Iron Gate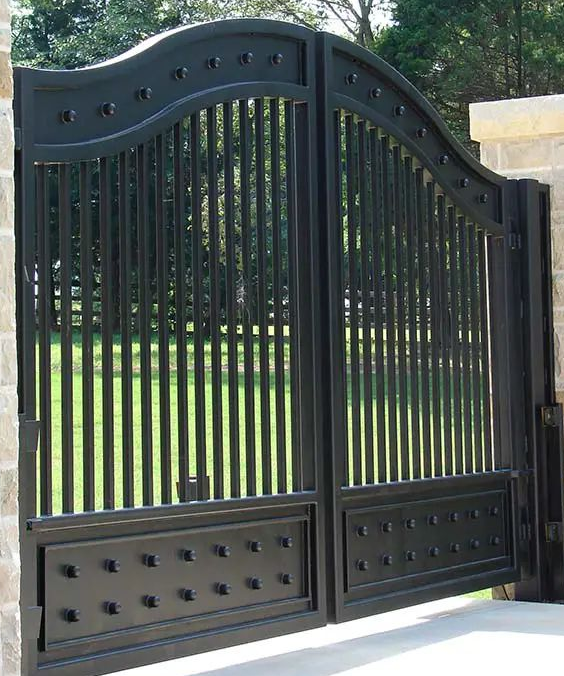 A polished wrought-iron automatic driveway gate is like a King among driveway gate ideas exuding a posh look with gold accents, scrollwork, and intricate inlays. The wrought iron gate beams glamour and elegance by blending with most architectural styles, including classic, rustic, traditional, and modern designs. Beyond improving the looks, it also raises the resale value of a home. The wrought iron gate is hard to break into, and residents feel safe from intruders with the extra layer of security. 
7. Sturdy Metal Gate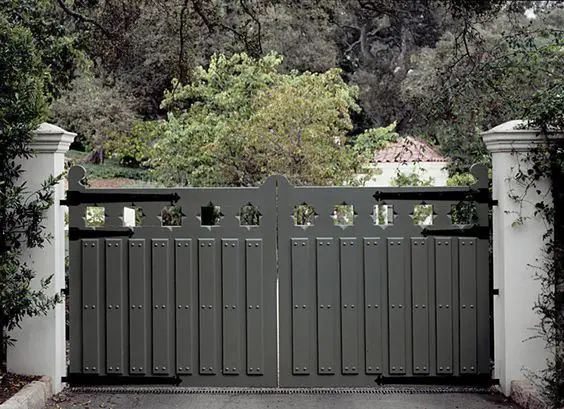 A solid metal swing door driveway is jazzy and secure at the same time. It is best to drive freely without any fear of crashes. The steel gates' broad opening helps to pass through freely. There is greater longevity, too, thanks to the powder-coated steel used. 
 
There are also options for special designs to swing with custom hinge kits by sliding with components that bolt together without any need for welding. The variants include plain, ornate designs or spear tip models, scrollwork, puppy pickets, and wood infill options. The gates are built with cold rolled steel and zinc primer, with hot-dipped galvanized options available depending on the models. 
8. Electric Wrought Iron Gate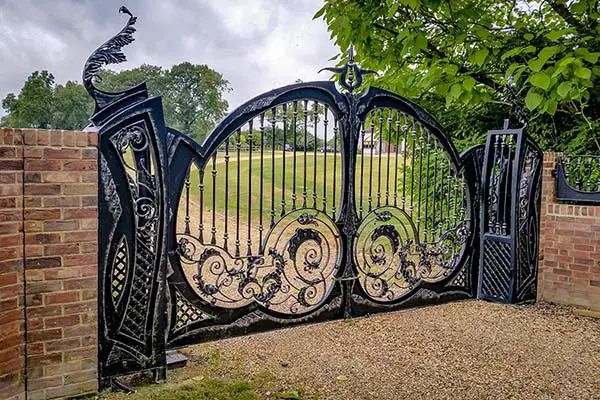 In exploring the viability of various driveway gate Ideas, users are excited about iron driveway gates thanks to the splendid grandeur it adds to the property, something like you see in Harry Potter castle settings.
 
Electric wrought iron gates provide exemplary security and aesthetic appeal. The material is tough, strong, and long-lasting for the driveway. The finish also enhances the curb appeal. Electric wrought iron gates can be of swing or sliding types. People prefer this type of gate over the convenience factor too. When it is dark, cold, or raining, getting out of the vehicle to manually open gates will be risky. 
9. Metal Driveway Gate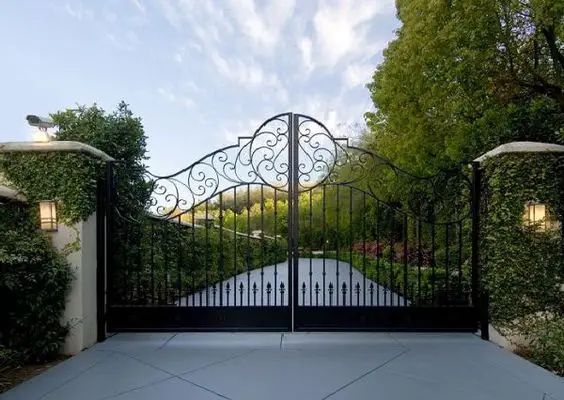 Clean lines and simple design patterns dominate contemporary driveway gate ideas. However, curved entry gates are also becoming common with straight lines or angular designs. A steel or iron ornamental gate offers many benefits, including higher property value, security, and privacy. 
10. Lodge-Style Gate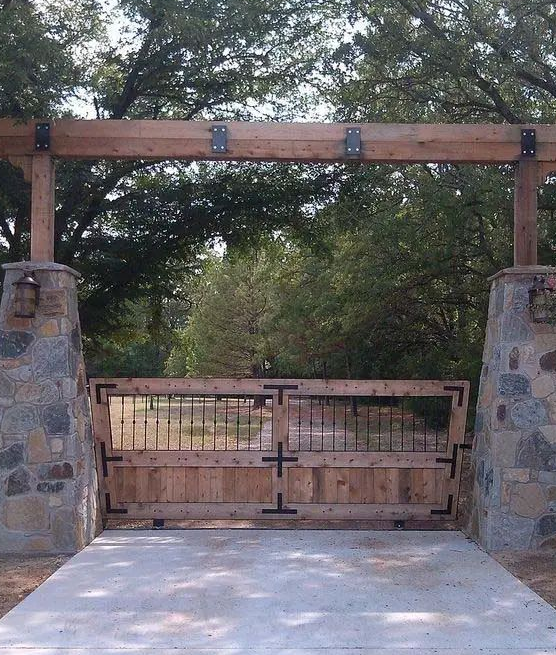 If your budget for a driveway gate is modest, then wooden driveway gate ideas are better compared to metal and iron gates. The rustic gate oozes welcoming vibes and got a subtle shade of Western styles too. In the case of the lodge's wooden driveway gate, there is more privacy and visibility too. This is beneficial for animal owners who may want to see through the gate. In this, tongue and groove boards are recessed into the frame to boost the looks and joints of mortise and tenon. In clad gates, stainless steel nails will appear on the face of the gate. You can choose hardwood gates as well as softwood gates. 
11. Simple Driveway Wooden Gate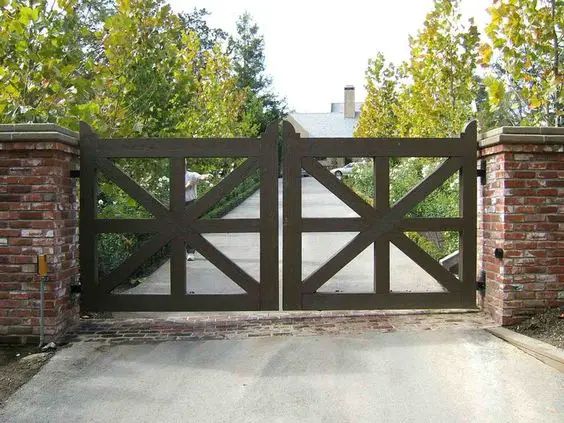 Although wooden gates are prominent among the plethora of driveway gate ideas, choosing the best one will be a challenge. The simple solution is to match it with the architecture of the home when selecting the best gate for your driveway. A formal look graces gates with curved tops and intricate metalwork. Gates with flat tops and simple designs bear an informal look. The sliding style works best for steep driveways with single and bi-parting options. Gate material in wood gives a rustic look that can be manual or automatic. You can also check for prefabricated options.
12. Traditional Metal Driveway Gate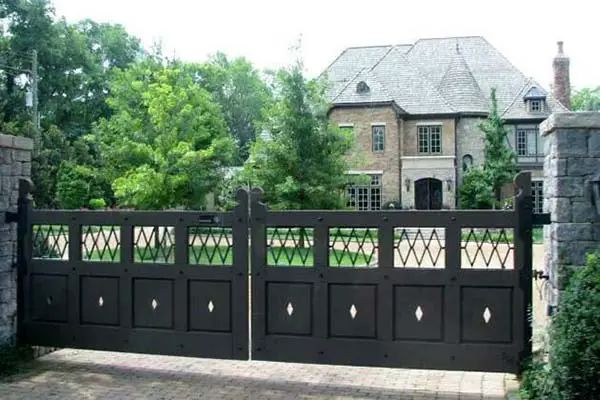 A tan-painted country house-inspired metal driveway gate will stand as a contrast to conventional white or wood-stained gates. Then the meticulous fitting to stone pillars further creates a broader path for bigger vehicles adding a regal touch. 
In terms of appearance, these double gates look minimalist and can be operated individually and jointly. In most cases, there will be a latch to hook it toward the ground, and the other piece can be suitably operated.
13. Ranch-Style Gate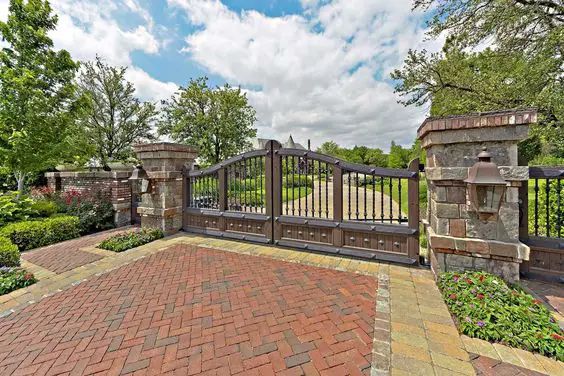 For fans with unique driveway gate ideas, a classic ranch-style automatic driveway will be exciting. One main advantage will be the provisioning of pedestrian walk-through gate side by side. A picket-style gate with an arched center and clavos or nails on the front are ahead in style. To embellish more, add a customized sign to beef up the curb appeal.
14. Classic Wrought Iron Gate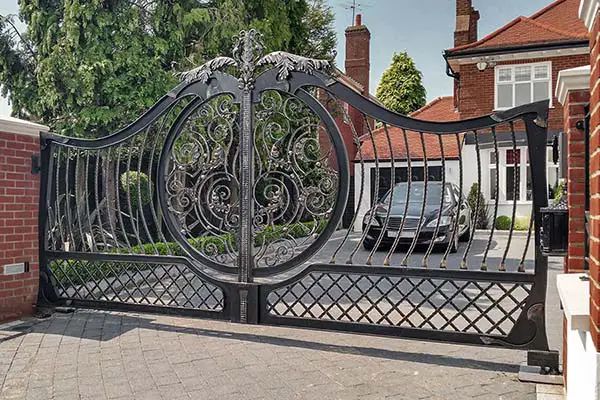 If you are looking for an eccentric driveway gate design, then wrought-iron ornamentation will be the best, and the neighborhood will clap for it as a favorite focal point. Classic designs express manifest both luxury and nostalgia with an old-world charm. Wrought iron has extremely low carbon content, and the fibrous slag added to it gives great flexibility. The exemplary physical properties include the comfort of welding, corrosion resistance, durability, and malleability. This is rated superior compared to cast iron, which is highly brittle and got a high carbon content.
15. Rustic Modern Gate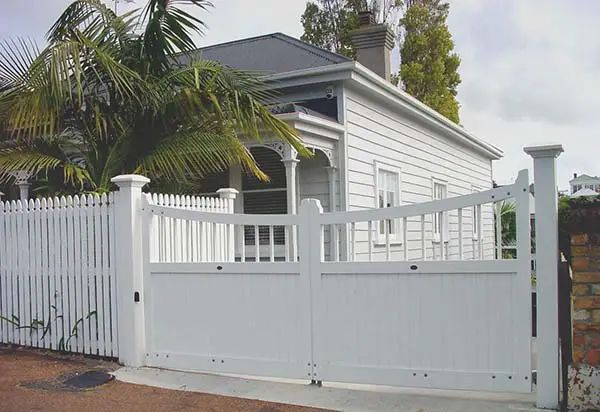 A wooden driveway, painted white, will resonate with the surroundings. If you try it for a seaside bungalow, it will be visually panoramic. The rustic gate will pack the elegance of the past and functionality of the present. The white paint injects subtle tones with an imposing look offering a majestic view from all sides.
16. Classic Metal Gate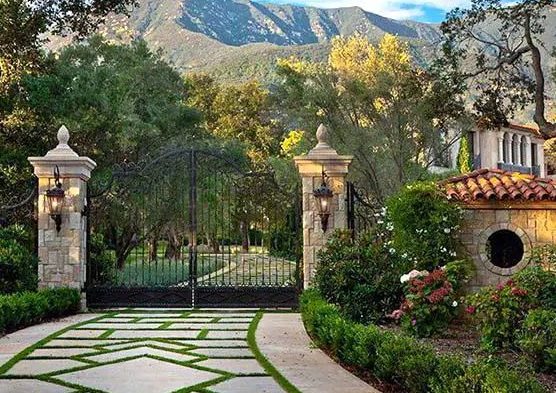 In the vast array of driveway gate Ideas, classic metal gates stand out with their high demand in residential driveways markets. They are not so costly too. The wrought iron gate will charm with a solid steel frame and metal scrolls, lending an ornate appearance. It is a low maintenance gate as zinc-plated and powder-coated paint finish can last long.
17. Ornamental Driveway Gate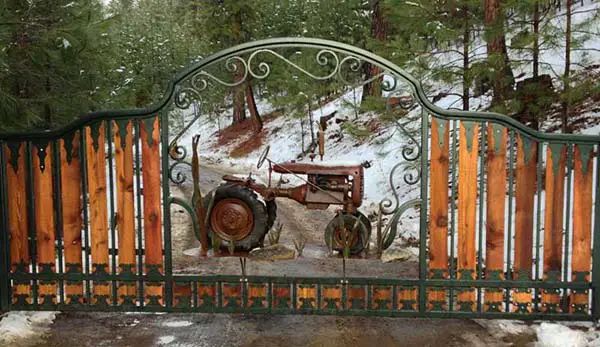 This is like a custom-made gate with a focus on embellishment or ornamentation to turn your idea into a beautiful driveway gate. You can opt for royalty style with the ornamental gate design covering unique details such as black color, or gold looks to stand out as the guardian of a perfect luxury property.
18. Sliding Wooden Gate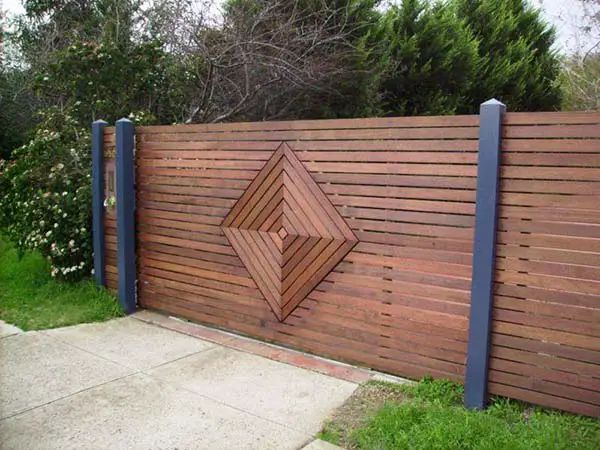 The sliding driveway gate ideas are in good use, especially those wooden gates in residential estates. A sliding gate is smart and convenient with ergonomic looks. It allows better use of the space and never crushes objects in its vicinity, unlike swing gates. Sliding gates operate with and without a track. The best part is that when open, it gives the feel as if the gate has been tucked away.
19. Lattice Gate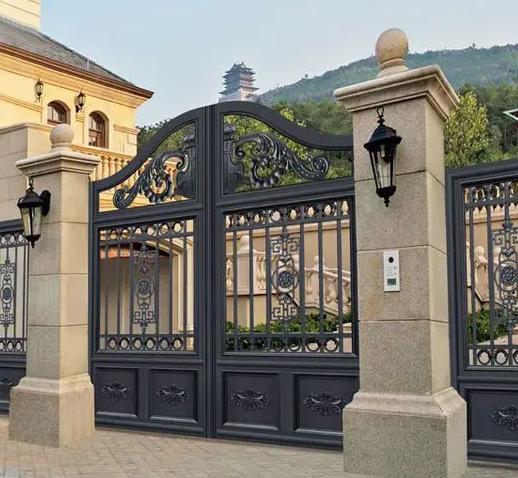 Among the driveway gate Ideas, wrought-iron lattice gates provide a grand entryway and luxurious looks too. Lattice gates are the emerging alternatives to solid gates. The cost will vary depending on the material used. The big plus about it is that it lets light through the gaps to see the spaces beyond. 
20. Wooden Gate with Mediterranean Touch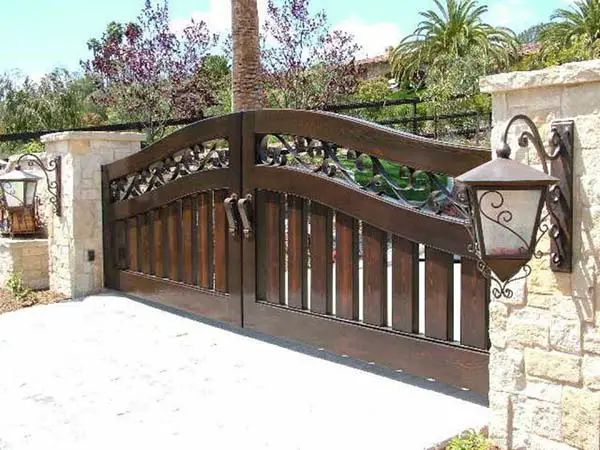 This is a mid-sized Mediterranean-style wooden driveway gate with a wow factor to impress your guests. It syncs well with greenery. Wooden gates look very inviting in the spring and summer. The best part is it will not obscure the bucolic views and retain a rustic touch too.
21. Automatic High-Security Gate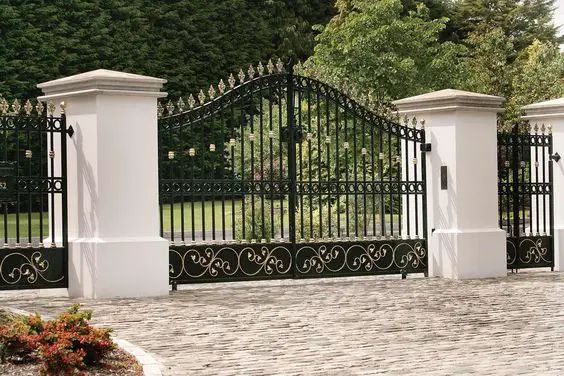 The solid automatic security entry gate offers comfort and user-friendliness. If you are privacy conscious, go for a driveway gate that hides the landscaping and property inside.
Automatic gates make use of sensors such as radar sensors, pressure sensors, optical sensors, and motion detectors. The associated antenna generates a microwave beam as soon it detects motion. 
The Benefits of Driveway Gates 
When it comes to driveway gate ideas, you will juggle with options such as a wrought iron gate, swing gate, wooden gate, sliding gate, decorative gate, automated gate, country side gate, and artistic gate. Ultimately the final choice will be the outcome of personal priorities and aesthetic tastes. A good driveway gate idea will show off your personality, class, aesthetics, and penchant for privacy and best security.The benefits of having a driveway gate are at the core of all driveway gate ideas. First of all, it lends an estate feel to a home and enhances the property's value. These gates also keep unwanted traffic out of your property. Having the best drive in the gateway will like be a statement of lifestyle and a stamp of your aesthetic looks.Most decorative driveway gates have a two-panel gate partition in the middle. Single large panel gates are also popular. Driveway costs vary significantly depending on the design. Gravel drives are cost-effective with the bonus of good visual returns. Using pavers, bricks, or blocks for the driveway can jack up the budget. But you accrue good savings from low maintenance costs in the short to medium term.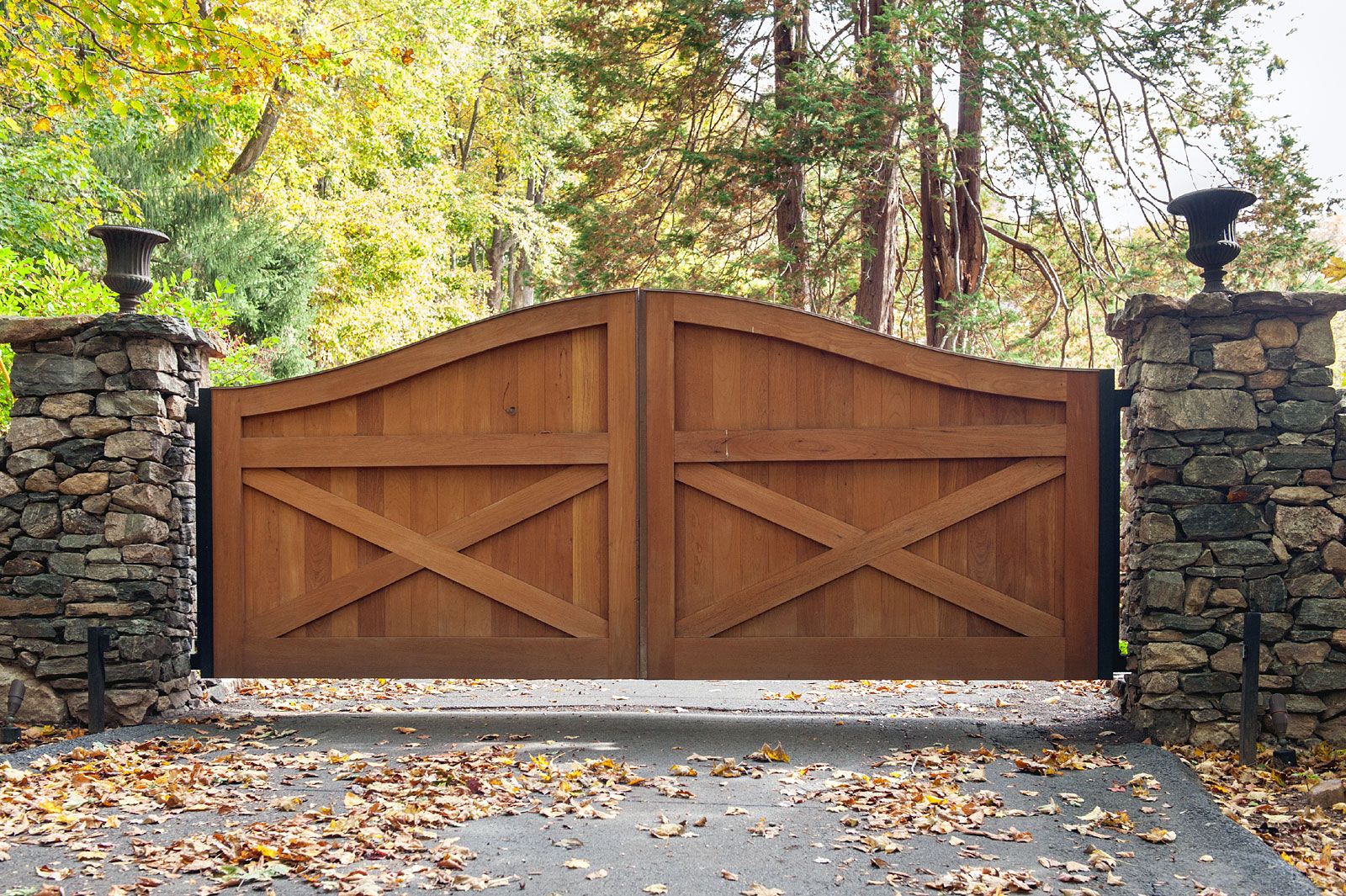 There are norms on where and how to place driveway gates. Ideally, it should be a bit away from the edge of the road and be distant by at least 6 meters to allow safe passage of a vehicle from the road to the driveway crossover and enable the opening of gates to enter the property without obstructing the road. The gates must open inward, although it may not be possible on sloping sites.
Design Principles on Driveway Gate
As noted earlier, the benefits of creating a good driveway are manifold. It enhances a home and sets a tone, and maximizes the curb appeal of a property.  Things to consider while designing a driveway include having a safer place for parking; safe entry and exit to the adjacent road from your property.
 
If a property's access via the gateway intersects a public road, then official permission is compulsory for the driveway, as vehicles have to enter and leave the property in forward gear. It also calls for provisioning adequate space for the vehicle to turn 180 degrees on the land. The latest updates on the specifications known as a vehicular turning circle need to be cross-checked with local authorities before seeking their permission. 
Elements of a Good Driveway  
A typical driveway gate is expected to have 12, 14, 16, and 18 feet of width. In the making of driveway gates, a variety of materials are in use. They include not-so-expensive vinyl and moderately expensive wood, and costly metal especially many variants of iron. Opting for automation and sensors will add to the costs.  Width of the driveway: In driveway design, there must be clarity on how many vehicles need parking space and how much space has to be spared for turning successfully.  The dimensions of the parking bay will depend on how many cars are being accommodated. Normally, for two cars, the space dimension will be 5metre width x 5.5m in length.Pedestrian safety: When entering and exiting a driveway, pedestrian safety has to be ensured. These requirements, collectively called visibility plays, will also dictate the position of an entry as per the driveway design principles. Pedestrian visibility splays are 2m x 2m on either side of the entrance for single residential projects. Then the permissible height of hedgerows and fences adjacent to the driveway will be checked to ensure the best clear line of sight between the driver and external animate objects and vice versa.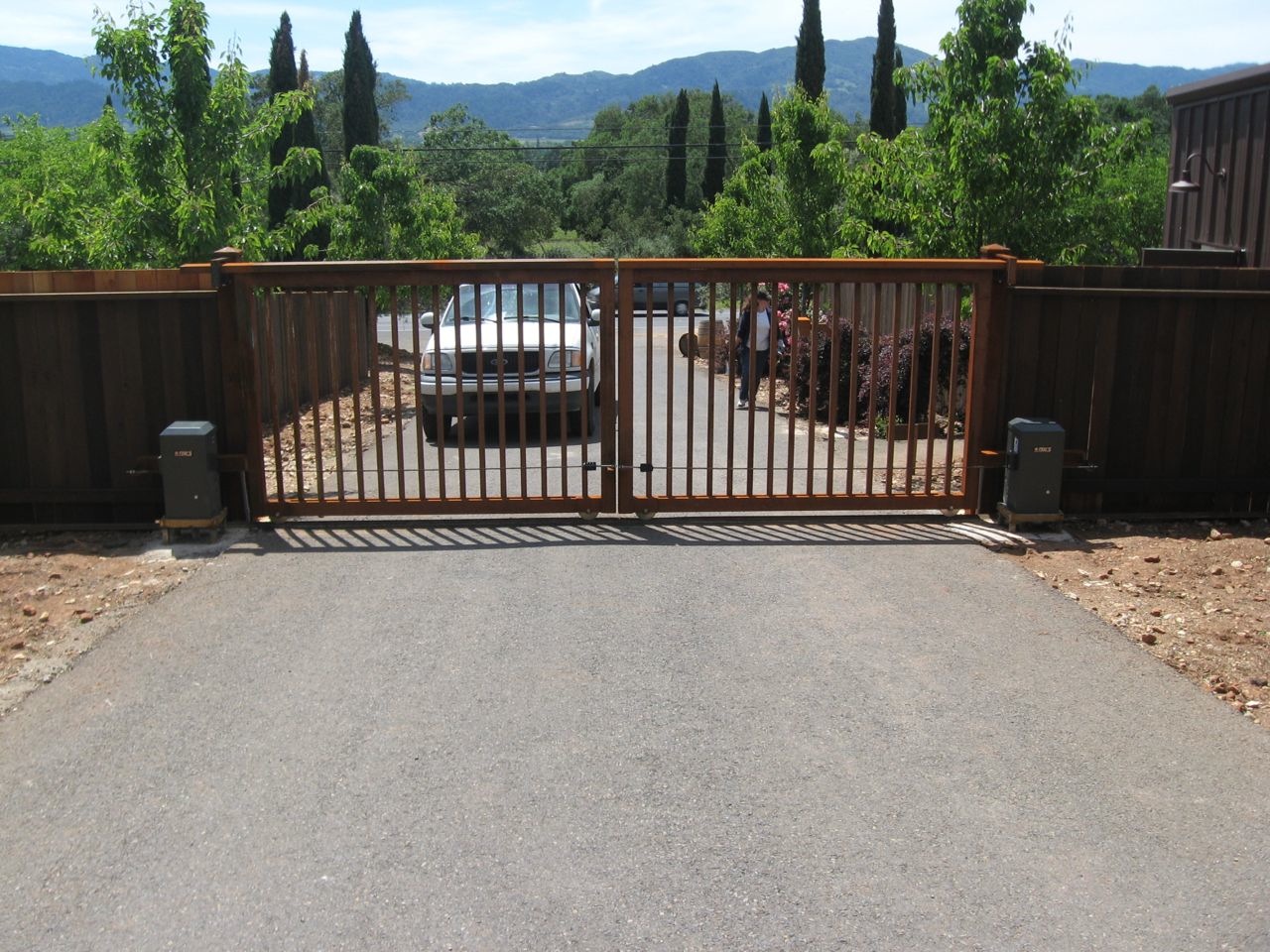 Lighting for driveway: Lighting is very important for the driveway, and it gives an opportunity to set your style and tone. Explore the best options for lighting up the driveway and the gate area. They include uplighting trees and shrubs around your driveway for an informal feel. Then have planned equally spaced bollard lighting or drive-over lights. 
 
Setting up low-level lighting to direct the driver safely along the designated vehicular route is nice. Feature lighting pointing towards the building will create a theatrical ambiance. In lighting, go for low-energy LED and short to medium timers for maximum efficiency. 
Conclusion
As highlighted in the above discussion, the gateway as a grand facade as part of the home driveway gate ideas is intertwined with personal preferences and practicality at a structural level. However, safety is the number one factor when designing a new driveway.
For a hassle-free, structurally durable, and aesthetically delightful driveway, make sure the gateway ideas are in conformity with the rules related to highways regarding entry into private gates and estates with the required specifications.  In case vehicles make entry into a gate from a single adjoining lane, then the process of reversing vehicles will violate the highway regulations. Therefore, make sure the driveway design incorporates this element with due technical corrections to manage it.
Get it technically managed without causing the risk of accidents.  The points above concerning an array of gateways will certainly help you choose the best design for a fascinating driveway gate that will not only enhance your lifestyle but also wow your guests and visitors.