Repurposed furniture is when you upcycle or give new life to old furniture pieces in your house instead of throwing them away. You can do so by repainting it, repairing it, or giving it a total functional transformation. It gives new life to old furniture and, in doing so, saves money and reduces waste.
It is an environmentally friendly choice. Besides that, repurposed furniture also gives one creative satisfaction. A DIY project like that can be a family activity and encourage children to develop a creative mind.
There are some undeniable sentiments attached to old furniture pieces like cribs or hutches. Upcycling them will keep that emotional legacy alive.
Let's explore some clever ideas for repurposed furniture.
1. Old Crib Into Outdoor Plant Holder and Sink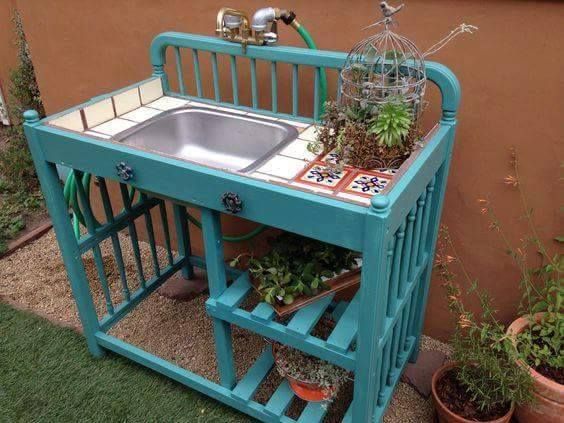 Cribs are one of those pieces of furniture that are necessary, and then with time, they lose their utility. If you have an old crib just lying around the house and you are thinking of disposing of it, I think I have a better idea.
With a little work at the carpenter's shop and a decent painting job, you can repurpose the crib into an outdoor plant holder and washing station. Your old crib will find a new life and add an extra aesthetic flair to your garden.
Paint it in a fun color like teal or blue; you can, of course, keep its wooden tones.
2. Old Chair On a Garden Shelf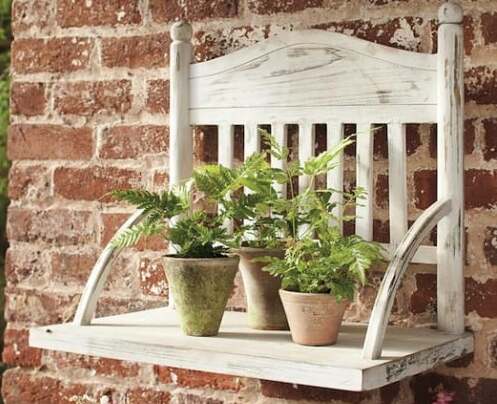 You must have a broken chair or a worn-out old chair that you have stored up in the basement. You might want to throw it away. There is a way to use that old chair again. It will extend its life and give it a new function.
Remove the legs of the chair, and secure it to your garden wall. Use it as a unique and chic Garden Shelf. This particular DIY project is simple and effective.
You can choose to paint the old chair or just add a layer of varnish to give it that rugged look. Place your favorite potted plants on it. If you want, you can use this self as a herb station for your potted herbs.
3. Old Mason Jar Light Fixtures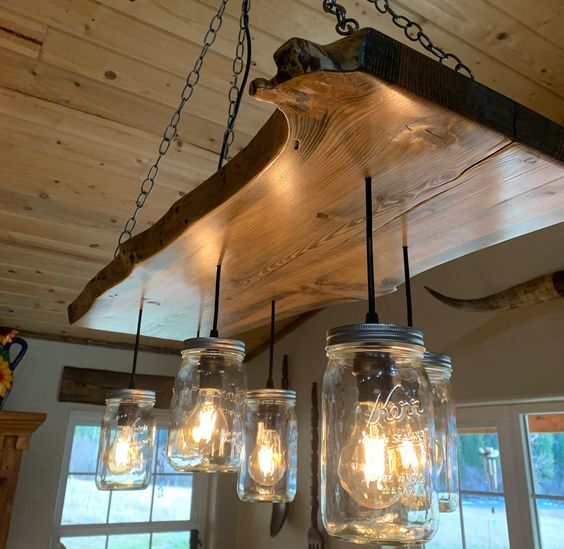 Light fixtures make a lot of difference to a space, and when it comes to home decor, lighting should be addressed. As a rule, one should never throw away old Mason jars. They are great for storing your jams and pickles, but they also make for excellent light fixtures.
Take a piece of elongated barn wood or pallet wood and securely suspend light-fitted mason jars from it. This will make for a breathtaking light fixture or a chandelier for your signing room or above your kitchen island.
This will be a statement light fixture; they give an old-school farmhouse feel to the space and will add so much character to the room.
4. Old Bed Into a Garden Bench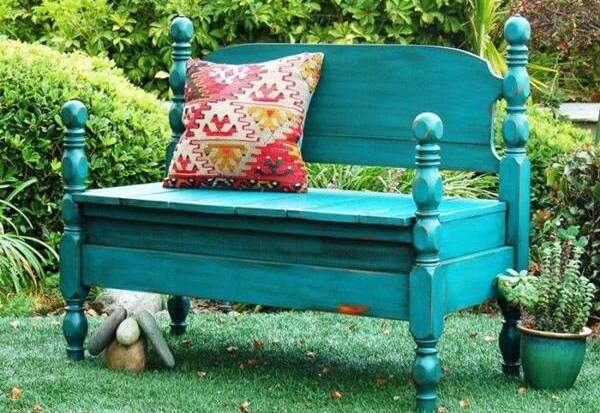 There is no need to throw away the old bed that sits in your garage or basement. The wood and the frame of the bed will provide good material for a fun DIY project. With a little work, you can transform your old bed into a beautiful garden bench. Look at the transformation in the above pictures.
Once you are done with the structure of the garden bench, paint it in the color of your choosing. This garden bench will make a great place to sit and read in your garden.
5. Crockery Cabinet Into A Coffee Bar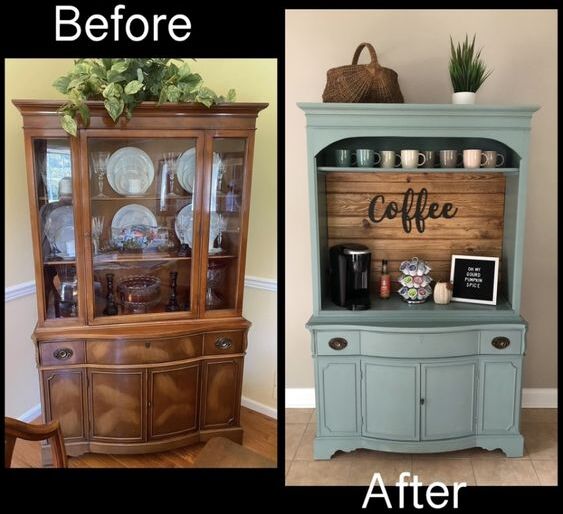 Do you have one of those old crockery cabinets that used to be a staple in every house growing up? Well, these sure can give your place a dated and old look sometimes, and you might want to get rid of them. Here is a better idea; you can turn your old crockery cabinet into a chic modern coffee station.
Remove the glass cabinet to make space for your coffee machine, coffee jars, and mugs. Pain the cabinet in a nice elegant pastel color. You will have your very own coffee bar for your morning coffee ritual.
6. Drawers Into Key and Chain Holding Shelf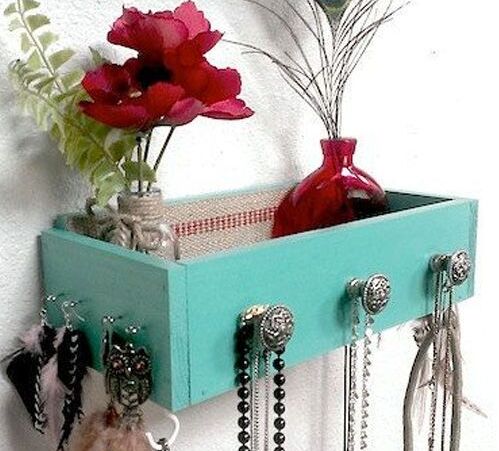 Here is a fun idea to repurpose drawers. Pain the drawer into the color of your choice and secure it to the wall. Once you have it up, glue it to a couple of drawer handles. Use these handles to hang your chains and keys.
The drawer itself will act as a deep shelf where you can hide your trinkets and keep decorative vases or small potted plants.
The shelf looks beautiful mounted on the wall. You can also add hooks to the sides of the drawers to hang various kinds of jewelry.
7. A Table out of Drawers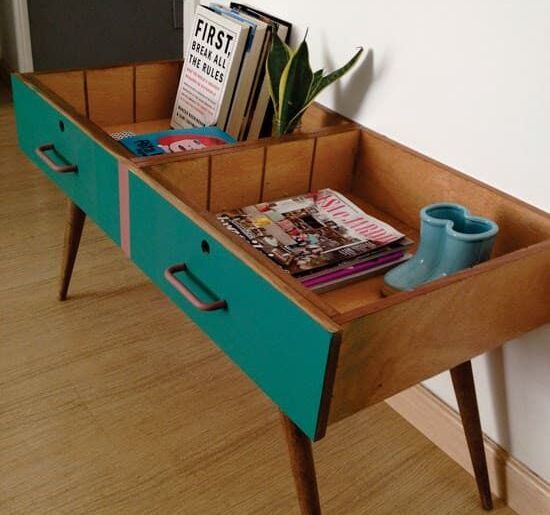 .This is another great example of repurposed furniture. Join two-fold drawers together, add four legs, a pair on either side, and you have a cute-looking table. Add some color to the drawers.
Make sure that they are not sloppily joined together. Keep the edges neat. You can use this table to store your magazines, books, and candles, and add a potted plant for some more fun.
You can use this table to store your keys, so they are always in sight when you have to get out. Another tip is to keep some minutes in there, to grab one every time you leave.
8. Repurposed Old Door
This is an interesting decor idea, and it will surely turn everyone's eyes toward itself. If you have an old door lying around your house and you have no idea what to do with it, here is a fun DIY project that will help you create a statement piece for your house.
Use that old door and put a shelf on it. Keep the rusty look of the door; it will add more character to the piece. On the shelf, you keep framed photographs, candle stands, and other decorative items. Add a nice warm lamp to it.
Over the door frame right above the shelf, place a mirror. Match the frame of the mirror to the rustic look of the door. And your statement mirror mantlepiece is ready.
9. Repurposed Headboard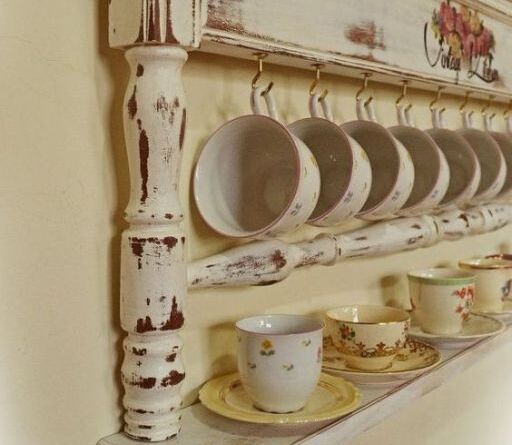 This is a very interesting way of using the headboard of an old bed. If you have these old beds with wooden headboards, you can turn them into a shelf to hang your cups and display another crockery.
Secure the headboard to the wall of the kitchen or dining room. Put some hooks in line on the headboard and use them to hang your mugs. Add a base to the headboard. This will function as a shelf. This is another space where you can display your crockery. If you wish to paint it neatly, you can do so, or you can keep the rustic look to make it look antique.
10. Repurpose Steel Graters to Light Fixtures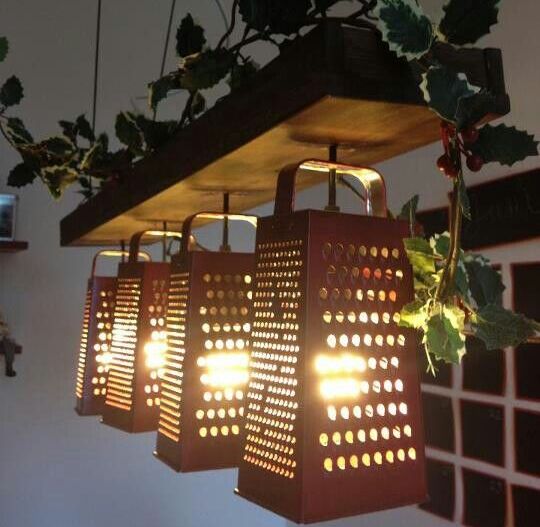 I suppose every house has one of these steel graters. If you have a couple of these that you don't use anymore and are just collecting dust. It's time to bring them out, clean them up, and repurpose them into a unique lighting fixture.
Suspend these steel graters from a wooden plank. Add soft, warm light bulbs to them. You can put some faux vines over the wooden plank to add a touch of nature to it. This light fixture will look beautiful over your dining table. It will add a statement to your dining area.
11. Repurposed Old Ladder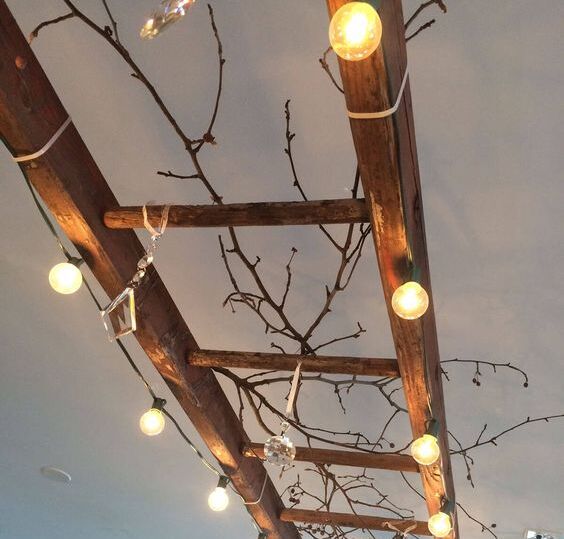 We have yet another rustic farmhouse light fixture idea that you can experiment with. Use an old ladder and add a coat of varnish to it. Don't overdo it with the paint(if you choose to paint)or the varnish; we want that rustic farmhouse look to it. Mount it up on the ceiling, and make sure you do a good job with it; you don't want it falling and causing an accident.
Add some leafless branches for aesthetics and give it an 'out in the woods' look.
Now to that structure, add warm light bulbs along the length of the ladder on both sides. You can add some other elements according to your choice to this light fixture.
12. Repurposed Wooden Bough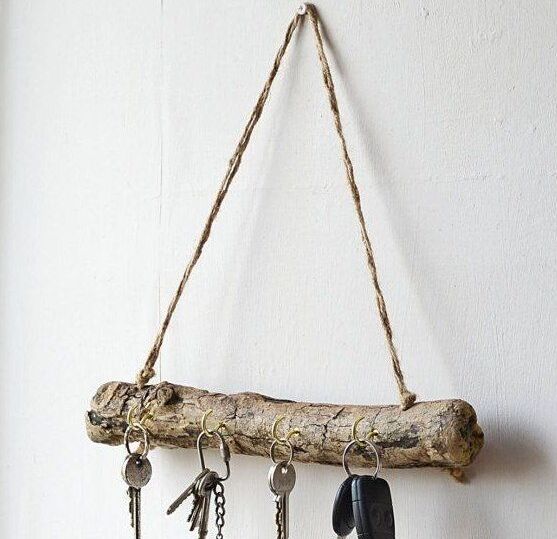 If you have hard-pruned a tree in your garden, chances are that you will have some thick wooden branches at your disposal. These wooden boughs can make a statement key holder.
Take a wooden bough of the appropriate size. Smoothen out the ends a little so there are no sharp splinters that can harm anyone. Add a line of hooks to it. Tie the ends of the bough with rope and hang it from a nail on your wall. Use the hooks to place your keys.
This key holder will be unique; you won't find something like this in any other shop. It's also personal to you.
13. Repurposed Window Chalkboard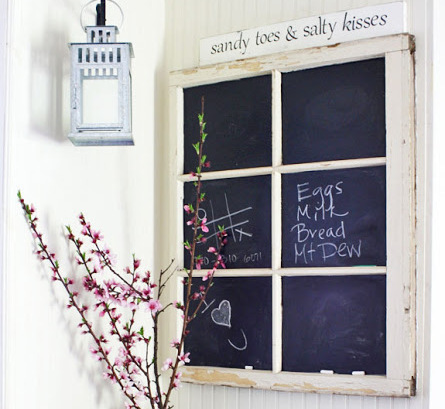 There is a nostalgia attached to chalkboards. Also, it's so much fun to write on them. Instead of having sticky notes all over your refrigerator, having a chalkboard with messages and grocery lists is much more fun.
You can make a chalkboard window easily by using some chalkboard paint. Write down sweet messages for family or today's specials on it. You will be surprised how much you will enjoy having a chalkboard window.
14. Repurposed Hutch Top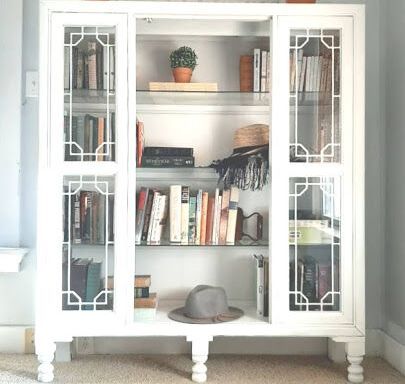 Old Hutches are heavy pieces of furniture, and they can be difficult to dispose of. Rather than dumping them off in a landfill, they can find a new purpose in your house. They can be transformed into compact bookshelves.
The cabinet of the hutch can be replaced by mirrored sliding cabinets or mirrored door cabinets. This will help showcase your collection of books. Since the cabinet can be closed, your books won't collect dust and moisture as in open bookshelves.
This is the perfect example of repurposed furniture.
15. Repurposed Vintage Bags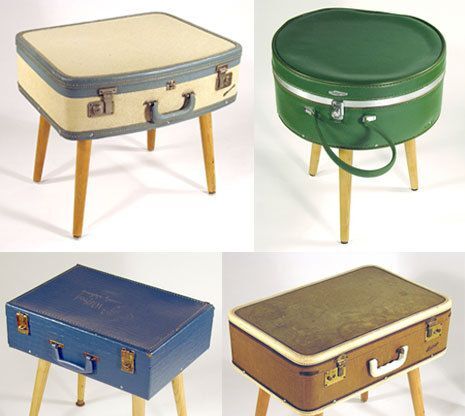 This is perhaps the cutest repurposed furniture idea I have for you. Vintage bags were sturdy and heavy. Today we have lightweight bags that make traveling so much easier. That doen;t mean you need to throw these beautiful vintage bags away; they can find new life as niche tables.
Attach four wooden legs to the vintage bag, and maybe add a wooden frame at the bottom for more support. And there you have it, cute side tables that will surely bring some joy into your house.
16. Repurposed Crib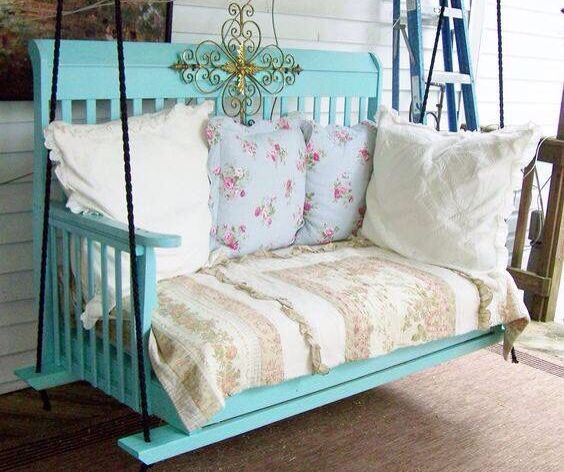 Here is another way you can upcycle old cribs that your kids have outgrown. Paint the old crib anew and turn it into a porch swing. You would require some work at the wood shop to get it done, but the result will be satisfying.
Cushion the swing properly, and it will make for an excellent space to relax, read, and for an afternoon nap. The kids will also enjoy the new swing and 't outgrow it. It will also be a souvenir from their childhood.
Make sure you use sturdy ropes to hold the swing to avoid any accidents.
17. Repurposed Bread Pan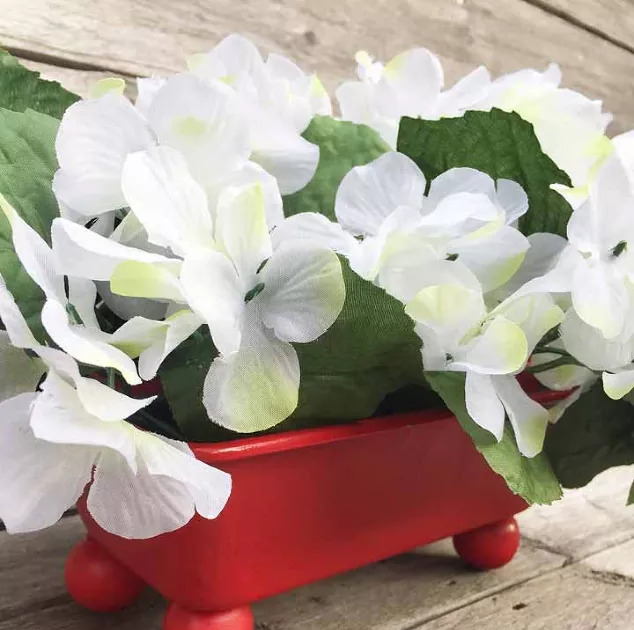 If you have old bread pans, butter trays, or some other ceramic dish trays lying around the kitchen that you don't use anymore, here is a fun way to repurpose them.
Use these trays or pots as flower planters. Grow beautiful ornate plants or flowers in it. You can keep them on the kitchen window sill. They will add freshness to your kitchen and create a cheerful ambiance.
18. Repurposed Saucepan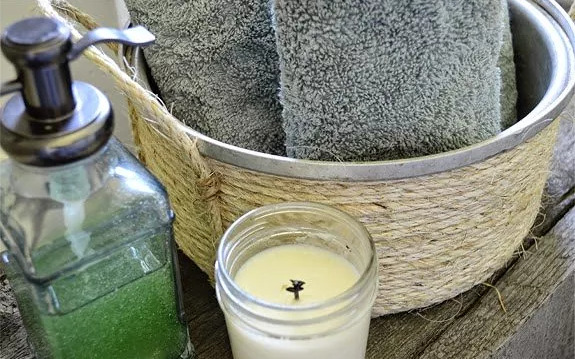 Old saucepans that have not been used in the kitchen for a while can find new life as a rustic basket. Use jute ropes and tie them around the saucepan neatly. Find a way to secure them, either by using superglue or, if you have a better way, go for that. Once done, use the extra jute rope to make handles, and you are done.
You can use the basket for various purposes to store different things. Use it to store your toiletries, scented candles, or hand towels.
19. Repurposed Bed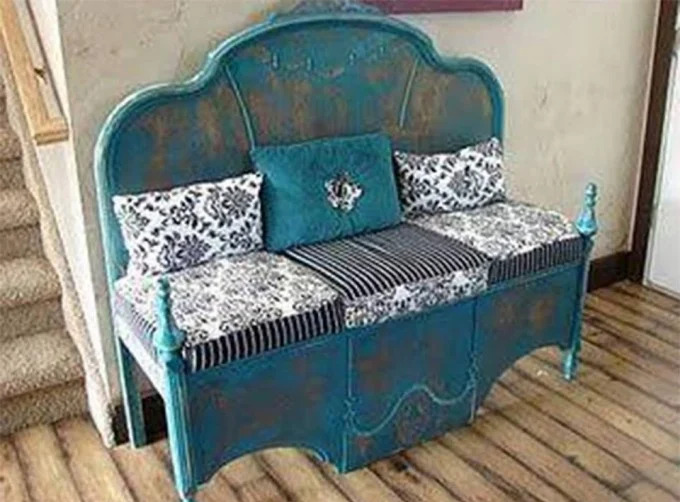 Here is another idea to repurpose your old bed. Old beds, especially old kids beds that they have outgrown, can be turned into a nice seating space. You add some cushions to the seats to make them comfortable.
Keep the headboard to make a nice back to the sofa chair. You can choose to paint, or you can choose a more antique-aged look for it.
You can place it in the room or even place it on the porch for a lazy afternoon.
20. Repurpose Chair into a Welcome Sign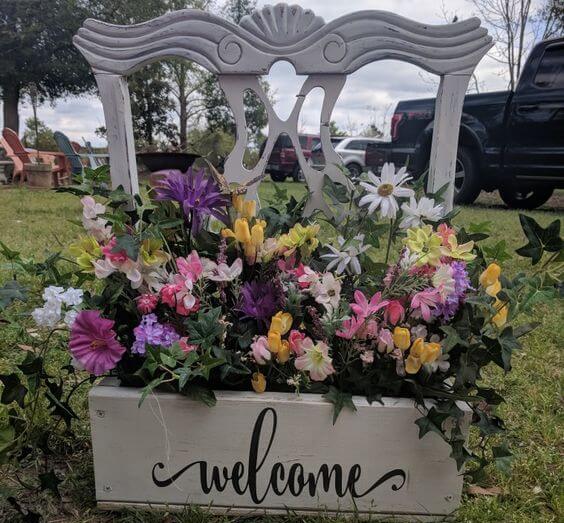 Turn your old broken chair into a pleasant, welcoming sign. I'm sure you have an old broken chair lying around in the garage or the basement or old chairs you don't see fit for your home.
In that case, remove the legos of the chair and use the upper frame to make a welcome sign. Use the seat of the chair as a planter for varied colored flowers. And on the board, write welcome in a nice cursive hand. Keep it in your yard or at the entrance to your house.
21. Repurposed chair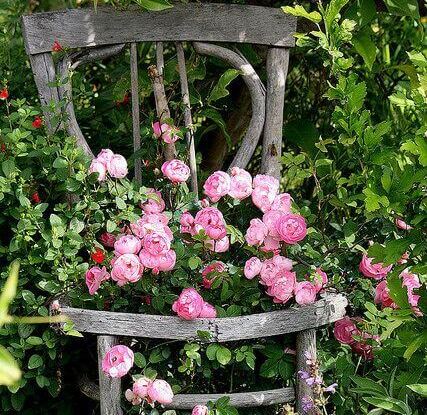 Do you have more old chairs to spare that you can find no use for? Here is another way to repurpose them. Use told chairs(especially ones that are in the worst condition) and keep them outside. Use them as planters for flowering vines.
Grow your flowers and rose bushes around the frame of the chair. It will give your garden a very Alice In Wonderland look. It will also provide support for the flowering vines. You won't have to do much work for its upkeep either.
Conclusion
Repurposed furniture not only saves money, it also gives the satisfaction of undertaking a DIY project. Most importantly, it helps in waste management, and our planet needs all the help in reducing household waste.
Whether it is old chairs, which find new life as planters, or it is old cribs that can be made into beautiful porch swings, there are plenty of ideas to explore for repurposed furniture. You can use old bed headboards to make shelves to hang your crockeries. You can make unique and chic light fixtures from old mason jars or turn an old hutch into a bookshelf.
We hope you have selected your favorite ideas and are beginning your project to repurpose some old furniture.