Are you looking for innovative ways to display basket wall decor? The empty, unused walls of your house are filled with endless possibilities. Basket wall decor will give a farmhouse feel to your house. You can find baskets featuring graphic weave designs and other interesting patterns online or in the market. Basket wall decor provides some texture to your walls. It is quite easy to assemble and hang baskets, so it's a great decor idea for even a beginner decorator. Basket wall decor is also very affordable compared to other decor ideas.
If you find yourself in a design dilemma, basket wall decor can be the perfect solution. It will help you create a cozy ambiance in your home and will become the center of attraction.
Unique Ways to Display Basket Wall Decor
We have enlisted some of the best basket wall decor ideas to add a charming touch to your home.
1. Use a Gray Bed Frame with White Bedding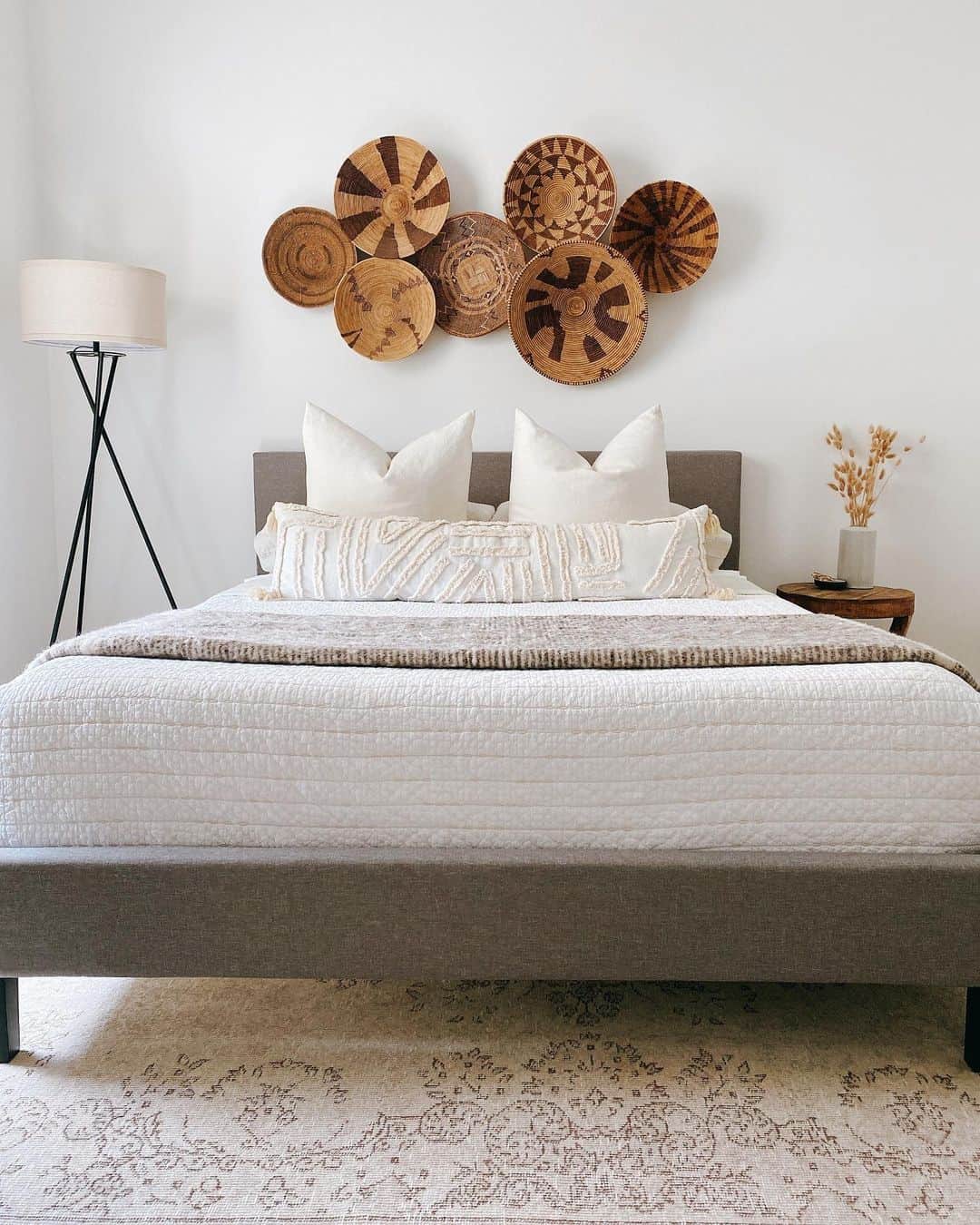 You can never go wrong with a combination of grey and white. A grey bed frame paired with white bedding will give a minimalistic and sophisticated look to your bedroom. Basket wall decor with this setup would be the perfect addition that will enliven the ambiance of your room. You can add simple wooden elements like a wooden side table and a floor lamp on the other side to finish the look.
2. Hang a Single Basket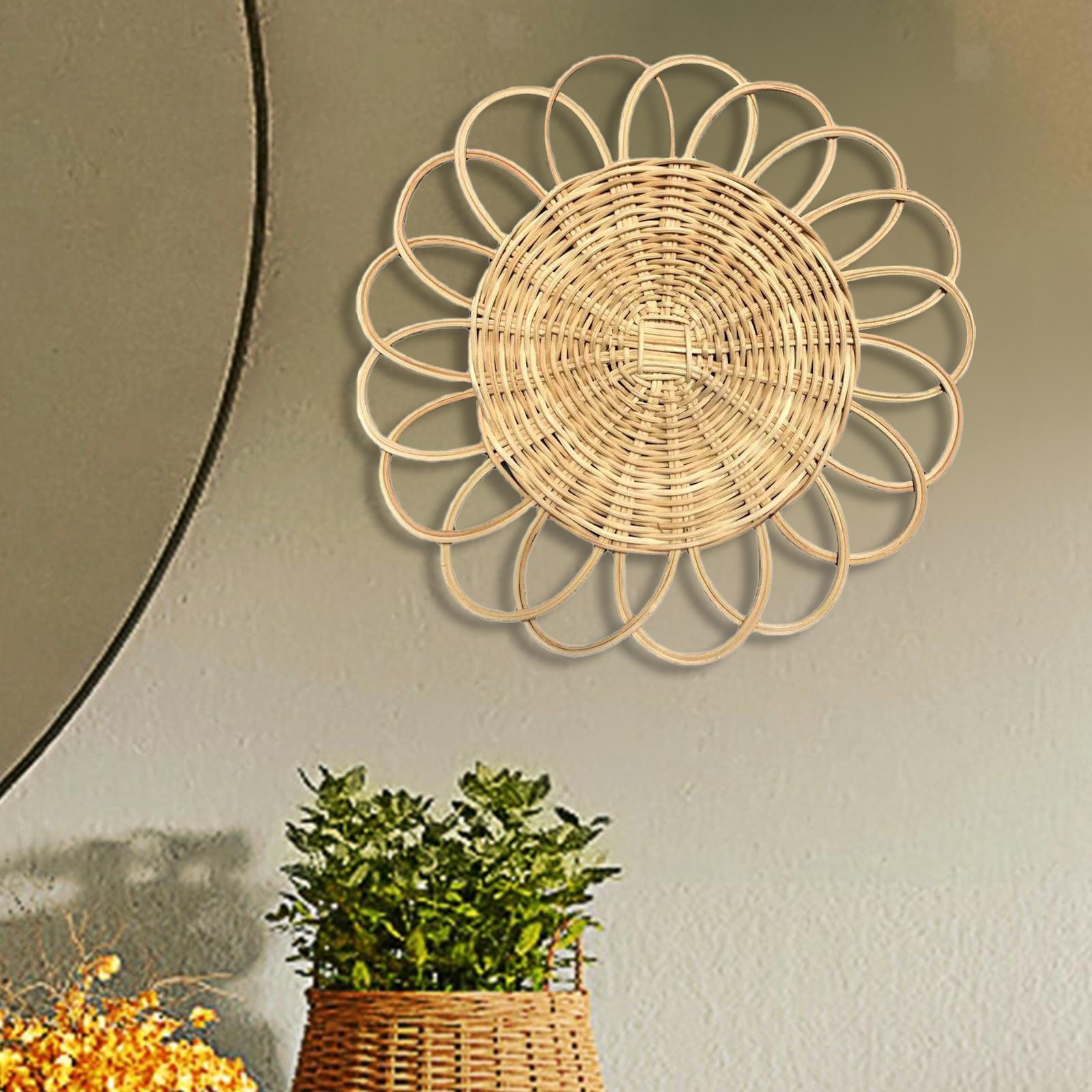 If you wish to create a minimalistic and simple look, you can add a cane-hanging basket. The basket used in this design will add the right amount of texture to any space. You can hang a single basket on your bathroom wall, living room wall, or bedroom wall. You can also add some greenery inside to bring out earthy vibes. Fragrant plants or colorful flowers are also lovely options to add to a basket like this one.
3. Match Your Bedding with the Wall Decor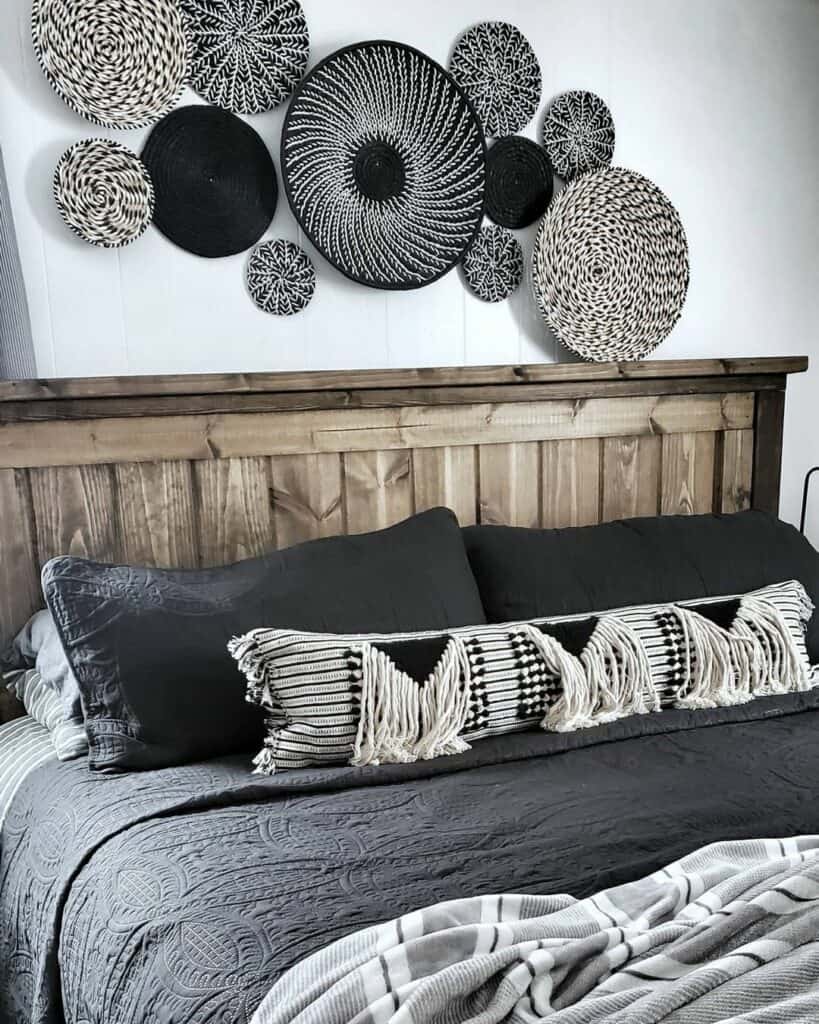 You can select the basket wall decor that reflects the color pallet of the room you wish to decorate. In this idea, a wood finish headboard is paired with grey bedding and white and black cushions. The black and white baskets on the wall keep the color scheme intact while contrasting with the white wall behind. You can add grey curtains and a light grey duvet to finish this look.
4. Vintage Farmhouse Living Room with Leather Furniture
If you wish to give a farmhouse feel to your living room, you can opt for a brown leather couch and chair. This furniture can be paired with a wooden cabinet, wooden flooring, and a vintage beige center table to give a rustic and sophisticated vibe. Other elements that you can add to this look include a rug and throw pillows. Cane basket wall decor in standard colors will go well with this set and will enhance the overall look of the space.
5. Rustic Vintage Table with Woven Baskets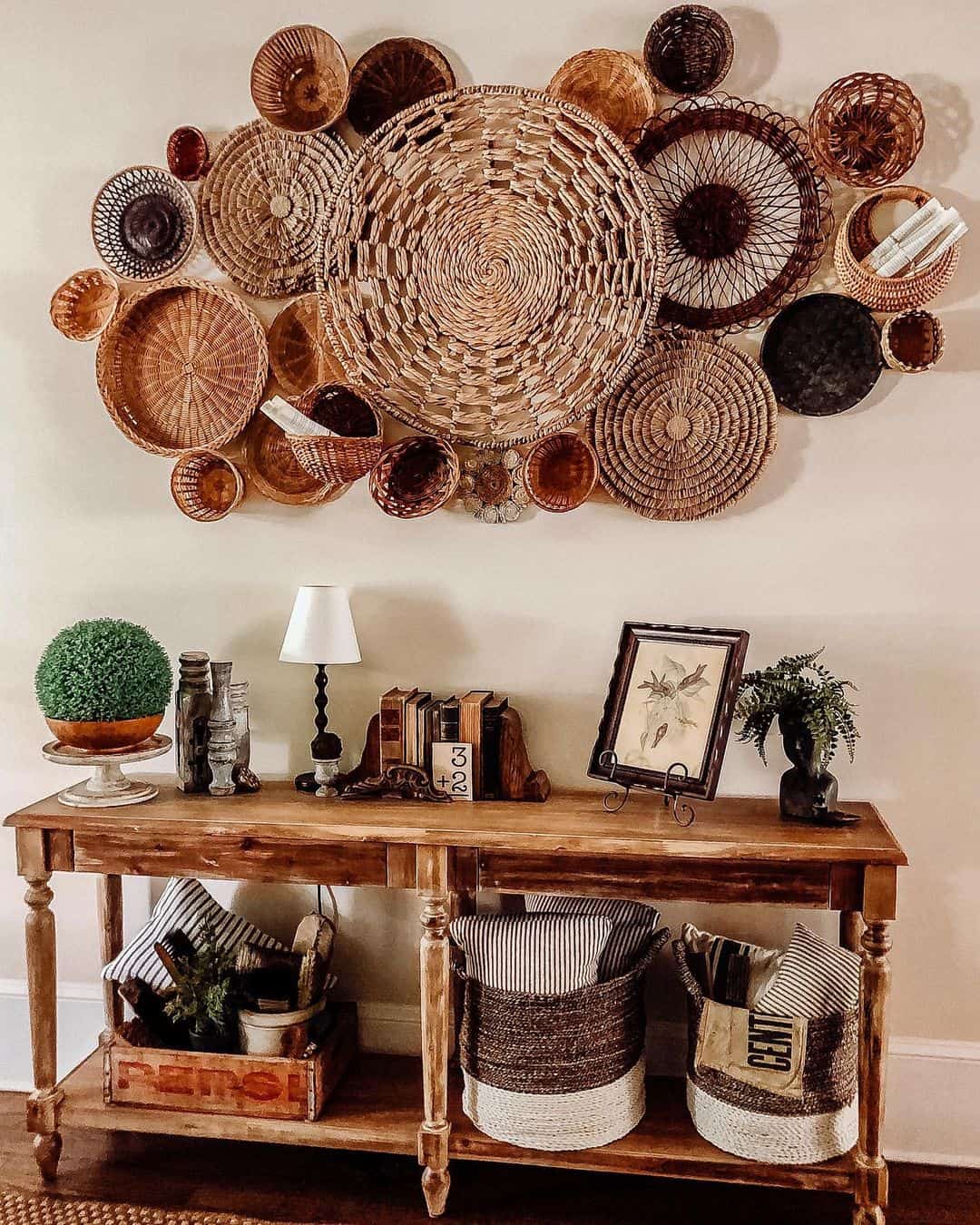 If you wish to spruce the entryway or any other corner of the house, select a plain wall and place a rustic vintage table against it. The top surface can be decorated with vintage items and antiques, and the wall can be decorated using traditional woven cane baskets. You can also add some greenery with wooden plants to create a refreshing feel.
6. Add Some Drama to Your Work Space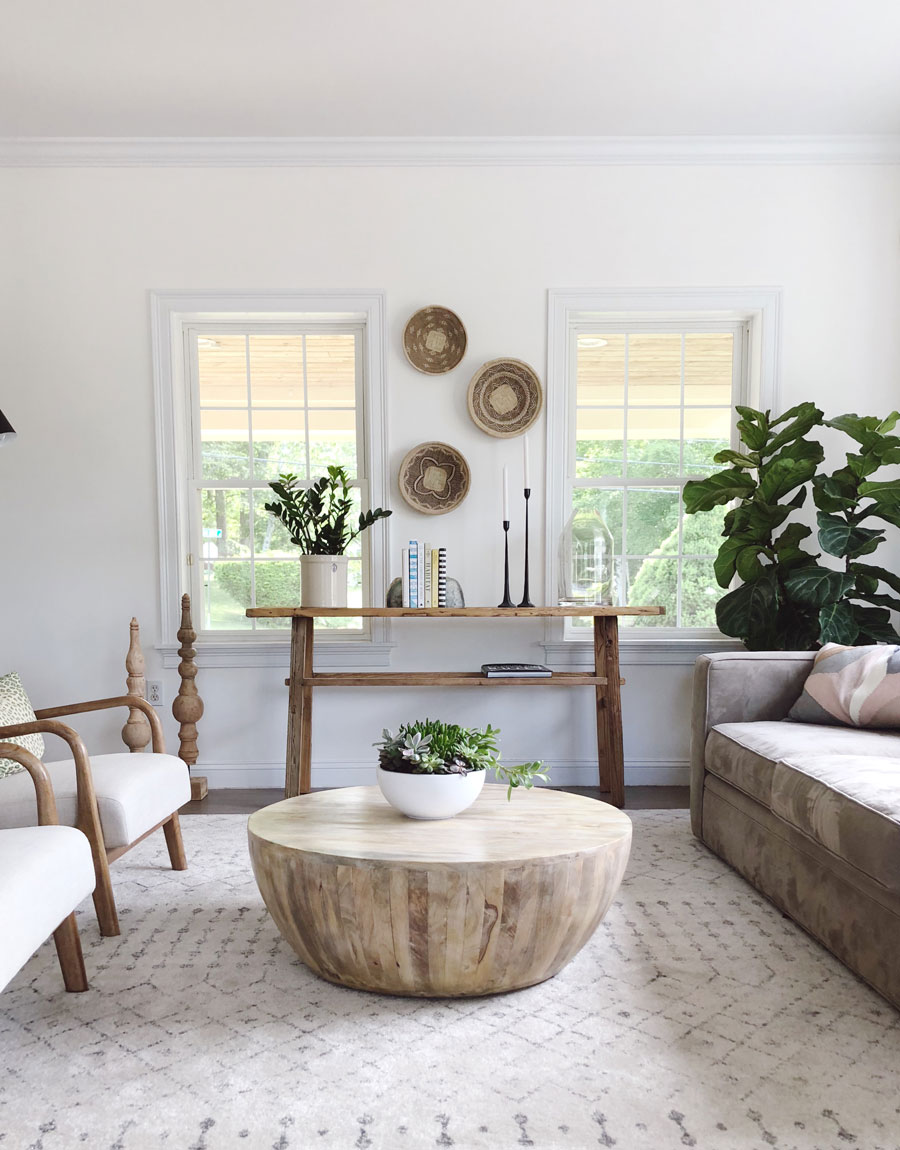 If you have a simple and minimalistic office space with a modern desk, you can hang cane baskets above it to create some drama. For instance, in this design, a modern oak wooden desk is paired with baskets to add texture to this space. This decor idea brings the right amount of warmth to the office room. You can keep other things basic. For example, you can add a standard white chair to streamline the look.
7. Keep It Minimal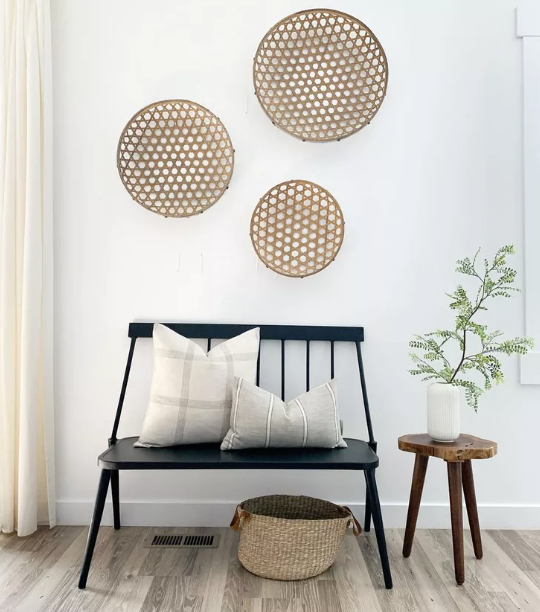 Adding a few simple weave baskets on a plain wall can give any modern space a farmhouse feel. This idea by Alex Fontaine uses a minimalistic color palette along with natural materials. This space could use some greenery, making it refreshing and earthy. You can use around two-three traditional cane baskets placed randomly on the wall.
8. Use Baskets to Create Some Plant Space
Are you looking for creative ways to display your favorite plants? The baskets displayed in the idea above are a perfect addition to a gallery wall or simply any plain wall that you wish to decorate. The mouth of the basket is big enough to accommodate an air plant or succulent. These also make a great hanging kitchen herb garden in case you have a compact kitchen. You can opt for terra cotta pots as they look wonderful with the natural look of the baskets.
9. Brick Flooring Combined with a Wooden Bench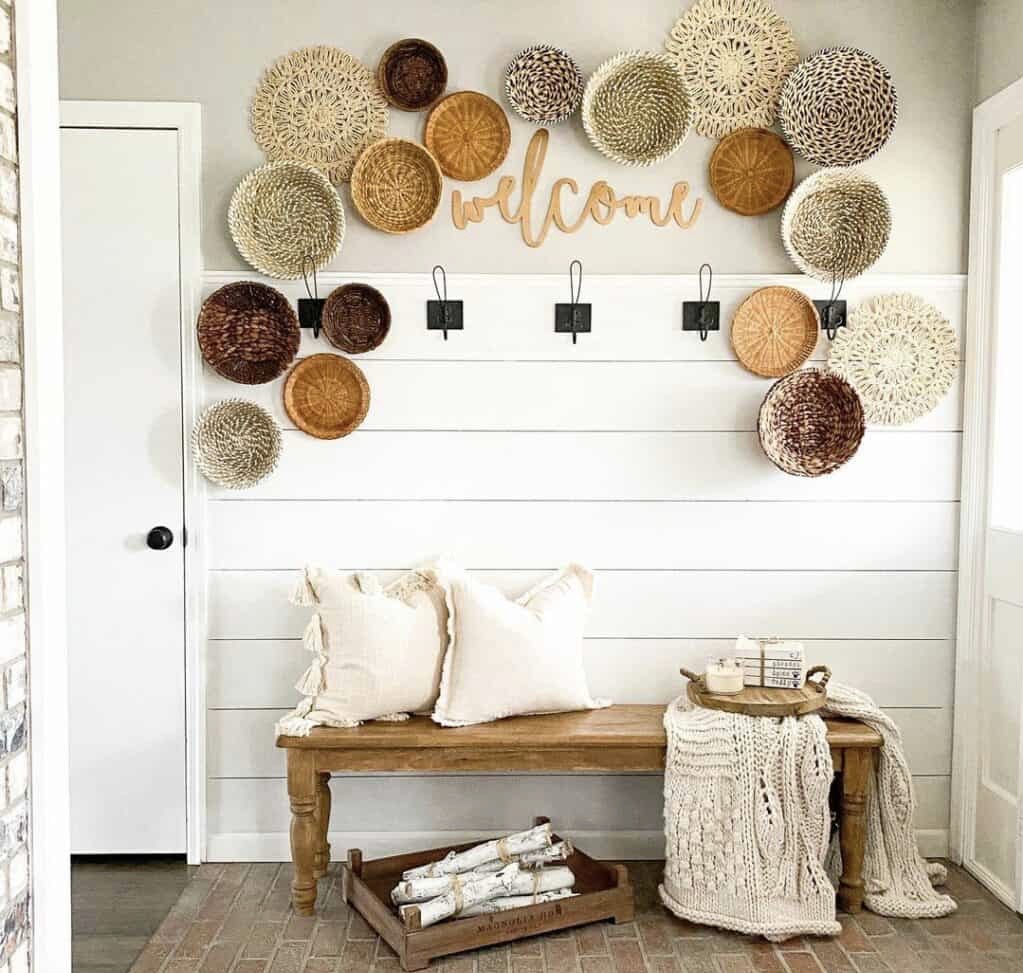 You can combine wood-textured brick flooring with a wooden bench to create a rustic farmhouse feel. A plain wall decorated with woven cane baskets adds the right amount of drama to this space. This design allows you to add other wall-mounted accessories in similar hues. You can further accessorize the bench with throw pillows and a woven blanket.
10. Accent Wall Decorated with Round Baskets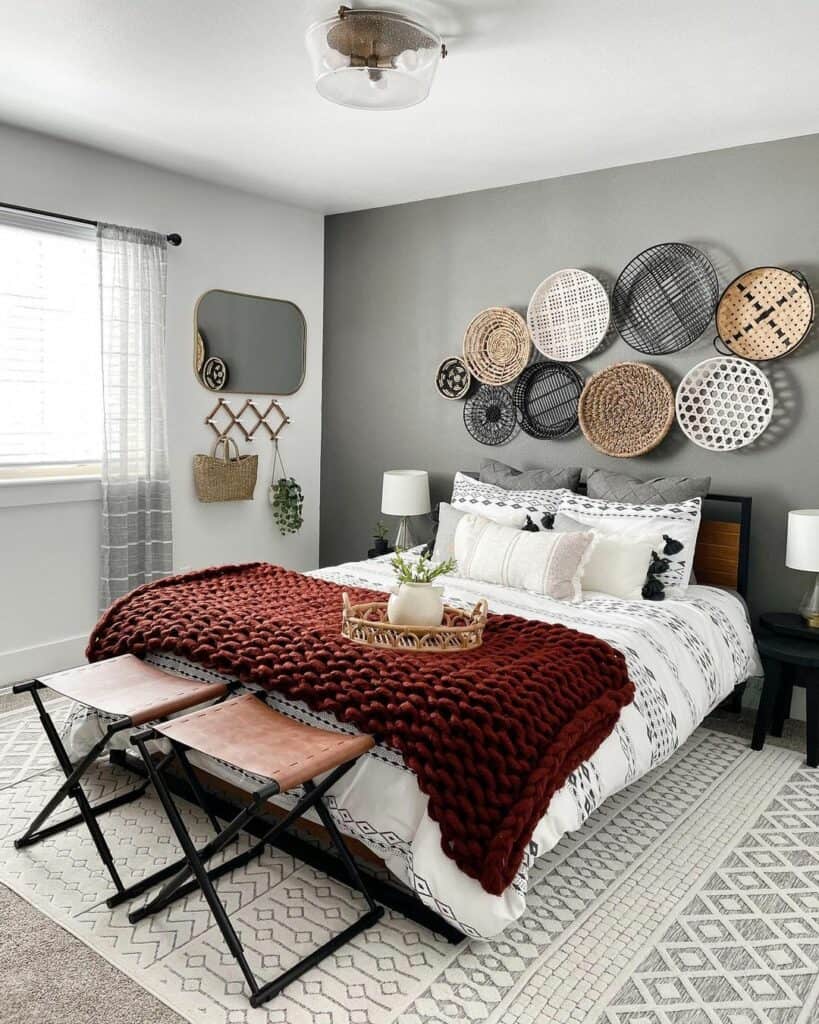 The grey wall in the design is accentuated using round baskets of different sizes made from different materials. This design features thick white bedding accessorized with a red knit blanket to amp up the look. A woven carpet and black side stools bring the right amount of balance and add to the aesthetic appeal of the room. Such rooms do well with subtle, undertone, sheer curtains.
11. Wooden Side Table with Basket Wall Decor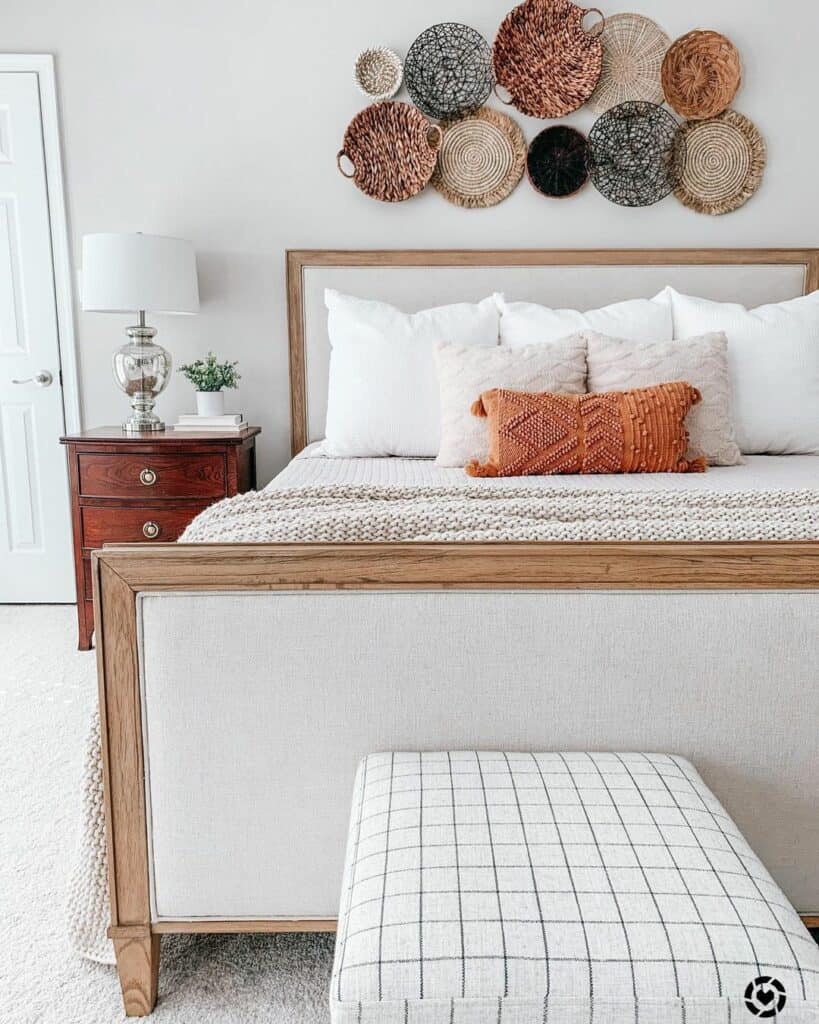 If you're a fan of everything white, you can opt for white floors, white walls, white bed frames, and white bedding. Basket wall decor is an ideal addition to the wall behind the bed. To create a balance, you can also add a wooden nightstand on the side. In this design, a cube ottoman has been added near the foot of the bed. This will give a farmhouse vintage feel to your room.
12. White Living Room with Creamish Poufs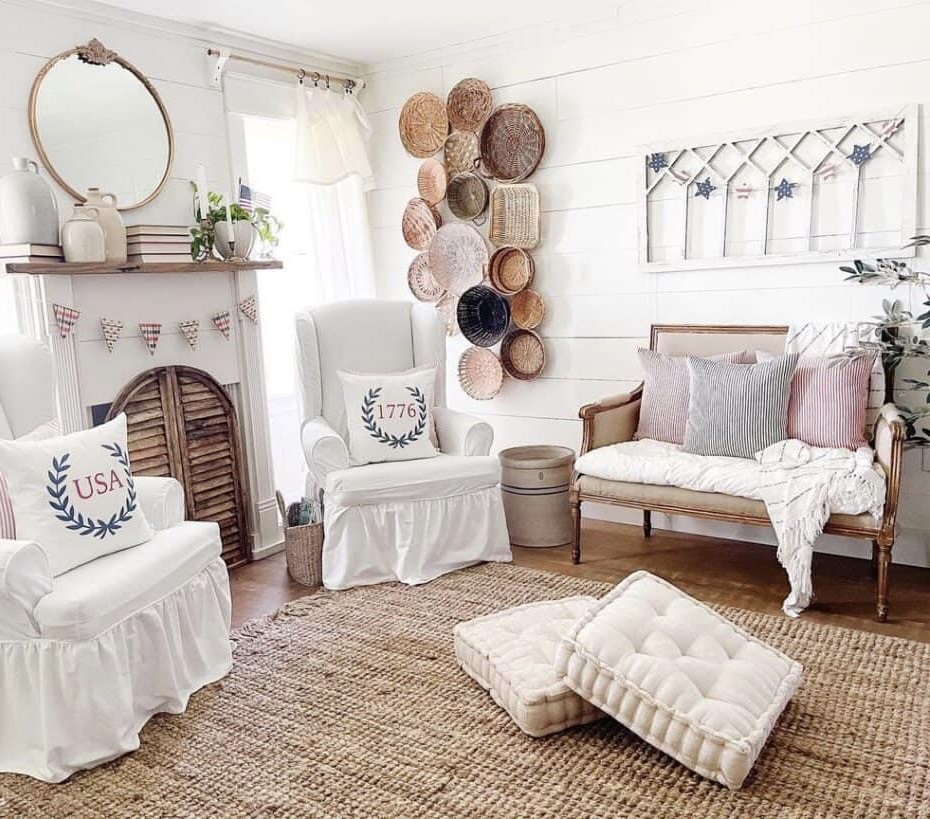 If you like boho looks, then this design idea would be ideal for your living room. In this design, a jute rug has been placed on wooden flooring. Most of the elements, like the armchairs, curtains, and walls, are done in white so that the rustic elements can have the right amount of spotlight. The cream poufs further accentuate this look. A bench has been added with a white seat and a white blanket to finish the look.
13. Wall Baskets Framing The Pantry Door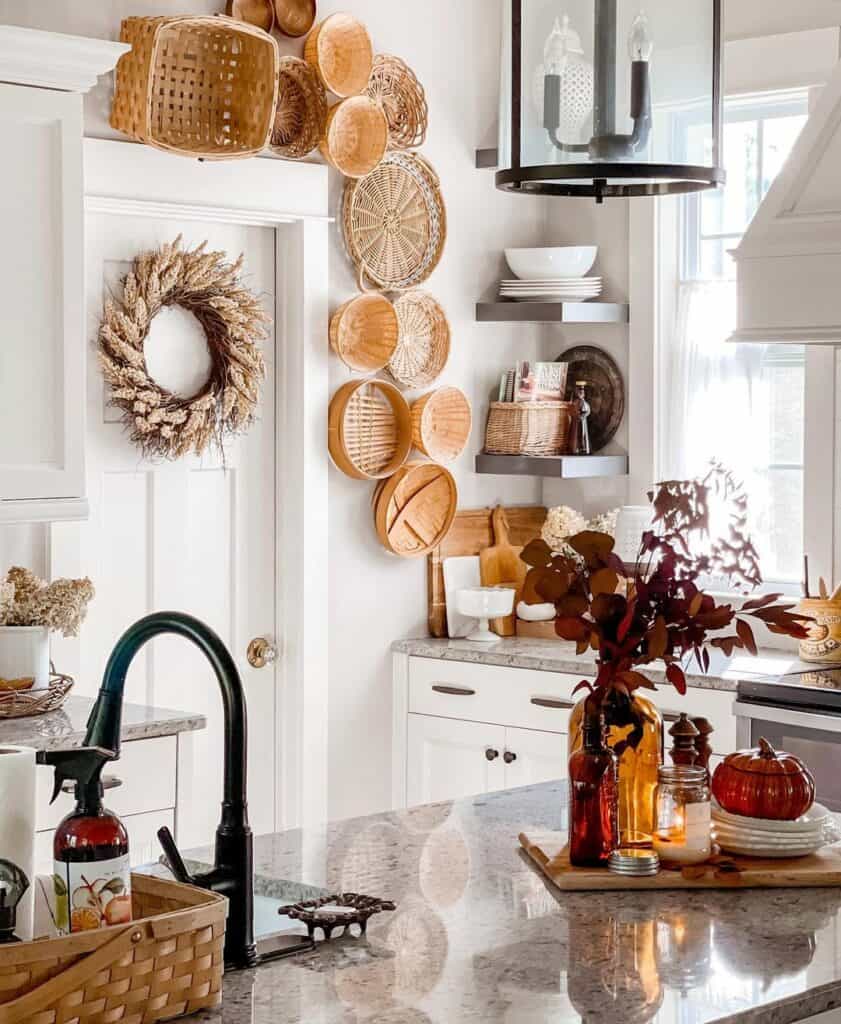 Unique basket arrangements enable you to express your creative side in unexpected, surprising ways. In this design, the baskets are displayed around a pantry door. The baskets used are of different shapes, sizes, and materials. You can add accessories that complement the basket wall decor in other areas of the room. Green plants and other natural elements can be added to accentuate the look further.
14. Add Baskets To A Shelf Above the Headboard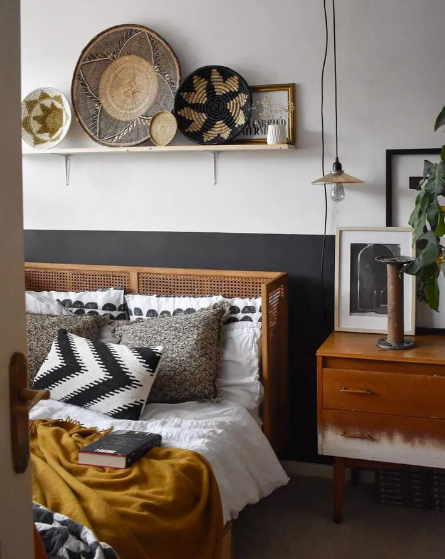 Are you someone who doesn't prefer to hang the baskets? Then this design would be a great pick for you. In this bedroom design, classic woven baskets are placed on a shelf right above the headboard. This creates a very appealing look. You can put larger baskets in the center and smaller ones at the side to give an asymmetric look. Other rustic elements like a wooden lamp and wooden side table can be added, which will go well with the basket decor.
15. Basket Wall Decor with Autumn Flowers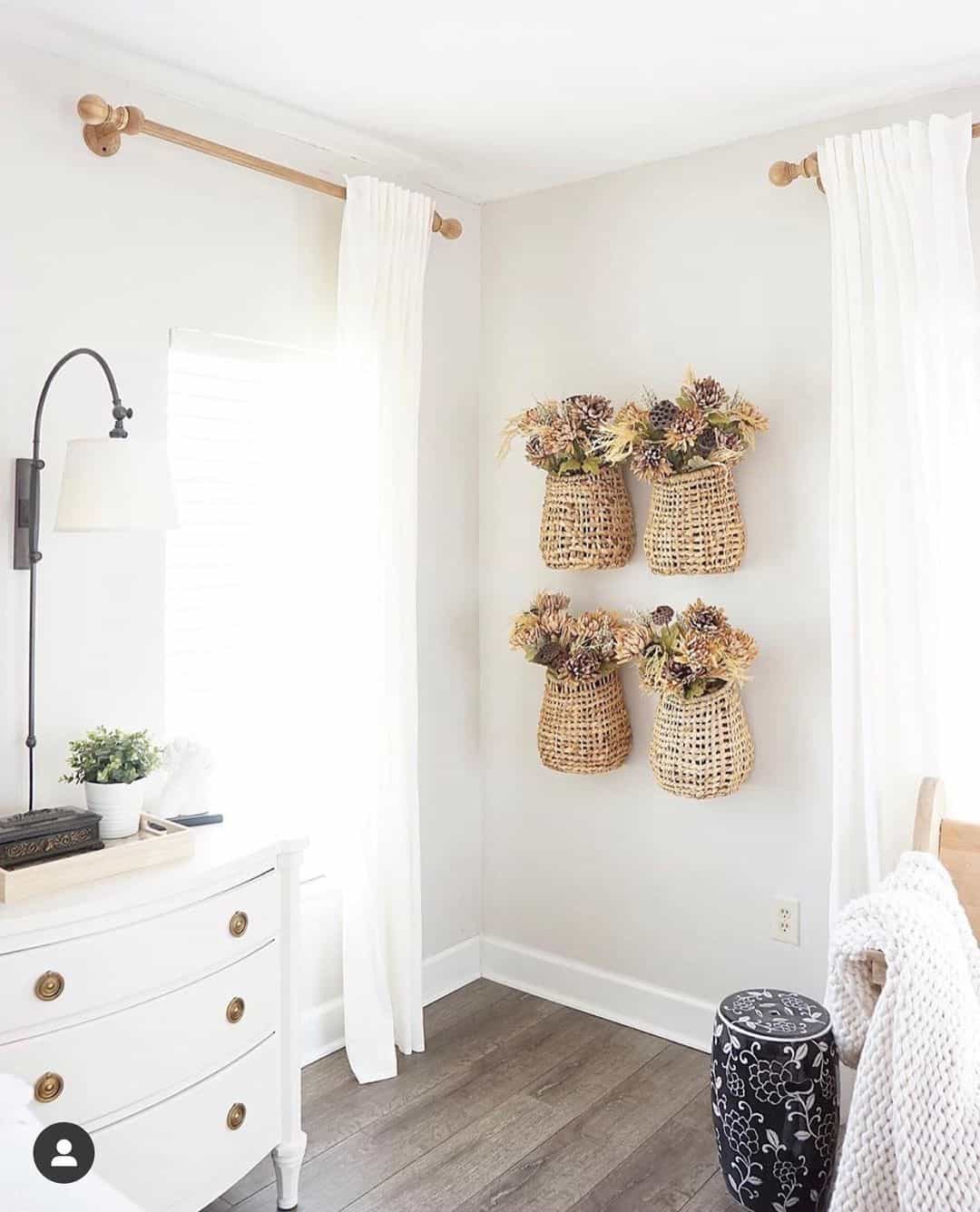 If you have an empty wall in your bedroom, you can add four-five hanging baskets on the wall. You can fill these baskets with autumn flowers to bring some refreshment to the room. White curtains and wooden rods are well-suited for this room. The flooring is done in wooden, and a white dresser with brass knobs has been placed at one side. You can decorate the white dresser with delicate decorative items to enhance the overall look and feel of the room.
16. Kitchen Passage Accentuated Using Traditional Woven Baskets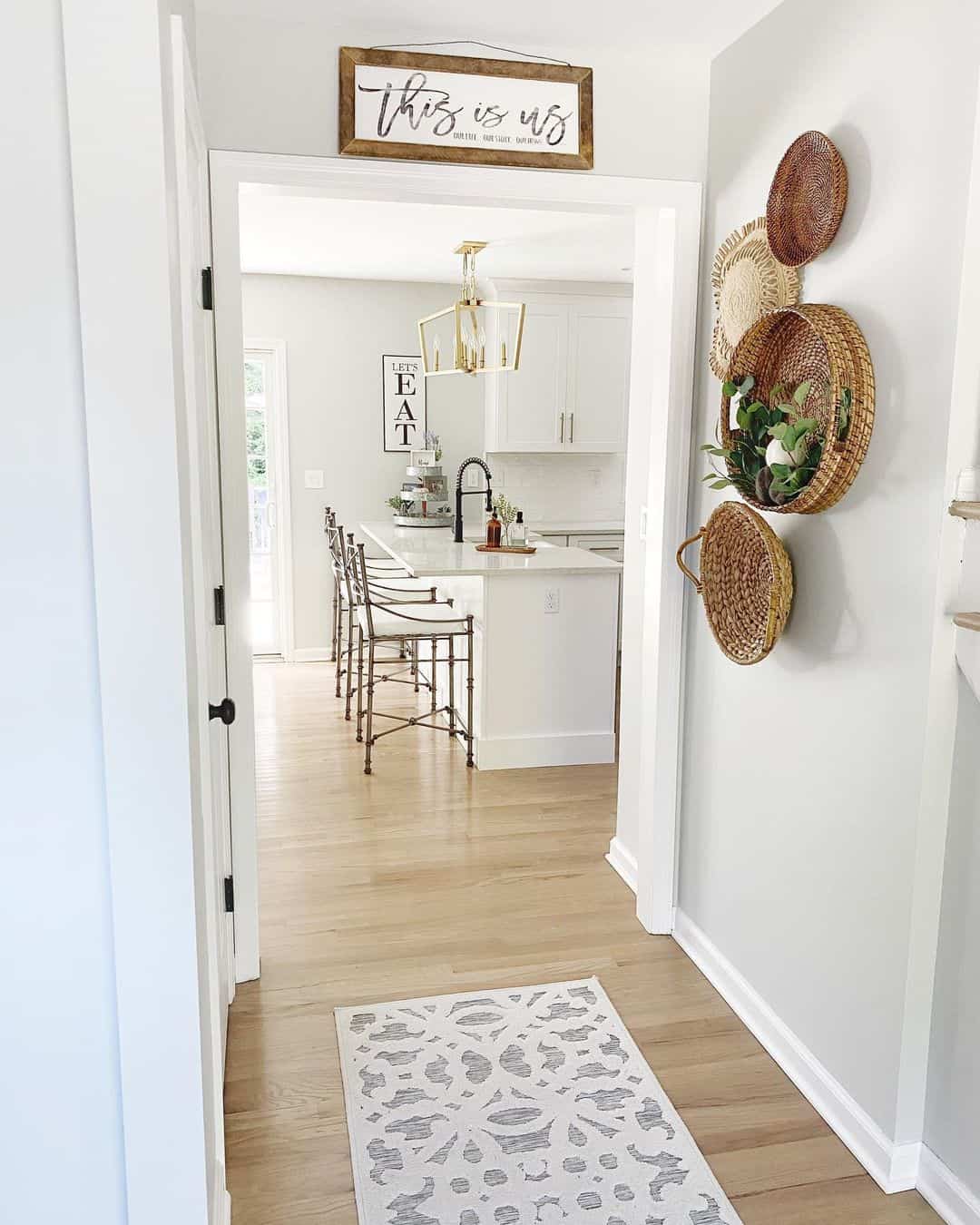 In this design idea, a bunch of woven baskets has been displayed in a white passage leading to the kitchen. Wooden flooring is used, and a patterned rug is placed to complete the look. Some greenery has been added to the baskets, and a wood-framed welcoming sign above the kitchen welcomes you to the kitchen.
17. Beautiful Entryway with Flat Basket Wall Decor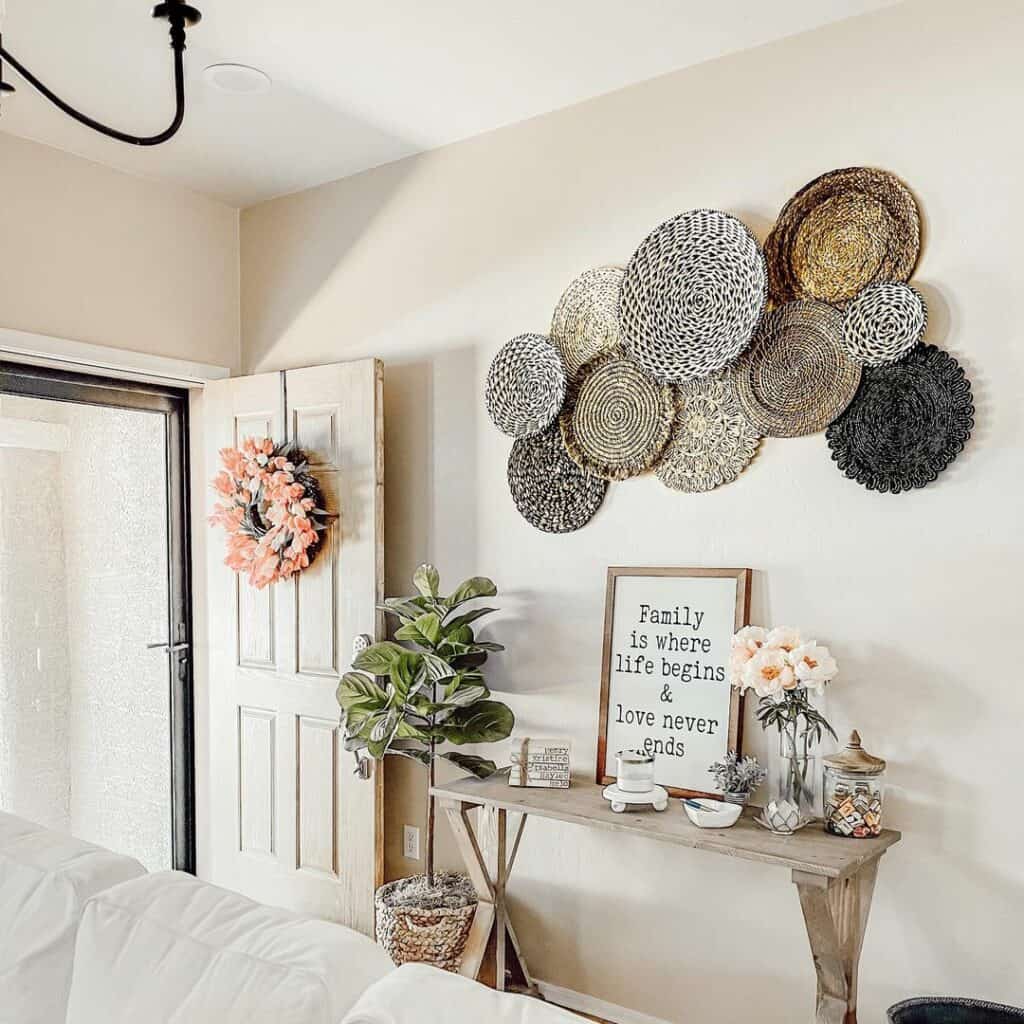 This charming entryway features a beautiful arrangement of round baskets in black, brown, and other rustic colors. The entry door is a white-paneled one with a wrath of peach roses. The basket wall decor on a cream-colored wall creates the right amount of drama. Other natural elements, like a glass vase with flowers and a wooden frame, have been placed on a wood-finished console table to finish the look.
18. Boho Basket Decor in a White Hallway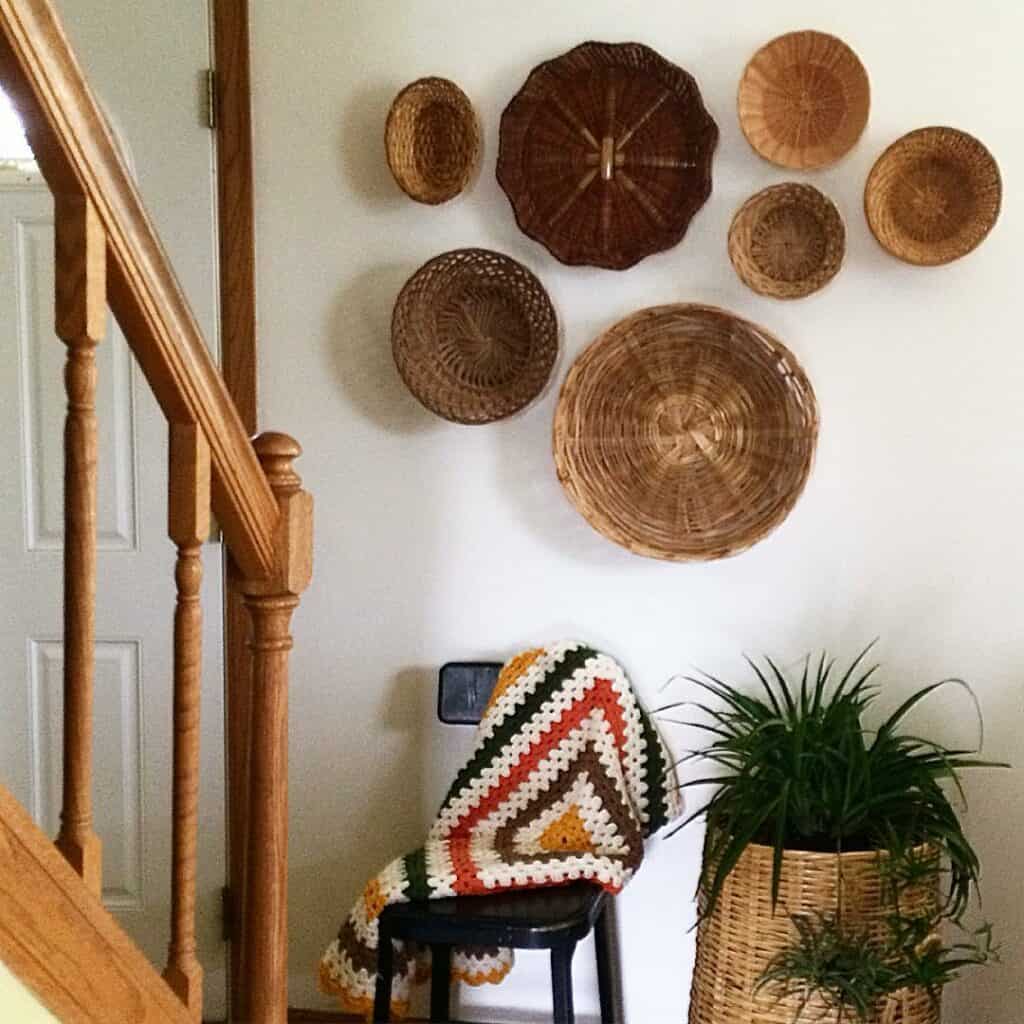 In this design, a white hallway features traditional cane basket wall decor. The baskets are made out of natural materials. To further accentuate the look, a woven planter with green foliage has been placed near this wall. If you wish to create a boho farmhouse feel, this design will work great. You can select baskets in different sizes and shapes.
19. Wicker Baskets Wall Decor on a Patterned Wallpaper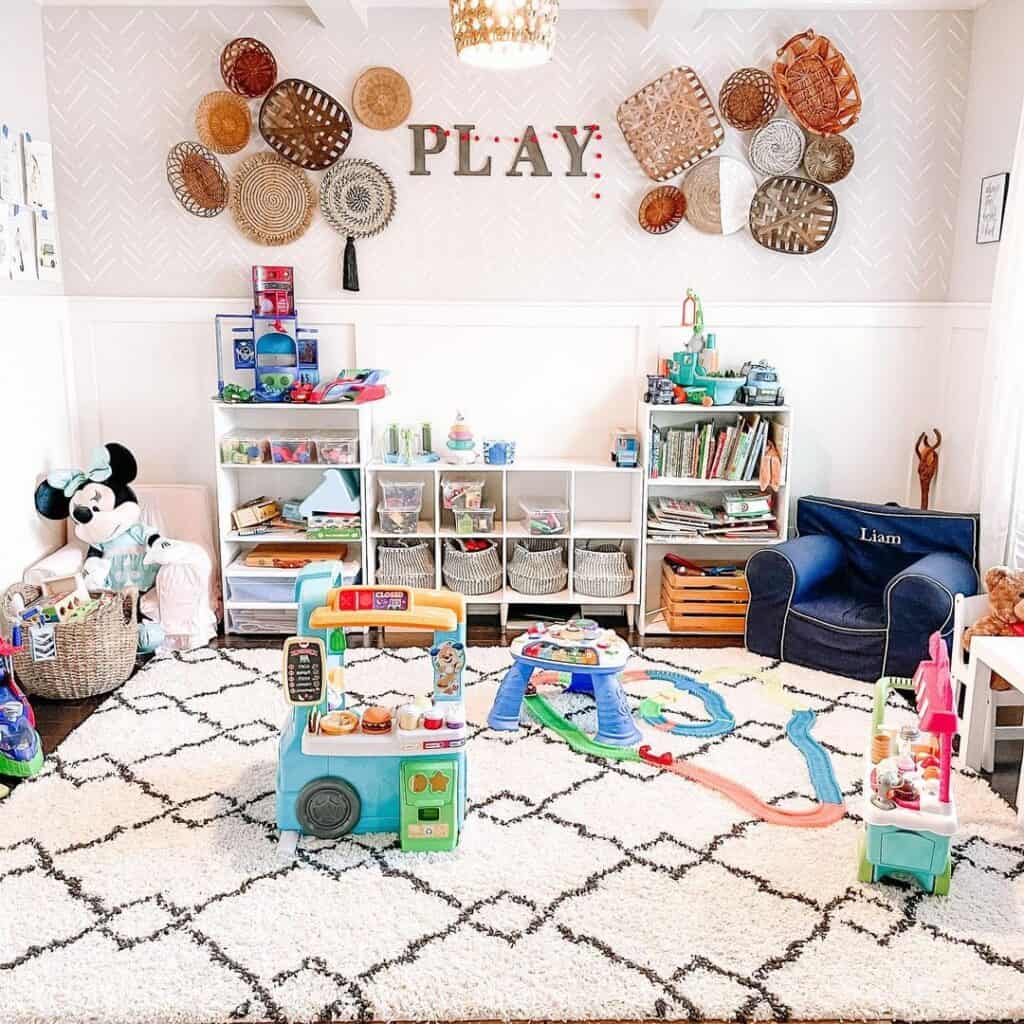 This playroom features beautiful wicker baskets of varying sizes randomly assembled on the wall to give a boho feel. The baskets are hung on a patterned wall done in grey wallpaper. White platform shelves have been placed against the white batten wall. The shelves can be filled with your kid's daily supplies like toys, books, and white organizers. An off-white carpet has been placed on a dark wooden flooring.
20. Decorate a Staircase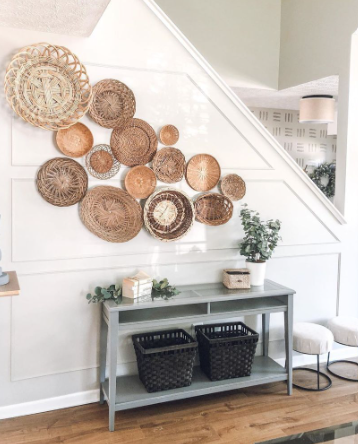 If you're hunting for ideas to amp up a staircase, this design is great for you. Baskets have been added to the paneled staircase to grab some attention. The baskets are arranged in an upward fashion in the direction of the staircase. A grey console table has been placed against the staircase with cane baskets underneath and a few planters on top. The basket decor adds warmth to this space while keeping it simple and elegant.
21. Wooden Sideboard with Foliage and Basket Wall Decor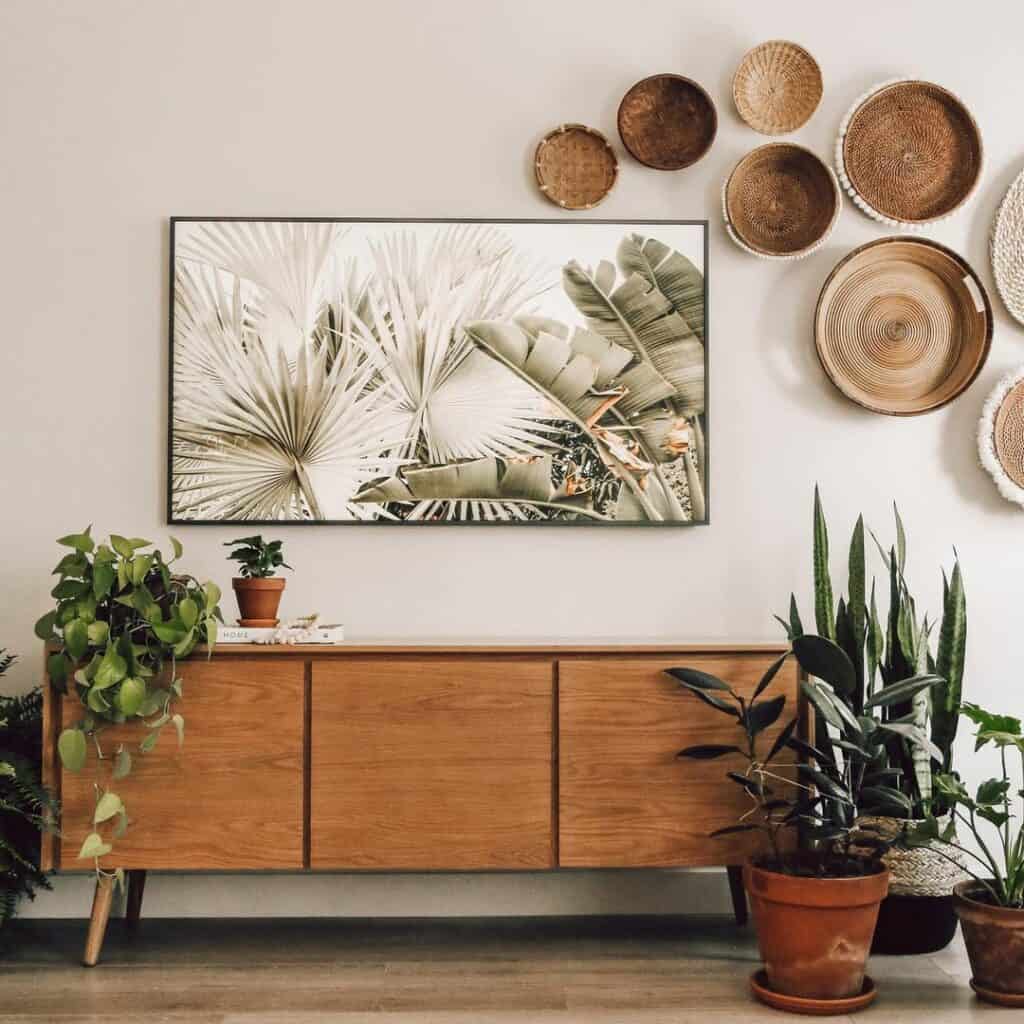 In this design, a large wooden sideboard has been placed against a plain white wall. A frame with a picture of leaves has been installed above the sideboard. The sideboard is surrounded by terra cotta pots and green foliage. On one side of the frame, baskets have been placed in a curved asymmetric fashion to create a rustic boho look. The wooden flooring in this space perfectly complements the entire look.
How to Plan Your Layout?
Once you decide which baskets you wish to display on the wall, you should start planning the layout of the decor. With the right layout, you can transform your plain boring empty wall into a piece of art. In case you don't have a particular spot in mind, look for walls that look naked or need some texture. Provide yourself with some plain walls to get started. A wall with basket wall decor will look amazing in any room. You can incorporate basket wall decor in a living room or hallway. Entryway, kitchen, bedroom, or staircase. Explore as many spaces as you want and then decide which wall is ideal for displaying this kind of decor.
Designers and decorators suggest that you should start with the larger baskets first. Place the larger baskets in the center, surrounded by smaller ones. Concentrate on two diagonal corners and try to bring some balance. While assembling the baskets, capture some pictures for better clarity.
How To Hang The Baskets?
Once you figure out the layout, you can start hanging the baskets. There are a few options for hanging the baskets on the wall. You will need a picture hanging kit. Some small nails, a few command hooks, and floral or hanging wire to attach the baskets to the wall. A basic picture-hanging kit will be able to do the work for you. You can loop the floral wire through the basket and then hang it on the wall, just like you would hang any picture.
Once you start hanging the baskets, follow the instructions mentioned above. Start with the largest in the center, followed by a smaller one on the outside. Continue building the wall outwards, placing one basket at a time on both sides. You can use a picture for reference so that you don't forget what goes where exactly.
1. Use Your Own Creativity and Add Some Flare
You can customize your basket wall decor as per your preferences and according to the interior setting of the house. For instance, you can add planters or use some greenery or fall flowers to enhance the look and feel of any space. Colorful baskets or seasonal wear can also be used along with traditional woven baskets to accentuate the look.
2. Why Do You Need A Basket Wall
Creating a basket wall is a great idea for many reasons. These basket wall decor ideas are trendy and are gaining a lot of popularity. Basket wall decor adds texture and provides some character. It is also a very budget-friendly option. This trend is becoming popular in both boho and vintage farmhouse-styled spaces. It is also a great way to repurpose some old baskets for completely new use. This type of decor is preferred by both designers and notice since it creates a focal point in any room.
3. A Few Tips for Basket Wall Decor
The number of baskets that you will use for the decor will depend on the wall size that you wish to work with. As a general rule of thumb, stick to odd numbers like 3,5 or 7.
Deeper baskets might stick out a little too far. They might create a nuisance rather than add to the aesthetic appeal of any space.
Assemble baskets on the wall in an asymmetric pattern and leave some white space between them.
If you can't figure out a pattern, just place a large basket in the center and place smaller ones on either side alternatively. You can also style the baskets around an existing piece of artwork or decor element.
Lay down all the baskets on the floor and decide how exactly you wish to place the baskets and what kind of style will suit you before hanging them on the chosen wall.
Conclusion
If you're ready to transform your stark, dull walls into stylish centerpieces, then the ideas mentioned above will definitely help you. Irrespective of your taste and preferences, these basket wall tricks will amp up any space and also bring out your taste and personality. Basket wall decor is an ideal choice for most people since it naturally brings texture and pattern to any home. You should look for baskets with interesting woven patterns and color-blocked designs.
This is also a very budget-friendly option. Grouping a few different-sized baskets together can create the perfect art statement.
Frequently Asked Questions
How Do You Fill a Wall Basket?
If you wish to spruce up the look of any space, you can add summer bedding plants or small young shrubs to the baskets. This will give a refreshing and earthy feel to the space.
What Style Are Baskets on the Wall?
In case you're wondering what a basket wall actually looks like, we can give you a gist. It is a collection of a few baskets assembled together and hung on an empty wall. This look works great for various styles, including traditional, coastal, boho, or rustic.
How Do You Hang Baskets on the Wall?
You will need a hook or nail that would work best for you. Then select an empty wall. Use picture hangers or small nails to attach the baskets to the wall. In case you don't wish to put nails on your walls, you can use command hooks that do not damage the wall.
Where Should Hanging Baskets Be Placed?
Hanging baskets should be placed on walls that are empty or the ones that need to be amped up to enhance the look or feel of any space.