Whether you have a bathtub, a shower, or a combination of the two, you are sure to need space for your bath products. While racks can be added to the walls, a cleverly designed recess, or shower niche, blends with the interiors, can be a talking point, and, when well-planned, can store all you need and more. While designing your bathroom, it's important to plan this space, and if you want a seamless, upscale finish, you must also prepare the shower niche trim.
This trim ensures the recesses have smooth edges, no exposed caulking, and easy water run-off options. With multiple materials and styles to choose from, including metal, PVC, porcelain, marble, stone, tile, and more, you'll be spoiled for choice. Take into account the overall design aesthetic of the bathroom and the kind of finish you are aiming for, and you'll find it easy to choose the perfect shower niche trim. To help you get started, here are some brilliant ideas to transform your shower niche designs.
Shower Niche Trim Ideas For Every Bathroom
1. Upscale Elegance: High Gloss Tile with Schluter Metal Trim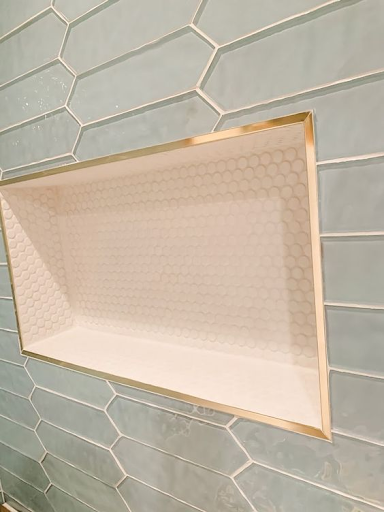 Are you looking for a modern bathroom that exudes luxury? Tile the walls with this high glass penny tile and edge them with glass pickets. The shower niche itself can showcase either a contrasting pattern or even be completely plain. Accent the niche with gold metal trim to make it pop. Pastel shades for the niche, like a delicate pink or rosy peach, with grey-green sea foam tiles, give the shower a cool, elegant touch. The gold trim is what adds a bold touch and helps highlight the niche itself. Get a set of upscale shampoo bottles to match the overall look, and you are set!
2. Functional Bare Minimum Look with Tiled Trim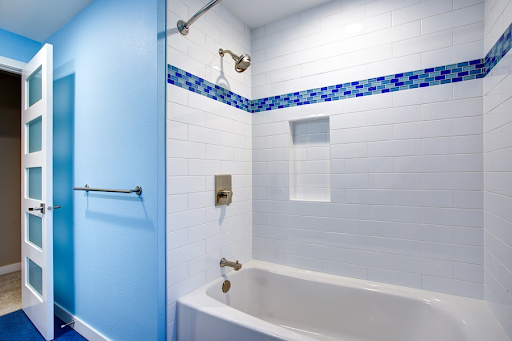 Bring Greece into your bathroom with this cool blue and white tiled design. A horizontal shower niche doesn't take up much space yet has sufficient storage for at least 3-5 bath products. Trim the niche with the same tiles as the rest of the bathroom wall for a seamless feel. It's easy to clean, doesn't stand out or make a statement, and is more functional than decorative. You could consider expanding storage by adding a glass shelf at the halfway mark. This is a good option if you live alone and don't go in for fussy decor, or it could even be a lovely guest bathroom.
3. Ultramodern Bathroom with Lighted Shower Miche Trim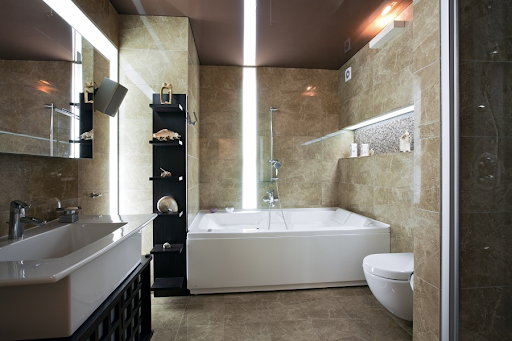 If you go in for the ultra-modern glass and chrome interior look, you aren't going to rest until you do up your bathroom in this black, white, and beige design. How do you make the shower niche stand out? Set it in a grey stone pattern and edge it with the same tiles as the shower stall with a bullnose trim for a smooth finish. Then, add concealed lighting to make it pop. Not just a fun look; it can also be helpful if you've gone in for dim, atmospheric lighting for the rest of the bathroom. Since the shower niche spans the entire shower stall, you have plenty of storage space for everything you need, from bubble baths to shower gels and soaps.
4. Picture-Frame Shower Niche Trim in Marble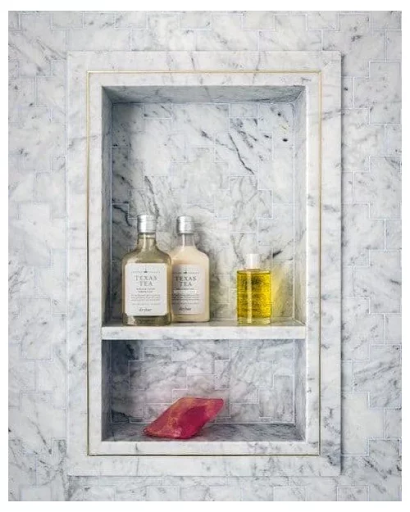 A shower niche doesn't have to be just functional; it can be pretty and blend right in. With marble or porcelain on the shower walls, this natural-looking recess is so harmonious and pleasing. The raised trim doesn't draw attention to the niche; instead, it creates the effect of a framed picture of luxury bath products in a lovely bathroom done with gray and white marble stones. A deliberate delineation within the trim itself adds to the picture frame theme. If the shower niche is located somewhere without much water pooling in it, you could opt for the clear-cut angular finish. If you are expecting a lot of splash in this niche, try a bullnose trim to help the water run off efficiently and make cleaning easier.
5. Vintage Black and White Shower Niche with Marble Trim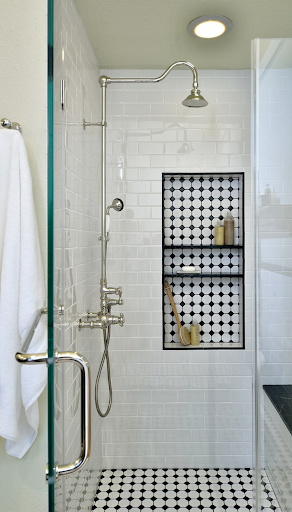 If you are restoring an old house or even going back in time with your interior decoration, you have to throw it back to the classics in at least one bathroom of the house. Try this black and white theme picked in tiles, bathtub, and of course, in the shower niche. Here, the shower floor tile pattern is different from the wall tiles but repeated in the niche to help make it stand out in the wall. The horizontal tile shower niche is set off by black Nero marble in the shelves and trims for a touch of decadence. The split-level shelves give you lots of room to scatter your stuff around without looking very messy.
6. Seamless Shower Niche with Quartz Trim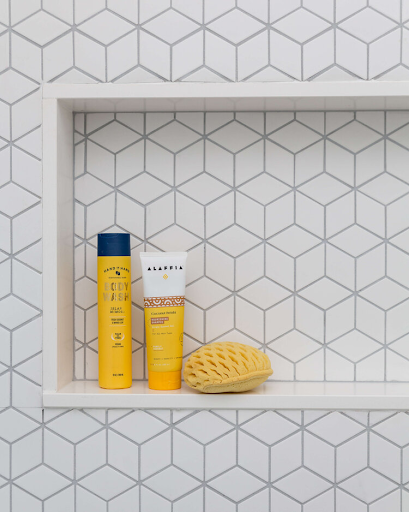 Sometimes, the simpler a design is, the classier it looks. This geometric tile pattern in grey and white is unobtrusive and calming. The trim features clean lines of plain quartz in the same material as the countertops for a seamless finish. The thickness creates an illusion of a rectangular shelf being placed on the tile rather than a recessed design. Quartz is strong, durable, and allows the water to run off easily. very functional. Try to accessorize with single-tone shower products to keep the theme of functionality and clean design, and you'll have a gorgeous modern bathroom.
7. Two-Level Horizontal Shower Niche with White Quartz Trim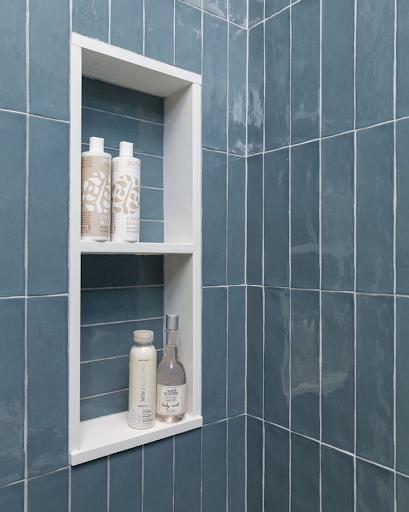 What's the easiest and best way to make your tiled shower niche stand out in a tiled bathroom wall? Put in a niche in the opposite direction! If you have horizontal tiles in the wall, do the shower niche in vertical tiles or a horizontal shower niche amidst vertical shower tiles. Especially if the tiles are a strong color, like blue or green, go with a simple white trim. The contrast of the white with the single-colored tiles transforms your shower into a pretty two-tone one. Quartz trims are strong, allow water to drain quickly, and are easy to clean. The result? Pretty, functional, and grabs the attention!
8. Subway Tile Shower Niche with Bullnose Trim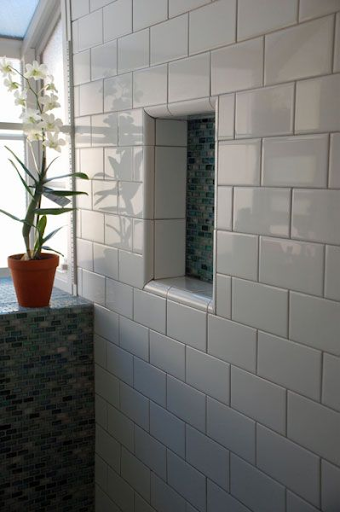 Subway tiles are the most popular bathroom tiles right now. They're easy to clean, look tidy, and give the entire space a fresh feel. You can create a strong contrast with a broken tile shower niche or a stone niche. A tiled bullnose trim is practical and helps create a feeling that the niche was created naturally rather than designed and fabricated. Also, it makes it easier for the water to run off for water and makes it easy to maintain.
9. Schluter Shower Niche Trim in a Bathroom with Pastel Shade Tiled Wor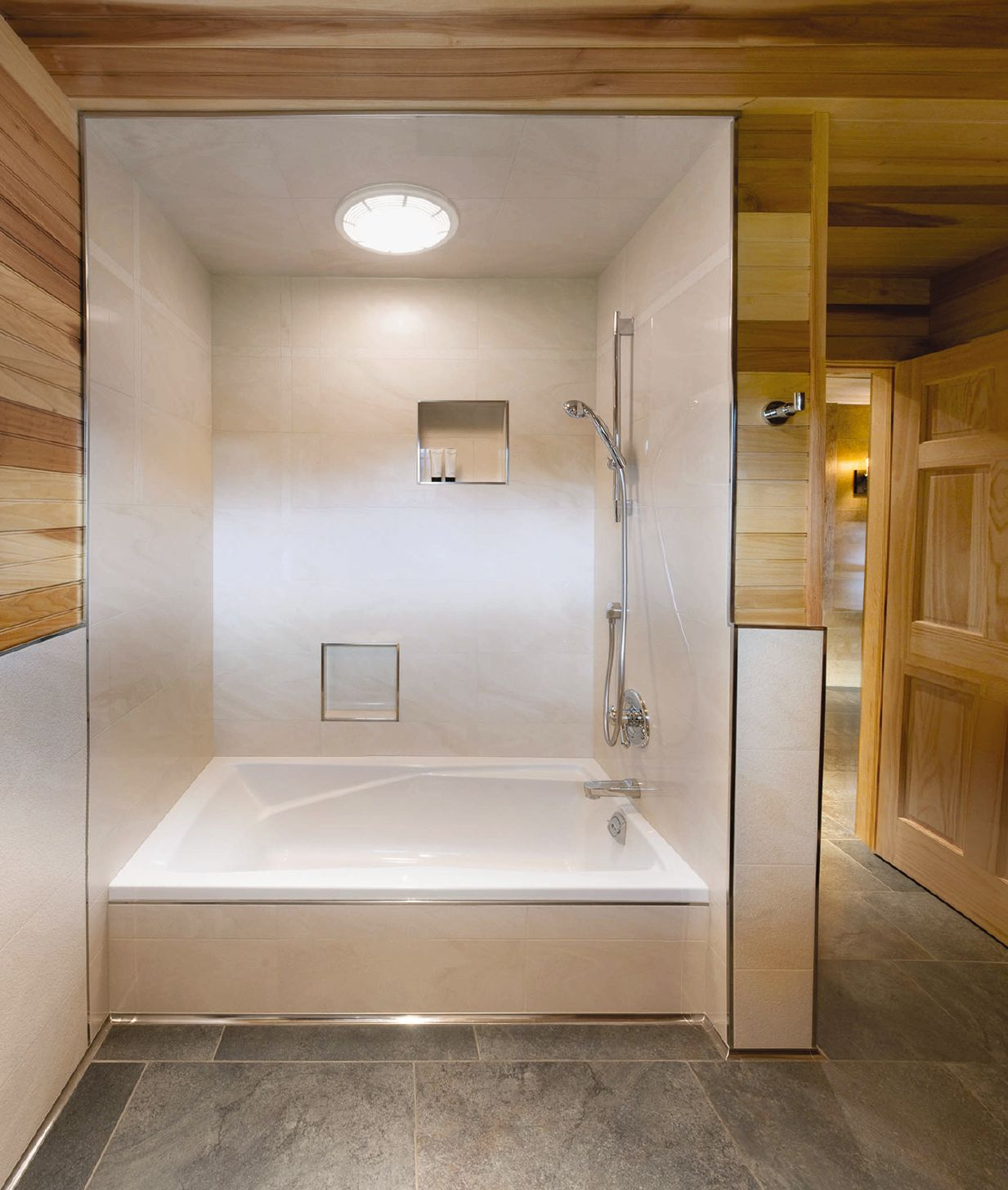 Schluter shower niche trims are the go-to trims for classy niches. They use PVC or metal trim to ensure that the edges are smoothened and have no caulking. If you have pastel tiles throughout your bathroom, there is no need to create a separate shower niche. Draw out a recess in the same pastel shade, elegantly tiled, and trim it with a nice metal finish to create a clear space. Pick up the same trim in the bathtub to create a pastel with a metal finish for the overall bathroom decor. While this trim generally gives you more angular edges, PVC helps you create a softer, more rounded look, which is used to finish off the niche edges without caulking.
10. Stone Trim in Plain White Shower Niche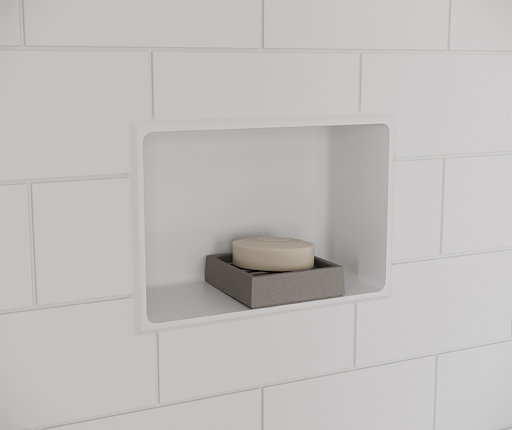 Have you always longed for a calming, single-toned bathroom that lets you unwind and relax while you bathe? Create a simple stone tile work look with a recessed plain white stone shower niche; edge it with a simple stone trim with rounded edges to reduce the starkness and give a feeling of smoothness. This look is especially great for a personal bathroom used by only one person. This way, the niche can be small and unassuming. When used by a single person, there's very little clutter keeping the calming element intact.
11. Penny Shower Alcove with Chair Rail Niche Trim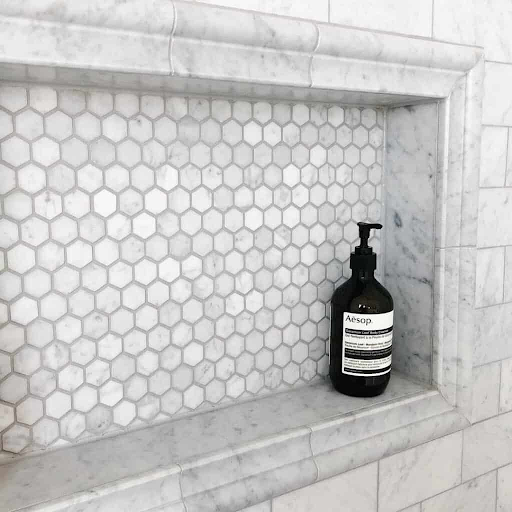 Have a bathroom with simple marble or porcelain tiled work? Create a penny shower niche for a lovely geometric break in the tiled pattern. Even in the seemingly dull colors of white and grey, the niche stands out with strong contrast. Add a textured marble curtain rail trim, which is smooth and rounded. This adds to the overall aesthetic of the shower, as well as keeps the niche dry, easy to clean, and maintain. If you have the space, add a horizontal marble shelf for added storage options.
12. Herringbone Tile with a Quarter-Round Trim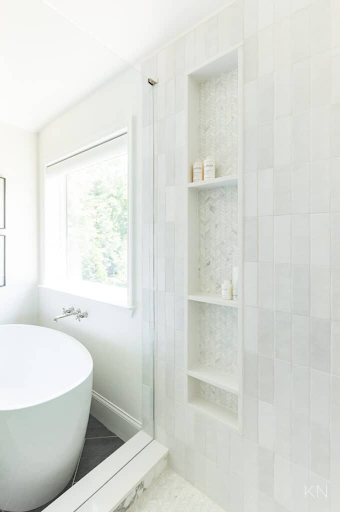 Are you looking for a simple, elegant, and airy bathroom? Go for slightly textured white tiles for the walls, but change it up a little when it comes to the shower niche. A simple herringbone patterned tile draws the eye to the recess and products within. The quarter-round trim helps create both a frame as well as a smooth finish to the shower niche, giving it a neat appearance. If you dream of long bubble baths with candles to help reset your mind, this is the ideal look you'll want to replicate.
13. Stacked Multi-Storage Shower Niche with Plain Plastic Trim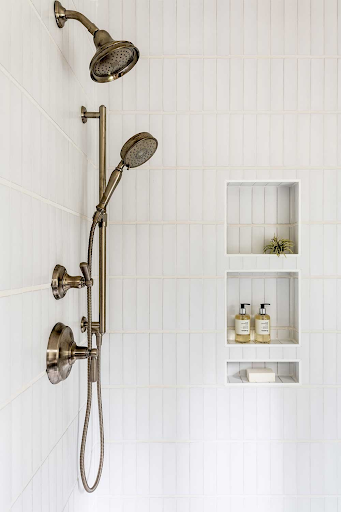 White tiles, antique style bathroom fittings, neat inset niche – what could make a bathroom look more roomy and clean? Stacked multi-level storage ensures that you have adequate space for your hygiene products without cluttering the countertops. Trim the niche with a simple, thin, white plastic finish to demarcate the recess clearly. Not only does it look organized, but it also matches the rest of the bathroom. An excellent idea for an en-suite shower or even for a guest bathroom.
14. Farmhouse Shower Niche in Subway Tile Bathroom with Fun Contrast Trim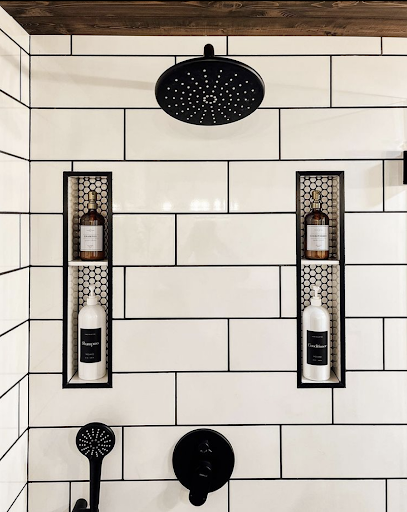 Don't want to settle for a dull white or pastel bathroom? Well, why should you? Pick out large white subway tiles with black borders for the walls. Set the niche off with a dramatic, geometric pattern to provide a sharp visual contrast. A black and white honeycomb tile pattern in the shower niche, with bold black tile trim, completes this beautiful look. Pick out accessories in keeping with your theme, and you'll spend more and more time in the bathroom, just admiring the sheer perfection of the interiors.
15. Thick Stone Trim for Simple Shower Niche in Hexagon Tiled Wall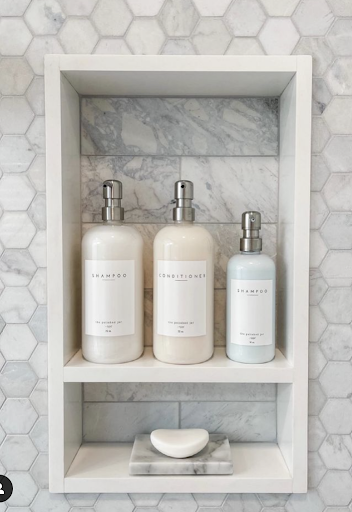 Since baths are supposed to get you to relax and unwind, why not create a spa-like atmosphere of calm and healing? The intricate geometric wall design is offset by a simple textured stone tile niche. Thick stone trim and shelf give the niche the storage it needs while marking off the niche space clearly. Throw in some pastel shades in your shower products and add some diffusers to complete the overall spa experience.
16. Stacked Niche with Wooden Shelves and Clear Plastic Trim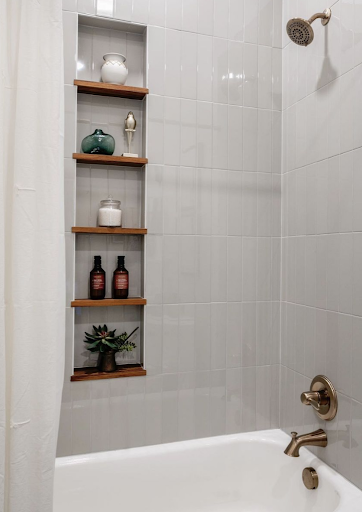 Need to design a family-style bathroom? You'd like a tub and shelves for the adults to take a break, while toys and kids' bath products can transform the same tub into a fun waterpark. Try these extruding wooden shelves, but with rounded edges to avoid bumped heads. A plain white plastic trim accents the niche space. Since the shelves are extruding, you have a sense of built-on storage rather than recessed space. While the shelves can host scented plants or candles for some me-time, they can work to help toy pirates walk the plank, be a diving board for rubber duckies, and more for baby bath time. Simple to clean and holds a lot of clutter while still imparting a cheerful feel.
17. Stunning Arch Niche with Intricate Tile Work and Tiled Trim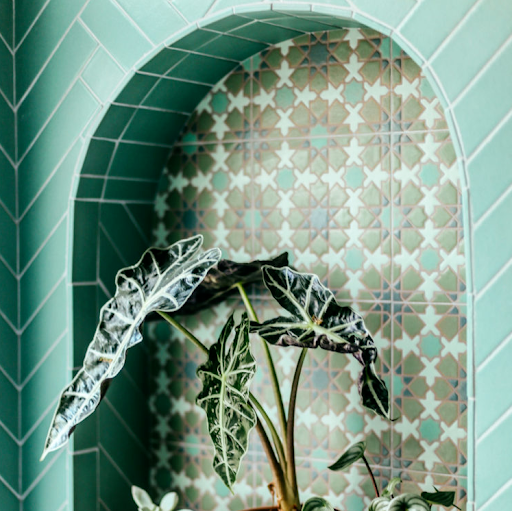 It's time to throw it back to the 60s if you'd like an artistic, luxurious bathroom. It provides a cool space to relax and unwind in earthy tones of blue and brown. While the tiles are a simple blue, the shower niche features a multi-toned intricate flower pattern in the tile work. In contrast, the niche trim is a simple blue tile trim designed to frame the stunning niche. From using the space for bath products to lining it with exotic potted plants, dress up your bathroom with this stunning shower niche and trim.
18. Whimsical Half Moon Shower Niche with Pebble Style Stone Trim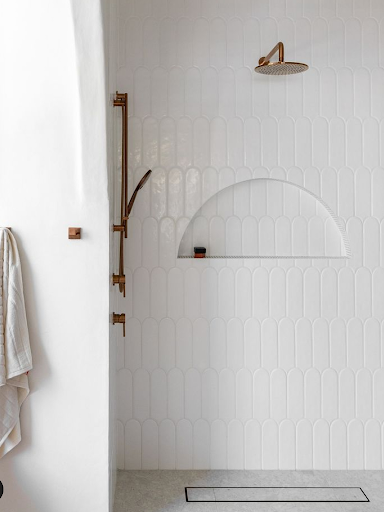 Bring a touch of whimsy into your private spaces. This imaginative custom design makes for a fun bathroom. While the shower niche itself repeats the wall tile pattern, the trim is intricate with pebble work to provide a lovely textured finish. Not only does this give a clear contrast to the recess, but it also builds a strong base that is easy to clean. A half bath with a similar design could echo this pretty shower niche and allow your imagination to run free. The oval tiles too lend to the overall curved theme, which is soothing to the eye, rather than the lines and angles of more modern bathroom designs.
19. Split Placement Tiled Shower Niche with Seamless Trim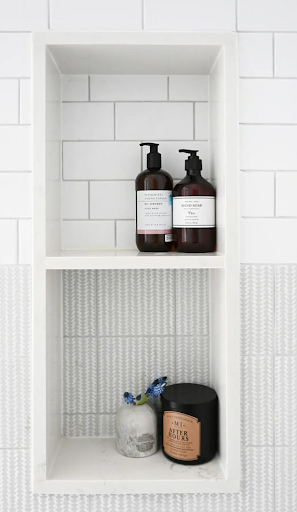 An older design that's making a comeback, bathroom walls feature a split tile style with two different tile designs. With a grey and white dual-toned, this wall design is echoed in the shower niche as well. The trim and shelf are textured white marble or porcelain, which unite the top and bottom tile designs. Cool and unique, let your shower niche trim frame this pretty shower space.
20. Bling Metal Strip Trim to Set Off Taupe Tile Shower Niche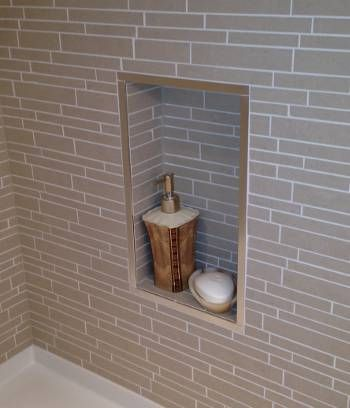 What if you have a modern house, but your inner self loves a spot of bling? Unite the two tastes in your shower niche design. The beige tiles of the shower walls are followed into the recessed niche as well. Add a touch of ostentation with a gold strip trim to bring bling into the sober tones of the shower. Echo the same with bath accessories – dispensers, soap dishes, and vases – marrying earthy tones to bronze and similar metallic finishes. Your bathroom will be the definitive proof that modern can blend with lush and still look stunning.
21. Unusual Hexagon Shower Niche with In-Built Tile Trim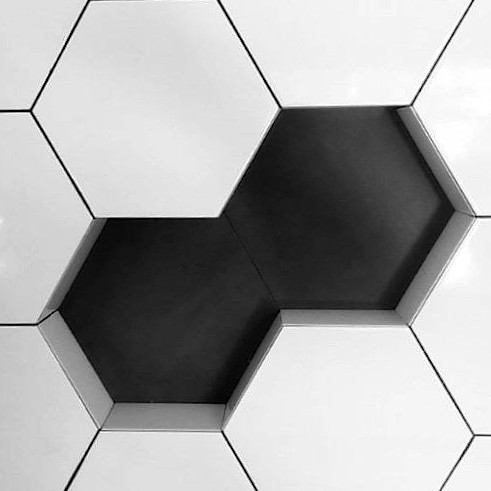 Time to go bold with your interiors? Follow through with a monochrome bathroom decor as well. This doesn't mean you have to restrict it to just the fittings and walls; you can tile the bathroom in a dramatic way as well. Try this look from the 40s, and build your shower niche into a black and white hexagonal tile design. Rather than building shelves separately, allow them to flow naturally from two neighboring hexagon tiles. Adopt a smooth trim on the surrounding tiles to ensure that water flows off and you have a bathroom that makes a statement.
Ready to Take on The Shower Niche Project
From subway tiles to marble finishes, from Schluter trims and bullnose trims to quarter rounds and pencil trims, you've just seen that there's a place for every kind of trim. Before you head out to replicate one of your favorite designs from the list above, ask yourself some basic questions. What is your overall interior look? And what niche trim suits your purpose the best? Have you measured the shower niche properly before you order the material for the trim? What kind of trim do you need in your space to make sure you have the perfect blend of aesthetics, functionality, and good looks?
If you've done up your shower niche recently and have any tips, tricks, or advice that you'd like to share, we're all ears! Similarly, if you are ready to kickstart your bathroom renovations, we're just a question away when it comes to shower niche trims. Head on to the comments below, and let us know your thoughts!