Black and white kitchens are a perfect combination of sophistication and functionality that can seamlessly fit into any interior design, no matter the style. A black-and-white kitchen can be both elegant and dynamic. When you choose to limit the color palette, you have the opportunity to create a striking balance between light and dark elements, which will give your space a unique look and feel. So don't hesitate to embrace simplicity when designing your kitchen. With a black-and-white scheme, it's safe to say that less is indeed more! By sticking to black and white for your color palette, it becomes simple to blend different styles while still achieving a harmonious appearance. And you won't have to worry about coordinating colors, allowing you to focus on creating texture and depth that will make the heart of your home come alive.
Take a look at these stunning black and white kitchens that come in different styles and settings. Get inspired to incorporate the timeless elegance and effortless sophistication of a black-and-white kitchen that won't go out of style. Also, add some creativity and uniqueness to the design by incorporating distinct patterns that will make the space truly remarkable.
Black and White Kitchen Ideas
1. Go for The Black Subway Tile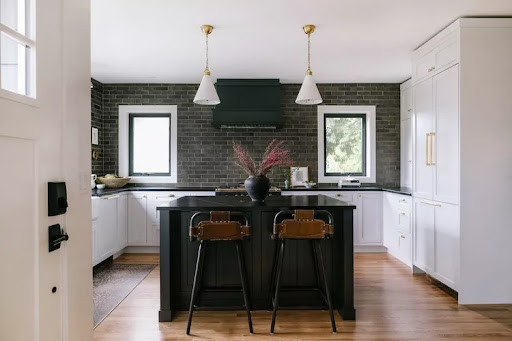 You can transform the appearance of your modern kitchen with elegant pale grayish-black subway tiles that serve as a stunning backsplash, matching seamlessly with the black hood range, countertops, and spacious center island. The kitchen is equipped with white wraparound cabinets that have gorgeous gold accents, creating a perfect contrast that elevates the overall appearance.
2. Full-Length Black and White Kitchen Cabinets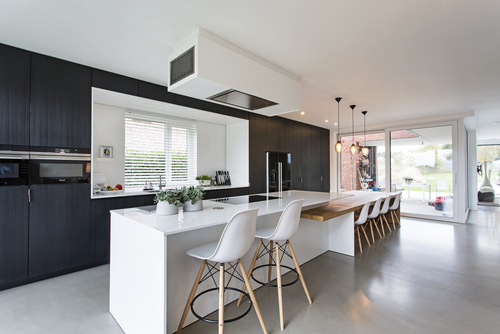 Elevate the style of your home by incorporating sleek and contemporary full-length wall cabinets in your kitchen. You can consider painting the top and bottom cabinets in black and leaving the center row in white. This contrast will create a clean, symmetrical, and modern look that will be sure to impress.
3. Black and White Kitchen Cabinets with Stainless Steel Accents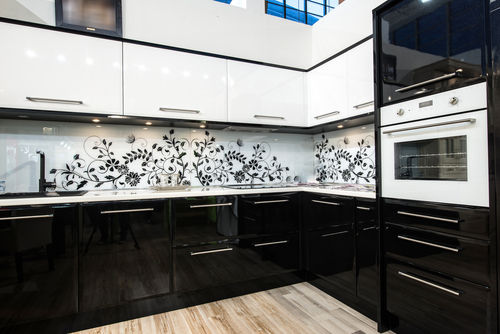 Living in a small apartment demands smart utilization of space. In such a scenario, opting for a modular kitchen cabinet is crucial to ensure everything fits perfectly. You can incorporate a sleek black cabinet design accompanied by stylish stainless steel accents to create a striking monochromatic theme in the room.
4. Combining Black and White with Marble Is Elegant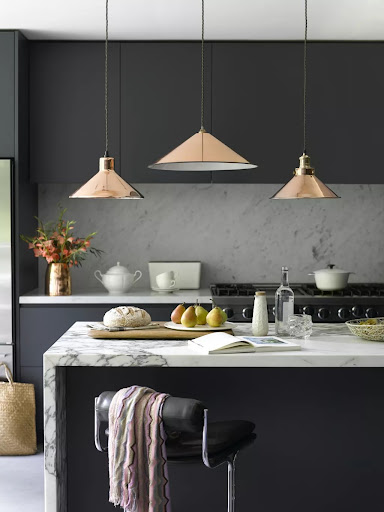 If you are looking to add some character to a black kitchen, it's essential to incorporate textured surfaces. A great way to achieve this is by using marble for your countertops. Not only will it provide visual interest, but it will also add a touch of luxury to your space. Incorporating gray marble veining on kitchen counters can add a touch of elegance and visual appeal to your kitchen. As seen in the photo above, this design element can enhance the aesthetics of your kitchen, adding a beautiful touch to your kitchen.
5. Wood Flooring Suits a Shaker-Style Kitchen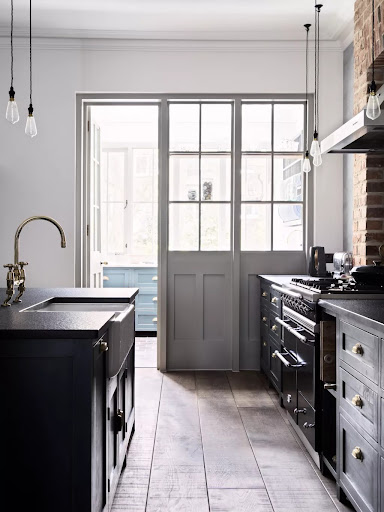 Wood makes an exceptional contrast to the dullness of a black-and-white kitchen design. When choosing boards for a kitchen with a darker color scheme, it's best to go for those with warm undertones. This will give an impression of spaciousness, making the room seem larger and brighter. To add character and depth to your space, you should opt for textured boards or go for the eco-friendly option of using reclaimed wood. The natural knots and marks that come with such wood will add an unparalleled charm that cannot be replicated with other materials.
6. Country Inspired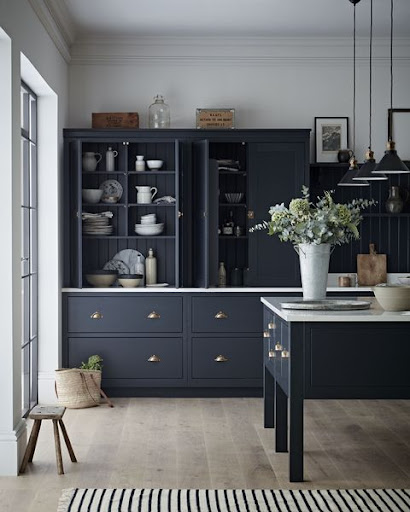 When it comes to traditional settings, using a black-and-white color scheme can have a remarkable impact. In period homes, where furniture or architectural details are particularly ornate, black can sometimes be too bold and overpowering. The solution is to effectively utilize refined features such as slim marble countertops, sleek brass hardware, unadorned cabinetry, and a clean silhouette on the central island. These elements come together to create a sophisticated and polished space.
7. Pink Tones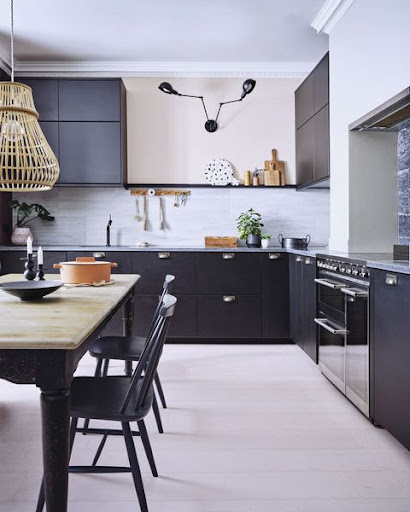 This kitchen employs a smart color palette trick to add some light to an initially dull design scheme. The pinkish undertones of the laminate floor are perfectly complemented by the reflective surfaces of the black cabinets in this room. To apply this technique, it's not necessary to have cabinets with a high gloss finish. Instead, opt for cabinets that have a flat panel surface with a subtle shine.
8. Shades of Grey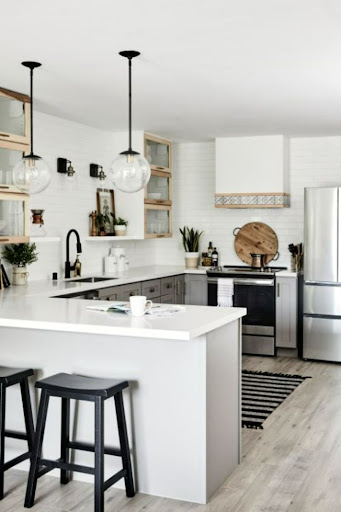 When you have a small kitchen, you need to be careful about what items you choose to showcase and keep. This kitchen features black and white color tones and smart use of space where the shelves replace the window. You can brighten up your space with some vibrant green demitasse cups and a charming variety of tiny potted plants that will add pops of color.
9. The Star of The Show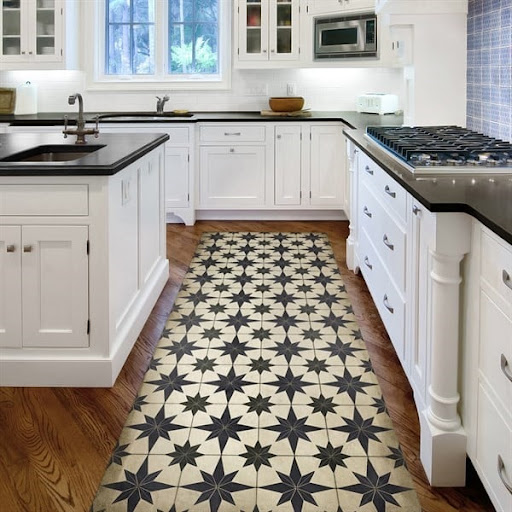 A striking rug with a pattern of stars in black and white could steal the spotlight and become the centerpiece of the kitchen. This kitchen rug boasts a captivating geometric pattern that not only adds a touch of visual appeal but is also perfect for high-traffic areas. It helps protect the wooden floors from damage, making it a practical and stylish addition to your kitchen.
10. All About the Lines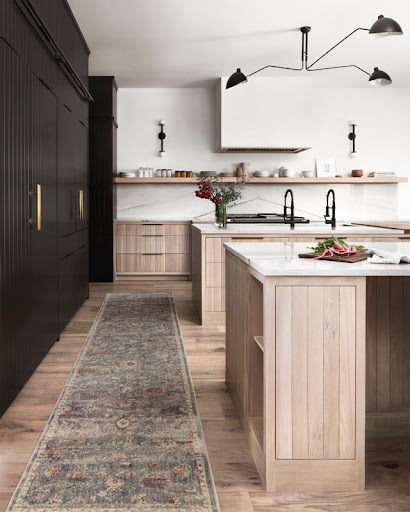 For a contemporary kitchen, pay attention to both the lines and the colors. Keeping things crisp and angular by contrasting black with blonde wood cabinets creates some tension. You can add vertical lines to the door panels to enhance the look of it. Only black cabinets can look heavy and dark. To balance it, you can use some light fixtures. For instance, the rug in the above reference is in neutral colors and a shade of black, which blends perfectly and counteracts the sharpness of the elements in the kitchen.
11. Black Boundary Around the White Kitchen Cabinets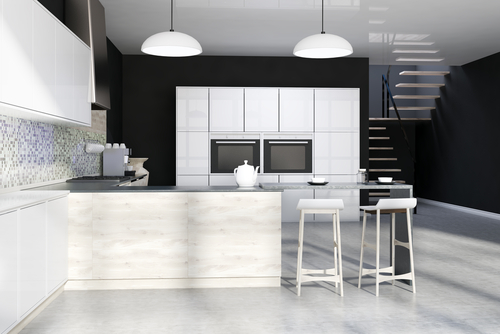 If you are looking to create an innovative look, then you can try by including a box of cabinets in the kitchen. Paint the borderline of the cabinets black in color and the inner cabinets white. Make sure they are full-length cabinets.
12. Color the Inner Part White and The Outer Kitchen Cabinets Black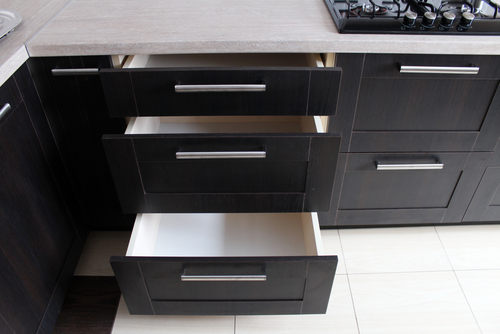 Sometimes, you may find it hard to find things in your black drawer. To avoid it, you can keep the outer layer of the drawer black and the inside layer of the drawer white. This will ensure that you can find your things in the light space.
13. Subtle Touches of Color Enliven Black-And-White Kitchens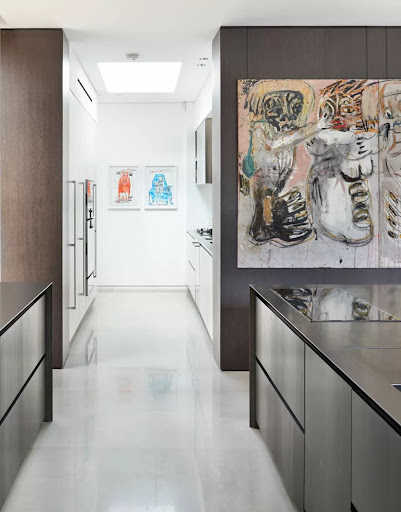 Many people assume that incorporating a black-and-white color scheme in your kitchen means that you can't bring in other colors. However, that's not true at all! In reality, a black-and-white kitchen provides the perfect blank canvas to play with various color accents. Over the blank canvas, you can introduce artwork in your kitchen. It is a fantastic way of incorporating vibrant colors and extending the hues to your countertops through accessorizing.
14. Warm Metallics Are the Perfect Complement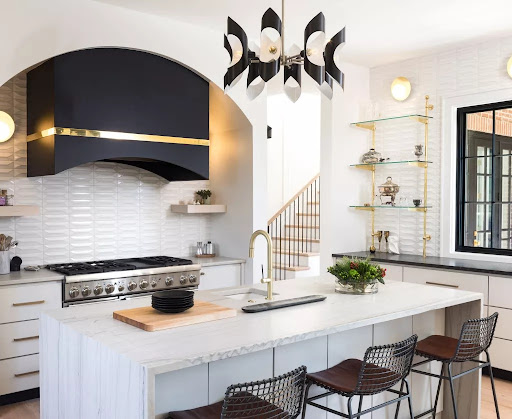 If you have a black-and-white kitchen and want to add some warmth and texture while keeping the black-and-white elements, there are some great tricks you can use.
One is to use brass and other warm metallics. It is one of the biggest trends right now. It adds a luxurious glow to the monochromatic scheme, creating a perfect visual balance. Another important element that enhances the style of this space is the inclusion of white wall tiles with a textured surface.
15. On Display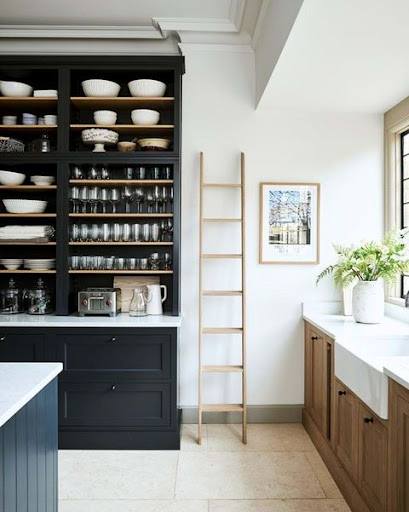 At first, a black display cabinet, especially a double-height one, may seem to dominate a kitchen. But white accessories can balance the look and add a touch of elegance. You can further enhance the look of your kitchen by including a range of cream-colored enamelware on your shelves.
16. Scandi-Inspired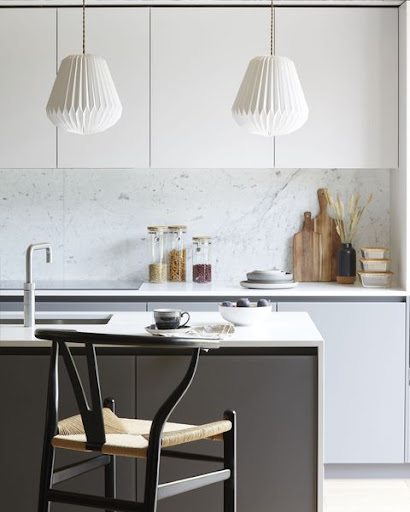 If you are unsure, you may take inspiration from Scandinavian design. This style is a proven success and will provide you with a timeless and stylish kitchen look. Incorporating natural materials like rattan, oak, and stone can make for a stunning design scheme. The key is to keep the rest of your palette simple to really let these materials shine. This approach is a great way to bring a touch of the outdoors and create a warm, inviting atmosphere.
17. Farmhouse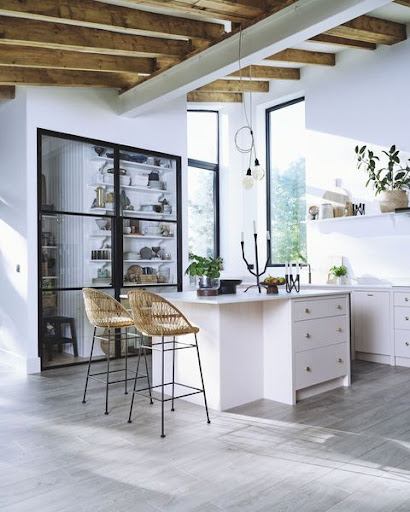 You can use black to add a touch of sophistication and contrast to your kitchen. In the reference picture, the black color is present in the windows, and decorative elements and cleverly frame the spectacular walk-in pantry. Enamelware stacks, rustic materials, and pendant lights hanging low are timeless staples in a farmhouse-style kitchen.
18. Luxe on All Levels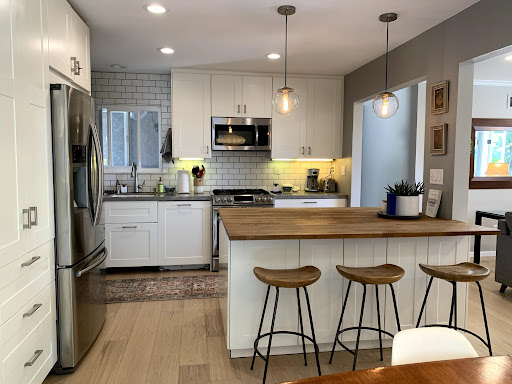 You can elevate the look of an ordinary black-and-white kitchen by introducing lavish elements. To add a touch of glamour to your kitchen, consider adding custom molding to the upper cabinets, grouping gilded gold wall decor pieces, and incorporating a golden band around the countertops. These elements are sure to elevate the overall aesthetic of your space and provide a luxurious feel. Finally, you can opt for a stunning crystal chandelier that will catch and reflect the light beautifully.
19. A Base for Brass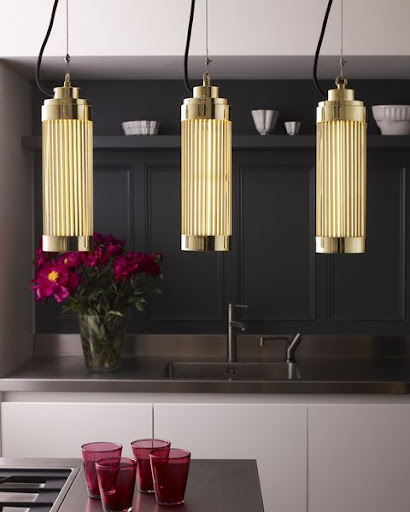 When showcasing metallic, no other color combination can beat black and white. To avoid a design scheme that looks cold, it's best to be careful when incorporating silver accents. They have a tendency to be less effective at adding warmth, so it's a better choice, while an antique brass finish would be more suitable for traditional settings.
20. A Spring Take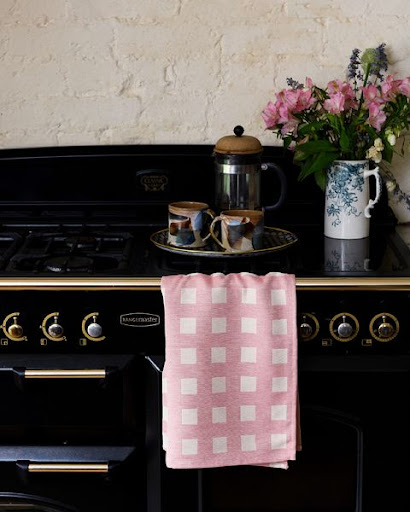 If you have a lot of colorful accessories and want them to really pop, black is the perfect choice. No other color provides such a striking contrast to bright hues. It's a smart way to make your sunny colors stand out and draw attention to your stylish ensemble.
21. Limiting the Black to The Kitchen Island Is a Safe Option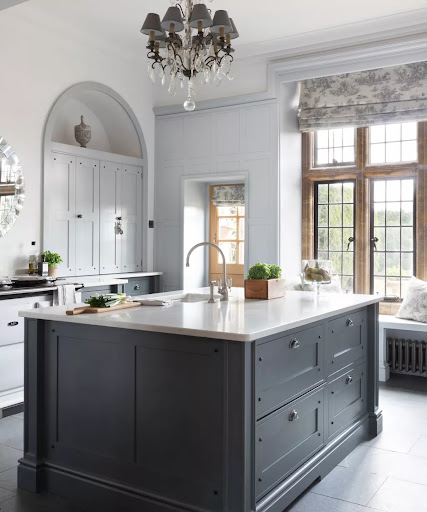 If you want to create an even-tone aesthetic for your kitchen, consider incorporating both black and white elements into your design. A black kitchen island paired with white cabinetry can create a sleek and modern look while still creating a striking and impressive effect. Furthermore, a light-colored kitchen interior will make the room appear more spacious, which is excellent for small kitchens.
Ideal Materials for Black and White KitchenDesign Cabinets
1. Wood
Back and white cabinets made of wood may cost a bit more, but they remain the best material for your kitchen. It is an excellent material that offers remarkable longevity, immense durability, and unbeatable value for money. It may have some flaws such as knots and splinters. However, you can easily fix these imperfections with simple solutions. You should take precautions to protect it from termites.
2. Plywood
It has remained a popular choice for kitchen cabinetry for many years. Plywood is made from a series of thin wood veneer layers that are glued together. Moreover, this widely used composite material is formed by bonding wooden fiber sheets together with resin, resulting in engineered wood with exceptional qualities. Plywood cabinets are a great choice due to their high tensile strength and resistance to termites, making them more durable and long-lasting.
3. Melamine
If you're looking to create a black-and-white kitchen cabinet, melamine is an excellent material choice. Its durability and versatility make it a great option for giving your kitchen a modern and stylish look that will last for years to come. If you're working with a limited budget, this material is definitely your best option. This material is made by utilizing various techniques, such as heat-sealing, and then treated with chemicals to enhance its resistance to moisture. This material can be molded more efficiently by the manufacturer. While it's common to see particleboard cabinets in stores, you won't often spot them in locally-built kitchen cabinets. Despite their popularity, skilled carpenters tend to avoid using this material.
4. Particleboard
If you're looking for a budget-friendly material for your kitchen cabinets, particle board is worth considering. This substance is highly cost-effective, as it efficiently recycles waste generated by the timber industry. Wood chips, synthetic resin, or similar bonding agents are used to create this product. One significant disadvantage of this material is its inferior strength when compared to MDF and plywood. If you're using particle board to design your cabinets, make sure to install it properly from the start. This will ensure a sturdy and long-lasting finished product. Take the time to do it right to avoid any potential issues down the line.
5. Marine Plywood
For superior quality and durability, selecting marine plywood is a wise choice when constructing your kitchen cabinets. Furthermore, the construction of this item commonly involves the utilization of tropical hardwood. When it comes to kitchen cabinets, it may appear that this alternative can have a higher cost in comparison to other options. But it is also water-resistant, even without any chemical treatments. If you want to ensure that the meals you prepare for your family always turn out perfectly, you can't go wrong with marine plywood. One of the major benefits of this material is its remarkable durability, as it can withstand wear and tear. In addition, it boasts excellent water resistance and provides protection against wood-boring insects and termites.
Best Finishes for Black and White KitchenCabinets
1. Laminate finish
Laminate cabinets are a highly popular option for kitchens due to their ability to withstand heat and moisture while remaining durable. They are also cost-effective. Laminate kitchen cabinets come in vast colors and styles, ranging from glossy to matte finishes, and include classic black and white options.
2. Veneer finish
Enhance the sophistication of your kitchen and cabinetry by opting for veneer finishes that exude an air of luxury. You can achieve a warm and inviting ambiance in your kitchen with this finish that gives your cabinets a rich wooden texture. To maintain the quality of a kitchen cabinet with a veneer finish, it's crucial to protect it from water at all times.
3. Acrylic finish
Don't let price be the factor holding you back from choosing an acrylic finish for your kitchen cabinets. Acrylic is an amazing type of finish that comes in a stunning range of vibrant colors, giving off a high-gloss effect. This finish boasts a sleek and polished appearance that remains untarnished even after prolonged use. It is also resistant to scratches, which makes it the perfect fit for busy kitchens.
4. PU finish
Pu spray paint is an acrylic-based coating that's ideal for revamping kitchen cabinets and can be applied directly to the surface. The high-gloss finish is a top choice due to its refined look and versatility in matching various kitchen cabinet styles. The only downside is that this type of finish is quite pricey as it necessitates a significant amount of labor.
Conclusion
Black and white have been timeless and iconic color choices for kitchen designs. They have been used for generations and have never lost their charm. A great way to incorporate a black-and-white theme in your kitchen is by opting for cabinets in both colors. The combination is absolutely stunning and also looks gorgeous against pastel-colored walls.
If you're unsure about how to go about designing your kitchen and selecting appropriate materials and finishes, we have got you covered. You can use this curated list of ideas. It will help you create the kitchen of your dreams by matching the materials and finishes to your specific taste and requirements. What are you waiting for?
Frequently Asked Questions
What Colors Go with a Black-And-White Kitchen?
When aiming for a chic black-and-white kitchen, selecting the right complementary colors is crucial to achieving the desired outcome. If you want to create a relaxing ambiance in your room, try using calm and natural colors like muted gray, earthy green, or warm wood tones. If you want to try something different, try using darker hues such as rich berry tones, deep blues with warm undertones, or sultry, earthy shades ranging from pink and yellow. These colors will add a bold and sophisticated touch to your space.
How Do You Add Warmth to a Black-And-White Kitchen?
Transform your black and white kitchen into a cozy, warm, and welcoming space by adding natural wooden features, brightening up with fresh flowers and indoor plants, and selecting suitable lighting fixtures to enhance the ambiance.
Is a Black and White Kitchen in Style?
Black and white kitchens are an everlasting style that transcends time and will never lose its charm. They have become a classic combination with a timeless appeal that exudes elegance and sophistication. The kitchen's color scheme doesn't determine its modernity or outdatedness but rather the selection of cabinets, fixtures, and appliances.
Which Paint is Best for Kitchen Cabinets?
If you are looking for the best type of paint for your kitchen cabinets, then you should definitely go with latex paint. They come in different finishes that can give your cabinets a new and exciting look. The options are matte, semi-gloss, gloss, and satin. It's best to stay away from matte paint finishes since they can be quite difficult to clean.