21 Stunning Black Hardware Ideas for Your White Kitchen Cabinets
Are you planning to renovate your kitchen space? If yes, or doubtful, this blog will inspire you to get a clear idea about working on your kitchen space. Kitchen space is somewhere most of us feel most connected, and it is very well said that food is the best way to impress someone. A meal cooked with all heart is what results in a positive outcome. So, the kitchen interiors should be where you feel comfortable and happy. To start planning the do-over of the kitchen space, color coordination matters as it sets the overall aesthetics of the space. The colors can be mixed and matched by playing with the color of the tiles, hardware, cabinets, and accessories or by other minimalist detailing.
There are many ways to style a kitchen's white cabinets with black hardware based on the theme you want to play around with. Just imagine your white kitchen cabinets with black knobs and drawer pulls enhancing the vibe of your space with little minimalist detailing. 
To get a better understanding of how to get your kitchen interior done, read some of the below-mentioned ways to transform your kitchen cabinets with the darkest color of the palette.
White Kitchen Styling Options to Elevate Your Space
A white kitchen in itself looks so eye-pleasing, but when given black hardware touch, it just becomes so aesthetic. It is advised to keep the black hardware work moderate and more of a natural look, as overdoing it is not a good idea. So, here are 21 ideas on how one can style their white kitchen with black hardware, and the below-mentioned ideas can leave one amazed. 
1. Small, Simple Black Knobs Upgrade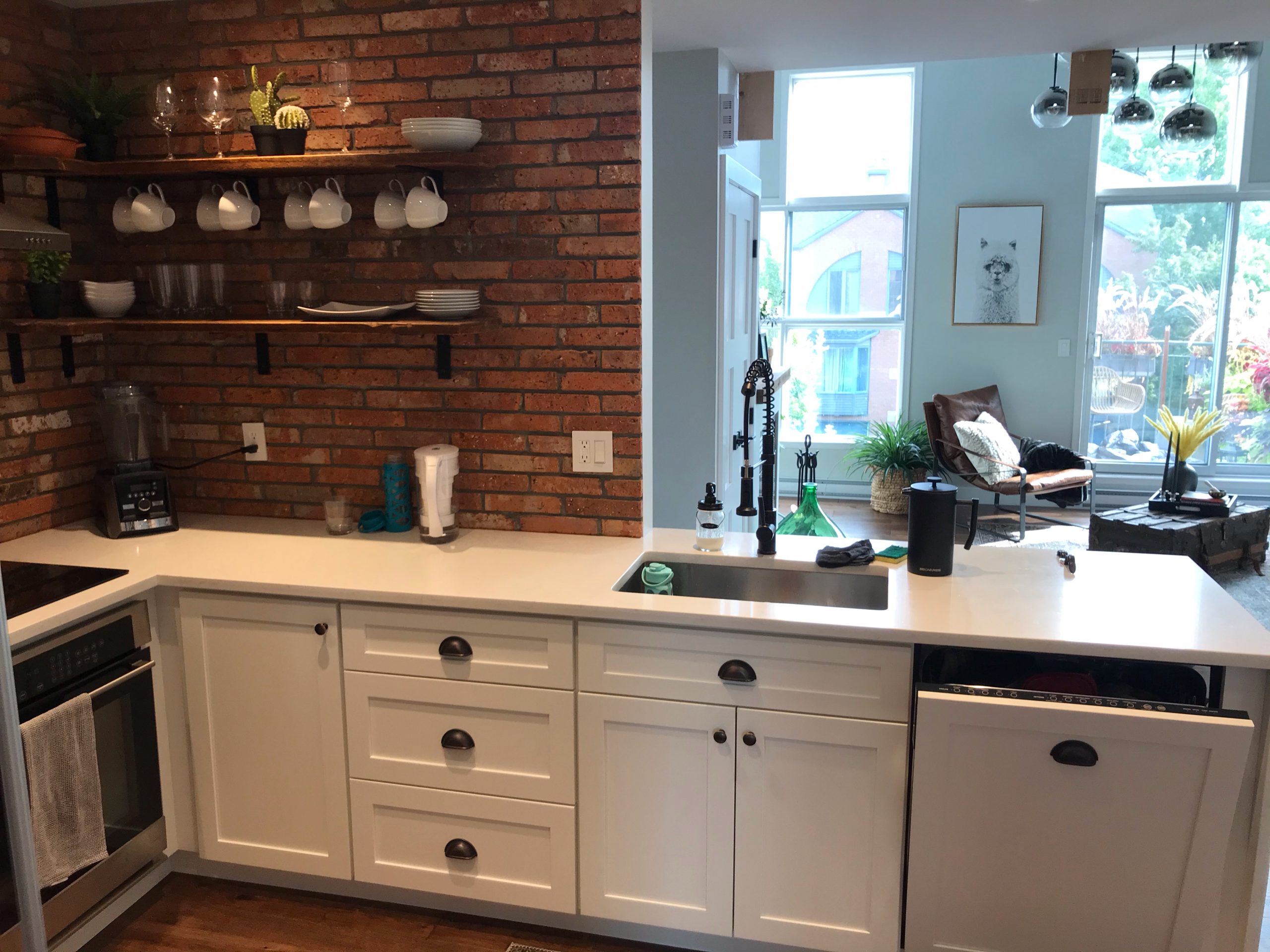 Want an elegant yet pocket-friendly upgrade to your kitchen space? The simple black knobs and pulls do the work right. The black drawer knobs add a clean definition to the white kitchen, enhancing the mood of the space.
2. Little Black Detailing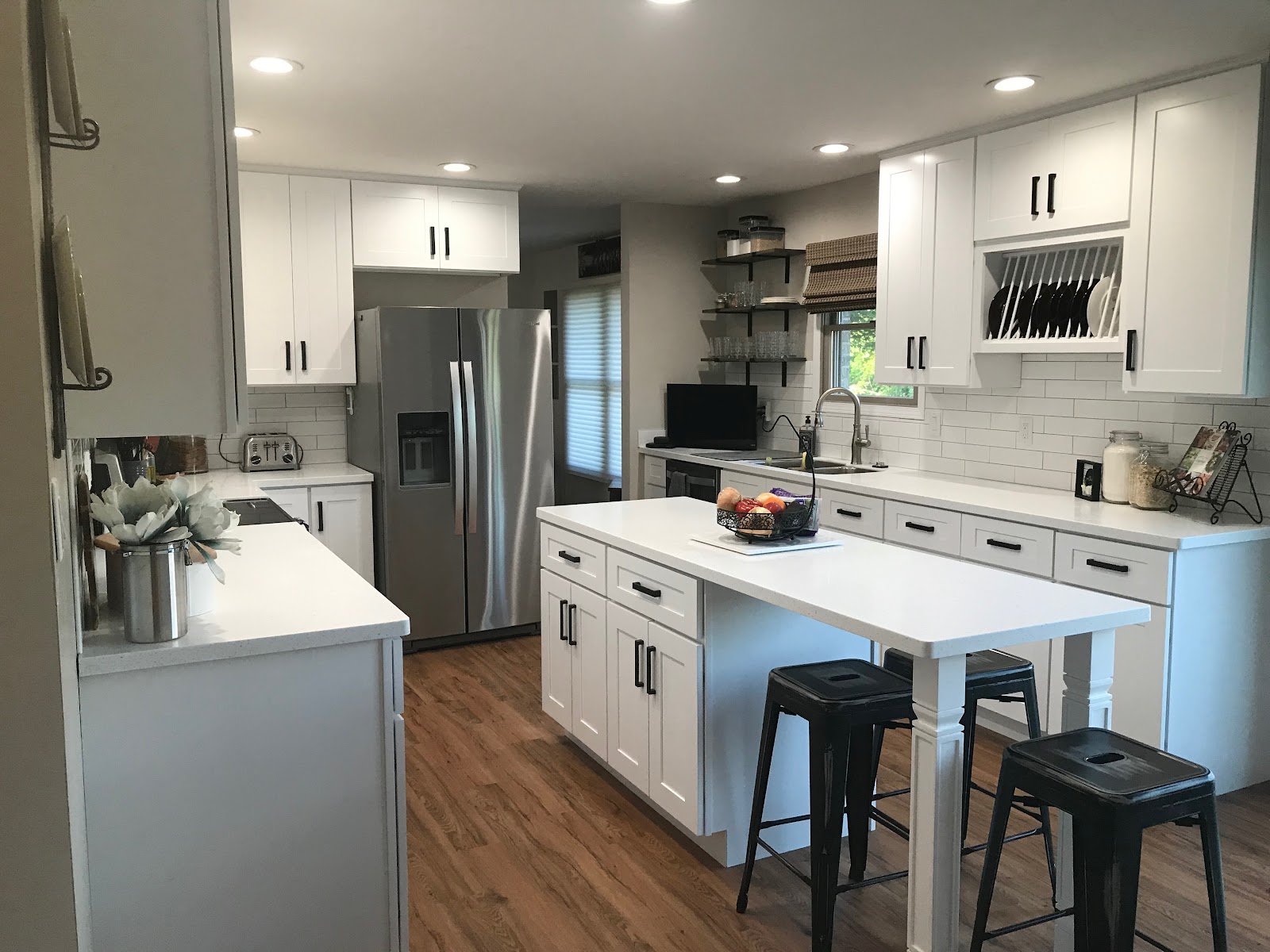 The small detailing makes the space look settled and thoughtfully designed. Indeed, you need not spend a lot or make big changes to modify the aesthetics of the space. White cabinets with black hardware detailing are like the lost puzzle piece to the whole. 
3. Black Detailing with Wooden Cabinets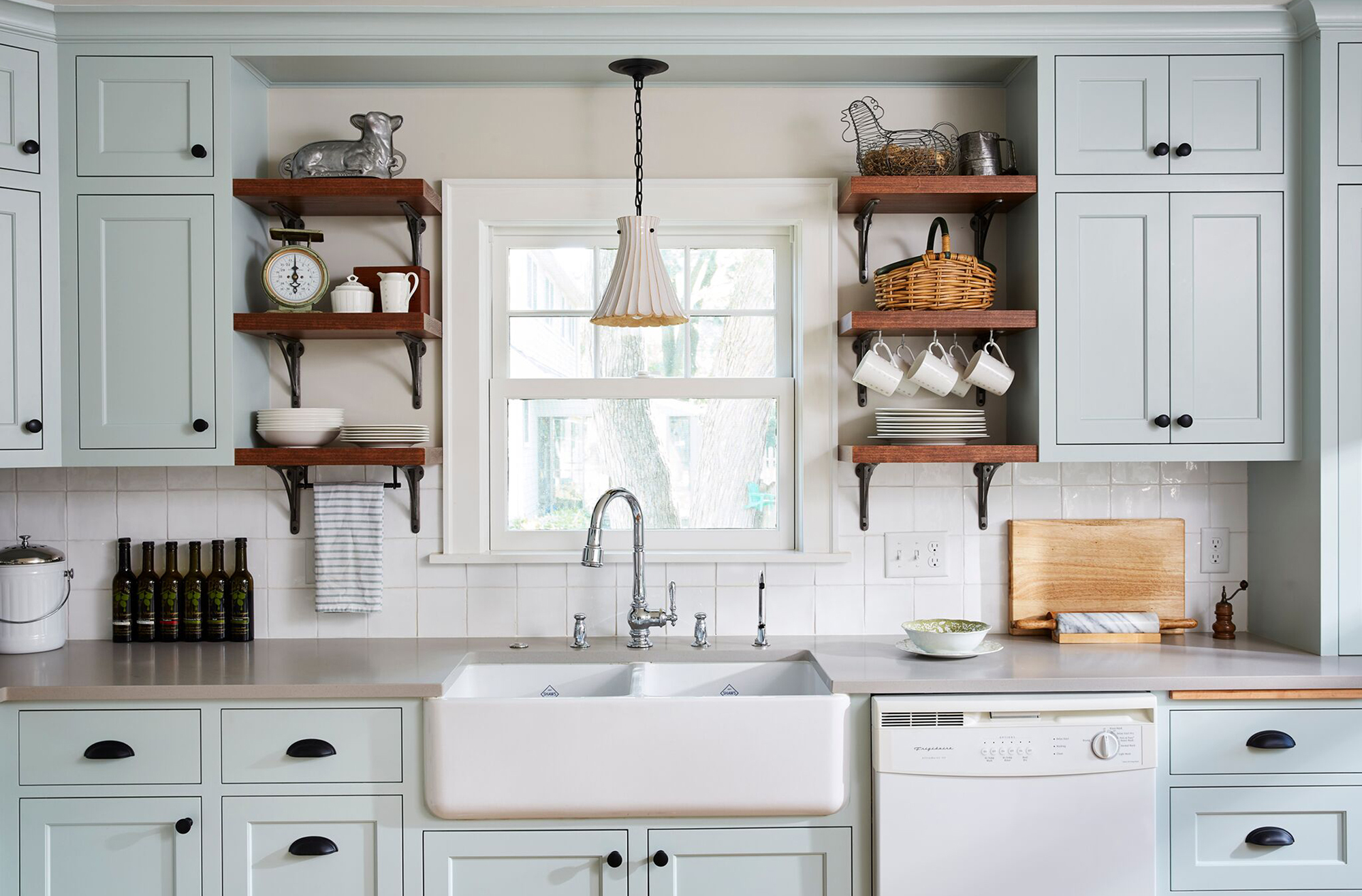 The white and wooden cabinets go very well with the black hardware and make you feel homely. We usually see brass hardware paired with the cabinets, but this combo seems pretty put together. 
4. Wide Range of Hardware Styles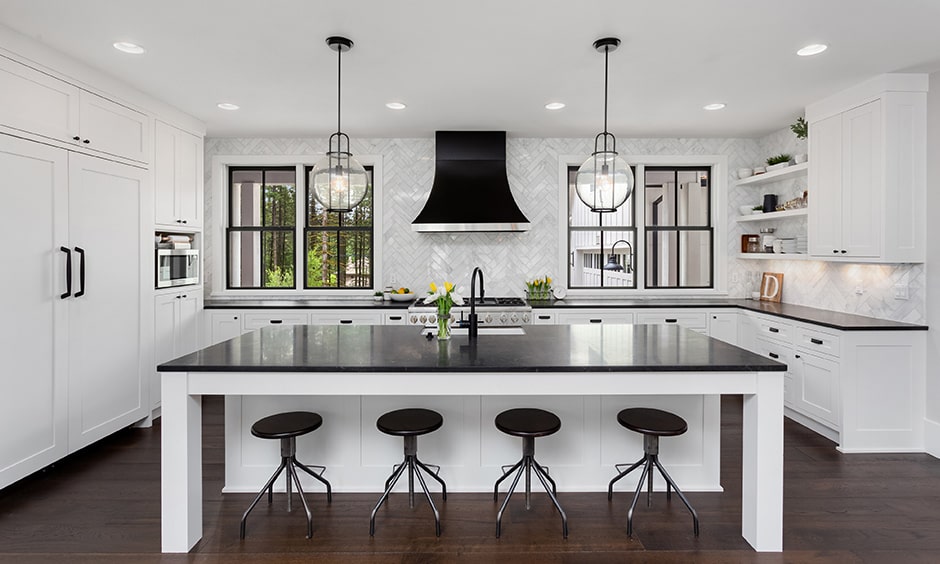 There is a variety of black hardware to choose from with your white kitchen cabinets. The design and theme you choose depend on what vibes with you most. Make sure you choose those which resemble your style and portray your true self. 
5. Switch a Few Things Around 
Make your white cabinets adorable with small black knobs while adding big black handles to open the drawers easily while cooking. Small additions of black pieces here and there on white cabinets enhance the aesthetics of the space and also help organize the space better. 
6. Black Hardware to Upgrade Your Old Kitchen Space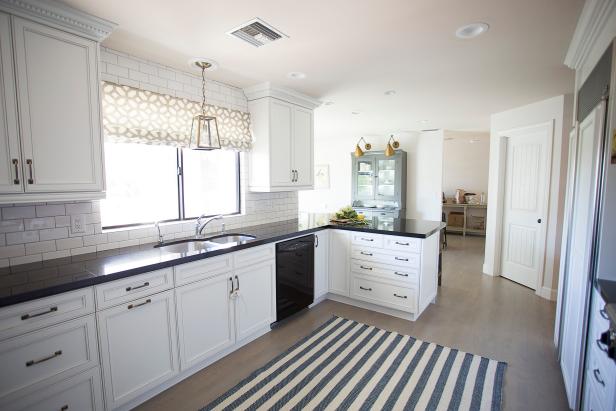 Modifying your old kitchen setup can get quite confusing and tiring. The black hardware detailing on the white cabinets is an undeniable combination that uplifts the complete vibe without much effort. Tiles and black countertops give a perfect shiny finish.
7. Black Hardware for The Modern Kitchen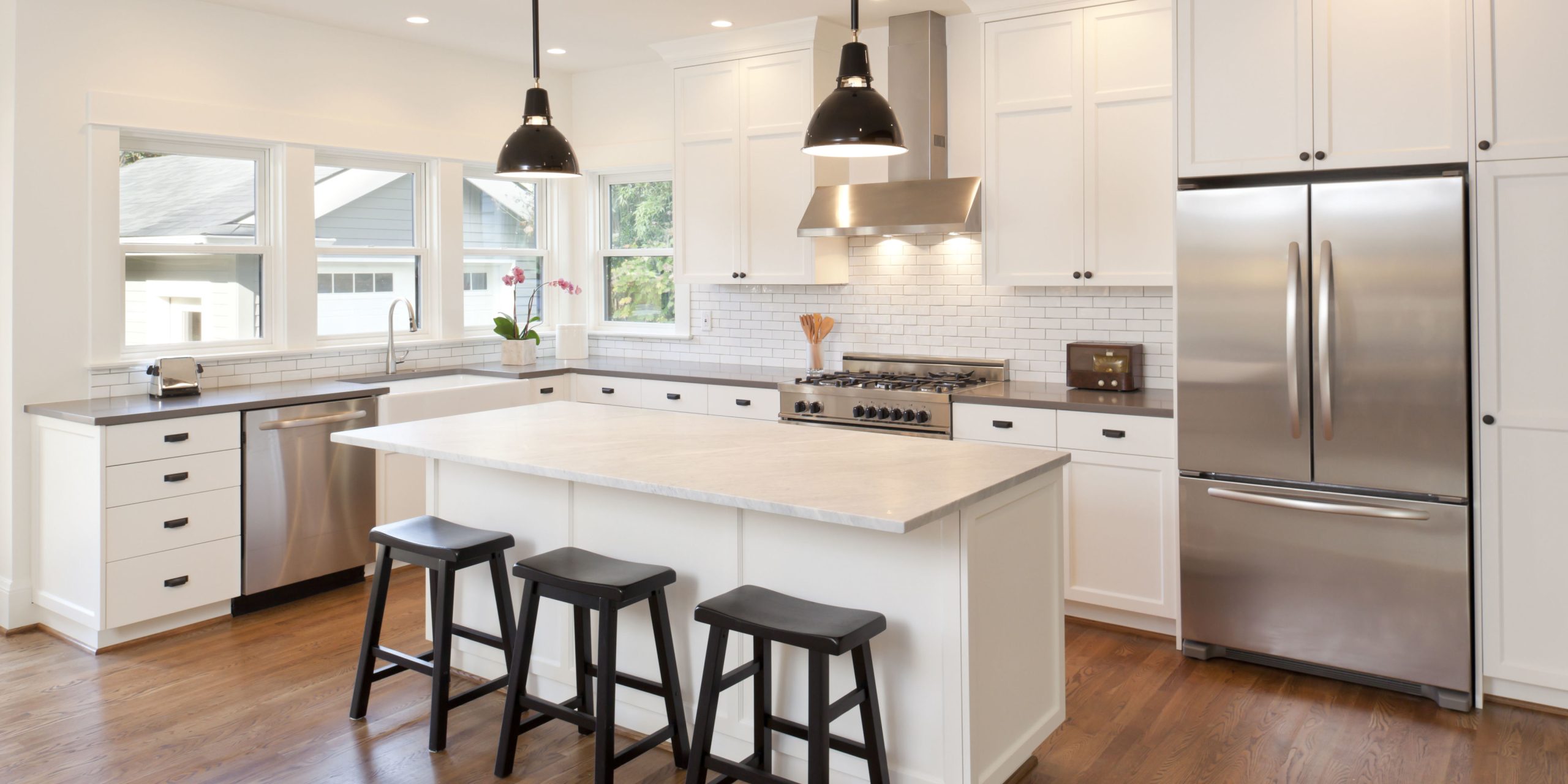 Modern kitchens display uniqueness and are perfectly justified with square black knobs and bar handles. Modern kitchen in itself says smart space with classy looks. Perfectly justified by small black hardware in the completely white kitchen space. 
8. Black Hardware with White and Grey Cabinets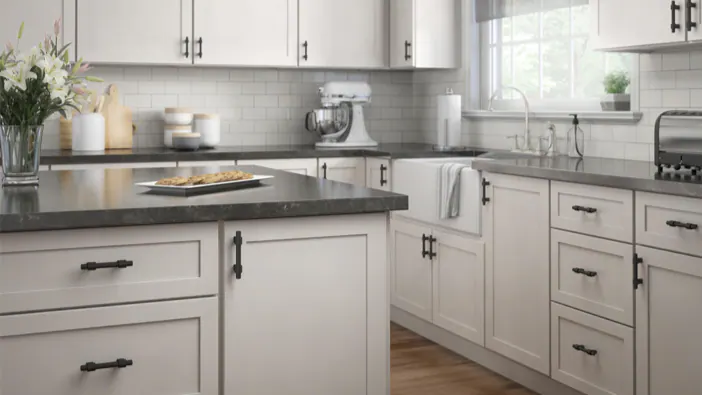 Usually, we prefer a subtle color combination for our kitchen space. The kitchen with white and grey cabinets is perfectly complemented, with black hardware items being the classic and excellent choice, with all colors complimenting each other perfectly. 
9. Black Sleek Shelves with White Surroundings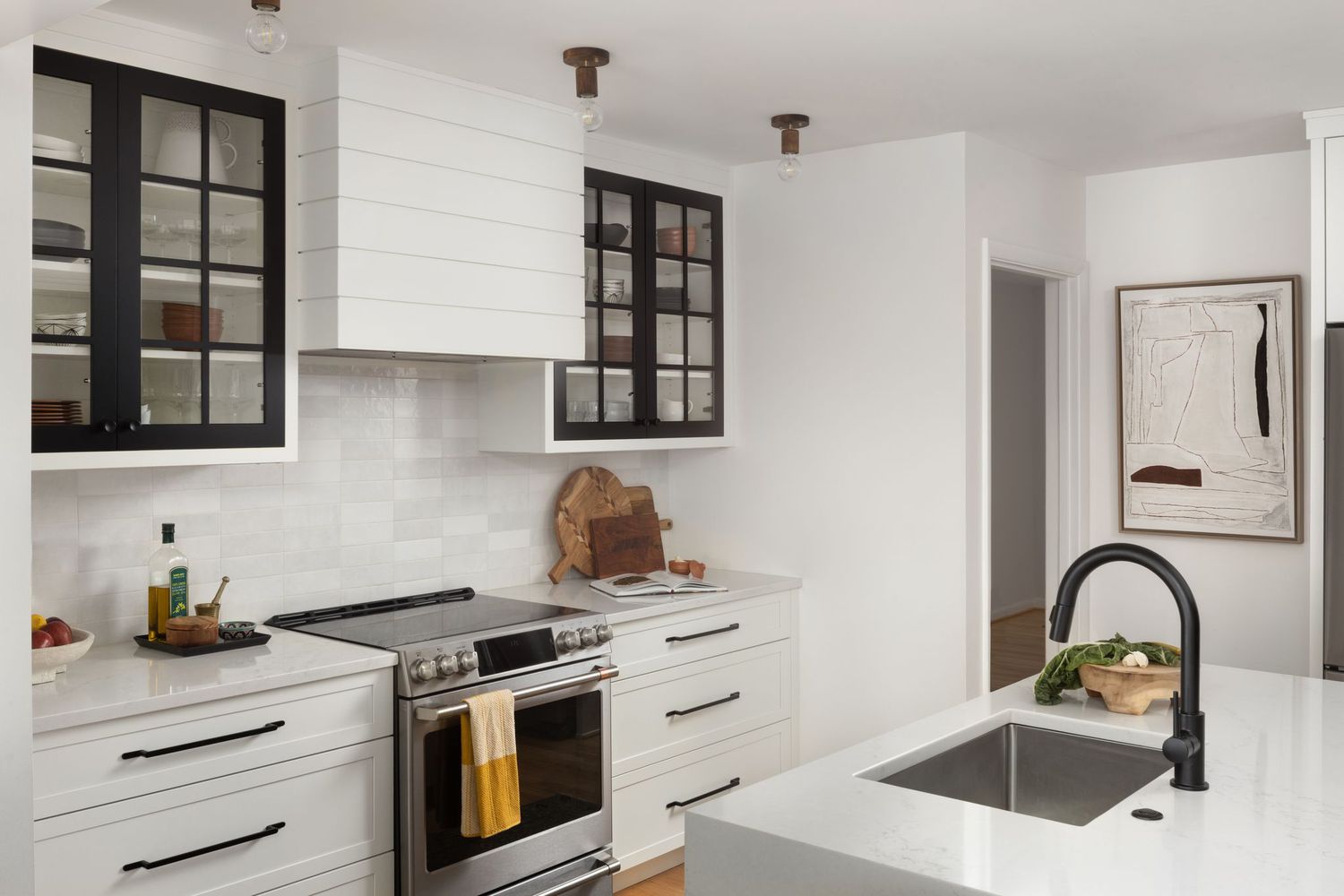 Having a completely white kitchen just becomes boring after some time. So, black knobs and drawer pulls, along with sleek black shelves, are perfect for a completely white kitchen as they give a classic overall appearance with some smart twists.
10. White and Black Alternate Cabinets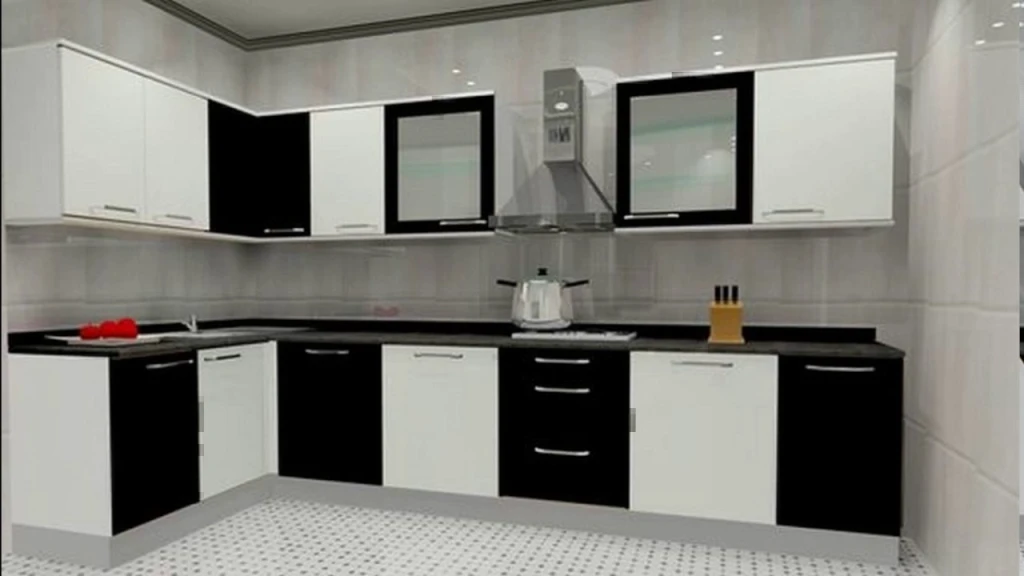 What can be better than an alternate decoration of the kitchen with black and white cabinets to uplift the complete look of the kitchen? Get it done and see the magic of simplicity yourself that brings the old black-and-white era.
11. Play with Other Cool Colors to Add Vibrance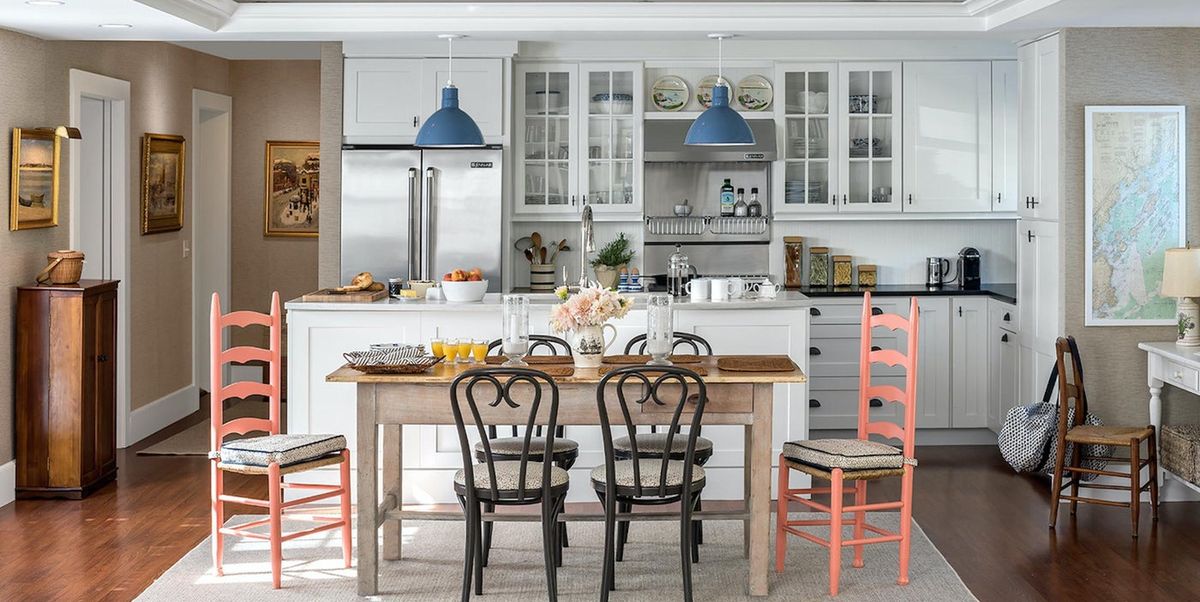 Black, white, and fun color combinations make an elegant scheme to add a pinch of glam and a rich look to your kitchen. A flower vase, some add-on color accessories, a bright-colored wall, or even some crockery prove to uplift the mood instantly. 
12. Matte Finish Black Hardware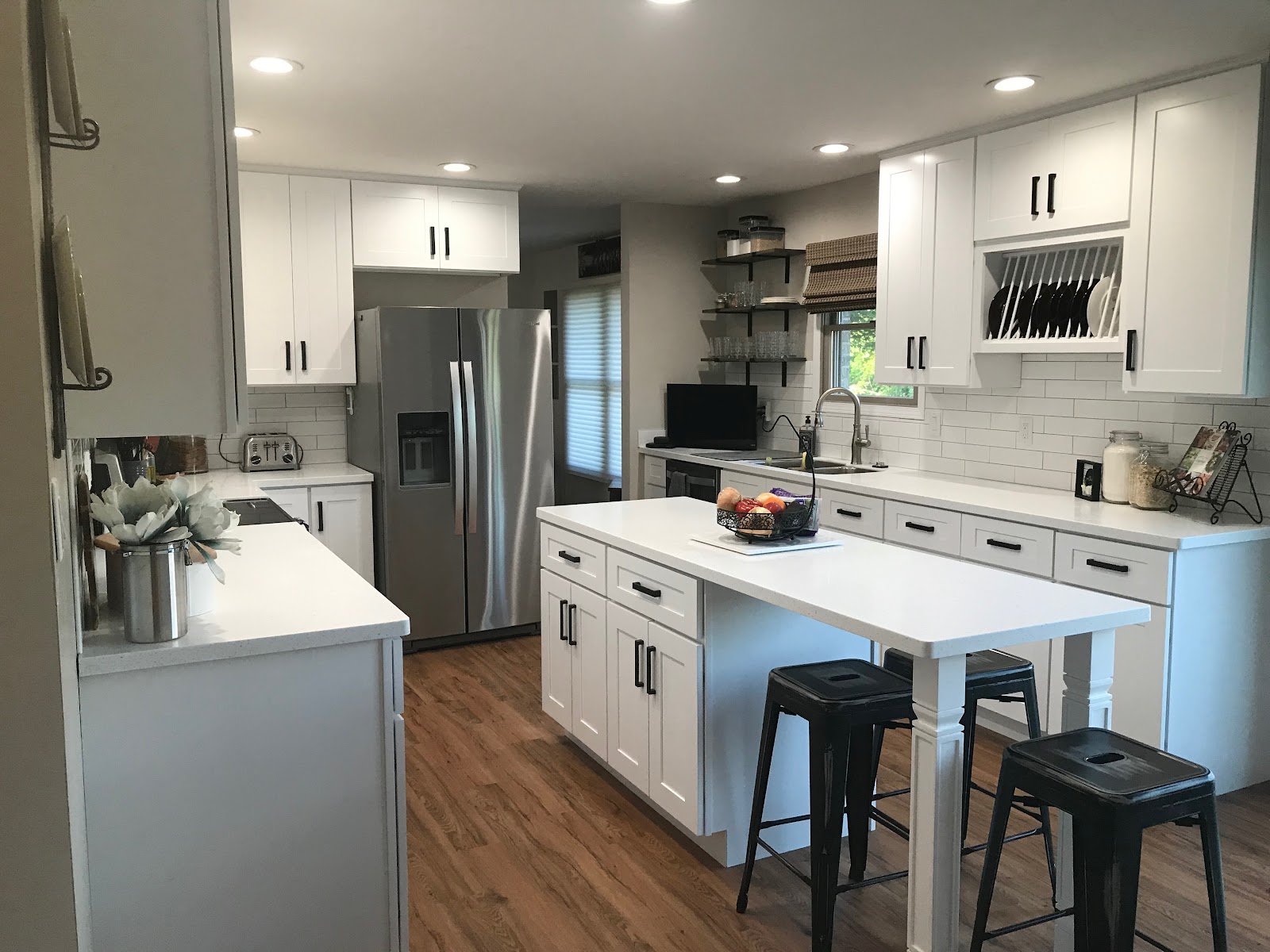 Black matte has made its space in the market for quite a good time now. The simple round matte black knobs with pulls on the drawers are a perfect pair. In the era where simplicity is the key, the matte finish black hardware fits in perfectly. 
13. Monochrome with Black Hardware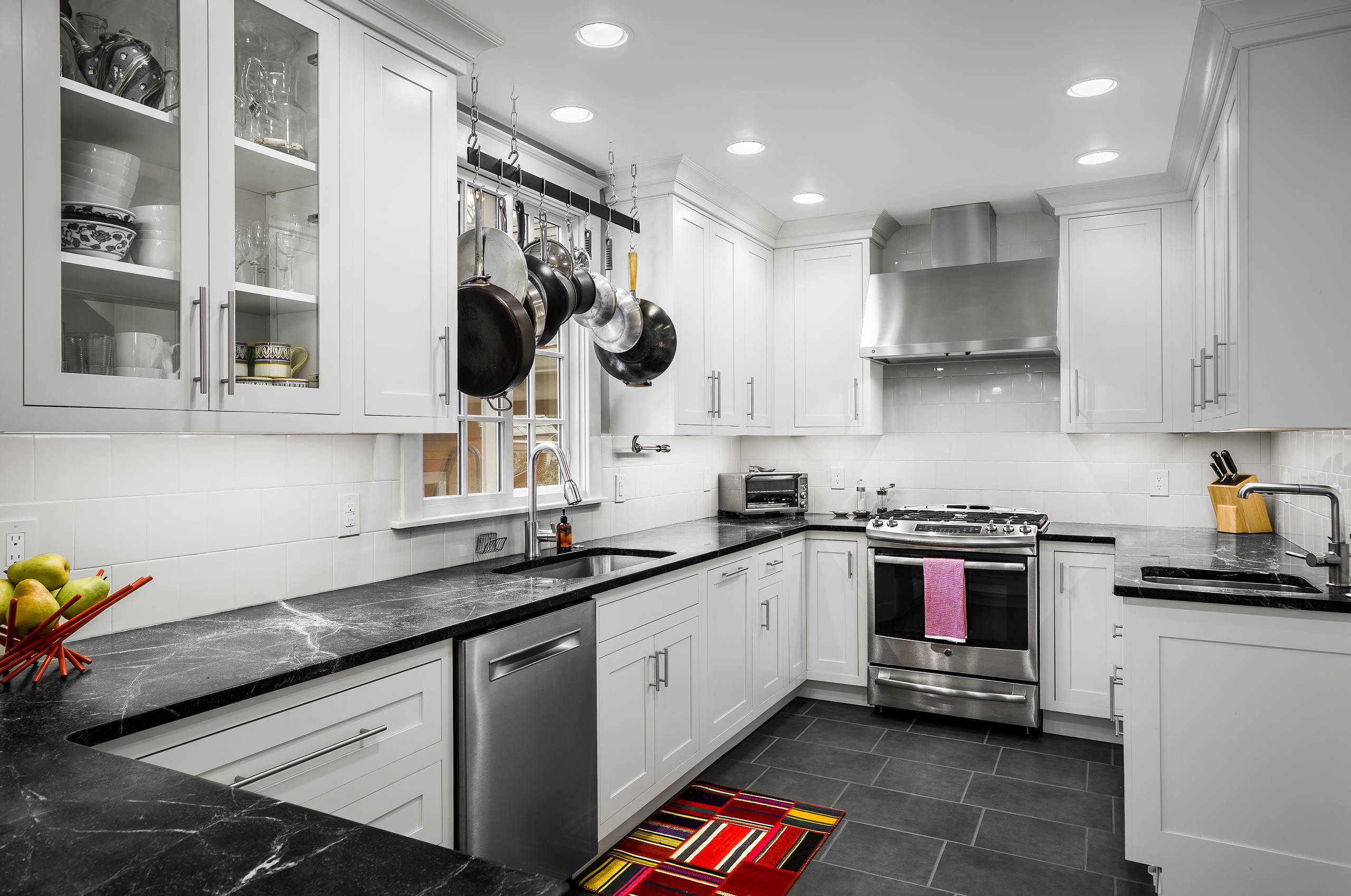 The kitchen is the most homely place of the complete house and can easily transport anyone to the bygone era. The black hardware with a little mix of monochrome in the white kitchen boosts the personality of this interior with a connection to a beautiful old touch.
14. Glossy Black Hardware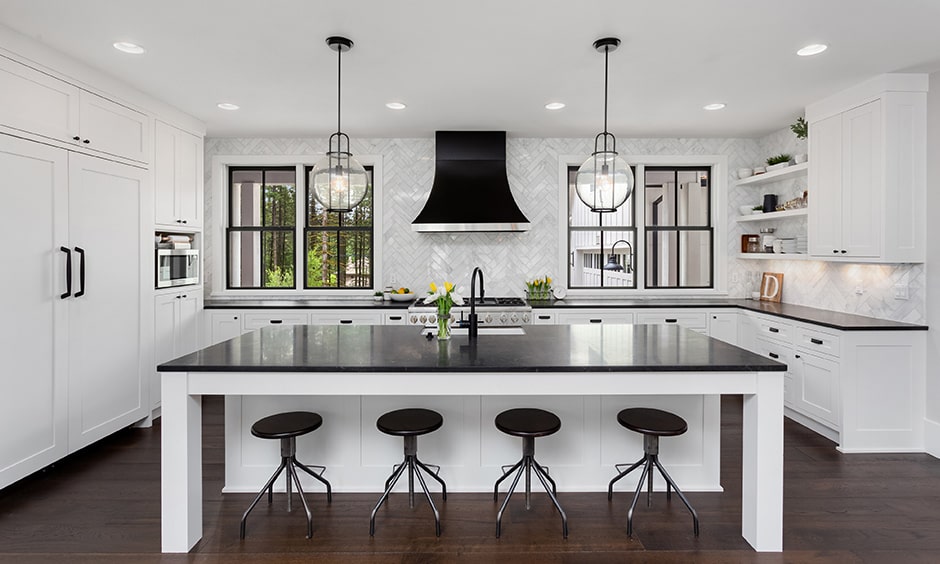 Light falling on glossy black hardware looks pretty and magical, adding life to the white kitchen space. To add some extra shine and energy to your white kitchen space, mix some glossy, shiny black hardware detailing. 
15. Black Counter Shelves or Counter-Tops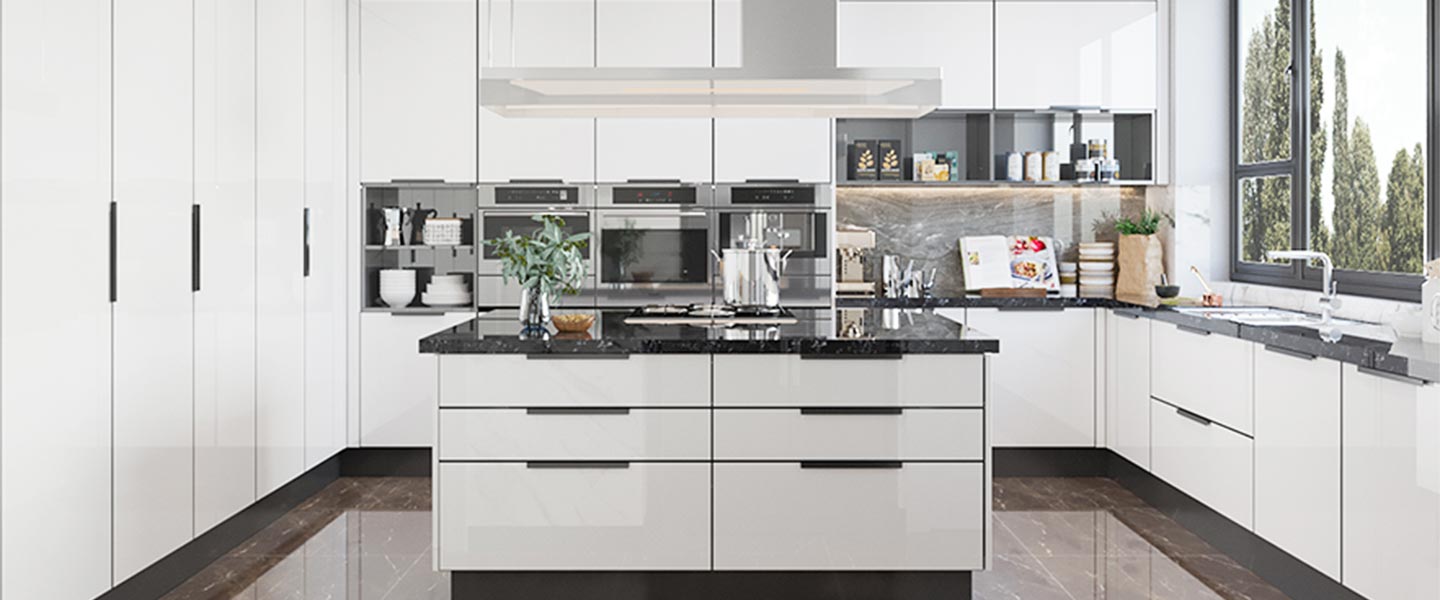 Planning to do a kitchen makeover but want to keep it simple though? Without getting into the full renovation hustle, the simple replacement of normal kitchen countertops with black ones will just do the job perfectly. 
16. Blacklight Holders and Other Items 
Just changing the light holders and other small items can change the complete look game. Experience it yourself and top up your white kitchen and add black hardware minimalist accessories like black pendant lights to embrace the beauty of the space.
17. Mix Black Hardware with Open Shelves 
Black hardware looks even more beautiful on open shelves of the kitchen as it attracts more attention and compliments the surrounding cooking space. Get rid of the bulky look and get enough cabinet space with open shelves to incorporate your cutlery.
18. Open, Airy Space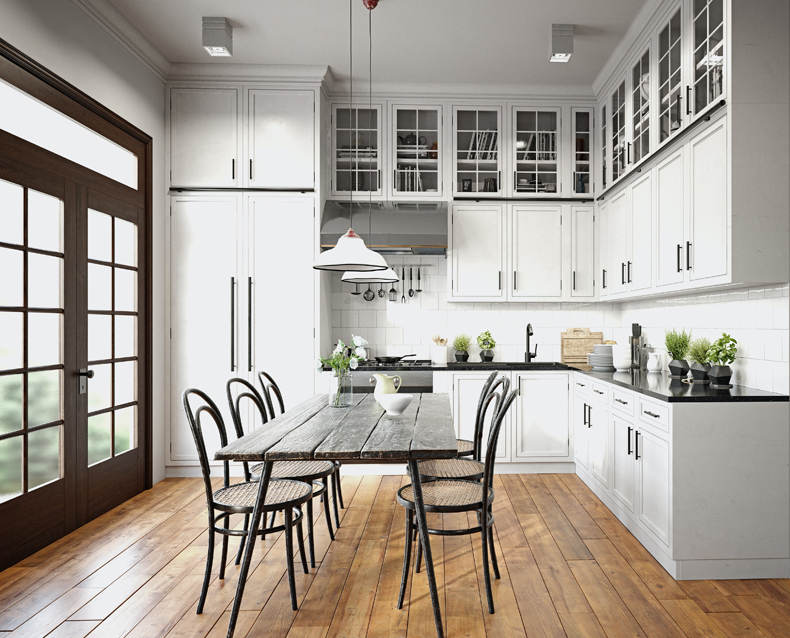 A very classy idea to do over your complete white kitchen with black hardware is to complement them with black faucets, pendant lights, and stools to present the space nicely with brightness and a light mood. 
19. Black Hardware Along with Marble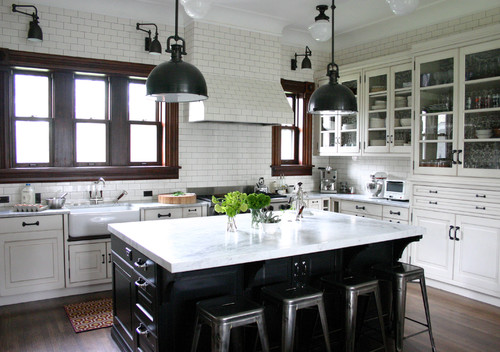 Marble countertops in the kitchen have been one of the favorite options of all for a long time. White cabinets with black hardware look glorified with marble alongside. The whites and grey merge and look stunning with a black hardware touch-up. 
20. Simple Black Hardware Do-Over in Large Kitchen Spaces 
Kitchens with cabinets and drawers are already on the bulky side, so they need some mild detailing. A simple black hardware style is perfect for ensuring that it doesn't get too crowded and stays simple yet elegant.
21. DIY White Cabinets with Black Hardware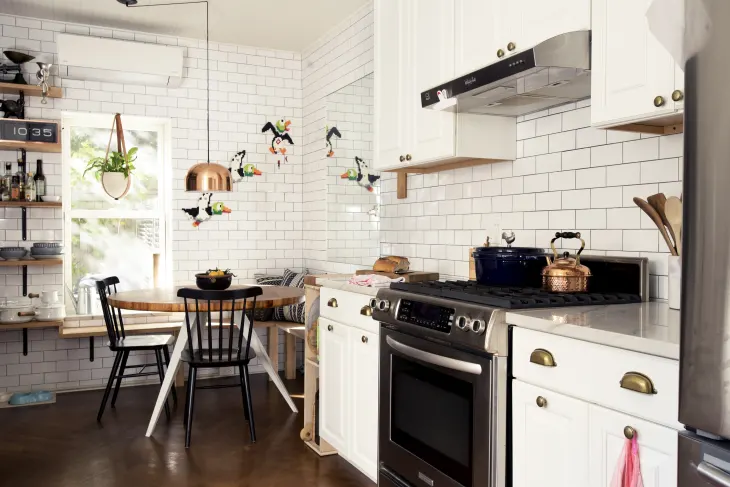 Taking inspiration from so many sources brings a lot of confusion and might delay the whole kitchen redo plan. So, it is better to go for small changes yourself and see what matches your vibe. 
Conclusion
Everyone dreams of having a kitchen space that matches their vibe so they can feel most connected and themselves while cooking. If you are someone who loves white kitchen cabinets, then you must add black hardware as the spice for a fantastic contrast. It looks gorgeous and https://easycontent-attachments.s3.amazonaws.com/735/2322/0/qwc0q4mo-mv6xef3h_hnq46fehxb26u8/imggg+17.webpgives perfect definition on white cabinets with a perfect finish. White kitchens brighten and lighten your space and mood, wherein black detailing acts as the cherry on top. This blog post helped you with 21 amazing ideas to renovate your kitchen's white cabinets with black hardware with minimal and effective changes. 
With so many easy, effective ideas to modify your white cabinets with the black hardware discussed above, what are you waiting for? It's the perfect time to show your kitchen some love and make it the space where you will love cooking for your loved ones. Re-read the blog for better clarity and inspiration while planning your kitchen and experiencing the magic of black and white duo yourself.