21 Stunning Modern Farmhouse Fireplace Designs
Whether you're a homeowner, an interior designer, or simply a fan of rustic beauty, the modern farmhouse sense is something everyone can enjoy, and these designs are guaranteed to inspire and fascinate your imagination.
This article examines 21 breathtaking fireplace designs with a unique fusion of modern and rural characteristics.
If you're building a new house, renovating an existing space, or want to update the ambiance of your living room, an ideal fireplace design can completely refresh the entire space.
A farmhouse fireplace is a simple method to add coziness to your farmhouse living area.
1. Barn Beam Farmhouse Fireplace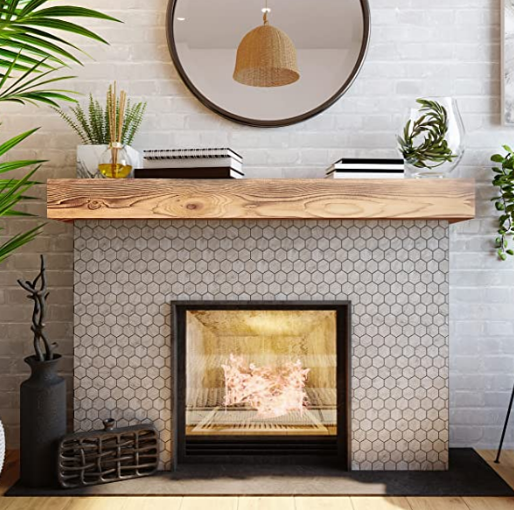 A mantle of barn beams is an eye-catching element of a contemporary farmhouse fireplace design. You can add a bit of farmhouse and realism to the area by using a giant, worn-out barn beam as the mantle. The contrast between the rustic and modern features makes for an attractive focal point in the space. The mantle of barn beams has a beautiful aesthetic and valuable use! Its size gives the fireplace area plenty of room to add sentimental decor like cherished family photos, antique candlesticks, or potted plants, giving it a unique feel. It also functions as a durable shelf for storing books, artwork, and other items that enhance the overall farmhouse aesthetic.
2. Shiplap Accents to Classic Farmhouse Fireplace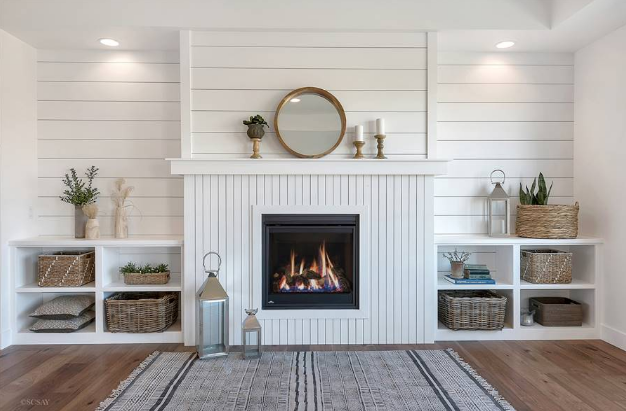 Shiplap Accents are a classic choice that gives any room depth, texture, and a hint of nostalgia. The traditional farmhouse fireplace has come to be known for its shiplap accents, which add a feeling of rustic simplicity and charm. Shiplap accents, which make the Fireplace appear simple and charmingly rustic, have become synonymous with the traditional farmhouse fireplace style. This conventional wooden board siding, with its recognizable horizontal slots and overlapping edges, has become popular in modern interior design because it adds warmth and personality to the space. Using this traditional farmhouse element, you can produce a hospitable ambiance that pays homage to the past while remaining relevant in contemporary home design.
3. Concrete Effect Farmhouse Fireplace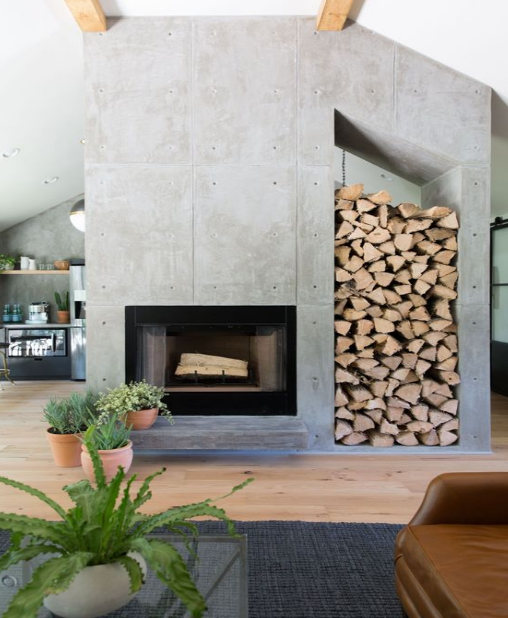 Concrete has gained favor in fireplace design due to its adaptability and modern appearance. A chic option for constructing a modern farmhouse fireplace design is concrete surround. A unique and eye-catching fireplace is created by choosing a concrete surround, which provides a sleek and industrial boost that perfectly matches the farmhouse style. The toughness of concrete with the coziness and warmth of a farmhouse context creates an interesting contrast. The Fireplace becomes a focal point that reflects the modern farmhouse style through a fusion of industrial and rustic components that gives the room richness and charm.
4. Floor-To-Ceiling Farmhouse Fireplace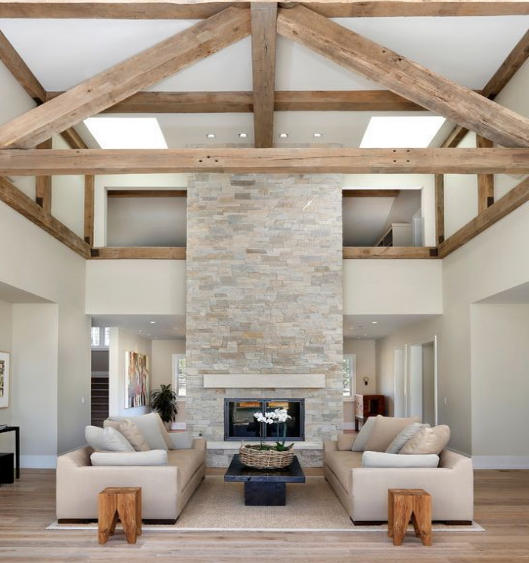 Creating a stunning focal point for your farmhouse fireplace can be achieved using floor-to-ceiling tiles in natural tones or hues. This design choice adds texture and a visually captivating farmhouse effect to your Fireplace. Floor-to-ceiling provides a dramatic and eye-catching backdrop that draws attention to the fireplace area. Extending the tiles from floor to ceiling creates a seamless, cohesive look that elevates the overall design. When selecting tiles for your farmhouse fireplace, neutral tones work exceptionally well. The clean lines and smooth surfaces of subway tiles create a fresh and versatile canvas that can complement various farmhouse aesthetics.
5. Herringbone-Style Modern Farmhouse Fireplace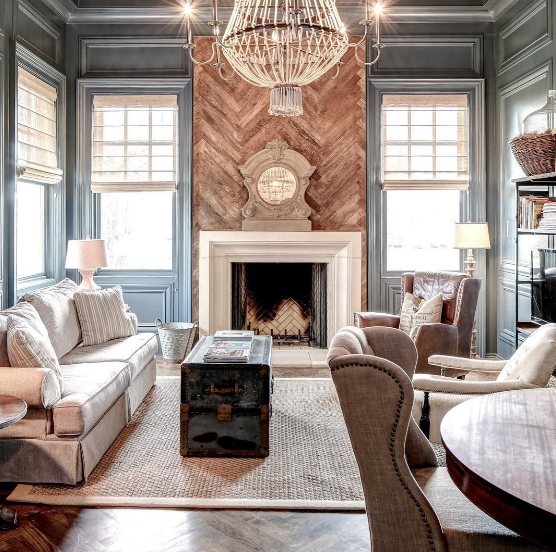 Consider setting up brick tiles according to the herringbone style to provide a contemporary twist to a traditional farmhouse fireplace design. This arrangement gives your Fireplace a special touch adding visual intrigue, texture, and a modern farmhouse look. The herringbone brick pattern requires an alternatively laying tile in order at a 45 degrees angle to create a V shape. This design gives the Fireplace surrounding an exciting and appealing impact. Incorporating a herringbone pattern into the Fireplace allows you to infuse a contemporary element while preserving the brick's charming rustic ambiance.
6. Modern Metal Screen Farmhouse Effect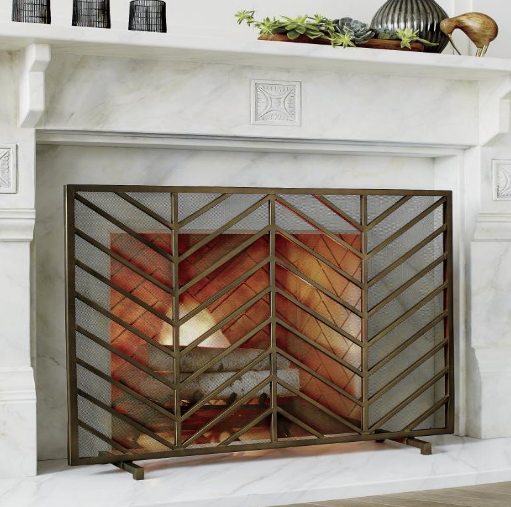 Consider putting a modern metal screen in front of your Fireplace to give it an artsy farmhouse touch and improve its aesthetic appeal. This contemporary metal screen can add an unusual and attractive element that gives your farmhouse fireplace an appearance of creativity and charm. A modern metal screen has a sleek minimalist design that elegantly contrasts with the coziness and homely charm of a farmhouse environment. The metal screening can be adjusted to match the space's interior design. Find finishes like black or bronze that goes perfectly with the farmhouse style.
7. Stacked Stones Modern Farmhouse Fireplace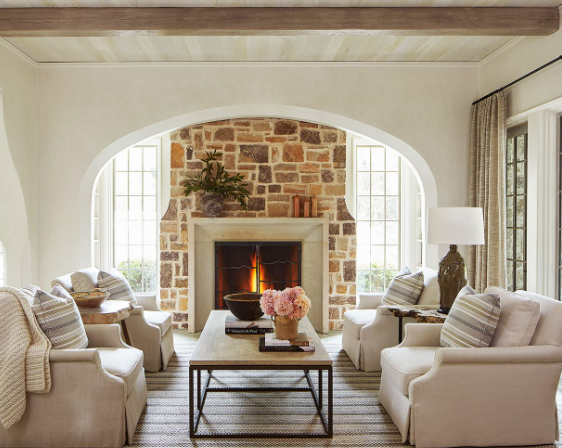 Using stacked stones in your fireplace construction is a brilliant method to give your room a modern yet earthy appearance. You can make a fireplace that gives your living space quality and texture with stacked stone in various sizes and colors. The adaptive and naturalistic look of stacked stones enhances farmhouse designs. A dynamic center of attraction is created, and multiple sizes and hues add visual interest. Whether you choose vibrant colors like charcoal or white or earthier tones like mild browns and greys, stacked stones provide a stunning setting for your Fireplace. This surfaces a lot of texture, adding a rustic charm to the room and creating a homely atmosphere ideal for Farmhouse design.
8. Vintage Chic Wood Mantel Fireplace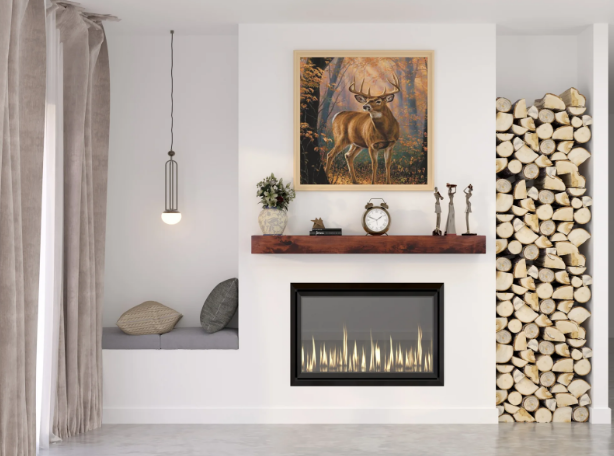 Installing a distressed wood mantel shelf in a farmhouse style is a great way to give your Fireplace an extra natural appeal. This farmhouse mantel shelf creates a charming focal point in your room. It is a perfect fit for your Fireplace because of its rugged appearance, which gives it a feeling of originality and rustic class. You can change the farmhouse mantle shelf size and style to suit your needs. It can be a wall-mounted floating shelf design or a more conventional mantel with mounting brackets.
9. Freestanding Wood Stove Fireplace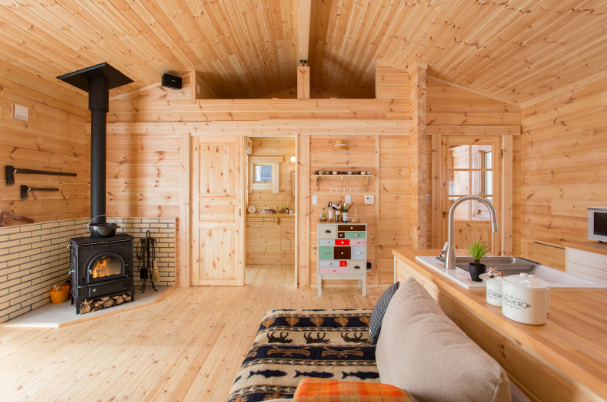 Introducing a standalone wood shelf with a modern aesthetic is an excellent approach to enriching and adding warmth to your farmhouse living area. This multipurpose and useful equipment offers excellent heating and is a chic centerpiece highlighting the farmhouse style. By choosing a freestanding wood stove, you can position it anywhere within your living area, creating a captivating focal point that enhances the ambiance and atmosphere. Its independent style provides visual character and a warm environment inspired by modern farmhouse hearths.
10. Black Candle Landscape Farmhouse Fireplace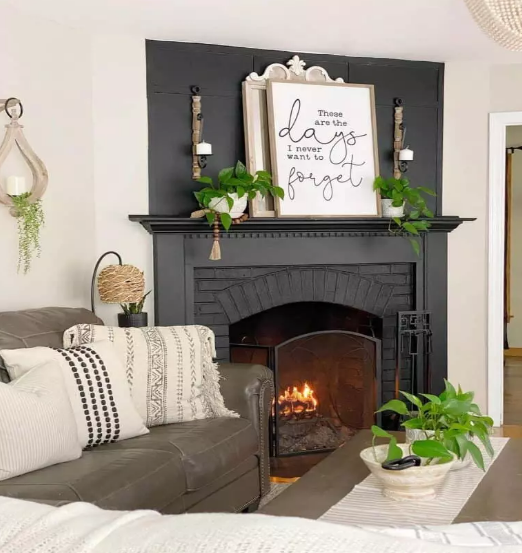 Consider placing a landscape on your fireplace mantle between two black candlesticks to make a modern farmhouse fireplace appear. This architectural option reflects the farmhouse aesthetics' natural appeal while adding a modern touch. Choose a landscape as[ect to begin with that goes well with your overall design theme. You can pick a vast framed landscape painting, a snapshot of nature, or a printed canvas with picturesque scenes. The scenery should be peaceful, elegant, and natural, keeping the farmhouse design. Black candlesticks give off an elegant look while framing the landscape with their bold presence. Candles with neutral colors like vanilla or light beige can help you achieve a more natural look.
11. White Shelves with Black Fireplace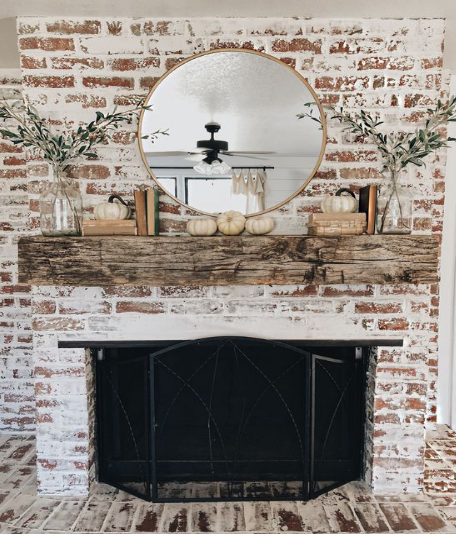 Pair the black Fireplace with white shelf units for a compelling modern farmhouse fireplace appearance. Choose white shelves that match the purpose and style you want. White frames give the decor and personal objects a fresh background that makes them stand out. Place the shelf units symmetrically on each side of your black Fireplace to frame the focal point. Customize the shelf space with various decor objects that display authenticity to strengthen the farmhouse vibe. Showcase woven baskets, old books, floral prints, or pottery with a farmhouse touch.
12. TV Art Modern Fireplace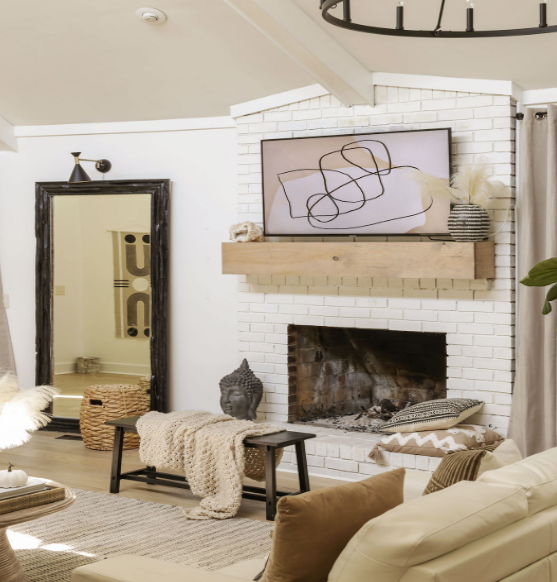 Place TV art above the Fireplace to give it a modern farmhouse look with a white fireplace. With this style, you may enjoy entertainment and artistic factors in your living area while still keeping it functional. TV art is a type of artwork that appears when the TV is off, effectively turning it into a creative attraction. Pick a TV art frame that goes with your overall design scheme. To complement the modern farmhouse aesthetic, choose a frame with a simple, organized style, like a black or white frame. You can keep the farmhouse feel when the television is not in use while taking advantage of modern technology's ease and enjoyment.
13. Brown Tile Modern Farmhouse Fireplace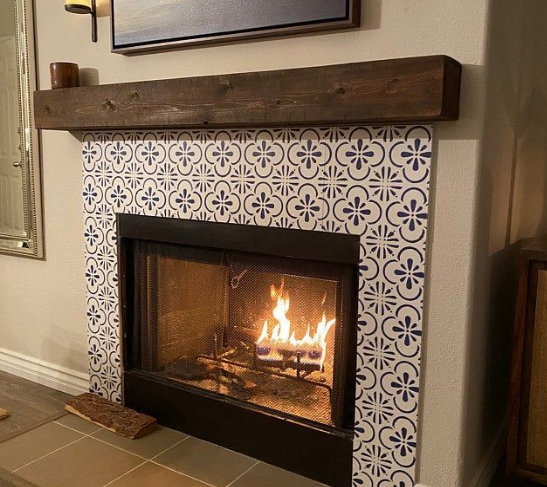 A comfortable armchair and a fireplace with brown tile can add comfort and luxury to your living area. The mix of these pieces gives your living area visual interest and comfort, enabling you to soak and relax in the warm atmosphere of a modern farmhouse design. Choose a brown tile fireplace that matches the room's primary color scheme. For a modern farmhouse vibe, earthy colors like deep espresso, warm caramel, or rich browns work elegantly. Place a comfortable armchair close to the Fireplace that matches the brown hue of the Fireplace. Add decorative pillows, throws, and a side table to the armchair as finishing touches. Use fabrics like leather, tweed, or linen for a warm and rustic look.
14. A Stag Head on a Beige Stone Fireplace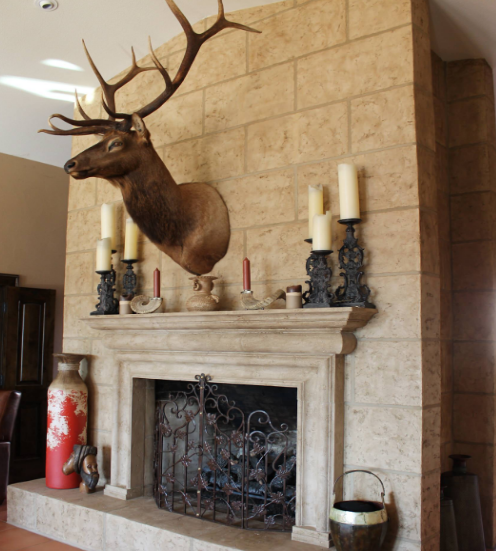 With this fireplace design, your modern farmhouse living room can enhance an aura of rustic elegance and admiration for nature.
This combination gives an eye-catching feature that enhances the farmhouse style and gives your room an exciting character field aspect. To increase the farmhouse appeal, choose an authentic or vintage-inspired finish. The staghead stands out and becomes a statement item against the beige stone fireplace's black background. Style the Mantell and the space around The Fireplace with appropriate decor to finish the appearance. You may include natural components like potted plants, dried flowers, or woven baskets to further the rustic mood.
15. A Garland Over the Mantel Fireplace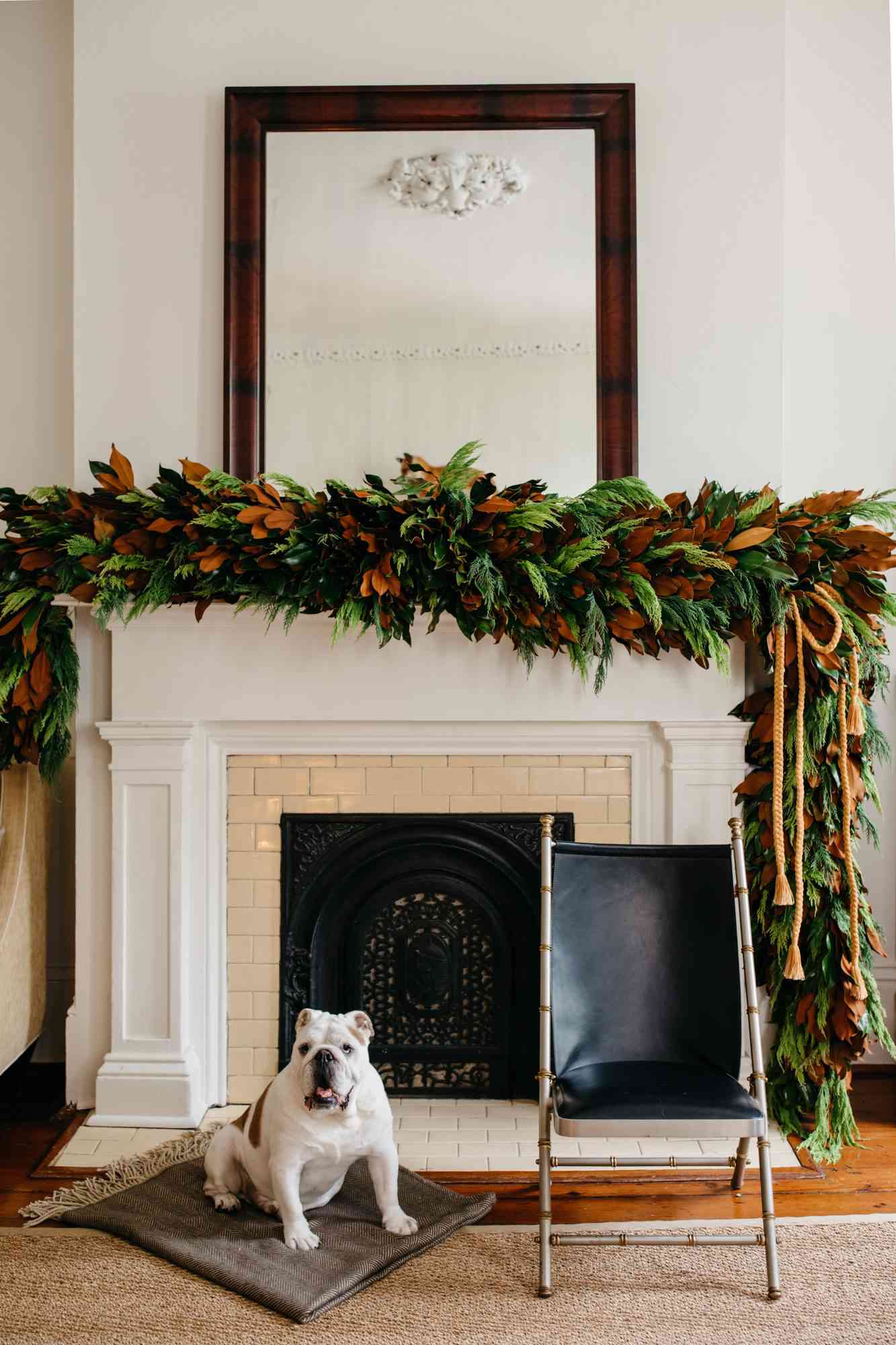 Add a garland around the mantel to your stone fireplace to bring out its farmhouse appeal. This small yet lovely addition adds a bit of seasonal pleasure and nature to your modern farmhouse living room. Start by choosing a garland that blends in with the style of your room. A garland that includes dry flowers or twigs is an alternative that will provide a natural and whimsical touch. Ensure the garland drapes evenly and attractively as you hang it over the mantle. Consider adding extra components to the garland to maintain the farmhouse theme. This gives the garden texture and aesthetic mystery, placing it the status of the fascinating centerpiece.
16. A Fireplace with Gold Sconces
Putting gold sconces above a fireplace can make your living room more lavish and classy. These decorative items act as beautiful decorative elements that can improve the appearance of your modern farmhouse fireplace and provide ambient lighting. Select gold sconces that match well with your Fireplace's design and the furnishings in the room. Choose organized, minimalistic, and clean-lined designs for a modern farmhouse look. Think of lamps with detailing or themes inspired by vintage designs for an extra traditional farmhouse look. Consider two chandeliers with shades to improve the farmhouse vibes. Opt for sconces with glassy shades to achieve a more modern and beautiful appearance.
17. A Green Garland and a Gold Mirror
Place a green garland on your mantel to further enhance the glamour of the gold mirror. This combination gives your modern farmhouse fireplace a natural modern touch while also making an attractive complete show. Choose a gold-framed mirror that matches the design of your room. Opt for a mirror with a fancy frame that fits the farmhouse style while adding a touch of luxury. The green fits perfectly with the gold finish and provides a sense of elegance. Position the mirror at the center of the mantel, ensuring it is securely attached at the appropriate height. Wrap green garland over the metal's entire length. This vivid green shade gives an organic and refreshing element to the display.
18. Gold-Mantled Fireplace with a Marble Frame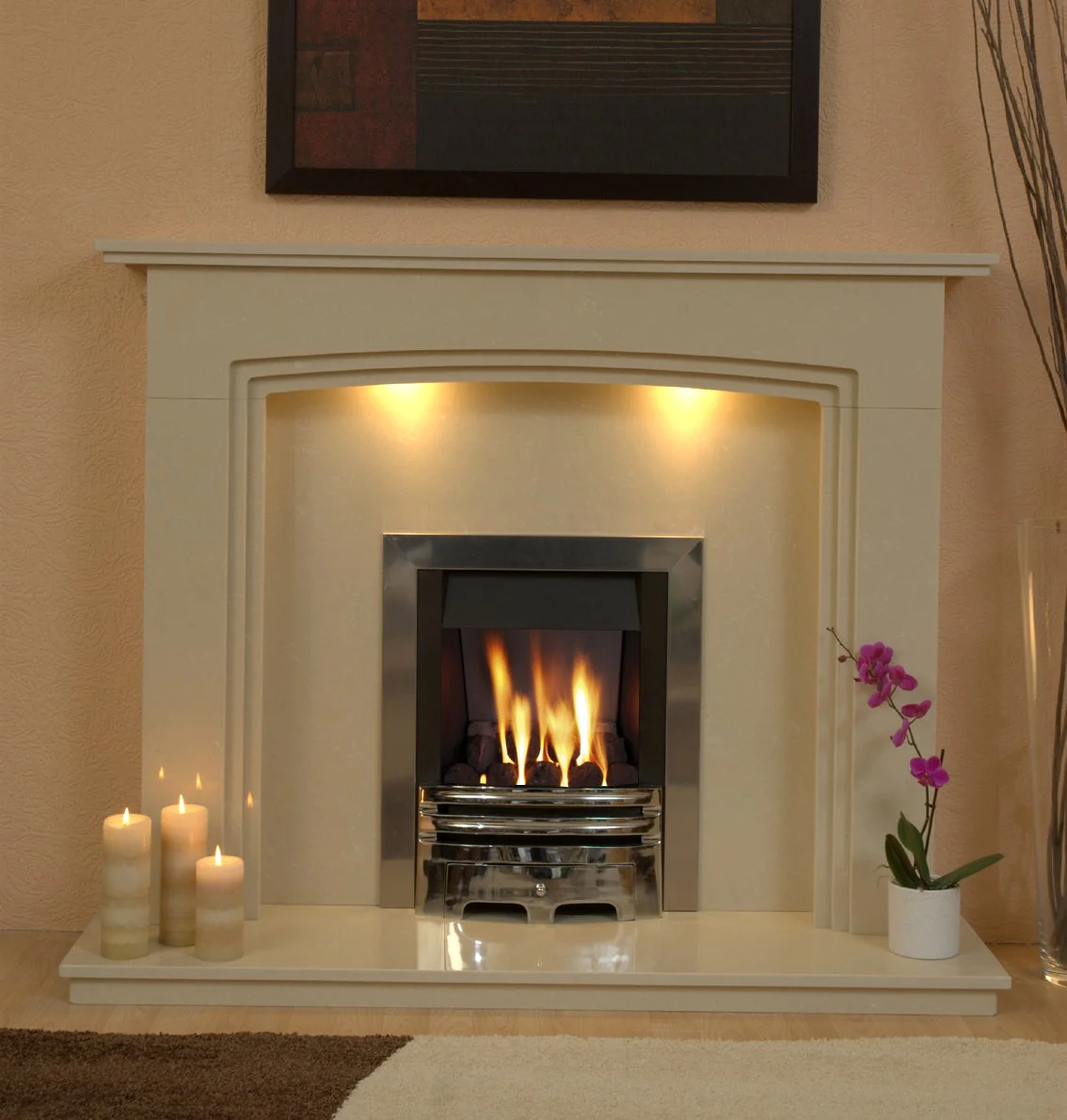 A marble-framed fireplace with a gold mantle creates a lavish and elegant center of attention. The combined effect of these components gives your modern farmhouse design style enhancement and a hint of beauty. A muted grey marble with slight movement and the classic white marble with beautiful veining can make a fantastic backdrop for the Fireplace. Combine the gold mantel with the marble-framed Fireplace for a sense of shine. Depending on your desire, choose a gold finish with a metal mantle. The gold accents give a striking element of contrast that raises the Fireplace's beauty and visual appeal. 
19. Fireplace Mantel with White-Washed Brick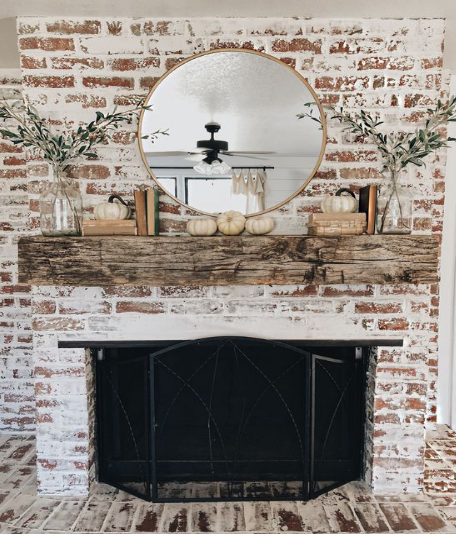 A white-washed fireplace mantel adds a pleasant and earthly touch to your living room, combining it with a modern farmhouse style's cozy and warm ambiance.
To create a farmhouse-style mantel, incorporate various vintage-inspired elements for a rustic and nostalgic charm. Arrange antique vases filled with dried flowers, pair them with rustic lamps that emit a warm glow, and adorn the mantel with farmhouse signage. Complete the look with a comfortable chair featuring neutral colors or traditional designs, providing a cozy spot to relax and enjoy the farmhouse ambiance.
Decorating your living space with farmhouse-inspired finishing produces a cozy and welcoming atmosphere, while the white-washed appearance adds style and aesthetic interest.
20. Monochromatic Color Scheme with Beige Mantel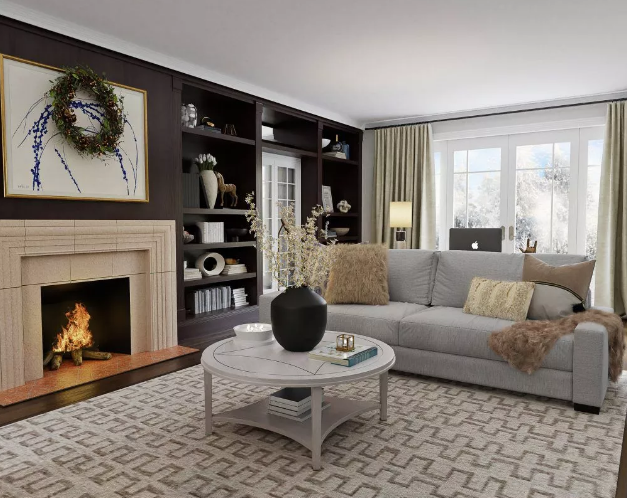 Choose the color that blends nicely with the other aspects of the room. The beige Mantell offers a flexible style foundation and makes the other monochromatic elements stand out. On the mantel, arrange ceramic figures or candlesticks and various stones of the chosen color. Include texture and your design using textured poetry or women's baskets.
21. Fireplace with a Hanging Cone and Rustic Wooden Walls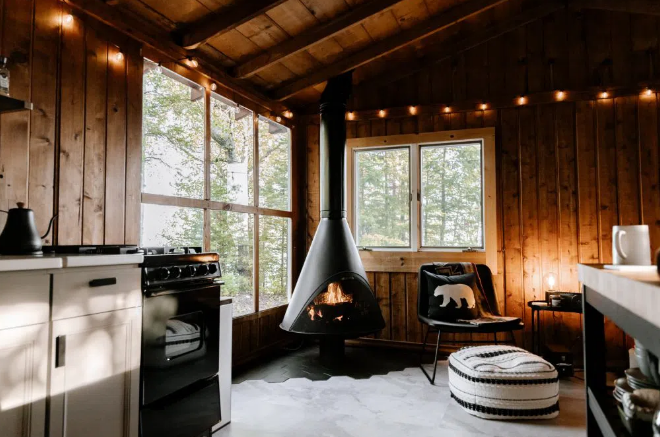 Rustic wood walls and hanging cone fires can help you create a compelling and inviting ambiance in your living area. This combination enhances the stylish look of your modern farmhouse. To enhance the rustic ambiance, surround the walls with charming rustic wood panels. Opt for discarded wood, which adds an authentic and weathered touch, giving the space a more realistic and vintage effect. Consider installing a hanging cone fireplace that complements the log cabin walls. These unique fireplaces hang from the ceiling, creating an extraordinary impression and allowing the flames to be enjoyed from multiple angles. 
Conclusion
Each design aspect has a unique appeal, from traditional shiplap accents to modern concrete surrounds. These ideas inspire creating a warm and welcoming ambiance in your house.
From rustic wood walls to monochrome color schemes, you'll find all. You have a variety of possibilities with these 21 modern farmhouse fireplace ideas and designs to make a room that reflects your unique taste and generates a welcoming atmosphere.
These design ideas create a modern farmhouse fireplace that will change your Fireplace into a fantastic centerpiece that raises the value of your home.
These designs can serve as an example of how modern and rustic components can coexist.
Frequently Asked Questions
Can a Modern Farmhouse Fireplace work In Smaller Spaces?
Absolutely! Smaller areas might benefit from modern farmhouse fireplaces. The secret is to pick small-scale designs that maximize functionality and style while not taking over the space. Alternatives like minimalist concrete surround for freestanding wood stoves provide a cozy focal point while keeping a modest footprint. Choosing lighter colors might provide the appearance of a larger space.
How Can I Enhance a Modern Farmhouse Fireplace's Cozy and Inviting Atmosphere?
Use specific elements to furnish the area surrounding the Fireplace so that it feels warm and inviting. Provide a cozy space to enjoy the warmth of the Fireplace by positioning a comfortable chair or plush sofa nearby. Lay down a thick rug in front of the Fireplace, choosing a design that matches the room's color scheme and adds warmth and comfort. 
Are There Any Safety Measures to Consider When Installing a Modern Farmhouse Fireplace?
It is essential to make sure that any fireplace installation complies with local building codes and safety regulations. This ensures the Fireplace's safe construction and compliance with safety standards. Proper ventilation is critical to consider as it helps prevent the buildup of dangerous gases like carbon monoxide. It's critical to have your chimney routinely examined and cleaned by a professional if you want to maintain a safe wood-burning fireplace.