The question, what makes homemakers fall in love with the L Shaped kitchen with an island, has more than one answer. In a single word, you can say it is a multifarious appeal.
There are many aspects to the user excitement stemming from its unique structural profile, role as an enhancer of space, aesthetics, utility, and functionality.
L-Shaped kitchens primarily excite with their scope for optimized space utilization compared to other layouts, including G-shaped designs. L-shaped kitchens provide good storage space, but the limitation has been an adequate workspace.
That problem is addressed by the L-shaped kitchen with an island. Let us now explore some trendy L-shaped kitchens with islands as samples to learn more about kitchen ideas and the underlying design elements.
1. Open Kitchen and Island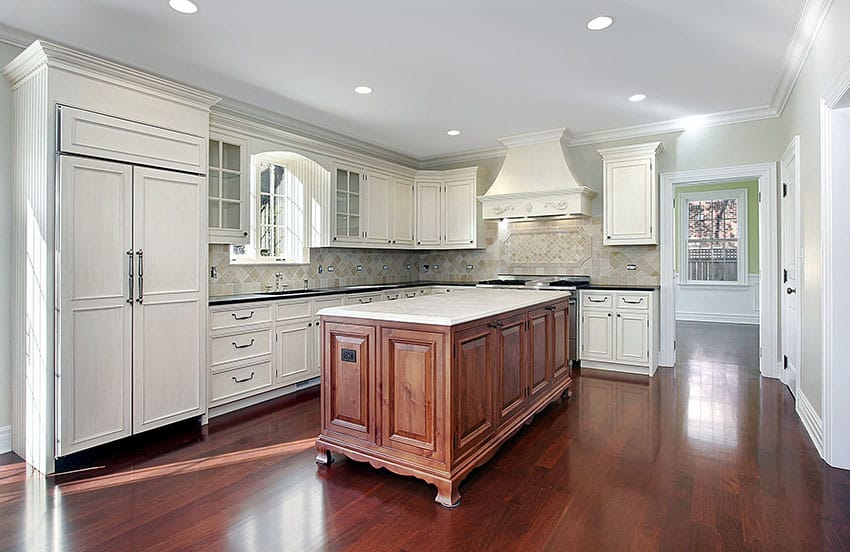 In this open-plan L design, one leg has a continuous wall while the other is an "open" wall incorporating a counter or island looking out to the living room. This allows more leeway to the user and creates a seamless flow between different areas of the home. Here the island can serve as an additional space provider and work area platform for the smart functioning of the L-shaped kitchen.
2. Contemporary Kitchen with Island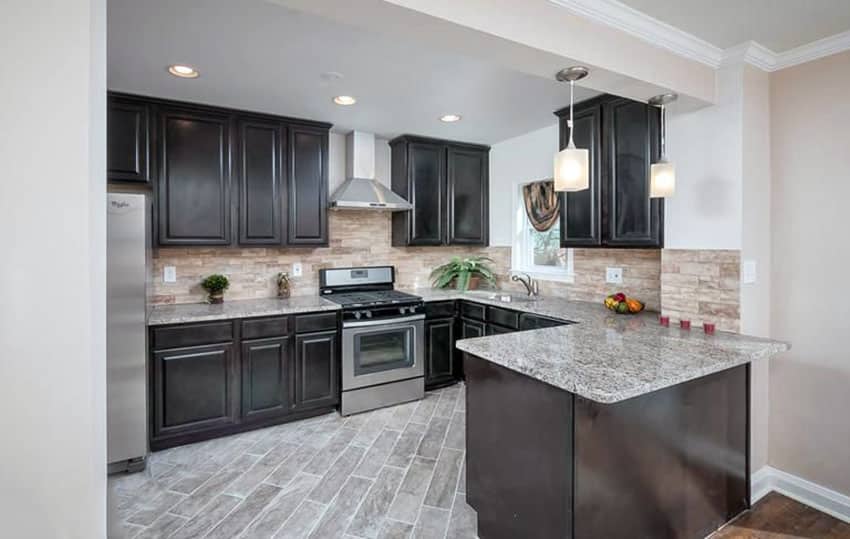 In this contemporary kitchen with the L-shaped design, you can see dark brown cabinets, light granite counters, and a small bar peninsula for eat-in dining. The finishes matter as far as islands are concerned. There is a choice to have your cabinets matte or glossy. Generally, glossy surfaces make kitchens look larger, although matte finishes are in high demand.
3. Traditional Kitchen with Island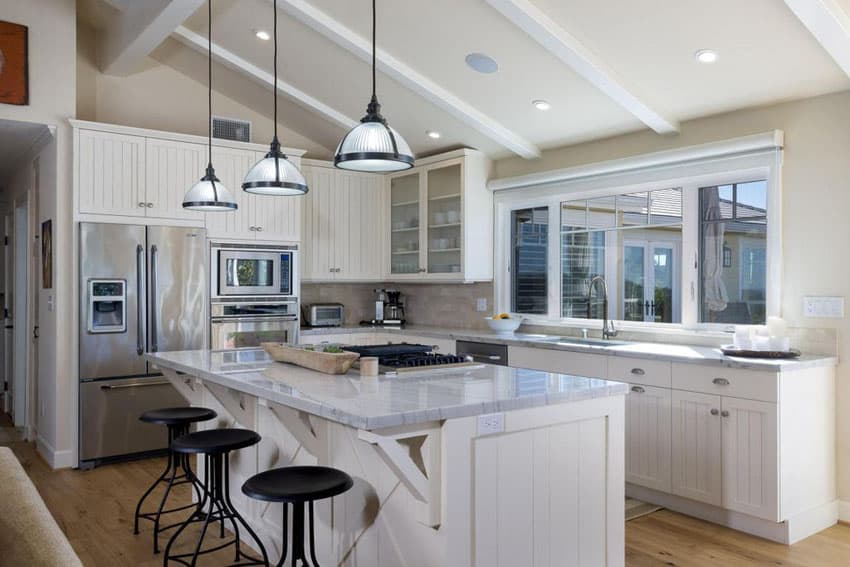 Beautiful Carrara marble islands and light wood flooring will sync with beadboard cabinetry in a traditional L-shaped kitchen. Carrara marble tiles are lightweight and easy to install and carry huge natural beauty. The mosaic tone adds mystique to the interior and lights up the space with its classic elegance.
4. Kitchen Island with European Cabinets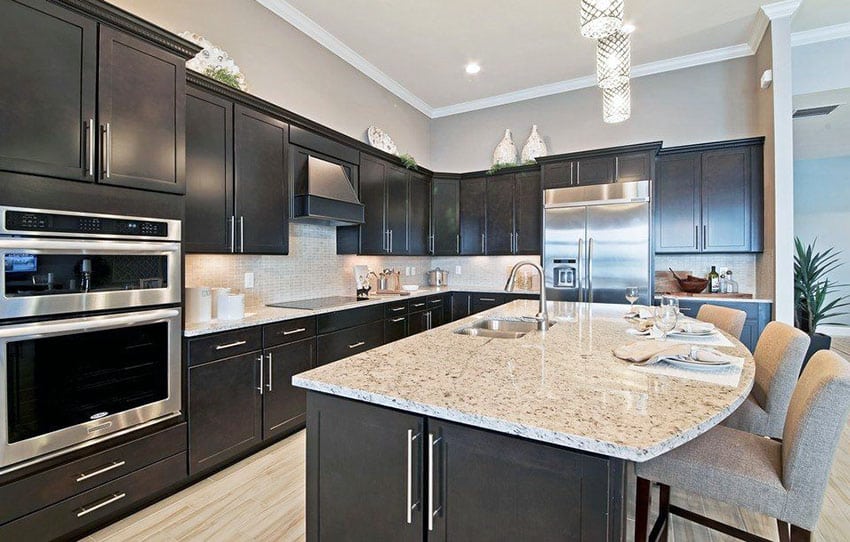 This L-shaped kitchen with an island has a contemporary feel with its European-style cabinetry and light-colored granite countertops. The island has an overhanging counter for dining with a built-in sink for easier food preparation and helps easy cleanup too.
5. Kitchen with Fibre Boards Island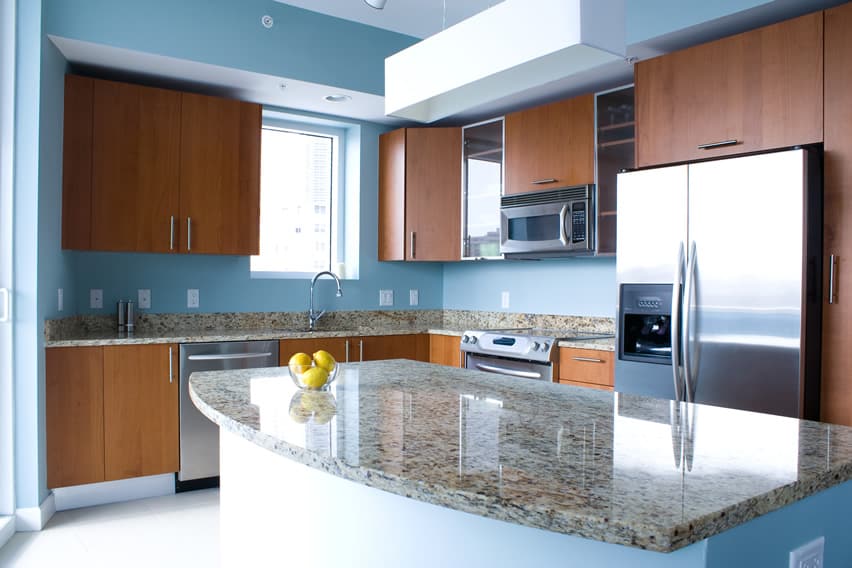 This modern kitchen design is an example of how a unique combination of colors, such as light blue and sky blue, provides a soft background for the strong vibes of teak laminated cabinets. The kitchen island made of built-up fiberboard is painted sky blue and has been topped with a granite stone.
6. Kitchen Island with Mahogany-Finish Cabinets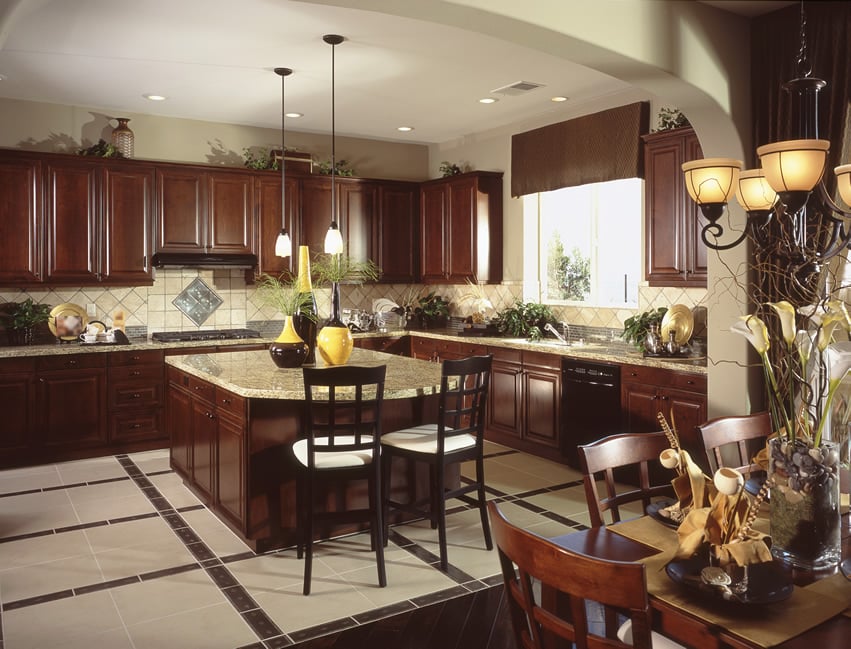 This modern kitchen draws inspiration from traditional kitchens. It has dark mahogany-stained solid wood cabinets with a gorgeous slab of stone as a countertop. The kitchen island in the middle has the same finishes as the main cabinets. The uses of light beige backsplash tiles and white floors offset the dark wood tones.
7. Mint Walls and Unique Island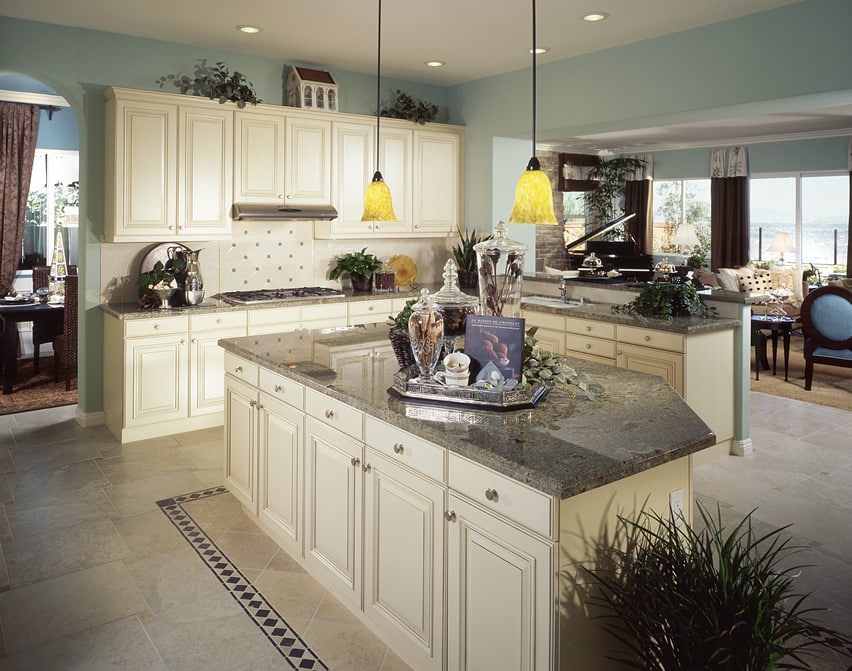 In this l Shaped Kitchen with an island, the walls are in mint color, providing a cool background for a traditional-style kitchen oozing a feminine appeal. The paneled cabinets in an off-white shade have a top plank in a gray granite slab. The unique-shaped kitchen island yields more space for cooking.
8. Blue and White Island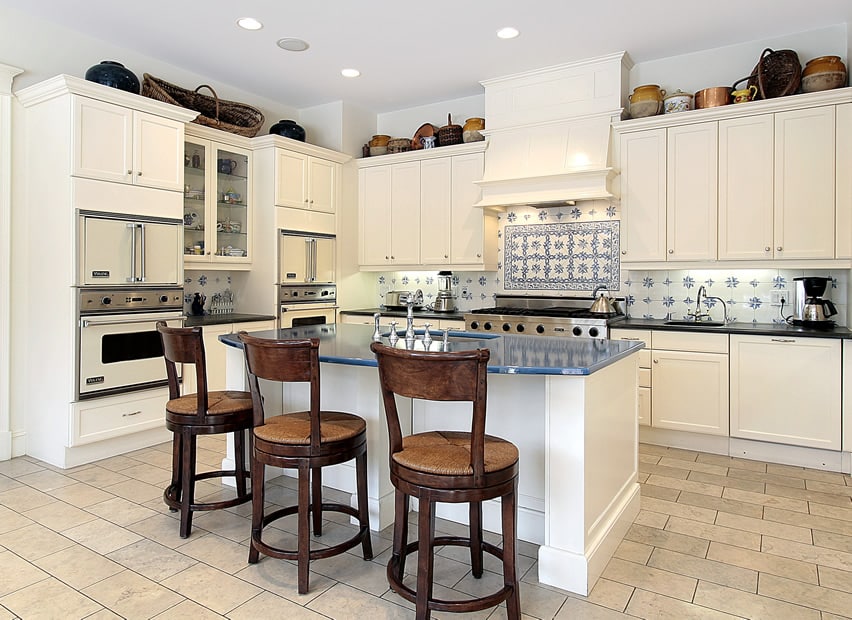 This is an example of a modern l-shaped kitchen with an island, drawing inspiration from Blue and white china with its classic elegance. The cabinets exude the charm of a gorgeous finish as they are combined with the black granite counter. The backsplash is blue and white ceramic dotted with floral patterns. On the island, you can see a solid blue surface working like an accent piece by itself instead of a black granite countertop.
9. Rectangular Kitchen Island
In this limited space, an L-shaped kitchen, a rectangular kitchen island accommodates two diners. The cabinets of solid wood are stained with a dark wenge color, and there is a top of a gray granite slab. A perfect kitchen for people who are striving to live a minimalist life.
10. Kitchen Island with Wine Bar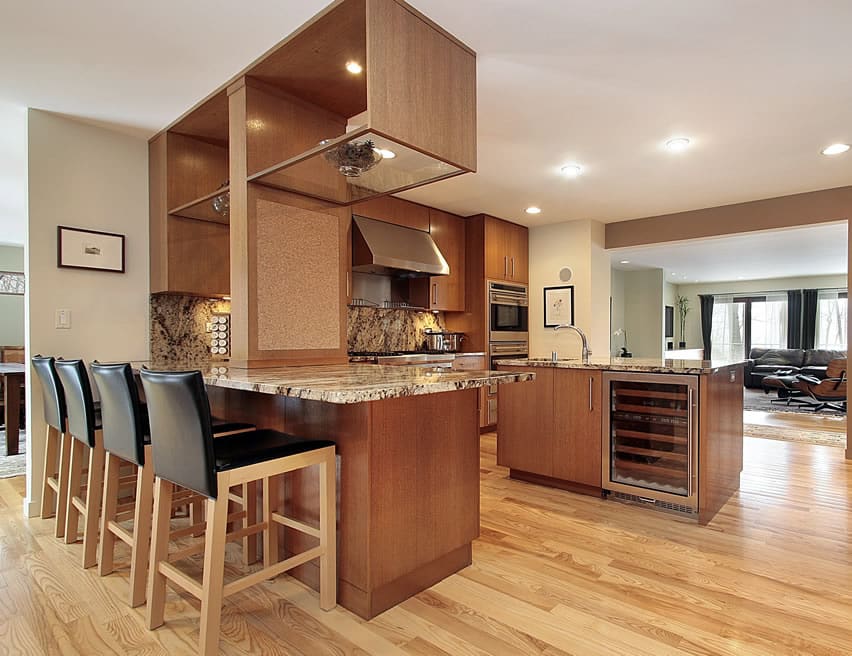 In this l-shaped kitchen with an island, you can see how modular kitchen cabinets are laminated in Mahogany. The large block of granite countertop stretches up to the backsplash. The kitchen island has a built-in wine fridge and a small bar area where at least four people can enjoy their drinks.
11. Kitchen Island with The Best Storage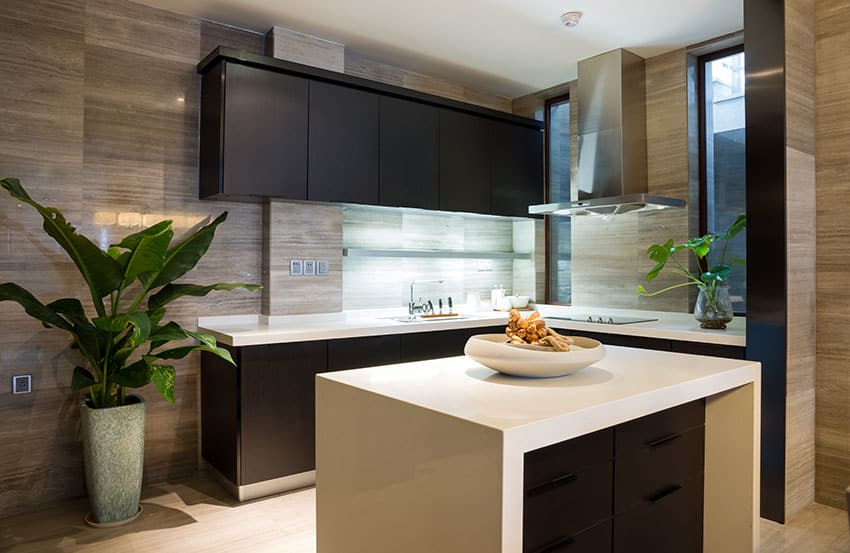 Here the modern l-shaped kitchen with an island has a background of black cabinets and a solid white surface countertop. The walls and floors are in wood grain porcelain tiles giving an amazing backdrop. The island offers storage space for utensils, pots, and pans.
12. Modern Kitchen Island Square Shape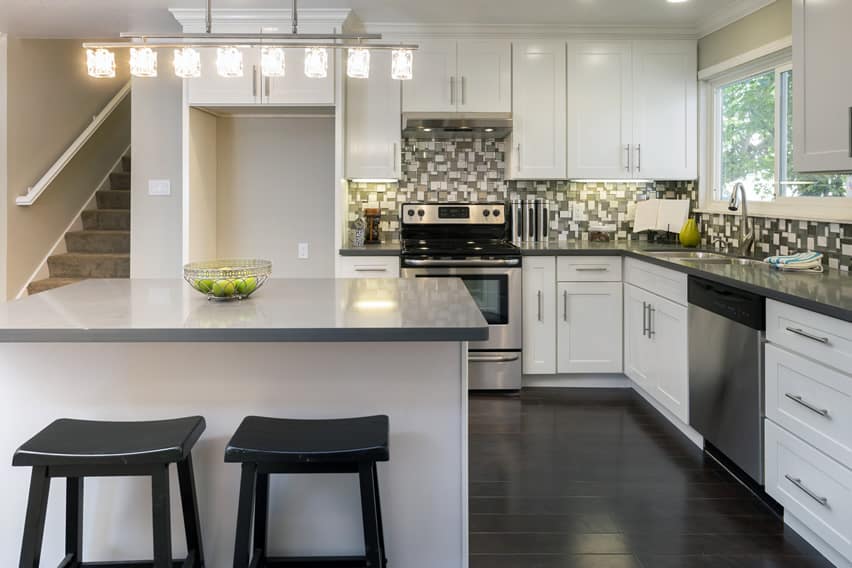 This modern L-shaped kitchen design offers off-white paneled doors and gray solid-surface counters. The backsplash matches the cabinets and countertops and is made of gray and white glass mosaic tiles. The large square kitchen island has its highlight in the additional work area and dining space.
13. Teal Cabinet and Kitchen Island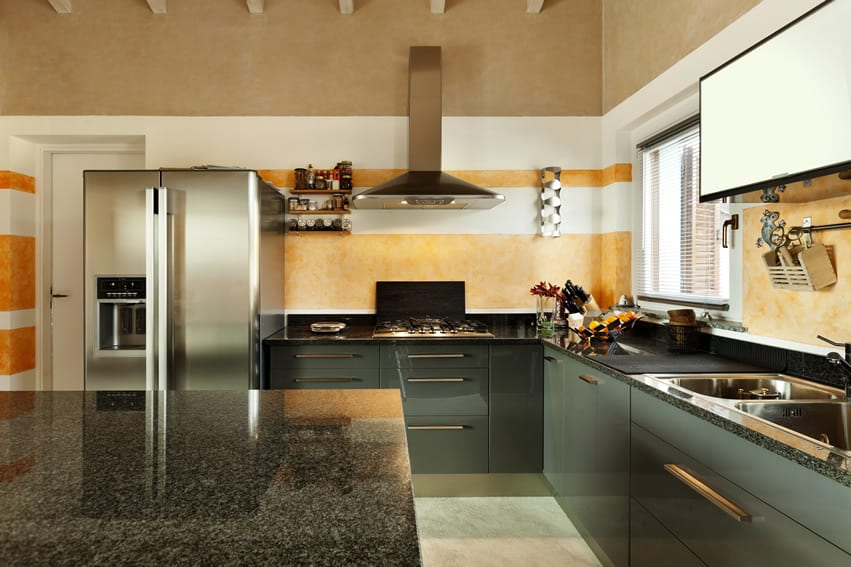 This modern modular kitchen design features cabinets finished in high-gloss teal laminates. The stainless steel hardware and the black galaxy granite countertop further bolster the decor. The walls express a unique combination of paints with a white base, plus brown rag-rolled paint for the upper part and yellow-orange rag-rolled paint for horizontal stripes.
14. Island with White Cabinets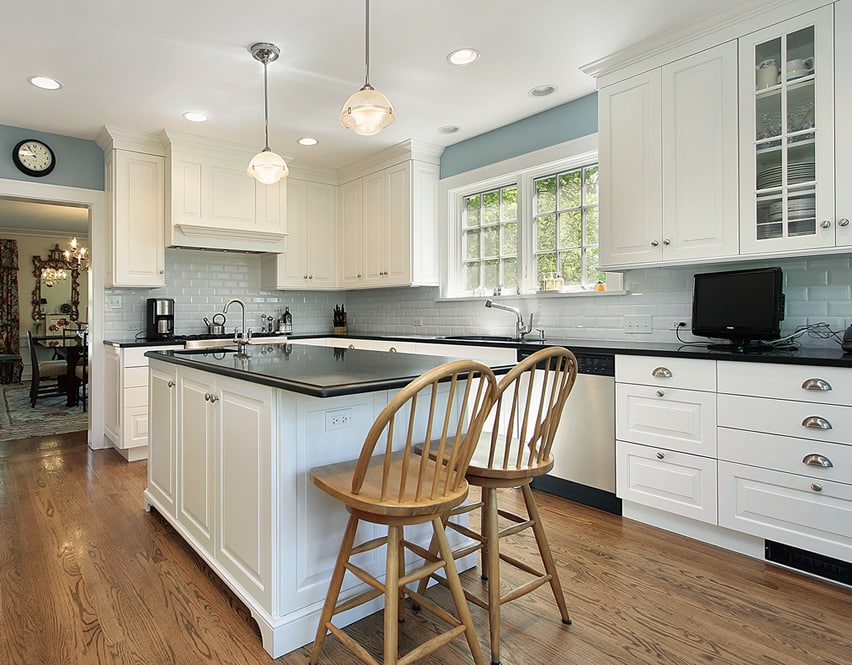 In most L Shaped kitchens, island lighting plays a pivotal role in giving a brightened and magnified perception. A magnum feeling comes from the light blue painted walls and overall lighter color scheme. The cabinets are all white with panels topped with black polished granite countertops. For the backsplash, white ceramic tiles are used in a subway-style pattern. The floor has light, and the engineered wood shows its match with two wooden bar stools for diners.
15. Large Contemporary Kitchen with Island Dining Bar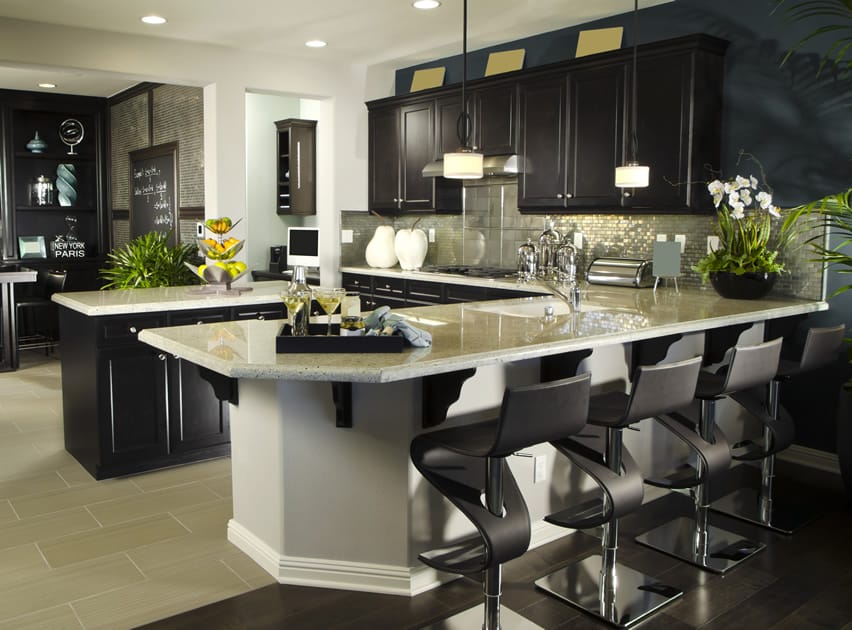 This contemporary kitchen has a large eat-in granite dining bar backed by modern bar stools. The flooring has been done with light color engineered wood in a rectangular pattern, while the island and cabinets show shades of rich dark brown that contrast the dining bar matching the countertop with the white with brown shades. A high metal gloss backsplash and accent tiles behind the stove hike the overall aesthetics.
16. Island with Laminated Cabinets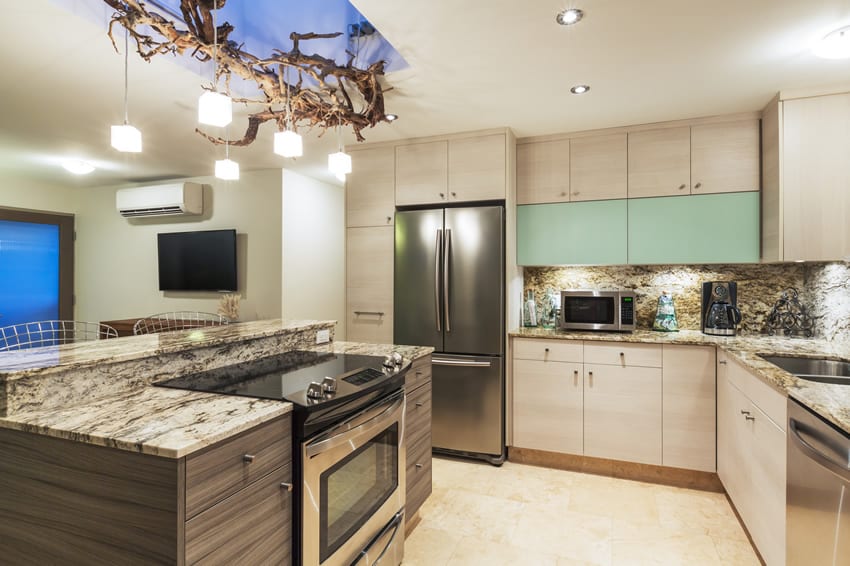 This modern kitchen combines plain and wood-tone finishes offering a riot of colors and textures. The cabinets are off-white with a minimalist design. Plain mint green laminates had been used for a dark-stained oak laminate finish.
17. White Kitchen Island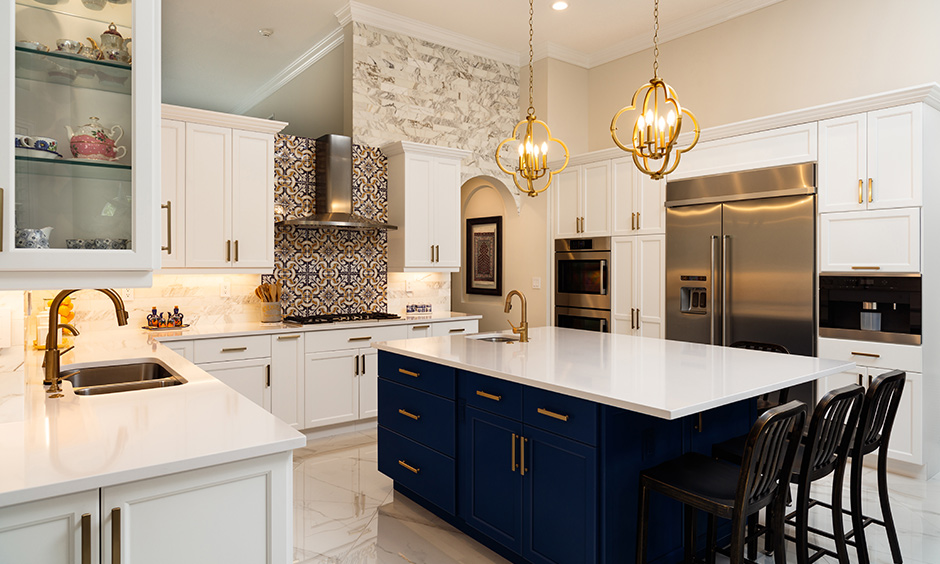 In this L-shaped kitchen with an island, the beautiful blue, white, and golden color scheme sizzles. The best part is that this kitchen has a centrally-located kitchen island that can function as an area for washing, storage, and seating. The design has taken the functionality to a whole new level.
When you have several guests, an island like this will be perfect for hosting them with cooked meals. It will also work as a comfortable seating area to socialize with friends with wine.
18. Rustic Kitchen and Wooden Island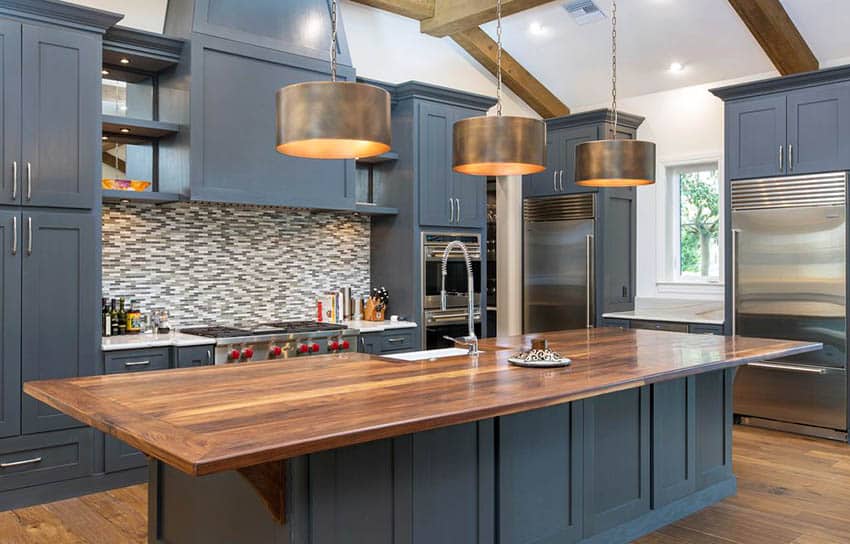 In this kitchen, a beautiful natural wood countertop island combines rich navy blue cabinetry and brushed brass drum pendant lighting. In this, you have cabinets and flooring made of reclaimed wood. The island is made of fence boards stained in ebony, with its power of texture and character contrasting the lighter cabinets and flooring to add a modern touch to the space.
19. Modern Kitchen with Versatile Island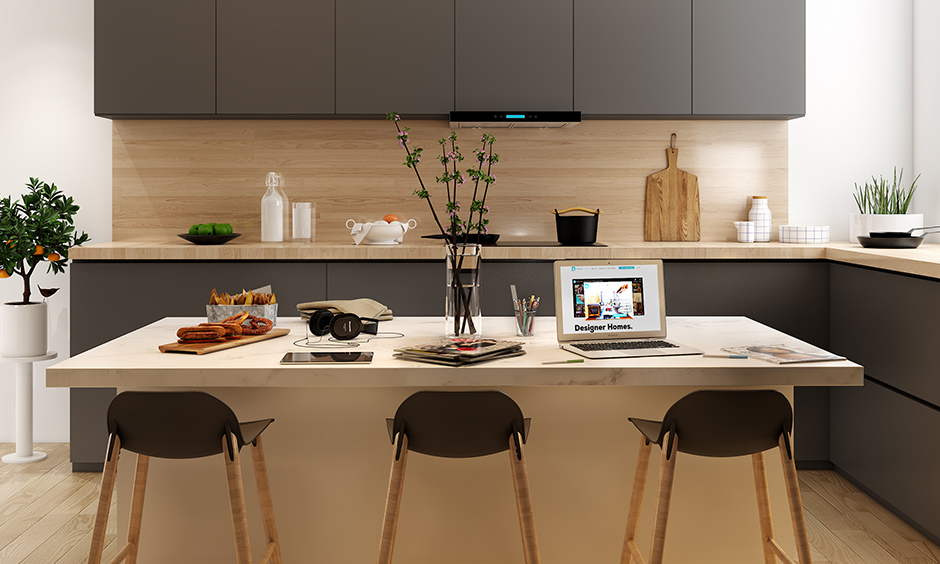 This L-shaped kitchen with an island shows how you can transform it into a workstation of ease and convenience. Just add a few comfy stools around your kitchen island. You can use it as a workplace or study too. Besides bringing a scenario change, this also ensures that you have everything within your easy reach. This is also a great design idea for parents to manage kids as they study while handling household chores parallelly.
20. Multi-Level Kitchen Island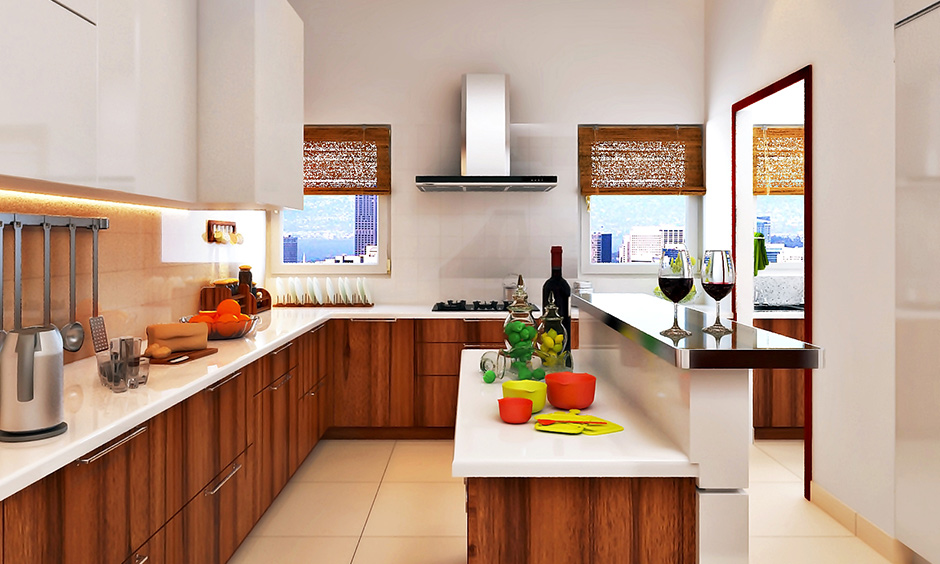 In case you want a kitchen island with a difference, then go for a multi-level kitchen island as a good example. The island would serve many purposes. The most practical one is using the lower deck for food preparation as its height is waist-level. The upper deck can house fruits and vegetables, or you may use it as a bar. A multi-level island can escalate your kitchen ambiance. It makes work easier, and the kitchen would create a fantastic impression on guests and visitors.
21. U-Shaped Kitchen Island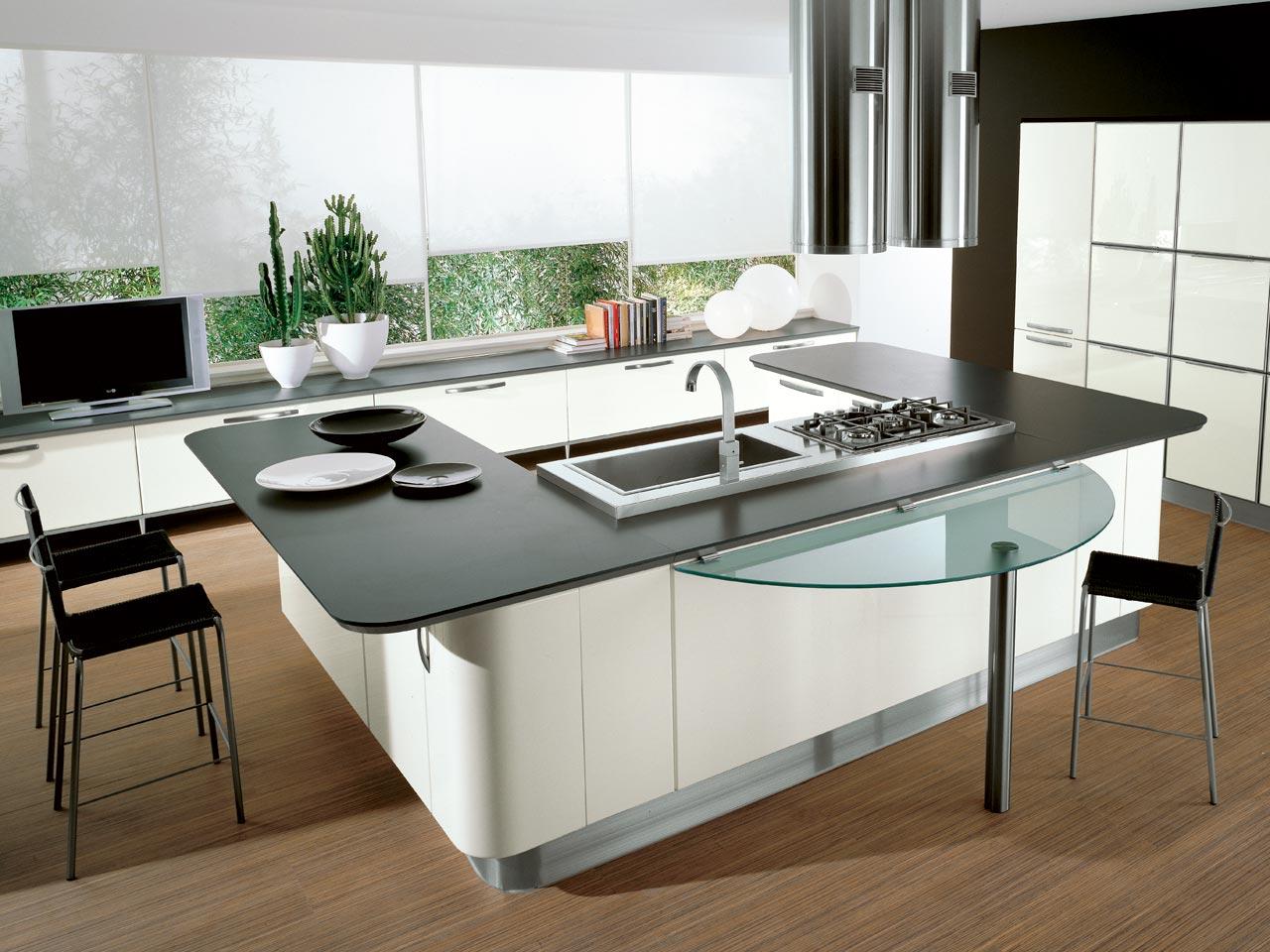 One new trend has been U-shaped kitchen islands. They are relatively large, with the three sides used for additional storage, work, and dining space. This layout is flexible, and you can house multiple appliances, such as a sink, dishwasher, beverage fridge, and microwave, with plenty of space for food making and entertaining.
Kitchen Islands Are More than Utility Tools
Aside from the aesthetic value of homes, many other advantages flow from L-shaped kitchens with islands as they lend a distinctive character to your kitchen. You can try out many styles ranging from simple tile countertops to elegant natural marble or granite. An island counter with classy looks makes a house majestic.
There are many ways to design an L-shaped kitchen with an island. When tastefully set up, the extra surface area on the island can become your food preparation area and dining area too. There are also options to make your island composite by adding extra features, such as a secondary sink or a butcher's block on the island counter.
A built-in oven with a kneading surface can make it a handy baking station too. In case you want a wine cellar and a bar top for mixing cocktails, the kitchen island is the go-to place. Appliances such as wine coolers, grills, and griddles can also be accommodated on your kitchen island counter to make the cooking experience fantastic. For countertops, you can choose from wood, natural stone, tile, and stainless steel to support food preparation and cooling hot food before serving.
An efficient island layout merges all core elements, such as practicality and design, plus it expands ease of use in a single platform. Although L shaped kitchen is the preferred format in small spaces, its potential is unlimited. It is good for small, large, open, closed, or semi-closed spaces. There is no limit to the size of an L-shaped kitchen.
The unique space engineering of the L format allows for placing appliances or cabinetry along a right angle on the walls with an open area in the middle. This open area is the most convenient area to include a kitchen island. Compared to other kitchen layouts, the L-shaped kitchens follow a zonal approach wherein functional areas are distinctly demarcated. They include cooking, food preparation, cleaning, wet and dry storage, and dining spaces.
Things to Care About While Setting up an Island
To build a custom kitchen island within a decent budget, you have to choose the material for the countertop rightly. There are costly and cheap materials. Granite countertops are stylish, durable, and classic but are very costly. Marble is also pricey. To address this, use quartz countertops as an alternative.
It is a budget-friendly material and offers good creativity. Laminate is another affordable material available in a range of colors and patterns. Tiles are budget-friendly and customizable as a countertop material. Ceramics, porcelain, and stone are easy to maintain. They are beautiful, with a range of colors, sizes, and patterns to work with.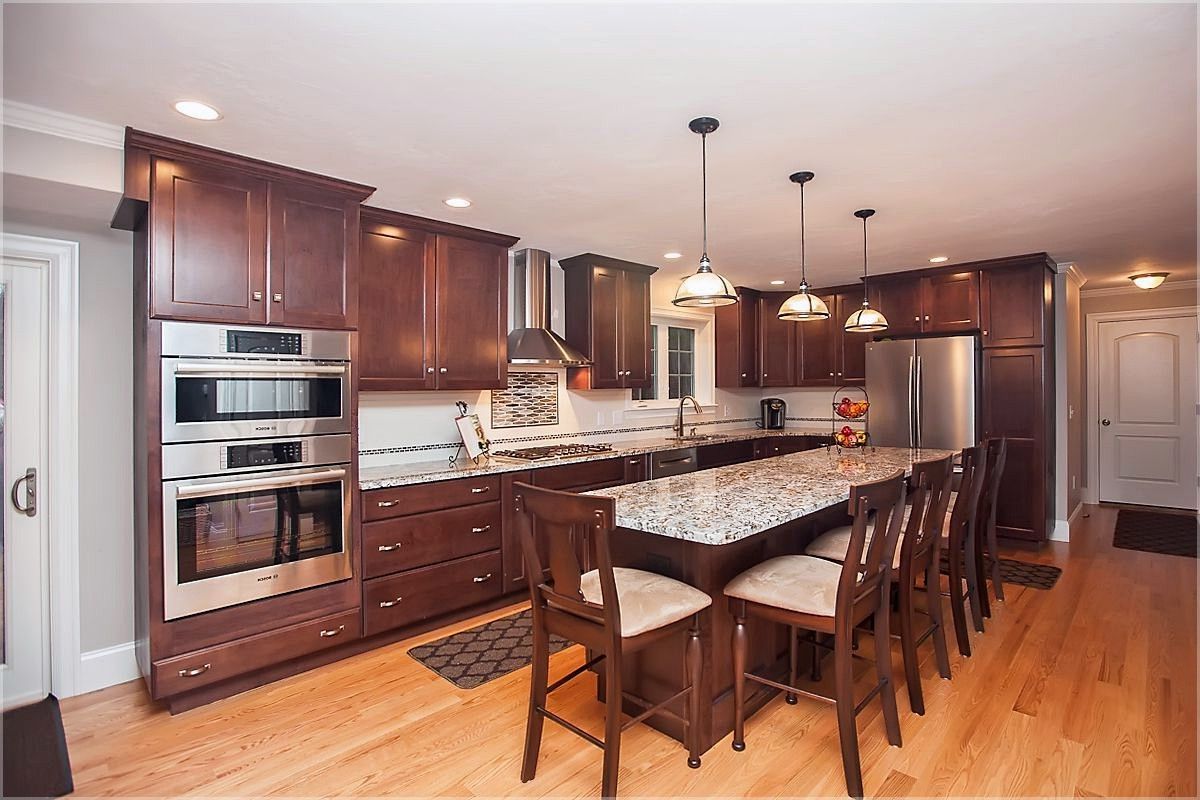 Tiles allow greater creativity with their unique looks as countertops and blend colors and patterns to create amazing designs. Wooden or artificial wood butcher block countertops are also affordable, and they lend some rustic looks too. Their homely warmth will be a contrast to otherwise cold kitchens.
Kitchen Island Cabinets: In the L-shaped kitchen with an island, you can use the base part to house several functional elements such as drawers, cabinets, and other storage. Setting up built-in cabinets into the base is a great way to customize your work area. There are many types of cabinets to choose from, such as stock, semi-custom, and custom. But make sure your cabinet- type matches your personal taste and overall design.
Custom cabinets conform to exact specifications. This means the cabinet will match your vision, but the prices can be higher than other categories mentioned. Do make sure you are choosing a cabinet door style that connects with your theme. Flat panel cabinet doors are sleek and clean looking and go well with minimalistic, modern styles. Mullion cabinet doors are cute and made of glass panes, and the frames can be wood or aluminum.
Conclusion
The design concepts for L Shaped kitchens with islands are evolving, and the scene has become a minefield of innovative designs, colors, and a playground of new materials.
For example, there is a new trend of kitchen islands with curvaceous designs. It was a rage in the 1980s. The best part is its fluidity in design which softens the overall look by creating a bold design focus around the curved island. The social benefit of a curved island is the expansive seating area. It provides for guests to eat and socialize.

So, if you feel inspired to put in place a beautiful island in your L-shaped kitchen, the ideas discussed here could be very useful.