21 Striking Black Fireplace Ideas and Designs
Are you looking for fireplace design ideas right now, or Do you already have one and want to give it a makeover? A black fireplace can be the solution you're looking for inspiration for the living area when something seems off.
Nothing makes your living room or any other place in the house feel more welcoming and appealing than a chic and eye-catching fireplace. After all, a well-designed fireplace can serve as the central attraction of any space while also providing numerous functional advantages.
Look at the ideas listed below to spark your creativity and discover how others have used this decoration in their homes.
1. A Black Fireplace with Wall Decorations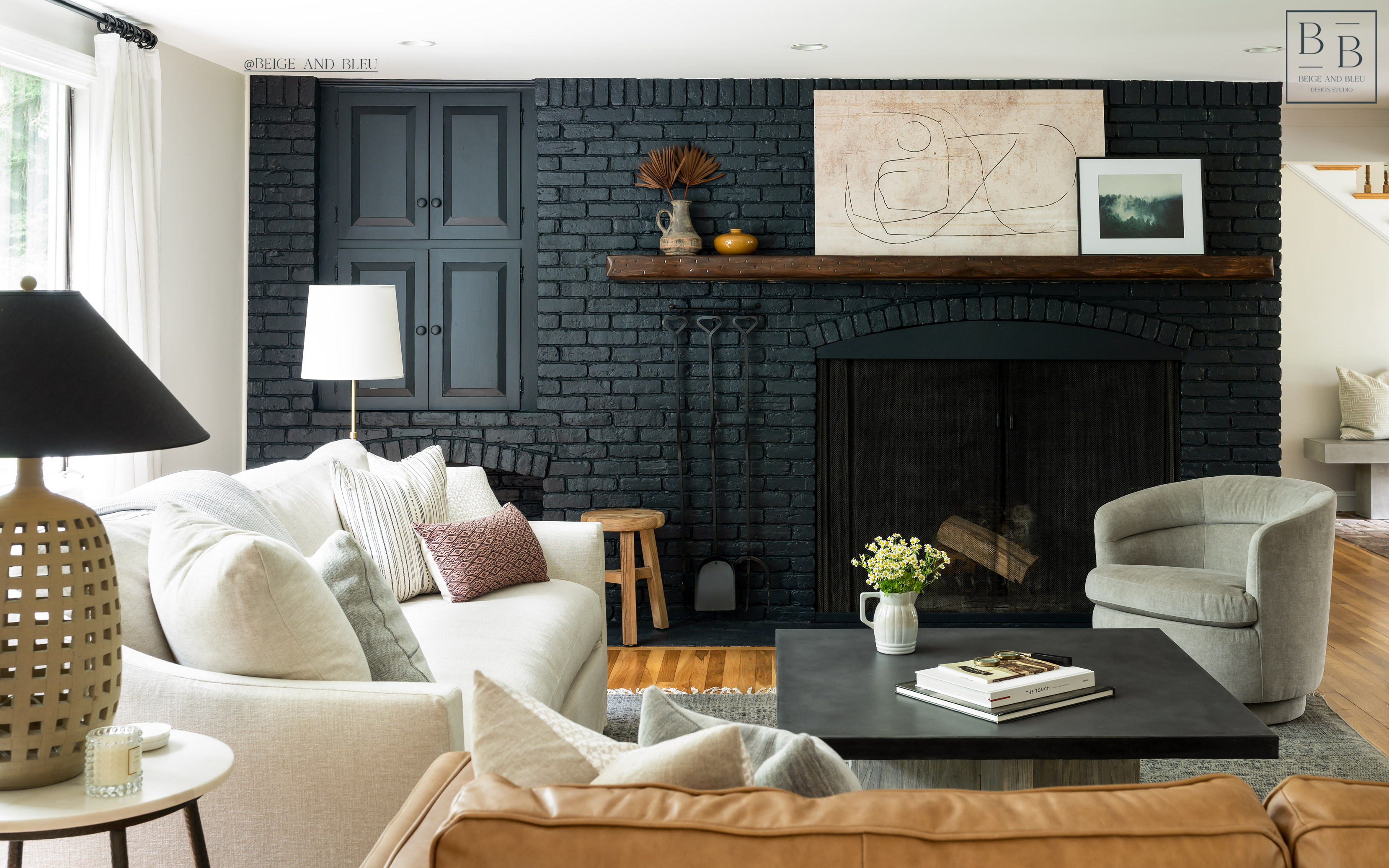 Since the gas fireplace doesn't require an imposing mantle or hearth, you can coat the walls with Royal Clay and make the trim as thin as possible. You can replace your colossal chandelier with this textile artwork. This works particularly well in modern homes where furniture is the main attraction. By doing this, you can display a stunning textile piece in place of the conventionally large chandelier. This creative arrangement is best suited for contemporary homes, where the furniture takes center stage and creates a captivating appearance.
2. Blueish Tint to the Black Fireplace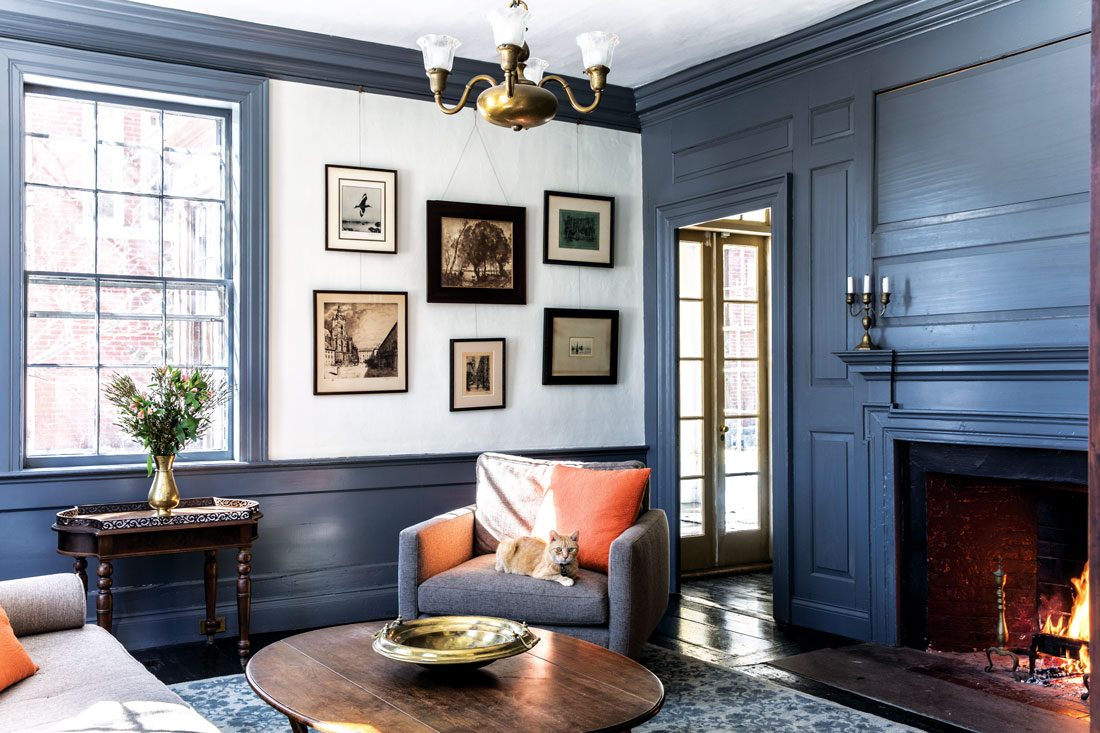 This turquoise Fireplace stands out when placed in the living room's corner. We like how it looks combined with a sofa in a jewel tone and pink drapes. Who said the living room must be a dark space? Although blue is a classic color, it can be matched with bright or gloomy accents. It is a classic color choice with vibrant and understood accessories. The use of many colorful materials in this setting creates a lovely, upbeat, unquestionably charming environment.
3. Two-Toned Statement with Black Fireplace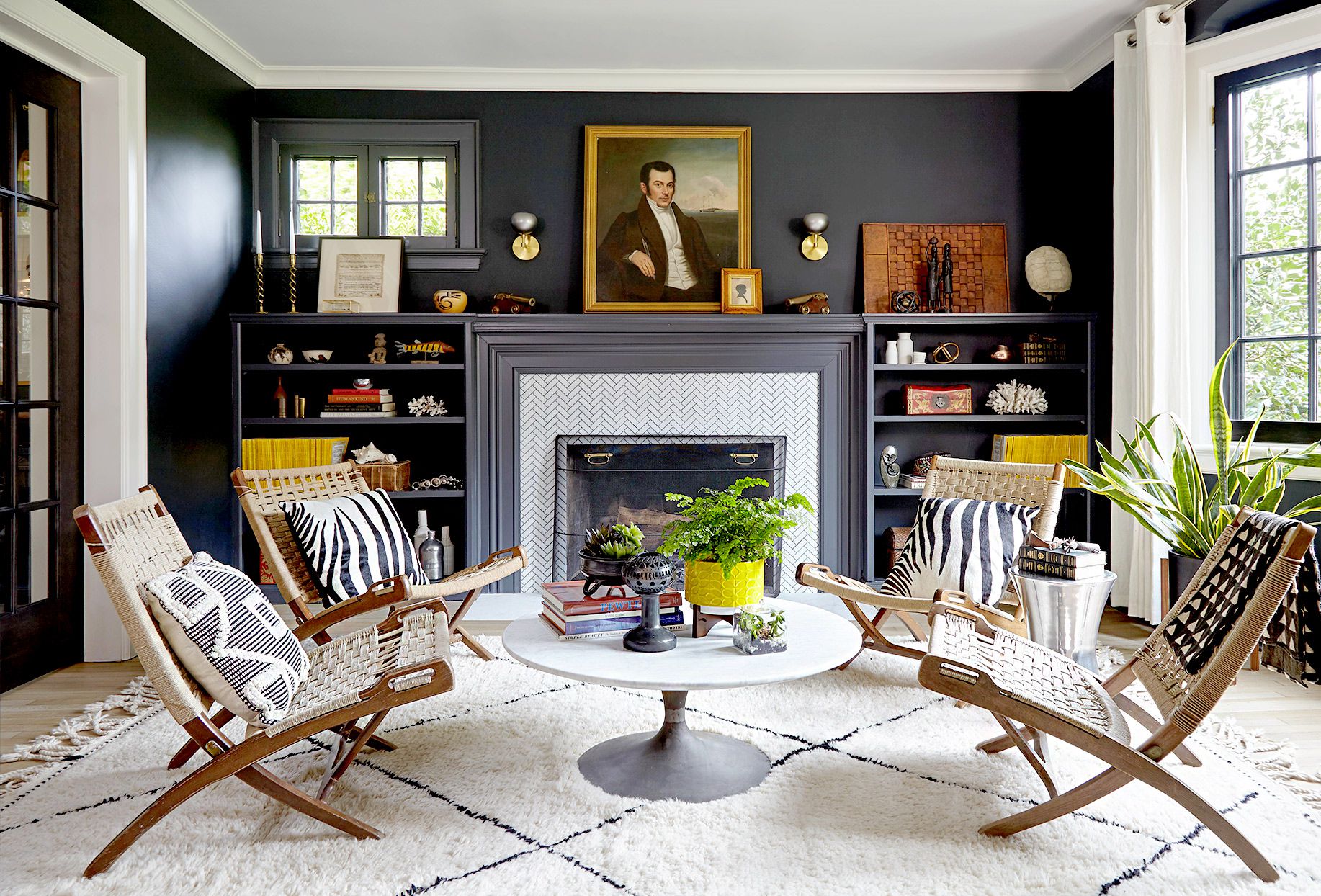 Paint the outer edges of your Fireplace but leave the Fireplace insert black for a two-tone look. Why not paint your mirror if you have one that you are looking to customize? When paired with the other neutral colors in this room, black and white appear at home. If your fireplace is between built-ins, you can paint the entire area one color or, as in this case, two. The good thing is that paint can always be reversed and changed easily if you grow tired of a particular appearance. Paint's adaptability makes it an excellent medium for design. You can also change or reverse the colors used according to your choice.  
4. Add Patterns that Stand Out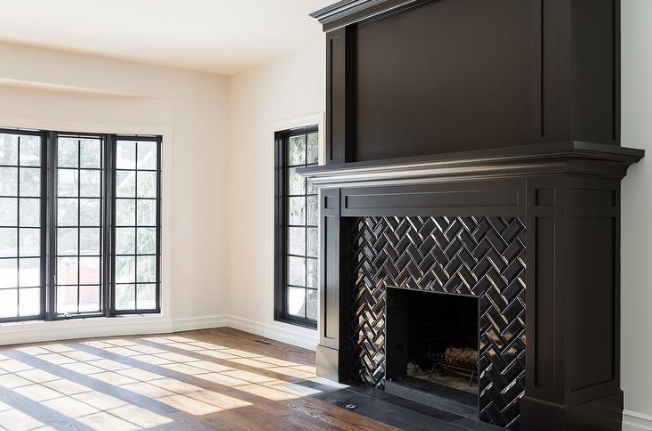 Your Fireplace doesn't need to be decorated with just one color or even two! If you feel creative, have fun painting various patterns and shapes on your Fireplace while combining multiple colors. The artwork's simplicity and casualness, combined with the color story's temperance and modesty, produce a unique, fascinating, and appealing beauty. If you want to add drama, pair a black fireplace with an off-white and patterned wall. Or use it with vibrant plants to create a serene and calm atmosphere.
5. Install a Cheerful Wallpaper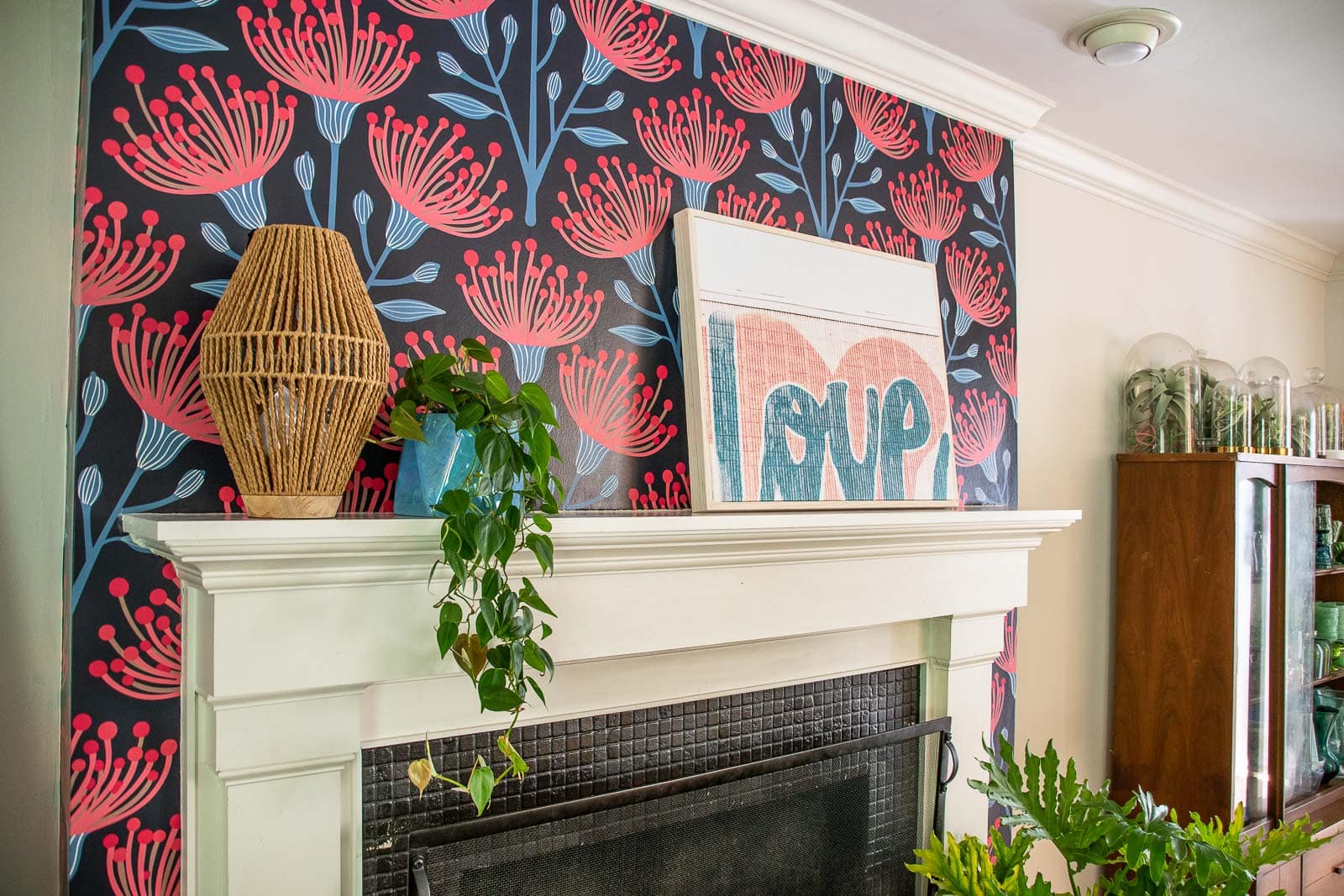 Use the exciting design on the wall above your Fireplace as a design idea when choosing a paint color. This pattern would look fabulous in red, green, blue, and yellow. A cheerful wallpaper with a Black fireplace will compliment the look! A black fireplace may be an eye-catching feature in your room and capture the attention of friends and family as they gather around. Pair it with a cheerful wallpaper as a conversation starter. A stronger fireplace combined with a cheery wallpaper produces an exciting visual interaction that gives the space individuality and charm.
6. Light Stringed Black Fireplace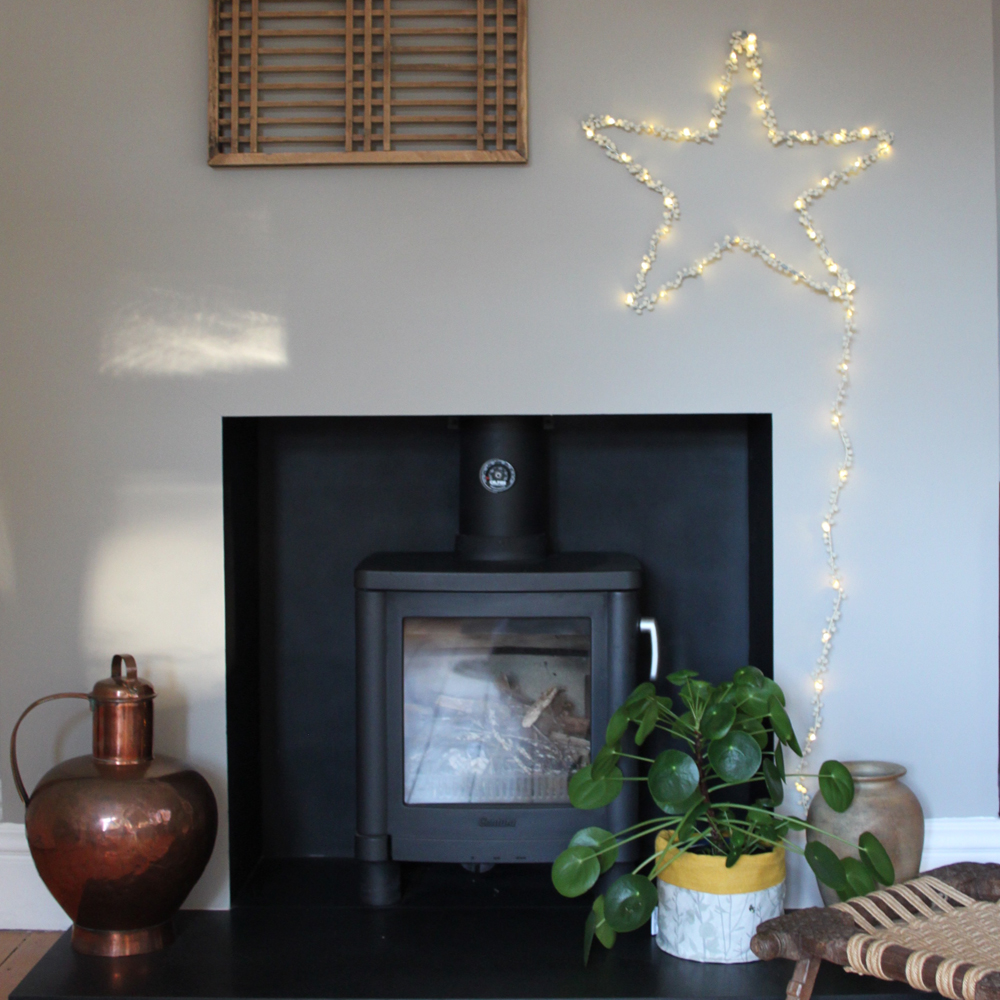 A wallpapered border and a string of lights only enhance the already beautiful appearance of a brilliant black fireplace. These inexpensive little details will bring a certain amount of charm to any design. In this room's living area, a black burning wood fireplace is placed against a white-painted stone background with a white mantle. White frame farmhouse decor and string lighting are used to de-cote the mantle. The wallpapered border and the gentle glow of the string lights complete the scene, adding a layer of warmth and visual appeal, changing the area into a compelling hideaway for rest and treasured moments.
7. Dark Walls, Dark Fireplace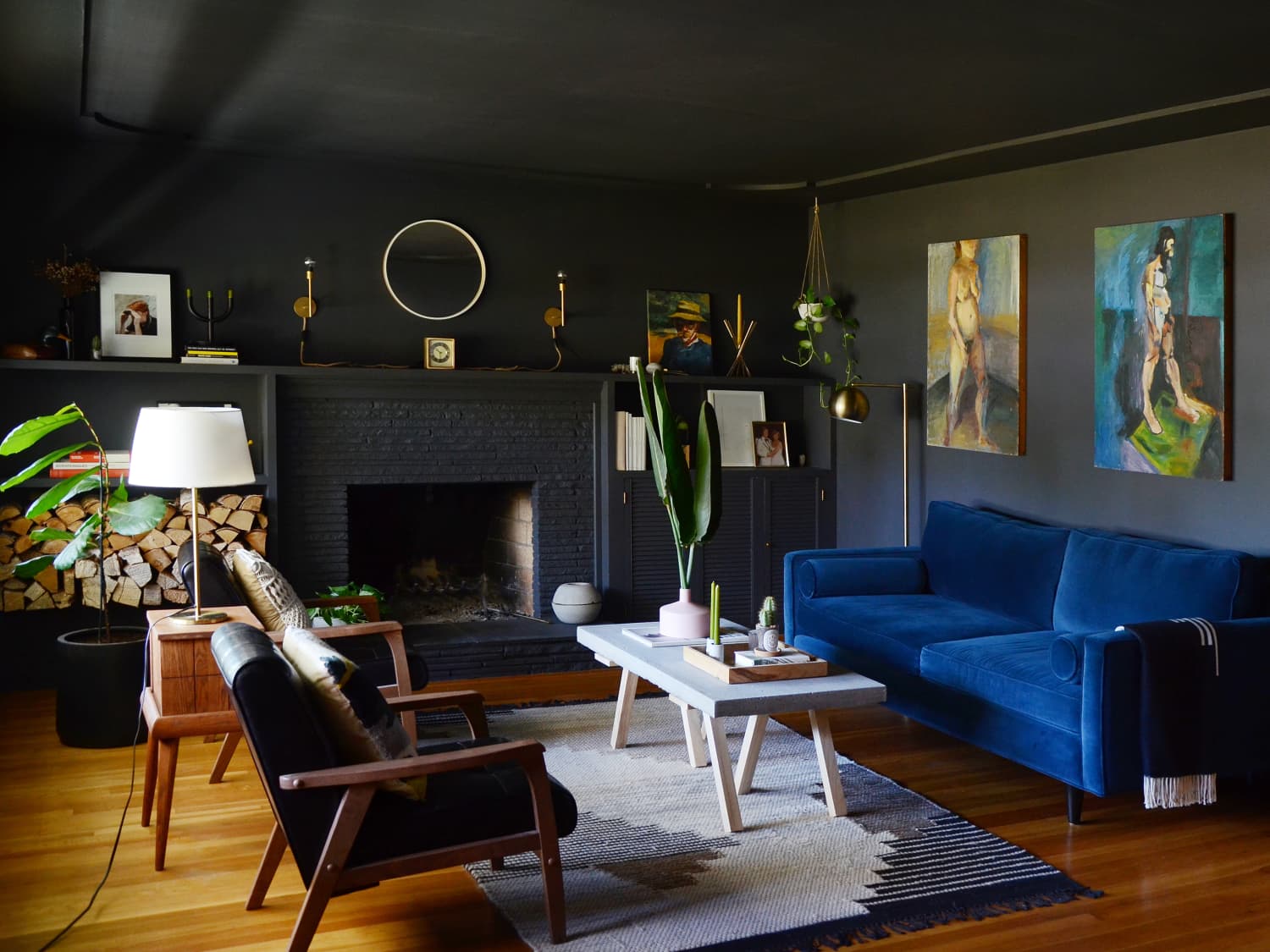 Dark paint can be dramatic and out of the ordinary, like on an inky black fireplace in a Brown-designed living area, if you want to make a brick fireplace appear new again. Because black paint hides smoke, it seems elegant, sophisticated, and polished. A vintage mirror brings a touch of brilliance to the room while enhancing the depth of the darkness by complementing the overall look and reflecting and amplifying the existing light. A polished and seductive atmosphere is produced by the mix of the light-enhancing old mirror and the sleek black Fireplace, which has a striking visual contrast.
8. Black Fireplace with Clustered Candles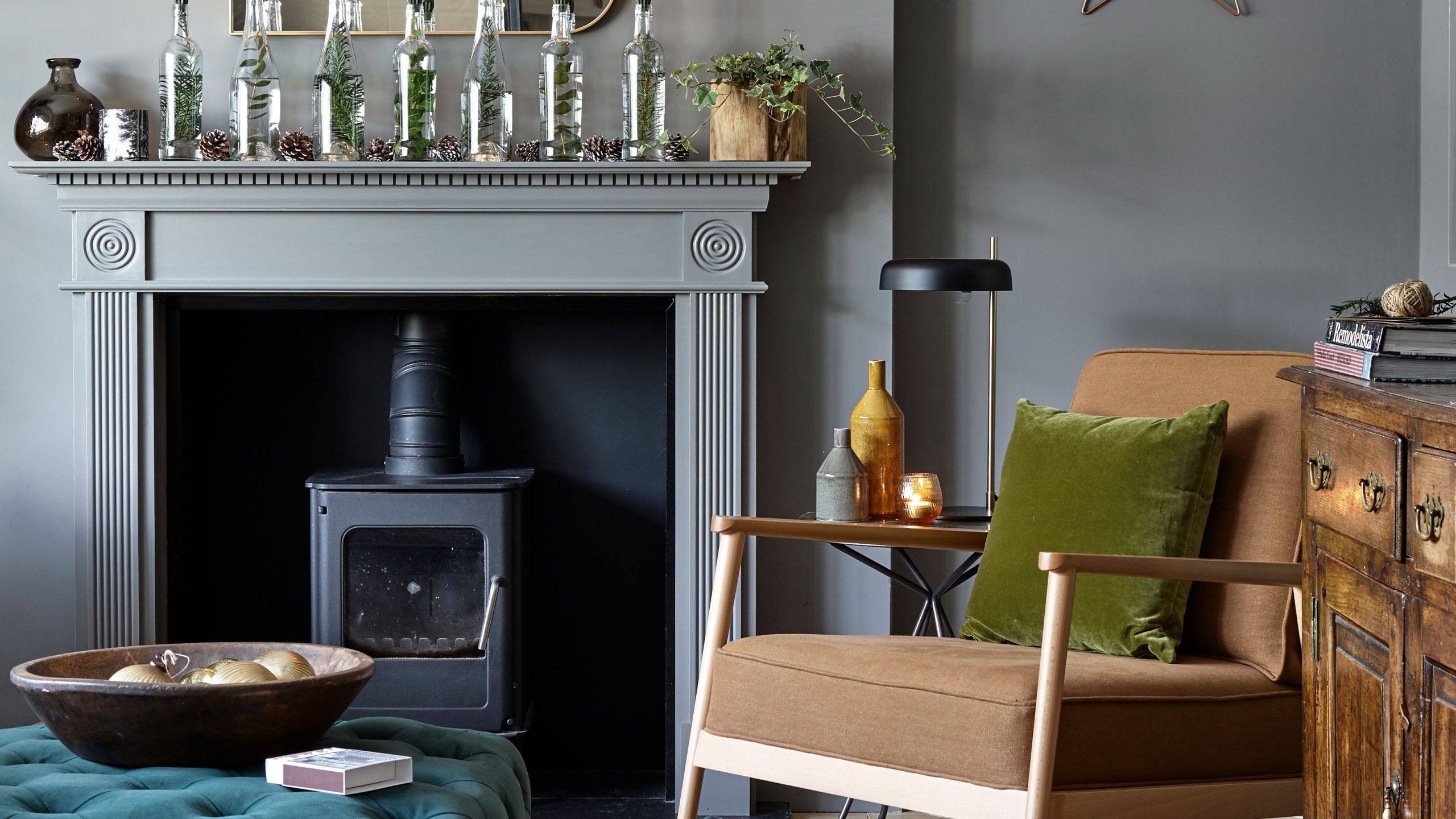 Here's another piece of evidence that a black fireplace may add value to a room. A cluster of candles may provide the same ambiance and comfort as a roaring fire. Consider combining some candles with a pine flavor for that blinking flame sight and natural scent. If your master bathroom has a fireplace, decorate it with candlelight. A white sign could be positioned between a pair of white candles on wood fireplace lighting in the living room. A room can have a cozy ambiance and a calming environment even in the absence of a real fire due to the candles' soft glow and delicate aroma.
9. Tv Mount and Black Electric Fireplace
A white couch and light wood cocktail table appear in the living area, highlighted by a naturally woven hanging. Next to a white rock wall, a black electric fireplace fits behind a mounted TV. The appearance can be raised by a TV and a wood mantel positioned over a black electric fireplace. A large TV can be installed on a black slate wall with a light wood mantle and a black electric fireplace. The sleek black Fireplace and the light wood accents combine to produce a visually appealing and contemporary ambiance that adds elegance and practicality to your living space.
10. Black Brick Fireplace with White Touch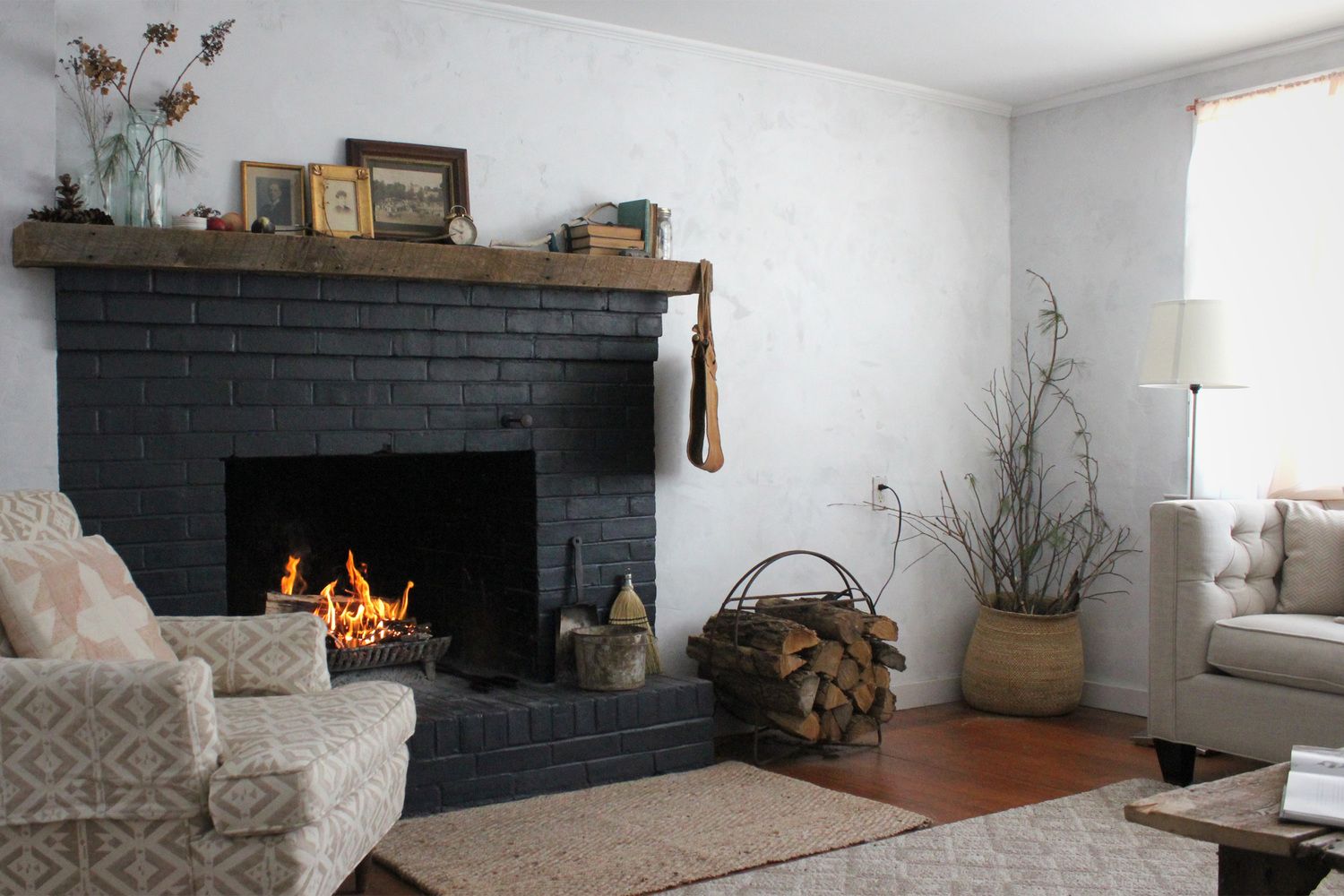 To compliment the clean, contemporary interiors without taking away from the farmhouse-style character of the house, paint the bare black brick fireplace frame white. A black fireplace might complement a typical brick wall, giving your room a more natural farmhouse feel. The advantage of a black fireplace wall is that there are many ways to fit it into your home. The black Fireplace is a versatile piece that can be modified to suit different design styles and provide a touch of timeless elegance to your living area, regardless of whether your taste is more modern or traditional.
11. Put on a Plank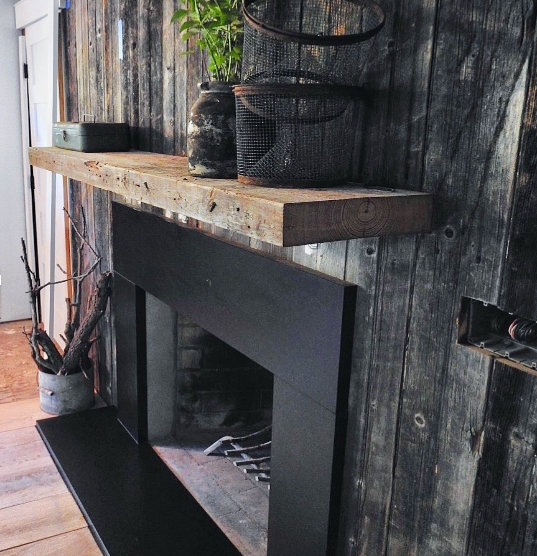 The best of a modern family farmhouse and traditional mountain lodge is combined with a dramatic fireplace. The stone wall's horizontally mounted hanging plank serves as the mantle. A hanging shelf above the black Fireplace will embrace the look, making it the center of the attraction. The comfort and elegance of a traditional mountain lodge blend with a contemporary family farmhouse's slick and welcoming vibe to create a harmonic and alluring setting. As you gather around this unique Fireplace, allow yourself to be embraced by its warm and welcoming presence.
12. Black Fireplace with Modern Art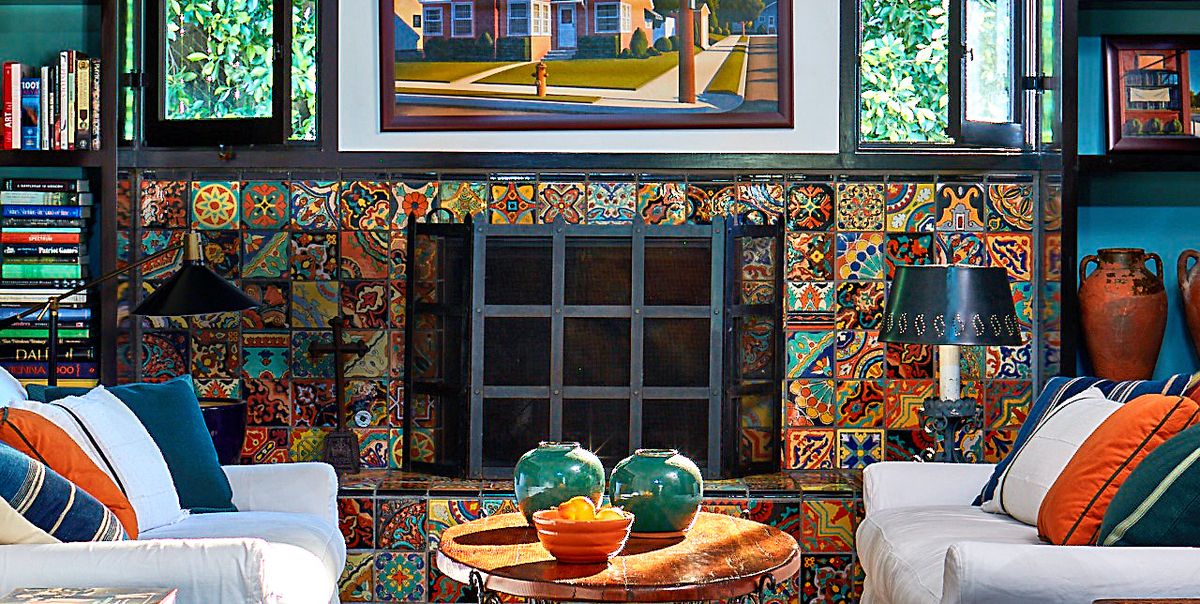 Take notes if you adore the quirky design. The angular mirror, brilliant orange imagery, granite fireplace, rusting sitting, and asymmetrical pottery are all unexpectedly complimented by the velvety texture of the rose-pinkish chairs. All the combinations in this space work so beautifully. Placing abstract art on the mantel is a simple, contemporary way to add beauty. In this unique setting, embrace the unusual and let your creativity show.
13. Black Marble Fireplace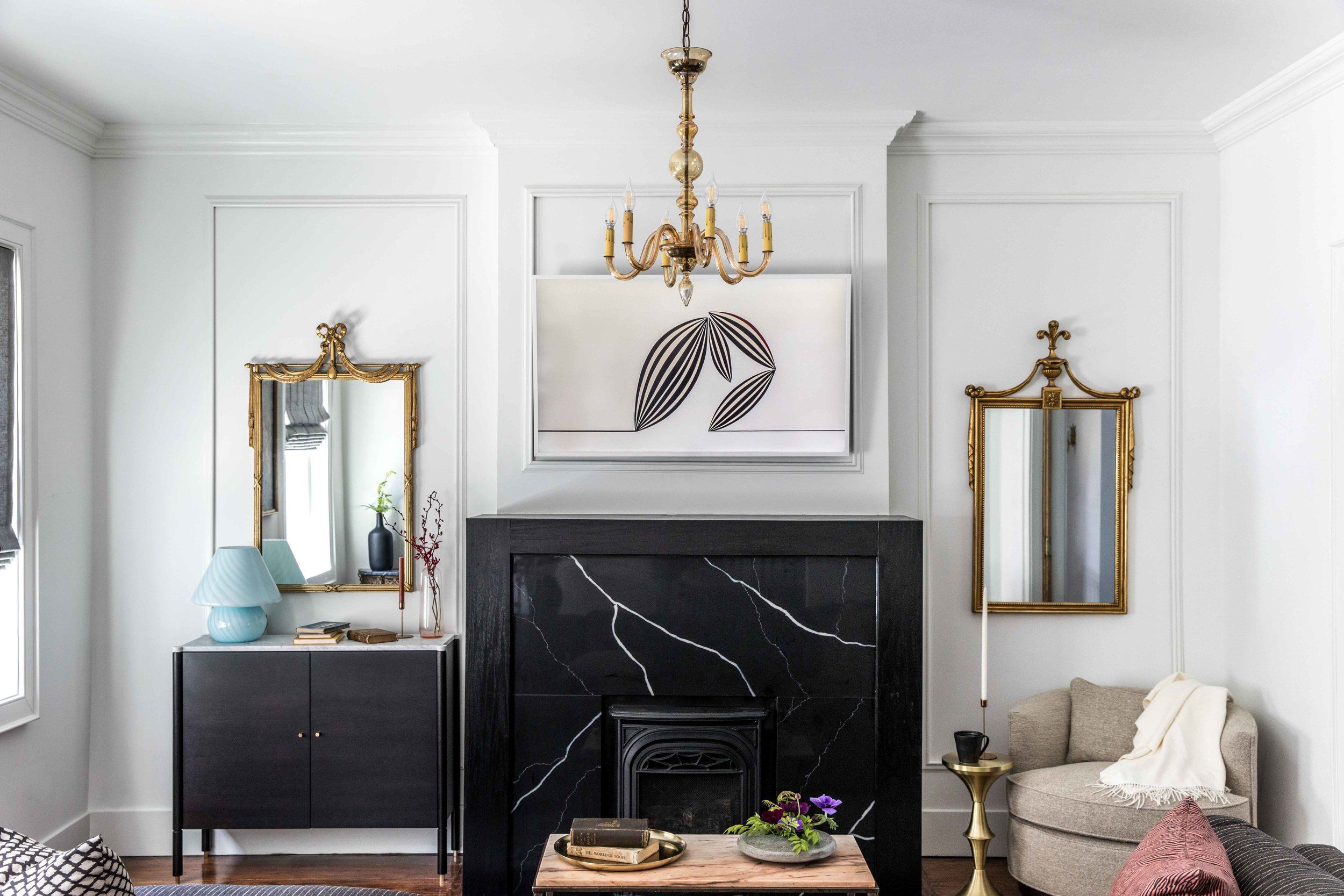 A fireplace made of black marble strikes the perfect tone between modern and classic. It works as the main point of the living area, which is given a stylish boost by a jute mat, cutting-edge works of vibrant art, and an artistic table lamp. These components work together to produce a dynamic and visually appealing atmosphere where a contrast of modern and traditional components coexist peacefully. The black marble fireplace is a stunning addition to any living space, captivating attention and emanating an aura of refined elegance.
14. All White with Black Fireplace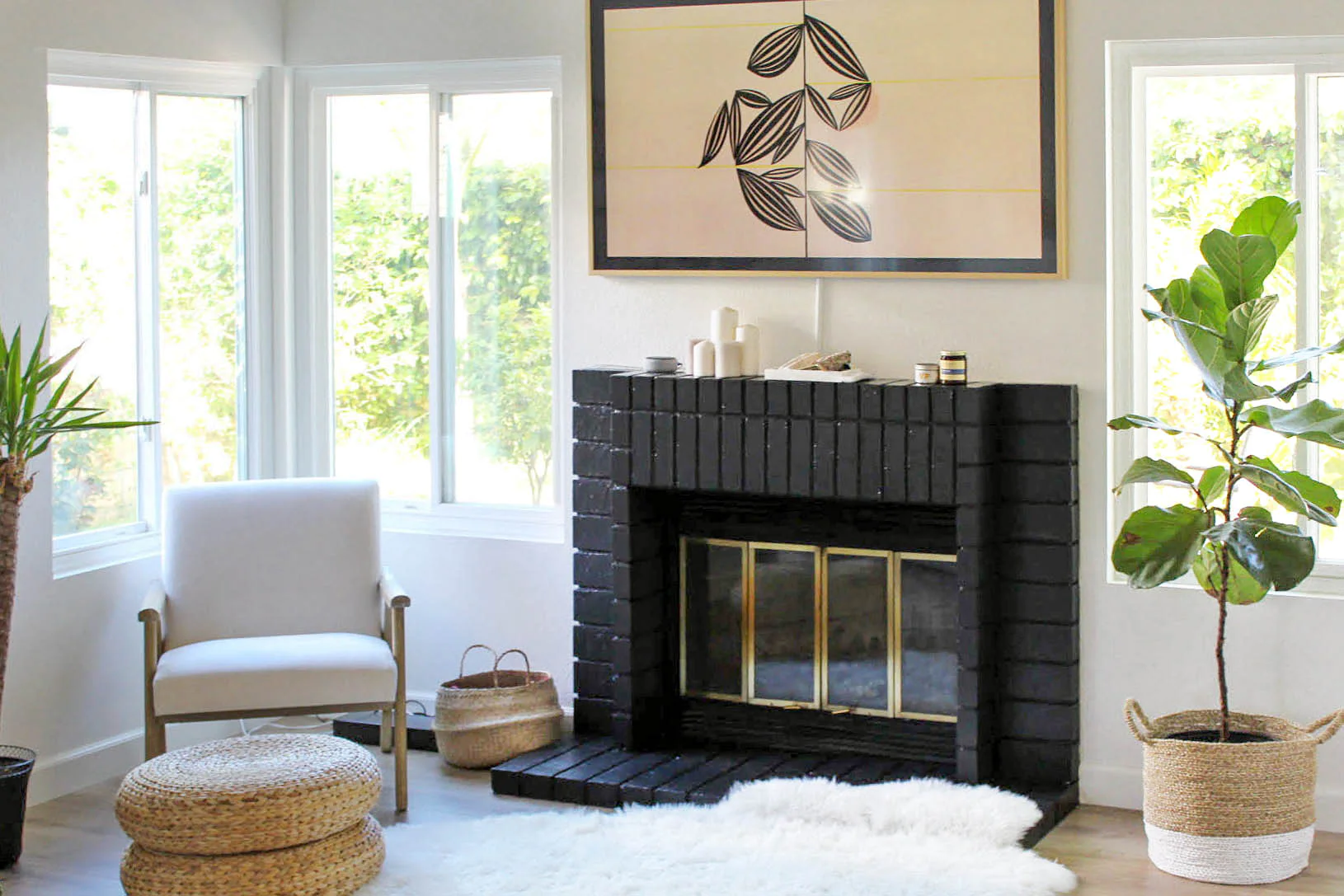 The look of all white is appealing to us. The fireplace wood itself is coated white! The walls, The table, everything white except the black Fireplace! It will work as a constant reminder to maintain consistency and pay meticulous attention to detail. The brushed silver patterns and the electric lamps will make the mantle stand out. We also must remember the striking chair. The union of the all-white backdrop produces a spectacular and painstakingly created ambiance that emanates refinement and charm, the striking black Fireplace and carefully chosen decorations.
15. Plants Surround the Black Fireplace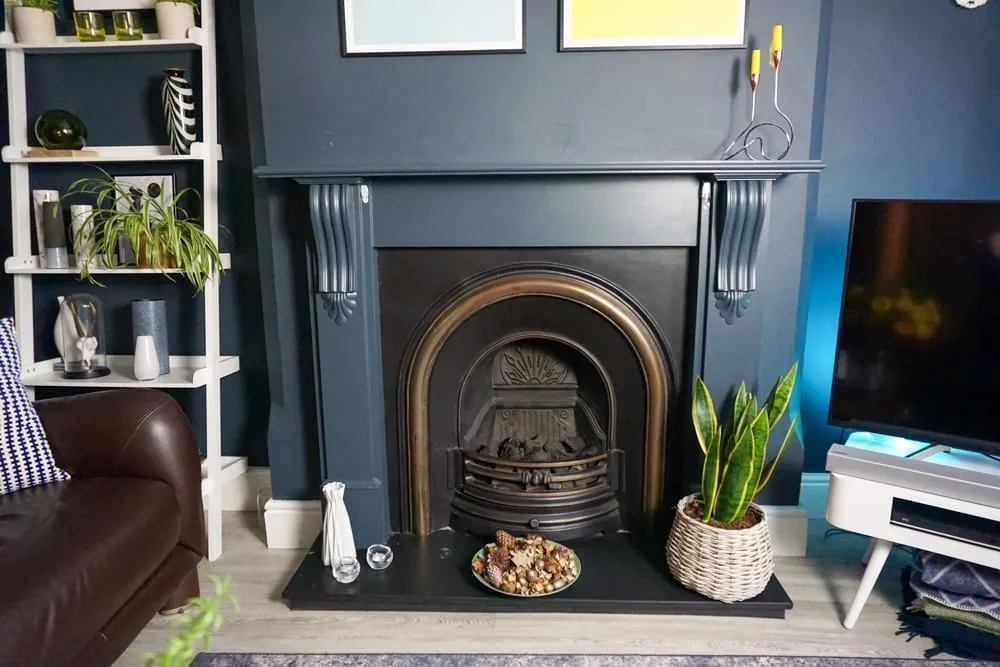 Unique interior decor that offers fun, delight, and fascination is richly layered throughout to create a fresh aesthetic for the entire home. For Instance, the traditional theme of the Fireplace has been given as a vast and inclusive object that brings the whole family together.There is no denying that the large plant also adds more life.
16. Stone and Wood Black Fireplace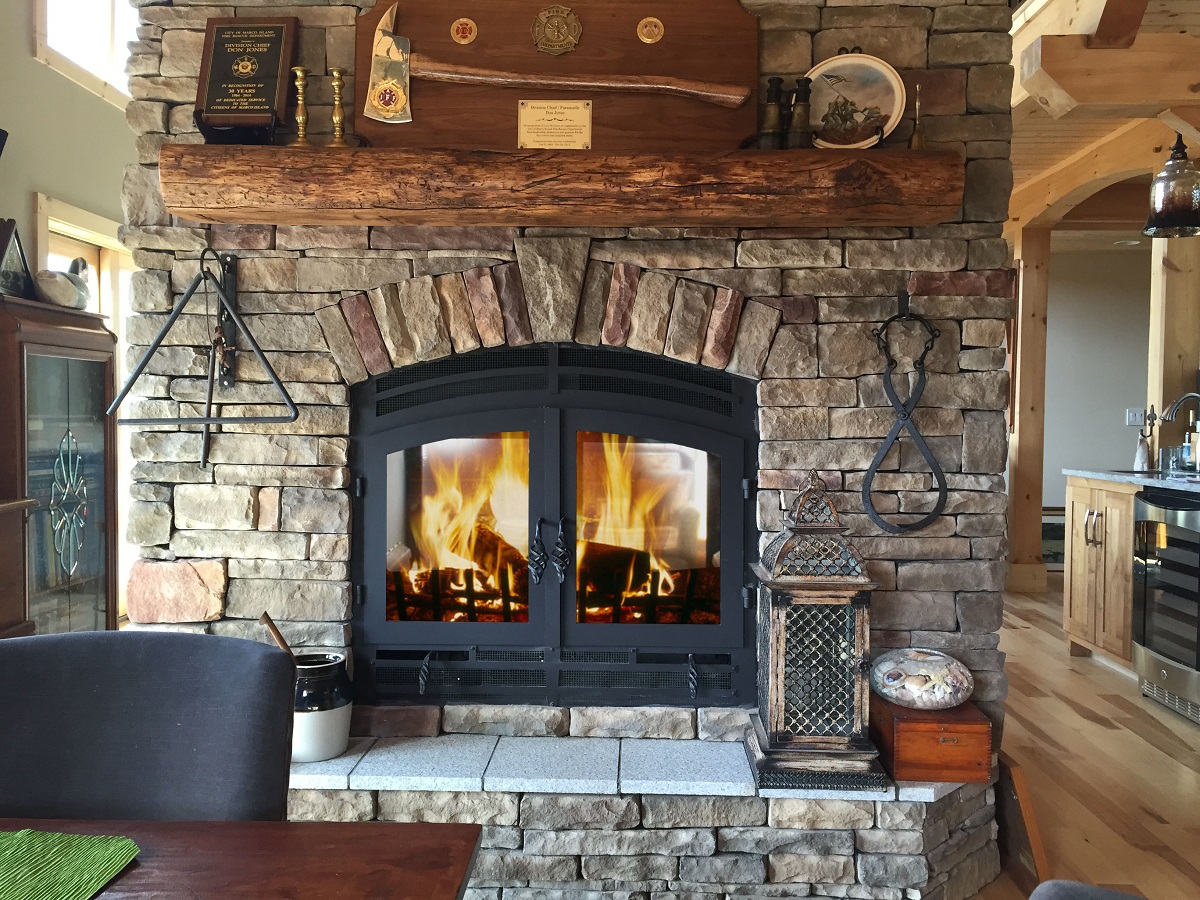 A stone and wood fireplace can make any home feel like a mountain retreat regardless of where you actually reside. In April, we would only desire snow in this chic setting, complete with a candlelight and window seat. Each room becomes a warm and welcoming home because of the layering of these alluring components throughout the house, which give it a personality and a charm.
17. A Big Clock Above the Fireplace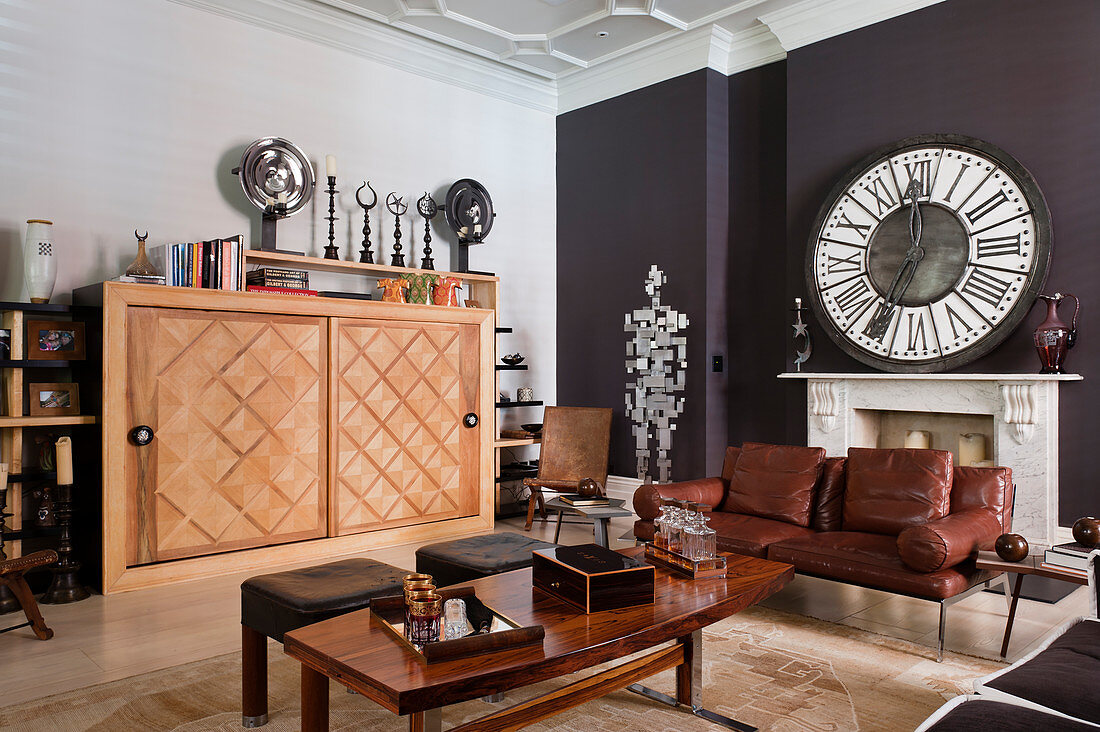 A large Roman digit clock can be hung on top of a painted wood mantle on a black fireplace wall. Between little Christmas decorations, an evergreen garland can cover the mantle. Black leather chairs can be placed around the Fireplace to embrace the overall look! Just Imagine the scene: a soft glow from the candle illuminates the space as you unwind on a window seat and take in the beautiful scenery outside. This environment is lovely and appealing, urging you to enjoy and unwind in the peace of the mountain hideaway in your home. It combines natural materials with flickering candles and a comfortable window seat.
18. Bookshelf Black Fireplace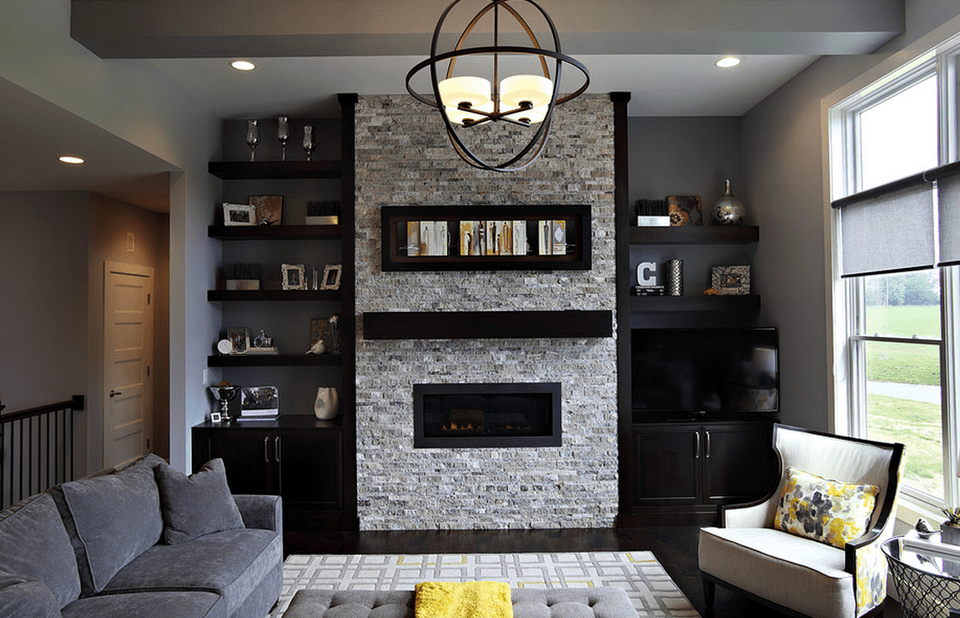 Black leather-covered chairs with contradictory colored pillows and tall metal bookcases flank a black fireplace wall. White side tables can be laced next to the chairs. Black-matted art is positioned above a mantel composed of light wood.  The boldness of the black leather, the diverse mix of colors in the cushions, and the contrasting materials combine to create an eye-catching composition with a visually dynamic and compelling aesthetic. Combining a matted black painting and the light wood mantle provides a touch of artistry and refinement, bringing harmony and balance to the whole design.
19. Black Tiled Fireplace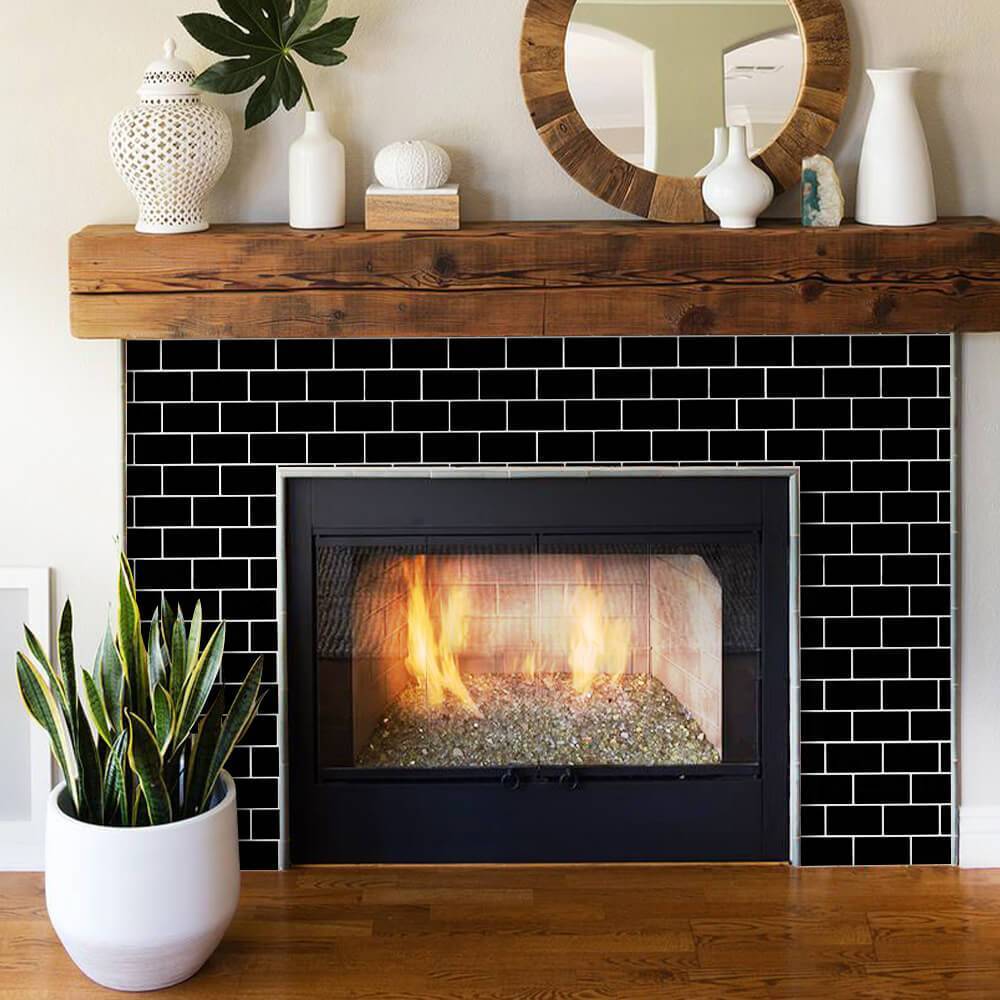 Alongside the black fireplace wall, similar cabinets can have light wood floating shelves installed over them. Black tiles are beautiful, but a natural braided rug can be placed beneath a side chair with white fabric and a patterned pillow. The Fireplace could be identified with weaved cubes made of resemblance leather. Blending contrasting materials, from the dark fireplace walls to the light wood shelves and natural textures, produces an aesthetically pleasing and welcoming ambiance that deftly fuses modern and rustic elements into a harmonic design. 
20. Mirrored Black Fireplace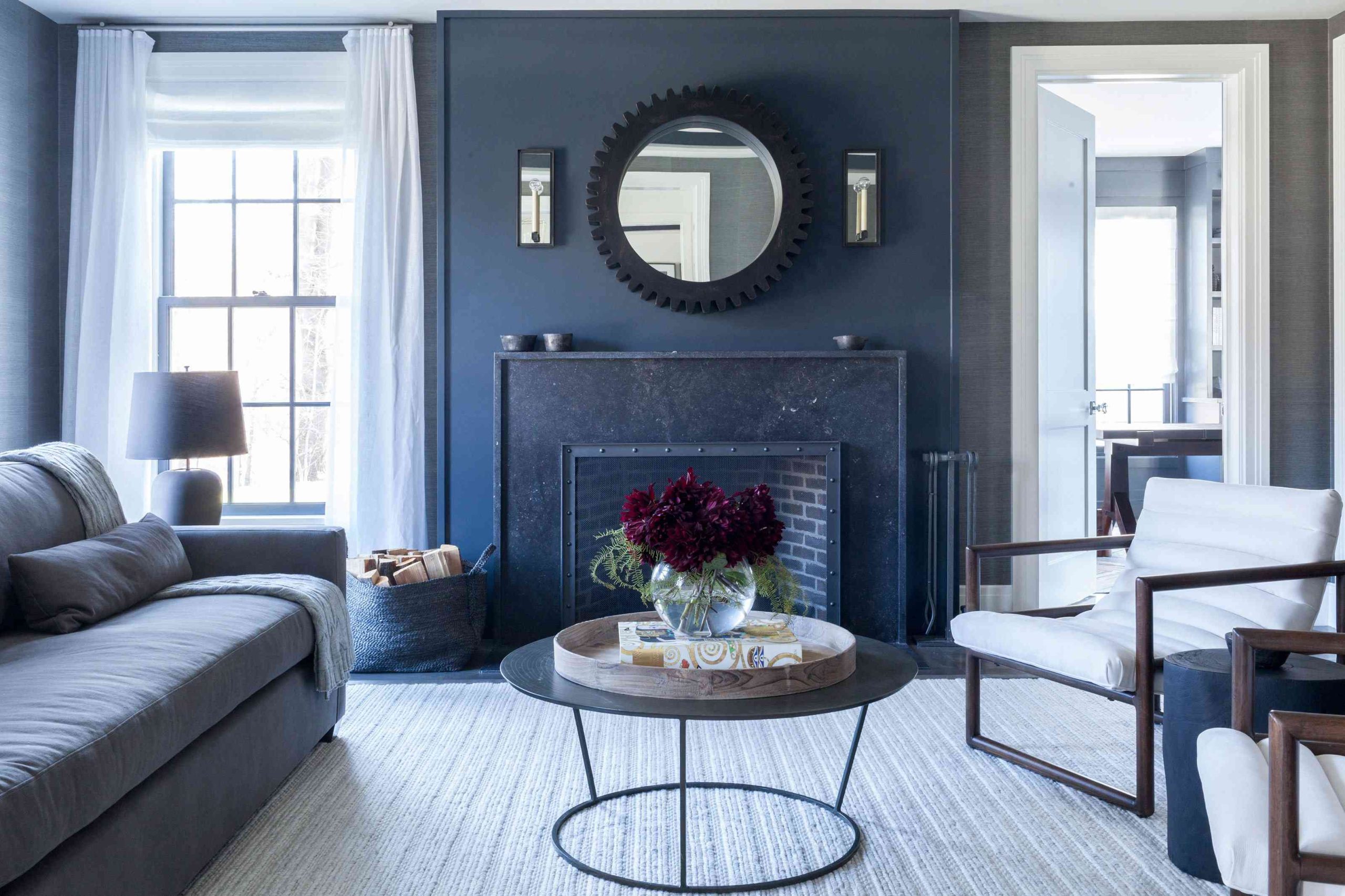 Mirrors generally enhance black fireplaces. You can add a full-length or a wide mirror above or anyplace near the Fireplace to give the whole thing a modern and contemporary look! The mirror adds depth and visual interest to the surrounding by reflecting light and giving the impression of space. It enhances the black Fireplace's grandeur while also adding to the overall attractiveness of the room. The mirror transforms into a fashionable and valuable component that adds a sense of sophistication and establishes an eye-catching focal point in the space. Including a mirror beside a black fireplace lifts the mood, improving its attractiveness and establishing a pleasing balance in the space.
21. Christmas-Themed Black Fireplace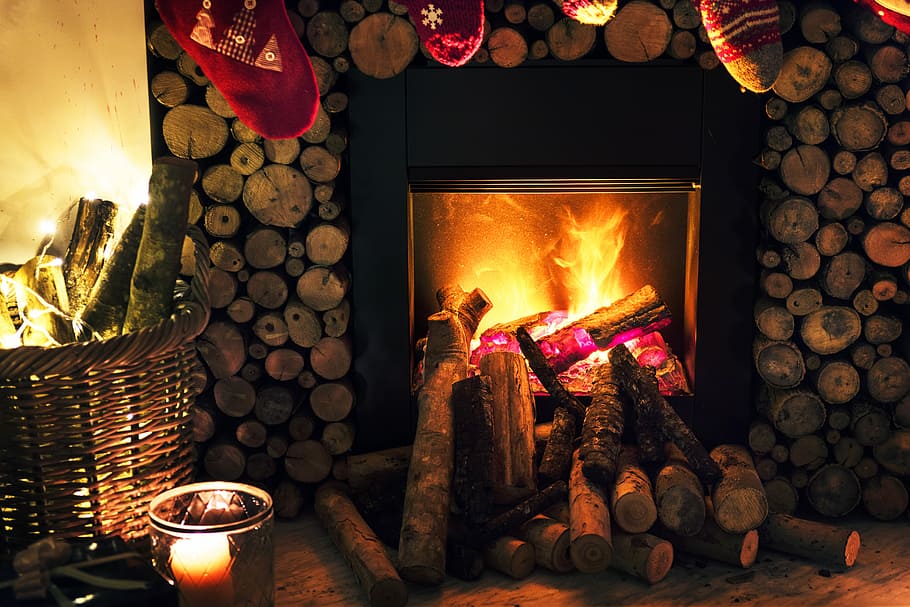 Carefully sprung red-striped stockings can even be placed on this evergreen-adorned black Fireplace. A white faux fur rug with printed pillows can be placed on a white carpet to create a warm, welcoming ambiance that looks like a winter wonderland. The Fireplace's warm glow can illuminate the white Christmas tree, which gives the room a mystical space atmosphere. The union of a dark fireplace produces a dramatic and happy environment, the vivid red stocking and the white decorations making it perfectly ideal for spending the holidays with loved ones. 
Conclusion
By combining the startling beauty of black fireplaces, you may elegantly improve the mood of your area. These fireplaces, which range from sleek black marble to rustic wooden and stone combinations, serve as focal pieces that draw attention.
A black fireplace design to fit your style and improve your room, whether you favor a contemporary, minimalist aesthetic or a warm, classic vibe. Embrace a black fireplace as it combines various decor ideas and color schemes.
You can make your black Fireplace into a centerpiece by adding the appropriate accents and placing them in the proper places. To create a cozy and welcoming ambiance that will be cherished for years, embrace the beauty of black fireplaces.
Frequently Asked Questions
How Should a Black Fireplace Be Maintained and Cleaned?
To maintain and beautify a black fireplace, use a fireplace shovel and brush to remove any ash or material from the firebox frequently. Use a gentle cloth or sponge, mild soap, and warm water to wash away any particles or stains from the outside carefully. Refrain from using harsh cleaners or chemicals that could scratch the finish. 
What Advantages Does a Black Fireplace Offer? 
There are several advantages to a black fireplace. First, they provide a sense of elegance and a bold statement to any place, turning it into a focus point. Modern, contemporary, rustic, and traditional designs can coexist with black fireplaces.  
Can I Change the Color of a Black Fireplace?
Painting a black fireplace allows you to alter its appearance and colors to your liking. To ensure safety, it is essential to use high-temperature paint made exclusively for fireplaces. Clean the surface thoroughly and coat it with an appropriate primer before painting. In accordance with the manufacturer's recommendations, evenly apply the paint as well as give it time to dry thoroughly.