Are you planning to give your kitchen a visual makeover and are confused about which colors to choose from? Most people take the safe road and go for single-toned white cabinets. While this is a choice that works, it's also boring. And you do not want a boring makeover. Why not try a two-toned cabinets kitchen? With so many colors to choose from, this task can be a daunting one. We are here to help you with it.
Whether you like bold colors or you are a pastel kind of guy/girl, we have curated a list of 21 two-toned kitchen cabinet ideas to help you choose your best fit. Let's not waste more time and quickly find your favorite color scheme.
1. White and Light Wood Two Toned Cabinets Kitchen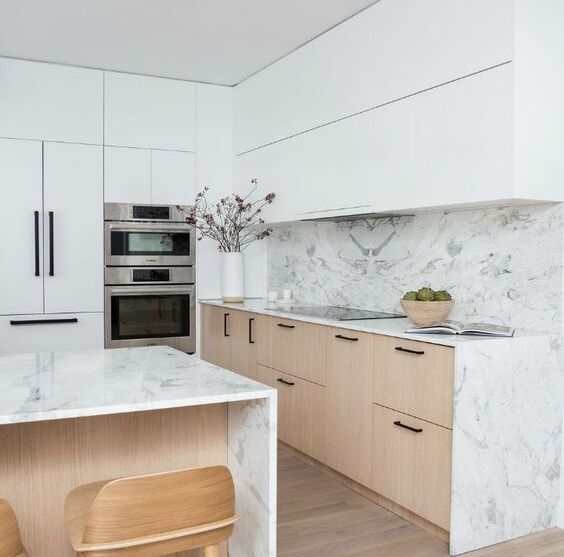 A light wood and white kitchen cabinet is just what your kitchen might need for a soft and inviting vibe. Light wooden flooring would be perfect with the cabinets' white and light wood color. Ensure that the flooring is not the same shade as the cabinets. You don't want them both blending. A patterned white marble countertop adds some fun to the solid color scheme.
Choose a dark contrasting color for the handles, you can go for a dark grey, but I would suggest you keep the handles a classic black. This is a look that is unlikely to go out of vogue.
2. Dark Wood and White Two Toned Cabinets Kitchen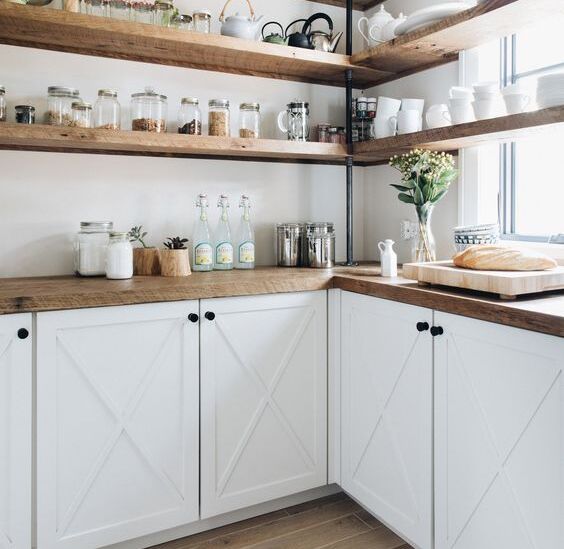 White is a classic color choice for cabinets, while classic all-white cabinets are a popular choice. You can add a bit more character to your kitchen by choosing a dark wood stain cabinet. White and dark wood two-tone cabinets will give it a farmhouse aesthetic.
Add cross paneling to the cabinets to enhance that farmhouse charm. Choose a traditional hardwood finish for the shelves and the cabinets. Wooden tiles are a great choice for this aesthetic of the kitchen.
3. Grey and White Two Toned Cabinets Kitchen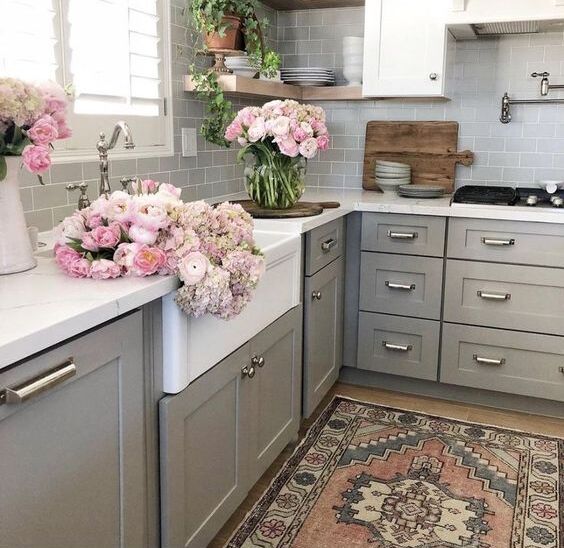 Here we have another classic color combination for a two-toned cabinet kitchen; Grey and White. A Light shade of grey and white looks modern and neat. If modern chic is your vibe, this color combination is a no-brainer for you. Go for a classic white countertop and kitchen sink. The knobs and the handles of the cabinets, along with the tap fixtures, should be silver. They will look beautiful against the pale grey and white.
If you are someone that prefers carpets on the kitchen floor, this is the perfect kitchen design for it. Because the kitchen has a fairly minimalist theme, a Persian rug on the floor will add some pattern and color. It will give your kitchen a distinctive look.
4. Shuttle Grey and White Two Toned Cabinets Kitchen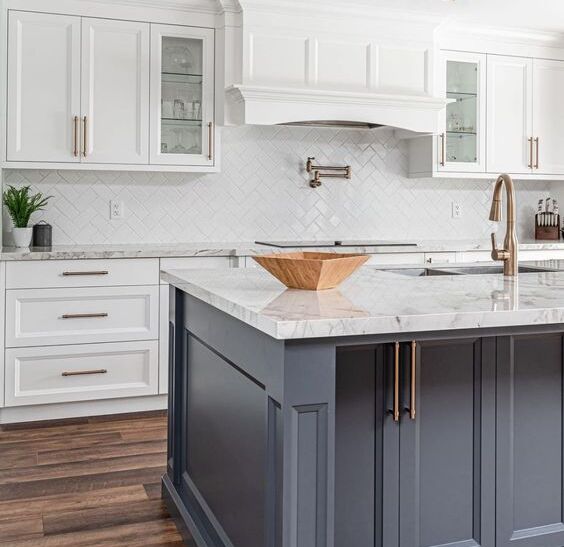 If you like the idea of white and grey kitchen cabinets, there are a lot of shades you can choose from. This beautiful shuttle grey looks every bit chic against the white. Use white herringbone pattern subway tiles to add some texture to the kitchen.
Rectangular paneling on the cabinets adds an extra charm to the old-school workmanship. Brass-toned handles look elegant against grey and white. Go for brass-toned tap fixtures too. Dark wood flooring will complement our chosen color palate well.
5. Oxford Blue and White Two Toned Cabinets Kitchen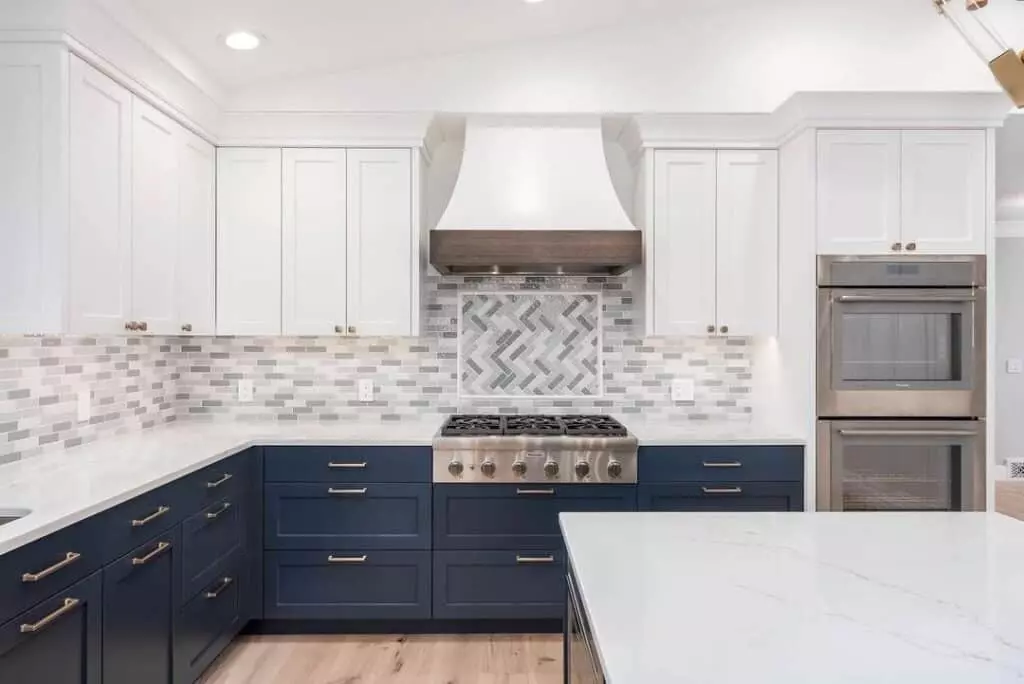 When it comes to selecting colors for your kitchen cabinets, the blue color palette provides many rich choices. This Oxford blue color looks elegant with white. You should not shy away from using darker shades of blue for the cabinet. These give your kitchen a confident and bold look. Opt for a white marble countertop. We would suggest a marble with a minimal pattern. The blue is a bold choice in itself, and we don't need a pattern. Light color flooring will provide a nice contrast to the cabinets. Ensure good lighting in the kitchen and your modern statement kitchen is ready.
6. Pastel Pink Kitchen Cabinets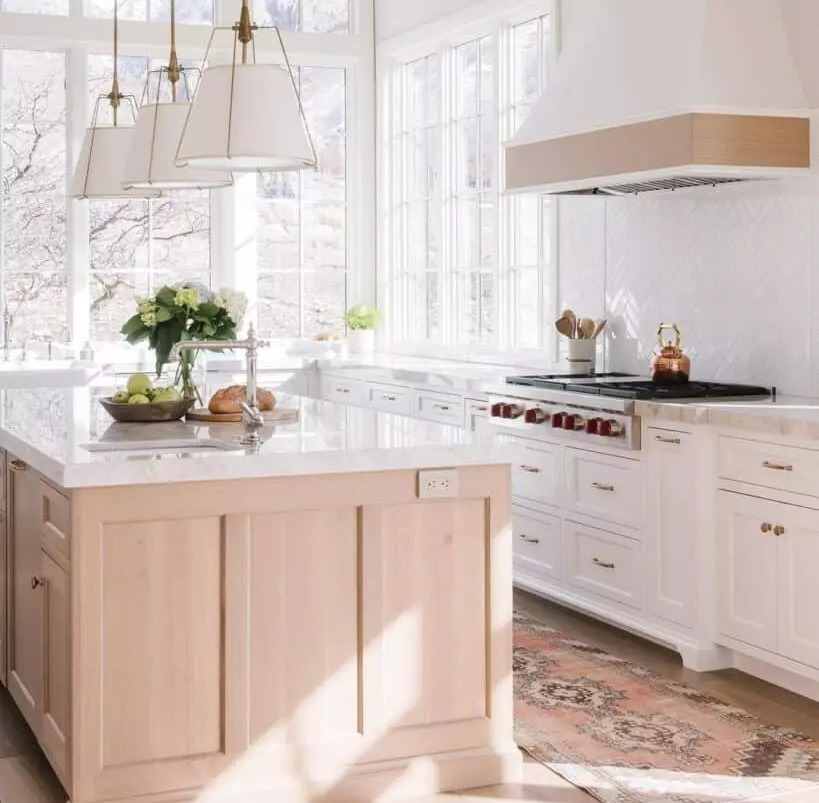 Here is a color idea for your kitchen that would certainly set it apart. While blues and greys are popular color choices and look elegant, they are also popular because of being widely used.
If you want a soft spring look for your kitchen that also sets it apart, you might want to consider the pastel pink color palette. A clamshell pink or soft rose and white cabinets will breathe freshness into your kitchen space.
You can pair your soft pinks with off-white colors too. Enough natural lighting from the window gives it that spring kitchen feel.
Brass handles and door knobs will look beautiful against this color scheme. This is the kind of kitchen you would want to spend time baking away through the holidays.
7. Nile Blue and White Two Toned Cabinets Kitchen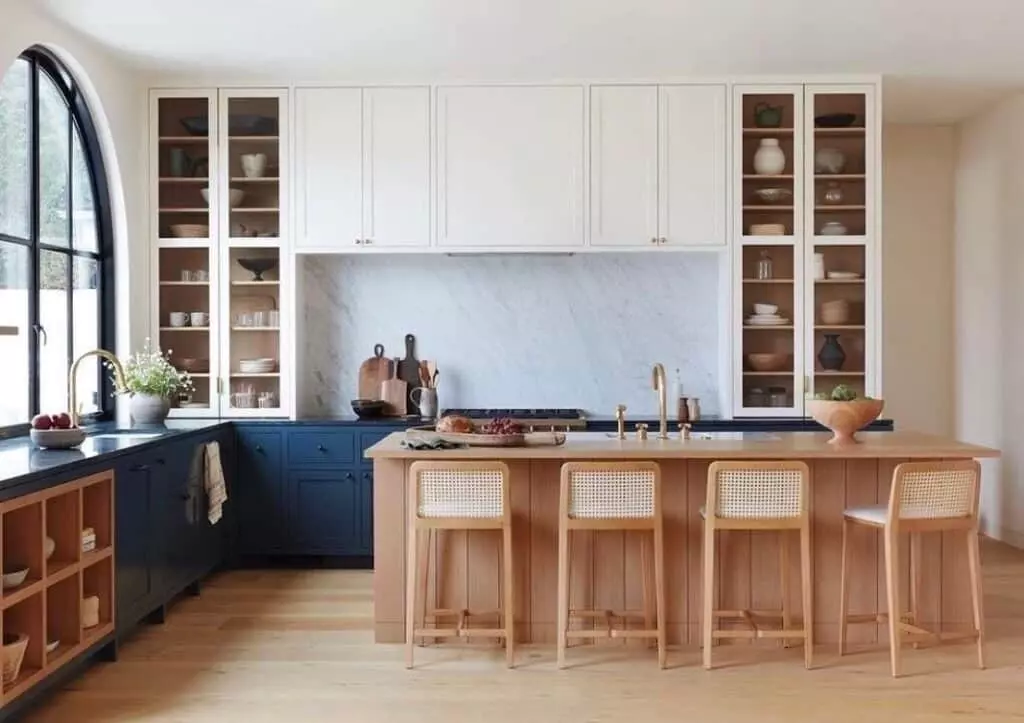 Another beautiful color from the blue color palate is pastel blue, like Nile blue or San Juan blue. Pair either of these colors with a soft white shade for your two-toned cabinets. We would suggest you choose blue for the lower cabinets and keep the upper ones white. It will give a good contrast with the light flooring. The dark color on the lower cabinets balances the colors better.
If you have a kitchen window, paint it in the same blue as the cabinets. It will look beautiful against the white wall. A light wood kitchen island on lightwood flooring will complete the look.
8. Aztec Green and White Two Toned Cabinets Kitchen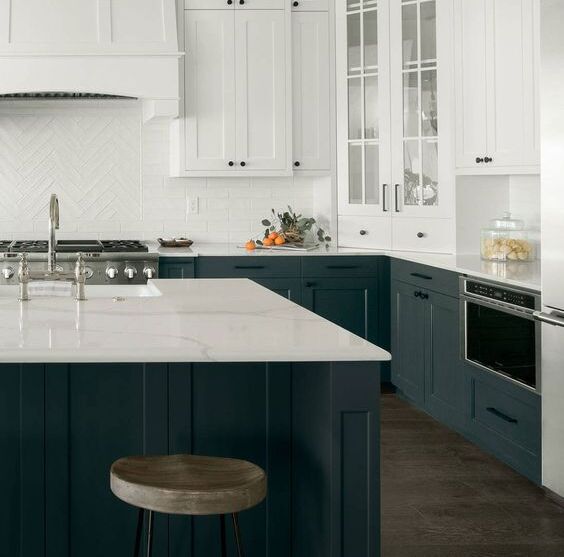 From lightly green-toned blue, we move to blue-toned greens, like a deep Aztec Green. This, again, is a statement color for your kitchen cabinets and will certainly draw attention to itself. This color creates a beautiful contrast with the white. You can choose a matte finish for the cabinets. It looks good in this color.
Choose the darker color for the lower cabinets and keep the upper cabinets white. To create a clean divide, opt for a white marble countertop. An earth-toned wooden flooring will complement the colors of the cabinet well. You can add some texture to your kitchen by installing herringbone-style white subway tiles.
9. Teal or Regal Blue and White Two Toned Cabinets Kitchen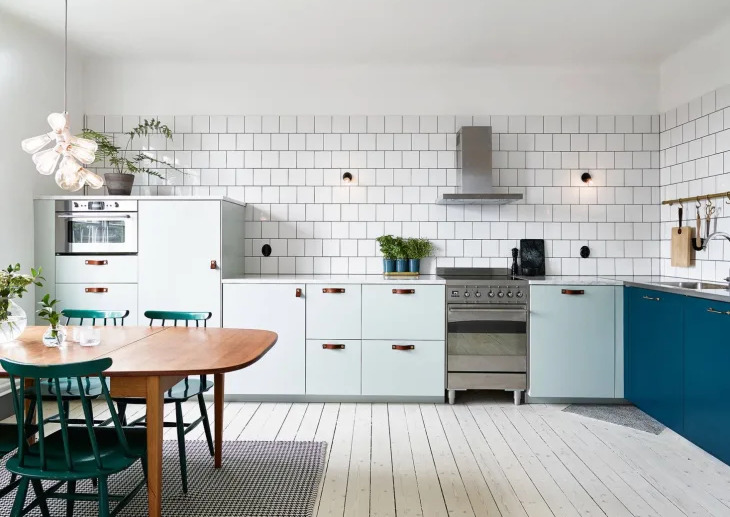 If you want a kitchen that gives a fresh beachy vibe and refreshes your mood every time you enter it, then this color combination will be perfect for you. Regal Blue and White cabinets look fresh and inviting. Your Kitchen will exude cheerful energy. Add cute potted plants on the white marble shelf to add a dash of color to the countertop.
To introduce some texture to your kitchen, use brick-like white tiles with light grey grouting. Ensure enough natural light in the kitchen. With that, your ocean-themed kitchen is ready.
10. Blue Smoke and White Two Toned Cabinets Kitchen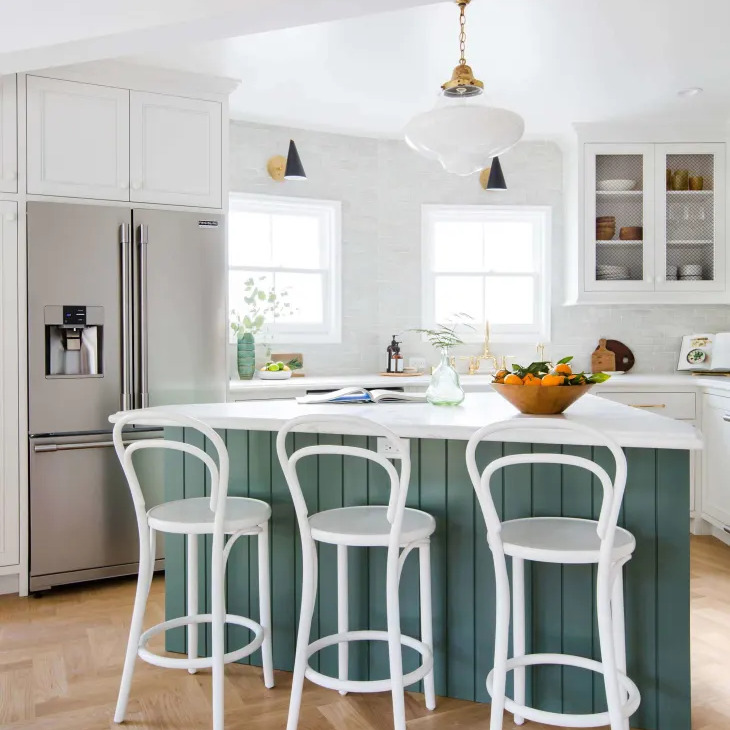 There is a bright blue color palette, and there is a more muted blue-grey palate. Here, we have a color from the latter. This Blue smoke color creates a pleasing balance with the white. I would like you to design your kitchen in a way that highlights this color. Keep the rest of the kitchen walls, windows, and countertops white. This will draw all eyes to the cabinet or shiplap island of smoke blue color.
Mirrored cabinets will be great for this kitchen. It will also break the solid white color theme without having to add another color. Add statement pendant lighting to add a bit more character to the kitchen. Light wooden flooring will complement this color scheme well.
11. Green-Toned Grey and White Kitchen Cabinets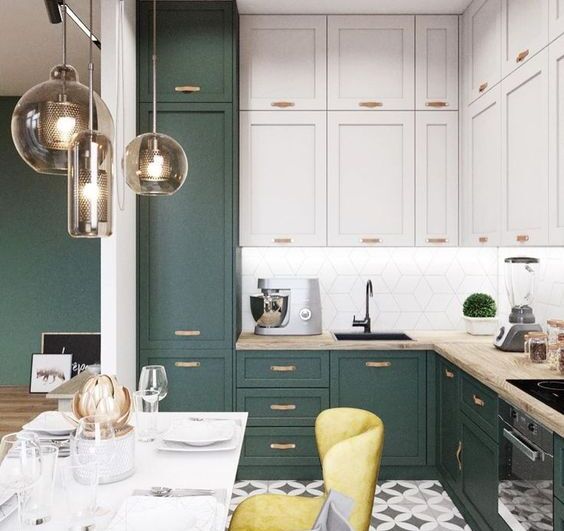 The grey color palate has a lot of colors to choose from, and many of them are trending as top choices for kitchen cabinets.
Just look at how graceful this green-toned grey looks with the white. If you wish, you can opt for a darker shade. Experiment a little with a wooden countertop. Choose a light wood countertop so that it doesn't clash with the color of the cabinets. White walls and white cabinets above help maintain visual harmony. This Kitchen looks inviting with some warm lighting.
There is some visual value to the rectangular paneling. It speaks of good craftsmanship and adds a vintage charm to your kitchen.
12. The Classic Black and White Kitchen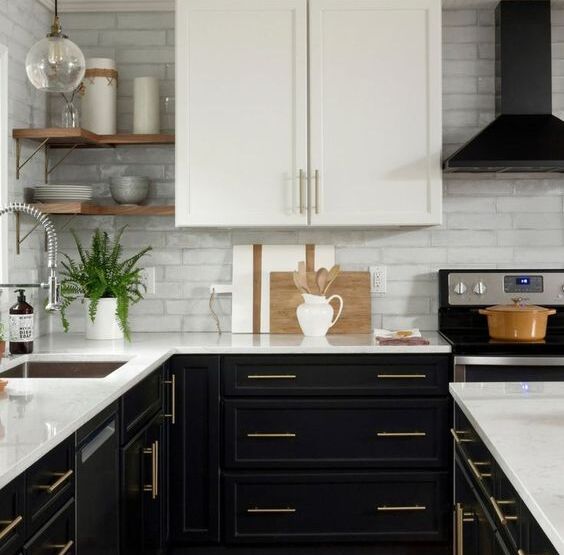 There is a reason for calling this color scheme a classic. You just cannot go wrong with it. Even though a classic, black and white color scheme for your two-toned cabinet kitchen is a bold choice rather than a safe one.
If you choose this color scheme, it is you making a statement. Install a white marble countertop to honor the color scheme. The handles of the cabinets and drawers should be silver, again a nod to the theme of the kitchen. Install warm lighting for this kitchen to make it more inviting. Light wood shelves look elegant in this kitchen.
13. Grey and White Two Toned Cabinets Kitchen with Subway Tiles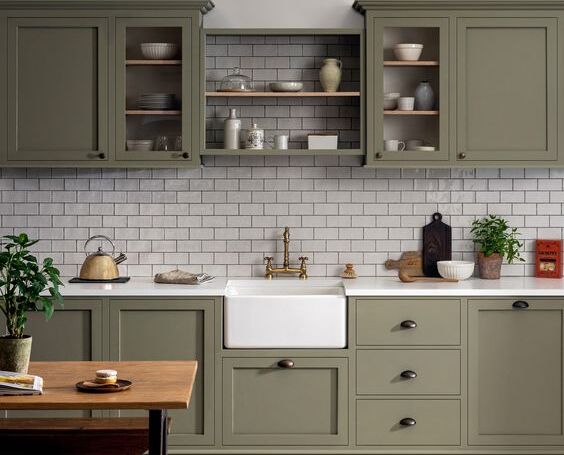 This is a unique color choice for your Kitchen cabinets. This earthy brown-toned grey looks sophisticated and niche. This color goes well with white. If you wish to be more experimental, you can choose a darker grey accent cabinet on the top. Of course, the classic white cabinets on top or adjacent to it also work. Black polished metallic handles look charming against this color and provide good contrast.
Use subway tiles on the wall with grey grouting. These complement the industrial look of the kitchen. Add old-school elements with the tap fixtures; a vintage brass tap with a vintage porcelain sink is fitting for this kitchen.
14. Green and White Two Toned Cabinets Kitchen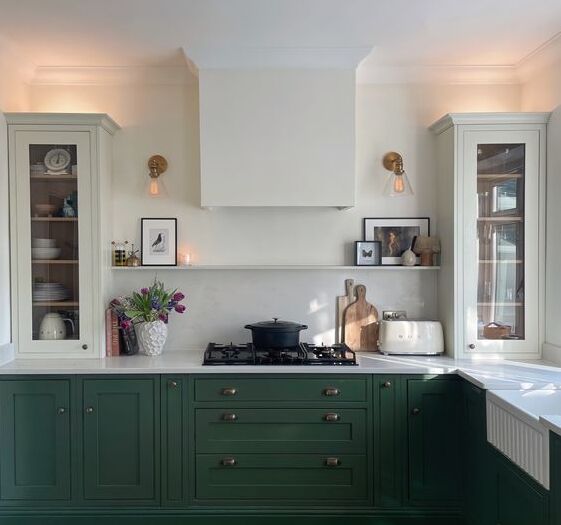 Greens are an emerging trend in home décor. A very soothing palette of colors, they bring a touch of nature into your home. This deep green color is a great choice for your kitchen. It pairs well with the white of the cabinets and the white of the marble countertop.
Some warm lighting will enhance the color and the inviting vibe of the kitchen. This color is a reminder of the deep green of dense forests.
15. Teal and White Kitchen Cabinets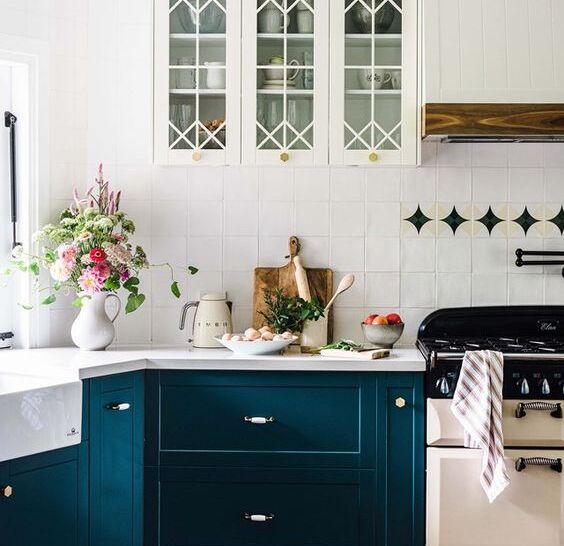 We have another exciting color from the blue color palette for your kitchen. Teal is a deep blue color that reminds one of the clearest oceans. Colors like teal or Daintree blue are excellent choices for your kitchen cabinets. These colors pair well with white and give a fresh modern look to your kitchen. This is the kind of color that would turn heads.
Silver handles and knobs on the drawers look visually appealing. Add a cottage feel to the kitchen by using glass cabinets to display your best crockery.
16. Deep Blue and White Two Tone Cabinets Kitchen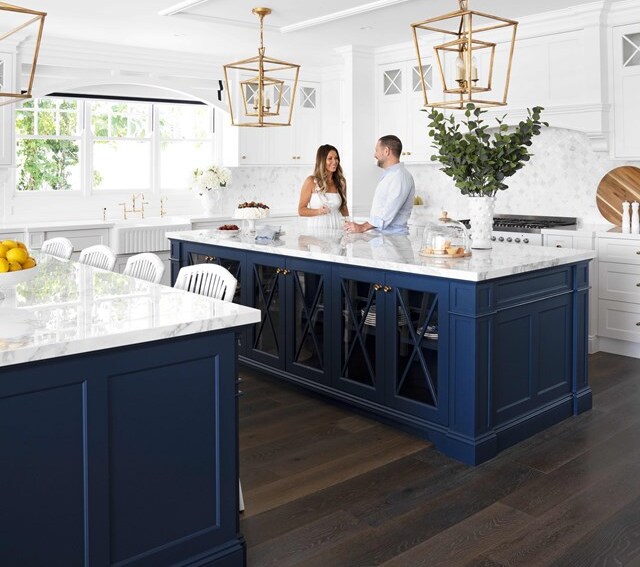 People often shy away from using deep blues colors in their homes and especially in their kitchens. But rich pigmented colors like this deep blue in the picture can be just what your kitchen needs for an aesthetic makeover.
Go bold with dark wood flooring. Keep the countertop white to create a nice contrast. It will bring out the blue color even further. You can add details to the cabinets, like cross-wood panels. Little details like that make a lot of difference.
17. Lavender and White Kitchen Cabinets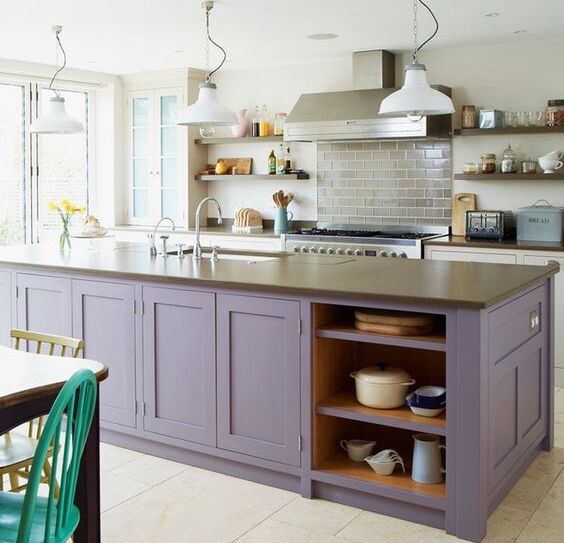 If you are a person that likes to stand out and experiment with the colors in your home décor, then greys and blues might be too boring for you. You just try purple or Lavender and white kitchen cabinets. Purple carries an aura of richness with it. Historically, it was a color that was associated with royalty. This, again, is a statement color and will set your kitchen apart.
A brown-grey marble slab and gold or silver colored handles will pair well with this color. Silver-toned tap fixtures will enhance the lavender color of the cabinets, and your kitchen will look elegant and classy. 
18. Dark Wood and White Two Tone Cabinets Kitchen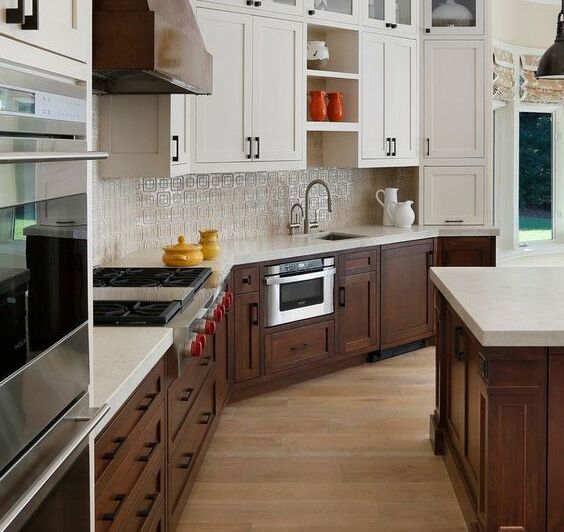 A farmhouse-style kitchen carries with it a countryside charm. This dark-wood kitchen cabinet is perfect for a big farmhouse-style kitchen. Wood never appears old or dated. It can carry with it an old-school vintage vibe while also looking modern and chic.
Pair this dark-wood cabinet with soft white marble countertops. The color of the upper cabinets should also be a softer white as opposed to stark white. The soft white color will respond well to the warmth of the dark wood.
A contrasting light wood flooring and steel pendant light fixture with warm lighting will be a perfect fit for this kitchen.
19. Sky Blue Two Toned Cabinets Kitchen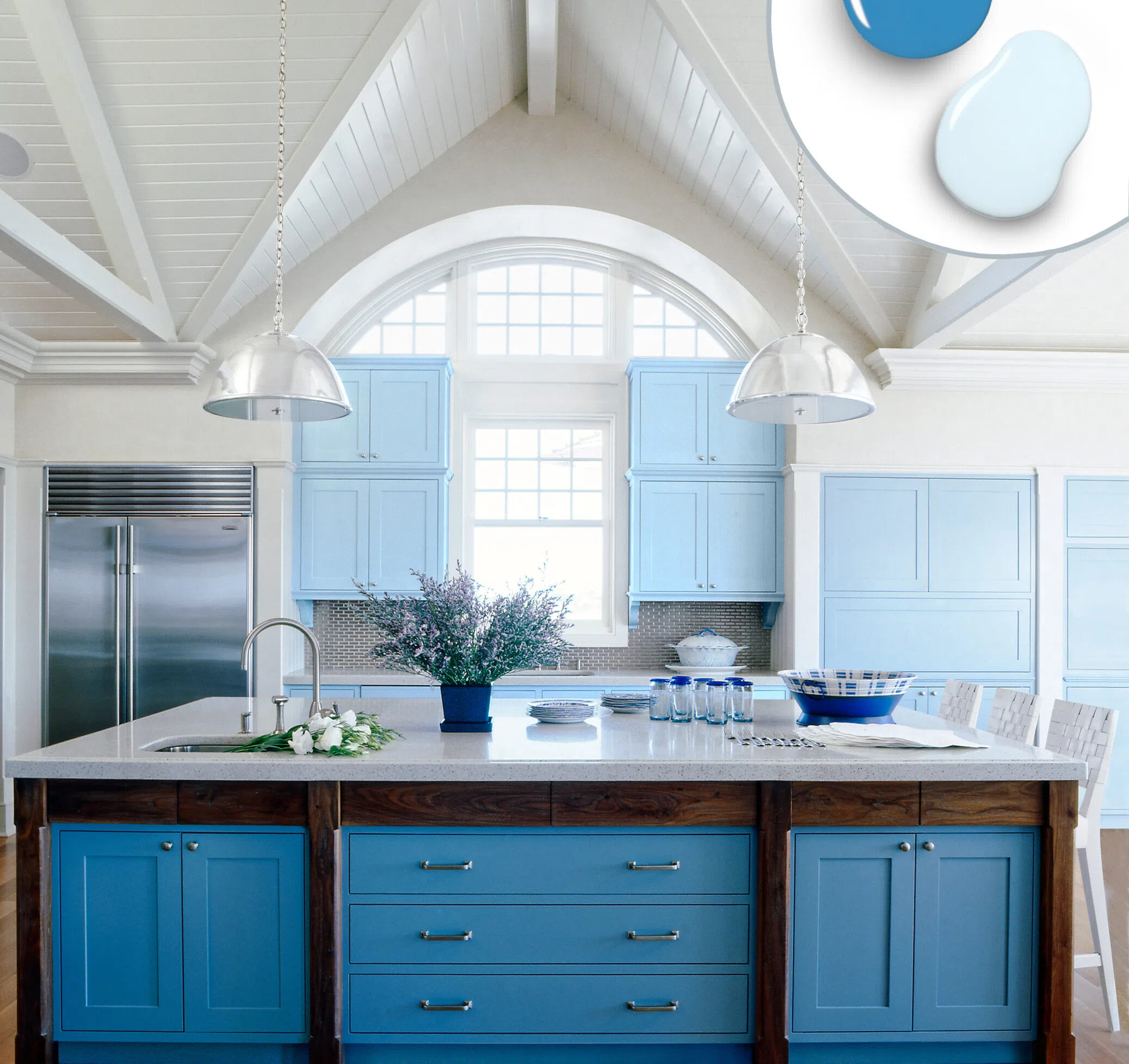 Here is another interesting and fun color combination: sky blue and pale pastel sky blue. Look how refreshing this color combination looks. It brings so much light and freshness into the kitchen.
A classic white countertop complements the color scheme beautifully. This is a very ocean-themed kitchen, and if you like water and beaches, this is the perfect kitchen for you.
Silver tap fixtures and lights go perfectly with the color scheme; silver handles and knobs on the drawers and cabinets pop against the vibrant sky blue. This kitchen demands good natural lighting, so ensure that there is enough natural light to brighten the colors further.
20. Pastel Blue and Yellow Two Tone Cabinets Kitchen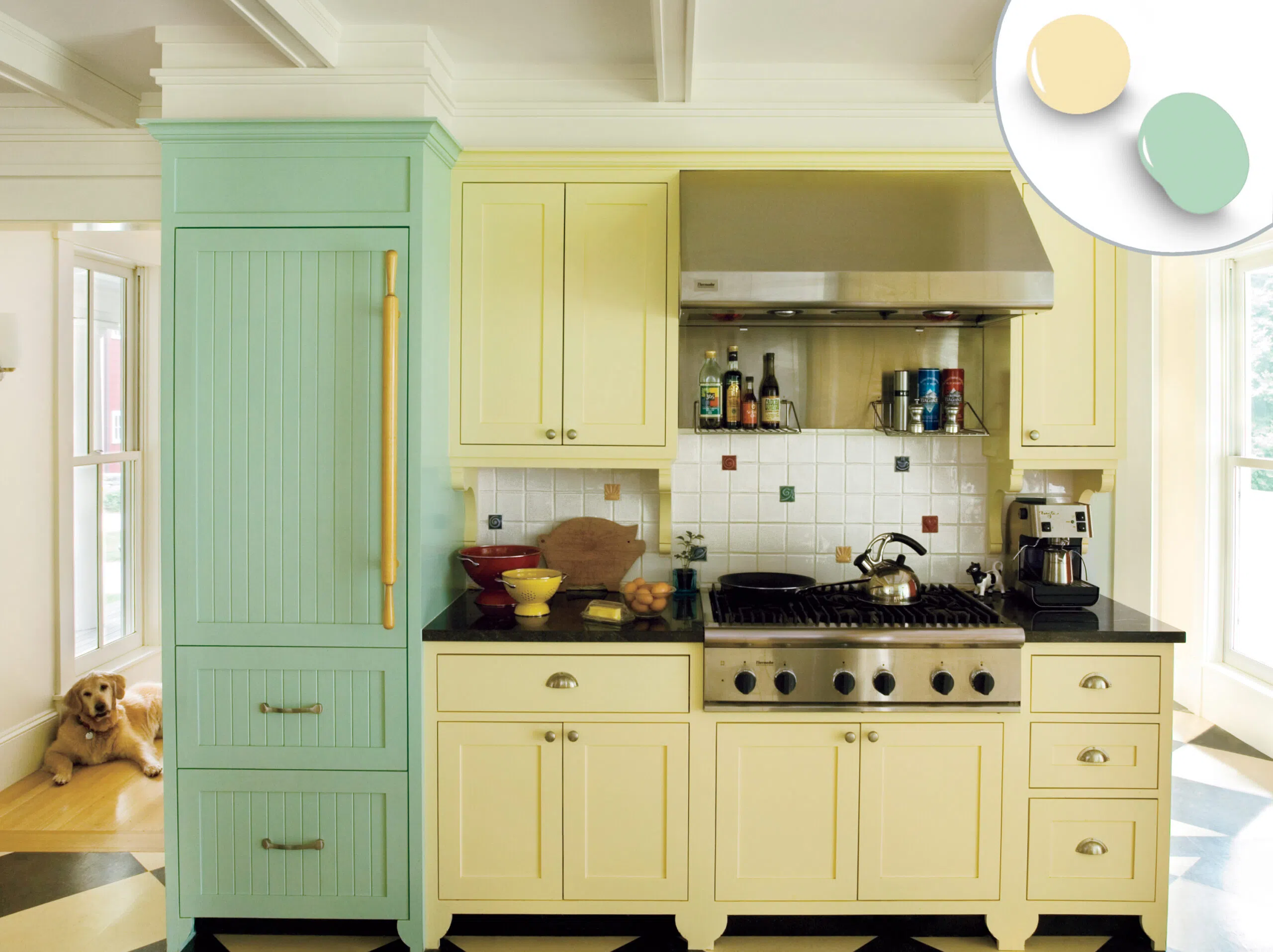 I love this particular color scheme for kitchen cabinets. It is fresh and fun. Soft pastel sky blue and a pale pastel yellow is a combination that you would think shouldn't work. Yet look at how visually fun these two colors appear together.
This particular aesthetic reminds me of the colors of doll houses. This is the kind of kitchen you don't walk into in a bad mood. It has a cheerful energy and softness to it. To keep it fun and classic, add checkered flooring.
Doesn't this kitchen look like it's straight out of a dream?
21. Marshland Deep Green and Light Gray Green Kitchen Cabinet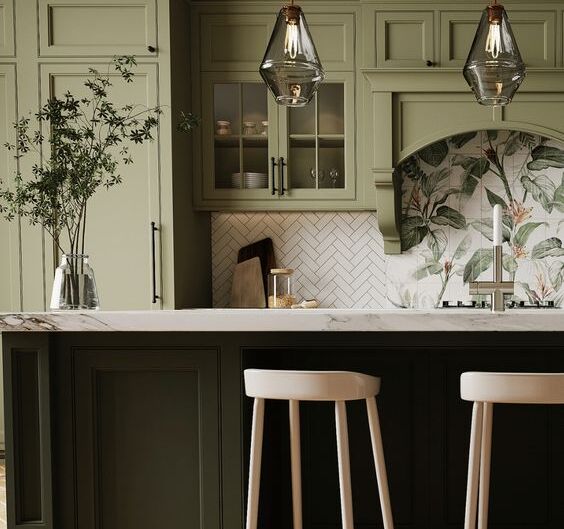 We have gone through many ideas where we paired a dark color with white, but you don't always have to use white as the contrasting color. Look at this beautiful kitchen in the picture. A deep marsh green is paired with a light grey-green color.
This is one of my favorite color schemes for the kitchen. These earthy colors together provide a pleasing visual balance. The kitchen looks chic and exudes grace and sophistication. The white marble countertop works well with the colors. The glass light fixtures add warmth to the atmosphere.
Conclusion
Kitchens are one of the most important spaces in the house. A well-designed kitchen will encourage one to spend more time there and cook for oneself and one's loved ones.
This article looked at 21 distinct two-toned cabinet kitchen ideas that you can implement to give your kitchen a makeover. Do not shy away from using bold colors like blues and blacks in combination with contrasting white. The greens in the Kitchen look refreshing and appealing. They also add a natural touch to your kitchen space.
If you love to experiment more, dabble with the purple color palate, or go for something unique like a pastel blue and yellow. Make sure the colors are in balance, and lighting can make a lot of difference to a space, do not gloss over it.
Now that you have gone through the article, you're ready to upgrade your kitchen, choose a color scheme and begin!