A kitchen is the heart and soul of a home, a place where everything starts. Whether be it for a family dinner or a midnight snack, the kitchen will always be crowded. So naturally, its layout should be inviting and open. But it should also have an ample amount of space for practical uses.
The design of your kitchen's layout should be beautiful as well as useful. But how to have enough space for all your cabinets, appliances, pots, pans, and personality in the room? The answer lies among the best kitchen layout ideas that let your spirit shine through their functionality.
In this article, we discuss ways to optimize your cooking space perfectly.
1. U-Shaped Kitchen
Among all other types of Kitchen layouts, the U-shape is perhaps the most efficient. It allows the cook to have everything at arm's reach and even works for a small room. With the help of this layout, you can also keep an eye on the others in the next room. The shape also allows for lots of space on countertops where you can prep, clean, and store.
The U-shaped kitchen also creates a point of triangle on each wall of the room. The place becomes compact but does not increase the risk of being overrun. This kitchen also allows for the corners to be used, where you can install a secondary sink easily.
2. L-Shaped Kitchen
L-shaped Kitchens are more open than a U-shape and allow the maximum use of the counter space. You can even add a kitchen island if there is enough space. Furthermore, the shape allows you to work the sink, oven, and refrigerator triangle by spacing out the appliances. The L-kitchens are generously spaced and don't make the cook feel crowded.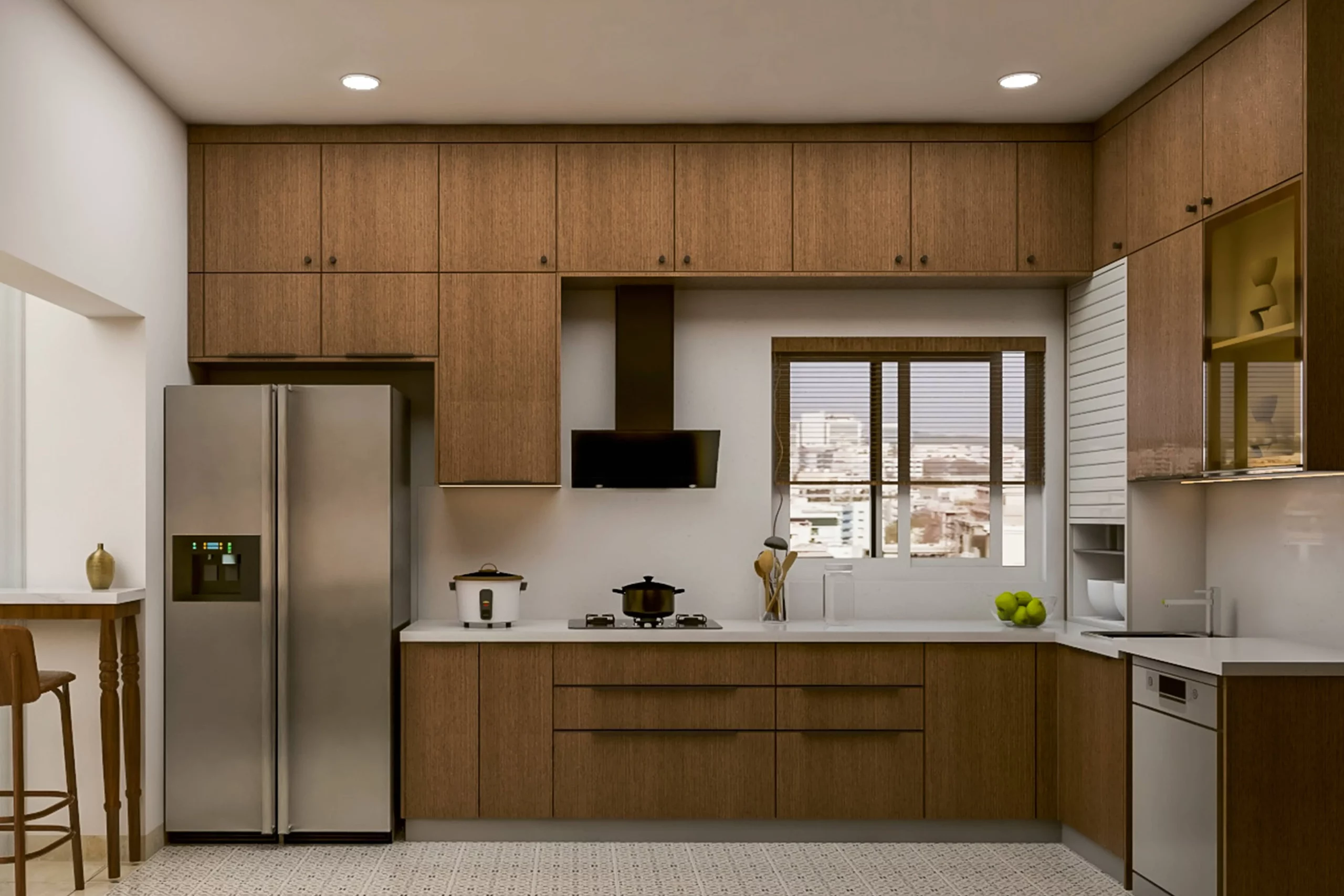 If you are looking for some kitchen layout ideas, you will find that the L model is quite flexible. The island can often be substituted for a dining table in case of larger rooms, creating an open flow. This way, the family isn't isolated during meal preps.
3. Gallery Kitchen
A gallery-style kitchen layout may have gone out of style in recent years, but it is still worth considering. The fashion makes use of two parallel walls to store appliances and cabinets. As the corridor runs down the middle, some may feel it is too narrow or closing in from all sides. But the trick to keeping some free space available is by consolidating counter space near appliances that are most in use.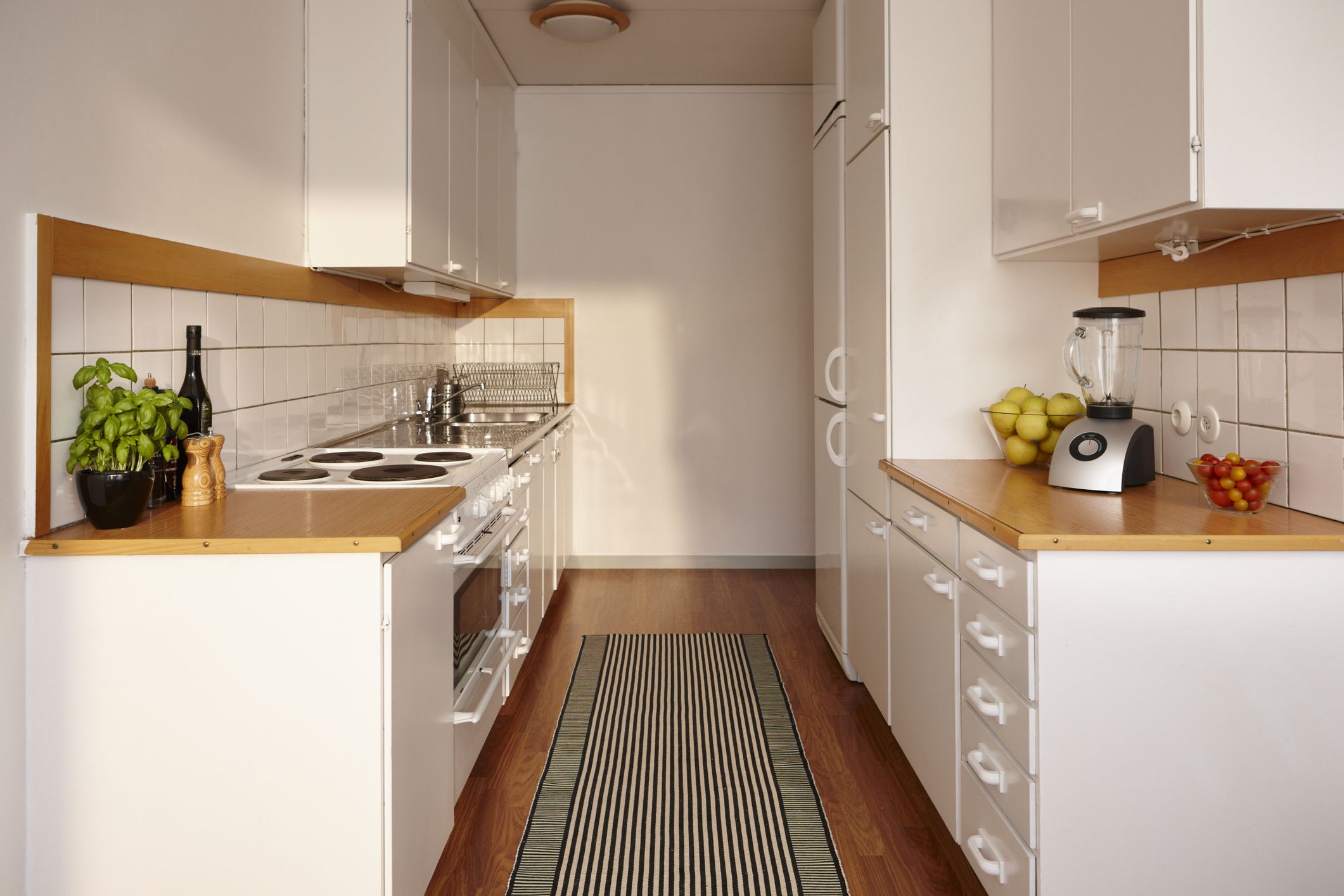 The beauty of a gallery style lies in its availability, as the cook can have everything they need on both sides. The long walkway also allows for there to be a continuous flow of traffic from the end to the living space.
4. One-Wall Kitchen
Open-concept layouts have become the recent trend where the apartment feels light and airy. This single-wall kitchen idea is usually installed in studios or lofts to make the best of a small space. In kitchen layout ideas like this, all the appliances and cabinets are put on one side of a wall. The rest of the room, therefore, becomes free.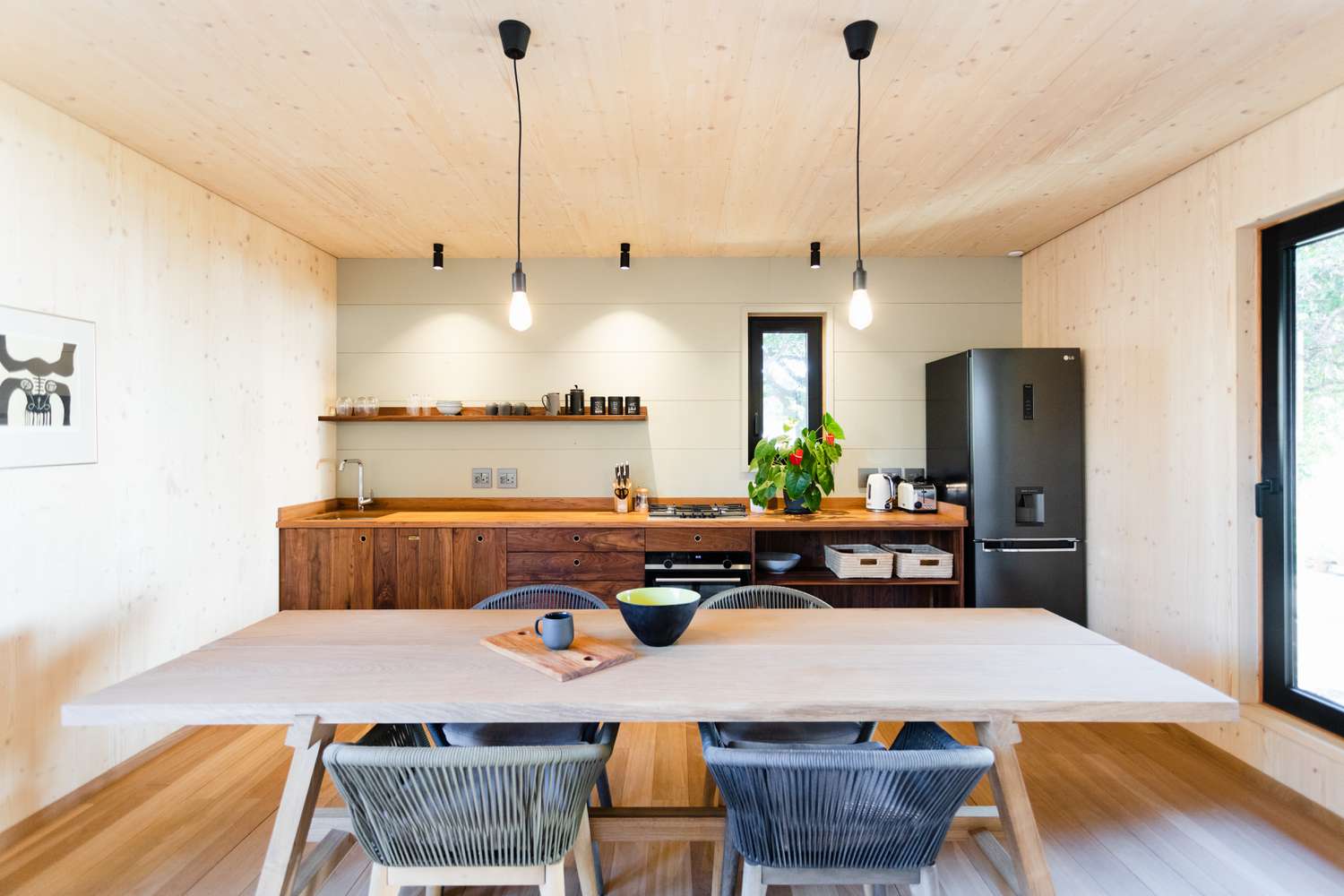 In modern designs, often an island is added to the setup for convenience. That way, the need for a formal dining table is eliminated. The open-concept kitchens give a laid-back vibe but are one of the least efficient ideas. By keeping all your appliances in a line, you cannot work the triangle.
5. Peninsula Kitchen
Another type of kitchen layout is the peninsula or P-shaped kitchen. This concept stems from the L and U models, but here the countertop extends to the center of the room. The peninsula, thus created, often works as an island for extra storage, prepping, or dining. The P model is for those who cannot bring in a separate island due to lack of space.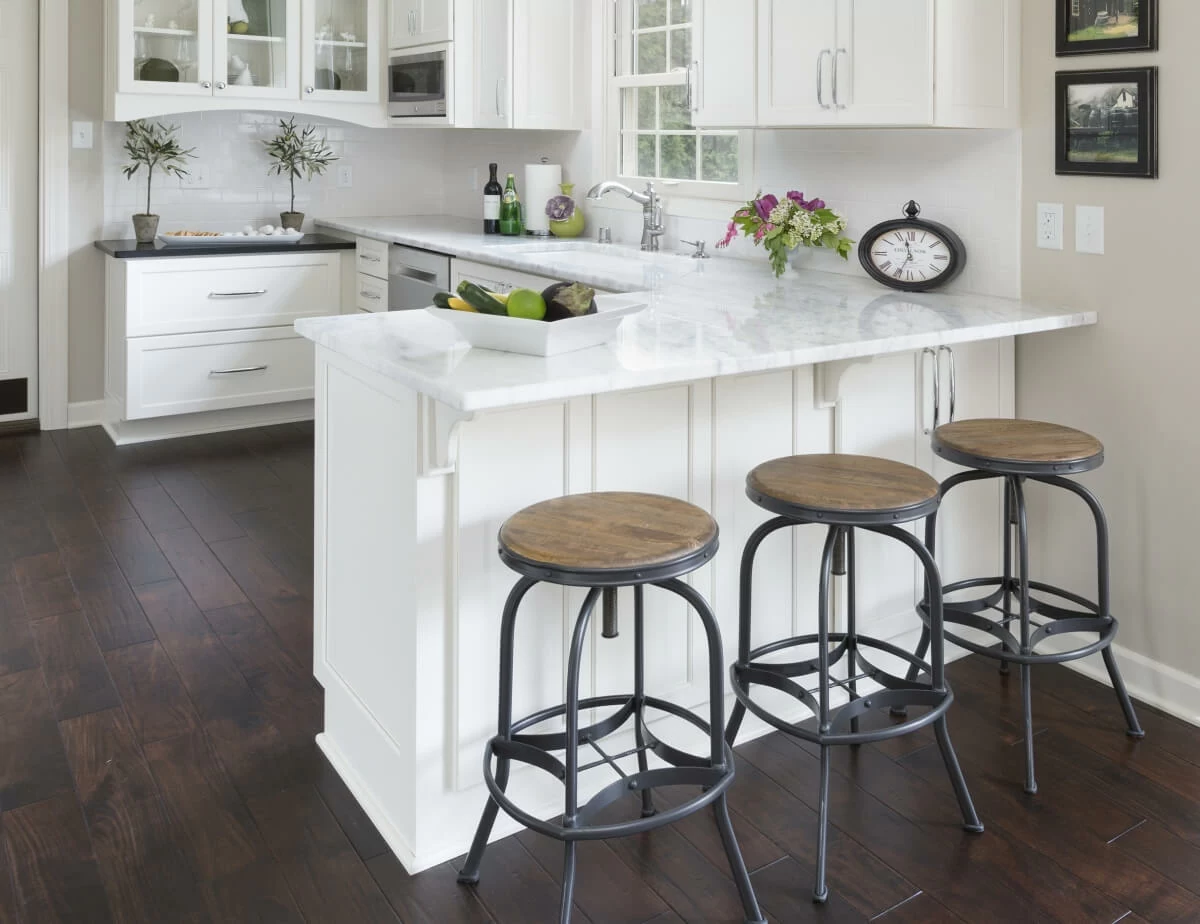 The peninsula is often described as a horseshoe due to its appearance. But it is almost like the U-model except for the wall. The P-shape also offers more storage than the L model without being as bulky as the rest.
6. Island-Centric Kitchen
Kitchen Islands have become a huge part ofkitchen layout ideas because of their potential. This simple piece of structure can elevate your room and give it new dimensions simultaneously. They are also used in a ton of design choices to create the optimum chicken. So, while designing your new kitchen, make sure you build a worthwhile island.
If you have a small room, chances are the gallery model will narrow it down further. But using an island instead of two countertops frees the space. It also becomes a great focal point in big kitchens that are bustling all the time. Therefore, installing this efficient structure assures beauty and functionality.
7. Optimize the Small Space
There can be no doubt that small kitchens can provide delicious food just the same as big ones. And similarly, a small kitchen can also look trendy and hip without being cramped. The only thing it needs is careful planning with some greatkitchen layout ideas. From the cabinets to the appliances and seats, everything should be placed just right.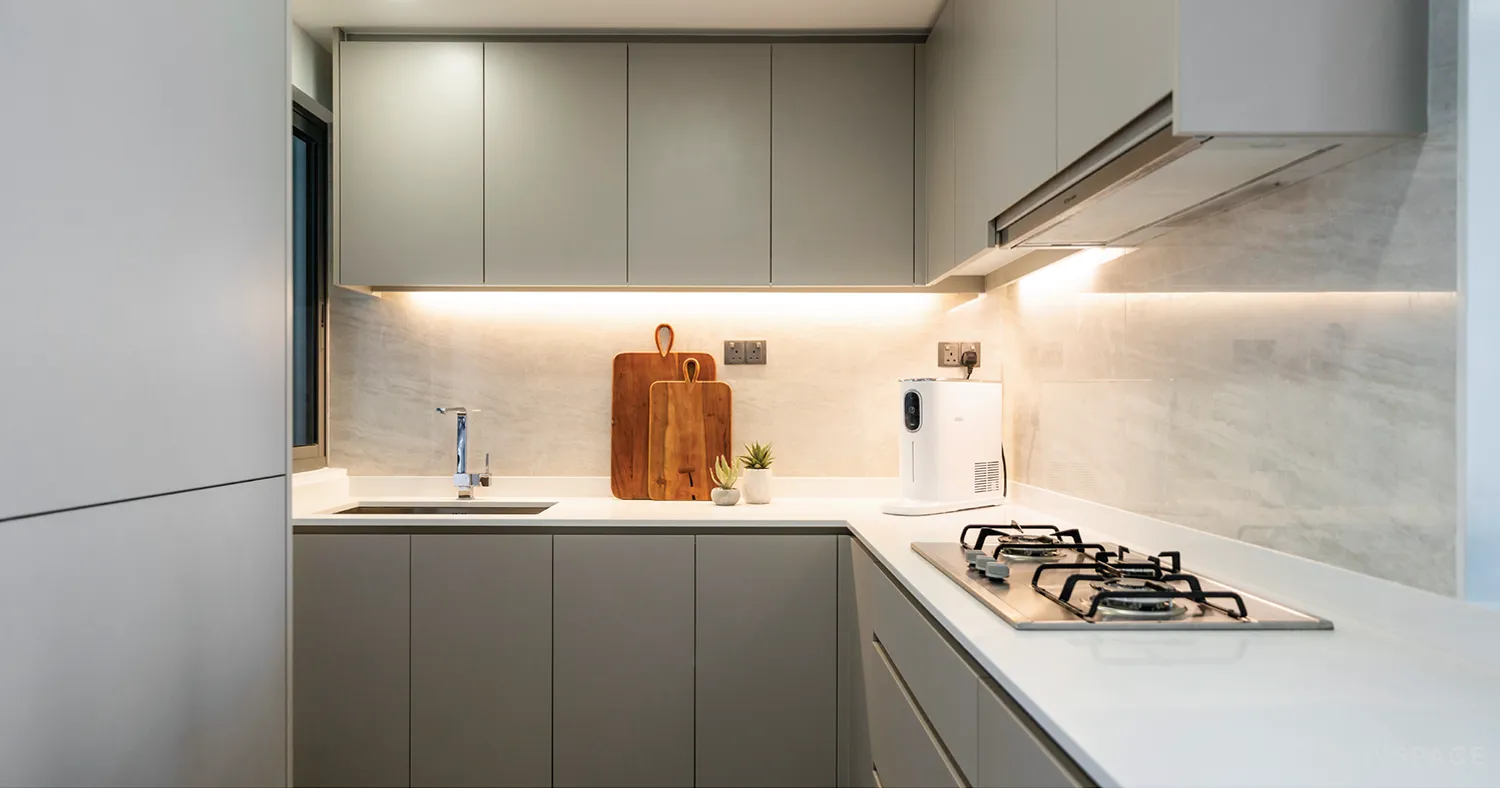 The perfectly optimized kitchen looks flawless by itself and has factors that decrease clumsiness. For example, the use of small stools can easily slide under the island and takes up less space than regular chairs. When looking for fixtures, keep an eye out for concealed ones that fit perfectly with your kitchen.
8. Create a Colorful Tile Backsplash
Renovating a kitchen means keeping in mind every aspect of it. That includes the color of the walls, cabinets, and countertops. A good way to make your kitchen stand out is by getting some brightly colored tiles for the backsplash. It will turn your ordinary wall into a statement focal point that begs the attention of everyone in the room.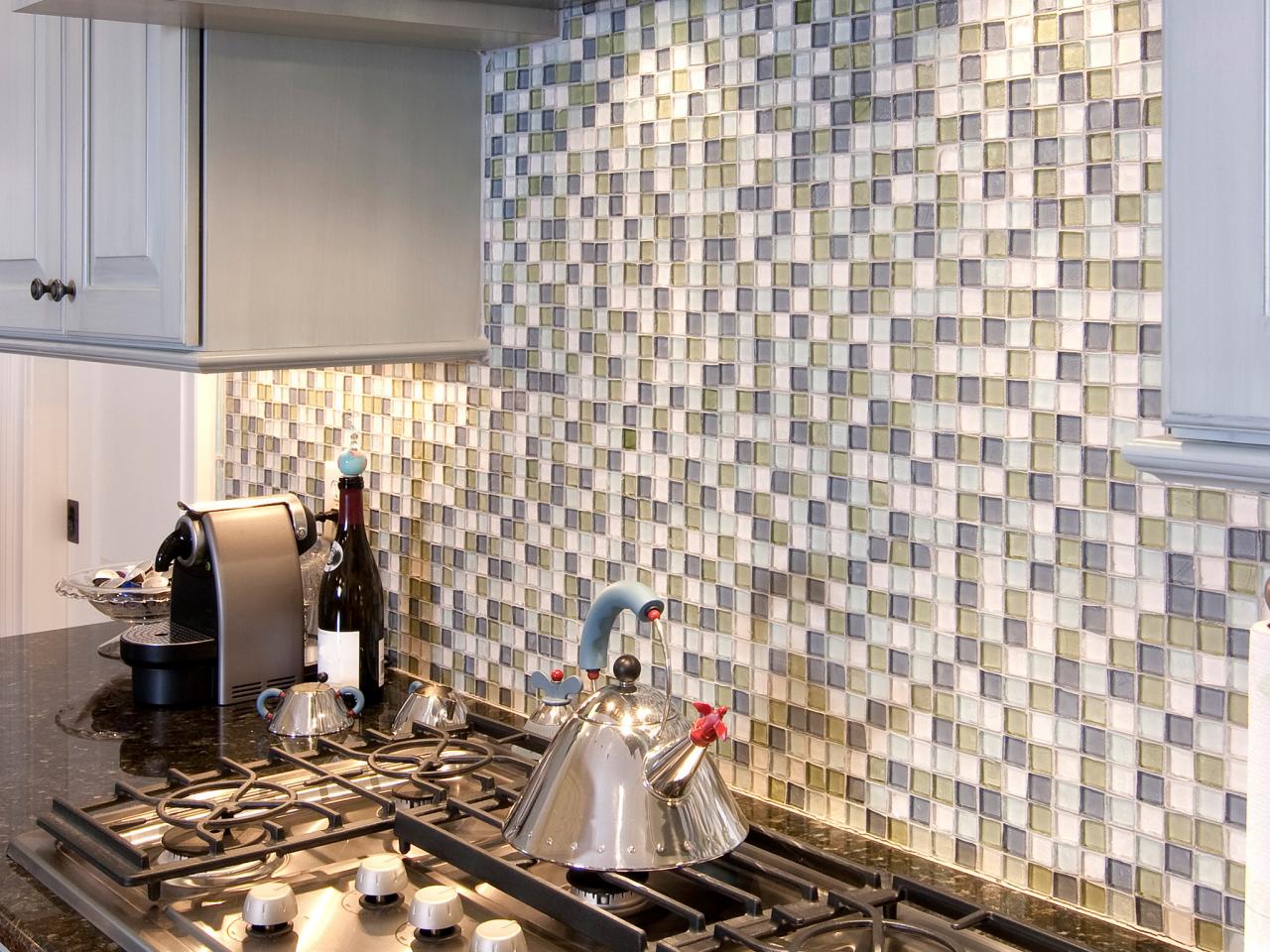 The most important reason why tiles are preferred to plain walls in a kitchen is moisture. There are different types of plumbing activities going on behind a kitchen wall. And any type of defect in the pipes can lead to water damage. A backsplash tile acts as a barrier against this.
9. Statement Cabinets
Cabinets are quite essential to any sort of kitchen layout as they house the appliances. Without good and sturdy cabinets, your kitchen will never be complete. And even though there are cheaper options available, opting for the durable ones is good for the long run. So while takingkitchen layout ideas from experts, remember to ask about the quality of your cabinets.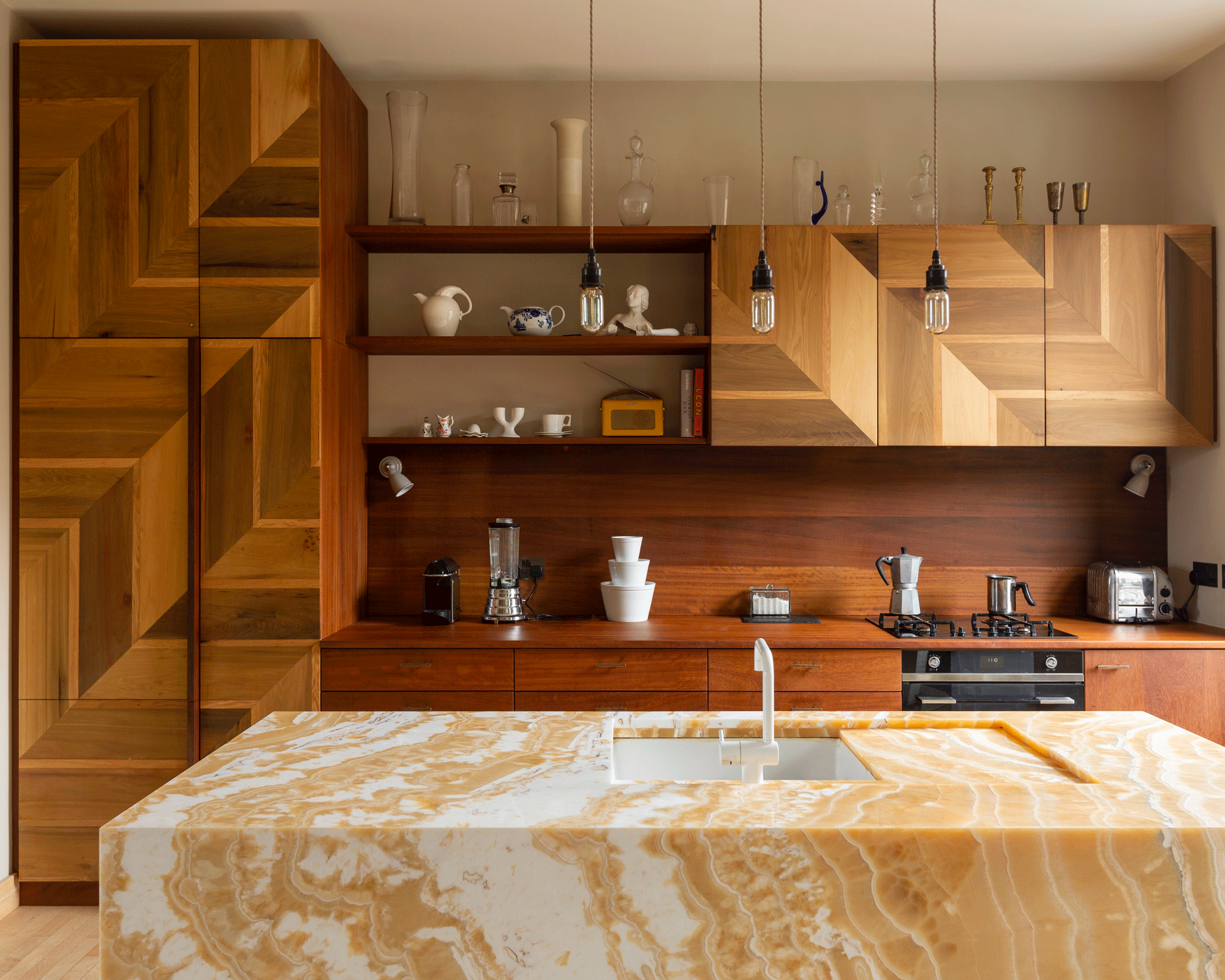 The most durable cabinets you can get are made of timber. These would last you generations, even if they are on the heavier side. Solid hardwood cabinets have recently taken over most decor options because of their classic appearance. They are a good option for stately aesthetics, despite their expensive nature.
10. Open Cabinets
Most wooden kitchen cabinets are completely closed double-door ones that take up a lot of space. An alternative to these are open shelves that can house a lot of appliances as well. Sure, they do not make a big statement, but your collection of artistic crockeries can be beautifully displayed in them.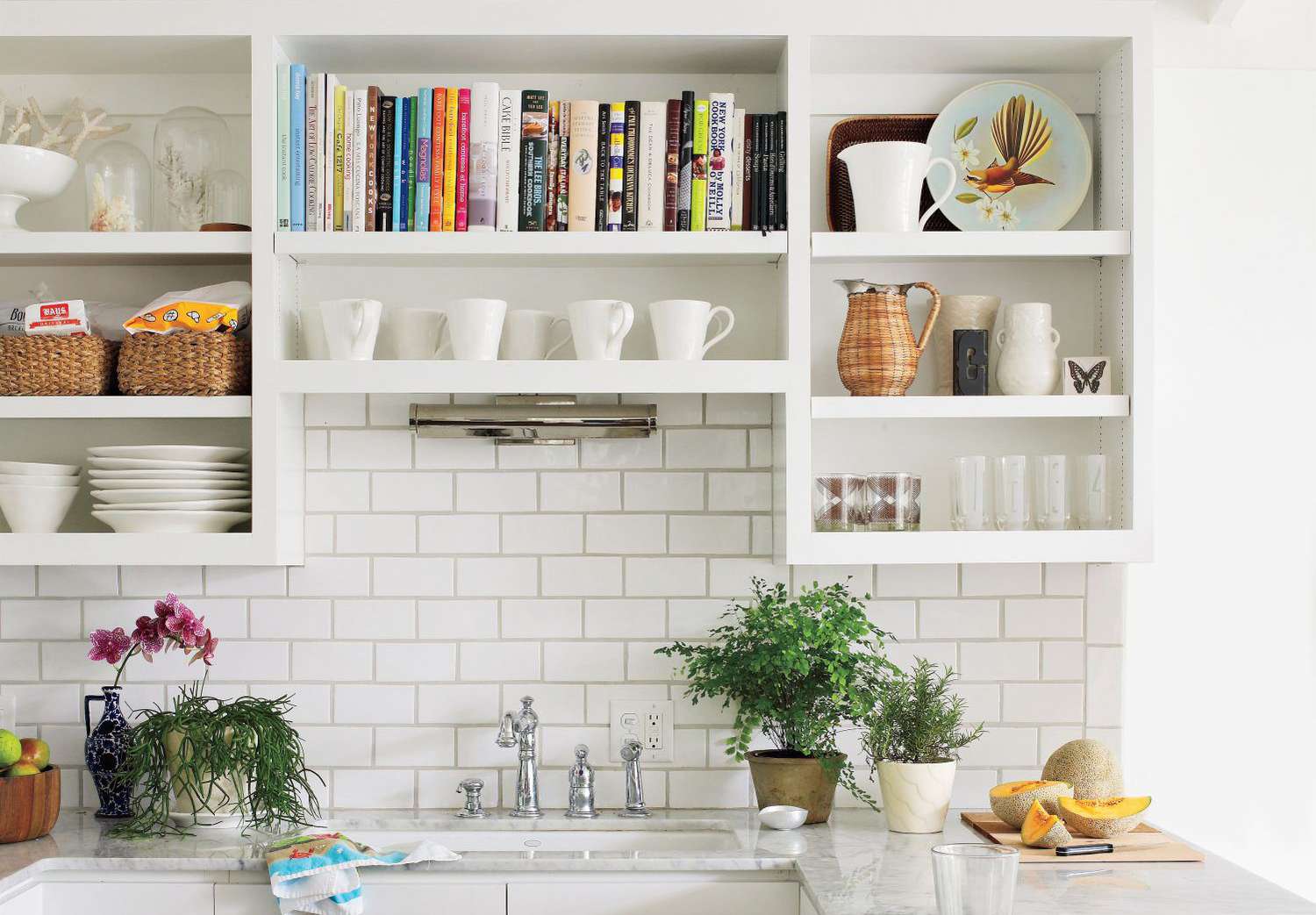 Open shelves also make the space look bigger. They offer the opportunity to store your stuff vertically, making the most of it. The lack of cover makes the room feel airy, and the items are also easily accessible. A large collection of unique coffee mugs often look great as decor on these shelves.
11. Comfortable Kitchen Seats
Your kitchen is not just a place where you cook. It is also an important part of your home, a space where you can sit and eat and spend some quality time with your family. The kitchen island, therefore, plays an important role in bringing about everyone to eat. But along with your island should be a couple of comfortable chairs for leisure.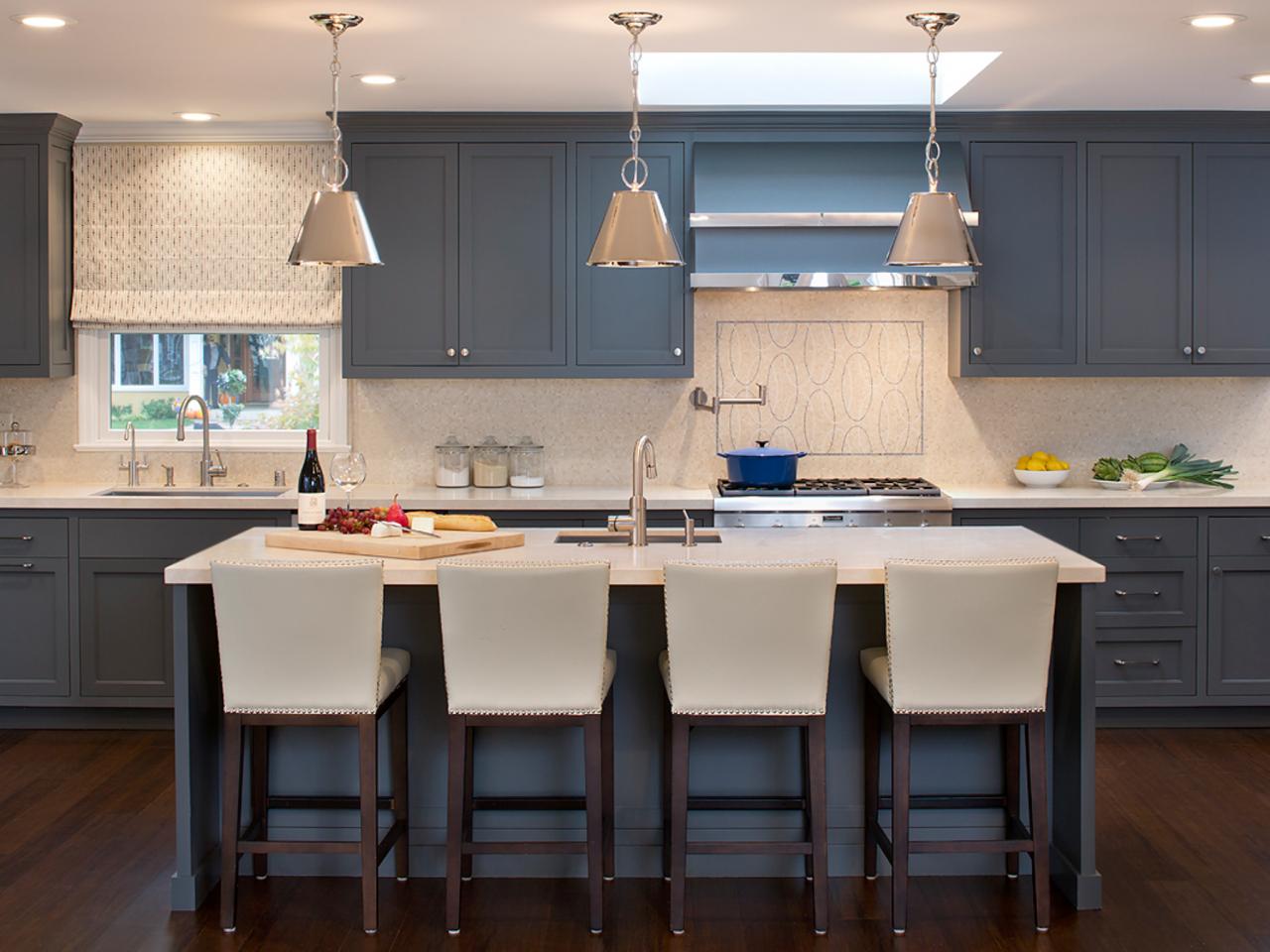 While designing your home with kitchen layout ideas, remember that the seats are important as well. A good set of chairs automatically improves your posture. The comfortable ones will also make your family stay in the kitchen a little longer.
12. Dark Countertops
While white is the most common color that goes with everything, you might want to try something new for your home. So, instead of having an all-white kitchen, bring a little color into the room, and get some dark countertops. You are sure never to regret this decision once you see how beautiful the contrast looks against the white cabinets.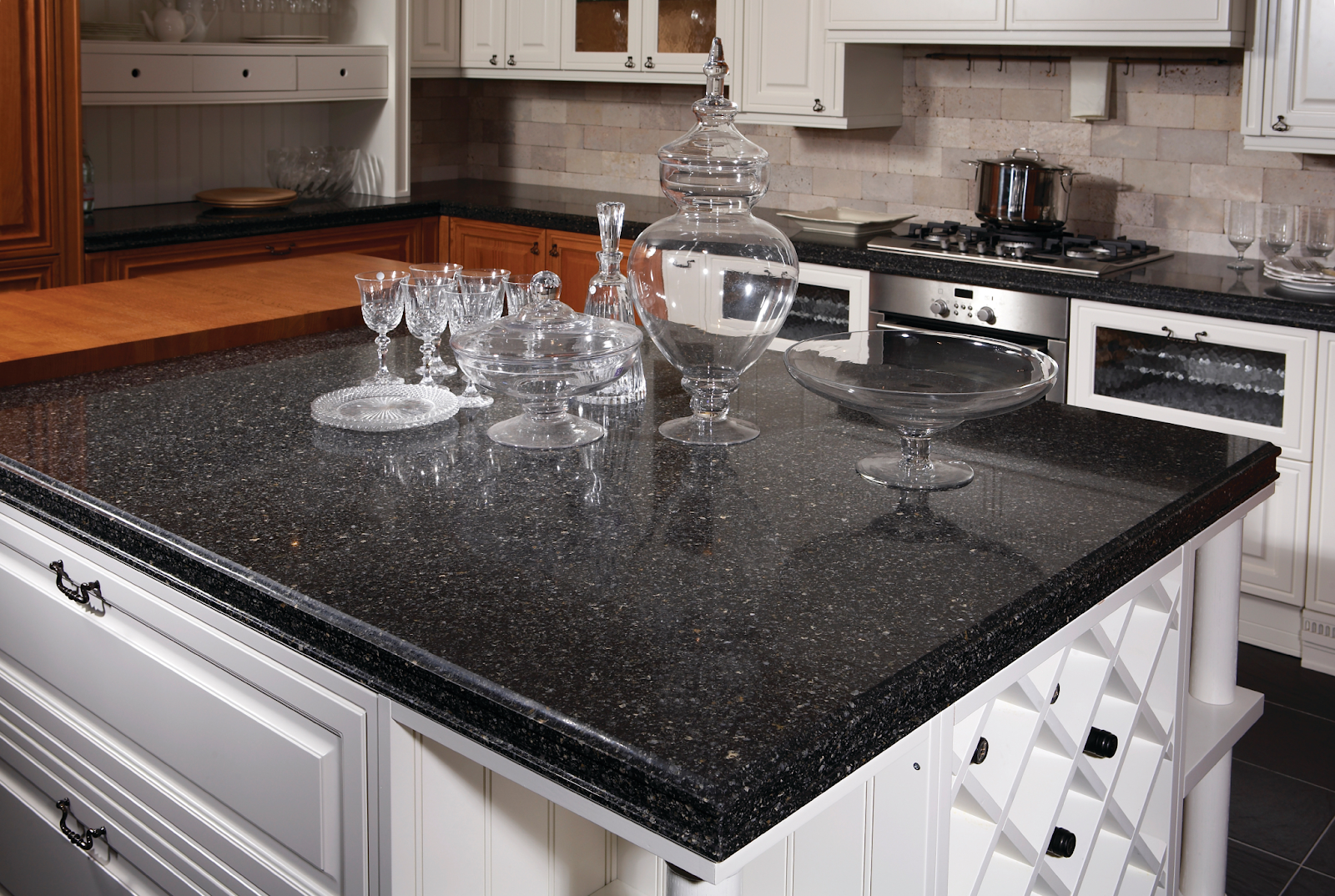 Dark countertops also have other benefits, especially in big kitchens. It makes the room look more small and accessible. If you choose a black quartz top, you are sure to have one that is stain resistant as well as durable. Not to mention it looks amazing under good lighting.
13. Glamorous Kitchen
There are many ways to upgrade your kitchen to make it look more glamorous. You can easily start with some kitchen layout ideas that work best for the size of the kitchen. Then you go from there and update the existing hardware to something more sleek. Your color palette should be on the lighter side, focusing on different shades of white and gold.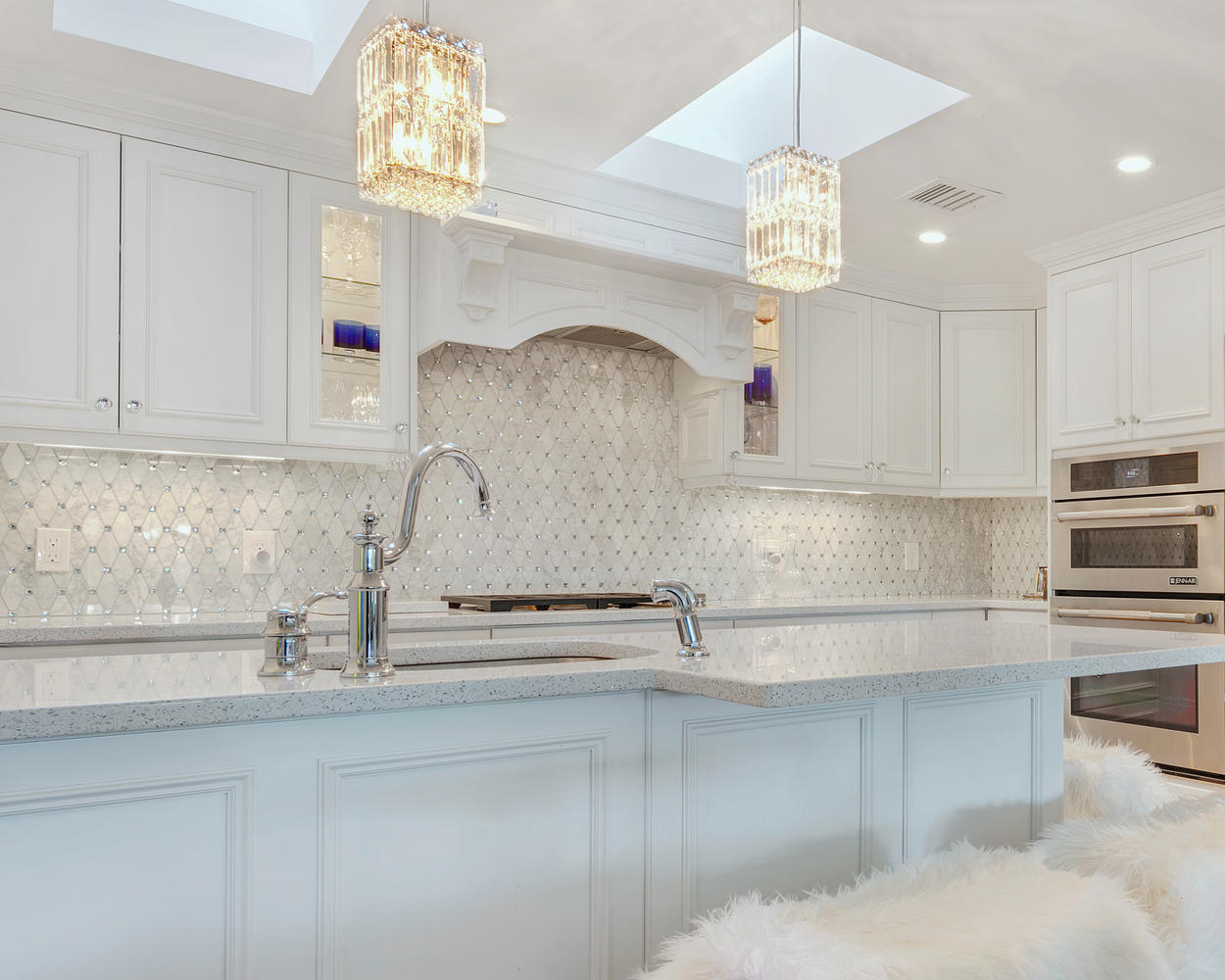 A great way to make your kitchen look luxurious on a smaller scale is to paint your appliances stainless steel. That would complement the shades of white and reflect more light. Going minimalistic and decluttering your space also makes the kitchen look effortlessly elegant.
14. Modern Rustic Kitchen
A farmhouse-style decor, especially in the kitchen, makes for a warm and welcoming home. The rustic decor lets each piece stand out but work together seamlessly to create a comfortable place. The decor is known for its wooden elements that go great with whites and other neutral colors. So while looking for kitchen layout ideas, definitely consider a rustic theme.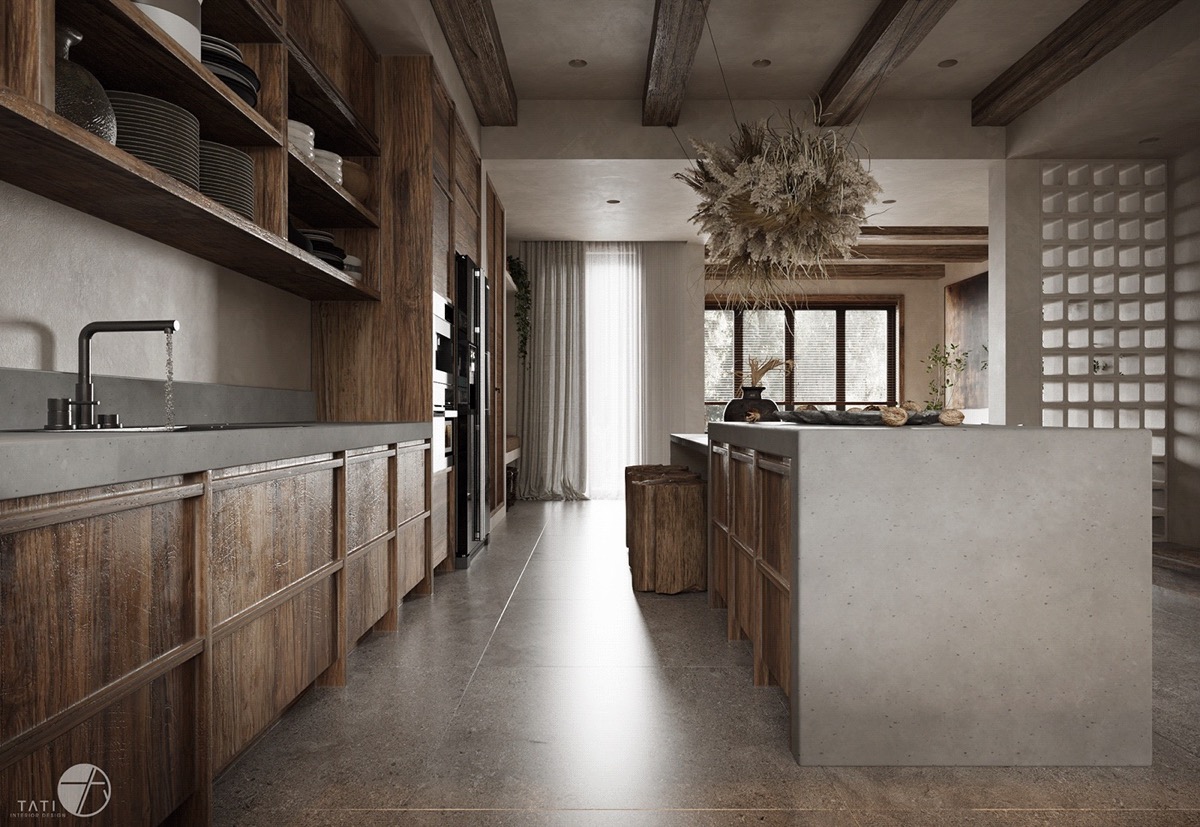 Just because your kitchen sports wooden countertops and cabinets doesn't mean it's old. The modern rustic decor is known for being fully accessible with the help of new appliances. Add a few wooden elements like chairs and beams to make it work.
15. Glass Shelves
Glass doors on wooden shelves have a vintage feel to them that can be compared to nothing else. If your kitchen has these authentic fixtures, treasure and repair them so that they can be on display. Your mugs and plates would look amazing in them, and there would be no worries about them falling.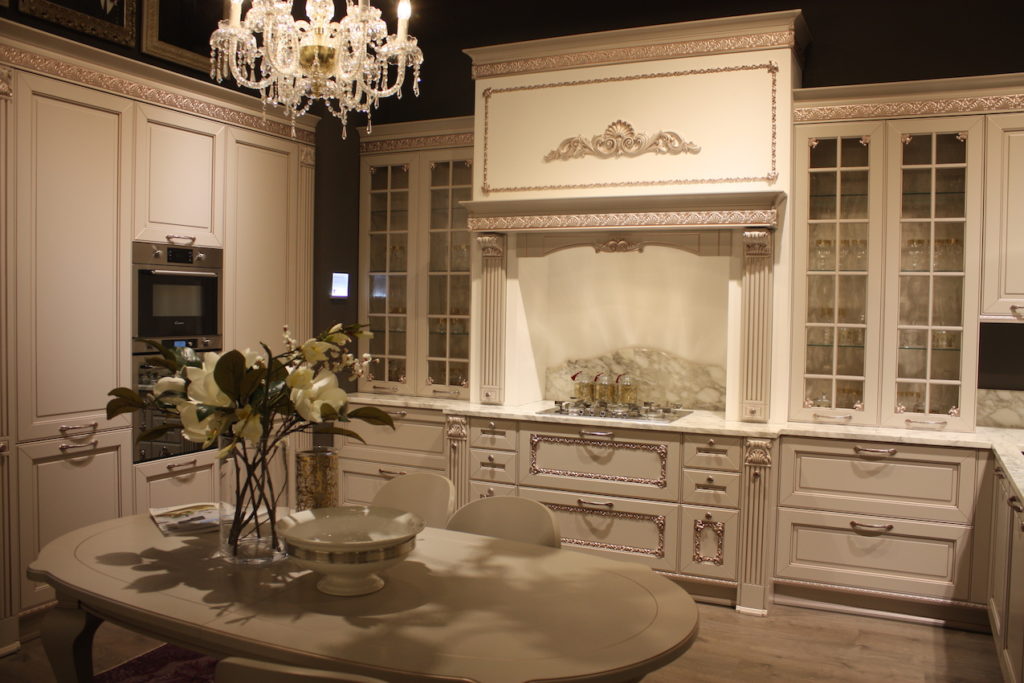 These glass shelves have been making a comeback among other kitchen layout ideasbecause of their usefulness. Not only are they perfect for overhead storage, but the glass also reflects light, making the space look bigger. The glass panels are stain resistant, can be easily cleaned, and are transparent for display.
16. Cute Wallpaper
Home decor can often be termed as too serious or too mature. But it is intensely personal and can be customized to the 't.' So, if your sense of humor makes yourself known at every party, try putting that into your home. A kitchen, like any other room, need not be too serious, so use a funny backsplash.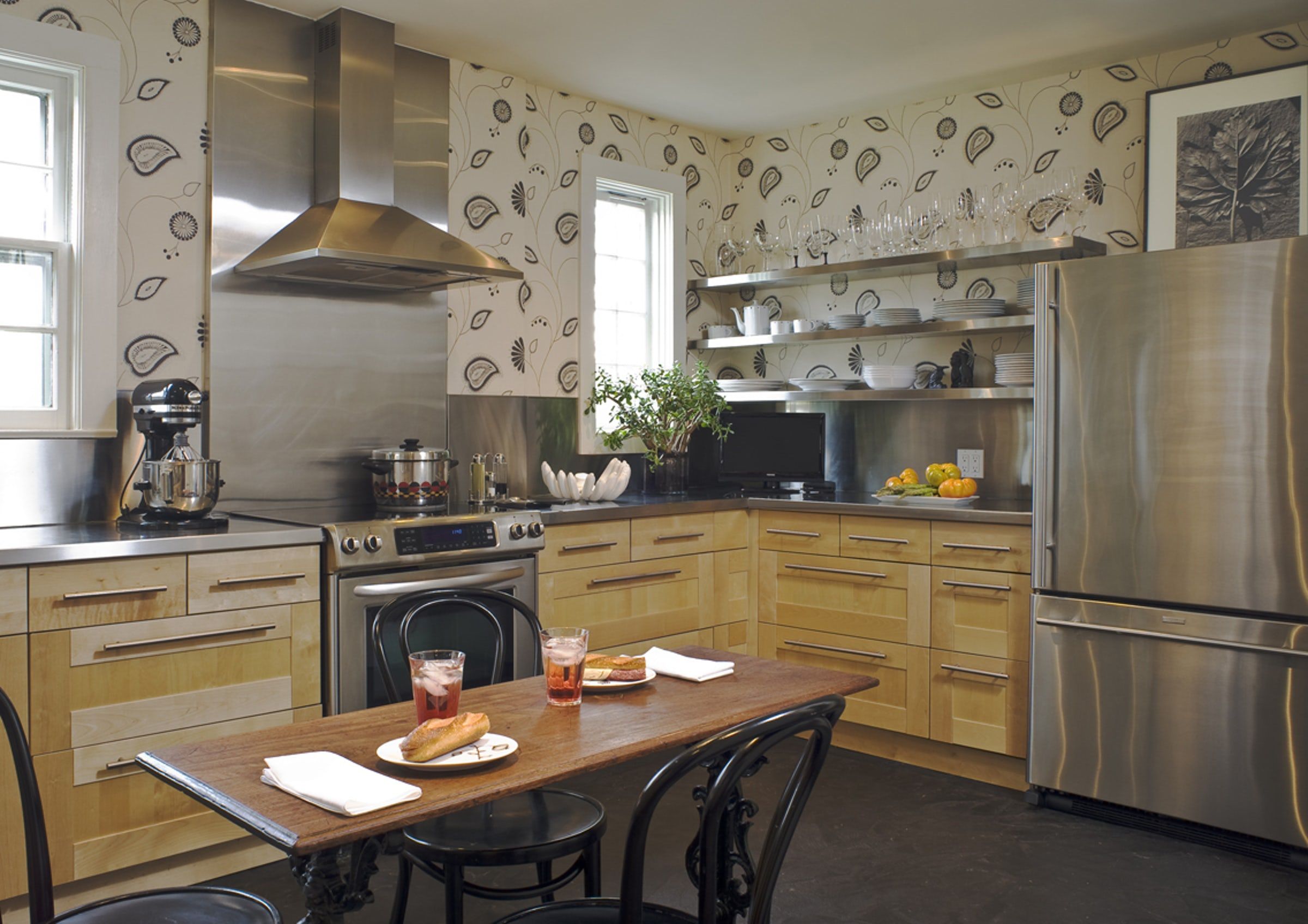 There are many ways to turn the room lighthearted and fun, the easiest of which would be to add cute wallpapers. These self-adhesive ones are quite easy to use, and you can easily put them on in the course of an afternoon.
17. Pass-Through Kitchen
A pass-through kitchen is a mixture of the peninsula and the open-wall concept. One-wall kitchens are the most airy, but sometimes it is not possible to get rid of a wall. Then you have to work through what you already have and make the best of it. A pass-through kitchen is among those brilliant kitchen layout ideas that will allow you to have the best of both worlds.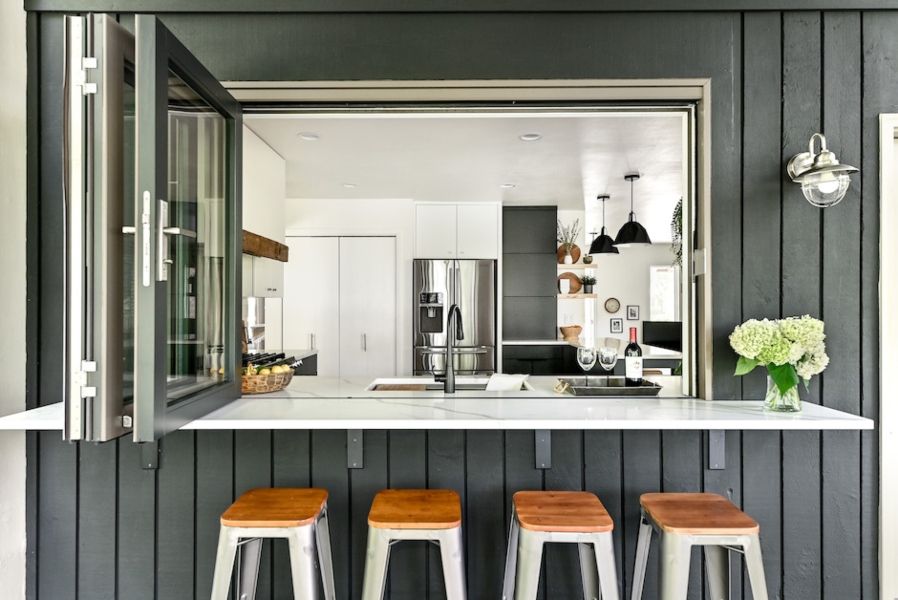 The space that has been created by this design can work as a window into the next room. It can also be used as a counter or island where the family can sit and eat without being in the room.
18. Overhead Storage for Pots and Pans
A small kitchen can pose quite a lot of problems, especially regarding storage. But if you plan, you can have an ever-available place to keep your big utensils. If you hang a rack from the ceiling, you can easily put them out of reach till needed. Finding another home for your bulky pots and pans means you will now have lots of space available in the cabinets.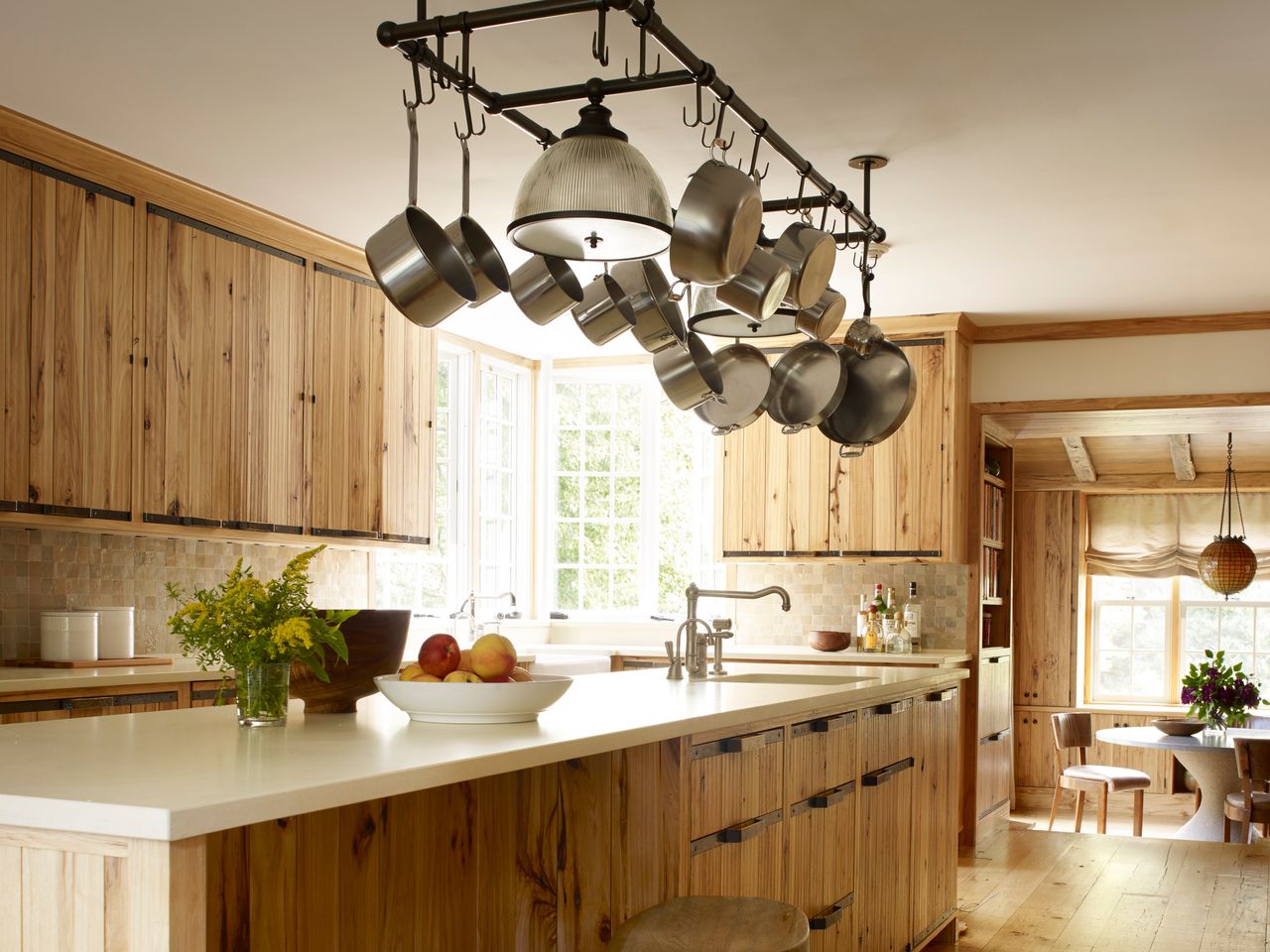 Racks like these are also quite beginner-friendly. You can drill them in place with a kit and some screws. But make sure the height has been adjusted accordingly so that you can unhook the utensils when you require them.
19. Unique Kitchen Lighting
People, on average, spend a lot of time in the kitchen, preparing food, looking for snacks, or even just looking. So the entire area should be well-lit and bright all the time. Otherwise, your family members might just slice their fingers instead of an apple. The solution lies in kitchen layout ideas that focus on natural as well as artificial lighting.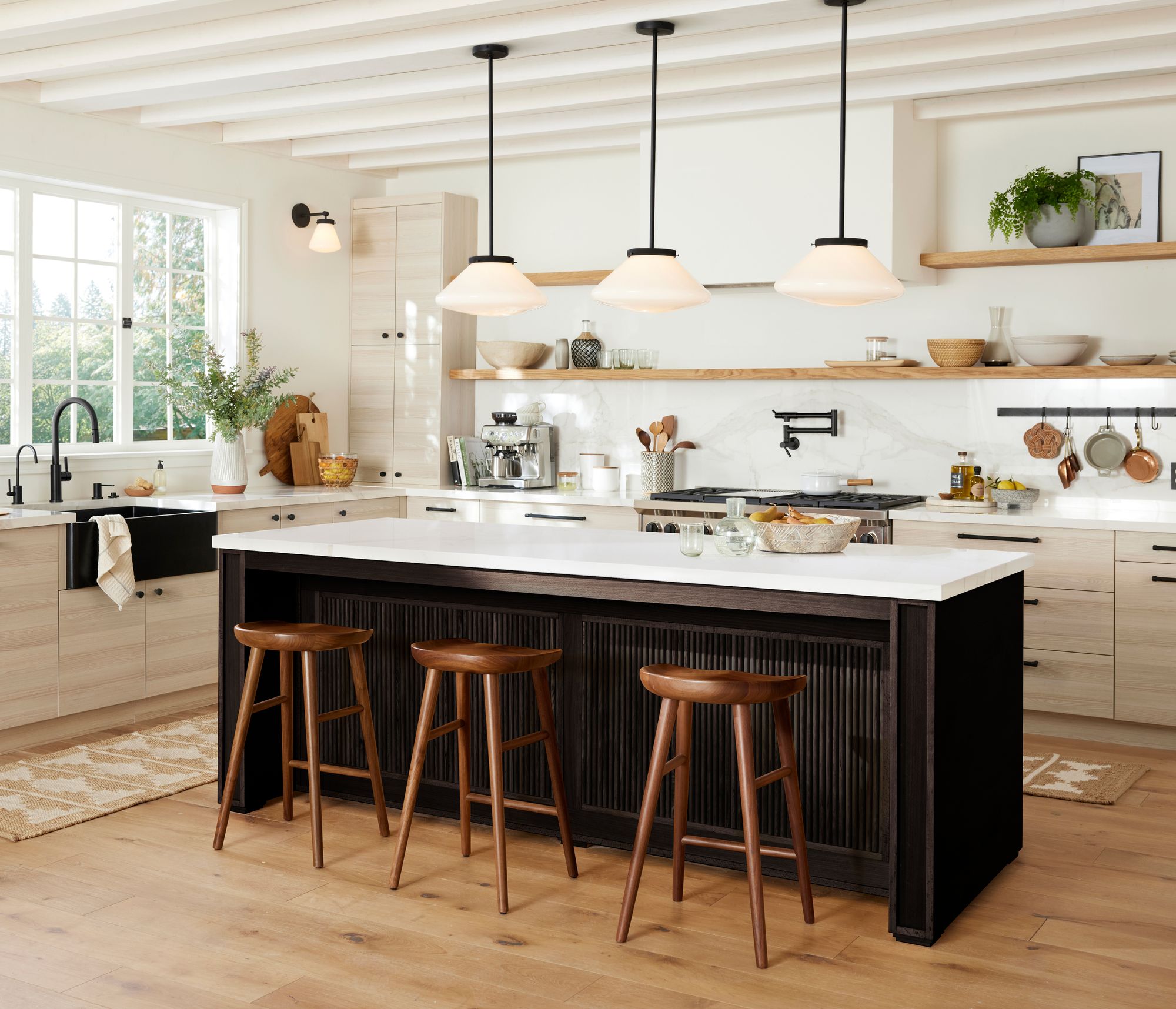 While deciding on the basics, make sure the kitchen windows are big enough to let in plenty of sunlight. But at night, the lighting fixtures should be bright yet soothing. Focusing on the kitchen island also works, as using big kitchen island pendant lightsas a decor as well as a fixture.
20. Chalkboard Wall
Chalkboards can be used in any room of a house to give it a flair for creativity. But a great way to make the most of a wall is by coating it in chalkboard paint. This will turn the surface into a board where you can doodle or write to your heart's content. You can also use this wall to write down groceries list for the week or just a funny joke.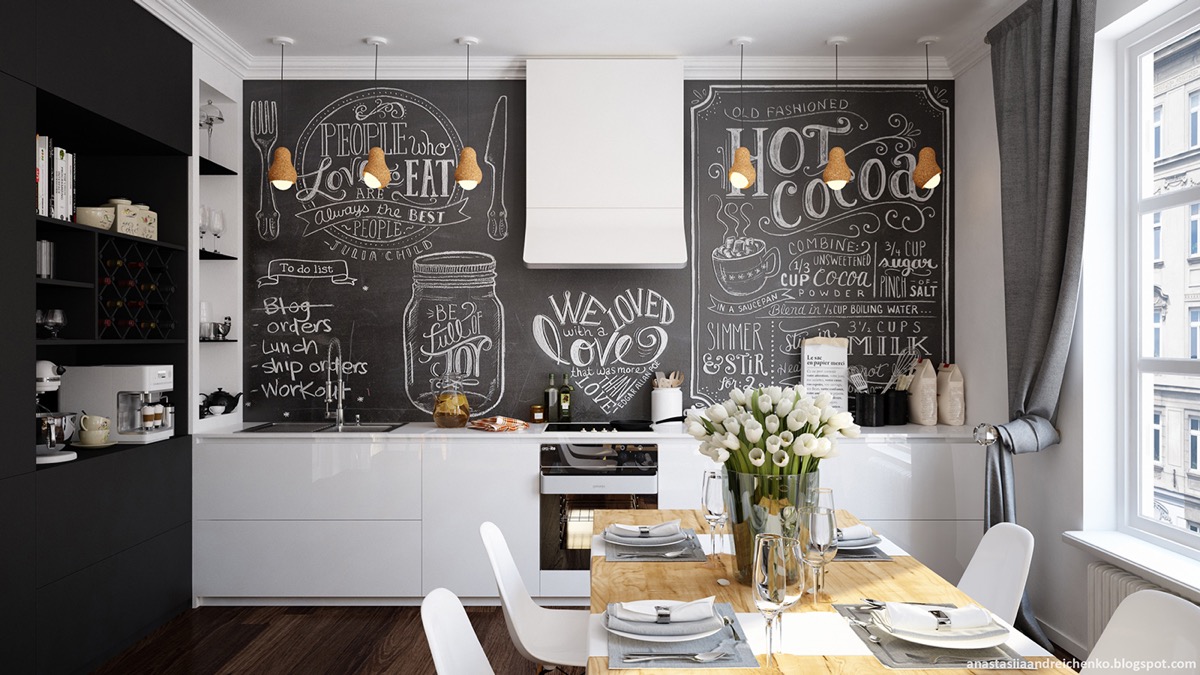 Chalkboard paint is a good alternative to buying a chalkboard as the surface is far larger. The medium is also very easy to use, and anyone can try this DIY with the best results. A chalkboard wall in your kitchen is sure to increase your creative flow in the room.
21. Classic White Kitchen
The most common yet beautiful choice in kitchen layout ideas will always remain white. Many may think that white means boring, but nothing can be further away from the truth. The combination of white walls, accentuated by eggshell cabinets and white stone countertops, is lethal. It is also the easiest layout that can be decorated at a moment's notice.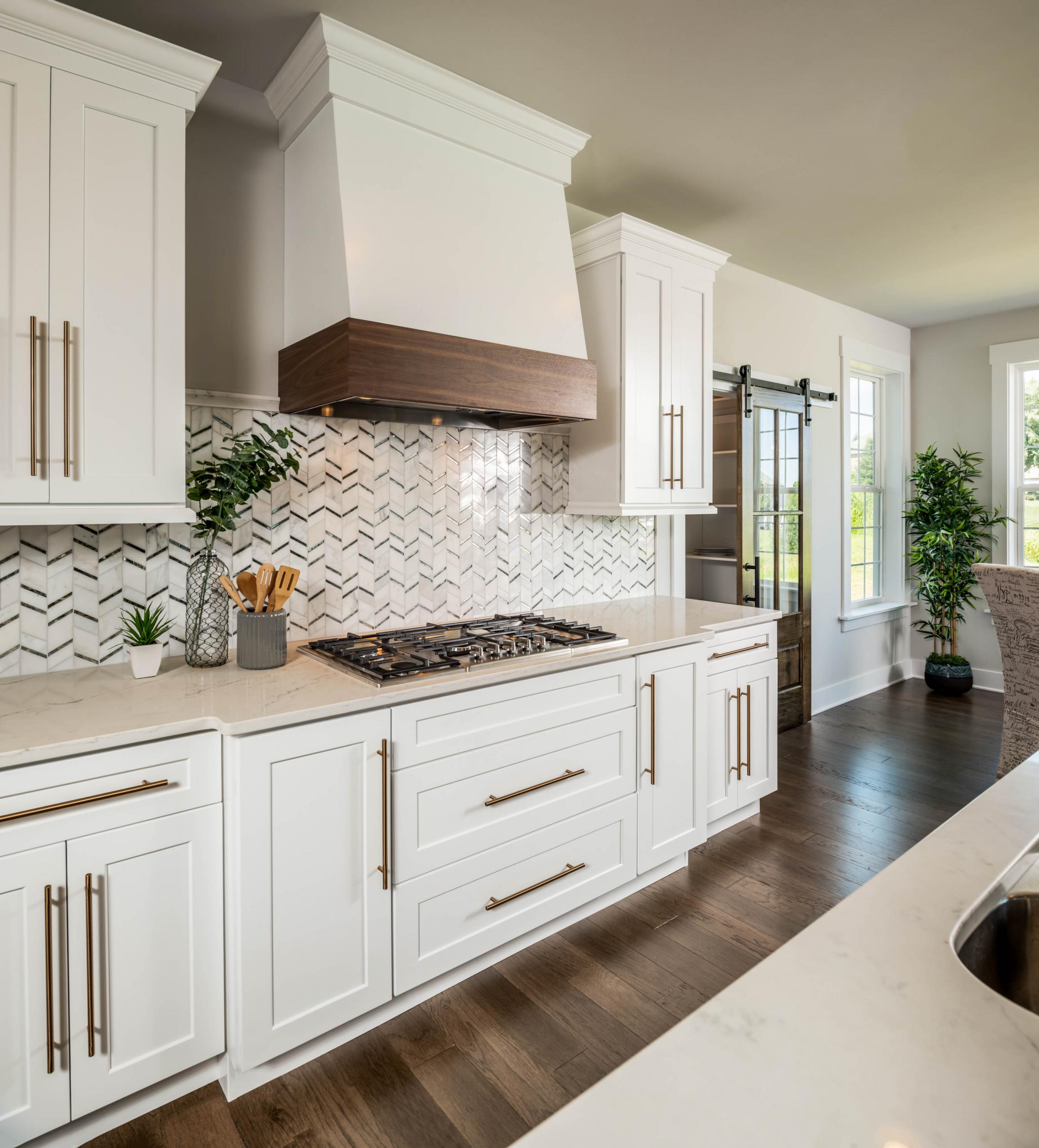 White on white makes the whole kitchen look like it's straight out of a storybook. But there are other colors as well that complement white for a kitchen, like the warmer tones of yellow. Or you can add depth to the room by putting in accents of rich emerald or teal.
Wrapping Up
Even the smallest of kitchens can be made to look luxurious if you know how to style it. And everything from the cabinets to the island creates an impact on the overall look. Your kitchen is an important part of your home, and its layout needs to be thought out carefully.
So, whether you are looking forward to making an L-shaped kitchen, or getting some new light fixtures, do your research. Different looks suit different homes, and certain kitchen layout ideas fit certain homes like a puzzle.
Frequently Asked Questions
What Is a Good Size Kitchen Layout?
The size of a kitchen depends on the overall size of the house, but the average area is about 225 Square Feet. Most new homes have kitchens that range anywhere from 180 to 440 square feet. Yourkitchen layout ideaswill depend on the size of the room.
Which Type of Kitchen Is Best?
Many types of kitchen layouts suit the needs of different people. But the most efficient one is the parallel or gallery layout. With this set, you get two separate counters and cabinets, enough to keep all of your utensils. The extra space also helps with the cooking and cleaning.
Which Cabinet Is Best for a Kitchen?
The highest quality kitchen cabinet you can get are made of multi-layer plywood. This cabinet-grade material is sturdy and can withstand a lot of weight. They are also easy to install and much lighter than materials like MFD. Plywood cabinets can be expensive, but they are worth the investment.