21 Simple Dollar Store Kitchen Organization Hacks
While decorating a home, there are instances when the interiors and materials can go out of budget. You can get certain things at a nominal price and still be good quality. Shopping at dollar stores is one of the finest methods to save money on household goods and many other things. These shops provide affordable prices and, surprisingly, much more options for savings than you might anticipate. The dollar store offers numerous groceries, cosmetics, and personal care products. You can typically purchase these things for mere pennies after applying coupons because they are frequently provided in the paper. You might be aware that finding a dollar store is simple and convenient for almost any place you go, which is another huge advantage of shopping there.
Dollar stores like Dollar Tree, Family Dollar, and Dollar General have become more and more popular due to the variety of products and budget-friendly for all strata.
Here are 21-dollar store kitchen organization hacks that will surely help you create a unique and efficient kitchen. 
1. Organizing Bags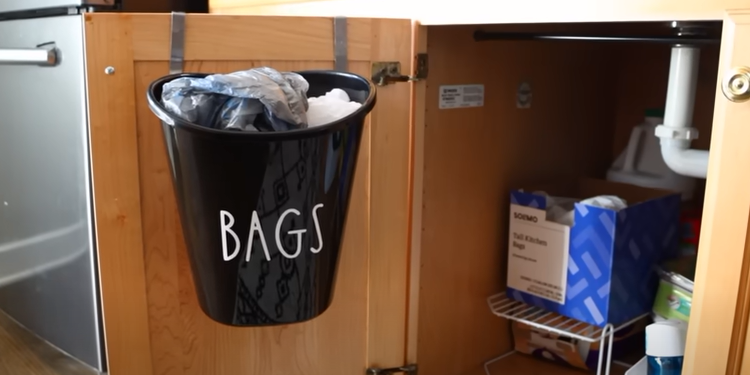 The kitchen is home to many things, like snacks, beverages, fruits, etc. are harbored at one destination. We usually bring these stuff in carry bags, and they end up getting accumulated in one corner of the kitchen. Although these bags can be reused, they are generally piled up, creating a mess. 
One of the DIY hacks for organizing the bags is to create a stand from a few items that are easily available at the dollar store. Get some over-the-cabinet towel barsand trash cans to make storage. With the help of a sharp knife, cut 3 to 4 slices beneath the can. Dollar Tree zip ties are easily available at the store so that you can tie the bar with the can. Add some curve font stickers on the can for decorative purposes and hang this on the cabinet door or in the pantry as a bag organizer for just in few dollars. 
2. Spice Box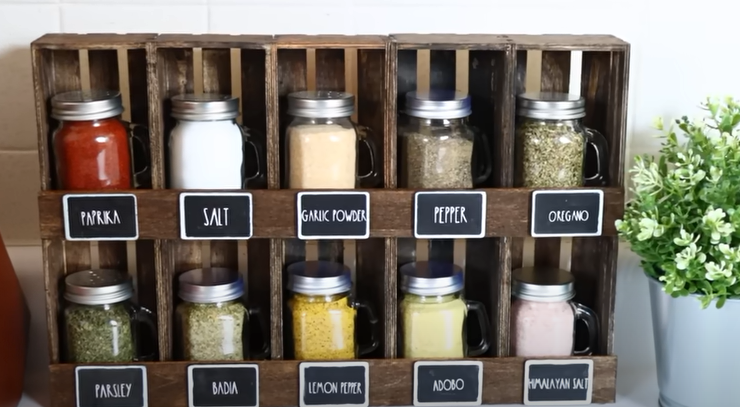 You need to store spices in one place, so they are handy when needed. Storing them in a common box with one glass lid can result in a mixture of spices, making it a mess. Instead, you can consider storing the daily used spices in mason jars that have handles and little holes and even closed lids for efficient functioning. 
Grab some small wooden crates from dollar tree that have small vertical slats with two stir sticks. These stir sticks are used to stick labels. 
For storing at least 8 to 10 jars on the crates, get 10 small wooden crates and glue them together to form a two-rowed spice shelf. With the help of wood glue and hot glue, the crates will adhere to each other nicely so they don't fall apart and completely dry immediately. Stain the crates with the color you like for a rustic look. 
You can keep the shelf in a corner or hang it on the wall. Both will have a decorative look. 
3. Mug & Glass Stand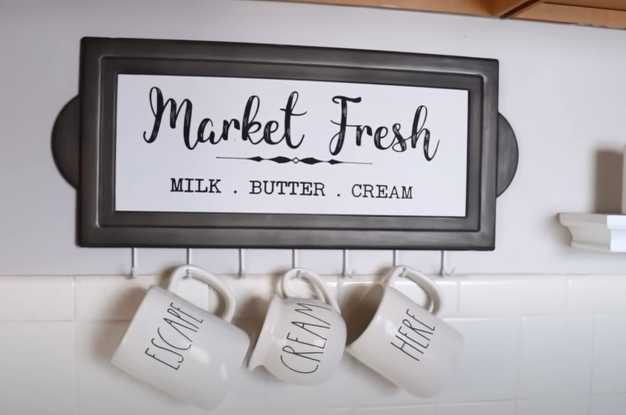 Glass, Coffee, and tea mugs take up a lot of space in the drawers as well as cabinets. Being made of glass, it becomes inevitable to handle them with care. You can consider buying wall mount hooks from the dollar store to place all your vulnerable glassware. Besides this, it looks aesthetical, with all the rainbow color mugs hanging on the wall. 
The wall-mounted hooks come with drywall screws and anchors that easily turn into a mug holder or rack. This inexpensive decor piece helps clear out some space inside the cabinet. Moreover, you can place the rack near your coffee or tea machine to keep the mugs handy. To beautify the background of the rack, you can use a nice sign board, vinyl stickers, or souvenirs. 
4. Napkin Stand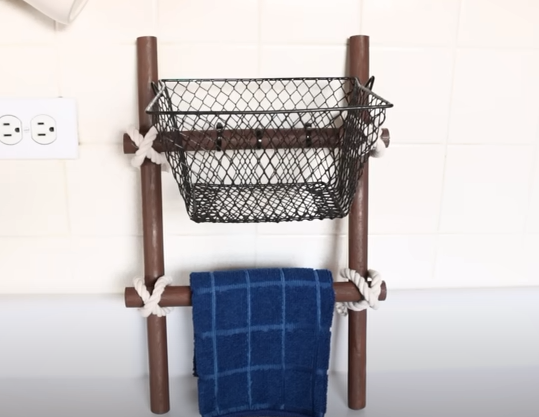 A DIY project from the extra wood sticks can help create a decorative napkin stand that is ingenious. Use a similar type of wood or wooden dowels and arrange them in a manner like a ladder. You can make 2 to 5 horizontal bars with the help of wood and stick them with the help of wood glue and hot glue. Measure the length between the horizontal bars, so you can add little wire baskets from the dollar tree to harbor your light weighted stuff. 
Stain the ladder with the color you like so it gets highlighted. With the help of zip ties, attach the basket to the wire, so it can withstand the weight. Use decor materials like nautical rope on the sides of the ladder to give it a beach house or vacation house look. You can keep the ladder on a flat surface near the wash basin, or you hang it up on the wall so that it can withstand the weight. 
5. Baking Tools Organization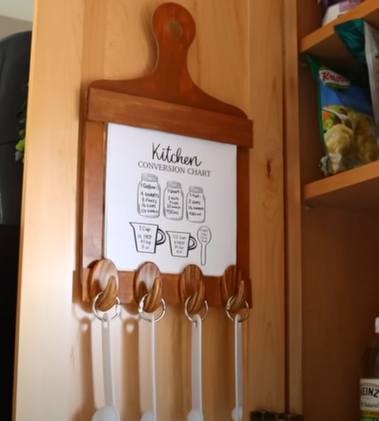 Measuring cups are hard to maintain in one drawer. They often get detached and lost from the whole group, which creates a void during necessity. Dollar store offers a variety of accessories that can be used as kitchen hacks and are efficient. 
Get a decorative cutting board from the store along with wooden rulers. Cut the rulers as per the size of the board, and with the help of wood glue, attach them on the topmost and bottom sides. 
Color the wooden area with acrylic paints with the same wooden touch. Add some removable hooks from the dollar tree store to hang the measurement cups. Print the measurements as per the required delicacy preparation and stick the paper on the front side of the board. 
Glue some command strips on the back of the cutting board and hang them inside one of your cabinets, along with the cups and spoons on the hooks. 
6. Fruit Basket Scale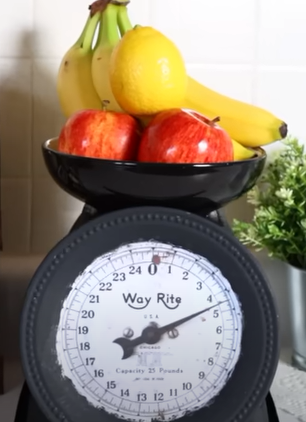 When it comes to being creative and innovative, the dollar store offers a variety of ranges. You can create a whole new piece from different items and yet look elegant and unique. Purchase a planter and stain it with any vibrant color of your choice. Take a big glass bowl or flat plate from the dollar store and glue it on the back side of the planter. 
Stick a smaller plate on the front side of the planter and print an image of a weighing scale. Your fruit basket can hold at least 3 to 4 bananas, 1 to 2 apples, and a few lemons or berries. This keeps the kitchen free from mess and also provides the required aeration for the fruits outside the fridge. Moreover, the kitchen platform will look colorful and aesthetic with these tiny collaborations. 
7. Mitts Holder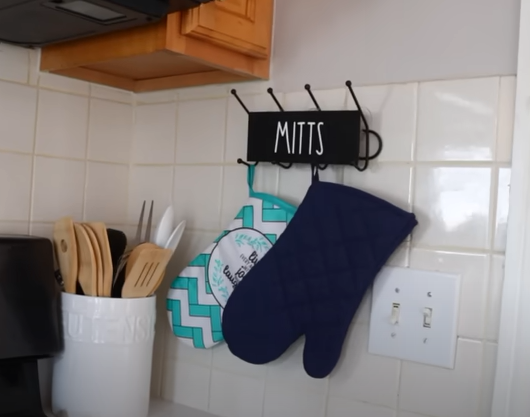 Oven mitts and aprons take up a lot of space all around the kitchen. The tedious task of finding the drawers and keeping them daily needs a change. Instead, you can allot a corner to these accessories in your kitchen and keep the extra ones in the pantry. 
Purchase an over-the-door hook from dollar tree that has at least 4 to 5 hooks and comes in different colors. Furthermore, add some self-adhesive hooks from the same store to hold the metallic frame. By using self-adhesive hooks, you can later on change the position and number of the frame if the quantity of increases or decreases. 
These inexpensive metallic frame helps to harbor oven mitts, pot holders, and aprons. Besides this, dollar tree has wood planks of different sizes to offer. You can get a few of these to stain and be used further for decorative purposes. 
8. Glass Jars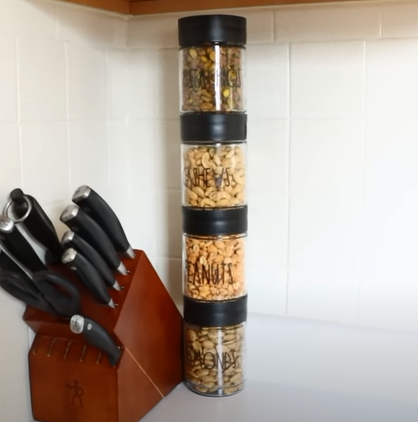 Smaller the kitchen, the more multipurpose use of materials so the kitchen does not look a mess. Kitchen accessories can take up a lot of space in a small area and make it look congested. 
You can choose glass jars that can be stacked on one other when there is a constraint of space. The dollar store has these amazing glass jars with lids that can help store any kitchen ingredients as well as stationary. 
Besides this, you can grab some chalkboard stickers and markers from the same store so that you can label all your stuff. This makes it easy to find material and looks decorative. Glues sticks, paper clips, nuts, peanuts, and many different things can be filled in the glass jars and stacked one on another for space saving. They can be kept out on the platform or even inside the cabinet, as they can be stacked on one another. 
9. Decorative Plate
Not only the kitchen but also the dining table is home to many materials, like different types of sauces, cereals, spoons & fork stands, etc., that are kept handy for daily use. Instead of keeping all the stuff directly on the table, you can make a decorative plate to harbor all these in one for the kitchen and dining area. This makes it easy to hold everything in one place, clean it properly, and look elegant.  
Dollar Tree offers a variety of materials that can be collected and made into decor items. Grab one or two lazy Susan from the store or a turntable with wheels at the bottom as per requirement. Equip it with a cake pan from the same store and stick both these materials with hot glue and add the same color to the plates. You can choose to decorate it with some ribbon or nautical ropes to cover the difference. 
Furthermore, with these inexpensive materials, you can make a beautiful farmhouse-themed plate and keep all your spices and oils in one. 
10. Hanging Baskets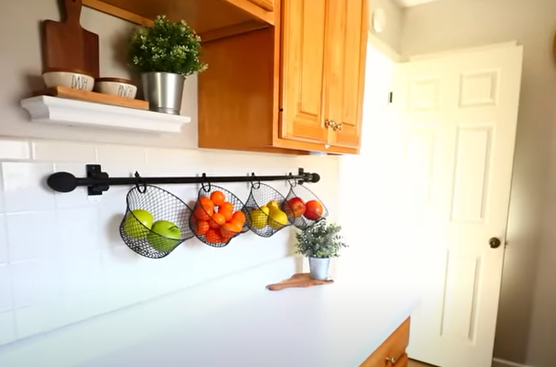 Dollar Store helps you fulfill all your dream decor on a budget and still make it look amazing. The kitchen and pantry area are the most populous ones. You need to de-clutter them from time to time to avoid a mess. 
One such kitchen hack that can not only save space but help de-clutter the stuff and look decorative is the hanging basket. You need an organizing tool hanger from the dollar store to attach it vertically in the kitchen or pantry area. Use command strips for better adherence. Besides this, with the help of a broomstick, you can make a mop holder by removing the top of it. You can choose to add fake eggs from the same store to create a decorative piece on both sides of the stick. Stain the stick and eggs as per the color you want. Get some wire baskets and zip ties from the dollar store to attach them to the mop holder. This hack will help you save space by storing fruits, vegetables, and snacks, making the place look amazing.  
11. Sachet Holder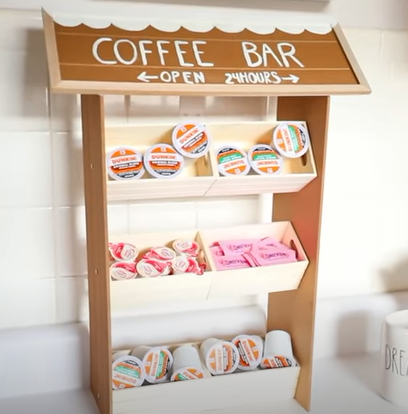 We all have harbored complementary pizza seasonings, sugar, milk powder, green tea, and coffee sachets. Although we do have these in larger bottles, storing them has become inevitable. We often miss allotting a specific drawer or cabinet to these sachets, and they keep multiplying. Not only do they occupy every drawer, but they also result in clutter.   
You can DIY a sachet holder at home with the help of a few materials from the dollar store. Get some wooden crates and glue them with wood glue. Keep at least 3 pairs with each other in a horizontal manner.  
Purchase some wooden boards from the same store and cut them to the height you want your stand to be. Further, attach the wooden boards and crates on both sides with either screws, nails, or glue. The wooden crates should be kept in a slanted position for ease of access. You can choose to keep the top portion open or attach a wooden board or sign board for decorative purposes. Equip them with sachets and K-cups to help your guests. 
12. Hanging Plants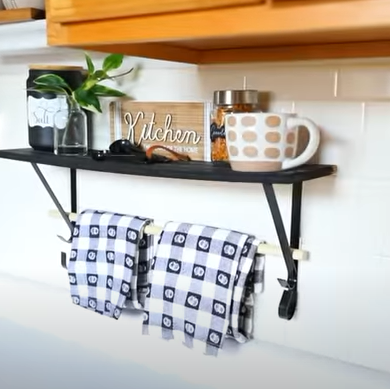 A kitchen should not only be about spices, food, snacks, and beverages. It should be cozy and subtle, even though it is small or big. You'll be spending much of your time there, so it needs to have some colors, creativity, and uniqueness. 
You bring the greenery inside and make the spot elegant. Get plant hangers from the dollar store, and with the help of command strips or screws, attach them to the wall. Equip the hangers with wood boards, the more wood boards, the more weight-holding capacity. You can choose to stain the boards for a rustic look. Add your favorite souvenirs, plants, signboards, and cups on the board. You can always rearrange these stuff according to the season and celebration. 
Furthermore, adding a wooden dowel beneath the board can make it multifunctional in use by adding a towel. These dollar store hacks help elegantly organize your kitchen. 
13. Step Shelf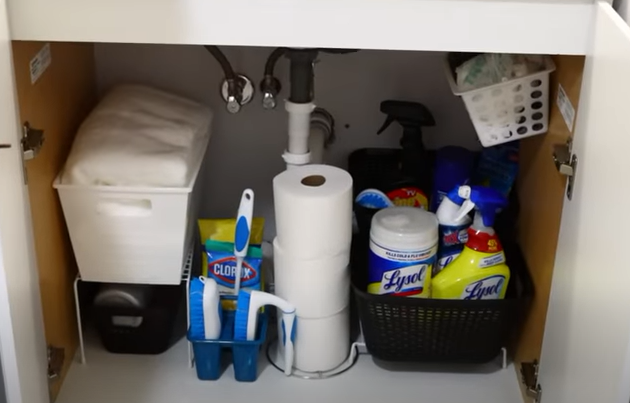 The kitchen and pantry are full of different types of seasoning, sauces, and spices that come in bottles. You often have to rearrange the bottles in the cabinet in a heightwise manner or in the manner that they are used the most. 
With the help of a step shelf from the dollar store, you can harbor all your bottles in the kitchen, pantry, and even beneath the sink for easy access. Use wicker basketsfor this type of storage, as they are rectangular in shape and a little bit deeper.
Attach the basket to the step shelf with the help of zip ties. You can either keep it beneath the sink for all your detergent and dish wash bottles or on the platform for snacks, vegetables, spices, etc. 
Furthermore, you can use a turntable equipped with a round plate to keep in the cabinet for the spice and sauce bottles. 
14. Kitchen Organization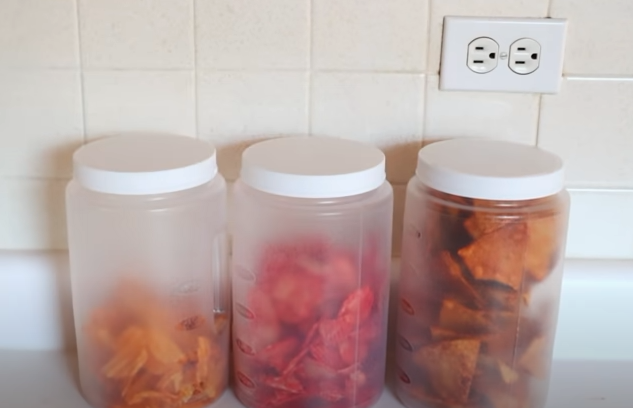 The place where at least 2 to 3 meals are cooked, assembled, and served is the kitchen. Most of the shopping happens for groceries and snacks that are already present in the cabinet but pushed behind. The dollar store has a solution for all these problems. Grab some canisters of different sizes and colors to store your chips, biscuits, and other snacks whose boxes have occupied the larger area. You can always label these canisters with the different styled fonts available at the store and even add the expiry date for the information. 
Other than this storage, you can use containers with lids that open on one side for your cereals and stick a label on it. For all the packed foods like popcorn, biscuits, etc., you can use open-organizing baskets. Furthermore, large air-tight containers are also available at the dollar store to store stuff for a longer period. 
15. Labeling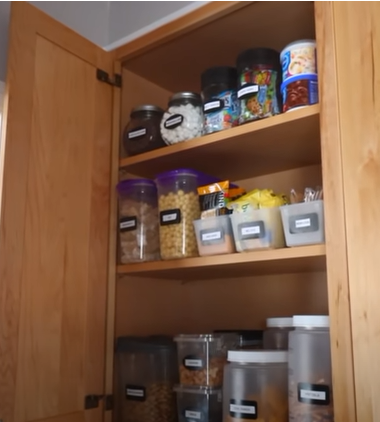 The kitchen and pantry are the most jam-packed ones, with different types of sauces, spices, and food. Many of them have similar colors and textures too, but you cannot keep tasting them. Neither can you keep them in boxes or cans that were originally packed due to the constraint of space.  
Labeling stuff is a great way to stay organized. The dollar store offers chalkboard labels and vinyl labels of different fonts and shapes that are not only decorative but also useful in segregation material. The labels are big enough to write the expiry date or any other important information. You can print and attach stickers from the label to make it look unique. Otherwise, markers work too. 
Labeling not only helps find the stuff quickly but also helps those who are new to your kitchen or pantry. This also makes people aware that they don't have any allergic material from the food. 
16. Drawer Organizer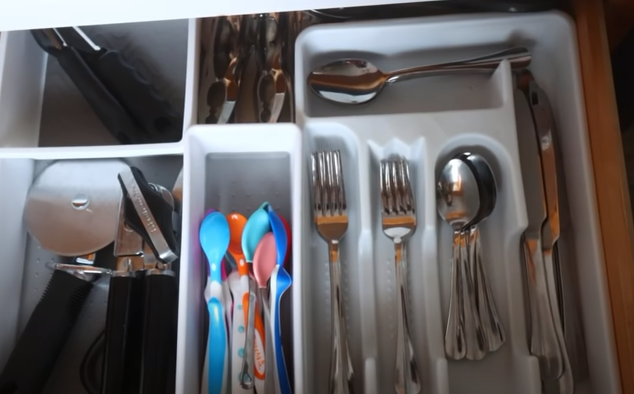 One of the most cluttered spaces in the kitchen is the drawers and cabinets with all the pans. No matter how hard you try, it gets messy day by day. You cannot eliminate the accessories inside it, as each one is important and multiplies as the number of family members increase. 
A bunch of cookie pans and pizza pans just lay all around the place, and you don't have a place to store them all at one location. Pick dish racks from the dollar store and place them in the cabinet. Allot every rack to the pans, and all your flat cooking pieces will remain upright and nicely organized. 
Furthermore, if you have a larger drawer, switch all your stuff from the smaller to the bigger one. Get different sizes of utensil holders or bin packs from the dollar store and set them accordingly in the drawer. Segregate the accessories into spoons, knives, forks, pizza cutters, scissors, etc. 
17. Organizing the Fridge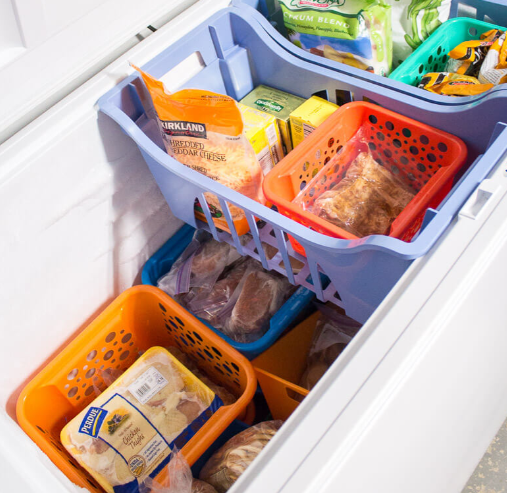 Most of the spices and food require cold storage and need to be harbored if you have kids. This makes the fridge the next pantry. From sugar syrups and frozen foods to daily vegetables and fruits, each fridge rack is always jam-packed. 
It's a great idea to use plastic storage containers for your fridge and deep freezer. You may maintain a well-stocked and organized fridge by using the storage method that consists of different baskets. 
To save money, you should purchase products in bulk and store them in your deep freezer. It can be a little challenging to locate a specific item if it is buried behind a block of ice. The best kitchen ideas from dollar stores integrate practicality, ease of use, and cost-saving strategies that any consumer would value. 
18. Organizing Larger Utensils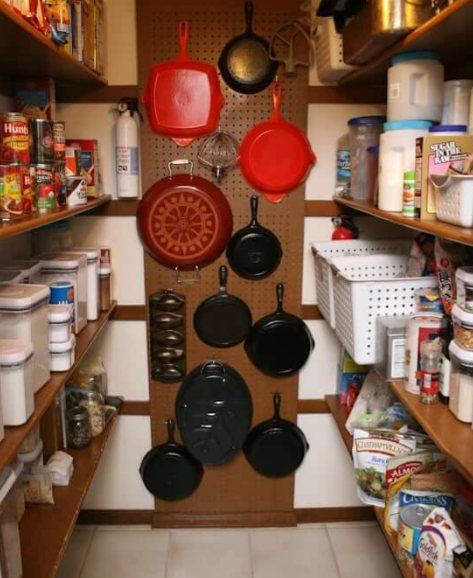 As a homeowner, you'll equip your place with all efficient and functional stuff. You wish to apply the same for the kitchen. But there are different shapes and sizes of utensils, especially pans, and pots, that do not fit in any cabinet. 
You can choose to harbor all these pieces vertically in the pantry or the kitchen wall. Not only does this look decorative, but it helps save space. This organization technique is a great way to keep large things while displaying them in an organized fashion that makes them easy to find, easy to use, and easy to store if you have oversized pots and pans that do not fit into your standard cabinets or drawers. You may make a structured and organized area to store large pots and pans by using inexpensive things from your home. You can place each big item precisely where you need them by purchasing hooks or screws and attaching them to the wall.
19. Using Clips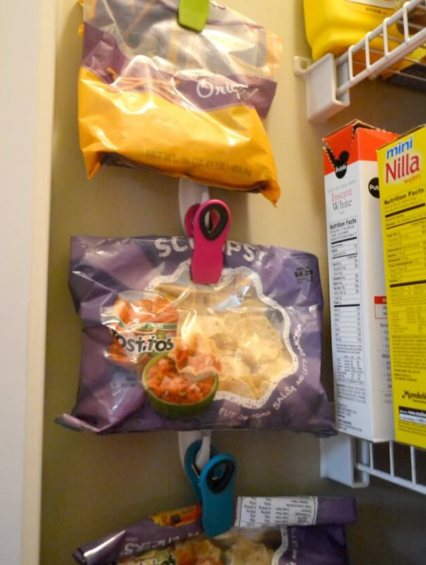 While eating chips or any other snack, you don't have the required size container to store them, and you cannot leave them open as well. Using clips and hooks for such snacks will be beneficial. This is an innovative use for your chip clips. It allows you to keep chips in a way that makes them visible and easily accessible, and it lets you know when it's time to restock your favorite snacks. Along with the wall hooks, chip clips are available at the dollar store. The most practical, time- and money-saving dollar-store kitchen ideas are those that are straightforward and uncomplicated. You may quickly scan your pantry while you make your grocery list to see what needs to be replaced. Avoiding the need to go through numerous bags of snacks to determine which ones you need to buy can save you time.
20. Cleaning Cabinets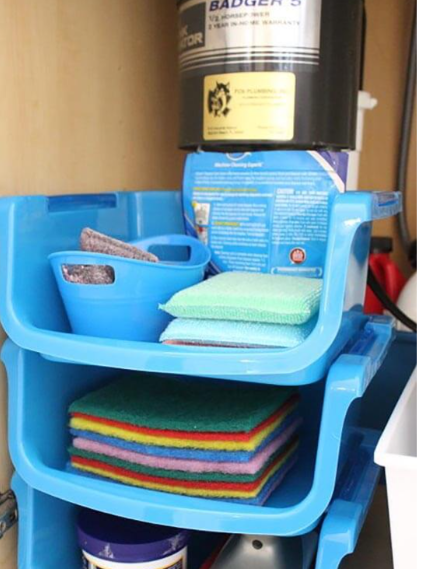 It is best to offer a storage solution that organizes food items and keeps them apart from our cleaning goods because edible items are not the only things we store in our kitchen cupboards and cabinets. To keep the chemicals apart and our food safe, use stackable trays in your kitchen organization initiatives. The only other option when using kitchen cabinets is to go up because there is frequently insufficient room to spread things out. If you use stackable storage units, you have the extra space you wouldn't otherwise have. An ingenious technique to keep your family safe is to keep chemicals enclosed and separated from other food items.
21. Accessories Storage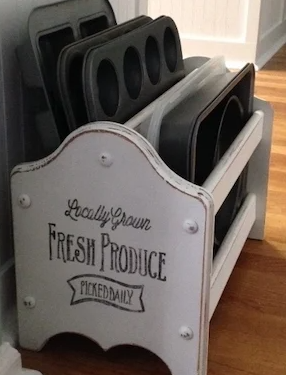 Cutting boards and other accessories frequently wind up in several cabinets or drawers. Perhaps you are the kind of person who keeps many cutting boards in a drawer. In either case, it's a smart idea to keep all of your cutting boards and other distinctive accessories together in one location so they are all easily accessible and ready for use. You can use magazine storage or book bin form of storage to keep those plastic grocery bags or tiny cleaning supplies out of the way in your cabinets.
Utilize the vertical space in your kitchen to its full potential by putting all of the paper plates, corral paper goods, and even those packets of tissues right in front of you on the countertop.
Conclusion
Putting organization strategies into practice is a terrific approach to arranging the things you use most frequently. Lack of this kind of organization causes the kitchen to be cluttered and unpleasant for homeowners and visitors. By keeping older items from going bad and becoming out of date, organizing your kitchen makes it easier to find things and saves you money. You will always be aware of what you have in your kitchen with this kind of organization. Because you can see what you already own, it also saves you the effort of buying duplicate products.
These 21 kitchen organization hacks will make your kitchen look bigger, beautiful, and on budget.