Whether you have a lot of toiletries or just a few items on repeat, bathrooms never have enough space to store everything. Either your cabinet is too packed, or you never find anything properly organized in your bathroom; it is time to work on the bathroom shelf décor.
Irrespective of your bathroom size, it is important to have every item properly organized at its respective place. Moreover, the bathroom shelf décor can be stylish and functional when done in the right manner.
There are many ways to maximize the available bathroom space while maintaining an impressive style. If you are interested in exploring some influential bathroom shelf décor ideas, we are here with some amazing inspirations.
Bathroom Shelf Décor Ideas to Try
Adding the right decorative items to your bathroom shelves can make some amazing changes. The idea is to choose and organize the items carefully to have enough storage and decorative space.
If you are wondering how to be playful with your bathroom shelf décor ideas, here are some of the ideas you can try.
1. Windowsill Shelf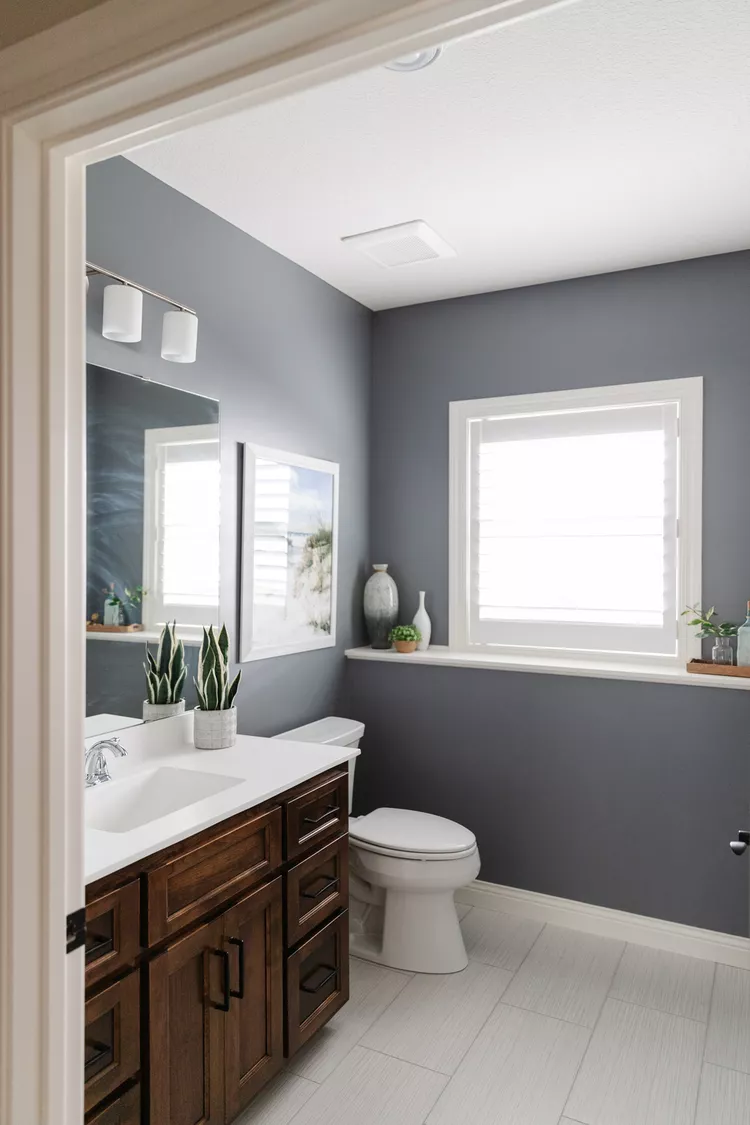 The first bathroom shelf décor idea that you can try is to have a windowsill shelf. Simply extend a single ledge under the window to create your very own windowsill shelf.
Not just this shelf type attracts the eyes but it also provides additional space for storage. You can easily match the shelf color with your window trim while contrasting it with the wall color. The pop of colors will truly make your bathroom the center of attraction.
2. Modern Floating Shelf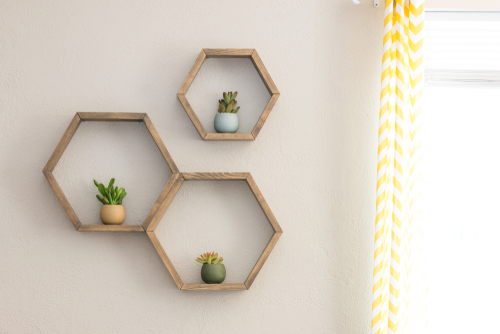 To enhance the bathroom shelf décor, you can opt for the modern floating shelves. These shelves are a great way to move over the traditional and monotonous shelf designs used just for storage.
You can place and organize the floating shelves according to your creativity and imagination. Design them in a smart and inspiring way to attract all the eyes to them. You can use them in contrasting colors to look truly amazing against your bathroom walls.
3. Open Shelves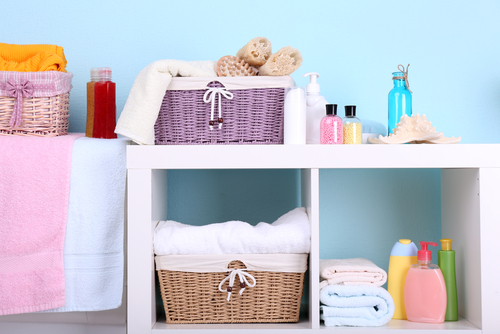 The open shelf décor idea is one of the evergreen choices. No matter what your bathroom is, this idea never fails to leave an impressive impact. You can use these shelves as and as you want.
This decor idea is really amazing if you have limited space in your bathroom. Instead of placing everything on the floor, it is better to organize them in a space off the floor. Isn't it a great way to maximize the storage space?
4. Three Rack Shelf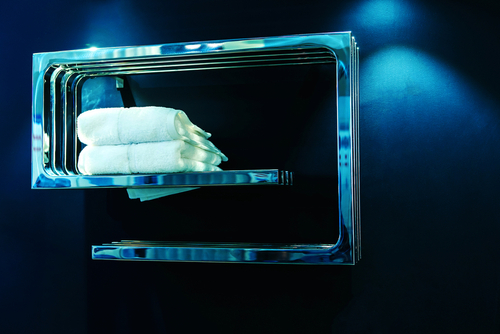 How about getting enough storage space for 3 racks on just one shelf? Wouldn't this make a great idea for bathroom shelf décor? Oh, yes, surely it will be.
The 3 rack shelves are one of the best ways of doing so. These shelves are designed to appear just as one shelf; but offer 3 individual storage racks. Thanks to this, you will never run short of the required storage space while maintaining the modern aesthetics in the bathroom.
5. Use Baskets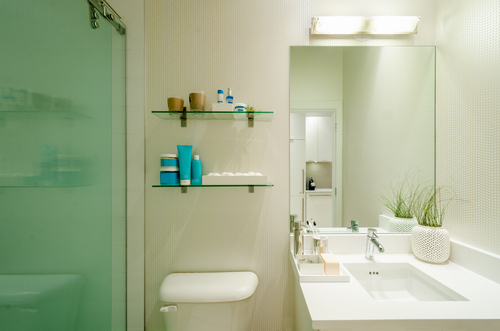 Baskets in the bathroom?? Well, yes, using baskets in the bathroom not just enhances the charm of the place but also offers enough storage space.
Depending on your bathroom size and space, you can obviously play around with the type and style of baskets. Moreover, you can also contrast the basket color with your bathroom wall color.
Quick tip – you should use multiple small baskets rather than one big basket. Properly stylishly arrange them to make them look attractive.
6. Magnetic Strips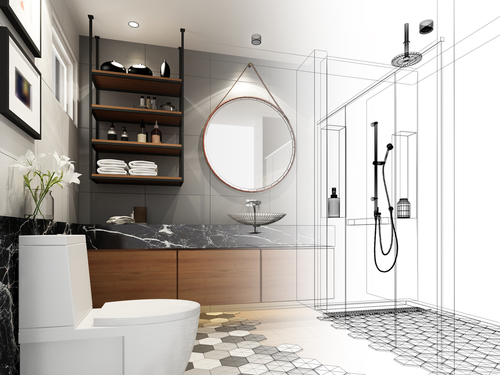 Are you bored of trying traditional and boring bathroom shelf design ideas? If yes, you should definitely opt for the magnetic strip idea.
These magnetic strips are one great addition to your bathroom as they effectively ensure maximum space management. Moreover, the use of technology in styling the bathroom is always a win-win situation. You can use these magnetic strips for your tweezers, brushes, hair dryers, etc., and to hold other items off the usual counter space.
7. Cabinet Shelves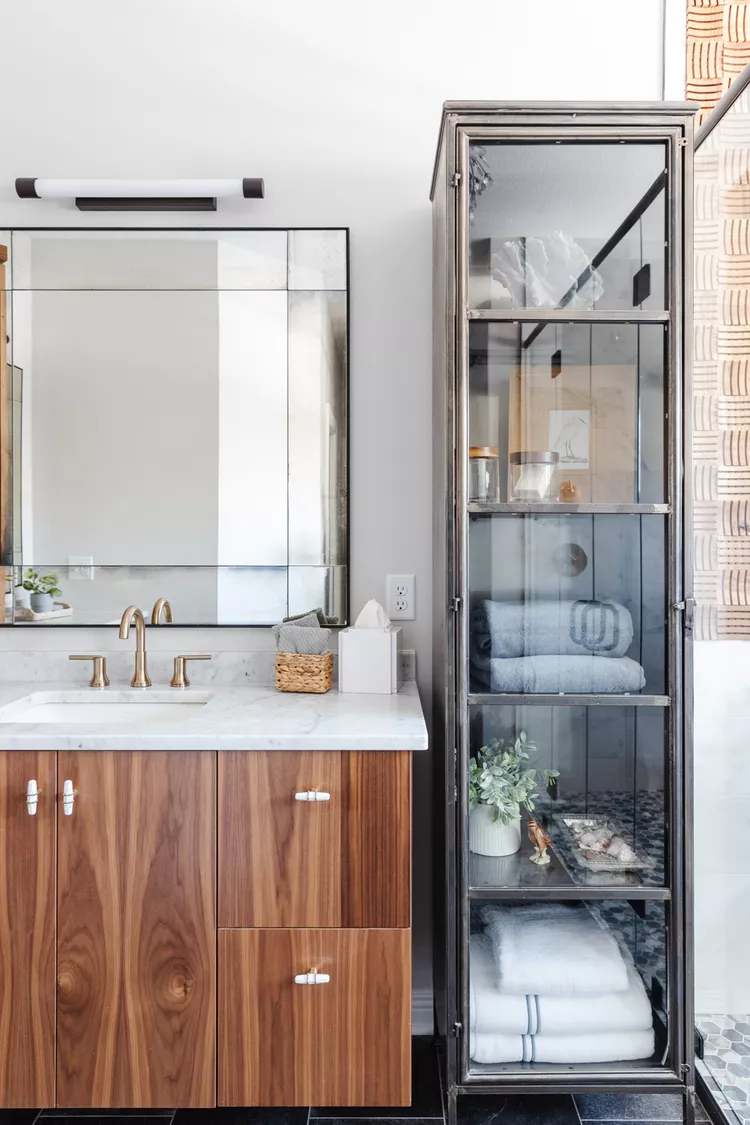 When you are planning to design your bathroom shelves, nothing can overpower a cabinet shelf. It is one of the obvious choices to make the bathroom stylish, functional, and attractive without any extra hassles.
You can choose from the trending and latest designs, like a glass door cabinet to display your luxurious towels, accessories, and toiletries beautifully. It is also a great way to contrast the color of the cabinet shelf with your bathroom wall.
8. Plant Décor Idea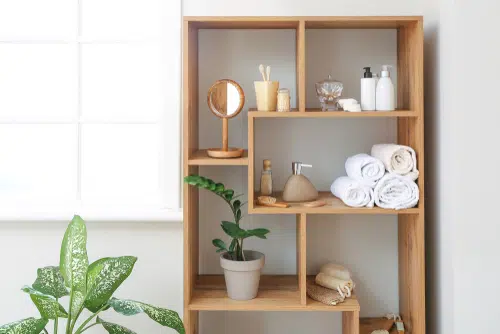 It is always an appealing bathroom shelf décor idea to have a plant surrounding the place. Needless to say, that plant attracts positive energy to its surroundings while making the place more lively and beautiful.
Moreover, as bathrooms are quite humid, they become a suitable place for many plants to thrive excellently. This idea also works in favor as it adds the required pop of color to the place while adding freshness and beauty.
9. Use Repeating Colors
As you plan to decorate your bathroom, you will surely find different colors in the same color family. Try to mix and match these colors to create an impactful bathroom presence. Rather than opting for one particular color, ensure using different color palettes in the bathroom.
Create a visual interest in your bathroom by playing around with colors. Additionally, the cohesive arrangement will also brighten the space. Make sure you are considering the overall color theme of your bathroom to use repetitive colors like a pro.
10. Less is More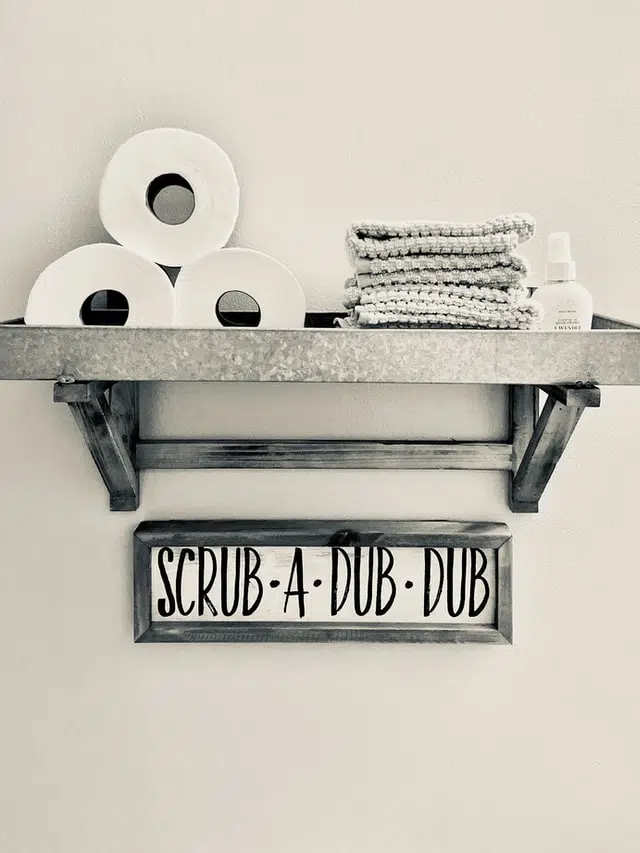 When you are thinking of experimenting with bathroom shelf décor ideas, keep the general 'less is more' rule in mind. Instead of storing everything and anything in the bathroom, it is always recommended to opt only for a few essential items.
Try to minimize the storage essentials in your bathroom, especially when you have limited storage space. You can try balancing the essential bathroom items on just a single shelf to avoid any clumsy appearance. As less is more, you will always have enough storage space for breathability in the bathroom.
11. Utilize the Available Window Ledge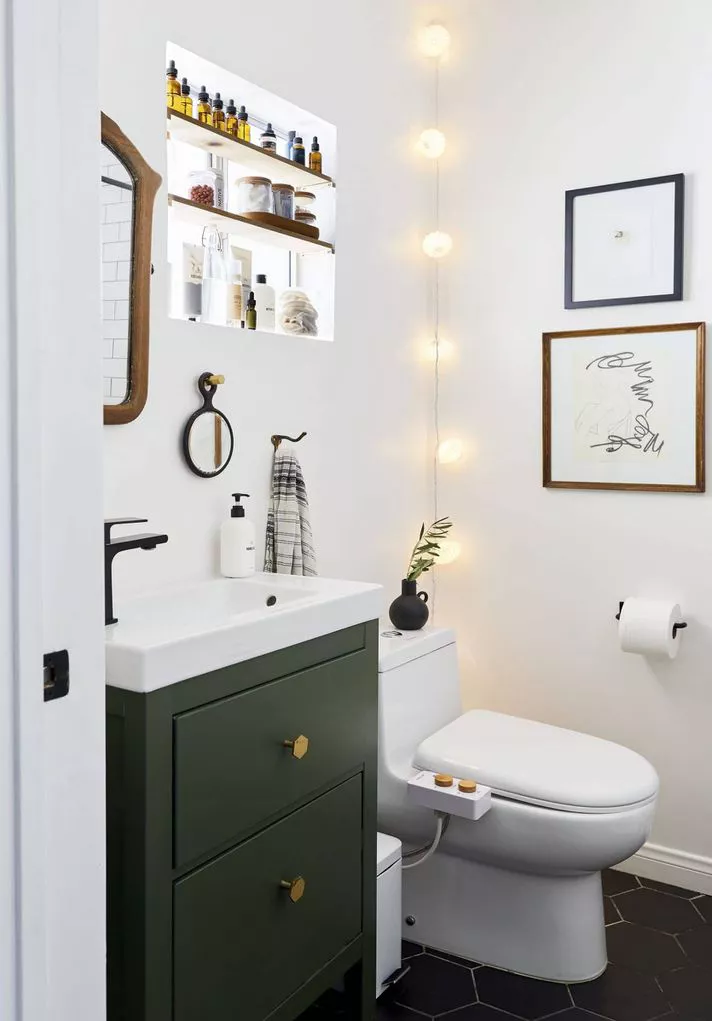 Other than the windowsill shelf, you can also utilize the available window ledge in your bathroom. Rather than just being a space for light, air, and freshness, you can also use your window ledge for storing essential bathroom items.
You can divide the available space by adding pretty glass shelves to accommodate some additional storage. There is an amazing variety of glass shelves available in the market to have according to your bathroom space.
12. Trust an Alcove Shelf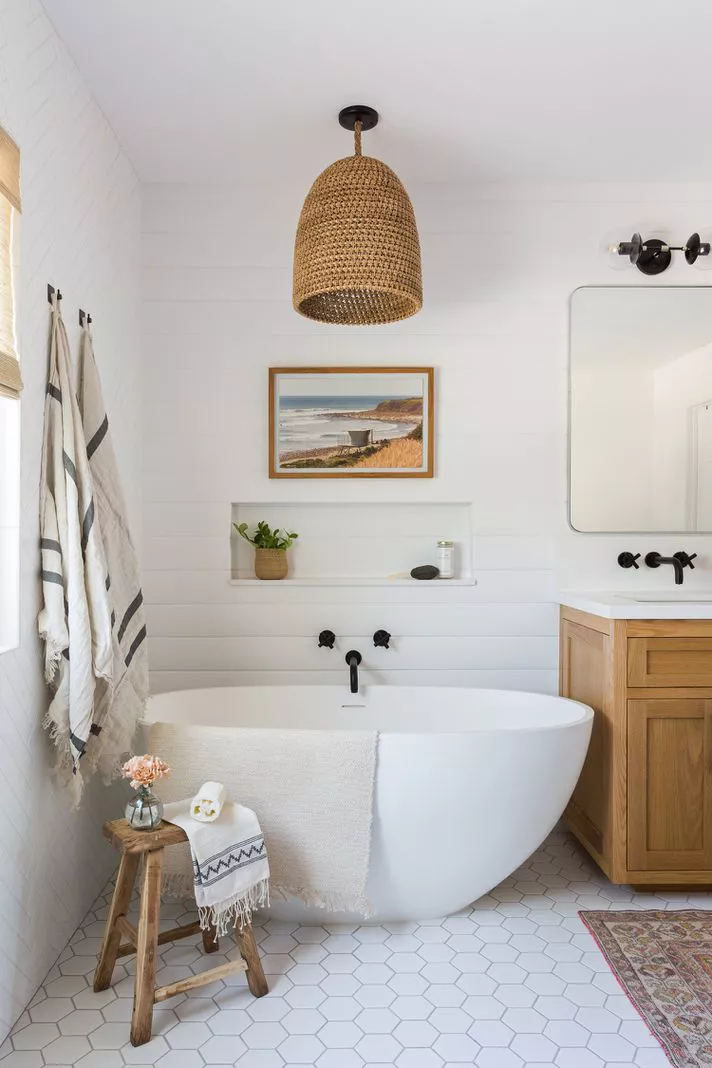 An alcove shelf has made its place in many bathroom shelf décor renovation ideas. This shelf type not just looks beautiful and elegant but ensures the best utilization of the available space. Thanks to the alcove shelf, you don't need any other additional shelves in your bathroom.
However, you should be careful to have the alcove shelf at the right location. Make sure the shelf offers quick and instant access to all the essentialities without any hassles.
13. Accessories a Shelf Painting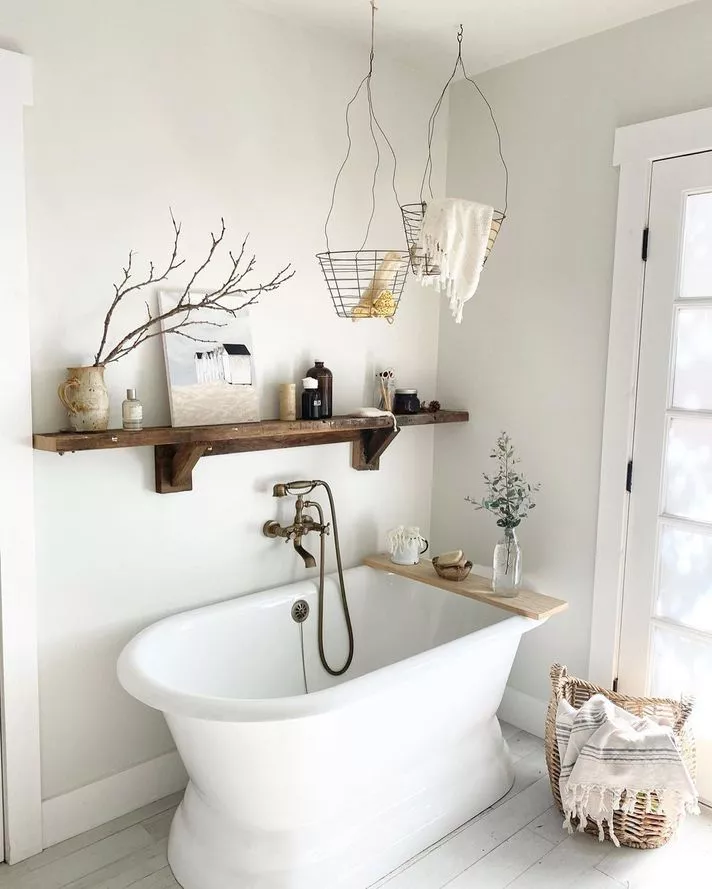 Ever imagined accessorizing your bathroom shelf with an interesting painting? Well, if not until now, it is certainly the time. Most decor experts prefer adding a scenic painting in the bathroom to enhance the overall charm.
It makes a visually attractive idea to have a painting on your bathroom shelf. You can use any painting that you relate to the most. However, you should avoid putting too many paintings on the wall as it can ruin the overall vibe of the place.
14. Mirrors on the Shelf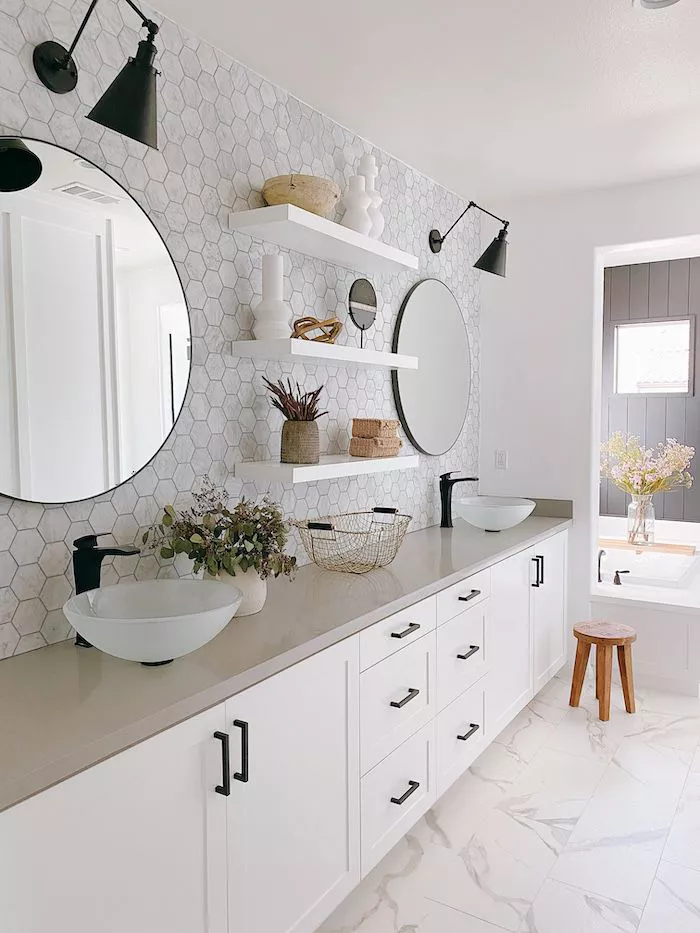 Gone are the days when mirrors were used just on the walls. It is the time when putting mirrors on the bathroom shelf is seen as one of the creative bathroom shelf décor ideas. Mirror just adds a beautiful contrast to the place that is simply hard to resist.
You can play with the shapes and sizes of the mirrors depending on your preferences and available space. It is suggested to use small and big mirrors to catch everyone's attention instantly.
15. Cubby Shelves
If you have alcove shelves that serve no defined purpose, consider yourself lucky. Yes, you read that right!
You can easily convert them into cubby shelves. Cubby shelves are extremely popular in bathrooms that have an awkward build and interiors. Rather than presenting them as sinking dark holes, you can innovate them as bathroom shelves.
Moreover, you can get over the hassles of fitting or installing the shelves in the places. You can use the space to store bathroom towels, essentials, bathing products, etc.
16. Oversized Shelves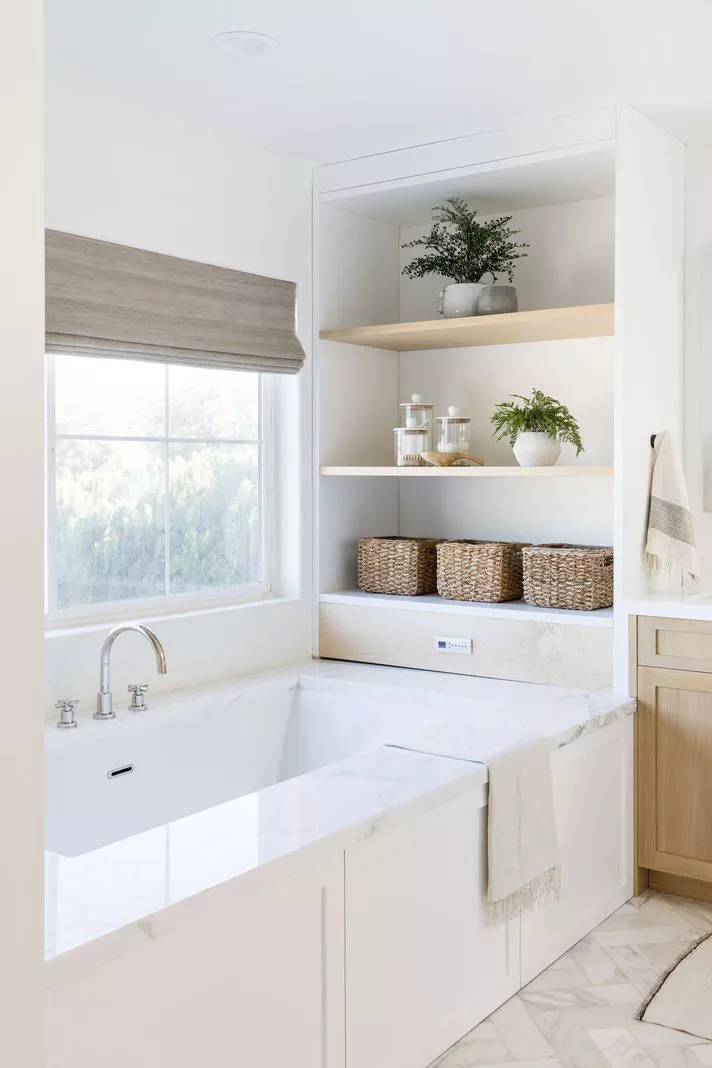 While many consider less is more, we say bigger is always better. If you are planning to customize your bathroom shelves, it is time to make them bigger and oversized. It can be said that oversized shelves are the latest and trending bathroom shelf décor ideas.
Thanks to their extra size, the oversized bathroom shelves can easily store anything to everything. You can store all your bathroom essentials, like towels, toiletries, skincare, haircare, etc., in just one place. What could be a better idea than to have oversized bathroom shelves that can accommodate everything very easily?
17. Glass Jars and Color-Coordinated Decor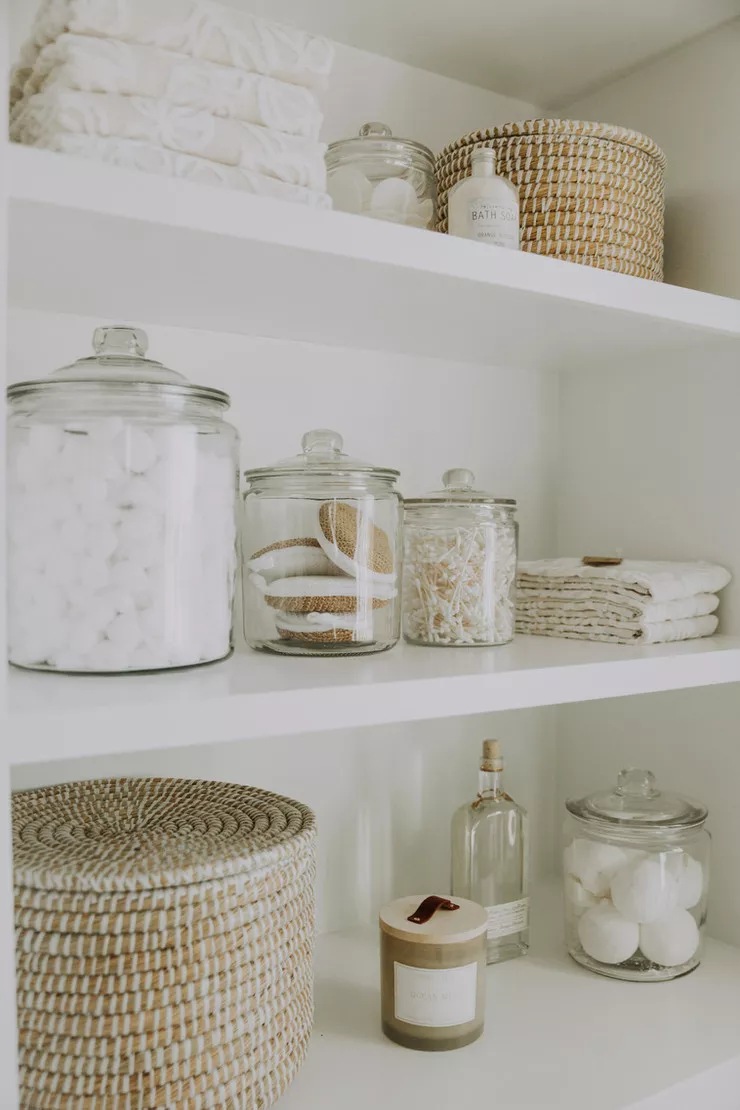 It makes no sense to plan your bathroom shelf décor if it isn't in a curated manner. Curated bathroom shelf decor is one of the finest of all times. The aesthetic arrangement of décor items glams up the entire space to attract all eyes instantly.
You can make use of glass jars to store the essential items along with color-coordinated items like towels, sheets, etc. The color-coordinated bathroom shelf is always a preferred choice to wow your guest without putting in any extra effort.
18. Make Space for Candles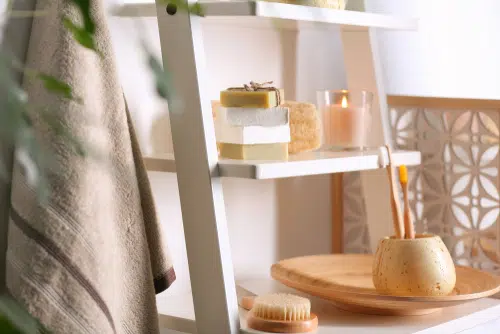 Simply imagine a refreshing and nice-smelling bathroom to relax in. Using candles in your bathroom can make it an escape place from all worldly worries and, thus, is preferred as a bathroom shelf décor idea. Putting a scented candle on your bathroom shelf can maximize its potential to keep you relaxed.
The soothing scent of the candle not just enhances the aroma of the bathroom but also covers any unpleasant smell. Thus, it makes your bathroom ready for your next relaxing bath. You can try different scented candles which you like the most to enjoy your bath like never before.
19. Shelf Drawers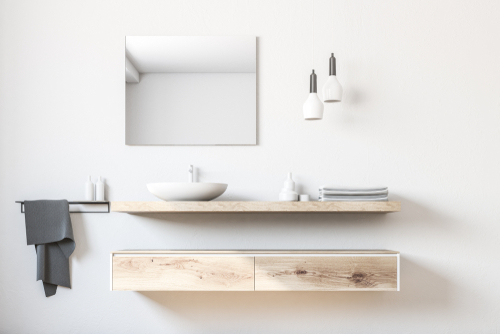 Wouldn't it be great to have a shelf with drawers in your bathroom? Well, the idea of shelf drawers is very economical and cost-effective for small bathrooms. They make your bathroom look aesthetic, along with maximizing the storage space.
You can keep as many things as you want in the drawers. Thanks to this whole idea, you can keep your bathroom clean and tidy without any mess and clumsiness. Depending on your available space, you can play around with the size and shape of the shelf drawers.
20. Decorate with a Quote Frame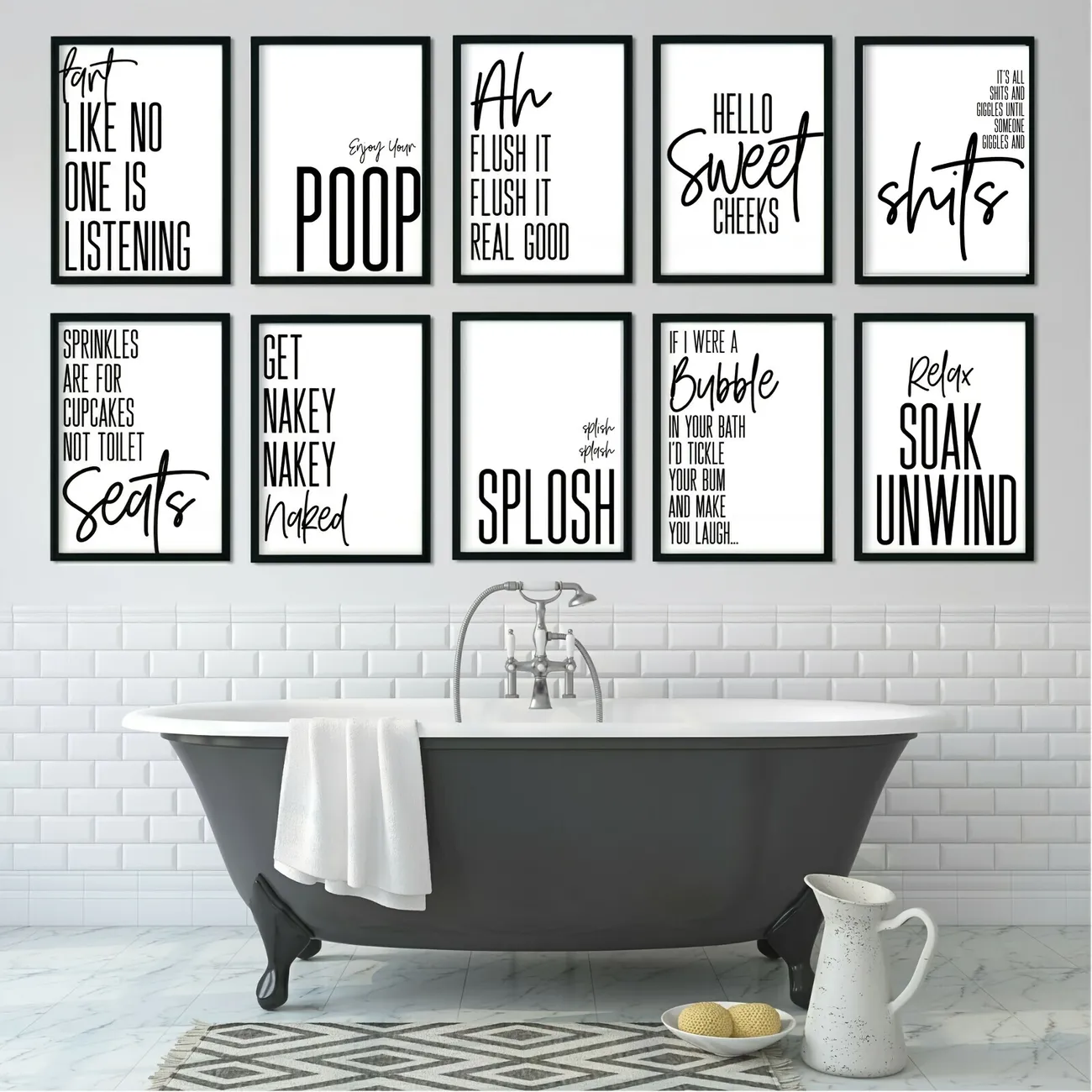 Do you still consider the bathroom as a serious and quiet place? It is time to break that myth. There is no defined rule to consider the bathroom as a serious place; rather, you can make it a loving and interesting place.
How? Simply by decorating it with a nice and inspiring quotation frame.
Putting a nice quotation frame is one appealing bathroom shelf décor idea. You can use any quote that makes the most sense to you. Additionally, you can experiment with the color theme of the quote frame and the bathroom walls.
21. Group the Items Together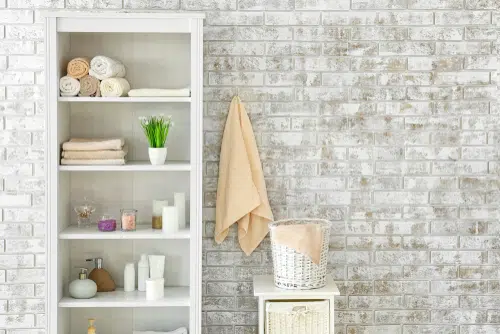 Last but not least, think and implement grouping the bathroom items together. This is one of the simplest ways of organizing your bathroom shelves without any complications or hassles. As you organize your bathroom shelves, you can combine the required items and maintain enough space between similar items.
Grouping similar items together not only organizes them better but also reduces the risk of mess and disorganization. Moreover, thanks to this method, you can quickly find the required items. You can further restock the items that get used in the bathroom.
How to Make Your Bathroom Shelves Look Cool?
Fortunately, it is not difficult to make your bathroom shelves look cool. All it takes is to decorate them with innovative and creative thoughts. For instance – you can use vintage items for your bathroom shelf décor idea.
Also, you should make sure to maintain the required balance between the different shapes and styles of the bathroom shelves for maximum attraction. In simple words, your bathroom décor should reflect your personality while impressing your guests with its spark.
Guide to Choose the Best Bathroom Shelves
When it comes to designing your bathroom, one of the most important needs is to have amazing bathroom shelf décor ideas. If done right, the bathroom shelves can beautifully enhance the place while adding to the required storage.
However, it can be confusing to choose the most suitable bathroom shelf. If you, too, are dealing with any confusion, here are some of the factors to consider:
1. Evaluate the Available Space
Before finalizing any bathroom shelf, ensure to evaluate the available space in your bathroom. This will give a clear idea about the shape and size of the shelves you need in your bathroom. Take complete measurements of the bathroom, including any obstacle that might affect the shelf design.
2. Analyze Your Storage Needs
The next thing to focus on while deciding on the bathroom décor is analyzing the storage needs. What are the things you need to store? How much storage will you need for the stuff? Do you need any additional storage cabinets?
These are some of the important questions to ask before finalizing your bathroom cabinet. Make a list of the storage items to choose the right storage bathroom shelf carefully.
3. Look into the shelf material
If you want your bathroom shelf to last maximum, you should look into the material used. Ensure to choose a material that offers the maximum usability, reliability, and style. You can choose between – glass, wood, plastic, and metal for your bathroom shelves.
4. Aesthetic Style
As you choose the bathroom shelf décor, be considerate of the overall aesthetics of your place. Your bathroom should look like a part of your place and also should stand out with its interiors. Let the shelves enhance the overall ambiance of your bathroom.
5. Stability and Installation
It is always recommended to choose a bathroom shelf that is stable and easy to install. A shelf should be convenient to offer an easy installation rather than complicating things. Choose a shelf that you can install by yourself; without any external help.
6. Maintenance
Once the bathroom shelves are installed, they should be cleaned and maintained frequently. Thus, you should consider shelves that are easy to clean and reuse without any hassles. Opt for shelves that are water and stain resistant to ensure their long-lasting use.
7. Reviews and Recommendations
Lastly, before you make the final decision concerning the bathroom shelves, you must consider the available reviews and recommendations. The available reviews will give a clear and transparent idea about the usability, authentication, and quality of the shelves.
You can get sure about the overall experience of other existing customers and their satisfaction level. 
Final Thoughts
Irrespective of your bathroom size and shape, organizing the shelves is one of the essential requirements. Trying the different innovative bathroom shelf décor ideas keeps the place well-organized and comfortable for use. It further helps to relax while using the bathroom.
Every bathroom shelf is not the same; thus, you can combine creative bathroom shelf décor inspirations. By carefully planning and decorating the bathroom shelves, you can enhance the overall aura while decorating your bathroom.
For any more inspiring ideas for bathroom shelf décor, you can write to us in the comment section. You can also share some of your innovative ideas for bathroom shelf décor. 
Frequently Asked Questions
How to Make the Best Use of The Available Bathroom Space?
It is quite easy to make the best use of the bathroom space by adding the required number of shelves. Just by adding some shelves and using the bathroom shelf décor ideas, you can enhance the vibe of the place.
Can You Have a Shelf Under the Sink Area?
Yes, it is possible to have a shelf under the sink area. However, you should make sure that you have enough space to build a shelf at the respective place. You can optimize the available space with either a closed shelf or an open shelf.
How to Install a Secret Storage Cabinet in The Bathroom?
If you wish to have a secret bathroom storage cabinet, you can go for the full-length mirror cabinets. These cabinets are ideal for storing (or hiding) your stuff and giving you the luxury of amazing mirror décor.
How Can You Store Tiny Bathroom Items?
Well, one of the best bathroom shelf décor ideas for storing small bathroom items is by using baskets, trays, jars, etc. on the shelf. You can organize these small items depending on the availability of your space and your need. Use either one big container or use several small containers for individual storage.
How to Easily Store the Bathroom Towels?
Bathroom towels can be stored either on a cabinet shelf or a shelf ladder. Both options are truly amazing and contribute to enhancing the beauty and comfort of your bathroom.