Top 21 Black Siding House Ideas You Need to Know
The look of the house is not only decided by the beautiful interior but also by its exterior. It doesn't matter how beautiful the interior of the house is; if the exterior of the house is not appealing.
If you do not have a good exterior, then the impression of the house will decline. The exterior of the house also imparts strength to the structure, so it should be designed according to the strength parameters.
Hence, you should plan the exterior of the house carefully so that its appearance, as well as its strength, are maintained at the same time. To give your house a bold look, you can consider black siding houses, as these are currently in trend. Many people have ditched the common colors and have switched to black exterior walls.
If you are also planning to opt for the black siding house, then, to assist you with the same, here are a few ideas.
1. Complete Black Siding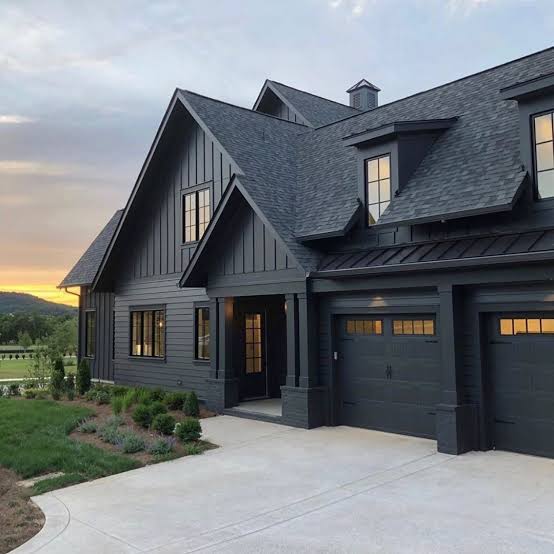 You can opt for complete black-colored siding for your house to achieve a monochromatic and bold look. Black color is gaining a lot of importance nowadays, and it will give a modern outlook to your house. So people who are in love with adding darker shades can also go for a monochromatic black siding house.
Pros: Complete black siding walls will create an illusion of bigger walls; hence people who have small houses can consider this to make their houses look large.
Cons: Black is a dark color; hence it will absorb a lot of light, so if you are living in a hot region, then you should think twice before opting for black color as it will increase the temperature of the house.
2. Black Siding Walls for Scavadian House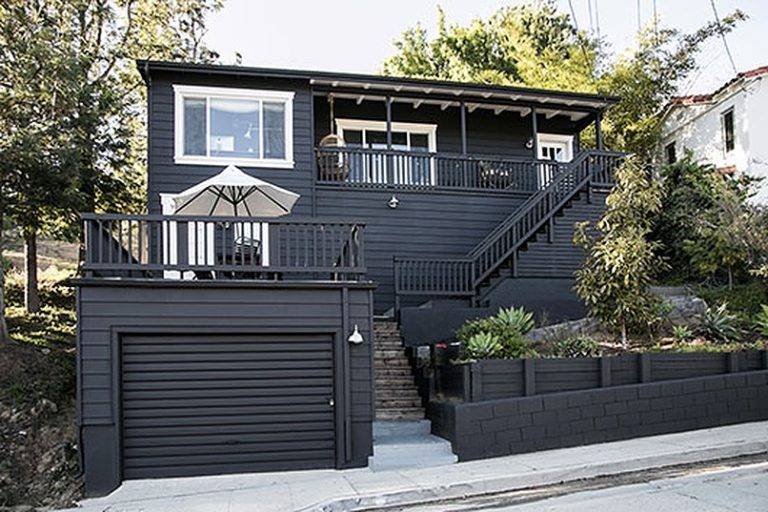 To get a chic look for your Scavadian house, you can choose black siding walls. They will give the house a modern look. They will also help in achieving a minimalistic look for the exterior of the house. The white windows are also complementing the black siding walls. In addition to this, the overall appearance achieved is lightweight.
Pros: The black side walls make the house attractive and noticeable
Cons: It is not suitable for areas with a warm climate as it will increase the temperature of the area.
3. Wooden Black Siding House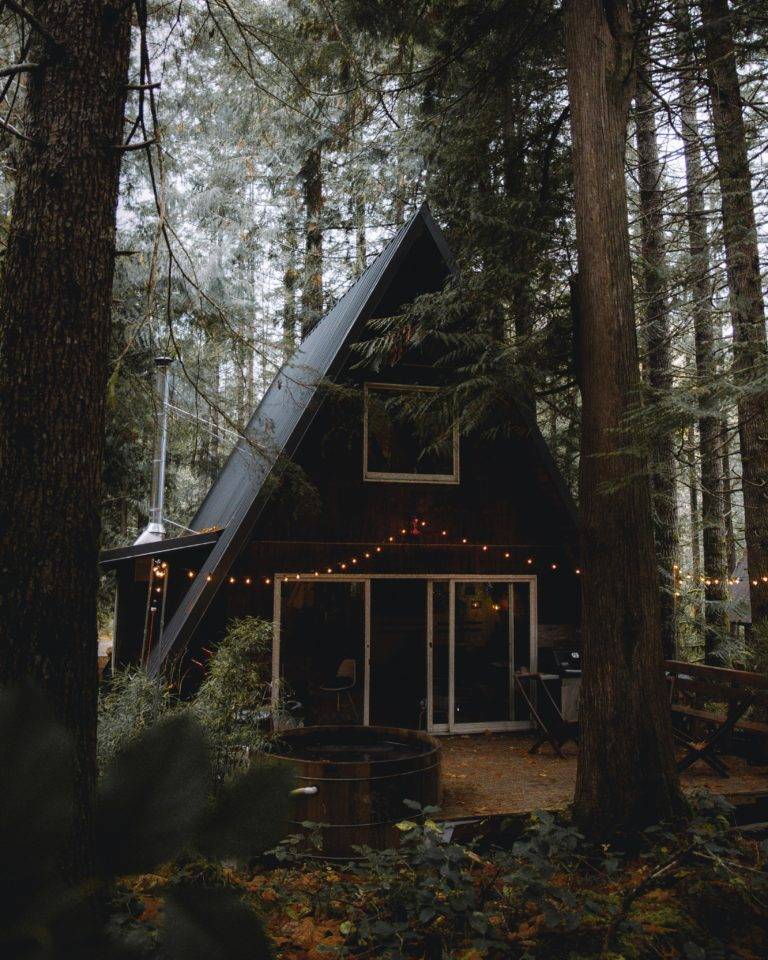 Wooden walls are popular because of the durability they possess. Wooden exterior walls are an innovative way to upgrade the exterior of the house. They give the house a rustic appearance. By painting them black, you can achieve a totally new look while you can still enjoy the advantages of wooden exterior siding. There are various kinds of wood available from which you can select the best one for your house.
Pros: Wood is a good insulating material for your house and will keep the house cool in summer and warm in winter. It is also highly durable.
Cons: Black color tends to fade away due to water, so you need to provide some extra coating to prevent fading of the black color.
4. Vinyl Siding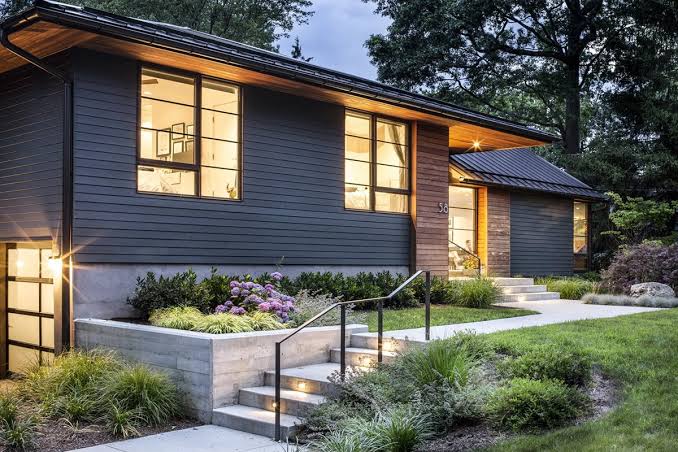 Vinyl siding basically refers to a kind of plastic that has been used for the exterior walls of houses. Vinyl siding is budget-friendly and an option that needs to be considered for the black siding house. It is lightweight and offers variety to the customer. It requires the least maintenance in comparison to other options.
Pros: They are cost-effective. In comparison to the bricks, they are cheap and budget-friendly.
Cons: The installation process of vinyl siding needs to be done with careful consideration, as a single mistake can lead to the collapse of the siding.
5. Board and Batten Black House Siding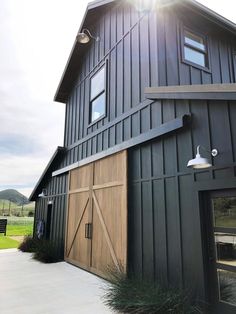 Board and batten walls can not only be used to elevate the interior of the house but can also elevate the outlook of the exterior of the house. Many people have used board and batten black siding walls in their houses to create a significant impact, and they have successfully achieved it. These walls look extremely appealing, even on the exterior of the house.
Pros: They enhance the aesthetic beauty of the exterior and are durable. They are versatile and weather resistant.
Cons: They are expensive and take more time to install. They also won't look good for a small house.
6. Aluminium siding house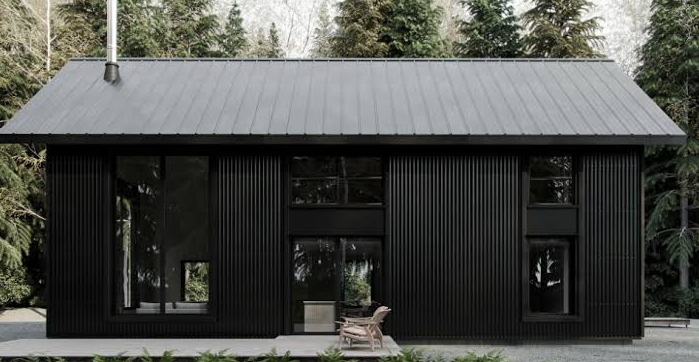 If you are looking for a long-lasting black siding wall idea, then aluminum material would be the best for you. These walls can serve for more than fifty years and also look aesthetically appealing. These walls were very popular during the ancient time because of the look that they gave to the house. Aluminum is also an environmentally friendly metal.
Pros: Aluminium is a durable material. It requires low maintenance and is energy efficient. It also is safe from rotting.
Cons: Painting aluminum surfaces isn't an easy task. Neither can you use oil-based paints to paint the aluminum wall.
7. Fibre Cement Side Walls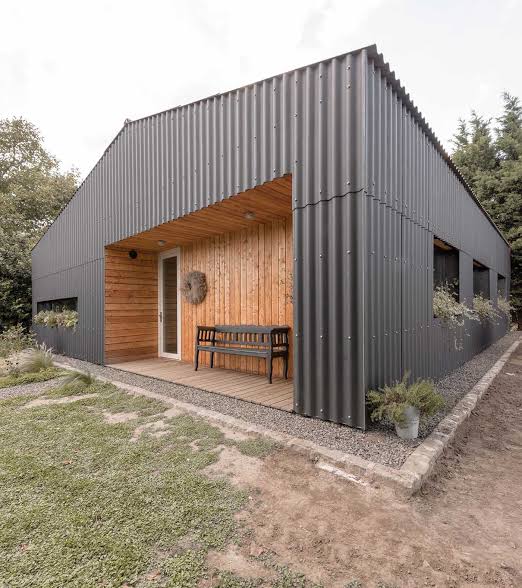 Fiber cement side walls are an alternative to wood that has a better appearance than wood and is more durable at the same time. It offers a lot of options so you can achieve the desired look for your house using fiber cement. Using black siding walls made of fiber cement will also give a unique outlook to your house.
Pros: Fiber cement side walls have a very appealing look. They can be customized into various colors and patterns as per the user's requirement.
Cons: Installation of fiber cement walls is a tedious process. It requires repainting frequently, so maintenance of the walls, especially the siding walls.
8. Horizontal Metal Siding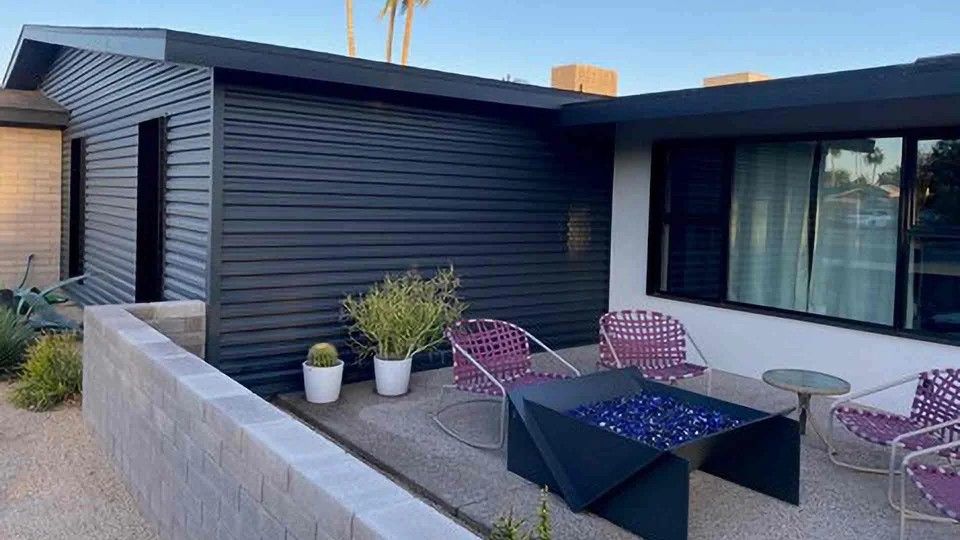 The choice of the material does not alone decide the look of the house. The patterns of the black siding walls also play an equally important role. The horizontal black siding walls increase the aesthetic beauty of the house. In addition to this, they are more attractive also in comparison to the other patterns.
Pros: They have a better appearance than the other patterns and are easy to install.
Cons: Cleaning the horizontal walls is difficult, especially the removal of water. You should prevent water seepage else it will corrode the material.
9. Composite Siding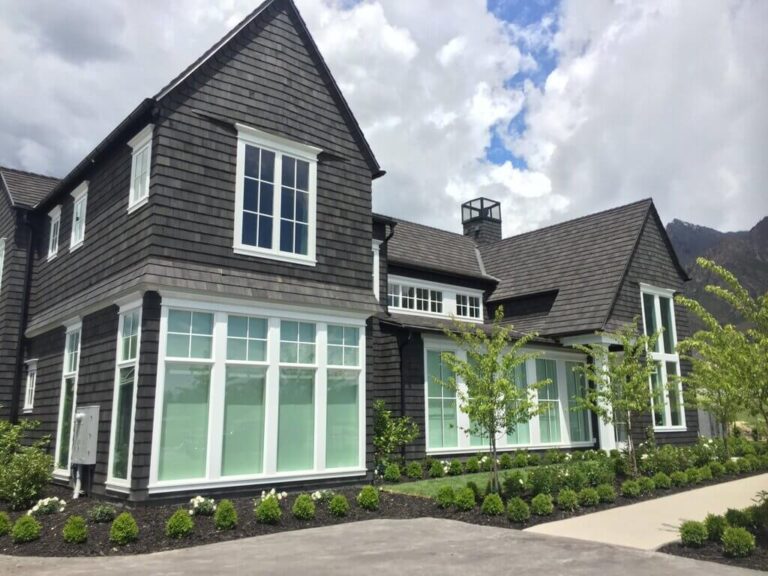 Composite siding, as the name suggests, includes using more than two materials to get the final product. The main material is wood that is combined with raisins and further treated with chemicals to prevent the attack of moisture, fungi, or any kind of pests. It has excellent insulator properties and can be used in place of vinyl siding.
Pros: Composite black siding house is a budget-friendly option. You can either customize the required design or choose from a large variety of options available.
Cons: They need repainting frequently and can develop cracking or buckling. They are not suitable for houses built in fire-prone areas.
10. Black Siding House Made of Bricks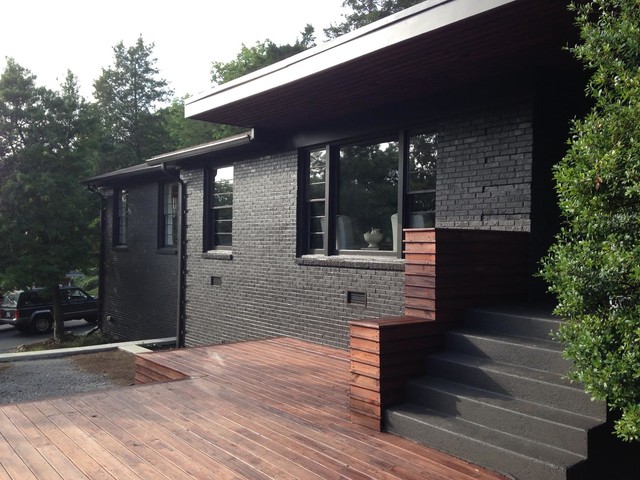 Bricks are the most commonly used material to build houses since ancient times. The strength imparted by bricks can't be compared with any other material. You can either build a new black siding wall with bricks for the new house or repaint the existing brick wall in black to add a bold touch to your house.
Pros: Brick siding walls have unmatchable strength. They have high durability and are safe from insects or pests. They remain unaffected by the weather also.
Cons: Brick walls have high strength, but painting them especially black makes them prone to be repainted as the color might get washed away during the rain.
11. Black In Combination with White Siding Walls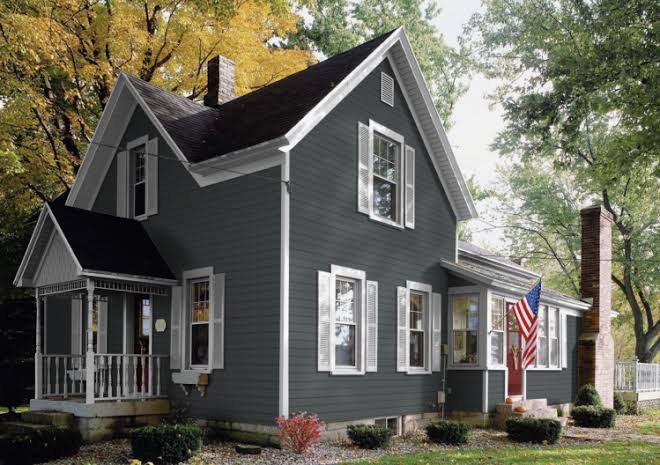 It isn't necessary to paint the whole wall black. You can add other colors as well to get a unique look, especially white. Black and white combinations always give an entirely new look. You can paint the walls black and the other trims white and the look that will be obtained would be definitely eye captivating.
Pros: Black and white siding houses will give a contemporary look to the house and will set it apart from entire black siding houses. You have more options for customizing black and white siding houses in comparison to simple black siding houses.
Cons: There are no particular drawbacks to black and white siding walls. However, you need to be a little careful of the final look in advance so that you do not end up wasting your money.
12. Metal Black Siding House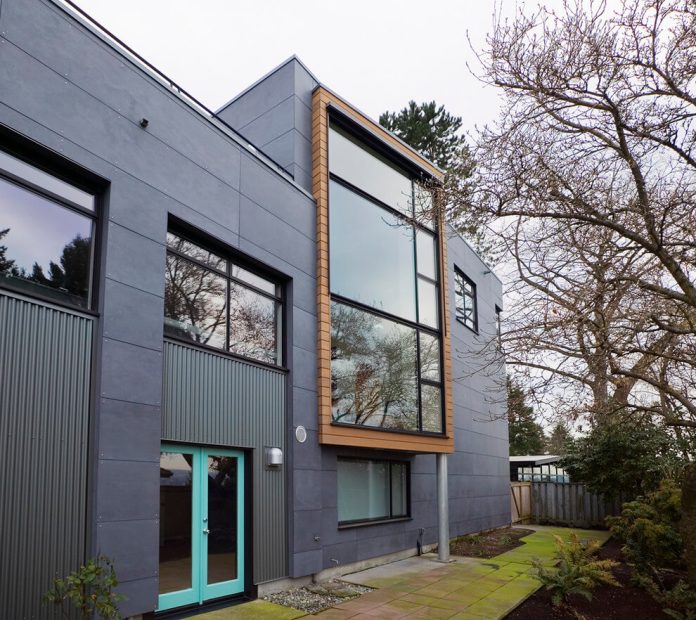 Steel black siding house is a versatile option that offers you various designs and patterns for your exterior. You would be surprised to know that it is not a recent discovery. Rather, steel sidings have been used for many years to enhance the beauty of the house. It has a smooth appearance, and the final look is really amazing. They have low maintenance and are environment friendly.
Pros: They have insulating properties and are eco-friendly. In addition to this, metal black siding houses are more durable and fire resistant also.
Cons: It is very expensive, the installation process isn't easy, and it is also heavy. It needs to be dealt with safely because if banged against any heavy vehicle, it can develop dents.
13. Vertical Black Siding Houses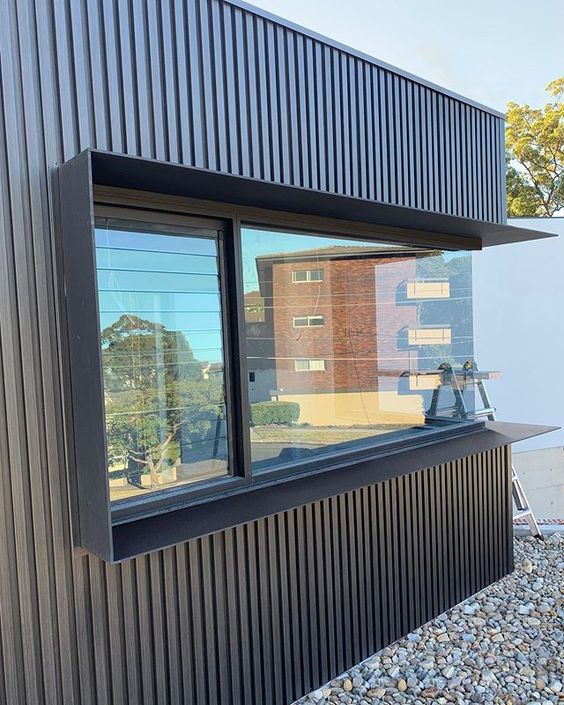 If you want to experiment with the design of a black wall to give it a different flow, then you will go for the vertical pattern. The vertical pattern has recently become very popular because it adds a modern touch to the house. They can be easily cleaned in comparison to the horizontal siding house.
Pros: They are easier to clean in comparison to horizontal siding walls. They can be built in areas where the exterior walls are exposed to a lot of water.
Cons: They aren't the perfect choice if you want to achieve a traditional look for your house.
14. Stone Black Siding House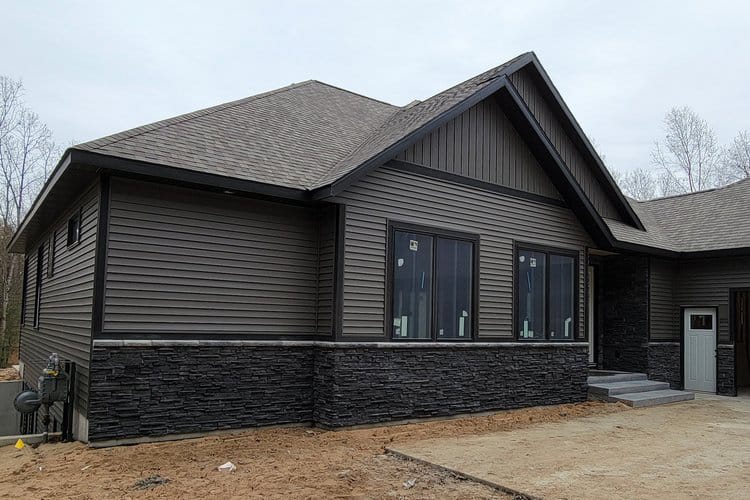 Stone-black siding houses are an innovative way to stand out from the crowd and do something different. They have a very aesthetic appearance, and the finishing looks quite eye captivating. The best thing about stone siding is that it won't require any maintenance throughout its lifetime. Moreover, stones are also resistant to fire and moisture and can withstand any natural threat.
Pros: The appearance is highly aesthetic. Stone is very durable and resistant to fire, pests, termites, etc.
Cons: The biggest disadvantage of stone siding is that it is the most expensive option out of all the others available. So if you are looking for a budget-friendly option, then stone siding is not meant for you.
15. Engineering Wood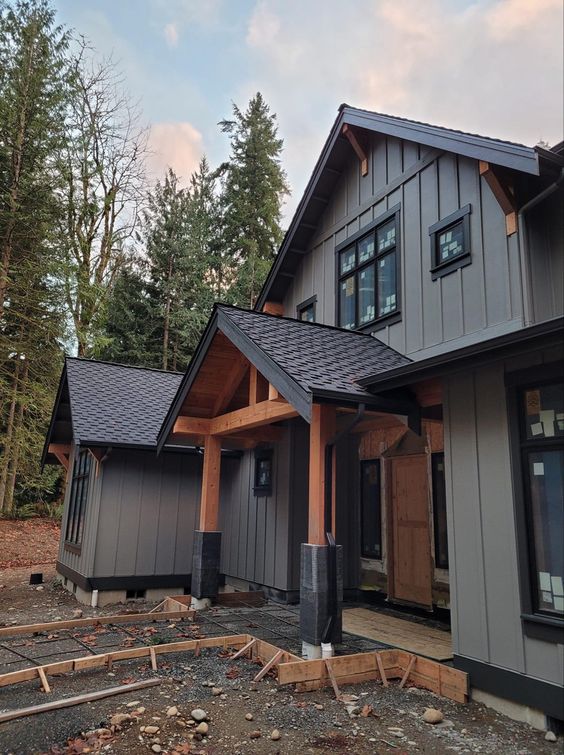 Engineering wood is different from traditional wood. It is thinner as compared to traditional wood and has several benefits in comparison to the traditional wood when constructing the exterior walls of the house. In the process of making engineering wood, the thin planks of wood are treated with a certain kind of raisins to make them more durable.
Pros: These siding walls will be more durable than traditional wood, but the appearance will be similar to the traditional one. It is also less expensive than the traditional wood.
Cons: They are prone to moisture, insects, pests, etc., so maintenance is required timely to prevent their rotting. You also need to paint them frequently as the color might fade after a few years.
16. Veneer Stone Siding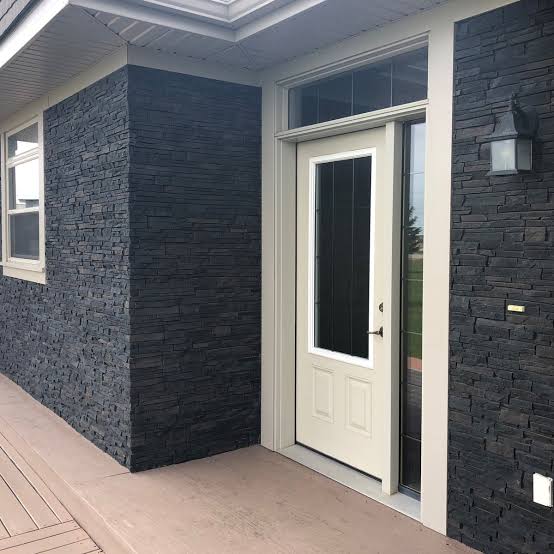 The black stone siding house is a replica of the stone siding. The only differences are that they do not use heavy stones during construction. Rather, it is a mixture of materials like cement and aggregates of various sizes mixed with adhesives to hold the materials together. They also have a classic appearance and will give a contemporary look to the house.
Pros: It is less expensive than stones for people who want to imitate the look of stones but also want to go for a budget-friendly alternative and consider stone veneer siding.
Cons: Though veneer stone siding is less expensive than stones, it is still more expensive than other options. The installation process of veneer siding is very complicated.
17. Tile Black House Siding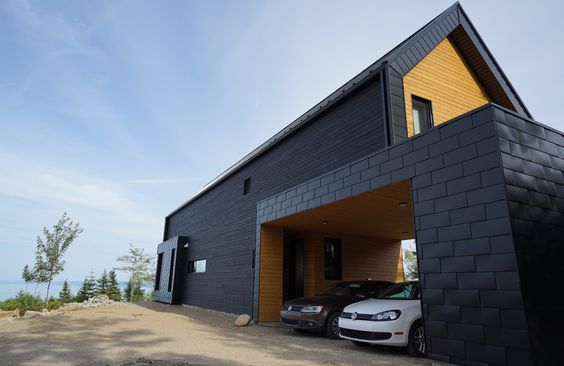 Nowadays, the use of tiles is not only limited to the floors or the interior walls but they can also be used for the siding. Tiles offer versatility as there are a lot of patterns and designs available for the tile siding. Tiles require low maintenance and can be cleaned easily.
Pros: The best advantage of tiles is that the color won't fade easily. Therefore, the shine of the house will remain the same for a long period.
Cons: The selection of adequate strong and durable tiles to be placed on the exterior should be made with careful consideration, or else the whole procedure will end up being a waste of money.
18. Combination of Various Shades of Black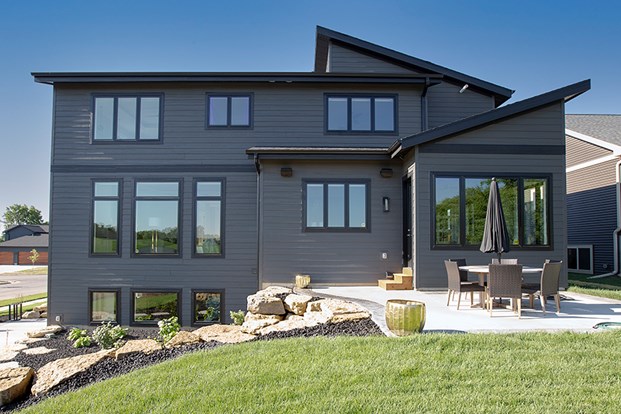 If you want just to give a tint of black to your siding wall, then you can consider this siding wall which only uses black color in the trim, but the color has its impact on the exterior of the wall. Recently, white walls with black trim have gained a lot of popularity because of the appearance they have.
Pros: They look aesthetically appealing. It will add a modern touch to your house, and the final touches would be appreciable.
Cons: It won't be a good idea for people who are looking for a bold look for their house as though it will highlight the look of the house, but a completely bold look won't be ensured.
19. White Siding with Black Trim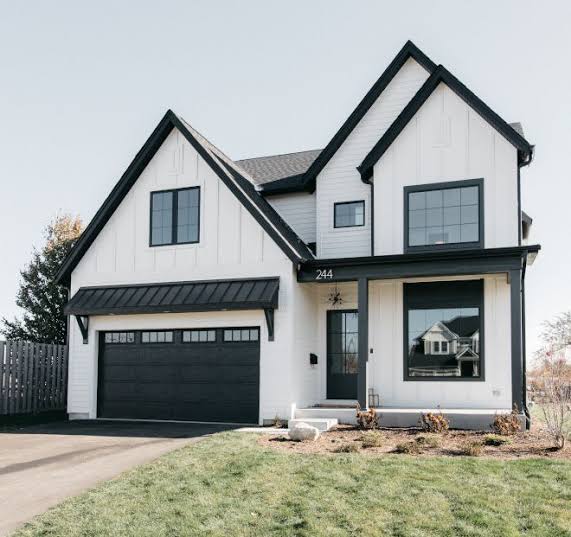 It isn't necessary that you should paint the whole wall black in a single way to elevate the pattern of your black siding house by painting the trim with a darker shade of black and painting the walls with a light one. This will create a different design as compared to the whole black and would look nice when the final look has been achieved.
Pros: With the help of two different shades of black would be able to create a visual impact, and it looks better than opting for a single shade.
Cons: The selection of the shades should be done carefully. You should have a brief idea about the look you want to give to your house and then only finalize the colors. Else you would be wasting money.
20. Black Siding House with Brown Doors
If you want to achieve a contemporary look, then instead of going all black, you can consider painting the walls black and the wooden doors and windows with brown color. It looks more appealing than and would catch more attention also. The look achieved is truly eye captivating and also gives a modern touch to the house.
Pros: The final look is even better than the monochromatic black look. You also get a chance to experiment with the color combinations.
Cons: This idea won't be fruitful for people who do not want to give a touch of a rustic look to their house.
21. Concrete Black Siding House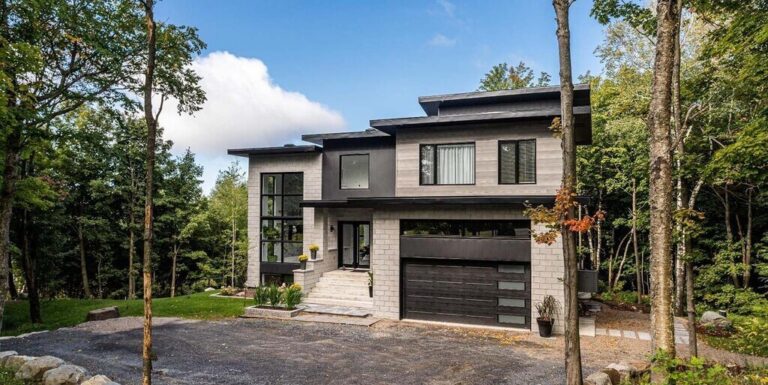 Concrete can be considered while making the exterior walls. It is less expensive in comparison to various other siding options. The installation process of concrete walls is also not difficult, and generally, it takes only a few hours to get the process complete. When opting for darker shades, concrete can be helpful as the color won't fade away easily on the concrete walls.
Pros: Color doesn't fade away easily, so they generally require less maintenance, and these sidings are safe from insects, pests, etc.
Cons: It won't have a smooth finish like metal siding, so if you are looking for a very smooth appearance, then concrete siding is not meant for you.
Conclusion
Above are a few ideas that can be incorporated while opting for the black siding house. Many people might think that black color does not hold the power to create a unique design.
But this isn't true. Nowadays, black color has been used a lot in the exterior as well as the interiors, and the look that is achieved is appreciable. The black color adds a modern and luxurious look to the house. It is no longer considered a boring color.
You can experiment with the material that you want to select for the black siding house. There are a lot of options available, like wood, stones, bricks, engineering wood, vinyl siding, etc.
You can select the desired material as per the budget and the required look you want to achieve. The selection of the proper material and color combination will give your house a unique and desirable appeal.