The farmhouse-style decor is a popular choice among designers because it combines rustic appeal with a modern, warm ambiance. This is the design concept that is inspired by rural and traditional farmhouses, resulting in a setting that evokes nostalgia, simplicity, and warmth.
Are you considering half-wall paneling? A half-paneled wall is a visually appealing, functional, and versatile design choice that can add drama to a bland room. Going farmhouse style for a half-paneled wall is an excellent option because it offers a varied style that is simple to install in your home.
In this post, we'll take you on a stroll of 21 farmhouse half-wall paneling designs you won't want to miss. We will also discuss how to use complementary aspects like furniture, lighting, and decor to enhance the aesthetic.
Farmhouse Half-Wall Panelling Ideas You Need
A great-looking room has ideal color, light, and decorative accent harmony. Let's start with a list of half-wall paneling ideas that are ideal for your desired space, whether it's your bedroom or bathroom. Allow your imagination to run wild and become immersed in the beauty of basic farmhouse styles.
1. Vertical Shiplap Walls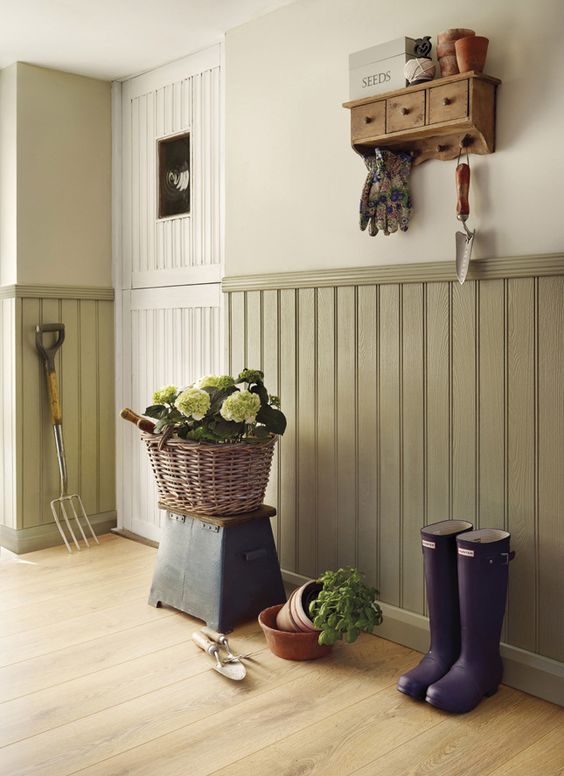 Traditional horizontal shiplap walls are well-known, but vertical shiplap adds a really interesting and unique feature to the wall. The vertical lines will draw the eye upward, giving the impression that the room is higher and more expansive. To create a peaceful environment, play around with different earthy tones. A jade green vertical shiplap half wall is mixed with off-white paint in this style, and rustic accents are incorporated with a basket, pot, and a key holder with storage space. With the addition of colorful flowers, this area is given an entirely fresh aspect.
[amazon box="B00JV2KJ90″]
2. A Touch of Luxury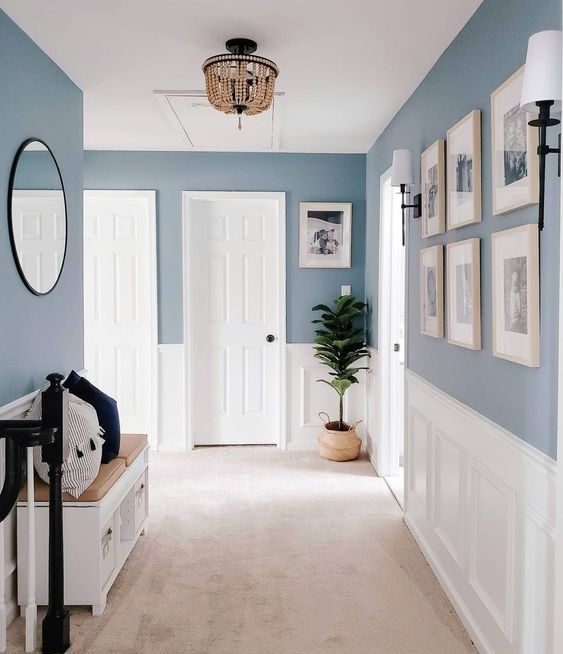 Do you want to add a touch of glamour to your home? Get inspired by this style and create a blue hallway wall with white half-wall wood paneling. Photo frames are used to create a gallery wall of memories. We love the beaded chandelier and tree on a wicker basket that stands calmly in the corner. The addition of black and white decorative pillows atop a bench with a built-in shelf on a farmhouse-style beige carpet makes the corridor appear cozier. The overall aesthetic is sure to impress your guests right away.
[amazon box="B0995W4P49″]
3. Blue Beadboard Half Wall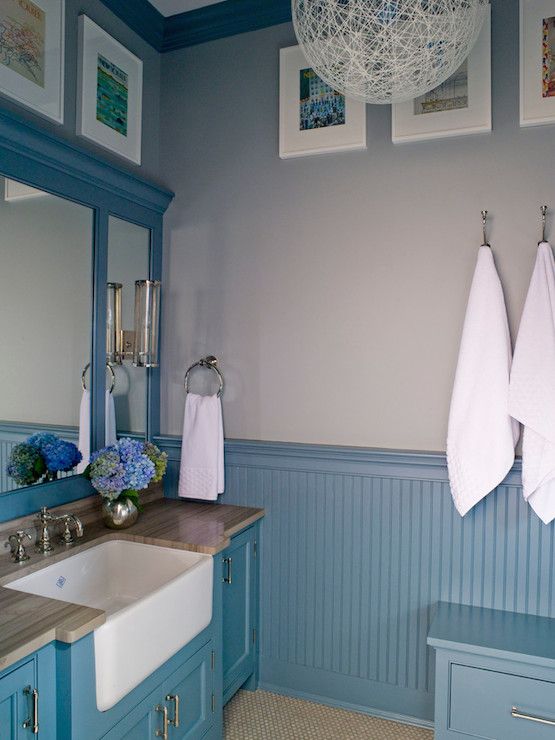 Revamp your bathroom to look super chic and coastal with a blue beadboard half wall. This is such a beautiful combination of delightful colors and the charm of beadboard with a soothing blue. A blue-grey coastal bathroom is created with Mooni random light hung over the half walls. The grey upper walls are studded with colorfully framed photography. We love the touch of hydrangeas, which is such a classic addition to coastal bathrooms. This decor style is very easy to pull off in a small bathroom to make it look refreshing.
[amazon box="B097G7MZFT"]
4. A Playful Look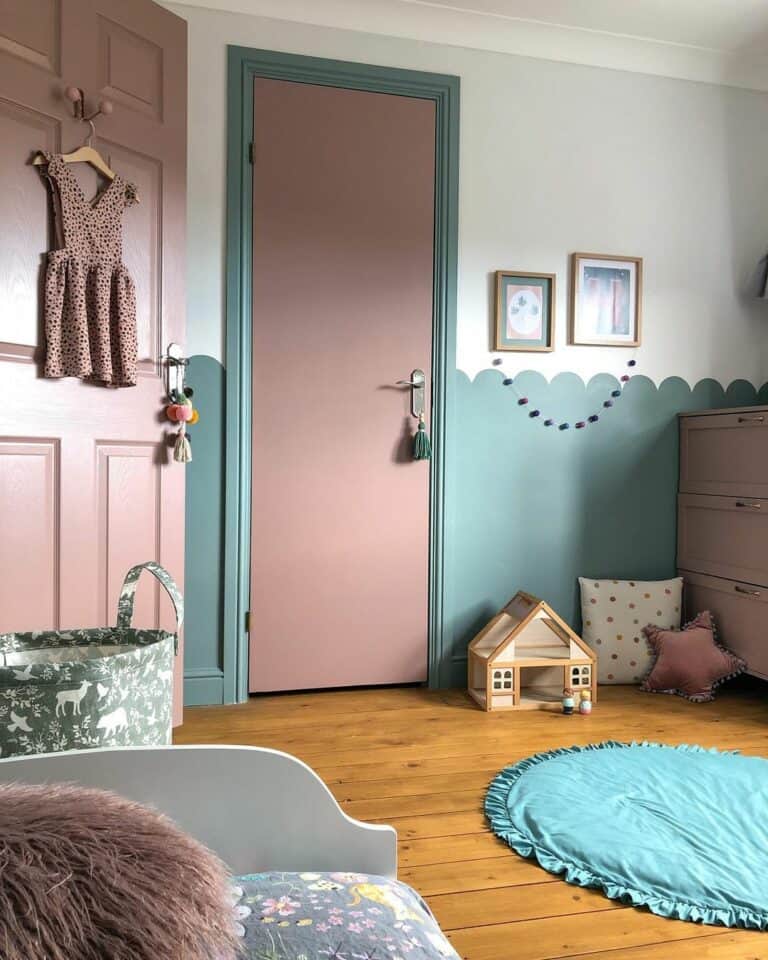 Are you considering adding half-wall paneling to the kids' room? Then have a look at this farmhouse blue scalloped half-wall paneling, which looks so whimsical and exciting and will easily change your child's room. A pink dress hanging on a pink door is also seen in this style. What could be cuter than this? The headboard of the bed is white, and the floor is warm wood. A handmade rug covers the room and draws attention to the floor, accentuating the color combinations. We admire how the ornamental pillows make the room look welcoming.
[amazon box="B09T5Q2QYN"]
5. Vintage Kids Room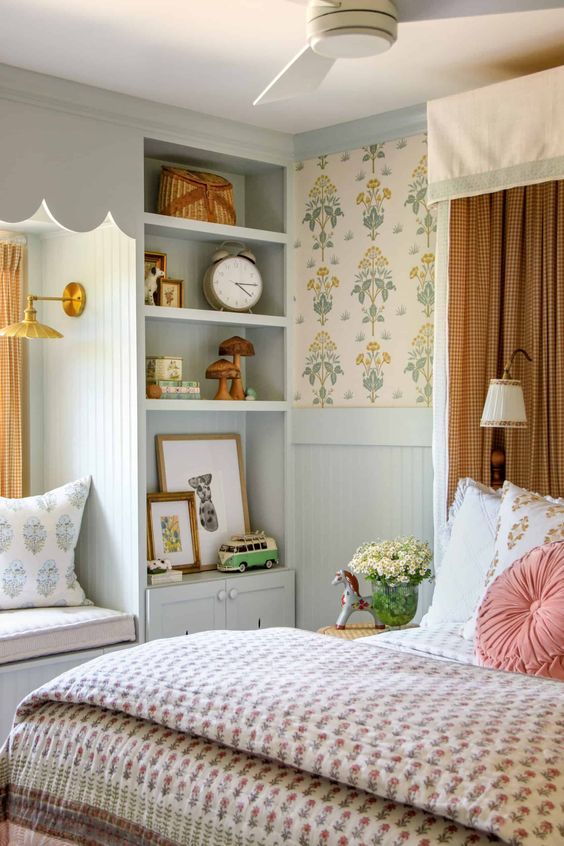 Do you love vintage decor and want to recreate it with a farmhouse touch in your children's room? This style can motivate you to start redesigning right now. Kids' rooms are usually fun to decorate, and you can get creative and make it a fun endeavor with your children. An accent half wall with pastel blue wainscoting and flowery wallpaper is created to create a vintage effect. The scalloped curtain and block print duvet are straight out of a movie set and look very traditional.
6. Beautiful Green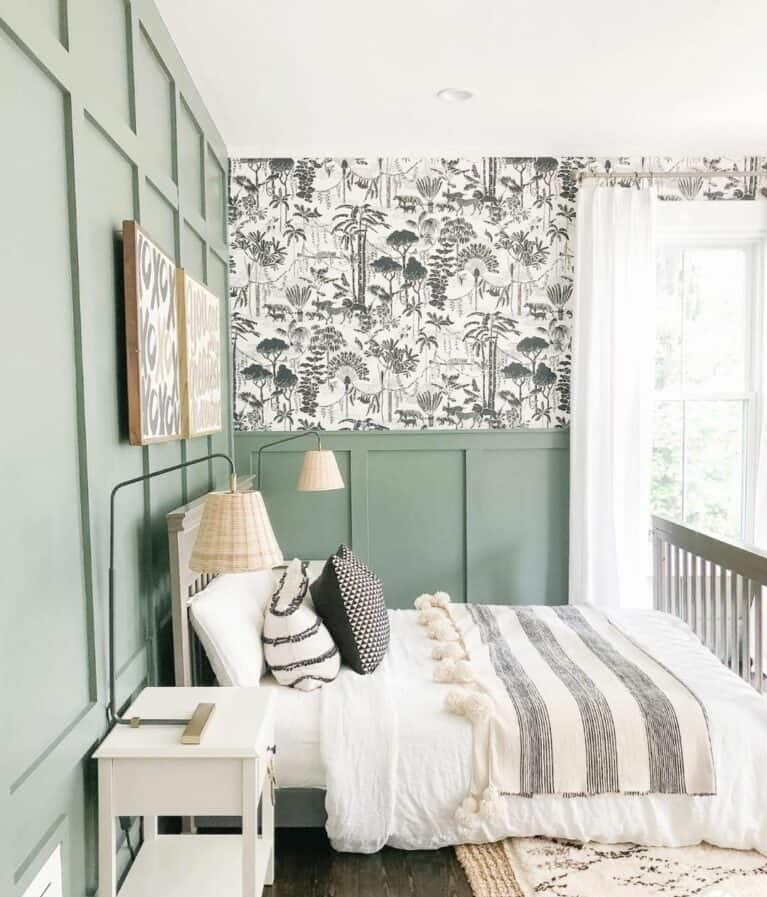 A woodland wallpaper over a green half-paneled wall is one of the most relaxing bedroom combinations. A matching wall of green board and batten paneling from floor to ceiling complete the appearance of the room. A cream-colored rug is placed on the dark floor, and a black bolster is placed on the bed's white coverlet. We adore the beach lamp, which offers an organic element to the space. The overall coloring combination is perfect for an iconic farmhouse bedroom.
[amazon box="B0132HCUA0″]
7. White Beadboard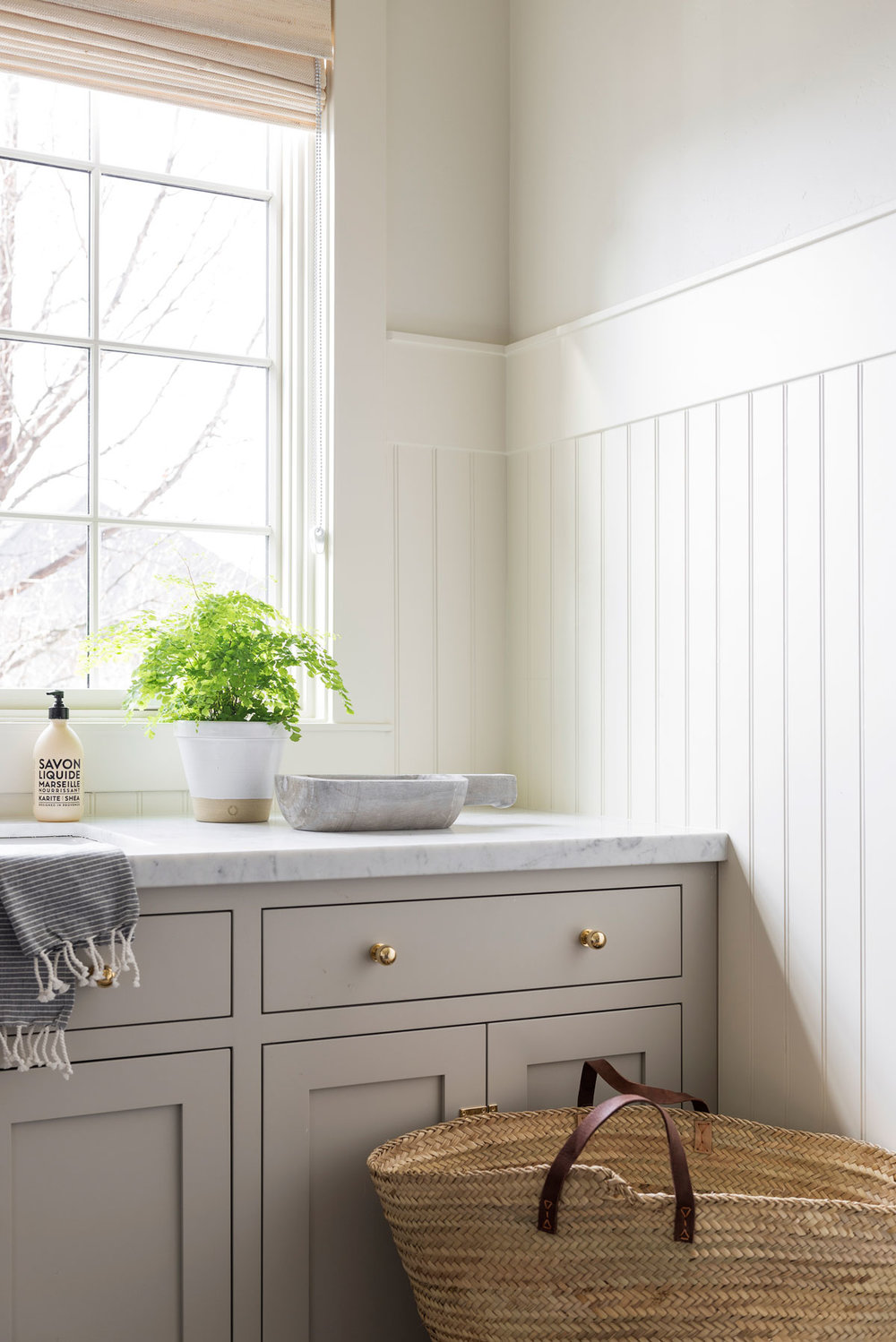 In a kitchen, half-wall paneling with white beadboard and whiteboards creates an exquisite effect. The kitchen counter is constructed of marble, and the cabinets are a soft pastel grey that looks great with the gold knobs. A large rattan basket is used to store kitchen supplies or fresh farm produce. To offer a splash of color, a house plant is kept near the kitchen sink. The entire appearance of this kitchen is really fresh, and this decor style can easily be done in a smaller kitchen where light colors can create an illusion of space.
[amazon box="B00JXFREES"]
8. Peach Shiplap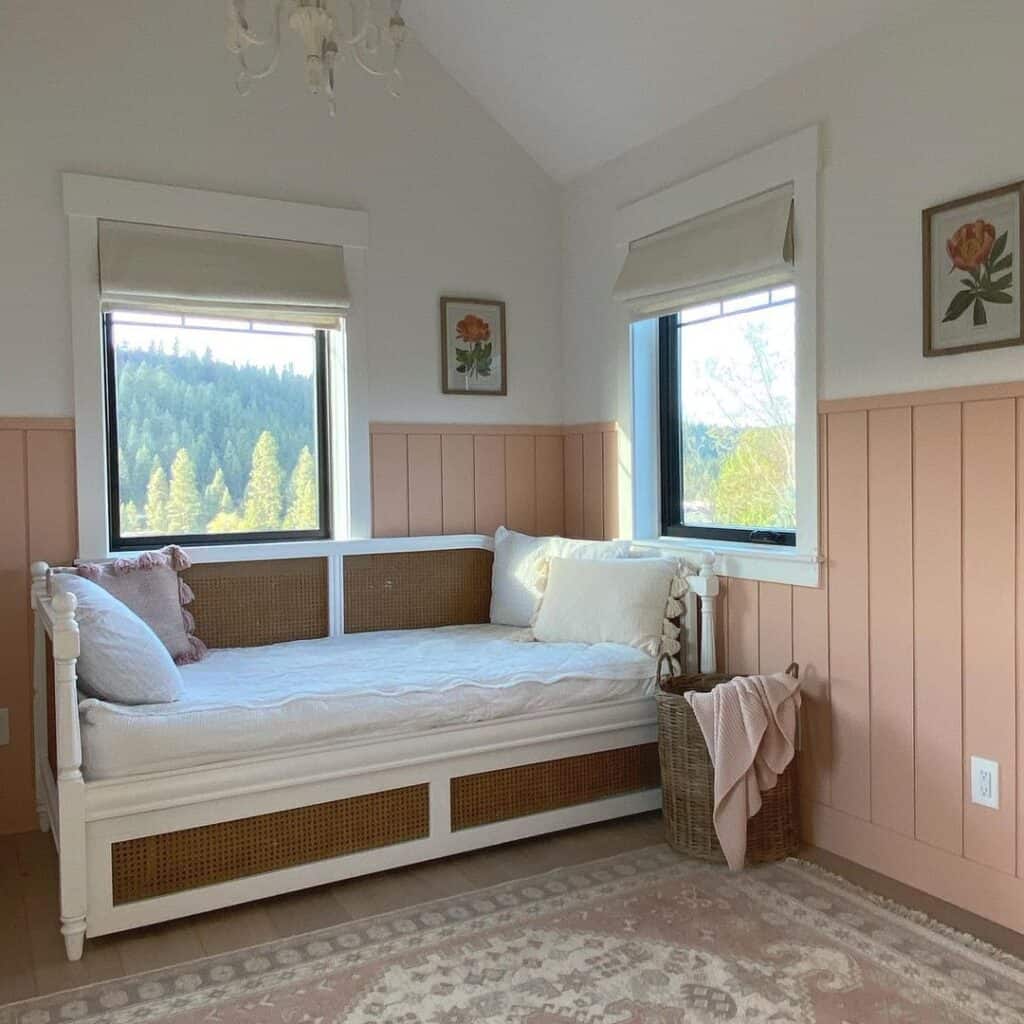 Peaches are such a cute color, aren't they? Make a half wall with peach shiplap, and the result will be the cutest room ever made with a little effort. A very traditional farmhouse room is created with a peach vertical shiplap half wall, and a framed vintage painting is hung over it. A white single bed frame stands attached to the wall, saving a lot of space, and a rattan laundry basket is used to add rustic charm. We love the neutral pink traditional rug, which completes the room.
9. Charming Bedroom
We love this bedroom, which looks absolutely charming. One of the versatile half-wall paneling ideas for a bedroom is simply to create it behind the headboard of the bed, which will serve as an accent wall. A rattan pendant lamp hangs very elegantly over the bed, giving it a warm, welcoming light. The white wall and beige wainscoting make the room look lighter. We adore how a stellar-framed mirror incorporates the hue black with flair. The bedspread and the white rug complement each other, enhancing the visuals.
[amazon box="B0BNPFKZBN"]
10. A Victorian Bathroom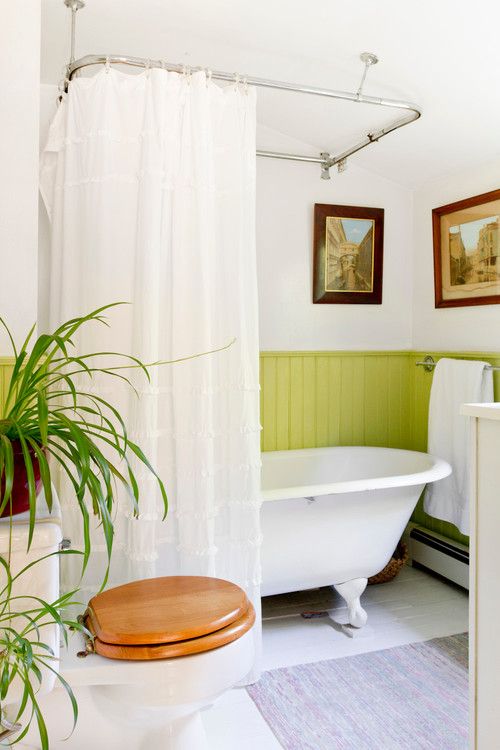 Pantone green is a rare hue used in home decor, and utilizing it in your bathroom will definitely make you stand out, as it will make the space look so fresh and minty. A Victorian bathroom is made here with a half-wall of Pantone green wood wainscoting and framed vintage photos decorated over a white wall. The curtain is light and airy. With the correct blend of rustic and green tones in this bathroom, such as the toilet seat and lid, house plant, and Pantone green wall, you'll feel like you've stepped into a garden.
11. Rustic Wood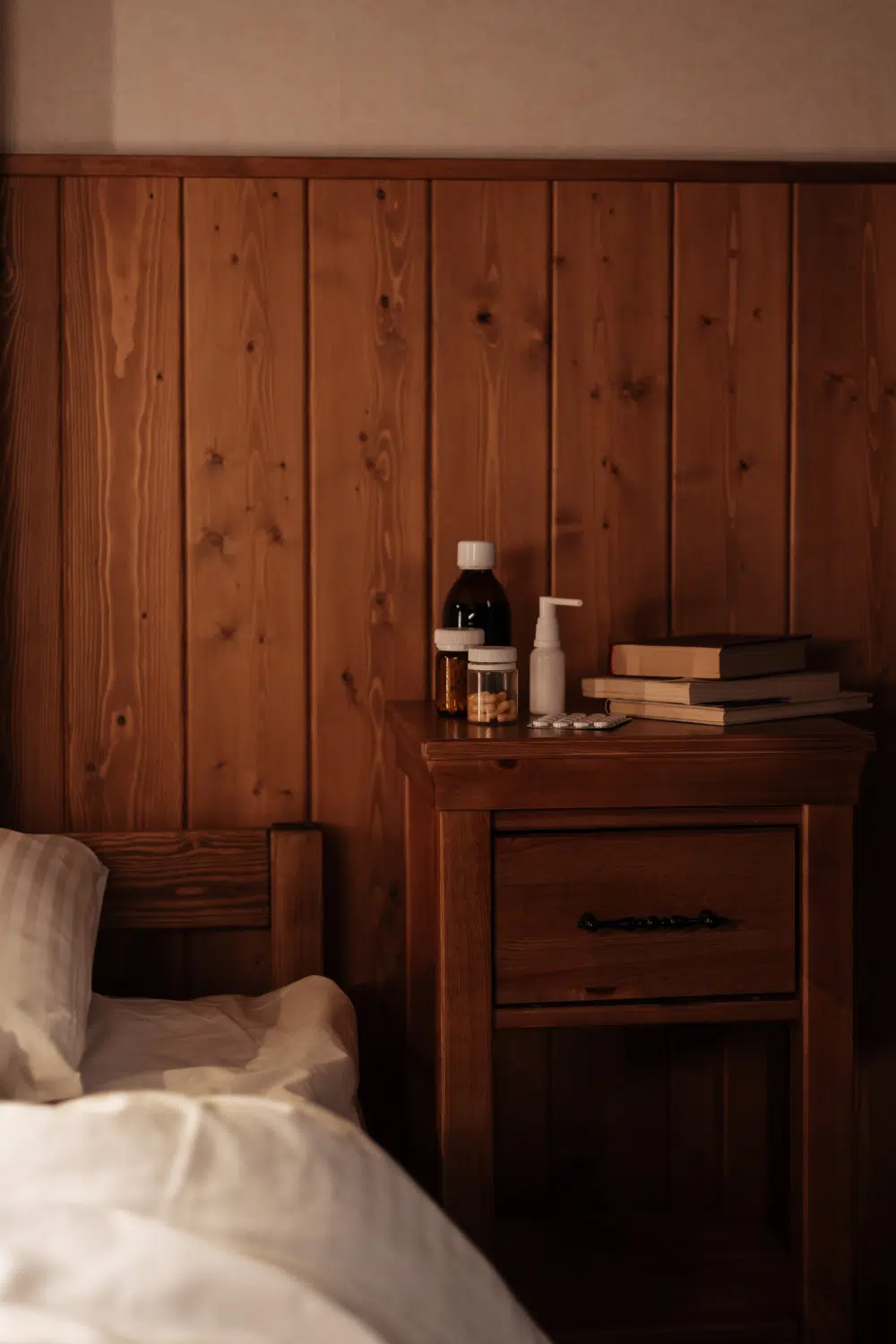 Wood and its lovely hues are always popular choices for farmhouse-style decor. Making a half-wall paneling with wood beneath a sand-colored wall looks absolutely stunning. To add layers, books are kept on a rustic bedside table. Among the rustic details, the white duvet and pillow stand out. This style of design will look wonderful in a large, open area with moderate lighting. We don't advocate this style for a tiny area because it may appear darker if there isn't enough light.
[amazon box="B08D3VF8R2″]
12. Black Half Wall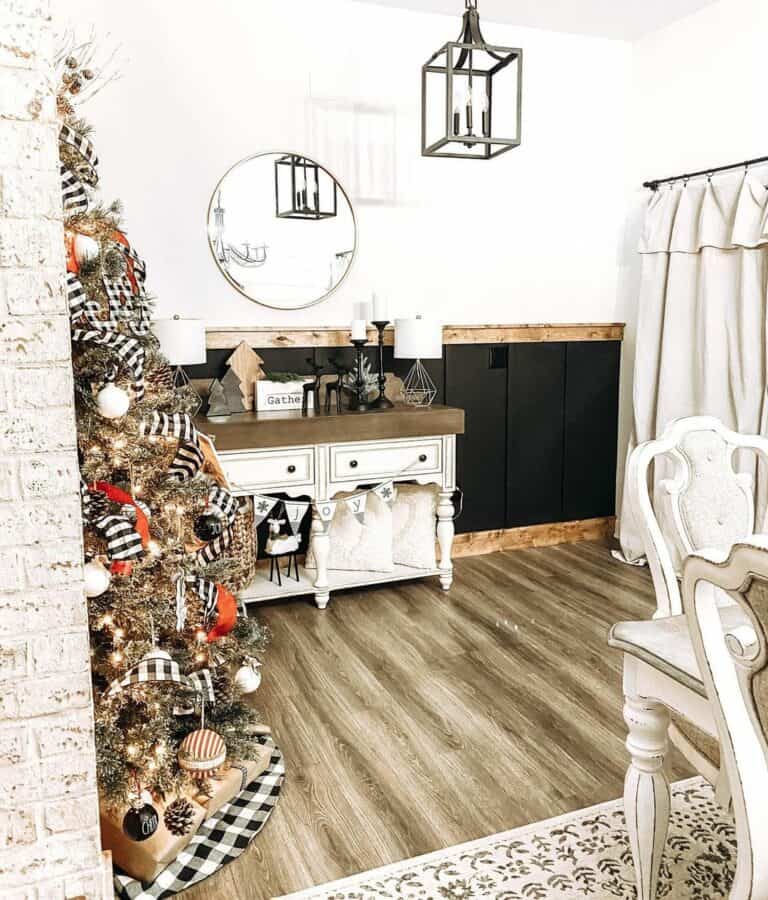 The color black has traditionally been an outcast in decor, but it is now used in both modern and traditional styles due to its enigmatic beauty. With hardwood trim, a glossy black half-wall paneling is created. The wall and ceiling are decorated with a circular mirror and matte black caged lighting. A vintage white console table with Christmas decor accents looks chic. What we like about this idea is how the white elements in the space pull the eye to the black half-wall, providing a fantastic color contrast that looks rich.
[amazon box="B09W5SG4ZX"]
13. A Bold Look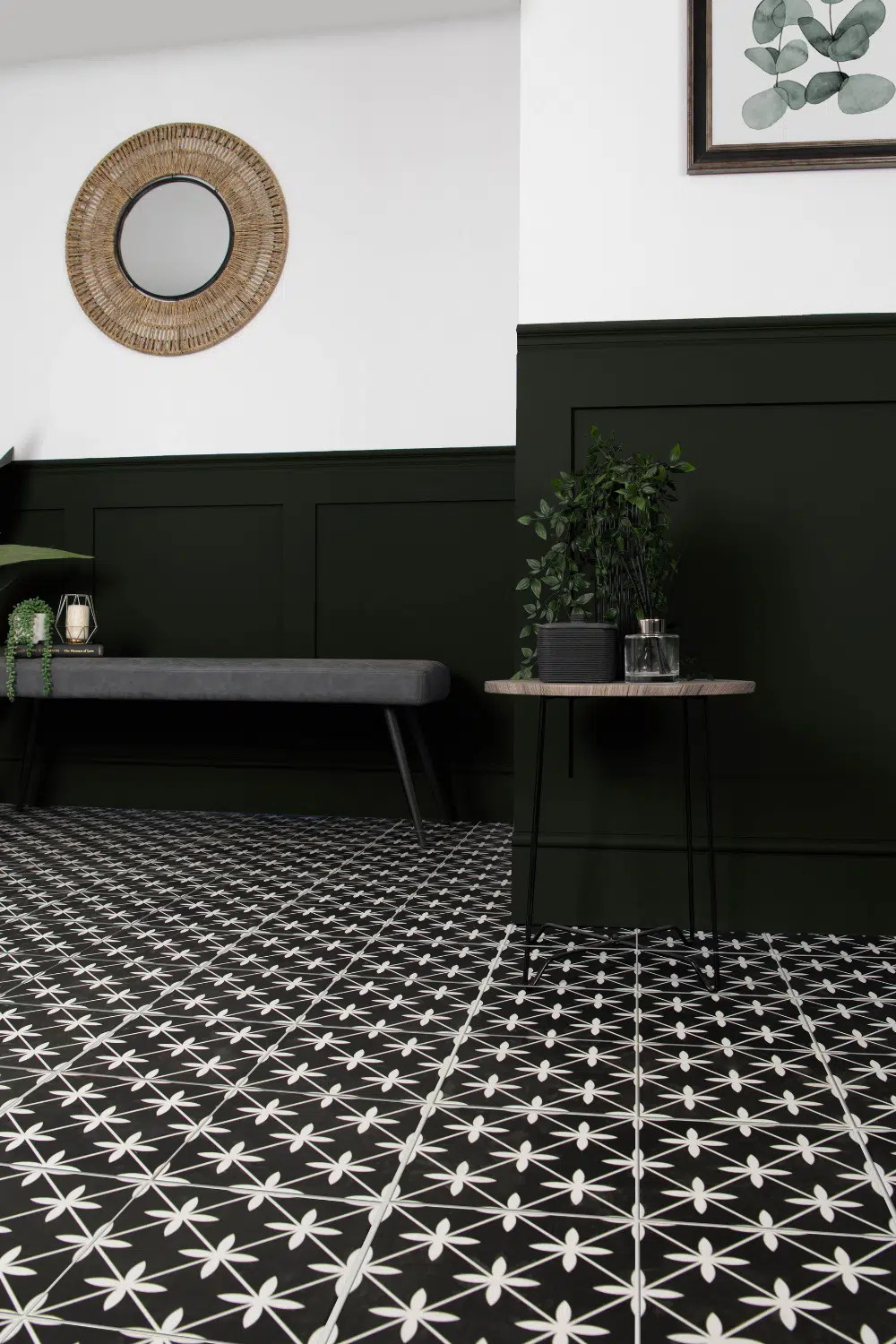 A black statement half-wall paneling can draw attention and provide a fantastic focal point in the room. These types of decorations will look great in modern spaces. Make sure to select a room with appropriate lighting for your particular requirements. We advise against selecting a space with excessive sunlight. The gorgeous black and white tiles are a sight to behold, and you can complete the effect with additional black decorative accents. A round mirror with a rattan frame gives a tropical flavor to the room.
14. A Retro Bedroom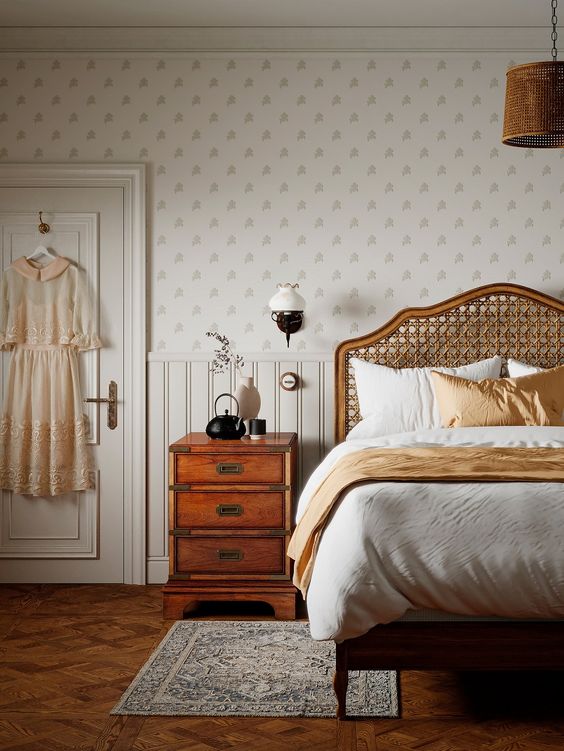 Who doesn't adore a retro bedroom that transports us to some of our favorite classic films? A retro farmhouse bedroom appears to be serene, warm, and one-of-a-kind. Behind the bed, white wainscoting half-wall paneling contrasts with a ditsy wallpaper. The cane bed looks very rustic, and the other traditional items give the room an antique atmosphere. We adore the white and gold color scheme on the bed, and a lovely dress hangs behind the door for an added touch. Take inspiration from this décor if you want to make your bedroom stand out.
[amazon box="B09MHPFVZW"]
15. Fresh Laundry Room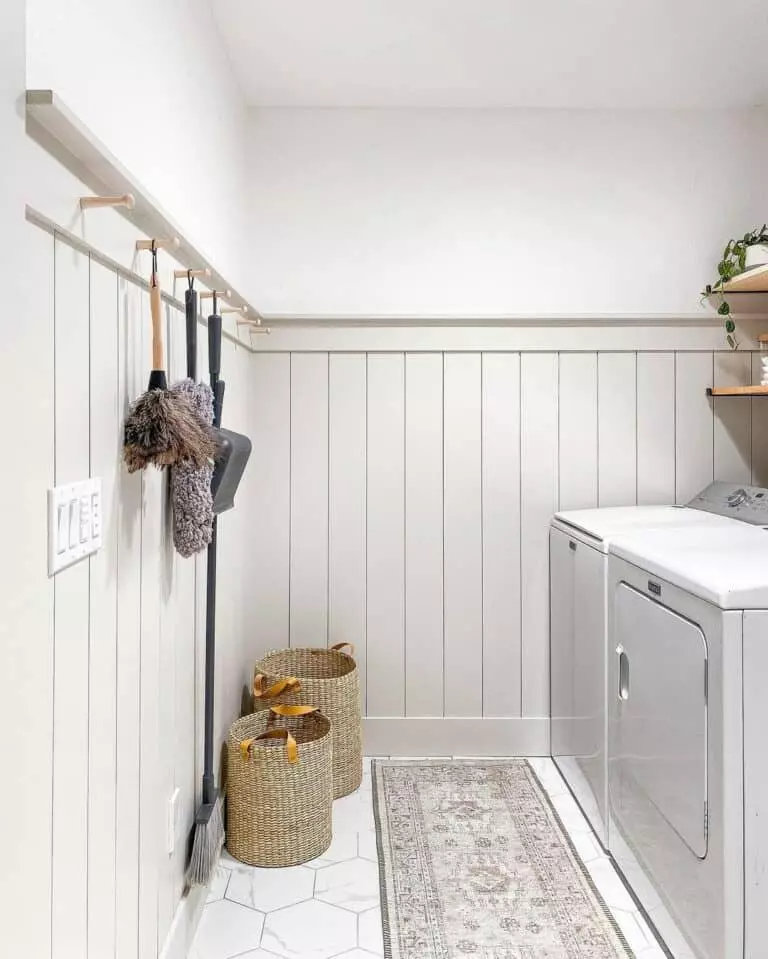 Do you want your laundry room to look neat, clean, and sophisticated? Get inspired by this design, which takes advantage of one of the most common half-wall paneling ideas to create a space you'll enjoy doing laundry. The marble floor is complemented by a beige-patterned rug. With wood pegs and ledges, the off-white vertical shiplap wainscoting looks lovely. The washing and dryer are tucked beneath the open wood shelf, and a round rattan basket sits in the corner, adding rustic charm as well as usefulness.
16. A Mix of Styles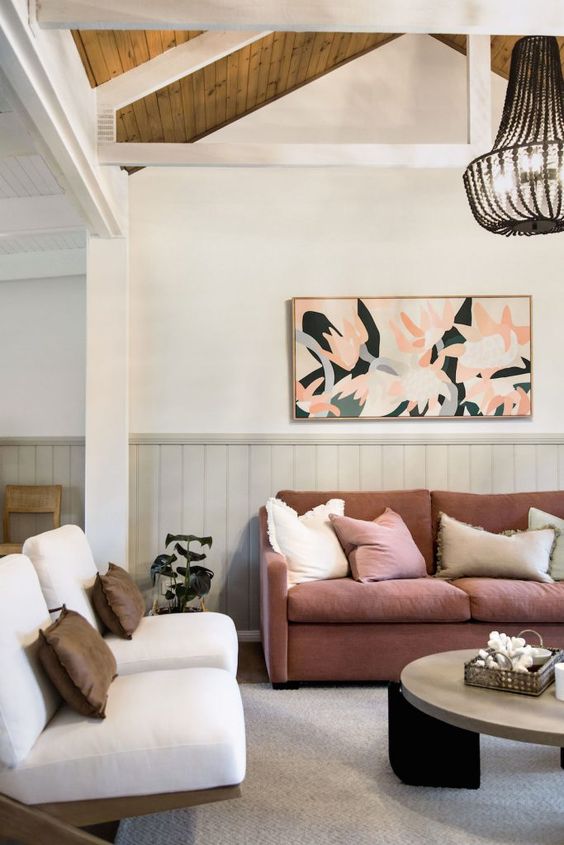 What if we combined two of the most popular decorating trends? This half-wall paneling design combines seaside and farmhouse elements to create a beautiful yet basic living room. The color scheme incorporates fresh dusty tones and is the ideal blend of warm country and breezy coastal sensations. We love how comfortable this living room looks with well-upholstered couches and beautiful pillows on top. Off-white shiplap wainscoting is used for half-wall paneling. The abstract painting is striking, and the black beaded chandelier is both classic and dramatic.
17. Contrasting Grey and White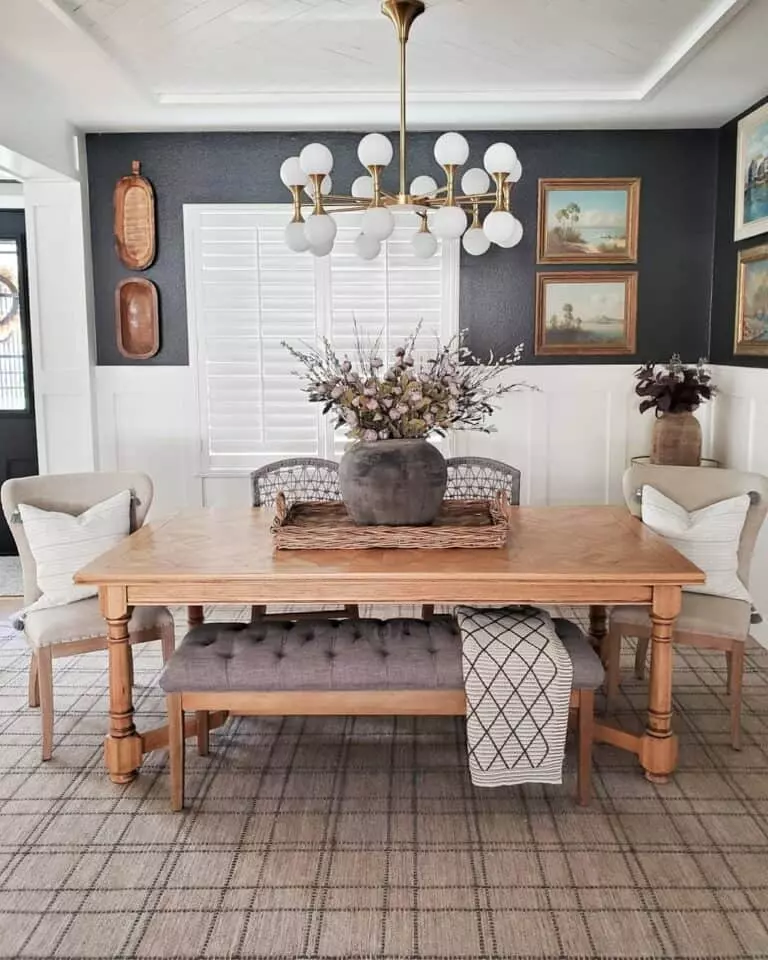 Create a country dining area with a glitzy touch using this half-wall paneling design. This is a modern farmhouse dining room with a dark grey wall and white wainscoting for great color contrast. The gold chandelier and the brown striped carpeting add a beautiful touch to the room. Purple flowers are arranged in a huge grey vase on the rustic dining table. For additional seating, there is a grey upholstered and tufted bench beneath the table. This dining area is an excellent illustration of how to incorporate modern design details into a rural setting.
18. Subway Tiles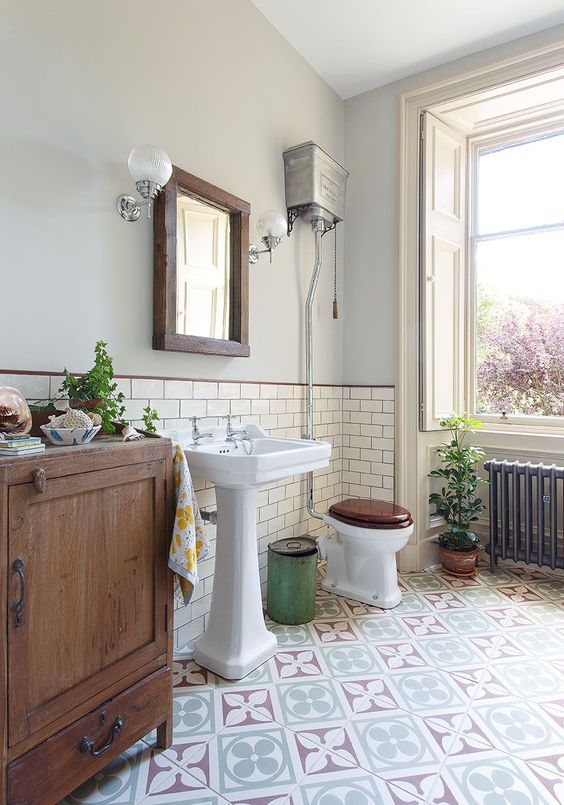 Subway tiles are a popular choice for retro bathrooms. This traditional bathroom features subway tile half-wall paneling with a brown paint border. A wooden-framed mirror, a vintage storage table, a pot, and a toilet seat provide rustic touches to the bathroom. The floor is tiled, and there are some industrial accents in this bathroom, such as exposed steel pipes and a metal can basket. This farmhouse bathroom has plenty of natural light and will look fantastic at night thanks to the wall-mounted lights.
[amazon box="B0B3GR437J"]
19. Sage Green Bedroom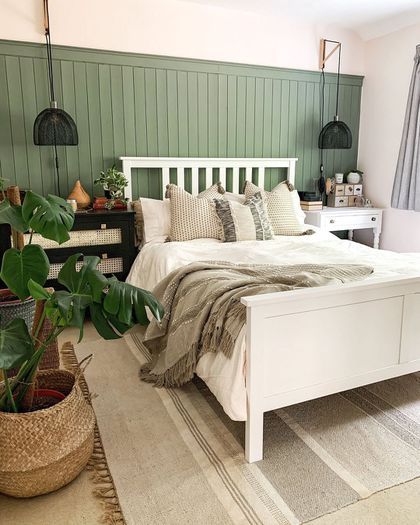 Sage green is a very soothing and elegant shade. Mixing sage green wainscoting with off-white is one of the coolest half-wall paneling ideas. This hue contrast has the potential to dominate the design of the bedroom completely. Indoor plants and caged lights hanging on the edges of the bed's headboard offer further green tones to the room. The white bed is placed on top of a beige rug, and the black and white bedside table is understated and blends in with the rest of the elements. Choose this style if you want a room that will remind you of nature.
[amazon box="B07TPPY18V"]
20. A Calm Mix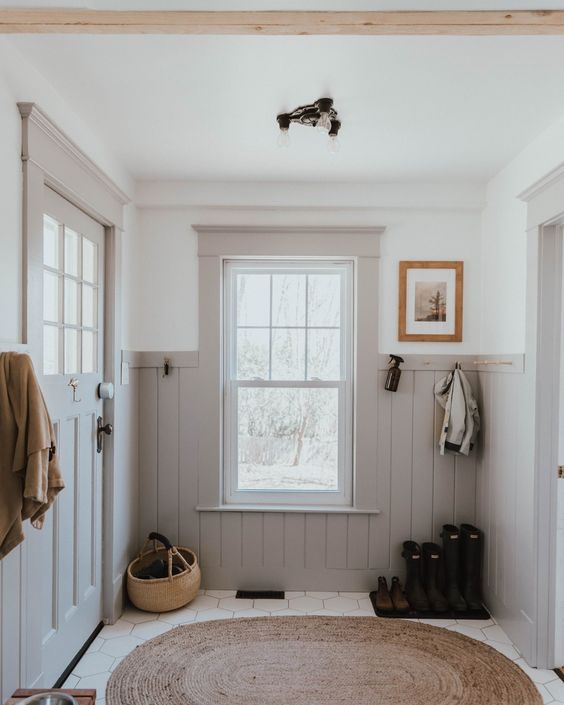 What happens when we combine natural wood tones with white and off-white hues? A room is as serene as a river! Around the window, off-white half-wall shiplap wainscoting is installed and transformed into a useful, aesthetically pleasing arrangement by the addition of golden hangers. The floor is built of honeycomb tiles, and it is covered with a huge jute rug. A wooden seat, a wooden-framed vintage photograph, and a rattan basket offer more rustic touches. There are also some black and grey tones. We adore how every shade in this room complements one another. This room has a lot of detailing despite its simplicity.
[amazon box="B08R3QZ99Q"]
21. English Country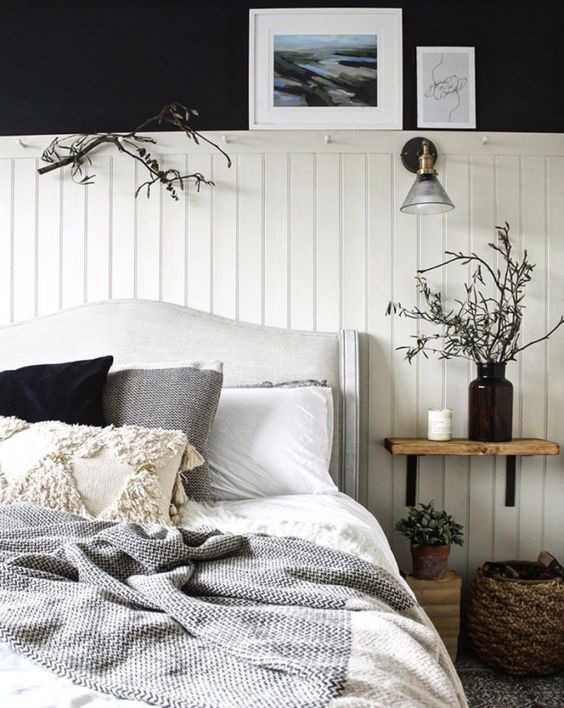 The white wood wainscoting half wall behind the bed looks extremely lovely. The bed's background also includes shaker pegs at the top, which is quite useful if you want to hang extra wardrobes or your personal bag of books. One of the pegs has a mounting light attached to it. The coloring scheme in this room is striking yet soothing. This bedroom is a famous example of English country interiors, featuring numerous half-wall paneling ideas. This is the ideal space for you to unwind on a monsoon evening.
[amazon box="B08R9WQNSR"]
Exploring the Versatility!
Half-wall paneling ideas are great for adding charm and a natural element to your space. The ideas we explored showed the versatility of farmhouse half-wall paneling ideas and the creativity that can be achieved through design features.

We hope you like the ideas in this post and that you found it informative. Half-wall paneling is a functional decorative installation that has the ability to transform a bland room into a stunning space with a mixture of colors and textures. We recommend you get creative and experiment with the ideas in the post. And make sure to consider the design scheme and overall aesthetic of the room while you choose.
Which one do you intend to try? Tell us in the comments.