21 Stone Fireplace Styles to Enhance Your Home Décor
The interior of a house provides not only a convenient layout of rooms but also the creation of maximum comfort. There are many ideas when it comes to designing a place with the choice of a modern touch, vintage touch, etc., to their home. Out of all decor, installing a fireplace gives an aesthetic look to the living area. This decor piece looks beautiful and allows you to fill the room with a cozy and warm atmosphere.
Stone fireplaces represent an unusual beauty that makes any room design sleek and sophisticated. The stone framing of the hearth harmoniously fits into all interior styles, from classics to country styles.
The stone fireplace comes with many advantages. It offers a long service life and is resistant to mechanical damage and high temperature. Stone fireplaces have a vast range of selection in textures and colors, giving a decorative touch to the space.
Here are 21 stone fireplace ideas that can bring a cozy look to your space, along with being easy to clean and environmentally friendly.
1. Stacked Stone Veneer Fireplace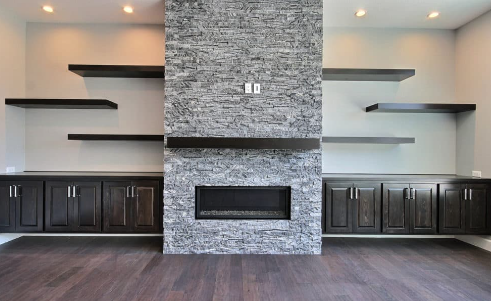 Out of all home decor items, placing a fireplace in the living area adds coziness and craft to the space. Not only in winter but also in the rainy season, a fireplace is where everyone prefers to sit.
The focal point of every room and frequently the hub of social interaction that makes a house a home, a stacked stone fireplace offers a timeless, traditional aesthetic. Stacked stone is an easy choice for a fireplace that will still look beautiful for a decade and beyond due to its robustness and recognizable appearance.
Similar to how you would put bricks or tile on a statement wall, stacked stone fireplaces are constructed of rough stones that are stacked together from the floor to the ceiling.
2. Cast Stone Fireplace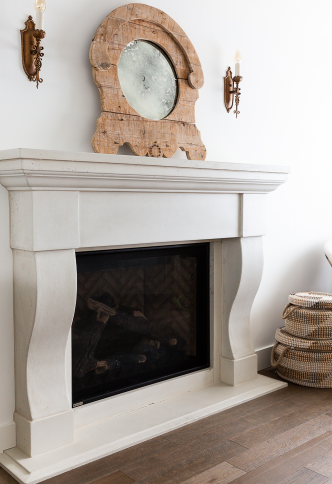 Cast stone is a cement mixture that is colored and finished in a number of ways, and fine aggregates such as crushed natural stone, silica, and ordinary sand are added.
In addition to its cost, this material has a number of advantages over natural stone, foremost among them being quick and easy installation. It does not, however, possess the solidity and toughness of natural stone.
Furthermore, a cast-stone fireplace is highly resistant to fire, and any damage caused to it can be easily restored. Along with this, unlike natural stones, these cast stones can be customized to any shape for an aesthetic look.
You can also use the mantle for adding some decor like flower vases, frames, candles, and mirrors.
3. Airstone Fireplace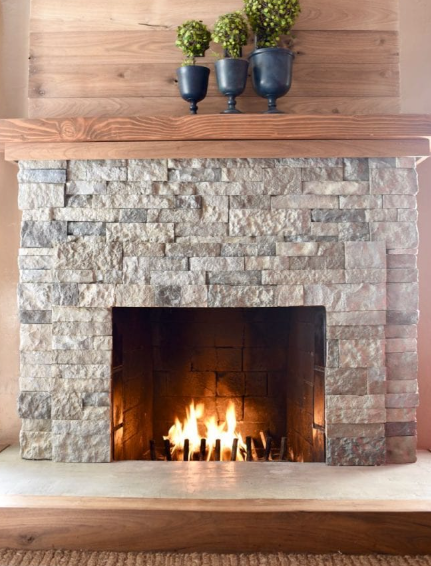 Airstone is a precisely sized stone system that provides the beauty, texture, and durability of real stone without the need for professional installers. You can DIY this airstone fireplace at home. The feature that sets this fireplace different from others is the sophisticated molds and state-of-the-art custom automation equipment that makes sure that the stones are the exact right size every time.
Furthermore, there is no requirement for mortar while installing the stones. The stones are manufactured in a geometric way, so they can be directly laid out without spaces. These airstones come in four beautiful ranges, autumn mountain, birch bluff, and spring creek, which are tan, white, and grey in shades. You can also add a rustic wood beam mantel that can be used to keep decorative items and gives the space a beautiful combination.
4. Stripe Marble Surround Fireplace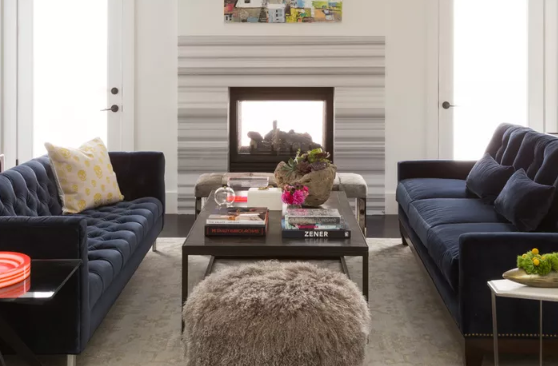 The fireplace is one of the primary focal points of any room, and it is a valuable design feature that provides style and equity to a home. Choosing the right material for your fireplace surround is important to create an overall design that will impress aesthetically and function flawlessly.
Marble is a metamorphic rock that is commonly used for buildings and statues. It has the ability to tolerate high heat and is commonly used in fireplaces. Creating a surround for the fireplace is as important as the fireplace itself. As this not only brings balance but helps in function and form.
Using marble is better than man-made materials, as it will not scorch or get warped. Moreover, adding marble to the fireplace strikes up a look of luxury, decadence, and richness.
5. Modern Fireplace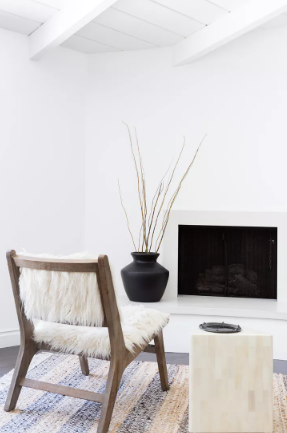 Modern fireplaces are one of the easiest to install, fit into any space, and instantly change the look of a room. As the fireplace is the heart of your home, it should be visually appealing.
With updated gas components, the modern fireplaces allow one to flip a switch and instantly luxuriate in hearth ambiance, rather than labor over logs and started fluids. The fireplaces come in a range of designs that implement all your household values while maintaining the fireplace's traditional palace in the home.
An inlaid or attached modern fireplace can accommodate entertainment systems or punctuate works of art, further allowing them to blend with one's interior. A fireplace offers a wide range of creativity. You can select from keeping it minimal with white color or covering it with tiles to give it a glossy appearance.
6. Carrara Marble Fireplace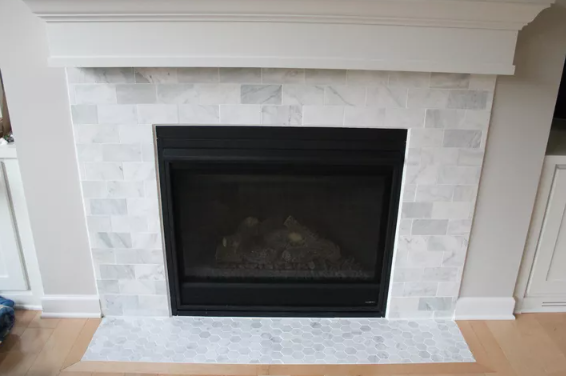 One of the most widely utilized forms of marble in modern architecture and interior design is Carrara marble. It has a gentle and feathery vein running through it and is often white or a light blue-grey tone, making it an extremely attractive alternative for kitchen worktops, staircases, baths, and fireplaces.
Carrera marble is a lock to increase your home's worth over the long term because it is classy and ageless. Two different tile designs in the well-liked marble can be combined in a fireplace project. Choose to cover the hearth with a hexagonal mosaic, and a classic subway tile can be used on the fire surround.
7. Slate Fireplace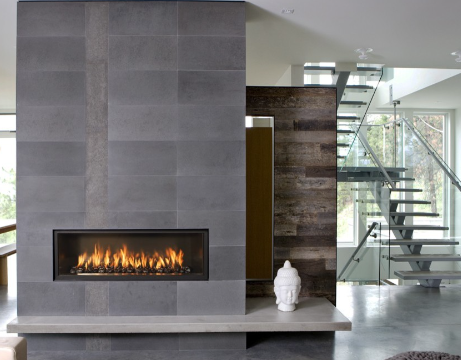 Slate is a highly heat-resistant stone and easy to clean, making it an excellent choice for a fire surround. A slatey fireplace brings a cozy atmosphere to the living area and looks aesthetical wherever installed, no matter whether you have a modern interior or vintage interior.
Furthermore, slate is a great material for a fireplace because it is both very energy efficient and fire resistant in its natural state. This means that neither your utility cost nor safety concerns need to be a concern.
Slate is incredibly durable and unlikely to be damaged, but in the event that it is, the cost of repairs is also very inexpensive. In some cases, it may be possible to replace only that little bit of slate rather than the whole fire, saving money on replacements.
8. Painted Stone Fireplace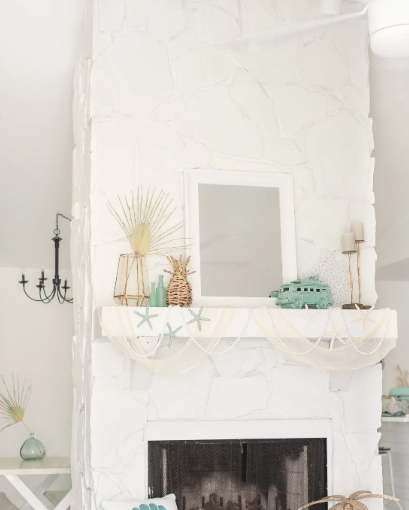 A natural stone fireplace can serve as a room's captivating, rustic focal point. Try painting the fireplace to integrate it with your room's new aesthetic if, however, you want to blend it with a different style while renovating the home or if you simply want an update every few years.
The best paints are those with a latex or chalk base since they adhere easily and cover nicely. It's advisable to use a neutral color like white or another shade that can be easily matched to any style.
Start painting in between the stones first and then move ahead by painting from top to bottom. As the paint drips down to the bottom stones, begin from the top to avoid any paint streaks.
9. Cobble Stone Fireplace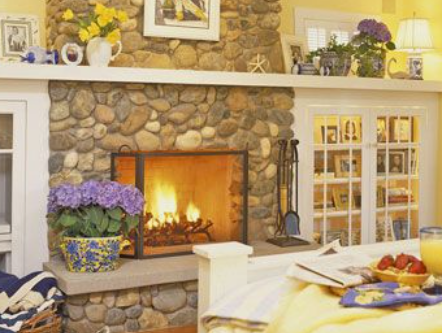 While choosing a fireplace, select the material that goes best with the space and makes the atmosphere calmer and more elegant. Cobblestone fireplaces are the ideal material when it comes to creating a formal look. And by adding field stone with cobblestone, you can get a casual look.
Cobblestones come in larger pieces with soft edges and smooth textures. When it comes to creating a fireplace, use the vertical space to the fullest or leave it blank for a sleek look.
You can place a wooden mantle for harboring all your souvenirs, canvas paintings, etc. Furthermore, if the fireplace is in the hall, add the TV above the mantle. You can also place the book sleeves on both the side of the fireplace. This will create a visually beautiful image of the space.
10. Rustic Stone Fireplace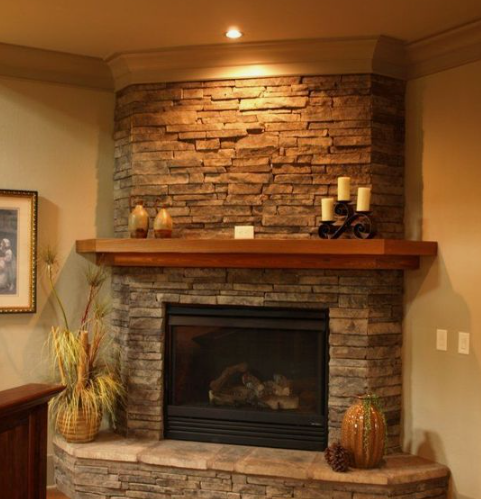 Slate, flagstones, fieldstones, and river rocks all contribute to a rustic appearance. These meet every prerequisite for a rustic living room design: aged, textured, and/or textured natural materials. If you limit the height of the stacks to the mantle, you may maintain the fireplace surround's small size. This can help you hang your favorite wall art or some achievements on the mantle.
Another option is to choose a floor-to-ceiling surround for your home's focal fireplace. This will create a unique spot in the living area, and if the rest wall is white in color, there is no need for other decorative materials.
11. Outdoor Fireplace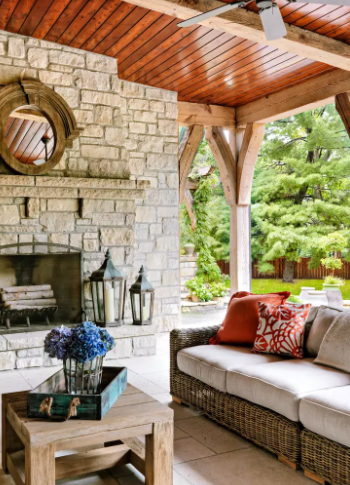 Why stick to the conventional indoor fireplaces when you have a vast space in the backyard and use the patio for gettogether? This type of fireplace looks unique and beautiful when installed. All you need is a framework, cement board, and stonework.
You can consider laying the foundation of the firebox on a concrete block as it is important for proper functioning. It is necessary for the smoke to draw up through the chimney and not back out the front opening.
Choose to keep the fireplace at least 10 feet tall. The height serves a function in the draw. Concrete blocks, red bricks, and fire bricks can be used to build the rest of the fireplace structure.
12. Granite Fireplace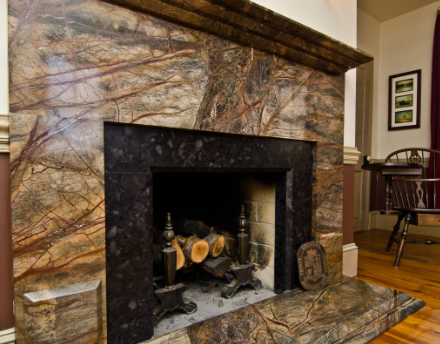 When it comes to choosing your fireplace and its surround material, it is important to research it in order to avoid any mishap. Certain manmade materials can scorch or warp when exposed to heat for extended periods of time. Since fireplaces commonly stay lit for hours, this would lead to serious issues, not only damaging the material itself but also potentially creating a house fire.
Natural stones, however, are able to withstand the heat of a fireplace while also providing a beautiful aesthetic.
Granite is heat-resistant, resilient, and made out of crystallized material, able to withstand cuts and scratches. A granite fireplace would only require minimal maintenance. Sealing one or two times per year is more than enough. This stone comes in a range of colors and patterns that are unique from one another as they are naturally retrieved.
13. Soapstone Fireplace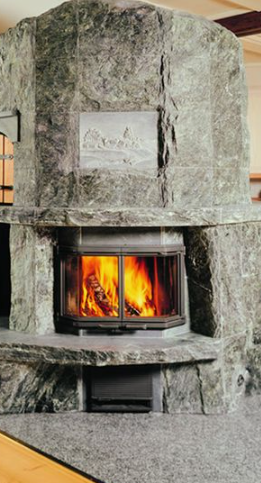 Soapstone is an action-proof material that is naturally UV protected, water, wind, and acid rain resistant. It is the perfect material for building a fireplace, as it has zero percent absorption, which means it will never stay on your countertop. Moreover, this is also a thermal stone. It absorbs more than 6 hours of heat, that's why it is used in fireplaces. Soapstone will keep you warm during winter, and in summer, it won't just call direct heat.
It is the only stone that will withstand sharp temperature changes without breaking when exposed to a flame. Soapstones are majorly used in stoves due to this quality. The stone's ability to slowly release or radiate heat into the space makes it appealing. It does this by absorbing heat from the fire. It has a remarkable capacity for heat retention.
14. Travertine Fireplace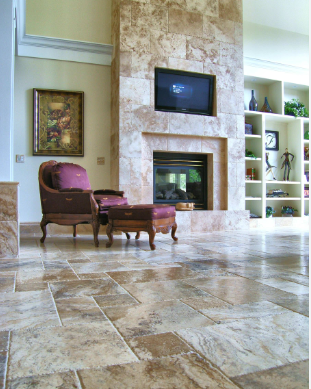 Travertine has its own unique and timeless look, making them perfect for the fireplace and its surrounds. This natural product has been used as a building material for several years. It is versatile and naturally textured, making it perfect for the fireplace. The honing and filling process seals the naturally porous travertine and gives it a smooth finish yet maintains a beautiful look, whether placed indoors or outdoors.
Furthermore, they are easy to clean and maintain, and although being a natural product, they are easy to cut in any shape and size. Travertine provides a distinctive look as well as changes the overall surrounding of the room, and increases the equity of the house.
15. Fireplace Styling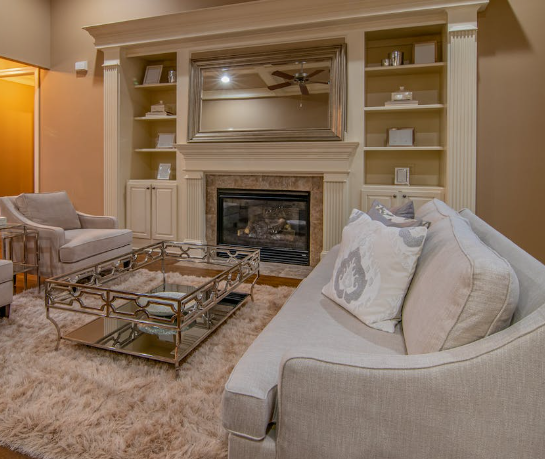 While creating a fireplace, we are shortlisting its material, location, height, width, etc. for coziness, warmth, and a visually appealing image of the house. Fireplace and mantle styling is equally important. Decide the mantlepiece style that coordinates with your interior.
An anchor piece plays an important role in fireplace styling. Placing a mirror on top of the mantle helps bring more light into the room and reflects the chandelier or pendant light. Artwork or photos above the mantle will bring in color and texture. To showcase the art, use LED picture lights that will draw everyone's eyes toward it. Furthermore, if you intend to lighten the mood, use candles or lanterns for soft illumination. You can consider layering your accessories height-wise and in different shapes and sizes for visual richness.
16. Contemporary Fireplace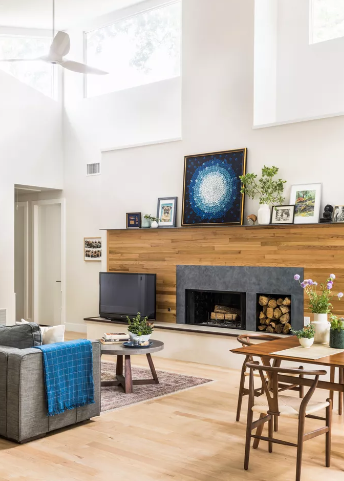 Contemporary designs often feature clutter-free areas, clean lines, and supple, glossy materials. The sleek appearance so characteristic of this style is provided by slabs of polished natural stone with few to no gaps.
Modern designs frequently use monochromatic interiors. An all-black room is a trend. Such a living room design would go wonderfully with a stone fireplace in black or dark grey. Excellent choices include marble, slate, and limestone.
A combination of materials gives the fireplace a modern appearance. The large mantel is the ideal place to hang artwork, put up treasured pictures, and bring the outside in with some greenery.
Moreover, accessorizing your fireplace allows you to bring your own personality to the space. Add something living, something that you love, and something that shines; all this combines and creates a visually balanced look.
17. Scandinavian Fireplace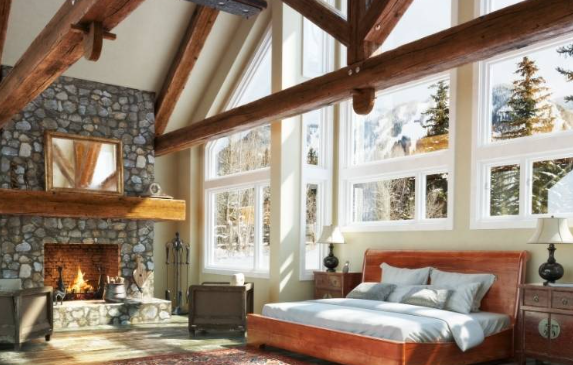 The warm and inviting Scandinavian interiors are ideal with fireplaces. A freestanding fireplace in the form of a chimney can be part of Scandinavian interior design. Add a stone wall in the background to give it a subtle, rustic touch. Marbles and limestones are suitable choices in this scenario. Consider faux stone substitutes if you're looking for inexpensive modern fireplace ideas.
This style also works well with ideas for in-wall or tabletop fireplaces. Choose dark walls to give the space more depth. The lighter-colored stone hearth and mantle will contrast beautifully with this.
Faux stone is a pocket-friendly option when considering a fireplace. This material looks like thick concrete, but it is actually two different pieces that have been connected and painted to resemble stone.
18. Keep It Minimal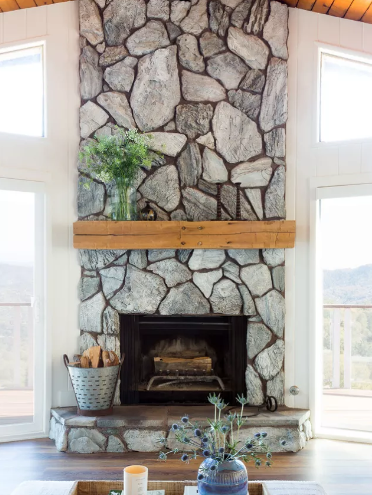 In a minimalist space, make sure the color scheme is restrained and the fireplace design is seamlessly blended. Choose an electric fireplace for a sleeker appearance or a gas or wood fireplace to add more traditional elements.
Keep the fireplace design center with a smooth, floor-to-ceiling stone surround to make it the focus of the space. If there are other attention-grabbing components in the space, stay away from facing flagstone or river rocks. For a neat appearance, keep the structures on either side of the fireplace symmetrical.
Alternately, choose a hearth that is smaller and has only stone trim around it. By doing this, you'll be able to transfer the focal point of the room's attention away from the fireplace.
19. Bohemian Fireplace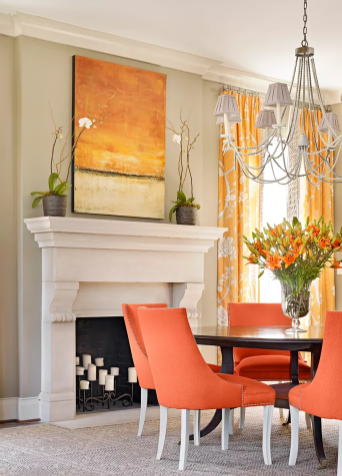 Creating a fireplace and its surround is all about creativity and using the best material. Since the bohemian style is so fluid, you must select fireplace ideas that fit your own brand of Mediterranean style. You may choose more unusual sorts of stones because there is such a strong emphasis on texture, color, and design.
Consider colorful options like Mint green, Blue marble, light blue quartzite, etc., if you want to make the fireplace the focal point of the room. These will emphasize the aspects of this design that are inspired by nature.
Bright colors give the traditional stone fireplace a modern update. The patterned curtains and the vibrant chairs. The area can be given some freshness by white orchids and a bouquet of lilies.
20. Kitchen Fireplace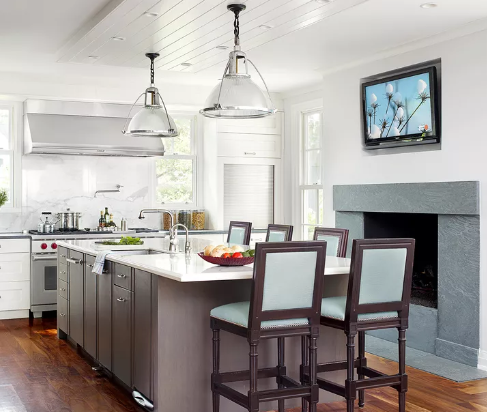 Fireplaces can be omnipresent in any corner of the house. It depends on creativity and utilizing each corner to the utmost. Kitchen fireplaces are a great way to improve the open living area visually even while allowing the kitchen to remain the heart and soul.
Modern vent-free fireplaces are ideal if you're searching for one for your kitchen. Without a chimney or vent, they can be simply mounted on a wall or recessed into a wall without needing any extra structural modifications.
Being more creative with fireplace placement is made possible by this flexibility. For instance, it would be quite challenging to implement one of the most popular locations above the bar with a classic wood-burning fireplace.
21. Bedroom Fireplace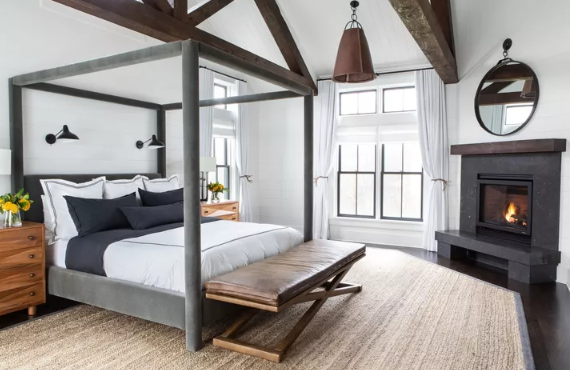 A bedroom fireplace can either be a secondary feature that adds warmth and character, whether it's lighted, or a focal point that anchors the space, depending on how the room is laid out.
Whether you reside in a traditional farmhouse, a modern house, a contemporary home, or a metropolitan apartment, a fireplace may be a magnificent addition to a master suite or make a guest room feel even more friendly. A kids' room fireplace can be turned into a decorative element, painted a bright color, or utilized to showcase special personal items.
You can choose to put a fireplace on both sides of the room in order to provide equal heat. Moreover, the fireplace can be placed on a bench in front of the bed for a modern feel.
Conclusion
Keep in mind that fireplaces come in a variety of sizes and shapes and can be completed in a variety of materials, including brick, stone, tile, and wood if you want to build a new fireplace or renovate or style an existing one. An outdated fireplace can be given new vitality by changing the mantle. The atmosphere can be transformed from rustic to a modern farmhouse by painting a brick fireplace white. A boring fireplace can be given color and character by adding a patterned tile surround.
Each type of fireplace—wood burning, electric, gas, or ethanol—has different environmental effects, upkeep needs, and safety considerations to take into account.
The ideas jotted down here will be a great help when you consider a fireplace in your home. Consider these tips to create a whole new look for your space.