Woodworking is a flexible and captivating hobby that allows you to transform ordinary pieces of wood into extraordinary masterpieces. Whether you're a seasonal craftsman or a novice, there is something for everyone when it comes to woodcraft.
Wood is a very versatile material. You can cut it, carve it, shape it, stain it or strip it. Items made out of wood last for years and never lose their charm. They are also very durable and resistant to wear and tear.
Are you craving fun and creative outlets that will let you express your inner craftsman? Then you are at the right place. In this article, we will dive into a range of wood craft ideas that are bound to ignite your inspiration.
The crafty hacks enlisted in this article will guide you in crafting one-of-a-kind wooden creations. So gather all the necessary tools and let your creativity flow. 
Inspiring DIY Wood Craft Ideas 
Here are a few DIY woodcraft ideas that anyone can use for their home decor.
1. Rustic Wooden Picture Frame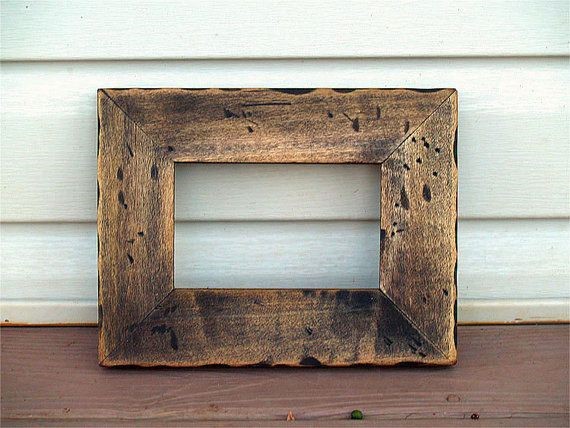 Creating frames out of wood gives them a beautiful rustic feel and offers a wonderful way to display your favorite memories. You can either use freshly cut wood from a nearby hardware store or utilize recycled wood. Use nails or wood glue to join the wood into the correct lengths of the frame. Carefully sand the frame for a refined appearance, then stain it for a polished and smooth finish. Alternatively, you can decide to leave the frame in its original state, embracing the innate beauty of the wood for a beautiful, rustic feel. Add the desired picture, and your picture frame is ready to be displayed on a shelf or a bedside table. 
2. Personalized Wooden Coasters
Coasters not only protect your furniture from unsightly water rings but can also be a stylish addition to your home decor. Wooden coasters are easy to make and can be personalized with various designs of monograms. Start by cutting small wooden discs or purchase pre-cut ones. Sand the edges and surface smoothly, and then paint or stain them in your preferred colors. To add a personal touch, use stencil or freehand paint designs or initials. Once dry, apply a clear coat for added durability. These unique wooden coasters will impress your guests and make your coffee table look chic.  
3. DIY Wooden Jewellery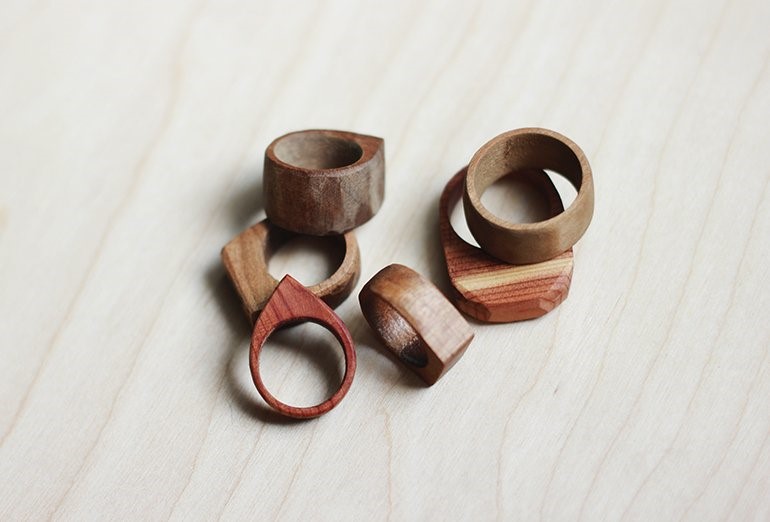 If you're fond of jewelry, why not try and make your own wooden jewelry? You can design gorgeous necklaces, earrings, and bracelets using a range of wood varieties. You can start by selecting small wooden beads or shapes from a craft store. Paint or stain them to match your style, or leave them natural for an earthy vibe. With knots or crimp beads. String the beads using jewelry wire or elastic cord. To add more flair, you can even include other components like gemstones or metal decorations. You can express your individual style and stand out from the crowd by wearing handmade wooden jewelry. 
4. Wood-Burned Cutting Boards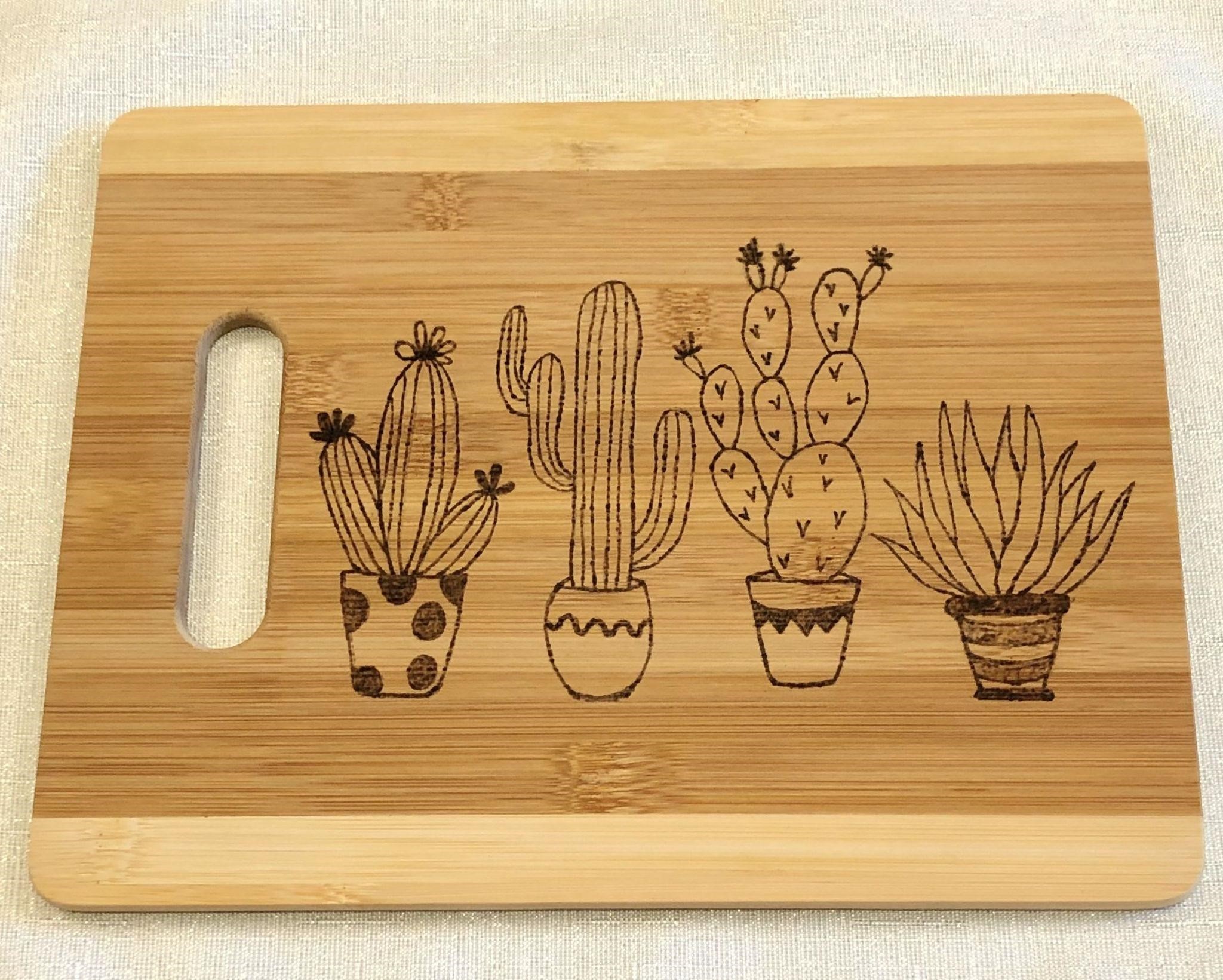 Pyrography, another name for wood-burning, is a flexible process that enables you to create detailed designs on wooden surfaces. You can purchase a plain wooden cutting board to use as a starting point or recycle an existing one. Sketch your desired design lightly with a pencil on the surface. Then, using a wood-burning tool, carefully trace over the lines to create a burned effect. You can experiment with different patterns, names, or even whimsical illustrations. Finish by applying a food-safe sealer to protect the wood. These personalized cutting boards make excellent gifts for friends and family. They can also add a touch of art to your own kitchen. 
5. Wooden Planters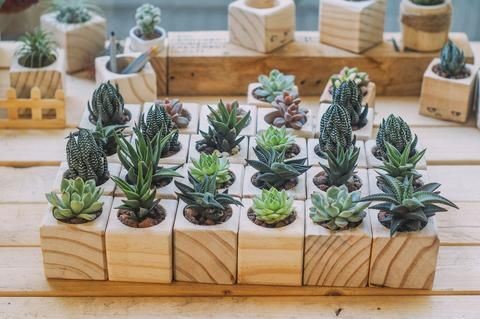 If you're a nature lover, you can add handmade wooden planters to any space in your home. You can create unique planters for your favorite plants and add some greenery to any room. Start by cutting wooden boards into desired lengths and widths, depending on the size of your plants. Assemble the pieces using nails or screws, ensuring you create a sturdy structure. Sand the edges and surface to avoid splinters, and then paint or stain the planter in colors that complement your decor. To prevent water damage to the wood before planting, add a plastic or ceramic liner. Your living space will gain a natural, rustic charm from these easy-to-make wooden planters. 
6. Wooden Wall Art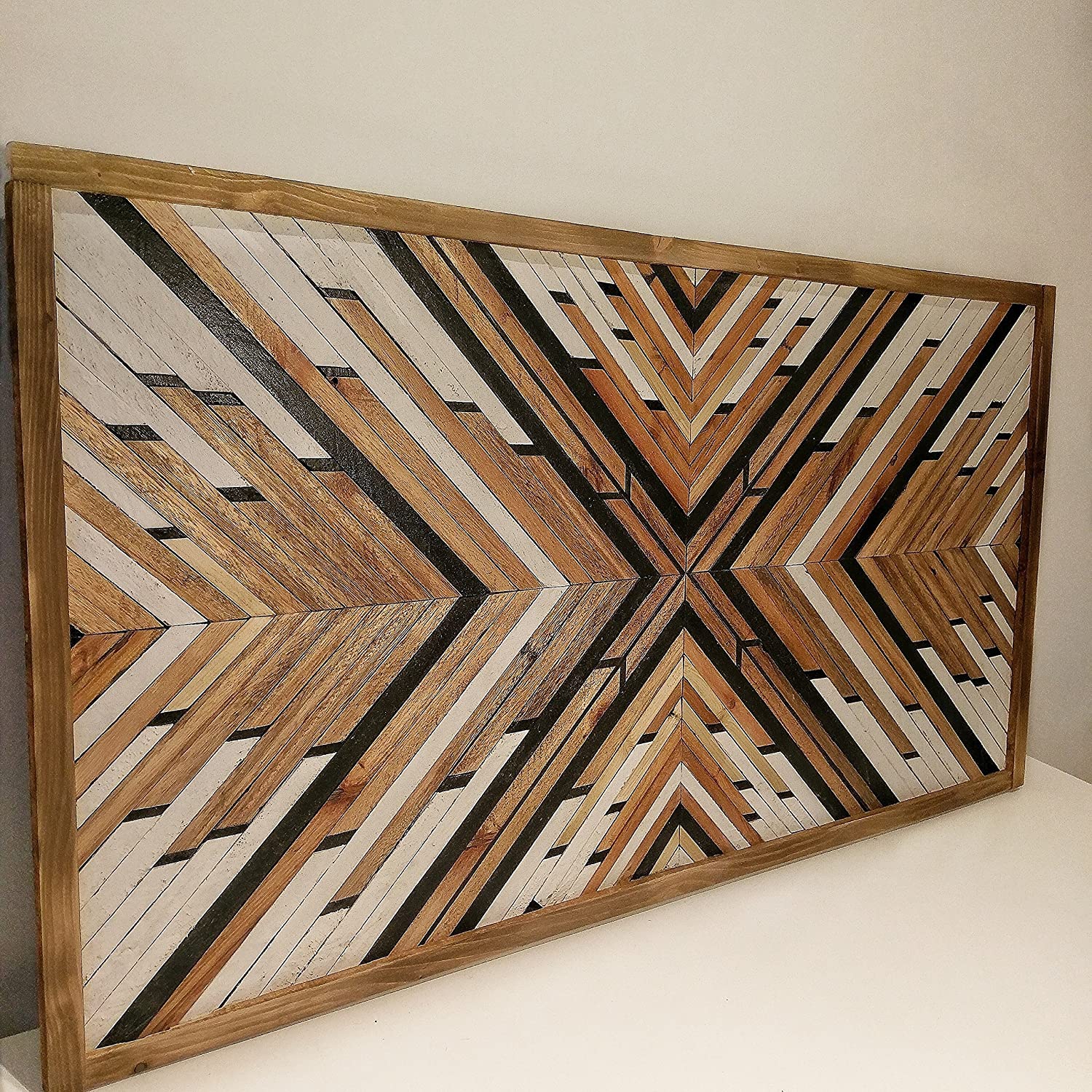 Turn your blank walls into a gallery of wooden masterpieces by creating your own wall art. You have a number of options, including simple wood painting, woodcut printing, and wood carving. Use a wooden canvas as a base or upcycle an old wooden frame. Make a quick pencil sketch of your design, then use carving equipment, chisels, and paintbrushes to bring it to life. You may make abstract art, landscapes, or even motivational sayings. Hang your one-of-a-kind wooden works of art to give any area in your house more character and personality. 
7. Wooden Toys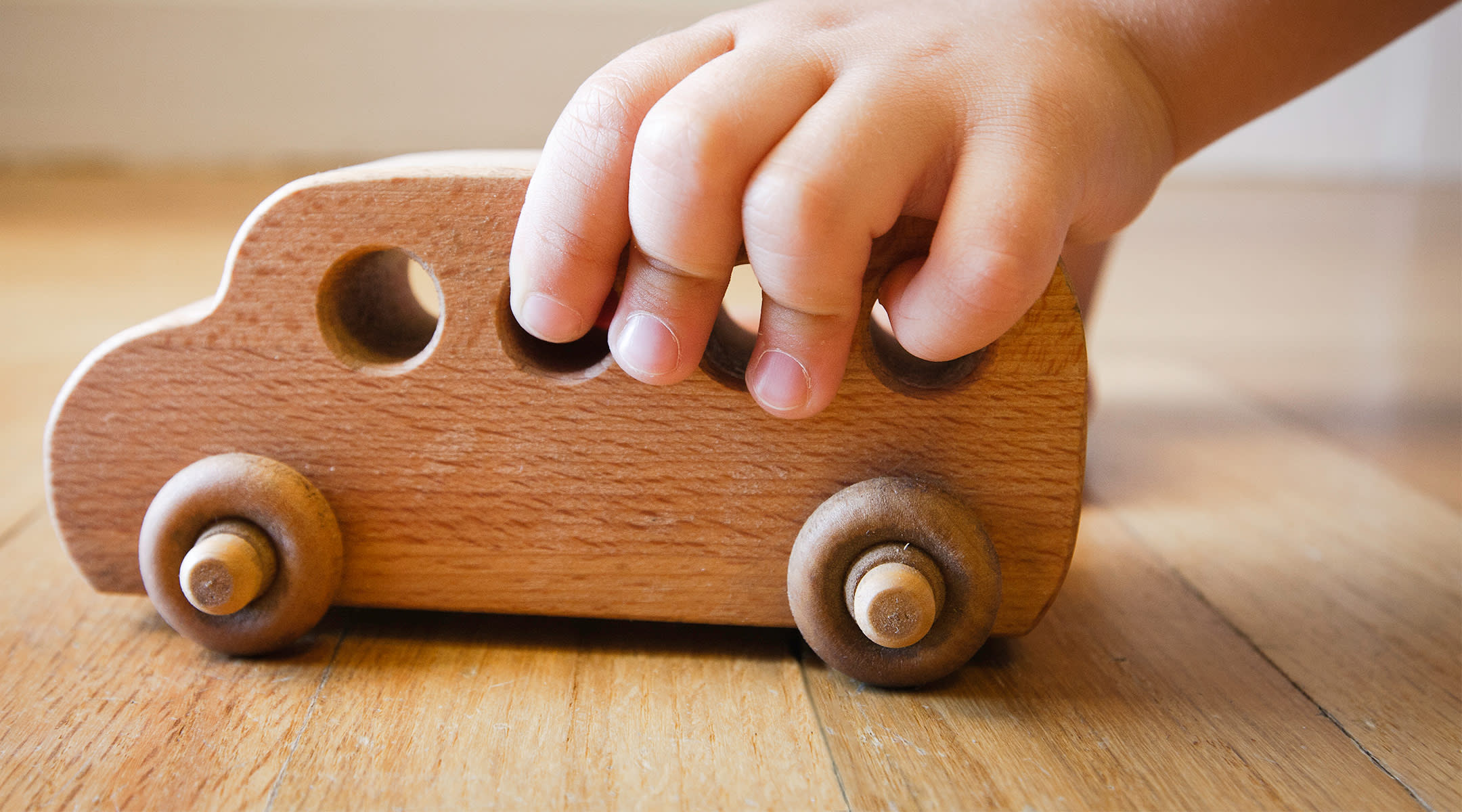 Wooden toys have a timeless charm. Making your own wooden toys is not only fun but also gives you the freedom to customize them for your children as a gift. Start by choosing the type of toy you want to create, such as cars, animals, or puzzles. Use a scroll saw or a jigsaw to cut the shapes from wooden blocks or boards. Sand the edges smoothly and paint or stain them using kid-friendly finishes. Add wheels to vehicles, or eyes to characters, or any other necessary detail using non-toxic glue or screws. These handmade wooden toys will spark creativity and provide hours of imaginative play. 
8. Wooden Serving Trays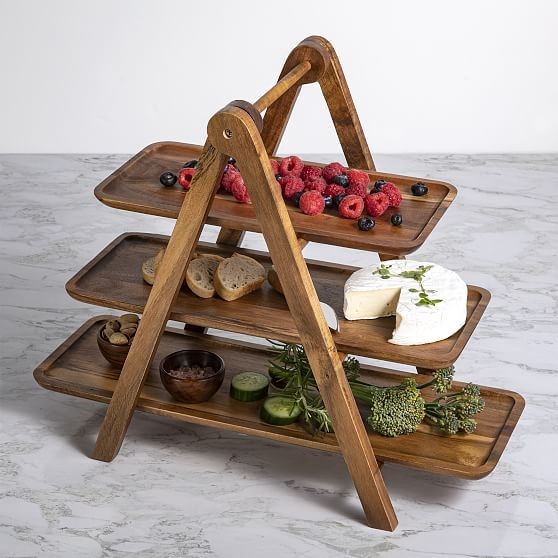 Impress your guests with stylish and functional wooden serving trays. They are perfect for serving drinks, appetizers, or breakfast in bed. Start by selecting a wooden board or repurposing an old tray. Sand the surface smooth and paint or stain it to match your decor. If desired, add handles on the sides for easy holding. For an extra touch of elegance, you can decorate the tray with decoupage or wood-burning designs. Seal the surface with a food-safe varnish to protect it from spills. Your handmade wooden serving tray will add a touch of sophistication to any gathering. 
9. Wood Puzzles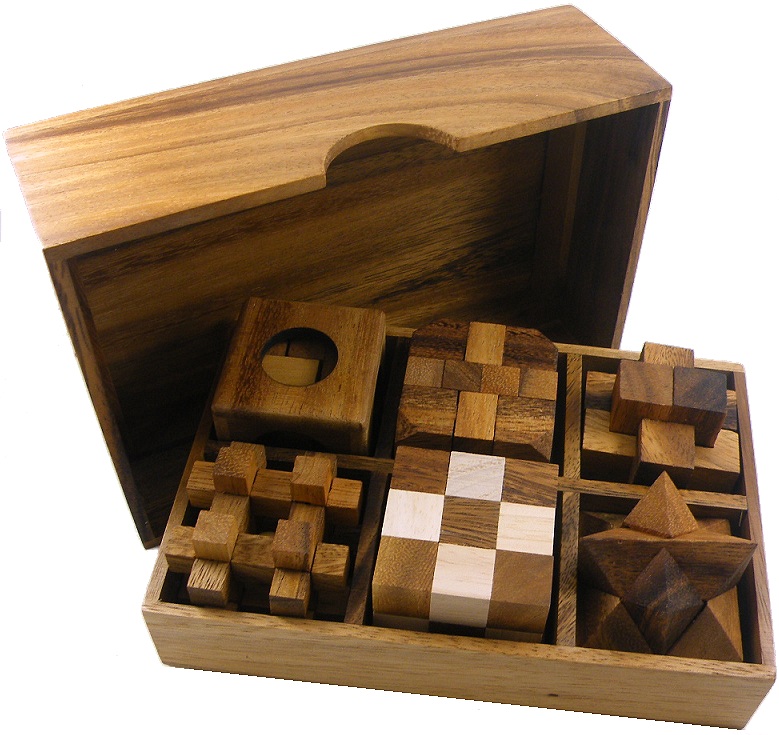 Wooden puzzles are not only entertaining but also great for improving cognitive skills. You can create your own custom wooden puzzles for children or adults. Start by selecting a wooden board and drawing the desired puzzle shapes on it. Use a scroll saw or a jigsaw to cut out the pieces. Sand the edges smoothly and paint them in vibrant colors. To make the puzzle more challenging, you can create intricate shapes or add interlocking mechanisms. Your handmade wooden puzzle will provide hours of engagement and entertainment.
10. Wood-Carved Utensils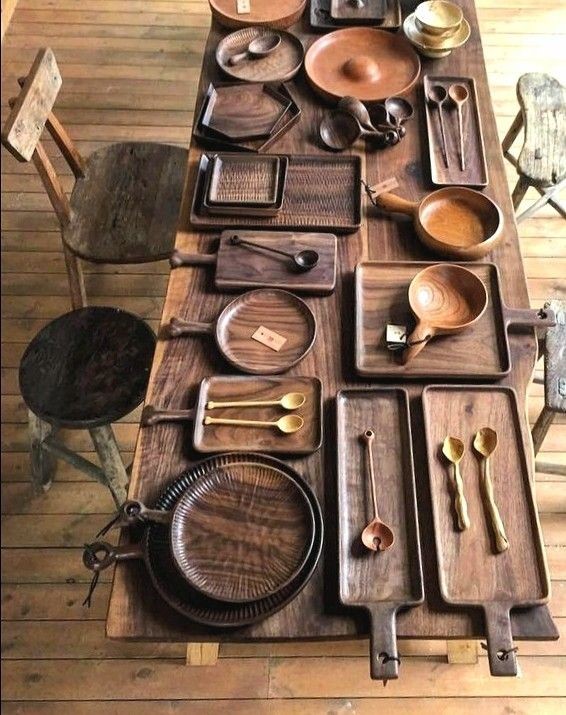 Add a touch of craftsmanship to your kitchen with hand-carved utensils. You can carve your own wooden spoons, spatulas, or even salad tongs. Start with a piece of hardwood, such as maple or cherry. Use carving tools to shape the wood into the desired utensil form. Smooth the surface and apply food-safe oil or beeswax for a natural finish. Carved wooden utensils are not only functional but also a joy to use and display in your kitchen. 
11. Wood Bookends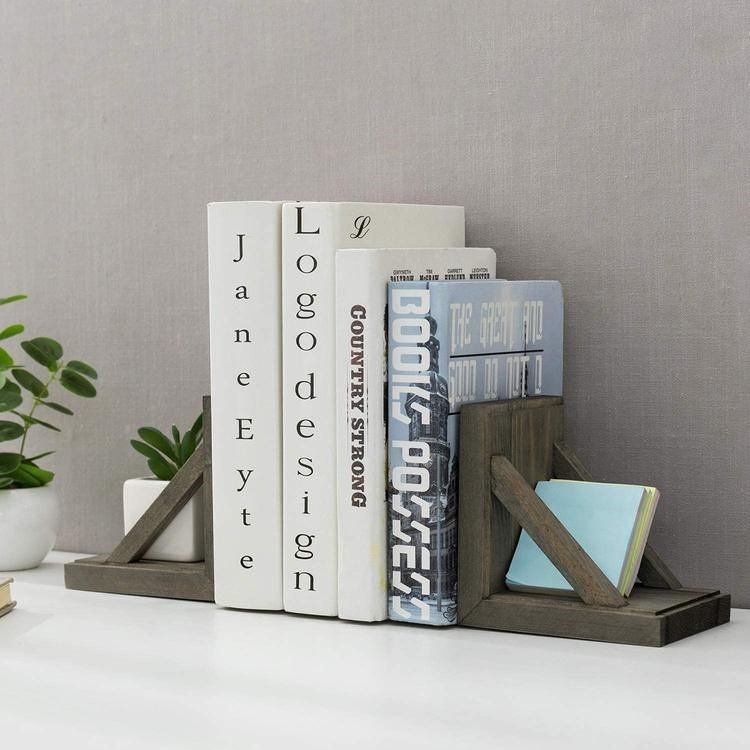 If you're a book lover, wooden bookends can add both functionality and style to your bookshelf. Start by selecting two wooden blocks or repurposing pieces of wood with interesting shapes. Sand the surfaces smoothly and paint or stain them in your desired color. You can also add decorative elements like stenciled designs or wood carvings. Attach a rubber protector to the bottom to prevent scratching. Your handmade wooden bookends will keep your books organized and make a statement in your reading nook. 
12. Wooden Candle Holders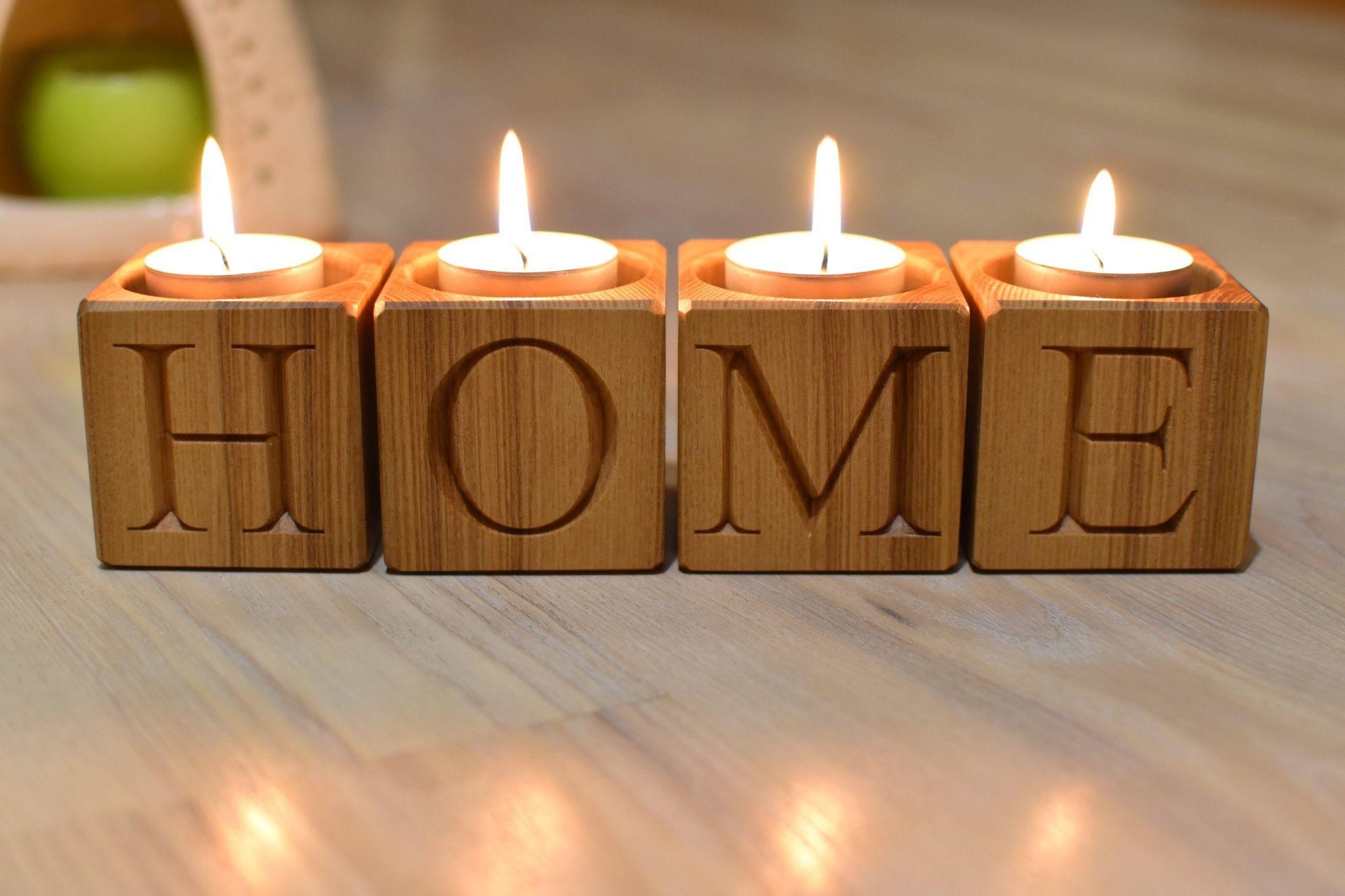 Create a cozy and warm ambiance using handmade wooden candle holders. Start by selecting wooden blocks or logs with diameters suitable for candles. Use a drill with a spade bit, paddle bit, or any other bit to create holes for the candles. Sand the surface smooth and finish with paint, stain, or natural beeswax. You can also add decorative elements like wood-burned patterns or carvings. Light the candles and enjoy the warm glow that your wooden candle holders bring to any space. 
13. Wood-Inspired Wall Hangings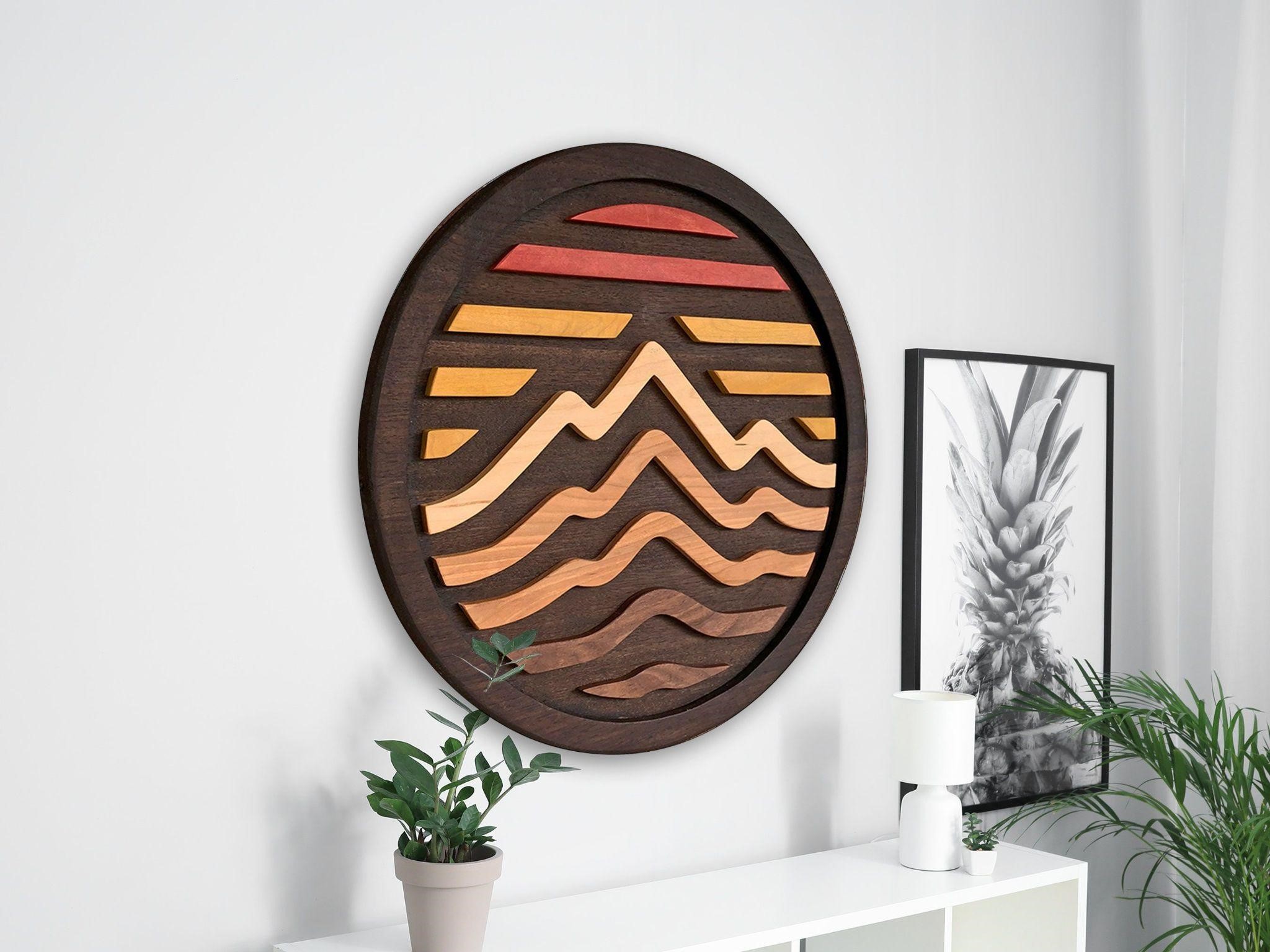 Bring some natural beauty into your home with wood-inspired wall hangings. You can create unique pieces using materials like driftwood, tree branches, or wooden beads. Arrange the materials in interesting patterns and secure them with twine or wire. You can also add elements like feathers, macrame, or shells for some extra texture and visual interest. Hang your handmade wood-inspired wall hangings in your living room, entryway, or bedroom for a natural and artistic touch. 
14. Wood Mosaic Art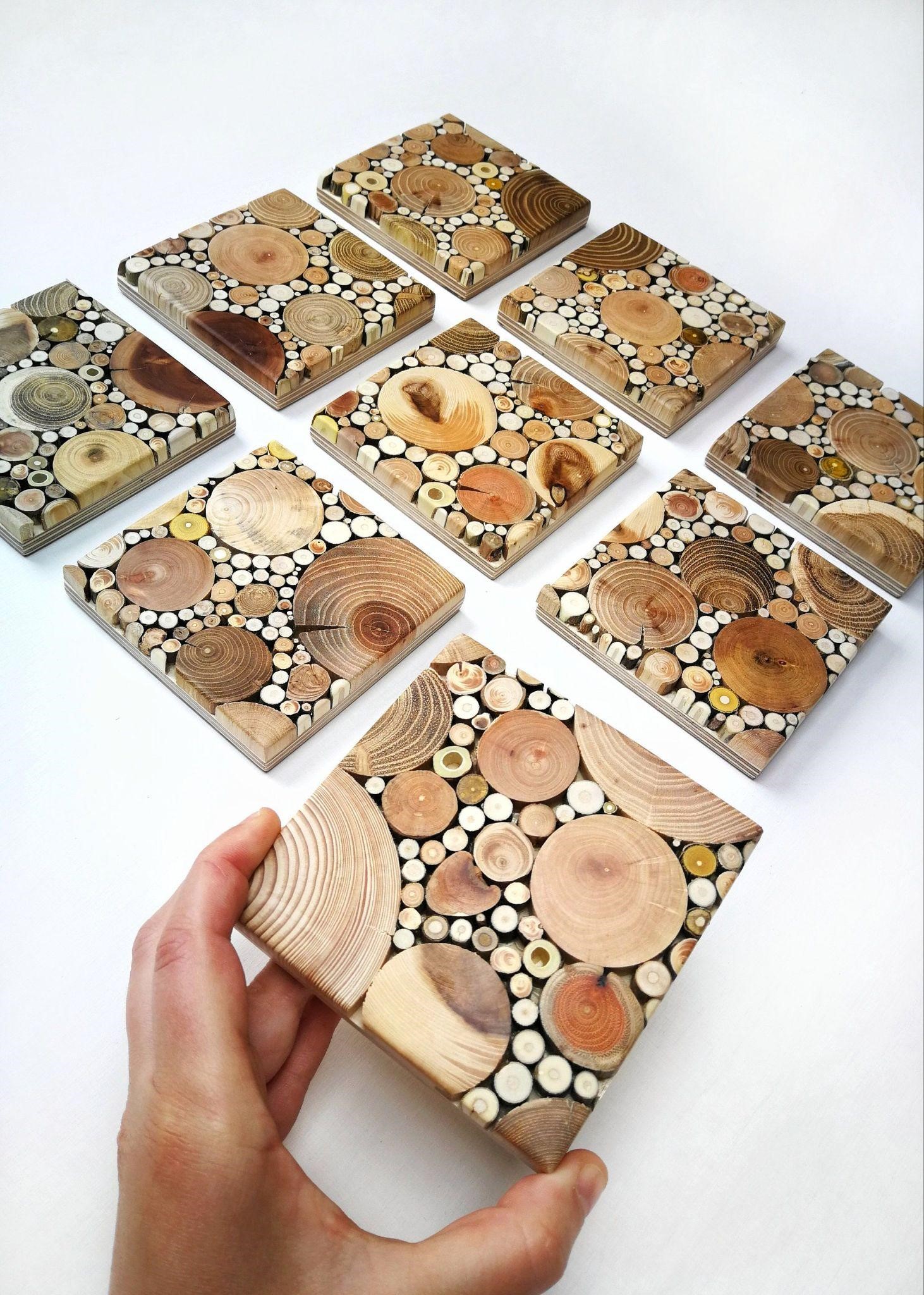 Create stunning mosaic art using wooden pieces. Start by cutting wooden blocks or discs into small uniform pieces. Arrange the pieces in a desired pattern on a wooden panel or canvas. Secure them with wood glue and let them dry. Once the pieces are firmly attached, sand the surface to create a smooth and even finish, paint or stain the wood mosaic and seal it with a clear coat for protection. Your wooden mosaic art will add a unique and eye-catching element to your home decor.
15. Wood-Stamped Fabric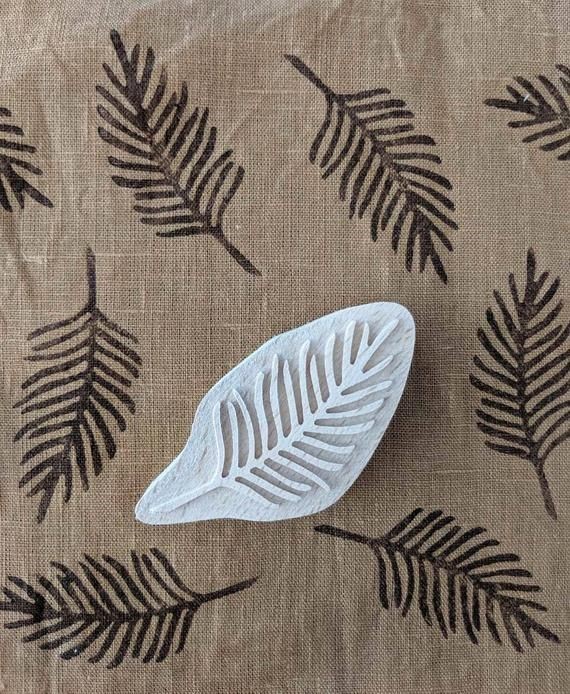 Add a personalized touch to items made out of fabric, like towels, tote bags, pillowcases, etc., using wooden stamps. Start by carving simple designs or patterns on small wooden blocks. Apply fabric paint to the carved surface and press the stamp onto the fabric. Experiment with different colors and designs to create your own custom patterns. Once dry, heat the paint according to the manufacturer's instructions. Your handmade wood-stamped fabric items will add a charming and unique flair to your home. 
16. Wood Inlay Furniture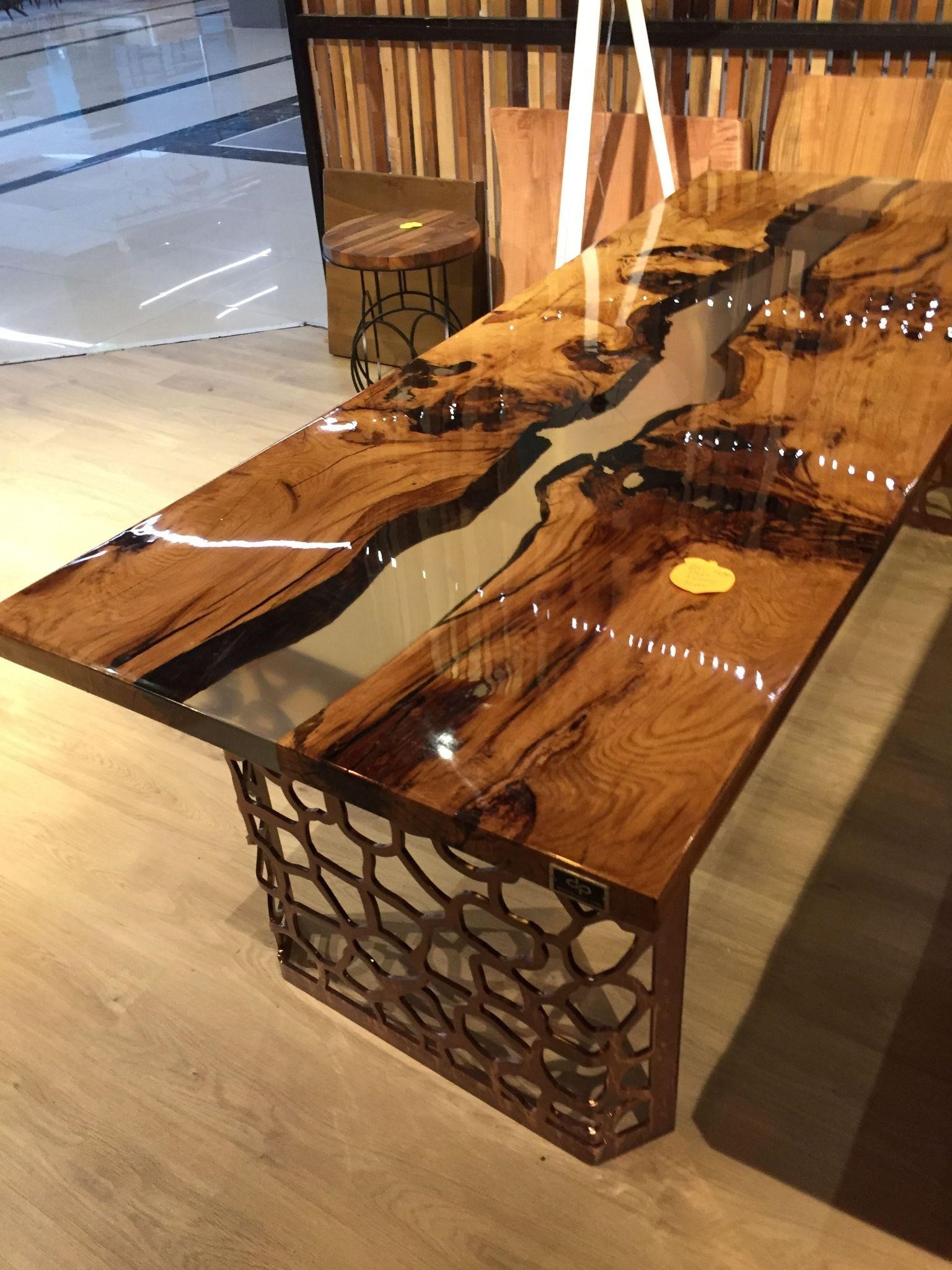 Transform your basic, plain furniture into pieces of art with wood inlay designs. Choose a piece of furniture with a flat surface, such as a cabinet door or tabletop. Sketch your desired design on the surface and use a chisel or router to carve out the design carefully. Select contrasting wood varieties or even different types of materials like metal or stone to create the inlay. Fit the pieces into the carved area and secure them with wood glue. Sand the surface smooth and finish with paint, stain, or clear varnish. Your wood-inlaid furniture will become a focal point in your home, and you will be able to showcase your woodworking skills.  
17. Wooden Vases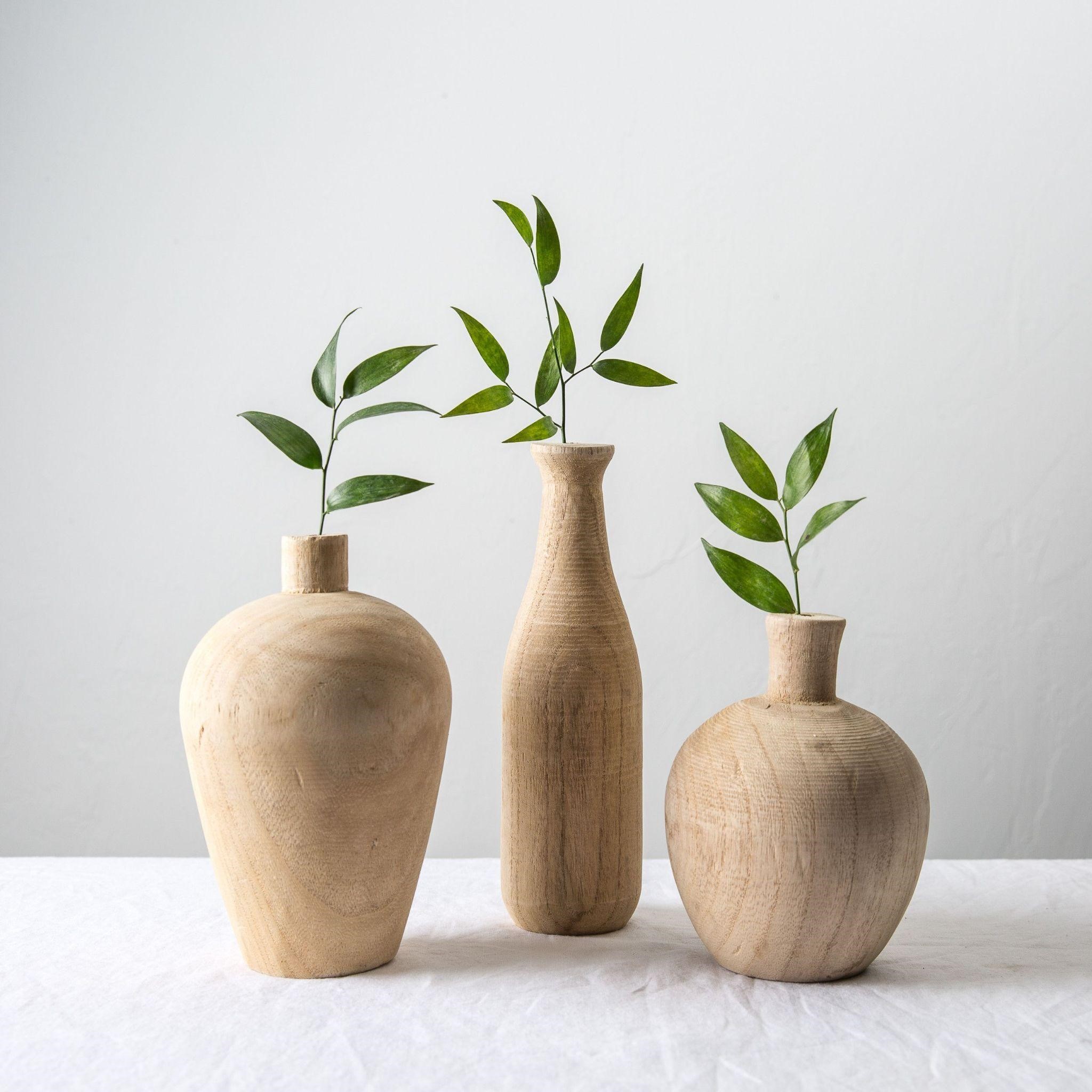 Create unique and eye-catching vases by carving or shaping wood into elegant shapes. Start with a solid block of wood and use carving tools or a lathe to shape it into a desired vase form. Sand the surface smooth and finish with paint, stain, or a natural wood finish. You can also experiment with textures or create carved patterns for added visual interest. Add a glass or ceramic insert for holding water and display your handmade wooden vases with fresh flowers or dried arrangements. 
18. Wood Sculptures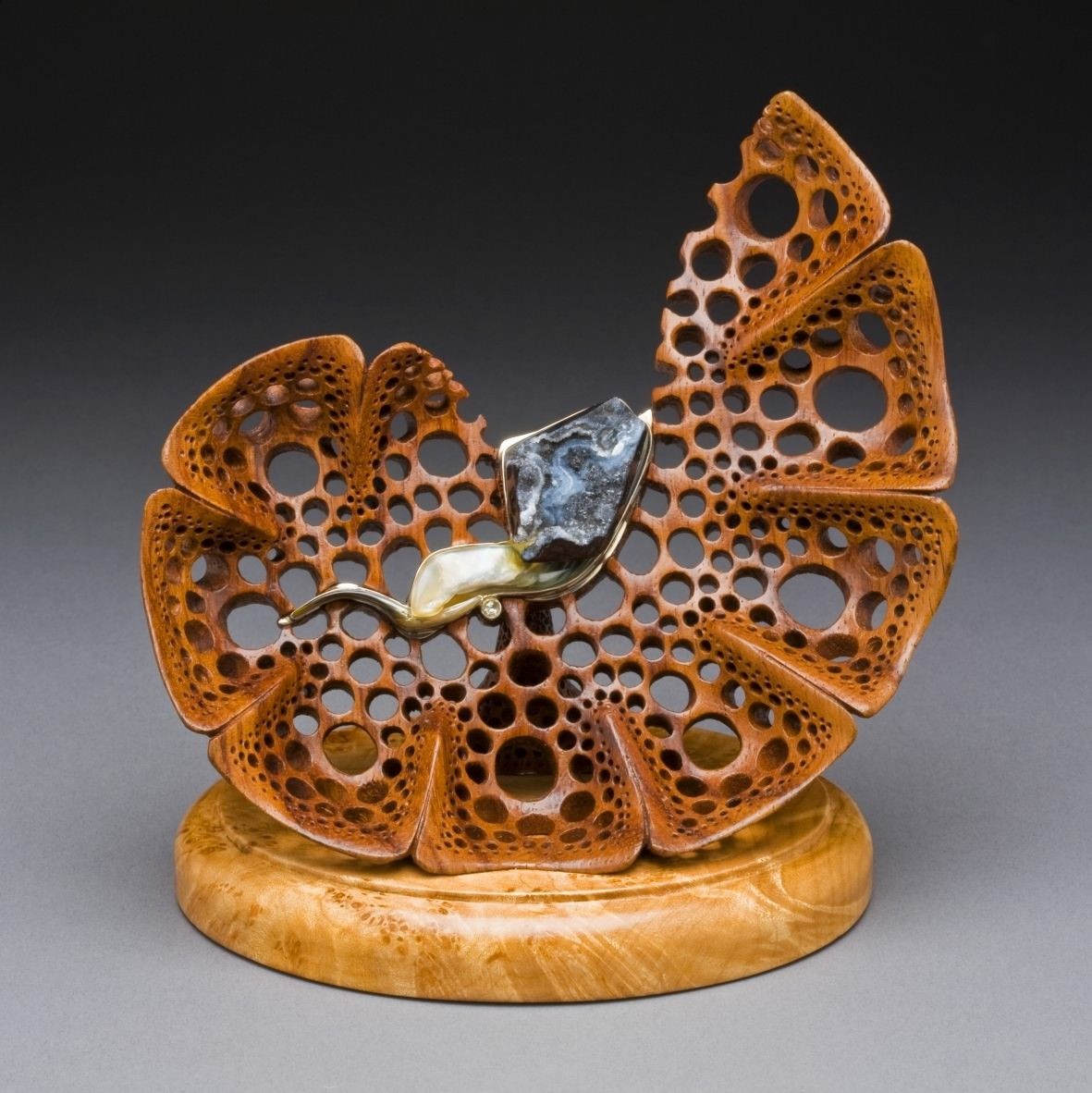 You can also create beautiful three-dimensional sculptures out of wood. Start with a solid piece of wood and carve, shape, or assemble it to bring your vision to life. You can create abstract forms, animals, human figures, or even intricate architectural structures. Use carving tools, chisels, or a combination of woodworking techniques to achieve the desired shape and details. Sand the surface smooth and finish with paint, stain, or a clear coat to protect the wood. Your wooden sculptures will showcase your creativity and woodworking skills. 
19. Wood Wall Shelves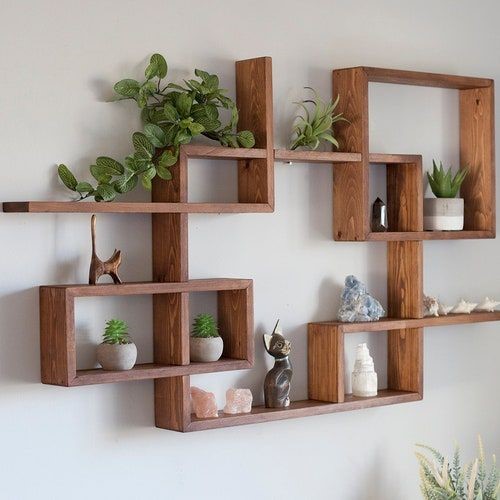 Add functional and stylish storage to your walls with handmade wooden shelves. Start by selecting wooden boards or repurposing old planks. Cut the boards to the desired length and sand the edges smoothly. Mount brackets or use hidden shelf supports to secure the shelves to the wall. Paint or stain the shelves to match your decor, or leave them natural for a rustic look. Arrange your favorite books or decorative items on the shelves and enjoy the organized and decorative space they create. 
20. Wood-Inspired Home Accessories 
Get inspired by the natural beauty of wood and incorporate it into various home accessories. You can create wooden key holders, jewelry organizers, or even decorative wood hooks. Use branches or small pieces of wood as the base, and add hooks, knobs, or other hardware as needed. Customize the design and finish to match your personal style and preferences. The design should also match the overall theme of your home. These handmade wood-inspired accessories will add functionality and a touch of nature to your living space. 
21. Decorative Letters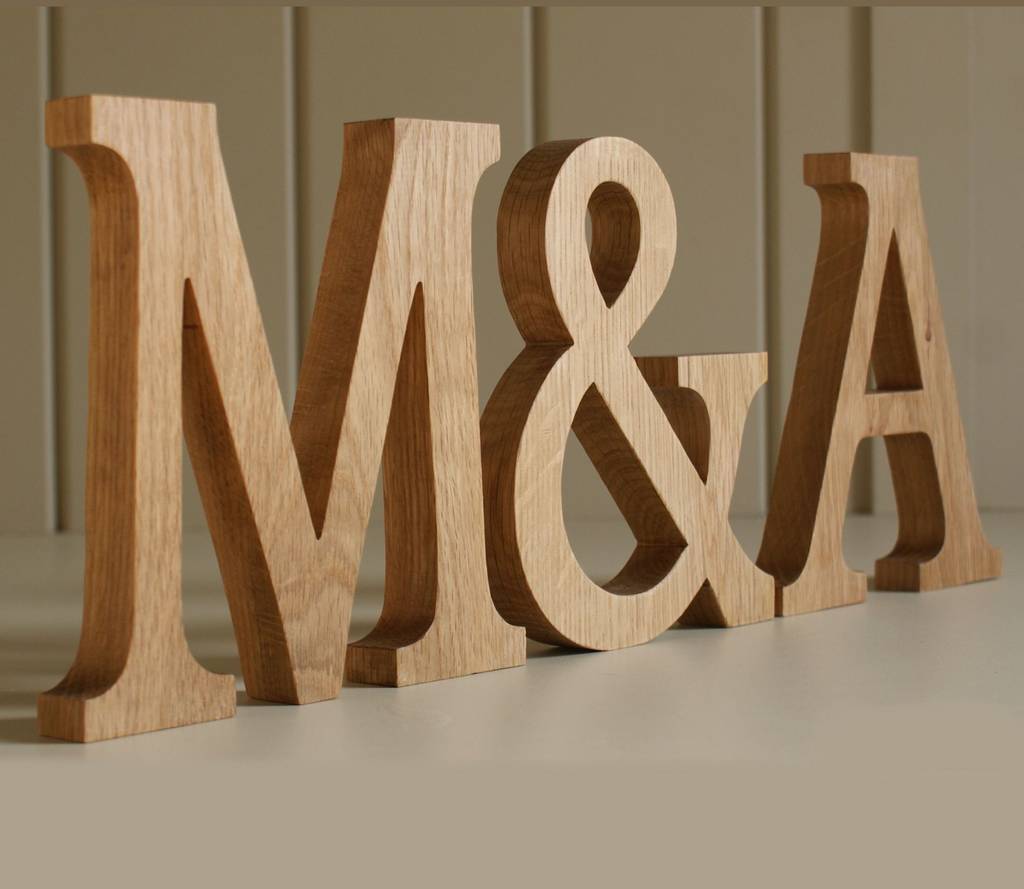 Decorative letters can be added to plain walls or doors to personalize and accentuate the look of any space. Get a wooden board and cut it in the shape of your desired letter. Then sand the edges and surface smooth and stain it or paint it in your favorite color to make it look visually appealing. To enhance the look, you can create patterns or prints of your choice. You can also experiment with fluid art or resin art as per your preferences. 
Benefits of Wooden Home Decor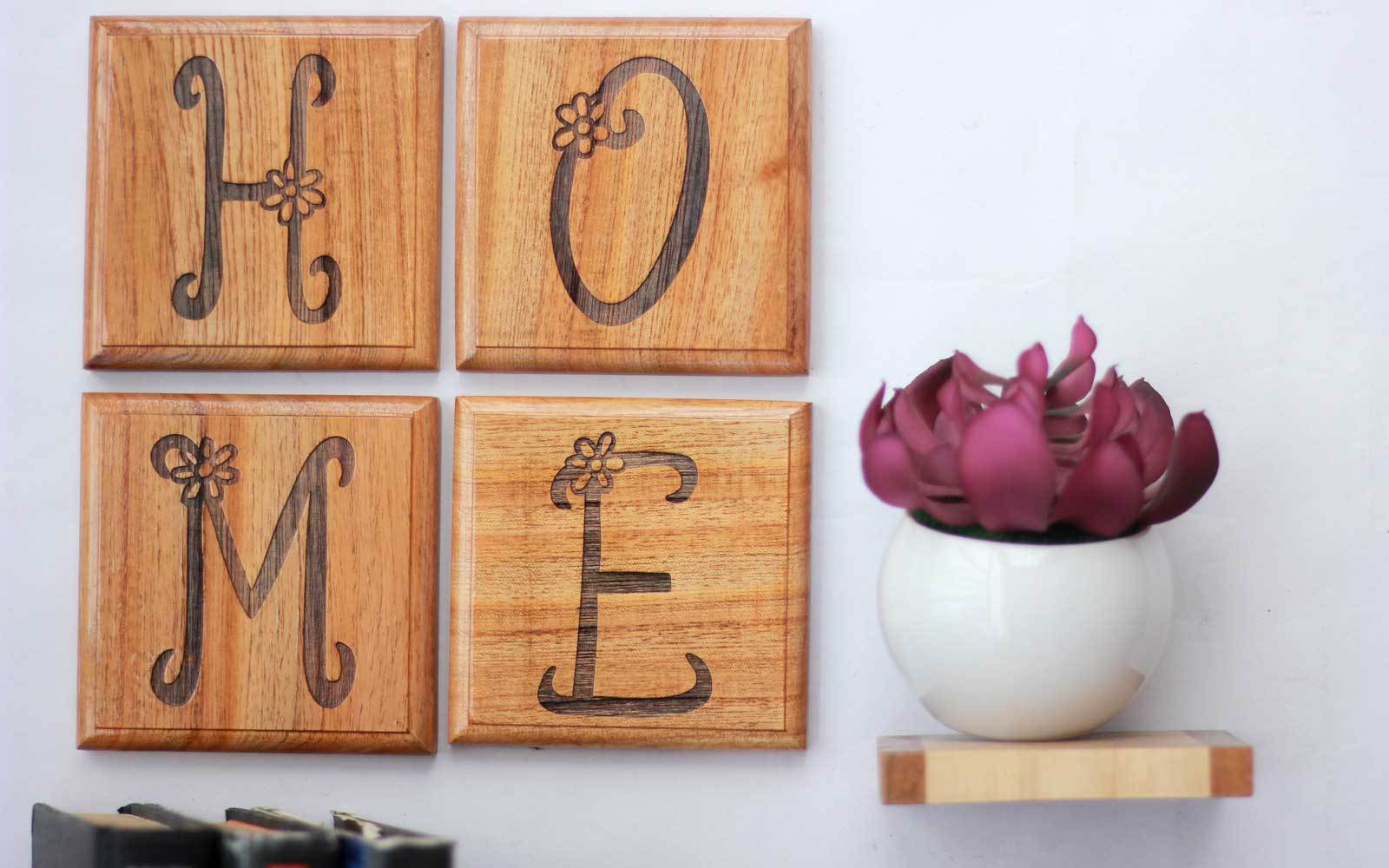 Are you considering a decor upgrade for your home? If you're unsure about what kind of decor to incorporate, consider wooden furniture and decor pieces. Wood decor can be a very chic and versatile decor option for your home. Wood is known to retain its appearance for years. Any damage done to the decor pieces of furniture can be easily repaired, and the piece can restore the original feel and appearance. Wood is a more environmentally-friendly material than other material options. This kind of decor has multiple benefits:
1. Wood Furniture Is Durable
It is very hard to destroy wood furniture. This material is designed to last for years without any wear and tear. 
2. Wood Decor Is Effortlessly Stylish
Trends come and go, but some trends are evergreen and last forever. Wooden furniture and decor pieces rarely go out of style. This trend can be passed down through generations regardless of ongoing trends. 
3. Sustainable Option
Wood is a naturally renewable energy source. Hence you are not going to run out of it anytime soon. Wood also absorbs carbon dioxide, which means for each meter of wood used in construction, a tonne of carbon dioxide is eradicated from the atmosphere. 
4. Wood Decor Is Versatile
Wood decor ranks high in terms of style, functionality, and utility. It can be used in multiple ways to suit your preferences and style. 
5. Wood Furniture Is Well-Crafted 
High-quality wood furniture costs a little more, but it is well-made, heavy-duty, and durable. Wood furniture is high-quality and would be a premium, luxury addition to your house. 
Conclusion
Handcrafted wooden artifacts can take your home decor a notch higher. If you're a beginner struggling to figure out how and where to start, then these simple woodworking projects mentioned above will help you get started in no time. We hope this article helps you figure out which tools to buy and what items to create to enhance the decor of your home. Wood decor provides a rustic and vintage feel to any space. Not only is wood a very trending material, but it also is very beautiful to look at.
Wooden items are also very durable and can be recycled easily. Wood is also biodegradable, which makes it an environment-friendly decor option. Incorporating wooden items will make you feel closer to nature and bring warmth to any space. 
Frequently Asked Questions
Are There Any Wood Craft Ideas Suitable for Beginners?
Yes, woodworking is a versatile craft that caters to all skill and experience levels. You can start off with basic, simple projects like personalized coasters, rustic picture frames, or wooden planters. These projects are beginner-friendly and offer a great opportunity to learn basic woodworking techniques while creating something beautiful. 
Which Tools Will I Need for Wood Crafts?
Depending on the project you choose, the tools that you will require will vary. However, there are some essential tools that every woodworker will need, like a circular saw or a jigsaw, sandpaper, a drill, measuring tape, clamps, and a set of chisels. 
Where Can I Find the Wood Materials for My Projects? 
You can find wood materials at various places. Local hardware stores usually have a wide selection of wood varieties suitable for crafting. Alternatively, you can explore online retailers that specialize in woodworking supplies. 
How Can I Personalize My Wood Craft Items?
Personalizing your wood craft items can be fun and interesting. You can experiment with different finishes, such as stains, paints, and varnishes, to achieve the desired look. Adding unique designs, patterns, or engravings is another way to infuse your personal touch. 
Are There Any Safety Precautions to Take While Working with Wood?
While working with wood, it is critical to wear appropriate protective gear like safety goggles, ear protection, and a dust mask. It's also essential to educate yourself in advance on the correct use of each tool and always follow safety instructions. Take your time, work in a well-ventilated space, and maintain a tidy and organized workspace to avoid accidents. 
How Can I Overcome Mistakes Encountered During Wood Crafting?
In case you make a mistake, try to look for a solution or consider incorporating wooden crafting into a different design. You can also seek valuable advice from experienced woodworkers. If needed, start from scratch and learn the process one step at a time.
Can I Sell My Woodcrafts?
Yes, you can sell your woodcrafts. If you have a passion for woodworking and have crafted one-of-a-kind and top-notch pieces, there are numerous ways to sell your creations. You can establish an e-commerce shop on websites like Etsy or sell your items at nearby craft fairs, markets, or even exhibitions.