A deck is a part of a house constructed to serve many purposes. For some people, it is just a place to enhance the outlook of the house, while for some of them, it is a place where they spend most of their time. Some people use it as a dining place, and some use it to host parties.
Whatever might be the reason, if the appearance of the deck is appealing, then not only will it add to the look of the house, but it will also leave people stunned by your choices.
Nowadays, ground-level decks are very common as they are easy to construct in comparison to the other decks. Apart from this, they are budget-friendly too.
By experimenting a little with the existing ideas, you can easily create your deck, and to assist you, these are the 21 ground-level deck ideas to help you create a unique and eye-captivating deck for your house.
1. Modern Ground-Level Deck Idea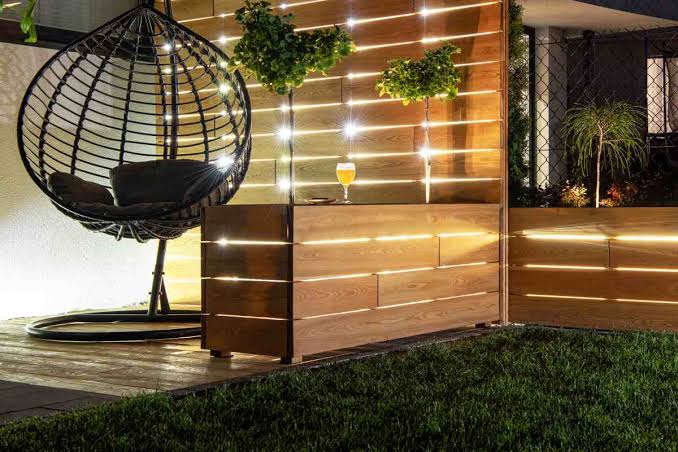 People who love charming and modern architecture for their homes can consider this ground-level deck idea. It is a perfect blend of modern and minimalistic architecture that will enhance the look of the house. The best thing about this look is that to create it; you don't need a lot of money. This whole effect is created by just using a swing and lights and a wooden table. People who want to add more details to it can either add furniture or outdoor trees to get a mesmerizing look.
2. Complimenting Color with The Exterior Walls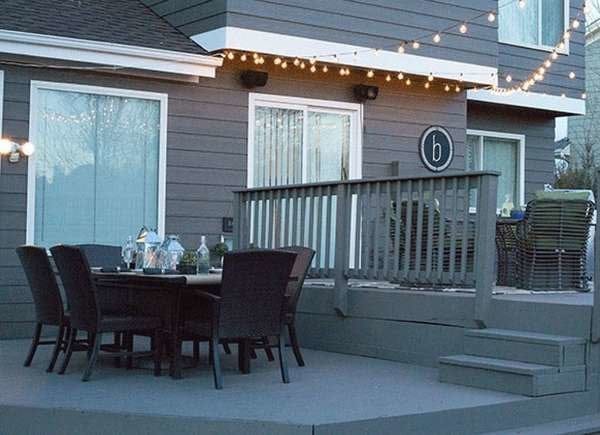 Usually, with the thought of the deck, brown color comes to mind, but what if we ditch the old ways and try something new? Creative people who love experimenting can give it a thought and try using complimenting colors with the exterior walls for their decks. It will add to the look of the boring-looking ground-level deck and make it look spacious and wide hence serving as the solution for houses with small decks. Adding complimenting furniture will do the rest of the part.
3. Deck Constructed in The Vicinity of The Garden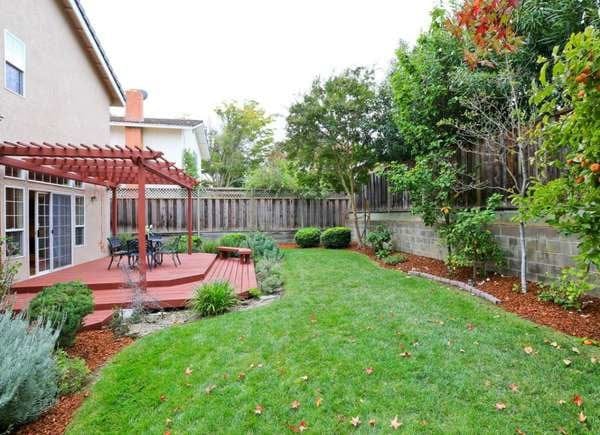 People who have a garden in their house and love to spend time under the shade of trees reading books, sipping morning tea, or time chit-chatting with family can consider creating this deck idea for their garden to add a unique look to the garden. A wooden shade with a complimenting look can be provided to the deck to avoid exposure to sunlight during the day. This deck will not need any extra additions because plants serve as the natural ornaments for the deck.
4. Experimenting with The Shape of The Deck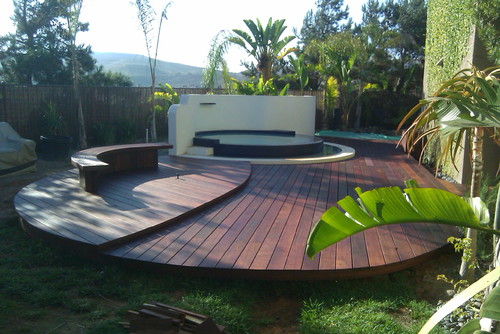 People who are in the habit of adopting new ideas for uniqueness should go for this kind of ground-level deck idea. Using this would add a different dimension to their normal-looking garden. The effect created with this semi-circular deck is quite unique and new to many people. The textured deck imparts a modern look to the deck that makes it one of the masterpieces one should own if he likes to stand out from the crowd.
5. Contrasting Color with The Exterior Walls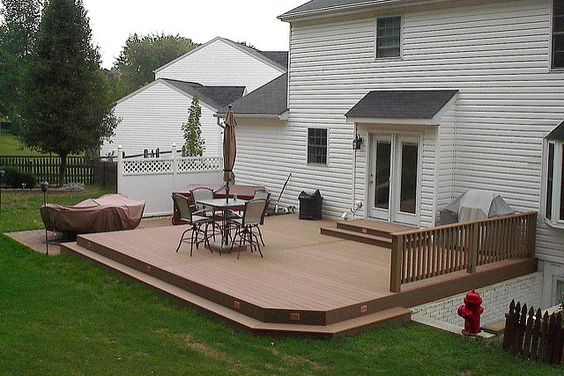 It is possible to create a unique ground-level deck for a home not only by using complementing shades with the exterior walls but also by contrasting ones. The same look is depicted by the following ground-level deck idea. The light brown color deck goes perfectly with the white exterior walls and highlights the charm of the house. People who wish to convert the deck into a seating space can add chairs and tables to fulfill the purpose.
6. Irregularly Shaped Ground-Level Deck Idea
It isn't necessary to achieve a distinctive look for the ground-level deck by experimenting with the color only. You can achieve a different look for the ground-level deck by experimenting with the shape too. One such way is by using an irregular-shaped deck for your house. Using irregularly shaped decks will create a different look in our house. In addition to the use of an irregularly shaped deck, you can experiment with the color scheme to achieve the desired look.
7. Dual-Purpose Deck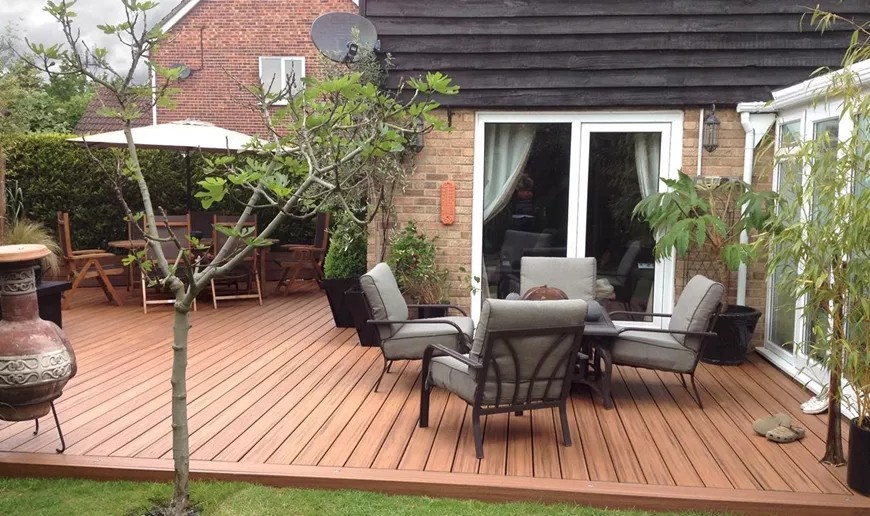 This ground-level deck idea is ideal for people who want to use the deck as a seating space, too can try this kind of dual-purpose deck. They can place tables and chairs on the deck and use it as a sitting and dining space. The contrasting sofa set placed in the deck adds an elite look to the deck and goes well with the deck. If you have a large deck, then you can add more furniture to accommodate more people at the same time.
8. Modern-Day Deck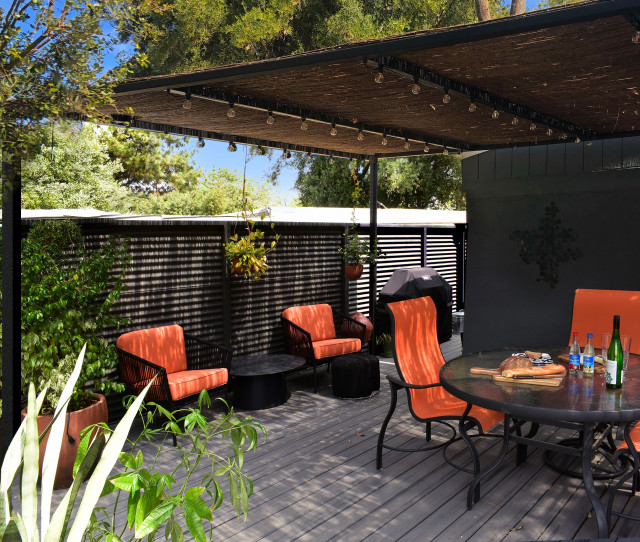 People who like to add a modern look to their homes can consider adding this ground-level deck to their plasticine house. The use of gray deck flooring and black railing imparts a modern and classy look to this deck that makes it one of the modern-day deck ideas worth considering. The addition of other features such as black furniture, black railing, and shade have contributed successfully towards achieving the graceful look. Adding plants has made the place livelier than it was earlier.
9. Budget-Friendly Ground-Level Deck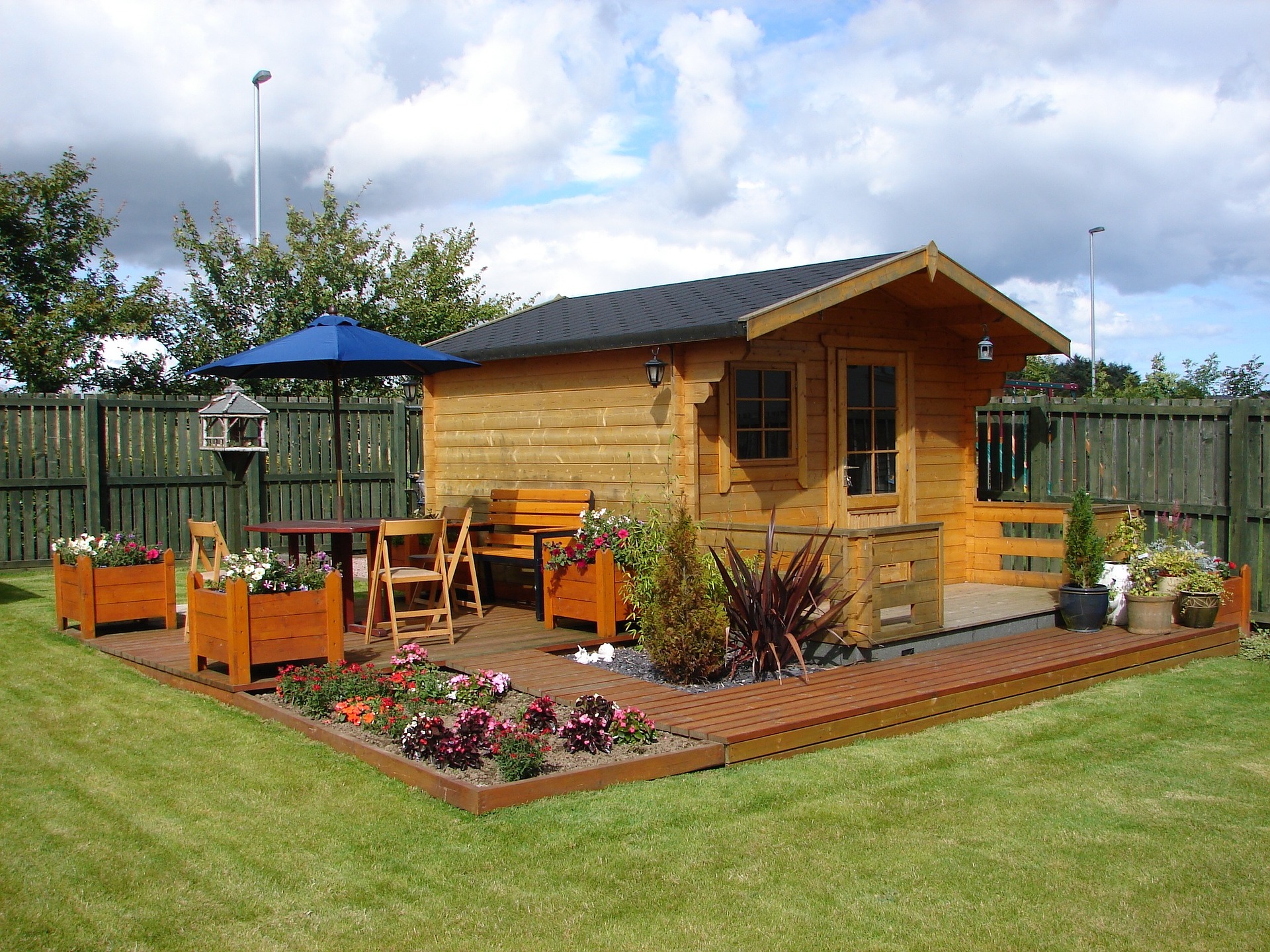 People who want to build a budget-friendly deck can consider prefabricated materials to build the deck. Not only are they cost-effective, but they also can be constructed easily with the least effort. In addition to this, they are even easy to maintain. There are a lot of prefabricated materials available in the market from which you can use the material for your house depending upon your budget and preferences. You can further add details to the deck at your convenience.
10. Concrete Deck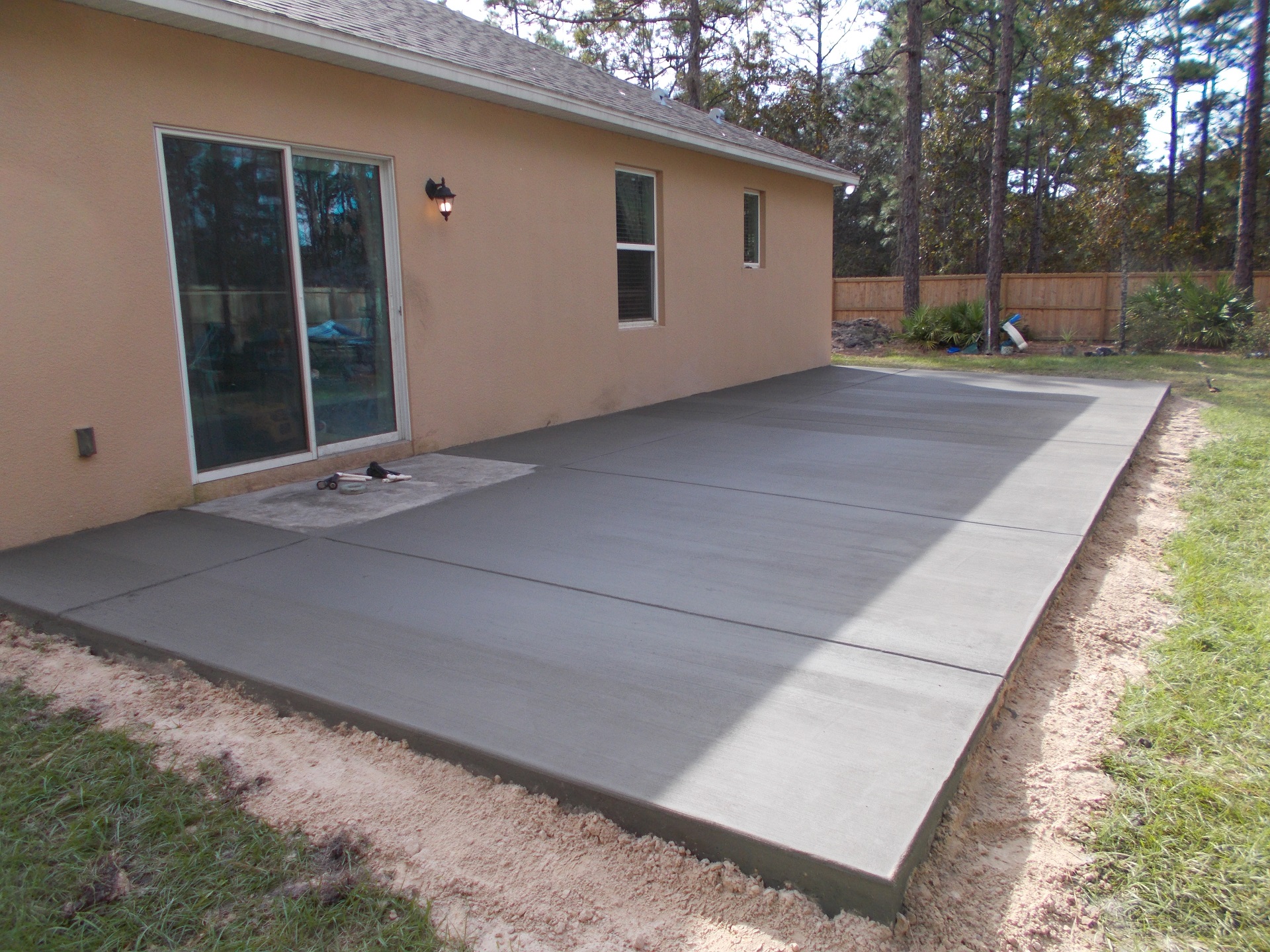 It's a myth that decks can only be constructed using wood. It's not true. There are a lot of materials from which we can construct a deck. One of them is concrete. Concrete decks are durable and can withstand weather variations. That's why they are preferred by many people. Apart from this, concrete decks are also cost-effective and can be designed as per the owner's wish. One more advantage of concrete is that it requires low maintenance in comparison to other materials.
11. Small Deck for The Front Portion of The House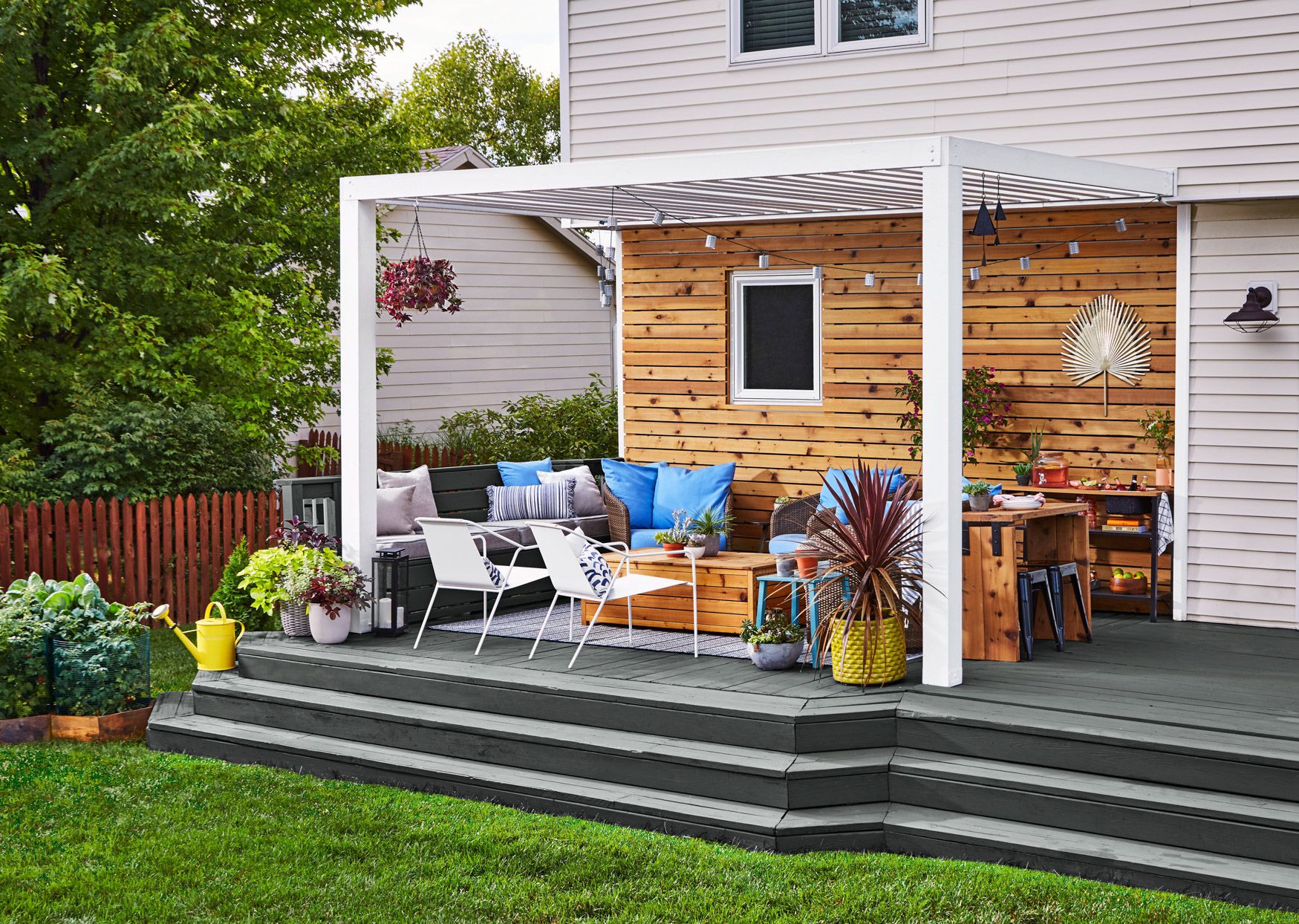 If you do not have enough space outside your home to create a deck, then no need to panic, as it is still possible to create a stunning ground-level deck for your house. If all the things are properly managed, then it will give a nice look to your house. It would be best not to clutter unnecessary stuff and opt for the minimalist deck. To create an effect, you can experiment with the material of the deck, its color, and the furniture you are planning to place on the deck.
12. Budget-Friendly Deck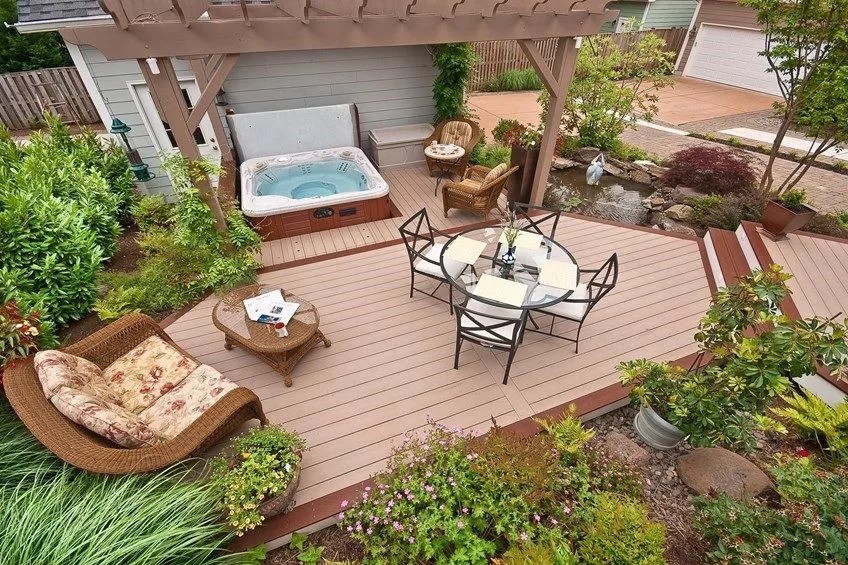 People who don't want to spend much on the deck while maintaining its quality can consider building a small ground-level deck for their house. If we reduce the area of the deck, then you can make it budget-friendly and focus on adding other features to it. For example, people who want to convert the deck into a sitting area can place furniture on it to get the desired look. This is how you will be able to fulfill both purposes in one go.
13. Luxurious Deck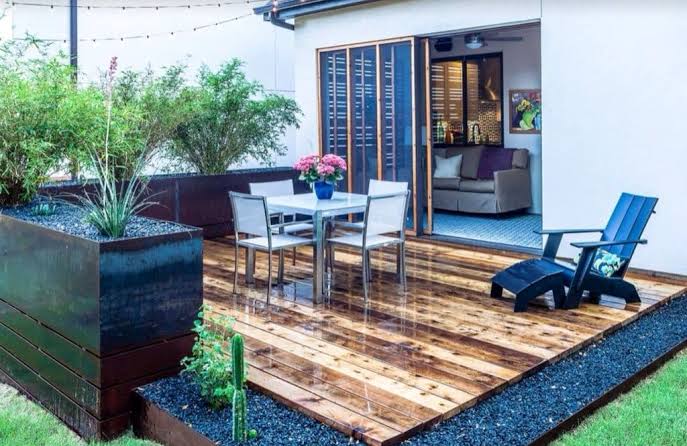 A luxurious house is the dream of many people. With the help of suitable material, it is possible to fulfill the same. All you need is a little research on the material that can help you in achieving the desired look. The use of glossy material for the deck has given it a luxurious look. The correct choice of furniture and the use of dark brown railing cum plant holder has further enhanced the gracious look of the ground-level deck. The use of outdoor lights will illuminate the place in the night.
14. Cozy Ground-Level Deck Idea Using the Color White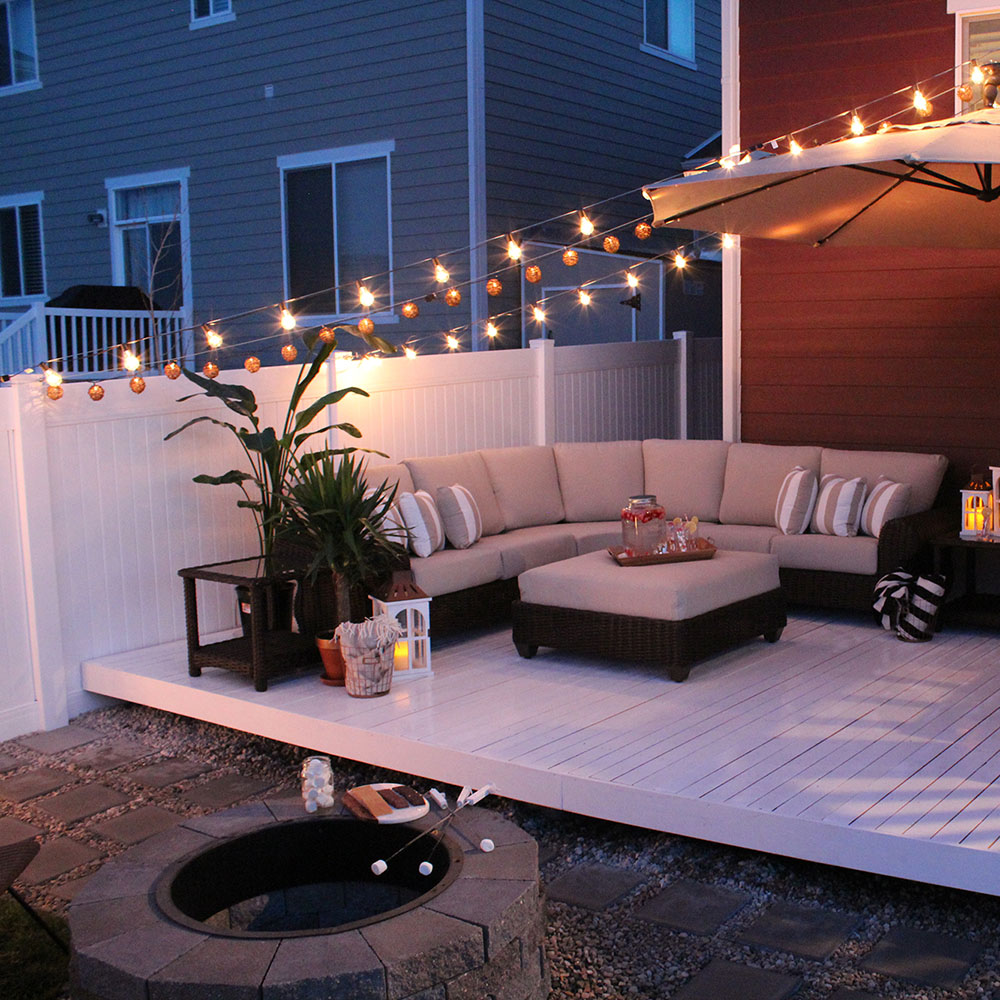 The white color adds coziness and grace to the place. Many architects use white color to embrace purity. Similarly, brown furniture adds elegance to the room or the place where it is kept. Using a combination of both, we can give a totally different look to boring and dull places. Customization of the ground-level deck can be done as per the budget and preferences of the owner. However, adding a few decor items like lights will illuminate the deck, which will steal everyone's attention.
15. Hardwood Deck with Complimenting Privacy Wall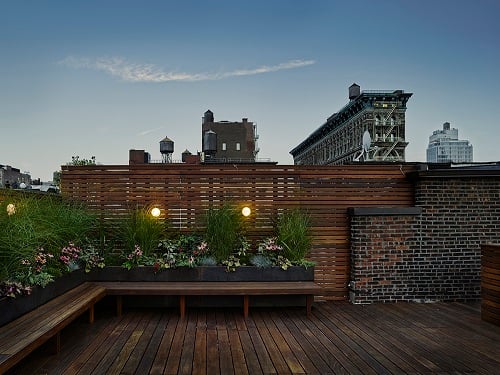 People who are planning to build a deck adjacent to the boundary wall can consider this kind of ground-level deck as an option. If you are looking for a budget-friendly alternative in wood only, then hardwood can serve as the best choice. Hardwood is a low-maintenance option and creates the same effect as other materials. Building the deck adjacent to the boundary wall will be beneficial for privacy lovers as with this, they don't have to spend money on building separate privacy walls.
16. Minimalist Deck Adjacent to The Boundary Wall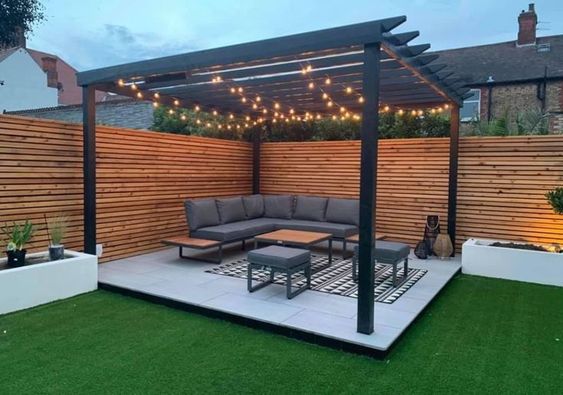 Location plays an important role in deciding the look of the deck. If you are planning to build a deck adjacent to the boundary wall, then you can also consider this ground-level deck idea for your house. People having wooden boundary walls can construct this kind of deck in their garden to enhance the beauty of the garden. If you are planning to utilize the deck as a sitting area, then you can place matching furniture on it. Further customization can be done as per the interests of the user.
17. Floating Deck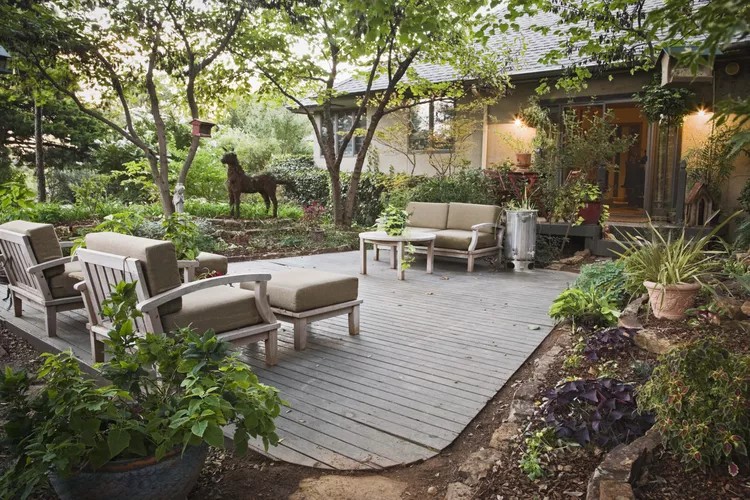 A deck does not always need to be attached to the house; sometimes, we can construct decks that are not attached to the house and are hence known as floating decks. Floating decks are easy to build; hence many people are adopting the idea of floating decks for their homes nowadays. In addition to this, floating decks are not too costly and can be built within a short period as compared to traditional decks. These floating decks can be used as seating space and customized accordingly.
18. Tiled deck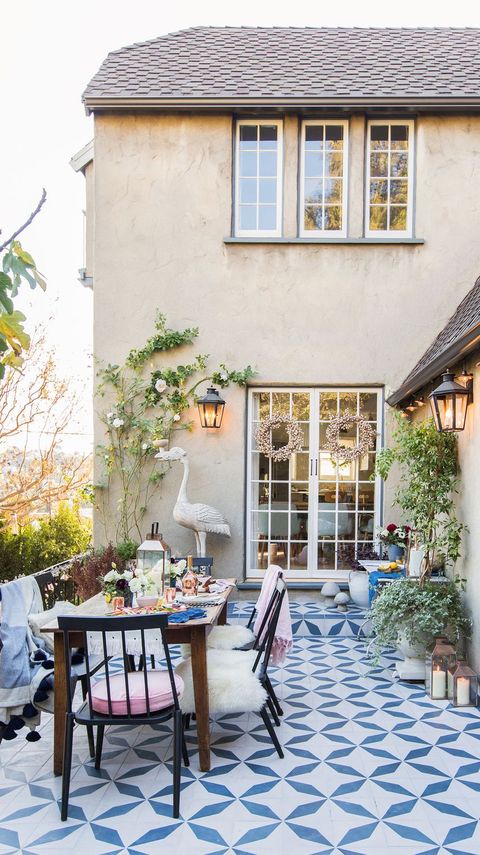 People who do not want to use wood as the decking material can consider another versatile alternative, tiles. Tiles hold an advantage over wood as they can be easily cleaned and are not susceptible to weather damage. Moreover, there are a lot of options available when going for tile flooring. You can either select contrasting tiles to the exterior walls or complement them as per your wish. If you wish to use it as a sitting space, then you can add light furniture to it, as it will complete the look of the tiled deck floor.
19. Angled Ground-Level Deck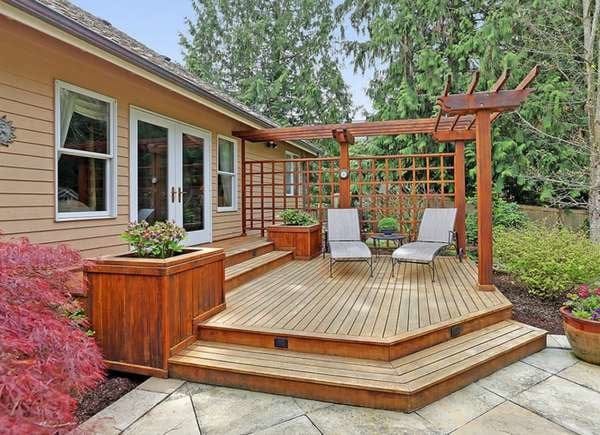 Constructing a ground level doesn't always mean that it should only be in a rectangular shape. More experiments can be done with the shape to achieve a different outlook for the deck. Using an angled deck is one of them. It gives an illusion of ample space, so people who have less space but still want a big deck can consider the idea of using an angled ground-level text for their homes. You can add either a single angle or more than one angle to your deck as per your choice and the space available.
20. Modern and Elite Deck Idea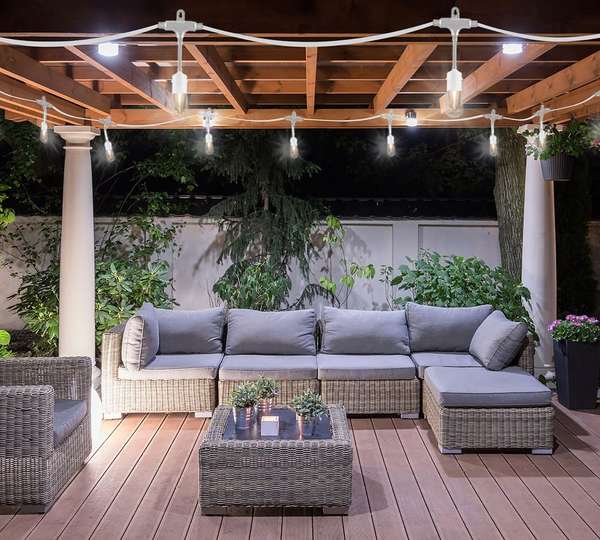 This kind of ground-level deck idea is perfect for achieving a modern and elite look. It doesn't require any heavy assets to create this look. All that is needed is the choice of suitable fixtures that can enhance the beauty of this deck. Using the sofa sets has added to the look of the deck, and the wooden shade complimenting the deck perfectly. This space can serve as a recreational area or a perfect place to host dining parties. Adding shade to the deck can help in enhancing its look.
21. Deck with Attached Ceiling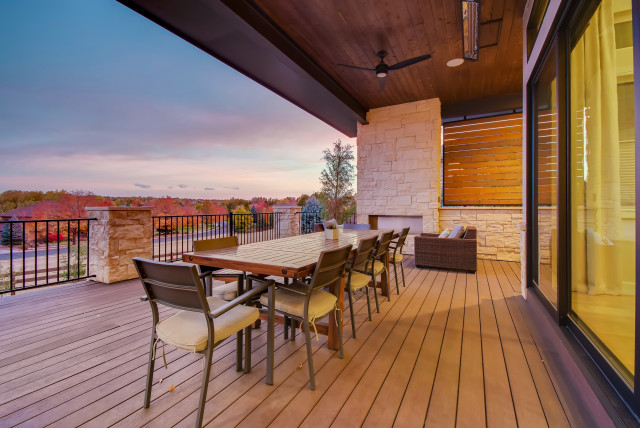 A deck with an attached ceiling is a good option for people who like to spend the majority of their time sitting on the deck, either working or doing other leisure activities. You can attach a permanent ceiling with electric appliances such as fans and lights to ensure hassle-free work. In addition to this, to make the place livelier outdoor plants can be placed on the deck. Comfortable furniture will assist in comfortable seating while working or spending time with family and friends.
Conclusion
Above are the 21 deck ideas that can be considered while creating a deck for the house.
A little experiment with the material used for the construction of a deck, color combinations, and decor items placed on the deck can help in making a difference.
The final look also depends on the budget and the purpose for which the deck is constructed.
To construct the deck for the house, you can either use these ideas or take help from them to create a unique space for your house.