Taking care of your kitchen's decor is hard enough, but when you factor in the windows, the task becomes difficult indeed. But there is no way just to abandon the idea because it is a fact that rooms need windows. And kitchens especially need all the ventilation they can get. Thus, much thought must go into the process of choosing the best display for your kitchen windows.
But among the thousands of decors available everywhere on the internet, which one will look perfect for your kitchen? You will have to consider the decor of the rest of the house, as well as the kitchen itself. And in this article, we discuss some of the classic yet trendy ways to take care of your window over the sink.
Here are some of the best ways to adorn your Kitchen window.
1. Classic Curtains For Privacy
The simplest way to make your kitchen window over the sink more interesting is by adding curtains. These decor items come in various materials and usually mesh well with any theme. A plain white curtain will look well surrounded by all the appliances. But if you want to bring in a little color, yellow curtains do a good job of brightening up the room further.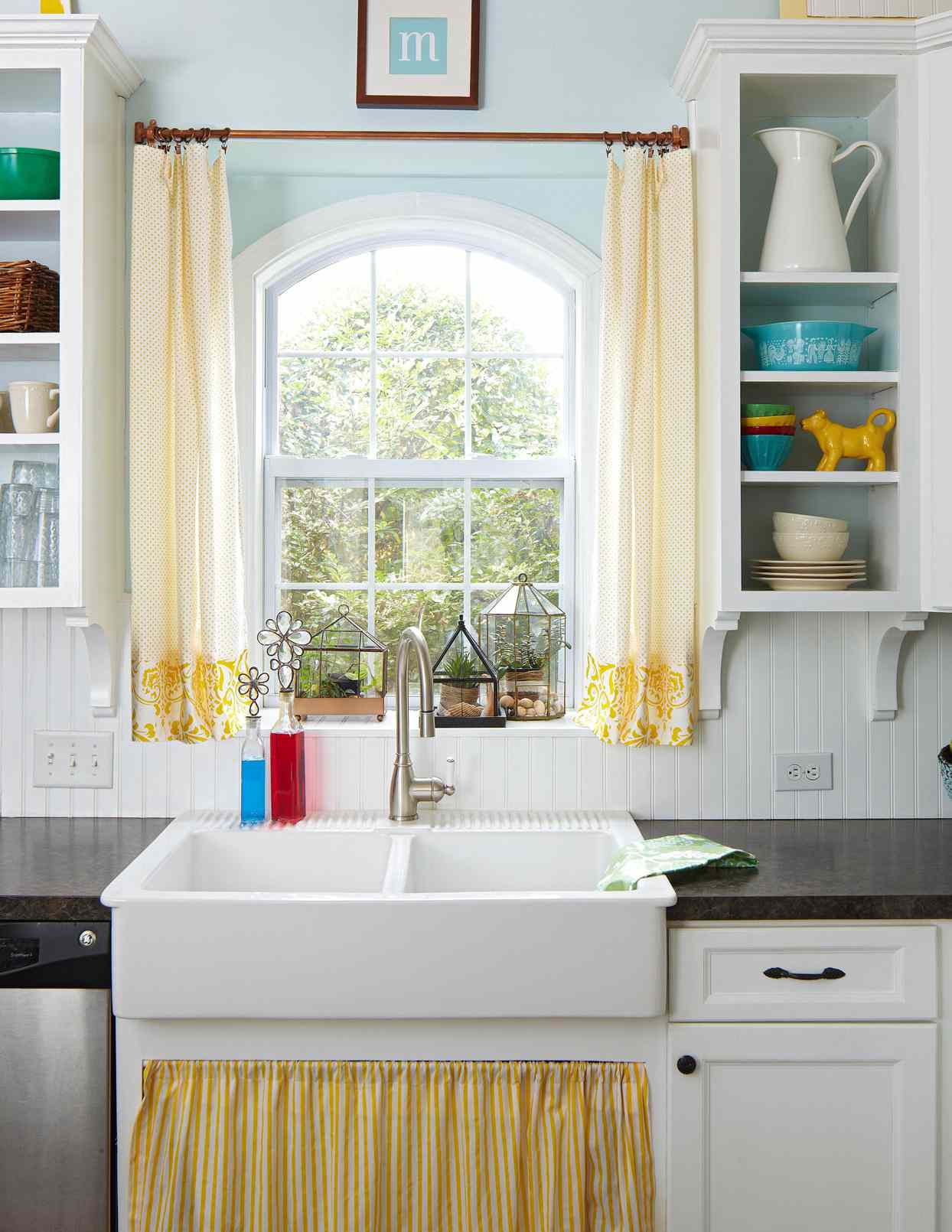 Curtains are also beneficial to the room as it helps cut down on draughts. Curtains will keep the heat in as well as provide the kitchen with a little privacy. It manages the light, especially at odd times of the day when direct sunlight makes it difficult to see in the room.
2. Fresh Blooms of The Day
Another pretty solution to your decor problems regarding the windows over your kitchen sink is flowers. Getting some fresh cuttings of flowers from your garden every few days will be a nice change to your decor. This also allows the room to feel more comfortable and welcoming. The soothing aroma of the blooms also mixes well with the food, making the room always smell fresh.
But if you don't have a garden from where you can get fresh flowers, invest in some good quality faux ones. Fresh store-bought flowers are a costly habit to maintain, but a few sticks of faux hydrangeas can last you years.
3. Simple Blinds
Many home decor enthusiasts have started trading curtains for blinds when it comes to windows. The reason is very simple. Blinds offer far more privacy than curtains. They may not be much when it comes to decor, but they are perfectly functional at blocking out excess sunlight. Blinds will also keep the kitchen cool during hot summer days.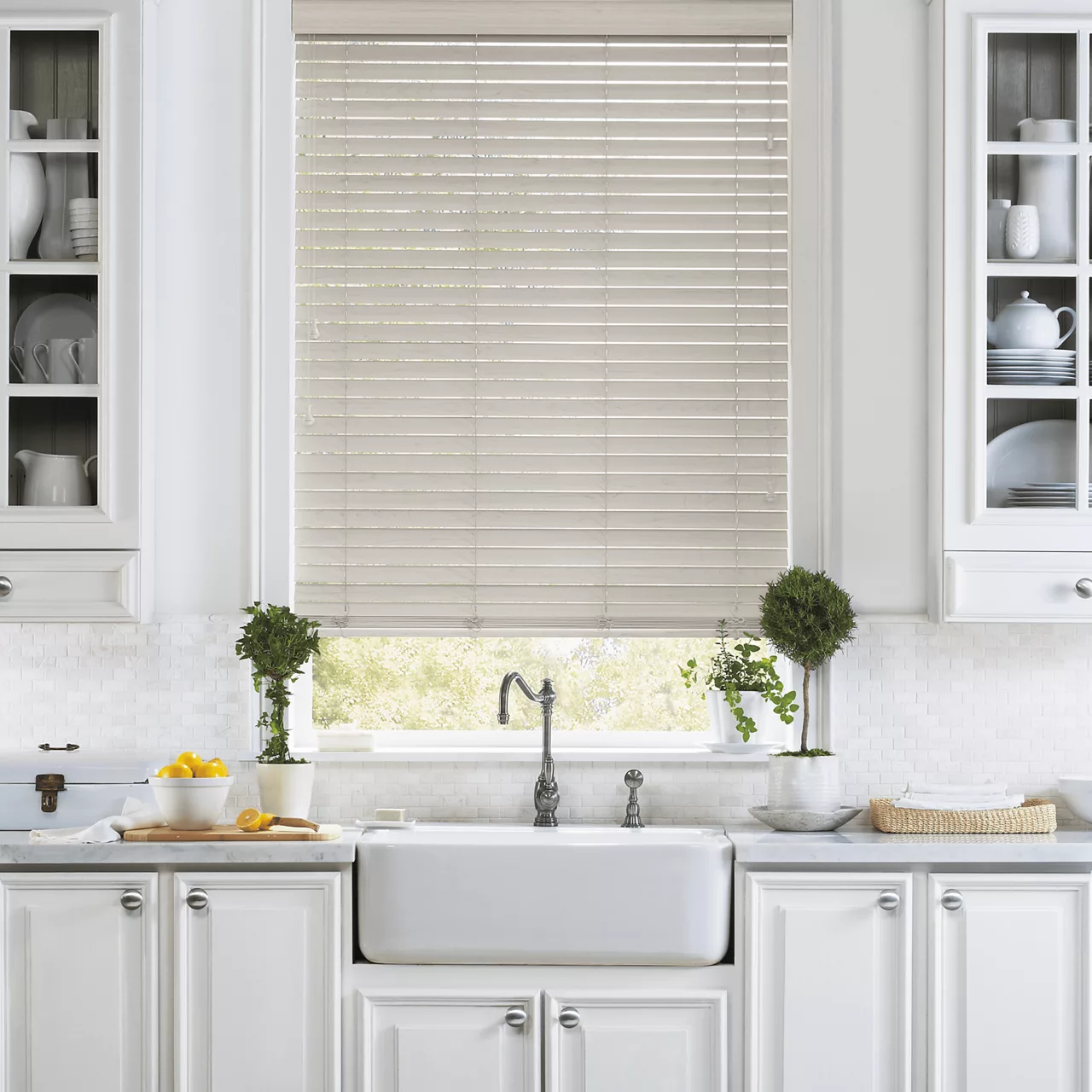 Traditional kitchens look good with curtains fluttering about, but if your main concern is practicality, install some blinds. If yourkitchen window is near any heat source like often, blinds should be used instead of curtains. They are also very easy to clean and maintain and subsequently last a long time.
4. Potted Plants for Greenery
If you want to change the way your kitchen looks every few months, get some planters and start gardening. Live indoor plants work wonders in changing the scenery completely. And it will give the room an aesthetic yet functional vibe. Your kitchen window sill over the sink is a very good idea for all kinds of small pots.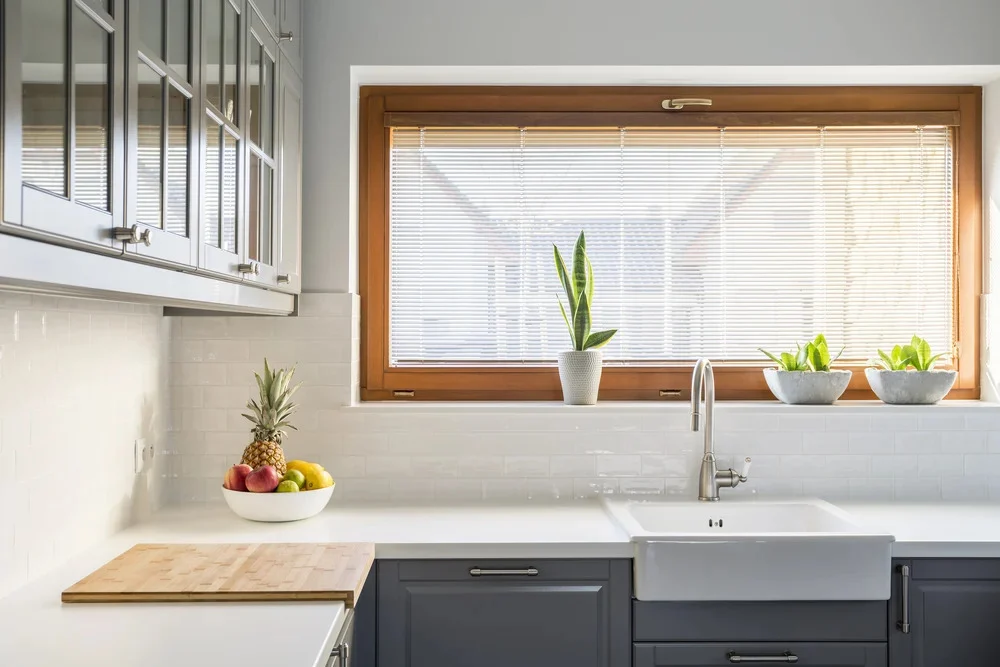 Many kinds of plants thrive indoors, especially when kept on a sill where it gets ample sunlight. They will have a calming effect on the chaotic room as well as purify the air and remove toxins. You can go all out and plant herbs like thyme so that they can be harvested and used at any given time.
5. Stained Glass Windows
The kitchen is a sacred place that holds the capacity to feed everyone in the house. We also spend most of our time in the kitchen looking for snacks or the answer to all of our problems. And you can make it look colorful without going for a full renovation. Simply add some stained glass windows to the room, and it will look breathtaking by itself.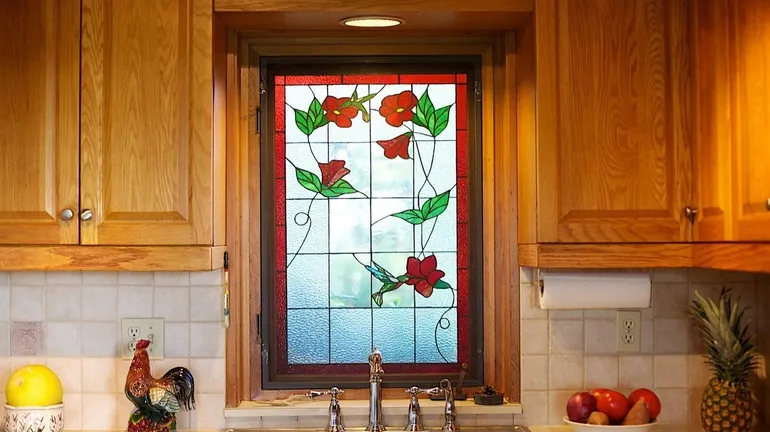 Staining glass windows is not a small undertaking. You need to be a little creative to achieve the best results. But you can also take a few shortcuts and paste some non-adhesive films on them. With stickers like these, your window will look authentically stained and outstanding.
6. Sheer Fluttery Curtains
Solid curtains that do a good job of blocking sunlight can often be substituted for sheer curtains. This is especially true for kitchens that have a more rustic theme to them. A modern farmhouse decor with a wooden countertop is the perfect foil for these kitchen window curtains. These delicate, lacy curtains look picturesque when fluttering at the breeze during cold evenings.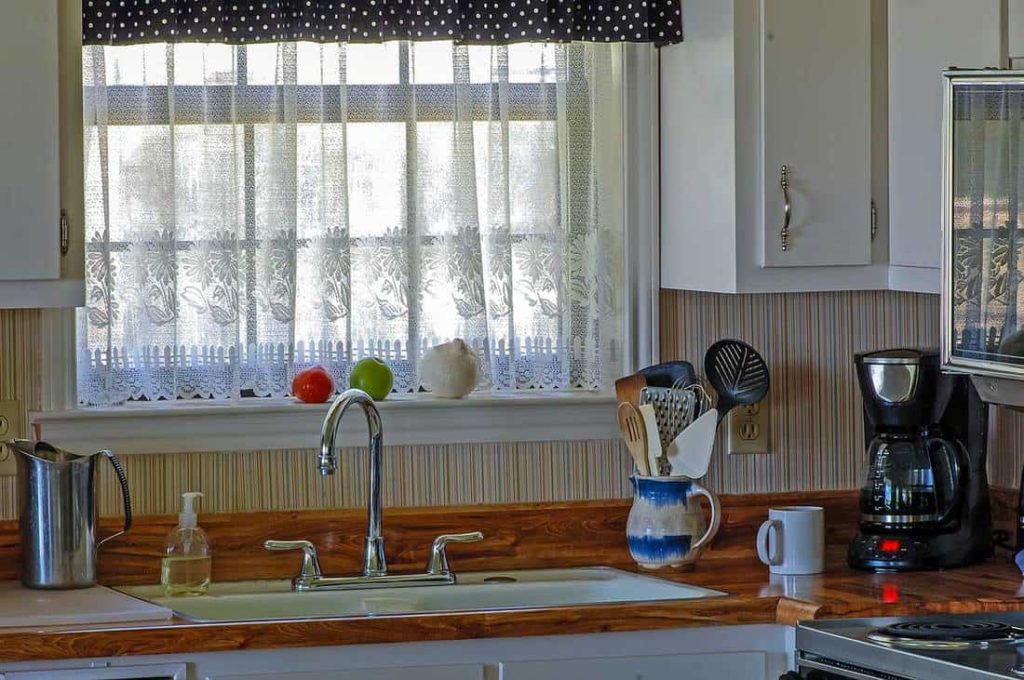 Lacy curtains are also preferred for their sheerness, as it allows natural light to enter the room. It filters sunlight to make it less harsh and more welcoming. Their softness protects the kitchen from unwanted dust or bugs, and they are usually quite cost-effective. The overall texture and movement are unparalleled by other decor items.
7. Thrifted Decor
Thrifting is a great way to make your home look more beautiful and welcoming without going over budget. Buying pre-owned items also reduces the amount of waste and gives us an appreciation for the things we already have. Thrifting is also a great hobby that sometimes leads us to treasured finds. So, if you have a habit of collecting cool second-have knickknacks, decorate your kitchen window sill with them.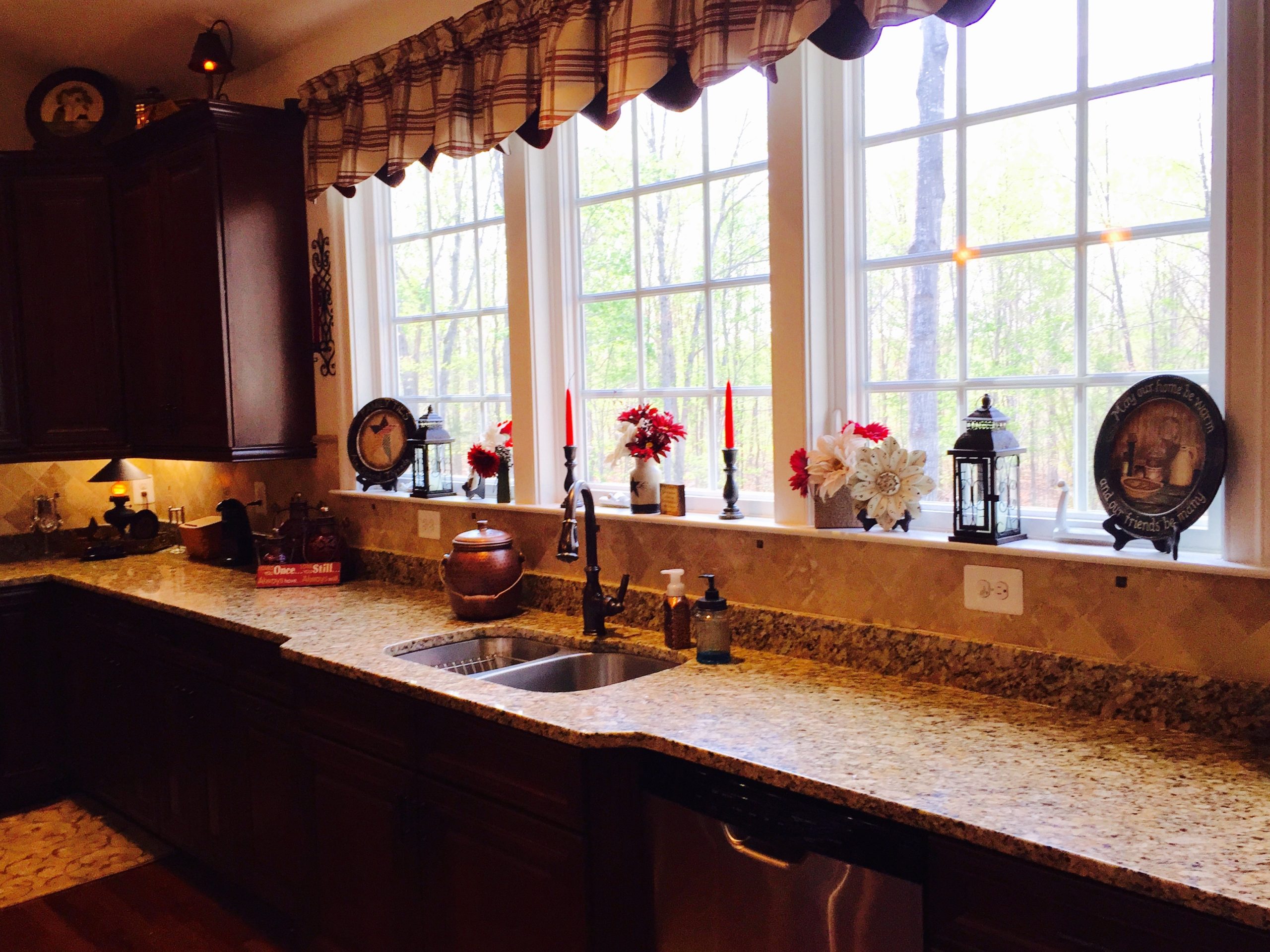 Thrifting is not easy on the pockets, but it often helps us find unique pieces of art. So, whether you have a couple of old miniature lanterns or some vintage plates, display them proudly.
8. Scented Candles for Ambience
Scented candles have magic by themselves, which turns most rooms into a garden. But a kitchen especially benefits from the aroma these little wax figures waft. A candle will dispel the bad odors of burnt food almost within minutes of it being lit. It will also mask the pungent smell of fish while being cooked so that your family can eat the delicacy.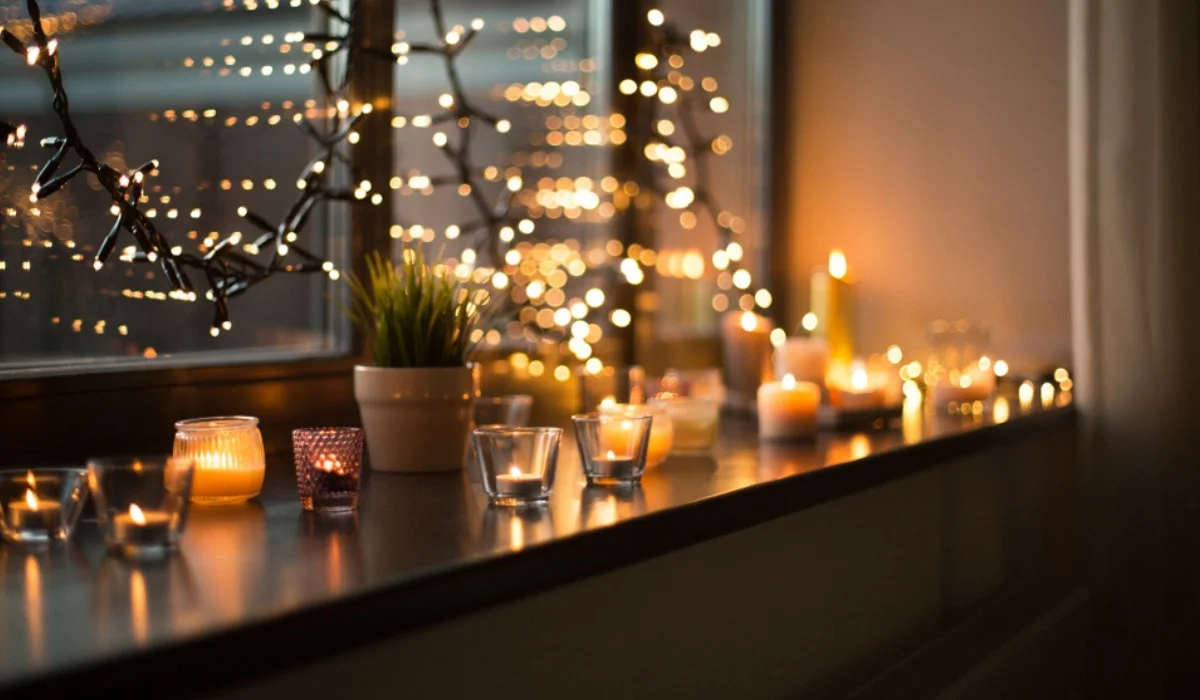 So if you are in the habit of cooking odorous food every day, try keeping these scented candles at hand. This way, the smells will never make you nauseous again. Another perk of these candles is that they look aesthetic and beautiful even when not lit.
9. Floral Arrangements
Flowers come in many shapes, sizes, and scents. And if you want to make your kitchen look stunning for a few special occasions, invest in some good floral arrangements. The flowers also work as a mood booster and will make toiling in the kitchen far easier. These arrangements of flowers are also known to reduce stress and blood pressure simply.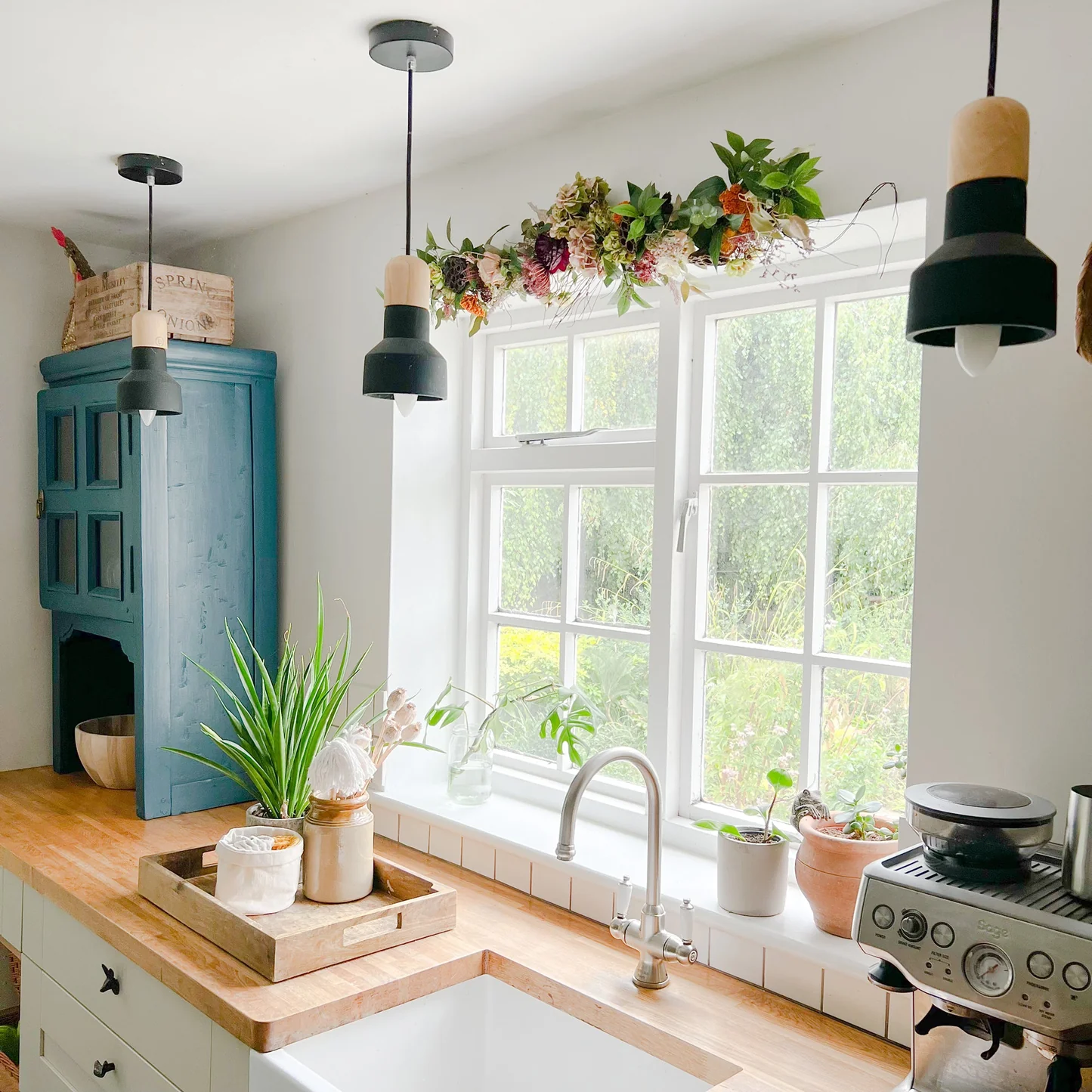 The flowers that you use in your kitchen window flower arrangement are fully up to you. It also depends on the occasion as well as the season. But in most cases, a bunch of roses artfully arranged with hydrangeas, peonies, and carnations would look regal.
10. Rolled-up Blinds
If you have a compact kitchen with a small window to peek out, you might not want to opt for plain curtains. Drapes often make the place look cluttered, which, while folksy, may mess up a small kitchen. Instead, use some bright and eye-grabbing roll-up blinds to shield your space from the outside light. They are some of the easiest blinds that you can install and take down at will.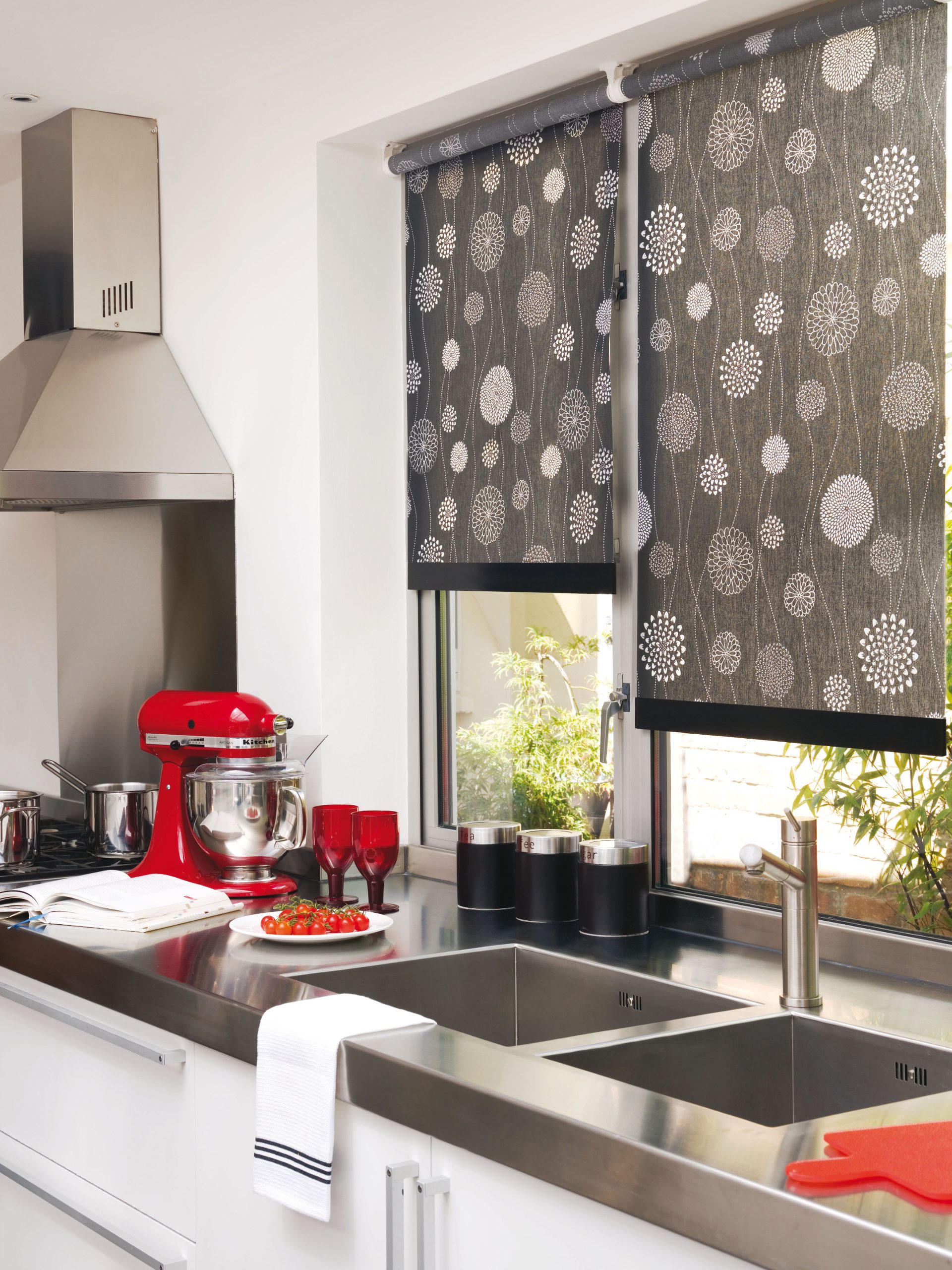 Your kitchen window roll-ups will depend on the kind of windows or theme you have. But most blinds do the job of blocking light remarkably well. They are also virtually indetectable once they have been rolled up.
11. Vintage Lights
A great way to jazz up your kitchen is by installing some vintage lights. These will give the room plenty of light during evenings and look aesthetic during the day. The most common lighting option chosen by most are LED lights. But getting some vintage pendant lights over your window will make the whole room look distinguished.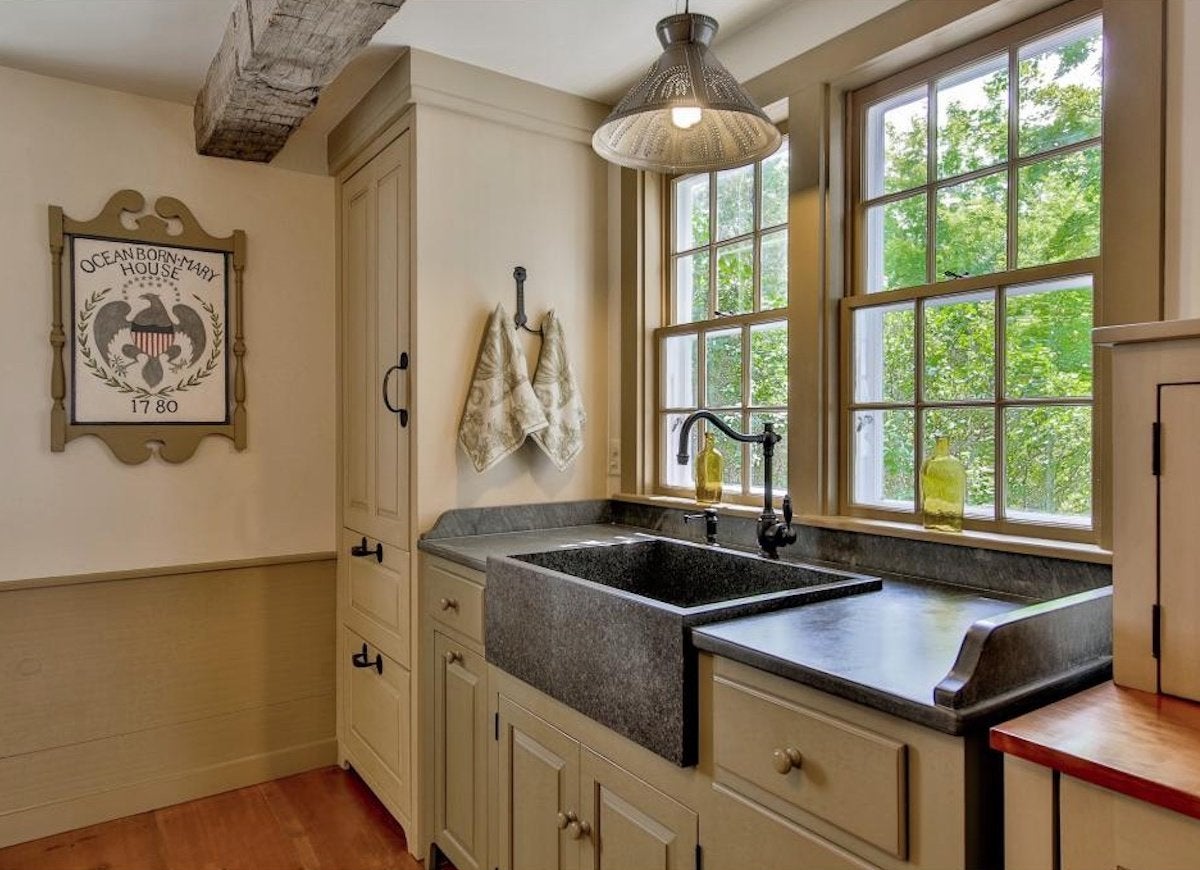 A pendant light also takes up far less space than any other choice. The ample amount of options available also suits most decors. Using a single pendant light will also help the cook focus more on the task at hand with its brilliance.
12. Seasonal Wreaths
The winter months often turn us indoors, where we cook delicious foods to celebrate. And as most of that time is spent in kitchens preparing for feasts, why not decorate it for the season as well? Seasonal wreaths are a great way to add some holiday cheer to your favorite room, especially when the kitchen windows are free.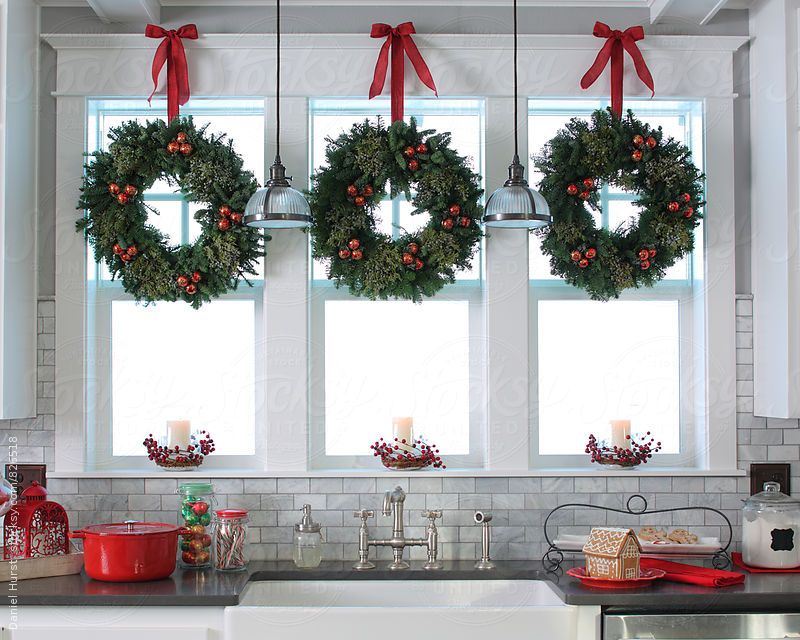 You can make your wreaths during each season; just choose the right colors and aesthetics. For a winter wreath, get some evergreens like spruce, ivory, and oak leaves, along with some moss. For autumn wreaths, you can use baby squashes, dried flowers, and pine cones.
13. Valences for The Aesthetic
Valence curtains are usually used above regular curtains or blinds to make the room more aesthetic. They create a pretty border as well as provide an extra layer of protection against outside light. You can put valences everywhere, and the change would be instantaneous, as any draughts would be prevented from coming in through the gaps.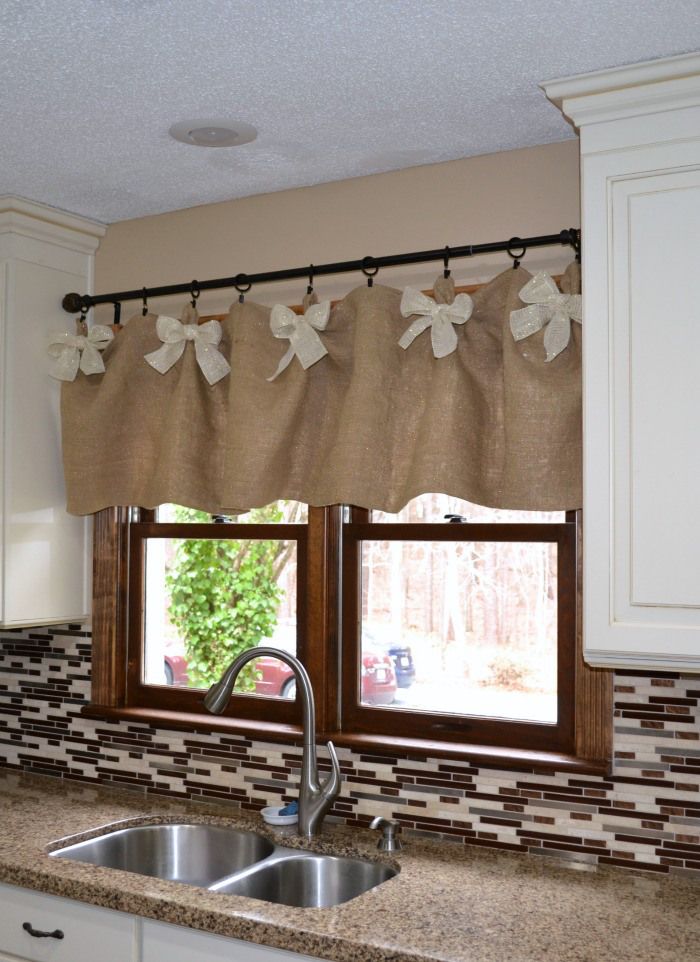 If you don't want to get big fluttery curtains for your windows as a fire hazard, get some cute valences. They will break the monotony of the room and make it look softer and more comfortable. A large kitchen is especially benefited from these cozy items, as the new texture adds natural warmth.
14. Cafe Curtains
Cafe curtains are another alternative to regular ones as they, too, introduce a new texture to the room. But the biggest benefit of getting some cafe curtains for your kitchen windows is their height. They have become quite a popular choice in kitchen decor as they do not touch the counter while hung.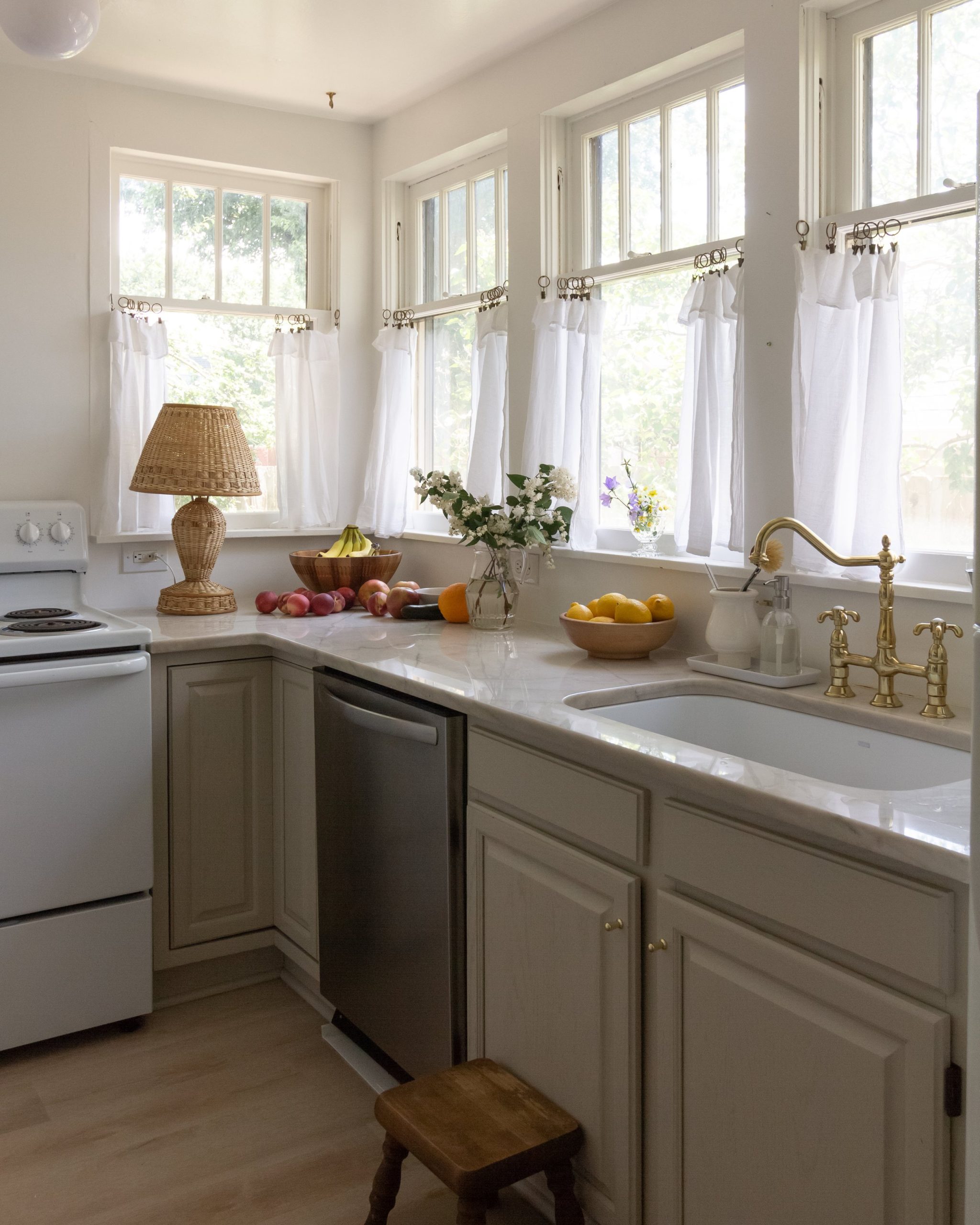 Cafe curtains are hung from the middle of the windows. So, the top half of the glass is unbarred, and you have a good view of the outdoors while in the kitchen. At the same time, it minimizes the amount of light entering the room from the bottom half.
15. Bamboo Blinds to Keep Cool
Bamboo blinds have recently gained popularity over plain white blinds because of their effectiveness. These blinds are usually made of natural elements like grass, reeds, or bamboo, making them durable and environmentally friendly. They also do not fade over time due to harsh sunlight. The natural material acts as an excellent foil against other kitchen appliances.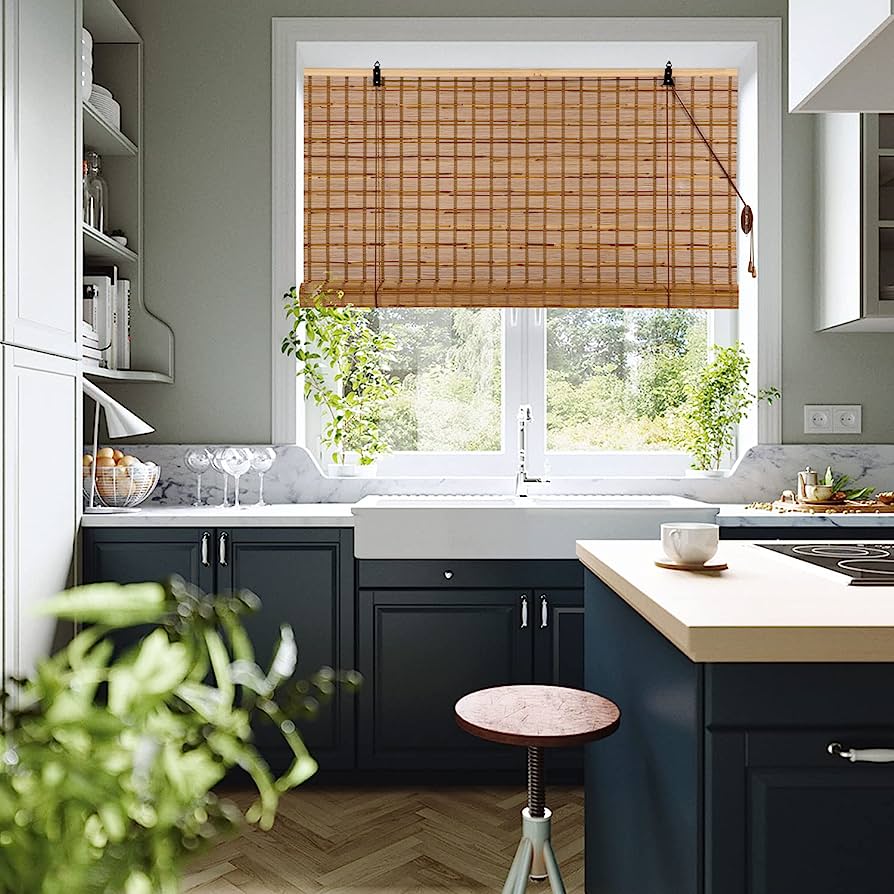 If you have multiple windows in your kitchen, add these blinds to each of them for perfect symmetry. The natural wood look also makes the top half of the room more comfortable and balances well with the floor underneath. Bamboo blinds are also easily cleaned and can hardly be seen if they are not drawn.
16. Arched Windows
Almost every kitchen you will ever see has square windows. The focus on the architecture and decor of a kitchen is always given to its functionality. But a small step to make your place stand out is to plan and get arched windows instead. This will make your kitchen windows look majestic even unadorned.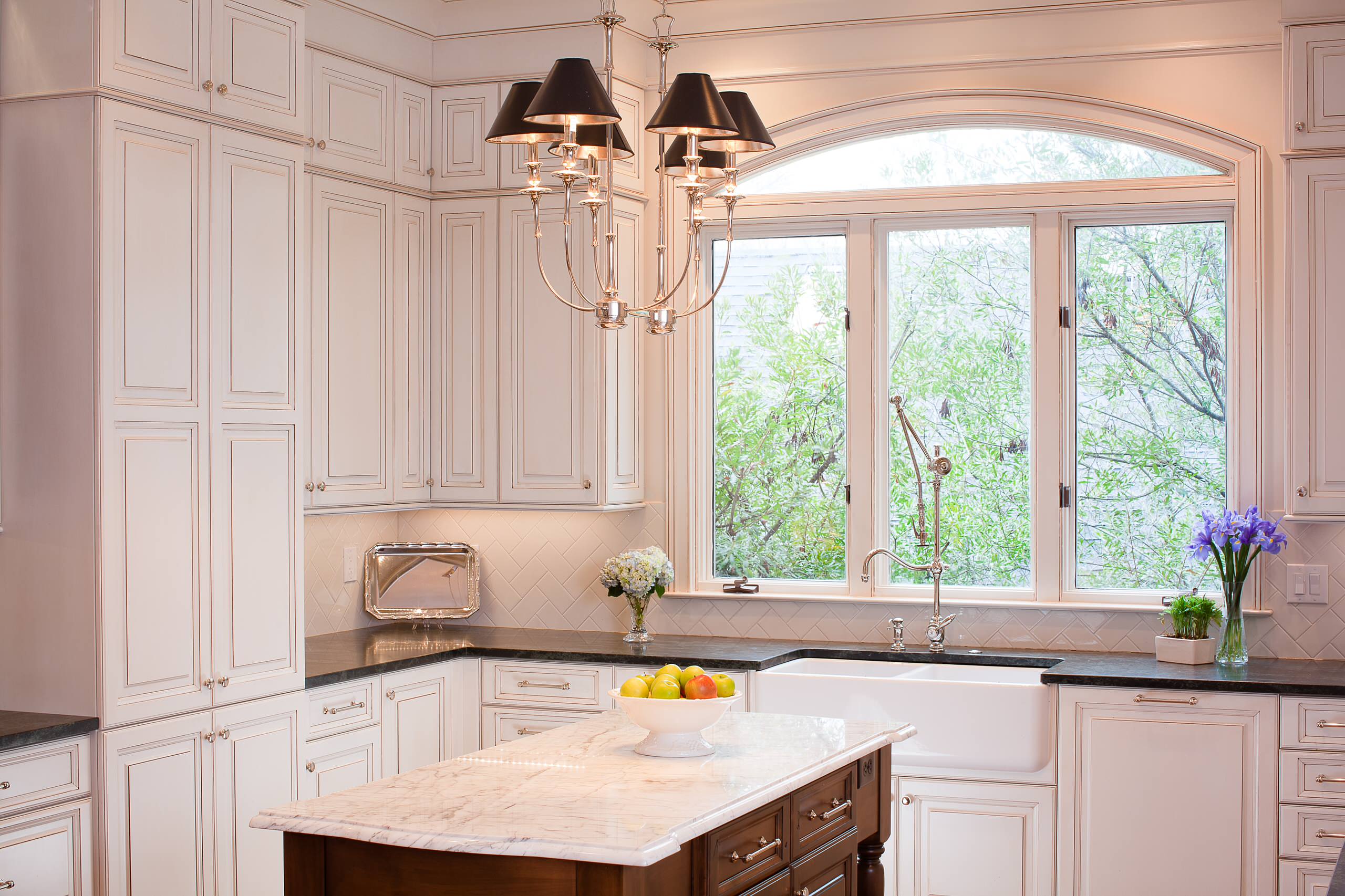 The most basic reason to go for an arched shape instead of squares is to enhance the room's natural light. The arch, with its curved top half, also allows for a variety of ventilation options. The classical touch, with its old Mediterranean appeal, never looks out of place, even in the most basic kitchens.
17. Tiled Backsplash
Working on your kitchen backsplash is probably the best way to keep your kitchen windows safe. It allows flexibility to be incorporated into the design of the room. If you have a window strategically placed over the sink, a lot of your pipes would be in the very wall. And the tiniest amount of trouble can lead to water damage in the walls. So, to keep the kitchen and its windows safe, add a tile backsplash.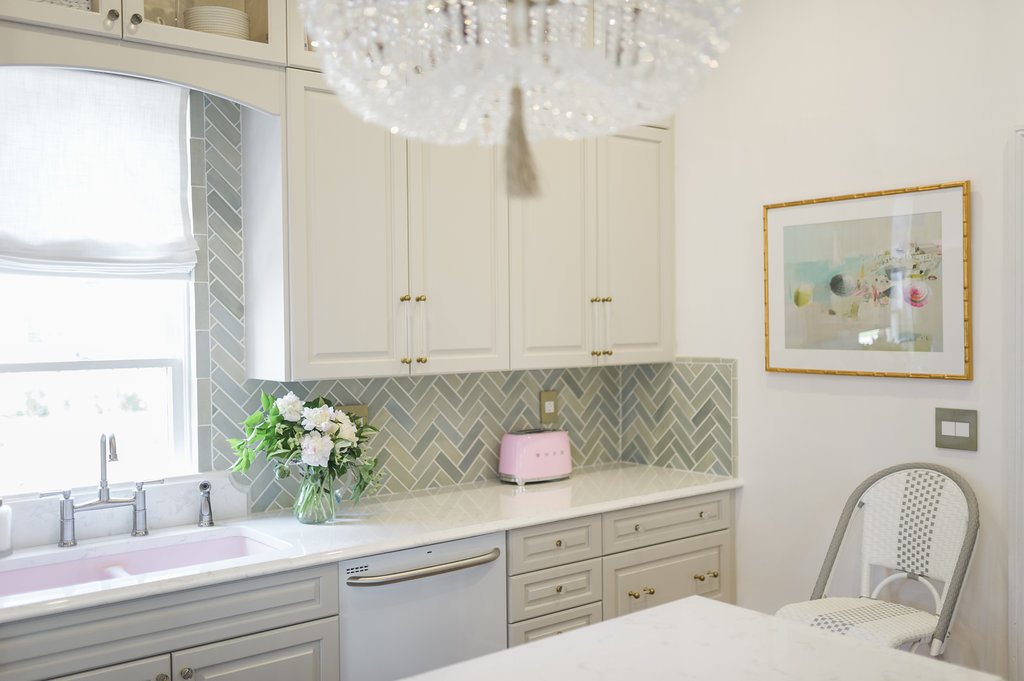 Tiles are also of different colors, meaning you can get almost anything to match your decor choice. This would be a simple way of making sure your kitchen remains beautiful for a long period.
18. Monogrammed Letters
A simple decor option to adorn any window sill is monogrammed letters. They are of many kinds and sizes, but the best thing about them is their personal choices. Every person in a house has different likes and dislikes, and they can all be demonstrated in this decor. You can get the initials of each person in the house in their style, like a simple marquee light or something handmade.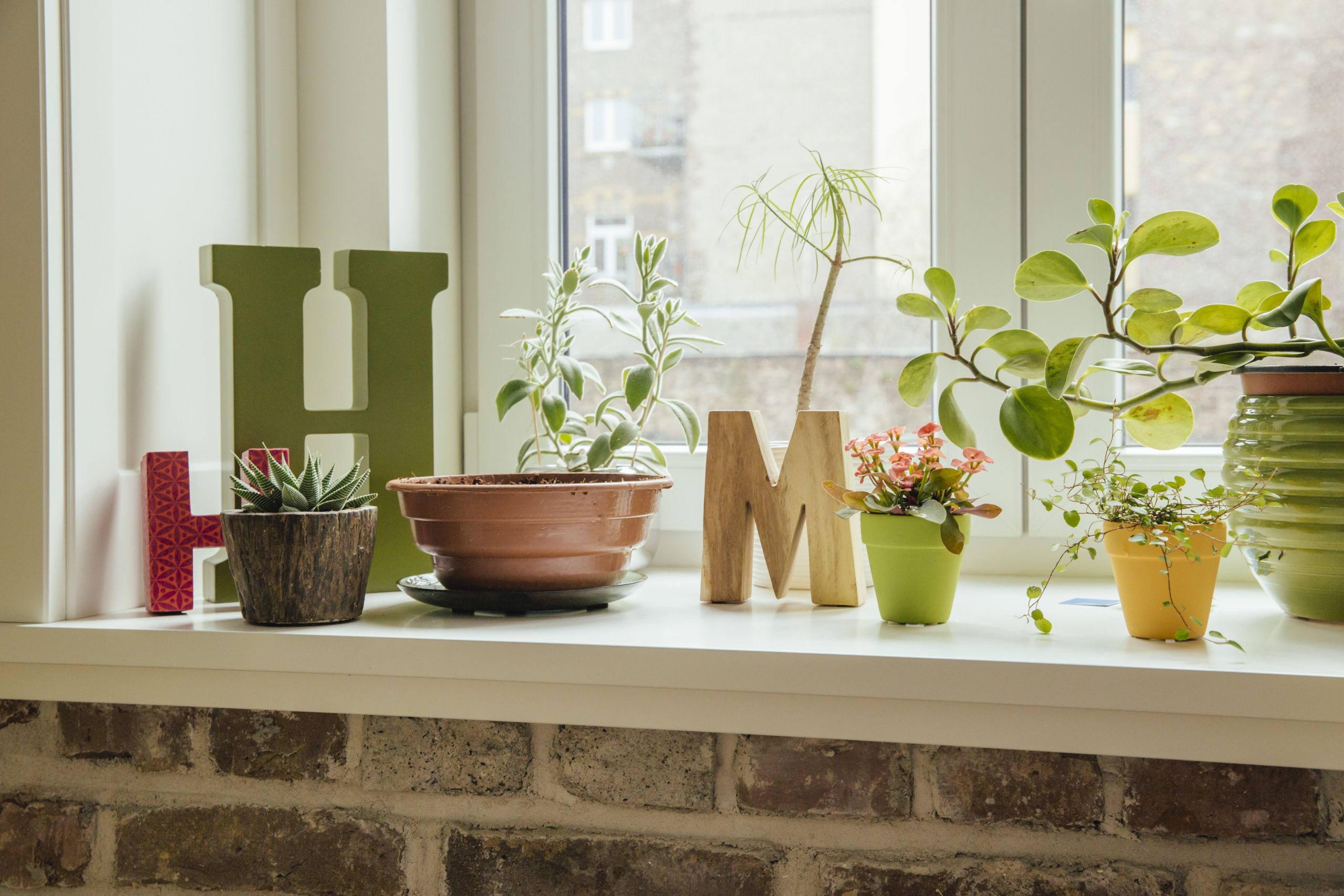 Apart from individual alphabets, you can also get a meaningful word or phrase from the internet to light up the space. Wooden wall decors also look good on the window sill, being supported by the glass.
19. Cookbooks as Decor
Cookbooks are a great help in the kitchen as it allows you to explore different cuisines. And their place should always be in the kitchen, with other cooking utensils. However, with big bulky cabinets, it becomes impossible to show them off properly. But not to worry, here your kitchen window sills come into play.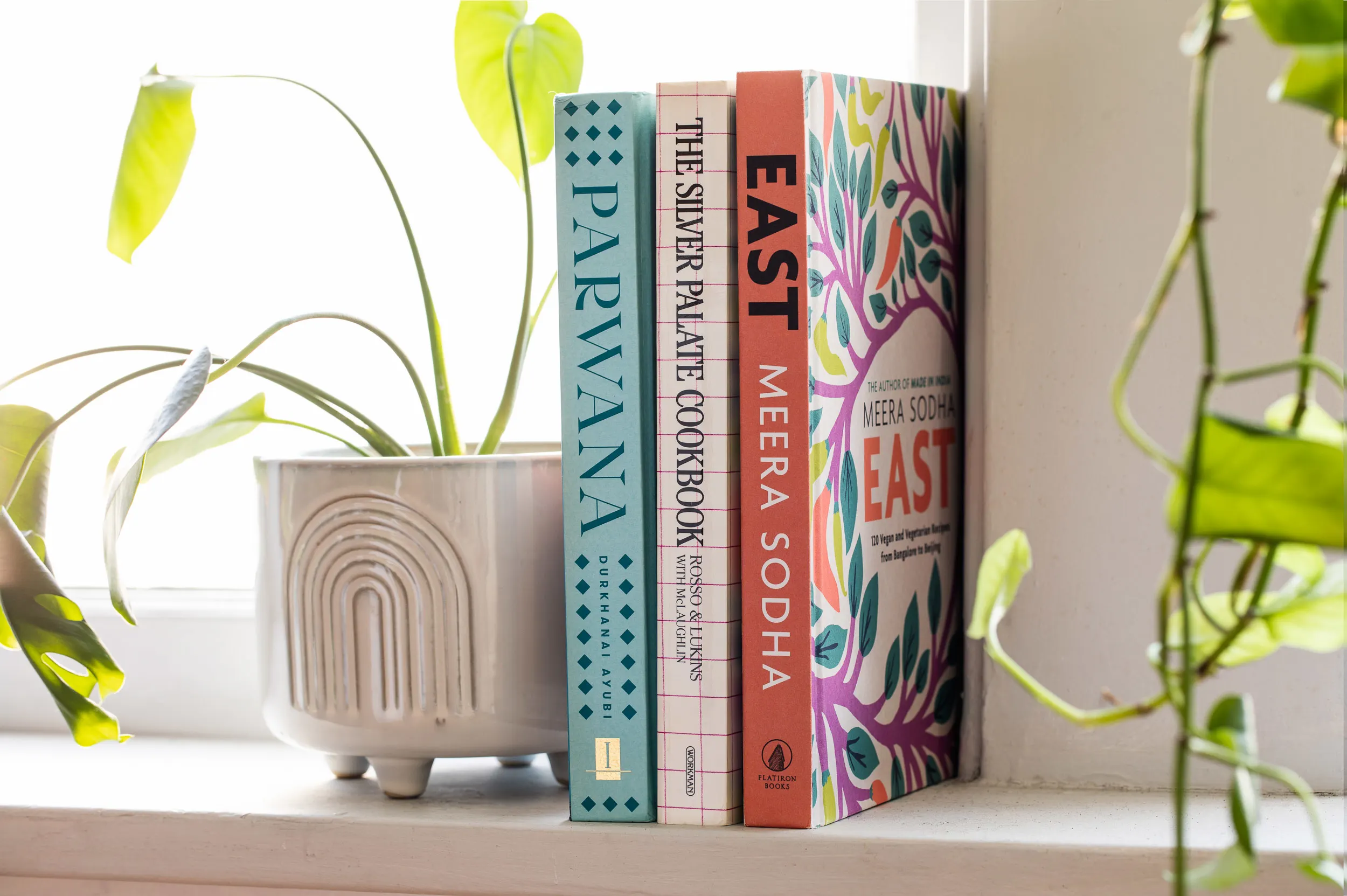 You can easily select a few of your hardbacks to decorate your window sill in the kitchen. Just use a small planter as a bookend, and you won't have to worry about them falling off. If you want the room to be perfect, choose the special ones with neutral spines and covers for a tailored look.
20. Contrast and Shine
Contrasting colors are often used in home decor as the concept balances the whole room. If you put two or more elements of different characters together, they will complement each other. The result will be a cohesive room that looks amazing. The easiest contrast you can achieve in any room of your home is black and white.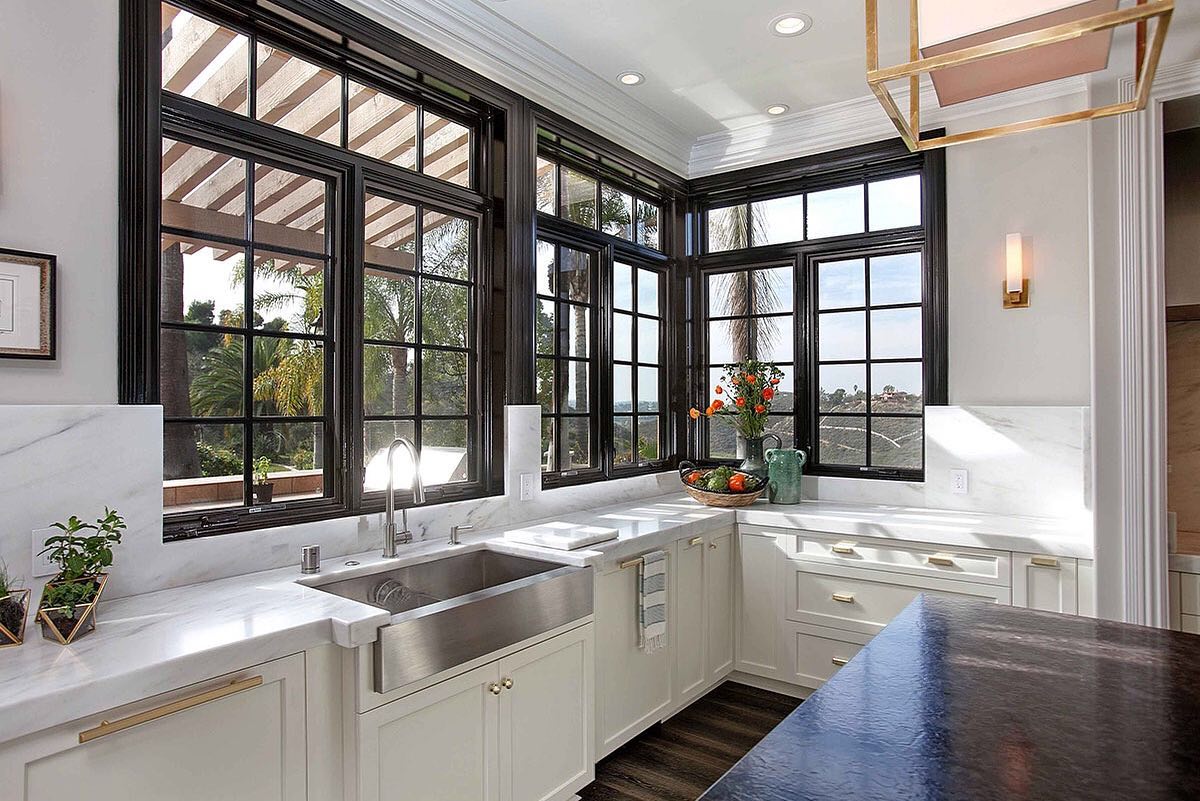 Most kitchens usually have a ton of appliances and cabinets in white, as it is a safe option. Your kitchen would never look out of place with white elements. But to set it apart, paint your window trim black. This will make the room more noticeable and bring life into an all-white space.
21. Large Bay Window
Another option that should be thought out before construction is bay windows. This large window makes the best use of your wall and gives the room dimension. It also makes sure you have the maximum amount of light in the kitchen. Bay windows do not take up more floor space than usual. They just add elegance to your kitchen windows.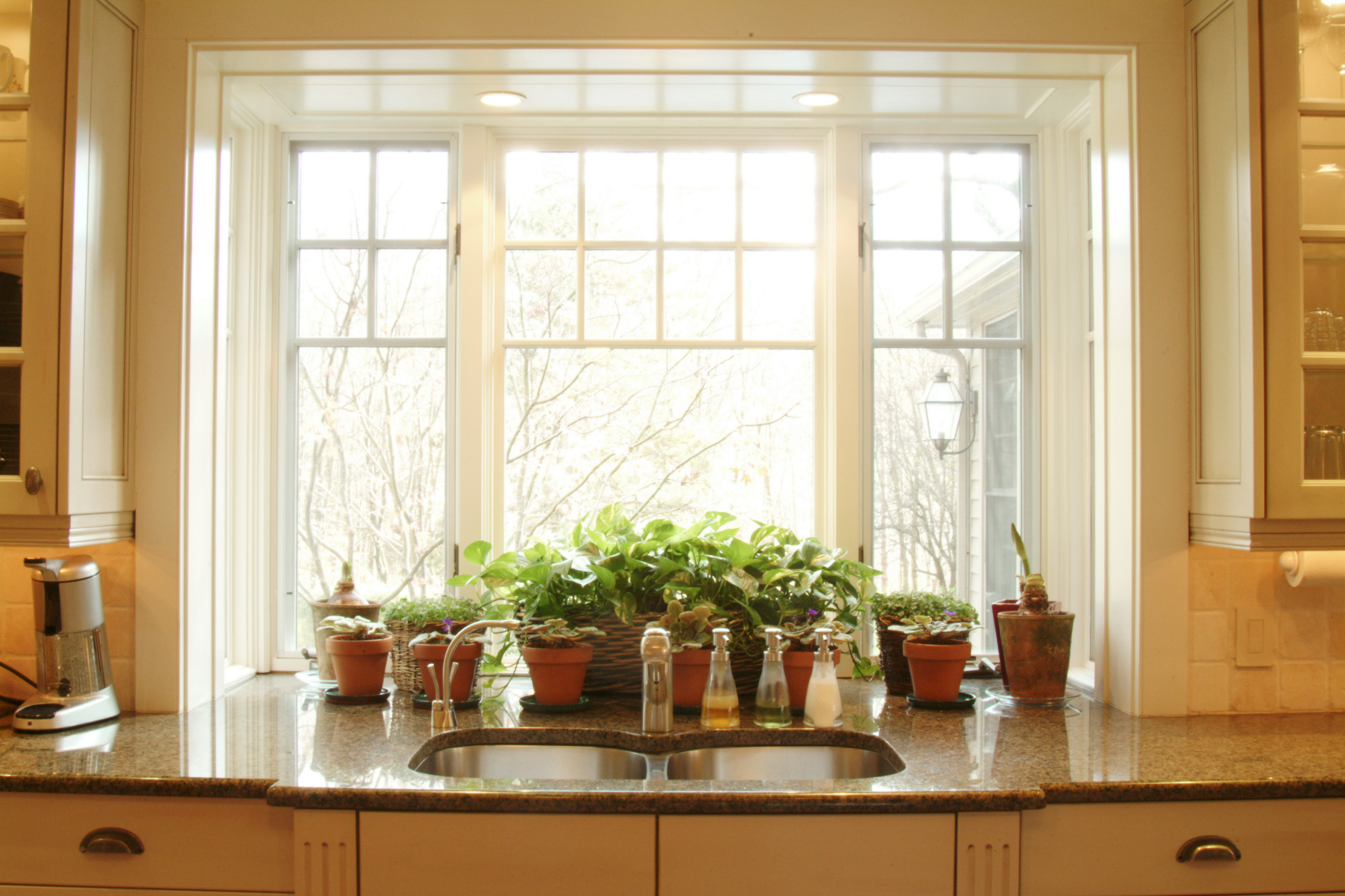 In the kitchen, the most popular space to have a bay window would be above the sink. That way, you will have a spectacular view of the outdoors while you work. You can also turn your bay window into a breakfast nook for a picturesque start to the day.
Bottom Line
Your kitchen will need a good view to make the hours spend there more interesting. And there are a lot of options to install some in the room. But the most popular choice will always be the position above the sink. This way, you will have a lot of space available to install cabinets, appliances, and decor throughout the room.
There are lots of ways to decorate your kitchen window every day. You can get some seasonal decor to make the room feel more festive, or you can splurge on some classic decor. Whether you get curtains or some lights, your kitchen is sure to look beautiful. And, if you want to know more about home decor and the secret ways to beautify your house, subscribe to our newsletter.
Frequently Asked Questions
What Size Window Should Be Over Kitchen Sink?
The size of the window does not matter when it comes to decor. But to make it look cohesive and pleasing, make them about the same size as your cabinets. This way, the line of sight will not be interrupted. For the exact size of your window, measure the cabinets beside it and plan accordingly.
What Type of Window Is Best Over a Kitchen Sink?
The best type of window that can adorn your kitchen has to be casement windows. Just like awning windows, these increase the airflow of the whole place and brighten up the kitchen. These windows are great for ventilation, but remember to seal them tight to preserve energy.
Do You Need a Window Above the Kitchen Sink?
Akitchen windowis not necessary to make the room functional but is a prevalent choice nonetheless. Not only does it make the kitchen look light and airy, but it also makes the tedious task of washing dishes interesting.