Do you have a narrow bathroom where fitting in all the vanities and sanitary units seem to be a huge challenge? Whether you live in a small country cottage or a tiny urban apartment, the bathroom is one of the most important spaces in your home.
A cramped or poorly planned bathroom can leave you feeling uncomfortable and compromise the smooth flow of movement. But there are ways to maximize the functionality and storage of your restricted bathroom space.
Even when you have a narrow small bathroom layout, you can make the most out of it with the help of the right accents, colors, and decor. Avoid using decorative add-ons and installing bulky cupboards instead.
Adopt a minimalistic approach to improve your bathroom's aesthetic appeal and function. Clever planning – which includes fitting choices, layout, and smart storage options, is the key to maximizing the functionality of your bathroom.
Narrow Small Bathroom Layout Ideas that You Must Try
Let's take a look at 21 stunning narrow small bathroom layout ideas that will make your tiny bathroom feel more spacious.
1. Add Clever Storage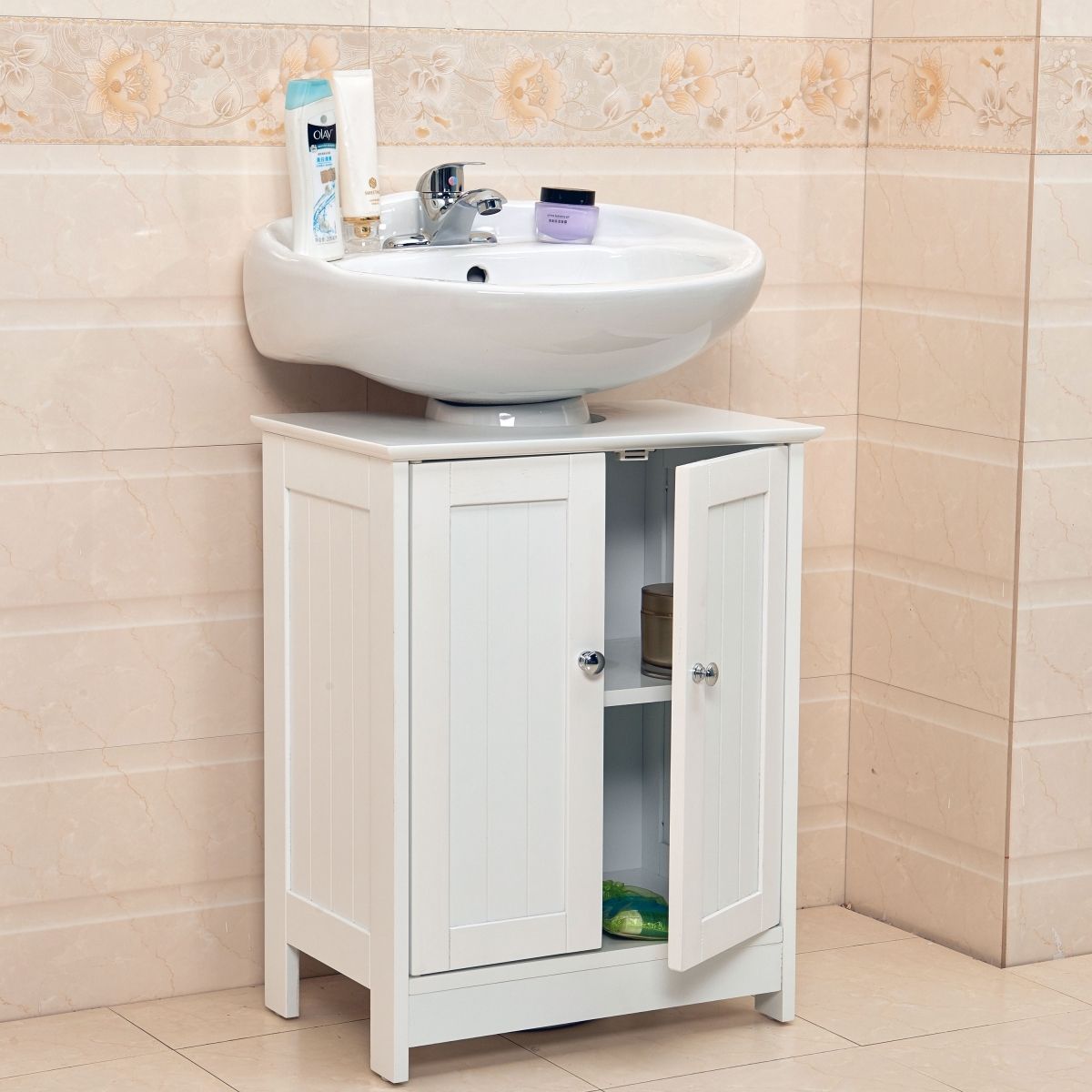 If you have a narrow small bathroom layout, it doesn't mean you need to compromise on storage. You can hang basket shelves on your bathroom wall and add a cleaning supply cabinet. Take advantage of under-sink cabinets to ensure that bathroom cleaning supplies are always within your reach. It's also important to keep the floor empty and clean to make your bathroom look organized.
You can also mount magnetic strips on the side of a counter or inside the cabinet to keep track of your hairpins and bobby clips. The two-in-one mirror can also be a great addition to narrow bathrooms. When closed, it will work as an on-trend round mirror for makeup checks at the last minute. Swing open the door and use the shelves to keep your skincare products.
2. Use Light and Pastel Shades on the Walls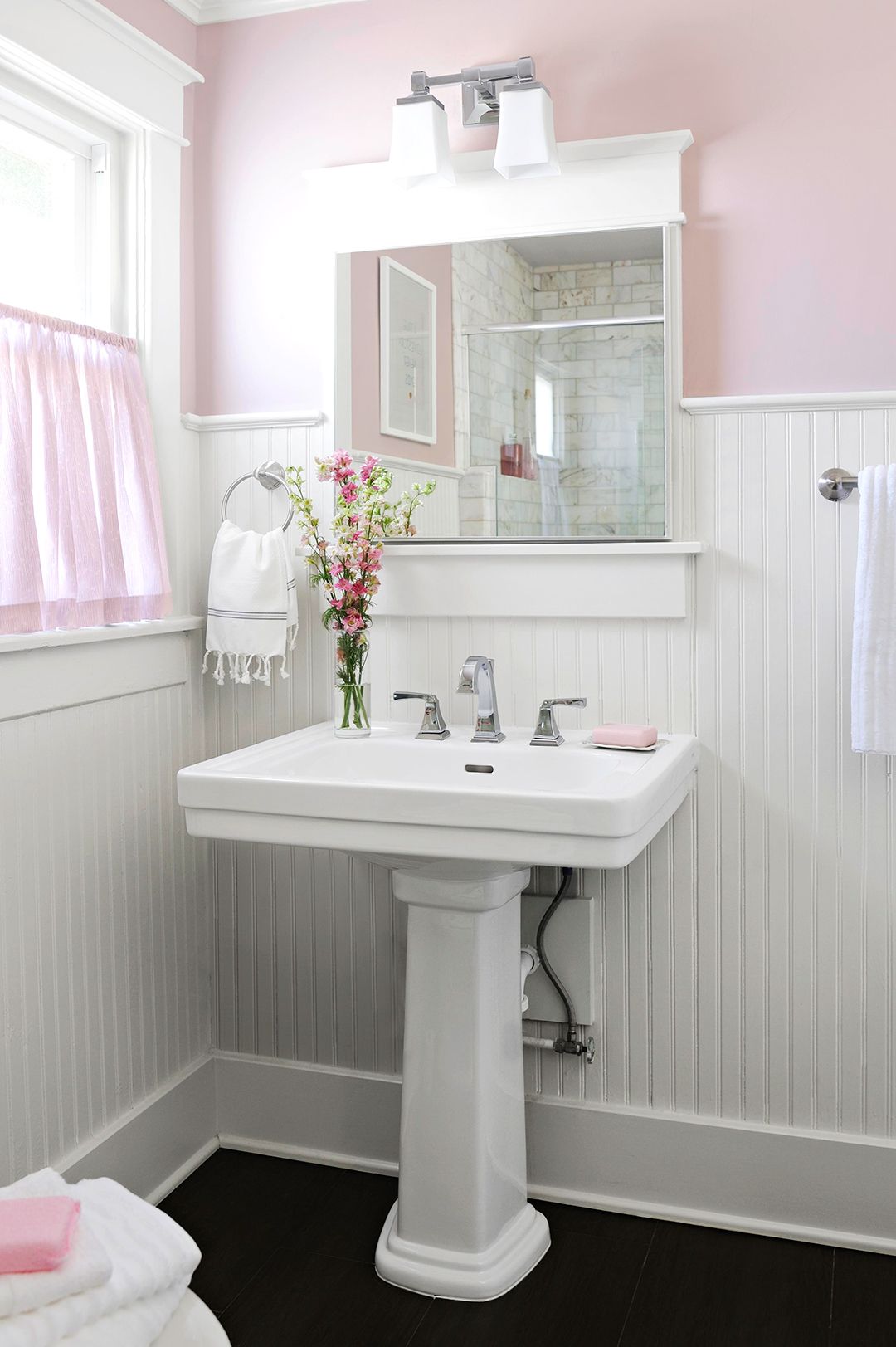 If you want to create an illusion of openness in your narrow small bathroom layout, choose the paint color wisely. Light paint colors like beige, gray, white, or pastels make the bathroom appear larger. White is one of the best colors for a narrow bathroom as it reflects maximum light. Cool whites are ideal for bathrooms with undertones like blue. Pure whites look good in bathrooms that have rustic or modern decor.
If you use a dark color on the walls, it will create the illusion of depth by absorbing light and make the bathroom look even more cramped. So avoid using dark colors on the walls if you have a narrow small bathroom layout. Instead of a dull-looking single tone, you can also improve your bathroom's atmosphere by using monochromatic colors.
3. Keep It Simple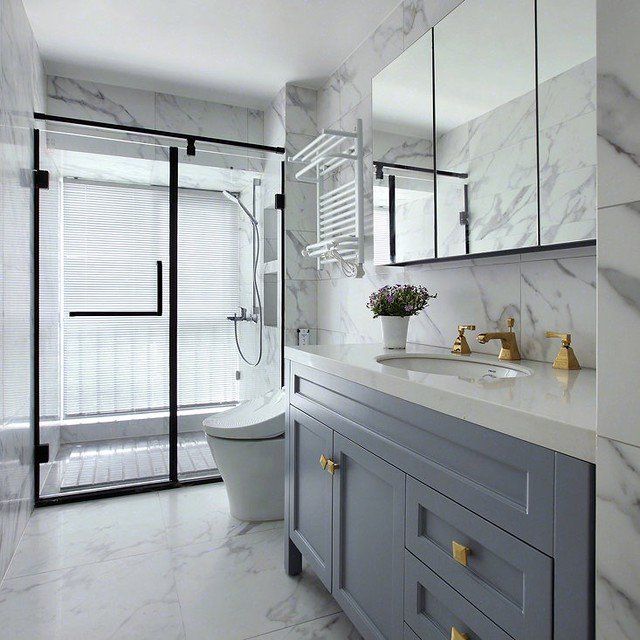 Narrow bathrooms will look even more cramped if you add tons of fittings and fixtures to them. To create a cohesive look, adopt a minimalist approach and keep things that are only needed in your bathroom. By keeping the fixtures and layout simple, it will become easier to navigate the space, and you'll be able to access important elements like the shower, toilet, and sink easily.
Minimalism in a narrow bathroom will create a sense of openness. So avoid using cluttered fixtures and excessive decorations to make your bathroom appear larger than it is. Instead of a shower curtain, you can use a glass door and keep the counters uncluttered to give a neat and tidy look to your bathroom.
4. Utilize Floating Storage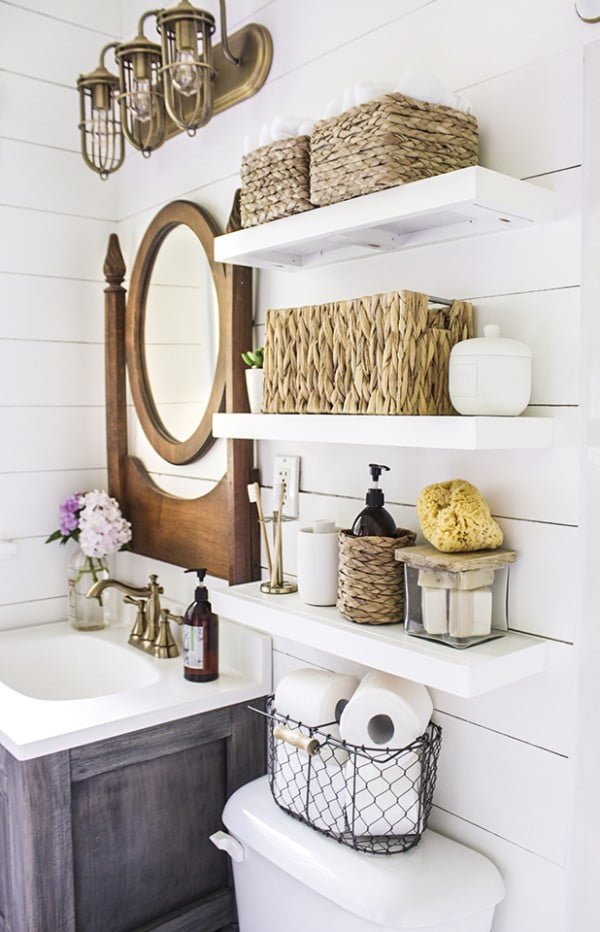 Instead of trying to fill available floor space with stand-alone drawers and baskets, opt for floating storage options to make your narrow bathroom look spacious. You can use high-raised shower curtains and hang saplings from ceilings.
With the help of floating shelves, you can display makeup and skin-care products, washcloths, extra cleaning supplies, and decorative items in a previously underused area. The best thing is that floating shelves are available in different designs and styles, so you can choose the one that aligns with the overall vibes of your bathroom.
5. Covering Walls in Floor-To-Ceiling Tiling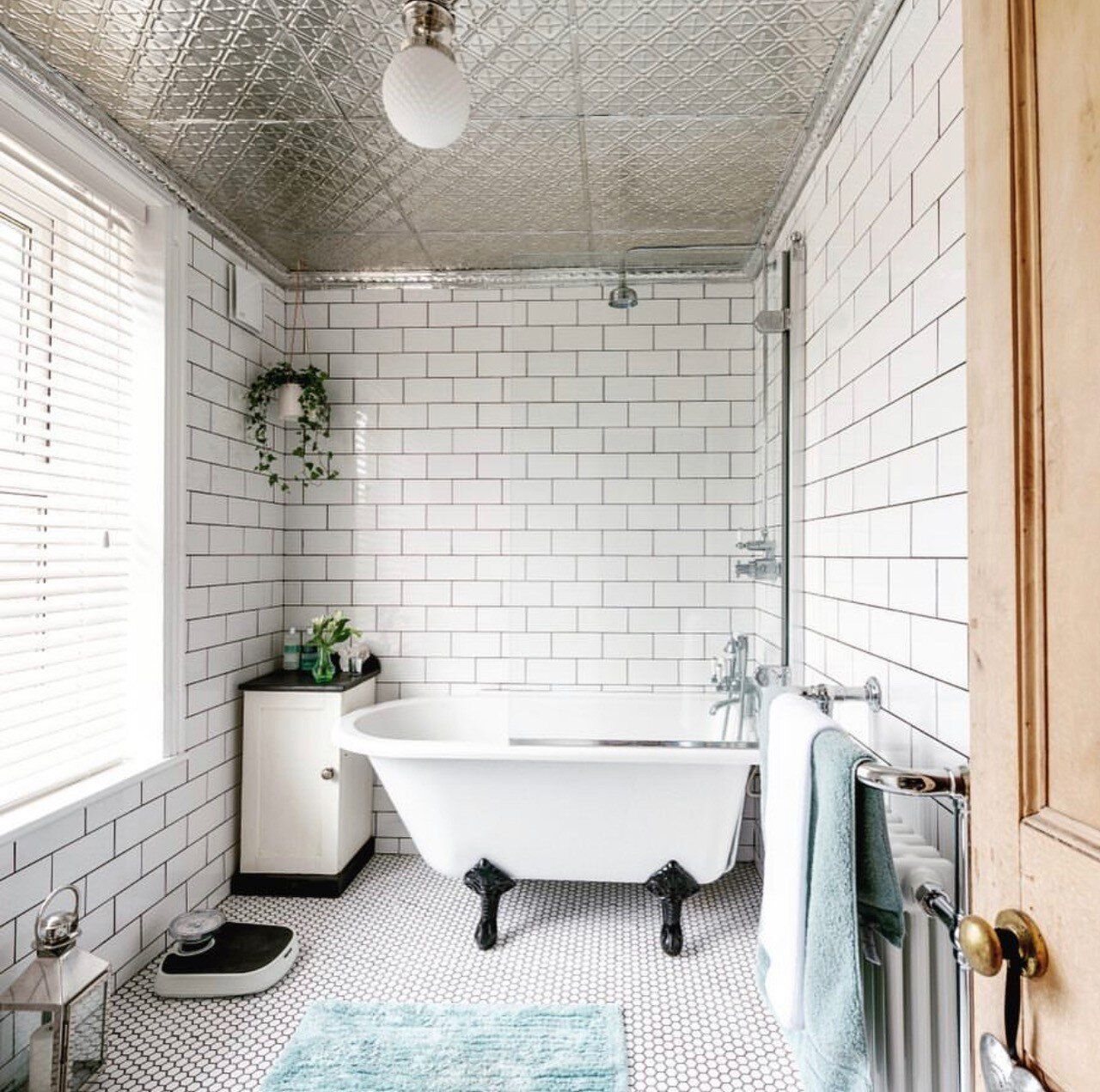 One of the most popular design trends in narrow small bathroom layouts is covering walls in floor-to-ceiling tiling or stone. This styling pattern draws the eyes of the viewer upward and makes the bathroom feel spacious. Pushing the tiles to the ceiling modernizes and aesthetically expands the bathroom.
Because tiles are very durable, if treated properly, they can last for years without the need for major repairs and improvements. You can use rock and wood textured tile in a homey-themed bathroom and glass tiles in luxurious bathrooms. Slate tile's varied color palette and unique texture make it an ideal accent for futuristic, rural, modern, or vintage bathrooms.
6. Light Fixtures and Positioning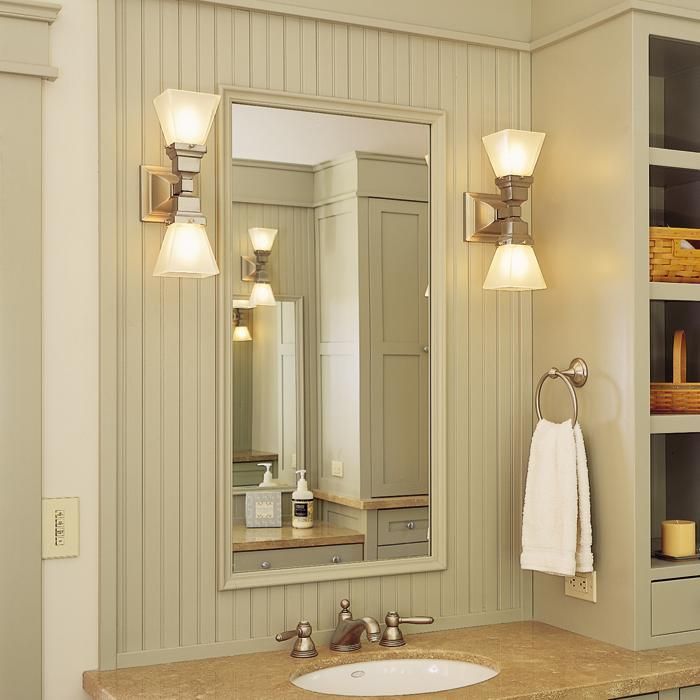 Good lighting is the key to making your narrow bathroom look brighter and bigger. You can use linear sconces as they don't clutter the space visually due to their simple, elegant design yet add some style to your bathroom. Place them either on the side of a mirror where you need extra light and create a satisfying symmetrical look. Don't use harsh lighting around the sink area where you get ready and unready.
You can also use long-hanging pendant lights to create symmetry in small bathrooms. You should also ensure that the lighting blends seamlessly with your bathroom space. It should match the taps and shower to create a cohesive look. Remember, in a narrow small bathroom layout, there shouldn't be any element that takes too much visual space.
7. Choose a Petite Tub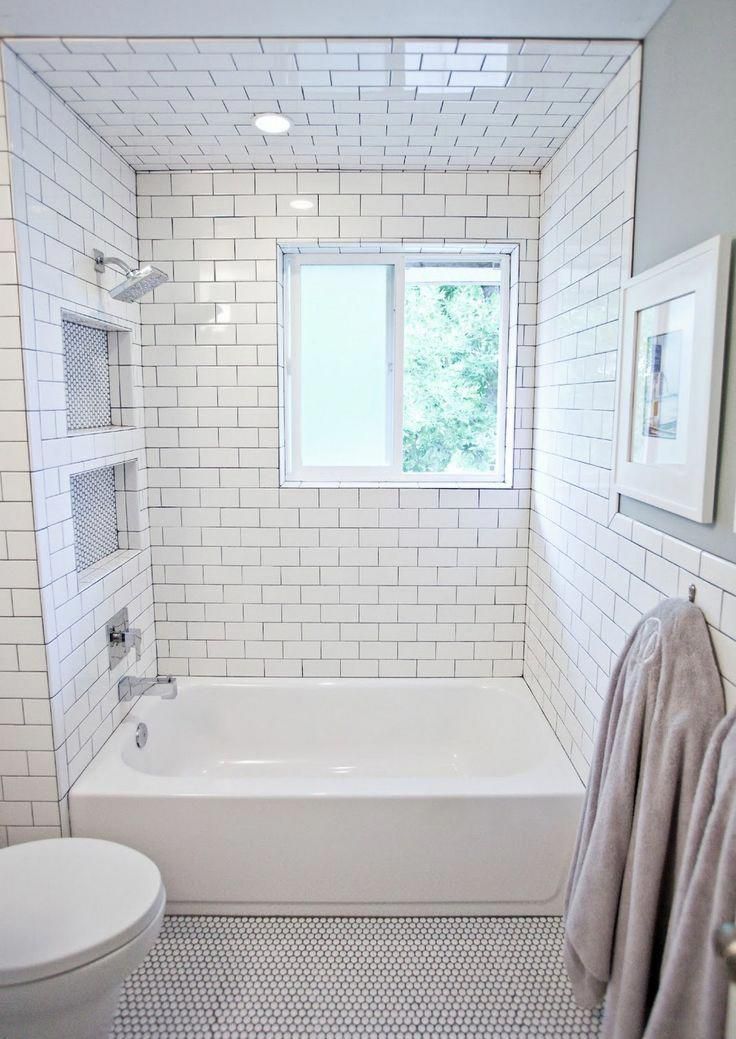 Do you fancy a relaxing bathing experience in a bathtub after a hectic day at work, but space constraint limits your wish? Worry not! Choose the slimmest tub available in the market so that it fits in your bathroom space without any difficulties. Within the scaled-down category, you'll find 30-inch-wide tubs that are ideal for small bathrooms. But sit in them before buying them to ensure they fit you perfectly.
Corners tubs are also perfect for tight spaces as they leave ample space near the sink for you to get in and out of the bathroom. A petite pedestal tub is also an excellent choice for a compact bathroom as they seem like they're floating within the bathroom and take up less visual space.
8. Hang the Curtain High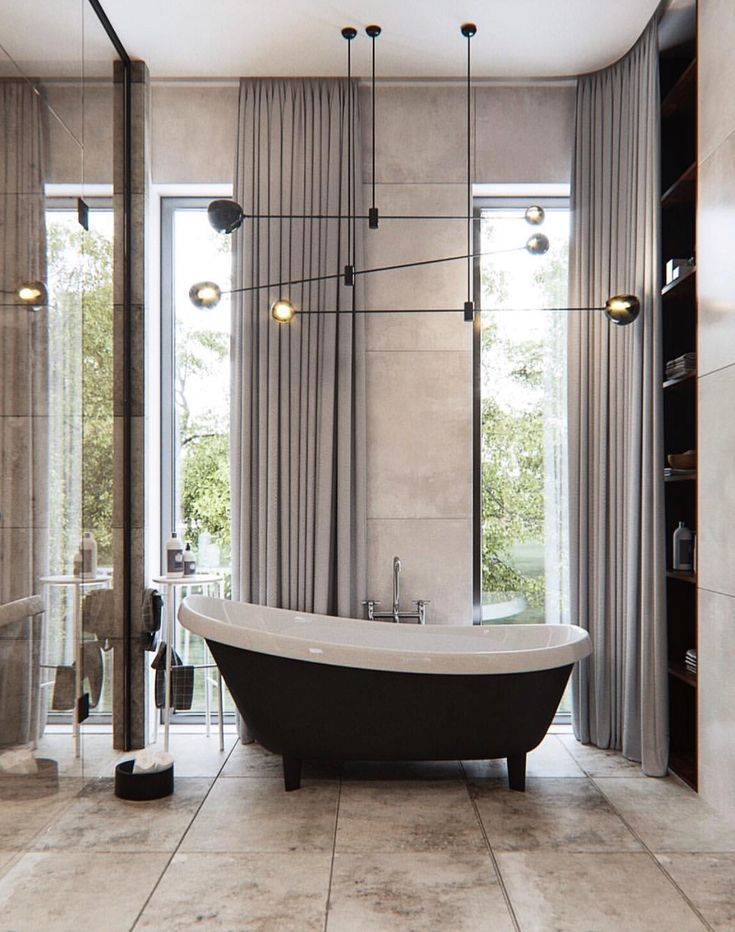 If you want to make your bathroom appear much bigger than it actually is, hang the shower curtain as high as possible. If possible, hang the shower curtain as high as the ceiling to make a large impact and make your bathroom look bigger. For this, you may have to buy an extra-long shower curtain and linen, but the impact will be worth the money you spend.
Choose a light-colored shower curtain and leave it as open as possible for the best results. Depending on the proximity of the shower to a window, hanging the tension rod higher is one of the best ways to allow natural light to reflect off. This brings more light making the bathroom and shower feel more airy.
9. Take Advantage of Unusual Storage Spaces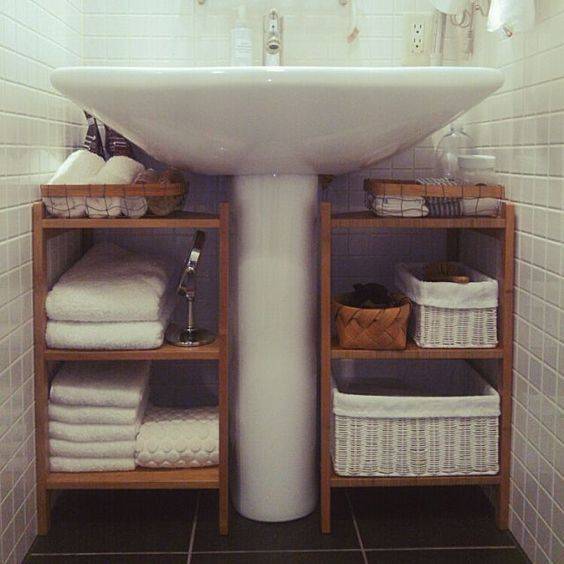 In a narrow bathroom, every inch matters, so take advantage of all the storage opportunities. You can install towel racks on the back of the door. This will give you ample space to hang extra towels freeing up the things you need to store in shelving on the walls and cabinets. You can also create more storage beneath a vanity or freestanding sink without built-in cabinetry by adding a linen curtain to hide clutter.
If your bathroom has a gray or industrial black color palette, you can place decorative baskets on a low shelf to house supplies. This will not only provide extra storage but will also add warm natural tones to the bathroom.
10. Incorporate Reflective Surfaces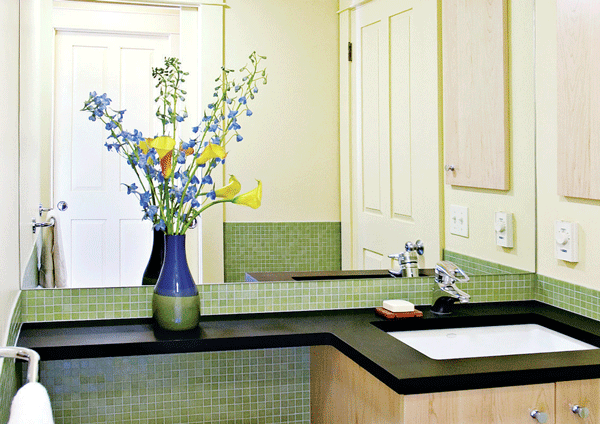 To create an illusion of a larger and more open bathroom, incorporating reflective surfaces is an excellent technique. Mirrors are an obvious choice, as they not only reflect light but also give the impression of a bigger space. You can choose a large mirror that spans the width of the wall above the sink or consider placing multiple mirrors strategically to amplify the effect.
Another way to introduce reflective surfaces is by opting for glossy tiles or metallic finishes for your bathroom walls and fixtures. You can use material such as holographic or sequel sparkles to bounce light around the bathroom. This will create the optical illusion of a bigger and more spacious bathroom.
11. Clever Layout Planning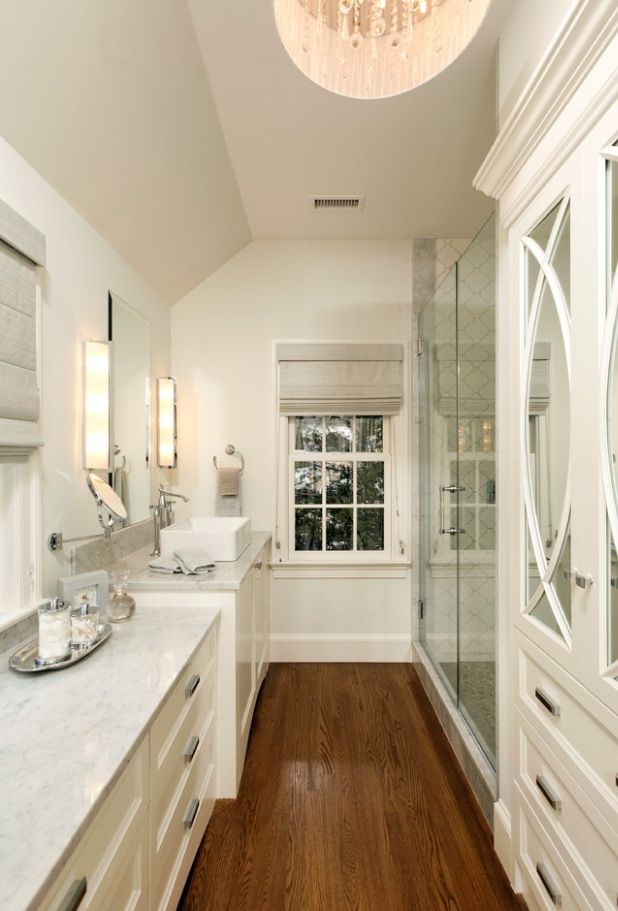 When working with a narrow bathroom, it's crucial to plan the layout thoughtfully. One idea is to position the shower and toilet on one end of the room and the sink and storage on the other end, creating a clear separation of wet and dry areas. This arrangement helps optimize space usage and allows for easy movement within the bathroom.
Additionally, consider installing a corner sink or a wall-mounted toilet to free up valuable floor space. Compact fixtures and fittings specially designed for small bathrooms can also make a significant difference in maximizing the available space.
12. Vertical Storage Solutions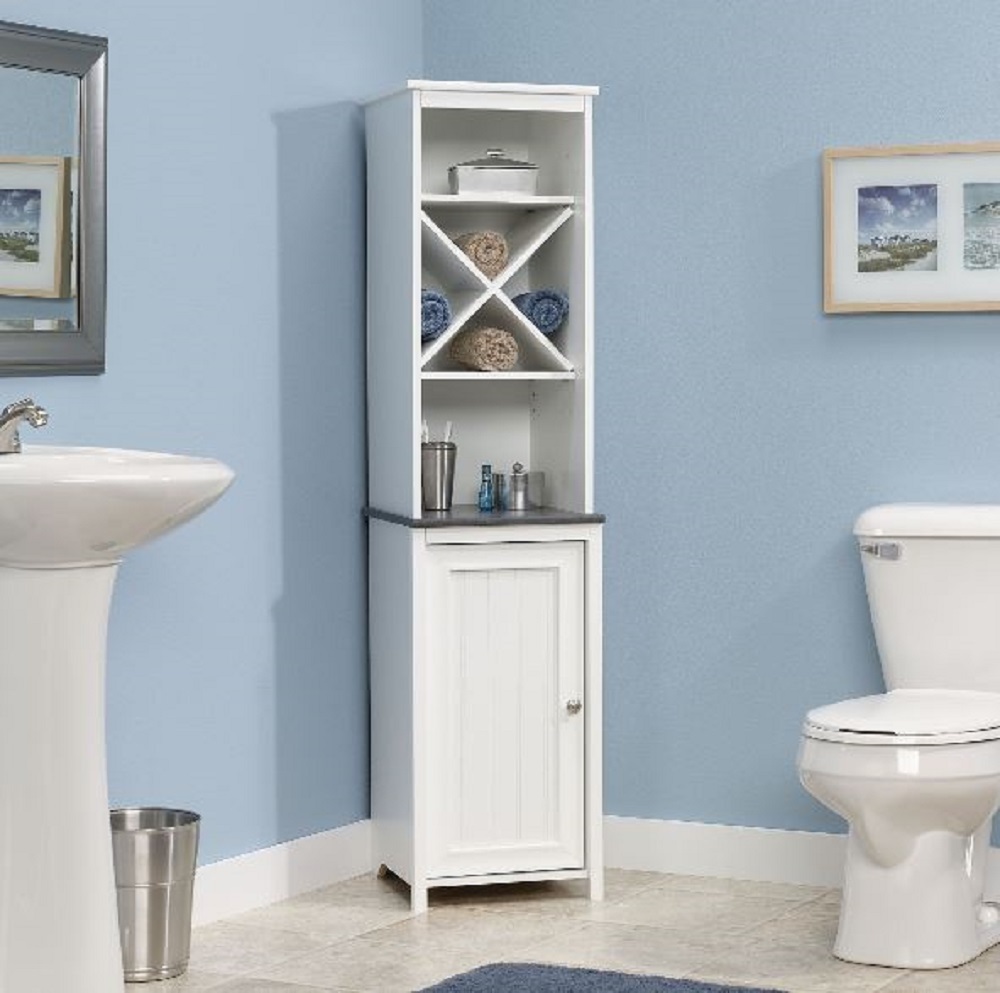 When dealing with limited floor space, maximizing vertical storage is key. Consider installing tall cabinets or shelves that reach up to the ceiling. This will not only provide ample storage for your toiletries and towels but also draw the eye upward, creating an illusion of height in the room. You can install slim custom-built wood shelving touching the ceiling to provide open storage for daily essentials.
Additionally, utilizing wall-mounted organizers, such as hooks or baskets, can help keep your bathroom essentials within easy reach without taking up valuable floor space.
13. Pocket Doors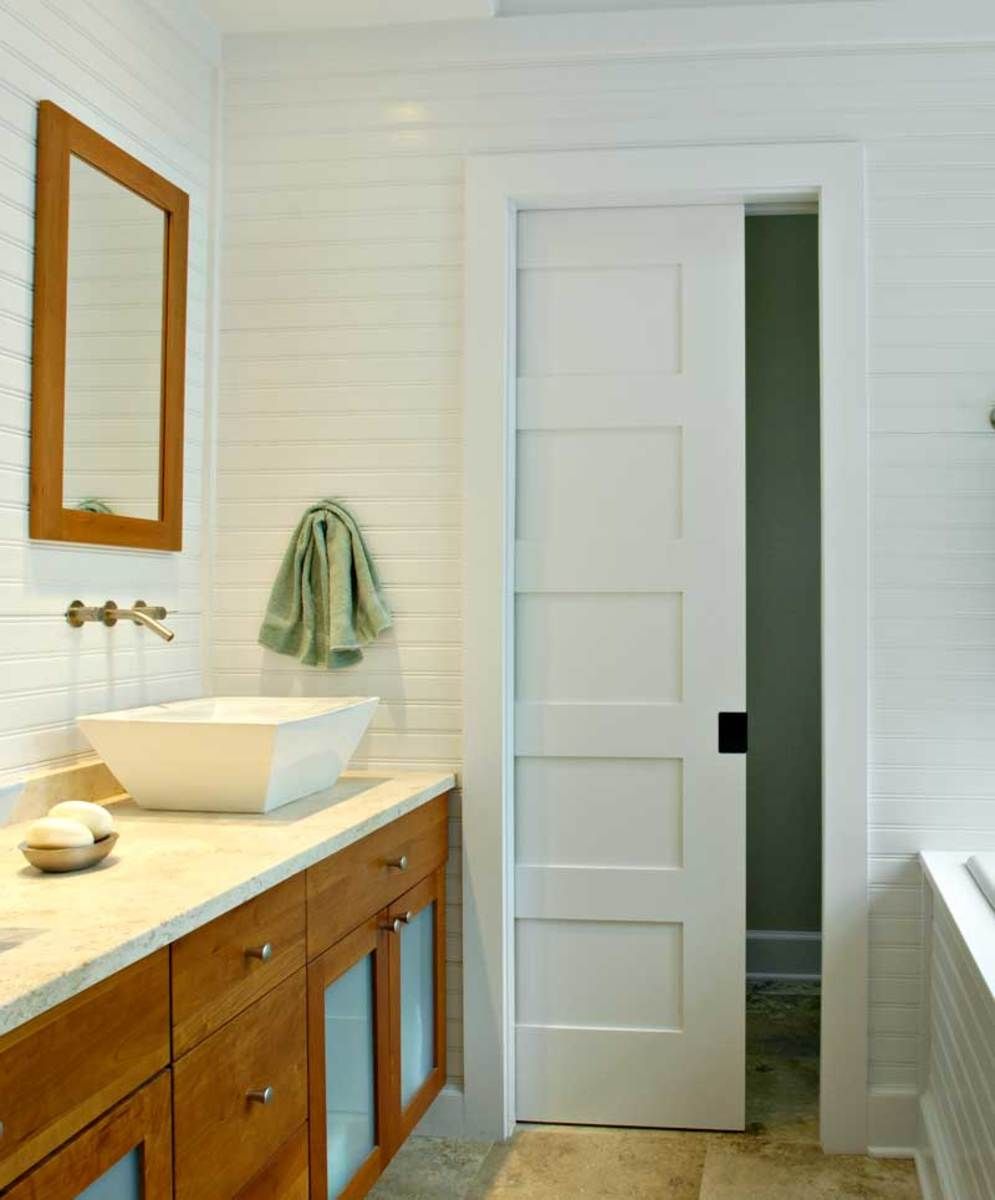 If you have a narrow bathroom, ditch traditional doors and opt for pocket doors that are very space efficient and help you conserve both wall and floor space. They are the perfect option for bathrooms with limited square footage because they add up to ten square feet of floor space that a traditional or an open swing door would otherwise cover.
Pocket doors also link the bathroom and other rooms without taking up the space required for a hinged door to swing outward or inward. So, you can use the extra space for a larger shower or cupboard. It also provides wall space for hanging towel racks, artwork, and other items. The best thing is that pocket doors can be used in both modern and traditional bathrooms.
14. Horizontal Lines on Walls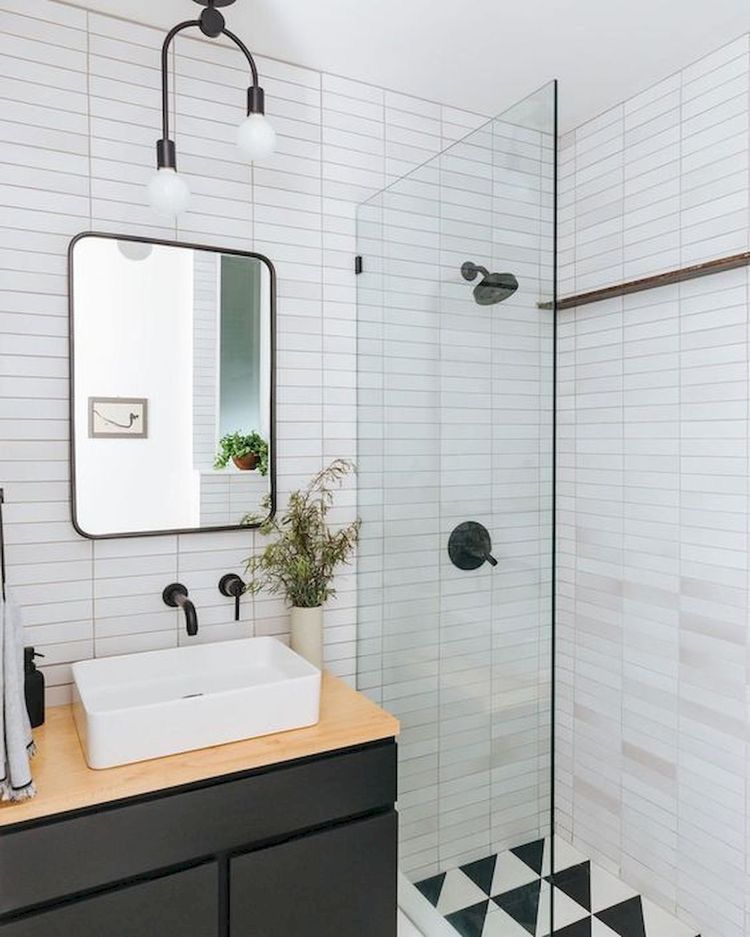 Do you know that you can make your bathroom appear wider with the help of horizontal lines on the walls? Horizontal lines create the feeling of a larger bathroom and make the space look visually pleasing. Especially at two-thirds intervals up a wall, horizontal lines create the feeling of a larger space.
Use a lighter shade of horizontal lines on the walls to amplify the feeling of openness in your bathroom. One important thing is to use them thoughtfully and ensure that they match well with the design scheme of your bathroom. Don't use too many horizontal stripes or bold patterns, as they can create an opposite effect.
15. Avoid Putting Too Many Decorations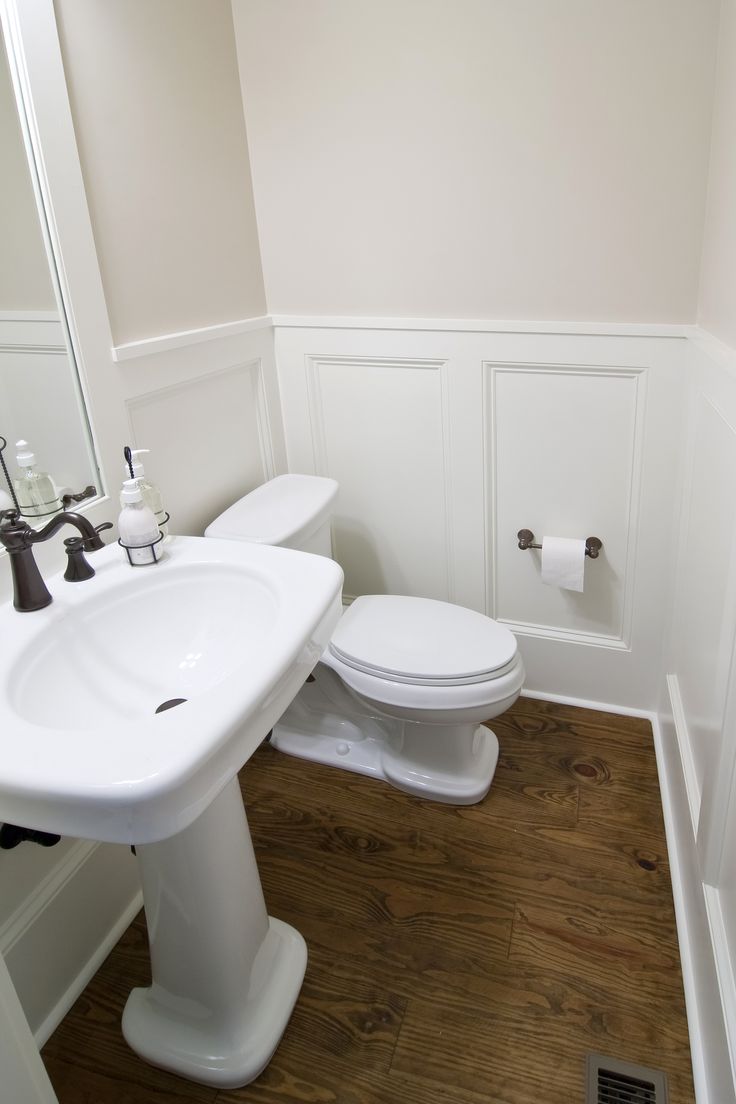 One of the biggest mistakes people make in a narrow small bathroom layout is putting too many decorations. Put only necessary items on the countertop of your bathroom to achieve a minimalistic look. Remember, cramped space can adversely affect your bathroom's overall appearance. Instead of seeing a spacious and clean area, your eyes will always be directed toward the crowded space of your countertop.
This will not only give your bathroom a cramped look but will also make it look smaller than it actually is. Don't waste precious square footage of your bathroom on decorative items or art pieces that aren't functional. You can stick to a rule of three: soap, a toothbrush, and a small vase of flowers.
16. Focus on the Floor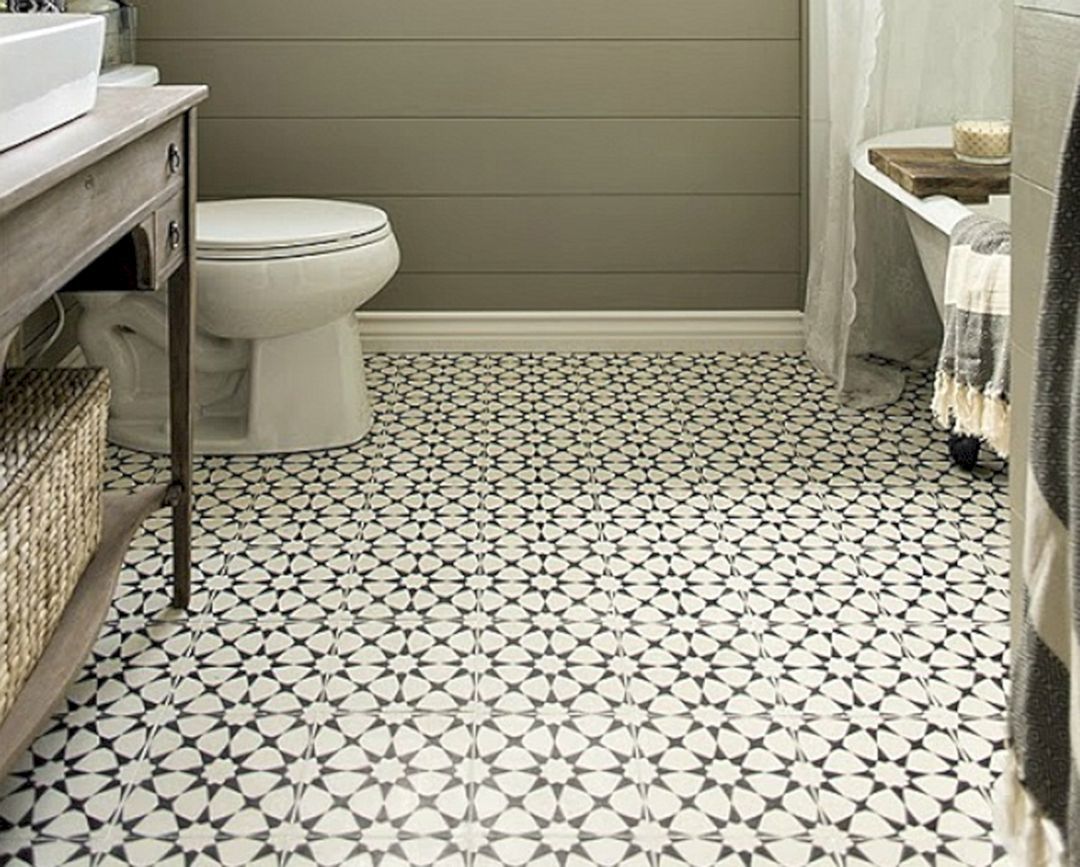 Even if you fall short on the square footage of your bathroom, you can create a relaxing haven without compromising on space or style. The floor is as important as the wall when it comes to creating a feeling of openness and a fabulous impression. To give your narrow bathroom a spacious feel you can use a patterned tile on the floor.
You can combine plain tiles with larger patterns to help expand the space in a narrow bathroom. Blend tile tones with the color of the wall for an uncluttered and spacious feel. You can also use the same tiles across floors and walls to open up your bathroom. This will create the illusion of more space as your eye will be drawn around the bathroom.
17. Maintain an Unobstructed View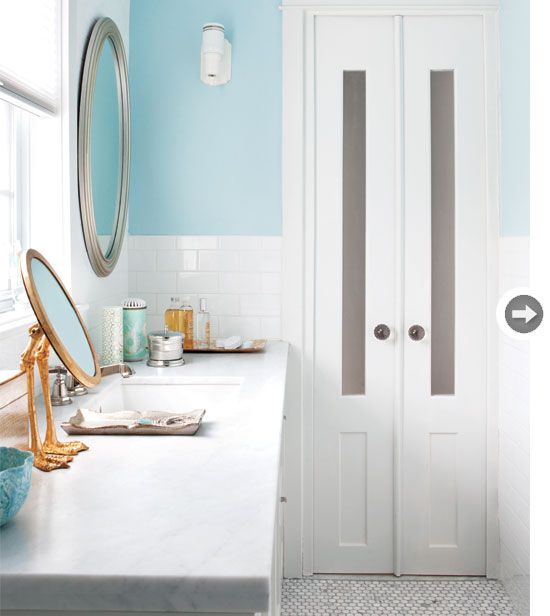 No one likes a damp, dark bathroom with damp circulation. To maintain an unobstructed view in your bathroom, ditch traditional shower curtains with clear glass doors. By keeping the view unobstructed, you allow natural light to enter the bathroom, enhancing the sense of space. One of the benefits of using clear glass doors is that they help stretch the visual length of your bathroom.
You can also use wrap-around shower curtains or windows to create the illusion of a larger space. If you can't install windows, an operable skylight can be the ideal option. It will allow for the natural light and fresh air needed to make the bathroom feel comfortable.
18. Install Tall Floor Racks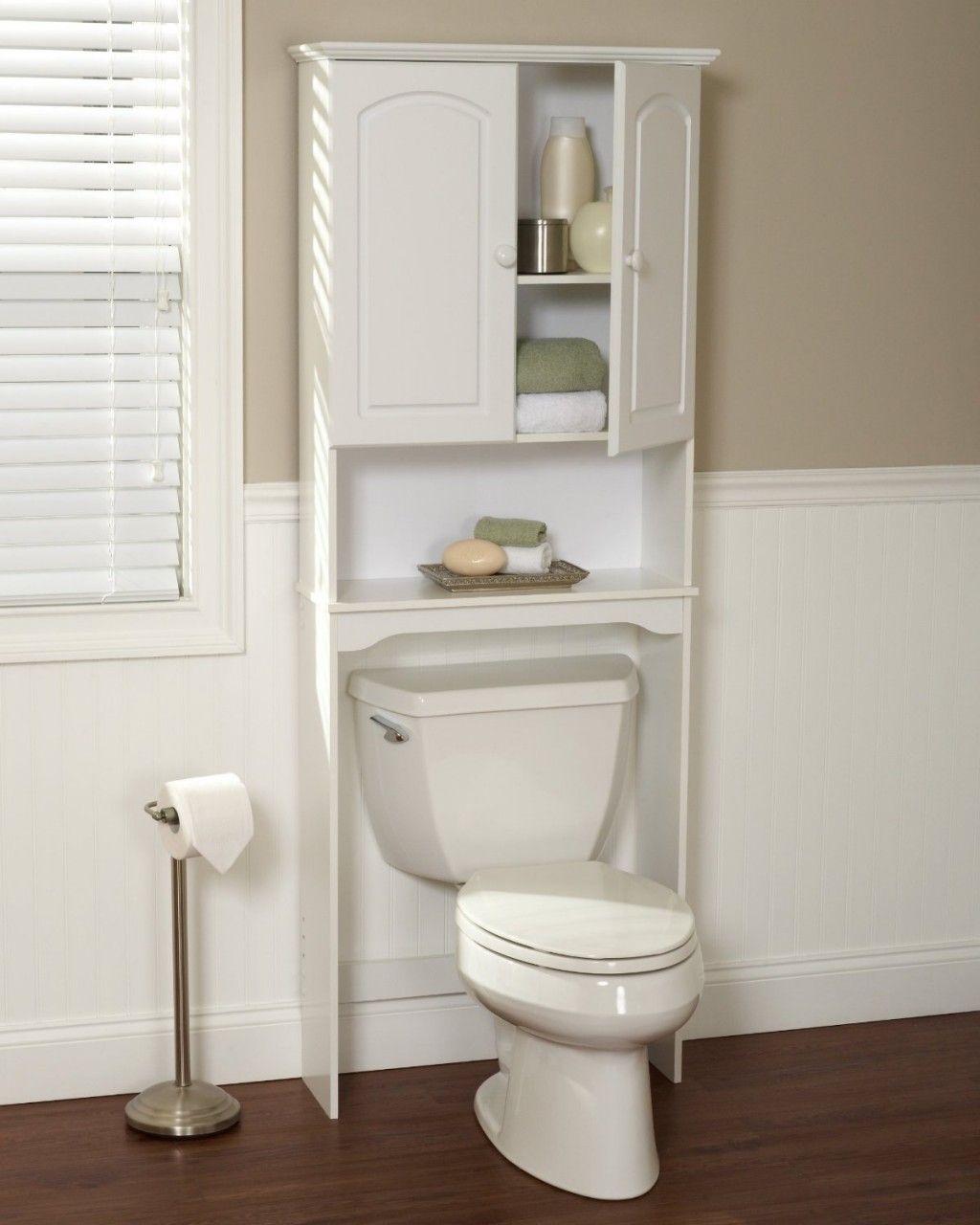 One of the best storage options in a bathroom with a small narrow layout is installing tall floor racks. They easily fit into a cozy nook and provide tons of vertical space for storing your bathroom essentials. Since they take up less floor space, you can easily place them in any corner of your bathroom. Tall floor racks offer multiple compartments or shelves, allowing you to organize the items in your bathroom effectively.
They provide additional shelving for your daily essentials like toiletries and towels. You can categorize different items as per their usage and size and arrange them on tall floor racks. They also give your bathroom a clutter-free look.
19. Give a Unified Look to Your Ceiling, Tiles, and Walls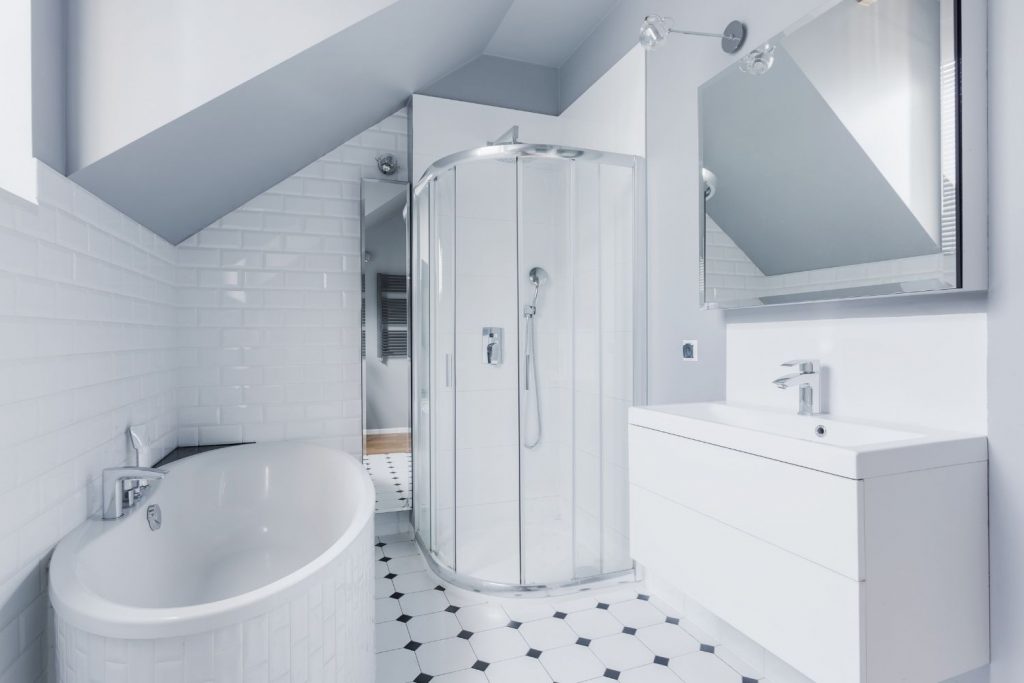 Another way to give a seamless appearance to your narrow bathroom is by giving a unified look to your ceiling, tiles, and walls. Paint your wall with the same color as the ceiling to evoke the feeling of continuity. If you want to add some contrast, you can also use a slightly lighter tone of the wall for your ceiling.
This will not make the bathroom look boring and will help you create a feeling of openness. Blend your tile color with the color of the walls and the ceiling to achieve the effect of continuity. Eliminate the dividing line between the floor and the walls to make your bathroom look airy and spacious.
20. Use Floor Mirrors
Mirrors can be the best solution in narrow bathrooms. By mounting a floor-length mirror in front of your narrow bathroom's compact end wall, you can create the optical illusion of an elongated room. You can also place the mirror behind any light source, like a pendant light or candle, to maximize the reach of light and create a magical effect.
For safety purposes, use a bracket to attach the mirror to the wall, even if you decide to rest the mirror on the floor. If your bathroom has a contemporary theme, you can use a clean-cut mirror with borders. You can also use floor mirrors as decorative pieces to enhance the aesthetics of your bathroom.
21. Hang Artwork Wisely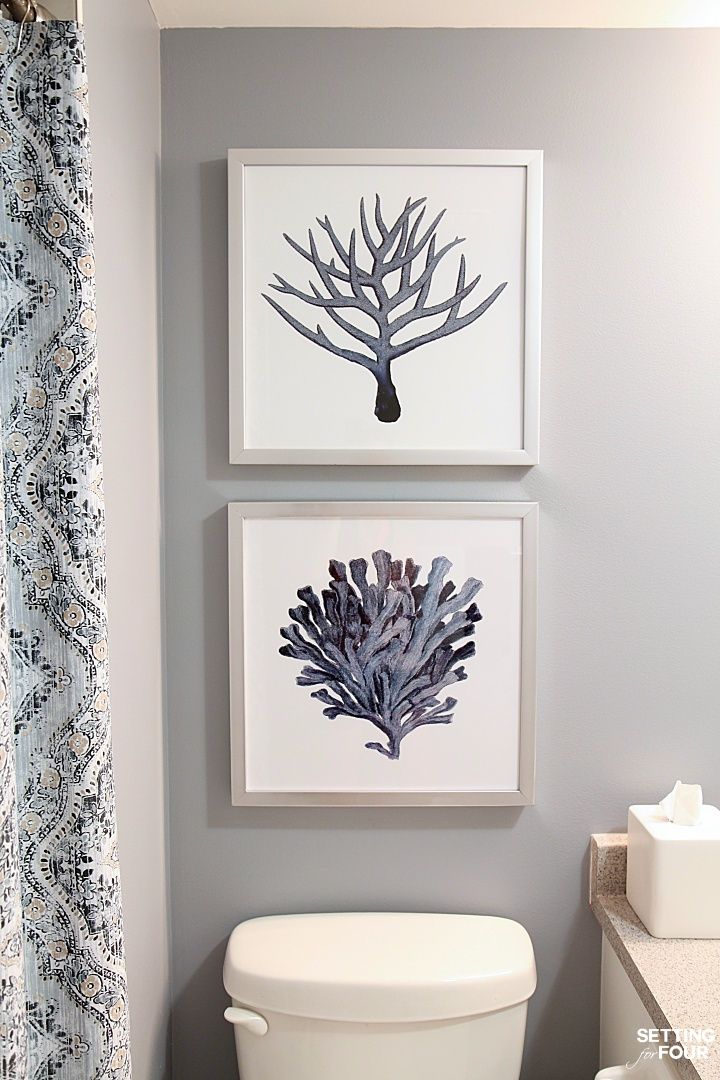 If you're planning to hang artwork in your narrow bathroom, you must do it wisely else it can give a cluttered look. Hang the artwork high so that you can create a sense of verticality and draw the eye of the viewer away from the small proportions of the bathroom.
By hanging the artwork high, you can also make it the focal point of your bathroom. This way, you can also prevent it from getting damaged due to water splashes. Consider the size of the artwork in relation to the overall design of the bathroom.
Conclusion
Having a small and narrow bathroom doesn't mean you have to sacrifice style and creativity.
With clever design ideas and thoughtful planning, you can transform your compact space into a stylish and functional oasis.
Take some time to figure out what will work in your narrow bathroom and implement your ideas carefully to get the best results.
You can also take the help of narrow small bathroom layout design ideas to give your bathroom a spacious and elegant look.
Frequently Asked Questions
How Can You Maximize Space in Small Bathrooms?
You can maximize space in small bathrooms by using pastel colors on the walls, adopting a minimalist approach, and taking advantage of unusual storage spaces.
What Are Some of The Mistakes People Make in Narrow Bathrooms?
Some of the mistakes people make while designing narrow bathrooms are using too many decorative pieces, squeezing in a separate bath and shower, and forgetting about the usefulness of mirrors.