When designing your bathroom, you must not overlook the need for shower niches. Shower niches are a blessing when it comes to storage and help keep your washroom neat. You don't want your shower to have a messy pile of shampoo bottles or soaps in untidy soap trays. These can make your bathroom look untidy and unappealing.
There are plenty of shower niche ideas to choose from, and this article lists some of the best second-to-none shower niche ideas. These shower niche ideas are curated while keeping in mind a farmhouse aesthetic. Let's explore.
1. Grey Tile Shower Niche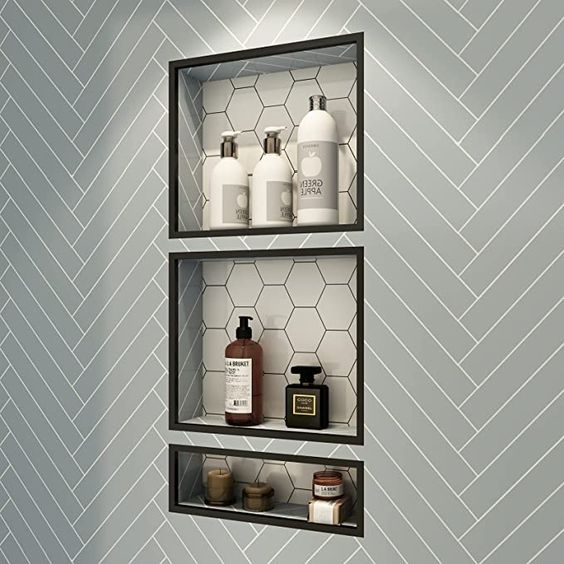 A blue-toned grey color is a great choice for your washroom. Two square niches with hexagon patterns followed by a rectangular niche will look great against herringbone-patterned bathroom tiles. The shapes look sophisticated and neat, and these niches give enough storage space.
The herringbone pattern imparts the farmhouse vibe, while the grey color gives a modern chic aesthetic.
2. Vertical Tile Shower Niche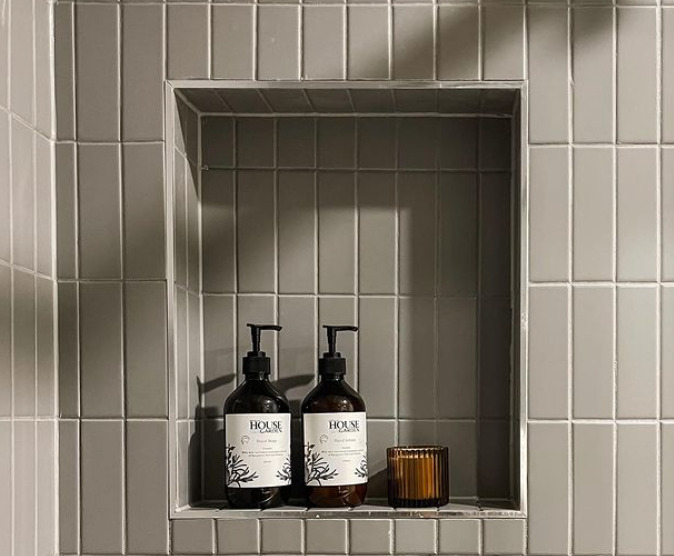 Vertical tiles give a length to your shower space. In small enclosed spaces, vertical taupe tiles like in the image will draw the eye upwards and make it seem taller. The niche comes with a deep shelf and gives ample space to display your bath essentials. Place a scented candle to make your shower time extra special.
Pair this niche with a pristine white tub and an exposed chrome showerhead to complete that sleek farmhouse look.
3. Herringbone Shower Niches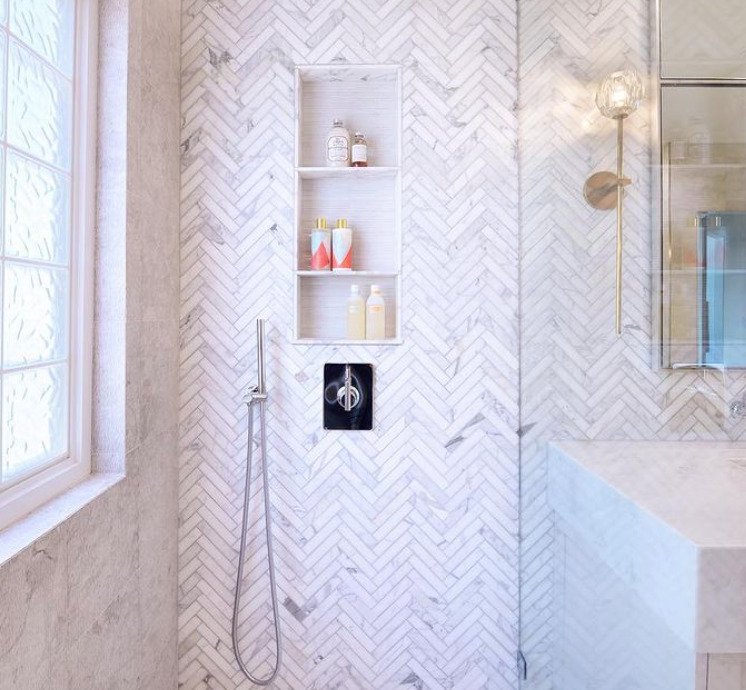 This vertical niche with herringbone design tiles fits the shower of your master bath. The light-colored tiles will be a good choice for both small and large spaces. Herringbone tiles impart your shower the classic farmhouse touch.
If you like to have all your shower essentials in one place, this elongated niche takes care of your space requirement. The vertical rectangular shape also gives length to your shower, which goes well against the herringbone tiles.
4. Marble Square Shower Niche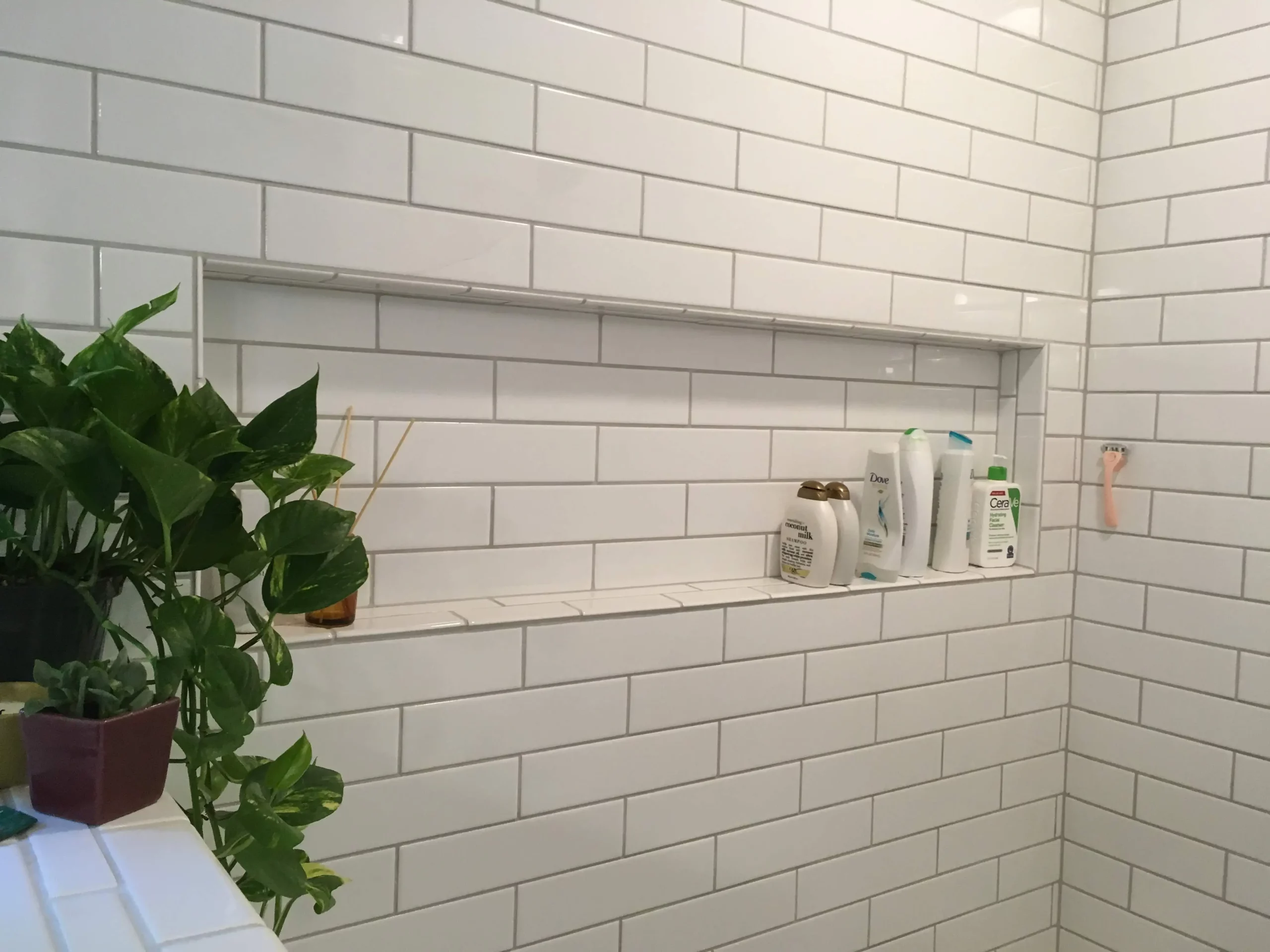 You cannot go wrong with a sleek marble niche. White and grey-toned marble will do wonders in opening up your shower space, and the color is in agreement with the farmhouse aesthetic.
The niche is simplistic; it doesn't draw too much attention to itself. It is important not to clutter this space. Different colors of shampoo bottles and soap dishes will clash with the design of the niche.
A classic white porcelain tub with sleek showers will complete the look.
5. Gold Accent Shower Niche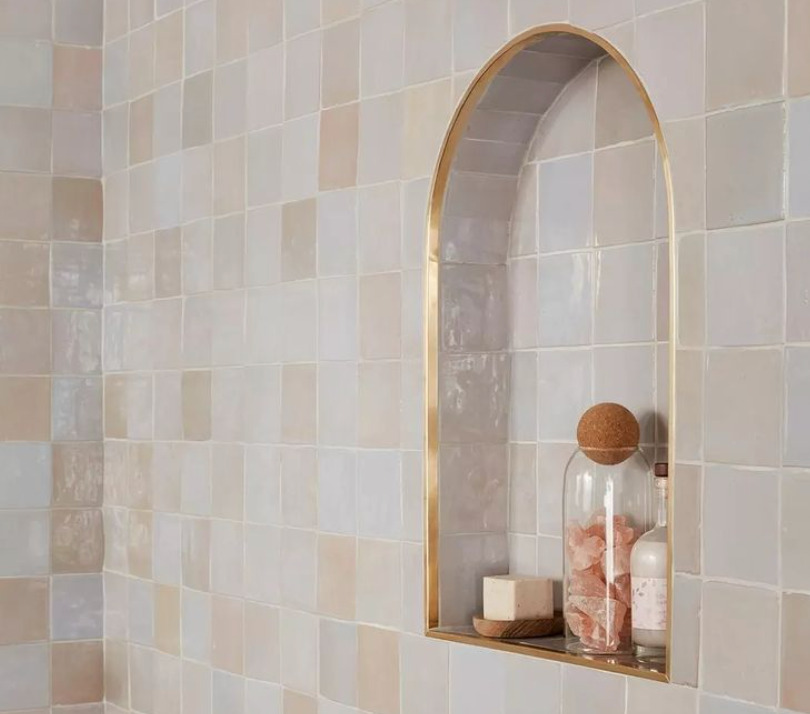 If you want to experiment a little, you can for a gold accent shower niche. With the gold accent niche, you must coordinate the colors of the shower tiles with it, or it can appear tacky. Cream and grey textured ceramic tiles will complement the gold.
This niche is again spacious to store your shampoo soaps and lotions. Keep your soap in a nice wooden tray for an extra farmhouse touch. You can get corked bottles to store your shampoos, lotions, or body oils. The wooden tones will complement the gold accent of the niche.
6. Fish Scale Shower Niche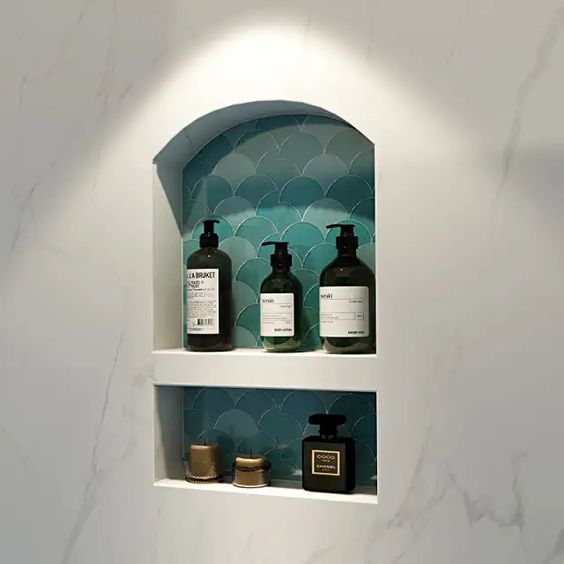 A white marble washroom looks elegant. There is no doubt that a white marble niche will look good, but if you want to add a bit of color to your shower space, you can do so through the niche. Add a bit of texture to the niche with the fish scale tiles in shades of blue or teal.
The color will give your shower a refreshing feel, and the fish scale adds a fun addition to an otherwise simple washroom. The color and texture will draw attention toward the niche, so showcase your best shower gels and shampoos there.
7. Two Rectangular Niches in White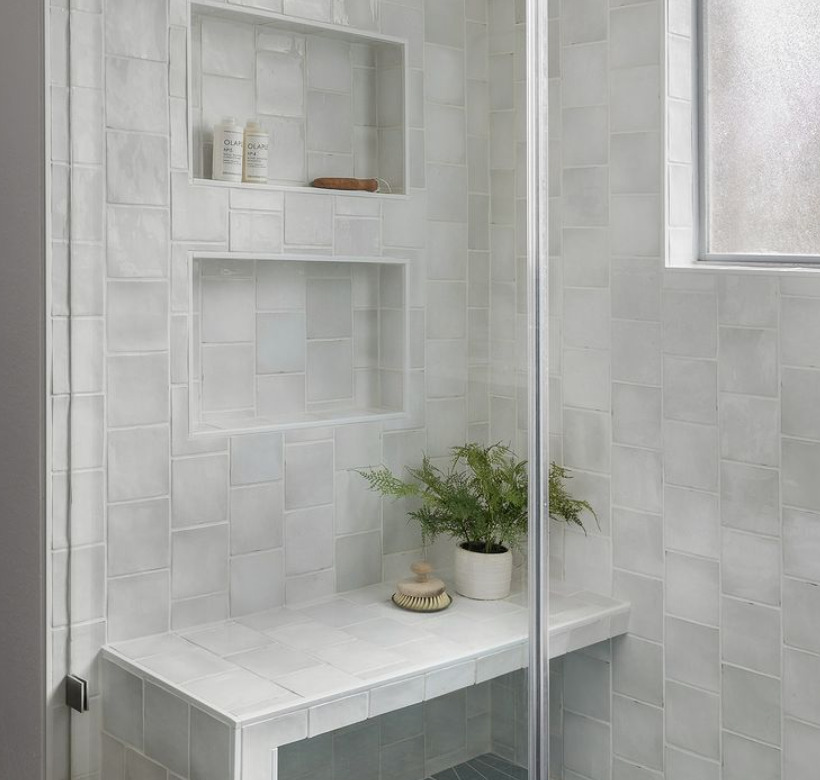 If you prioritize storage, these double rectangular niches are just the right fit for you. Perhaps accent niches in gold or blues are not your vibe; then this minimalist design is perfect for you. A grey-toned white tiled shower with a shower bench and dark grey flooring will give a modern farmhouse look.
Do not clutter the niche; keep it tidy. Keep your bath salts and lotions in minimalist glass jars. You can also keep some scented candles for a relaxing bath time.
8. Small Hexagon Tile Shower Niche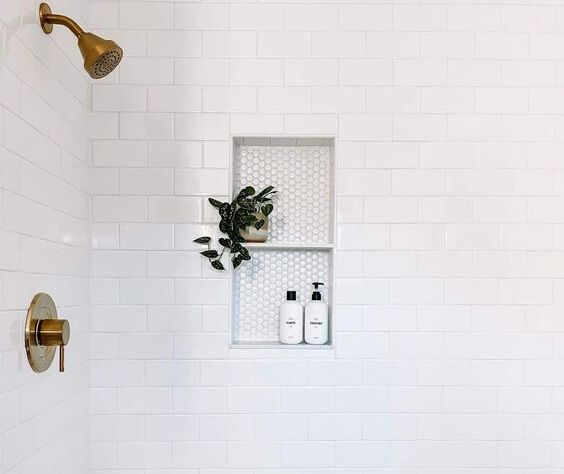 Among the minimalist shower niche ideas, this one uses just the classic white. The vertical shower niche has just enough space for your shampoo and conditioner. You can add a faux green plant for a hint of color.
The little hexagons on the niche add a light texture to the aesthetic; anything more will throw off the balance of the shower space. The white ceramic tiles look modern farmhouse chic. Vintage-looking copper-colored shower balanced the white ceramic tiles.
9. Green Double Rectangular Niche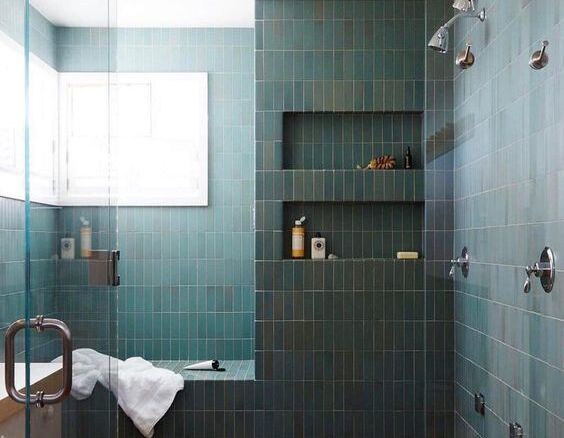 Green is a bold choice of color for your shower; it will make an impression on anyone that looks at it. Double rectangular shower niches in the same color will be perfect for this shower space. With these niches, lack of storage space will not be a concern.
There is no need to add any other color to the niches. Keep it in harmony with the rest of the shower space.
10. Hexagon Tile Accent Niche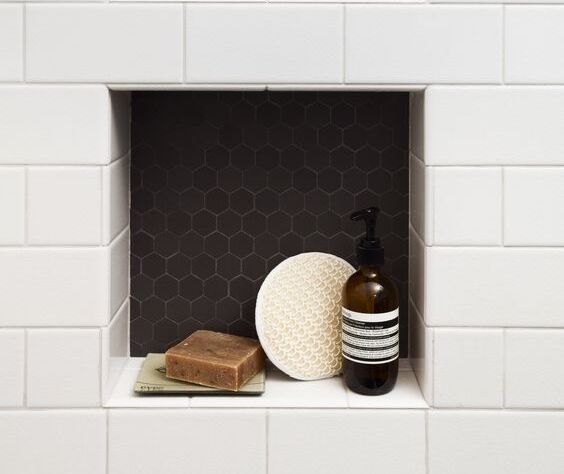 If you have a classic white washroom and you wish to add some color and texture to the space, you can do so by having a hexagon tile accent niche. A dark grey niche against white ceramic tiles will certainly draw the eyes towards itself.
Depending upon the amount of storage space you need and the structure of your shower, you can have either one or double square niches. If you wish, you can experiment with the color for the niches too.
11. Blue Glossy Tile Shower Niche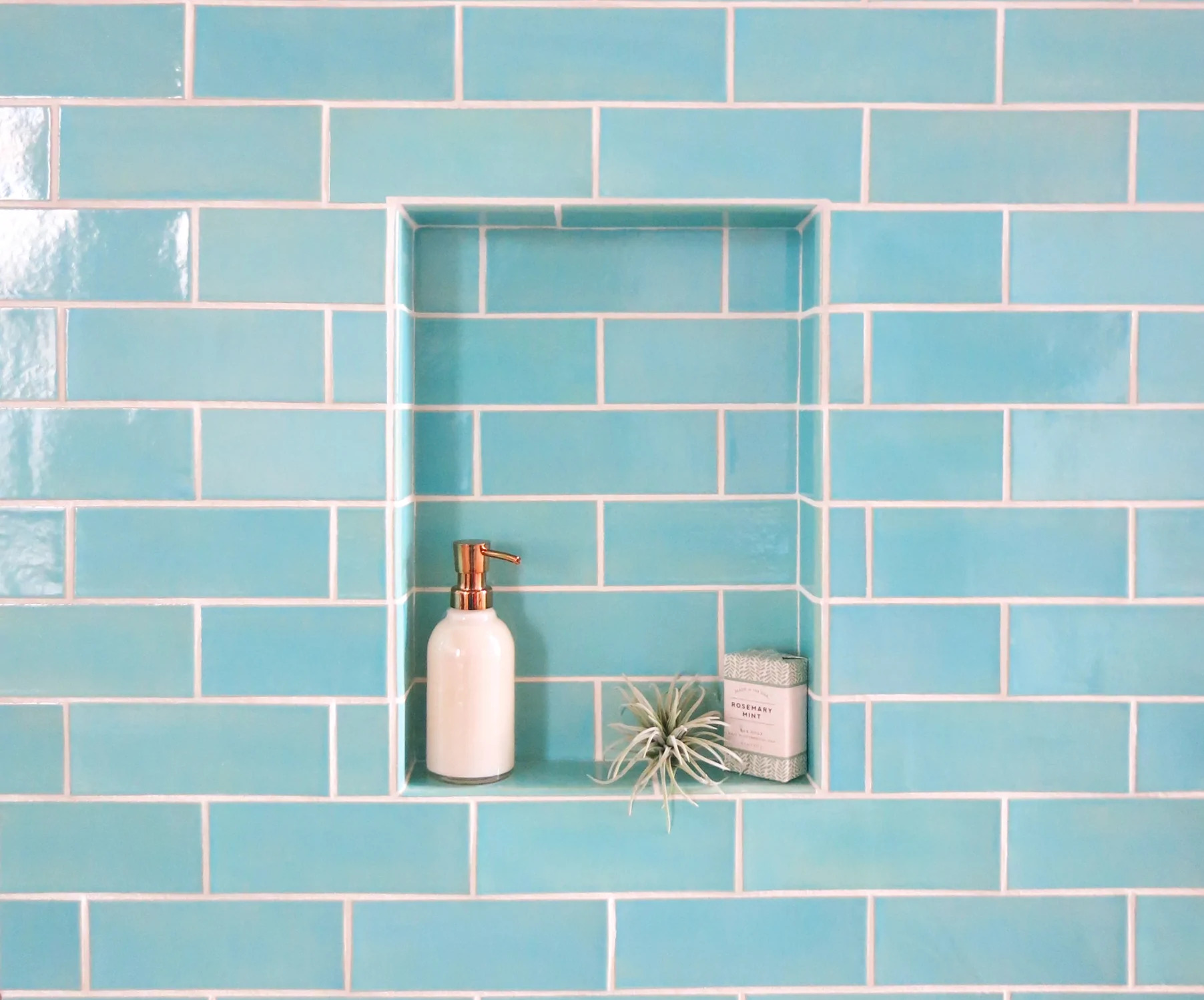 Glossy sky-blue tiles might not at first glance seem like a choice that should work for the shower, but, as you can see, it gives your bath a cool yet classic look. It also fits the farmhouse aesthetic. A vertical rectangular niche in the same tiles is perfect for this shower space.
Keep white bottles of shampoo and conditioner to match the white grouting of the tiles, and your happy shower space is ready.
12. Round Penny Tile Shower Niche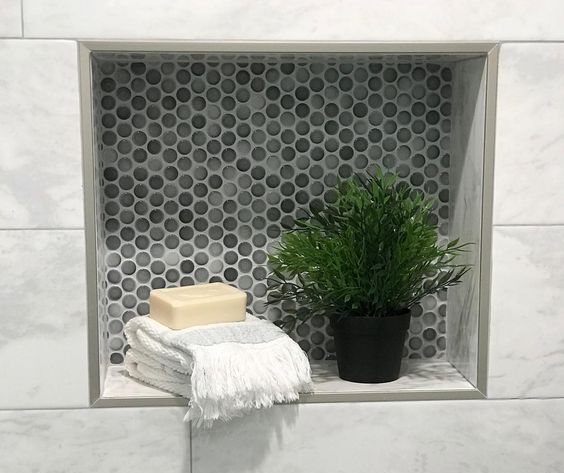 Penny tiles can add something special to your shower niche. Grey textured white tiles of the shower will go well with the grey shades of the round penny tiles. They add an interesting texture to the shower niche.
You can choose a different color as long as it is in harmony with your shower. A simple square niche will give you enough space for your shower essentials.
13. Patterned Tile Shower Niche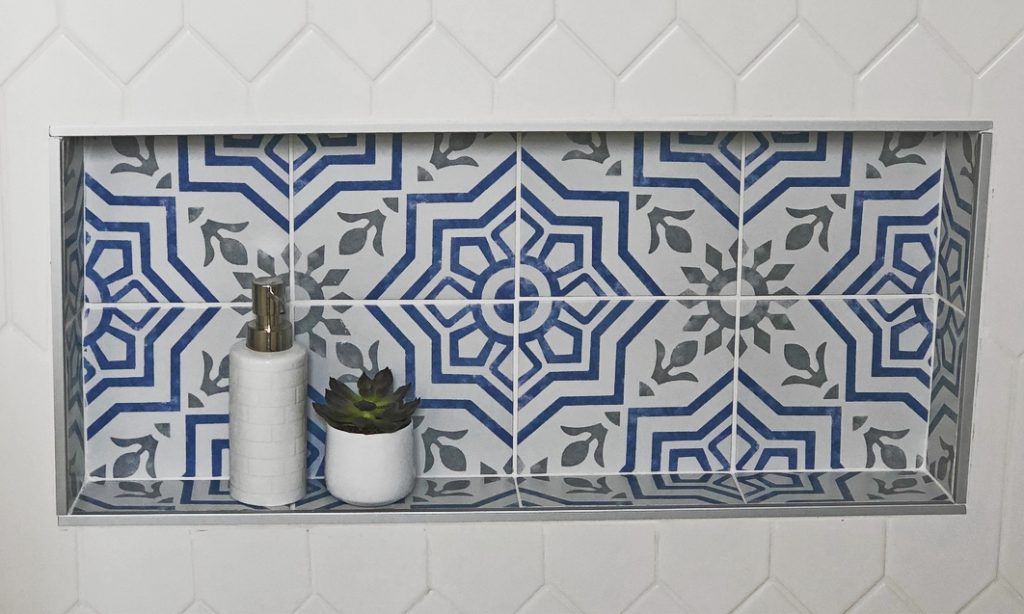 Another way to have an interesting shower niche is to go for patterned tiles. Geometric, floral patterned tiles are a traditional choice. They can be adapted well to modern designs while maintaining an old-school aesthetic.
The minimal color scheme maintains the farmhouse look for your shower. The tile design adds an edge to the otherwise plain shower space.
14. Minimalist Square Niche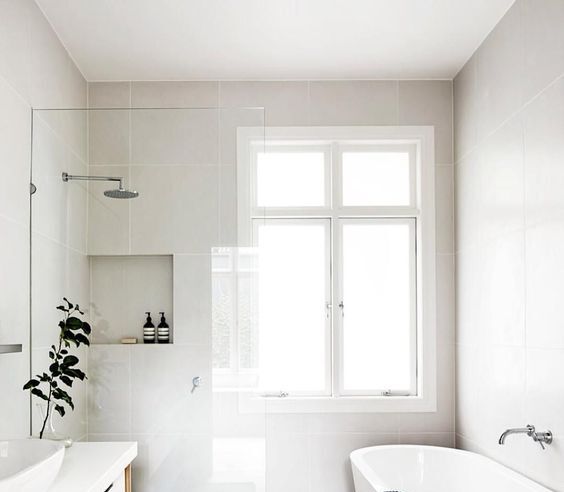 If you are not into intricate shower designs, then a pristine white shower with a minimalist square niche is what you would prefer. The square niche in off-white tiles has good space for your shampoos, conditioners, and soaps.
This is a neat and functional design choice for a niche. A white basin and white porcelain tub will tie the look of the bath together.
15. A Neat Horizontal Shower Niche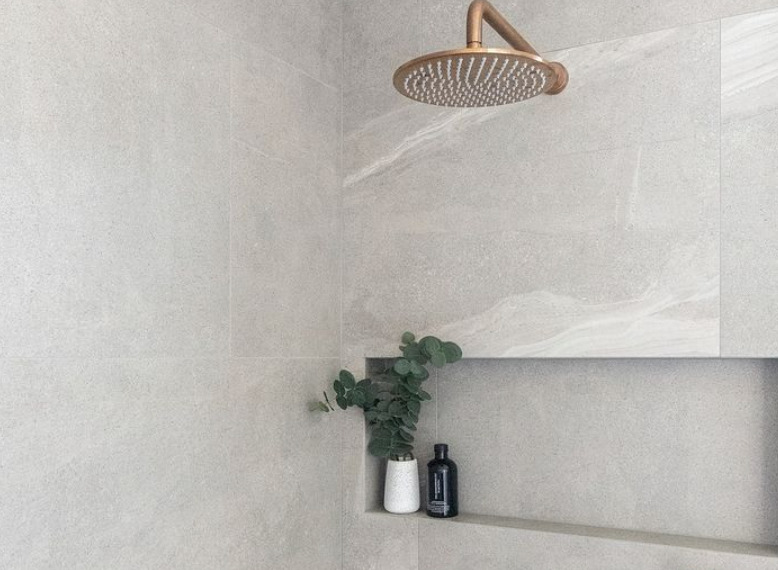 This rectangular horizontal niche is perfect for a modern chic farmhouse look. There is plenty of space for your bath essentials. The grey tone of the washroom gives it a clean, modern vibe.
The niche must not be kept messy; it will clash with the tidy look. A copper-colored showerhead will match the vibe of the shower and add another tone of color to it. This is a sleek design for a niche.
16. Double Square Shower Niche in Sage Green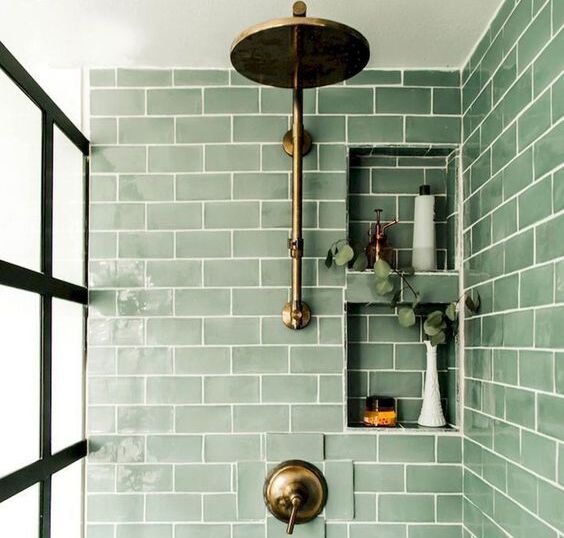 Double square niches, with sage green brick-style tiles give a very soothing look to your shower. If you are into colors, then you must consider sage green. The glossy tiles with white grouting give a breezy farmhouse look to your shower. The double square niches give symmetry and provide appropriate storage.
Pair these with a gold accent brass or copper shade shower fitting, and you will have a shower space that is the envy of all.
17. Blue Glossy Penny Tile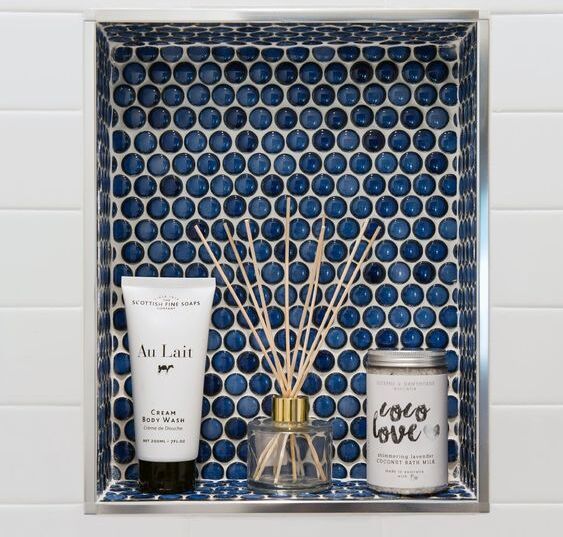 If you have a white subway-tiled washroom and you want to add some color and texture to the place, you can have a penny-tiled niche. Blue, round penny tiles with a glossy finish will add some character to the shower niche. It will be the center of attention, so you better keep it tidy.
18. White Brick Tile Shower Niche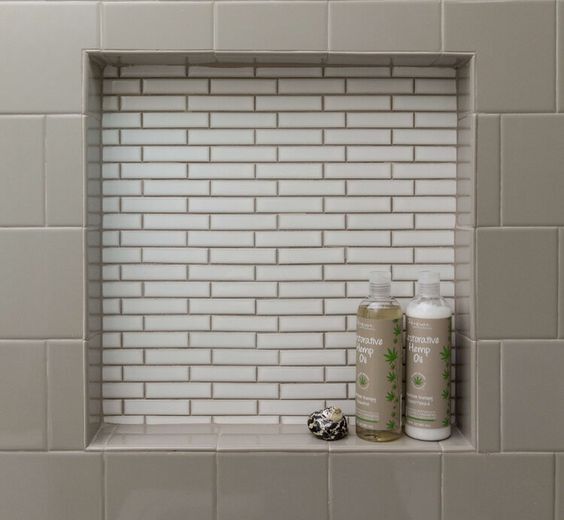 With a more simplistic look, this white brick-tiled niche will go with most shower spaces and fittings. The white bricks go well with off-white or grey subway tiles of the washroom. This simple square niche is spacious and has good depth to hold your toiletries.
You can try to match the grouting of the brick tiles with the subway tiles of the washroom for a harmonious look.
19. Green Tile Shower Niche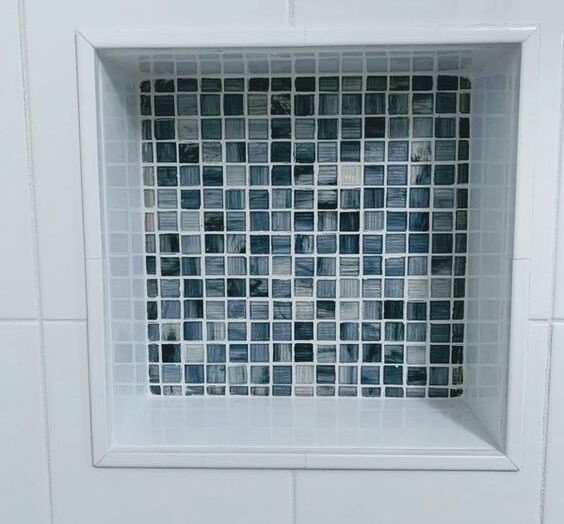 If you want to add some color and character to your bathroom niche, I would suggest you go for mosaic tiles. Mosaic tiles can be a bit of work to install, given their size, but the result is satisfying. You can mix shades of green for that classic mosaic look.
A square niche with mosaic tiles is just what your plain washroom space might need. Pair it with a copper or brass bathroom fitting; the color will go well with the green.
20. Hexagon Tiled Niche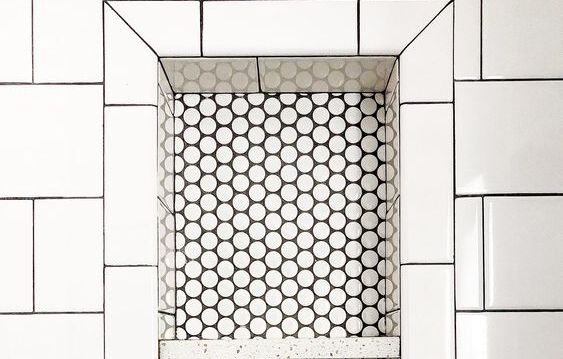 When one thinks of farmhouse style, whites are a popular choice of color. Two square niches in a white tiled washroom add symmetry to the shower space. You can have a single niche, depending on the space.
The brick-shaped white tiles with grey grouting play well with the square shape of the niches. To add to the play of shapes, add small hexagon patterns to the niches and keep the color of the grouting same as that of the rest of the tiles.
The small flower in the middle goes well with the monochrome theme.
21. Intricate Patterned Tile Niche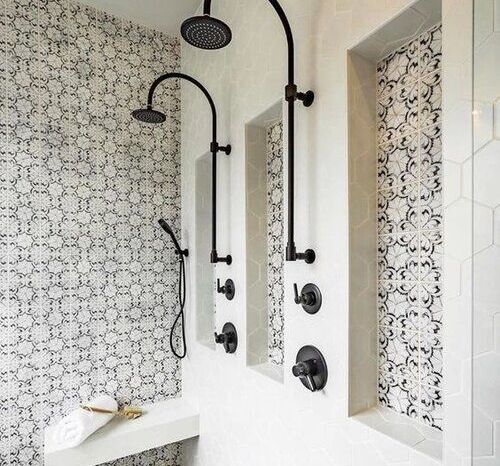 This elongated triple shower accent niche screams grace and elegance. These are large niches, so your demands for space are well taken care of. The shape of the niches gives length to the shower space. Accent tiles in intricate patterns complement the adjacent accent wall.
Keeping up with the black and white theme, go for black shower fittings to complete the look.
Conclusion
Shower niches are a good mix of functionality and aesthetics. There are many shower niche ideas that you can choose from; it depends on what exactly you are looking for with them. If open storage is your main concern, then big rectangular shower niches or double or triple shower niches would suit you. You can give length to your shower by using elongated niches with vertical tiles.
If you are looking to add color, texture, or some character to your shower, accent tile shower niche ideas are ones you should look at above. You can opt for glossy, colored penny tiles, patterned tiles, and mosaics. Or, you can go for minimalism.
Choose from among some shower niche ideas above, and transform your shower space to your design.