21 Black Window Frames to Will Uplift Your Home
Is this year's most popular window trend suitable for your home? Let's dive into the captivating world of interior design and explore the timeless allure of black window frames. Black window frames have successfully returned to the forefront of design trends. These frames effortlessly merge industrial charm with solid strength, whether you live in a rustic hideaway or a modern sanctuary.
These frames have the unmatched ability to infuse your house with elegance, drama, and modernism. Black window frames do not draw attention to themselves by projecting from the wall; instead, they have the astonishing capacity to blend in with the surrounding surfaces. One of the most alluring design trends is black vinyl windows.
When considering black window frames, consider your interior design and the vibe you want to create. This post will provide you with 21 creative concepts that will take your treasured home decor to new heights.
1. Industrial Chic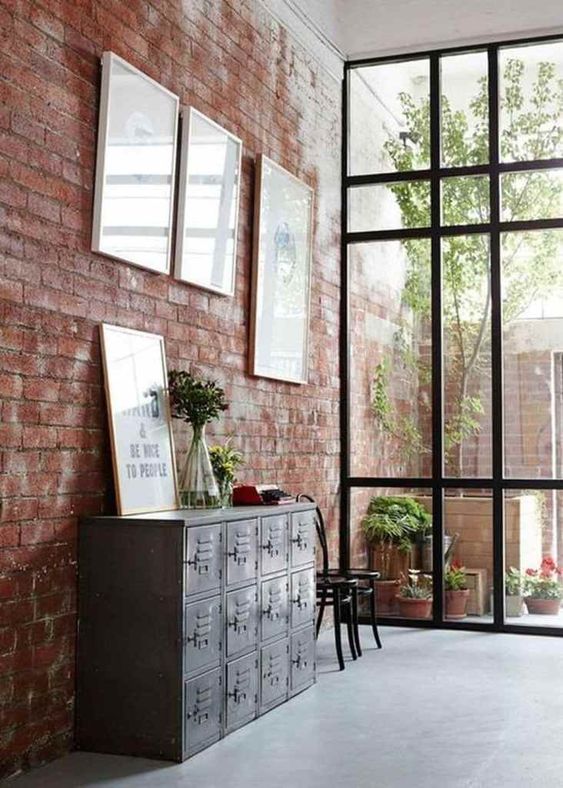 Industrial stylish black window frames offer an appealing characteristic of industrial design with modern sophistication. Their robust design of exposed bricks, metal accents, and reclaimed wood with a sleek black finish offers a visual contrast, making them a focal point in any room. Their ability to express a sense of urban appeal while still imparting a hint of elegance is what makes them distinctive.
These frames have an adaptable quality that complements a wide range of home designs, from minimalist to bohemian. The presence of the industrial chic black window frames captivates the eye, transforming windows into architectural pieces that bring character into your house.
2. Contrasting Colors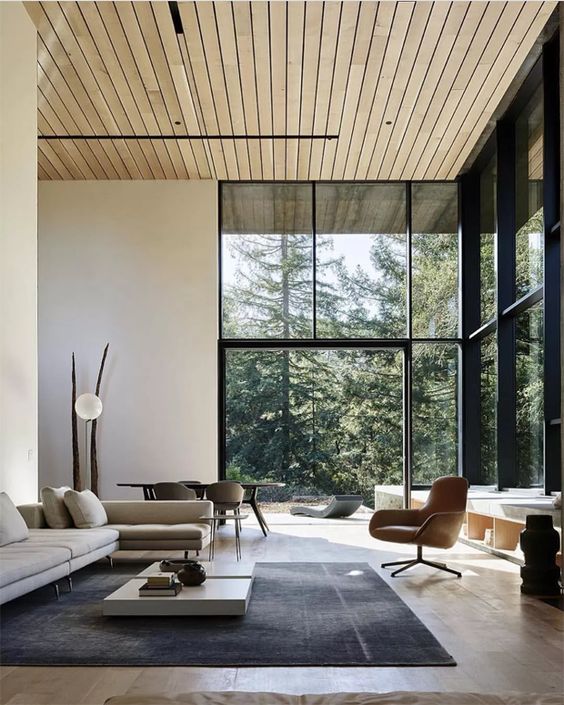 When you are willing to achieve a high-contrast impression, place black window frames against white or light-colored walls. Black frames, in contrast, represent a captivating mix of boldness and refinement. They provide a compelling visual contrast that demands attention by comparing the deep richness of black against light-colored walls.
It likes bringing a sense of drama to the walls and hence act as a dramatic focal point in any room. You can instantly boost the ambiance of your house, establishing a healthy balance between light and dark and infusing your interiors with a feeling of modern elegance that is both unique and intriguing.
3. Monochromatic Essence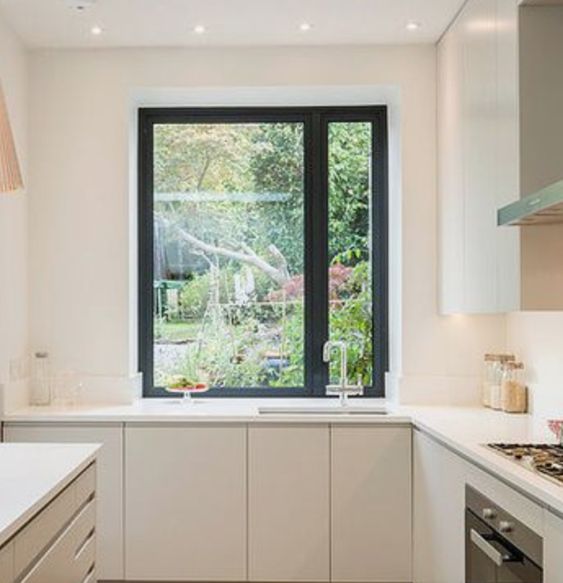 Anyone looking for a traditional and timeless design can consider a monochromatic look. When you have spotless white walls that will serve as the best blank canvas for your artistic pursuits, now add those sleek black window frames to the mix. It completely embraces the monochromatic charm with black decor and accessories.
Whether it's a home office or a modern workspace, the combination of black window frames with complementary elements shows a professional and polished ambiance. Give a heads-up to the monochromatic essence while letting your unique style shine through.
4. Geometric Patterns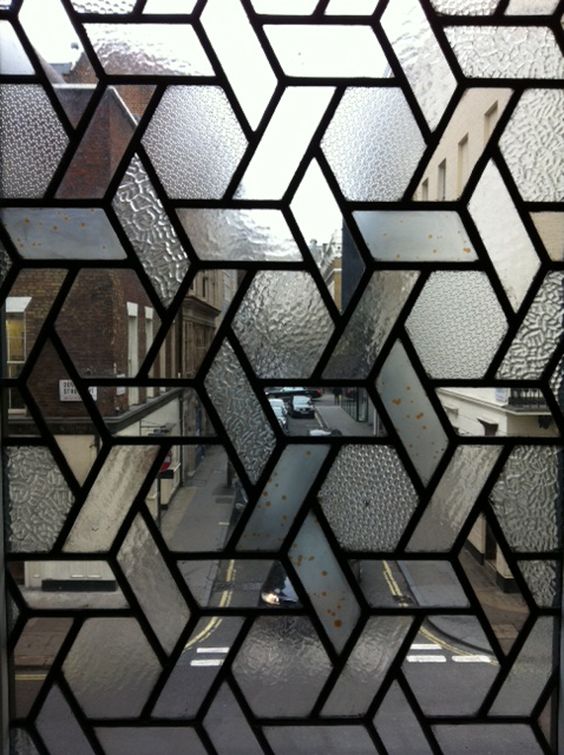 Enjoy the irresistible appeal of geometric patterns with the elegant addition of black window frames. The unusual and beautiful decor of the windows with arched or triangular patterns is flabbergasting. You can think of designing your house with hexagonal or diamond-shaped panes to welcome the creation of geometric detailings that easily draws attention.
But how about we go one step further? By choosing art deco-inspired inspired accents, you may give the area a glitzy, nostalgic feel. Even the most discriminating eye will be impressed by the atmosphere, which is genuinely vintage.
5. Scandinavian Simplicity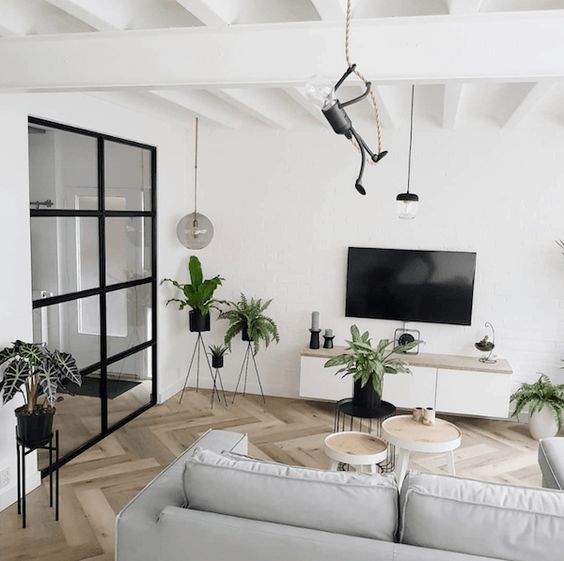 Scandinavian contrast is a design technique frequently used in Scandinavian interior design. Light hues like whites, neutral, and pastels are frequently utilized as the foundation palette in Scandinavian design, which is inspired by the area's lengthy winters and minimal sunlight. The combination of light and dark is an aesthetically pleasing and peaceful sight to behold.
The presence of black window frames perfectly captures the essence of Scandinavian simplicity. They make a statement of subtle beauty, where less is more. It is a setting that bespeaks calmness and exquisite quality and invites you to wrap yourself in the arms of classic Scandinavian design.
6. Bohemian Retreat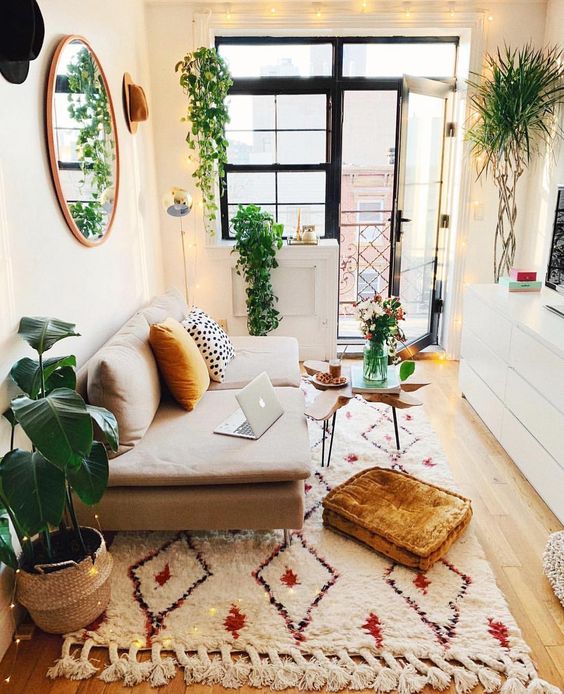 Bohemian aesthetics is a captivating charm that can be adorned with black window frames. Bohemian style is a space filled with vibrant patterns, eclectic colors, and abundant lush greenery. The outside world is beautifully framed by black window frames, which blend nature and modern architecture like graceful brushstrokes on a canvas.
It's a symphony of textures and colors, with vibrant fabrics dancing with the sunshine shining through those slender black frames. As a consequence, the atmosphere reflects the sophistication and a carefree, bohemian spirit. By combining these two elements in an unusual way, an oasis is created, a location where you may escape the stress of daily life and lose yourself in a peaceful, creative realm.
7.Rustic Modern Farmhouse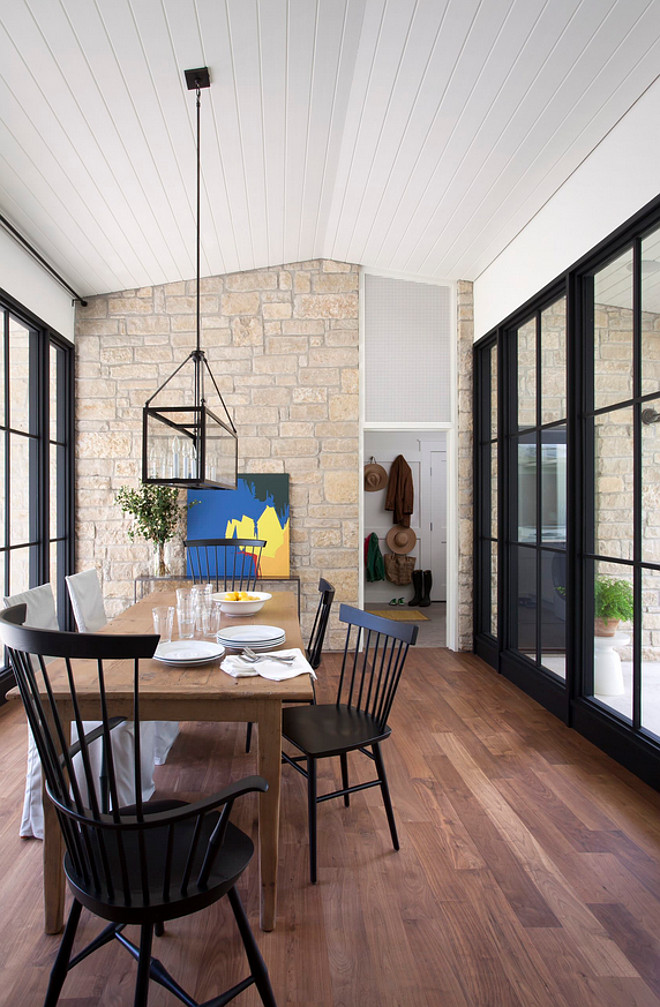 Black window frames provide a touch of classic beauty to a rustic modern farmhouse. It is an ideal mix of contemporary appeal and old-world charm. The rustic and industrial aspects are perfectly balanced by the black window frames. With the recycled wood and metal embellishments as a backdrop, they strikingly contrast one another, as if recording a moment frozen in time.
These frames attractively frame the surrounding scenery and lure the outside into the natural wood. The end effect is a warm and welcoming setting that effortlessly combines modern inspirations with farmhouse-style features like shiplap walls. A mellow symphony of traditional elements and modern sensibilities, it is a place where time stands still, and every inch of space tells a story of simplicity and beauty.
8. Gothic Glamour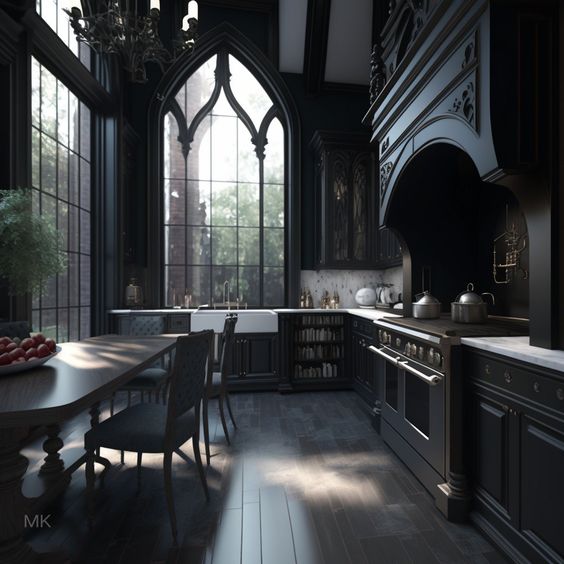 Black window frames are the pinnacle of exquisite taste, and Gothic Glamour rules it. These are the complex designs and gorgeousness of stained glass connected inside those magnificent frames. Gothic culture is where light and darkness coexist together.
A timeless beauty fills any room with the black window frames decorated. They provide depth and draw to the natural world since they are the epitome of Gothic beauty. This aesthetic welcomes the dramatic shadows, showing us that beauty can be found in the most unlikely places. Black window frames encourage you to discover a world where traditional charm meets a dark, sensuous beauty with a touch of gothic elegance.
9. Nature-Inspired Oasis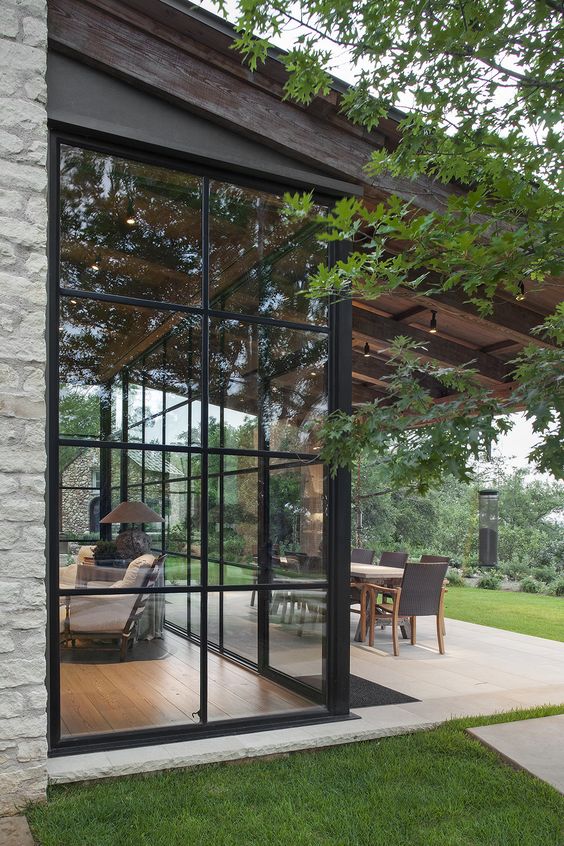 Nature Inspired Meadow is an idyllic haven adorned with the timeless beauty of black window frames. Imagine standing at the entrance and gazing through those beautiful frames to be welcomed by a gorgeous garden or a spellbinding natural landscape. The dark window frames act as a link, effortlessly fusing the inside with the outside.
They frame the view like works of art on a gallery wall, letting the beauty of nature inside your private space. It's a timeless addition that encourages the soft wind, the hospitable sunlight, and the calming sounds of birds to become a constant in your life. Surrounded by the constantly developing kaleidoscope of nature's beauties, you'll find comfort and inspiration within this haven.
10. Retro Revival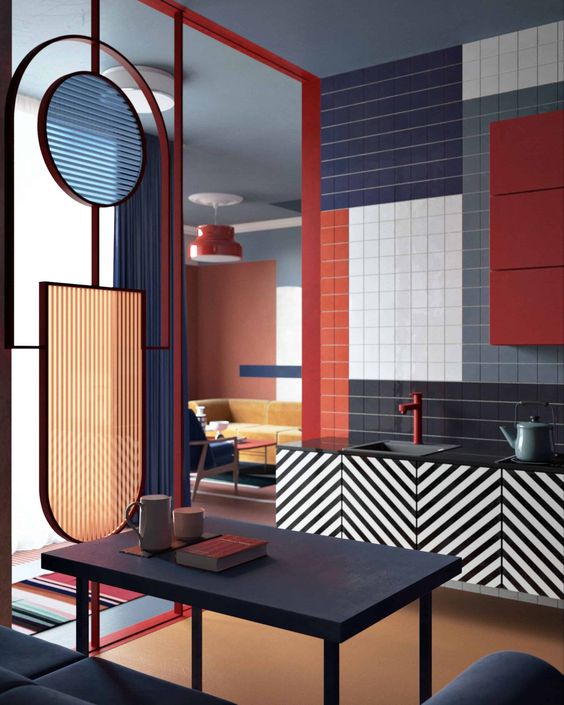 In this classic journey, black window frames give your decor a touch of vintage charm. Choose retro-inspired frames with rounded edges or striking forms to replicate the feel of the bygone period. These frames serve as the foundation of a chic vintage look. To create a seamless blending of periods, combine them with mid-century modern furniture and retro-inspired décor.
To create a space that oozes luxury and elegance, use black window frames with elaborate embellishments and pair them with expensive materials. Instead, embrace the "Vintage Vibes" if you want to give your room personality and charm. They go from being simple windows into doorways to memories, serving as a constant reminder of the timeless beauty of traditional architecture.
11. Floor-to-Ceiling Drama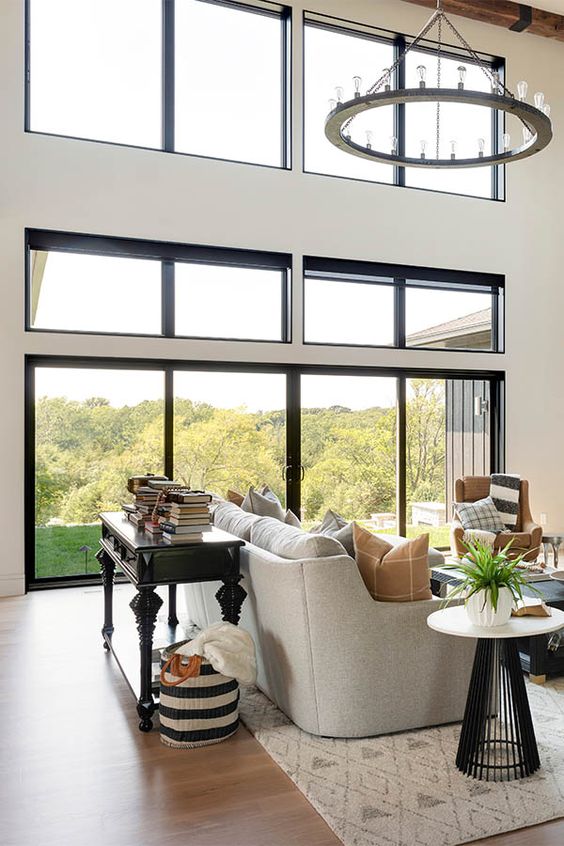 Floor-to-Ceiling black window frames are a fascination. The room can be surrounded by a wall of glass that stretches from the floor to the high ceilings, giving it a sense of grandeur and refinement. These dramatic black window frames turn into architectural works of art that attract attention and make an impact.
You can choose seamless, floor-to-ceiling black window frames that seamlessly blend with the clean lines and simplicity to embrace a modern minimalist design. A beautiful design symphony is produced by the interaction of light and shadow on the black frames in this combination of the traditional and the modern, where every gaze through those frames is a call to see the beauty that lies beyond.
12. Open-Concept Space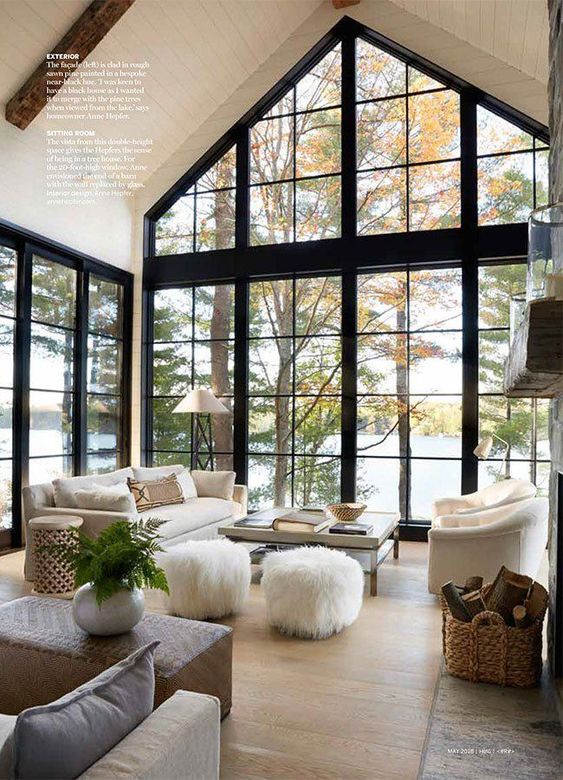 An open-concept setting is one in which light dances freely, and discussions flow smoothly. It is a spectacular addition to your space with a sophisticated flair that skilfully combines contemporary style with classic grace.
They provide the boundaries inside a wide open space with their strong presence, giving it a structure while maintaining the airiness that seems breathable. These frames provide depth and clarity to the ethereal ambiance, a touch of timeless charm that enhances the very essence of open-concept living.
13. Asian Zen Serenity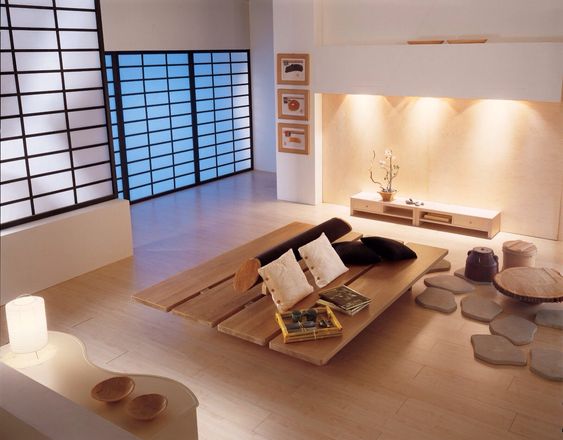 Asian Zen interior design is a concept that fuses the natural beauty of Asia with the teachings of Zen Buddhism. The focus of this design aesthetic is on natural materials, simplicity, and minimalism in order to promote harmony and tranquility. It whispers the depth of simplicity, and the silence seems an art.
The decision to use narrow black window frames serves as the entrance to a heavenly retreat. These frames are the ultimate example of style and sophistication. A Zen-inspired environment is simple lines with organic materials and an understated color scheme that inspires harmony. Black window frames highlight the perfect fusion of form and function.
14. Dark and Moody Library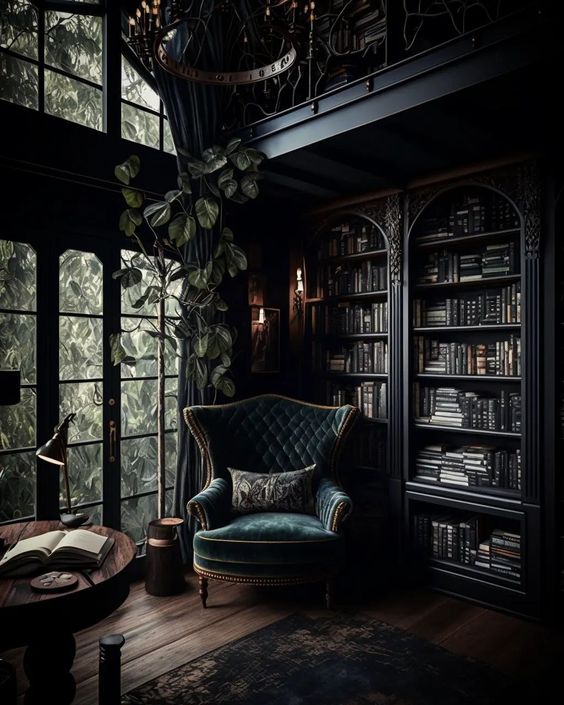 Knowledge and creativity come together in the magical setting of the black and gloomy library space, where time appears to stop moving forward endlessly. Black window frames are lovely companions to your library of books as you create this paradise filled with intellectual enjoyment.
They provide a feeling of closeness and silence as they enclose the windows and are flanked by tall bookcases and comfortable chairs. Create a backdrop for the library's somber charm by pairing the black frames with walls painted in rich, deep colors. Soft, ambient lighting flows over the pages, creating a spell that draws you deeper into the maze of stories and ideas.
15. French-Inspired Charm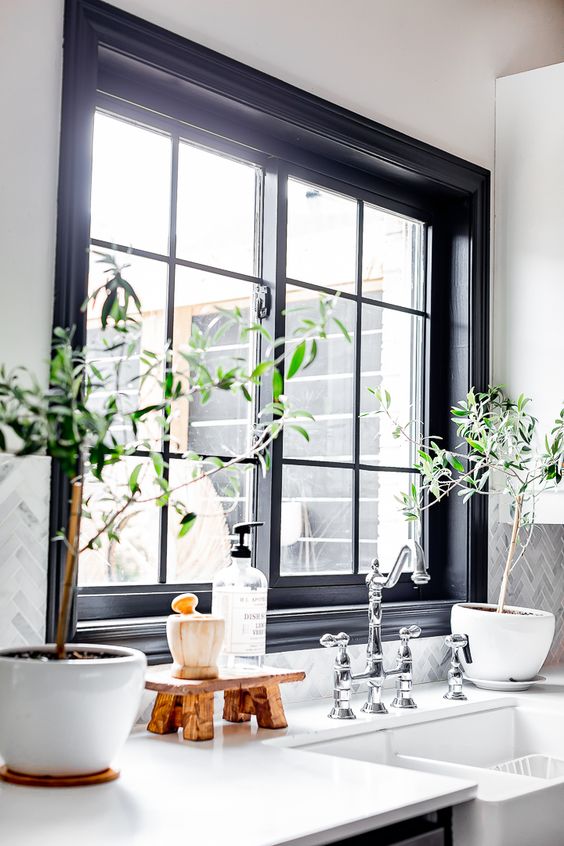 Every element of the French-inspired decor whispers a tale of elegance and rustic beauty. The divided panes on the black window frames reflect a more luxurious time in history. A delicate palette of beige, grey, and broken white captivates your senses as the spirit of French elegance emerges here.
The French aesthetic urges you to indulge in surroundings that reflect a lot of light, brilliant colors, and natural materials. Enjoy the seamless combination of simplicity and style as European beauty meets the coziness of rustic charm. Give in to this classic French-country style's embrace, where elegance and appeal interconnect to invite you to enter a world of subtle majesty.
16. Bathroom Sophistication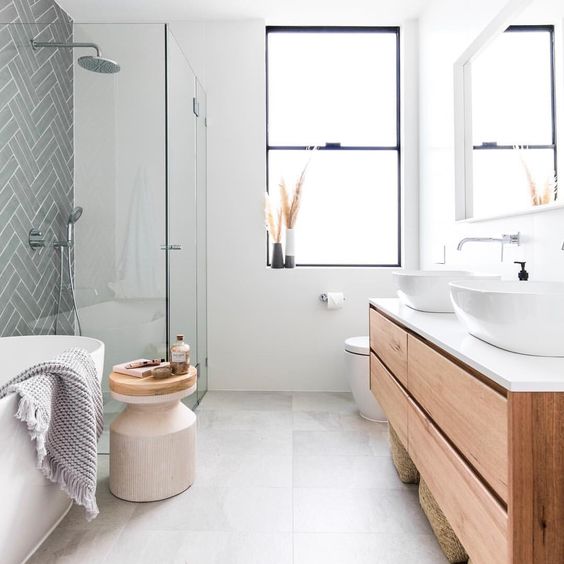 Your bathroom's space is enhanced by the attraction of black window frames, which create an atmosphere of refinement and luxury. Every moment turns into a relaxing getaway as richness and elegance come together. Because of their adaptability, they readily blend in with any home design theme. Behold the elegance of double-hung windows with black-trimmed frames, which provide a tempting touch of mood swings to this urban retreat.
They serve as the space's "visual anchors," giving it a feeling of purpose and attraction. Enjoy the pure extravagance of a bathroom with black window frames, where every visit is an escape into a world of sophisticated elegance and luxurious comfort.
17. Statement Windows and Stairwells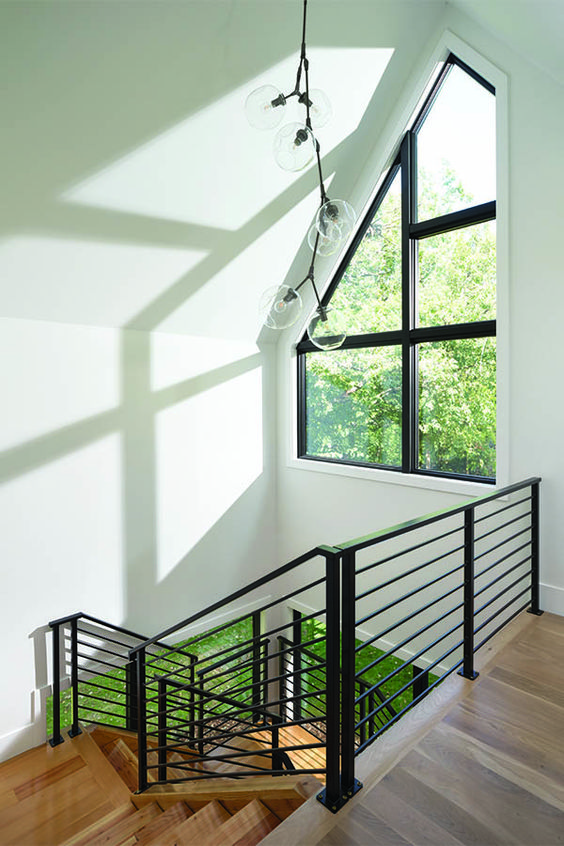 There is an attractiveness of large windows and stairwells with elegantly decorated black window frames. These frames provide a striking statement to your room while letting in a great deal of natural light. They combine a hint of traditional with modern refinement.
A stairway covered in these eye-catching frames evolves into more than simply a passageway; it becomes a focal point that captures the spirit of eternal beauty. A window seat is hidden within and pulls with its attraction. It enhances this impact, resulting in a tranquil and welcoming hideaway ideal for peaceful reflection. Explore a world where grace and style coexist, enclosed in the enticing darkness of black windows.
18. Urban Chic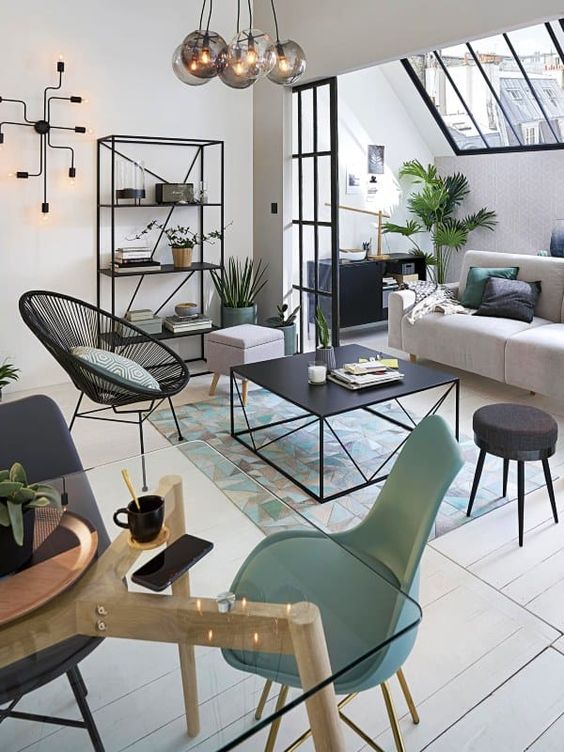 In your urban loft or city apartment, enjoy the attraction of black window frames to enter the world of urban elegance. These frames mix with exposed concrete and modern furnishings to create a seamless blending of modernism and industrial features.
Metropolitan chic is defined by the sharp contrast between the powerful blackness of the frames and the metropolitan environment, which produces a visual feast for the eyes. These black window frames develop into compelling works of art that do more than just frame the colorful town outside; they also give your room a feeling of modernism and urban flair.
19. Transoms and Sidelights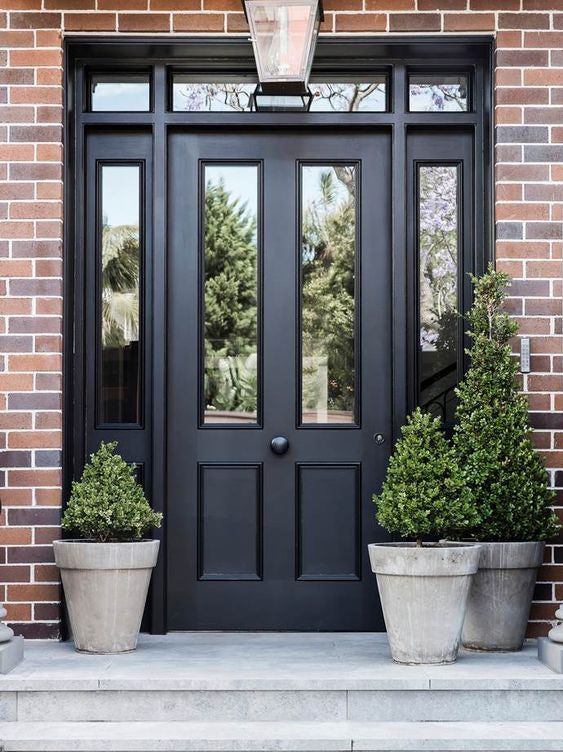 Transoms and sidelights made of black window frames will enhance the architectural charm of your area. These magnificent components open the door to a world where aesthetics and practicality coexist. These frames will highlight the beauty of your windows through the interaction of light and shadow, providing an eye-pleasing visual experience. The frames simply complement every interior design style, from classic to modern.
20. Playful Pop
Embrace design whimsy and give your room a fun pop with the appealing presence of black window frames. By choosing frames with unusual forms or combining them in attractive patterns, you may embrace the unexpected and go beyond the norm. By mixing many frames in an unorthodox way, you may create a mesmerizing mosaic of light and dark.
Dare to be daring and let your imagination fly. These amusing black window frames go from being architectural features to bringing focus points that arouse curiosity. With every gaze through these unusual frames, infuse your area with a feeling of surprise. Allow your creativity to soar as you release the fun pop of black window frames, transforming your room into a blank canvas with countless design options.
21. Black Frame Mirrors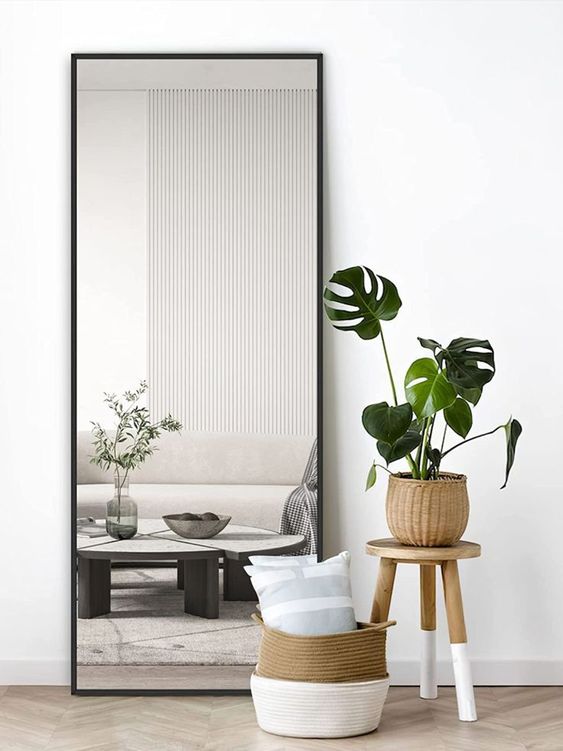 Learn how black window frames may change your home by adding dramatic accents. These frames give depth and personality to the space by creating a gripping visual appeal when placed against light-colored walls.
Install black framed mirrors close to the windows to take it a step further. This will perfectly merge the two aspects and provide a lavish image and gallery-like feel. For art lovers, turn a designated place into their own modern art gallery.
Why Black Windows?
There are many reasons why you can choose black over any other color for your dream house. Also, black windows are a favorite choice due to their inherent style, ability to showcase outdoor views, lack of need for window treatments, captivating appeal at night, and their seamless compatibility with white, creating a stunning visual impact. Let us give you reasons to embrace black frames windows:
The perfect definition of style: Black windows quickly improve any space's look since they emanate a sense of style and modification. They create a statement and give a touch of elegance that is difficult to resist with their sleek and confident presence.
They give attention to your view of the outside: Black window frames elegantly frame the view of the outside, serving as a visual entrance to the surrounding natural beauties. They establish a seamless link between the interior and the outside environment, luring you to take in and enjoy it.
Window treatments not required: With black windows, there is no need for window coverings. With no need for extra decorations thanks to their clean and contemporary style, the windows themselves may take center stage in the room.
Attractive at night: Black windows nevertheless seem attractive at night because of the setting sun. They provide an appealing picture even at night because of the contrast they make with the darkness and the addition of mystery and drama to the space.
Places nicely with white: The contrast of black windows and white creates a timeless and traditional color scheme. The contrast between black and white gives the room depth and visual intrigue with different design approaches.
Black Beauty In All
Black window frames are the most attractive in terms of house decor. These frames have come to represent refinement and style due to their ageless beauty and capacity to change a room. They not only specify your home's architectural style but also call attention to the breathtaking vistas that lay beyond.
In the twilight hours, they transform into beacons of beauty that create an alluring spell over your house. Accept the enchantment they offer and realize the full potential of your living area, where aesthetics and practicality meld together.