Bathrooms may benefit from the beauty and charm that wainscoting, a traditional architectural feature, brings to any room. You can give your bathroom a classic and elegant aesthetic while also shielding the walls from moisture and deterioration by adding wainscoting. The height of classic beauty is wainscoting. The lowest part of the wall is often where wainscoting is put.  Bathroom wainscoting is a practical choice against water damage to the wall and the finest tile substitute.
This article will look into 21 wainscoting bathroom ideas that might motivate you to create a beautiful retreat in your own bathroom. 
Let's discuss 21 wainscoting bathroom designs that would really make your bathroom look more elegant and give it a charm while also making sure your bathroom walls are protected. 
1. Traditional White Wainscoting
The bathroom's traditional white wainscoting style gives a feeling of timelessness and elegance. This style has chair-raised molding and white raised panels that give it a polished appearance.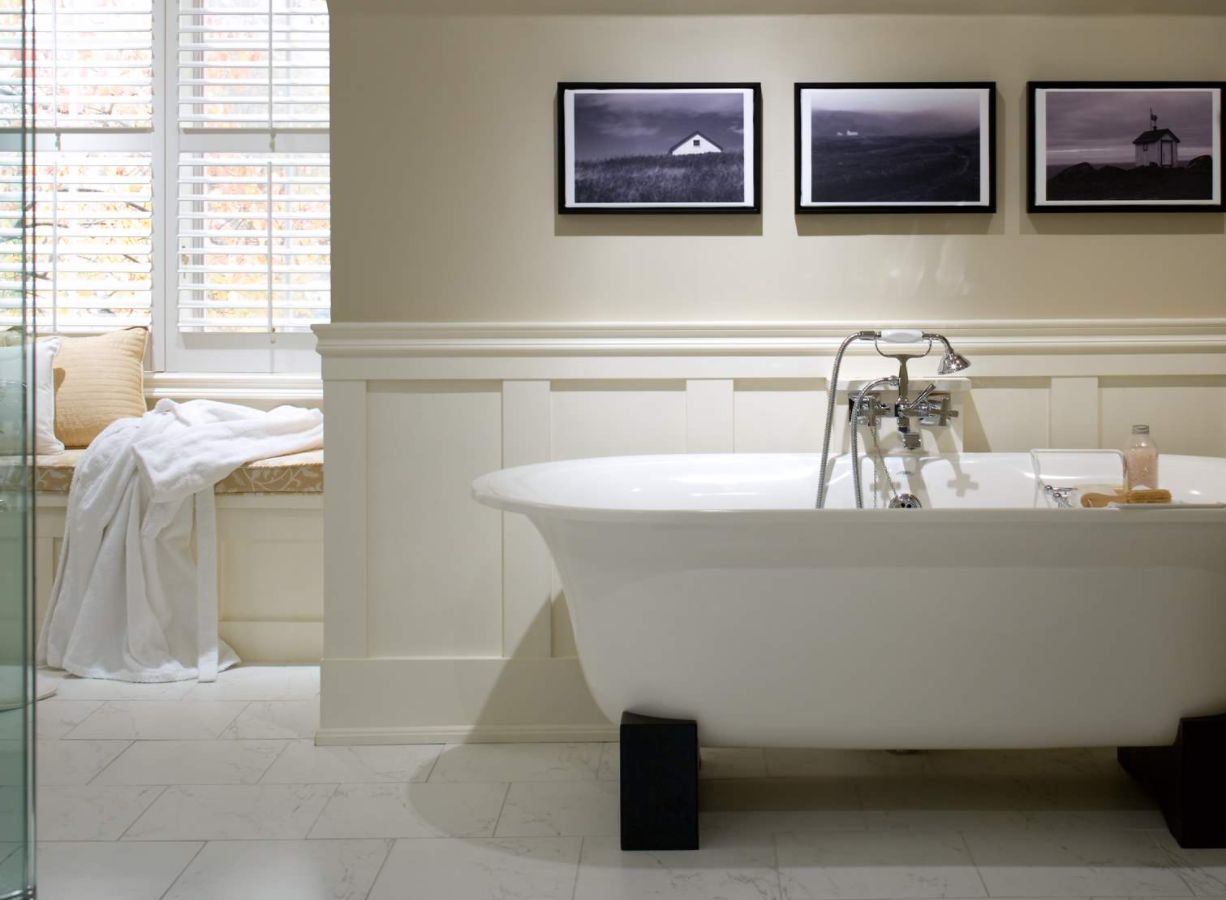 2. Beadboard Wainscoting
Because of its straightforward yet beautiful appearance, beadboard wainscoting is a preferred choice for bathrooms. Vertical panels with unusual bead detailing are included in this design, which gives the room texture and aesthetic appeal. In bathroom remodels, beadboard is a common material of choice. Particularly in the bathroom, a freestanding tub and pedestal sinks look fantastic.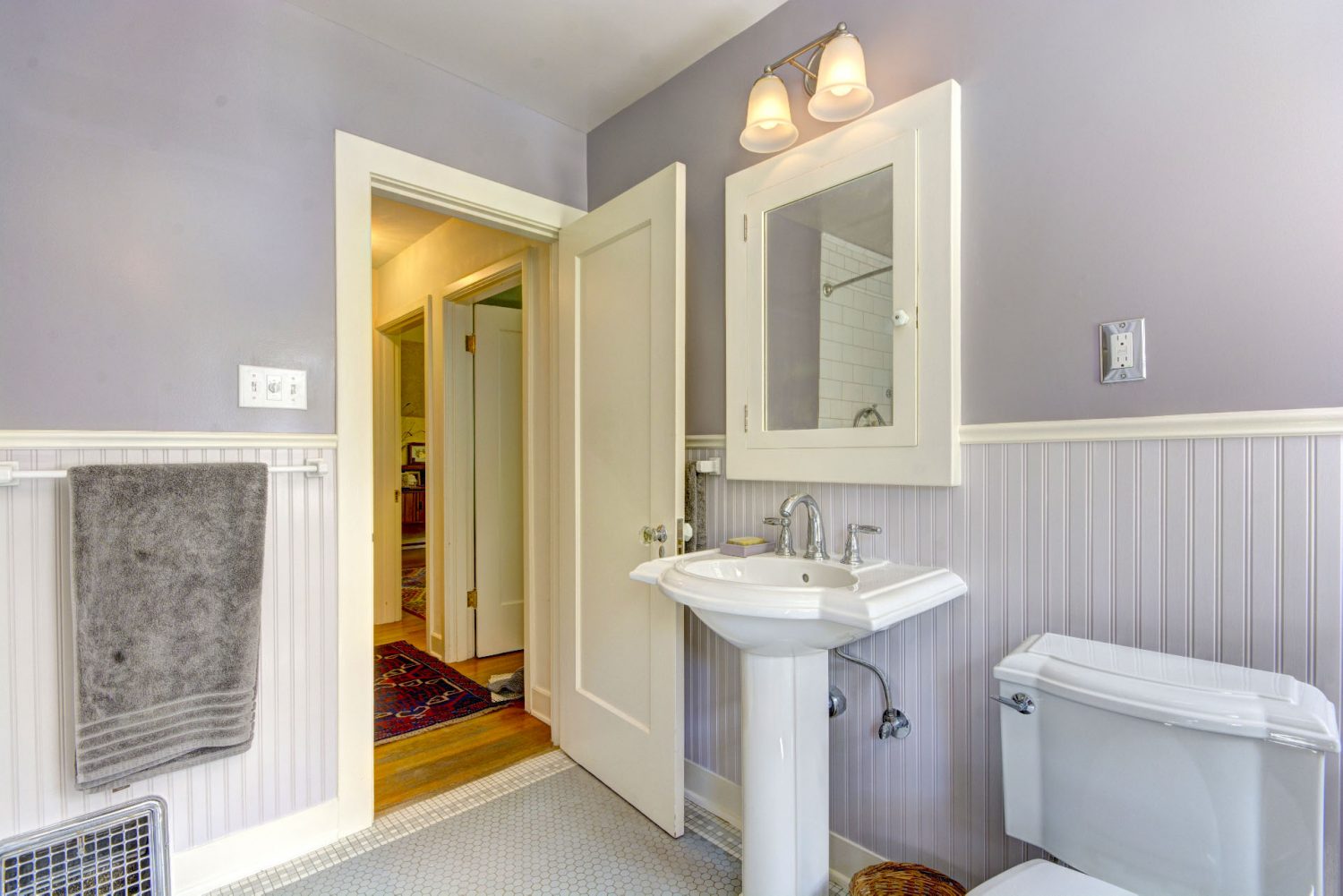 3. Half-Wall Wainscoting
Consider adding wainscoting as a half-wall accent for a novel approach. In this layout, the lower half of the bathroom walls are covered in wainscoting, which creates an eye-catching visual contrast with the painted or wallpapered upper half.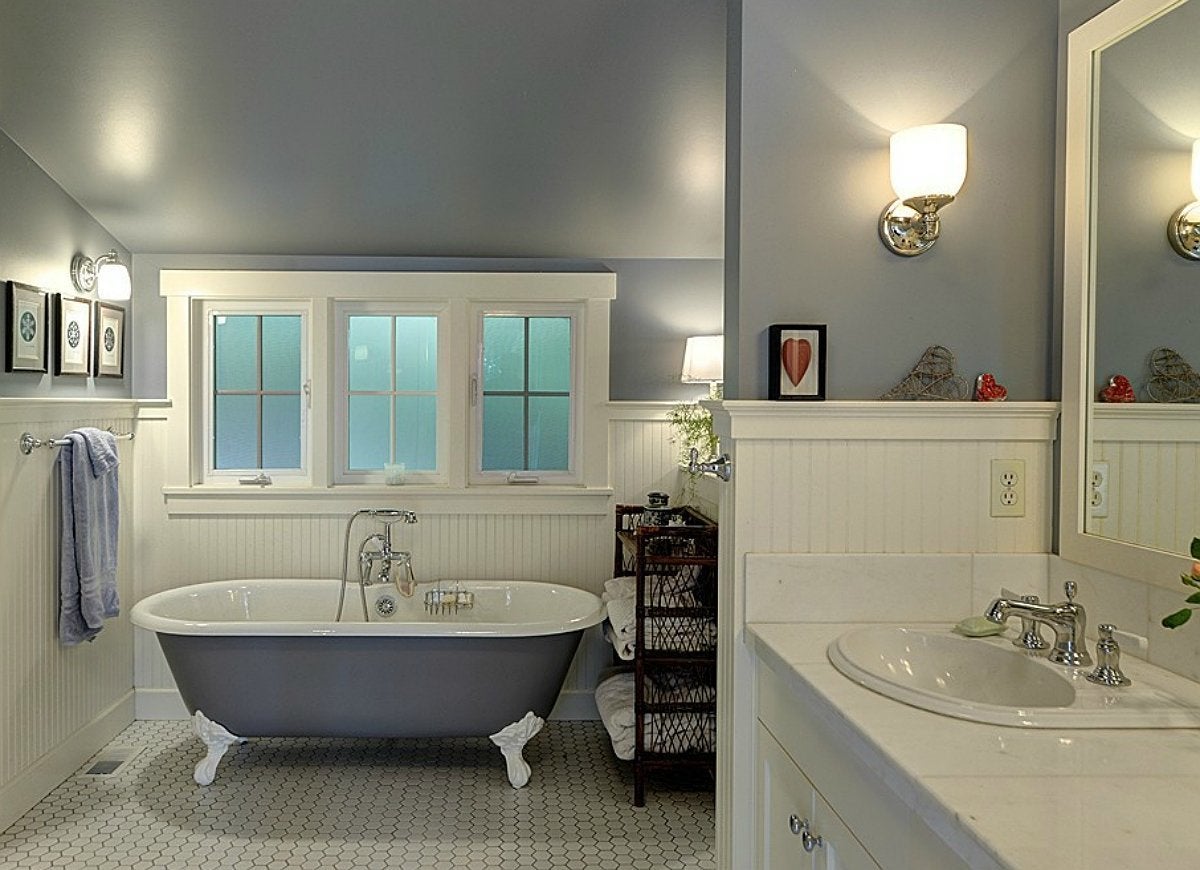 4. Painted Wainscoting
While traditional white wainscoting is usually a safe bet, painting the wainscoting a contrasting color may give your bathroom a striking and contemporary touch. For a unique touch, play around with colors like navy blue, grey, or even pastel tints.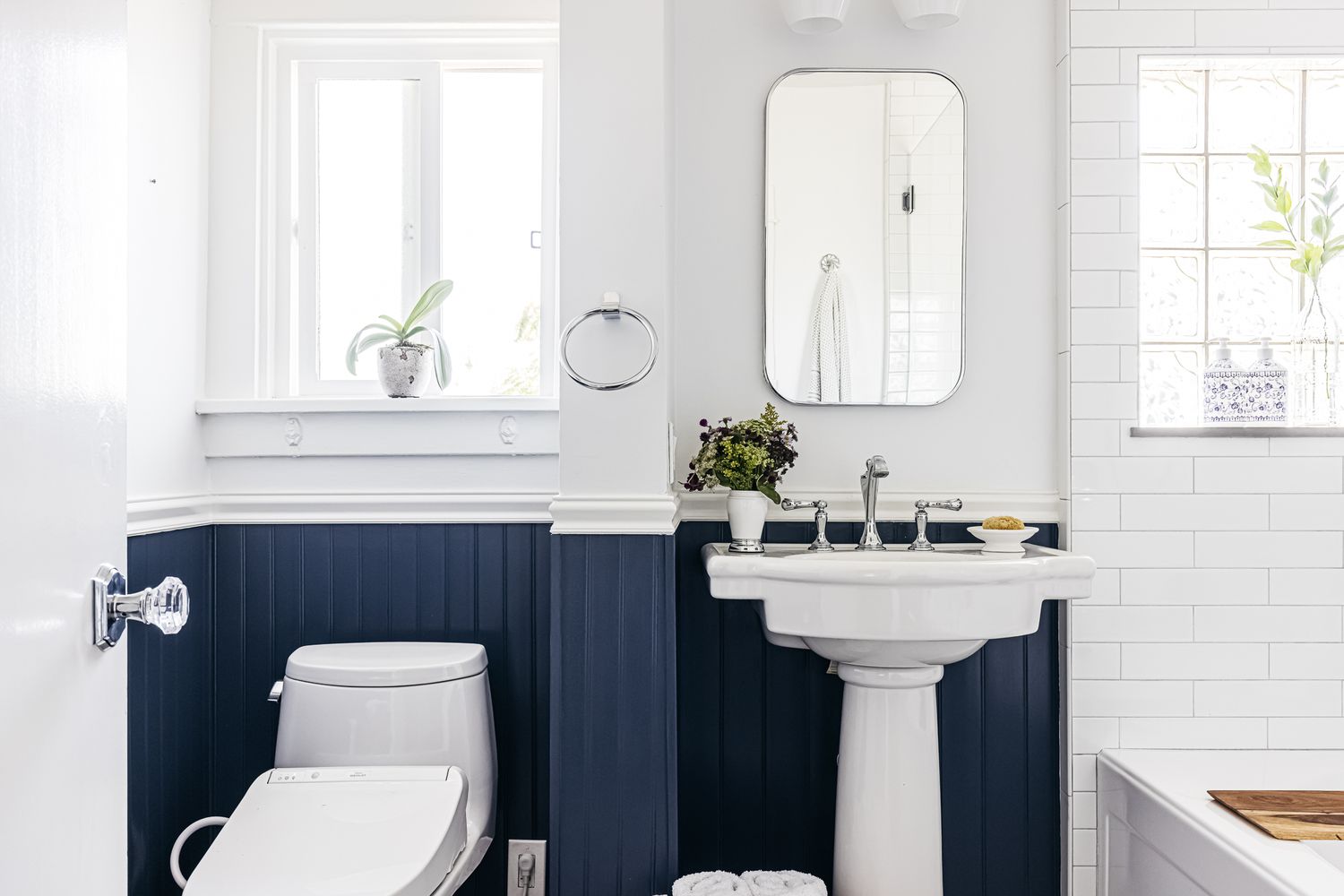 5. Stained Wood Wainscoting
The warmth and a dash of rustic charm that stained wood wainscoting may provide to your bathroom. To create a warm and inviting ambiance, choose rich wood tones like mahogany or walnut.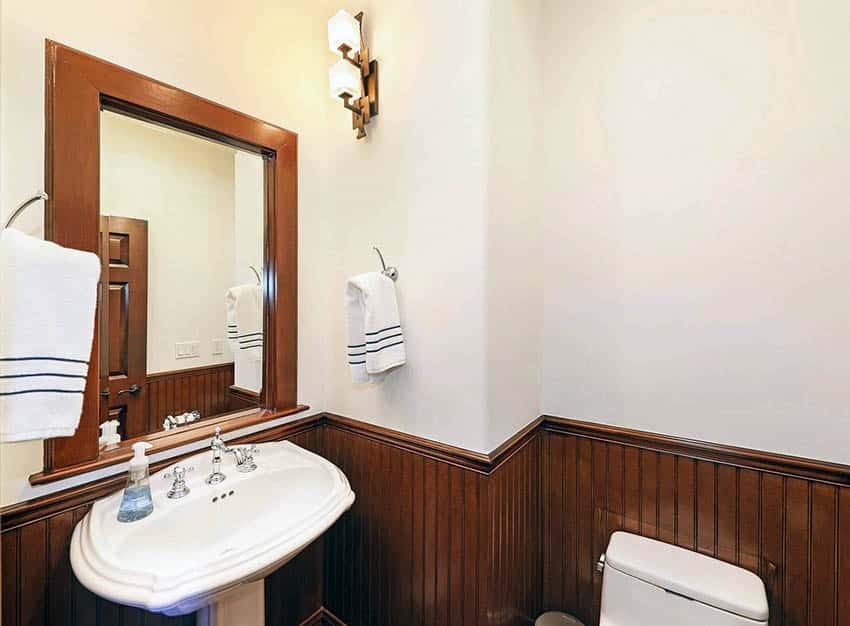 6. Tall Wainscoting 
Consider adding tall wainscoting to your bathroom if you want to draw attention to it. With this layout, the wainscoting is extended higher up the walls, giving the room a regal and opulent appearance.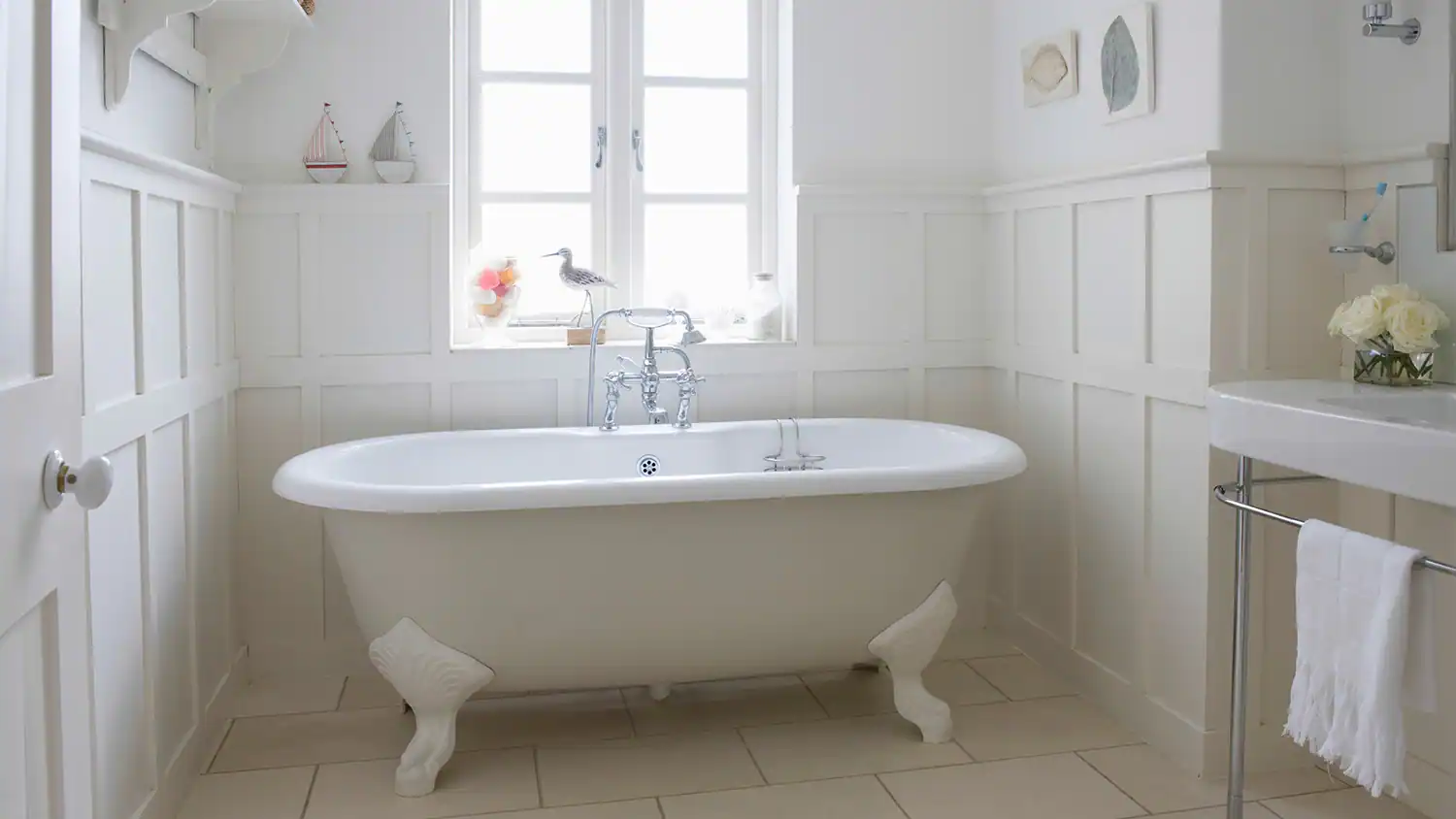 7. Recessed Panel Wainscoting
A more complex and refined appearance is provided by recessed panel wainscoting. Sunken panels with high edges are a feature of this design, giving the bathroom walls depth and beauty.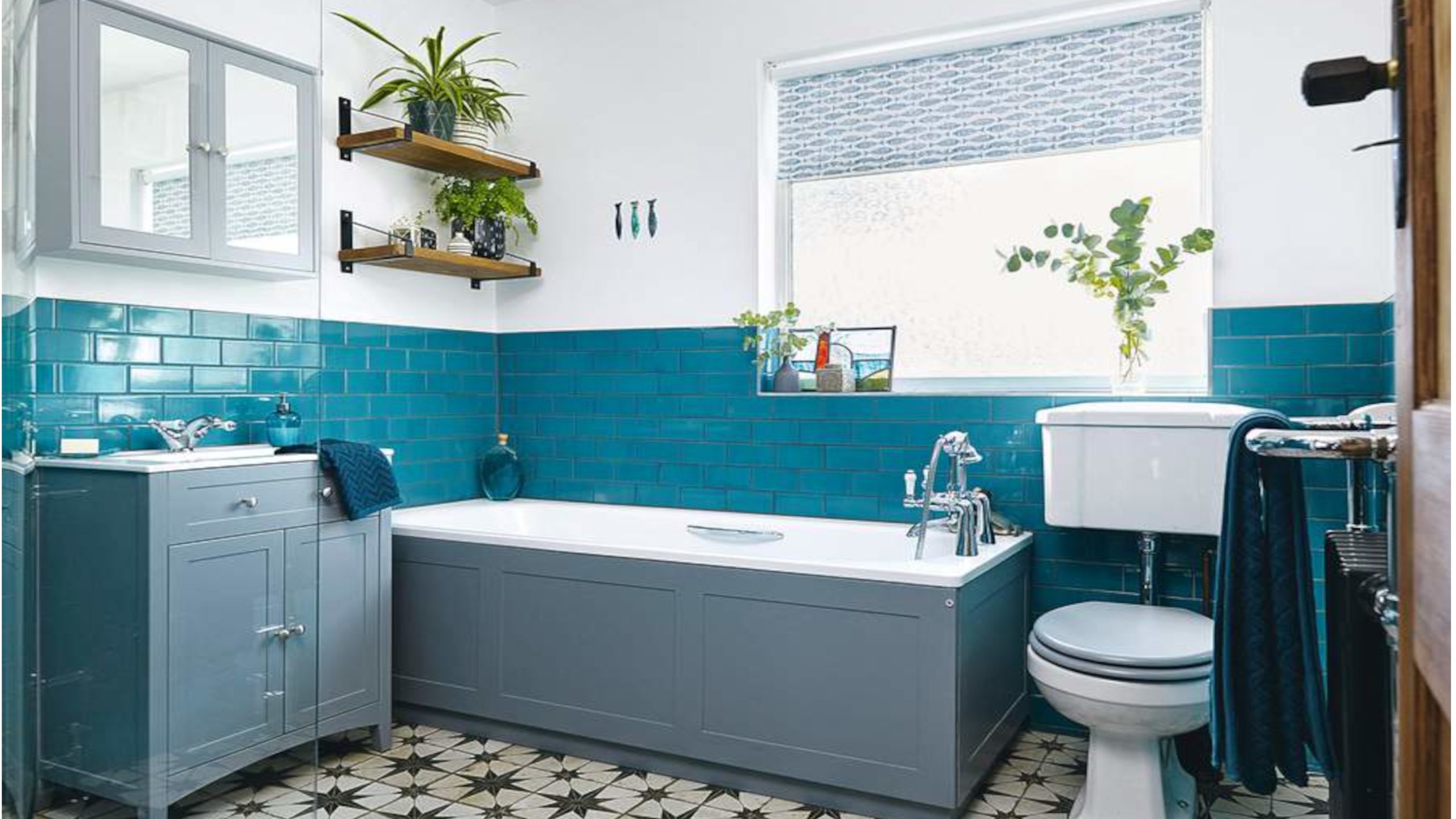 8. Double Height Wainscoting
Try double-height wainscoting for a modern take on the classic style. Two rows of wainscoting panels are layered on top of one another in this design, producing an eye-catching result.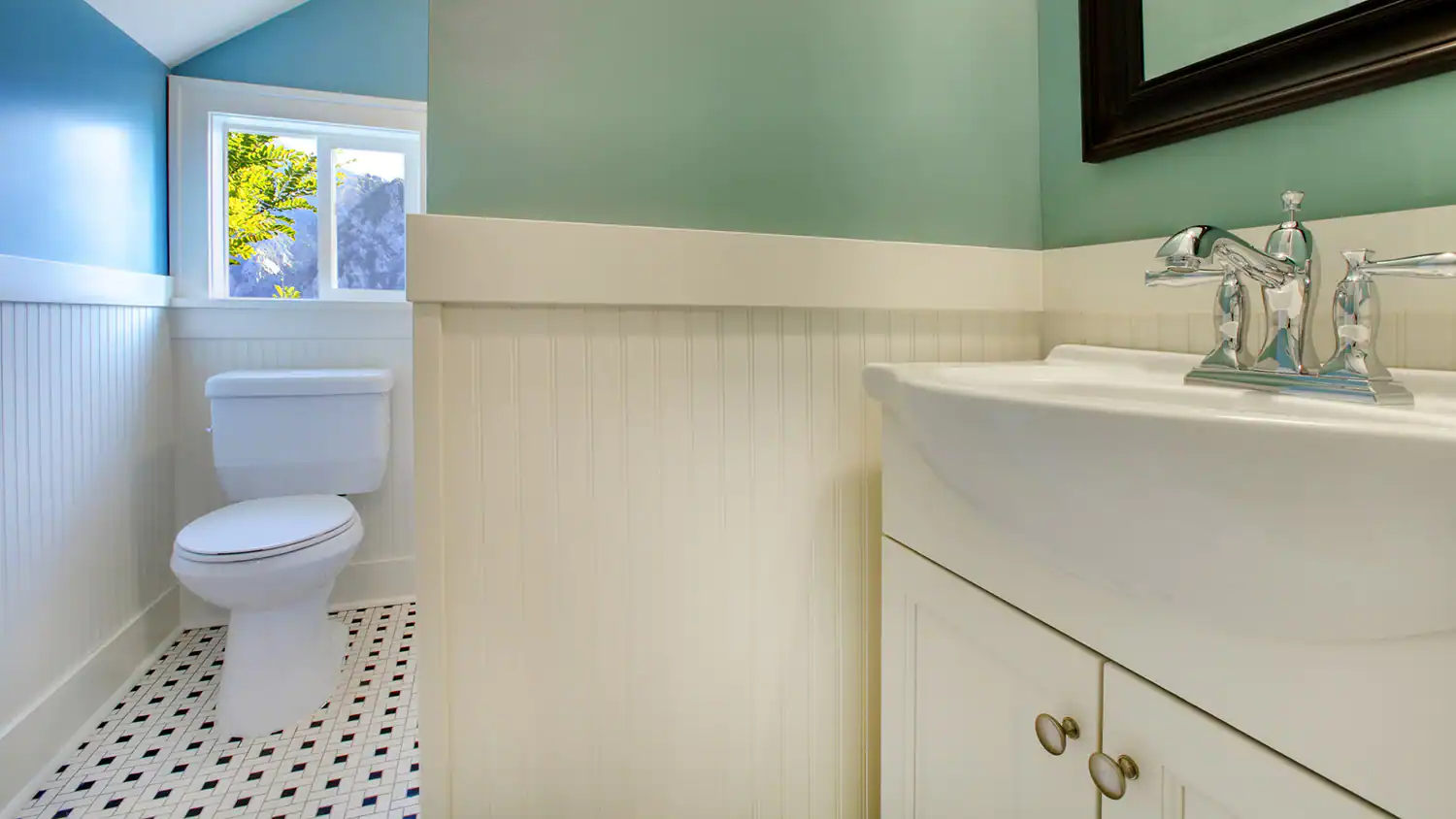 9. Two-Tone Wainscoting
Combining two distinct colors for your wainscoting will provide visual flair. To provide a startling contrast, use a darker hue for the bottom and a lighter shade for the top.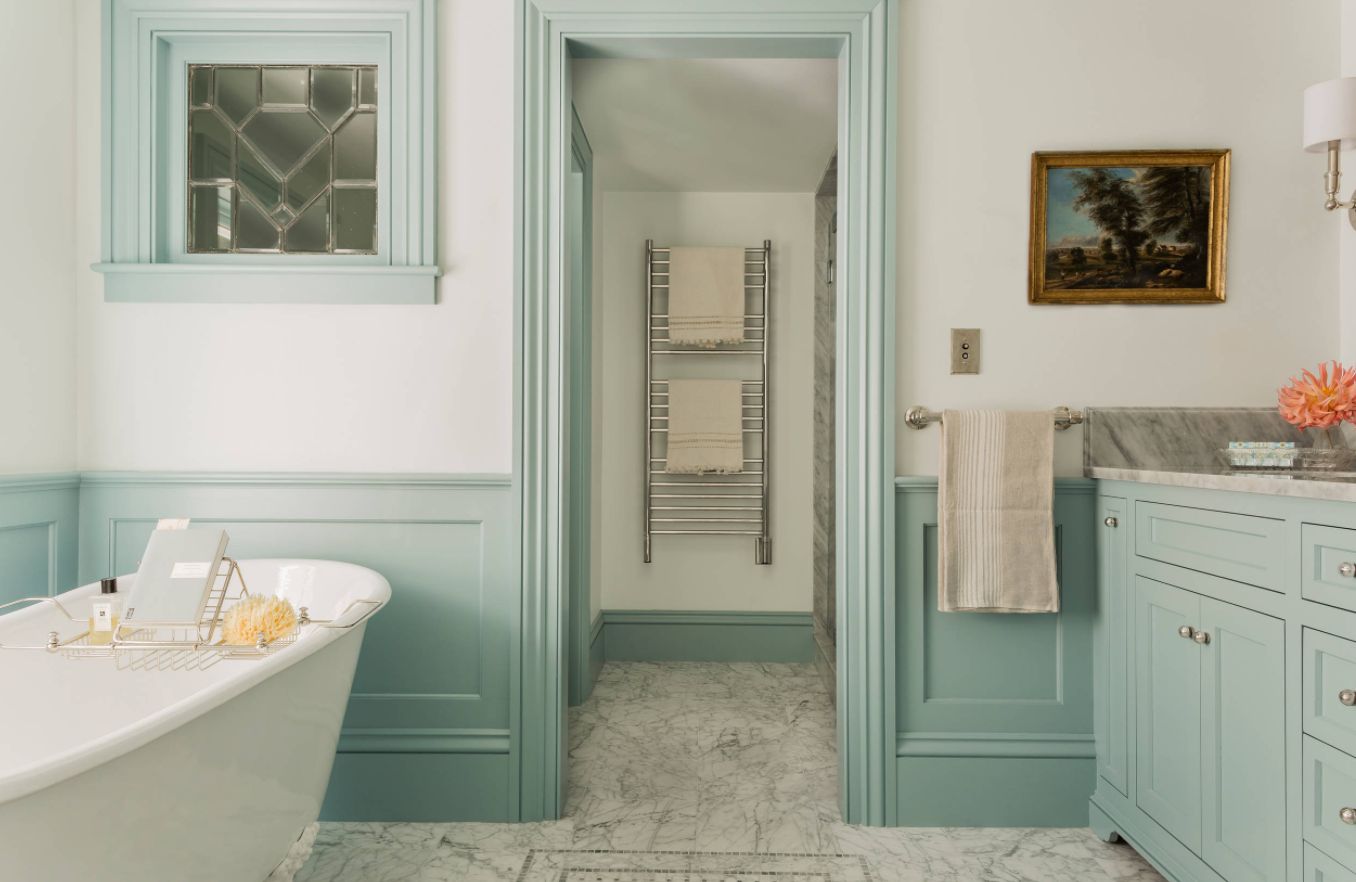 10. Wallpapered Wainscoting
Consider wallpapering the wainscoting panels to give them a little design and texture. Select a design that increases the attractiveness of your bathroom while enhancing the decor.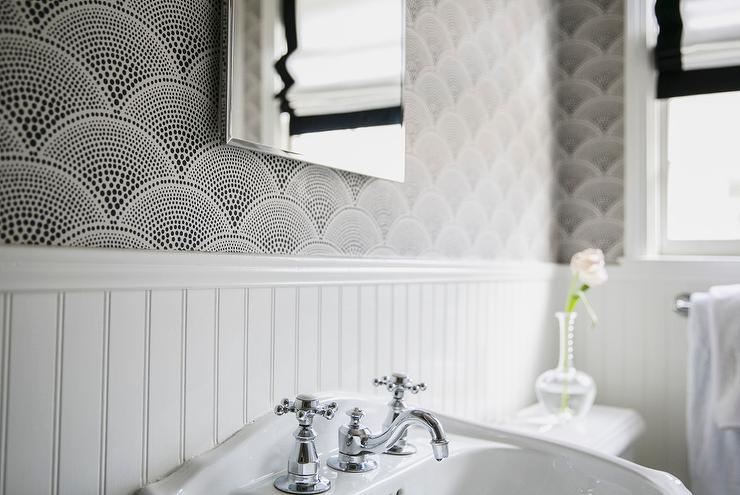 11. Hexagonal Tile Wainscoting
For your wainscoting, think about utilizing hexagonal tiles for a contemporary, geometric aesthetic. This style keeps the allure of wainscoting while giving your bathroom a modern touch.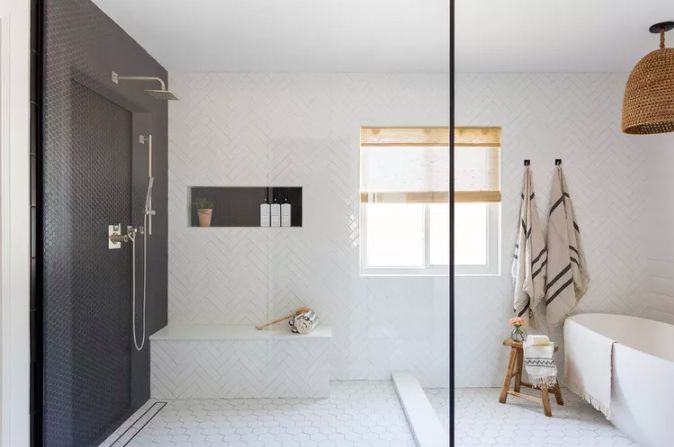 12. Mirrored Wainscoting
Include mirrored wainscoting to give the room a sense of spaciousness and brightness. The reflected surface of the mirrors will give the impression that your bathroom is bigger and more open.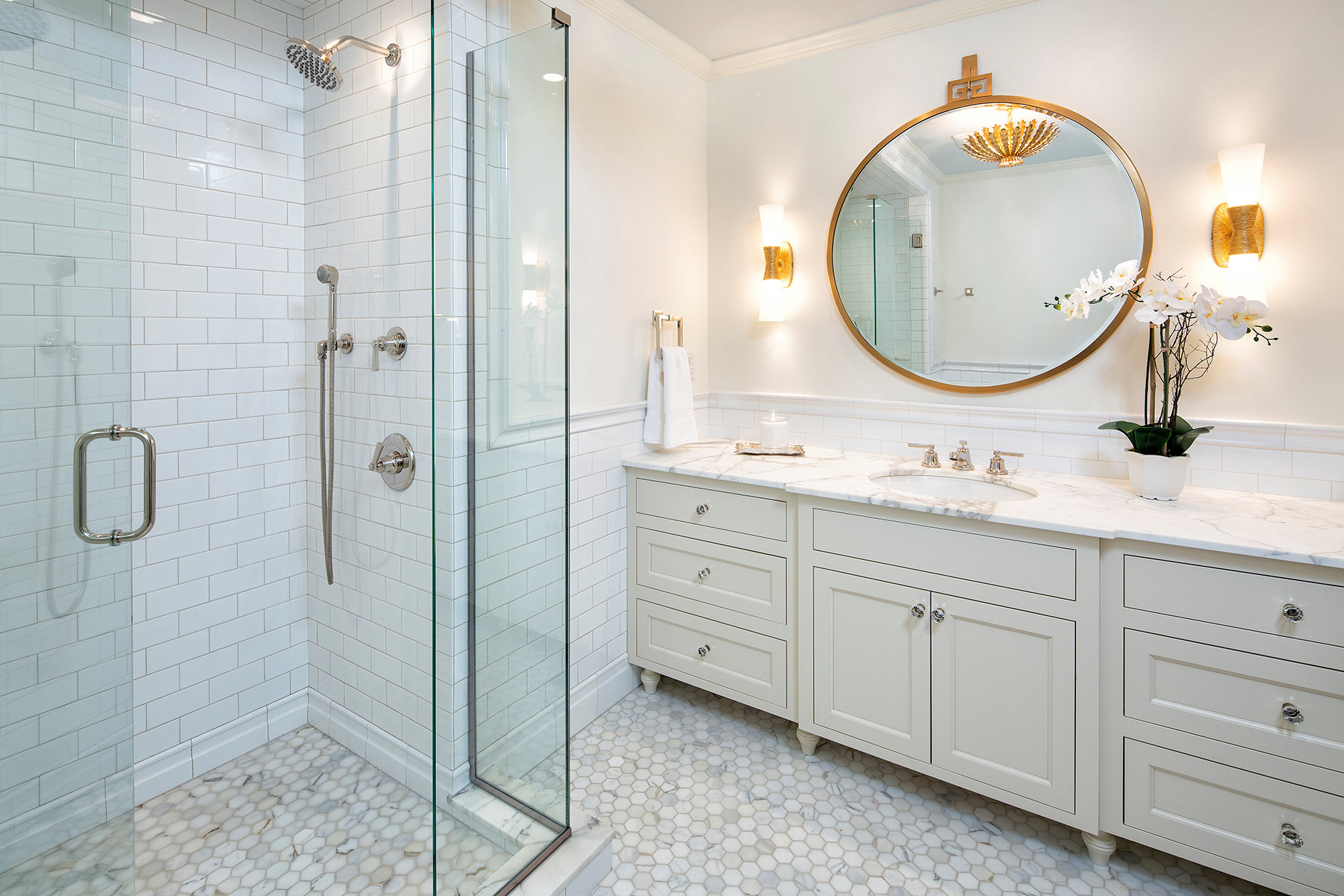 13. Shiplap Wainscoting
Your bathroom will have a seaside and cottage-like feel thanks to the shiplap wainscoting. The horizontal hardwood planks in this design have spaces between them, which gives your bathroom a calm and pleasant atmosphere.
14. Black Wainscoting 
Consider installing black wainscoting in your bathroom for a striking and dramatic design. With white or light-colored walls, this pattern makes a stunning contrast that adds a sense of refinement and luxury.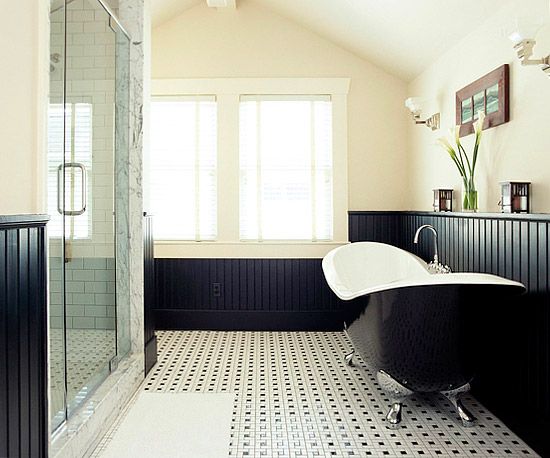 15. Mosaic Tile Wainscoting
Wainscoting made of mosaic tile will give your bathroom a touch of glitch and elegance. To create a beautiful visual focal point, use tiles with elaborate designs and dazzling finishes.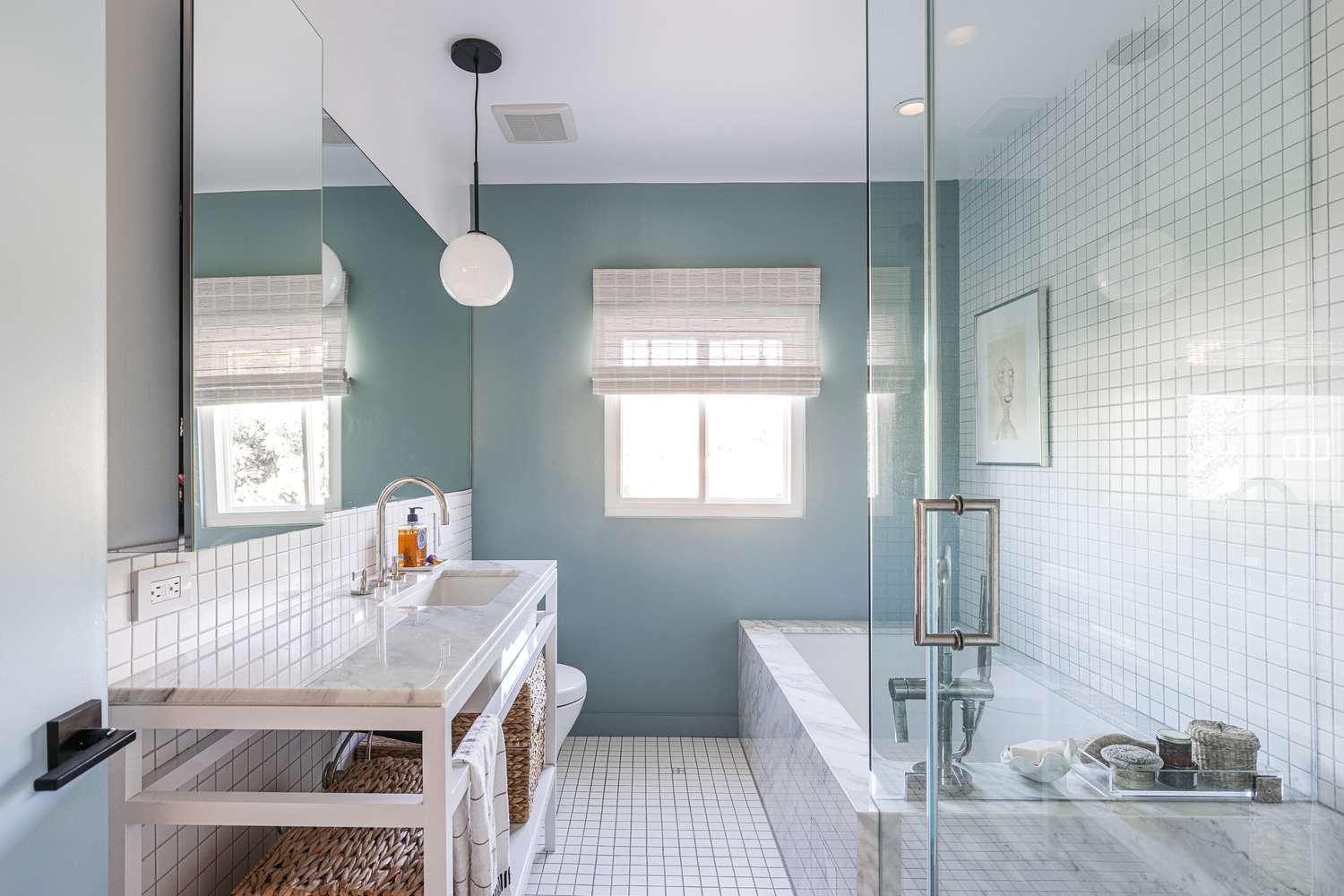 16. Herringbone Pattern Wainscoting 
Wainscoting with a herringbone pattern gives your bathroom a sense of class and refinement. The panels are arranged at an angle to provide a dynamic and eye-catching appearance.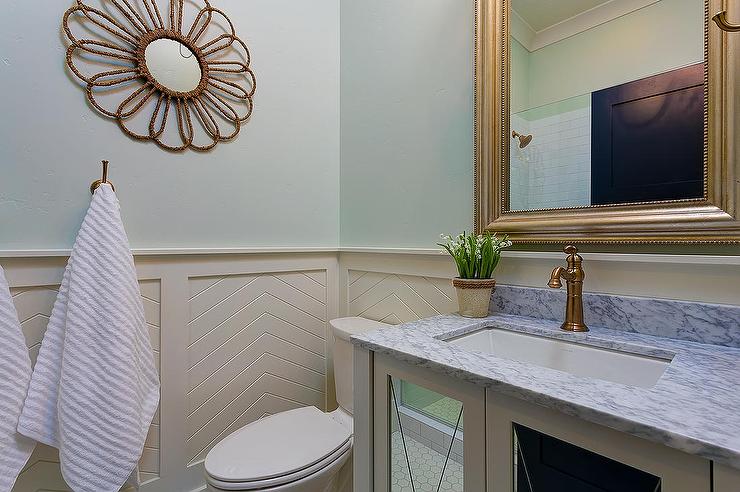 17. Arched Wainscoting 
Arched panels can give a bit of architectural character to any wainscoting design. Your bathroom walls will look more opulent and refined thanks to the arched curve.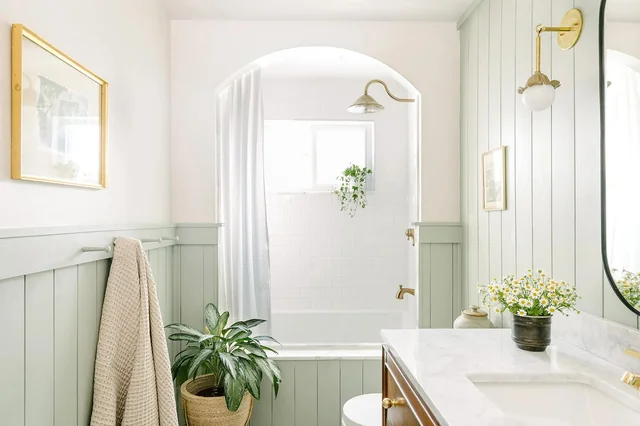 18. Modern Minimalist Wainscoting
Choose a modern wainscoting design if you value a simple, minimalist look. This design has clean, straight lines with no adornment, giving it a sleek, modern appearance.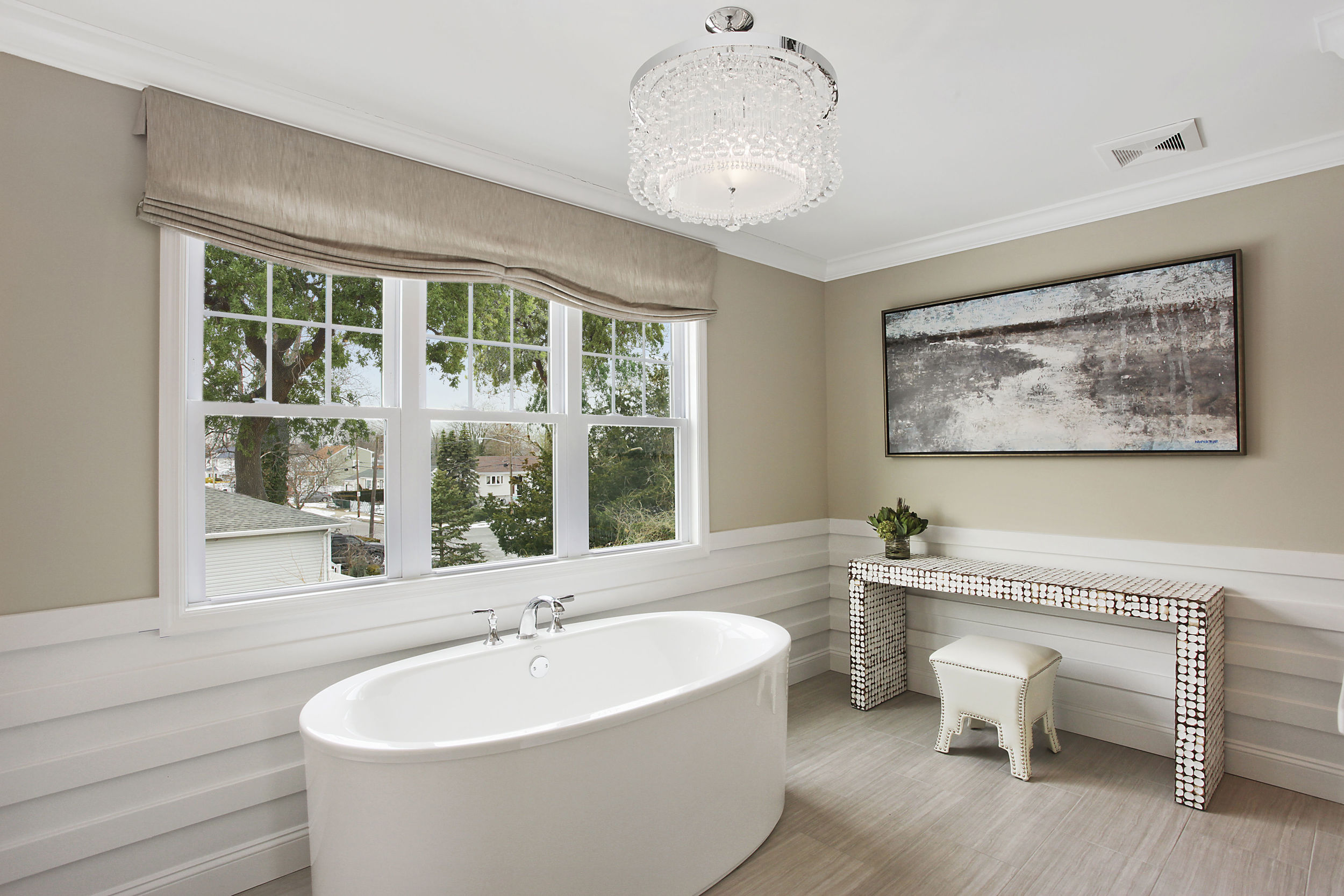 19. Wainscoting with Built-In Shelving
Include built-in shelves in your wainscoting to combine practicality and aesthetic. This layout offers useful storage for your bathroom needs in addition to adding aesthetic flair.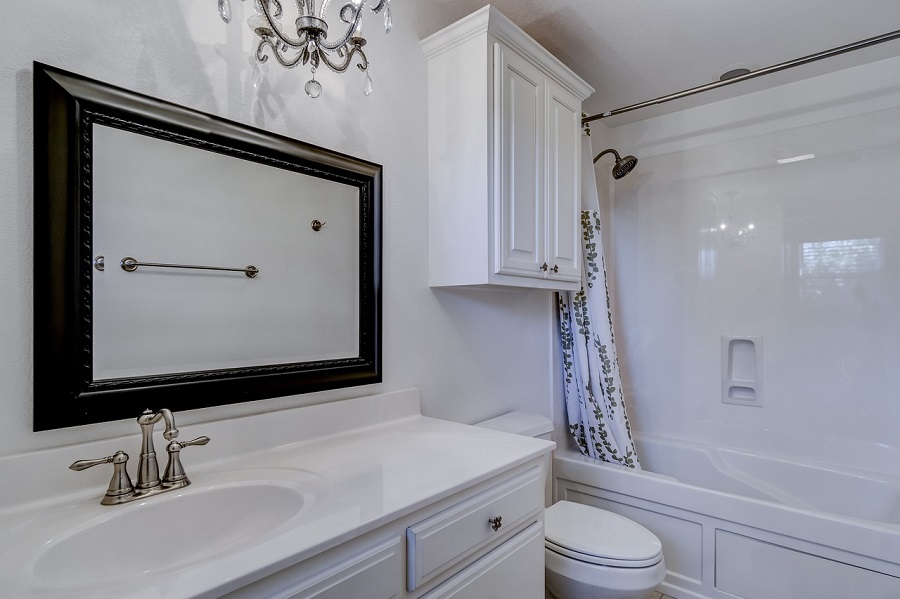 20. Curved Wainscoting 
To give your bathroom a feeling of fluidity and movement, use curved wainscoting panels. This pattern gives a striking and distinctive appearance that is guaranteed to wow.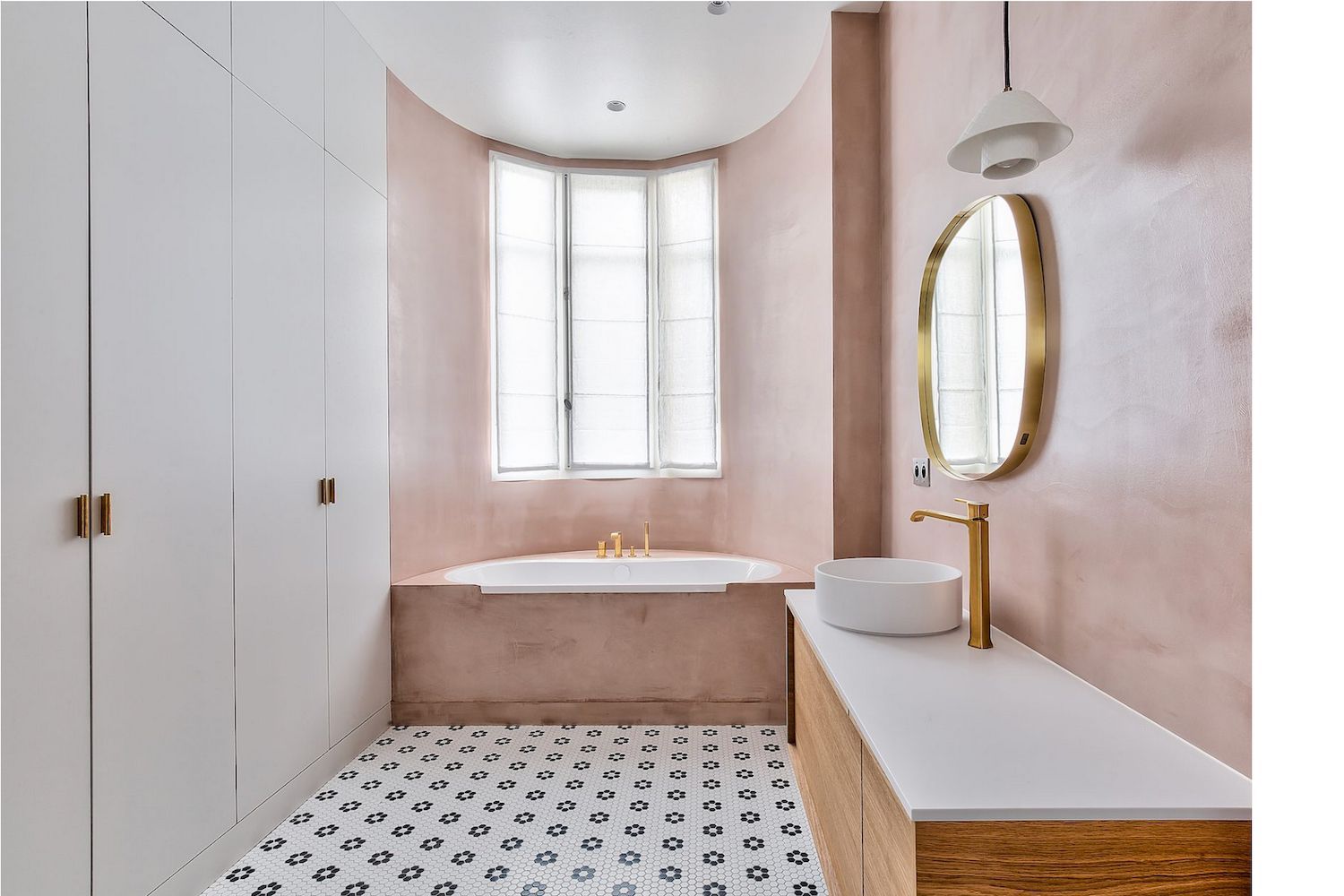 21. Wainscoting with Integrated Lighting 
Enhance the ambiance of your bathroom by integrating lighting into your wainscoting. This design creates a soft and inviting glow, adding a touch of warmth and relaxation to the space.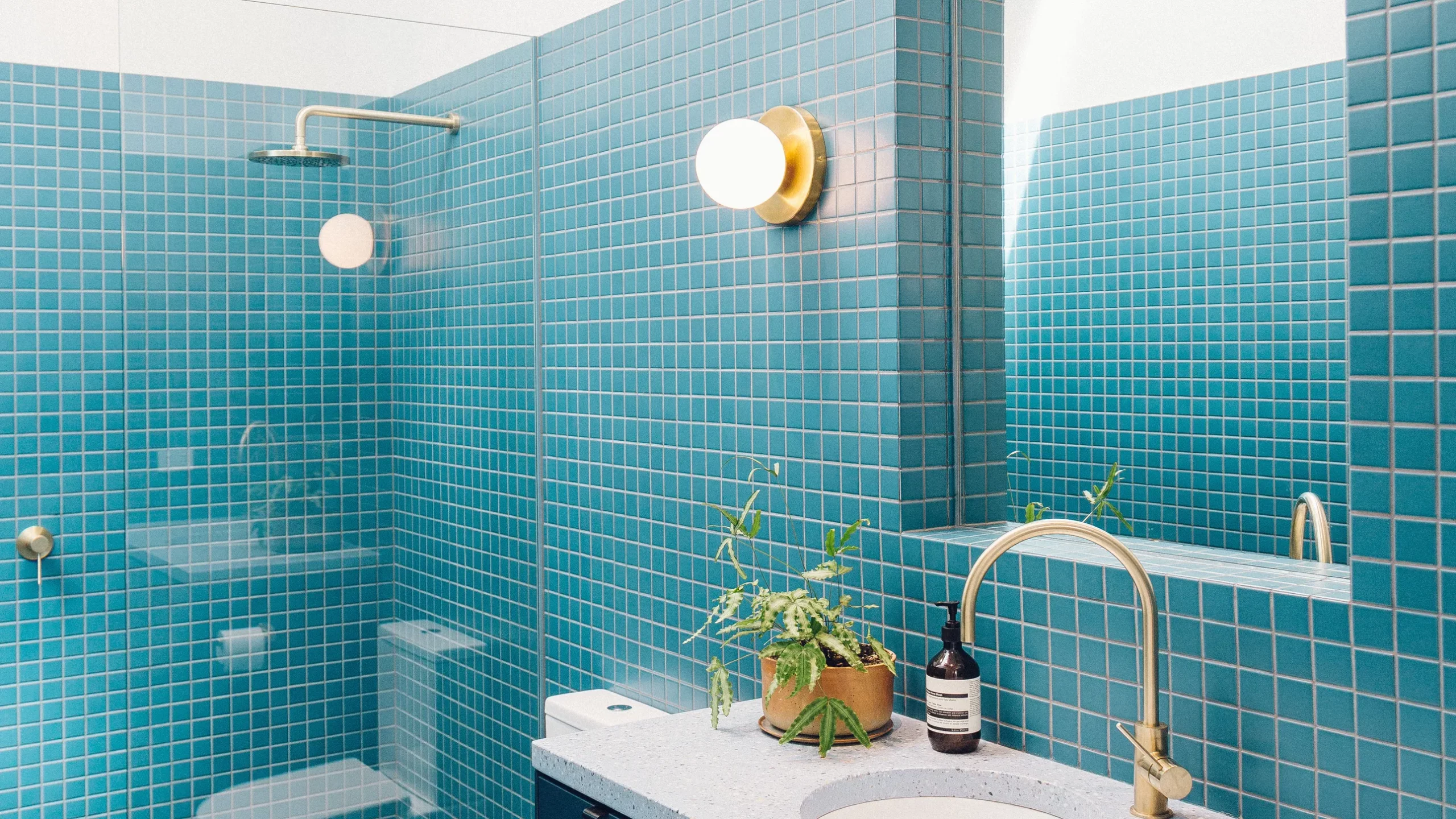 Why Is Bathroom Wainscoting Necessary?
There are several reasons, from an aesthetic and protective point of view, that make bathroom wainscoting necessary. To begin with, it gives a plain bathroom wall a unique and attractive texture. In order to break up the monotony, it is also utilized to contrast with the walls. It also gives an interesting and aesthetic look to the towel hanger that is attached to the walls above the wainscoting. But what's even more important is due to bathroom wainscoting, there is an added layer that protects your bathroom walls from moisture. It also adds a lot of value to your home from a property perspective. 
Ideal Height Range for Wainscoting In Your Bathroom
Wainscoting for bathrooms is typically between 38 and 42 inches high. A third of the bathroom wall is represented by this. So the question arises should wainscoting be higher than vanity? Well, the height shouldn't exceed the vanity and sink for simpler installation. However, it functions finest as a backsplash for your tube and vanity if you desire a tall, wainscoting bathroom. Wainscoting can be positioned 4 to 8 inches above these bathroom fixtures. Higher wainscoting will require more work to install. Therefore, it will take longer. Always stay away from heights more than 48 to 54 inches. 
How high should bathroom wainscoting be? The size of your walls must always be taken into account when installing wainscoting. Keep the wainscoting's height low if your bathroom is tiny and vice versa if it is large. Always keep in mind that bathrooms look smaller with black wainscoting. This is especially true if your ceiling is low. Use wall tape to try it out if you're unsure of how it will seem. Your desired height should be marked on the tape.
After determining the proper height, you must consider the bathroom wainscoting's construction. Make sure the material you choose has been treated to withstand dampness. Here are the top resources.
Conclusion 
The bottom line is that wainscoting may make your bathroom into a chic haven. You can choose the ideal wainscoting solution that matches your personal preferences and improves the overall look of your bathroom by selecting from a variety of designs and styles.
Wainscoting offers a utilitarian purpose by shielding your bathroom walls from moisture and abrasion in addition to adding visual flair. In restrooms where moisture and water splashes are frequent, it may be very helpful. You may prolong the life of your walls and add a touch of class and refinement by installing wainscoting. 
The 21 wainscoting bathroom ideas covered in this article offer a variety of possibilities to accommodate various preferences and interests. There is a design that may improve the aesthetics and tranquillity of each bathroom, from traditional white wainscoting to striking black patterns, from beadboard to herringbone designs.